Fort Myers Saturday Art Fair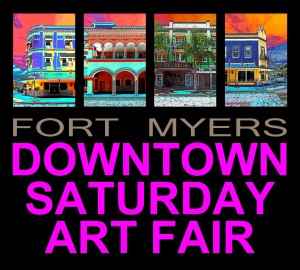 Name: Fort Myers Downtown Saturday Art Fair
Date: The dates for the 2014-2015 season:
October 4, 2014
October 18, 2014
November 15, 2014
December 20, 2014
January 10, 2015
February 21, 2015
March 21, 2015
April 18, 2015
Time: 11:00 a.m. to 4:00 p.m.
Place: The Fort Myers Downtown Saturday Art Fair takes place under the awnings of the galleries, shops and offices that border First Avenue (where artists set up) and Hendry Street (where the crafters congregate) in the completely refurbished and restored downtown Fort Myers River District. With wide sidewalks, majestic palms and old-time charm just steps from the waters of the Caloosahatchee River, these bricked thoroughfares are ideally-suited to an outdoor art fair. As an added bonus, First Street is dotted by some of the River District's best galleries and boutiques, including Arts for ACT Gallery, the Sidney & Berne Davis Art Center, the Rene' Miville Gallery, tincture and Enjewel.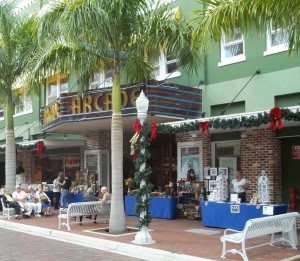 Arts for ACT is located in the front of the century-old Arcade Building (right) where acclaimed winter residents, inventors and industry pioneers Thomas Edison, Henry Ford and Harvey Firestone once watched early motion pictures with their spouses and friends. Today, the Arcade Building is not only home to Arts for ACT, but to the Florida Repertory Theatre, which has been designated as "one of America's top repertory companies" by the Wall Street Journal and as "best performing arts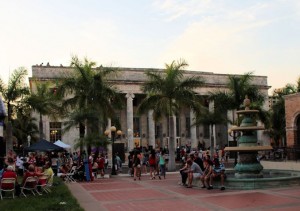 group" by both  Gulfshore Life Magazine and Florida Weekly.
The Sidney & Berne Davis Art Center occupies the 1933 neoclassic revival federal building that was home first to the United States Post Office (until 1965) and then the United States District Court for the Middle District of Florida (until 1998). The Rene Miville Gallery is located upstairs in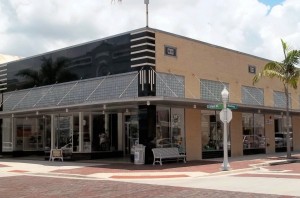 the Streamline Moderne building build in 1937 by hardware magnate W.P. Franklin which now houses the dozens of arts, craft and boutique vendors who make The Franklin Shops on First a must-see downtown Fort Myers shopping destination.
Description: Over three dozen accomplished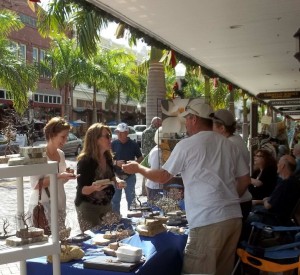 artists participate in the Fort Myers Downtown Saturday Art Fair, and the number grows each month. Together, they treat River District art lovers to affordable original works of art in oil, acrylic, watercolor and mixed media, photography, prints and giclees, wire and metal sculpture, ceramics and pottery, hand-crafted jewelry of every imaginable kind and composition, stained and fused glass, upcycled art, designer wear and unique artsy gifts of all kinds.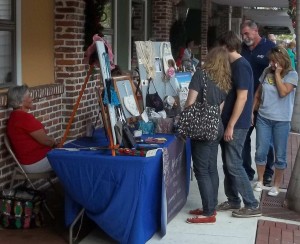 The intimate, small-town ambiance of the River District engenders casual conversation between collectors and the participating artists, who willingly share stories about where they find inspiration, how they craft the unique pieces they sell, and what drew them to the arts in the first place. If you don't find exactly what you are looking for, they will be pleased to make what you want. They'll even deliver it to your home!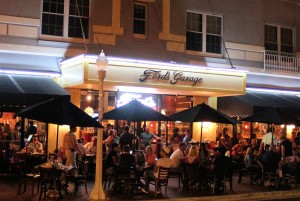 The downtown galleries are open during the art fair. This amplifies festival-goers' art viewing experience, and whether before, during or afterwards, art lovers have numerous dining choices including Ford's Garage, The Firestone, The Connection, Twisted Vine, and the Veranda, with United Cafe' Bar & Bistro, Hideway Sports Bar, Spirits of Bacchus, The World Famous Cigar Bar and Hotel Indigo's Phi in the Sky rooftop lounge offering adult beverages and their own unique atmosphere.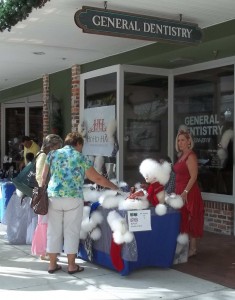 Cost: There is no charge to attend the Saturday Art Fair.
Parking: There is ample free parking within easy walking distance of First Street.
Organizer: Fort Myers Art Walk Committee
Director: Claudia Goode, Curator, Arts for ACT Gallery
Website: http://www.fortmyersartwalk.com.
Facebook: None at present.
More Viewing Opportunities. With more than a dozen artistic landmarks within easy walking distance, many art enthusiasts combine the Saturday Art Fair with a walking tour of the City of Fort Myers public art collection. Offered by True Tours in the Franklin Shops on First (239-945-0504), the tours start at 10:30 and finish around noon, leaving plenty of time to browse and shop the art:
Barbara Jo Revelle Ceramic Tile Mural,
Parallel Park (right), the site-specific installation that has people asking if the Lee County Justice Center Parking Garage is the fine art museum,
Fire Dance, the brand new Dupont red proto-architectural sculpture in Centennial Park,
Others time their visit to the Saturday Art Fair with a trip to the Edison & Ford Estates, the Southwest Florida Museum of History or the Imaginarium.
Fast Facts:
This is the Fort Myers Downtown Saturday Art Fair's sixth full season. (It started in 2009.)
The Saturday Art Fair takes place a mere two blocks from the Bay Street entrance to Fort Myers' historic Centennial Park.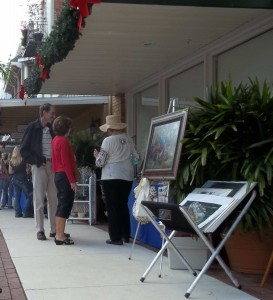 Related Articles and Links:
About the Author