Here's what's happening June 22-30, 2017
Wanna know what's happening in the arts, independent film or theater here in Southwest Florida? Well, this is what's happening between June 22 and June 30, 2017:
Abbott, Davis and Goldberg are women in jeopardy at Theatre Conspiracy (06-29-17)
Theatre Conspiracy's 2017-2018 season kicks off on August 11 with Women in Jeopardy by Wendy McLeod. Modern, fun and flirtatious, Women in Jeopardy tells the story of three divorced women trying to cope with being single mothers, the dating scene and the dangers of camping in the red rocks of southern Utah with a serial killer dentist. Attempting to get to the bottom of a murder mystery, these ladies' imaginations run wild as they try to discover the truth and save their friend in this hilarious adventure. Liz Abbott, Stephanie Davis and Karen Goldberg star in this riotous comedy about trading in wine glasses for spy glasses when the mid-life crisis just isn't your speed. Bill Taylor directs.
________________________________________________________________________
Fibonacci Sequence, Golden Means underlie MGA's 'Budding Vortex' sculpture (06-29-17)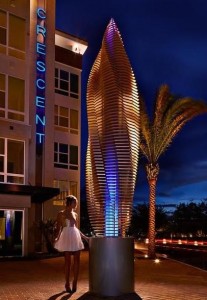 It's not often that you get to talk about the Fibonacci Sequence. Okay, I've never gotten to talk about the Fibonacci Sequence before. It's not something from The Big Bang Theory or Hidden Figures. Instead, it's a mathematical formula that lies at the heart of a new public artwork by MGA Sculpture Studio in St. Petersburg called Budding Vortex.
"Budding Vortex is a sculpture that continues a personal exploration of the inherent patterns in nature," states MGA. "It is inspired by the systems for growth and reproduction. The Egyptians and Greeks noticed these patterns many years ago and based their system of architecture on these proportions. The Greeks referred to this proportional relationship as the 'Golden Means'."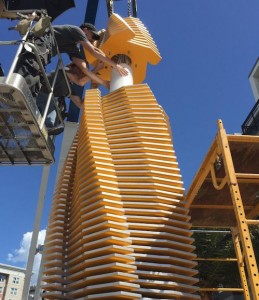 The Fibonacci Sequence is part of this process. It's a series of numbers that is created by starting with 0 and adding 1 then adding the sum of those two numbers so that each number equals the sum of the 2 numbers before it. For example, the sequence starts as follows: 0,1,1,2,3,5,8,13 etc.
"The numbers in this sequence have particular significance in terms of natural growth patterns such as spirals and vortices on both the micro and macro levels in our world and the galaxy beyond," Mark Aeling of MGA expounds. "The shape for Budding Vortex is based on a flower bud of five pedals. This bud unfolds revealing the vortex of creation. By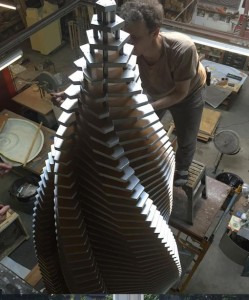 bringing to light, these processes, through sculptural investigation, I hope to share some small insight into the universal truths of our existence."
Budding Vortex is a site-specific sculpture commission for Crescent Development Group in Tampa, Florida. It stands 24 feet high by 4 feet wide and 4 feet deep.
MGA Sculpture Studio is owned and operated by internationally known sculptor, Mark Aeling. Mark received his M.F.A. in sculpture from Washington University in St. Louis, MO in 1993. He remained in St. Louis working as a professional sculptor for 18 years. In 2005 Mark relocated MGA to St. Petersburg, FL.
[Photos by Jorge Alvarez.]
______________________________________________
Alliance getting fired up for September exhibit (06-29-17)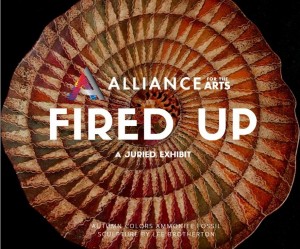 The Alliance for the Arts has issued a call to artists for Fired Up: A Juried Exhibit.  The exhibit will feature works inspired by fire or which in some way use flames and heat in their creation, including ceramics, glass and welded pieces.
An entry may consist of one to three artworks. All entries must be submitted online no later than August 12. Artists can download the prospectus and submit work at www.ArtInLee.org/FiredUp.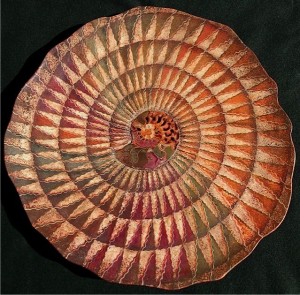 This year's juror is Lee Brotherton. Lee's fine arts career includes serving as an elementary art teacher, art museum work, art gallery manager and sales consultant. During this time, she constantly dreamt of being a full-time artist. In her free time, she continued to work in the arts, especially with clay.
Brotherton has over 20 years of creating, marketing and selling pottery recreations and original sculpture and paintings. Her sculptures are in private, corporate and museum collections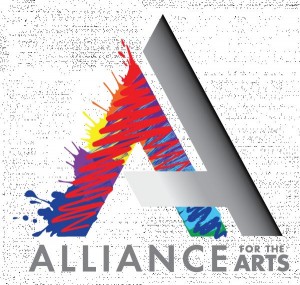 throughout the world.
The opening celebration will be held from 5:00-7:00 p.m. on September 8. Brotherton will be on hand to present awards including $300 for Best In Show, $125 for second place and $75 for third place. You can also meet the exhibiting artists and juror Lee Brotherton during a conversational walk and talk as they discuss their works on September 9 at 6:00 p.m. during SoCo Second Saturday Art Crawl. This exhibit runs until September 30.
For more information, call 239-939-2787 or visit www.ArtInLee.org.
_________________________________________________________
Next Fort Myers Art Walk comes to River District on July 7 (06-29-17)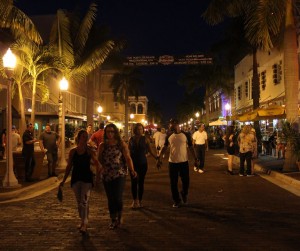 The River District will come alive on Friday, July 7 when Art Walk returns to downtown Fort Myers. Now a two-day event, Art Walk will continue Saturday, July 8, from 11:00 a.m. to 4:00 p.m. With exciting new exhibits and live art demonstrations, rain or shine, this is a "must attend event,"
New exhibits include exceptional art in a variety of mediums done by a bevy of local artists and some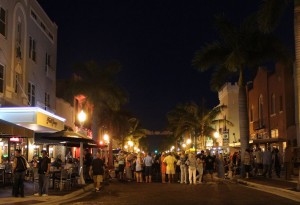 national and international artists as well.  You can meet the artists and talk art at the self-guided Friday night event, which brings together art enthusiasts, collectors and community friends who celebrate the arts each month. The Friday night Art Walk sees First Street closed to traffic. Local artists set up in the street selling their art, and face painting is offered at several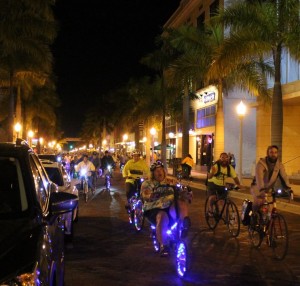 locations along First Street. And at the Broadway and First Street intersection, the Fort Myers Art League will be hosting a "Make It/Take It" table for children of all ages.
Saturday Art Walk is a quieter affair with most of the galleries open for examining the art at more leisurely pace.
This new and improved version of Art Walk includes 14 galleries and art stops, including:
American Legion Veterans Gallery showing Art done by Veterans
Art League of Fort Myers – new exhibits each month
Arts for ACT Gallery – features three or more art exhibits every month plus co-op members art
Bootlegger Alley Gallery – outdoor gallery open only during Art Walk in The Patio de Leon
Grand Illusion Gallery – art, tee shirts and more
Marc Harris Wildlife Photography – on Jackson Street
Miville Art Gallery – art and photography in the Franklin Shops
Ollie Mack Gentry Photography – photography  at 2180 West First Street
Reverie & Rock Art Gallery – concert photography and Surrealistic digital art
Sidney & Berne Davis Art Center – Main Gallery Exhibit and Capitol Exhibit on the 3rd Floor
The Barrel Room – Jazz art – on Bay Street
Timeless Gallery – gallery and gift shop featuring steampunk art and more
Two Newts Gallery – co-op gallery located off West First Street at 2064 Bayside Parkway
Unit A – urban contemporary gallery of internationally-acclaimed artist Marcus Jansen located in Gardener's Park
As this survey of participating galleries reveals, Fort Myers Art Walk spans the core of downtown Fort Myers and includes the Gardener's Park area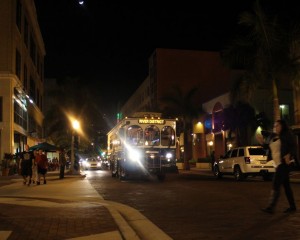 and West First Street. Most of the action is located on First Street, but you can obtain a Fort Myers Art Walk map at any of the galleries that will lead you to all the art venues and Art Walk partners.  "Enjoy cultural venues, restaurants, bars and businesses, plus live music," touts the River District Alliance. "Watch live art demos on First Street, eat amazing food, shop the unique local boutiques or just enjoy the atmosphere."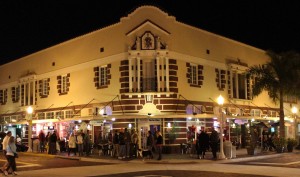 So whether you prefer the energy of night or the calm of day, there's something for everyone during this new-and-improved weekend of art that Fort Myers still calls Art Walk.
The best way to get to Fort Myers Art Walk:
off I-75 North: Exit #141 then west on Palm Beach Blvd
off I-75 South: Exit #138 then west on Dr. Martin Luther King, Jr. Blvd.
From U.S. 41 Northbound: exit at Historic District McGregor Blvd., Right turn or
From U.S. 41 Southbound Exit before the Caloosahatchee bridge.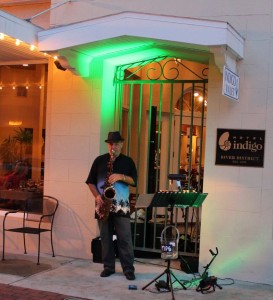 There is free street parking and $5.00 at any of the parking garages.  In season ride the free River District Trolley.
Fort Myers Art Walk is a Pet and Family Friendly free event!
Fort Myers Art Walk is hosted by The River District Alliance, a non-profit organization. For more information, please visit www.fortmyersriverdistrictalliance.com. To become a volunteer, partner or sponsor of Fort Myers Art Walk, contact Claudia Goode via cgoode@actabuse.com.
_____________________________________________________________________
Rauschenberg Gallery's Franco/Linzy exhibition extended through July 29 (06-29-17)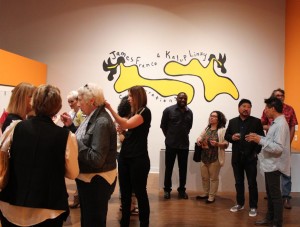 James FRANCO & Kalup LINZY: Collaborations has been extended by Florida SouthWestern State College through July 29, 2017. The show opened at the Bob Rauschenberg Gallery on Friday, April 7.
Representing the first two-person/collective museum exhibition of work by James Franco and Kalup Linzy, Collaborations premieres several new projects while surveying the artists' collaborative and individual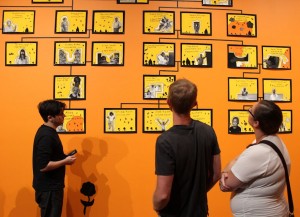 photography, paintings, multi-media works and related ephemera (including costumes and props used to create works on view).
James Franco is an Academy Award-nominated actor, director, author and visual artist who has worked across media to explore issues from adolescence, stereotypes and autobiography to society's preoccupation with celebrity.  He has had solo exhibitions at the Museum of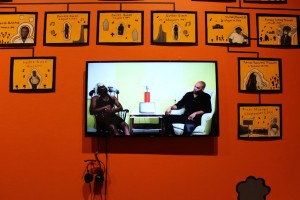 Contemporary Art in Los Angeles, The Clocktower Gallery at P.S. 1 in New York, Peres Projects in Berlin, Gagosian Gallery in Beverly Hills and at the PACE Gallery.
Born in Clermont and raised in Stuckey, Florida, Kalup Linzy received his Bachelor of Arts degree and his M.F.A. from the University of South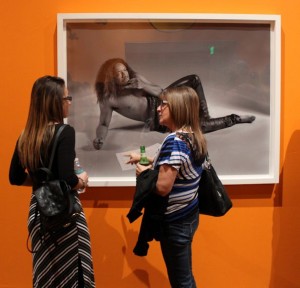 Florida in Tampa.  In 2005, his participation in a group show at The Studio Museum in Harlem and a project at Taxter and Spengemann Gallery in Chelsea, led to a review in The New York Times by Holland Cotter that opened with the declaration that "A star is born…"  Playing multiple roles (often within a single work), performance artist, actor, director and vocalist/musician Mr. Linzy is the genre-shifting and gender-bending star of video melodramas that cover issues of race, politics, sexuality and family relationships.  The recipient of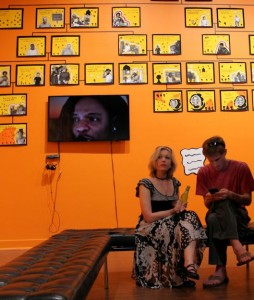 numerous awards and recognitions, Linzy's work has since been collected by institutions including The Museum of Modern Art/New York, The Studio Museum in Harlem, The Whitney Museum of American Art and The Metropolitan Museum of Art.  He has lectured across the country at institutions including New York University, the School of Visual Arts/SVA in NYC and Harvard University.
"Kalup Linzy is a versatile performer and artist who uses multiple voices, personas and media in his work," states Franco of his co-exhibitor. "But underneath all these different faces and forms there is a common and sincere longing for love, identity,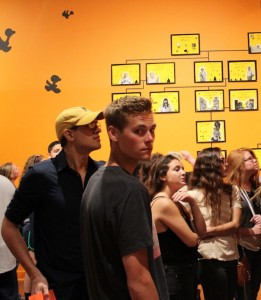 and artistic purity… I first met Kalup when he gave a talk to the Columbia University graduate students for their visiting artist lecture series, which I had been crashing every week…  The day Kalup spoke, I had an epiphany.  I knew that he was going where I wanted to go."
In 2010, Franco invited Linzy to develop a fictional character and to appear with him on the long-running and immensely popular TV soap opera "General Hospital" and thus began the broad series of collaborative artistic endeavors that are represented in this exhibition and continue to this day.
For additional information, please call 239-489-9313 or visit www.RauschenbergGallery.com.
_______________________________________________________________
Visit some of SWFL's most interesting galleries and working studios (06-28-17)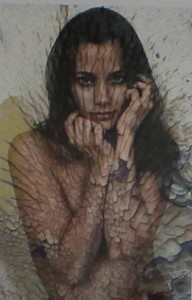 On the first Wednesday of each month from November through April, the more than two dozen galleries and artist studios that comprise the Naples Art District open their doors to the public from 5-8 p.m. Called 1st Wednesday ART ALIVE!, the event is a unique opportunity to not only visit some of Southwest Florida's most interesting galleries, but immerse yourself in the sights, sounds and smells of the studios of more than 45 emerging and mid-career artists working in a broad cross-section of genres and media.
What? Wait a minute. It's June, you say? Well, many of these same galleries and working studios participate in a pared-down summer session of 1st Wednesday ART ALIVE! and the next one occurs on Wednesday, July 5.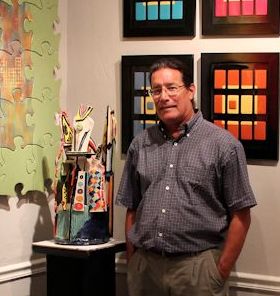 Though it may be removed from Fifth Avenue South and the Third Street Gallery District, the Naples Art District has more creative juices flowing than any other thoroughfare in town. Encompassing J&C Blvd, Shirley Street and Trade Center Way, the Naples Art District acts as a refuge for local artists, allowing them to hone their craft with other like-minded artisans in an area that is still rent friendly. "We have the largest concentration of professional artists in southwest Florida," says Richard Rosen (right), owner and artist of namesake Rosen Gallery & Studios. "We hear from so many people they never realized there were so many studios and galleries in the industrial park."
So check it out both here on Art Southwest Florida and live and in person in the Naples Art District on July 5, 2017.
_____________________________________________________________________
Value of ART ALIVE! is opportunity for collectors to find out what they like (06-28-17)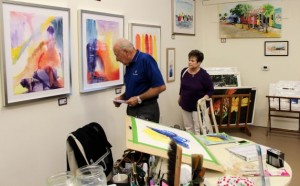 On the first Wednesday of each month, the Naples Art District holds an open-gallery event they call ART ALIVE! During the off-season, upwards of a dozen art galleries and working studios put their work on display and conduct live art demonstrations designed to introduce folks to their genres, media and process. Between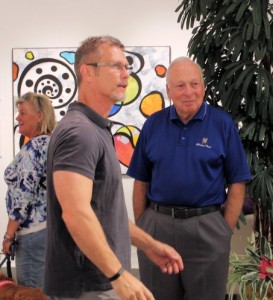 November and January, the number of participating venues swells to nearly three dozen.
Two years ago, long-time collectors and art connoisseurs Joel and Joan Kessler made the rounds during ART ALIVE! The couple first began collecting during the 1960s. Today, their walls feature exceptional originals and limited edition prints by the likes of Robert Rauschenberg, Jeff Koons, Damien Hirst and other contemporary art heavyweights.
"We ran out of wall space," Joel chuckled while he eyed
photographs by Jack Megela in the The Artists' Gallery. "I used to joke that I had Andy Warhol living in my closet."
While the Kesslers are in the process of downsizing their private collection (called "de-accessioning" in art circles), they still periodically take part in ART ALIVE! and visit outdoor art fairs and festivals. Happenings like these enable them to maintain their associations with area artists and gallery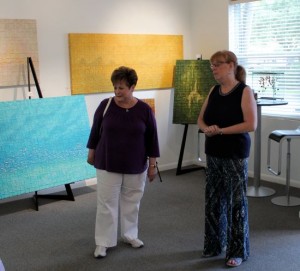 owners and keep their fingers on the pulse of the local, regional and even national art scene. But in their estimation, the real value of ART ALIVE!, Fort Myers Art Walk and the myriad art fairs and festivals that take place each year throughout Southwest Florida is what they do for newbie art enthusiasts and collectors and beginning to mid-career local artists.
Please click here to finish reading this article.
________________________________________________________________
Artworks can transport us back in time to the art-buying experience (06-28-17)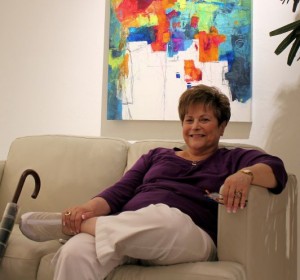 According to the Rod Stewart anthem, every picture tells a story. That's so true, says art collector Joan Kessler. "Art talks to you." But it's not just the composition inside the frame that tells a story. It's the entire art-buying experience.
"As you look around at your pieces, you remember where you were when you bought them, what the day was like, how you felt when you saw them and made the decision to buy them, and how you felt when you hung them on the wall for the first time."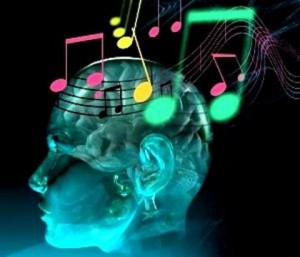 Ms. Kessler is saying something profound here. There's something mnemonic embedded in the experience of buying art, and just like a song from you past can transport you back in time, so can the painting, print or collage hanging on your wall or the sculpture sitting on your floor or pedestal.
Of course, Joan and her husband, Joel, espouse the philosophy of buying only works of art that speak to you and with which you connect viscerally as well as intellectually. When you do this, those artworks become woven into a neural tapestry entwined with the people, season, sights, sounds and smells associated with the buying experience.
Please click here to read the rest of this story.
_________________________________________________________________
Sweet art exhibiting red, white and blue artworks for July 5 'Art Alive' (06-28-17)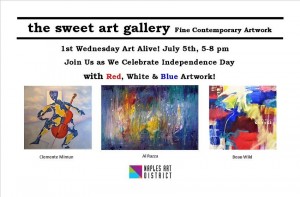 The Sweet Art Gallery will participate on July 5 in the Naples Art District's celebration of Independence Day and 1st Wednesday ART ALIVE! with red, white and blue artwork. In particular, the gallery will feature the work of Clemente Mimun, Al Razza and Beau Wild. The Sweet Art Gallery is located at 2054 Trade Center Way in North Naples, Florida. For gallery hours and more information, please call 239-597-2110 or visit www.thesweetartgallery.com.
_________________________________________________________________
Marietta Museum of Art & Whimsy acquires four Lovegrove paintings (06-28-17)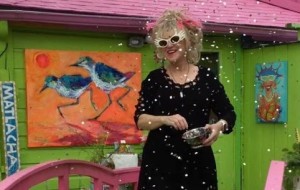 Lovegrove Gallery & Gardens has announced the acquisition of four paintings by The Marietta Museum of Art & Whimsy. Located in Sarasota, the museum has a growing reputation for collecting and exhibiting culturally-significant, contemporary artwork that celebrates upbeat themes and whimsical notions.
"We are very fortunate to have Leoma Lovegrove's work in our permanent collection," states the museum's founder and curator, Marietta (Mary) Lee. Ms. Lee was attracted to the paintings because of their bright and cheerful motifs and adroit workmanship.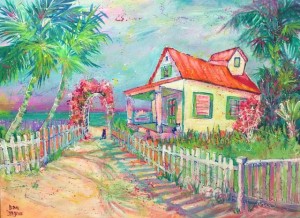 The four paintings that Lee selected for her museum come from Lovegrove's Florida Floats My Boat series, which she painted for Bealls in 2016. Images from the series appear on a host of Bealls' products, including tees, tanks and other tops; nightgowns; totes; beach umbrellas, chairs and towels; watches and jewelry; and sundry housewares. Like The Marietta Museum of Art & Whimsy,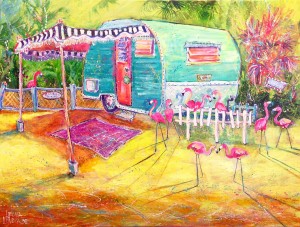 Bealls fell in love with Lovegrove's bold, vibrant colors and her uncanny ability to capture in acrylic Southwest Florida's active, healthy, water-based lifestyle. Today, Lovegrove's images appear on millions of Bealls products, which are sold in each of the chain's 74 brick-and-mortar Florida stores, as well as online.
Each of the paintings The Marietta Museum purchased measures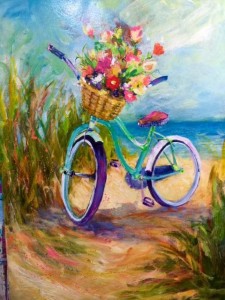 36 by 48 inches. Our House depicts a beach house with two cats in the yard. Mozart is a homage to the artist's beloved Moluccan cockatoo. My Glamper is inspired by Lovegrove's colorfully wrapped, trademark mobile art studio (which appeared on the cover of Summer, 2014 issue of Studios magazine). Beach'n Ride depicts a bicycle that Lovegrove once displayed in her own botanical garden on Matlacha Island.
Dedicated to "collecting, preserving and exhibiting works of artistic and whimsical importance," The Marietta Museum of Art & Whimsy is only open to the public between 1:00 and 4:00 p.m. Thursday through Saturday in season, which runs this year from November 16, 2017 through May 27,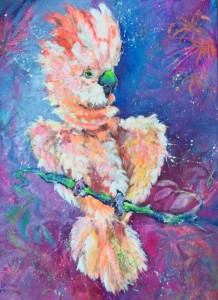 2018. Located at 2121 N. Tamiami Trail, Sarasota, the museum is identifiable by the three bright pink, 1,200 pound flamingos that stand outside its entrance and lauded for its lush, tropical sculpture garden that features flocks of plastic flamingos as well as three winged pink pigs preparing to take flight. While admission is free, the non-profit museum does appreciate a $5 donation per person. For more information, please visit http://www.whimsymuseum.org or telephone 941-364-3399.
Leoma Lovegrove is an impressionist-expressionist painter known worldwide for her vivid colorful paintings. A graduate of Florida's prestigious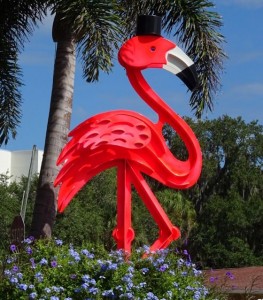 Ringling School of Art + Design, Lovegrove makes her home on Matlacha Island, where she welcomes thousands of visitors each year to her gallery, international headquarters and own botanical gardens. Her work can be found in numerous public and private collections throughout the United States and Europe, including the private collection of the White House in Washington, D.C. and the Presidential Library of George W. Bush in Dallas, Texas. Her portrait of Jimmy Carter hangs in his Presidential Library in Atlanta, Georgia and that of Sir Richard Branson is displayed in the London headquarters of Virgin Airlines. Her artwork
has also graced the windows at Rockefeller Center in New York City.
Lovegrove has the honor and distinction of being the first American to paint on the replica of Claude Monet's floating studio in Giverny, France and to exhibit work in Pierre Bonnard's home in Vernon, France. Her mural, "The Catch of Matlacha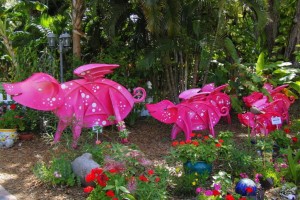 Island," greets visitors as the cross the bridge onto the island, and her work is part of the public art collections of both the City of Fort Myers and Florida Gulf Coast University.
____________________________________________________
Alliance's 31st Annual All Florida show closes June 30 (06-27-17)
The Alliance for the Arts' annual All Florida juried exhibition closes June 30. Juror Kimberly Riner selected 46 artworks out of more than 400 submissions for inclusion in the show. When you come, you will find art by Adriana Flores, Anna Rac, Betsy DJamoos, Buck Ward, Carla Wormington Messerli, Daniel Venditti, David Belling, Deborah Martin, Ed Takacs, Grayson Stoff, J.T. Phillippe, Janet George, Jim Stewart, JoAnn LaPadula, Joanna Coke, Joel Shapses, John O'Brien, Jose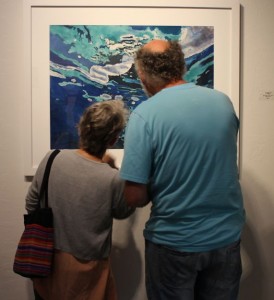 Pardo, Katy Danca Galli, Marc Harris, Mary Klunk, Mary Voytek, Melissa Miller Nece, Mike Kiniry, Muffy Clark Gill, Nancy Terrell, Penelope Breen, Roger Sherman, Sherry Rohl, Simon Huebler, Stephen Bufter, Steve Conley, Sue Higgins, Susanne Brown, Terry Lynn Spry, Tracy Owen-Cullimore and Whit Robbins.
Melissa Miller Nece's colored pencil drawing Dash and Dive was selected as Best of Show. Mary Voytek won a $250 Golden Colors Gift Certificate for her 2nd place mixed media sculpture Motherboard. Sherry Rohl won $100 for her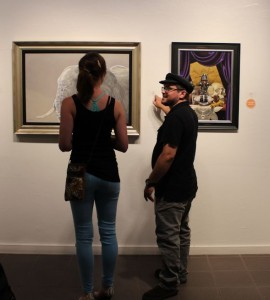 3rd place ballpoint pen rendering Competing Interests 2. Daniel Venditti, Jose Pardo and Stephen Bufter were awarded Juror's Choice Awards. You will find articles on these and other artworks included in the show in the articles that follow.
Kimberly Riner is the visual arts director at the Averitt  Center for the Arts in Georgia. She received her Master of Fine Art from Georgia Southern University in 3D art with an emphasis in ceramics. Riner has held faculty positions at Georgia Southern University and Ogeechee Technical College. She is actively involved in growing the art scene in the Statesboro area.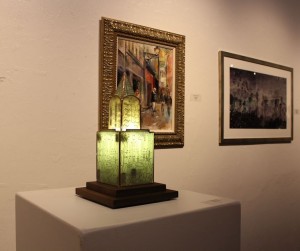 Her artwork has been exhibited both nationally and internationally and is held in private collections. Reiner previously exhibited at the Alliance for the Arts in January's Changing States exhibition.
The Alliance for the Arts is located on a ten-acre campus at the corner of Colonial and McGregor Boulevards. For GPS purposes, the address is 10091 McGregor Blvd., Fort Myers, FL 33919. For more information, call 239-939-2787 or visit www.ArtInLee.org.
_______________________________________________________
Meet All Florida Best of Show winner Melissa Miller Nece (06-27-17)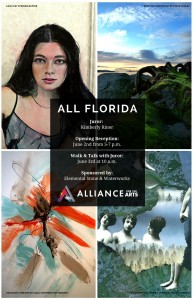 Melissa Miller Nece took Best of Show honors at the Alliance for the Arts 31st Annual All Florida Juried Exhibition for her photo-realist colored pencil drawing titled Dash and Dive.
Nece is regarded as one of the foremost colored pencil artists in the United States. Her enthusiasm and humor have made her a favorite speaker for arts groups, and she has inspired many to try colored pencils through her classes and workshops. She is president of the Colored Pencil Society of America after having served as CPSA's ways and means director for eight years. She is both a 10-year merit signature member and a CPX signature member of CPSA, and a signature member of the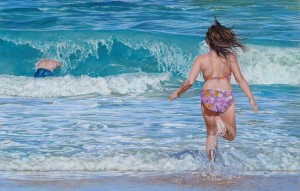 Miniature Artists of America.  Her work has been published in national magazines and numerous books on colored pencil and portraiture.
"Drawing is the foundation of all the visual arts, the product of a direct connection between the eye, the mind and the hand," Melissa states. "This makes it feel organic, physical and spiritual at the same time. To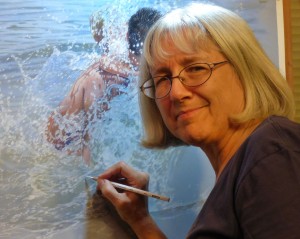 me, there is something profoundly satisfying in making marks that come together into something recognizable. It's a kind of Artistic Alchemy."
Melissa is also an accomplished acrylic and oil painter who frequently works en plein air. Her work, including many portrait commissions, can be found in corporate, public and private collections, including the Cumberland Pencil Co. in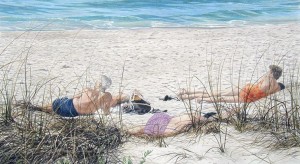 England, and it has also been featured in packaging, advertising and promotional materials for multiple art materials manufacturers. She holds a Bachelor of Fine Arts (painting) summa cum laude from Lake Erie College of Ohio. You can find her resume and other awards here.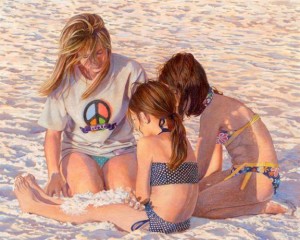 Her Best of Show award carries with it a cash prize of $1,000.00.
The Alliance's 31st Annual All Florida Juried Exhibition will be on view in the main gallery through June 30.
The Alliance for the Arts is located on a ten-acre campus at the corner of Colonial and McGregor Boulevards. For GPS purposes, the address is 10091 McGregor Blvd., Fort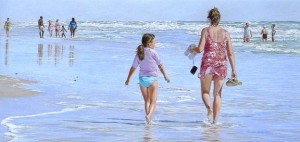 Myers, FL 33919.
For more information, call 239-939-2787 or visit www.ArtInLee.org.
___________________________________________________________________
Mary Voytek's 'Motherboard' full of mind-blowing metaphors and similes (06-27-17)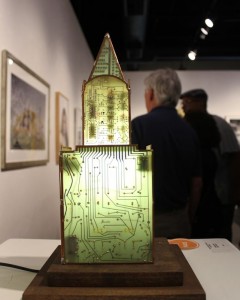 Artists from across Florida submitted more than 400 artworks for inclusion in the Alliance for the Arts' 31st Annual All Florida Exhibition. Not only did FGCU Associate Professor of Sculpture Mary Voytek have her submission juried into the show, juror Kimberly Riner awarded second place to Voytek's multi-metaphorical lighted sculpture titled Motherboard.
On one level, Motherboard gives the appearance of a cathedral or two-story house. "Many of my pieces incorporate the imagery of a house," Voytek acknowledged during the opening night reception for the All Florida show. "It's an archetypal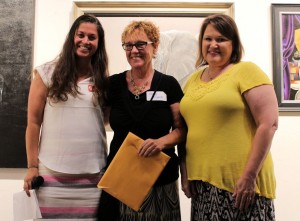 image I've worked with for over 30 years and is symbolic of our subconscious. Like your home, you store things in your subconscious. Now you might invite someone to come inside your mind or your home, but even if you do, there are things in drawers, closets and behind closed doors that you keep tucked away from public access. The house image really speaks to me, and it always has."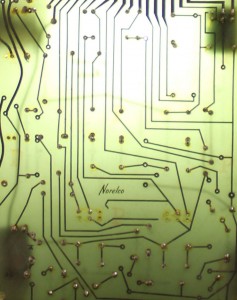 But Motherboard also represents the lines of communication that are taking place all over the world. "These are obviously circuit boards from old-fashioned computers," Voytek points out, referring to the component pieces that she soldered together using stained glass copper coil for simplicity. "And just like mother earth or motherhood, the motherboard is at the core of communication. Through this technology, we meet people and fall in love. We share information about ourselves and each other. We purchase the things we need and the things we love."
The printed circuit boards or PCBs that Voytek used in her sculpture are one sided,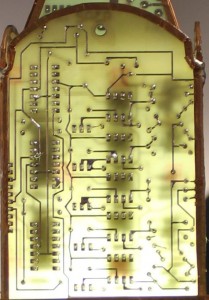 with copper traces, resistors, capacitors, inductors, diodes and switches installed on just the outer face. But just as we can be nuanced or multidimensional in how we process and relate information to others, it is also possible add a second layer of components on the reverse or flip side of a PCB or engraft additional layers over the original design. But in the latter case, the copper connections or traces cannot cross one another without the path of the electrical charge being compromised. And aren't each of us continually assaying to keep our own wires from crossing as we add layers for more advanced thought and communications?
But Voytek's symbolism does not end there. The copper traces of her PCBs are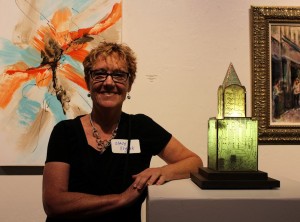 akin to its skeleton. The resistors, capacitors, and other components are tantamount to each board's vital organs. Each has a different function. Individually and in the aggregate, they give the circuit board its uniquely individualistic qualities. Following the simile, our minds are comprised of thousands of thoughts, and just as thoughts are things, what we think and how we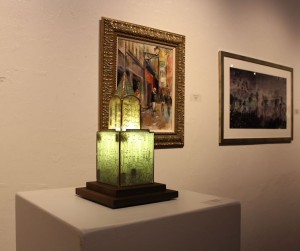 organize our thoughts is what makes us unique, different and separate from each other.
Don't overlook the importance of the solder either. Components are attached to a PCB by solder. Any stray blobs that are out of place or which touch each other can cause the circuit to fail. Similarly, should one of Voytek's solders fail, the entire motherboard could come apart or disintegrate.
"I enjoy this material because when you put a light behind it, it
looks like jade," Voytek comments, referring to the soldermask that gives a PCB its recognizable green coloration. In the case of the sculpture, its simultaneously translucent and opaque, much like ourselves and everyone we encounter.
"I love walking at night and looking inside the windows of the houses I pass," Mary adds. No, she not a peeping Thomasina. She is just fascinated by what's happening behind the glow emanating from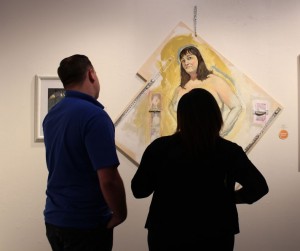 the glass. Sometimes, it seems to oscillate from a television or a person's movement. At other times, it shines steady and bright.
"The house is nothing without the people inside," she muses. True that, otherwise you just have an empty structure in which the lights are on, but no one's home.
Mary Sullivan Voytek is an Associate Professor of Sculpture at Florida Gulf Coast University. She has an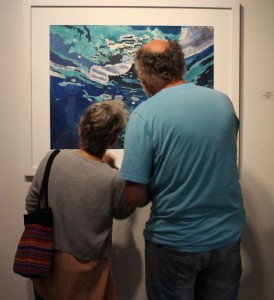 MFA from Rhode Island School of Design and a BFA from California College of the Art. She joined the faculty at FGCU in 2004. Prior to coming to FGCU she was a visiting instructor at Brown University and Rhode Island School of Design. Areas of special interest include environmental art, sculpture, and site-specific public art installations.
In addition to doing fabrications for Jim Dine, Mary was closely associated with Robert Rauschenberg for over 25 years. "Bob had a profound influence on my work, on the ways I see things," Voytek said of the experience. "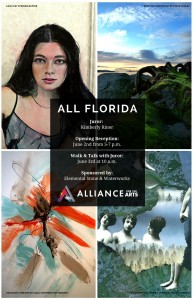 He was such a great artist and giving person that it was impossible to spend time around him and not be transformed in your visual thinking in some way." Of course, Rauschenberg's legacy not only includes the use of junk in his Combines and latter assemblages, but an experimental approach that stretched the boundaries of art for both present-day and future artists.
The Alliance's 31st Annual All Florida Juried Exhibition will be on view in the main gallery through June 30.
The Alliance for the Arts is located on a ten-acre campus at the corner of Colonial and McGregor Boulevards. For GPS purposes, the address is 10091 McGregor Blvd., Fort Myers, FL 33919.
For more information, call 239-939-2787 or visit www.ArtInLee.org.
_____________________________________________________________________ 
Sherry Rohl's 'Competing Interests 2' raises more questions than it answers (06-27-17)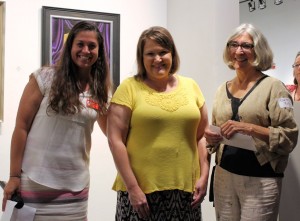 Painting and drawing have always been the most effective way for Sherry Rohl to process her experiences. As a child, her first drawings were of horses, and they have remained an abiding interest throughout her life. That's clear in her exquisite ballpoint pen drawing, Competing Interests 2, for which she received third place honors (and $100 in cash) at the Alliance for the Arts' 31st Annual All Florida Juried Exhibition.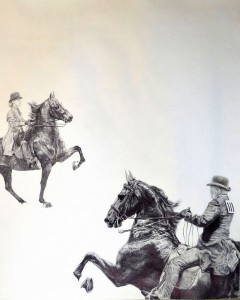 "The horse for me is both familiar and strange, awe inspiring and elemental," says Sherry in her artist statement for the Naples Art District's Sweet Art Gallery. "Horses are part of the human condition, and for centuries have partnered with us in war, work, play, and mystical experiences. I do not know why horses are 'it' for me, but they regularly appear at the intersection of experience and record where chaos is given a voice and narrative is born."
Watson MacRae owner Maureen Watson has also represented Rohl's work. She lauds Sherry's exceptional drafting skills and feel for her subject.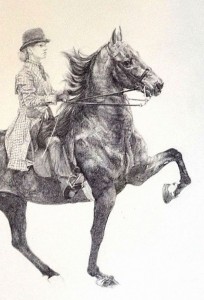 "Rohl is able to capture the anatomical correctness of each horse, as well as its individual personality and essence – no easy task," Watson told CaptivaSanibel's Jeff Lysiak in 2011. "More like portraits, Rohl's horses look straight at us and meet us eye-to-eye. Most striking is her unexpected composition that gives these works an unusual feel and attitude, compelling us to realize these are not your usual horse pictures."
Competing Interests 2 is compelling for a number of reasons, not the least of which is the work's very title. The horses and the riders in the work appear to be engaged in a five-gaited American Saddlebred competition (notice the number pinned to the back of the jacket of the rider in the lower right corner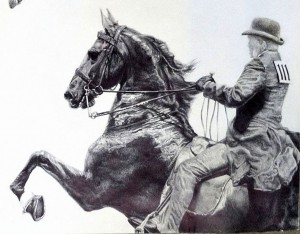 of the frame). Five-gaited horses are heavy-bodied and the epitome of power and beauty. As the name intimates, horses in the five-gait division display five separate movements or gaits ranging from the slow gait and rack to the walk, trot and canter. These smooth four-beat gaits are performed with high knee and hock action. Is that the competition that these horse-rider tandems are pursuing in Rohl's composition?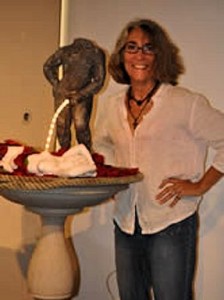 Not every Saddlebred has the ability to perform these four-beat gaits. Horse owners and trainers will tell you that the ability to perform the gaits is a genetic trait. Some horses are just born with the ability to perform them, while others are not. But even for those that possess that raw ability or talent, extensive and arduous conditioning and training is required. Are Rohl's horses and riders competing against each other, with the riders seeking to impose and perfect a gait that is, at essence, as unnatural as it is physically demanding for the horse?
Or are there other interests at play that compete for primacy with one another?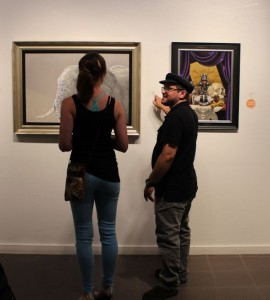 As with all good art, Competing Interests raises more questions than it answers, leaving it to the viewer to supply his or her own interpretations and hypotheses. And to encourage this sort of interaction with the composition, Rohl forces her viewers to focus squarely on her equine and human figures by rendering them in black, white and gray monotones. It is as though the artist is saying that the addition of color would serve as only an unnecessary distraction to the questions at bar.
You can enjoy this well-executed, delightfully cerebral rendering for yourself in the main gallery at the Alliance for the Arts.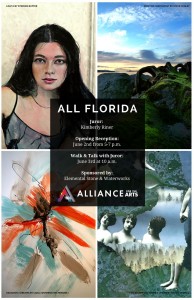 The 31st Annual All Florida Juried Exhibition is on display through June 30.
The Alliance for the Arts is located on a ten-acre campus at the corner of Colonial and McGregor Boulevards. For GPS purposes, the address is 10091 McGregor Blvd., Fort Myers, FL 33919.
For more information, call 239-939-2787 or visit www.ArtInLee.org.
____________________________________________
It's all about value for Steve Bufter's 'Lolita' (06-27-17)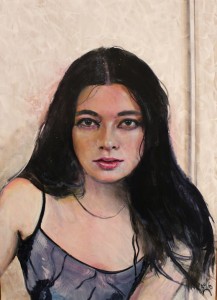 On view in the main gallery of the Alliance for the Arts are the 46 works by Florida artists that have been juried into the 31st Annual All Florida Juried Exhibition, which runs through June 30. One of the more arresting paintings in the show is Lolita by Stephen Bufter. The portrait received one of three Juror's Choice Awards conferred by Kimberly Riner, who judged the show.
Bufter is gaining a reputation for evocative portraiture. Lolita is just the latest example. Bufter informs that he did not use a muse or photograph for the work. Instead, Lolita is a composite of subjects he's had the pleasure of painting over the last several years as he's worked assiduously to perfect his craft.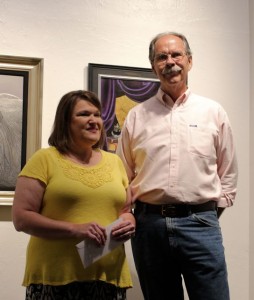 The portrait demands your immediate attention. Even on the night of the All Florida opening, she instantaneously drew my eye in spite of the throng of viewers mixing, mingling and gawking at the art in the Alliance's packed gallery. It's more than just the young woman's penetrating gaze or the slight part in her full lips that intimates she's about to say something profound or sanguine. Rather, the values Bufter employed in the composition work subconsciously to draw the viewer to and into the composition from first sight.
Except for the red in her lips, a blotch on her chest and a daub of Prussian B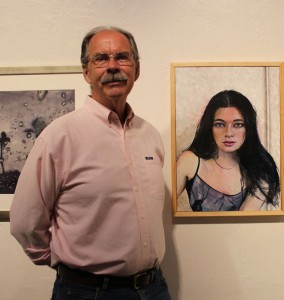 lue in the lower left edge of the painting, Bufter confines his palette to black, gray and flesh tones. More importantly, he divides the composition into three groupings of values. The girl's face, upper torso, upper arms and backdrop are comprised of light values. Her dress consists of middle values. Her cascading raven tresses, eyebrows and eyes constitute the dark values in the composition.
For the most part, Bufter segregates or masses these values, ensuring with a few notable exceptions that the darkest light value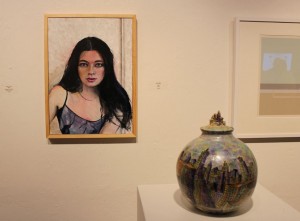 (the ruddy reddish tone in Lolita's cheeks and forehead) don't cross into the lightest tone in the middle value range of the dress. Massing values was an inviolate principle employed by portraitists for hundreds of years that has been lost on most portrait painters over the last five or so decades. [Lolita would have been a classic example of the historic value massing rule if Steve had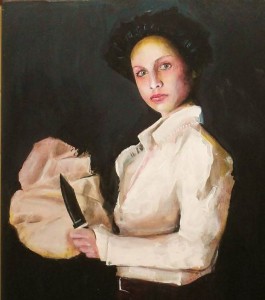 withheld the black from his subject's dress, strap and neckline and eliminated the flesh tones in the dress as well. But this is just quibbling.]
Up on Choctaw Ridge is an even clearer example of value massing. While it is not part of the All Florida show, the painting is nonetheless an illustration of how value massing can enhance a composition's dramatic effect. Notice how the woman's face, jacket, hand and towel jump out of the frame because of their contrast against the middle value of the backdrop and the dark value of her hair. The light values also serve to heighten the sharp, stabbing edge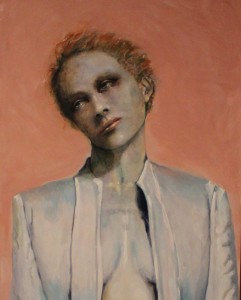 of the knife, which cuts across the light values in the towel she is holding in her right hand.
Value aside, Bufter is to be commended for his treatment of his subjects' eyes and the set of their mouths. This is true of Lolita and Up on Choctaw Ridge, where it's left to the viewer to solve the riddle of what these women are doing or about to say. That was not the case in The Very Thought of It, a painting of Bufter's that was juried by Baker Museum of Art Director Frank Verpoorten into the 27th Annual All Florida Juried Exhibition. In that work, Bufter creates a haunting image of a gaunt and sallow woman staring off into the distance somewhere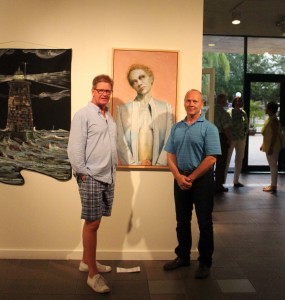 out of frame to her right. Those eyes, the tilt of her head and the set of her thin lips capture the fear and resignation of a woman who's just been told that her breast cancer has returned.
Although Steve's not fond of the limelight – it's difficult to induce him to pose for photographs – he's an artist worth watching going forward. You can find him at Tower Gallery on Sanibel Island, where he has served as its president. Born in 1953, Steve was schooled in music and the arts at Western Maryland College, where he earned his degree. He now resides in Southwest Florida, where he regularly paints for exhibition.
_____________________________________________________________
Imperfection a thing of beauty for figurative artist Daniel Venditti (06-27-17)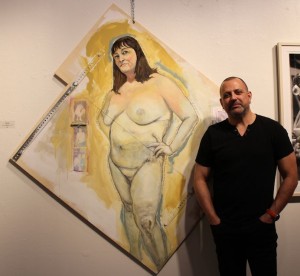 On view through June 30 at the Alliance for the Arts is the 31st Annual All Florida Juried Exhibition. One of the 46 works included in the show is an unframed collage presented on the bias of a nude brunette by the name of Irene from the brush of figurative artist Daniel J. Venditti.
Venditti grew up with three sisters. Based on that experience, he's kind of hip to the connection between body image and self-esteem. So it's only natural that he'd want to explore that nexus in a series of figurative collages.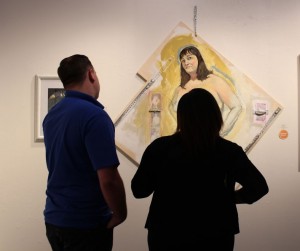 But don't expect him to confine his subjects to women. "Men are becoming more cognizant of their body image and how they are perceived and judged," says Dan. "It's just that women have dealt with the issue at the extremes way longer."
Take Irene, for example. She's the first subject in Venditti's new Imperfection series. Life-sized, she stands naked hand on hip looking dourly at the viewer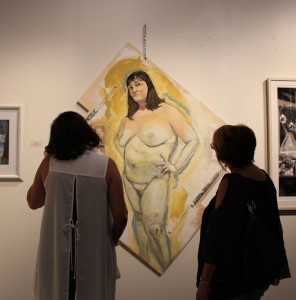 as though cognizant that she's being judged on her appearance. But if you take the time to get to know her, you'll quickly perceive that the far-off look in her hazel eyes and the purse of her thin lips belies soul-shattering pain. From the moment of her woeful existence, her life has been rooted in trauma. It turns out that her mom died giving birth to her and her dad was electrocuted. Neglect and abuse followed. She gained 175 pounds and weighed 300 by the time she was 23. Instead of her friends rallying to her support when her marriage crumbled, she heard one say, "Of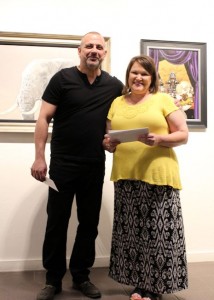 course she's getting a divorce. She's a fat pig. Who would want her?" Men have been even less kind.
The sad truth is that two in three people admit that the first thing they notice about someone is how attractive they are. And one in two believe that appearance defines us significantly, even entirely. There's a reason why Spanx inventor Sara Blakely is worth a reputed $1.08 billion today.
Allure conducted a national survey in 2016. Here's two telling statistics the magazine uncovered:
While only 59% of female respondents claimed to be comfortable with their appearance, 74% of men had no problems with their looks.
On a scale of 1 to 10, women rated themselves on average a pedestrian 5.93 compared to 6.54 for men.
Here's the real shocker: it's getting worse, not better. According to the survey, Millennials are far more judgmental about themselves and others when it comes to appearance than either Generation X or Baby Boomers. And the biggest negative in our own and others' minds is weight. Thinner, better looking men and women get better service, better jobs and more promotions. We all know the sad truth.
Based on this data, it sounds like Dan has a lot of work to do to draw attention to these issues in the eyes and hearts of his viewers. Venditti plans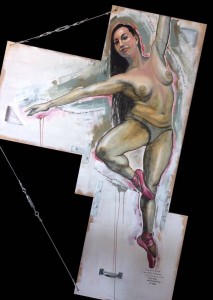 to start by being selective about who he includes in the series.
"Anyone can hire a model or muse, but I want to paint real people with real stories," said Dan following the awards ceremony at the Alliance for the Arts' 31st Annual All Florida Juried Exhibition, where Irene received one of three Juror's Choice Awards.
Like Annette and Diana. Their stories are being shared currently inside the Sidney & Berne Davis Art Center as part of the Positive/Negative exhibition. In fact, their figurative portraits may be a prelude to a bigger and better show.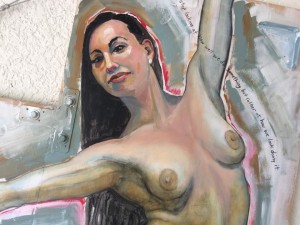 "I think the size of the pieces and overall subject matter of the series lends itself to a solo show in a venue like the Davis Art Center," muses Dan. "Of course, the art center is booked into 2019, but that's actually okay. It will take me that long to complete work on the series," which is so rife with timely issues that Venditti expects the work to consume the next couple of years of his life.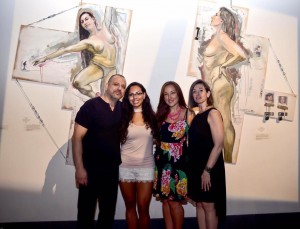 But if he can get people to think about how they judge themselves and others by appearance rather than personality, achievements or their other merits, it will be time well spent.
Daniel Venditti is a figurative painter, printmaker and sculptor. He is known widely about Southwest Florida as the artist who created the Gustav Klimt inspired couture portrait on the fitting room door at the Franklin Shops on First in the downtown Fort Myers River District.
____________________________________________________
Deborah Martin enjoying success locally and out west (06-27-17)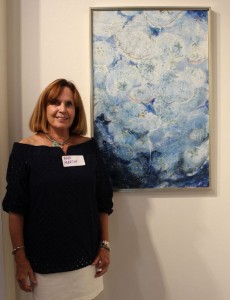 Naples artist Deborah Martin is enjoying success in shows locally and in Sante Fe, New Mexico and Denver, Colorado. Her encaustic painting Moon Jellyfish has been juried into the Alliance for the Arts' 31st Annual All Juried Exhibition. Blue-Green Algae IV has been chosen for exhibition in Global Warming is Real at the Encaustic Museum of Art in Sante Fe.
According to the Alliance, more than 400 works of art were submitted for inclusion in this year's All Florida show. Juror Kimberly Riner only chose 46 to be included in the exhibition. Moon Jellyfish is among the elite 46. An encaustic work on kozo paper mounted on Gatorboard, "Moon Jellyfish is a statement about how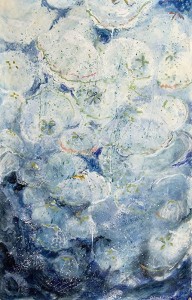 climate change and associated warming of our oceans have disturbed our oceans' delicate balance," Deborah points out. "Moon jellyfish are now in abundance in many locations due to warming waters."
Moon jellyfish are the ones you encounter at the beach, whether here, on the Atlantic or on the Pacific coastline. While Dr. Peter Richardson cautions that there exists some evidence that jellyfish numbers increase and then decrease normally every 20 or so years, he believes population figures are increasing worldwide because of the influences of overfishing, pollution and, yes, climate change. It's not that jellyfish thrive in warmer waters, but rather that the predators that feed on them do not.
Read here for the rest of this article or to learn more about encaustic painting.
____________________________________________________________________
Recent FGCU grad Adriana Flores pays homage to motherhood with 'Madre Mia' (06-27-17)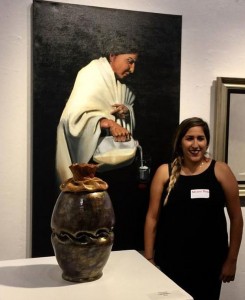 One of the exquisite pieces juried into the 31st Annual All Florida Show which closes at the Alliance for the Arts on June 30 is Adriana Flores' Madre Mia.
As the name suggest, it is a figurative work that portrays Adriana's own mother. However, it is not merely an ode to Adriana's mother. It also presented a way for the artist to process the thoughts, feelings and other complex emotions that were triggered by her discovery that she was about to become a mother herself.
"The day I discovered I was expecting was one of the scariest and also most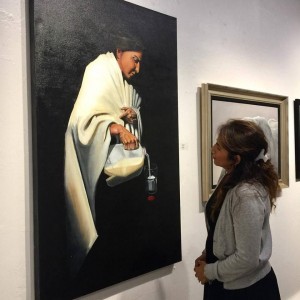 blessed surprises of my life," Adriana recounts in the Artist Statement that accompanied her senior project at Florida Gulf Coast University. "The experience of that day opened a whole world full of questions that I had never given much thought about. What would I name my child? What would he or she be like? Would they love me?"
But what consumed her most was figuring out the type of mother she wanted to be for her child. Luckily, Adriana happens to have a terrific role model to emulate –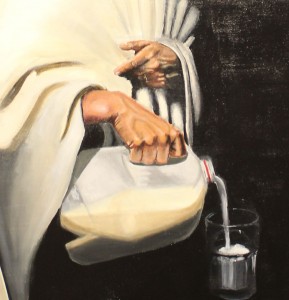 her own mother. And interestingly, that's precisely the process Adriana's mother had followed when she too was about to become a mother for the very first time.
And so Adriana began to ask questions, not only of her mother, but her grandmother as well. A portrait of both women emerged from the stories they told her – stories of growing up poor, hard work, and wanting more for their children than they'd had themselves. That's why they'd insisted that their children focus on academics, success in school and after-school activities. Adriana's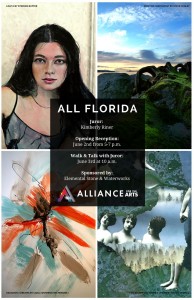 mom also meted out chores that instilled the value of hard work and the benefits associated with delayed gratification. Along the way, it became clear how she wanted to depict her mother and the props she would give her to express the metaphors and underlying messages implicit in the work.
For example, notice the knuckles and veins in both hands. Both betray decades of manual labor and hard work. The milk she pours represents life itself. In most cultures, milk is associated with fertility, abundance and even eternal life. The colostrum contained in mother's milk contains proteins, carbohydrates and antibodies that inoculate a newborn from pathogens and prevent jaundice.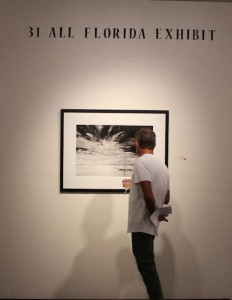 There's something of the dramatic, almost theatrical lighting that was employed at the beginning of the Baroque by Michelangelo Merisi da Caravaggio. It's not by accident. "I used a single spot light which created a chiaroscuro-like effect," Adriana explains. "Chiaroscuro is a painting technique, developed during the Renaissance period, that uses strong tonal contrasts between light and dark to model three-dimensional forms often resulting in a dramatic effect."
In Caravaggio's case, he used the technique to make his paintings appear to be an extension of real space, thereby compelling his viewers to feel as if they were part of the scene.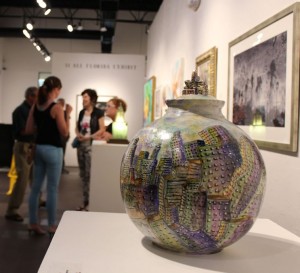 "This technique allowed me to capture the emotions of motherhood I was striving for in my series," relates Adriana, who is a recent graduate of the Bower School of Music and the Arts at FGCU. Flores is among a select group of young artists who are not only pursuing representational art, but the centuries-old disciplines of portraiture and figurative painting. The mere fact that her painting was juried into the prestigious All Florida show suggests that she has a very bright future as a visual artist. Juror Kimberly Riner chose only 46 artworks from more than 400 submissions. Need we say more?
_______________________________________________________________
Heitsch Galerie to exhibit Jansen at inaugural Saint-Tropez art fair (06-27-17)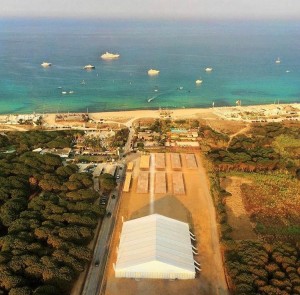 Marcus Jansen: AFTERMATH opens at the Joerg Heitsch Galerie in Munich, Germany on Thursday, July 6, with a 6:00 p.m. reception. But proving that you can never have too much of a good thing, Heitsch Galerie will present work by Marcus Jansen at the inaugural Art Pampelonne from June 29 through July 2. Art Pampelonne is a tented art fair at the beach in Saint-Tropez. Jansen's work will be on display in Booth C13.
____________________________________________________________________
Paley and Jesse James to collaborate on joint sculptures at FABTECH 2017 (06-27-17)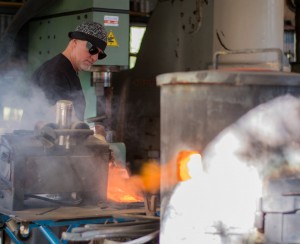 FABTECH is North America's largest metal forming, fabricating, welding and finishing event. This year's conference takes place in Chicago, and will feature collaborative pieces by renowned monumental metal sculptor Albert Paley and Jesse James of West Coast Choppers.
Each artist will start a sculpture. When they are halfway completed, they will exchange sculptures and finish the other. The completed sculptures will be unveiled at FABTECH 2017 on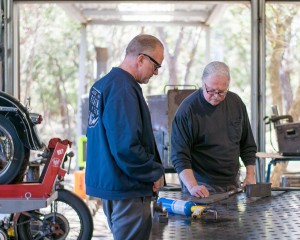 November 6.
"Both Jesse and I have worked several decades with metal and metal technology," comments Albert Paley. "What I do and what he does is incredibly sophisticated. In the past, people have approached me to collaborate but I never thought it was a situation that was viable. What we have established about building these two sculptures is a very unique opportunity."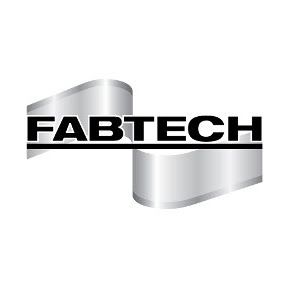 "When two craftsmen that truly love metal can come together in an organic way and create, expect something amazing to happen," touts Jesse James. "My biggest hope for this project is to inspire people and let them know that nothing is impossible – as long as you are willing to work hard and never quit."
For more on Albert Paley and his locally-exhibited sculptures, Naiad (entrance to St. Tropez Condominiums), Cross Currents (FGCU), the Paley Gates (Baker Museum of Art) and door handles (Artis Naples), read here.
____________________________________________________________
Paley reports ambitious public art installation schedule for 2017 (06-27-17)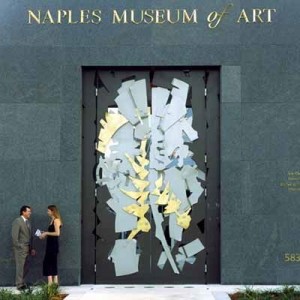 Monumental metal sculptor Albert Paley stays busy. He enjoys a significant presence here in Southwest Florida with Naiad in the entry to the St. Tropez condominiums in Fort Myers, Cross Currents on the campus of Florida Gulf Coast University, the gates at the Baker Museum of Art and the door handles at Artis Naples. He has recently completed a project in Tamarac and will install three others this year, one in Boynton Beach, Florida, a second at Michigan State University, and the third in Chattanooga, Tennessee.

The work in Tamarac is titled Vigilance. It is a fire-engine-red 40-foot-long wall relief that has been installed on the front of Tamarac Fire Station No. 78. "The sculpture is composed of various symbolic elements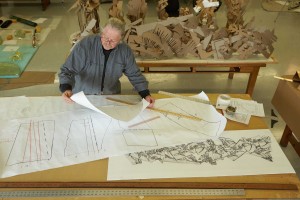 related to this important community institution: the Maltese Cross, the fire ax, pipes, ropes and ladders," Paley explains. "The stylized folded banner shapes reflect the dynamism of this profession and are also viewed as one of celebration for this incredibly valuable service afforded to the community."
For more, read here and scroll down to article of today's date.
__________________________________________
'It Comes Naturally' opening July 7 at Center for Visual Arts Bonita (06-27-17)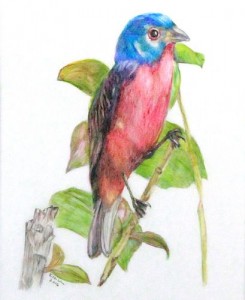 Nature has many shapes and many forms. From beach sand to glacial ice, monolithic rock to the leaves of a tree, everything we know and love comes from the earth. Anything that is naturally occurring is fair game for July's exhibit at the Center for Visual Arts Bonita Springs: It Comes Naturally. So accept the challenge and look deeper into the nature of all that is organic.
The show opens with a campus-wide open house on Friday, July 7 and runs through July 27, 2017. The Center for Visual Arts is located at 26100 Old 41 Rd., Bonita Springs.
____________________________________________________________
Focus in August at Center for Visual Arts Bonita is on surrealism (06-27-17)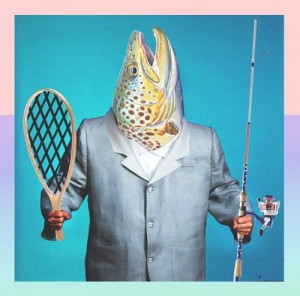 Opening at the Center for Visual Arts on August 4 with a 6:00-8:00 p.m. reception is Surrealist Summer.
Surrealism blends the real with the imaginary. While the genre takes many forms, at its core is the use of contrasting elements to create interest and surprise. So Surrealist Summer challenges artists to look for new ways in which to examine and deconstruct reality through the use of symbolism in unanticipated ways.
Surrealist Summer will run through August 25, 2017 at the Center for Visual Arts, 26100 Old 41 Rd., Bonita Springs.
_______________________________________________________
'Marcus Jansen: AFTERMATH' opens in Munich on July 6 (06-26-17)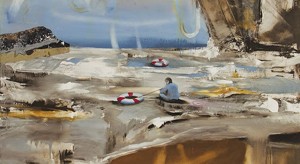 Now that SCOPE Basel 2017 is over, next up for Fort Myers artist Marcus Jansen is a solo exhibit at the Heitsch Gallery in Munich, Germany. Marcus Jansen: AFTERMATH opens with a 6:00 p.m. reception on Thursday, July 6. The show runs through August 5, 2017.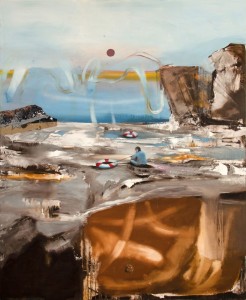 Jansen is regarded as the progenitor and pioneer of a new urban form of Expressionism. Raised bilingually by his German father and West Indian mother, Jansen was educated in Germany before cutting his artistic teeth in the New York graffiti scene of the 1980s, where he met WEST ONE. Then in the late 1990s, he developed his distinctive neo-expressionistic "Crossover" style, which references components of German Expressionism and Robert Rauschenberg's "Combine Paintings." Underlying themes in Jansen's paintings include the traumata of the Gulf War (in which he served as a GI) and the desolate environment, which is not only beset by natural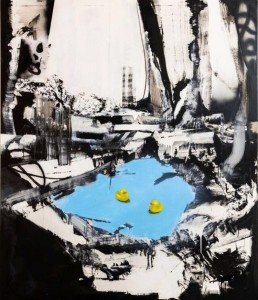 disasters, but also suffers from humankind's hapless exposure to epochal upheavals such as 9/11 and the real estate bubble.
Jansen is in the middle of a European traveling museum tour that started at the Triennale di Milano Museum in 2016 and continued with a show at the Kallmann Museum Ismaning earlier this year. He is represented by internationally-acclaimed galleries in London, Munich, Düsseldorf, San Francisco and Naples, Florida, and is the subject of two books (Decade, published by Skira Editore, and Aftermath, by Hirmer Verlag Munich) as well as an award-winning documentary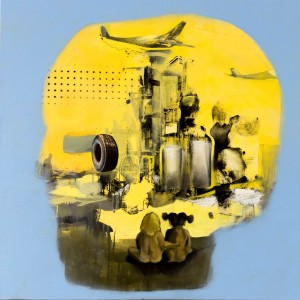 (Marcus Jansen Examine and Report, by Emmy winning filmmaker John Scholar).
Dr. Elmar Zorn will provide introductory remarks at the opening night reception for Marcus Janen: AFTERMATH. Heitsch Gallery is also hosting a special event at noon on Sunday, July 9, which will feature a visit by Prof. Manfred Schneckenburger, the director of documenta in Kassel in 1977 and 1987. He will speak about Marcus Jansen's artworks.
__________________________________________________________________________
NAA seeking wearable art/ArtWear designers for 'Scene to be Seen' runway show (06-26-17)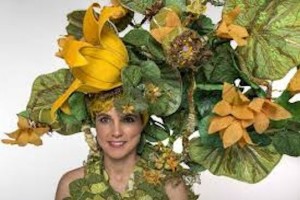 The Naples Art Association is seeking designers of one-of- a-kind wearable art/ArtWear garments and accessories (including jewelry, hats, shoes, etc) for its inaugural "Scene to be Seen" – Runway Art Show.
Scene to be Seen is dedicated to highlighting the work of ArtWear designers. Including a fully staged runway show, sales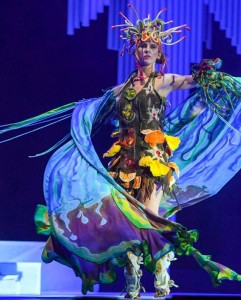 gallery and live auction, this out-of-the-box creative evening will present the highest quality wearable ArtWear.
The Call to Artists encourages ArtWear in all media and styles including garments, ensembles, hats and handbags – for both men and women. Both individual artists and collaborative teams may respond. ArtWear designers will be selected by a blind jury based on image samples submitted for entry.
Categories for design samples should fall within the following themes:
Glitter is my Favorite Color,
The Sophisticate,
Spaced Out,
Mommy Likes Me Best,
Vintage Get Away,
It's Only Natural/Flower Child, and
Tu Tu Fabulous.
Please submit digital images of up to 3 garments/looks with or without accessories that exemplify your work. Digital images must be .jpg files that are 1920 pixels on the longest side or 5″x7″ at 300 dpi. Each image should include only one (1) garment; one (1)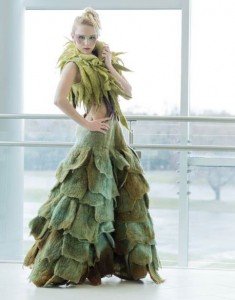 detail or alternate view per garment is required.  Image files should be labeled with the Last Name, First Initial and the Entry. (High quality photographs are important to offer the jurors the best view of your work.)
If accepted by the jury, designers will be asked to meet in person to share more about your concept. Each artist will be featured on the runway to highlight their creative achievements. Toward that end, the Naples Art Association will pair each wearable ArtWear designer with a model, makeup artist, hair stylist and a volunteer to help dress the model prior to the show. However, an ArtWear designer may opt to supply their own model,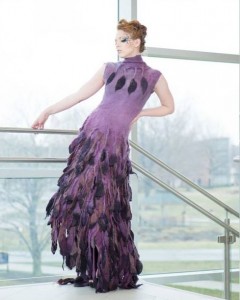 makeup artist and hair stylist. In this event, they must notify the Naples Art Association of their election by September 15, 2017.
The Naples Art Association and "Scene to be Seen" Committee has a right to reject a garment or accessory at any time.roceeds from any sales will be split 70/30 between the NAA and the ArtWear Designer.
____________________________________________________
Member show 'Elevation' coming to Alliance in August (06-26-17)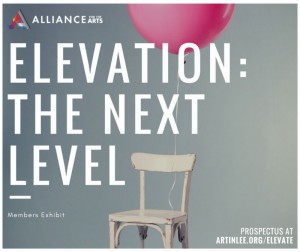 Elevation: The Next Level will be on display at the Alliance for the Arts from August 4 through August 31. Members are invited to submit one work that follows this theme framed, wired and ready to hang between 9:00 a.m. and 5:00 p.m. on Monday, July 31. The opening reception will take place from 5:00 to 7:00 p.m. on August 4.
So what, exactly, is Elevation: The Next Level? Well, the dictionary provides three possibilities:
to move or raise to a higher place or position; lift up,

to raise to a higher state, rank, or office; exalt; promote,

to raise to a higher intellectual or spiritual level.
You may become a member in order to participate in the exhibit. For more information, please telephone 239-939-2787 or visit http://www.artinlee.org.
_____________________________________________________________________
'Paving Work' one of 50 images in NAA's Camera USA 2017 photo exhibition (06-26-17)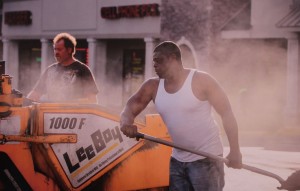 One of the exhibitors in the Naples Art Association's Camera USA 2017 photography exhibition is Woodbridge, Virginia photographer Nelson Head. His image is titled Paving Work, 2016.
"When paving a parking lot, the workers have to spread some of the asphalt by hand," explains Head of his picture. "The material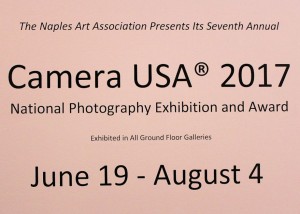 must be hot or it won't spread properly. With fresh asphalt on the job site, you can't call it quits just because it's dusk even if you've been there since dawn. These guys always finish the job."
Paving Work is one of 50 special images on view through August 4.
_______________________________________________________________________
One of Suzanne Barton's coveted tiny dancers in Camera USA 2017 exhibition (06-26-17)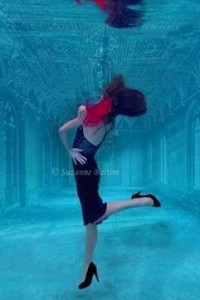 One of the exhibitors in the Naples Art Association's Camera USA 2017 photography exhibition is Suzanne Barton. Because she possesses the innate ability to capture a moment that will be cherished a lifetime, Suzanne is one of Florida's most sought-after photographers. While frequently referred to as an emotionally intuitive photographer, she takes pride in projecting an unobtrusive persona onto her work.
Barton's Camera USA 2017 image is titled Tango Time, 2016. It comes from Suzanne's Tiny Dancer Underwater Art Series, which depicts the perfect communion between a dancer's heart and the inspirational wisdom of water.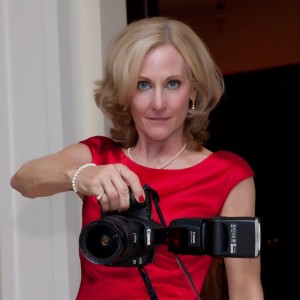 "Water takes the form in which it is held and moves in the path of least resistance," notes Suzanne. "Water is vital to life as we know it – without it, no life exists. It supports us in the womb, it energizes, purifies and cleanses. It symbolizes life, clarity, growth, illumination and transformation. I celebrate its beauty as a gentle reminder to all that we are the caretaker's of this precious life force.
Barton's Tiny Dancer Underwater Art Series began as a yearning to experience underwater photography.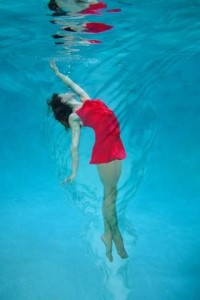 "The grace and fluidity of movement, the soothing quiet and calm beneath the surface, along with the weightless suspension, as my subject floated to the surface, left me transformed," Suzanne amplifies.
After extensive underwater photography sessions with specialized photography equipment, careful editing, and selection of the perfect image, fine art techniques are brought to bear as the image is committed to a special metallic substrate for display with an archival mount. "The works in my 'Tiny Dancer' series are committed to aluminum by archival dye-sublimation, then hand embellished with reflective materials and resin to bring the pieces to life."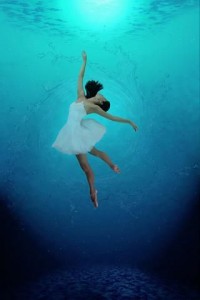 Suzanne's underwater fine art is part of the private collection that Royal Caribbean exhibits aboard Harmony of the Seas. As such, it is exhibited in more than 250 ports of call.
As an artist, Suzanne's preferential interest is creativity through photographic art. "Although I am looking through a lens, it is what I see 'intuitively' that controls the 'decisive moment' of the shutter release. I am an old school photographer who has embraced the digital era and its tools to create unique combinations of color, design and imagination.
Barton has been a professional photographer in the Ft. Lauderdale area since 1985.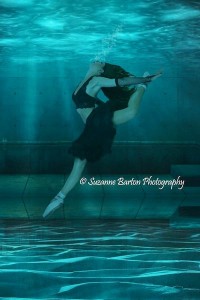 She is skilled in many areas of photography, but is most passionate about working with children, as is quite evident in her sensitive portraits of Maternity and Newborn.
Suzanne shares the gift of her talents with many charities. She was chosen as one of the National Photographers for "Now I lay Me Down to Sleep" Foundation that provides remembrance photography to parents suffering the loss of a baby through the free gift of portraiture. She serves on the board for the AJC Children's Foundation, which runs an orphanage in Honduras, Central America, for abused and abandoned children. Her photographic skills have brought to light the plight of these children and the conditions of their extreme poverty.
____________________________________________________________________
Natalya Nova's electrical self-portrait part of Camera USA 2017 exhibition (06-26-17)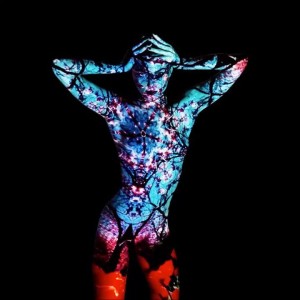 One of the exhibitors in the Naples Art Association's Camera USA 2017 photography exhibition is Natalya Nova. Her entry in the show is an intriguing self-portrait that entices the eye from across the vast expanse of the main gallery. Printed on a combination of metal and light box, the image is both electric and provocatively magical. Among the 50 images juried into the show (out of 211 submissions), Supernova Playroom, Self-Portrait, 2016 stands out and stands alone.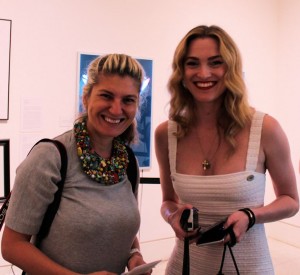 Natalya Nova is an award-winning artist, photographer and filmmaker. Originally from Orenburg, Russia, she is based today out of New York City, where she has lived since 2005. Nova uses a medium format Leica with classic 4×5 lenses from the 1930's and 40's to create self-portraits in which her body becomes the painted canvas.
She has collaborated with notable artists including Grammy award winner and art director, Ian Cuttler.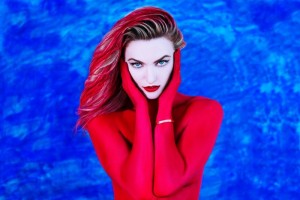 Her work has been exhibited at Miami Art Basel, galleries in New York and the LA Film Festival and The Big Apple Film Festival. She counts among her clients Volition, Nakid, Milk, Editorial, Elegant, Haute Punch, Blum, Vintedge, Visionary, Camera Obscura, Staged Photography, Uno Kudo, and Good Girl, Bad Girl.
____________________________________________________
Tony Hertz returns to Camera USA with 'Fence Study' (06-26-17)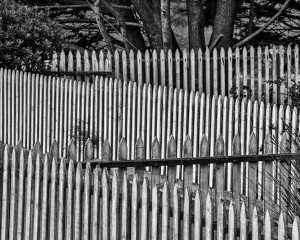 One of the exhibitors in the Naples Art Association's Camera USA 2017 photography exhibition is Pismo Beach, California photographer Tony Hertz. If the name sounds familiar, it may be because Hertz's Gnarled Wave was the Best of Show $5,000 award winner in Camera USA 2013.
This year's image is titled Fence Study. It is a mesmerizing monotone depiction of vertical, horizontal and diagonal lines and planes. Hertz appreciates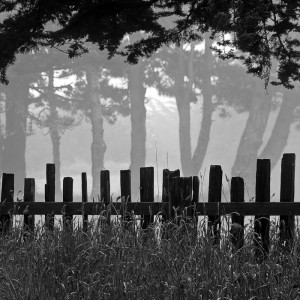 the simplicity of black and white photography, which he characterizes as a more instinctual medium than color photography.
"The challenge and discovery in making simple compositional elements in black and white and color deepens my personal meanings to nature," Hertz says. "To me, nature is like a sanctuary, a place apart. My intention is to photograph what is felt and not often seen. I make images instinctively. I enjoy capturing those moments that evoke mystery, mood and beauty, and sharing them."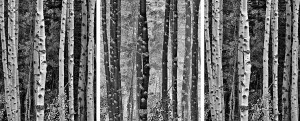 He is now using a 4×5/8×10 aspect ratio when composing his work. Tony feels this facet lends itself to a more fluid balance and increases compositional opportunities when arranging vertical and horizontal scenes.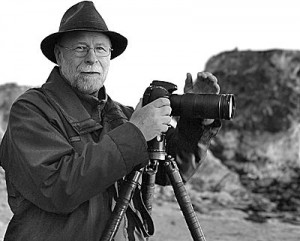 Hertz has more than 30 years of professional photography experience with 10 years as a daily newspaper photographer in California, photographing everything from U.S. Presidents, the Queen of England, Pope Paul, celebrities, musicians, famous sports figures and major news and community events.
"Working as a photojournalist helped refine my compositional instincts when I turned to focus mainly on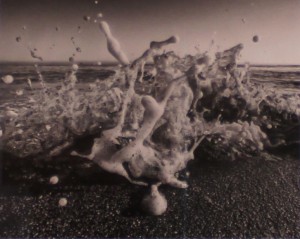 landscape and nature subjects for personal and fine art photography work," Hertz shares.
His award-winning photography has been widely published, with worldwide credits including Time Magazine, Los Angeles Times, New York Times Magazine, USA Today, National Geographic WORLD, Sunset Magazine, New York Times, Chicago Tribune, San Francisco Chronicle and the Christian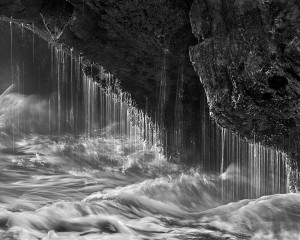 Science Monitor.
When he's not out in the field shooting, he's likely spending time in a traditional wet darkroom editing images from a recent photo trip or teaching photography for the Cuesta College Fine Arts Department in San Luis Obispo, California.
Regarding Gnarled Wave, Hertz explained that his aim was to make an image contrary to what he shoots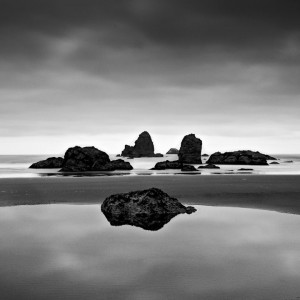 more often — long exposure photography. "In full sunlight, I set my camera to ISO 3200 to obtain a high shutter speed with maximum depth of field. I photographed with Live View through a waterproof bag. Drying off the outside lens often, awkward camera positions and tight finger space were some of my main challenges."
Camera USA 2017 is on view now through August 5, 2017 in the main gallery at the Naples Art Association.
_______________________________________________________________
Dennis Church's 'Muffler Shop' part of Camera USA 2017 exhibition (06-26-17)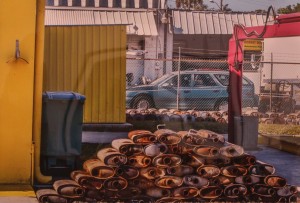 One of the exhibitors in the Naples Art Association's Camera USA 2017 photography exhibition is local photographer Dennis Church. The native Iowan is self-taught. He previously worked as a commercial and freelance photographer for national magazines and numerous commercial clients.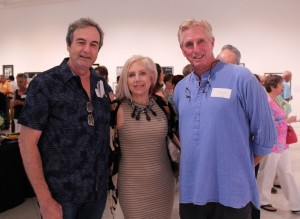 Dennis' Camera USA 2017 image is titled Muffler Shop, North Fort Myers, Florida 2017. It is a classic Church formulation in which he imposes order on a scene of visual confusion.
"Each day we move through a barrage of visual information that results in a cacophony of architecture, advertising, nature, color, and cultural symbols – all creating a landscape that is often chaotic and mind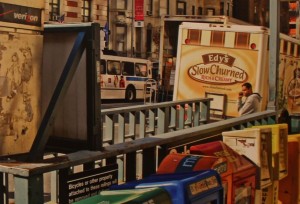 numbing," Dennis has said of similar and related images. Tinkering with, and often dismantling single-point perspective, Church creates planar and semi-planar documentary style pictures of ordinary and overlooked views in the lineage of Evans-Eggleston.
"Sometimes it is the challenge of 'how many balls one can juggle'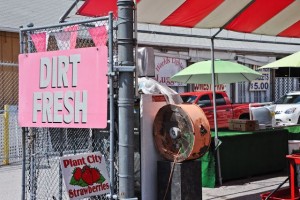 in the picture frame and create a picture that works," Dennis says of Muffler Shop in particular. "Also, my interest may be intrigued by simple echoing color harmonies and/or jarring harmonic discord, even in the same picture. My intent is akin to improvising music, pictures that are to be felt, 'listened' to. This practice, infinite in the creative possibilities of the viewfinders' rectangle,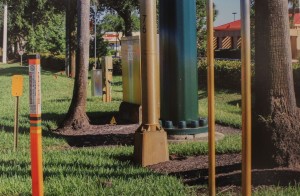 keeps me in the present moment, an engaging perceptual practice that I find enduringly exciting and satisfying."
Church's fine art photographs have been exhibited in a number of galleries in the United States, and has been featured in many online and hard copy publications in the USA and Europe (including Wonder Magazine,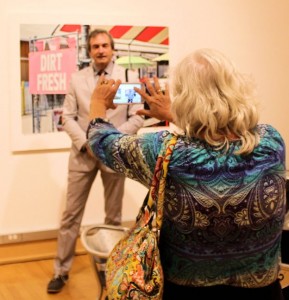 Moscow, Fine Art Photographer, Prague, Image in Progress, Rome, Lens Culture and Lenscratch, Paris, The Oxford American and The Southern Photographer in the USA).
In 2012, Church was a finalist in The Michael P. Smith Fund for Documentary Photography overseen by The News Orleans Photo Alliance. His work is represented by The Photography Room in Canberra, Australia and DAAS CO-OP in the SoCo Cultural District in Fort Myers.
For more on Dennis and his fine art photography, read here.
Camera USA 2017 is on view now through August 5, 2017 in the main gallery at the Naples Art Association.
____________________________________________________________________
Dennis Church teasing up interest in upcoming 'City of Palms' exhibition at Davis Art Center (06-21-17)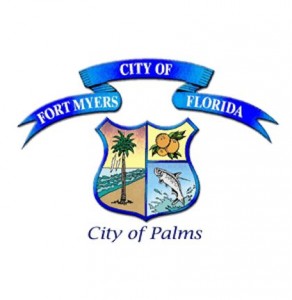 During the real estate boom of the 1920s, nurseryman James E. Hendry proposed that Fort Myers be nicknamed the "City of Palms." It became the town's official slogan. But it is also an art exhibit coming this November to The Sidney and Berne Davis Art Center Lawrence Massing, Sandra Yeyati, Roy Rodriguez and Dennis Church interpret the slogan through their unique visions. Each photographer will display about 30 images culled from over two years of working on the idea. Dennis Church has shared some teasers on Facebook, which are reproduced here.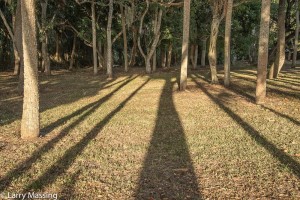 Sandra Yeyati had to make a mid-course career correction. After college, she went to law school (Cornell), passed the bar and litigated cases for five years. Then she came to her senses and established a more rewarding lifestyle as a fine art photographer. That was in 2005. Today, she creates intriguing works of art with her cameras and plays with words as the managing editor of a publishing company and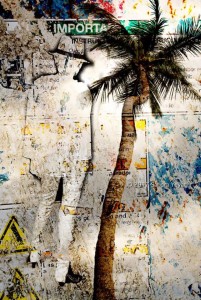 a freelance writer for publications and individual clients. Of late, a number of Yeyati's pieces have been juried into local and national competitions (like the Naples Art Association's Camera USA National Photography Competition) and displayed in Naples and Fort Myers galleries (including Arts for ACT Gallery). Her photographs have also appeared in various publications, including Gulfshore Life magazine. "In the digital darkroom, Yeyati layers multiple photographs that she has taken of people and textures into one composition, creating painterly images while honoring the photographic elements," notes Arts for ACT's Claudia Goode. Art critic Donald Miller compared one of her pieces to the expressionist paintings of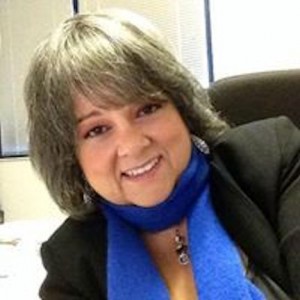 Alexej von Jawlensky. "I am mesmerized by the fractal beauty of decay and deterioration as it forms strange patterns in surprising colors and tones," says Yeyati. "Faces also fascinate me; I look to them for answers to eternal questions about identity and the way our surroundings influence our sense of self. Many of us hide inconceivable secrets behind a simple smile. Every one of my compositions is a confession."
Roy Rodriguez uses a variety of cameras to capture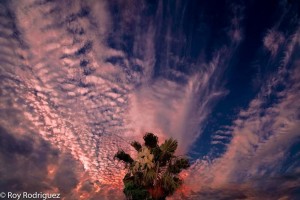 images that contain rich narrative, whether in the form of abstract compositions formed by the random remains of beet juice on the evening's dirty dinner dishes or arresting land, sky and seascapes from such diverse local environs as Myakka River State Park, Jupiter or while waiting for the traffic light to change on a rainy afternoon. Roy has two images on view at the
Davis Art Center right now (one is the black-and-white image, right). Accepted as entries in its Positive/Negative Exhibit, Rodriguez calls them "practice" for the big show opening November 3 that honors both the city and Florida's iconic state tree.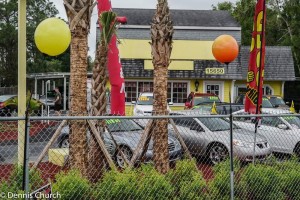 Approaching the world around him with a subjective eye and stepping back from traditional realism, Dennis Church explores the world of what we do not see in the traditional landscape. Using color and shape, he improvises thoughtful images that are simultaneously simple and complex, challenging yet peaceful, and which ultimately offer the viewer a satisfying view that reflects the beauty and grace so often overlooked in the mundane world around us. He calls this body of work AMERICCOLOR, and through it, Church seeks to bring order to the visual confusion all around us. Read here for more on Dennis and his body of work.
________________________________________________________________
Drop off for Arts for ACT open-themed show begins tomorrow (06-25-17)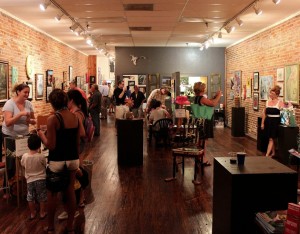 The drop-off for Arts for ACT's annual open-themed group exhibit in July begins tomorrow and continues through Sunday, July 2. Artwork must be delivered framed, wired and ready to hang. 
This year's themes are:
Year of the Rooster;

Current Social Issues or Things that Matter; and

Bizarre and Surreal.
Themes may be mixed.
Artists entry fees are:
1 piece: $10.00,

2 pieces: $15.00, and

3 pieces: $20.00
Entry fees are non-refundable.
Cash prizes will be awarded for
The judge for the show will be announced at a later date.
Pieces which are not selected for the show must be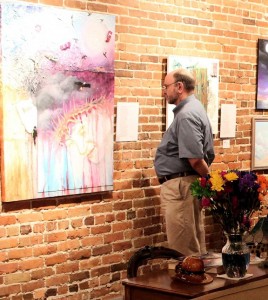 picked up on Wednesday, July 5, 2017 between 11:00 a.m. and 4:00 p.m.
The opening reception takes place from 6:00-10:00 p.m. on July 7, 2017 concurrently with Art Walk and will remain on display through July 31.
A 40% commission will be retained by Arts for ACT Gallery on all artwork sold, with the proceeds benefitting the ACT Shelter. Unsold works must be picked up between 11:00 a.m. and 4:00 p.m. on Monday, July 31.
For more information, please contact Claudia Goode by email at cgoode@actabuse.com or by telephone at 239-337-5050.
________________________________________________________________
'Your Best Shot' photography exhibition coming to Alliance in October (06-25-17)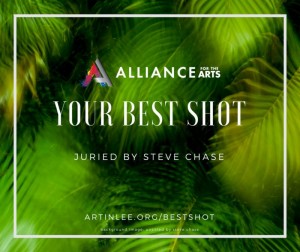 Among artistic mediums, photography is a relatively recent arrival. Though invented in the mid-19th century, it wasn't elevated to an art form until the 20th-century. Drawing attention to this new artistic discipline, the Alliance's upcoming exhibition, Your Best Shot, is dedicated to photographers and photography. August 26 is the deadline for entries. The show opens October 6.
Steve Chase will judge the exhibition. Chase has taught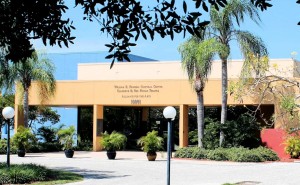 Fine Art Photography at Florida SouthWestern State College since 2008. He holds degrees in both Fine Art Photography and Motion Pictures. Prior to teaching at FSW, Chase was one of the founding faculty members of the Undergraduate Program of the School of Motion Pictures Arts at Florida State University, where he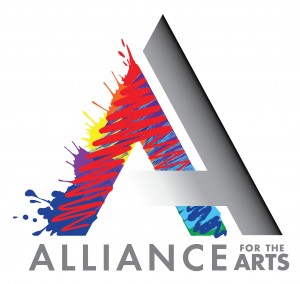 served as a full time faculty member from 1990 – 2004.
In 1997, Steve won Florida State University's highly coveted T.I.P. award for excellence in college teaching. In 2002 he was nominated for a university teaching award and in 2004 he was recognized for his distinguished contribution to the success of the Film School.
Steve is a recipient of a Florida Individual Artist Fellowship – 1992 – Division of Cultural Affairs, State of Florida. His photography has been exhibited throughout the state and nationally. His films have been screened at festivals nationally and internationally.
_______________________________________________________________________
Harper, Jones, Kurzman exhibit at Center for Performing Arts opens June 29 (06-25-17)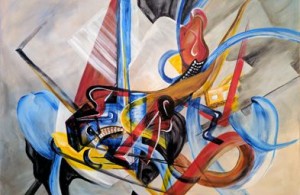 Harper, Jones and Kurzman are dedicated and prolific artists. Harper pushes her paint into the cerebral with the dynamic gestures and sophisticated story lines of her abstract acrylic paintings. Jones meticulously labors over his detailed pastel paintings littered with rich local imagery expressed in new and invigorating light.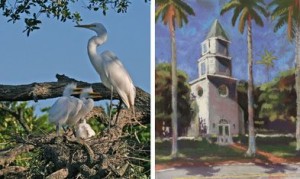 Kurzman captures a different light through the lens of his camera with his perceptive compositions and complex narratives. And opening at the Center for Performing Arts Bonita Springs on June 29 is a group exhibition of their work with a reception taking place from 6:00-8:00 p.m. The show runs through August 19.
_______________________________________________________________________
Baker Museum's 2017-2018 exhibition schedule includes Jansen retrospective (06-25-17)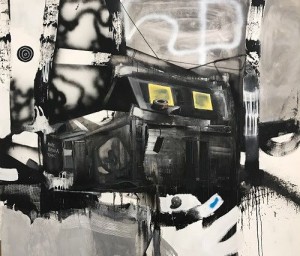 The Baker Museum at Artis Naples has released its 2017-2018 exhibition schedule. Included in the Baker Museum's exhibition itinerary is Marcus Jansen: DECADE, which represents the very first museum retrospective of Jansen's work. It opens May 19, 2018 and runs through July 22, 2018.
The full Baker Museum schedule follows:
Sept. 5, 2017-July, 22, 2018 – Languages of Art. This exhibition contains approximately 100 works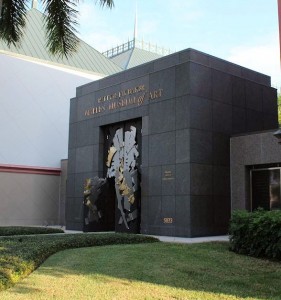 from the museum's permanent collection. The show explores the visual languages artists employ to depict specific themes, including mythology, domestic space, the artist's studio, abstraction, landscape and seascape, the city and industry and the figure, including portraits, group portraits and nudes.
Sept. 5, 2017-Jan. 7, 2018 – Arik Levy: Unnatural History. This exhibition features works by artist, designer, photographer and filmmaker Arik Levy (Israeli, b. 1963), who has gained recognition for his sculpture and collectable designs. The show includes examples from Levy's Rock

series, a sequence of sculptures shaped like minerals and composed of reflective surfaces, such as polished stainless steel.
Sept.5-Oct.29, 2017 – Schrenk Student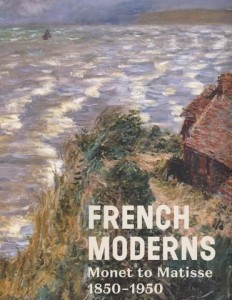 Photography Exhibition. This show contains photographic images produced by a select group of 20 highly-motivated Collier County high school students.
Sept.5-27, 2017 – Inside the Outside: Five Self-Taught Artists from the William Louis Dreyfus Foundation. This is a continuation of the exhibition that opened this Spring showcasing the work of five self-taught artists — James Castle, Thornton Dial, Nellie Mae Rowe, Bill Traylor and Willie Young.
Oct.20, 2017-Jan.31, 2018 – French Moderns: Monet to Matisse, 1850-1950. For this show, the Brooklyn Museum is loaning the Baker Museum some 65 works of art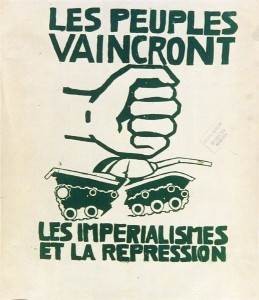 produced by the era's leading artists, including Pierre Bonnard, Paul Cézanne, Marc Chagall, Edgar Degas; Henri Matisse, Claude Monet,  Berthe Morisot,  Odilon Redon, Pierre-Auguste Renoir, Auguste Rodin, Édouard Vuillard and others.
Oct.20, 2017-Jan.31, 2018 – Expressions: Matisse and Modern Art from the Permanent Collection. This complement to the French Moderns exhibition will feature a selection of works from The Baker Museum's permanent collection by modern artists whose innovative styles, non-traditional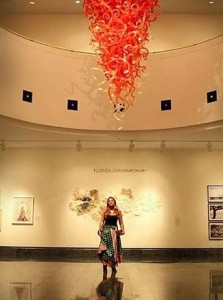 techniques and unconventional ideas and themes helped define avant-garde art. Contained in the show are works by Alexander Archipenko, Larry Rivers, Morgan Russell and Sonia Delaunay.
Nov.14, 2017-Jan.14, 2018 – To the Streets! Protest Posters from the Atelier Populaire de l'Ecole des Beaux Arts. From Artis—Naples, The Baker Museum's permanent collection, this exhibition features a portfolio created by anonymous artists, activists and students for the massive protests that took place in Paris in May of 1968. These pieces of political history show the power of images in moments of social upheaval.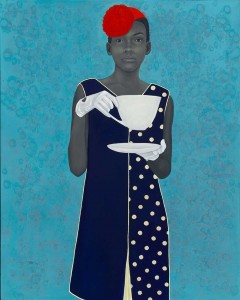 Nov.14, 2017-Jan.14, 2018 – Florida Contemporary. This annual exhibition presents a select group of contemporary artists practicing in Florida whose work shows a diversity of approaches to personal, local and global themes.
Jan31-May6, 2018 – The Outwin: American Portraiture Today. The Smithsonian's National Portrait Gallery invites artists across the United States to investigate the art of portrayal through its triennial Outwin Boochever Portrait Competition and draws submissions from emerging, mid-career and established artists. The results will be on display in this exhibition.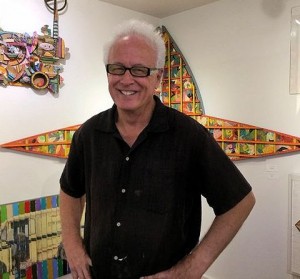 Jan31-Apr.22, 2018 – An exhibition of the works of John Carroll Long. Selections of work in a variety of media by John Carroll Long are included in this exhibition. "Prolific, revealing an aptitude for charting different bodies of work, Long is something of an enfant terrible whose works address the human condition," according to the museum news release.
Jan.31-Apr.22, 2018 – Revelation: Jean-Denis Cruchet. This is a retrospective containing selections from the  artistic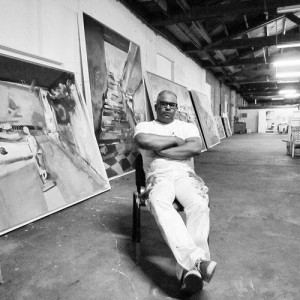 production of Jean-Denis Cruchet (Swiss-American, b. 1939),  whose works in stone, bronze, painting and collage reveal his fluency in different media. His works are included in public collections internationally.
Feb.16-July 22, 2018 – Word Art: A Poetry of Shape. From the collections of Jordan D. Schnitzer and his family foundation, Word Art will offer a concentrated perspective on  the use of words in visual art. Co-organized by Frank Verpoorten, director and chief curator of The Baker Museum, and Michael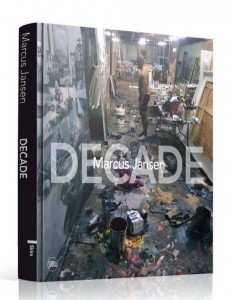 McKenzie, founder of American Image, the artists included in this show include John Baldessari, Banksy,  Louise Bourgeois, Crash, Stuart Davis, Marcel Duchamp, Bruce Nauman, Claes Oldenburg, Robert Rauschenberg, Larry Rivers; James Rosenquist, Cy Twombly, Andy Warhol and more.
May 19-July 22, 2018 – Marcus Jansen: DECADE. This is the first U.S. museum retrospective of Marcus Jansen, who was first influenced by the emerging graffiti art movement in New York City in the mid-`80s before establishing himself as a painter with a l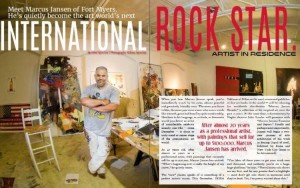 arge following in Southwest Florida, New York and Europe.
May 5-July 22, 2018 – Student art. Local students from kindergarten through high school exhibit work created in the past year.
For more on these shows, read Harriet Howard Heithaus' article, "Monet, Matisse, plus locals coming to the Baker Museum," published in the Naples Daily News on June 4, 2017.
________________________________________________________________
Standard registration for NAA's 'Your Choice 2017′ early registration (06-25-17)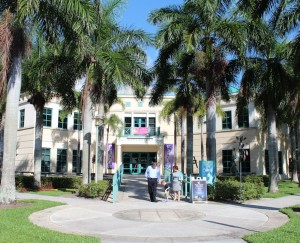 The Naples Art Association has issued a call for artists for its Your Choice 2017 members exhibition that will open on August 11. Standard registration is on July 14. A prospectus with forms is available at the Naples Art Association or online at http://www.naplesart.org/call-for-artists/.
Your Choice is the Naples Art Association's annual non-juried exhibition. It provides an opportunity for Naples Art Association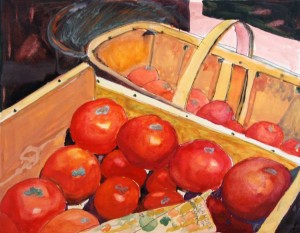 contributors to present their artwork to a large audience with no jury process requirement. The exhibition is called "Your Choice" because artists and viewers make the choices. Artists decide which artwork they will exhibit while viewers attending the reception decide who will receive the awards. There are five awards with a total cash value of $1,000. Everyone attending the August 11 reception may cast one vote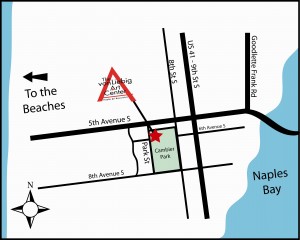 for a favorite artist. Voting is overseen by the Collier County Supervisor of Elections Office, which will set up a precinct in Studio 104. The award winners will be announced on the Naples Art Association's Facebook page.
The exhibition will be on view through September 29 in all the ground floor galleries of the Naples Art Association. For more information, please telephone 239-262-6517 or visit http://www.NaplesArt.org.
___________________________________________________
Fine Art of Lee Hammond' on exhibit at Rookery Bay (06-25-17)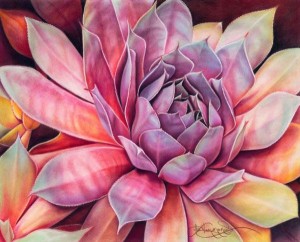 On exhibit at Rookery Bay through September 15 is the "Fine Art of Lee Hammond." As Artist-in-Residence, Hammond teaches daily and weekly classes at Rookery Bay year-round, and her exhibit features a selection of her works in graphite, colored pencil and acrylic. Some of her pieces are available for purchase.
____________________________________________________
Here's Theatre Conspiracy's 2017-2018 show schedule (06-24-17)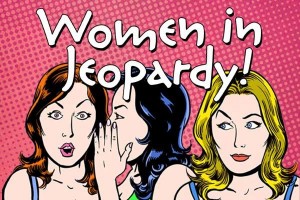 Theatre Conspiracy's 2017-2018 season includes beloved classics, comedic favorites and award-winning new plays from fresh voices. "From the classics to the cutting edge, we invite audiences to experience the broadest range of theatrical entertainment," says founder and Producing Artistic Director Bill Taylor.
________________________________________________________________________
Here are the concerts Broadway Palm is producing during its 2017-2018 season (06-24-17)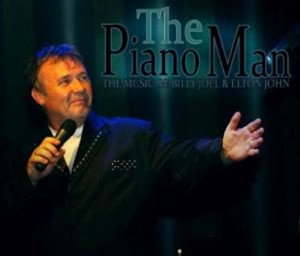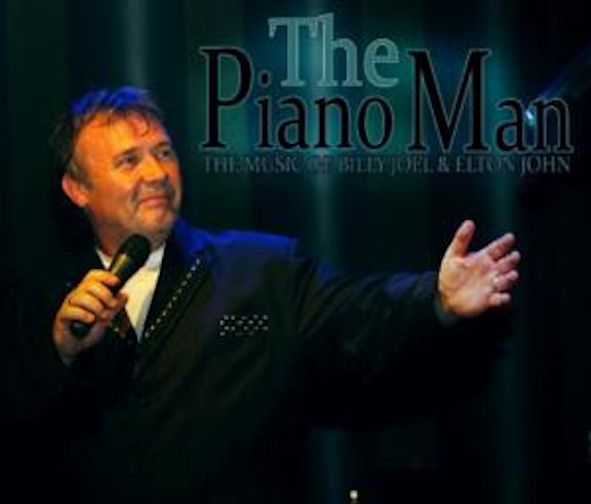 Broadway Palm Dinner Theatre's 25th anniversary season will include five concerts:
Yesterday: The Beatles Tribute;
One of These Nights: A Tribute to the Eagles;
The Rave-Ons: Tribute to Buddy Holly, Ritchie Valens & The Big Bopper;
The Piano Man:  The Music of Billy Joel and Elton John; and
Dwight Icenhower's Tribute to the King.
For dates and details, read here.
______________________________________________________________________
Here are the 8 shows included in Broadway Palm's 2017-18 main stage season (06-24-17)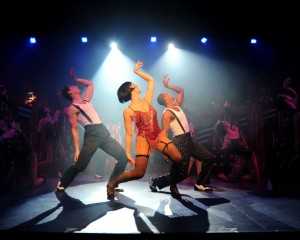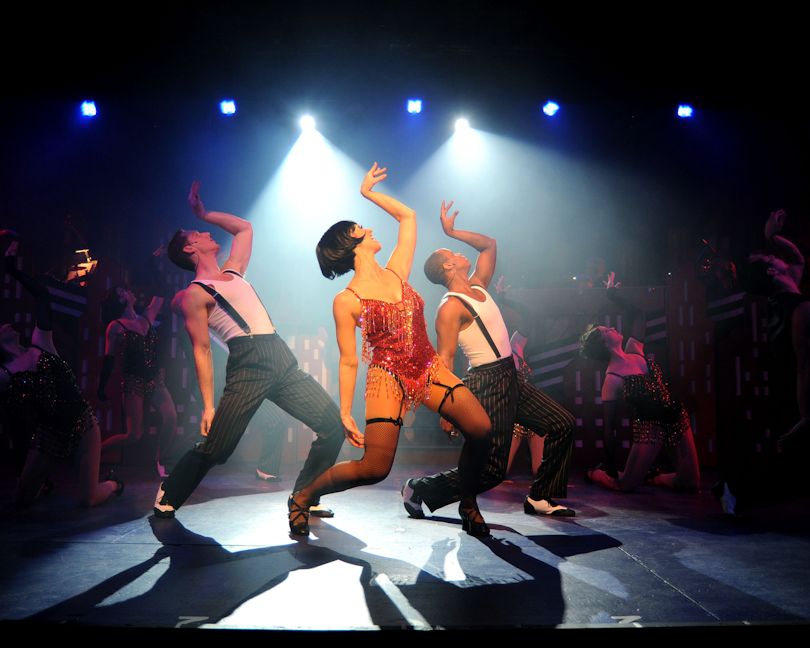 Broadway Palm Dinner Theatre's 25th anniversary season will include eight main stage productions, five productions in The Off Broadway Palm, four Children's Theatre productions (TBA), and five concerts. Broadway Palm's main stage opens on September 7, 2017 and runs through August 11, 2018. Read here to see which plays will be produced.
______________________________________________________________
Here are the five shows coming next season to Off Broadway Palm (06-24-17)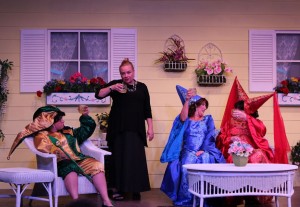 The female version of The Odd Couple and an encore of The Savannah Sipping Society headline the list of the five shows coming to the Off Broadway Palm during the Broadway Palm Dinner Theatre's 25th anniversary season. The Off Broadway Palm's season begins September 21 and runs through July 22, 2018.
______________________________________________________________________
See what The Lab is producing this summer and during its 2017-2018 season (06-24-17)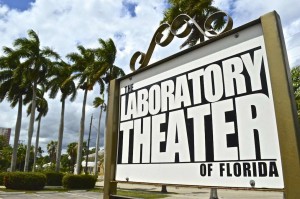 The Laboratory Theater is getting a makeover in time for its upcoming ninth season. Now that The Lab owns the old church building in which it has been performing for the past several years, it can finally make some long due renovations guaranteed to enhance the theater-going experience of its loyal audiences. Its current summer stock series includes two tremendous productions,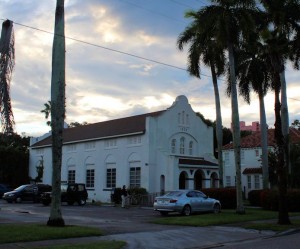 and The Lab will produce seven shows and a number of special events during its hotly-anticipated 2017-2018 season. Links are provided below for each.
"We are thrilled about this upcoming season, which has something for everyone!" says Artistic Director Annette Trossbach. "We have several brand new shows as well as some well-known audience favorites. As usual, we will have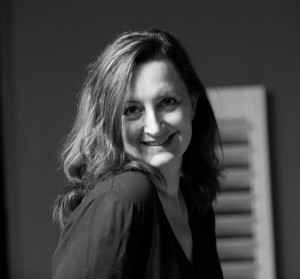 plenty of community outreach events connected to our shows. And, in December, look forward to our expanded education program."
________________________________________________________________________
FMff accepting submissions; T.G.I.M. set to return to Davis Art Center in August (06-23-17)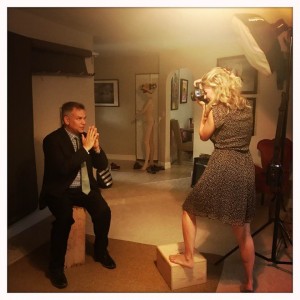 It's been 103days since the 7th Annual Fort Myers Film Festival closed with a champagne and dessert awards ceremony at the Broadway Palm Dinner Theater. If you're also jonesing for some good indie films, then you'll be happy to know that T.G.I.M. resumes in August. Join FMff every first Monday from August through February, and help decide which of the short indie films submitted to the Fort Myers Film Festival will make it into next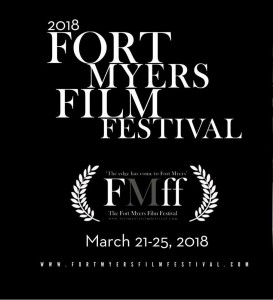 year's film festival … and which do not. Doors open at 6:30 p.m., with the films starting at 7:00 p.m. Tickets are $10 for adults and $8 for seniors and students.
So mark your calendars. The relevant first Mondays are:
August 7, 2017
September 4, 2017
October 2, 2017
November 6, 2017
December 4, 2017
January 1, 2018
February 5, 2018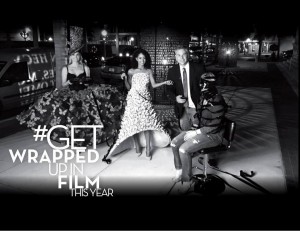 And if you're a filmmaker, FMff is now accepting submissions for the 8th Annual Fort Myers Film Festival, which returns to the River District March 21-25, 2018. Submissions are through Withoutabox, and you can find a submission form here.
____________________________________________________
On stage at Lab Theater is parody of 1962 cult classic, 'Whatever Happened to Baby Jane' (06-23-17)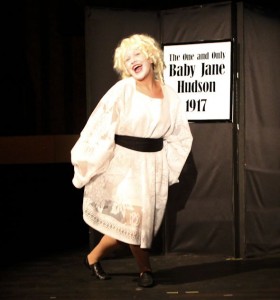 American audiences love parodies. Witness the immense and enduring popularity of spoofs such as Blazing Saddles (lampooning old time westerns), Austin Powers (mocking the 007 genre), Airplane (satirizing 1970s disaster movies), Young Frankenstein and Scary Movie. The recipe for their success starts with an abiding love and respect for the subject of their derision, and that's keenly evident in Lab Theater's production of Whatever Happened to Baby Jane: A Parody of the Horror, which opened June 16.
Lab's Producing Artistic Director Annette Trossbach first learned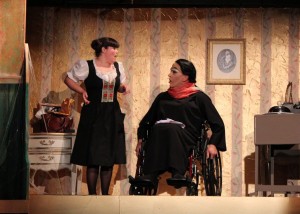 of the play when she saw the title of a play being produced for Halloween by the Hippodrome in Gainesville. "It was right on the heels of Feud," notes Trossbach, referring to the binge-worthy 2016 FX television series that chronicled the epic rivalry that erupted between Bette Davis and Joan Crawford during and following the production of the 1962 film.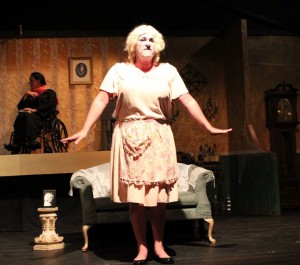 The timing could not be more perfect as summer stock at The Lab traditionally features over-the-top, zany comedies, such as Steve Martin's The Underpants and Robert Caisley's Happy in 2015 and Michael Hollinger's An Empty Plate at the Café du Grand Boeuf and Deborah Zoe Laufer's Sirens last summer.
Read the rest of this review here.
And follow these links for more on the production:
_____________________________________________________________________
'Right Bed, Wrong Husband' on stage at Off Broadway Palm through July 29 (06-23-17)

Researchers from University College London have found that little white lies invariably lead to real whoppers because they desensitize our brains to the negative emotions connected with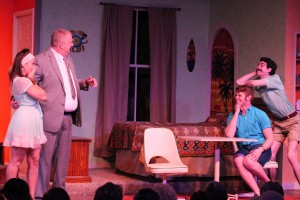 fibbing. That's exactly what happens to Ted and his friends in Neil and Caroline Shaffner's Right Bed, Wrong Husband, a farce in three acts that's on stage at the Off-Broadway Palm through July 29. For more on this production and the actors who appear in it, follow these links:
___________________________________________________
Broadway Palm's 'Clue the Musical' closes tomorrow (06-23-17)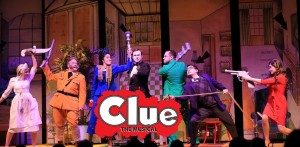 There are three more performances left before Broadway Palm's Clue: The Musical closes on June 24: tonight, a matinee tomorrow and the finale tomorrow night. To find out about the show and its leading actors, follow these links:
________________________________________________________________________
Summer's going to be supercalifragilisticexpialidocious at Broadway Palm (06-23-17)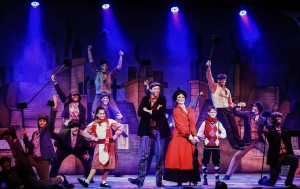 This summer is going to be Supercalifragilisticexpialidocious as Mary Poppins flies onto the Broadway Palm stage June 29 through August 12, 2017. Based on the books by P.L. Travers and the classic Walt Disney film, Disney and Cameron Mackintosh's Mary Poppins delighted Broadway audiences for over 2,500 performances and received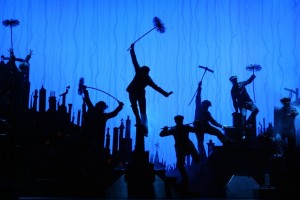 nominations for nine Olivier and seven Tony Awards, including Best Musical.
The action takes place in London at 17 Cherry Tree Lane. That's where young Jane and Michael Banks live with their parents. Undisciplined and incorrigible, the children have sent many a nanny packing before Mary Poppins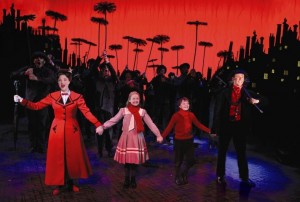 arrives on their doorstep. Using a combination of common sense and magic, she must teach the entire family how to value each other again. Along the way, she shares such beloved and memorable songs as Chim Chim Cher-ee, A Spoonful of Sugar and Supercalifragilisticexpialidocious.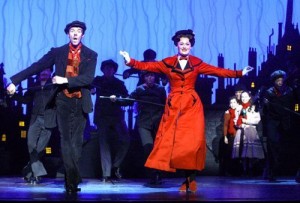 Mary Poppins is an enchanting mixture of irresistible story, unforgettable songs, breathtaking dance numbers and astonishing stagecraft that will engage your imagination and invoke deep feelings of nostalgia like few other shows ever had or can.
Mary Poppins is playing at Broadway Palm June 29 through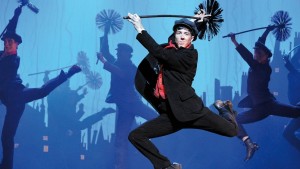 August 12, 2017.
For more:
________________________________________________________
'Sister Act the Musical' opens at Sugden Theatre on June 29 (06-23-17)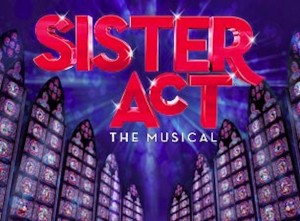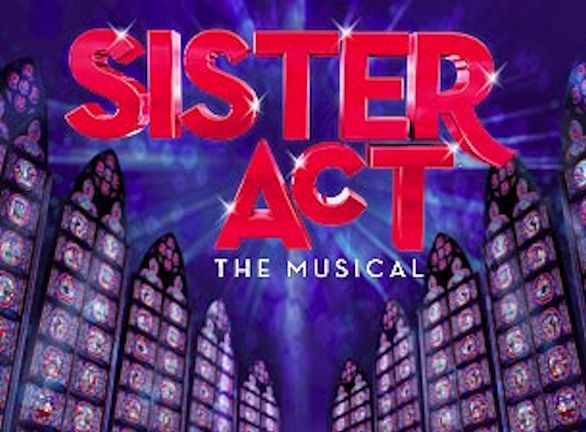 The Naples Players is performing Sister Act the Musical as its Summer Spectacular. This feel-great musical comedy is filled with powerful gospel music, rich loveable characters, outrageous dancing and a truly moving story that will leave audiences raising their voices to sing along well into the fall.
The show's inspiring hymnal is by Tony and eight-time Oscar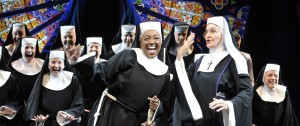 winner, Alan Menken (Newsies, Beauty and the Beast, Little Shop of Horrors). It was nominated for five-Tony Awards including Best Musical. Directed and choreographed with the creative, upbeat stylings of Dawn Lebrecht-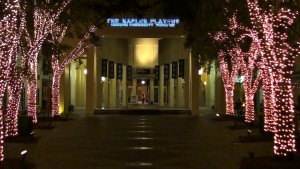 Fornara, and accompanied by a full orchestra led by Charles Fornara, TNP's production of Sister Act the Musical has more than a prayer of being the runaway hit of the summer in Southwest Florida.
"Sister Act is a sparkling tribute to the universal power of friendship," says TNP's Artistic Director Bryce Alexander. "In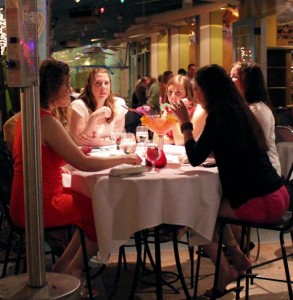 this time of political conflict, this story of acceptance and devotion is not only a fitting community conversation, but also an uplifting and exciting escape into the music and emotions that defined a generation."
Read here for the rest of this announcement.
Read here for play dates, times and ticket info.
________________________________________________________________
CFABS Community Players producing 'Moon over Buffalo' July 19-23 (06-23-17)
The CFABS Community Players will produce Ken Ludwig's farce Moon Over Buffalo July 19-23. Gary Obeldobel directs.
In the madcap comedy tradition of Lend Me a Tenor,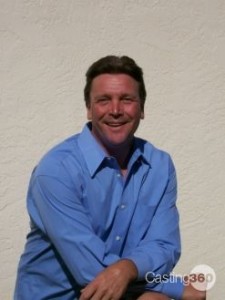 the hilarious Moon Over Buffalo centers on fading 1950s stars George and Charlotte Hay. At the moment, they're playing Private Lives and Cyrano De Bergerac in rep with five actors in Buffalo, New York. On the brink of a disastrous split-up caused by George's dalliance with a young ingénue, they receive word that they might just have one last shot at stardom: Frank Capra is coming to town to see their matinee, and if he likes what he sees, he might cast them in his movie remake of The Scarlet Pimpernel. Unfortunately for George and Charlotte, everything that could go wrong does go wrong, abetted by a visit from their daughter's clueless fiancé and hilarious uncertainty about which play they're actually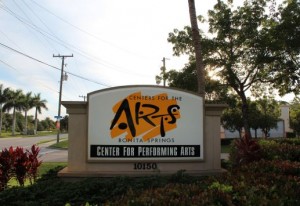 performing, resulting from Charlotte's deaf, old stage-manager mother who hates every bone in George's body.
There are eight characters in the play: George Hay, Charlotte Hay, Ethel, Rosalind, Howard, Eileen, Paul and Richard. The Boston Herald says they're "roles that any actor of a certain age would give his or her soul to play,"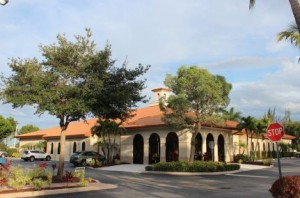 and the word on social media is that Anne Dodd and Dena Galyean have snagged two of these roles.
Stay tuned for more details as the opening approaches.
_________________________________________________________________________
Local photographer drawn to homemade sign that got her into Camera USA exhibition (06-23-17)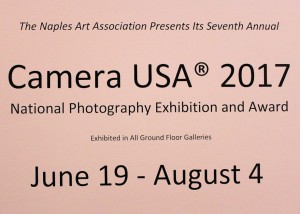 Fifty talented photographers had their images juried into this year's Camera USA national photography exhibition on view now through August 4 at the Naples Art Association. Among this select group is local multimedia artist and photographer Lisette Morales.
Lisette's image is titled Feminism is Universal. She relates in her Artist Statement pertaining to the photograph that she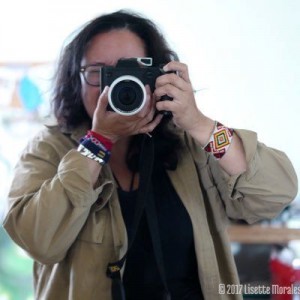 decided to document the Women's March that took place in Naples on January 21 as a personal art photography project. But let's let Lisette tell what happened next.
"I positioned myself near the park where a sea of people would turn into Cambier Park," Lisette recounts. "I was in the zone and pressing my shutter as fast as I could. I had a particular interest in photographing all the homemade signs. After the march merged into the park, I spotted a young woman with a sign that read 'Feminism is Universal.' I was and still am drawn to her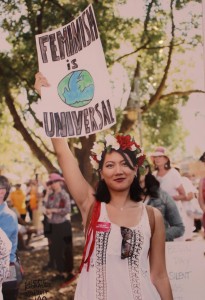 statement that feminism is universal."
What Morales loved even more than the sign and its transcendence is the fresh-faced woman's visible joy and self-evident hope for the future.
"Her smile and confidence reassure me," adds Lisette. "I think if most people are like her, we are all going to be okay."
Lisette credits her dad as her greatest artistic influence. When she was a child back in Nicaragua in the 1970s, he had a book of Ansel Adams' photography. She used it as a "how to" textbook, imagining where Adams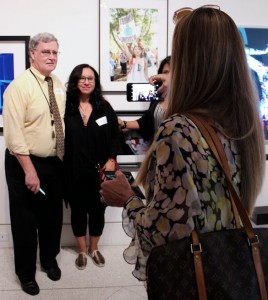 would have stood as he captured each of the black-and-white images appearing inside the cover. "My initial interest in photography was more a curiosity to learn about cameras and the developing process," she explains. "In college, I took a history of photography class and a film developing class before abandoning photography for painting. It wasn't until just three years ago that I decided to go back to photography and this time with an interest in street photography."
For Morales, artistic pursuits have therapeutic and meditative qualities. In addition to photography, she is d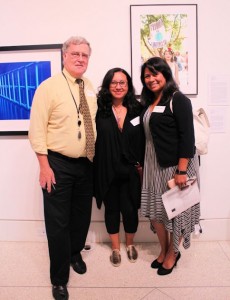 rawn to artistic disciplines that involve the use of her hands, such as knitting, crocheting, hand sewing, illustration and painting. "When I am using my hands, I experience the state of being completely present and I exist as one with the creation – as well as with all of creation."
Morales lives and works in Southwest Florida. A former museum education intern at the Baker Museum of Art, Lisette studied at the Parsons School of Design in New York City. Her painting The Pink Letter won the People's Choice Award about this time last year in the Sidney & Berne Davis Art Center's Notes exhibition. In addition to her studio work, Lisette is the editorial illustrator for El Café Latino Cultural Magazine based in France.
_________________________________________________________________________
Massachusetts photographer Dan Malloy wins Camera USA 2017 photo competition (06-23-17)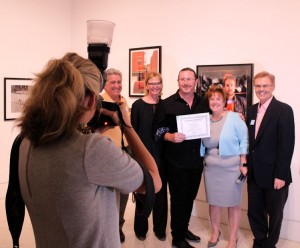 May 22 is a day that Brian Malloy will always remember. That's the day he got the call.
Brian had submitted his image titled Grand Central to the Naples Art Association's 7th Annual Camera USA Photo Competition and Exhibition. It's an homage to Henri Cartier Bresson and the way in which he uses light and shadow. As with most of the images in Camera USA 2017, Malloy's photograph is not staged. He was doing street photography in downtown Los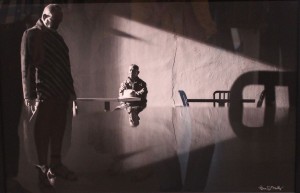 Angeles early one morning when he spied a man sitting at a table as light poured in through a large open door to his right.
"As I composed the image using the reflection in a stainless steel table, the mysterious figure appeared at the exact moment that I tripped the shutter,"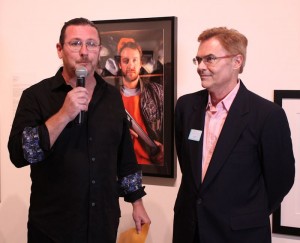 Malloy recalls. "The moment I captured the image, I knew I had captured something special. A slice of life that for one split second had been frozen in time."
But still, he didn't have a clue how special his image was.
"When Jack [O'Brien] called me, I asked him if there was something wrong with the picture. 'Did it arrive damaged?'"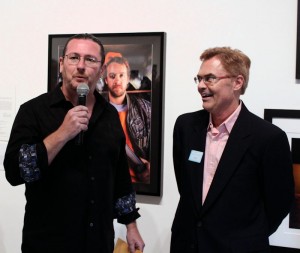 But O'Brien told Malloy that his image was absolutely fine, Brian told the crowd that had assembled at the Naples Art Association for the Camera USA preview reception. "Then I asked him he was calling to tell me that the jurors had declined to accept it into the show. He said no again. Then I asked him if I should be sitting down. He said, 'Maybe,' so I put him on speaker and sat down next to my wife. It's kind of surreal. As a photographer who shoots events and works with clients,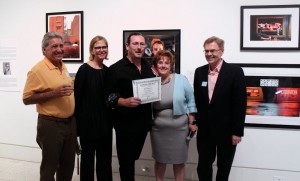 winning something like this was an absolute honor. I'm still pinching myself. I was waiting for Jack to call back and tell me [I was being Pranked]. But I have to say that after I got here today, walked through the show and saw all the images, I'm even more honored that I'm part of this show because of the incredible work that's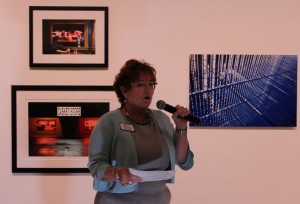 represented."
A total of 211 images were submitted for inclusion in Camera USA 2017. The jurors winnowed that number down to their top 50, and awarded Malloy Best of Show, an honor that carries with it round trip airfare, a two-night stay in Naples and a $5,000 cash prize. Malloy joins a select group of elite grand prize winners that includes:
Naples photographer Art David and his 2016 black-and-white image of a Miami street scene, Who You Lookin' At;
New Mexico photographer Kathleen Brennan for her 2015 image titled Fence and Elm Tree in Dust Storm (2nd image, above);
Duluth, Minnesota photographer, conservationist and outdoorsman Brett Grandson for his 2014 black-and-white , Light Storm (3rd image);
Pismo Beach, California photographer Tony Hertz for his 2013 black and white photograph, Gnarled Wave;
Washington, D.C. photographer Jon Malis for his 2012 photograph Specimen 66; and
Geneva, Illinois photographer David Wensel for his 2011 black-and-white image titled Resting Fiona.
A resident of Plympton, Massachusetts, Brian Malloy has been documenting weddings since 1989. His distinct artistic vision allows him to capture the essence and emotion of the weddings he shoots.
______________________________________________________________
Steve Conley's quest for the sublime results in 'Spherical Moment' (06-23-17)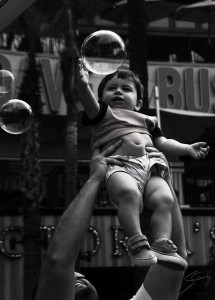 Camera USA 2017 is on view now through August 5, 2017 in the main gallery at the Naples Art Association. One of the images juried into the show is Steve Conley's Spherical Moment.
Spherical Moment was just one of those rare moments in time. Conley was in Hollywood, California last September doing some street photography. As it turned out, President Obama was speaking at a fundraiser half a mile away. The sidewalks were jammed with spectators hoping for a glimpse of the President as the limousine went by. We'll let Steve pick up the story from there.
"So I'm looking for a place to get away from all these people, and I find this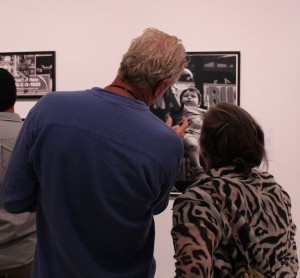 little plaza where there was a water fountain, the kind where the jets of water shoot up from the ground. I thought I might get a shot so I hung out there for a while. I had the ISO at 100 but the shutter speed at 1,000 because I was trying to freeze the water droplets. I just happened to look to my left and saw a girl blowing bubbles. As I was concentrating on the water and the bubbles, the father hoisted his son in the air and I was lucky enough to catch the instant just before the child popped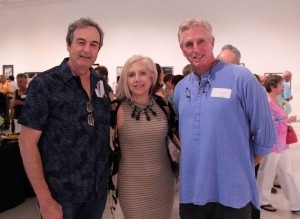 the bubble."
Steve never had the chance to introduce himself to the man with the child. Although it only took a few seconds for him to gather his stuff, by the time he looked up the man and child had disappeared into the crowd.
"I was really disappointed about that because I knew it was a good shot and wanted him to have a copy,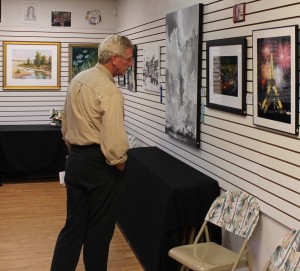 but he was gone that fast," recounts Steve, who notes that while being immersed in nature is always an enticing goal, the quest for that sublime and sometimes abstract element of reality is what truly motivates him.
Conley defies categorization. He is also known for marvelous panoramas of swatches of the New Mexico landscape, imagination-spurring ice formations in Newfoundland and board games on Venice (CA) Beach. But whether Steve finds himself in the
River District on Bike Night staring at the Super Moon from behind a drum set, in a Printer's Alley in Nashville, staring up at a lighted balcony in New Orleans during the Mardi Gras parade or sitting in a diner having a bite to eat, his keen eye and artistic awareness invest him with that uncanny ability to capture luminous and memorable shots.
Steve regularly shares his images with viewers throughout Southwest Florida. His photographs have been exhibited through the Art Council of Southwest Florida at Coconut Point (Estero), the Cape Coral Art League, Chico's FAS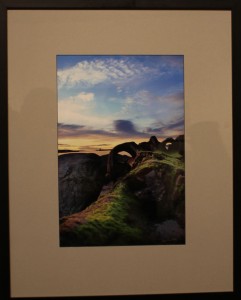 Headquarters here in Fort Myers, the FGCU Bower School of Music and Art, the Lee County Alliance for the Arts, the Naples Art Association, Rookery Bay Reserve, the Sidney & Berne Davis Art Center and the Visual Arts Center in Punta Gorda. His image Maritime Northwest is currently on view at the Alliance. It was one of 46 artworks that has been juried into the Alliance's 31st Annual All Florida Juried Exhibition.
Steve doesn't just create art. He and his wife, Ingela are also avid collectors. But they are as unselfish as they are eclectic in their taste. For example, among the art in their private collection were a number of paintings rendered by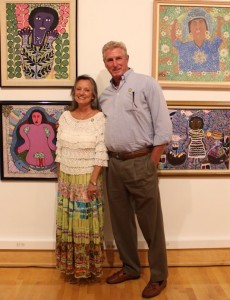 Haitian artists, which they began collecting by accident when they came across a couple of paintings they couldn't live without while visiting a gallery in Charleston, South Carolina.
"We were attracted to the Saint-Soleil style, and then gradually, over twenty-five years, we both added paintings and sold a number as well," relate Steve and Ingela. "With each piece, we became more educated on the artists, all of whom are well recognized." Last August, they donated ten of their remaining Haitian paintings to Florida Gulf Coast University, where they are now available to provide students with an introduction and overview to late 20th century Haitian art styles. For more on this gift, read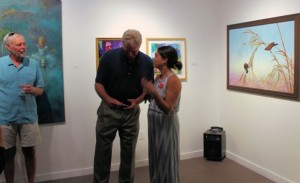 here.
Self-styled cineastes, Steve and Ingela are also Fort Myers Film Festival fans. You'll find them at many of the TGIM screenings inside the Davis Art Center.
_________________________________________________________________________
Naples Art Association now accepting applications for 30th Annual Downtown Naples Festival of the Arts (06-22-17)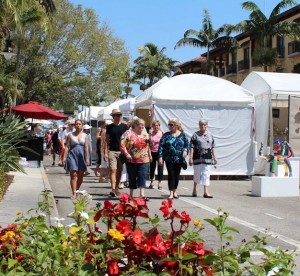 The Naples Art Association is currently accepting applications for inclusion in its three outstanding outdoor art festivals, The Downtown Naples New Year's Weekend Art Fair, Naples National Art Festival and The Downtown Naples Festival of the Arts.
The 30th Annual Downtown Naples Festival of the Arts is one of the last major art festivals of the winter season and a favorite festival for artists, art enthusiasts and collectors. If you would like to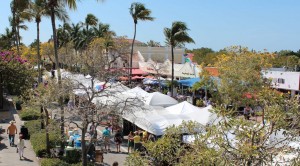 exhibit in this show, here's what you will need to know:
Dates: Saturday and Sunday, March 24-25, 2018
Festival Hours: Saturday: 10 a.m. – 6 p.m.; Sunday: 10 a.m. – 5 p.m.
Location: 5th Avenue South, Downtown Naples
Accept 254 artists max
Application fee: $25
Booth fee: $450 for 10×10
Cancellation refund policy: Full refund: 02/03/17; 50% refund: 02/20/17
Set up specifics: 4 a.m., early morning set up only;
On street set up in quads: No electrical
Application deadline: 12/08/17
Jury Process begins: 12/08/17
Status Notification: 12/29/17
Booth Fee Due: 1/19/18
Artist Info Sent: 02/23/18
Wait List Acceptance: 01/16/18
Application available online at juriedartservices.com beginning June 1, 2017
___________________________________________________________________________
Naples Art Association now accepting applications for Naples National Art Festival (06-22-17)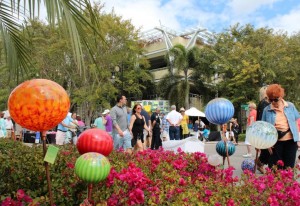 The Naples Art Association is currently accepting applications for inclusion in its three outstanding outdoor art festivals, The Downtown Naples New Year's Art Fair, Naples National Art Festival and The Downtown Naples Festival of the Arts.
Naples National is consistently voted among the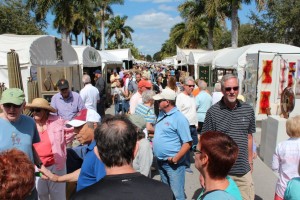 top 25 art festivals in the country by Sunshine Artist Magazine. As one of the oldest festivals in Collier County, Naples National is counted by the local community as among its premiere, must–see events, thanks to the high quality of art, the engaging personalities of the artists and the festive atmosphere.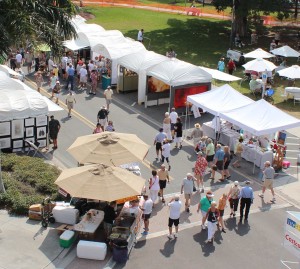 If you are interested in exhibiting in the 39th Annual Naples National Art Festival, here's what you will need to know:
Dates: Saturday & Sunday, February 24-25, 2018
Festival Hours: 10 a.m. – 5 p.m.
Location: Cambier Park & 8th Street South, downtown Naples
Accept 270 artists max
Application fee: $25
Booth fee: $475 for 10×10
Cancellation refund policy: Full refund: 1/12/18; 50% refund: 2/03/18
Set up specifics: Friday set up on 2/23,
Park and street setting
Application deadline: 10/30/17
Jury Process begins: 11/10/17
Status Notification: 11/27/17
Booth Fee Due: 12/15/17
Artist Info Sent: 01/21/18
Wait List Acceptance: 12/10/17
Application available online at juriedartservices.com beginning June 1, 2017
_____________________________________________________________________________________________
Naples Art Association now accepting applications for 22nd Annual Downtown Naples New Year's Art Fair (06-22-17)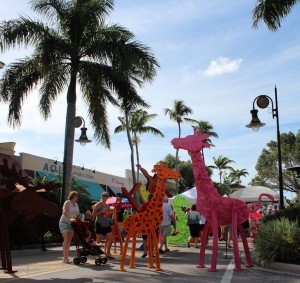 The Naples Art Association is currently accepting applications for inclusion in its three outstanding outdoor art festivals, The Downtown Naples New Year's Art Fair, Naples National Art Festival and The Downtown Naples Festival of the Arts.
Start your new year off in sunny Florida. New opportunities await you at the 22nd Annual Downtown Naples New Year's Art Fair. This fine art festival draws professional artists from around the country and is ranked as one of the 100 Best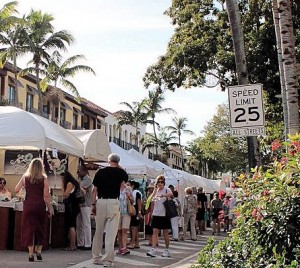 Fine Art Shows in the U.S. by Sunshine Artist Magazine.
If you are interested in exhibiting at this show, here's what you will need to know:
Dates: Saturday and Sunday, January 6-7, 2018
Festival Hours: 10 a.m. – 5 p.m.
Location: 5th Avenue South, Downtown Naples
Accept 254 artists max
Application fee: $25
Booth fee: $450 for 10×10
Cancellation refund policy: Full refund: 11/25/17; 50% refund: 12/05/17
Set up specifics: 4 a.m. early morning set up only: On street set up in quads; No electrical
Application deadline: 09/11/17
Jury Process begins: 09/22/17
Status Notification: 10/02/17
Booth Fee Due: 10/25/17
Artist Info Sent: 12/01/17
Wait List Acceptance: 10/21/17
Application available online at juriedartservices.com beginning June 1, 2017
___________________________________________________________________
Naples Art Ass'n. accepting submissions for next season's Art in the Park (06-22-17)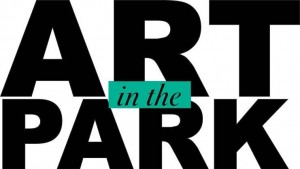 Are you ready for the 2017-2018 season of Art in the Park? The Naples Art Association (NAA) proudly connects artists with art shoppers in another terrific season of Art in the Park.
Since 1957, Art in the Park has showcased paintings in oil and acrylics, watercolors, mixed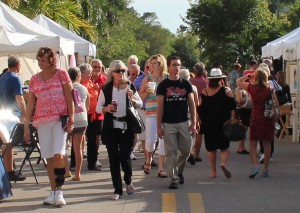 media, photography, sculpture, ceramics, glass art, jewelry and wood-working created by members in good standing of the Naples Art Association. For art lovers, it's a casual, fun-filled venue for meeting local artists and becoming acquainted with their work. It is believed to be the first outdoor art show held in Naples. And the tradition continues for the 2017-2018 art fair and festival season.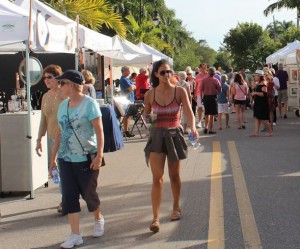 Art in the Park is held between 10:00 a.m. and 4:00 p.m. on the first Saturday of each month from November through April. Because of its long tradition, prestige and the interest and number of people who routinely turn out for the show, many NAA members seek admission to the show. Applicants go through a jury process.
"Art in the Park is a membership opportunity, providing artists a venue to sell and market their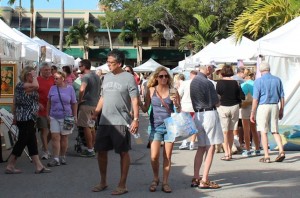 work while broadening their customer base," notes the Naples Art Association in its call to artists for the 2017-2018 season. "It also provides a setting for artists to interact with other artists sharing ideas, industry changes and the camaraderie of creative people. It is an opportunity for both artists and the public to engage in enlightening conversations about art."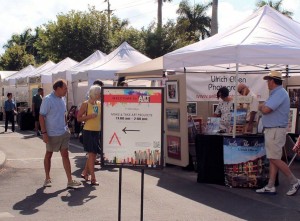 The one-day fair takes place on Park Street adjacent to The von Liebig Art Center in the northwest corner of Cambier Park. Located just a block and a half from historic Fifth Avenue South, Art in the Park is within walking distance of trendy European boutiques, sidewalk cafes and iconic art galleries such as Sheldon Fine Art, Call of Africa's Native Visions Gallery and Shaw Gallery of Fine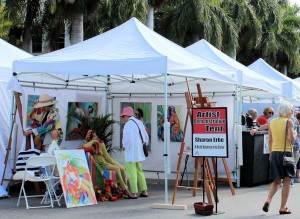 Art. The show is also just three minutes by car from fabled Gallery Row and the Third Street South Gallery District. The January show is also held in conjunction with the Downtown Naples New Year's Art Fair, which will be held next season on Saturday and Sunday, January 6 & 7, 2018.
___________________________________________________________
ArtFest Fort Myers now accepting applications for 2018 festival (06-16-17)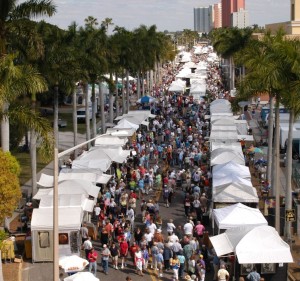 ArtFest Fort Myers is currently accepting applications from professional artists for participation in its 2018 juried show. Featuring the work of 200 artists, ArtFest Fort Myers attracted 90,000 art lovers and collectors to the largest outdoor gallery in Southwest Florida on the first weekend in February in 2017. And attendance continues to grow.
Why apply to participate at ArtFest Fort Myers? 
"Creating an artwork-selling festival for artists is the focus of our year-round professional staff, with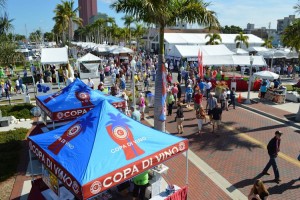 18 years of consistent management," states ArtFest in its Call to Artists. "Targeting art buyers throughout Southwest Florida and beyond – from Marco Island to Sarasota and east to West Palm Beach – our promotional campaign includes all forms of media. We also understand the importance of providing great artist amenities over festival weekend to ensure that our artists are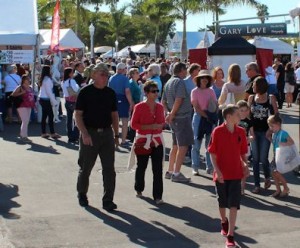 stress free and ready to share their work with our dedicated attendees."
How are festival artists chosen? 
Each October, ArtFest Fort Myers brings together a panel of professional artists who view submitted images and score each applying artist on a range of 1 – 7 points. The artists with the highest scores are then invited to participate in ArtFest.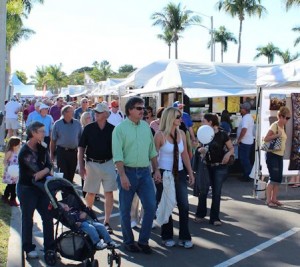 "Our jury panel varies each year but always represents a broad base of expertise with regard to artistic mediums – theirs is the difficult task of evaluating who is the 'best-of–the-best' from the hundreds of artists who wish to join ArtFest Fort Myers!" ArtFest points out. "Our jury process is open to artists and patrons – please contact us for more information."
ArtFest Fort Myers works year-round to produce a creative community celebration that also includes:
Publix Art Yard, an interactive arts/crafts area for children, including a "children only" shopping gallery and youth stage performances
Art Under 20, an exhibition and competition for Lee County high school students, offering cash awards (sponsored by Suncoast Credit Union)
Chalk Block, a weekend high school sidewalk chalk competition mentored by professional chalk artists (sponsored by Truly Nolen Pest Control)
VIP Experience for loyal art patrons who wait all year to make art purchases with us (sponsored by Ron Bucher, Raymond James
The deadline for submissions is September 12. ArtFest takes place in 2018 on February 2, 3 & 4. For Artist Application information, contact ArtFest Fort Myers at 239-768-3602, email info@ArtFestFortMyers.com or visit https://artfestfortmyers.com/artist-info/.
____________________________________________________________________________
Submissions for ArtFest Fort Myers 2018 poster/t-shirt competition due by June 30 (06-22-17)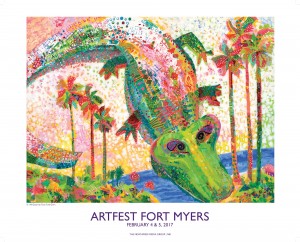 ArtFest Fort Myers, Southwest Florida's premier fine art festival, is accepting submissions for its Poster/T-shirt artwork for the 2018 festival.
"We hope that all professional artists will submit artwork that speaks to Southwest Florida," states Executive Director Sharon McAllister. "Our Commemorative Poster and T-Shirt always feature inspiring original artwork and we encourage any artist, not just those applying to participate in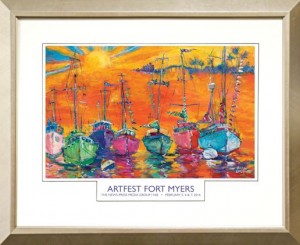 ArtFest Fort Myers 2018, to submit their artwork for consideration."
The artist whose work is selected for the Poster/T-shirt will be featured in a broad range of print, on line and VIP promotions preceding festival weekend and continuing throughout the year. The selected artist also receives a free booth space at ArtFest Fort Myers 2018, plus an invitation to join ArtFest Fort Myers 2018 and much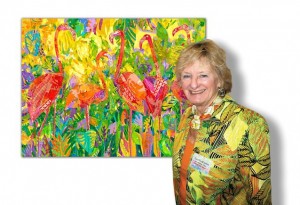 more.
Submissions for this contest must represent original artwork, in a theme that reflects Southwest Florida and appeals to a broad audience. Entries are being accepted until June 30, 2017 and images can be submitted by email.  ArtFest Fort Myers will take place February 2, 3 & 4,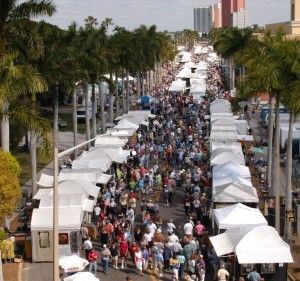 2018 in the Fort Myers River District. Join the experience with 200 professional artists from across the county and around the world. ArtFest Fort Myers features the largest high school art exhibit and competition in south Florida as well as free interactive art experiences for children of all ages.
For more information, please email info@ArtFestFortMyers.com, call 239-768-3602 or visit ArtFestFortMyers.com.