SWFL Art & Community Theater News for November 8-14, 2016
Here's what's happening in art, film and community theater in Southwest Florida between November 8 and November 14, 2016:
Focus on Sante Fe glass artist Cia Thorne (11-14-16)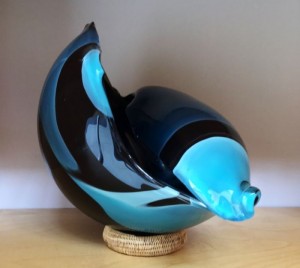 Cia Thorne is one of eight artists participating in Watson MacRae's Oh Florida! exhibition. Thorne pushes herself and the glass to make large and larger shells. The clarity of color, iridescence, beauty of form and sheer size of her blown glass artwork is a tribute to her ability and the shells she loves.
"Glass has been an inspiration and a challenge for me on many levels," Thorne relates. "It has been an incredibly personal and public process. For over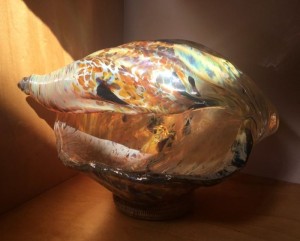 two decades I have pushed myself to explore what I could do with this material."
Thorne has been blowing glass for almost 25 years. In that time she has continuously challenged her understanding of the properties and possibilities of glass. Her fascination with this medium began at The California College of Arts and Crafts. In 1990, she moved back to New Mexico, where she has been working on her craft at Tesuque Glass Works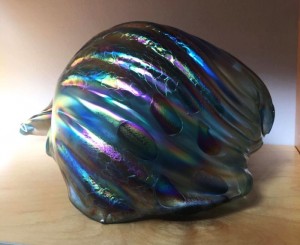 and Liquid Light Glass. Cia has attended Pilchuck, where she studied under renowned glass maestro Pino Signoretto. In 2015, Corning invited her to take a master goblet-making class with Bill Gudenrath. Showing her diverse skill set, she took a sculpting class with Martin Janecky at Urban Glass in 2016. Thorpe regularly collaborates with other artists, including Michael Bergt, Elodie Holmes, Patrick Morrissey and Lucy Lyon.
_______________________________________________________________________
Broadway Palm producing 'White Christmas' for the holidays (11-14-16)
The next musical being produced by the Broadway Palm Dinner Theatre will be Irving Berlin's White Christmas. In this holiday classic, two army buddies turned showbiz partners follow two singing sisters to a Vermont inn owned, to their surprise, by their beloved former commanding officer. But the old general finds himself in jeopardy of losing the inn, so they put on a show to help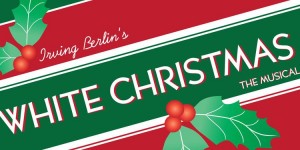 save his business and find love in the bargain. This merry and bright theatrical experience is full of dancing, laughter and some of the greatest songs ever written such as Happy Holidays, Blue Skies and White Christmas (as well as Sisters and Count Your Blessings Instead of Sheep).
Read here for preliminary information about White Christmas and return often for additional details.
______________________________________________________________________
'Another Night Before Christmas' opens at Broadway Palm 'Off-Broadway' November 17 (11-14-16)

Another Night Before Christmas opens "off Broadway" at the Broadway Palm Dinner Theatre on November 17. If you're in the market for something out of the ordinary this holiday season, then this touching musical may be just the ticket for you.
Read here for the rest of this announcement.
________________________________________________________________________
Artist Edward Park heads list of notable locals exhibiting November 19 & 20 at Estero art fest (11-14-16)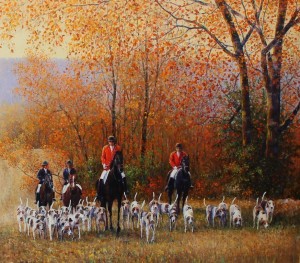 The Estero Fine Art Show takes place at the Miromar Design Center on November 19 & 20. Among the area artists exhibiting in the show is Naples artist Edward Park.
It is difficult enough to master one genre, but Park is accomplished in three. Take a jaunt around his booth this weekend and you will quickly find that he is equally adept at impressionism, realism and abstract art.
___________________________________________________________________
'Caloosahatchee Manuscripts' sculptor Jim Sanborn's celebrates birthday (11-14-16)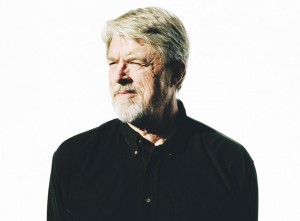 Today is light sculptor Jim Sanborn's birthday. Born in Washington D.C. in 1945, he is 71. Of course, Southwest Florida residents and visitors know Sanborn as the artist who created Caloosahatchee Manuscripts, the dual bronze drums that bathe the tapered Ionic columns and limestone steps of the Sidney & Berne Davis Art Center with the images of thousands of letters like a phosphorous alphabet soup.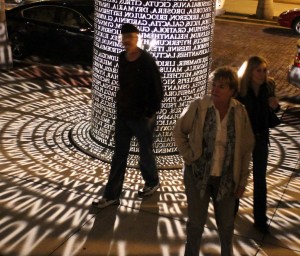 Sanborn has installed works all over the world, including All the Ships Sailed in Circles at the Kaohsiung Museum of Fine Arts in Taiwan, The Cryllic Projector at the University of North Carolina, Coastline at the National Oceanic & Atmospheric Administration in Maryland, Antipodes at Hirshhorn Museum in Washington D. C., Wealth of Nations at Cleveland State University, Binary Systems at the Central Computing Facility Internal Revenue Service in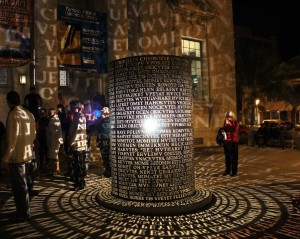 Martinsburg, West Virginia, an incised copper and granite piece titled Comma which lights up the plaza in front of the library at the University of Houston (2004) and bronze projection cylinders with waterjet cut text named Radiance at the Department of Energy, Coast and Environment at Lousiana State University (LSU) (2008). But his most notorious work is Kryptos, a $250,000 commission that sits outside CIA headquarters in Langley, Virginia.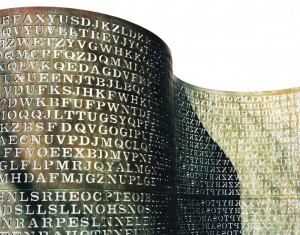 The sculpture's name means hidden in Greek and Sanborn duly embedded four puzzles in the curved copper panels that make up the sculpture. He and a retired CIA cryptographer by the name of Ed Scheidt (a quiet professorial individual fond of hieroglyphic patterns) spent four months devising the type of cryptogram Sanborn would implement. "I could use methods to encrypt [the sculpture] that had an historic basis, that didn't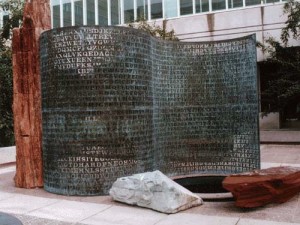 compromise any current methods [of cryptography used by the government]…  I wanted to make something that could eventually be deciphered or extracted rather than something that will never be done, ever," Scheidt comments. He figured that the first parts of the puzzle would take a few years to solve and the last part — maybe ten. And within the first few years, a CIA physicist deciphered three of them using nothing more than a pen and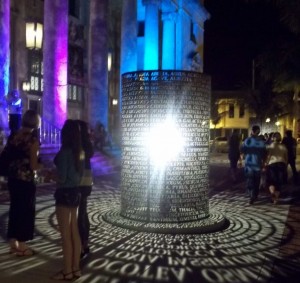 paper. The first encryption was a poetic phrase containing an intentional misspelling that Sanborn composed; the second refers to the CIA agent who helped Sanborn with the four puzzles; and the third is a passage from archeologist Howard Carter's account of opening the tomb of King Tutankhamun in 1922. But the fourth riddle has defied solution.
Even if the CIA is frustrated (if not more than a little embarrassed) by their long-standing inability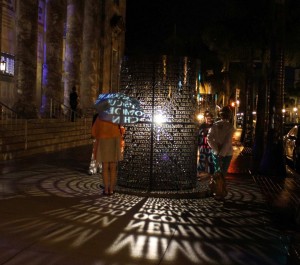 to decipher the fourth encryption, they nevertheless join a list of more than 125 prestigious institutions who are proud to include Sanborn's work among their collections. Sanborn also has pieces at the Massachusetts Institute of Technology (MIT), Numark Gallery and the federal courthouse in Beltsville, Maryland. Other works by Sanborn have been exhibited in the High Museum of Art, the Los Angeles County Museum of Art and the Phillips Collection. Sanborn is currently developing a new body of museum and gallery works about the global trade in looted antiquities.
_________________________________________________
The Lab's November 21 staged reading involves racial identity and interracial love (11-14-16)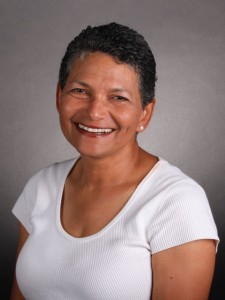 Lab Theater hosts its first staged reading of the 2016-2017 season on Monday, November 21 when it presents playwright Melanie Payne's True Colors. The play is set in the roaring '20s. One of the New York's wealthiest and most eligible bachelors has married a domestic worker and tongues are wagging. But even more shocking to New York society is the fact that Alice Jones is not just a former maid. Her father is black. What followed from that public revelation was a trial that dominated national news as Leonard Kip Rhinelander pleaded for an annulment, claiming he had unwittingly married a woman of color. True Colors tells the story of the trial and, in flashback scenes, the courtship and marriage of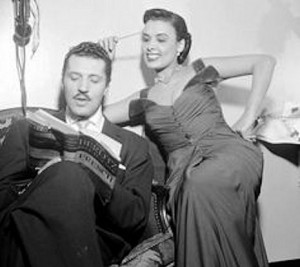 Alice and "Kip." The play explores the complexities of racial identity – while documenting a long-forgotten true story of interracial love.
True Colors is based on a true story. Payne read about the scandal and was instantly intrigued. A Fort Myers News-Press columnist who writes the paper's "Tell Mel" column, Payne immediately recognized that the story would convert well to the stage. "I thought the story would make a good play or book," she told fellow News-Press journalist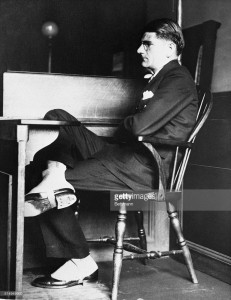 Charles Runnells in February. "There have been some great courtroom plays, such as Inherit the Wind and Twelve Angry Men (which played earlier this year at the Florida Rep). They are timeless. So I figured that even if it took me 10 years to finish, it wouldn't go out of style."
Read here for the rest of this announcement.
______________________________________________________________________
Acclaimed artist Marcus Jansen moving gallery/studio to new location in Fort Myers (11-14-16)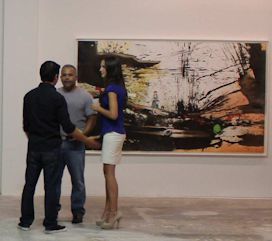 Marcus Jansen is on the move. He is relocating his international headquarters, exhibition gallery and working studio to 2633 Dr. Martin Luther King, Jr. Boulevard in the River District. The public is invited to view the new space during a VIP reception that will be held from 7:00 to 10:00 p.m. on December 3, 2016.
Jansen moved to Fort Myers in 2003. Since that time, he has gained recognition from U.S. and European critics alike as one of the most important representatives to come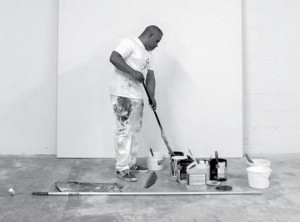 on the neo-expressionist scene in a generation. In fact, Jansen's recent exhibition in Milan at La Triennale di Milano Museum has been called one of the top ten exhibitions to see in all Italy.
Born in New York City in 1968, Jansen was educated in Germany and is a former soldier turned painter who made his start selling paintings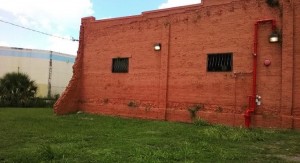 on street corners of New York. His trendy Fort Myers studio headquarters opened ten years ago in 2006 at 1922 Evans Ave. with UNIT A Contemporary Art Space. But the time has come for a change, and so Jansen is moving his center of operations to space on Martin Luther King, Jr. Boulevard. So save the date for the December 3 VIP reception.
For more information, please telephone 239-240-1053 or visit http://www.marcusjansen.com.
_______________________________________________
Estero Fine Art Show provides glimpse into awe-inspiring creative journey of magical realist Marcus Thomas (11-13-16)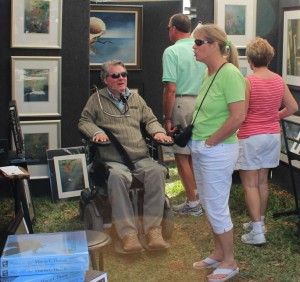 Marcus C. Thomas discovered the joy of painting after surviving a snow skiing accident in 1986 left him paralyzed from the shoulders down. It would have been understandable if the young man had given in to self-pity. After all, at the time it happened he was an athletic and physically-active college grad with a brand new degree in commercial recreation who had just taken a job as the activities director at a vacation resort.
"That Christmas," Marcus tells, "I received a set of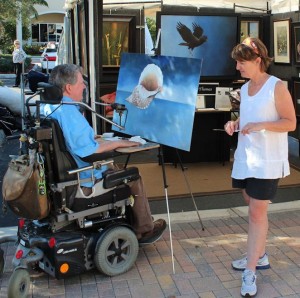 Crayola watercolors." Although he had no background in art, he launched himself into a new adventure. He became not just a painter, but an artist whose works are so realistic, you'd swear you were looking at a photograph rather than an oil on canvas or panel.
"I like realism and the edginess of surrealism," Marcus notes, and toward that end, his paintings combine hyper-realistic technique with magical surrealism imagery.
Finish reading this story here.
__________________________________________
How Arturo Vega retrospective came to be (11-13-16)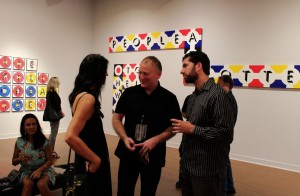 On view now through December 17 at the Bob Rauschenberg Gallery on the Lee campus of Florida SouthWestern State College is Empire: Arturo Vega Retrospective. The origins of the show date back, strangely enough, to 1992. Back then, Gallery Director Jade Dellinger was a grad student at NYU living on 3rd Avenue and 9th Street in the East Village.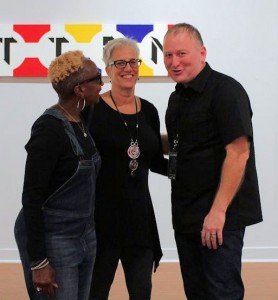 "I was up and down the Bowery with great frequency," writes Jade in the catalogue for the show. "CB's 313 Gallery presented an exhibition of Arturo Vega's Insults, and, although the vitality of anything artistic around CBGB seemed to have long since diminished, this particular visual art show resonated and enticed me back for repeat visits. At the time, I knew little if anything about the artist or his rather profound relationship to that historic place, but his paintings (as verbally abusive as they seemed) clearly spoke to me."
Read here for the rest of this story.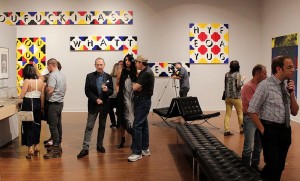 RELATED POSTS.
__________________________________________________________________________
Focus on New York artist Owen Gray (11-13-16)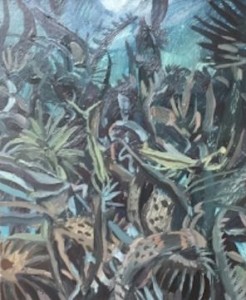 One of the artists with work on display in Watson MacRae Gallery's Oh Florida! exhibition is Owen Gray, a mid-career New York artist who, perhaps surprisingly, choses as motifs not the frenetic, hard-edged modernity of New York City, but the primordial, natural world of the Florida Everglades and Southwest United States. Among the works you will find in this exhibition, for example, are paintings bearing titles such as Tropical Fauna, Bathing Crocodiles, New Moon and Jungle with Full Moon.
Ranging from shellfish to hot air balloons, his subjects are inspired by his travels to the Southwest and Florida, as well as his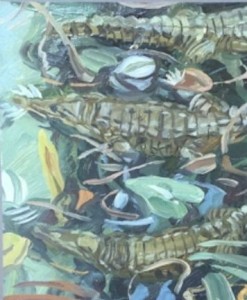 time drawing specimens from life in zoos, gardens and natural history museums. He directs these objects, animals and figures spiraling through sky and swimming through swamps, creating sensational compositions.
Gray has drawn praise from New Republic art critic Jed Perl for his "deft, fleet, subtly virtuosic brushwork that articulates shape and spirit with confidence and ease." New York Times critic Ken Johnson has lauded Gray's bird's-eye views of tropical swamps, painted "in a Cézannesque palette of muted grays and earth tones" in which "he layers sketchy, calligraphic marks over more generous brushstrokes, creating a dense, intricately knit, all-over abstraction that nicely matches a visionary world of reflective waters and plant life — ferns, vines, palms, reeds and lily pads."
Read here for the rest of this post.
_______________________________________________________________________
Vibrant hues characterize contemporary and abstract paintings of Naples artist Belisario Manrique (11-13-16)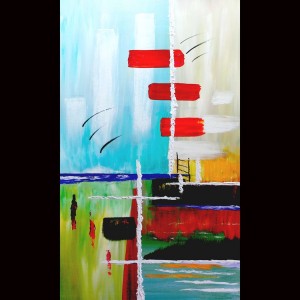 The Estero Fine Art Show returns to Miromar Design Center on November 19 & 20. One of the artists taking part in the 2-day outdoor art festival is Naples painter Belisario Manrique.
Vivid color is an unmistakable aspect of Manrique's artistic style. He draws upon his Peruvian background to infuse his contemporary and abstract paintings with vivid and vibrant hues. Belisario utilizes various media to achieve his final works, including acrylic on wood panels applied using brushes, sponges, palette knives and other means, and he finishes each one with a clear resin coat. Manrique was one of ten artists receiving Awards of Distinction at last year's November's Estero Fine Art Show.
_______________________________________
'Chicken Play' is memorable expedition to faraway mythical village (11-13-16)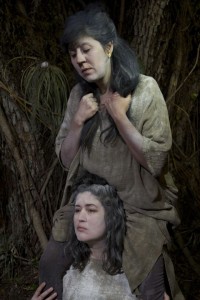 Ghostbird Theatre Company started its fifth season last night with Hanny Zuniga and James Brock's otherworldly Chicken Play. Set by Ghostbird director Brittney Brady in the densely-overgrown primordial confines of the Happehatchee Center off Corkscrew Road in Estero, the play follows members of a mythical community of clay women where the aged give birth, the unwise speak in unintelligible tongues, and the wise counsel the community not to worry about traumas as they're "nothing more than an inconvenience" in the broad scope of life.
The Chicken Play is not just a novel, alternative form of theater that takes place partially outdoors. It is an expedition to a strange and mysterious place in which audience members become fellow travelers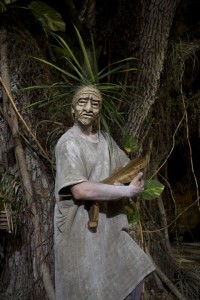 to a land in which the rules are unclear, the people aboriginal and deeply emotional, the language strange and often incomprehensible – a place where song and dance regain primacy as modes of expression and self-exploration. And by virtue of its strangeness and the play's otherworldly setting, the experience is evocative and memorable in ways that traditional theater rarely achieves.
The production actually starts well before the play begins. After gathering in the Happehatchee's dirt and grass parking lot and dousing themselves with a generous volume of Cutter's, audience members trudge down an uneven footpath to a gathering spot sheltered by a pergola adjoining a lily pond.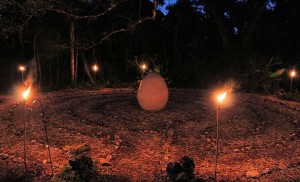 You can read the rest of this review here.
RELATED POSTS
Happehatchee enhances magical realism of Ghostbird's 'Chicken Play'
________________________________________________________________________
Printmaker Linda Hunsaker does encore show at Sanibel's Watson MacRae Gallery (11-13-16)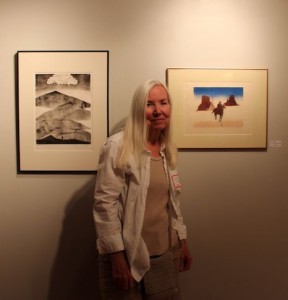 One of the artists with work on display in Watson MacRae Gallery's Oh Florida! exhibition is printmaker Linda Hunsaker.
Maureen Watson met Hunsaker in Sante Fe, where Watson spent her summer vacation opening and operating a pop-up gallery in the artsy New Mexico town two summers ago. But Hunsaker has long enjoyed ties to Florida. Not only does she winter and maintain a studio in Longboat Key, she is a graduate of the Ringling School of Art & Design in Sarasota.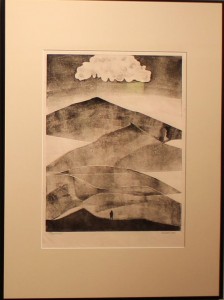 "I don't like cold weather, and Sante Fe gets pretty cold in the winter," she explained at the opening of Sacred Creatures Sacred Spaces From Sante Fe with Love earlier this year (on January 5) at Watson MacRae. Informed that Taos and Sante Fe were getting hit with heavy snow and a huge blast of arctic air, she added with a chuckle, "When the mercury dips into the single digits, I put my cat in the car and I get out of there."
Although she went on to attend City College of San Francisco and study printmaking at Sonoma State University in California, she has never forgotten that good art starts with basic drawing.
You can find the rest of this post here.
________________________________________________
Maine artist Anne Wooster brings botanical monotypes to Estero Fine Art Show (11-13-16)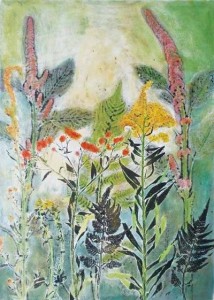 When local art enthusiasts last saw Anne Wooster, she was busy winning an Award of Distinction at the Bonita Springs National Art Festival for her botanical monotypes made with oil based etching inks.
Anne Wooster has been an artist and nature lover since she painted her entire body at the age of two. A Waldoboro native, she took art lessons from established artists and attended Medomak Valley High School before matriculating at the Maryland Institute College of Art in Baltimore. While an art instructor at Warren Community School between 2000 and 2006, Anne attended Hay Stack School of Arts every fall with other Maine art teachers. That's where she fell in love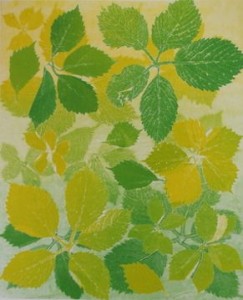 with printing the flora of Maine. "Monotypes are reminiscent of photography and yet feel like painting," says Anne. "Each print uses live plant material and no two prints are ever the same." Today, Anne devotes herself to art full-time, gathering the subjects and material for her prints from her gardens, her friends' gardens, and the local fields, forest and seashore. "Art is a necessary expression of the beauty in my life."
Four years ago, Anne met her partner Steven Peaslee. They decided soon after to take their artwork on the road across the country full time. Steve was very inspired by the process and has been printing since 2012, developing his own technique along the way.
And here's the rest of this story.
_________________________
Focus on 'Wings' actress Louise Wigglesworth (11-13-16)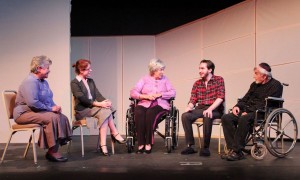 On stage now at Lab Theater is Arthur Kopit's Wings. The play follows a former aerial acrobat by the name of Emily Stilson who suffers a massive stroke in the opening minutes of the very first scene. Playing the dual roles of one of Emily's doctors and a stroke veteran by the name of Mrs. Timmins that Emily later encounters in a speech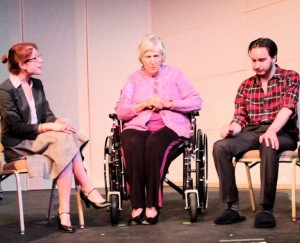 therapy group is Lab veteran Louise Wigglesworth.
The speech therapy group session is one of the most charming interludes in the entire play. Not only does Arthur Kopit underscore the trek stroke veterans are forced to take in their ongoing efforts to find the words that so often elude them as they rush to re-establish their command of language, through this vignette, he injects some much needed humor into the otherwise somber fabric of the play.
Read here for the rest of this profile.
______________________________________
Internationally-recognized sculptor John Zidek participating in next weekend's Estero Fine Art Show (11-12-16)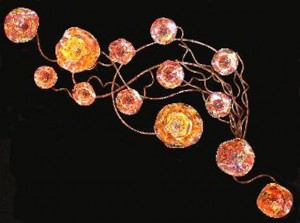 One of the 11 SWFL artists participating in next weekend's Estero Fine Art Show is John Zidek, an internationally-recognized sculptor who has worked over the years in numerous mediums, including bronze, wood, resin, ultra-violet minerals, and a line of gold and sterling silver jewelry.
John's newest wall sculptures combine fabricated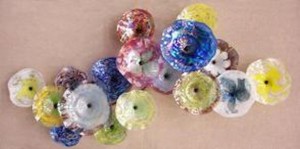 copper and hand-blown glass. "Blown glass is a process. It starts as clear crystal and frits are rolled into it for color and pattern. The frits come from two companies in Germany, which Chihuly claims are the best in the world," says Zidek. "While the glass is still hot it is fumed with titanium, a Tiffany
technique with a space age metal. It was chosen for its overall reflection and iridescence. The quality of the glass blowing is determined by not only the thickness but also its overall uniformity. In other words, it is thin and uniform from its center to the edge."
Zidek enlisted his friend and fellow artist Ron Hinkle, owner of Dying Art Glass Works in West Virginia, to develop and refine his process. "I had the design and Ron had the expertise to help me put it together."
Please read here for more on John and his work.
_____________________________________
Arturo Vega retrospective on view at Bob Rauschenberg Gallery through December 17 (11-12-16)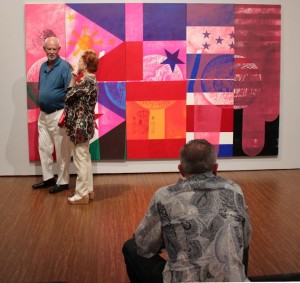 On view now through December 17 at the Bob Rauschenberg Gallery at the Lee campus Florida SouthWestern State College is Empire: An Arturo Vega Retrospective. A collaboration with The Arturo Vega Foundation in NYC, Empire: An Arturo Vega Retrospective is the late Mexican-born artist's first solo U.S. museum retrospective and features photography, collage and a number of iconic canvases from the artist's Supermarket and Silver Dollar series (begun in the 1970s), his Flags and so-called "word paintings" from Insults and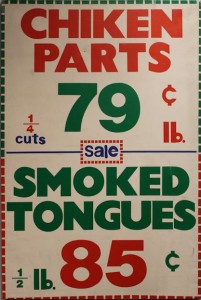 other series produced during the 1980s, '90s and aughts.
Arturo Vega escaped the repressive violence of an authoritarian regime under Mexico's "perfect dictatorship" in the late '60s. He made his way to New York City, where he studied English, philosophy and photography at the New School for Social Research in the early 1970s.
Vega's interest in music dates back to his discovery of Elvis during his childhood. But it was when he later co-directed a touring production of The Who's "Tommy" at the National University in Mexico City that he began to understand the revolutionary and transformative power of music, theatre/performance and art. While working on his first painting series of supermarket signs,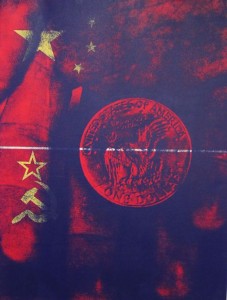 he befriended members of The Ramones, a rock & roll band that would soon play their first show and would decades later be inducted into the Rock n' Roll Hall of Fame. It was Vega who designed the Ramones' ubiquitous logo based on the Great Seal of the United States, and he was the one who also painted backdrops for their stage and created a lighting scheme loosely adapted from Albert Speer's Lichtdom to enhance their effect. By co-opting and questioning symbols of power, Vega created visual imagery that defined the transgressive aesthetic of punk rock.
Vega's work has been featured in numerous group shows since the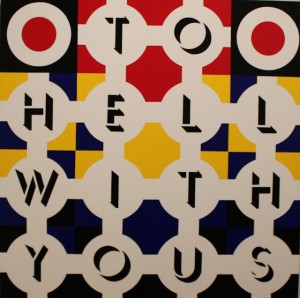 1970s. More recently, Arturo Vega has been the subject of one-person exhibitions at CB's 313 Gallery/New York City (1992), Raleigh Studios/Miami Beach (curated by Sandra Schulman in 1994), Galería OMR/México, D.F. (2011), Casa Redonda, Chihuahua/Mexico (2012) and at Howl! Happening in NYC in 2015 and 2016.
The gallery is open from 10:00 a.m. to 4:00 p.m. Monday through Friday and on Saturdays from 11:00 a.m. to 3:00 p.m. For more information, please visit http://www.RauschenbergGallery.com or telephone 239-489-9313.
________________________________________________________________
Focus on 'Wings' actress Kate Dirrigl (11-12-16)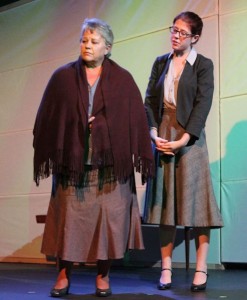 On stage now at Lab Theater is a remarkable production of Arthur Kopit's Wings. Kate Dirrigl plays Amy, a patient, highly competent therapist who establishes a close and deep rapport with stroke veteran Emily Stilson and the members of her speech therapy group. She is a pleasure to watch as she continues to develop her acting skills with each new part she reprises.
Kate is excited to transition from dumb blond to doctor in the Lab's production of Wings. Kate made her Lab Theater debut in last Christmas' production of Jeff Goode's highly-satirical The Eight: Reindeer Monologues, in which she played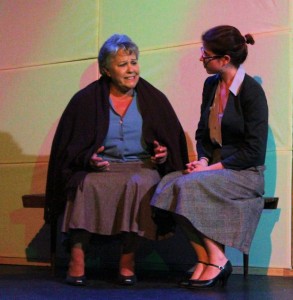 Dancer, a ditzy, adorably clueless Jewish ex-ballerina who found refuge at the North Pole after it became illegal and downright unsafe for reindeer to dance the Nutcracker, Swan Lake and the other classics back in the day. Then she returned to The Lab as a blond-haired, blue-eyed shiksa girlfriend in Joshua Harmon's Bad Jews. The stage direction included in Harmon's script describes Melody as "like someone who would have been abducted when she was nine but returned to her parents unharmed." Vacuous to a fault, when asked what type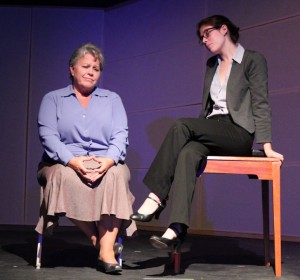 of a name Melody is, she answers, "Oh, I don't know, Caucasian?"
Read here for the rest of this profile.
RELATED POSTS
____________________________________________________________
Artist Greg Biolchini dedicated to capturing the skies off Sanibel for the next 20 years (11-12-16)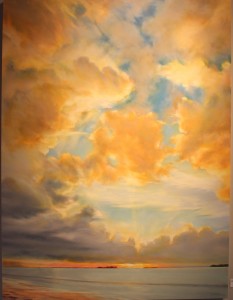 Opening Tuesday with a 5:00 to 7:00 p.m. artists' reception at Sanibel's Watson MacRae Gallery is Oh Florida! The exhibition features work by eight artists, Lauren Venditto, Owen Gray, Tamara Staples, Linda Hunsaker, Cia Thome, Hollis Jeffcoat, Greg Biolchini and the late Darby Bannard.
Born near Chicago in 1948, Biolchini's weekend trips to the Chicago Art Institute ignited his creative fires at an early age. Although he believed the great masters like John Singer Sargent were beyond his reach, he nevertheless strove to develop his talent and propensity for painting, drawing inspiration after his family relocated to Southwest Florida from the natural world all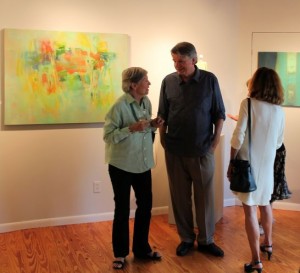 around him. He apprenticed with portrait painter David Phillip Wilson, and took courses at the Ringling School of Art, and through a combination of dogged determination and perseverance, he became a nationally-celebrated artist and Master Pastelist.
Since 1975, Biolchini has shown in more than thirty solo exhibitions and has been included in countless group exhibitions across the county.
Read here for the rest of this article.
________________________________________________________
People often ask digital artist Edward Loedding whether his work is a painting or a photograph (11-12-16)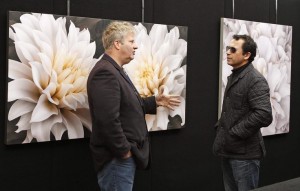 Edward Loedding is one of the artists bringing work to this weekend's Bonita Springs National Art Festival. On first view, most people encountering a Loedding composition ask themselves, if not the artist himself, "Is this a painting or a photograph?"
Loedding would probably bristle at being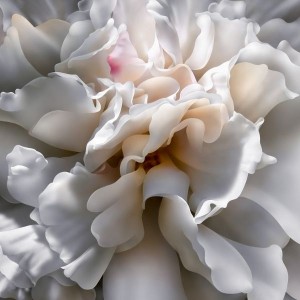 pigeonholed as a digital artist. You see, that's just medium as far as he is concerned. His art, by contrast, seeks to bridge the gap between realism and abstraction. He merely uses a smattering of digital tools to edit his photographs in order to accomplish this overarching goal. "Elements of both [painting and photography] are merged together using digital tools to form a totally new way of creating art," the artist explains on his website. "The tools I use are a digital SLR camera, computer, Adobe PhotoShop, digitizing tablet and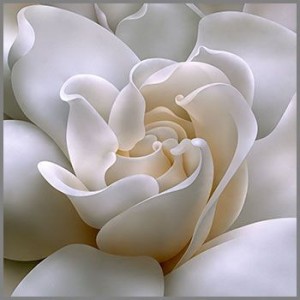 stylus, and a modified Roland Symphony12 color printer."
Loedding's subjects include flowers and scenes of the Vermont countryside. "I choose my subjects based on geometries that provide potential for rhythm and harmony," says Loedding. "Each piece of my art is a composite of multiple photos and additional elements that I create directly in the computer. The second step is orchestrating all of the gathered elements; deciding which elements to include and where they should be placed on the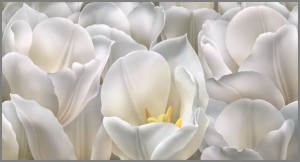 digital canvas. Once all of the pieces are in place, it's time to make them work together. I transform all of the pieces individually, changing their size, orientation, color, shadows, highlights – everything – until they form a cohesive and lyrical composition."
Read here for the rest of this profile.
________________________________________________________________
Spotlight on FGCU theater major Daniel Cancio, who plays the monster Caliban (11-12-16)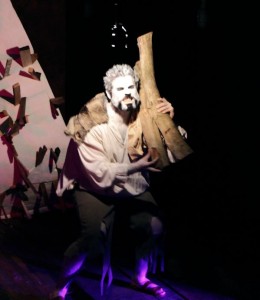 On stage at FGCU's TheatreLab is William Shakespeare's The Tempest. Directed by FGCU Theatre Professor Barry Cavin, the cast includes 11 students including theatre major Daniel Cancio.
Cancio plays the role of Caliban, one of the more complex and conflicted characters in the play. The Tempest takes place on an unnamed Mediterranean island. When the duchess, Prospero, fell out of favor with her queen, she and her infant daughter were placed in a leaky boat and sent out to sea to die of thirst or drown. Instead, the boat carried them to the island, where they encountered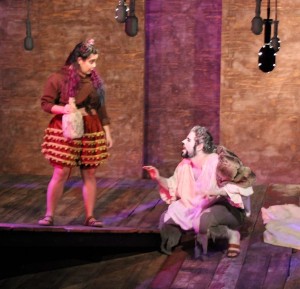 Caliban, its only true native.
Here's the rest of this profile.
RELATED POSTS.
_____________________________________________________________
Local photographer Jack Megela participating in next weekend's Estero Fine Art Show (11-12-16)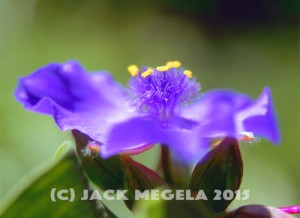 The Estero Fine Arts Show reconvenes at the Miromor Design Center on the weekend of November 19 & 20. Among the area artists who have been accepted into this juried show is Naples fine art photographer Jack Megela.
Born in Youngstown, Ohio, Megela studied Criminal Justice at Lorain County Community College while working as a State Trooper with the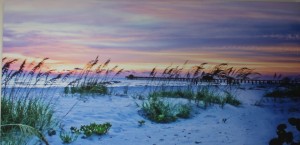 Ohio Highway Patrol. Later, he attended Kent State University and while working as a Detective Sergeant with the Canton, Ohio Sheriff's Department, he earned a Bachelor's Degree in Law Enforcement Administration.  Having extensive training in all aspects of photography from camera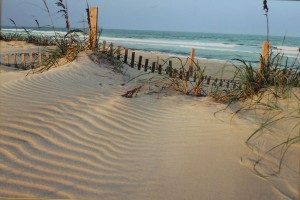 work to darkroom developing and printing, he put his skills to work during his daily regiment in everything from traffic fatalities to major crime scenes of all types, including numerous homicide investigations.
After retiring from law enforcement, Jack returned to Kent State University to pursue a curriculum in Art and Fine Art Photography. He then travelled the United States by recreational vehicle, visiting all 49 land-bound states before he and his wife, Marianne, settled in Naples near the edge of the Fakahatchee Strand and The Big Cypress National Preserve.
Read here for the rest of this story.
______________________________________
Focus on 'Wings' actress Cindy Chase (11-11-16)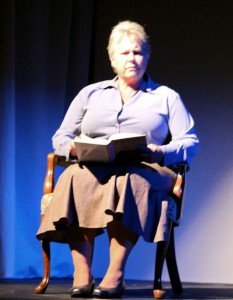 On stage now at Lab Theater is a remarkable production of Arthur Kopit's Wings. It stars Cindy Chase as Emily Stilson, a retired aerial acrobat who suffers a severe stroke in the play's opening moments.
This is Chase's first time performing at The Lab. Before coming to Florida, Cindy spent some 20 years in the entertainment business managing both her daughters' and other children's careers. She worked alongside talent such as Johnny Depp, Julianne Moore, Dan Aykroyd, Mayim Bialik, Marlo Thomas and Peter Falk. In New York, Cindy appeared in numerous television commercials, music videos and roles in television series such as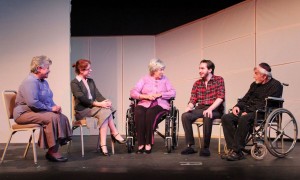 In Between Men, The Haunting and Monsters Inside Me. Cindy has also performed in theater on Long Island, where her acting credits include Bea in A View from the Bridge and Mrs. Frank in The Diary of Anne Frank.
__________________________________________________________
Enlightened staging and direction mark TheatreLab's 'Tempest' (11-11-16)
On stage now at FGCU TheatreLab is William Shakespeare's The Tempest. The play is thought to be the last one that the Bard wrote alone.
Director Barry Cavin's staging of this show is startling, to say the least. There is basically no set, just a sculptural piece made of Styrofoam, rope, pine and oak that suggests the hull of an old ship. The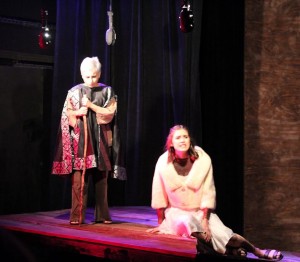 stage is constructed of mottled three-quarter inch wood planking salvaged from an old Kentucky barn, interrupted only by a ramp that ends in an elevated platform stage right. Actors appear and disappear through openings between staggered burl panels that form as backdrop for the audience. That's it. That's all Cavin and his set construction crew give us by way of scenery and set.
Here's the rest of this review.
_____________________________________________________________
Bert's Pine Bay on Matlacha Island represents more than 30 artists (11-11-16)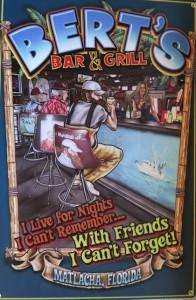 Bert's Pine Bay Gallery & Gifts is a charming historic cottage perched at the northeast foot of the Matlacha Bridge overlooking Matlacha Pass. Visitors and locals alike enjoy returning often to peruse local art, browse through the shelves of local and bestseller books, or shop for souvenirs. Over 30 artists are represented at Pine Bay. Some will be featured throughout the year in Bert's frequent open house events. The gallery's rooms are crammed "to the gills" with treasures to delight every taste, including nautical, shells, local jewelry, unique decór, brilliant glassware, ornaments, cards, painted clothing and a vast array of mermaids and pirates, as befits its location and affectionate affiliation with its backyard neighbors, the shrimp boats!
Bert's parking lot is "Bert's Bar Parking." Its back porch is always the best view of sunset. Let Bert's welcome you to Matlacha. For more information, please visit http://www.bertsgallery.com or telephone 239-283-1335.
________________________________________________________________________
'Oh Florida' exhibition opens at Sanibel's Watson MacRae Gallery on November 15 (11-11-16)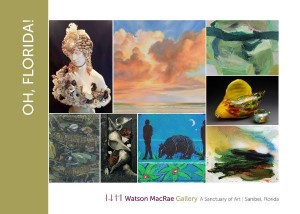 On November 15, Watson MacRae Gallery on Sanibel Island opens its ninth season with Oh Florida, an exhibition which features new work by seven artists from around the country and the Sunshine State whose work is inspired by Florida's natural beauty and its wildness.
Lauren Venditto (Atlanta/Sanibel) marries the classic beauty of form with the natural beauty of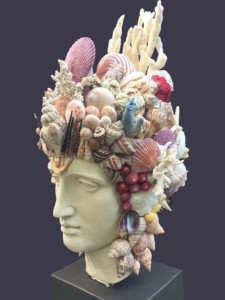 shells to create exquisite sculpture.
Greg Biolchini (Ft. Myers) continues to amaze us with his majestic "Florida Sky" series.  His ability to apply multiple layers of vibrant colors produces paintings with an inner luminescence reminiscent of the Renaissance.
Inspired by the Everglades, returning New York C ity artist Owen Gray captures the murky maze and the intense nature of Florida's wild side in his compact abstracted paintings.
Rauschenberg Residency artist Tamara Staples (Brooklyn) had the unique opportunity to work with shells from a Calusa Shell Mound.
Using the shells and other natural objects, she created and photographed sacred still-lifes that honor the Calusas and the creatures that once were alive on these Islands. [Note: All shells were returned to the exact place where they were found. This process was video documented.]
Read here for the rest of this announcement.
____________________________________________________
Watson MacRae's new gallery space upscale, beachy viewing environment for enjoying 2 and 3D artworks (11-11-16)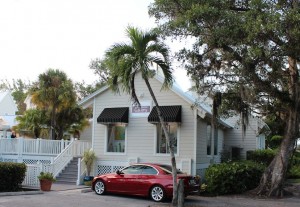 Watson MacRae re-opened October 18 with an eagerly-awaited and well-attended celebratory All Island Open House. The gallery has moved around the corner to the front of the Village Shops on Periwinkle Way. The space possesses good bones and a wonderful history.
The suite was originally leased to Stanley and Livingston, a travel and clothing business started by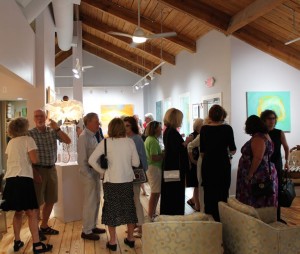 the Owens family. I was most recently the home of Bill Wilson's fine jewelry. "His creativity, caring, dry humor and Tricia's graciousness linger," Maureen Watson points out.
The 1,100-square-foot space features rich, stained wood ceilings, broad cedar beams, exposed air-conditioning duct work and blond tongue-in-groove wood Florida pine flooring. "It's the original flooring from when the plaza was built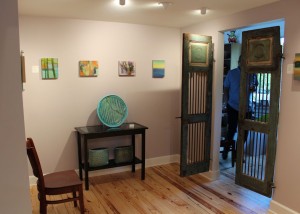 around 1987," notes Maureen. "It was sanded five times to bring back its natural color. I had the contractor [Rick Kennedy] leave it natural with a matte finish."
You can find the rest of the article here.
_____________________________________________________________________
Centers for the Arts Bonita Springs has ambitious 2016-2017 exhibition schedule (11-11-16)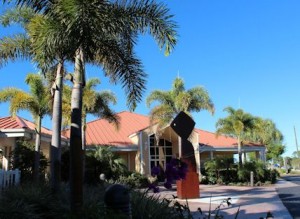 The Centers for the Arts Bonita Springs has laid out an ambitious exhibition schedule for its 2016-2017 season. So that you can make plans, here it is:
Crocodilian Scratchboards by John Agnew: now through December 31, 2016.
A Peace of My Mind: Exploring the Meaning of Peace One Story at a Time, Interviews and Photographs by John Noltner taking place January 4-25, 2017.
Annual Members Show: February 3-23, 2017, with an opening reception from 6:00 to 8:00 p.m. on February 3, 2017. This opening reception will take place in conjunction with a campus-wide open house.
EXQUISITE MINIATURES: A Traveling Museum Exhibition of Miniature Paintings by Wes and Rachelle Siegrist: Produced by David J. Wagner, Ph.D., Curator/Tour Director, this show will be on view March 1 through April 30, 2017.
March Exhibition – Dream Worlds: March 10-30, 2017, with an opening reception from 6:00 to 8:00 p.m. on Friday, March 10 that will take place in conjunction with a campus-wide open house.
April Exhibition – Depth Cues: April 7-27, 2017, with an opening reception from 6:00 to 8:00 p.m. on Friday, April 7 held in conjunction with a campus-wide open house AND "Empty Bowls Event."
_________________________________________________
Bryan Sutton, Muffy Clark Gill will star in next NAA 'Dinner with Artists' (11-11-16)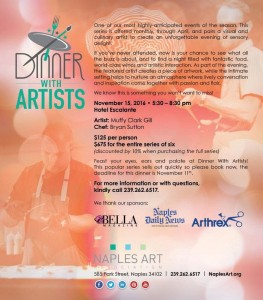 Art feeds the creative soul and the Naples Art Association's Dinner with Artists will delight your senses and enable you to feast with your eyes and palate at the same time. In this spectacular series, Naples Art pairs renowned artists with executive chefs who collaborate on creating and presenting original works of art and culinary masterpieces. Each event includes a multi-course gourmet meal and wine, and as part of the evening, the featured artist creates a piece of artwork while the intimate setting helps to nurture an atmosphere where lively conversation and inspiration come together with passion and flair.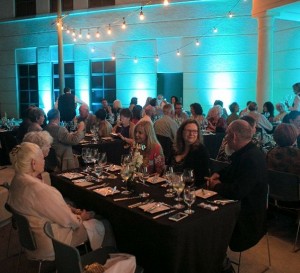 On November 15, the Dinner with Artists series resumes for the 2016-2017 season at Hotel Escalante and features artist Muffy Clarke Gill and Chef Bryan Sutton.
Tickets are $125 per person (or $675 for the entire series of six). Seating is limited to preserve the intimate ambiance that has made this annual series a favorite for Southwest Florida's creative community, so reserve your seats in advance. For more information or to reserve your seats, please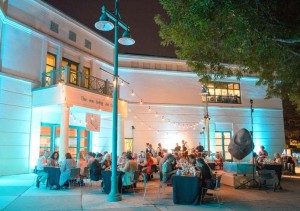 call 239-262-6517.
If you've never attended, now is your chance to see, smell and taste what all the buzz is about and discover a night filled with fantastic food, world-class wines and artistic interaction.
________________________________________________________________
Memorial to Fort Myers' black Civil War soldiers dedicated in Centennial Park on this day in 2000 (11-11-16)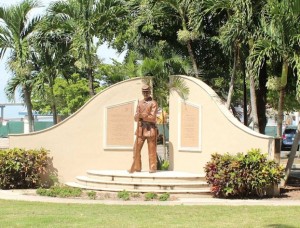 Clayton, the Civil War memorial in Centennial Park dedicated to the contingent of black soldiers who were stationed in Fort Myers during the final year of the Civil War, celebrated its 16th anniversary today.
"People don't have a sense of connection, a sense of history here because so many folks are from elsewhere," muses Clayton's creator, D.J. Wilkins,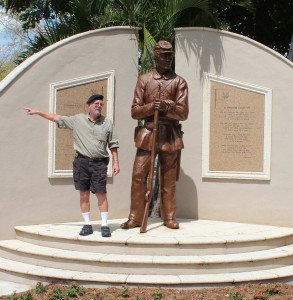 the man former mayor Art Hammel once labeled the Sculptor of Fort Myers. "But American history started right here, with footprints of the Conquistadors in the sands of Florida." And many area residents and out-of-town visitors are surprised to discover that the fort from which our town takes its name was a Union stronghold during the Civil War, with half of the roughly 250 soldiers stationed here being members of Companies D and I of the 2nd Regiment of the USCT. The acronym stands for the United States Colored Troops, and in 2000,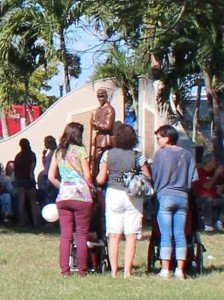 the City of Fort Myers commissioned Wilkins to create a tribute to their gallantry. You see, it was this contingent of black soldiers that repelled an attack by the Florida "Cow Cavalry," which had orders to burn the fort to the ground. Had the Confederates succeeded in their mission, it is conceivable that there'd be no Fort Myers today as the wood in the fort is what attracted and retained the town's first settlers, Manuel Gonzalez, his 5-year-old son, John Weatherford and Joe Vivas.
You'll find Clayton on the eastern edge of Centennial Park, a 10-acre mall on the banks of the Caloosahatchee River that is itself a memorial to the City's 100th anniversary. Clayton was commissioned by the Fort Myers Beautification Advisory Board, which added 21 public artworks to the City's collection during a 20-year span that began in 1983 with the restoration of The Spirit of Fort Myers at the entrance of Edison Park. Click here to read more about this public artwork and the Battle of Fort Myers and its impact on the early history of our town.
_________________________________________________________________________
Cindy Chase turns in Tony-like performance in Lab Theater's 'Wings' (11-10-16)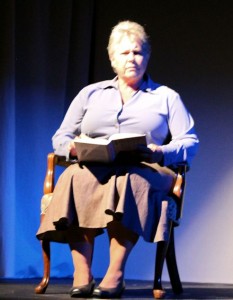 Every so often a play comes along that is so novel, so inventive, so impactful that it stays with you long after the final curtain. Lab Theater's production of Arthur Kopit's Wings is such a play.
The Southwest Florida theater circuit does not have an award similar to the Tonys. If it did, lead actress Cindy Chase would unquestionably deserve consideration. Chase plays Emily Stilson, an elderly woman who undergoes a stroke in the play's fractured opening scene and is then propelled into a topsy-turvy, death-defying existential quest to rediscover herself in the lost vocabulary of her inaccessible mnemonic archive. But Chase does not merely portray Emily Stilson. She is Emily Stilson –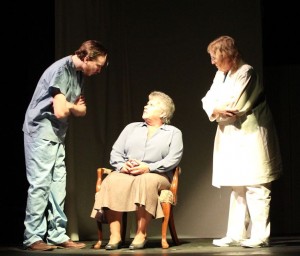 every second of every minute she is on stage during this 70-minute, no-intermission production.
Chase's identification with Stilson is authentic. While she has never suffered a stroke, she did have a brain tumor six years ago. But to experience what her character endures in the aftermath of her cerebral infarction (the medical terminology that describes the death of cells and neurons when a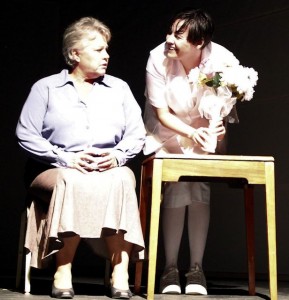 clot or blockage cuts off blood supply to a portion of the brain), Chase participated in rehab sessions at Cape Coral Hospital for more than two months. The Lab audience is the beneficiary of Chase's dedication and hard work. Chase becomes the portal through which the audience is given the inestimable privilege of witnessing, in a deeply personal way, what it's like in the moments before and the eternity following "the accident."
Read here for the rest of this review.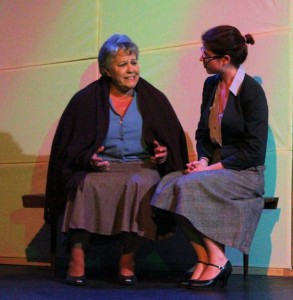 RELATED POSTS
________________________________________________________________
Happehatchee enhances magical realism of Ghostbird's 'Chicken Play' (11-10-16)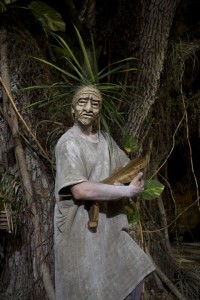 Over the weekend, Ghostbird Theatre Group opened "The Chicken Play" at the Happehatchee Center in Estero. It's a production that is perfectly suited to folks who are looking for an out-of-the-box, semi-immersive theater-going experience.
"The Chicken Play" combines aspects of both promenade and environmental theater. The play starts outdoors in a labyrinth. After some initial scenes, audience members follow the actors down a path and take seats inside a pavilion that evokes the feel of a temple or place of sacred ritual. At this point, the play shifts to theater in the round, compelling the audience to see their own responses and reactions reflected in the faces of members sitting on the other side of the facility.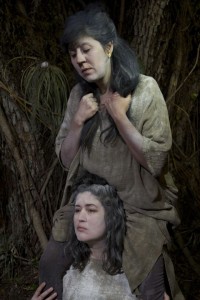 "The pavilion is this beautiful, screened-in wooden structure that is surrounded by woods," notes director and Ghostbird co-founder Brittney Brady. "So you feel like you're both inside and outdoors, giving you the sense that the place is a character in the play."
The play is centered on a woman who has suffered some trauma and now seeks to piece together her life in its aftermath. She serves as a metaphor for her village, which is similarly splintered and trying to reconstitute itself in much the same way. Instead of passively watching the story unfold, the audience becomes part of the village through the participatory nature of its involvement both in the play's initial scenes and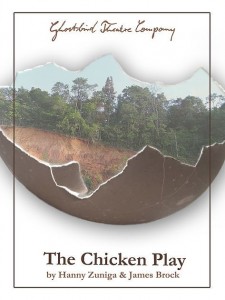 once it is ensconced inside the pavilion.
Read here for the rest of this interview.
RELATED POSTS
____________________________________________________________
Still time to submit work for Alliance's 'Off the Walls: 200 for $200′ holiday season exhibition (11-10-16)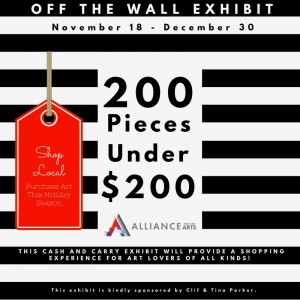 Hundreds of pieces of artwork created by Alliance for the Arts members will fill the gallery walls during November and December during Off the Wall: 200 Under $200. There's still time for artists to have work included in this show. Drop off is Monday, November 14 between 9:00 a.m. and 5:00 p.m. The prospectus for artists interested in taking part in the exhibition is available at www.ArtInLee.org.
"We hope that this exhibit will encourage others to consider buying local art when shopping for gifts," said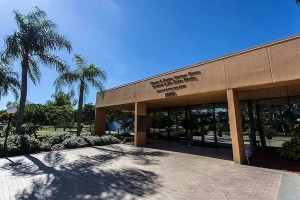 Krista Johnson, Exhibitions Coordinator. "By doing so, we can help stimulate the city's creative economy."
Coinciding with the advent of the holiday shopping season, this non-traditional art show features works of all mediums priced at $200 or less. All sales are "cash and carry," meaning purchasers will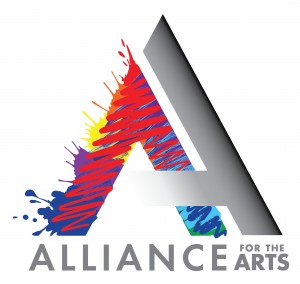 get to take the piece with them when they buy it, instead of waiting until the end of the exhibit. The two month long exhibit will evolve as pieces disappear and the remaining pieces are repositioned.
The show's opening reception is Friday, November 18 and runs through December 30 or last sale. Caren Pearson will be exhibiting in the member gallery. The Theatre Gallery will house Private Collection: Alliance Treasures.
For more information, please visit www.ArtInLee.org or by calling 239-939-2787.
__________________________________________________________________________
On view now in FGCU ArtLab and Library Study Area is 'Latitudes and Longitudes' (11-10-16)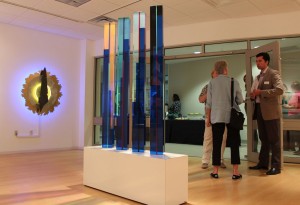 On view now through November 17 in the FGCU ArtLab and through December 7 in FGCU Library Study Area is Latitudes and Longitudes, a sampling of more than 80 works of art that have been donated to the Art Gallery at FGCU by ASG Technologies. Among the artists whose work is represented in this gift are Joseph Albers, Ilya Bolotowsky, John Buck, Judith Murray, Laurence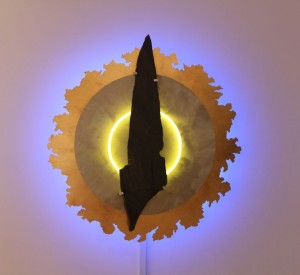 Barker, Mary Sullivan Voytek and Tom Dineen. The mediums represented include painting, printmaking, ceramics, mixed media sculpture and fiber arts. The selection of works for this exhibit has been chosen and curated by John Loscuito and Anica Sturdivant.
Headquartered in Naples, Florida, ASG Technologies is a global software products provider enabling technology solutions from legacy to leading edge environments in today's enterprise.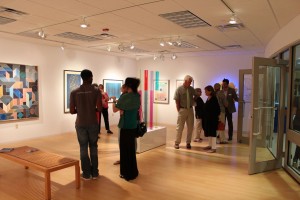 Currently supporting thousands of customer installations worldwide, across multiple industries such as financial services, healthcare, telecommunications, retail, transportation, government and education, and manufacturing, the breadth of ASG's product portfolio gives it a unique position to provide innovation for its customers in multiple technology areas. For more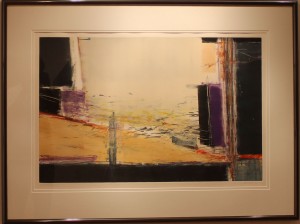 information on ASG Technologies, visit www.asg.com.
ASG's gift compliments FGCU Art Galleries' growing collection of internationally-recognized contemporary artists. These works of art are of particular use to FGCU students in their studio research and understanding of art and visual culture.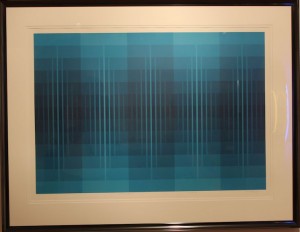 The ArtLab component of the exhibition will remain on view through November 17. The portion of Latitudes and Longitudes that is on display in the FGCU Library Study Area will be on exhibit through December 8. The FGCU ArtLab Gallery is located on the West End of the Library Building. Call 239.590.7199 for more information.
_________________________________________________
Three collections on exhibit in November at Naples' Native Visions Galleries (11-10-16)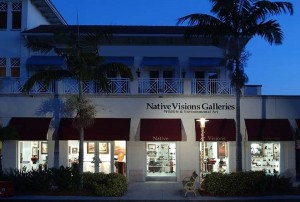 Native Visions Galleries on Naples Fifth Avenue South is featuring three collections during the month of November:
Seascapes of Florida by international award-winning artist Rob Macintosh;
impressionism by American artist Donna Young; and
new glass in by Milano Master Gialucca Vidal.
Native Visions Galleries is located at 737 5th Avenue South, Naples. For more information, please visit http://www.nativevisions.com/ or telephone 239-643-3785. Gallery hours are 10:00 a.m. to 9:00 p.m. Monday through Thursday, 10:00 a.m. to 10:00 p.m. on Friday and Saturday, and noon to 6:00 p.m. on Sundays.
_______________________________________________________
Lady from Haiti offering gallery-wide discounts (11-10-16)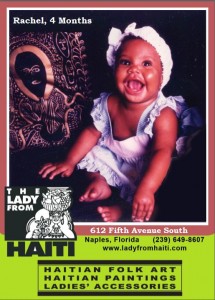 The Lady from Haiti on Naples Fifth Avenue is having a secret sale. If you mention "Rachel's birthday" when you call, email or drop into the gallery prior to Thanksgiving, owner Melody Bales will give you 40 percent off just about anything in the store.
Why? Melody is celebrating her daughter's birthday. You see, 24 years ago, she got a call from Port-au-Prince advising her to "Come and get your baby…" Some twenty plus years ago, Melody spent six years living in Haiti as a second grade teacher in a private school and a swimming instructor for the American Red Cross. Then she was presented with the opportunity to adopt a baby whose natural mother could not afford to care for her.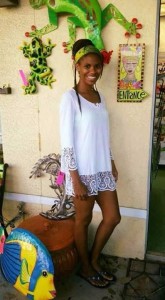 "I first saw Rachel on a sonogram, and we met face to face six weeks later, when Rachel was exactly one month old," recounts Melody. "As soon as all the red tape and bureaucratic requirements were met, we two ladies from Haiti were allowed to leave the country and begin our lives together."
And so, the gallery actually takes its name from Rachel, who is the real lady from Haiti.
The Lady from Haiti is located at 612 Fifth Avenue South, Naples, FL 34102. For more information, please telephone 239-649-8607.
__________________________________________________________________
On view at Naples' Shaw Gallery is work by Trofimov, Miserek and Abrishami (11-10-16)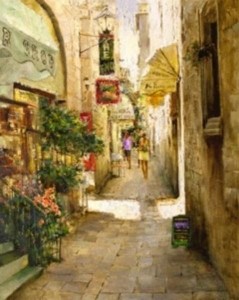 Shaw Gallery of Fine Art in Naples opened its 2016-2017 season on November 4 with the opening of an exhibition of new work by a group of internationally-acclaimed artists including Oleg Trofimov, Leonard Mizerek and Hessam Abrishami. Shaw Gallery has been offering the finest in nationally and internationally recognized sculptors, painters and glass artists to their clients for nearly three decades. With its thriving location on Fifth Avenue South in Naples and an active on-line gallery, its 27 years of hard work and determination in cultivating a recognizable name seems like a wrinkle in time.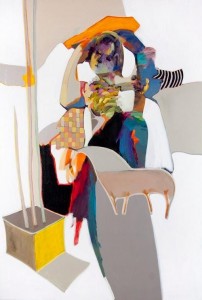 The gallery currently represents more than 40 prominent artists who are carefully selected to assure collectors the best possible artwork for their collections. Shaw Gallery hosts approximately seven to ten special events each season, ranging from large-scale one-man shows to private charitable exhibitions. Shaw Gallery also reaches beyond their gallery walls by working with municipalities, institutions and private businesses to place artwork in the public eye.
For more information, please visit http://www.shawgallery.com or telephone 239-261-7828.
________________________________________________________________
Deadline for applying to Downtown Naples Festival of the Arts is November 28 (11-10-16)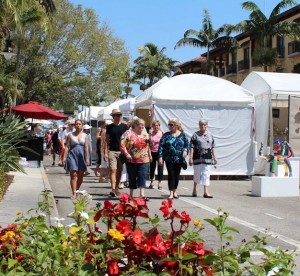 The Naples Art Association is currently accepting applications for inclusion in its The Downtown Naples Festival of the Arts. The 29th Annual Downtown Naples Festival of the Arts is one of the last major art festivals of the winter season and a favorite festival for artists, art enthusiasts and collectors. If you would like to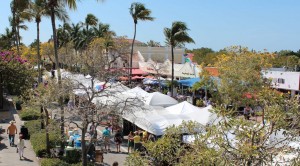 exhibit in this show, here's what you will need to know:
Dates: Saturday and Sunday, March 18-19, 2017
Festival Hours: Saturday: 10 a.m. – 6 p.m.; Sunday: 10 a.m. – 5 p.m.
Location: 5th Avenue South, Downtown Naples
Accept 254 artists max
Application fee: $25
Booth fee: $450 for 10×10
Cancellation refund policy: Full refund: 02/03/17; 50% refund: 02/20/17
Set up specifics: 4 a.m., early morning set up only;
On street set up in quads: No electrical
Application deadline: 11/28/16
Jury Process begins: 12/09/16
Status Notification: 12/27/16
Booth Fee Due: 1/13/17
Artist Info Sent: 02/03/17
Wait List Acceptance: 01/10/17
Application available online at juriedartservices.com beginning June 1, 2015
See more at: http://www.naplesart.org/callforartistcat/festival-opportunities/.
______________________________________________________________________
Englishman exhibiting Ruth Bloch sculpture in December (11-10-16)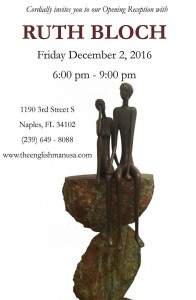 The Englishman Fine Art in the Third Street South Art District in Naples will be exhibiting new work by esteemed international sculptor Ruth Bloch in December. Her sculpture hints at whimsy and displays a great understanding of feeling for the human figure. Her works are exhibited all over the world and are a favorite of many at the Englishman.
Bloch was born in Israel in 1951 to artistic parents. Ruth's father was a musician. Her mother worked in ceramics. Ruth and her family were members of a Kibbutz called Alonim, a place that afforded Ruth many opportunities to develop her artistic talents throughout her childhood. Reaching adulthood, Ruth attended the Avny Art Institute in Tel Aviv and took additional studies in psychology in the United States. Currently, Ruth lives and sculpts in Israel.
The opening reception will take place from 6:00 to 9:00 p.m. on December 2. For more information, please visit www.theenglishmanusa.com or telephone 239-649-8088. The Englishman is located at 1190 3rd Street S, Naples, FL 34102.
_____________________________________________________________________
Ghostbird Theatre to perform 'The Chicken Play' outdoors (11-09-16)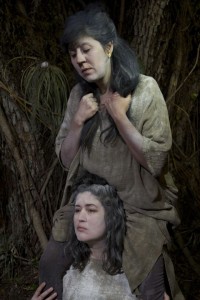 Florida Weekly has published my notice about the opening of Hanny Zuniga and James Brock's The Chicken Play at the Happehatchee Center in Estero on November 12. The play is directed by Ghostbird founder Brittney Brady and stars Leila Mesdaghi, Kaleena Rivera. Katelyn Gravel and Paulo Leon Silva. Mixed media artist Cesar Aguilera has created the masks worn by the actors in the play, and Philip Heubeck, Victor Ballo, Kaleena Rivera and Leila Mesdaghi. You can read the notice for yourself in the November 9-15 edit
ion of Florida Weekly. You'll find it on page C23 in the Arts & Entertainment section.
____________________________________________________________
Upgraded lights, sound system to enhance Lab Theater's 'Wings' (11-09-16)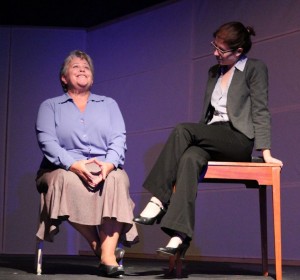 Florida Weekly has published my notice about the opening of Arthur Kopit's Wings at the Laboratory Theater of Florida on November 11. Known for pushing the theatrical envelop, The Lab is combining its newly-upgraded lighting and sound system with Arthur Kopit's stream-of-consciousness script to take the audience directly into the head of a retired aerial acrobat who suffers a massive stroke in the play's opening scene. Grab a copy of Florida Weekly for November 9-15 to read the full announcement for this production. You will find it on page C15 in the Arts & Education section.
__________________________________________________________
Holiday family musical opens Broadway Palm's 'off Broadway' (11-09-16)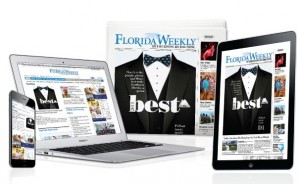 Florida Weekly has published my notice about the opening of Another Night Before Christmas at the Broadway Palm Dinner Theatre on November 17. If you are in the market for something out of the ordinary this holiday season, this touching musical may be just the ticket for you. Grab a copy of Florida Weekly for November 9-15. You'll find the announcement on page C3 in the Arts & Entertainment section.
____________________________________________________________________
Naples' Sheldon Fine Art hosting open house during Thursday night's 'Evening on Fifth' (11-09-16)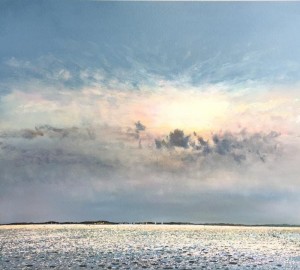 Sheldon Fine Art is hosting an open house tomorrow night from 6:30-9:30 p.m. This will be your first chance to view new work by several new painters as well as new pieces by returning artists. The open house runs concurrently with Evening on Fifth, which features dining, dancing and live music by Patchouli, Joe Osment, Tie Dye Ted, Bon n Bon and Mr. and Mrs. Sheldon Fine Art is located at 460 Fifth Avenue South in Naples. For more information, please visit http://www.sheldonfineart.com or email Sheldonfinearts@aol.com.
________________________________________________________________
Second Saturday cultural event returns to SoCo Cultural District on November 12 (11-09-16)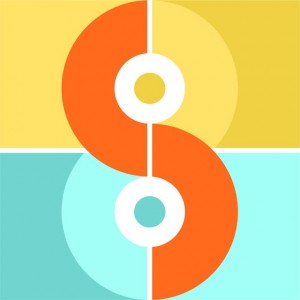 The Second Saturday Cultural Event returns to the new SoCo Cultural District from 5:00 to 10:00 p.m. on Saturday, November 12. Event goers can expect to experience outstanding art and interact with artists at all cultural venues including artists' studios, DAAS CO-OP Art Gallery, the Broadway Palm Dinner Theater, unique shops, and more.  The event will be held at stops throughout the district, which include studios in the Key West Professional Center and several stops in the newly renovated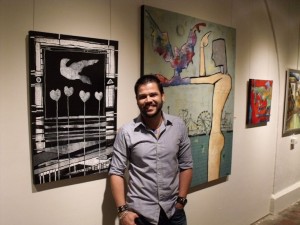 Royal Palm Square.  Additionally, carefully selected local artists and craftspeople will have booths located throughout the event.  During the event, live musicians will provide entertainment at various locales. However, please note that because of its Order/Chaos: An Evening on Edge fundraiser, the Alliance for the Arts is not participating in this month's SoCo Cultural Event.
Visual Artist Jason McDonald presents his Tunnel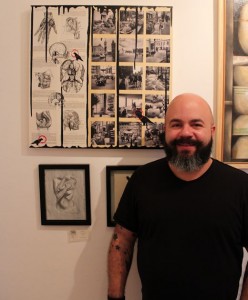 of Love exhibition at DAAS CO-OP Art Gallery & Gifts. McDonald, a former Union Artist Studios member, creates symbolic and expressive images in a variety of mediums. His works have been displayed in several art galleries in the state, including a recent solo exhibition at the Alliance for the Arts Members Gallery.
The Union Artist Studios, located in the Edwards building of the Alliance for the Arts campus, will host its second Local Artists Market and a special art sale. Local artists wishing to participate in the market can visit theunionstudios.com for information.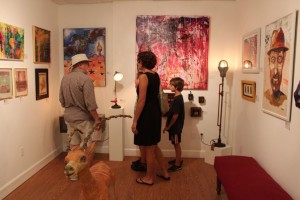 The proximity of all the participating venues conveniently allows for a self-guided walking tour or there is plenty of parking available at both the Alliance for the Arts campus and the Royal Palm Square. An after-party starting at 10:00pm, will be held at the Broadway Palm Dinner Theater.
A map of the cultural stops will be located at all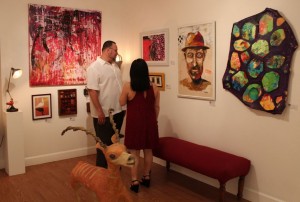 participating venues and can also be printed online at socoswfl.com. Guests can select which events to attend and design their own tour within the district. The SoCo Cultural District committee encourages art patrons and guests to visit all cultural venues on the map and support their local artists and vendors.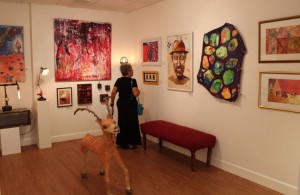 More information about the SoCo Cultural District and the Second Saturday event can be found at socoswfl.com and their Facebook page at facebook.com/socoswfl. Businesses and vendors wishing to be part of this event can email info@daascoop.com or visit socoswfl.com.
____________________________________________________________________
Alliance holds 'Order/Chaos' fundraiser Saturday, November 12 (11-09-16)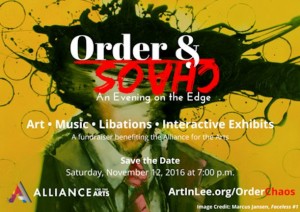 The Alliance for the Arts will host its annual fundraiser Order/Chaos: An Evening on Edge on Saturday, November 12, 2016 on the Alliance campus. Event proceeds provide opportunities for children to participate in the arts, expanding collaborations with social service organizations to utilize art therapy, and enhancing the quality of life in southwest Florida.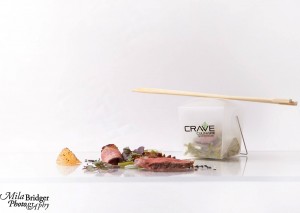 For this unique event, visual, performance, musical and culinary artists will create a sensory experience that entices and delights attendees by exploring the concepts of order and chaos. Interactive art exhibits will provide an opportunity to step inside the worlds of order and chaos and play on the razor-thin edge between the two.
The area's top chefs will be on hand to provide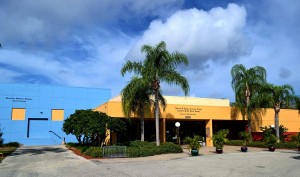 tastings of their culinary creations and a specialty cocktail will twist the theme to its extreme. Live and silent auctions will provide opportunity to bid on exciting experiences and thrilling adventures. The night concludes in the Alliance lounge with dancing and a live performance by local rock stars Strange Arrangement. Come prepared to be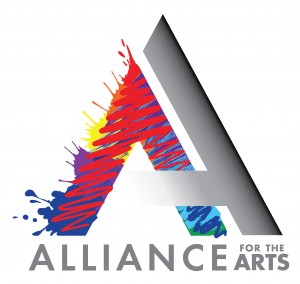 unprepared.
Tickets for the VIP Experience are $200 and include access to a VIP pre-party, exclusive preview of auction packages and access to VIP concert seating with cocktail service. Doors for VIP open at 6:30 p.m. Main event tickets are $125 and include open bar, live entertainment, silent and live auctions, and tastings from the best chefs in town. The main event begins at 7 p.m.
Culinary sponsors include Mermaid Garden Cafe, Prawnbroker Restaurant & Fish Market, and Pyro's Creations. Event sponsors include Broadway Palm Dinner Theatre, Tina & Cliff Parker and Boost Creative. Media sponsors include Gulfshore Life and Florida Weekly.
Sponsorship opportunities are still available. For more information, call (239) 939-2787 or visit ArtInLee.org/OrderChaos.
___________________________________________________
November 12 proclaimed as 'Naples Artcrafters Day' in recognition of 50 years of service to arts community (11-09-16)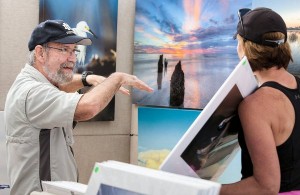 Naples Artcrafters' November juried fine art and craft show in beautiful Cambier Park in downtown Naples will celebrate the group's 50th anniversary. In recognition of 50 years of service to the Naples arts community, Mayor Bill Barnett has proclaimed November 12, 2016 as Naples Artcrafters Day. An official ribbon cutting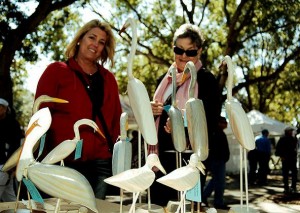 ceremony will take place during the show at 10 a.m.
The outdoor art fair takes place from 10 a.m. to 4 p.m. The event showcases the work of juried local artists and craftsmen who will be selling their paintings, jewelry, pottery, art glass, sculptures, and more in a lovely park setting. Admission and parking are free.
This is a wonderful opportunity to shop and support our local artists.
________________________________________________________________________
Deadline for applying for admission to 'Passionately Repurposed' is November 28 (11-09-16)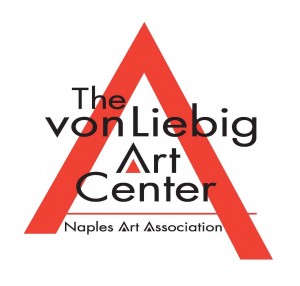 The deadline for applying for admission to Passionately Repurposed is fast approaching. It is an exhibit of artwork made from recycled materials and found objects that will be displayed by the Naples Art Association on the ground floor in the Frederick O. Watson Gallery from December 10, 2016 through January 21, 2017.
Of course, at the mere mention of artwork made from recycled materials and found objects, the name of Robert Rauschenberg immediately comes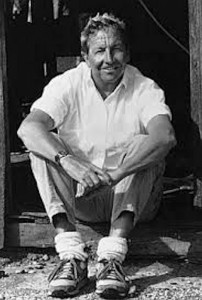 to mind. But the tradition of using found objects in works of art has a long history. For example, as far back as 1881, Degas clothed his Little Dancer of Fourteen Years in a real tutu. In 1912, Picasso collaged a piece of chair backing into his Still Life With Chair Caning. But it was Marcel Duchamps who really made the found object an art form and he is deservedly regarded as the father of the readymade. Since then, many artists have flourished in the field, including (but by no means limited to) Louise Nevelson, Joseph Cornell, Marina DeBris, Leo Sewell and Michelle Stitzlein.
So it should be interesting to see what types of submissions the Naples Art Association receives for this exhibit. Receiving is on Sunday,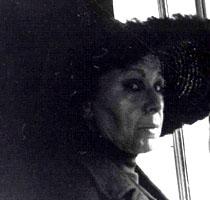 November 27 (from noon to 2 p.m.) and Monday, November 28 (from 10 a.m. to 2 p.m.). Admission is not automatic. Naples-based art professional Janice Paine will serve as juror for the show.
Paine has served as an art critic, art journal editor, arts program manager and assistant curator in both Wisconsin and Florida. As Program Manager for Education Services with the United Arts Council of Collier County, she develops and administers art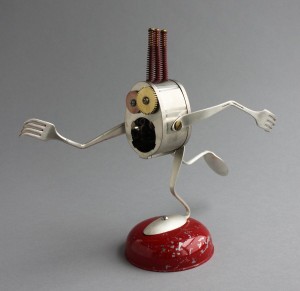 enrichment after-school programs for elementary and middle school students.
Paine has written and published on art for more than 30 years. American Craft Magazine, The Milwaukee Sentinel, Gulfshore Life Magazine, Naples Daily News and New Art Examiner have published many of her articles, reviews and feature stories. Her work has also appeared in ArtNews, Fiberarts, Surface Design and View Camera.
In addition to her career accomplishments, Paine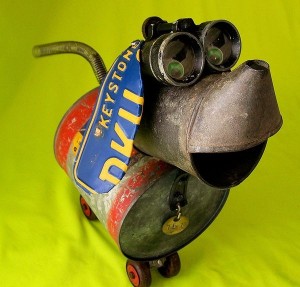 brings impressive academic credentials to the jury process. She holds a Master of Arts degree in Art History from the University of Delaware and a Bachelor of Arts degree in American Studies/Literature from Reed College in Portland, Oregon, where she was inducted into Phi Beta Kappa Society.
Artists may enter one or two original works of art for the jury process. Entry forms will be provided during receiving. There is a $15 entry fee for each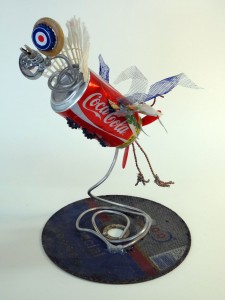 artwork entered (maximum of two). Membership in the Naples Art Association is required. New members are welcome and may join before or during artwork receiving. Width and other restrictions apply. Artwork may be available for purchase or listed as not for sale. Best of Show will earn a $500 cash award, with $250 being paid for first place; $200 for second place; $150 for the Award of Merit; and $100 to the three works which receive Honorable Mentions.
The preview reception for the show will take place from 5:30-7:30 p.m. on Friday, December 9.
Please visit http://www.naplesart.org or telephone 239-262-6517 for more information.
_____________________________________________________
World premiere of 'Bubbles' horrifies audience and scares T.G.I.M. judges (11-08-16)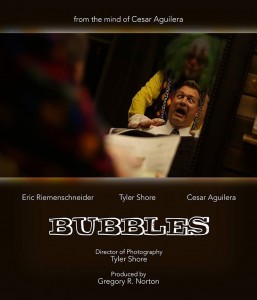 Last night, co-hosts Eric Raddatz and Melissa DeHaven screened a local film that is being considered for inclusion in next March's edition of the Fort Myers Film Festival. Starring local portrait artist Eric Riemenschneider and filmed by Tyler Shore, Bubbles was written, co-produced, directed and co-starred by popular mixed media artist Cesar Aguilera, who just finished a solo show in September at the Sidney & Berne Davis Art Center.
The six-minute film is a horror. Riemenschneider plays an abrupt and abrasive business executive who stops in a barber shop for a haircut. Cesar Aguilera plays a serial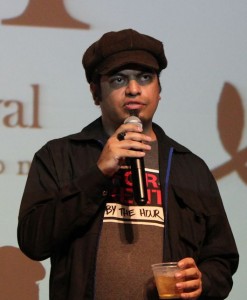 murderer who is dressed in a blood-stained clown outfit. It is not clear from the film whether Bubbles the clown has offed the barber or is the barber, and it's ambiguous whether he was intent on hacking the exec to death from the outset or was provoked by the exec's condescending attitude. But for five of the six minute running time of the film, the viewer assumes the point of view of the exec, who finds himself cast into the dark, looking for a means of escape in the pale light cast by the flashlight feature of his cell phone. The action is disorienting, intense and enthralling (although you will have to see the film for yourself to learn whether the exec escapes or has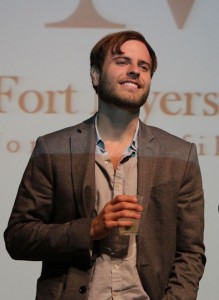 his Bubbles burst).
Read here for the rest of this story.
Related Posts:
____________________________________________
Lab Theater's 'Wings' opens on November 11 (11-08-16)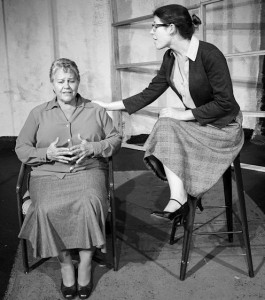 Arthur Kopit's Wings opens at the Laboratory Theater of Florida on Friday, November 11. Starring Cindy Chase, the play follows an aerial daredevil and wing walker by the name of Emily Stilson who suffers a massive stroke in the play's opening moments. In this production, The Lab will employ its newly-upgraded lighting and sound system with Kopit's stream-of-consciousness script to take the audience directly into Stilson's head in order to convey her fear and frustration as she struggles to make sense of what's happened to her and fights to re-establish her memory, grasp of language, and the mobility requisite for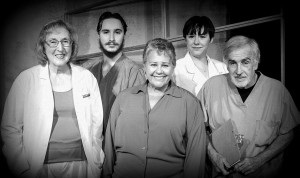 living independently. The experience promises to be unique. The play promises to be memorable. This is one you won't want to miss!
RELATED POSTS
__________________________________________
'Talk Back' about strokes to follow November 13 matinee of 'Wings' (11-08-16)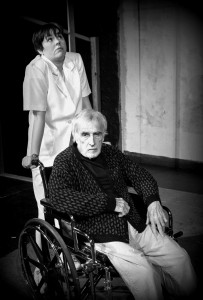 Arthur Kopit's Wings opens at the Laboratory Theater of Florida on November 11. Starring Cindy Chase, the play follows an aerial daredevil and wing walker by the name of Emily Stilson who suffers a massive stroke in the play's opening moments.
Known for pushing the theatrical envelop, The Lab will combine its newly-upgraded lighting and sound system* with Kopit's stream-of-conscious script to take the audience directly into Stilson's head in order to convey her fear and frustration as she struggles to make sense of what's happened to her and fights to re-establish her memory, grasp of language and the mobility requisite for living independently. And to further sensitize local theater-goers to what it's like to suffer and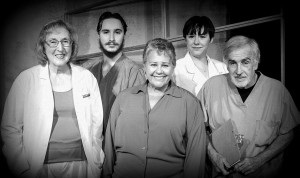 recover from a stroke, Lab Theater will conduct a "talk back" (Q&A) session following the matinee performance of the show on November 13. Panel members will include Dr. Joe Ryan and Registered Nurse Tammy Booth from from Lee Health, stroke veteran Peter Swet, Artistic Director Annette Trossbach, and cast/crew of Wings. Matinee guests are encouraged to stay and listen or participate at no extra charge.
Read here for the rest of this announcement.
___________________________________________
Shakespeare's 'Tempest' opens at FGCU TheatreLab on November 11 (11-08-16)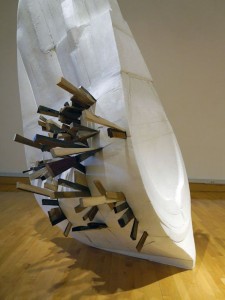 William Shakespeare's romantic comedy The Tempest opens November 11 in the TheatreLab at Florida Gulf Coast University. In the opinion of most scholars, The Tempest was the last play that Shakespeare wrote alone. It is a lyrical example of Shakespeare's well-documented love affair with magic and the supernatural, subjects that were highly controversial in Shakespeare's day for religious reasons. By dint of its complexity of thought, range of characters, poetic beauty, and its exploration of difficult questions that still haunt us today, FGCU TheatreLab's production of The Tempest promises to be wonderfully compelling. See below for play dates, times, ticket information and other pertinent information.
RELATED POSTS.
________________________________________________________________
'Chicken Play' opens at Estero's Happehatchee Center on November 12 (11-08-16)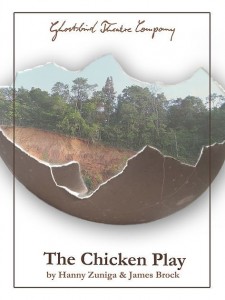 Ghostbird Theatre Company will present four performances of Hanny Zuniga & James Brock's The Chicken Play in November at Estero's Happehatchee Center. But this play does not take place indoors. Instead, the audience will follow the cast along marked trails starting a little before sundown, with the 75-minute play ending just as the moon begins to rise in the eastern sky.
Now in its fifth year, Ghostbird is the only theatre company in the American South that is fully dedicated to mounting site-specific performances. The experimental theatre company takes its name from a swamp-dwelling ivory-billed woodpecker once thought to be extinct, but which has been spotted sporadically over the past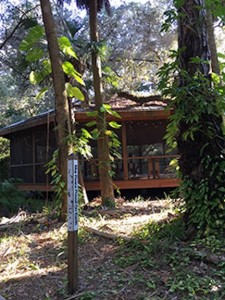 two decades. Drawing upon the elusiveness, mystery and magic of its namesake, Ghostbird Theatre seeks to draw its audiences into those deep spiritual woods where they can discover loss, beauty, communion, reconciliation and hope.
Read here for the remainder of this announcement.
RELATED POSTS
__________________________________________________________________
Theatre Conspiracy 2016-2017 New Play Contest finalists announced (11-08-16)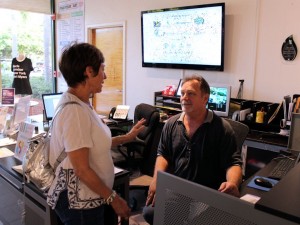 Theatre Conspiracy's annual fundraiser and new play contest takes place on November 19 at the Alliance for the Arts. Selected from over 600 entries from across the United States, Canada, England, Israel and Thailand, the three finalists for this year's contest are:
Noltimere (Don't Be Afraid) by Jared Michael Delaney;
Caesar's Blood by Rich Rubin; and
Highness by Carolyn Kras.
The audience will vote on these selections and the winner will be announced during the fundraiser. The evening begins at 7:00 p.m. with a reception that includes food and drink. Then at 8:oo p.m. selections from each finalist will be read by a cast of Theatre Conspiracy favorites. After the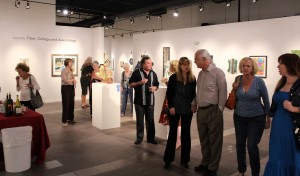 conclusion of the final reading the audience will vote for which show they think should be the winner. The winning script will be given a full production in May of 2017.
Read here for more on the finalists.
__________________________________________________________________
Just four more performances remain of FSW Black Box Theatre's  'Paragon Springs' (11-08-16)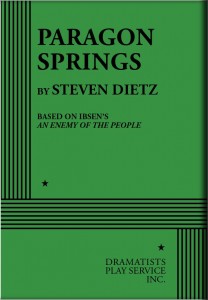 Paragon Springs is a town with a secret. The "healing waters" of the town's warm springs are a point of civic pride and the tourists who come to bathe in the springs are the main source of the town's prosperity. But Dr. Thomas Stockman has discovered a problem. The water is dangerously contaminated. The mayor knows just what to do. He'll manage the crisis by discrediting the doctor rather than removing the contaminants. In this vibrant, often funny, and highly theatrical re-imagining of Ibsen's An Enemy of the People, Steven Dietz puts the lure of capitalism, greed, and self-interest squarely on trial. But only four more performances of Paragon Springs remain. They take place at FSW's Black Box Theatre on November 10, 11 & 12 at 8:00 p.m. and at 2:00 p.m. on November 12. Read here for play dates, times, and ticket information.
_______________________________________________________________
Southwest Florida theater groups closing out 2016 with busy schedule (11-08-16)
Southwest Florida theater companies are closing out 2016 with a busy schedule of interesting shows. So that you can plan your schedules accordingly, here are the opening dates and titles of the theater productions taking place in Southwest Florida in November and December:
11/03    FSW Black Box Theatre                    Paragon Springs by Steven Dietz
11/10     Charlotte Players                               Becky's New Car
11/11     FGCU TheatreLab                              The Tempest by William Shakespeare
11/11     Lab Theater                                         Wings by Arthur Kopit
11/12     Gulfshore Playhouse                         My Fair Lady by Alan Jay Lerner & Frederick Lowe
11/12     Ghostbird Theatre                             The Chicken Play by Hanny Zuniga & James Brock
11/15     Florida Rep                                         Best of Enemies by Mark St. Germain
11/17     Broadway Palm Off-Broadway       Another Night Before Christmas
11/23     Naples Players Blackburn Th.       Coney Island Christmas by Donald Margulies
11/24     Broadway Palm Main Theatre       Irving Berlin's White Christmas
11/28     Herb Strauss Theatre                      A Christmas Carol adaptation from Charles Dickens
11/29     Florida Rep                                       The Mousetrap by Agatha Christie
12/01     Theatre Conspiracy                         Country Wife by William Wycherley
12/03     Lab Theater                                      24-Hour Playwriting Challenge
12/09     Lab Theater                                      I & You by Lauren Gunderson
12/17     Centers for the Arts Bonita            The Wonderful Life featuring Jeremy Kendall
12/29     Broadway Palm Main Theatre      Phantom of the Opera by Maury Yeston & Arthur Kopit
About the Author