Here's what's happening November 8-14, 2017
This is what's happening in the arts, independent film and community theater here in Southwest Florida between November 8-14, 2017:
'Caloosahatchee Manuscripts' sculptor Jim Sanborn's celebrates birthday (11-14-17)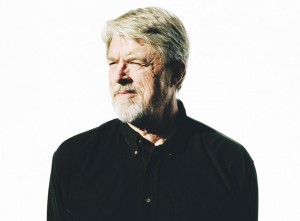 Today is light sculptor Jim Sanborn's birthday. Born in Washington D.C. in 1945, he is 72. Of course, Southwest Florida residents and visitors know Sanborn as the artist who created Caloosahatchee Manuscripts, the dual bronze drums that bathe the tapered Ionic columns and limestone steps of the Sidney & Berne Davis Art Center with the images of thousands of letters like a phosphorous alphabet soup.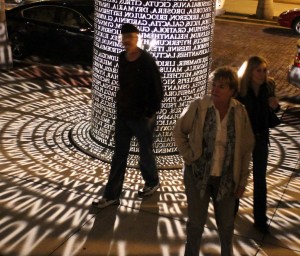 Sanborn has installed works all over the world, including All the Ships Sailed in Circles at the Kaohsiung Museum of Fine Arts in Taiwan, The Cryllic Projector at the University of North Carolina, Coastline at the National Oceanic & Atmospheric Administration in Maryland, Antipodes at Hirshhorn Museum in Washington D. C., Wealth of Nations at Cleveland State University, Binary Systems at the Central Computing Facility Internal Revenue Service in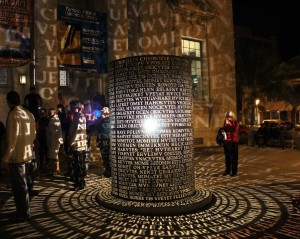 Martinsburg, West Virginia, an incised copper and granite piece titled Comma which lights up the plaza in front of the library at the University of Houston (2004) and bronze projection cylinders with waterjet cut text named Radiance at the Department of Energy, Coast and Environment at Lousiana State University (LSU) (2008). But his most notorious work is Kryptos, a $250,000 commission that sits outside CIA headquarters in Langley, Virginia.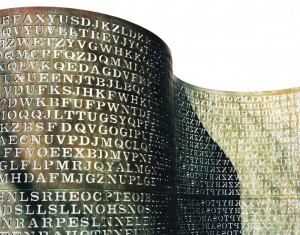 The sculpture's name means hidden in Greek and Sanborn duly embedded four puzzles in the curved copper panels that make up the sculpture. He and a retired CIA cryptographer by the name of Ed Scheidt (a quiet professorial individual fond of hieroglyphic patterns) spent four months devising the type of cryptogram Sanborn would implement. "I could use methods to encrypt [the sculpture] that had an historic basis, that didn't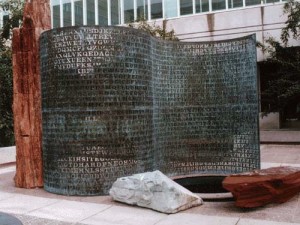 compromise any current methods [of cryptography used by the government]…  I wanted to make something that could eventually be deciphered or extracted rather than something that will never be done, ever," Scheidt comments. He figured that the first parts of the puzzle would take a few years to solve and the last part — maybe ten. And within the first few years, a CIA physicist deciphered three of them using nothing more than a pen and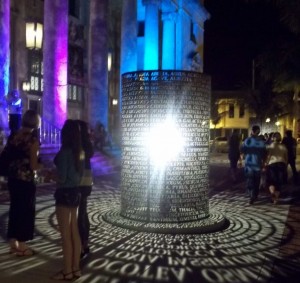 paper. The first encryption was a poetic phrase containing an intentional misspelling that Sanborn composed; the second refers to the CIA agent who helped Sanborn with the four puzzles; and the third is a passage from archeologist Howard Carter's account of opening the tomb of King Tutankhamun in 1922. But the fourth riddle has defied solution.
Even if the CIA is frustrated (if not more than a little embarrassed) by their long-standing inability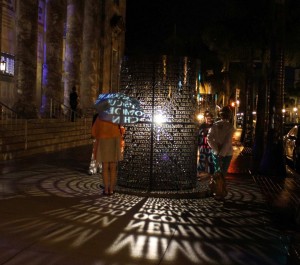 to decipher the fourth encryption, they nevertheless join a list of more than 125 prestigious institutions who are proud to include Sanborn's work among their collections. Sanborn also has pieces at the Massachusetts Institute of Technology (MIT), Numark Gallery and the federal courthouse in Beltsville, Maryland. Other works by Sanborn have been exhibited in the High Museum of Art, the Los Angeles County Museum of Art and the Phillips Collection. Sanborn is currently developing a new body of museum and gallery works about the global trade in looted antiquities.
____________________________________________________________
3rd Saturday event returns to Naples Art District on November 18 (11-13-17)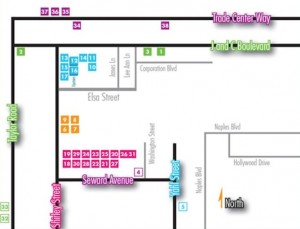 November 18 is 3rd Saturday Naples Art District Studio and Gallery Tours. This event features more than 40 artists, who will be showcasing their recent works of art and demonstrating their medium in the working studios and art galleries in the Naples Art District. The Naples Art District is located north of Pine Ridge Road and west of Airport Road. Participating galleries and studios are open from 11:00 a.m. to 4:00 p.m.
_______________________________________________________________
Anniversary of memorial to Fort Myers' black Civil War soldiers today (11-11-17)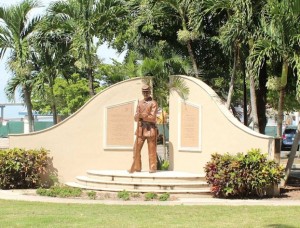 Clayton, the Civil War memorial in Centennial Park dedicated to the contingent of black soldiers who were stationed in Fort Myers during the final year of the Civil War, celebrates its 17th anniversary today.
"People don't have a sense of connection, a sense of history here because so many folks are from elsewhere," muses Clayton's creator, D.J. Wilkins,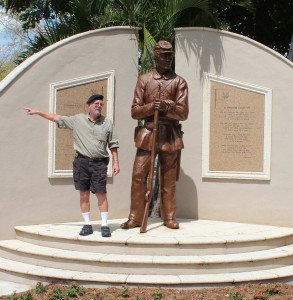 the man former mayor Art Hammel once labeled the Sculptor of Fort Myers. "But American history started right here, with footprints of the Conquistadors in the sands of Florida." And many area residents and out-of-town visitors are surprised to discover that the fort from which our town takes its name was a Union stronghold during the Civil War, with half of the roughly 250 soldiers stationed here being members of Companies D and I of the 2nd Regiment of the USCT. The acronym stands for the United States Colored Troops, and in 2000,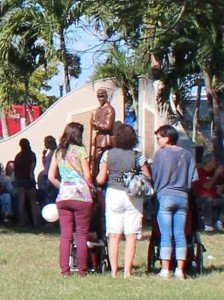 the City of Fort Myers commissioned Wilkins to create a tribute to their gallantry. You see, it was this contingent of black soldiers that repelled an attack by the Florida "Cow Cavalry," which had orders to burn the fort to the ground. Had the Confederates succeeded in their mission, it is conceivable that there'd be no Fort Myers today as the wood in the fort is what attracted and retained the town's first settlers, Manuel Gonzalez, his 5-year-old son, John Weatherford and Joe Vivas.
You'll find Clayton on the eastern edge of Centennial Park, a 10-acre mall on the banks of the Caloosahatchee River that is itself a memorial to the City's 100th anniversary. Clayton was commissioned by the Fort Myers Beautification Advisory Board, which added 21 public artworks to the City's collection during a 20-year span that began in 1983 with the restoration of The Spirit of Fort Myers at the entrance of Edison Park. Click here to read more about this public artwork and the Battle of Fort Myers and its impact on the early history of our town.
________________________________________________________________
Baker Museum's 'Unnatural History' features work of artist Arik Levy (11-12-17)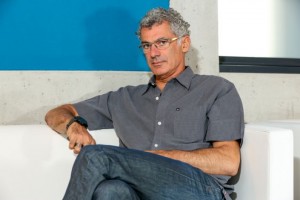 On view at the Baker Museum of Art at Artis Naples is Arik Levy: Unnatural History. This exhibition features works by artist, designer, photographer and filmmaker Arik Levy, who has gained recognition for his sculpture, outdoor installations and collectable designs, which emphasize elegance, balance and minimalism.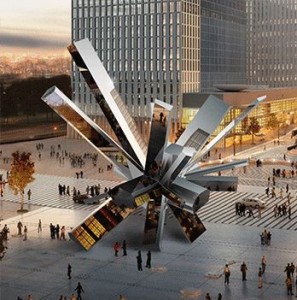 According to the Baker Museum, Unnatural History is the first U.S. solo museum exhibition of the internationally-renowned, Paris-based artist, designer, photographer and video artist. The exhibition offers a mid-career, concentrated perspective on the artist's work and considers the semiotics of his formal language, which synthesizes the worlds of art and design and finds expression through imaginative paradigms and syntagmatic structures.
"With a sophisticated knowledge and understanding of sculptural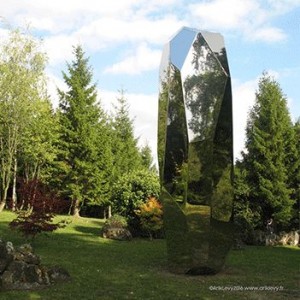 traditions, Levy is a technologist as much as he is an artist: He thinks in form, volume, skin, texture and material properties; he manipulates and develops cutting-edge fabrication techniques to propel his ongoing creative investigation and artistic exploration," states the Baker Museum on the events page of its website. "Levy's innate scientific and poetic acumen, mixed with his interest in innovation, simplicity and experimentation, allows him to translate social and emotional conceptual narratives into sculpture, paintings,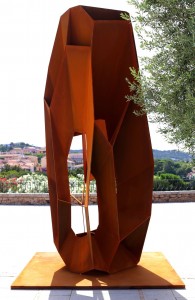 photography as well as space and experiences. In this exhibition, the artist's hand is omnipresent because Levy offered an original concept for the installation, which he gradually unpacked and turned into an environment for visitors to become acquainted with his two- and three dimensional works while considering the families and series in which they are organized by kinship."
On a deeper level, these categories evidence the evolution of his creations from an earlyform or structure into different permutations and variations, continually unfolding in sequential experiences. "Levy's works in various media derive inspiration in form and content from nature. They evoke minerals, arboreal structures, rocks and other forms and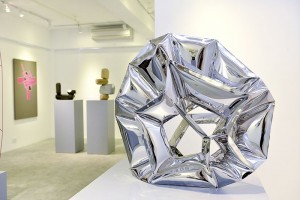 exist as monuments that reflect and celebrate the geometry of nature, serenely owning the spaces they occupy."
The exhibition runs through January 7, 2018.
The Baker Museum is located at 5833 Pelican Bay Blvd., Naples, FL 34108. For more information, please telephone 239-597-1111 or visit www.artisnaples.org/baker-museum.
_____________________________________________________
'Languages of Art' now on view at Baker Museum of Art (11-12-17)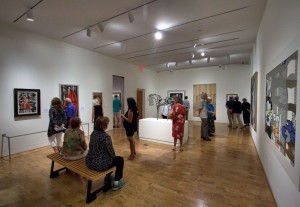 Languages of Art opened September 5 at the Baker Museum of Art at Artis Naples. This exhibition contains approximately 100 works from the museum's permanent collection. The show explores the visual languages artists employ to depict specific themes, including mythology, domestic space, the artist's studio, abstraction, landscape and seascape, city and industry, and the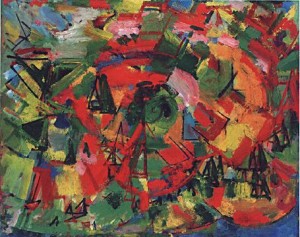 figure, including portraits, group portraits and nudes.
"Through a selection of works by American, European and Mexican artists, each gallery examines how artists interpret and express an idea using a unique visual vocabulary that responds to their experience and speaks to the idiosyncrasies of their historical context," states the Baker Museum about the show. "The Artist's Studio explores how the i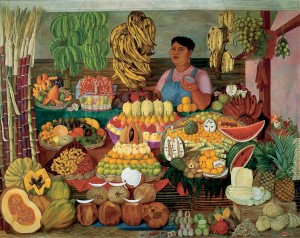 ntimate space of the atelier can be a place for reflection about the creative process. Domestic Space presents a group of paintings that addresses the concept of home and daily life by depicting interior and exterior views. In City and Industry, the urban landscape is exalted in views of its busy streets, technology and progress. While Nature emphasizes the beauty and nuance of the natural environment and the creatures that inhabit i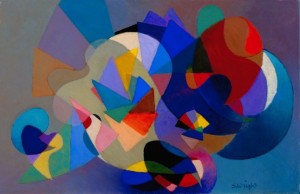 t."
The tradition of depicting arrangements of domestic, inanimate objects in an interior setting is considered in Still Life, which includes modern, abstract renditions of this art historical theme.
"Figure presents a selection of works representing the human body; from idealized images of female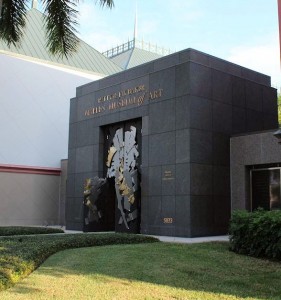 beauty to distorted and stylized figures, which invite a reflection on notions of beauty," the Baker Museum continues. "A gallery devoted to Mythology and Mortality examines how artists respond to, and depict, faith, pain, and loss. Abstraction celebrates this modern artistic current by juxtaposing non-figurative works executed in very different styles."
The show will be on display through July 22, 2018.
The Baker Museum is located at 5833 Pelican Bay Blvd., Naples, FL 34108. For more information, please telephone 239-597-1111 or visit www.artisnaples.org/baker-museum.
_________________________________________________________
Watson MacRae 'A Decade in the Making' opens November 14 (11-11-17)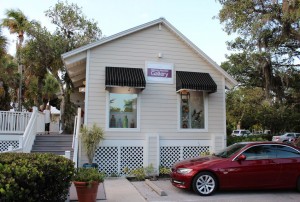 Watson MacRae Gallery survived Hurricane Irma with nary a scratch. But that was just the latest hurdle the Sanibel mainstay has had to overcome. There was the Great Recession, the freeze of 2010, the toxic sludge from the Gulf Oil Spill, the brown tide from Lake O and all the associated red tides as well. But as restaurants and other island businesses came and went, Watson MacRae endured.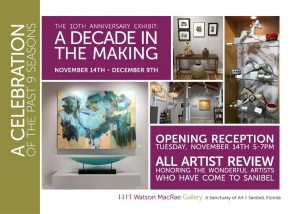 And it kicks off its tenth season on Senibel on Tuesday, November 14, with The 10th Anniversary Exhibit: A Decade in the Making.
More than 30 artists from the prior nine seasons will be exhibiting their latest pieces in this celebratory show. It will be interesting to see how their work has evolved since you last them.
The rest of this announcement is here.
_______________________________________________________
Watson MacRae announces Season 10 exhibition schedule (11-11-17)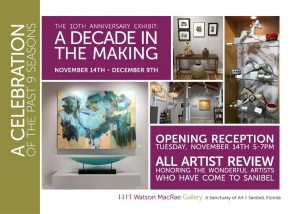 Sanibel Island's Watson MacRae has announced its 2017-2018 exhibition schedule, so save the following dates:
10th Anniversary Exhibit: A Decade in the Making: Opening reception is November 14; exhibition runs through December 8; show contains a wonderful survey of new work from 30+ artists who have shown over the past 10 seasons.
Read the rest of this announcement here.
_______________________________
'Off the Wall' is off the chain (11-11-17)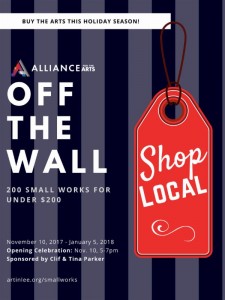 Each year, the Alliance for the Arts invites 100 members to submit two original 2D or 3D artworks for exhibition in the gallery beginning with the onset of the holiday shopping season. Called Off the Wall, this non-traditional art show features works of all mediums priced at $200 or less. All sales are "cash and carry," meaning purchasers will get to take the piece with them when they buy it, rather than waiting until the end of the exhibit.
Make supporting local arts tops on your list this year by giving a gift that gives back. Make plans to do your Christmas shopping at the Alliance for the Arts this year. Betcha there's 100 member-artists who would be delighted to have their art under your tree.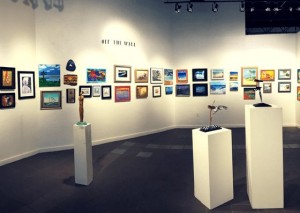 The show runs from November 3 through December 2.
For more information, please visit www.artinlee.org or telephone 239-939-2787.
______________________________________________
Alliance 'Fired Up' exhibit moved to December  (11-11-17)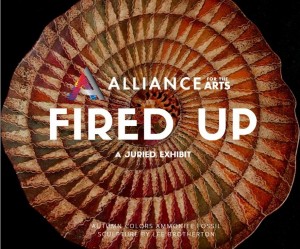 The Alliance for the Arts' September show was supposed to be Fired Up: A Juried Exhibit. Hurricane Irma had other plans. As a result of the damage and power outages associated with the storm, the exhibition had to be postponed. It has been rescheduled to December 8, 2017 through January 5, 2018.
Taking part in the show are Thais Alvarez, Alyssa Baladad, JoAnne Bedient, Gianna Dubay, Patricia Fay, Ehren Fritz
Gerhard, Eric Greenblatt, Carrie Keohane, Jay Lana, Sherry Lavendar, Felipe Maldonado, Sandra Fay Mark, Deborah Martin, John Merchant, Rick Plummer, June Powell, John O'Brien, Marcia Preisler, Mary Etta Rokusek, Ronald Sebring, Gale Shamblott, Joel Shapses, Barbara Simon, Toni Ferrell Sutton, Lynn Troyer, Mary Voytek, Beverly Yankwitt, Roseline Young a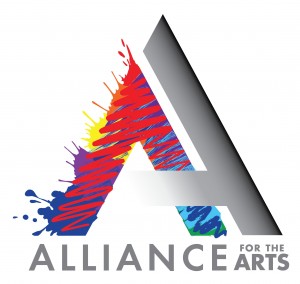 nd Peter Zell. Each has stepping outside what's normally expected to craft works using fire and heat to make ceramics, glass, welded and other pieces. 
Lee Brotherton has served as juror for the show. Brotherton has over 20 years of experience in creating, marketing and selling pottery recreations and original sculpture and paintings. Her sculptures are in private, corporate and museum collections throughout the world.
L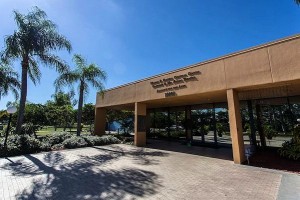 ee's fine arts career includes serving as an elementary art teacher, art museum work, art gallery manager and sales consultant. 
The opening celebration scheduled for September 8 has been cancelled in anticipation of Hurricane Irma. The Alliance will determine after the storm's passage whether it will reschedule the opening reception for a later date. But either way, the exhibit runs until September 30.
For more information, call 239-939-2787 or visit www.ArtInLee.org.
____________________________________________________
SoCo Second Saturday Art Crawl returns November 11 (11-10-17)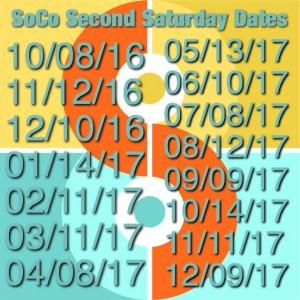 The next SoCo Second Saturday art event takes place November 11. The event continues to grow, with more cultural venues, new vendors and a redesigned map that includes all of the night's attractions and the details on how to win a great prize from one of the participating SoCo stops. (To qualify for the prize, simply visit each of the SoCo Second Saturday venues and get a Golden Ticket at each location. The winner will be announced one week after the event.)
November's participating SoCo Cultural Venues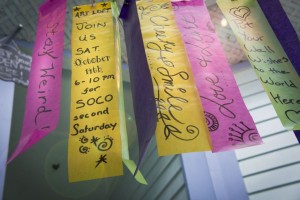 are:
Alliance for the Arts

DAAS CO-OP Art Gallery & Gifts

Ocasiocasa

The Union Artist Studios and the CRAFTED Shop

Catch 22

A Swedish Affair

Broadway Palm Dinner Theater

Suzanne's Dance Fitness

Studio Os Urbanos

City of Palms Studio
DM Paper Designs
The classic rock band MFYF will be playing at the Royal Palm Square during the event. In addition, DAAS CO-OP Art Gallery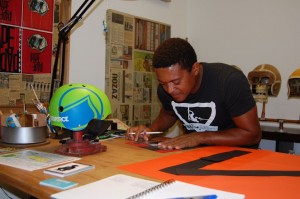 & Gifts will be presenting the art of Colombian artist Camilo Perez. On the second floor of the Edwards Building on the Alliance for the Arts campus, the artists of Ocasiocasa and the Union Artist Studios will be leading a community art project. Visitors will create their own 'Wish Flag' that expresses a wish for the world, which will then be added to an elaborate web connecting the art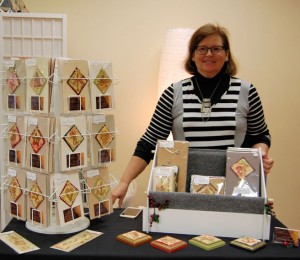 studios in the Loft, to wave in the wind spreading goodwill and compassion to all.
In addition, more than 10 vendors, located at various spots in Royal Palms Square, will be offering their handmade, fine-crafts during the event. The event starts at 6:00 p.m. and ends at 10:00 p.m., rain or shine.
The SoCo Cultural District location encompasses the block south o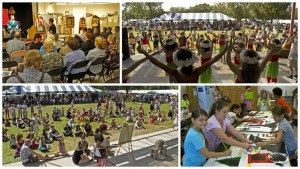 f Colonial Blvd., from the corner of McGregor Blvd. to Summerlin Rd., to Royal Palm Square Blvd. and back to McGregor Blvd. More information about the event and vendor opportunity information is available at socoswfl.com.
___________________________________________________________________
DAAS CO-OP getting INKdecent in November (11-10-17)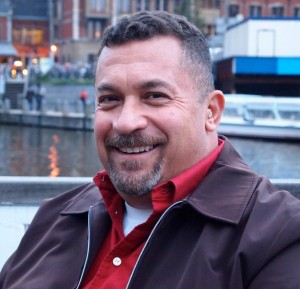 During the month of November, DAAS CO-OP Art Gallery & Gifts is getting INKdecent with the art of guest artist Camilo Perez. Entitled INKdecent Break, this exhibition highlights the artist's amazing compositions of patterns and colorful illustrations. The opening reception coincides with the monthly SoCo Second Saturday held in the SoCo Cultural District (Alliance for the Arts and Royal Palm Square block) on Saturday, November 11, 2017 from 6:00 to 10:00 p.m.
P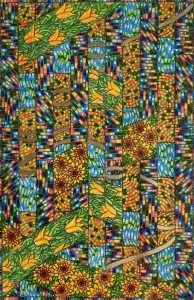 erez has always been a creative being. "I believe I started drawing the first time I was given a pencil as a child," says Perez, who focuses on minuscule details repeated in form and shape throughout his creations.
"Nothing feels better to me than using colors as a form of expression, and all I have to do is look around in nature for all the inspiration I need."
Born in Honda, Tolima, Colombia (South America), Perez moved to the United States during his late teens. "As an artist, expressing my creativity takes shape in the form of line drawings.
Perez's colorful, complex and structured abstract designs are mostly executed in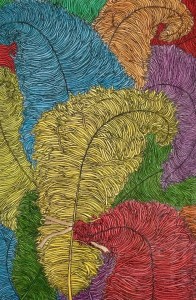 watercolors and ink on embossed paper. "The layout concept is fragmented to simulate the effect of a stained glass design," Perez adds. "Their meaning to me is that of life's complexity and diversity, their societal meaning derived from the observation of how each element of the artwork is a separate building block, defined by boundaries yet an important part to a larger structure. That's what I believe is the role of each human being in society."
More information about Camilo Perez' art is available at camiloaperez.com. For more information about the gallery, please visit daascoop.com or call 239-590-8645. DAAS CO-OP Art Gallery is conveniently located in the Royal Palm Square at 1400 Colonial Blvd STE 84 in Fort Myers, FL. Season hours are Tuesday to Saturday from 10:00 a.m. to 6:00 p.m.
______________________________________________________
Everyone's a winner in CFABS' 'Off the Walls' fundraiser (11-10-17)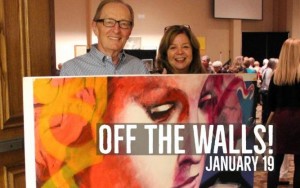 Each year the Centers for the Arts Bonita Springs hosts Off the Walls! our signature fund-raiser that provides scholarships for thousands of local kids. This is a terrific evening, with a delicious catered food buffet, wine and beer, and an astounding selection of art and collectibles from which to choose. When your ticket is drawn, you select from beautiful artworks, c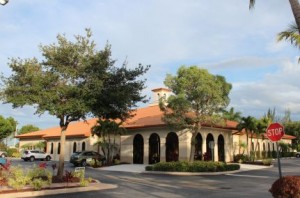 ollectibles, jewelry, wine and liqueur collections valued between $275 and over $6,000. Everyone is a winner in this amazing lottery-style event! Off the Walls! takes place January 19, 2018. Tickets are $150 each and can be purchased by telephoning 239-495-8989.
________________________________________
'Opposites Attract' closes November 16  (11-10-17)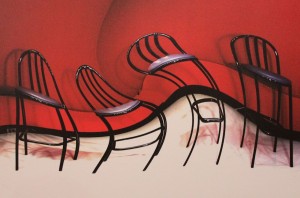 On view at the Center for Visual Arts Bonita Springs through November 16 is Opposites Attract. The exhibition focuses on the concept of balance, which is a prerequisite for any successful work of art.
Artist Kathleen Bradford judged the show. She's been an artist all her life, with pen and ink, pastels and acrylics forming her m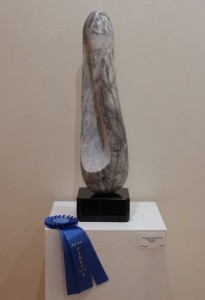 edia of choice. However, twenty years ago a friend challenged her to try her hand at sculpture and she created her first 3D abstract assemblage on wood.
Bradford currently owns and operates an art gallery and working studio in Bonita Springs under the name of ArtistKB. She showcases her own work as well as that of other hand-selected artists from the community at that venue.
Kathleen studied fine art at the Art Institute of Chicago and received her Master of Arts from the University of Michigan. Kathleen has won award for her own work in several local, national and international competitions.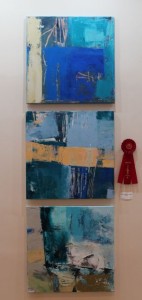 Bradford selected the following as award winners:
Best of Show: Riding out the Storm by photographer Joseph Holtzman
1st Place: Ontogeny Recapitulates Phylogeny by Joel Shapses
2nd Place: Impression, Travel, Creation by Mila Apperlo
3rd Place: This Side Up by Robert E. Sherry Jr.
4th Place: Sunyata by Gene Masters Salern0
5th Place: Bag Lady's Bag by Barbara Ellis
6th Place: He Flutters My Feathers by Shirley W. Blake
Merit Award:  Untitled I by Sandy
LawsonIn addition to these, the exhibition contains many other fine artworks, as well as an intriguing collection of paintings by Quebec artist Ted de Clercq.
The Center for Visual Arts is located at 26100 Old 41 Road in Bonita Springs.
___________________________________________________________________
Florida Watercolor Society Annual Exhibit comes to CFABS November 21 (11-10-17)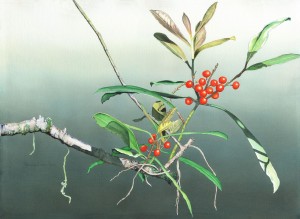 Recognized as one of the top watermedia exhibits in the country, the Florida Watercolor Society Annual Exhibition provides Florida artists the opportunity to exhibit with their fellow watercolorists from around the state. This year, the exhibition takes place November 21 through December 28 at the Center for Visual Art Bonita Springs, which is located at 16100 Old 41 Road.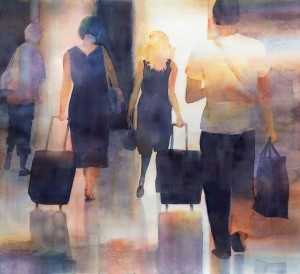 Judged and juried by nationally-known watermedia experts, this exhibition displays some of the highest quality and innovation in contemporary watermedia. Founded in 1972 with twenty-six artists becoming charter members, membership has now grown to over 1,150. The Florida Watercolor Society works to educate the public as to the importance of watercolor as a creative and permanent painting medium as well as contribute to the cultural atmosphere and standards of the State of Florida.
____________________________________________________
CFABS Youth Players performing 'Alice in Wonderland (11-09-17)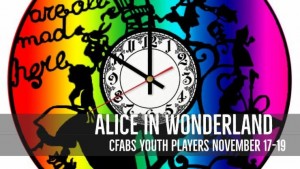 The Centers for the Arts Bonita Springs Youth Players are presenting four performances of Alice in Wonderland November 17 through 19 . Experience the wonders of Lewis Carroll's highly original and wildly fantastic tale about going down the rabbit hole. Follow the CFABS Youth Players as they spin the tale of Alice as she grows, shrinks, gets advice

from the most peculiar sources and meets an unforgettable cast of characters ranging from cagey caterpillars to murderous monarchs. Shows are at 7:00 p.m. on Friday, November 17, at 2:00 p.m. and 7:00 p.m. on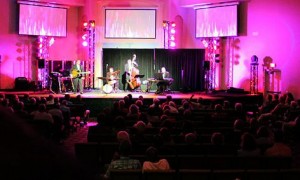 Saturday, November 18 and at 2:00 p.m. on Sunday, November 19 in the Moe Auditorium & Film Center. Tickets are $20 for reserved seating and $15 for general admission. CFABS members receive a ten percent discount.
_______________________________________________________________________
Lab's 'Act of God' casts Miguel Cintron in role pioneered by Big Bang's Parsons (11-09-17)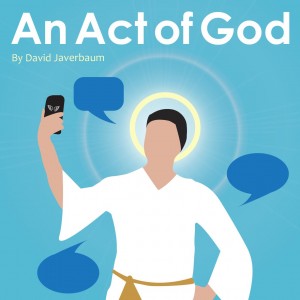 Have you ever wondered why the Almighty has gone silent after millennia of providing a steady stream of dictation to his prophets during both Old and New Testament times? Well, the One with the first and last word on everything is coming to Fort Myers to set the record straight. After more than 2,000 years of self-imposed silence, God will answer some of the deepest questions plaguing mankind since Creation. Fittingly, His appearance takes place in a decades-old church. An Act of God opens at the Laboratory Theater of Florida on November 17.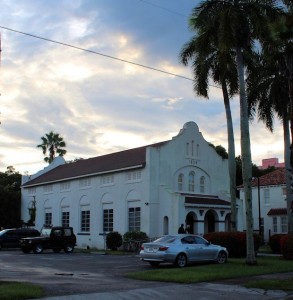 An Act of God comes to The Lab fresh from Broadway, where Jim Parsons (The Big Bang Theory) starred as God in the outrageously clever comedy by playwright David Javerbaum that fetched huge laughs every performance during the show's highly successful run. And it's no surprise either. Not only does Javerbaum write for God as the Moses de nos jours, he's written for both Jon Stewart and Stephen Colbert as well. So it's no wonder that, according to New York Magazine, "the jokes keep landing – nearly one per sentence – and … they are always smart."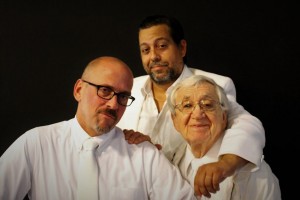 RELATED POSTS.
_________________________________________________________________________
Imagine Will and Grace in a zombie apocalypse in November 20 staged reading (11-09-17)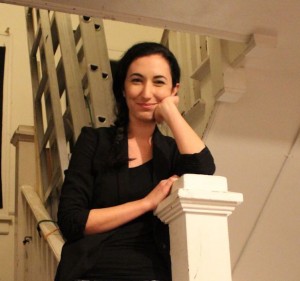 June and Jason are in the midst of a divorce, but will the threat of a zombie apocalypse and the influence of their zany friends and neighbors bring them back together? The answer can be found in Divorce, Neighbors, Zombies, a fast-paced, quick-witted situational comedy in the tradition of Will and Grace – had they faced the threat of a zombie apocalypse threat that is. In partnership with The Naples Players' ETC program, Laboratory Theater will present a staged reading of this fresh, new comedy from the mind of Laura Lorusso on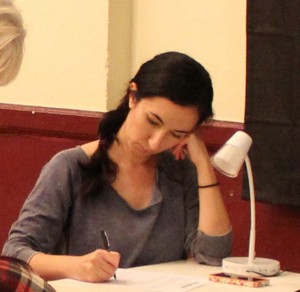 November 20.
Lab Theater audiences will recall Lorusso's last staged play, Scrooge TV: A Modern Christmas Carol. Directed by Carmen Crussard, the 2014 holiday production starred Kendra Price and Dave Yudowitz (who will be appearing shortly in An Act of God). Lorusso also won Lab's 24-Hour Playwriting Challenge in 2013 with a one-act, 12-minute vignette titled The Hall: Last Sunday that sparkled with snappy dialogue, rib-splitting one-liners and a little song-and-dance number that brought down the house.
You will find the rest of this announcement here.
______________________________________________________________________
Labor of love – the evolution of Lab Theater's 24-Hour Playwriting Challenge (11-09-17)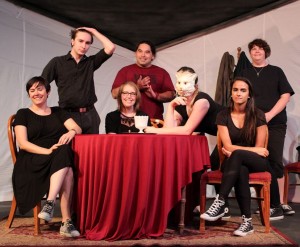 Lab Theater's popular 24-Hour Playwriting Challenge is just around the corner. Now entering its sixth season, the high-tension, pressure-packed competition invites between three and five playwrights to produce a short one-act 12-15 minute play in just ten hours. The writers typically work through the night, starting around 9:00 p.m. on a Friday night and wrapping up at 7:00 a.m. on Saturday morning, just before breakfast is served.
After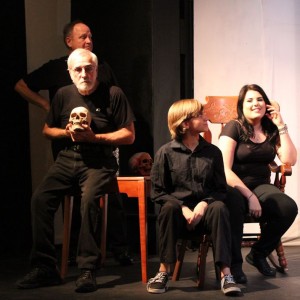 a table read, input from a panel of directors and some last-second fine-tuning, the scripts are printed, copied and handed to teams of directors and actors who have a mere matter of hours to learn their lines and blocking before hitting the boards beginning at 8:00 p.m. in front of a standing-room-only audience.
Admittedly, the Challenge represents an incredible amount of work for The Lab, but in the opinion of Artistic Director Annette Trossbach and Prop Mistress Stella Ruiz, the benefits justify the huge outlay of
time and effort.
The inaugural 24-Hour Playwriting Challenge took place in December of 2012.
"We didn't know what we wanted to do that first year," concedes Ruiz, who has made the 24-Hour Playwriting Challenge her own in the years following that seminal contest.
"By year three, we had worked everything out pretty well. The schedule is all important. It has to be tight and everyone has to adhere to it because it's such a truncated experience. Obviously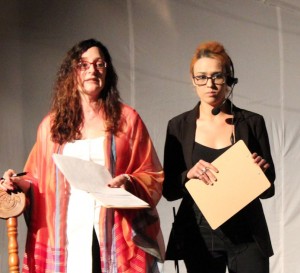 everyone rehearses outside of their stage time, but stage time is critically important. It has to be timed really, really carefully."
The parameters of the Challenge have evolved over time. In 2012 and 2013, the concept was fairly simple and straightforward. The playwrights were given a common setting, such as a waiting room (2012) or the hallway in a rundown apartment building (2013). But they were free to structure the plot, characters and even time period of their play any way they wished within the confines of that set.
Read here for the rest of this story.
____________________________________________________________________
High-flying 'Pippin' on main stage at Broadway Palm through November 18 (11-09-17)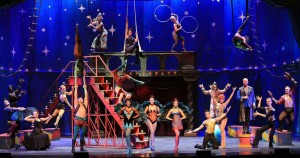 The high-flying, eye-popping extravaganza Pippin is on stage now at Broadway Palm Dinner Theatre through November 18.
Pippin is about one man's quest for the magical in life, for his "corner of the sky." Like most young men, he has dreams of accomplishing something big,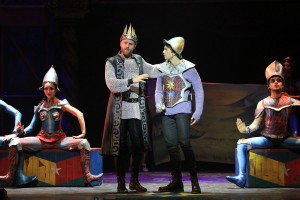 something no one else has ever done. The problem is that he's unfocused. He doesn't really know what he wants to do with his life. So he takes us on a journey of military conquest, Dionysian exploits and tenuous forays into politics and social upheaval in his search for grand purpose – the raison d'etre that infuses his life with meaning.
Y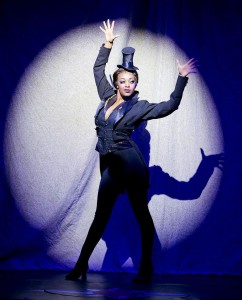 oung Pippin is aided in this quest by the Leading Player. Not since Al Joelson in Cabaret have audiences witnessed such a perversely seductive emcee as Mara Lucas! A consummate master of ceremonies, Lucas' Leading Player supplies the palette, acro and aerobatics that fuel Pippin's grand illusions. With her posturing, liquid movements and rich, powerful vocals, the Elon University Music Theatre grad is a sultry metaphor for the discontented, grass-is-always-greener, Kardashian lifestyle to which so many millennials seem to aspire.
But make no mistake, the Leading Player's role in Pippin is the inverse of C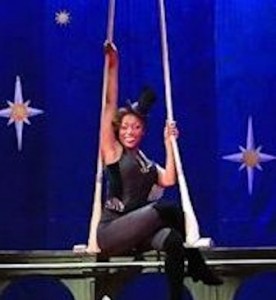 abaret's Emcee. The latter distracted the patrons of the club from the political and economic chaos reigning in the real world outside. Or as Joel Grey described him, Cabaret's Emcee is "… a sort of marionette … like a ventriloquist's dummy." Employing the same simile, the Leading Player in Pippin is the puppeteer. She offers up a veritable smorgasbord of palace intrigue in her unflagging effort to distract Pippin from the realities of life in the ordinary world. Whatever Pippin fancies or fantasizes, this mutable, mercurial exotic will happily provide.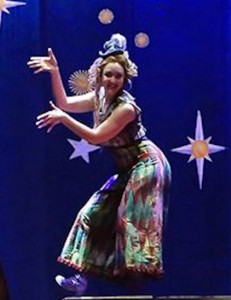 The rest of Art Southwest Florida's review of Pippin is here.
RELATED POSTS.
_________________________________________________________________________
With 2 actors and 22 roles, 'A Tuna Christmas' opens Off-Broadway November 16 (11-09-17)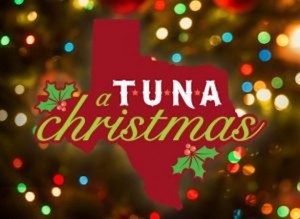 It's holiday season in Tuna, Texas, where OKKK news personalities Thurston Whellis and Arles Struvie are reporting on the hot competition in the annual Yuletide lawn display contest and Joe Bob Lipsey's production of "A Christmas Carol." Both events are in trouble – the first because of a mysterious phantom who's vandalizing the decorations; the other as a result of the promoter's unpaid electric

bills. Although it's the third smallest town in the Great State of Texas, Tuna is filled with lots of zany characters, and they all possess chips on their sunbaked shoulders the size of the Lone Star State.
Just two over-caffeinated actors play 22 roles in this loving ode and biting satire of small town life, where familiarity breeds contempt and people do their level best to move from one disappointment to the next. A Tuna Christmas opens November 16 at the Off-Broadway Palm.
For more:
____________________________________________________________________
Leoma Lovegrove returns to Off Broadway Palm for 'My Studio' in January (11-09-17)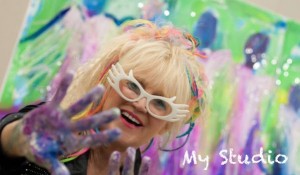 Last year's splash hit one-woman show, My Studio, returns to the Broadway Palm Dinner Theatre for five thrilling performances in January, 2018. Join Matlacha Island phenom Leoma Lovegrove as she shares stories of her artistic adventures and the scores of interesting people, places and motifs she's painted while she creates masterpieces on stage live to a medley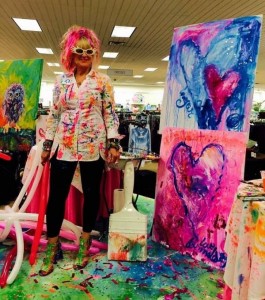 of nostalgic tunes.
"During the shows, I will not only invite you into my studio, but my life as well – as I share stories and paint live on stage to my favorite music," Leoma proclaims.
Dinner performances of "My Studio" will take place on
Thursday, January 4, 2018;
Friday, January 5, 2018;
Saturday, January 6, 2018; and
Sunday, January 7, 2018.
There is also a lunch/matinee option on Saturday, January 6.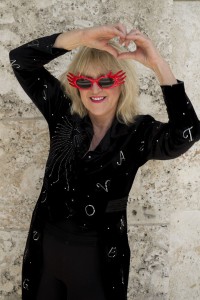 Dinner starts at 5:30, with the show beginning promptly at 7:30. Lunch on Saturday is served at 11:45 a.m., with the show beginning at 1:15 p.m.
The buffet and show cost $45 per person, although you can come for the show only for just $25.
If you've ever wondered what a day in the life of a famous artist is like or if you've never seen Leoma create a painting live right before your very eyes, then make plans to attend "My Studio." You'll have the time of your life. There will be lots of surprises to delight your senses and engage your imagination. But beware of flying saucers, splattered paint and Lovegrove's infamous confetti bazooka!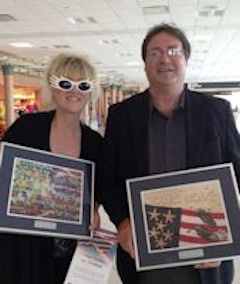 Lovegrove is an impressionist painter known worldwide for her vibrant color palette and exuberant strokes – which she applies via brushes, squirt bottles and even her fingers and hands. Among her many subjects are former President Jimmy Carter (who hung his portrait in his presidential library in Atlanta) and Sir Richard Branson (whose portrait was commissioned for Virgin Airlines' headquarters in London). The presidential library of George W. Bush, the private collections of actress Sharon Stone and actor Jesse Metcalf, and the permanent collections of Fort Myers, Lakeland, Florida Gulf Coast University and the Marietta Museum of Art & Whimsy in Sarasota proudly contain examples of her work.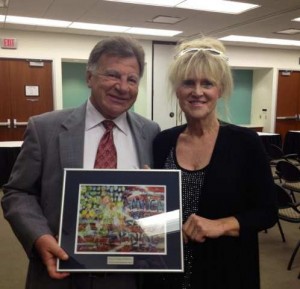 Because her paintings uniquely capture Southwest Florida's active, healthy, water-based lifestyle, Bradenton-based Bealls Department Store made Lovegrove their Florida artist in residence several years ago. Today, millions of products ranging from designer casual wear to household goods, Tervis drinkware and beach towels and chairs bear Lovegrove's signature style and trademark sunburst eyeglasses. And scores of consumers make painting pilgrimages to Lovegrove Gallery & Gardens on sun-kissed Matlacha Island to purchase Lovegrove originals and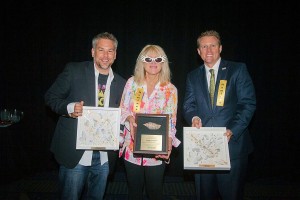 prints and have her sign their tees, tops and visors. As they enter the island from Cape Coral, they are greeted by Lovegrove's building-sized mural, "The Catch of Matlacha Island."
Up at 4 and to bed late each night, the artist recharges her artistic batteries twice a year by painting in Claude Monet's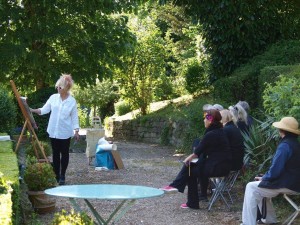 gardens in Giverny, France. Not only does she teach workshops there, her work is so esteemed that she became the first American to be invited to paint on board a replica of Monet's floating art studio as well as the very first American to exhibit her compositions in Pierre Bonnard's home in Vernon, France.
Lovegrove was an honored guest at President Donald Trump's i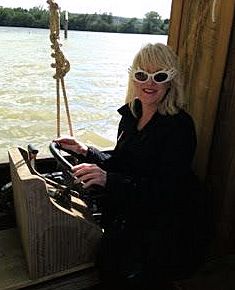 nauguration this past January, and the guest of honor a decade earlier at an artist's reception in the White House given by First Lady Laura Bush. Her work has garnered rave reviews in numerous magazines and art publications, and her collectors become lifelong friends and enthusiastic fans. Leoma not only holds the Lee County Visitor & Convention Bureau's prestigious Jujonia Award, she has also been a Paulette Burton Citizen of the Year finalist and Fort Myers News-Press Person of the Year nominee.
Broadway Palm is now celebrating its 24th season. The theatre entertains over 170,000 guests annually.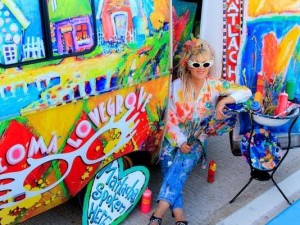 The facility includes a 450-seat dinner theatre, a 100-seat "black-box" theatre called The Off Broadway Palm Theatre, a 120 seat dining room called Café Cabaret and a 30-seat space just off the main lobby called, The Art Café. The theatre is located in the Royal Palm Square at 1380 Colonial Boulevard, Fort Myers.
__________________________________________________________
Ghostbird at Langford-Kingston Home with 'Writing Shadows' (11-09-17)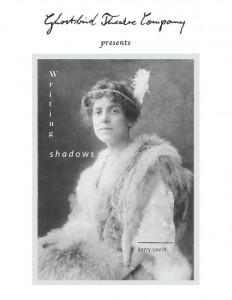 Ghostbird Theatre Company opened its 2017-2018 season last Friday night (November 3) with Writing Shadows, a play that FGCU Professor of Theater Barry Cavin has written specifically for the historic Langford-Kingston. The play draws its inspiration from the art of ghost writing and a world-renowned spiritualist by the name of Pearl Curran.
Pearl Curran lived in St. Louis at the turn of the 20th Century. In 1913, she was a housewife with no interest in the occult whatsoever. Her life and marriage were both uneventful. Pearl did not read much and had little education. Her only talent was the ability to play the piano – although she had toyed with the idea of becoming an actress at one time, a notion she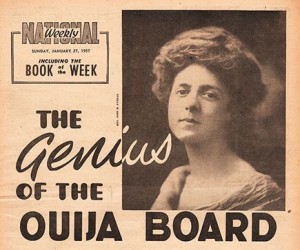 abandoned after meeting and marrying John Curran).
Though not rich, the couple dined out often, patronized the theater, and enjoyed playing cards with the neighbors in the evening or socializing with friends. While John was at work, Pearl frequently had her mother and a friend over for tea. One day, they introduced Pearl to the Ouija board. She thought it silly and a waste of time until the pointer provided a clear and compelling message one afternoon. "Many moons ago I lived," said the board.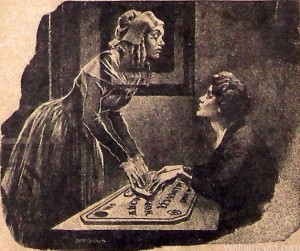 "Again I come. Patience Worth is my name."
In the coming days, the Ouija board told the trio that Patience Worth was a Puritan woman who lived in the 1600s. Over the ensuing 24 years, Patience "dictated" to Pearl nearly 5,000 poems, a play, many short stories and several novels. They evinced a strange and singular literary quality and were filled with ancient languages, words and objects (such as lamps,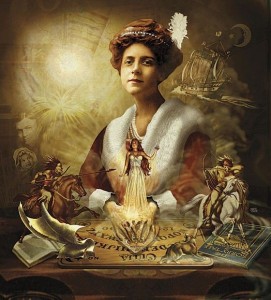 jugs, cooking utensils, clothing and jewelry) that were well beyond the realm of Pearl Curran's knowledge and experience. They not only described Patience's childhood in England together with events and other matters of the day, but her death at the hands of Indians here in America.
But was Patience Worth real or was it all just an elaborate hoax designed to make Pearl Curran rich and famous?
"We invite you to join us at the historic Langford-Kingston Home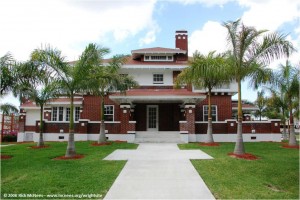 built in 1919," says playwright Barry Cavin enigmatically, noting that the Langford-Kingston Home is very much like the one in which Pearl Curran would indulge her visitations.
RELATED POSTS.
_______________________________________________________
'Sylvia' on main stage at Florida Rep through November 15  (11-09-17)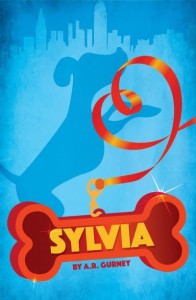 A.R. Gurney's Sylvia returned to the historic Arcade Theatre on October 24 in a production that The Wall Street Journal called "clever and cute in all the right ways" when the show debuted in 2011. It's on stage through November 15.
Sylvia follows empty nesters, Greg and Kate, who find themselves at a crossroads – his career is winding down and hers is ramping up. Now living in a Manhattan apartment, Kate thinks the dog phase of her life is over, but when Greg brings a street-smart labradoodle named Sylvia into their home, all bets are off. Love and laughter are unleashed as Sylvia quickly becomes a bone of contention, testing their marriage to hilarious and touching effect.
Florida Rep ensemble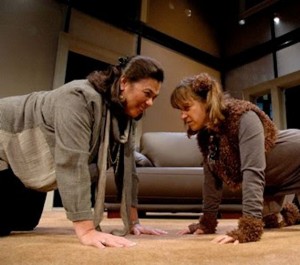 members Michelle Damato and Carrie Lund return to the roles that garnered them national acclaim in 2011. Damato stars as the street-smart pooch, Sylvia, and Lund as the long-suffering wife who must confront her husband's mid-life crisis after he brings a stray dog home from Central Park.
Ensemble member Maureen Heffernan also returns to direct, after recently helming last spring's world premiere of Doublewide and two previous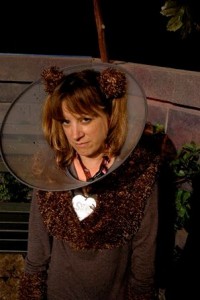 nationally acclaimed Florida Rep productions, Dancing at Lughnasa (2009) and The Little Foxes (2013).
"I could think of no better way to celebrate our 20th anniversary than to revive this comedy," said Producing Artistic Director, Robert Cacioppo. "In our 19-year history, Sylvia is the number one requested revival by our patrons, and Michelle Damato's performance is legendary in Fort Myers. I swear, our patrons still bark at her to this day! It was after seeing the 2011 production that The Wall Street Journal critic, Terry Teachout, called Florida Rep 'one of America's top repertory companies,' so it was a highlight for us both artistically and critically. We are very excited to bring this play back with the same director and two of the original stars!"
The rest of this advance can be found here.
'Sylvia' play dates, times and ticket info.
___________________________________________________________________
Pulitzer winning drama 'Disgraced' opened at Florida Rep on November 7 (11-09-17)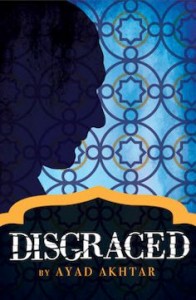 How far must an immigrant go in order to fit into American society? Is more required than just learning English? Must they also renounce their cultural identity in order to gain mainstream acceptance? Questions such as these have been asked for decades by the huddled masses arriving on our shores from Italy, Ireland, and other nations across the globe. The questions even resound in black and Latino families, and they're at the heart of Disgraced, a Pulitizer Prize-winning drama by Ayad Akhtar that opened November 7 in the Artstage Studio Theatre at Florida Rep.
The play's protagonist is Amir Kapoor, a successful and seemingly well-adjusted corporate lawyer living and working in Manhattan. He's happy, in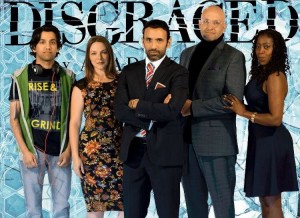 love with his wife, Emily, and about to land the biggest promotion of his career. But his practice and personal life slowly begin to unravel after he helps his nephew with a case defending a man of Muslim faith.
Matters come to a head at an intimate dinner party that he and Emily host for two colleagues and friends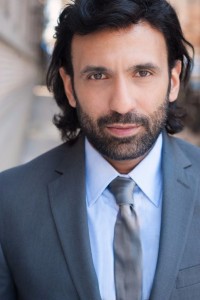 during which Amir begins to question whether the life he has built is a carefully-constructed façade. The innocent little dinner party quickly devolves into an intense conversation involving religion, race and betrayal. Accusations are made, truths revealed, and Amir's life will never be the same.
Directed by V. Craig Heidenreich, Disgraced stars Amir Darvish as Amir, Rachel Burttram as Emily, Imran Sheikh as Abe, Mary E. Hodges as Jory and Gregg Weiner as Isaac.
Read here for the rest of this advance.
RELATED POSTS.
___________________________________________________________________
Blues a way to understand African-American experience in 'Seven Guitars' (11-09-17)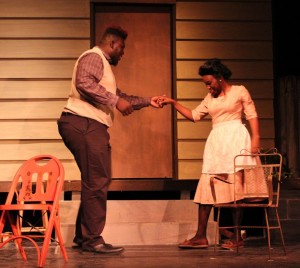 Playwright August Wilson's Century Cycle explores the African-American experience in America on a decade-by-decade basis. Collectively expounding on the theme of black alienation in the wake of the great migration north, his dramas are sensual, spirited and spiritual. They are to the stage what the blues are to music, the affirmation and voice of a people. So says Sonya McCarter, who directs Theatre Conspiracy's production of Seven Guitars, which is on stage now in the Foulds Theatre at the Alliance for the Arts through November 18.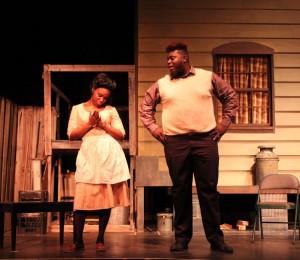 "August Wilson loved blues," McCarter pointed out thoughtfully prior to the final dress rehearsal for the play on November 2nd. "He loved music and it's an integral part of most of his plays. Blues in particular. He felt that blues was a way for the African-American experience to be told in a way that could be understood. He said that if you truly want to understand what the African American experience is like, listen to the blues and you will get the entire story."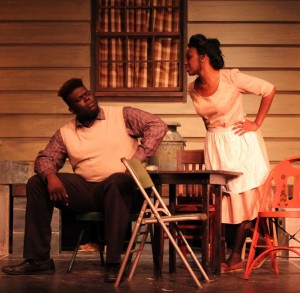 Wilson's own life was a reflection of the blues. His life trajectory was permanently altered by an early encounter in a Pittsburgh's thrift store he haunted as a young man, where he bought stacks of old albums for a nickel a piece. One day, he came across a recording by Bessie Smith, one of the greatest blues singers of the 1920s and '30s.
"I put that on, and it was unlike anything I'd ever heard before," Wilson later recounted. "Somehow, all that other music was different from that. And I go, 'Wait a minute. This is mine… there's a history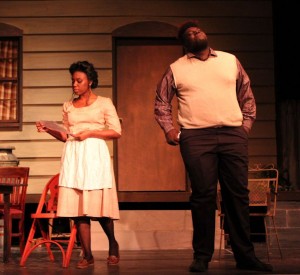 here.'"
The first song on the record was "Nobody in Town Can Bake a Sweet Jelly Roll Like Mine." As he listened to it over and over and over again, he experienced a profound epiphany. It occurred to him that he could write in the same street vernacular he heard in the song. It was a defining moment. "The universe stuttered, and everything fell into place."
Read here for the rest of this post.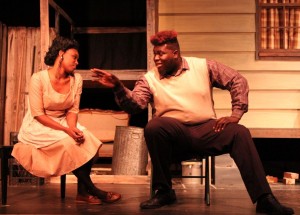 RELATED POSTS.
_____________________________________________________________
Naples Artcrafters holding show in Cambier Park on November 11 (11-06-17)
The Naples Artcrafters Fine Art & Craft Show returns to Cambier Park on November 11. The Naples Artcrafters is an established fine art and craft organization with more than 45 years of history in Naples, Florida, and this Saturday art fair places a spotlight on a wide array of artistic genres, styles and media, including paintings (in oils, acrylics and watercolors), drawings (in pen and ink, pencil, and pastels), scissors art, multi-media and collage, photography, ceramics, jewelry (including metalsmithing, metal clays, lapidary and beading), sculpture, pottery, clay, stained glass and fused glass, wood turning and carving, and basket weaving.
_______________________________________________________________
The galleries at Crayton Cove hosting Art After Dark on November 11 (11-06-17)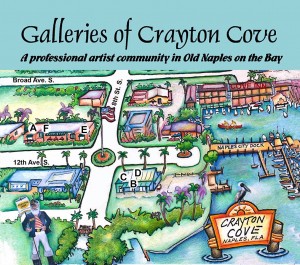 Just steps away from downtown Naples in Crayton Cove on Saturday, November 11 is Art After Dark, an Art-Walk-type evening that gives art enthusiasts and collectors an exceptional opportunity to combine fine art with fine dining alongside picturesque Naples Bay. Participating galleries include Phil Fisher Gallery & Studio, Guess-Fisher Gallery,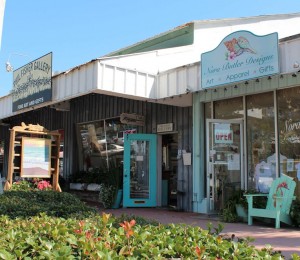 Earth & Fire – Pottery Painted by You, Random Acts of Art,  and Vintage Charm – European Style Gallery, who band together from 6:00-9:00 p.m. to present an evening of art receptions, refreshments and live music which serve as companionable backdrop for viewing the newest works in the Crayton Cove galleries. Many art lovers complete their evening of art viewing with drinks and a sumptuous meal in one of Crayton Cove's outstanding eateries, Bleu Provence, Chez Boez, or The Dock and Boathouse Restaurant.
_____________________________________________________
Growth forces change of venue for Estero Fine Art Show (11-06-17)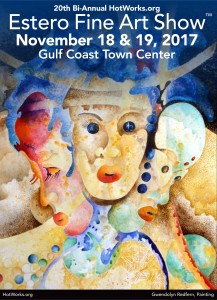 The 20th Bi-Annual Estero Fine Art Show opens November 18 in a brand new location next to Bass Pro Shop at Gulf Coast Town Center. This is the second time in three years that the boutique -style, two-day outdoor juried fine art and fine craft show has changed its venue, and that is a reflection of its growing popularity with area are lovers, enthusiasts and folks on the look-out for fine arts and crafts.
In 2015, the Estero Fine Art Show moved from the south parking lot of the Miromar Outlet Mall across Corkscrew Road to the eastern lot at the Miromar Design Center. "Although we hate to change location again, we simply need more space," concedes the festival's director, Patty Narozny.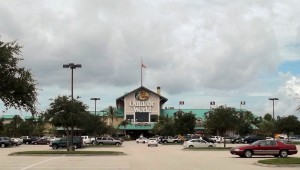 Because of the show's popularity among both artists and patrons, more room is needed for artists' tents and display booths as well as patron parking. Gulf Coast Town Center can accommodate both of these needs.
According to Narozny, a number of the show's unique features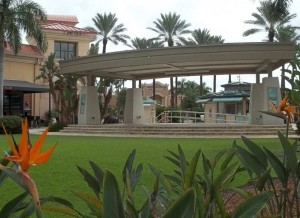 explain the growth of the festival over the last few years. First and foremost, the show attracts the brightest up-and-coming artists from around the country and even abroad.
To ensure that only the finest get to exhibit their work at each of her shows, Narozny uses a jury of art professionals with a combined 120 years of experience in fine art. As a result, the show has a reputation for including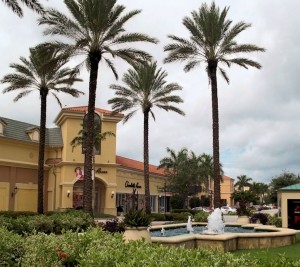 quality work in an array of artistic disciplines, including painting, drawing, pastels, photography, ceramics, clay, glass, sculpture, wood working, fiber art and art jewelry.
"I make it my business to meet and get to know all of my artists," says Narozny, who visits as many as possible in their homes, studios and galleries across the nation. Many become personal friends that she'll do anything for, as happened a couple of years ago when someone stole a 20-foot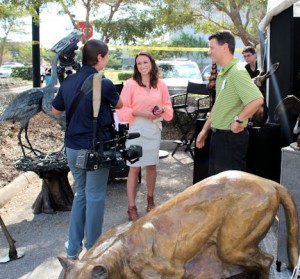 trailer containing all of the bronze sculptures that Wyoming sculptor Ben Foster expected to exhibit throughout Florida during the 2016 festival season. The trailer, which disappeared just before Christmas from a Naples storage facility, also contained Foster's pop-up tent, pedestals, wall coverings, signs and sculpting tools.
As soon as she heard the news of the theft, Narozny leapt into action, putting out the word about Foster's predicament on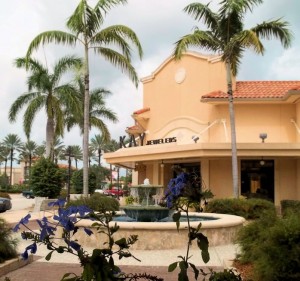 Facebook, via email and to her contacts in the media (such as Four in Your Corner's Lisa Greenberg). Within hours, Foster's collectors and fellow artists had made available enough sculpture, pedestals and displays that the artist and his wife were able exhibit not only at the Estero Fine Art Show, but the other festivals they were scheduled to attend over the ensuing twelve weeks.
Narozny displays the same level of loyalty and concern for the folks who frequent her shows.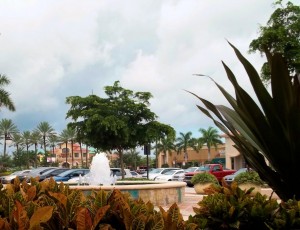 "It's important to the people who come to our shows to know that they will see original work from some of the best artists working in the country right now," Narozny expounds. Knowing that Narozny and her jury have vetted each exhibitor frees enthusiasts and collectors to purchase with the knowledge that they are getting value – not to mention the strong possibility that their acquisition will appreciate in value as the artist's r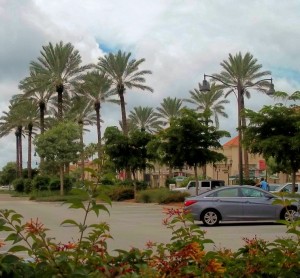 eputation and stature continues to grow.
Still, there's original art for every budget so everyone can find just the right piece for their home or office no matter their economic circumstances or art IQ.
For the rest of this story, read here.
RELATED POSTS.
___________________________________
30th Annual Downtown Naples Festival of the Arts submission deadline is 12/08 (11-08-17)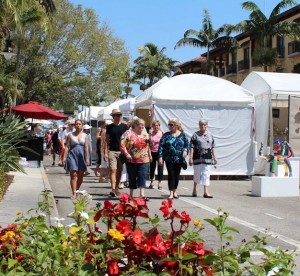 The Naples Art Association is currently accepting applications for inclusion in its three outstanding outdoor art festivals, The Downtown Naples New Year's Weekend Art Fair, Naples National Art Festival and The Downtown Naples Festival of the Arts.
The 30th Annual Downtown Naples Festival of the Arts is one of the last major art festivals of the winter season and a favorite festival for artists, art enthusiasts and collectors. If you would like to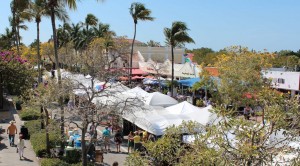 exhibit in this show, here's what you will need to know:
Dates: Saturday and Sunday, March 24-25, 2018
Festival Hours: Saturday: 10 a.m. – 6 p.m.; Sunday: 10 a.m. – 5 p.m.
Location: 5th Avenue South, Downtown Naples
Accept 254 artists max
Application fee: $25
Booth fee: $450 for 10×10
Cancellation refund policy: Full refund: 02/03/17; 50% refund: 02/20/17
Set up specifics: 4 a.m., early morning set up only;
On street set up in quads: No electrical
Application deadline: 12/08/17
Jury Process begins: 12/08/17
Status Notification: 12/29/17
Booth Fee Due: 1/19/18
Artist Info Sent: 02/23/18
Wait List Acceptance: 01/16/18
Application available online at juriedartservices.com beginning June 1, 2017
______________________________________________________