Space 39
Even among the River District's avant-garde art galleries and trendy boutiques, Space 39 is unique. Appealing to both affluent fine art collectors and the hip crowds who drive the thriving River District night scene, Space 39 is a fine art gallery set inside a trendy Greenwich-Village-style lounge.
Location. Space 39 is nestled in a quaint ally that connects historic First Street to Patio de Leon, a wide brick-paved plaza that is encircled by terra-cotta-colored, Mediterranean-style buildings. It sits across the way from Syzygy Gallery and next door to Morgan House Restaurant, a casual eaterie that offers outdoor dining under colorful canvas umbrellas both in the plaza and atop a second-story patio capped by gap-tooth turrets and an orange barrel-tiled roof.
The gallery occupies a building constructed in 1916 that once served as the ticket office for the Ritz, a huge wooden vaudeville theater that burned to the ground in 1925. However, you'd never guess its vaudeville pedigree from the bright blue façade, scalloped pointed arches and spiraled pillars reminiscent of the bronze column that stands in the Hippodrome in Istanbul.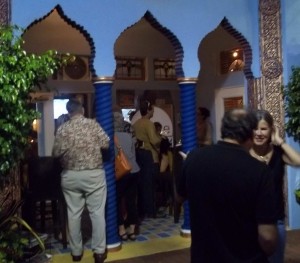 Some have compared the exterior to a Bangladesh coffee house, an analogy reinforced by the checkerboard blue-and-gold floor tiles edged with white mosaics and the winged fresco painted on the ceiling over the vestibule by local artist Debra Stone. But owner Terry Tincher is quick to point out that the architectural embellishments are "Moorish." Moorish revival, to be exact. Whether Turkish or Indian, they work just as Tincher envisioned. They cloak Space 39's entry with flair, cachet and a desirable air of mystery.
Facilities. The just-under 2,000 square-foot interior of Space 39 is divided into three areas. Directly inside the white-framed glass door is the lounge, which showcases a long, polished fully-stocked bar and high-top tables with accompanying black bar chairs that are positioned in front of the symmetrical storefront windows. The walls in this portion of the gallery have been painted a flat slate gray in order to draw out just about any pigment an artist might care to use, but especially red and orange tones, saffrons and lemon yellows, and thalo greens, aquamarine and cornflower blues.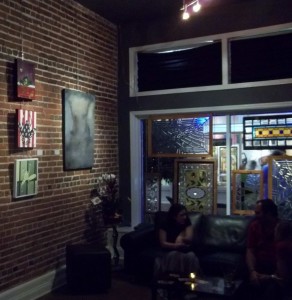 The gray stucco walls extend around the corner into the main exhibition rooms that bookend the lounge.  These rooms feature distressed brick and mortar exterior walls ideally suited to large-scale artworks, van Dyck brown tongue-in-groove wood ceilings with suspended track lighting, dark wood floors trimmed with white 5 ¼ inch wood baseboard, and white wood-framed storefront windows divided by rectangles of stained glass that function as a more imaginative and stylish alternative to shutters, blinds or drapery. The exhibition rooms are minimalistically appointed with Deco-style couches, armchairs and benches, as well as tables and pedestals used to display sculpture, ceramics and other three-dimensional artworks.
While Space 39 may not possess the serenity or reverence typical of a museum setting, it will appeal to the younger, more cosmopolitan demographic that appreciates and collects the predominantly contemporary and modernist works Space 39 displays.
Genres and Media. Space 39 specializes in modern and contemporary themes "ranging from New York blue chips to local up and comers." The gallery features one or more new artists each month, with openings and receptions taking place in tandem with Art Walk on the first Friday of the month. Most exhibits tend to be edgy to outsider, but are united by a conceptual emphasis that encompasses a "convergence of technique, talent and vision."
Past exhibits have included works by Salvador Dali, Man Ray and present day surrealists (in an exhibition titled "The Unconscious Mind:  Surrealism and its Legacy"), contemporary watercolors by heavy metal lead singer Marilyn Manson, and the gallery's dark art group show and contest (called "Zombicon"). Space 39 has formed a strategic relationship with Associate Professor Patricia Fay (a member of the Department of Visual and Performing Arts at Florida Gulf Coast University) for purposes of introducing talented young artists to the public, and patrons and visitors will frequently find ceramic works from an FGCU art student that sell for as little as $250 in addition to prints, lithographs and sketches by Pablo Picasso, Andy Warhol, Robert Rauschenberg, Roy Liechtenstein, John-Michael Basquiat and Keith Herring. "I like to offer a little something for art lovers of all socio-economic levels," explains owner Terry Tincher. "I think that's part of the fun of owning a gallery."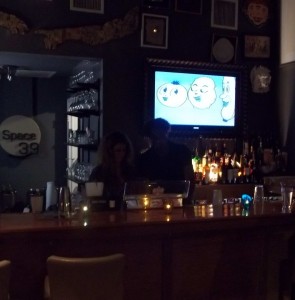 Drinks, Specials and Entertainment. Most galleries offer champagne, wine, sushi and hors d'oeuvres during opening receptions. Space 39 serves a full line of adult beverages every night from 4 p.m. to close. Happy hour is 4 to 7 p.m. Monday through Friday, during which Space 39 offers 2-4-1 drink specials. Thursday from 9 – 2 a.m. is Service Industry Night with DJ Hotlinh and $5 Pinnacle Vodka drinks, $3domestic and $4 imported beer. Sunday 9-2 a.m. is Sunday Soup with DJs Griff Gotti and 007.
Hours. The gallery and lounge are open 4-12 p.m. Monday through Wednesday, and 4-2 a.m. Thursday through Sunday.
Telephone Number and Website. You may reach Space 39 by telephone at 239-690-0004 and online at http:www.spacethirtynine.com or follow it on Facebook at http://www.facebook.com/pages/Space-39/151559708235868.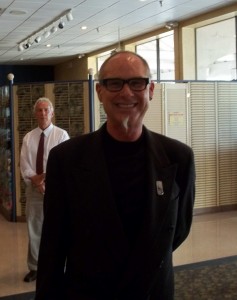 Ownership. Space 39 is owned and operated under the direction of Terry Tincher, an Ohio product who attended the University of Cincinnati, where he majored in Liberal Arts and collected Japanese wood block prints. He continued to build his collection through the years, and his lifelong interest in and passion for the arts led him to open Space 39 in 2006 to pursue his dream of owning his own art gallery.
Tincher couples a breadth of knowledge when it comes to art with a strong business background. While still in Ohio, he founded a concrete construction business that he moved to Fort Myers in March of 1982 to take advantage of the growth and development he saw occurring in southwest Florida. Through Tincher Concrete Services, Terry made numerous strategic relationships that poised him to establish an innovative, cutting-edge gallery when he decided to close Tincher Concrete Services in 2006.
Tincher has been heavily involved in the arts since he moved to Fort Myers. He sits on the board of the Florida Repertory Theatre, is a past member of the City of Fort Myers Public Art Committee, and he maintains a close working relationship with the art programs in both the Lee County school district and Florida Gulf Coast University. His efforts to support, promote and sponsor the arts in all of Lee County were recognized this year when the Lee County Alliance for the Arts conferred upon Tincher their Angels of the Art Award as 2011 Arts Benefactor of the Year.
Fast Facts.
Space 39 takes its name from its address: 39 Patio de Leon. In choosing the name, owner Terry Tincher and his chill crew decided to eschew the word gallery so that first-time visitors would have no preconceived notions about what they will find inside.
Space 39's motto is "come lounge in the gallery and enjoy art, atmosphere and adult beverages."
Owner Terry Tincher shares his January 19 birthday with the father of modern art, Paul Cezanne.
Terry doesn't own a Cezanne, but he does number an original Robert Rauschenberg oil painting among his extensive private collection, given to him by the artist in exchange for work Terry's former concrete company completed at the artist's Captiva Island home.
Related Links and Articles.
Space 39's Terry Tincher honored as 2011 Arts Benefactor of the Year
Photo Gallery