January, 2014 Breaking Art News
___________________________________________________________________
New Rauschenberg Gallery Director curates major GraphicStudio retrospective at Tampa Museum (01-30-14)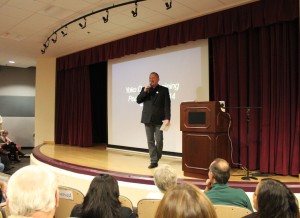 When Jade Dellinger assumed the reins at the Bob Rauschenberg Gallery, he already had a few projects in the works. One was the Moon Museum Exhibition, which opened at the Georgian National Museum Dimitri Shevardnadze National Gallery in Tbilisi on November 19. And the other is GraphicStudio: Uncommon Practice at USF, which opens February 1 at the Tampa Museum of Art. Curated by Jade Dellinger and co-organized by USF Contemporary Art Museum and the Tampa Museum of Art, the project is supported in part by an award from the National Endowment for the Arts.
Graphicstudio is a renowned print workshop located on the campus of the University of South Florida. Because of its philosophy of providing artists with the freedom to experiment and pursue new directions to advance their practice coupled with an exceptionally talented faculty and staff, GraphicStudio has attracted some of the most important artists of the 20th century to the University of South Florida campus in Tampa. Their collaborative projects have produced print editions and multiples at the forefront of contemporary art.
GraphicStudio was the brainchild of USF Distinguished Professor Emeritus Donald J. Saff, who founded the workshop in 1968. Fueled by the renaissance in American printmaking in the 1960s, Saff led his team to invent new processes and treatments of traditional printmaking. Jim Dine, Philip Pearlstein, Robert Rauschenberg and Jim Rosenquist produced large scale lithographs and mixed media works there. A new process for printing encaustic waxes, called "wax type," was developed by GraphicStudio specifically for Roy Lichtenstein. GraphicStudio transformed the seminal printmaking process of relief into a technique known as "heliorelief," which uses photographically-generated stencils to effect fine details in the prints thereby produced.
But rResearch and innovations were not limited at GraphicStudio to works on paper. The production of sculpture editions and artists' books was also a significant part of GraphicStudio's mission. Innovative sculpture multiples produced under Saff's leadership included Robert Rauschenberg's mixed media editions for his ROCI project and cast bronze sculptures for Roy Lichtenstein.
The atelier later merged with the Contemporary Art Museum and Public Art Program to form the Institute for Research in Art, under the direction of Professor Margaret A. Miller, whom Dellinger credits as mentor, inspiration and one of the reasons he moved to Florida from New York. In recent years, Miller has re-emphasized sculpture production and the studio's fabricators have researched and developed innovative techniques in bronze casting for Louise Bourgeois, Diana Al-Hadid and Estero Segura, and wood constructions for Los Carpinteros and Allan McCollum.
"In the most significant and far-reaching collaboration between the Museum and the University of South Florida, more than 110 works by 45 artists will fill the Museum walls and highlight the important connection between Tampa and the international arts world," states the Tampa Museum about the exhibition. "Graphicstudio: Uncommon Practice at USF is the most ambitious and comprehensive show to feature works from the workshop since the survey exhibition of the early years of Graphicstudio at the National Gallery of Art in Washington D.C. in 1991."
Two years in the making, Graphicstudio: Uncommon Practice at USF chronicles several aesthetic and technical conversations among artists of different generations. Highlighting both technical and conceptual breakthroughs, the exhibition includes seminal works spanning Graphicstudio's forty-six year history (by Robert Rauschenberg, Jim Rosenquist, Ed Ruscha, Allan McCollum, Louise Bourgeois, Jim Dine, and others) with some of its most recent collaborative endeavors (by Christian Marclay, Mark Dion, Teresita Fernández, Los Carpinteros, and Trenton Doyle Hancock). The retrospective is the largest exhibition in the history of Tampa Bay, taking up 90 percent of the Tampa Museum's new facility.
A catalogue to commemorate the exhibition and the partnership will be published by D. Giles, Ltd of London, England and will be available for purchase in the Guilders and Florida Communications Group Museum store.
Dellinger was the logical choice for a curator for the retrospective. In 1989 and '90, Dellinger was doing research on GraphicStudio as an undergraduate. "I interviewed a number of artists who'd had projects there, including Bob Rauschenberg and Jim Rosenquist," said Dellinger in an interview last Fall. "My research was compiled during a critical moment for GraphicStudio. The National Gallery of Art in Washington was archiving GraphicStudio's records. They did a major book and quotes from my interviews ended up being included in the book." Which undoubtedly factored into Dellinger being tapped to put together the retrospective at the Tampa Museum of Art.
The Museum opens daily at 11 a.m.  Hours of operation are Monday, Tuesday, Wednesday and Thursday from 11 a.m. – 7 p.m.; Fridays from 11 a.m. – 8 p.m.; and Saturday and Sunday from 11 a.m. – 5 p.m.  General admission prices are: adult $10.00; seniors, groups, military plus one guest $7.50; students $5; and children ages 6 and under free-of-charge. A Pay-What-You-Will fee structure is offered every Friday from 4 p.m. – 8 p.m. The Museum's address is 120 Gasparilla Plaza. Tampa, FL 33602.
_______________________________________________________________________
Underwater photographer Karen Glaser to be at Sanibel's Watson MacRae Gallery February 11 & 12 (01-30-14)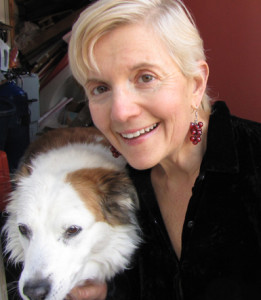 Landscapes: Different Views opens at Watson MacRae Gallery on Sanibel Island on Tuesday, February 11. The opening reception takes place from 5 to 7 p.m. Three of the exhibiting artists will attend the opening: Greg Biolchini, Alejandro Mendoza and Karen Glaser. An Artists' Talk is scheduled for 10:30 a.m. the following (Wednesday) morning.
"In my latest work, I continue to reconsider landscapes," says Glaser. "Some are pretty funky. Can't wait for you to see them."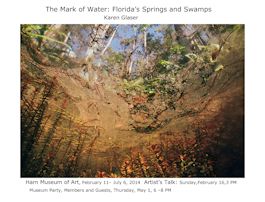 February 11 is a busy day for Florida's best known underwater photographer. On that date, her Mark of Water: Florida's Springs and Swamps photo exhibition opens at the Harn Museum of Art in Gainesville as well.  The exhibition, which runs until July 6, 2014, consists of thirty-eight large, color photographs that Glaser made "inside" Florida's springs and swamps, providing a unique and personal interpretation of these distinctive environments. "What a thrilling venue," says Karen of the Harn. "Many of the pictures were taken in the surrounding springs." Following the Sanibel opening and Gallery Talk, Karen is heading to Gainesville, where she will be giving a Gallery Talk at the Harn Museum on Sunday, February 16 at 3:00 p.m.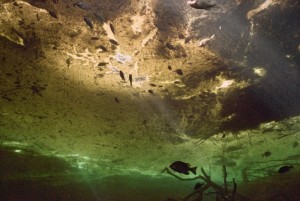 Incidentally, The Mark of Water exhibited locally at the Bob Rauschenberg Gallery on the Lee campus of Edison State College from October 7 through December 3, 2011 and resulted in the highest attendance recorded by the gallery in two years. FGCU's indoor public art collection includes four of Karen's photographs:
Dust Storm, a 2006 pigment print photo hanging in the 2nd floor corridor of Academic Building 5;
Fire in the Pines #1, a 2010 pigment print photo hanging in Conference Room 210 in Academic Building 5;
Ichetucknee Fog, a 2010 pigment print photo hanging in the 3rd floor corridor of Academic Building 5; and
Ichetucknee Cypress, a 2010 pigment print photo hanging in Conference Room 309 of Academic Building 5.

Dust Storm, Ichetucknee Fog and Ichetucknee Cypress come form a series of pictures that Glaser shot predominantly in the pristine freshwater rivers and springs of north and central Florida,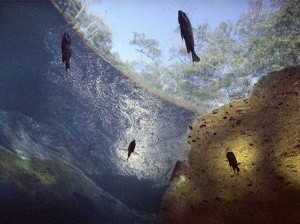 places like the Orange Grove Sink in the Peacock Springs Cave System in Suwannee County, Silver Glen in the Ocala National Forest in Marion County, Manatee Springs State Park and the crystalline Ichetucknee River that flows for six glorious miles through shaded hammocks and wetlands before it joins with the Sante Fe River. But Glaser didn't trek to the Ichetucknee to tube the river with hordes of students from nearby University of Florida. "My husband and I snorkled the Ichetucknee in winter, when the air was 40 degrees and the water 68," Glaser recalls. "But we didn't go then merely to avoid the tubers. That's when the garfish spawn."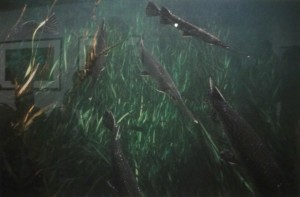 Not only is Glaser at the top of her genre, she is an entertaining storyteller both behind the lens and behind a microphone. So save yourself a trip to Gainesville. Catch her on Sanibel February 11 and 12 at Watson MacRae Gallery. For more information, please telephone Maureen Watson at 239-472-3386 or email her at maureen@watsonmacraegallery.com. The Gallery is located in Suite B3 of The Village Shops, 2340 Periwinkle Way, Sanibel, Florida 33957. Gallery hours are 10:30 a.m to 5:00 p.m. Monday through Saturday.Monday – Saturday 10:30 To 5:00
______________________________________________________
__________________________________________________________
Figurative artist Daniel Venditti to paint door into fashion live at Franklin Shops on February 1 & 2 (01-29-14)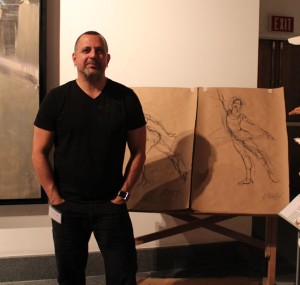 A couple of weeks ago, Daniel Venditti got a strange call. The accented voice at the other end offered him a uniquely bizarre opportunity, the chance to create a door into fashion. The result of that collaboration takes shape this weekend in the Franklin Shops' storefront windows when Venditti creates a Klimt-inspired couture portrait on a door that will be installed in one of three ground floor fitting rooms at the River District art shop and boutique.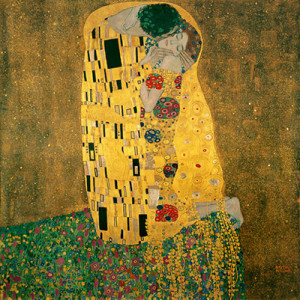 Venditti boasts ties to the New York fashion scene.  From the mid-'90s until 2006, the figurative painter, printmaker and sculptor held positions as art and creative director at Vanity Fair, Esquire, Newsweek , Gourmet and Men's Health magazines. Since relocating to Naples, Florida, he's stayed close to the genre, serving as art director at Devious Design Studio in Fort Myers, Presstige Printing in Bonita Springs and City Mattress. As one might expect, his work reflects these influences, and even before the Franklin Shops' Cornelia Reinhardt finished describing the project, Venditti knew that he would use a Gustav Klimt femme fatale as inspiration for his fitting room fashion door.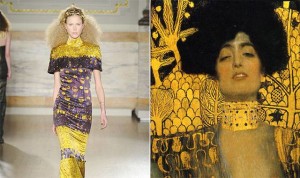 "I discovered [Klimt] in art school," Venditti explained during an interview last night. "He's just so unique. I thought of him for this project because the era in which he painted is so fitting for this venue. The Franklin Shops evokes the same kind of atmosphere."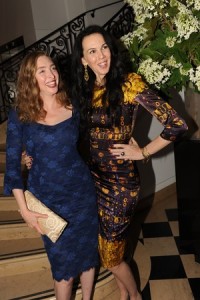 Venditti may be the latest, but he's by no means the first to draw a link between Klimt and the world of high fashion. One need go no further than L'Wren Scott's Fall 2013 bon vivant line for an example of Klimt-inspired fashion designs. Scott's gilded art-nouveau fall collection contains distinctive aureate swirls, wriggling serpents and 23-karat gold accents unabashedly borrowed from the Austrian painter's portrait of Adele Bloch-Bauer, which was purchased by Ronald Lauder for his Neue Gallery in New York in 2006 for $135 million (a record that stood for a scant four months). Just as Klimt's paintings often celebrated the female form, Scott's designs feature bold colors and body-hugging silhouettes. But Klimt did more than create paintings that appeal to present day designers and fashionistas.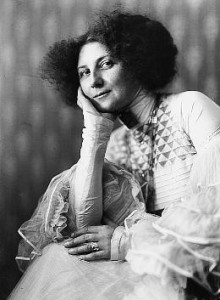 Klimt collaborated with long-time muse and Viennese couturiere Emilie Floge, suggesting the patterns that she incorporated into her avant-garde designs known as Reformed Dresses reminiscent of kimonos and North African tunics. Theirs was one of the first partnerships to bring together art and fashion, and together they laid the foundation for tandems such as Dali and . Klimt not only painted Floge, he photographed her too, perhaps becoming the world's very first fashion photographer in the process. Eventually, Klimt even tried his own hand in designing dresses and accessories, leaving a legacy of sketches and drawing of his design ideas.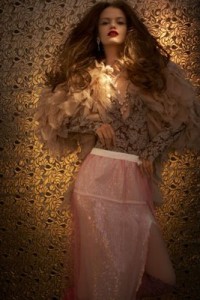 Like Klimt, Venditti has always been fascinated with the human form coupled with an abiding interest in human nature. Both inform his artistic style and reveal much about the artist, his subjects, and his viewers. His work is additionally influenced by his Italian heritage and various European masters, both past and contemporary. "But it's important to note that I'm not doing a reproduction," cautions Venditti. "My own style will come through.'
And that style has garnered Venditti his share of accolades and solo shows over the past few years. In the last half of 2011, his work was juried into two popular shows at daas Gallery, Skin 2011 and Earth: A Cry for Deliverance.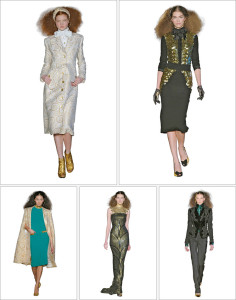 In the first half of 2012, he was featured in a solo show titled Paintings & Prints and Incognito, a fundraiser in which 200 local, national and international artists painted 200 original 8 x 10 inch works of art in the Daniels Pavilion at the Patty & Jay Baker Naples Museum of Art to benefit Friends of Art, a 1,000-member volunteer support group for the visual arts at Artis Naples. He followed that with a two-man show in July, 2012 at the Sidney & Berne Davis Art Center, where he teamed with Lyle Bowen for an exhibit called Reflections. And in October of 2012, his mixed media work, The Burden, was selected as Best of Show at the Alliance's State of Mind: Politics 2012 show.
Venditti will be painting live in the Franklin Shops window from 2-6 p.m. on both Saturday, February 1 and 2 during ArtFest Fort Myers. The Franklin Shops on First are located at 2200 First Street in the downtown Fort Myers River District. For more information, please telephone 239-333-3130 or visit http://thefranklinshops.com/.
______________________________________________________________
Veron Ennis opens VEMA gallery and working studio in Edwards Building next to Alliance for the Arts (01-28-14)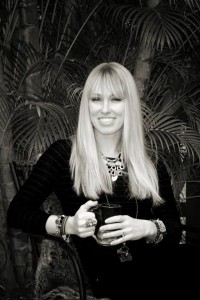 Veron Ennis Modern Art, or VEMA, opens its doors for business on March 1, 2014. The gallery and working studio will give guests the chance to experience a one-on-one presentation of available paintings and sculptures in a casual, comfortable setting.
Veron Ennis is a modernist painter and sculptor whose work explores the intimate characteristics of layered mediums, the language of color, the interplay between precision and chance application, and the dynamics of geometric three-dimensional objects. She is one of the founders of the Open Positive Transference or OPT art movement. Dedicated to creating art of excellent craftsmanship, Veron believes in the inextinguishable source of creativity and that the aesthetic experience is, by virtue, as unique as the individual creator. Her intention is to inspire progression towards an improved reality through this experience. "Communicating through art is no less serious than work of any other nature, in fact, it is essential," Ennis proclaims.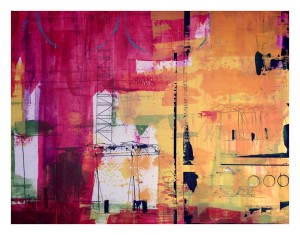 Also a founding member of MAMA (Movement of Aleatoric Modern Artists),  part of Ennis' technique depends on the chance application of her medium. "Falling in and out of control of the work energizes the composition and pushes boundaries," says Ennis.
VEMA joins The Union Artist Studios and Room 205 as part of the Art Loft in the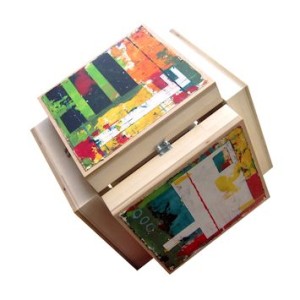 Edwards Building on the Alliance for the Arts campus. Art Loft artists invite visitors to experience a world of art in one convenient location. Ennis' working studio will be open for viewing as well as the gallery, displaying Ennis' most recent works. Visitors are encouraged to engage with the artist by asking questions and exploring the workspace to better understand the role of the artist and goals of the work. Guest artists will also be featured in the gallery for special exhibitions throughout the year.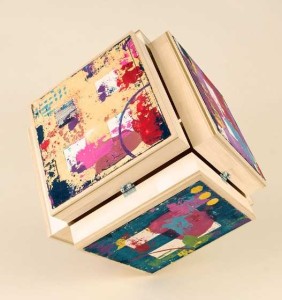 VEMA will open the gallery for a first look coinciding with the Alliance for the Arts Third Annual Artists Studio Tour. While ticket holding attendees get up close and personal with eight Fort Myers artists in their studios and homes, VEMA will also be open to the public from 10 a.m.-4 p.m. Veron Ennis will be hosting attendees on the Artist Studio Tour at her home studio while her assistant, Lauren Huff, will be greeting visitors at VEMA during the same hours. (You must be a ticket holder to tour Ennis' home studio; please contact the Alliance for tickets.)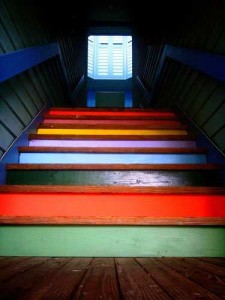 VEMA is located at 10051 Mcgregor Blvd, Suite 201, Ft. Myers, Florida (upstairs in the Edwards Building on the Alliance for the Arts campus). For more information, please call 239-849-7772 or email VEMAgallery@gmail.com. For general information or to book an appointment, please visit www.veronennismodernart.com. For more information about the artist, please visit www.veronennis.com.
Ennis is represented in Naples, Florida by HW Gallery whose artists include Frank Stella, Robert Rauschenberg, Jim Dine, Louise Nevelson, and Tom Wesselmann.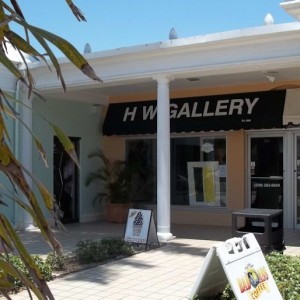 She is also represented by Von Fraunberg Art Gallery in Düsseldorf, Germany, and at RC₂ Gallery, a division of Rosenbaum Contemporary in South Florida. She has exhibited in Southwest Florida, Miami and New York, and her work can be found in private collections around the world.
_________________________________________________
 January ends with 17th Annual Naples Invitational Art Fest in Fleischmann Park (01-23-14)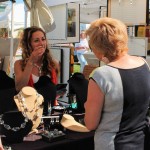 A busy January winds to an end for art fair and festival organizers and enthusiasts with the 17th Annual Naples Invitational Art Fest on January 25-26, 2014. The two-day fest takes place in Naples' Fleischmann Park, which is located just south of the Coastland Center Mall on Fleischmann Boulevard at Goodlette-Frank Road.
Upgraded by Sunshine Artist Magazine from the #55 to the #31 art festival in the nation, ArtFest Naples Invitational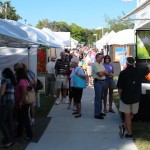 takes place along the sidewalks that bisect the park, connecting the tennis courts on the east with the picnic pavilion, playgrounds and one of the baseball/softball fields. Because of the festival's size and configuration, Naples Invitational represents an opportunity for artists and collectors to exchange ideas and information while supporting a unique local charity, Easter Seals Florida, which acquired Eden Autism Services Florida in 2013.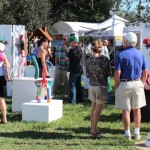 The annual show offers southwest Florida residents and visitors an opportunity to browse and purchase fine art that includes paintings in oil and acrylic, watercolors, drawings in graphite and pastels, art photography, blown glass, turned wood pieces, sculptures, metal works, ceramics and pottery, fiber art, hand-crafted fine art jewelry and a variety of 2D and 3D mixed media pieces.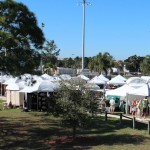 Because of the festival's size and configuration, Naples Invitational also represents an opportunity for artists and collectors to exchange ideas and information about their inspiration, process and the challenges of creating art on the road during festival season.
This weekend's Art Fest Naples Invitation is just one of more than 50 art fairs and festivals that take place from Marco Island to Matlacha Island between October 1 and April 30th. Please click here to see the full schedule so that you can save the date(s) of your favorite Southwest Florida art festivals and fairs.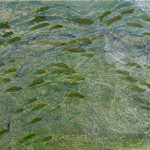 Historian and author Duane Shaffer gives Edison Ford volunteers Battle of Fort Myers context (01-21-14)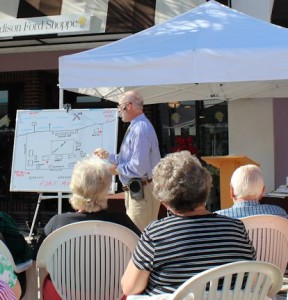 Sanibel librarian, historian and author Duane Shaffer gave Edison & Ford Winter Estates volunteers a talk this morning about the Battle of Fort Myers. The lecture, which took place outside the Edison Ford Shoppe in the Bell Towers' Fountain Square, was part of the Edison Ford Estates' on-going program to provide their volunteers with historical content about Fort Myers early history and development that goes well beyond the 1885-1931 period during which Thomas Edison and Henry Ford frequented the fledgling town of Fort Myers.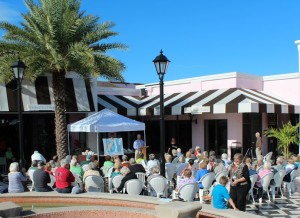 Shaffer is Head of Collection Development and Event Coordinator for the Sanibel Public Library Sanibel, Florida. He holds a Bachelor and Master of Arts in Political History from Duquesne University, Pittsburgh, Pennsylvania. In 1991, he co-founded and served as president of the Civil War Roundtable of New Hampshire and in 2000, he served as secretary of the New Hampshire Civil War Monuments and Memorials Commission. Between 1985 and 2005, Shaffer functioned as the director of three separate libraries in the New Hampshire library system.
In 2008, Shaffer published a Civil War-era book titled Men of Granite: New Hampshire's Soldiers in the Civil War (S.C.: University of South Carolina Press). The 384-page tome tells the story of the 35,000 New Hampshire soldiers, representing approximately 11 percent of the state's population, who were dispatched to serve the Union in 17 infantry regiments, two cavalry regiments, three artillery batteries, and three companies of sharpshooters, and as members of naval and marine units. Shaffer's narrative follows the experiences of these New Hampshire troops on bivouac duty and inland raids in the South Carolina low country as well as in major battles including Manassas, Antietam, Gettysburg, Cold Harbor, Fredericksburg, Chancellorsville and Fort Wagner. Not only does Shaffer recount his subjects' homecoming and cement understanding of their sacrifice, but by focusing on the day-to-day experiences of the common soldier and his reasons for taking up the fight against the Confederacy, Shaffer draws together in a single, cohesive volume the varied experiences of all the state's regiments.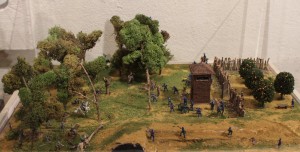 During today's lecture, Shaffer provided Edison Ford volunteers and members of the general public with context for the Battle of Fort Myers, which occurred, according to most reliable sources, on February 20, 1865. A number of the people in the audience were astonished to discover that not only was there actually a fort where downtown Fort Myers is located today, but that fort was occupied by Union soldiers beginning in 1864. "The soldiers in the fort made raids not to take territory," Shaffer explained, "but to free slaves and seize cattle." But the event which actually forced the Confederacy to deal with the Union presence at Fort Myers was a raid that occurred in July of 1964 in which the Confederate outpost at Fort Meade was burned to the ground. The Battle of Station Four in Cedar Keys also clearly factored into Colonel Charles J. Munnerlyn's decision to dispatch Major Footman and 275 men to attack the fort.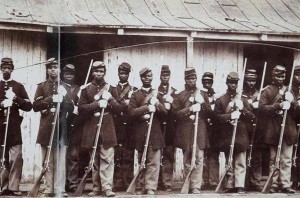 Those attending the lecture were also visibly surprised to find that a large contingent of the Union soldiers in the fort were assigned to the 2nd Regiment of the United States Colored Troops. One participant asked Shaffer how the white soldiers got along with their black compatriots. While Shaffer did not answer the question directly, he did indicate that soldiers in the USCT could not be officers, were paid half as much as white soldiers, and were relegated mostly to manual labor. "They were not typically used in front line assignments," said Shaffer. But in Fort Myers, they participated in raids on area cattle ranches, fought in battles like the ones at Fort Meade and Station Four, and defended Fort Myers from Captain Footman and his Cow Cavalry forces. "These men were not former slaves, "Shaffer was quick to add. "They were free men who volunteered to fight on the side of the Union in the war between the states."
Shaffer also lectures on World War II battles and subjects. Please contact the Sanibel Pulic Library for dates, places and topics.
_________________________________________________________________
Jansen-bound 'Art14 London' to showcase modern and contemporary art from around the world (01-20-14)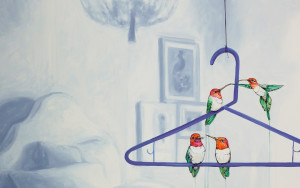 Last year, Fort Myers artist Marcus Jansen's gallery representatives featured his surreal dystopian landscapes and Anonymous portraits in a number of  domestic and international art fairs, including Art Southampton and Art Basel Miami. This year promises to be no different. On February 28, Jansen's new London agent, Steve Lazarides will take a number of Jansen's paintings to Art 14 London.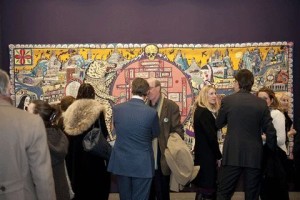 Art14 London is the second edition of London's global art fair sponsored by Citi Private Bank. The inaugural edition of the fair in 2013 attracted 25,000 visitors, including 4,500 VIPs. Critics, galleries, collectors and art fans raved, with Wallpaper praising the fair's "impressive scope" and the Financial Times reporting on Art13 London's "refreshingly different" approach.
Olympia Grand Hall will once again host Art14 London, which runs from Friday, February 28 to Sunday, March 2, 2014, with the Private View and First Night taking place on Thursday, February 27. During the 4-day art extravaganza, 180 galleries from 40 countries will present modern and contemporary art from regions such as Asia, the Middle East and Africa, next to galleries from Europe and the U.S. In collaboration with the Mayor of London's Office, the fair will also bring together major global players from a variety of different industries to discuss how art is reshaping cities and establishing new cultural centers all over the world.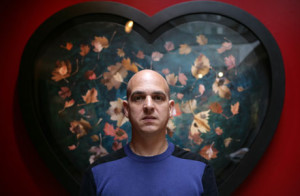 Art insiders know Steve Lazarides as the gallerist who "discovered" Banksy. While the two have gone their separate ways, Lazarides is still pounding the pavement in search of new talent. "We're not bound by any definitions – as long as we like the art then it gets an exhibition," says Lazarides. "What started out as a halfway house for the urban art movement has grown into an internationally recognized gallery. Admittedly this has surprised us as much as it has anyone else. Our aim is to make each show  an interesting experience, and remind everyone that art is there to be enjoyed."
While Lazarides' gallery is still considered the international market leader in urban art, many of the artists on display at Lazarides Rathbone defy categorization. Contemporary figurative painting features heavily on the exhibition schedule, but works have also included interactive installations, sculptures, and even historical propaganda. In the grand tradition of artistic movements, the gallery maintains strong connections with wider culture, especially the spheres of music, fashion and film.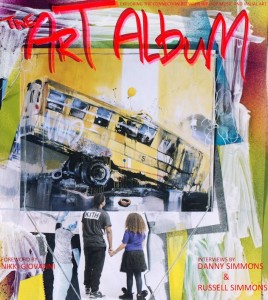 Given this backdrop, it's not surprising that Lazarides would be attracted to Jansen's work. Most recently, Jansen's work was included by Dawud Knuckles and The Art Album Art on Dekz, a Russell Simmons project that also features art by Chuck Close, Marlene Dumas, Shepard Fairey, and Kehinde Wiley, Germany's leading names like Jonathan Meese and Daniel Richter, Japanese artist Takashi Murakami, as well as musicians like Jay-Z and Ludacris. In fact, Jansen's Spotlight on Education was selected for the cover and highlights the connection between Hip Hop culture and contemporary art.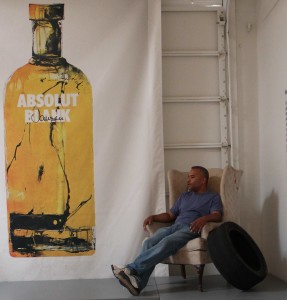 Knuckles, Simmons and Lazarides are not the first to recognize Jansen's emerging genius. In July of 2011, Absolut invited 20 artists from around the world to help them introduce ABSOLUT BLANK, a global creativity campaign that included paintings, film, print and outdoor advertising, consumer experiential events and even a digital art piece that lives and evolves on mobile phones.  To market its products, the Swedish distiller has collaborated over the years with such iconic artists as AndyWarhol, Keith Haring, Damien Hirst, Douglas Gordon, Louise Bourgeois and, more recently, Ellen von Unwerth and Spike Jonze. Thus, Jansen's inclusion in a new generation of Absolut artists is viewed as recognition on a global stage of his skill, originality and import in contemporary art circles.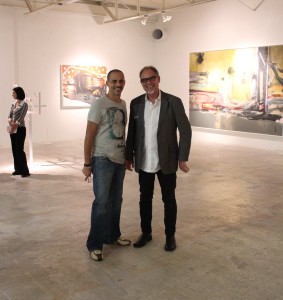 Jansen's invitation to show at the "Art 14″ Fair will be an introduction for his second London solo show in October, 2014 at Lazarides Gallery.
Public openings of Jansen's newest works continue at UNIT A Contemporary Art Space in Fort Myers Florida every first Friday of the month or during the week by appointments only. For more information about dates and times, please visit www.unitaspace.com/calendar or contact Terry Tincher (right) at terryunitaspace@gmail.com.
______________________________________________________
Librarian, historian and author Duane Shaffer to shed light on Battle of Fort Myers (01-20-14)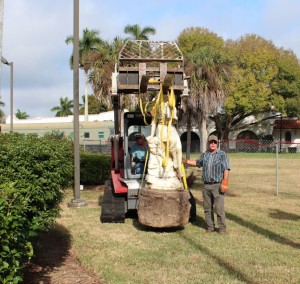 After the public library moved from its location on Central (adjacent to the Southwest Florida Museum of History) to its sparkling new 40,000-square-foot digs at the corner of First Street and Royal Palm Boulevard, the building was scheduled for demolition. In preparation for the figurative wrecking ball, the 1880 Italian marble sculpture known as Lorelei was moved to the Garden Council and a plaque sponsored by the Sons of Confederate Veterans commemorating the Battle of Fort Myers was removed and temporarily placed in storage. Tomorrow morning at 10:00 a.m. Sanibel librarian, historian and author Duane Shaffer will discuss the Battle of Fort Myers in a special lecture at the Edison Ford Shoppe in the Bell Tower Shops.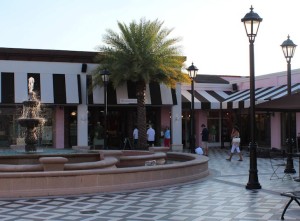 The plaque recites a number of "facts" that are somewhat in dispute. The plaque maintains that Fort Myers was reoccupied in December of 1863, but records obtained by the Southwest Florida Museum of History from the National Archives indicate that the orders to send elements of the 110th New York Infantry and the 2nd Florida Union Calvary to the fort were not issued until January, 1864.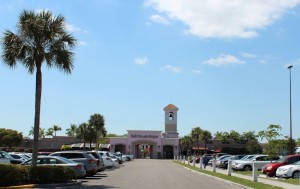 The plaque also states that the fort served as a supply depot for gunboats taking part in the Union blockade of the Gulf Coast, but those vessels operated under the command of Lt. Cmdr. William B. Eaton out of Egmont Key in Tampa Bay and were provisioned at a base in San Carlos Bay on Sanibel and at Fort Zachary Taylor in Key West. It is unlikely that the heavy gunboats could have navigated the shallow channel up the Caloosahatchee (which was eventually deepened to eight feet in 1884-85).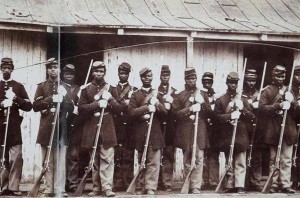 The plaque goes on to say that the Union soldiers in the fort raided Confederate supply depots in the state's interior. However, other accounts indicate that Fort Myers was used as a base of operations for confiscating beef cattle from ranches located from Punta Gorda to Tampa. Some of those steers were being driven into Georgia and Tennessee to feed Confederate fighting forces.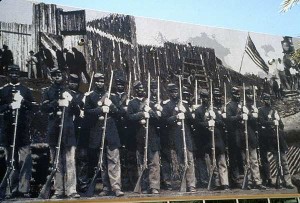 But a significant number were being redirected to blockade runners like Edward Clarke, Christopher Friebele and Capt. James McKay, Sr. for transport to Cuba, which was paying three times what the Confederacy could afford to pay for cattle – any they were paying in gold and silver coins.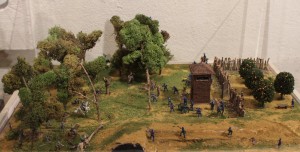 "To discourage these raids, Confederate Major William Footman led 275 men of Florida's 'Cow Cavalry' from Fort Thompson (LaBelle) to the very gates of Fort Myers," the plaque states. Interestingly, the plaque fails to mention that Major Footman and his men were initially dispatched from Fort Meade near Tampa by Colonel Charles J. Munnerlyn or that during the 200 mile march to Fort Thompson their number swelled to roughly 500 as angry local farmers, fishermen and other partisans rushed to join the fray.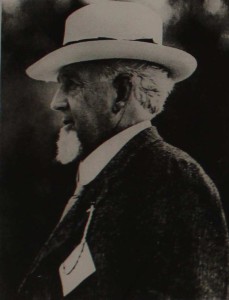 The plaque also fails to reference Capt. Francis Asbury Hendry, whose company of 131 men comprised almost half of Major Footman's entire contingent. This omission is surprising given that Hendry would go on after the war to become one of the City of Fort Myers' founding fathers, and it was he who suggested that the county be named after General Robert E. Lee when the region decided to split off from Monroe County in 1887 after the County Commissioners in Key West refused to approve funds to replace the schoolhouse in Fort Myers after it burned down.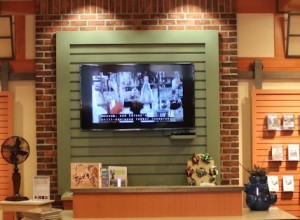 It is not unusual for historical accounts to either exaggerate or understate past events. Even if the writer has no particular agenda, every author is inevitably swayed by their own political, social and religious views, experiences and education. It will be interesting to see what light historian Duane Shaffer will shed on the events leading up to and taking place during the Battle of Fort Myers during tomorrow morning's lecture, including oft-repeated contention that the Battle of Fort Myers was the southernmost battle of the Civil War. Shaffer is author of the book Men of Granite, New Hampshire Soldiers in the Civil War.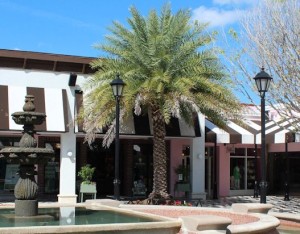 The lecture will take place next to the fountain in the courtyard outside the Edison Ford Shoppe. It is open to the public and free of charge. For additional information, please contact the Volunteer Department at 239-334-7419.
The Battle of Fort Myers is memorialized by two public artworks, including the Barbara Jo Revelle ceramic tile mural, Fort Myers: An Alternative History,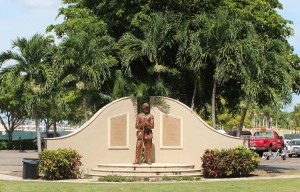 which is in the Hotel Indigo/federal courthouse courtyard, and Clayton, which is located in Centennial Park. Both are visited by True Tours during its 1:00 p.m. Sunday afternoon public art walking tour. For more information or to make reservations, please telephone 239-945-0405 or visit www.TrueTours.net.
_____________________________________________________
Jansen's UNIT A Art Space revs up for exciting year of international shows (01-18-14)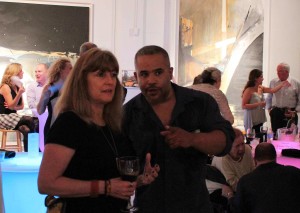 UNIT A Contemporary Art Space located in Fort Myers, Florida is the home of internationally-acclaimed modern urban expressionist 
Marcus Jansen
. For local art collectors and enthusiasts, it's the in-place to go during Art Walk, because that's when Jansen debuts new works prior to shipping them out for international exhibitions.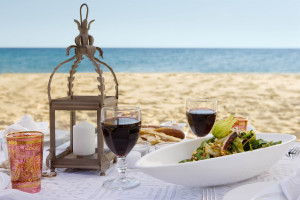 International shows was the central theme at UNIT A during 2013. Last year, Jansen won a number of major international awards, including the Fleurieu Art Prize in Australia, which is the highest valued landscape painting prize offered anywhere in the world. Last year's prestigious Biennale was curated by Nigel Hurst, Director & Chief Executive of London's Saatchi Gallery. London is also where Jansen will start 2014, when he appears at International "Art 14″ London with one of his two new European representatives, Steve Lazarides in London, UK.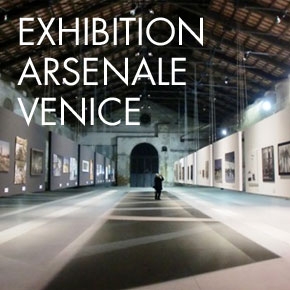 Steve Lazarides garnered global attention when he launched Banksy's career. "Like Leo Castelli, Mary Boone and Bruno Bischofberger before him – the gallerists who put artists like Warhol, Rauschenberg and Schnabel on the map – Lazarides has become a champion for the artist as individual," writes art critic Susan Michals in the October 2010 edition of Vanity Fair. "He's excelled at 'mentoring new talent, nurturing the creative process and presenting work that is free to the public,'" she adds, quoting actor Kevin Spacing, who was co-curating a show titled Hell's Half-Acre.

Jansen's invitation to show at the "Art 14″ Fair will be an introduction for his second London solo show in October, 2014 at Lazarides Gallery.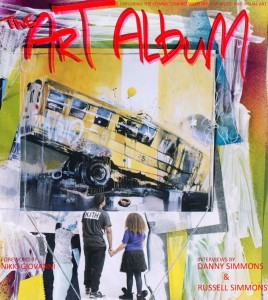 In Italy, Jansen's short Italian documentary, filmed last year in Milan with his second European representatives, Galleria Bianca Maria Rizzi & Matthias Ritter, will be released at a reception that will also unveil Jansen's show catalog which has been written by renowned art critic Alexandro Riva, who also is the author of Street Art Sweet Art.
In New York City, Jansen's project The Art Album, is now available at Barnes & Nobel Booksellers. Published by Dwud Knuckles with Art on Dekz and supported by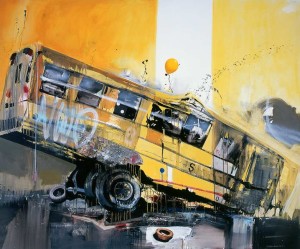 Russel Simmons, The Art Album includes artists like Chuck Close, Marlene Dumas, Shepard Fairey and Jonathan Meese. Jansen's Spotlight on Education was selected for the cover and highlights the connection between Hip Hop culture and contemporary art.
Jansen is preparing for his first solo show in New York City at Castle Fitzjohns Gallery in the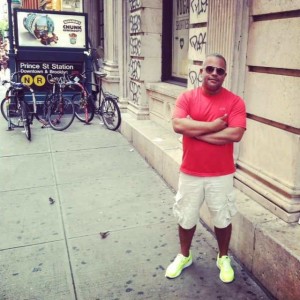 lower East Side with an opening reception on March 3, 2014 in conjunction with an appearance at SCOPE Art Fair New York and Lyons Wier Gallery in Chelsea, which both take place during the month of March.
Jansen will also be showing works at his solo show at Roberta Britto Gallery in Sao Paulo, Brazil at the end of March.
Public openings continue at UNIT A Contemporary Art Space in Fort Myers Florida every first Friday of the month or during the week by appointments only. For more information about dates and times, please visitwww.unitaspace.com/calendar or contact Terry Tincher at terryunitaspace@gmail.com.
_____________________________________________________
Festival schedule for January 18-19 includes Naples Masters and Fort Myers Saturday Art Fair (01-16-14)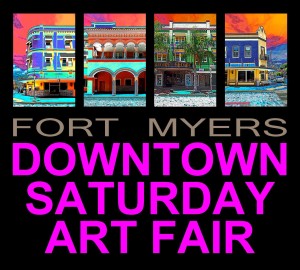 The Fort Myers Downtown Saturday Art Fair takes place on Saturday, January 18 under the awnings of the galleries, shops and offices that border First Avenue, just steps from the waters of the Caloosahatchee River in the completely refurbished and restored downtown Fort Myers River District. The intimate, small-town ambiance of the River District engenders casual conversation between collectors and the participating artists, who willingly share stories about where they find inspiration, how they craft the unique pieces they sell, and what drew them to the arts in the first place. If you don't find exactly what you are looking for, they will be pleased to make what you want. They'll even deliver it to your home!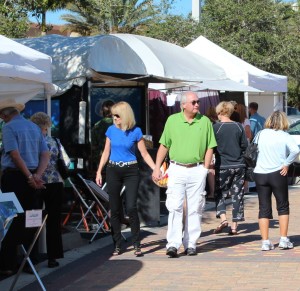 Naples Masters Winter Art Festival comes to the Galleria Shoppes at Vanderbilt on January 18 & 19, 2014. This festival features between 80 and 100 highly successful and skilled artists who bring and exhibit paintings in oil, acrylic and watercolor, drawings and pastels, 2D and 3D mixed media and collages, photography and digital art, woodworking, sculpture, ceramics, glass, fiber art, and jewelry. The festivals are devoted mainly to fine art, with some fine crafts entering into the mix.
To view the full 2013-2014 art fair and festival schedule, please click here.
____________________________________________________
Schober Mound Key tour puts historical accounts into proper perspective (01-16-14)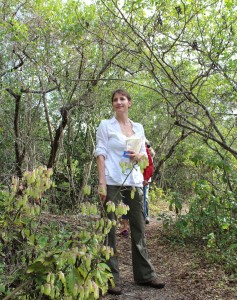 On last Monday's Mound Key tour, guide Theresa Schober recounted the story of Juan Ponce de Leon's retreat from the waters of Southwest Florida in June of 1513. After a number of skirmishes, 80 shielded war canoes, fastened together like catamarans, surprised de Leon's flotilla. Each was reputed to hold between 10 and 20 warriors. Faced with an overwhelming force of between 800 and 1,600 fierce natives, Ponce de Leon had little recourse but to retreat back to his home base in Puerto Rico, where he would plan his return for nearly a decade.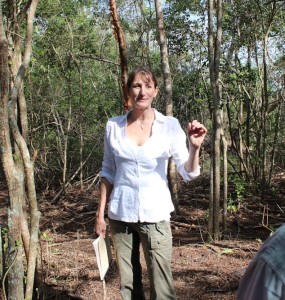 This account of the Calusa's first encounters with Spanish explorers comes from the first volume of Historia General de los hechos de los Castellanos en las Islas I Tierra Firme del Mar Oceano. The official-sounding treatise was compiled by a man named Herrera, who served as Ponce de Leon's on-board historian."You simply can't take what Herrera says at face value," Schober told her Mound Key tour group as they prepared to disembark the Banana Key Tour Boat as it docked on Mound Key. You see, Herrera had an agenda. He had to justify to the Spanish Crown why a group of savages could repel an force of heavily armed soldiers and sailors from this European world power.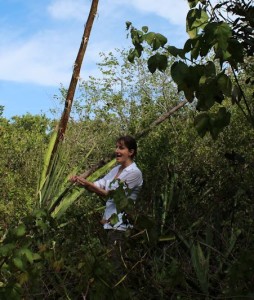 "There's simply no way the Calusa could have mustered a force that large," Schober argued. "Based on the size of the island and the archaeological record, Mound Key probably sustained a population of 1,000 people. Of that number, 60 percent were undoubtedly children. Half of the remaining 400 would have been women, and of the 200 adult men, half would have been nobles, priests and others exempt from fighting. So at most, there may have been 100 warriors on all of Mound Key."
Of course, Mound Key or Stababa was just one settlement among many that dotted Southwest Florida from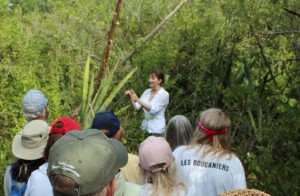 Charlotte Harbor to Pine Island, Estero Island, Sanibel and on the mainland. "But each of them was smaller than the settlement at Stababa," Schober noted. "Even sending for warriors from each of the other settlements, it's highly unlikely that the Calusa could have assembled a fighting force that large, never mind in a mere matter of days."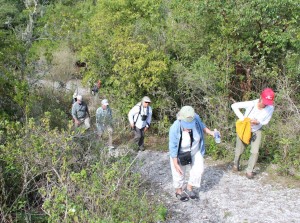 But neither Juan Ponce de Leon nor Herrera would ever admit that the Spanish had been sent packing by an even smaller force of primitively-armed heathens. "Men can, and have, manipulated the historical record for any number of reasons," Schober cautions. "But the archaeological record cannot be disputed. That's why it's imperative to compare one to the other whenever possible."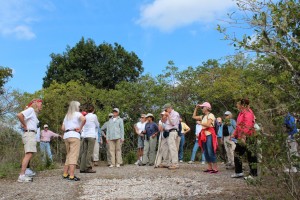 Along those same lines, Herrera conveniently omits any explanation about why the Calusa were so hostile to Juan Ponce de Leon and his forays into their territory. The Calusa were certainly not about to allow anyone else to come into their kingdom and set up shop, even as traders. But the Calusa chief at Stababa had also been told about the slaving raids the Spanish had made in other parts of the Caribbean. "The connection between these slaving raids and the attitudes of the native people upon the arrival of Ponce de Leon are often forgotten." Or suppressed. "Experience with slavers likely motivated the Calusa to aggressively defend against the Spanish."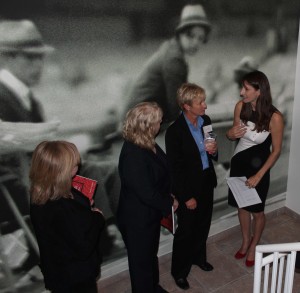 Part of the thrust of ArtCalusa: Reflections on Representation was to bring these aspects of the Calusa's early encounters with the Spanish into the forefront of present-day historical knowledge. That's also a component of Schober's Mound Key guided tour. But certainly not the main point, which is to engender an appreciation of Calusa society and civilization … as well as the challenges associated with historical preservation and maintaining the integrity of archaeological sites like Mound Key.
[Much of what we know today about the early history of downtown Fort Myers comes from The Story of Fort Myers by Karl H. Grismer. While no one disputes the accuracy of what Grismer documented, True Tours' owner Gina Taylor points out that Grismer's coverage of the people, places and events recounted in his book was influenced by who agreed to financially support his research, and those who didn't.]
_____________________________________________________
Schober Mound Key guided tour engenders appreciation of ancient Calusa and historic preservation (01-15-14)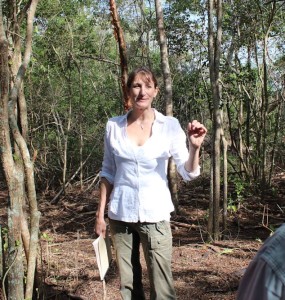 Three years ago, I embarked on an unexpected journey. In the course of investigating Fort Myers' public art collection, I discovered that the vast majority of these artworks told stories about Fort Myers' early history. Along my odyssey, I learned a great deal about Vagabonds Edison, Ford and Firestone, early developers like William H. Towles, Harvie Heitman, Walter Langford and Peter Tonnelier, and a ton about the fort from which our town derives its name. But until I met archaeologist Theresa Schober and attended ArtCalusa last November, what I knew about Southwest Florida's original residents could be figuratively packed into an antique thimble with about 2 cc's of volume left over.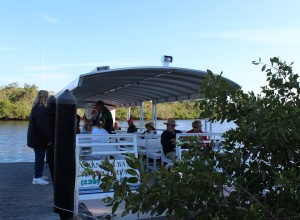 While Schober is indeed an archaeologist, she doesn't wear a fedora, I've never seen her sport a bullwhip, and she wouldn't move an artifact from an archaeological site for love or money (although I'm pretty sure she could outrun a big rolling rock if the need ever arises).But she knows more about the ancient Calusa Indians than anyone else in Southwest Florida, if not beyond.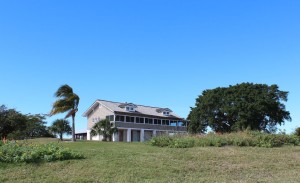 Originally from the Calgary area (yep, that's in Canada), Schober showed up in Fort Myers in 1998 to direct the restoration and exhibit development at Mound House and Newton Park on Fort Myers Beach. During her nine year tenure, she not only secured $4 million for educational, exhibit and historic preservation initiatives as well as two awards from the Florida Trust for Historic Preservation, she amassed a prodigious volume of information and understanding about the life and times of the Native Americans who reigned over this area of the country from roughly 100 B.C. to 1704.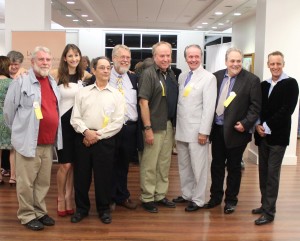 Schober translated her knowledge and statewide contacts into a Viva Florida 500 exhibit that was designed to introduce Southwest Florida residents and visitors to this once mighty, ever proud, never bowed race. ArtCalusa included paintings of the Calusa and their cities and settlements rendered by leading historical artists, including Charles Dauray of Estero, Christopher Kreider of Loma Rica, California, David Meo of Fort Myers, Theodore Morris of St. Augustine, Daytona Beach's Dean Quigley,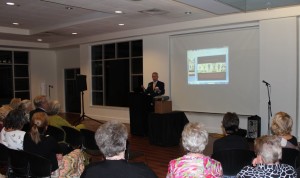 Hermann Trappman of Gulfport and Jackson Walker of Orlando (along with glass artist Lucas Century of Sanibel). The exhibition incorporated lectures and panel discussions that included former State Archaeologist Ryan Wheeler, local archaeologist Steven Koski, Jerald T. Milanich, American Indian literature scholar Gretchen Bataille, and noted UF wet site archaeologist Barbara Purdy. It also featured a one-man play based on the life of shipwreck survivor Hernando d' Escalante Fontaneda.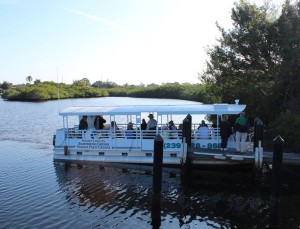 The information presented sent me packing for the library to learn more about Fontaneda, Juan Ponce de Leon, Pedro Menendez de Aviles and his treacherous nephew Menendez Marquez, as well as the great Calusa chiefs forced to contend with the Spaniards attempts to convert, if not enslave their people. But it was hard to concentrate on the accounts of 400-500 year old events with Harrison Ford's gravely voice echoing in my ears: "If you want to be a good archaeologist, you gotta get out of the library."
The advice pertains as well to anyone who possesses an interest in or passion for Southwest Florida history.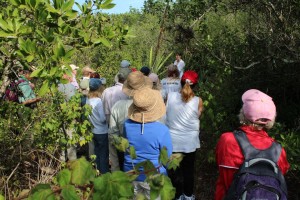 So on Monday, my fiancee and I boarded a Banana Bay tour boat with 26 other curiosity seekers to take a Schober-guided tour to Mound Key, a tiny island in the middle of Estero Bay that served as site of the Calusa empire from roughly 100 B.C. to 1,000 A.D. Although it may be somewhat hyperbolic, the chance to be escorted around Stababa by Schober is tantamount to being squired around Key West by Ernest Hemingway or the Valley of the Kings by Howard Carter.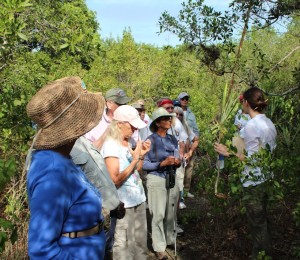 Mound Key is not just rustic. It is downright primitive. Which delights Schober, who notes that in spite of the site's historic significance, there's been virtually no archaeological exploration of the island. "Mound Key is unquestionably the most important site in Southwest Florida," Schober noted on Monday, "if not the State of Florida." The mangrove covered isle contains two well-developed mounds that held the homes and ceremonial structures of the Calusa's chief, nobles, military leaders and priests.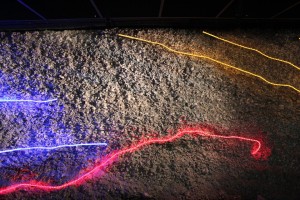 Exposing their constructed layers (right) promises to reveal many secrets of Calusa life, society and political organization. But that's just so much blah, blah, blah until you've followed Schober under spider webs, over protruding roots, around winding footpaths and up the steep incline of a 30-foot tall conical mound that rewards ascendants with breathtaking views of Estero Bay and a distant cloud-enshrouded Estero Island. Only then is it truly possible to walk in the Calusa's sandals.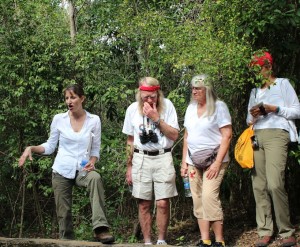 There's no stream or other source of fresh water on Mound Key. "There were probably people designated to go get water from the mainland," Schober hypothesized from atop a cistern dating to Koreshan days. "In fact, each family probably had someone tasked with going for water." On Monday, we were ferried by motor through the choppy waters from West Bay to Mound Key in just 15-20 minutes. A couple of guys sporting University of Minnesota tees (not part of our tour) probably made the trip in their kayaks in an hour or so. But plying those waters in a carved out tree trunk, hiking to and from the nearest water supply, and then paddling back laden with pitchers, pails and other vessels filled to the brim, well that undoubtedly was an all day endeavor often undertaken under blistering skies and stifling humidity.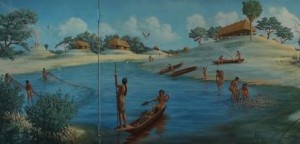 The streets and monuments in our own nation's capital were designed to awe and intimidate foreign dignitaries and visitors. The same was true of Stababa. Visitors like Pedro Menendez de Aviles undoubtedly experienced that same awe and intimidation as they paddled up the central canal and passed between the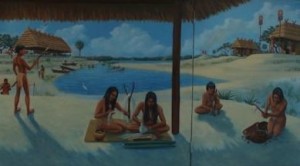 two and three-story mounds which descended to three water plazas in which the locals raised fish, oysters and scallops in an extensive aqua-farming operation that was the basis of their hierarchical caste system with a chief, nobles and commoners. But it's only by slogging through the mud at the bottom of the once grand canal and straining to ascend the steep incline of the mounds that you can truly appreciate what the Calusa accomplished or how Menendez and his party may have felt as they first beheld the Calusa Chief Carlos surrounded by his military leaders, warriors and nobles and hordes of mostly or wholly naked children.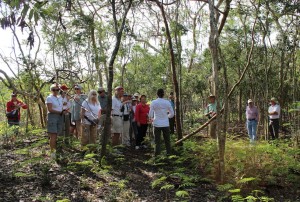 But perhaps the greatest benefit to be derived from making the Mound Key trip with an archaeologist like Schober, who also functions as a cultural resource consultant, is becoming sensitized to the dangers of modern encroachments to these sacrosanct links to bygone peoples and times. Mound Key already bears the scars of forays made into the island between 1900 and the 1930s to cannibalize the mounds for their component shell for road improvements and similar purposes. And while the State of Florida owns the vast majority of Mound Key, one local family owns a chunk of the island that they've fenced with barbed wire and desecrated with docks, lean-to's and related agricultural structures without proper deference to the land's archaeological significance.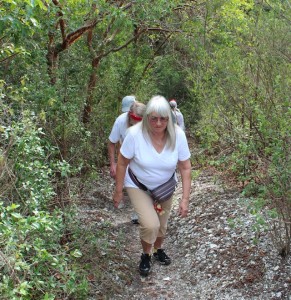 No, tour-takers will not learn everything there is to know about the once-mighty Calusa from touring Mound Key with a thoughtful and thought-provoking guide like archaeologist Theresa Schober, but you will be equipped to envision, appreciate and better understand their society and what was lost when their civilization collapsed under the weight of their deleterious contacts with first the Spanish, and later the British, who armed Creek Indians and dispatched them to hunt, capture and enslave these native Americans to the point where they disappeared from the pages of history. And for a neophyte local historian, the trip begins to fill in the gaps and missing links in the history of Southwest Florida which all too often considers the sad plight of the Seminole Indians to the exclusion of the far older and longer entrenched Calusa simply because the latter disappeared from the scene of recorded history a hundred or so years before the Seminoles migrated into South Florida.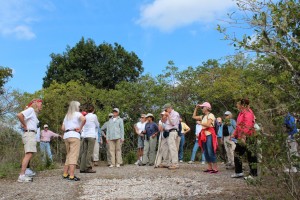 Schober plans four more guided tours of Mound Key on:
March 3,

April 7,
April 14, and
May 5
Each departs from West Bay in Estero and includes a guided tour by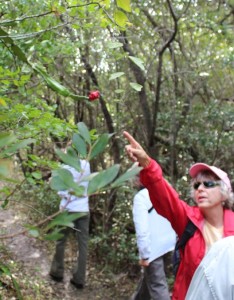 Schober focused on the rich history of Mound Key. A light lunch is also provided. Each tour is limited to 25 people and costs $45/person, the proceeds of which will be donated for a documentary coordinated with the Viva Florida 500 celebration about the remarkable island capital of the Calusa Indians. For reservations, please call 239.851.9040 or email: MakingHistoryMemorable@gmail.com.
Key sponsors of the documentary include the College of Life Foundation, Banana Bay Tour Company, Friends of Koreshan State Historic Site, Estero Bay Buddies, Marco Island Historical Society, Estero Historical Society, and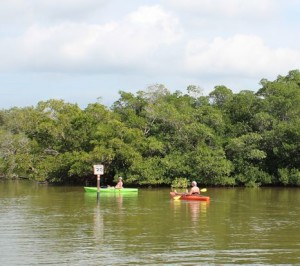 Bonita Springs Historical Society with grant funds from the West Coast Inland Navigation District. Documentary partners include Captiva Cruises, Collier Count Museums, Florida Department of Environmental Protection, Florida Park Service, Koreshan State Historic Site, Lee Trust for Historic Preservation, Mound Key Archaeological State Park, Sanibel Captiva Conservation Foundation, West Bay, and University of Pennsylvania Museum.
The Friends of Koreshan State Historic Site is a volunteer based charitable organization founded in 1987 dedicated to the preservation, restoration, and interpretation of the Koreshan Unity Settlement, a National Register Historic District that consists of the Koreshan State Historic Site in Estero and Mound Key Archaeological State Park in Estero Bay.
_____________________________________________________
Art festival season heats up January 11-12 weekend with four shows (01-07-14)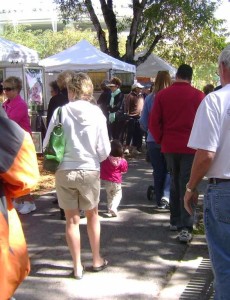 On Saturday, January 11, 2014, Naples Artcrafters will host a juried fine art and craft show in beautiful Cambier Park in downtown Naples. The event features incredibly diverse and talented local artists that will share paintings, photography, glass art, jewelry and metal work, as well as handcrafted sculptures, pottery and much more. The show takes place on 8th Street South, one block south of fabled Fifth Avenue South, behind Starbucks and within view of the band shell and Cambier's Quilt, the first public art project at a municipal building under the City of Naples' public art ordinance.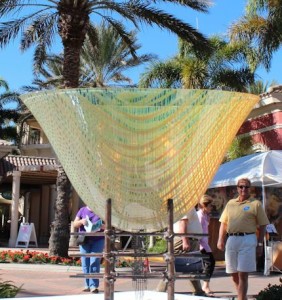 The Bonita Springs National Art Festival moves to Riverside Park in Bonita Springs this year, and its first of three fine art festivals takes place on Saturday, January 11 and Sunday, January 12. In 2011, Bonita Springs National was ranked the #10 art festival in the nation by The Art Fair SourceBook and #11 by Sunshine Artist Magazine. This festival stresses quality and originality, with the 211 artists juried into the show from across the United States, Canada, South America and even Europe exhibiting and selling original paintings, drawings, pastels, photography, handcrafted jewelry, clay works and ceramics, glass art, metal sculpture and more. Riverside Park is located at 10450 Reynold Street or 27000 Old 41 Road in central Bonita Springs, Florida 34135.
The 29th Annual Cape Coral Festival of the Arts takes place in downtown Cape Coral on January 11-12, 2014. Scheduled to participate in this year's festival, are over 300 artists from such categories as; fine crafts, jewelry, mixed media, painting, photography, and sculpture.

On Marco Island, the Art League of Marco Island Fine Craft Fair also takes place on January 11 & 12, 2014. This fair is held at 1010 Winterberry Drive, Marco Island, Florida 34145, which is across from the new Esplanade Shoppes, Residences and Marina right in the center of town. Now in its 15th year, this craft fair provides browsers and art enthusiasts with some of the region's best original artwork, including paintings, watercolors, photography and digital art, ceramics, pottery, glass, clothing, children's clothing, jewelry and mixed media work.
To see the full 2013-2014 art festival and fair calendar, please click here.
_____________________________________________________________
Lorelei finds new home at Ft. Myers-Lee County Garden Council (01-06-14)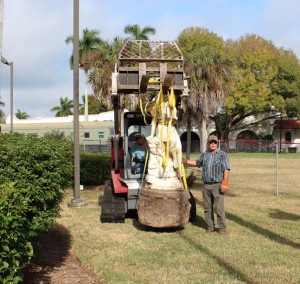 Since 1961, a finely-sculpted Italian marble sculpture by the name of Lorelei has graced the front entry of the Fort Myers-Lee County Library on Jackson Street. But when the library moved to its new 40,000-square-foot quarters at the corner of First and Royal Palm Boulevard, Lorelei was left behind. Headless and in need of significant repairs and conservation, it seemed for a time that the woeful German siren might be sold, or even abandoned. But today, the firm of Flint & Doyle moved Lorelei gratis to her new home in the Berne Davis Garden at the Fort Myers-Lee County Garden Council.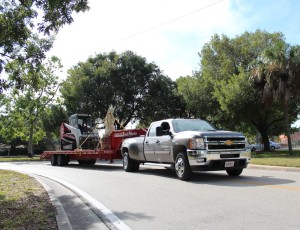 "When we read about Lorelei's plight in the River Weekly, we knew we had to do something," said Kay Holloway, as she and a group of Council members waited anxiously for the four-man Flint & Doyle crew to expertly unload the five foot tall sculpture from the flatbed truck on which the statue made the short trip from Jackson to Virginia Street. "We are over-the-top excited to bring her here," added Second Vice-President Sandy Kavouras. "It feels like she's finally coming home."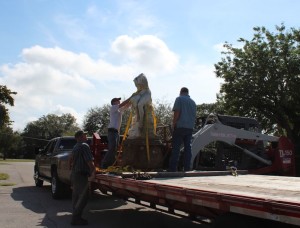 Lorelei never actually spent time on the Garden Council grounds, but she did reside in the well-tended garden of Evelyn D. Rea from 1930 until a short time after Rea's death in 1959. A member of the Periwinkle Garden Club, Rea maintained a well-tended garden at her residence on the Caloosahatchee River not far from the Garden Council grounds. The oldest garden club in Lee County, the Periwinkle was Mina Edison's garden club, and she and husband Thomas were among the first guests to admire the sculpture after Ms. Rea installed Lorelei at her home following her return from Italy, where she found and purchased the sculpture that was created near Rome in 1880 by Boston-born artist Emma Elisabeth Phinney.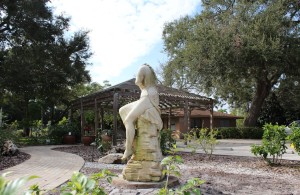 The Periwinkle was one of nine garden clubs who banded together in 1957 to form the Garden Council. Today, it is one of the Council's twenty member garden clubs, eight plant societies and two affiliates which, together, boast more than 1,800 individual members throughout Southwest Florida. The Council moved to its current location on Virginia in 2007 compliments of a long-term lease from the City of Fort Myers. Now the Garden Council is returning the favor, assuming responsibility for Lorelei's custody, conservation and care. You see, had the Garden Council not stepped forward to offer Lorelei a fenced-in new home, the City might have been compelled to de-assession the piece from its public art collection because it does not have the money needed to properly repair and maintain the 133-year-old white marble sculpture.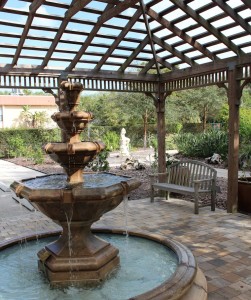 Last March, the City's Public Art Committee hired a conservator to examine Lorelei and tell them what it would cost to replace her missing head, left elbow and toes, which were lost when the statue was damaged by one or more vandals on the night of October 29, 1997. The culprits were never caught, and the missing pieces have never resurfaced. Replacing the head could cost between $5,000 and $10,000 depending upon whether ceramic or marble is used. But conservators Rosa Lowinger and Laruen Hall don't think the missing body parts should be replaced because the vandalism is now part of the sculpture's history. "We agree," states Garden Council president Debbie Wyatt-Stotter. "She's beautiful just the way she is."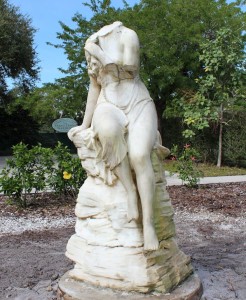 Well, almost. Lowinger and Hall emphatically recommended that the sculpture be cleaned and the marble stabilized. Moisture from the plants that surrounded her in the landscaping bed in front of the old library, UV damage from direct sunlight and exposure to more than half a century of wind and rain have caused the marble to flake. The resulting spalling can be treated through injection and other repair methods (at a cost more than $6,000). But the repairs will only be a temporary fix unless the Garden Club also takes measures to protect Lorelei from the direct sunlight, rain, leaching from standing water, and wind. For now, Lorelei stands in full sunlight in the Council's hibiscus garden. To protect the statue from future environmental damage, they will either need to move her indoors or cover the sculpture and surround the plinth on which she stands with river rock that promotes drainage of stormwater away from the delicate marble – all of which entails further significant cost.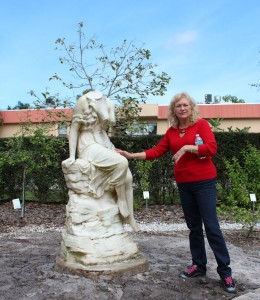 But Wyatt-Stotter, Holloway and Kovouras seem committed to provide Lorelei what she needs so that she can be enjoyed for generations to come at her new home on Virginia in the Berne Davis Gardens. The Fort Myers-Lee County Garden Council is open to the public from 10:00 a.m. to 1:oo p.m. on Tuesdays. Lorelei will be officially re-dedicated and presented to the public and Garden Council members from 10:00 a.m. to 2:o0 p.m. on Tuesday, February 18. The gardens are located at 2166 Virginia Avenue (off McGregor Blvd), Fort Myers, Florida 33901. For more information, please telephone 239-332-4942 or visit www.fmlcgardencouncil.com.
_________________________________________________________
Sally Bright basketry conjures images of topographical landscapes and biomorphic shapes (01-05-14)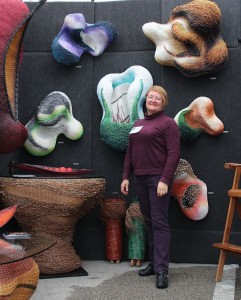 Sally J. Bright is one of America's most talented and creative basketry artists. She is one of 120 artists who are exhibiting their work at this weekend's 13th Bi-Annual Estero Fine Art Show.
Bright is a sculptor who just happens work in the genre of basketry. She weaves topographical landscapes and non-representational shapes that capture action and emotion rather than an objective, readily-discernible motif. Her media include rattan, palm and a mix of metals, and acrylic paint, which she applies via airbrush to the finished wall-hanging or freestanding 3D work.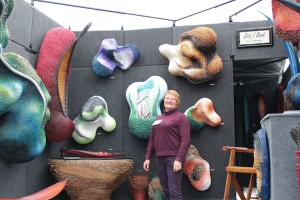 "I began collecting baskets as a teenager in Southern California – always searching the local shops for the most unusual ones, never thinking about where they came from," Sally reminisces. "The synchronicity and realization of my life long love of basketry came full circle after moving to Michigan as an adult years later."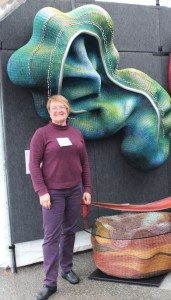 Her life-changing moment occurred one day when she happened upon a new craft shop announcing basket weaving classes. "I instantly envisioned that once I learned to make baskets I would combine the traditional craft of basketry with my creative arts background to create organic sculptural designs unlike anything I'd ever seen before. Before I knew it, the images in my head were becoming a reality. My traditional basketry weaving techniques enabled me to develop my very own peerless art form by freely using my imagination and creative interests."
Her work is abstract in the sense that she leave it to the viewer to assign their own interpretations and meaning to her work. Many are biomorphic, suggesting amoeba, paramecium and other single-cell organisms. Others conjure images of rolling hills, mountain ranges and the Amazon rain forest. "None of my sculptures are pinched or squeezed," Sally explains. "The shapes you see are woven that way." There is no armature or skeleton, which makes even her largest wall hangings extremely lightweight and easy to move.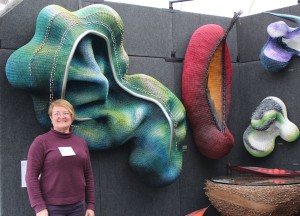 Not surprisingly, Bright has won numerous Best of Shows and Awards of Excellence across the country in the 10-15 shows in which she exhibits each year. She enjoys the art festival experience, which affords her the opportunity to share her art, inspiration and process with countless admirers and future collectors. "I'd exhibit more, but I also need to put in my time in the studio," she quickly adds. ""After weaving artistic works for almost 30 years, I still strive to continue pushing the definition of 'basketry;' to increase the complexity of my work; to stimulate the imagination of the viewer; and to create beauty."
The Estero Fine Art Show™ takes place at Miromar Outlet Mall this weekend. This high-quality juried art show opens at 10 a.m. today and runs until 4 p.m.
________________________________________________________________
Estero Fine Art Show opens today under cloudy skies at Miromar Outlet Mall (01-04-14)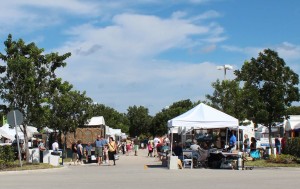 The Estero Fine Art Show™ takes place at Miromar Outlet Mall this weekend. This high-quality juried art show opens at 10 a.m. today and tomorrow and runs until 4 p.m. both days.
The event occurs on the southeast side of Miromar Outlet Mall, near the intersection of Corkscrew and Ben Hill Griffin Roads,
giving art lovers an unparalleled opportunity to combine a day of art browsing and buying with shopping and dining at a venue that's been voted Southwest Florida's "Best Factory Outlet Shopping Center" 15 years in a row. One hundred twenty local and internationally-acclaimed artists will be present throughout the two-day event and live art demonstrations afford numerous opportunities for patrons to witness first-hand the various processes that the artists go through and the techniques they employ in order to create high-quality artworks in their chosen medium.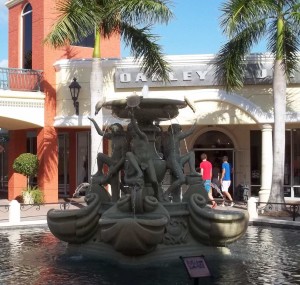 In addition to richly landscaped covered walkways throughout the mall, Miromar boasts a number of exquisite fountains. The one located in the hub fronted by Gap and Oakley is patterned after the Fontana della Tartarughe (Fountain of the Tortoises) in Piazza Mattei on Via Dei Funia in Rome, Italy. The original was built between 1581 and 1588 by Giacomo della Porta with bronze figures by Taddeo Landini (1550-1596). The original concept was that of male figures riding dolphins (thus the fountain's first name, Fountain of the Dolphins). But when the fountain was restored in 1659 at the request of Pope Alexander VII, the dolphins were replaced with male figures pushing tortoises toward the upper basin (and the fountain became known as the Fountain of the Tortoises).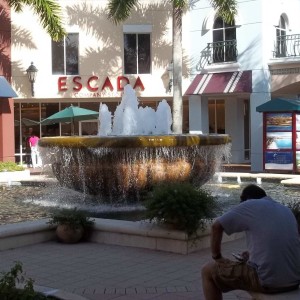 Nearby Miromar Lakes Beach & Golf Club is the #1 residential community in the United States. It is the only Florida community ever to win the National Association of Home Builders' Gold Award for Community of the Year. The 1800 acre residential community features a 700 acre freshwater lake, three miles of private white sandy beach, and signature championship golf all within one luxurious setting. The National Gold Award was presented to Miromar Lakes for its excellence and superiority.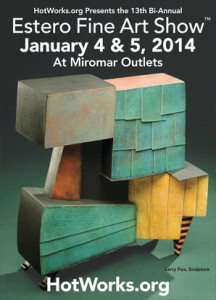 Miromar Lakes also holds the honor of Best Clubhouse in the United States for its Beach. This truly puts Miromar Lakes in a class of its own, as no other community has ever won both #1 Community and #1 Clubhouse in the United States.
"This event brings a great buying audience," notes Hot Works Executive Director Patty Narozny, who combines the art festival with a youth competition and show.
In addition to free live entertainment, there is free parking and free admission. For more information, please click here.
_________________________________________________________________
Festival goers have three art shows from which to choose this weekend (01-02-14)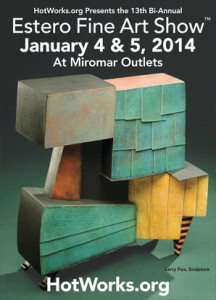 The 13th Bi-Annual Estero Fine Art Show takes place at the Miromar Outlet Mall on Saturday, January 4, and Sunday, January 5, 2014, giving art lovers an unparalleled opportunity to combine a day of art browsing and buying with shopping and dining at a venue that's been voted Southwest Florida's "Best Factory Outlet Shopping Center" 15 years in a row. This top-notch fine art & craft event brings to Estero, Florida new original paintings, drawings, pastels, photography, ceramics, clay, glass, sculpture, wood working and carvings, fiber art and art jewelry from the ateliers, studios and workshops of some 120 local and internationally-acclaimed artists.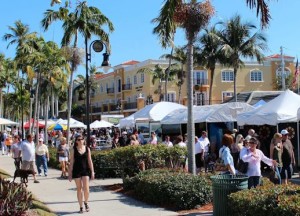 The Naples Art Association's Downtown Naples New Year's Art Fair returns to Naples' Fifth Avenue South on the weekend of January 4-5, 2014. Last year, the artworks on display were valued collectively at nearly $15 million. As in years past, every category will be represented, from original oils and acrylics on canvas, panel and galvanized aluminum to watercolors on paper, 2D and 3D mixed media, limited edition prints, photography, digital art, metal sculpture, wood carvings, ceramics, hand-crafted jewelry, leather works and more. Because of its national ranking (Sunshine Artist ranked it as the #62 festival in the nation in 2011) and the beautiful weather in southwest Florida during this time of year, the Downtown Naples New Year's Art Fair draws 200 of the finest artists in the country, which explains why more than 15,000 art enthusiasts turned out for this art fair last year.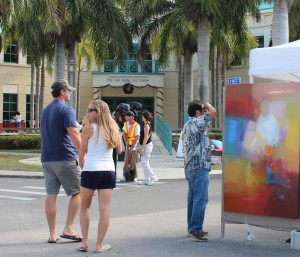 Art in the Park will run alongside the Downtown Naples New Year's Art Fair on Saturday, January 4. Art in the Park not only features work by Naples Art Association member artists in booths set up on Park Street outside The von Liebig Art Center, but art demonstrations by NAA artists plus art projects for the whole family. There are projects inside The von Liebig Art Center for the kids as well. Art in the Park is not just an add-on to the Downtown Naples New Year's Art Fair. It is a festival that has stood on its own merits for more than 57 years.
______________________________________________________
Only two more nights to enjoy Edison Ford 'Holiday Nights' (01-02-14)
January 4 is the final night of Edison Ford Holiday Nights at the Edison & Ford Winter Estates.  Edison Ford will be open 9 a.m. – 9 p.m. tomorrow and Saturday.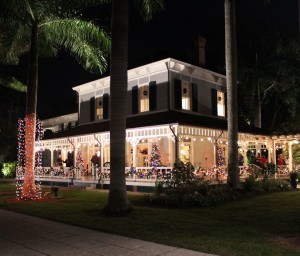 Edison Ford was chosen by the USA Today "10 Best" editors as one of the 10 best historic homes for the holidays. The short list included The White House, Mount Vernon, Monticello and the Biltmore in North Carolina. Florida destinations making the USA Today 10 Best list were The Ca'd'Zan, the spectacular Venetian Gothic mansion and former home of circus tycoon John Ringling and his wife Mable, which offers Sarasota visitors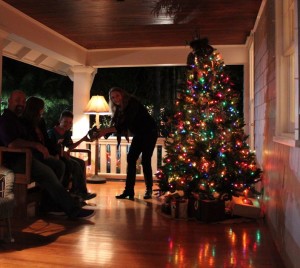 Art After 5 extended hours on Thursday evenings throughout December, and the Vizcaya in Miami, where visitors can see what the mansion might have looked like when wealthy industrialist James Deering decorated it for the holidays while listening to Christmas tunes on the estate's custom-built pipe organ.
During the holidays the homes and gardens of Thomas and Mina Edison and Henry and Clara Ford are seasonally decorated.  Throughout the day visitors have the option of a self-guided tour or a guided tour with an Edison Ford site historian. Special holiday tradition tours are at 6 and 7 p.m.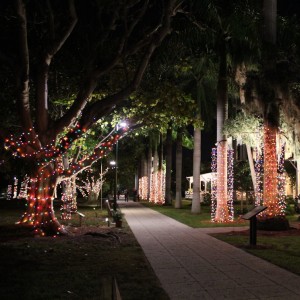 Holiday Nights cost:
Self-guided tours: adults $15, children $2 (6 -12);
Guided Tours: Adults  $20, children $11 (6 -12);
Edison Ford Members FREE.
The Edison Ford is open daily from 9:00 a.m. – 5:30 p.m. The Edison Ford is the winner of the 2009 National Stewardship Award from the National Trust for Historic Preservation and is an official project of "Save America's Treasures" at the National Trust for Historic Preservation, a Florida Historic Landmark and a National Register Historic Site. For additional information call 239-334-7419 or visit www.edisonfordwinterestates.org.
_______________________________________________________
Artists prepare for 13th Bi-Annual Estero Fine Art Show at Miromar Outlet Mall (01-01-14)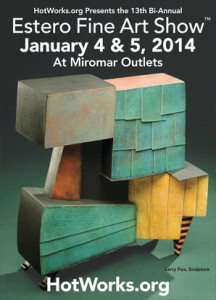 A panel of art professionals has selected more than 125 artists for this weekend's 13th Bi-Annual Fine Art Show at the Miromar Outlet Mall. As many of the artists participating in the show hail from frigid, northern climes, they are busily heading south for the show ahead of the menacing winds of white-out conditions associated with Winter Storm Hercules, which is expected to dump as much as 18 inches of snow across Michigan and the northeast.
Among the local artists taking part in the festival are Estero mixed media artist Anne De La Croix, Fort Myers artists Adams Serra (photography) and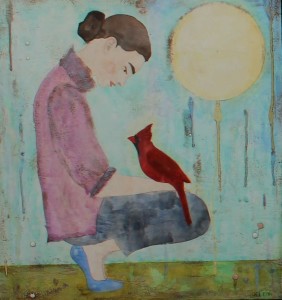 Anisa Steward (jewelry), Bonita Springs painter Kimberly Marshall, Naples artists Charlotte Burnett (jewelry), Julianne Lardas (fiber). Belisario Manrique (painting) and Gilles Peltier (digital and sculpture), Cape Coral artists Kimberly Colvard Oberholtzer (painting) and Svetlana Kuznets (fiber) and Bokeelia sculptor Wayne Francis. To see the full list of Estero Fine Art Show artists and their booth locations, please click here.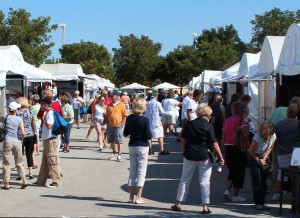 The bi-annual Estero Fine Art Show™ takes place twice a year, January 4 & 5, 2014 and November 15 & 16, 2014. It is sponsored by Hot Works Fine Art & Fine Craft Shows, which has a national and standing reputation. The event takes place 100% outdoors at Miromar Outlets, an award-winning mall located just east of I-75 and adjacent to Miromar Lakes, voted the #1 community in the nation in which to live.
This art fair is a high quality, juried fine art and fine craft show with world-renowned and top-notch local artists. The jurors each have more than 30 years' experience, whose focus is technique/execution, originality and booth appearance. All forms of disciplines are for sale including paintings, sculpture, clay, glass, fiber, wood, photography, jewelry and more. All work is original and personally handmade by the artist in the show.  The event is open Saturday and Sunday, from 10 a.m. to 5 p.m. There is free admission and free parking.
_______________________________________________________
About the Author