Multi-disciplinary artist Cesar Aguilera ventures into film at November's T.G.I.M.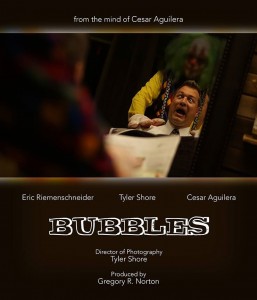 One of the films that the Fort Myers Film Festival will be screening at tonight's T.G.I.M. is Bubbles, a "film from the crazy mind of Cesar Aguilera.
Many know Aguilera through his mixed media paintings, but he is also accomplished in drawing, painting, sculpture, film, special effects, make-up, costume design, fashion design, acting and even performance art. His mixed media pieces not only embrace traditional media such as oils and acrylics, but unconventional materials such as coffee, bleach, discarded technology and found objects of every ilk and design.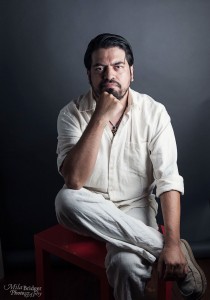 Aguilera's body of work evinces a passion to change the injustices wrought by humans on each other, the animal kingdom and the environment. "Cesar's art is inspired by the preservation of life," observes gallery owner and fine art photographer Rene Miville. "He focuses on how there is so much beauty in even the smallest of things. He wishes to amplify the beauty of human achievement with the voice of his artwork, while still engaging a sense of urgency to preserve our natural wonders."
The context for exploring this urgency is a recognition that our planet is transitioning to a new geological epoch which has been given the name Anthropocene. The current epoch (known as the Holocene) is the 12,000
years of stable climate since the last ice age. Obviously, the development of human civilization has occurred within the Holocene. But, argue scientists, the striking acceleration since the 1950s of carbon dioxide emissions and sea level rise, the global mass extinction of species, and the transformation of land by deforestation and development mark the end of that slice of geological time.
If the assessment of these scientists is correct, then a new epoch has begun – promulgated by radioactive fallout dispersed across the planet by nuclear bomb tests, the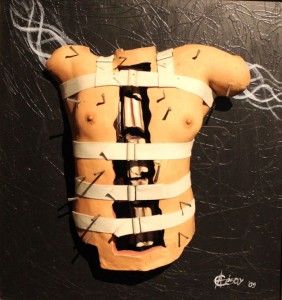 pollution of our oceans and landfills by plastic and other non-biodegradable materials, soot from power stations, concrete, and even the bones left by the global proliferation of the domestic chicken.
Opinions vary about how successful humans will be as they navigate this new epoch of planetary existence. "The darkest prognosis for the next millennium is that bio, cyber or environmental catastrophes could foreclose humanity's immense potential, leaving a depleted biosphere," warns Martin Rees, the astronomer royal and former president of the Royal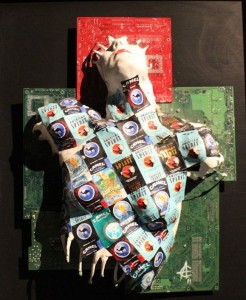 Society. "But human societies could navigate these threats, achieve a sustainable future, and inaugurate eras of post-human evolution even more marvelous than what's led to this point in time. The dawn of the Anthropocene epoch would then mark a one-off transformation from a natural world to one where humans jumpstart the transition to electronic (and potentially immortal) entities that transcend our limitations and eventually spread their influence far beyond the Earth."
It is here, in the seminal phase of this transitional period that Aguilera works. With a background in environmental engineering, Cesar grapples with the dramatic impact that this transition entails.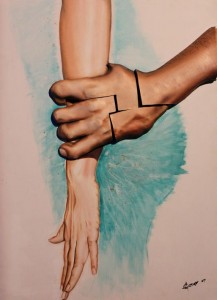 And in an effort to better express this theme, he adapts the materials he uses to carry a narrative that is reflected in the collective efforts of paint, mixed media, and two or three-dimensional alliances. But in the same way that life takes center stage in this age of mass extinction which could extend to mankind itself, life takes center stage in Aguilera's practice. But don't be misled. Cesar's work is not about what's wrong and who's to blame. Rather, his focus is on awakening to a new world, its challenges, and the search for a cultural response that can prevent our demise.
Aguilera is prolific. In addition to the film that will be screened at tonight's T.G.I.M., over just the last 18 months, he:
has created the masks that will be used by the actors taking part in Ghostbird Theatre Group's performance of The Chicken Play on November 12 & 13 and 19 & 20;
enjoyed a highly-successful and wildly popular solo show in September at the Sidney & Berne Davis Art Center under the name of Where I've Been and Where I Am, which not only included drawings, sketches and mixed media paintings, but largescale installations and a couture line that was a collaborative effort with a number of different artists;
was included by fine art photographer Mila Bridger in her modern photographic version of Rembrandt's Anatomy Lesson that was auctioned by the Sidney & Berne Davis Art Center at this year's Cooking with the Arts fundraiser that supports its educational programming;
participated in August in Extraction and Distraction at Chico's Talent Gallery, a show that challenged mankind's preoccupation with immediate gratification to satisfy our insatiable hunger for power and dominance at the expense of our environment, sense of humanity and social conscience – and the ever-growing levels of distraction created by television, social media and other means that keep us from focusing on our main problem, namely our looming demise;
contributed a sculpture to the Turtles on the Town auction gala on March 9;
took part in January in the Celebrity Martini Glass Auction with a creation that paid homage to the legendary golfer Arnold Palmer
was one of several artists who took part in last February's Alliance for the Arts' acclaimed Fifth Annual Artists Studio Tour;
hid art in downtown Fort Myers for lucky passers-by to stumble upon during last December's Art Drop, an initiative advanced by fellow artist, Jet Victory;
teamed up with artist Brian Weaver and Circus Arts United to transform the streets of downtown Fort Myers into a full-blown art experience during last November's Mystery Walk: The 3D Art Festival, in which a medley of artists created installations on the streets where spectators could immerse themselves in the art experience;
had his work Colors of Character selected for inclusion in last November's 27th Annual Arts for ACT Winter White Auction fundraiser;
was juried into Howl Gallery's Anchors Away nautical themed show last November;
was included by fine art photographer Mila Bridger in her modern photographic version of Renoir's Luncheon of the Boating Party that was auctioned by the Sidney & Berne Davis Art Center at its Cooking with the Arts fundraiser last November that supports its educational programming;
painted live in October of 2015 during Breast Memories, a fundraiser organized for the Naples Cancer Alliance by Heather Ford;
was interviewed in August of 2015 by d'Latinos TV about his art, inspiration and the local art scene;
collaborated in July of 2015 with Brian Weaver and Circus Arts United in the Irish Street Art Fest;
started a collaboration experiment with musicians in July of 2015 to bring more attention from local patrons to local talent, an effort that continued into August with singer/songwriter Dani Denis, violinist Luna Muni and dancer Natasha Haszard;
was selected in July, 2015 for Howl Gallery's prestigious SWFL Lives 7 group show;
collaborated on two separate projects that were included in the Sidney & Berne Davis Art Center's annual juried show, themed Art of the Heart in 2015, winning the Berne Davis Choice Award for his collaboration with Data-A artist Beth Carter Bell (The Challice and the Messenger) and kudos for his collaboration with Danielle Branchaud and Dale Weber (The Manifestation of Inspiration and Artistic Service);
collaborated with artist Leila Younes in April of 2015 to create a live work at The Franklin Shops on First during Opposites;
created an interactive work of art at the Tumaini Fund USA fundraiser in which each invited guest left a colorful mark on a canvas which Cesar then incorporated into a cohesive work of art that was then auctioned off to benefit widows and orphans in the dioceses of Kagera and Lweru in northwest Tanzania;
was chosen in February of 2015 by the Naples Art Association and Gulfshore Life Magazine as their emerging arts leader; and
painted live with Danielle Branchaud during the milestone 50-year celebration of the Sisterhood of Temple Shalom in Naples.
As this survey illustrates, Cesar's approach to both art and life in general is collaborative. In that respect, he routinely includes local artists and members of the community in his various projects. This not only enables him to create a more impactful message. It fosters a stronger and more united community from which to draw support.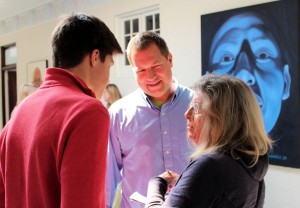 In this same spirit of collaboration, Aguilera has teamed up with fellow artist Eric Riemenschneider and filmmaker Tyler Shore to make tonight's Fort Myers Film Festival entry. You can see what they put together tonight.
Aguilera was born in the colonial district of Quito, Ecuador, the middle son of five children. He grew up in an artistic family and at a young age learned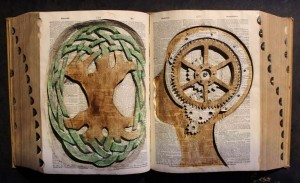 the basics of color and shape from his older sister, who was in art school. Visits to his uncle's art studio further fueled his passion for art. While his early works were done in graphite and watercolor, he transitioned to oils and acrylics after moving to the United States in 1998 during his late teens. While he regularly incorporates mixed media and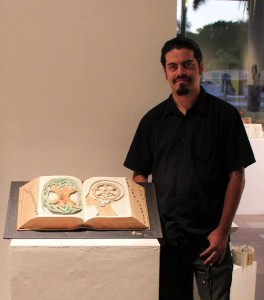 sculptural elements into his compositions, his painterly style is clearly influenced by the Old World sensibility of Renaissance masters.
Doors open at 6:30 with screenings starting promptly at 7:00 p.m. The Sidney & Berne Davis Art Center is located at 2301 First Street in the heart of the downtown Fort Myers River District.
November 7, 2016.
Related Posts: