Latest on 'Patrik' and filmmaker Evgeniya Radilova as dog days of summer approach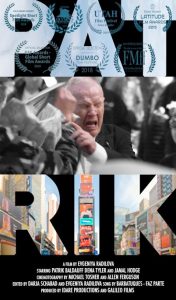 Evigeniya Radilova's short film Patrik screened at this year's Fort Myers Film Festival. The film has gone on to receive six awards in ten screenings, including Best Narrative Short at the Olympus Film Festival, Best Comedy at the 2109 Florence Film Awards, Best Original Story and a Best Actor for Patrik Baldauff at the 2019 Cannes Global Short Film Awards (which recognizes excellence in short films under 15 minutes in length written and produced by both amateur and professional filmmakers from around the world) along with an Honorable Mention for Radilova by the Top Shorts Film Festival on March 29. The film was also screened at The People's Film Festival in Harlem in May and the Lighthouse International Film Festival in New Jersey in June.
Radilova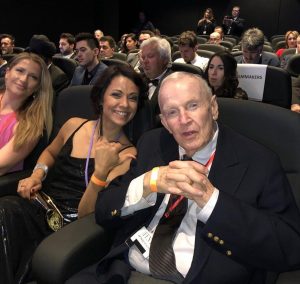 has a number of other filmmaking projects in development. Her second short film El Cavil (writer, director, producer) is coming out in 2019, as is The Burden, which she directed. She has also co-directed a film called Then and Now coming out in 2020. In addition, Evgeniya is co-producing and co-directing her first feature film, Bacon, with Michael Tosner.
But there's more.
Radilova continues to create and produce theatrical fire shows both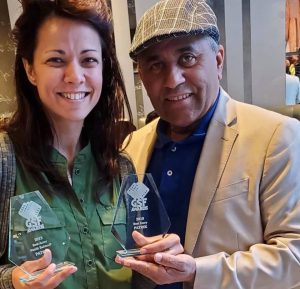 through her own company, Evgeniya Entertainment, and in collaboration with Flambeaux Fire and Modern Gypsies. Denoted by a passionate cinematic flair, she's currently performing in these show at high-end cabaret stages throughout New York, including The Box NYC, House Of Yes and the Slipper Room (as well as across the river in the Meadowlands on occasion).
But perhaps her most rad projects are developing the whip-cracking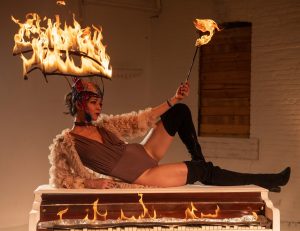 scantily-clad character of Sybilla the Desert Oracle for an immersive concept revolving around the lunar cycle of thirteen goddesses and portraying an alluring undead creature known as Vampireniya who is yet to come to light.
[Fire photo by Greg McMahon; Vampireniya photo by cosplay.]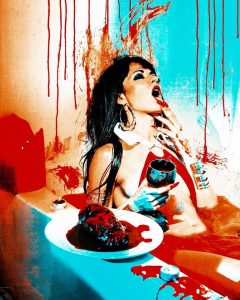 July 27, 2019.
RELATED POSTS.