Samaniego Art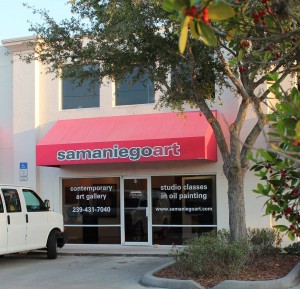 Samaniego Art is a gallery space devoted to showing emerging and mid-career visual artists from around the world. Located in the North Naples Design District, Samaniego Art places its focus on displaying artworks of great quality and crafstmanship, but with a definitive relevance in today's art world.
Location. The gallery is located at 2220 J & C Boulevard, Naples, FL 34109. One block south of Trade Center Way, J & C Boulevard forms the southern perimeter of Pine Ridge Industrial Park, which is sandwiched between Goodlette Frank Road and Airport Pulling Road.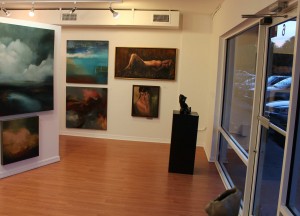 Facilities. The gallery is divided into three separate areas, a front viewing space that is devoted to the abstracts and figurative works of Arturo Samaniego, a cavernous gallery in the rear and Samaniego's studio upstairs. All are unified by laminate wood floors, long white walls and vestiges of air-conditioning trunk lines and red-painted floor joists that pay homage to the gallery's industrial park setting.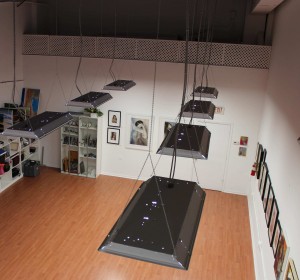 The rear gallery is finished warehouse space that features demising (tenant separation) walls that stretch more than 18 feet to the roof pan. A false wall conceals the rear overhead, roll-up door, At the other end of the rectangular room, stairs lead to a second floor artist's studio that is open to and overlooks the rear gallery.  To capitalize on the big, airy feel of the space, Samaniego eschewed installing a drop ceiling, opting instead to suspend two rows of 2×4 foot fluorescent light fixtures by chains attached to the purlins high above the finished laminate wood floor. This gives the gallery the option of displaying artworks museum or salon style depending on the nature and number of works contained in a given exhibition.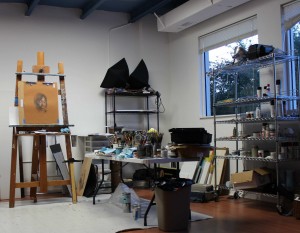 Arturo Samaniego's second-floor studio enjoys organic light compliments of two wide northern exposure windows. Spacious and comfortable, the studio features a working area dominated by Samaniego's large wood easel and a banquet-length folding table that is crammed with tubes of paint, hundreds of upright brushes protruding from glass jars and Chock Full of Nuts coffee cans, and jars of linseed oil, turpentine and other cleaning agents all at the ready.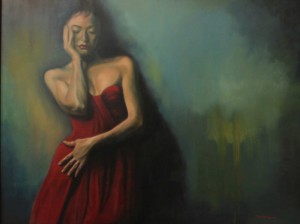 Genres and Media. Samaniego Art caters to the exhibition of contemporary 2D and 3D art by emerging and mid-career artists. In addition, it displays the abstract and figurative work of Arturo Samaniego, who describes his style as a blend of realism, minimalist cool and contemporary edge. "In my work," Samaniego notes, "I combine the beauty of the human form with the emotion-evoking quality of gesture. The figure is executed in the classical, old master style, symbolizing the objective. Around these figures the environment is abstract and nebulous, representing the emotional and internal."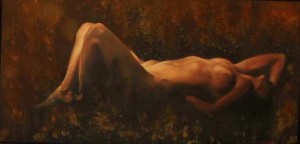 In a new series of mixed media work, Samaniego is beginning to explore the use of experimental materials to create metaphorical content for both his abstract and figurative work. For example, in Rusting Nocturne, Samaniego infuses metallic pigments sprayed with acid into the abstract background that envelopes his supine nude. "The rust contrasts nicely with both the smooth surface of the oil and the smoothness of the skin, and it's a metaphor for the ephemeral nature of physical beauty, which inevitably fades."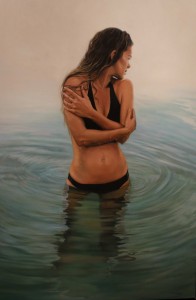 Samaniego's newest series is titled Emergence. Each of the oils on canvas, board or paper in this series depicts an exquisitely enigmatic female swimmer enveloped by cool, amniotic waters that fade into a vague, hazy mist as they recede to the frame's edge. In each, Samaniego denies the spectator access to the swimmer's thoughts through the simple expediency of having his muse look away from the painting's viewpoint or merely having her close her eyes. The technique shrouds the figure in mystery, correlatively demanding the viewer to reach inside herself in order to find a time and place where she experienced a correlative feeling.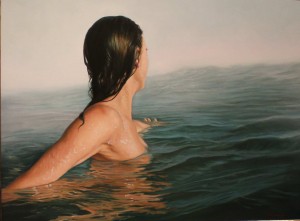 It's a smart, savvy way to shift the artwork's emphasis from outward-bound intellect to inwardly-experienced emotions that align us on a primordial plane with cosmic laws that connect us with the universe and each other. "The pendulum is swinging back to a more ennobling aesthetic," Samaniego remarks. "Those were the values which have been at the core of art throughout history." The works that comprise Emergence reflect this positive reality in a richly satisfying, classical way.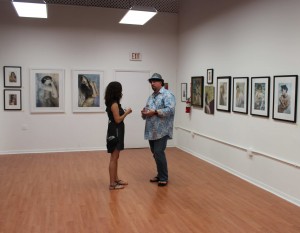 Hours. Since this is a working studio, it is advisable to call the gallery to check on availability or schedule a private showing. The gallery is open for Underground Art Wednesday from 6-9 p.m. on the first Wednesday of each month from October through June.
Telephone and Website. You can reach the gallery by telephone at 239-431-7040 or visit it online at http://www.samaniegoart.com. You can also follow Samaniego Art on Facebook.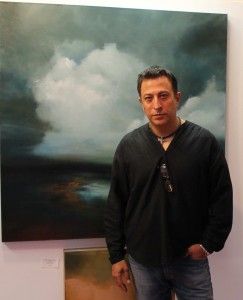 Ownership. The gallery is owned by Arturo Samaniego, who came to art after a 15-year detour in the computer industry. "From my first art classes at the Instituto Nacional de Bellas Artes in Mexico when I was a teenager, I knew I wanted to be an artist," Samaniego says. But after obtaining degrees in art and business from the University of Texas, he put his artistic aspirations on hold to pursue opportunities in the computer hardware business. "My heart was never in the business world," he now admits. "I was always frustrated that my artwork came second. I felt I could produce much better work if I could devote my full energy to it."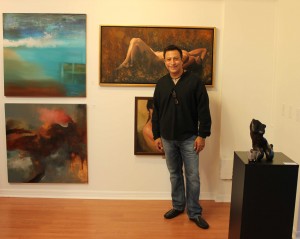 Still, it took a change in the industry to free Samaniego to pursue his first love and passion. When Dell and other large computer companies began gobbling up smaller firms like his, Arturo found himself at a crossroads. Instead of redoubling his efforts to remain competitive in a constricting market, he decided at age 40 to leave the computer industry and dedicate himself to pursuing a fine-art career. "Why die rich and bitter when you can die poor and happy?" Arturo quips of his move to Naples in 2004 to establish his studio and art gallery.
Other Services. Arturo Samaniego offers art instruction in group and private settings, following the atelier style teaching method.
Fast Facts.
Arturo Samaniego's Down Looking Up was selected by Diane Camber, Director Emerita of Bass Museum of Art in Miami Beach as the Physicians Regional Healthcare System Best in Show at the 49th Founders Juried Awards Exhibition at The von Liebig Art Center. The muse of the portrait is Samaniego's daughter.
Though he now confines himself primarily to abstracts and figurative work, Samaniego spent several years painting still life motifs. "Over the last two years," he said in 2008, "my subject matter has become what I call 'contemporary still life.' I am always inspired and challenged by the representational tradition of realism in oil painting, and I am equally intrigued by the energy and freedom of contemporary art. For this reason, my still lifes employ a careful execution in a realistic style, and also combine contemporary compositional elements, such as close-ups, sparse setups, clean lines, and the like. As an artist, still life painting provides me with total control over the mood, lighting, composition, and overall look of the piece, which is not always the case when working with figures."
Related Articles and Links.
2013
About the Author