This is what's happening April 8-14, 2018
Here's what's taking place in the arts, indie films and community theater between April 8 through 14, 2018:
Lab Theater announces panel for Holocaust Remembrance discussion on April 19 (04-13-18)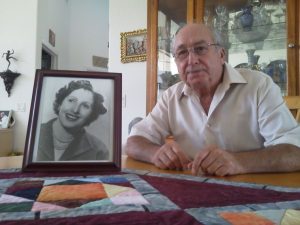 The Laboratory Theater of Florida will welcome welcome concentration camp liberator Dr. Robert Hilliard, Bat Yam Temple of the Islands on Sanibel spiritual leader Rabbi Stephen Fuchs, childhood Holocaust survivor Cesare Frustaci and former Hitler Youth member Dr. Wolfgang Vogel for a special Holocaust Remembrance discussion following the April 19th performance of Visiting Mr. Green. Starring local favorite Michael Hennessey and Brandon Somers, Visiting Mr. Green starts at 8:00 p.m. The Holocaust Remembrance discussion immediately follows the performance. For more on the production, please follow the links provided below.
__________________________________________________________________
Save the date for Camera USA® 2018: National Photography Exhibition (04-13-18)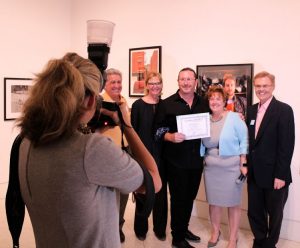 The Naples Art Association started the Camera USA® photography program in 2011. As a nationwide program, it serves as a platform for local photographers to share the spotlight with their peers at the national level. For photographers from other states, Camera USA® provides an opportunity to demonstrate success, exhibit in Southwest Florida and compete for the $5,000 National Photography Award. Open to photographs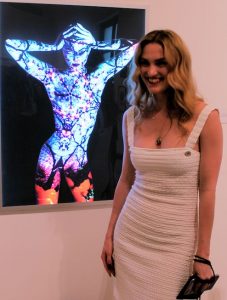 taken in the United States after January 1, 2014 by photographers residing in the USA, you can see the top 50 images selected by this year's jurors Christopher Jones (Associate Curator of Photography at The Ringling Museum of Art in Sarasota, Florida), Mark Sloan (Director and Chief Curator of the Halsey Institute of Contemporary Art at the College of Charleston in South Carolina) and Paula Tognarelli (Executive Director and Curator of the Griffin Museum of Photography in Winchester, Massachusetts on Friday, June 1 during the 5:30-7:30 p.m. opening reception. The exhibition will be on view in the Frederick O. Watson, Elizabeth & William Barrick, Millicent & Charles Marshall and the Minnesota Lobby Galleries June 4 – August 3, 2018.
For more information, please visit http://www.naplesart.org or telephone 239-262-6517.
______________________________________________________________
Two new exhibitions opening at Naples Art Association on April 26 (04-13-18)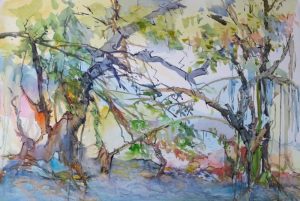 Two new exhibitions are opening at the Naples Art Association on April 26. The first is Val Wright: The Landscape Transfigured; the other is Monochromatic – One Color.
Artist Val Wright paints on-site in the open air. She views the landscape with an inward eye, reinterpreting what she sees and feels in watercolor on paper.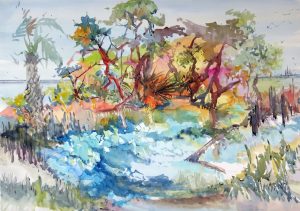 Her exaggerated sense of scale, vivid color and brush patterns transform our sense of place by connecting memory with a present moment. "To be a storyteller you have to know where the story begins and ends," says Wright of her work. "I open the door to the undisturbed beauty in nature to find reflections of the familiar and pull shape from confusion."
The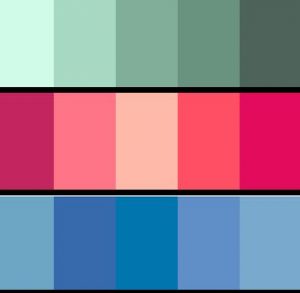 exhibition will be on view in the Frederick O. Watson Gallery.
The Southwest Florida Fine Craft Guild is the only area organization dedicated solely to fine crafts. Over the past 40 years, the Southwest Florida Fine Craft Guild has become a well-known dynamic and evolving organization of local artisans and craftspeople. Their members combine old world craftsmanship with contemporary techniques to produce unique works of art. The exhibition will be on view in the Elizabeth & William Barrick, Millicent &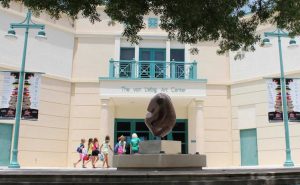 Charles Marshall and the Minnesota Lobby Galleries.
Both receptions take place from 5:30-7:30 p.m. Admission is free for members, with a $10 donation suggested for all others.
Both exhibitions run until May 19, 2018. The Naples Art Association is open from 10:00 a.m. to 4:00 p.m. Monday through Saturday.
______________________________________________
'Border(less)' on view in SBDAC Capital Gallery (04-12-18)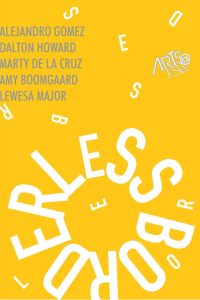 Border(less) is currently on view in the Capital Gallery on the second floor of the Sidney & Berne Davis Art Center in the downtown Fort Myers River District. The exhibition features work by Florida Southwestern State College art students taking part in a portfolio painting course and a conceptual art class and explores the broad notion of "Borders/Bordered/Borderless" in amplification of the suggestion of inclusion/exclusion, the contained and the contiguous, the native, the neighboring, and the nomadic would inspire a wide range of artistic responses to the theme. Amy Boomgaard, Joshann Burdick, Martha Delacruz, Peter Engdahl, Alejandro Gomez, Holly Hagan, Alyssa Hartford, Dalton Howard, Lewesa Major, Shannon O'Regan, Grant Syllaba, Jose Vanegas, and Barbara Ann Wikoff are the FSW student artists participating in the show, which was organized by Dana Roes at Florida Southwestern State College. The show closes April 24.
__________________________________________
'Art by Physicians' in SBDAC grand atrium (04-12-18)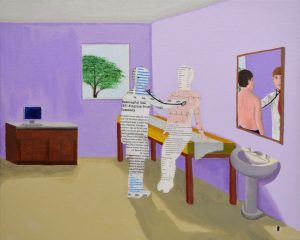 Art by Physicians is currently on view in the grand atrium of the Sidney & Berne Davis Art Center in the downtown Fort Myers River District. The exhibition features work by members of the Lee County Medical Society local physicians. The Sidney & Berne Davis Art Center is located at 2301 First Street in the heart of the downtown Fort Myers River District.
__________________________________________________________
Season-ending 'Summer Salon '18' on view at Watson MacRae (04-12-18)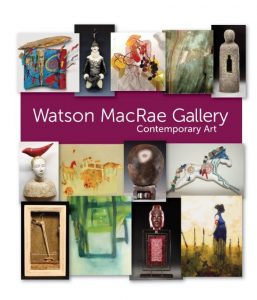 Summer Salon '18 is Watson MacRae Gallery's last exhibition of the season, and it's comprised of work by all the artists the gallery displayed during the season, which gives viewers one last chance to see work they may have missed – and several new pieces, as well. Watson MacRae Gallery is located in the Village Shops at 2340 Periwinkle Way. For more information, please telephone 239-472-3386.
__________________________________________________________
'Ali Clift: Light and Shadows on view at Naples Art Association (04-12-18)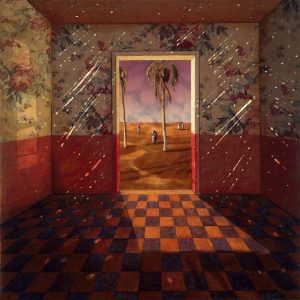 Ali Clift: Light and Shadows is on view in the Frederick O. Watson Gallery at the Naples Art Association. The retrospective of the artist's cloth paintings dating from the late 1970s to the present runs through April 18.
Throughout her artistic career, Clift has been fascinated by the challenge of creating an authentic sense of space through the illusion of fabric. As she continues to expand her creative process, each new body of work introduces distinct subjects and a notable change in an exploration of cloth as a medium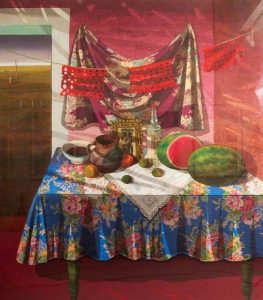 for painting. Some of her most recent works depict the beauty of nature in a surreal narrative manner. An ardent and engaged traveler, she shares, literally and figuratively, fragments of her experiences in new environments.
Clift's work is included in public collections in New England, New York, Canada, Israel, Vietnam and Bali. She resides in Naples and Chelsea, Massachusetts.
The exhibition is sponsored in part by the Florida Department of State, Division of Cultural Affairs and the Naples Daily News. The preview reception takes place 5:30 to 7:30 p.m.
_______________________________________________________________________________
47th Annual NAA Jade N. Riedel Scholarship exhibition on view at NAA through April 18 (04-12-18)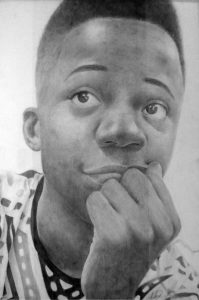 The 47th Annual Jade N. Riedel Scholarship exhibition is on view in the Elizabeth & William Barrick, Millicent & Charles Marshall and the Minnesota Lobby Galleries through April 18. The scholarship program began in 1971 when the Naples Art Association made a promise to encourage aspiring young artists to pursue their dreams and continue their art education at the college level. In 1997, the program was renamed in honor of Jade N. Riedel who served as the program chairperson and was its chief fundraiser for many years. Jade Riedel was an exceptional artist and a Naples Art Association instructor.
__________________________________________________________________________________
Exhibition of new work by six artists on view through June 1 at Naples' Thomas Riley Studio (04-12-18)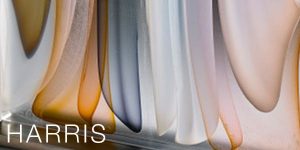 On view now through June 1 at Thomas Riley Studio in Naples is a group exhibition of new works by artists Matthew Shlian, Shizue Imae, Kim Keever, Josh Wojick, Jason Krugman and Jamie Harris. Thomas Riley Studio is located in the heart of the Naples Design District at 26 10th Street South, Naples, FL 34102. For more information, please telephone 239-529-2633.
_______________________________________________________________________
'X' marks the spot for Davis Art Center 10th anniversary June juried exhibition (04-11-18)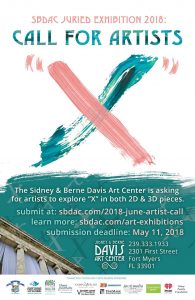 The Sidney & Berne Davis Art Center has issued a call to artists for its 2018 June juried exhibition. To honor its 10th anniversary season, SBDAC is inviting artists to interpret the symbol X as the theme for the show.
"Icons have power," states the exhibition prospectus. "They evoke memories, experiences, and information stored in the collective unconscious. Of these icons, the symbol X has many evocative meanings: X marks the spot. X speaks of intersections. X is numeric. X is the most controversial rating. X indicates elimination. X is where we sign. X is how we sign. X signals a choice made. X is a variable. X expresses the power of magnification. X is marked of an unknown identity."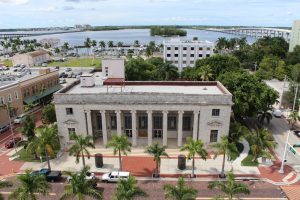 One thousand dollars in cash prizes will be awarded, as follows:
Overall Best in Show – Cash Prize in the amount of $500
People's Choice – Cash Prize in the amount of $250
SBDAC's Pick – Cash Prize in the amount of $250
The deadline for online submissions is May 11, 2018. You can access a submission form here.
______________________________________________________________________________
'Steve KEENE: 57 Miles or 455 Furlongs' one of artist's most ambitious projects to date (04-11-18)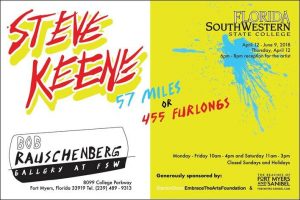 Opening April 12 at Florida SouthWestern State College is Steve KEENE: 57 Miles or 455 Furlongs, a newly commissioned, site-specific installation at the Bob Rauschenberg Gallery by the "World's Most Prolific Painter." Dubbed the "Assembly-Line Picasso" by Time magazine (when his work was featured in 1997) and having created more than 300,000 paintings over the last 35 years, Steve Keene (born 1957)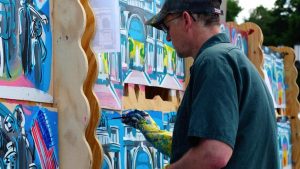 is a Yale University educated, Brooklyn-based artist who believes in mass-producing hand-painted artworks for the masses.
Like his exhibition The Miracle Half-Mile at the Santa Monica Museum of Art in 2000 (where Keene completed more than 10,000 pictures over the two-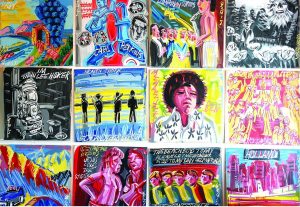 month run of the show), the internationally-acclaimed painter will be working on-site at the Bob Rauschenberg Gallery for two-weeks prior to his 6:00-8:00 p.m. public opening and reception on Thursday, April 12. Inspired by Rauschenberg's self-contained retrospective The ¼ Mile or 2 Furlong Piece (which was world-premiered in three-sections at the Bob Rauschenberg Gallery from 1983-86),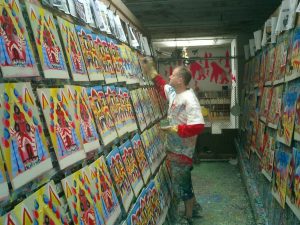 Keene estimates that his exhaustive output since the 1990's (if paintings were placed side-by-side) would extend more than 57 miles (or 455 furlongs) in length.
You can read the rest of this announcement here.
______________________________________________________
'Line and Shape' on view at Center for Visual Arts Bonita (04-11-18)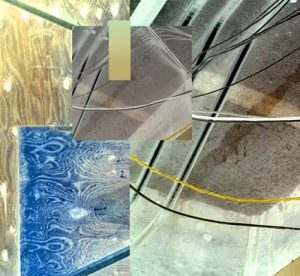 Line and Shape opens in the main gallery of the Center for Visual Arts Bonita Springs on Friday, April 6 with a 6:00-8:00 p.m. reception that is being held in conjunction with CFABS' Empty Bowls fundraising event.
Line and shape are two basic building blocks of any great artwork, as the artists who've been juried into this exhibition demonstrate. Their work creates a sense of depth that guides the eye through their compositions. This is a judged show, with work being evaluated based on the strength and effectiveness of these two compositional elements.
The Center for Visual Arts is located at 26100 Old 41 Rd. For more information, please telephone 239-495-8989.
______________________________________________________________
Ehren Fritz Gerhard solo show on view in CFABS Tranovich Gallery (04-11-18)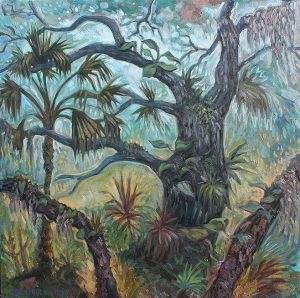 A solo show of work by Ehren Fritz Gerhard is on view now in the Tranovich Gallery at the Center for Visual Arts Bonita Springs. Gerhard is an Adjunct Professor of Art at Florida Gulf Coast University as well as the Art Exhibitions Director for the Centers for the Arts Bonita Springs and Director of the nationally ranked Bonita Springs National Art Festivals.
After earning his Bachelor of Arts, Gerhard worked a series of environmentally-related jobs before marrying and moving with his bride to a small town in Spain, where he taught English, got to be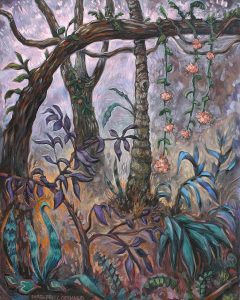 an extra in a movie, had a solo show of his paintings and made a lot of connections. Then he moved back to the United States and enrolled at Arizona State University, where he obtained his Master of Arts in 2013.
"During this time, I apprenticed, curated a couple of shows and made even more contacts," he reports. He also continued to work on his own artwork.
Gerhard's media include painting, graphite, printmaking and ceramic sculpture.
"Working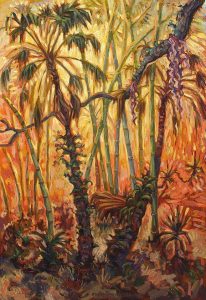 in Arizona was totally different," Ehren laughs. "Here and in Spain, my palette included lots of greens and blues. There, it was mostly browns and terra cottas."
From the time he was a small child, Ehren moved around a lot.
"I grew up in small towns and my family moved across the country multiple times," he confides. "I see new places as exciting opportunities to discover more about unique cultures, histories and natural ecosystems. When I stop, look and enjoy my surroundings, I feel privileged to see the world as a magical place."
He translates the magical places he visits into whimsical landscapes that he describes as "wild, crazy, goofy,
intense as possible, playful and psychedelic." But he hastens to add that he doesn't merely paint what he sees. Inspired by contemporary trends in art, his landscapes are a synthesis or amalgamation of a given spot or locale as viewed from differing perspectives. Working somewhere between scientific observation and romantic idealism, he creates a living image that breathes and moves.
Traditional landscape painting portrays the subject from a fixed point of view. Gerhard's contribution to the motif is to depict his subject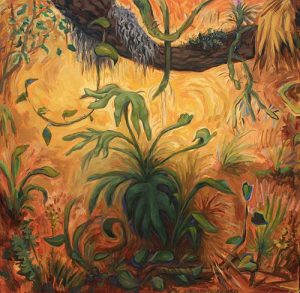 within the frame from multiple spots along the time/space continuum.
"This gives me the ability to move things around rather than paint from a single point," Ehren explains. Of course, this shifting perspective presents myriad challenges and opportunities, like looking up at the sky and down at your feet at exactly the same moment.
Gerhard's overarching goal is not to create just a panorama as captured by a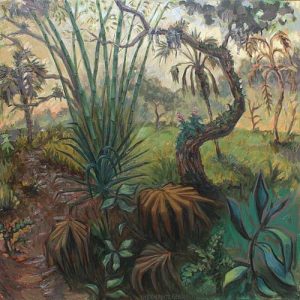 point-and-shoot camera, but an entire visual experience that expresses his emotional reaction to a place that can be experienced on some level by his viewers. That experience will change, however, as the viewer moves toward the canvas or away from it because of the multiple layers of impasto and glazes that he employs.
"There is something of an impressionist cast to what I do," he admits, and that includes his current practice of painting almost exclusively en plein air.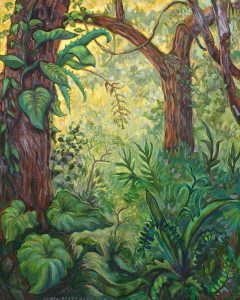 "I used to take photographs and then go back into the studio, but there are too many things you don't notice if you're just passing through a place," he adds, sharing the benefit of the wisdom he amassed moving and travelling from place to place throughout his life. "Those things only reveal themselves if you're willing to stand on that site, look deep, and study what you see."
As a result, his imagery depicts an intense encounter with time and place. "It's the feeling I get while crunching through leaves and branches listening to the air whistle through my nostrils. I can step on a snake, stumble upon a wild boar or end up with a spider web all over my face."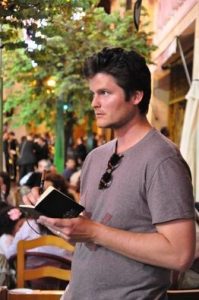 Because of his patience, tenacity and willingness to think outside the traditional paint box, Gerhard is able to channel energy, emotion and joy into works that bend, twist and model the representational structure to which we are all accustomed in ways that pull viewers in, make them want to stay and play around awhile so they can see, explore and appreciate the multiple levels of imagery and activity that he so meticulously presents.
The Center for Visual Arts is located at 26100 Old 41 Rd. For more information, please telephone 239-495-8989.
_______________________________________________________________________
UNIT A selling early Jansen works on paper to celebrate artist's 30-year career (04-11-18)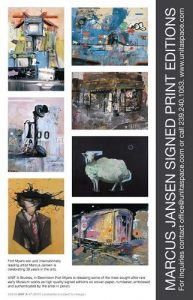 For Marcus Jansen's upcoming 50th birthday and to celebrate his 30 years in the arts, UNIT A is selling eight early Jansen works, signed, embossed and authenticated by Jansen in limited editions of just 95 prints. Six of these eight works are included in Marcus Jansen DECADE by Skira Editore, Milan.
The release date for the prints is April 15, 2018. If you wish to secure one or more prints for your private collection, please contact the gallery at 239-240-1053 or by emailing unitaspaceinfo@gmail.com.
_________________________________________________________________
Museum Zitadelle in Berlin exhibits privately-owned Jansen paintings (04-11-18)

The Museum Zitadelle in Berlin Spandau hosted the first ever Marcus Jansen museum survey in Germany to celebrate the 30th anniversary of the artist's career in the arts as well as his 50th birthday. Titled Marcus Jansen – New Horizons, Mit den Waffen der Malerei, the exhibition was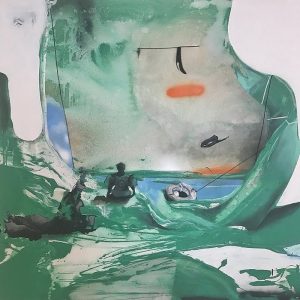 hosted in collaboration with the international work group of "Curatorial Partners".
Curated by Elmar Zorn and Cordula Gielen, the exhibition included more than 65 works spanning a 10 year period. Many of these are privately-owned paintings that were loaned to the museum for the show and, hence, no longer in the public domain. And that is one factor that Lindinger & Schmid's KUNSTZEITUNG considered when it chose the show as one of the top ten exhibitions to see in all of Germany.
Jansen's next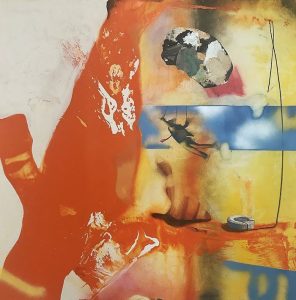 museum exhibition is being held at the Baker Museum in Naples in 2019.
Jansen's work can be found in the Moscow Museum of Modern Art (MMOMA), The New Britain Museum of American Art, The PERMM Museum of Contemporary Art, Ulyanovsk Museum of Fine Art, Kemper Museum of Contemporary Art, The National Taiwan Museum of Fine Art, the Housatonic Museum of Art and the Smithsonian Institution in Washington DC, as well as numerous private collections throughout the United States, South America, Europe and Asia.
________________________________________________
SoCo Second Saturday Art Crawl returns April 14 (04-10-18)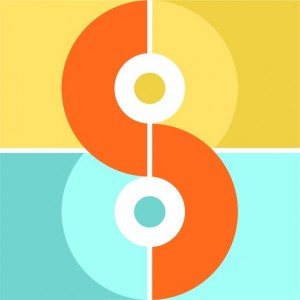 The next SoCo Second Saturday art event takes place April 14. The event continues to grow, with more cultural venues, new vendors and a redesigned map that includes all of the night's attractions and the details on how to win a great prize from one of the participating SoCo stops. (To qualify for the prize, simply visit each of the SoCo Second Saturday venues and get a Golden Ticket at each location. The winner will be announced one week after the event.)
This month's participating SoCo cultural venues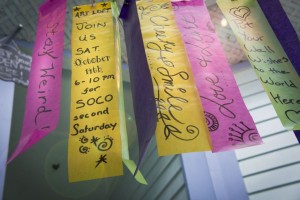 are:
Alliance for the Arts

DAAS CO-OP Art Gallery & Gifts

Ocasiocasa

The Union Artist Studios and the CRAFTED Shop

A Swedish Affair

Broadway Palm Dinner Theater

Suzanne's Dance Fitness

Studio Os Urbanos

City of Palms Studio
DM Paper Designs
The event starts at 6:00 p.m. and ends at 10:00 p.m., rain or shine.
The SoCo Cultural District location encompasses the block south of Colonial Blvd., from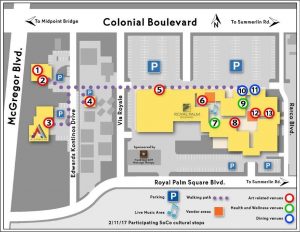 the corner of McGregor Blvd. to Summerlin Rd., to Royal Palm Square Blvd. and back to McGregor Blvd. More information about the event and vendor opportunity information is available at socoswfl.com.
_____________________________________________________________
DAAS showcasing whimsical work by Paul Adamick during April (04-10-18)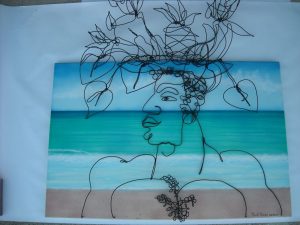 DAAS CO-OP Art Gallery is showcasing work by guest artist Paul Adamick during the month of April. The exhibition encompasses a collection of whimsical works in mixed media compositions in the artist's well-known style.
"I am a very whimsical mixed media artist and I truly believe it is because I taught elementary art for 41 years," states Adamick, who uses everything from wire, glass, ceramics, wood and other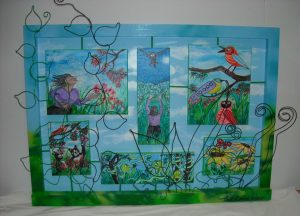 elements to create his art pieces. "[I taught] twelve in Chicago and 29 here at Caloosa Elementary, before I retired almost 3 years ago and now teach painting to adults as well as kids at The Cape Coral Arts Studio."
Adamick has experimented with multiple mediums throughout his career. "I started out as an airbrush artist,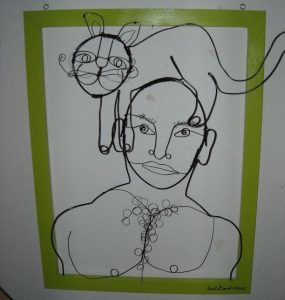 and taught this [at school]," Paul explains. "I then got into bending wire, which I combined with my airbrushed paintings. Now, I create fused glass and Raku clay works."
The opening reception for the exhibition coincides with the SoCo Second Saturday Art Crawl, which is held at the SoCo Cultural District (Alliance for the Arts and Royal Palm Square block) on Saturday, April 14, 2018 from 6:00 to 10:00 p.m.
For more information about the gallery, please visit daascoop.com or call 239-590-8645. DAAS CO-OP Art Gallery is conveniently located in the Royal Palm Square at 1400 Colonial Blvd STE 84 in Fort Myers, FL. Business hours are Tuesday to Saturday from 10:00 a.m. to 6:00 p.m.
__________________________________________________________________________________
Naples Artcrafters hosts season-ending fine art and craft show in Cambier Park on April 14 (04-10-18)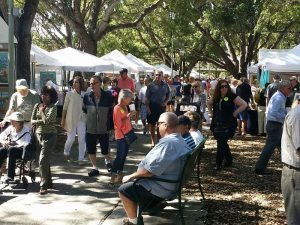 On Saturday, April 14, Naples Artcrafters will host an exciting juried fine art and craft show in beautiful Cambier Park in downtown Naples. The event features incredibly diverse and talented local artists who will share paintings, photography, glass art, jewelry and metal work, as well as handcrafted sculptures, basketry, pottery and much more. Both admission and parking are free. The show runs from 10 a.m. to 4 p.m. and can be found behind Starbucks, one block south of Fifth
Avenue South. Naples Artcrafters is committed to promoting excellence in arts and crafts and to supporting established artists, craftspersons and students by providing a venue for the display and sale of their work in a beautiful setting.
_____________________________________________
Crayton Cove's 'Art After Dark' is also April 14 (04-10-18)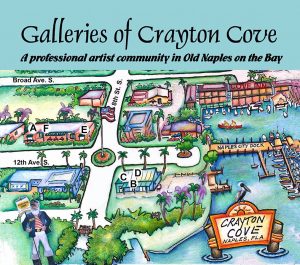 Crayton Cove's season-ending Art After Dark takes place from 6 to 9 p.m. on Saturday, April 14. Five galleries representing some of Naples' best artists take part in the event, vis: Phil Fisher Gallery, Pure Design, Random Acts of Art, Naples Ships Store and Guess-Fisher Gallery. There is also live music from Jeff Fessenden & Alchemy to enjoy.
The Galleries of Crayton Cove is a professional artist community in Old Naples on the Bay, all within a one-block walk, where 8th St. S. & 12th Ave. S. meet at the flagpole by the Naples City Docks.
____________________________________
Lady from Haiti announces closing (04-10-18)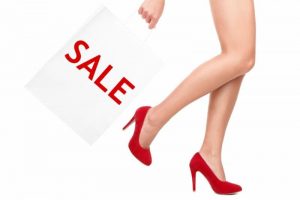 Naples Fifth Avenue South is losing a longstanding art gallery and boutique. The Lady from Haiti will close its doors on April 30 "due to an unsatisfactory knee replacement three years ago," cites owner Melody Bales. Between now and then, all art and other merchandise is being liquidated at 50 percent off the listed price.
___________________________________________________________________
Paintings by Paul Arsenault at Ave Maria University in 'Heritage & Harvest' exhibit (04-10-18)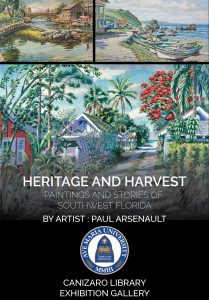 Heritage & Harvest is on exhibit now through June 24 in the Canizaro Gallery at Ave Maria University. The show includes paintings and stories of Southwest Florida rendered by Naples artist Paul Arsenault.
Over the 44 years Paul Arsenault has devoted to painting in Collier, Lee, and Hendry Counties, he has recorded places and events that visually tell a story of the region's prehistory and history. The painted stories in this exhibition include the thousand-year-old era of the Calusa Indians, but mainly concentrate on Southwest Florida's evolution over the last 150 years from a raw wilderness inhabited by Seminole Indians and extremely hardy pioneers into a manicured metropolis of international renown.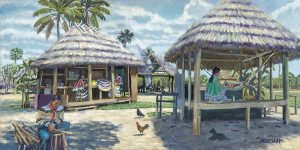 Heritage & Harvest depicts not only the bountiful natural resources that attracted and helped sustain early Native Americans and 19th-century settlers, but also the architectural expressions of that bounty, including early homes, stores, and schools, and particularly the waterfronts. The exhibit ranges geographically from the Everglades to Naples to Boca Grande and Pine Island Sound and inland to Immokalee, LaBelle, and the Big Cypress Seminole Indian Reservation.
For more information and directions, please call 239-263-1214.
_____________________________________________________
Recap of 8th Annual Fort Myers Film Festival coverage (04-09-18)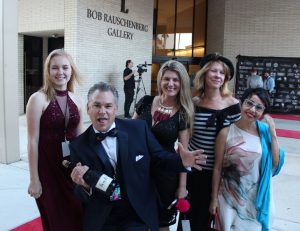 The 8th Annual Fort Myers Film Festival came to a close on Sunday, March 25 with a champagne and dessert awards ceremony, with winner being announced in seven categories. However, each of the more than 80 films juried into the festival is meritorious of consideration and comment. With apologies to those films not reviewed or otherwise mentioned, the following is a recap of the 54 posts appearing on Art Southwest Florida prior, during and following this year's Fort Myers Film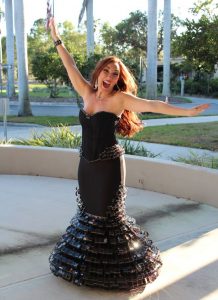 Festival:
_______________________________________________________________________________
'Daddy Issues' wins Best Feature at 8th Annual Fort Myers Film Festival (04-09-18)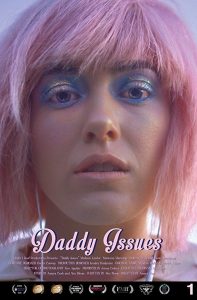 The 8th Annual Fort Myers Film Festival chose Daddy Issues as its Best Feature Film. Written and produced by Alex Bloom and directed by Amara Cash, the film chronicles a beautifully gut-wrenching love triangle involving a 19-year-old queer pixie, a sexually-fluid vixen and an emotionally unstable sugar daddy.
For six years, Jasmine Jones has been involved with surgeon Simon Craw. In appreciation for the scenic West Hollywood apartment in which the good doctor keeps her and the generous allowance of $5,000 per month he provides for food, clothing and sundries, Jasmine enthusiastically satisfies the good doctor's every carnal wish and desire, which includes spankings when she arrives late for their rendezvouses and dressing as an innocent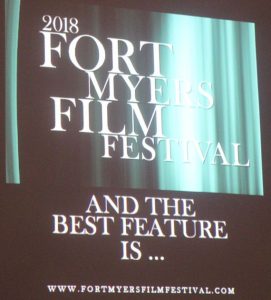 plaid-skirted school girl. However, the physician is not Jasmine's only sexual partner. As the story begins, she also enters into a relationship with a sexually-inexperienced 19-year-old pixie by the name of Maya Mitchell who falls hard for Jasmine and her wild, worldly ways.
In her euphoria following her first time with Jasmine, Maya steps off a curb into the path of a car. Miraculously, the driver avoids running her over. As fate would have it, the man behind the wheel turns out to be her estranged father whom she hasn't seen since her mother kicked him out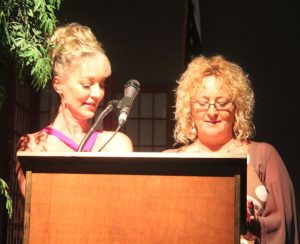 after catching him with young girls (or call girls willing to play the part). Yes, you guessed it, Maya's dad turns out to be Jasmine's sugar daddy, and the balance of the film follows their machinations as the girls work out their relationship with each other and Dr. Daddy.
Besides an intriguing storyline and marvelous character development, Daddy Issues is denoted by beautiful cinematography and exceptional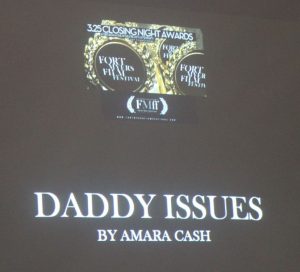 acting.
Madison Lawlor plays Maya Mitchell. Lawlor's resume also includes Until Forever (2016), Close Range (2015) and Franklin & Bash (2011). Montana Manning is Jasmine Jones. An actor and director, Manning's credits include Harry Potter and the Goblet of Fire (2005) and Hollyoaks (1995). Dr. Craw is played by Andrew Pifko, whose recent screen credits include the 2017 season premiere of Criminal Minds, College Humor's Fatal Decision, NCIS:LA,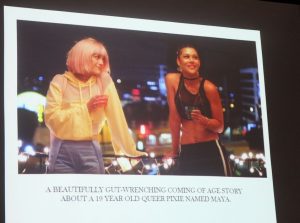 Children's Hospital, The Big C, ANT Farm, The Mentalist and as a notably darker Walt Disney in Screen Junkies, Roast of Beauty and the Beast. His theater credits include the L.A. premiere of Sarah Ruhl's In The Next Room, Banquo in Macbeth (Roust – NYC), Mercutio in Romeo & Juliet (Resurgence – Toronto), I Love You, You're Perfect…Now Change (Follows/Latimer –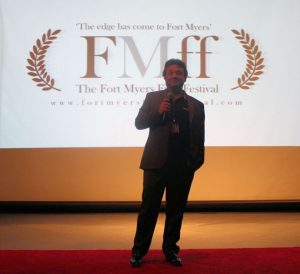 Toronto), LOL (Algonquin – NYC) and had the career privilege of being hired by Marvin Hamlisch to workshop the musical of Sweet Smell of Success.
It's small wonder that following the screening one FMff viewer told writer/Executive Produced Alex Bloom, "It's one of the best films I've seen in my entire life; just outstanding!"
You will find the rest of this story here.
______________________________________________________________________________
Fay Ellen Graetz seeking 'Affirmation' with April 16 staged reading (04-09-18)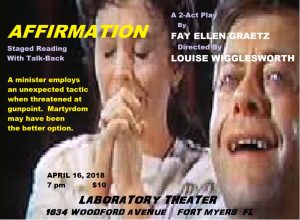 The Laboratory Theater of Florida is holding a staged reading on April 16 of Fay Ellen Graetz's new play, Affirmation.
Graetz has always appreciated a good story and began writing them in letters to family and friends while living abroad. She found she has a knack and preference for dialogue, which led her to playwriting. Her "lofty goal" is to write drama that combines entertainment with intellectual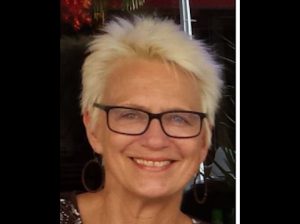 challenge.
Affirmation revolves around a pastor who put to the test when he survives a shooting rampage in his church office. Was he wrong to use reason as a survival tactic? Should he have relied on God to choose his fate? With Reverend Simmons' faith and logic now being scrutinized by the church and the media, martyrdom may have been the better option.
______________________________________________________________________________
Alliance Youth Theatre's 'Freckleface Strawberry' hands the stage to 3rd to 8th graders (04-08-18)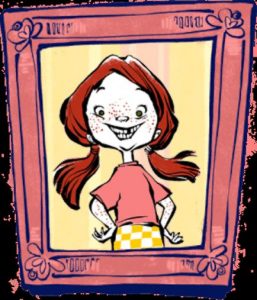 The Alliance Youth Theatre and its intrepid director, Carmen Crussard, presents Freckleface Strawberry by Julianne Moore April 13-15 with a cast restricted to students in third through eighth grades.
Freckleface Strawberry will do anything to get rid of her freckles – from scrubbing them with soap to caking on makeup. She'll even wear a ski mask to school to cover them up! Will her schoolmates realize that it's her under the mask? Will Freckleface be brave enough to finally face her complexion in the mirror? With the help of her loveable schoolmates, including an amazingly talented ballerina, a cutie jock,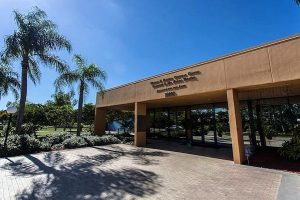 a charming ditz and a totally kooky teacher, Freckleface learns that everyone is different – and that's what makes everyone special.
There are just four shows, with 8:00 p.m. performances on Friday, April 13 and Saturday, April 14 and 2:00 p.m. matinees on Saturday, April 14 and Sunday April 15. Tickets are $10 presale, $20 for adults and $15 for students and seniors.
The show takes place in the Foulds Theatre at the Alliance for the Arts, which is located at 10091 McGregor Boulevard (just south of where Colonial empties into McGregor) in Fort Myers. For more information or purchase tickets, please telephone 239-939-2787.
__________________________________________________________________________
Alliance Youth Theatre's 'Spamalot' takes to the Foulds Theatre stage April 20-22 (04-08-18)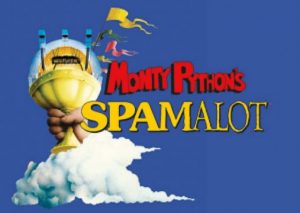 The Alliance Youth Theatre and its intrepid director, Carmen Crussard, presents Spamalot School Edition by Eric Idle and John Du Prez April 20-22 with a cast comprised solely of students 13 and older.
The setting is England in 932 A.D. The kingdom has been divided. To the west are the Anglo-Saxons; to the east, the French. Above is nothing but Celts and some people from Scotland. In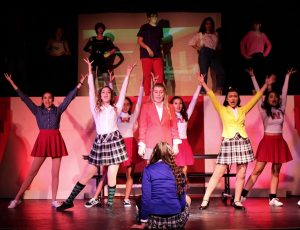 Gwynned, Powys, and Dyfed – plague. In the kingdoms of Wessex, Sussex, Essex and Kent – plague. In Mercia and the two Anglias – plague as well. With a 50% chance of pestilence and famine coming out of the Northeast at twelve miles per hour, legend tells us of an extraordinary leader who arose from the chaos to unite a troubled kingdom – a man with a vision who gathered Knights together in a Holy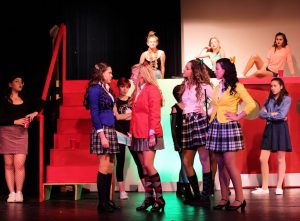 Quest. This man was Arthur, King of the Britons. For this was England!
There are just four shows, with 8:00 p.m. performances on Friday, April 20 and Saturday, April 21, and 2:00 p.m. matinees on Saturday, April 21 and Sunday, April 22. Tickets are $10 presale, $20 for adults and $15 for students and seniors.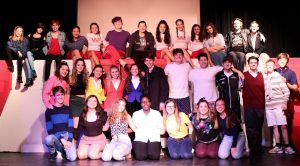 The show takes place in the Foulds Theatre at the Alliance for the Arts, which is located at 10091 McGregor Boulevard (just south of where Colonial empties into McGregor) in Fort Myers. For more information or purchase tickets, please telephone 239-939-2787.
___________________________________________________________________________
Church Basement Ladies – and their men – at Off Broadway Palm through April 29 (04-08-18)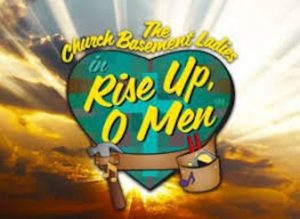 What happens when you let not one, but four roosters in a Norwegian Minnesota hen house? Well, you can find out at Broadway Palm Dinner Theatre in Rise Up, O Men. The sixth helping from the Church Basement Ladies series, this brand new musical comedy features a handful of the men of East Cornucopia Lutheran Church. It's in the Off-Broadway Palm through April 29.
You will find the rest of this announcement here.
Read here for play dates, times and ticket information.
____________________________________________________________________________
Ten new 10-minute plays to premiere at Bonita's 'Stage It! 2 10-Minute Play Festival' (04-08-18)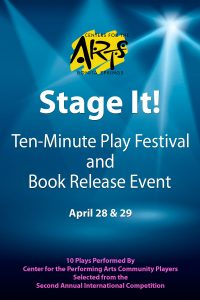 The Center for Performing Arts of Bonita Springs has announced the line up for its Stage It! 2 Ten-Minute Play Festival which takes place at 8:00 p.m. on Saturday, April 28, and 2:00 p.m. on Sunday, April 29 in the Moe Auditorium & Film Center. Ten plays will premiere at the two-day event, which also includes a Book Release Party to celebrate the publication of all the winners.
A total of 206 plays were received from around the nation, New Zealand, Australia, Canada and England. Each play was critiqued by two of 21 judges from across the country and Canada. The judging panel included playwrights, directors, screenwriters, professional actors and editors from New York, Los Angeles, Atlanta, Toronto, Chicago, Boston, New Orleans, Jacksonville and Naples.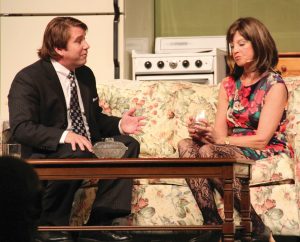 Thirty plays were selected for publication in the STAGE IT! 2 Ten-Minute Plays book that will be released on the opening night of the Festival.  Ten of the plays will be performed over the two days by CFABS community theatre performers, and an "Audience Favorite" will be selected by the patrons attending.
These are the ten plays that will be performed during the festival:
You'll find these plays and the rest of this announcement here.
________________________________________________________________
'Your Florida Fantasy' takes to the stage at FGCU TheatreLab in April (04-08-18)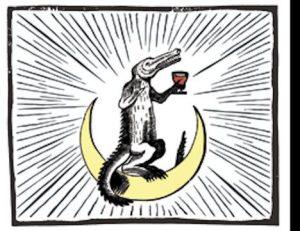 Opening April 13 at the FGCU TheatreLab is Your Florida Fantasy by Zachary Michael Jack with direction by Barry Cavin.
The story revolves around genius college student Matthew Mullenberg, the "Mark Zuckerberg of Kalamazoo, Michigan," and his red-hot Internet start-up YourFloridaFantasy.com. For weeks, the "Matt-man" and his not-so-crack staff—Jerry, Penny, and Ariel—have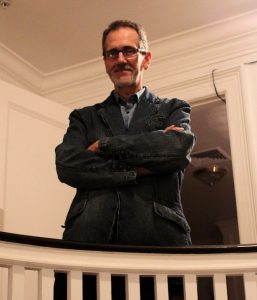 burned the midnight oil cooking up the perfect beta version of a real-life fantasy set on a Southwest Florida barrier island for the mysterious Client X. Once booked into Rusty's Castaway Cabins, the employees of YourFloridaFantasy find themselves playing unexpected roles in the romantic drama their storyboard set in motion, and true love just won't stay on script!
Ushered into island life by their inimitable senior citizen innkeeper Rusty Hinge, forced to walk the plank by Rusty's red-hot flame, Ally Monet, and sent on a wild goose chase by the slippery and salty Lee High Acres, the whiz kids behind YourFloridaFantasy.com must find their love lights in a sea of outrageous comedy. Add a prodigiously endowed pirate, a punctual saltwater croc, a vertiginous rodeo queen from Punta Gorda via Punta Rassa, a life-sized Hug-a-hunk-a-love-bear, a peculiarly picky pickpocket, and a precipitous big blow bearing down on Rusty's fantasy island beyond Pine Island Sound, and this homegrown romp of a rom-com blossoms into a farcical, tropical tour de force.
There will be only seven performances of Your Florida Fantasy – four at 7:30 p.m. on April 13, 14, 20 & 21, with three 2:00 p.m. matinees on April 15, 21 & 22. There will be a discussion with the cast and crew following the April 21 matinee performance.
Tickets are $10 for the general public and $7 for students. All seats are general admission.
___________________________________________________________________________
PlayLab Festival winner 'George Washington's Teeth' opens at Florida Rep April 27 (04-08-18)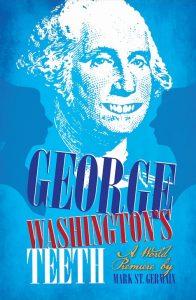 Florida Repertory Theatre continues its 20th anniversary season with the world premiere production of Mark St. Germain's George Washington's Teeth, which was chosen from the company's 4th Annual PlayLab Festival held last year.
George Washington's Teeth is a hilarious comedy that follows the exploits of the women of the beleaguered New Bunion Historical Society as they battle the male-dominated city council to keep their doors open. With time running out to renew their lease, the ladies must find creative ways to snare new members and lure visitors to their sleepy New England town. When a set of George Washington's dentures turns up in the hands of an unexpected rival, the ladies of the Society brace themselves for all-out war.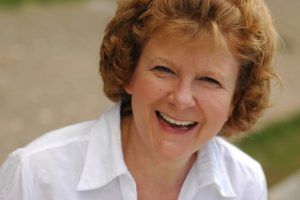 Heartfelt and historic, this new farce proves that our differences don't divide us, they make us strong.
Florida Rep audiences will recognize St. Germain from previous hits, Camping with Henry and Tom, which opened the then newly-renovated ArtStage Studio Theatre in 2012, and last fall's Best of Enemies. An accomplished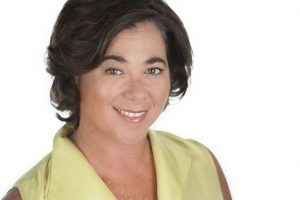 playwright and screenwriter, his work also includes the Off Broadway sensation Freud's Last Session as well as last year's Relativity in Hartford, Connecticut starring Richard Dreyfuss as Albert Einstein. Other works include Dancing Lessons, Becoming Dr. Ruth, and a number of musicals, television credits, and screenplays.
St.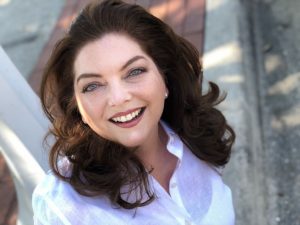 Germain joined Florida Rep earlier this year for a developmental workshop before the play began rehearsals in March.
"My first visit to [Florida Rep] was very impressive," St. Germain said of his experience in the 2017 PlayLab. "The audience is smart and excited. The Staff couldn't have been more helpful and the company was very talented. What's not to like?"
George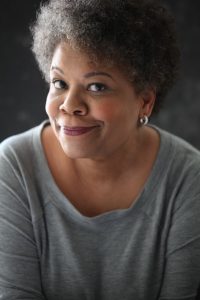 Washington's Teeth features a cast of five women – something rare in the canon of American plays, and that was by design.
"Once you grow past the ingenue stage, it is progressively more difficult to get a good role as an actress," St. Germain said. "It's only because the opportunities aren't always there – how many plays can you think of with an all-male cast, then count how many plays are made up of all women? I wanted to do a play where women from all ages powered the play."
Florida Rep ensemble members Viki Boyle (The Miracle Worker) and Carrie Lund (How the Other Half Loves) return to the Florida Rep stage for the farce.
They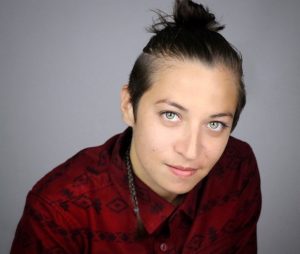 are joined by familiar guest artist Liz Abbott (Veronica's Room), as well as award-winning TV and theatre veteran Patricia R. Floyd (Florida Rep debut), and Carbonell Award nominee Jackie Rivera (Florida Rep debut).
New York-based award-winning filmmaker and international theatre veteran, Abigail Zealey Bess, directs the production and comes to Florida Rep after numerous projects at Ensemble Studio Theatre, SoHo Repertory Theatre,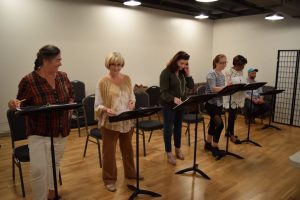 Cherry Lane Theatre, Playwrights Horizons, Edinburgh Festival, Young Vic, and Strand Theatre, London.
Bess is joined by ensemble set designer Jim Hunter (The Miracle Worker), costume designer Alice Neff (The Last Night of Ballyhoo), lighting designer Annmarie Duggan (Florida Rep debut), sound designer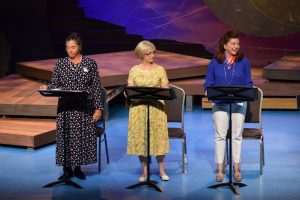 John Kiselica (Cabaret), and production stage manager Amy L. Massari (Night and Day).
George Washington's Teeth is the fourth world premiere to come out of Florida Rep's PlayLab Festival. The others are Doublewide by Stephen Spotswood (2017; NNPN Rolling World Premiere), Split in Three by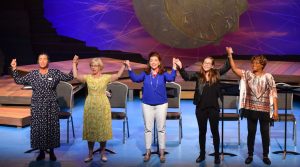 Daryl Lisa Fazio (2015), and the regional premiere of The Dingdong by Mark Shanahan (2016) – all of which have had subsequent productions since their runs at Florida Rep. The PlayLab has produced twenty new play readings, and is responsible for commissioning and premiering two works for young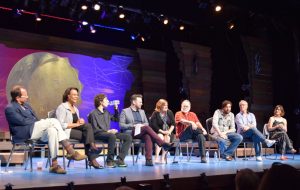 audiences by Christopher Parks, Journey to Oz and A Dream Within a Dream: The Spirit of Poe.
Florida Repertory Theatre is a proud Associate Member of the National New Play Network (NNPN) in Washington, D.C., the country's alliance of non-profit theaters that champions the development, production,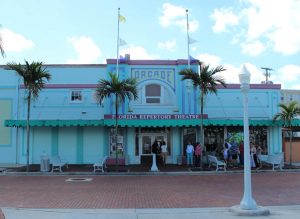 and continued life of new plays. Many of the plays submitted to the 2017 PlayLab Festival, were chosen from a call for submissions from NNPN member and alumni playwrights. Florida Rep is actively seeking partnerships with other NNPN affiliated theatres to produce this new play as part of the NNPN Rolling World Premiere program.
George Washington's Teeth plays in the Historic Arcade Theatre April 27 to May 13, 2018, with four discounted previews April 24-26. Regular performances are Tuesday-Thursday at 7:00 p.m., Friday &Saturday at 8:00 p.m. and 2:00 p.m. matinees on Thursday, Sunday and select Saturdays. Priced at $55/$45 for regular performances and $35/$25 for previews, tickets are available at www.FloridaRep.org and through the box office at 239-332-4488.
____________________________________________________________________________
Ghostbird to produce Samuel Beckett's 'Catastrophe' as free piece of guerilla theater (04-08-18)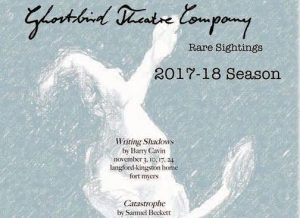 Ghostbird Theatre Company will end its sixth season by producing Samuel Beckett's Catastrophe as a free piece of guerilla theater on May 4. The exact location and time, however, will not be disclosed until the last minute. So be alert lest you miss this extraordinary theatrical event.
The play involves a limited cast consisting of an actor (the protagonist), who stands motionless on a plinth,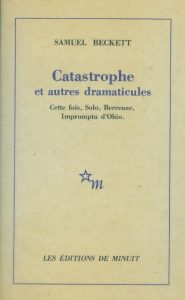 and a director, his female assistant and a lighting tech, who mold the abject thespian's stance, posture and costume to fit their own personal vision and predilections. Ghostbird describes Catastrophe as a comedy "about directing, or more accurately, a play about directorial hell."
One of Samuel Beckett's more overtly political works, the play can also be viewed as an allegory on the power of totalitarianism and the struggle to oppose it – with the protagonist metaphorically representing oppressed people worldwide who are ruled by dictators and autocrats and used as mere pawns in the advancement of their personal, socio-economic and political agendas. In fact, Beckett dedicated the Catastrophe to a Czech playwright by the name of Vaclev Havel, who was imprisoned several times for his dissident political views (with the longest occurring from May of 1979 to February of 1983).
For more, read the rest of this advance here.
__________________________________________________________________________________
Lab's 'Visiting Mr. Green' cannily crafted dramedy about family, friendship and forgiveness (04-08-18)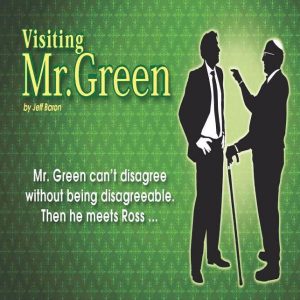 Opening April 13 at the Laboratory Theater of Florida is Visiting Mr. Green.
The story follows two men thrown together under the oddest of circumstances. Having almost hit 86-year-old widower Mr. Green with his car, Ross Gardiner is charged with reckless driving. He must now complete a form of community service and visit Mr. Green every week for the next six months. At first, both men resent these forced visits, but soon their conversations reveal family secrets and past hardships in need of being brought into the light of day. A story of acceptance and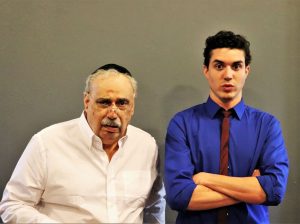 open-mindedness, replete with charm and poignancy quickly develops.
Local favorite Michael Hennessey (The Best Man) plays Mr. Green.
The rest of this announcement is here.
RELATED POSTS.
__________________________________________
A look at Lab Theater's 2018-2019 season (04-08-18)
Lab Theater's 2018-2019 season will include the following shows:
Hush Up, Sweet Charlotte – June 1-July 1
If you loved last season's Whatever Happened to Baby Jane, you'll love this campy parody of the movie Hush, Hush, Sweet Charlotte! We journey to a plantation in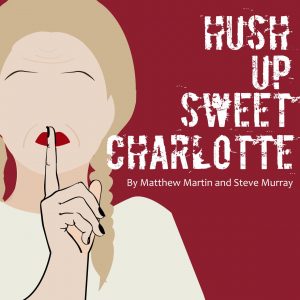 the Old South and meet Charlotte Hollis, a southern belle whose only companion is her maid. She has been shunned by her community since the long-ago mysterious murder of her lover. Now the family home is about to be torn down, so she calls upon her cousin, Miriam, for help. It's sure to be a drag-tastic time with these divas! Laughter is the only way to make sense of it all.
Written by Matthew Martin and Steve Murray, this tour de force of great gay camp acting is directed by Lab Theater Artistic Director Annette Trossbach, with 8:00 p.m. performances on June 1,2, 8, 9, 15, 16, 22, 23, 29 and 30 and 2:00 p.m. matinees on June 10, 17 and 24 as well as July 1.
Evil Dead, The Musical (High School Version) – July 19-22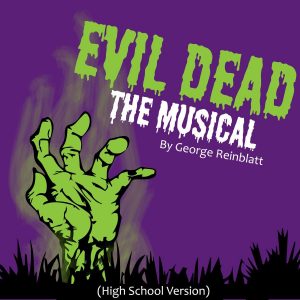 What do you get when you combine cult classic zombie movies with stereotypical teen movies and put it all to music? You get this crazy, cheesy, hilarious, fun-filled show that appeals to horror and non-horror fans alike! Get ready for blood, chainsaws, limbs, and demons…along with laughter and singing! "If you think Sweeney Todd is for sissies, you need to see this show!" NYTheater.com. "Bloody Awesome!" The Globe and Mail.
Evil Dead, The Musical is written by George Reinblatt and is an Education Camp Teen Show. Performances are at 8:00 p.m. on July 19, 20 and 21, with two 2:00 p.m. matinees on July 21 and 22, 2018.
It's Only A Play – August 3-26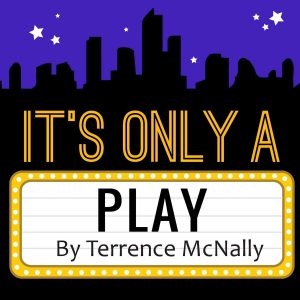 Set in the townhome of a Broadway producer, we meet the team behind The Golden Egg as they are waiting for their opening night reviews. There's the producer herself, the terrified playwright, his best friend, the has-been female lead, the British director,, and a theater critic (wait, why is he there?). Filled with one-liners about the entertainment world that will make you laugh and cringe, this show will remind you that there truly is no business like show business!
Written by Terrence McNally and directed by Scott Carpenter, the Southwest Florida premiere of this razor-toothed parody (Hollywood Reporter) will be performed at 8:00 p.m. on August 3, 4, 10, 11, 17, 18, 24 and 25, with three 2:00 p.m. matinees on August 12, 19 and 26.
Anna In The Tropics – September 14-30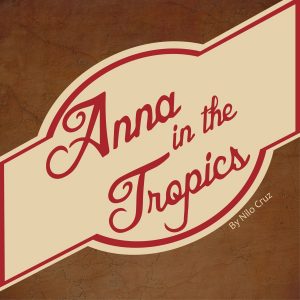 Picture it: Ybor City, Tampa in 1929. Its hot and humid inside a small cigar factory. Workers are hand-rolling tobacco leaves, while a lector reads anything from newspapers to poetry to novels to entertain them. But when the new hire reads from the novel Anna Karenina , it sets in motion the major events of the story. Themes in this Pulitzer Prize-winning play range from love, lust and infidelity to violence and debt. And they turn the lives of these Cuban-American families into the very story to which they've been listening. "The passions of love and lust are delicately observed….The characters are sympathetic and true," says TheaterMania.com.
Directed by Artistic Director Annette Trossbach and celebrating Hispanic Heritage Month, performances are 8:00 p.m. on September 14, 15, 20, 21, 22, 27, 28 and 29, with 2:00 p.m. matinee performances on September 23, 29 and 3 and a special preview performance at 8:00 p.m. on September 13.
Hand To God October 19-November 4 Sponsored By Art Zupko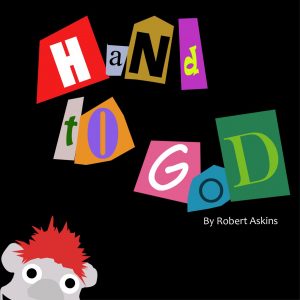 Admit it. You've had certain…impulses, right? Ones you've thought about, but would never actually say out loud or act upon? It's human nature. And that darkest human nature is exposed when a Texas church youth-group assignment to create original hand puppets goes strangely awry. Chosen the Best New Play in 2014 by Off-Broadway Alliance, Hand to God is described as "darkly delightful … filthy hilarity" by The New York Times and "ribald and wickedly funny … Sesame Street meets The Exorcist" by the Wall Street Journal. Written by Robert Askins and directed by Nykkie Rizley, the Southwest Florida premiere of Hand to God will be performed at 8:00 p.m. on October 19, 20, 25, 26 and 27 and November 1, 2 and 3, with 2:00 p.m. matinees on October 21 and 28 and November 3 and 4, with a preview performance at 8:00 p.m. on October 18.
24-Hour Playwriting Project – November 17 Sponsored By Stacy Lee-Williams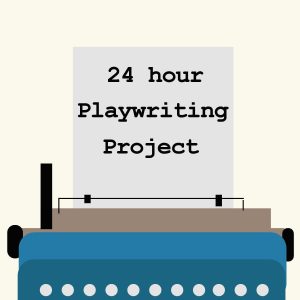 Playwrights will bring their sleeping bags and coffee mugs to Lab Theater, where they will be assigned a theme, a director, and actors. Within just twenty-four hours, you will see the fruits of their labor when we stage all of their 20-minute one-act plays! Judged by a panel of area theater and arts professionals, the 24-Hour Playwriting Project is a hugely popular event! The actors take the stage at 8:00 p.m. on Saturday, November 17.
Every Christmas Story Ever Told – November 30 – December 22 Sponsored By The Patterson Family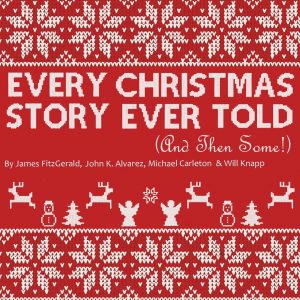 It's the holidays! Time for the classics – Rudolph, Frosty, Ebenezer Scrooge, the Nutcracker and many more! But maybe not the way we're accustomed to hearing them. In what can best be called a holiday mash-up, actors take beloved stories and traditions from around the world and turn them upside-down and sideways! Says Orlando Weekly, "The play accomplishes the small miracle of making all Christmas myths seem both utterly ridiculous and absolutely essential. Yes, Virginia, you can have your fruitcake and eat it, too." Written by James FitzGerald, John K. Alvarez, Michael Carleton & Will Knapp, Every Christmas Story Ever Told (And Then Some) will be performed at 8:00 p.m. on December 1, 6, 7, 8, 13, 14, 15, 20, 21 and 22, with 2:00 p.m. matinees on December 9, 16 and 22. There will also be an 8:00 p.m. preview performance on November 29.
A Guy, A Girl, A Piano (Cabaret Act) January 4-6, 2019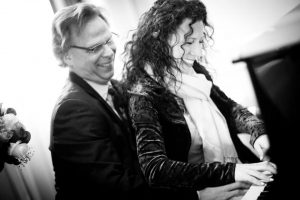 Theresa Quinn and Randy Kramer will join The Lab with their 4-hands-1-piano cabaret. Enjoy an evening of virtuosic 4-hand piano arrangements, vocal solos and duets, featuring the music of Gershwin, Sondheim, the Beatles, Beethoven, Joplin, Bernstein, Fats Waller, and others. There are just three performances: two at 8:00 p.m. on January 4 and 5, and a 2:00 p.m. matinee on January 6.
Hedwig And The Angry Inch January 18-February 3, 2019 Sponsored By The Bireley Family Foundation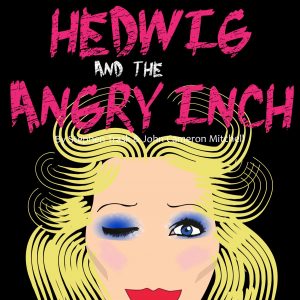 Meet Hedwig, one of the most unique characters to hit the stage in this wickedly funny, innovative, and heartbreaking rock musical sensation. Winner of four 2014 Tony Awards, Entertainment Weekly calls the show groundbreaking and undoubtedly ahead of its time. "Foulmouthed, electrically tuneful, and furiously funny," adds The New York Times. "Smart lyrics and beautiful melodies," says the New York Daily News. Written by Stephen Trask and John Cameron Mitchell and directed by Paul Graffy, Hedwig and the Angry Inch will be performed at 8:00 p.m. on January 18, 19, 24, 25, 26 and 31 as well as on February 1 and 2, with 2:00 p.m. matinees on January 20 and 27 and February 2 and 3. There will also be an 8:00 p.m. preview performance on January 17.
And The Winner Is… February 22 – March 16, 2010 Sponsored By Arlene Foreman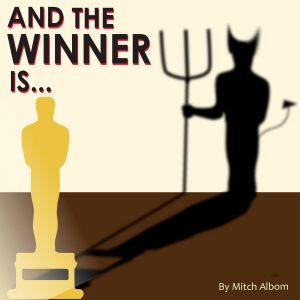 Tyler Johnes just wants to make it to the Oscars to accept his award for Best Supporting Actor. There's just one problem – he seems to be stuck in a bar where things are not quite…normal. Seamus the bartender isn't helping matters, either. While Tyler continues to try to make it onto the red carpet, he is interrupted by unusual visitors. Filled with humor and emotion, this play will win your heart. Performances are at 8:00 p.m. on February 22, 23 and 28 and March 1, 2, 7, 8, 9, 14, 15 and 16 and 2:00 p.m. on February 24 and March 3, 10 and 16, with a preview performance at 8:00 p.m. on February 21.
Andorra – March 29-April 14 Sponsored By Ella Nayor & Jeffrey Cull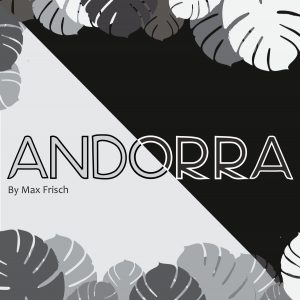 One of the most oft-produced plays in Europe, this parable about racism and prejudice is a great example of epic-theater. Set in fictionalized Andorra, Andri is adopted by a teacher and raised as a Jew. Throughout the play, Andri is faced with outright prejudice and complicit silence from his fellow townspeople. Playwright Max Frisch's message is loud and clear: prejudice happens in every country, both in the past and the present, and we must learn to accept everyone's differences if we are to lead happy, productive lives. "The guilty are sitting in the stalls … They are to be frightened: they should, when they have seen the play, lie awake at night," says Time Magazine. The Southwest Florida premiere of Andorra will be performed at 8:00 p.m. on March 29 and 30 and April 4, 5, 6, 11, 12, 13, 18, 19 and 20; at 2:00 p.m. on March 31 and April 7, 14 and 20; with a special 8:00 p.m. preview performance on March 28.
Tickets are $25 for adults and $12 for students at the door. However, discounts are available for season ticket and snowbird ticket holders. You can purchase tickets here.
________________________________________________________________
Lab Theater's new seating will provide better line of sight for viewers (04-08-18)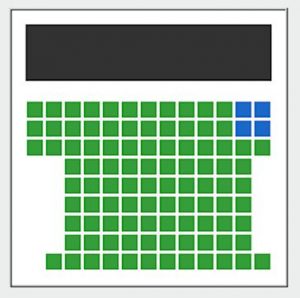 Lab Theater's 2018-2019 season opens June 1 with the campy parody Hush Up, Sweet Charlotte, but a highlight of the new season will be the addition of risers in The Lab's proscenium that will elevate seats in the fourth row and beyond in order to provide better viewing.
Starting with Anna In The Tropics in September, Rows A, B, And C will be on the floor, with Rows D through I on risers. Each row of risers will be six inches higher than the row in front of it.
In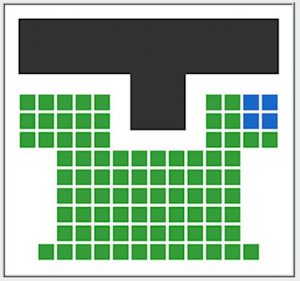 addition, a special seating arrangement is being employed in conjunction with The Lab's production of Hedwig And The Angry Inch January 18 through February 3, 2019.
Lab Theater has been conducting extensive renovations and improvements of both the theater and its lighting and sound systems since it purchased the facility in which it stages its productions. If you haven't been lately, The Lab is all new, all business, all fun.
_______________________________________________________________
'A Raisin in the Sun' considered one of 20th Century's greatest plays (04-08-18)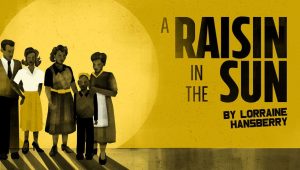 Theatre Conspiracy at the Alliance for the Arts will present A Raisin in the Sun by Lorraine Hansberry May 3-13. Considered by many to be one of the greatest plays of the 20th century, A Raisin in the Sun follows the story of the Younger family as they discover the dangers of dreaming big and the heartbreak of reality.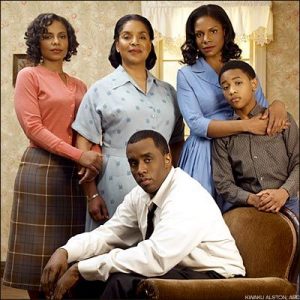 A drama in three acts, A Raisin in the Sun was first published and produced in 1959. The play's title is taken from "Harlem," a poem by Langston Hughes, which examines the question "What happens to a dream deferred?/Does it dry up/like a raisin in the sun?" This penetrating study of a working-class black family on the south side of Chicago in the 1950s reflected Hansberry's own experiences of racial harassment after her prosperous family moved into a white neighborhood.
RELATED POSTS.
_____________________________________________________________
Rom-com 'Kalamazoo' on Sugden Theater stage through April 27 (04-08-18)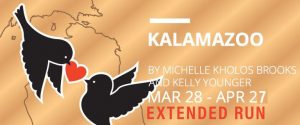 On stage through April 27 in the Sugden Community Theatre is The Naples Players' production of Kalamazoo, a light and romantic comedy by Michelle Kholos Brooks and Kelly Younger. The story follows two quirky but endearing Baby Boomers,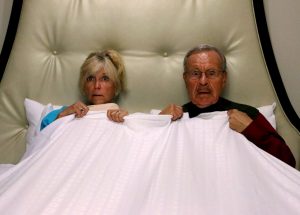 Peg (Debi Garnett) and Irv (Jerry Rannow), as they bravely venture into the world of modern dating. But when these opposites attract, they discover love isn't any easier the second time around. Winner of the Riva Shiner Comedy Award, Kalamazoo is a romantic comedy about life's second act and learning you're never too old to be young.
Performances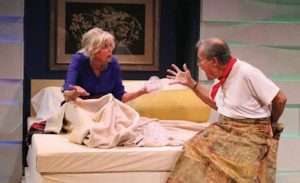 take place at 7:30 p.m. on Wednesdays and Thursdays, at 8:00 p.m. on Friday and Saturdays, and at 2:00 p.m. on Sunday afternoons. Tickets cost $40 for adults, $35 for subscribers and $10 for students/educators, and may be purchased at www.naplesplayers.org or by telephoning the box office at (239) 263-7990. [Box office hours are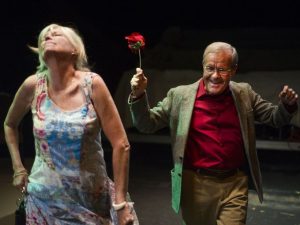 10:00 am. to 4:00 p.m. Monday through Friday, 10:00 a.m. to 1:00 p.m. on Saturday and two hours before showtimes.]
The Naples Players at the Sugden Community Theatre/Tobye Studio are located at 701 5th Ave. S, Naples FL 34102.
______________________________________________________________
The Naples Players bringing 'Ripcord' to the stage April 25 – May 20 (04-08-18)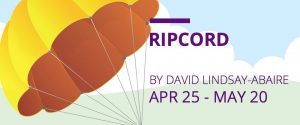 Coming to Blackburn Hall at the Sugden Community Theatre April 25 is The Naples Players' production of Ripcord by David Lindsay-Abaire.
The action in this hilarious comedy takes place in a sunny room on an upper floor in the Bristol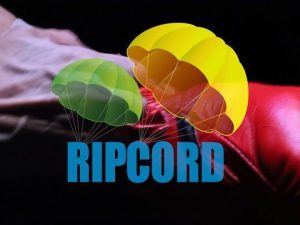 Place Senior Living Facility. When a cantankerous resident by the name of Abby is forced to share her quarters with new arrival Marilyn, she has no choice but to get rid of the infuriatingly chipper woman by any means necessary. A seemingly harmless bet between the old women quickly escalates into a dangerous game of one-upmanship that reveals not just the tenacity of these worthy opponents, but also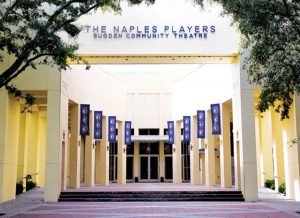 deeper truths that each of them would rather remain hidden.
Performances take place at 7:30 p.m. on Wednesday and Thursdays, 8:00 p.m. on Friday and Saturdays, and 2:00 p.m. on Sundays between the opening on April 25 and May 20, 2018. Tickets cost $40 for adults, $35 for subscribers, and $10 for students/educators, and may be purchased at www.naplesplayers.org or by telephoning the box office at (239) 263-7990. [Box office hours are 10:00 am. to 4:00 p.m. Monday through Friday, 10:00 a.m. to 1:00 p.m. on Saturday and two hours before showtimes.]
The Naples Players at the Sugden Community Theatre /Blackburn Hall are located at 701 5th Ave. S, Naples FL 34102.
_______________________________________________________________________________________________
65th anniversary season showcases reason The Naples Players one of leading theatres of its kind in country (04-08-18)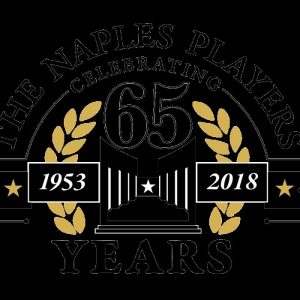 The Naples Players (TNP) has announced the line-up for its 65th anniversary season, and it is packed with dazzling musicals (including Chicago, Irving Berlin's White Christmas and Guys & Dolls), heartfelt comedies, magical adventures and a world premiere show.
"Our 65th Anniversary season showcases the reasons that The Naples Players has become one of the leading theatres of its kind in the country," says The Naples Players' Artistic Director Bryce Alexander. "Presenting three classic American musicals – with full orchestras to accompany the casts – the season celebrates the styles of music and dance that have defined the best of Broadway. The season also features a world premiere play written by a local playwright, as well as classic works that articulate the funny, thought-provoking, and touching ideals that represent our community. We are thrilled that this diverse offering will provide Southwest Florida with the high-quality, fully realized artistic productions that our seasoned and novice theatre-lovers will be able to enjoy together. A season about dreams, and the way we achieve our dreams together – we could think of no better way to celebrate the last 65 years while looking forward to the next."
Here are the shows that The Naples Players will produce during its 2018-2019 anniversary season:
CHICAGO THE MUSICAL (Musical Comedy)
Set in the roaring twenties, with its universal tale of fame, fortune and "All That Jazz," Chicago is packed with show-stopping songs and spectacular Fosse-style choreography. Earning 6 Tony Awards, a Grammy® and the record for the longest-running musical revival and the longest-running American musical in Broadway history, Chicago sets the bar for entertainment. With music by John Kander, lyrics by Fred Ebb, book by Fred Ebb & Bob Fosse, and script adaptation by David Thompson, Chicago is based on the play by Maurine Dallas Watkins. Dazzling and enduring, Chicago will be performed in Blackburn Hall June 28-July 29, 2018.
PETER AND THE STARCATCHER (Family Friendly Comedy)

Tony-winning Peter and the Starcatcher upends the century old story of how a miserable orphan comes to be The Boy Who Would Not Grow Up (a.k.a. Peter Pan). From marauding pirates and jungle tyrants to unwilling comrades and unlikely heroes, Peter and the Starcatcher playfully explores the depths of greed and despair… and the bonds of friendship, duty and love. Written by Rick Elice, based on the novel by Dave Barry and Ridley Pearson, and with music by Wayne Barker, this imaginative and magical story will be performed in Blackburn Hall October 3-28, 2018.
JUNE & JASON'S SURVIVAL GUIDE TO DIVORCE (TNP's First World-Premiere Comedy)

Reminiscent of great sitcom humor, this quick-witted comedy introduces an unforgettable collection of zany neighbors and friends who try to save June and Jason from a looming divorce. Fun and fresh, June & Jason's Survival Guide to Divorce comes from the wild and creative mind of local playwright and actor Laura Lorusso. It will be performed in Tobye Studio Exclusive October 24-November 18, 2018.
IRVING BERLIN'S WHITE CHRISTMAS (Holiday Musical)

Veterans Bob Wallace and Phil Davis have a successful song-and-dance act after World War II. With romance in mind, the two follow a duo of beautiful singing sisters to their Christmas show at a Vermont lodge, which just happens to be owned by Bob and Phil's former army commander. The dazzling score features 17 well-known Irving Berlin standards including "Blue Skies," "I Love a Piano," "How Deep Is the Ocean" and the perennial favorite, "White Christmas." Based on the beloved and timeless Paramount Pictures film of the same name, this heartwarming musical adaptation features a book by David Ives and Paul Blake. It will be performed in Blackburn Hall November 28-December 23, 2018.
DON'T DRESS FOR DINNER (Comedy)

With a gourmet caterer and an alibi courtesy of his friend, Robert, Bernard's plans for a romantic rendezvous with his mistress are complete. But when Bernard's wife learns that Robert will be visiting for the weekend, she decides to stay in town for a surprise tryst of her own… setting the stage for a collision course of assumed identities and outrageous infidelities. The cook is Suzette, the lover is Suzanne, the friend is bewildered, the wife is suspicious, the husband is losing his mind, and everyone is guaranteed a good time at this hilarious romp through the French countryside. Penned by Marc Camoletti and adapted by Robin Hawdon, this clever and rollicking comedy centers will be performed in Blackburn Hall January 16-February 10, 2019.
MARJORIE PRIME (Pulitzer Prize Finalist)

In the future, the inevitable pain of losing a loved one is mitigated through artificial intelligence. As 85-year-old Marjorie loses the ability to recall memories at will, her daughter and son-in-law provide her with a "prime," an A.I. hologram of her late husband Walter. The vaporous and shifting nature of memory and the power it holds in relationships is illuminated as Walter Prime begins to assimilate the stories of Marjorie's memories as his own. Written by Jordan Harrison, this insightful and visionary story will be performed in Tobye Studio Exclusive February 6-March 3, 2019.
GUYS & DOLLS (Musical Comedy)

Considered one of the greatest musicals of all time, Guys and Dolls is filled with some of the most wonderful show tunes ever written, including "Luck Be a Lady," "I've Never Been in Love Before," and the irrepressible anthem "Sit Down, You're Rockin' the Boat." Guys and Dolls will put a spring in your step and a smile on your face and remind you how much fun it is to see a revival of a classic American musical! With book by Abe Burrows and Jo Swerling, music and lyrics by Frank Loesser and based on The Idyll of Sarah Brown and characters by Damon Runyon, this masterful and unforgettable musical will be performed in Blackburn Hall March 6-April 7, 2019.
ALWAYS A BRIDESMAID (Comedy)

In this hilarious comedic romp, four friends have sworn to keep the promise they made on the night of their Senior Prom: to be in each other's weddings…no matter what. More than thirty years later, these Southern friends-for-life are still making "the long walk" for each other, determined to honor that vow. Written by Jamie Wooten, Jessie Jones & Nicholas Hope, look for this quirky and loveable play to be performed in Tobye Studio Exclusive March 27-April 20, 2019.
LOST IN YONKERS (Comedy)

During the 1940s, two young brothers find their lives turned upside down when their father moves south for work, leaving them with their no-nonsense grandmother, their loving but absent-minded spinster Aunt Bella, and her small-time hoodlum brother in a strange new world called Yonkers. This heartfelt and nostalgic Neil Simon comedy will be performed in Blackburn Hall May 1-26, 2019.