Here's what's happening in the arts December 1-7, 2017
This is what's happening in the arts in Southwest Florida between December 1 and 7, 2017:
For many reasons, 'Heathers' is so very [must-see] (12-07-17)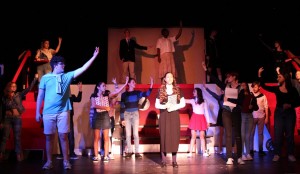 Alliance for the Arts Youth Director Carmen Crussard has lost her mind! On an uncompromising mission to develop young theatrical talent here in Southwest Florida, Crussard is directing a production of Heathers the Musical. With a cast of 31 actors whose ages range from 15 t0 19, this is Crussard's and the Alliance Youth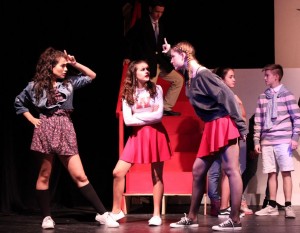 Theater's most ambitious undertaking yet.
With a book, music and lyrics by Laurence O'Keefe (Bat Boy, Legally Blonde) and Kevin Murphy, Heathers the Musical is based on the 1989 cult classic film of the same name by Daniel Waters. Under Crussard's energetic direction, the musical blends strong vocals, complex dance choreography and youthful enthusiasm to animate a timely but troubling plot not at all in keeping with the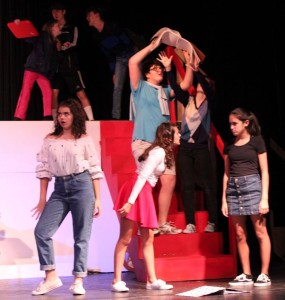 holiday season.
Although you might reasonably expect the musical to be about, well, Heather Heather McNamara (Yellow Heather), Heather Duke (Green Heather) and Heather Chandler (the Red Queen), Heathers the Musical actually tells the story of Veronica Sawyer, a senior at fictional Westerberg High. Veronica is a Brainiac with a defective moral compass who is willing to say and do anything to be cool like the clique of it-girl Heathers who run Westerberg. They're unattainable,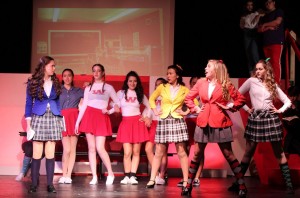 unaffected and unabashedly unkind, choosing to mock and bully their kingdom into submission.
When Veronica uses her skills as a forger to get the Heathers out of detention, she impresses the Red Queen (Heather Chandler), who lets her into their exclusive sorority. Veronica quickly learns that rush is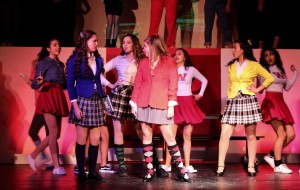 hell and lasts way longer than just one week. She also discovers that she doesn't have the stomach for bullying the gal pals who used to be her friends. Being the Red Queen's be-atch-in-waiting is just so very.
Read here for the rest of this review.
_______________________________________________________
Spotlight on 24-Hour Challenge Playwright Laura Lorusso (12-07-17)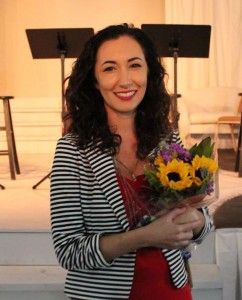 Lab Theater's Sixth Annual 24-Hour Playwriting Challenge takes place Friday and Saturday, December 15 & 16. Four local playwrights of varying experience are taking part in the challenge. Laura Lorusso is one of them.
Lorusso has been active in the local theater community for the past fourteen years. She has starred with the Naples Players in several shows and toured with a local comedy show, Joey and Maria's Comedy Italian Wedding.
It's only natural that Laura take the Lab's 24-Hour challenge. It's her espoused goal to become a well-received playwright. She has already taken a number of steps in that direction.
Read the rest of Laura's profile here.
_______________________________________________ ____
Spotlight on 24-Hour Challenge playwright John Repa (12-07-17)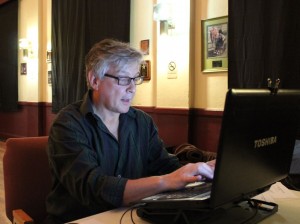 John Repa is an actor, comedian, playwright and more recently, an author of a zombie apocalypse novel titled Blood Creek Eulogy (available on Kindle), which is told from the viewpoint of (wait for it) … the zombies.
Many Southwest Florida residents and visitors have seen him perform at The Lab Florida Rep, Theatre Conspiracy and on the Seminole Gulf Railway Murder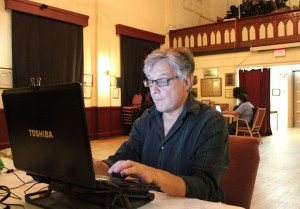 Mystery Dinner Train. He has also performed in Chicago and Seattle. Last season, he was in two lab productions, The Last Night of Ballyhoo and Gore Vidal's The Best Man. Before that, he was Sir Toby Belch for Lab Theater in last Shakespeare's Twelfth Night.
Want the rest of John's profile? Read here.
_________________________________________________
Spotlight on 24-Hour playwright Carmen Crussard (12-07-17)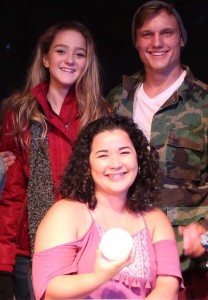 The Sixth Annual Lab Theater 24-Hour Playwriting Challenge takes place on Friday and Saturday, December 15 & 16. This year, four local talents will be showcasing their playwriting skills. Among them is Carmen Crussard.
Carmen is a playwright project vet. She participated in Years 1 and 2, winning the Judge's Choice Award in the inaugural Playwriting Challenge. Since then, she's gone on to foster area actors both as the Youth Director at the Alliance for the Arts and as a director at The Lab on such successful productions as this summer's dark comedy hit, The Smell of the Kill, starring Tera Nicole Miller, Jessica Walck and Lucy Sundby. Lab Theater audiences will also remember her other directorial accomplishments,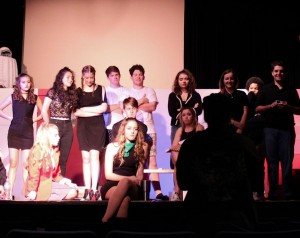 which include Play On!, Scrooge TV: A Modern Christmas Carol and The Second Book of Ruth. Scrooge TV: A Modern Christmas Carol is an interesting line in Crussard's resume as it was written by fellow 24-Hour Playwriting Challenge participant Laura Lorusso.
______________________________________________________
Spotlight on 24-Hour Challenge newcomer Sandra Dixon (12-07-17)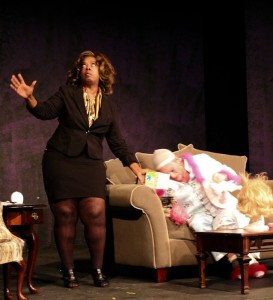 The Sixth Annual Lab Theater 24-Hour Playwriting Challenge takes place on Friday and Saturday, December 15 & 16. This year, four local talents will be showcasing their playwriting talent. Sandra Dixon is among them.
Sandra Dixon is new to playwriting and is a current member of the playwriting class at The Laboratory Theater of Florida. She has written plays and skits for her church and has appeared in several productions since moving to Cape Coral five years ago from the Chicago suburbs. Sandra most recently appeared in Sordid Lives and Body & Sold at the Lab Theater.
Here's the rest of Sandra's profile.
______________________________________________________________
Bert's Pine Bay on Matlacha Island represents more than 30 artists (12-05-17)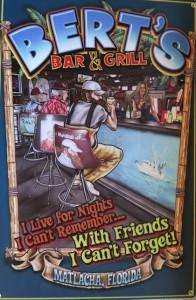 Bert's Pine Bay Gallery & Gifts is a charming historic cottage perched at the northeast foot of the Matlacha Bridge overlooking Matlacha Pass. Visitors and locals alike enjoy returning often to peruse local art, browse through the shelves of local and bestseller books, or shop for souvenirs. Over 30 artists are represented at Pine Bay. Some will be featured throughout the year in Bert's frequent open house events. The gallery's rooms are crammed "to the gills" with treasures to delight every taste, including nautical, shells, local jewelry, unique decór, brilliant glassware, ornaments, cards, painted clothing and a vast array of mermaids and pirates, as befits its location and affectionate affiliation with its backyard neighbors, the shrimp boats!
Bert's parking lot is "Bert's Bar Parking." Its back porch is always the best view of sunset. Let Bert's welcome you to Matlacha. For more information, please visit http://www.bertsgallery.com or telephone 239-283-1335.
___________________________________________________________________
Edison Ford Winter Estates' Holiday Nights celebrating 42nd anniversary (12-05-17)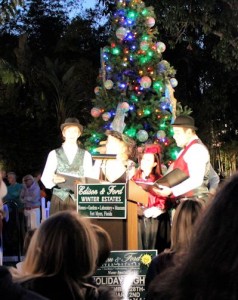 Edison Ford Winter Estates will kick off its 42nd anniversary celebration of Holiday Nights tonight at 6:00. During Holiday Nights, the winter homes, gardens and historic buildings of Thomas Edison and Henry Ford are decorated with thousands of lights and decorations. This event has become a tradition in Southwest Florida and a top destination for visitors around the globe.
USA Today named Edison Ford as one of the 10 best historic homes for the holidays, and The American Bus Association (ABA) designated Edison Ford's Holiday Nights as one of the Top 100 Events in North America for 2016. "The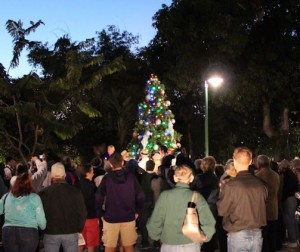 attractiveness of Edison Ford's Holiday Nights as a don't-miss entertainment value is only part of why its selection [in 2016] is such a distinction for Edison & Ford Winter Estates," said Peter J. Pantuso, CTIS, ABA's president and CEO.
Opening night festivities will start officially at 6:00 p.m. when the Edison and Ford family officiate the annual tree lighting at the Edison Caretaker's House. Thomas Edison created the first Christmas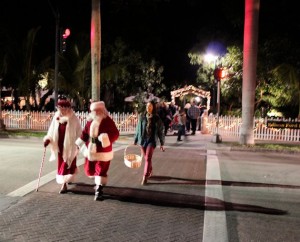 lights about a century ago. Interestingly, the light bulbs were red, white and blue in honor of Edison's favorite holiday – Independence
Day. Christmas was also Henry Ford's favorite holiday, so Holiday Nights is very appropriate at their winter homes.
For children, Doug MacGregor will be cartooning with kids of all ages on November 24 and on December 9, 16 and 23, and Santa also will be visiting (but check the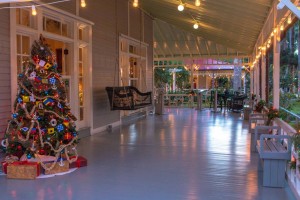 Edison Ford website for dates). Adults and children alike can enjoy the Children's Tree Trail — a collection of more than 60 trees decorated with handmade ornaments from Lee County School children.
New this year, will be a nightly Waltzing Waters lighted water fountain display and a special Holiday Tea w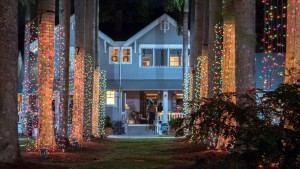 ith the Edisons and Fords on December 13.
The Edison Ford Museum and Laboratory, as well as the Ford Cottage Shoppe, Museum Store and Garden Shoppe will be open every night until 9:00 p.m. Nightly guided Holiday Tradition Tours are offered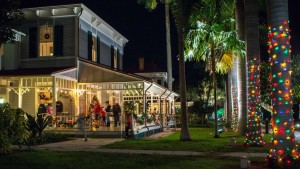 at 6:00 p.m. and 7:00 p.m., along with Inside the Homes Holiday Tours every Tuesday at 6:30 p.m. A sightseeing river cruise and sunset cruise are offered through Pure Florida at the Marina at Edison Ford.
Holiday Nights tickets are $20 for adults, $10 for teen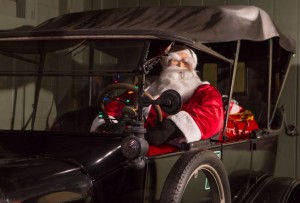 13-19, and just $2 for children (6-12). Edison Ford members get in free. Lee County residents will receive $5 off an adult ticket on select nights.
For more information, please telephone 239-334-7419 or visit www.EdisonFordWinterEstates.org.
__________________________________________________
Modern realist Stephen Mancini back at Sweet Art with new work (12-04-17)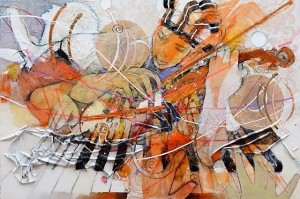 The Sweet Art Gallery in the Naples Art District is exhibiting new work by Modern Realist mixed media artist Stephen Mancini.
In his compositions, Mancini experiment with color and translucency. "Color is by its nature opaque and therefore two-dimensional," Mancini has observed. For nearly 35 years, Mancini has been triangulating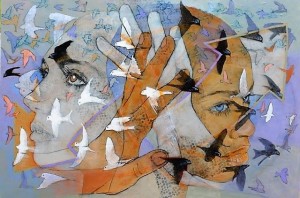 color to achieve a more natural, transparent, translucent, three-dimensional result, and toward that end, he adds resin as both an overlay and underlayment to the translucent layers of oil and acrylics that he has always applied as media in his paintings.
The use of resin adds an element of randomness to Mancini's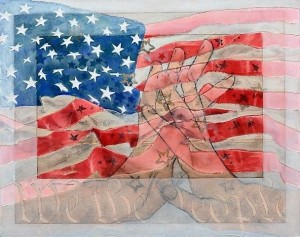 depictions because he doesn't know and cannot predict the exact color he will get when he mixes the resin and pours it out on his canvas. This aleatoric feature of his process serves to enhance the metaphorical content of his works.
Mancini's experiments with resin recognize that a new medium is necessary in order to artists to capture the electronically-generated colors which did not exist in the days of van Eyck, Bellini,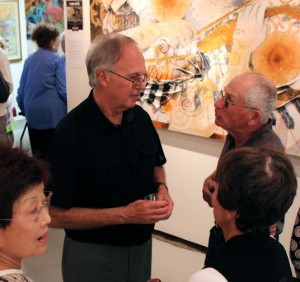 Rembrandt or even van Gogh and Picasso. "You simply cannot get reds like the color of your taillights with oil or acrylic," Mancini maintains. "You need a new medium, and that new medium has brought me into contact with the resin manufacturers and their chemists." But since there is no art market for resin at the moment, they aren't willing to allocate a lot of time, manpower or other resources to Mancini's questions and applications, so he has been left to his own devices to figure out how to infuse pigment into the resin mix without suspended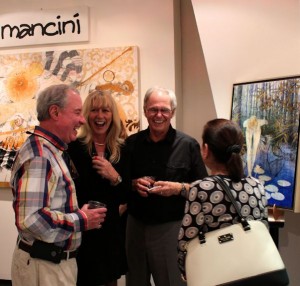 particles or flakes.
"One of the challenges in working with resin is that there is a very narrow window of just 5-7 minutes (depending on the temperature) before it dries out too much to apply." Plus, Mancini cannot use the usual tools of his trade such as brushes and palette knives. "It goes on with sticks and squirt bottles – and that's part of the trial and error associated with the process," Mancini notes.
In the vast majority of cases, Mancini blends color into the resin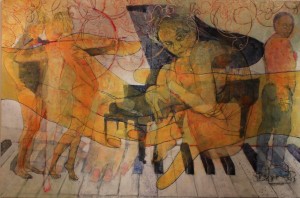 before pouring the mixture on a surface that already has a color all its own. "That influences the final color that the eye perceives," Mancini explains. "But if I can control the amount of refraction, reflection and reflectivity, it will make the light appear as if it is coming through the paint rather than light simply illuminating the surface. That's what makes the struggle worth the risk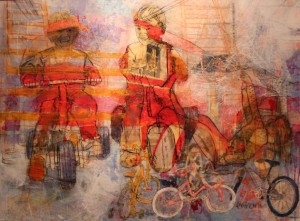 [of ruining the underpainting]. The effect [of the resin] on color could end up being better than stained glass."
Another new feature in several of his works is the addition of sculptural, three-dimensional fabric to his support. "What I'm doing with texture is playing with the process in a way that brings art and craft together in furtherance of the overall theme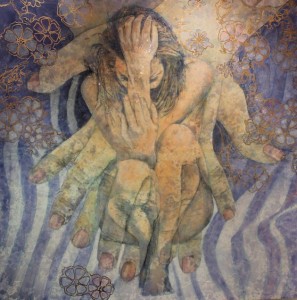 expressed by the painting," as evident in Symphony (photo 1).
In this case, Mancini's composition is about a symphony. But rather than merely incorporate musical instruments and musicians in the artwork as a pop artist might do, Mancini is aiming for a more metaphorical expression.
The Sweet Art Gallery is located at 2100-A Trade Center Way, Naples FL 34109. Gallery hours are from 10:00 a.m. to 5:00 p.m. Monday through Friday and 10:00 a.m. to 1:00 p.m. on Saturdays. For more information, please telephone 239-597-2110 or visit www.thesweetartgallery.com.
______________________________________________________
Englishman exhibiting Ruth Bloch sculpture in December (12-04-17)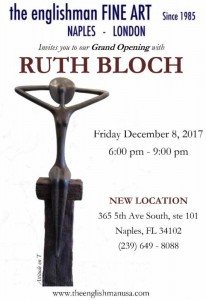 The Englishman Fine Art in Naples will be exhibiting new work by esteemed international sculptor Ruth Bloch in December. Her sculpture hints at whimsy and displays a great understanding of feeling for the human figure. Her works are exhibited all over the world and are a favorite of many at the Englishman.
Bloch was born in Israel in 1951 to artistic parents. Ruth's father was a musician. Her mother worked in ceramics. Ruth and her family were members of a Kibbutz called Alonim, a place that afforded Ruth many opportunities to develop her artistic talents throughout her childhood. Reaching adulthood, Ruth attended the Avny Art Institute in Tel Aviv and took additional studies in psychology in the United States. Currently, Ruth lives and sculpts in Israel.
The opening reception will take place from 6:00 to 9:00 p.m. on December 8 at the gallery's new location in Suite 101 at 365 5th Avenue South. For more information, please visit www.theenglishmanusa.com or telephone 239-649-8088. 
________________________________________________________________________
Baker Museum of Art remains closed following Hurricane Irma water intrusion (12-04-17)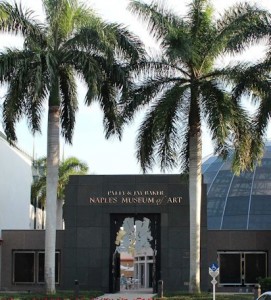 The Brooklyn Museum was planning to loan some paintings to Naples' Baker Museum of Art this fall. You might have heard of one or two of the artists who rendered the canvases. Like Pierre Bonnard, Paul Cézanne and Marc Chagall? Or Edgar Degas; Henri Matisse, Claude Monet Pierre August Renoir and Berthe Morisot? But, alas, the show had to be cancelled. Like so many places throughout Southwest Florida, the Baker Museum of Art was damaged by Hurricane Irma and has still not completed all its repairs.
In the Baker Museum's case, the culprit was water intrusion. None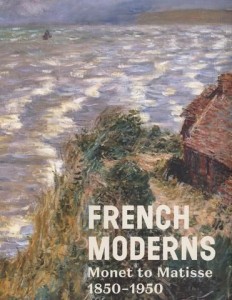 of the paintings being exhibited or stored in the museum at the time were damaged. So far, no mold has been detected inside the museum's walls. But until the building is air and watertight, nothing can be put up or exhibited. Even contemporary artworks risk long-term damage from changes in temperature and humidity. Panel paintings can warp or split. Linen canvases sag, causing stress cracks, fissures, cupping, flaking and buckling. Sometimes it is years before these telltale signs emerge, and by then, the pigment's integrity may be permanently affected.
The museum is working with a range of experts, and expects to re-open in early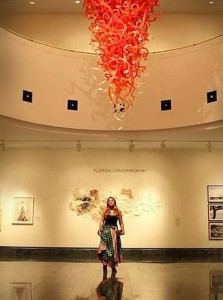 2018. But, as yet, no date has been set for the resumption of activities, and a number of other exhibitions have been cancelled or postponed, including Expressions: Matisse and Modern Art from the Permanent Collection (was supposed to open October 20), Florida Contemporary (was supposed to open November 14) and To the Streets! Protest Posters from the Atelier Populaire de l'Ecole des Beaux Arts (also set to open November 14).
When Irma struck, Arik Levy's Unnatural History had just opened. Following the storm, and with the artist's permission, parts of the show were moved to other parts of  the campus. "We want as many people as

possible to see [Unnatural History] because [Levy's] art is really exciting and appealing," notes Baker Museum Director and Chief Curator Frank Verpoorten. But there have been limitations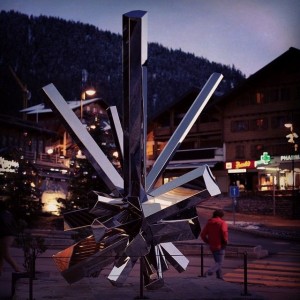 on where and how much of the exhibition Verpoorten and his cohorts have been able to display.
For now, the Hayes Hall galleries are open from 10:00 a.m. to 4:00 p.m. on Thursdays, Fridays and Saturdays. For more information, please contact Amanda Plummer, Executive Assistant for The Baker Museum by emailing aplummer@artisnaples.org or by telephoning 239-254-2620.
________________________________________________________________
Baker Museum's 'Unnatural History' features work of artist Arik Levy (12-04-17)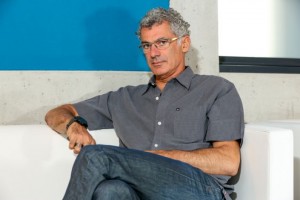 On view at the Baker Museum of Art at Artis Naples is Arik Levy: Unnatural History. This exhibition features works by artist, designer, photographer and filmmaker Arik Levy, who has gained recognition for his sculpture, outdoor installations and collectable designs, which emphasize elegance, balance and minimalism.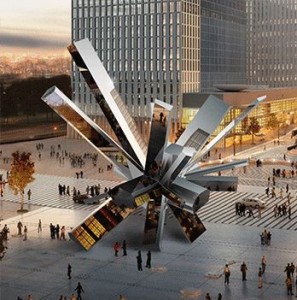 According to the Baker Museum, Unnatural History is the first U.S. solo museum exhibition of the internationally-renowned, Paris-based artist, designer, photographer and video artist. The exhibition offers a mid-career, concentrated perspective on the artist's work and considers the semiotics of his formal language, which synthesizes the worlds of art and design and finds expression through imaginative paradigms and syntagmatic structures.
"With a sophisticated knowledge and understanding of sculptural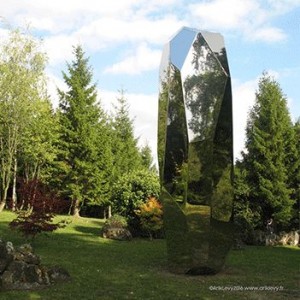 traditions, Levy is a technologist as much as he is an artist: He thinks in form, volume, skin, texture and material properties; he manipulates and develops cutting-edge fabrication techniques to propel his ongoing creative investigation and artistic exploration," states the Baker Museum on the events page of its website. "Levy's innate scientific and poetic acumen, mixed with his interest in innovation, simplicity and experimentation, allows him to translate social and emotional conceptual narratives into sculpture, paintings,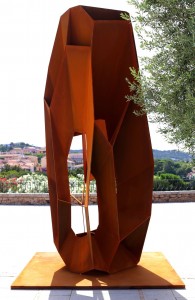 photography as well as space and experiences. In this exhibition, the artist's hand is omnipresent because Levy offered an original concept for the installation, which he gradually unpacked and turned into an environment for visitors to become acquainted with his two- and three dimensional works while considering the families and series in which they are organized by kinship."
On a deeper level, these categories evidence the evolution of his creations from an earlyform or structure into different permutations and variations, continually unfolding in sequential experiences. "Levy's works in various media derive inspiration in form and content from nature. They evoke minerals, arboreal structures, rocks and other forms and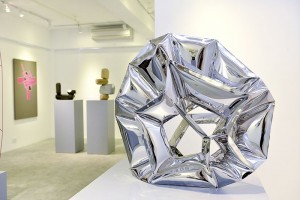 exist as monuments that reflect and celebrate the geometry of nature, serenely owning the spaces they occupy."
The exhibition runs through January 7, 2018.
The Baker Museum is located at 5833 Pelican Bay Blvd., Naples, FL 34108. For more information, please telephone 239-597-1111 or visit www.artisnaples.org/baker-museum.
_____________________________________________
28th Annual Art Miami Fair opens tomorrow (12-04-17)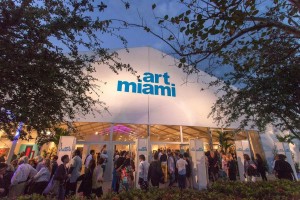 The Art Miami Fair opens tomorrow and runs through Sunday, December 10. Over these past 28 years, this annual art fair has established a well-known reputation for providing fine art collectors with the latest in high quality contemporary and modern Art. The fair is located in the Art Miami Pavilion at One Miami Herald Plaza at NE 14th Street in downtown Miami (on Biscayne Bay between the Venetian and MacArthur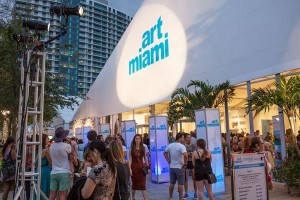 Causeways). 
As one of the top ranked international art fairs for attendance in the U.S. and second most attended globally, Art Miami attracts more than 85,000 new and established collectors, curators, museum professionals, members of the press and art world luminaries annually. Art Miami presents the finest investment quality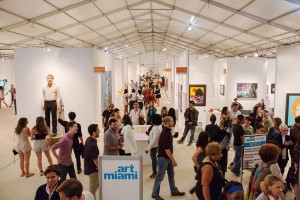 paintings, photography, prints, drawings, design, sculpture and video art, with works from the 20th and 21st centuries. The 2017 line-up features galleries from more than 20 different countries and the acclaimed international participants will showcase important modern masters and blue-chip contemporary artists as well as the most sought-after living artists from around the world.
_________________________________________________________
Florida Watercolor Society Annual Exhibit on view at CFABS (12-03-17)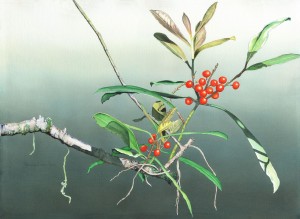 Recognized as one of the top watermedia exhibits in the country, the Florida Watercolor Society Annual Exhibition provides Florida artists the opportunity to exhibit with their fellow watercolorists from around the state. This year, the exhibition takes place November 21 through December 28 at the Center for Visual Art Bonita Springs, which is located at 16100 Old 41 Road.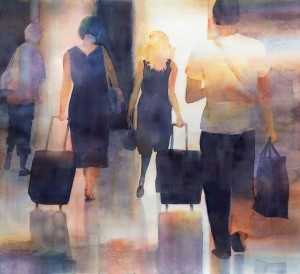 Judged and juried by nationally-known watermedia experts, this exhibition displays some of the highest quality and innovation in contemporary watermedia. Founded in 1972 with twenty-six artists becoming charter members, membership has now grown to over 1,150 artists. The Florida Watercolor Society works to educate the public as to the importance of watercolor as a creative and permanent painting medium as well as contribute to the cultural atmosphere and standards of the State of Florida.
_____________________________________________________
Everyone's a winner in CFABS' 'Off the Walls' fundraiser (11-25-17)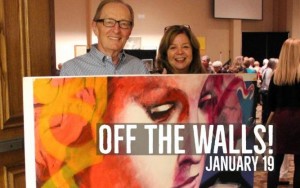 Each year the Centers for the Arts Bonita Springs hosts Off the Walls! Its signature fundraiser provides scholarships for thousands of local kids. This is a terrific evening, with a delicious catered food buffet, wine and beer, and an astounding selection of art and collectibles from which to choose. And when your ticket is drawn, you select from beautiful artworks, c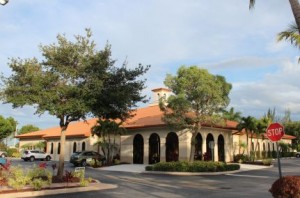 ollectibles, jewelry, wine and liqueur collections valued between $275 and over $6,000. Everyone is a winner in this amazing lottery-style event! Off the Walls! takes place January 19, 2018. Tickets are $150 each and can be purchased by telephoning 239-495-8989.
_________________________________________________________
Alliance issues call to artists for 2018 All Florida Juried Show (12-03-17)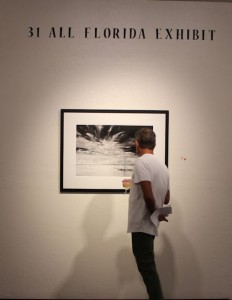 The Alliance for the Arts has issued its call to Florida artists who would like to be juried into the 32nd Annual All Florida Juried Exhibit. This is the Alliance's longest running exhibition and features pieces created by artists working in a wide variety of media from all over the State of Florida.
Categories for entry are sculpture, painting (including oil, acrylic, collage, water color and mixed media), photography, prints and drawing.  An entry may consist of one to three artworks. All entries must be submitted online no later than January 29, 2018. Artists can download the prospectus and submit their work at www.artinlee.org/AllFlorida18.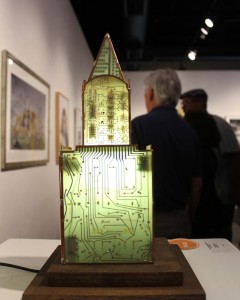 This year's juror is Mark Ormond. Mark has worked for more than thirty years as a museum director and curator, university professor, writer, independent curator and consultant to institutions and private individuals. A graduate of George Washington University and the University of Pennsylvania, he is currently Curator of Exhibitions at Ringling College Galleries at Ringling College of Art and Design, where he also teaches courses in the Business of Fine Arts and the Role of the Curator in Contemporary Art. His essay on Robert Rauschenberg was published in a catalog for an exhibition at Galerie Thaddaeus Ropac in Paris, France, that closed January 7, 2017.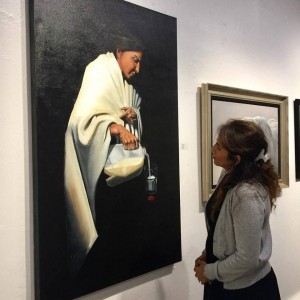 The exhibition is kindly sponsored by Elemental Stone and Waterworks.
The opening celebration will be 5:00-7:00 p.m. on March 9. The juror will be on hand to present awards including $1,000 cash for Best In Show, a 2nd Place $250 gift certificate for Golden Paints, $100 cash for 3rd place and Jurors Choice Award(s) of Alliance for the Arts membership(s).
_______________________________
'Off the Wall' is off the chain (12-03-17)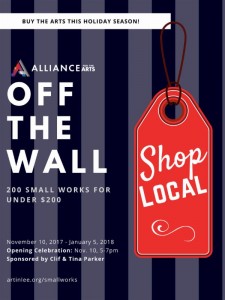 Each year, the Alliance for the Arts invites 100 members to submit two original 2D or 3D artworks for exhibition in the gallery beginning with the onset of the holiday shopping season. Called Off the Wall, this non-traditional art show features works of all mediums priced at $200 or less. All sales are "cash and carry," meaning purchasers will get to take the piece with them when they buy it, rather than waiting until the end of the exhibit.
Make supporting local arts tops on your list this year by giving a gift that gives back. Make plans to do your Christmas shopping at the Alliance for the Arts this year. Betcha there's 100 member-artists who would be delighted to have their art under your tree.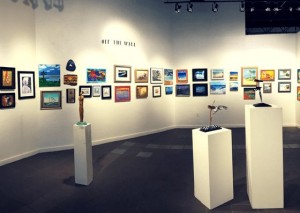 The show runs from November 3 through December 2.
For more information, please visit www.artinlee.org or telephone 239-939-2787.
___________________________________________________________________
Months in the making, 'Fired Up' exhibit on view at Alliance December 8  (12-03-17)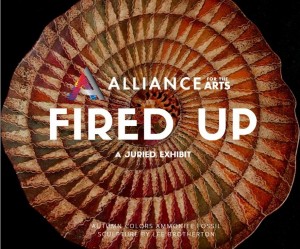 The Alliance for the Arts' September show was supposed to be Fired Up: A Juried Exhibit. Hurricane Irma had other plans. As a result of the damage and power outages associated with the storm, the exhibition had to be postponed. It will be on view at the Alliance December 8, 2017 through January 5, 2018.
Taking part in the show are Thais Alvarez, Alyssa Baladad, JoAnne Bedient, Gianna Dubay, Patricia Fay, Ehren Fritz
Gerhard, Eric Greenblatt, Carrie Keohane, Jay Lana, Sherry Lavendar, Felipe Maldonado, Sandra Fay Mark, Deborah Martin, John Merchant, Rick Plummer, June Powell, John O'Brien, Marcia Preisler, Mary Etta Rokusek, Ronald Sebring, Gale Shamblott, Joel Shapses, Barbara Simon, Toni Ferrell Sutton, Lynn Troyer, Mary Voytek, Beverly Yankwitt, Roseline Young a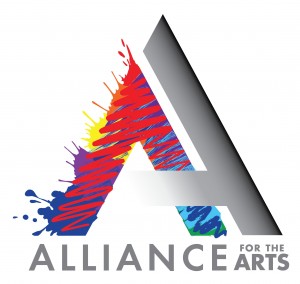 nd Peter Zell. Each has stepped outside what's normally expected to craft works using fire and heat to make ceramics, glass, welded and other pieces. 
Lee Brotherton has served as juror for the show. Brotherton has over 20 years of experience in creating, marketing and selling pottery recreations and original sculpture and paintings. Her sculptures are in private, corporate and museum collections throughout the world.
L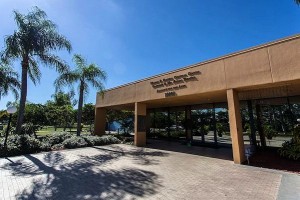 ee's fine arts career includes serving as an elementary art teacher, art museum work, art gallery manager and sales consultant. 
For more information, call 239-939-2787 or visit www.ArtInLee.org.
________________________________________________
Art in the Park returns to downtown Naples today (12-02-17)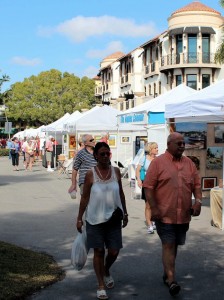 On Saturday,  December 2, Art in the Park returns to downtown Naples. Now celebrating 60 years as Naples' oldest art fair, Art in the Park features Naples Art Association members showcasing a variety of original paintings, photographs, unique décor, wearables, collectibles and gifts. Nestled on Park Street just to the west of The von Liebig Art Center, this juried art fair is held the first Saturday of the month November through April. Each art fair features hands-on-art experiences and live demonstrations from skilled artists.
_________________________________________________________________________
30th Annual Downtown Naples Festival of the Arts submission deadline is 12/08 (12-02-17)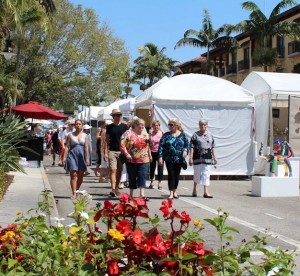 The Naples Art Association is currently accepting applications for inclusion in its three outstanding outdoor art festivals, The Downtown Naples New Year's Weekend Art Fair, Naples National Art Festival and The Downtown Naples Festival of the Arts.
The 30th Annual Downtown Naples Festival of the Arts is one of the last major art festivals of the winter season and a favorite festival for artists, art enthusiasts and collectors. If you would like to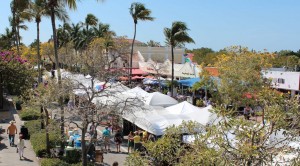 exhibit in this show, here's what you will need to know:
Dates: Saturday and Sunday, March 24-25, 2018
Festival Hours: Saturday: 10 a.m. – 6 p.m.; Sunday: 10 a.m. – 5 p.m.
Location: 5th Avenue South, Downtown Naples
Accept 254 artists max
Application fee: $25
Booth fee: $450 for 10×10
Cancellation refund policy: Full refund: 02/03/17; 50% refund: 02/20/17
Set up specifics: 4 a.m., early morning set up only;
On street set up in quads: No electrical
Application deadline: 12/08/17
Jury Process begins: 12/08/17
Status Notification: 12/29/17
Booth Fee Due: 1/19/18
Artist Info Sent: 02/23/18
Wait List Acceptance: 01/16/18
Application available online at

juriedartservices.com

beginning June 1, 2017
____________________________________________________________________
Naples Art District's 1st Wednesday Studio and Gallery Tour is December 6 (12-02-17)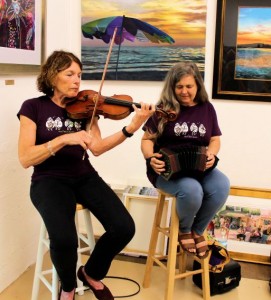 The next 1st Wednesday Studio and Gallery Tour takes place in the Naples Art District on December 6. The event is a unique opportunity to not only visit some of Southwest Florida's most interesting galleries, but immerse yourself in the sights, sounds and smells of the studios of dozens of emerging and mid-career artists working in a broad cross-section of genres and media. The event takes place from 5-8 p.m., is free, and many of the galleries and studios serve complimentary beverages and light fare. Some offer musical entertainment, as well. Participating galleries and studios have maps and information sheets so that you can find your way around the Naples Art District.
______________________________________________________________
1st Wednesday event allows new collectors to find out what they like (12-02-17)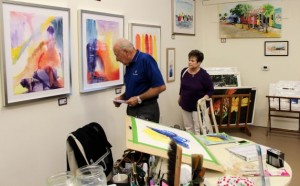 On the first Wednesday of each month, the Naples Art District sponsors a studio and gallery tour. A couple of years ago, long-time collectors and art connoisseurs Joel and Joan Kessler made the rounds nd offered some important reasons why you should take the time to participate in the 1st Wednesday Studio and Gallery Tour.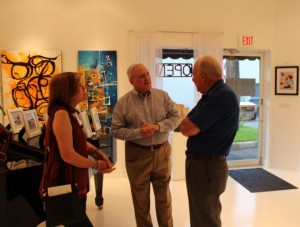 The couple first began collecting during the 1960s. Today, their walls feature exceptional originals and limited edition prints by the likes of Robert Rauschenberg, Jeff Koons, Damien Hirst and other contemporary art heavyweights. "We ran out of wall space," Joel chuckled while he eyed photographs by Jack Megela in the The Artists' Gallery. "I used to joke that I had Andy Warhol living in my closet."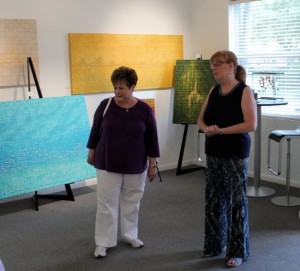 While the Kesslers are in the process of downsizing their private collection (called "de-accessioning" in art circles), they still periodically take part in the studio and gallery tour and visit outdoor art fairs and festivals. Happenings like these enable them to maintain their associations with area artists and gallery owners and keep their fingers on the pulse of the local, regional and even national art scene. But in their estimation, the real value of the event, Fort Myers Art Walk and the myriad art fairs and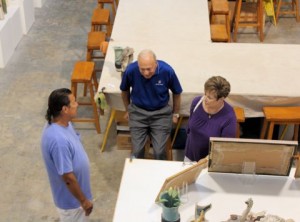 festivals that take place each year throughout Southwest Florida is what they do for newbie art enthusiasts and collectors and beginning to mid-career local artists.
Starting out, lots of people believe they need to find the next Rauschenberg, Warhol or Rosenquist. In the Kesslers' experience, that's a mistake. "I never bought a painting because I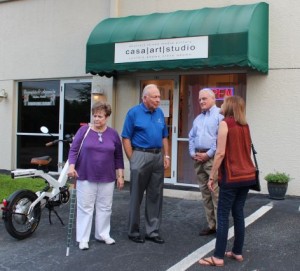 thought it was going to be valuable or because I thought the artist was going to have a good career," says Joel with conviction. "We only bought what we thought we'd like to live with on our walls," adds Joan with equal insistence. As a result, they admonish first-time and neophyte collectors to only purchase pieces that they like.
To read more, please click here.
____________________________________________________________
Whitney Hackett's 'Painted World' at DAAS CO-OP in December (12-02-17)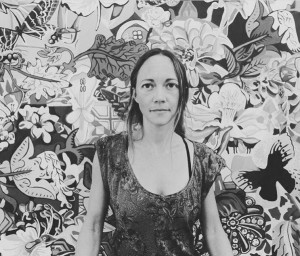 During the month of December, DAAS CO-OP Art Gallery & Gifts will be featuring the art of Whitney Hackett. The exhibition, entitled Painted World, highlights some of the artist's latest and most vibrant work.
A native of Southwest Florida, Hackett first became serious about art while attending Fort Myers High School, where Whitney studied ceramics and photography for 3 years. After g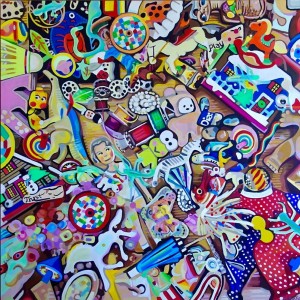 raduating high school in 2004, she attended the University of Florida to study Fine Arts. It was there that she fell in love with painting. In 2008 she graduated with a Bachelor of Fine Arts with a focus in painting. Since 2008 she has lived in Vermont, Maine, and California.
Whitney's varied life experiences influence the subject matter of her paintings. She loves collecting imagery from the world around her and turning it into a visual experience on canvas. Nature photography and collage work are two major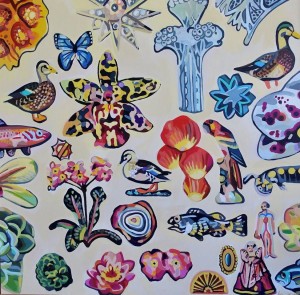 influences for her work. Her imagery ranges from a surreal collage style, to more traditional landscapes and animal portraits with a twist.
Hackett returned home last year after living in California for 6 years and driving cross country many times. She owns Quartz & Clover, a boutique shop and art gallery on Jackson Street in downtown Fort Myers. The boutique features many unique items, including art and goods made by local artists and artisans.
T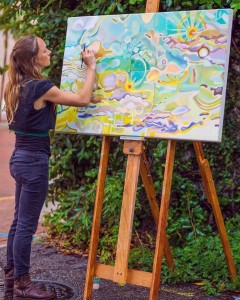 he opening reception for Painted World coincides with the monthly SoCo Second Saturday, held at the SoCo Cultural District (Alliance for the Arts and Royal Palm Square block) on Saturday, December 9, 2017 from 6:00 to 10:00 p.m.
For more information about the gallery, please visit daascoop.com or call 239-590-8645. DAAS CO-OP Art Gallery is conveniently located in Suite 4 at Royal Palm Square, 1400 Colonial Blvd, Fort Myers, FL. Season hours are Tuesday through Saturday from 10:00 a.m. to 6:00 p.m. For information about the SoCo Second Saturday Art Crawl, please visit socoswfl.com.
________________________________________________________________
Crayton Cove galleries hosting Christmas at the Cove on December 16 (12-02-17)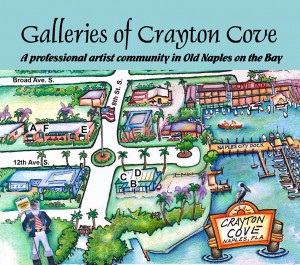 The galleries, shoppes and restaurants in Crayton Cove will be hosting Christmas in the Cover from noon to 9:00 p.m. on Saturday, December 16. Each Crayton Cove business plans to feature something special.  Phil Fisher Gallery is hosting a trunk show of newest works of fine jewelry by Kathleen Dennison. Guess-Fisher Gallery will have live Holiday Music performed by Jeff Fessenden later in the day. All told, Christmas in the Cove is a fun and festive day to shop for those unique last minute gifts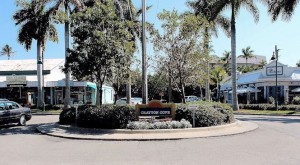 while enjoying the holiday season. The action takes place where 8th St. S. & 12th Ave. S. meet at the flagpole by Naples Bay. For more information, please visit www.GalleriesOfCraytonCove.com or www.Crayton-Cove.com.
_______________________________
T.G.I.M. returns December 4 (12-01-17)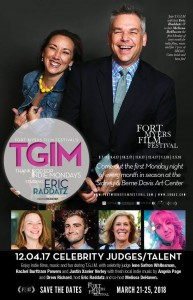 Thank God for Indie Mondays returns to the grand atrium of the Sidney & Berne Davis Art Center on December 4. That's when hosts Eric Raddatz and Melissa DeHaven will screen a fresh batch of indie films that have been submitted for inclusion in the Fort Myers Film Festival.
While there will be celebrity judges on hand to lead the discussion after each screening, Eric and Melissa want to hear from you. What was your take on the film? What worked or didn't work for you? What did you love or hate? Should the film be included in the film festival next March or not?
Your opinion matters.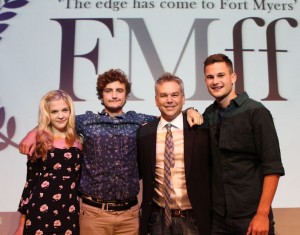 Your vote counts.
Read here for the rest of this announcement.
RELATED POSTS.
___________________________________________________________________
Florida Rep takes audience back to 1939 Atlanta in 'Last Night of Ballyhoo' (12-01-17)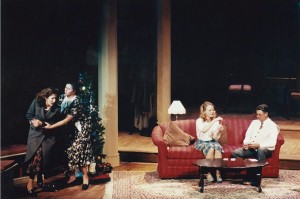 Florida Repertory Theatre is taking audiences back in time to 1939 Atlanta for nineteen days. No, it's not to join Clark Gable and Vivien Leigh for the opening of Gone with the Wind. Rather, it's to join the Levy-Freitag family as they get ready for the social event of the season. It's The Last Night of Ballyhoo, the Alfred Uhry hit comedy that won the 1997 Tony Award for Best Play.
F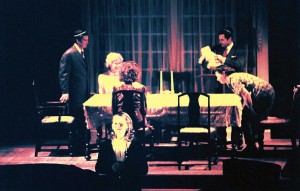 lorida Rep first produced the romantic comedy in the fall of 1999 as part of its second season.
"I really wanted to pay homage to some of our past hits to celebrate our 20th season," said producing Artistic Director, Robert Cacioppo, "and Alfred Uhry's romantic comedy was a natural choice. Not only is it a funny and heartwarming love story, but it's a family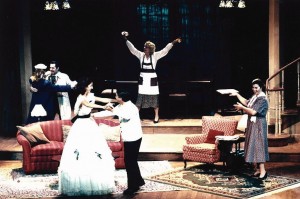 portrait in the American prewar South that deals with some very serious issues. Like in his other play, Driving Miss Daisy, Uhry tackles serious subject matter by lifting our spirits and making us laugh. I know our audiences will fall in love with it all over again."
Florida Rep ensemble members, Carrie Lund and V Craig H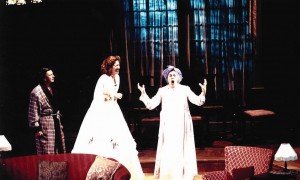 eidenreich return to the Florida Rep stage in the production. Lund just appeared in Sylvia, and Heidenreich directed Disgraced, which is running through December 10 in the ArtStage Studio. Heidenreich also appeared least March as Atticus Finch in To Kill a Mockingbird.
The rest of this announcement is here.
See also 'Last Night of Ballyhoo' play dates, times and ticket info
________________________________________________________
Time running out to see Pulitzer-winning drama 'Disgraced' (12-01-17)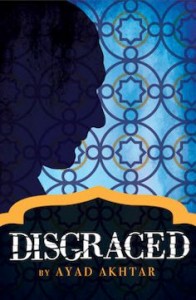 How far must an immigrant go in order to fit into American society? Is more required than just learning English? Must they also renounce their cultural identity in order to gain mainstream acceptance? Questions such as these have been asked for decades by the huddled masses arriving on our shores from Italy, Ireland, and other nations across the globe. The questions even resound in black and Latino families, and they're at the heart of Disgraced, a Pulitizer Prize-winning drama by Ayad Akhtar that opened November 7 in the Artstage Studio Theatre at Florida Rep.
The play's protagonist is Amir Kapoor, a successful and seemingly well-adjusted corporate lawyer living and working in Manhattan. He's happy, in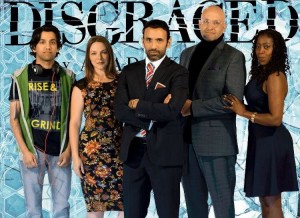 love with his wife, Emily, and about to land the biggest promotion of his career. But his practice and personal life slowly begin to unravel after he helps his nephew with a case defending a man of Muslim faith.
Matters come to a head at an intimate dinner party that he and Emily host for two colleagues and friends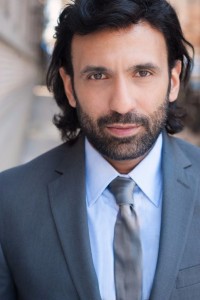 during which Amir begins to question whether the life he has built is a carefully-constructed façade. The innocent little dinner party quickly devolves into an intense conversation involving religion, race and betrayal. Accusations are made, truths revealed, and Amir's life will never be the same.
Directed by V. Craig Heidenreich, Disgraced stars Amir Darvish as Amir, Rachel Burttram as Emily, Imran Sheikh as Abe, Mary E. Hodges as Jory and Gregg Weiner as Isaac.
Read here for the rest of this advance.
RELATED POSTS.
______________________________________________________________________
Labor of love – the evolution of Lab Theater's 24-Hour Playwriting Challenge (12-01-17)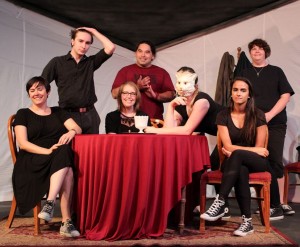 Lab Theater's popular 24-Hour Playwriting Challenge is just around the corner. Now entering its sixth season, the high-tension, pressure-packed competition invites between three and five playwrights to produce a short one-act 12-15 minute play in just ten hours. The writers typically work through the night, starting around 9:00 p.m. on a Friday night and wrapping up at 7:00 a.m. on Saturday morning, just before breakfast is served.
After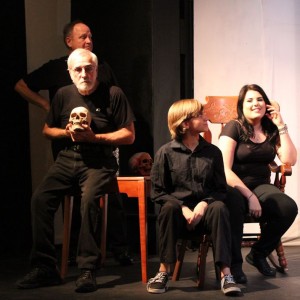 a table read, input from a panel of directors and some last-second fine-tuning, the scripts are printed, copied and handed to teams of directors and actors who have a mere matter of hours to learn their lines and blocking before hitting the boards beginning at 8:00 p.m. in front of a standing-room-only audience.
Admittedly, the Challenge represents an incredible amount of work for The Lab, but in the opinion of Artistic Director Annette Trossbach and Prop Mistress Stella Ruiz, the benefits justify the huge outlay of
time and effort.
The inaugural 24-Hour Playwriting Challenge took place in December of 2012.
"We didn't know what we wanted to do that first year," concedes Ruiz, who has placed her own imprint on the 24-Hour Playwriting Challenge in the years following that seminal contest.
"By year three, we had worked everything out pretty well. The schedule is all important. It has to be tight and everyone has to adhere to it because it's such a truncated experience. Obviously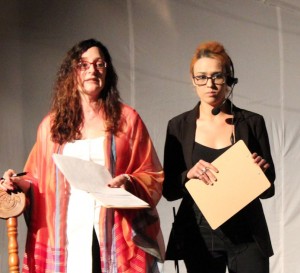 everyone rehearses outside of their stage time, but stage time is critically important. It has to be timed really, really carefully."
The parameters of the Challenge have evolved over time. In 2012 and 2013, the concept was fairly simple and straightforward. The playwrights were given a common setting, such as a waiting room (2012) or the hallway in a rundown apartment building (2013). But they were free to structure the plot, characters and even time period of their play any way they wished within the confines of that set.
Read here for the rest of this story.
_________________________________________________________