Artists, actors, filmmakers and events in the news December 8-14, 2018
These are the actors, artists, filmmakers and events who are in the news in Southwest Florida this week:
Kathy Kuser exhibiting digital surrealism in ACT's White Gallery in January (12-13-18)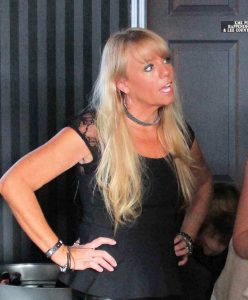 Artist, graphic designer, gallery owner and magazine publisher Kathy Kuser will be exhibiting in the White Gallery at Arts for ACT in January.
"With my art, I want to bring a fresh and contemporary twist to a long established medium …. surrealism," Kathy advises. "Using my skills as a graphic designer, I create 2D/3D digital surrealism. Through a mystical and fantasy-driven vision, a story emerges from my canvas."
Kuser uses stark details with transitional blending to enable her art to take flight. "The range of my artwork can vary from something with as little as
70 digital layers to creating a more complex piece with greater than 700 layers or images."
Kathy's digital surrealism has been exhibited in nearly every local venue from the Bob Rauschenberg Gallery (2012) to the Naples Art Association (2013), Lee County Alliance for the Arts (2013, 2016), BIG ARTS on Sanibel (2016), Reverie & Rock Art Gallery (2012-2017), Sidney & Berne Davis Art Center (2012, 2015) and Spring Art Affair at Bell Tower Shops (2014, 2016). Her work has also been displayed at the Old Courthouse Art Center in Rockford, Illinois in 2017.
She has also participated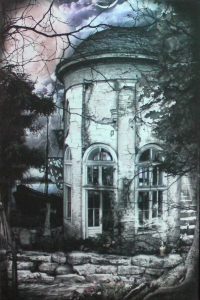 in the annual Arts for ACT fine art auction (2012, 2016), Art Poems (2016) and the Pen Women of Florida annual conference in 2016.
Since becoming an artist in early 2012, Kathy has been featured in the News-Press, Sun Seeker Magazine, Gulf Coast Times, COASTE Magazine, Cape Coral Daily Breeze, Florida Weekly and Examiner.com. Additionally, her art was featured on the October 2013 & 2018 cover of Happenings A&E Magazine. In 2017, she took 2nd place in an International Contemporary Art Competition through Open Art Miami and was featured in their gallery during Art Basel that same year.
Kathy earned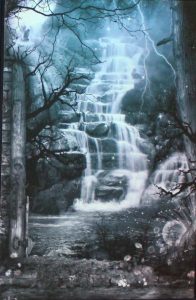 her bachelor's degree in management and organizational development from Spring Arbor University (Michigan). She and her husband own KMK Publishing Inc. which publishes two monthly event magazines in Southwest Florida, Happenings A&E Magazine and Lee County Family News. Additionally, she co-owned Reverie & Rock Art Gallery in downtown Fort Myers, which was forced to close due to damage suffered by the building as a consequence of Hurricane Irma last September.
The exhibition of Kuser's work will remain on view through January 28, 2019.
________________________________________________________________
Jill Lindsay to exhibit pixelated acrylic and alcohol inks at Arts for ACT (12-13-18)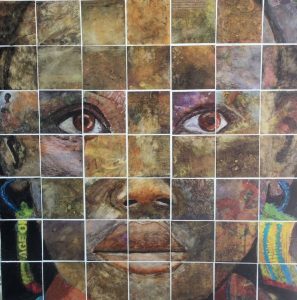 Jill Lindsay will be exhibiting work in Arts for ACT's main gallery in January. She works in acrylic and alcohol ink. She has won multiple awards for her work at Visual Arts Center in Punta Gorda, Englewood Art Center, Sarasota Art Center and the International Society of Experimental Artists.
"I like to create artwork that catches your eye from a distance, usually using color to attract," Jill discloses. "As you approach my work, the smaller details become clear. The longer you linger the more you may see."
On a trip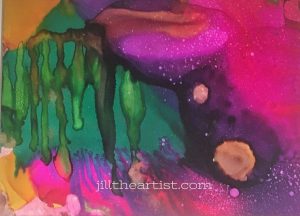 to the Dali Museum a few years ago, Lindsay was so inspired by Dali's use of pixelation in the Lincoln piece Gala Contemplating the Mediterranean Sea that she began experimenting with altered National Geographic pages to achieve as similar result. Toward that end, she soaked the pages with a solvent that moves the ink, creating new colorations and patterns.
"I thought cutting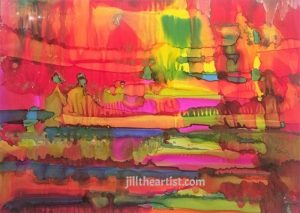 these papers into squares would mimic pixels and add a graphic component to the pieces," Lindsay elaborates. "I use a variety of techniques to add or subtract features. I have created many of these 'square' paintings now. They continue to mesmerize me. Using alcohol inks and resin add another depth and coloration that intensify the work."
Jill "grew up"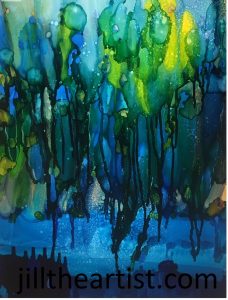 in Massachusetts and moved around a bit before landing up the road in Port Charlotte in 2001. She claims to have always been artsy (though others might say quirky), but her creative juices really started flowing after taking a furniture painting class in 2002. After she ran out of furniture to paint, Jill started working with other substrates and mediums. She joined an abstract art class in 2015 and was introduced soon after to alcohol inks and loved the colors and depths they created. The acrylic and ink have been flowing ever since!
The exhibit will be on view through January 28.
For more on Jill Lindsay and her art, please visit http:www.jilltheartist.com.
______________________________________________________________________
Vanagas, Coccari and Campbell headlining TNP's 'Midsummer Night's Dream' (12-13-18)

Mark Vanagas, Alisa Marie Coccari and Titania Kylie Campbell headline the cast of The Naples Players' upcoming production of William Shakespeare's A Midsummer Night's Dream. Directed by John McKerrow, A Midsummer Night's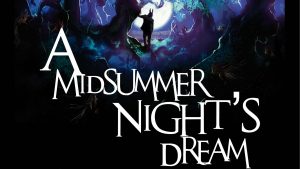 Dream will be performed free on the Baker Stage as part of TNP's continuing effort to provide accessible Shakespeare to the community. Audience members are invited to bring lawn chairs and picnic s to enjoy Shakespeare under the trees and stars in the Sugden Plaza. The show will run Saturdays and Sundays, February 16 – March 10, 2019.
Shakespeare wrote A Midsummer Night's Dream in 1595-1596. It is the mischievous and light comedy consisting of four plots, interconnected by the wedding celebration of Theseus, the Duke of Athens, and the Amazon Queen, Hippolyta. The classic story is about order and chaos, reality and appearance, and love and marriage.
In modern tradition, the cast of ten actors will play multiple roles:
Mark Vanagas as Thesus and Oberon
Alisa Marie Coccari as Hipployta and Titania
Kylie Campbell as Puck, Egeus, Snout and Moon
Kacey Canas plays Hermia
Jennifer Valiente is Helena and Mustardseed
Zachary Pachol is Lysander
Ty Bolen plays Demetrius, Snug and Lion
David Whalley is Bottom and Pyramus
Robert Ball is Peter Quince, Prologue, Wall and Cobweb
Shelley Gothard plays Flute, Thisbe and Peaseblossom.
A Midsummer's Night Dream is sponsored by Neapolitan Family Magazine. The production's Scenic Designer is Mike Santos with assistance by Megan Macker. Costume Design is by Mark Vanagas, Lighting Design by Chris Riley, and Sound Design by Bradley Van Houten and Grey Conderman. Lisa Nuccio will serve as Stage Manager.
As the show is free to the public, no ticket reservations are required to attend. But audience members are encouraged to arrive early with lawn chairs and picnic blankets.
Now celebrating its 65th season, The Naples Players Sugden Community Theatre is Naples' oldest theater and is a vital part of the exciting experience of Downtown Naples. The Naples Players continually seeks to enrich, educate, and entertain the community through a superior theater experience. TNP is inspiring passion for the performing arts through life-long opportunities to participate in vibrant theatrical experiences.
__________________________________________________________________
Alliance accepting submissions for 33rd Annual All Florida Juried Exhibit (12-11-18)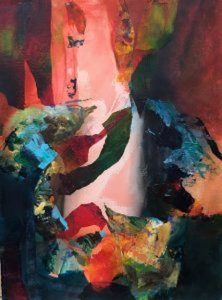 The Alliance's annual All Florida Juried Exhibition features pieces created by artists working in a wide variety of media from all over the 65,000 square miles that make up Florida. The juried entries come together for an award-winning and exciting exhibition representing today's contemporary Florida artists. The Alliance is accepting submissions online now through Monday, January 28, 2019. The show will exhibit March 8-29, with an opening reception from 5:00-7:00 p.m. on Friday, March 8. A conversational walk and talk through the gallery with the artists and juror will take place at 10:00 a.m. on Saturday, March 9.
Please visit ArtinLee.org for a prospectus or telephone 239-939-2787 for more information.
______________________________________________________________
Naples Art looking for artists for its immigration-themed 2019 show (12-11-18)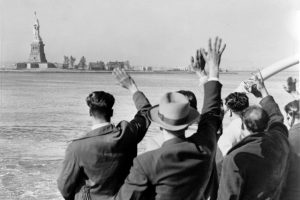 Immigration affects many areas such as work-force demographics, entitlement programs and finances. Artists have a lot to share on this important topic. And so the Naples Art Association is bringing Immigration: Does it Matter? to the Collier community January 12 – February 24, 2019. Artists who are interested in participating in this social-themed show should bring one exhibition ready artwork to Gallery 104 on January 3, 2019 between 10:00 a.m. and 4:00 p.m.
_________________________________________________________________
Portrait artist Dirce Kennedy exhibiting at Center for Visual Arts Bonita (12-10-18)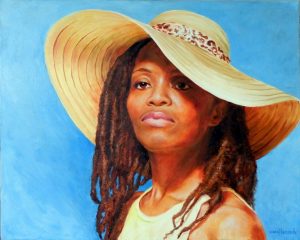 Portrait artist Dirce Kennedy is exhibiting a number of her detailed contemporary portraits in oil and acrylic. The show, Dirce Kennedy: Faces of Us, is on view in the Tranovich Gallery at the Center for Visual Arts Bonita Springs through December 27.
"Something magical happens as a subject's inner spirit emerges onto a canvas," says Kennedy, who essays to honor human nature with her renderings. "Our faces reveal our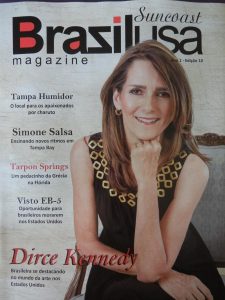 soul."
Kennedy transcends the physical limitations of paint and canvas, venturing into the emotional realm of the subject's spirit. And if a viewer is ready and willing, viewing a portrait can be an opportunity to slow down, open social and emotional walls, feel the essence of humanity and experience a genuine connection.
"I found portraiture through years of travel, drawing, painting, and study, plus influences such as Renoir, Warhol, Alex Katz and my artist father, who, when I was only two, gave me drawing materials and an ongoing passion for knowledge, for art, for life," Kennedy shares.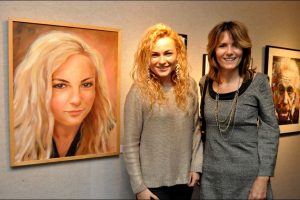 "As a portrait painter, my goal is sensitivity to [my subject's] needs while imparting [their] individuality to create a portrait that will be cherished now and for generations to come."
Kennedy has exhibited nationally and internationally since 2012. She has enjoyed nine solo exhibitions just since 2015 and participated in numerous juried exhibitions, receiving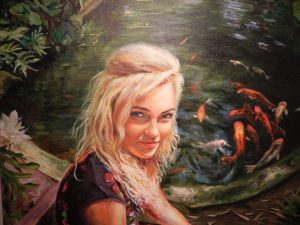 countless awards for the quality of her work, including Best of Show in Mirror Mirror and first place in It Comes Naturally at the Center for Visual Arts Bonita. Her conceptual and commissioned portrait paintings can be found in private collections in the United States, Canada, Brazil, Denmark and Dubai. For more on Dirce Kennedy's shows and accomplishments, read here.
____________________________________________________________________
'Fire and Ice' also on exhibit at Center for Visual Arts through December 27 (12-10-18)
Also on exhibit at the Center for Visual Arts Bonita Springs through December 27 is Fire and Ice. The exhibition celebrates the opposing forces of the changing seasons. Participating artists were encouraged to create work that explores the themes of warm/cold, seasons, climate, emotion and color. A number have also included opposing elements in the creation or design of their constructs.
_______________________________________________________________
Gary Alan Hall exhibiting in Arts for ACT's main gallery in December (12-10-18)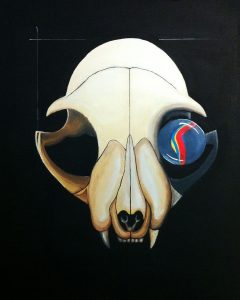 Gary Alan Hall is one of two artists exhibiting work at Arts for ACT Gallery in December.
Gary has worked with various mediums over the years and currently favors acrylic painting. Drawing inspiration from illustrators, Gary's work contrasts bold human and animal figures against simple or abstract backgrounds, often producing a unique "poster-like" quality.
Hall learned to draw as a child by watching his father. He continued his artistic interests by working in the graphic arts industry, where he learned graphic design and illustration.
Gary has shown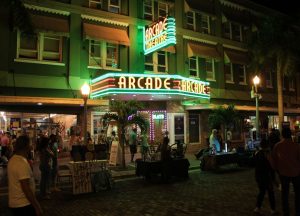 his work in galleries and has also participated in several juried exhibits such as Dark Arts 2018, 2D/3D and Art in Public Places at RSW airport.
From 2006 until 2012, Gary worked for Art of the Olympians as artist liaison and acting curator.
_________________________________________________________________
Yvonne Krystman exhibiting in Arts for ACT White Gallery in December (12-10-18)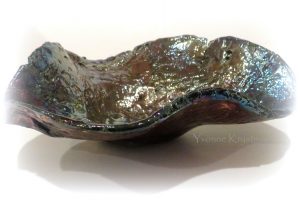 Yvonne Krystman is one of two artists exhibiting work in the White Gallery at Arts for ACT Gallery in December.
Krystman is a Cape Coral-based mixed media artist, potter and photographer. "One of the most impressive aspects of Krystman's work is the way it accomplishes the difficult task of inquiring into the liminal area where the abstract and the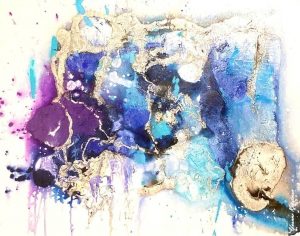 figurative find an unexpected yet consistent point of convergence," state Peripheral ARTeries Contemporary Art Review critics Josh Ryders and Melissa C. Hilborn. "Her works convey a coherent sense of unity that rejects any conventional classification. What has at once captured our attention of her artistic inquiry is the way she provided the visual results of her analysis with autonomous aesthetics."
The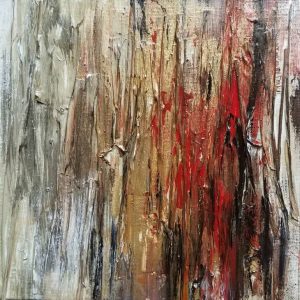 works Krystman is bringing to Arts for ACT for this exhibit include an array of multi-disciplinary pieces (including mixed media, raku and traditional pottery) inspired by Florida's unique natural elements – sunshine, wind, ocean waves and hurricanes. Also available, for the first time, will be samples of wearable art from art4wear.com, wearable art by Yvonne.
In addition to a previous solo show at Arts for ACT Gallery, Krystman's work has been included in group shows at prestigious venues including Aqua Miami (a satellite show to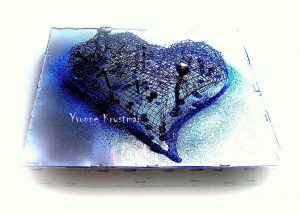 Miami Basel) and the Orlando Museum of Art.
A closing reception will also be held during Music Walk on December 21, with the artist present from 6:00 to 9:00 p.m. However, the exhibit will remain on display until Monday, December 31.
_________________________________________________________________
Stacked Brands sculpture at Regional Library celebrates 5th anniversary (12-10-17)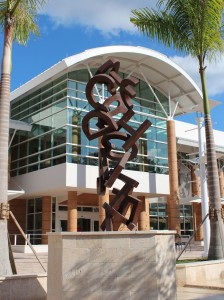 The sculpture that stands outside the Fort Myers Regional Library in the downtown Fort Myers River District is celebrating its fifth anniversary. The piece is called Stacked Brands, and was created by California metal sculptor Peter Mitten. The sculpture consists of historic branding irons utilized by Lee County's early cattle ranchers to mark their cattle in the decades following the end of the Civil War. On loan from the City to Lee County, the artwork has been strategically placed within spitting distance of First Street, which once served as part of the cattle trail that connected grazing and pasture lands in Fort Ogden and Fort Thompson to cow pens, barracks and a deep water wharf down river in Punta Rassa.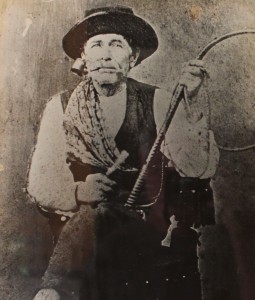 The facilities in Punta Rassa were built in 1864 in order to ship some 4,500 cows and steers to Key West that the Union soldiers stationed in Fort Myers confiscated from area cattle ranchers between February, 1864 and the fort's abandonment in March of 1865. A couple of blockade runners operating out of Tampa Bay during that time saw the facilities as they eluded the Union frigates and gunboats that were blockading the coast. In June of 1865, one of those blockage runners, Jacob Summerlin (right), took up residency in Southwest Florida, commandeered the facilities, and went to work expanding and extending the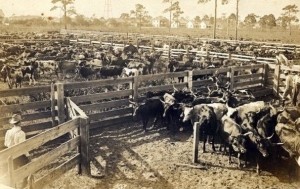 makeshift cattle trail up river to Fort Ogden and Fort Thompson. As part of that effort, Summerlin built scrub pens and stopovers for his drovers to use while moving herds down the trail. One of those stopovers was the cracker-style shack at the Edison & Ford Winter Estates that Thomas Edison converted into his Caretaker's House.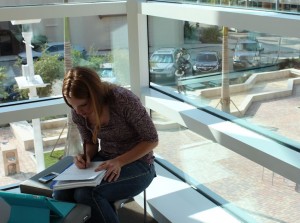 Although Fort Myers ran a 15-foot-wide strip of shell down the center of Front Street in 1901, the road wasn't asphalted until 1913. Two years later, the weed-strewn sand road from Monroe to Punta Rassa was finally replaced with a paved thoroughfare thanks to legendary civic leader Tootie McGregor Terry, who offered in 1912 to cover the costs of paving the 20-mile stretch from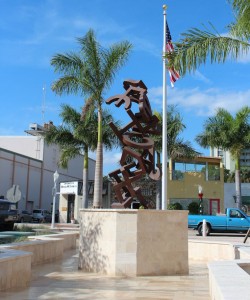 Whiskey Creek to Punta Rassa if the city and county would pick up the cost of paving Riverside Avenue from Whiskey Creek to downtown Fort Myers. Spurred by those road improvements, Fort Myers subsequently asphalted the roads in the downtown business district, thus ending the use of First Street (originally called Front Street) and McGregor Boulevard (originally known as the Old Wire Road) as a cattle trail.
But nearly 100 years later, few residents and virtually no visitors are aware that First and McGregor once served as a cattle trail or that had it not been for cattlemen like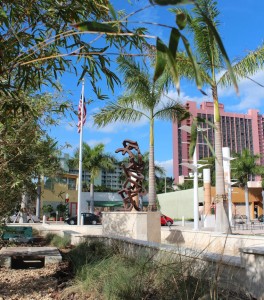 Summerlin, the Hendrys and William H. Towles, there would almost certainly be no Fort Myers today. To bring that part of the town's early history and cow town heritage to the forefront, Mitten not only incorporated the brands used by early cattle ranchers into his freestanding sculpture in the courtyard of the new library, he also cast four bronze panels containing imprints of cattle hooves to help mark the historic cattle trail which can be found at various locations along First Street.
__________________________________________________________________
Inaugural Naples Fine Art Show is December 15 & 16 at Galleria Shoppes (12-09-18)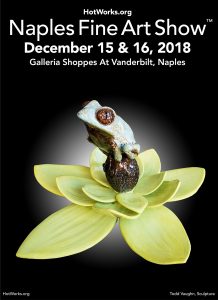 Hot Works LLC is hosting the Naples Fine Art Show at the Galleria Shoppes at Vanderbilt on Saturday and Sunday, December 15 and 16. This juried show replaces the nationally-ranked Estero Fine Art Show typically held each November up the road in Estero, Florida. Hot Works emphasizes quality not quality at its fine art shows, with Festival Director Patty Narozny focusing on originality, artist accessibility, cultural diversity and community enrichment. There is also a youth art competition and show to foster art education among aspiring young artists.
____________________________________________________________________
Hot Works' Naples Fine Art Shows promise to be intimate, boutique affairs (12-09-18)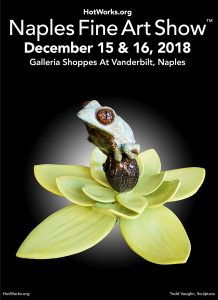 Hot Works LLC has announced that it will be holding two weekend art shows in Naples during the upcoming season. Both will be held at the Galleria Shoppes on Vanderbilt. The 1st Bi-Annual Naples Fine Art Show will take place on Saturday and Sunday, December 15 and 16, with the second returning to the Galleria Shoppes on Saturday and Sunday, March 30 and 31, 2019.
The shows will be organized and conducted as intimate, boutique affairs that feature original work by no more than 150 nationally and internationally acclaimed artists in painting (oil, acrylic and watercolor), drawing (pastels, colored pencil and pen-and-ink), photography, digital imagery, sculpture (metal and stone), clay, ceramics, wood working and carving,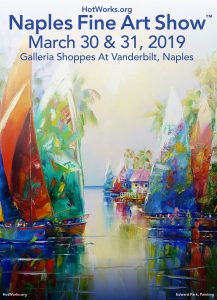 glass, fiber art (including batik and tapestry), art jewelry and more.
The size and arrangement of these shows encourages art lovers and collectors to engage the artists about their inspiration, process and what makes them unique within the highly-competitive realm of fine arts and fine crafts. But Executive Director Patty Narozny employs a number of other time-honored techniques to make Hot Works' shows a positive experience both for participating artists and patrons.
First and foremost,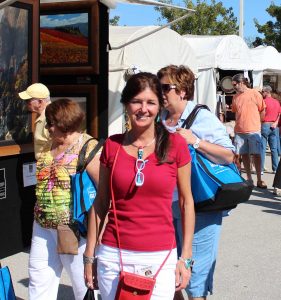 she enlists a team of art professionals with more than 120 years of combined experience to judge the work of the hundreds of applicants who wish to participate in Hot Works' shows. Narozny is choosey, and her interest goes well beyond digital images and paper applications. She visits many of her artists in their homes and studios to make sure that their work makes a contribution to the quality of her shows and a statement in the collections of the people who patronize them.
But Narozny also understands that most of the folks who come to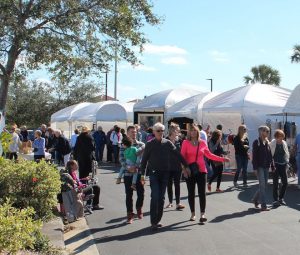 her shows are far from experienced collectors. In fact, many are newbies – or have yet to take the plunge and buy their first artwork. They are still in the process of defining their tastes and have yet to figure out what they like and why is speaks to them. With that in mind, she builds variety into every Hot Works show.
Further, she and her team strive to ensure that the work presented covers a wide range of price points. There is art for every budget.
Last but not least,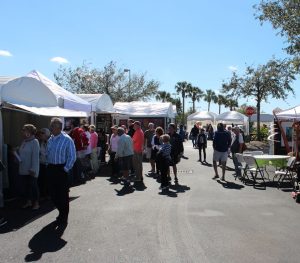 purchasers can buy with confidence. Because Narozny does her homework so meticulously, they know they're not only getting an original work of art from a credentialed artist, they are getting value as well.
While the business side of the equation is serious work, attending a Hot Works show is a relaxing, casual experience. It's like taking a leisurely stroll through a park filled with artwork. There's no pressure to do anything more than look and envision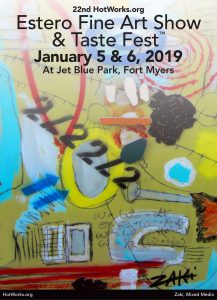 what that great painting, photograph or sculpture might look like in your home or office. And if you need a little help in the latter category, all of the exhibiting artists are only too happy to bring one or more artworks to your house after hours so that you can see exactly what it looks like on your bookcase, floor or wall.
If you haven't been to a Hot Works fine art show before, it's a treat you deserve. For more information, please visit http://www.hotworks.org or email info@hotworks.org. And don't forget Hot Works' other Southwest Florida fine art show at Jet Blue Park. The Estero Fine Art Show will take place on January 5 & 6, 2019.
__________________________________________________
No 3rd Saturday studio and gallery tour in December (12-09-18)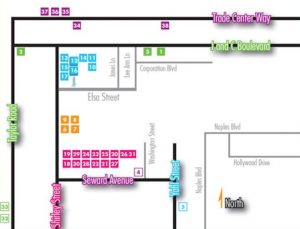 Each month in season, the Naples Art District conducts a studio and gallery tour. It's a rambling, open house affair during which the district's artists invite the public into their working studios and galleries to sample the sights, sounds and smells of the newest and freshest art on display. But December 22 is just three days before Santa's one-night-only, so there'll be no 3rd Saturday Naples Art District Studio & Gallery Tour in December.
_________________________________________________________________
8th Annual Coconut New Years Weekend Art Festival December 29 & 30 (12-09-18)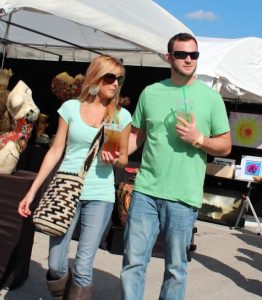 The 8th Annual Coconut Point New Years Weekend Art Festival takes place December 29 and 30 at Coconut Point Mall in Estero. This is a Howard Alan event, where variety and diversity are overarching themes. At this 2-day outdoor art fair, there is something for everyone ranging from $15 handmade silver jewelry to life size sculptures costing in excess of $50,000. Some 200 artists and artisans from 30 different states are expected to participate in this festival, with every medium and genre being represented. artists have been juried by an independent panel of expert judges and hand-selected from hundreds of applicants based on quality and diversity ensuring a variety of original and handmade art with wide appeal.
_____________________________________________________________________
App deadline for 31st Annual Downtown Naples Festival of the Arts is today (12-09-18)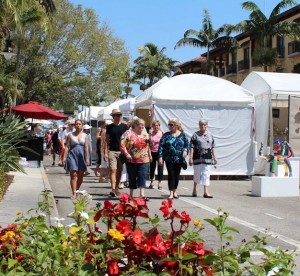 The Naples Art Association's deadline for applications for The Downtown Naples Festival of the Arts closes today. The festival is one of the last major art festivals of the winter season and a favorite festival for artists, art enthusiasts and collectors. It is voted one of Naples' top five favorite events by local businesses and residents and is also included in the top 15 art festivals nationally by Sunshine Artist's survey of all artists in the country.
_____________________________________________________________
Alliance Youth Theatre's 'Hunchback' closes with Sunday matinee (12-08-18)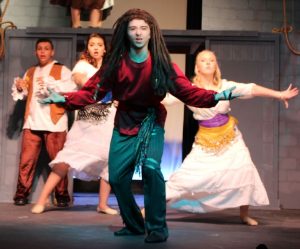 The Hunchback of Notre Dame closes tomorrow afternoon, December 9, with a 2:00 p.m. matinee. It is another wonderfully-staged, densely-packed musical produced by Alliance Youth Theatre Directors Carmen Crussard and PJ McCready, whose past credits include such blockbuster shows as Heathers the Musical, Spamalot and Calvin Berger. Faithfully adapted from Victor Hugo's classic novel by Peter Parnell, The Hunchback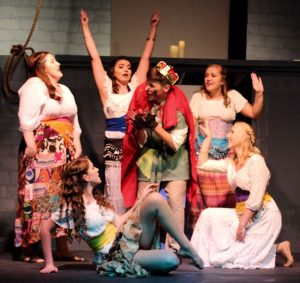 of Notre Dame faithfully recounts the tale of one man with a deformed body and another with a deformed soul.
The musical tells the story of Quasimodo, a partially-deaf hunchback who observes the panorama of 15th century Paris from his perch in the bell tower of the famed cathedral of Notre Dame. Held captive by his devious caretaker, archdeacon Dom Claude Frollo, Quasimodo finds kindness from only the beautiful and clever gypsy,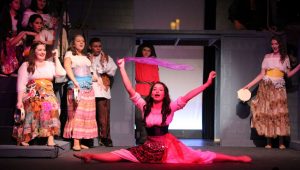 Esmeralda. But Quasimodo isn't the only one captivated by her free spirit. Frollo and a handsome captain by the name of Phoebus de Martin are equally enthralled. As the three vie for her attention, Frollo embarks on a mission to destroy the gypsies (whom he regards as heathen criminals) – and it's up to Quasimodo to save them all.
Read here for the rest of this review.
______________________________________________________________
Alliance Youth Theatre bringing Princess Camp to stage Dec. 14 & 15 (12-08-18)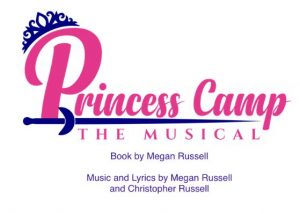 The Alliance Youth Theatre will bring Princess Camp the Musical to the stage for three shows on December 14 & 15.
Princess Mary Merryweather would rather be riding a horse than dancing at a ball. Too bad Princess Camp doesn't have any horses. Tired of failing at all the things a princess is supposed to be, Mary runs away. Between saving a prince, being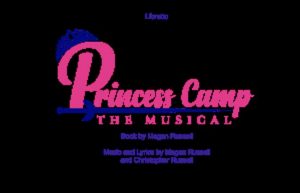 chased by minions of the Evil Stepmothers Alliance, and some sword fighting, being in the forest is just the adventure Mary had hoped for. But getting out of trouble takes more than guts, and proving a princess can be anything she wants to be will take a little help from Mary's friends … assuming Sleeping Beauty can stay awake that long.
Performances are at 7:30 p.m. on December 14 & 15, with a 2:00 p.m. matinee on Saturday, December 15. Tickets are $10 presale, $20 adults or $15 students/seniors. Now offering reserved seating! Purchase online today or call 239-939-2787.
____________________________________________________
Alliance Youth Theatre issues casting call for two shows (12-08-18)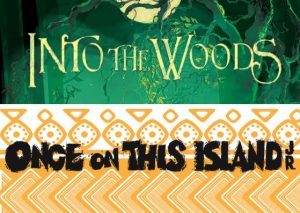 Auditions for Once on this Island Jr. and Into the Woods will take place between 5:00 and 9:00 p.m. on Tuesday, December 18 at the Alliance for the Arts. If you are interested in auditioning, you should prepare to sing 32 bars or 1 minute of a musical theater song (no pop songs please) and bring an instrumental track of your audition song. A CD player with aux cord and Bluetooth
capabilities will be available for this purpose. Dress comfortably and be prepared to dance. Choreography will be taught and performed during your audition time. Also bring an updated performance resume and a headshot.
Callbacks will be held Saturday, December 22 from:
Rehearsals will be most Saturdays from 9:00 a.m. until 3:00 p.m. and Mondays from 6:00 to 9:00 p.m. Additional days may be added at the discretion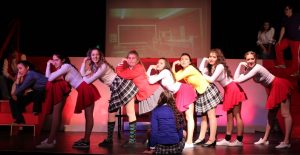 of the director and according to the availability of the cast.
The suggested age for Once on this Island Jr. is 4th through 8th grade. The suggested age for Into the Woods is 9th through 12th grade.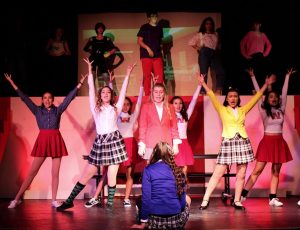 If cast, there is a $250 fee for the program, although there are a limited number of scholarships available for those who qualify.
Visit here for more information, email carmen@artinlee.org or telephone 239-849-2297.
_____________________________________________________
Elf the Musical at Broadway Palm through Christmas Day (12-08-18)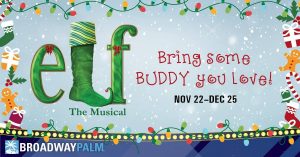 Elf the Musical is on stage at Broadway Palm Dinner Theatre through Christmas Day. Based on the holiday film of the same name, this charming and whimsical musical comedy follows Buddy the Elf in his quest to find his true identity and help New York remember the true meaning of Christmas. Buddy, a young orphan,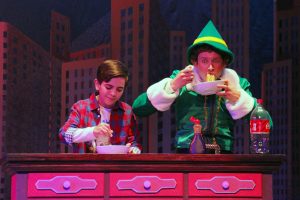 crawls into Santa's bag and winds up in the North Pole where he is raised, unaware that he is human, until his enormous size and poor toy-making abilities cause him to face the truth. With Santa's permission, Buddy embarks on a journey to discover his true identity. This modern day holiday classic is sure to bring out the true spirit of Christmas….after all, the best way to spread Christmas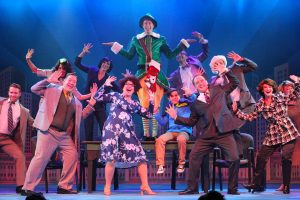 Cheer is singing loud for all to hear!
ELF the Musical is directed by Paul Bernier and choreographed by Amy Marie McCleary. It stars Chris Duir, who was seen as the Scarecrow in Prather Productions' National Tour of The Wizard of Oz and has performed at Broadway Palm as Bert in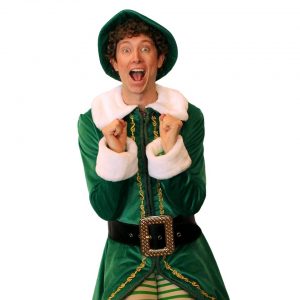 Mary Poppins and as Andy Lee in 42nd Street. In addition, he's performed with Celebrity Cruises and overseas in Macau and Dubai.
Performances are Tuesday through Sunday evenings with selected matinees. Tickets are $45 to $70 with group and children's prices available. Tickets are now on sale and can be reserved by calling (239) 278-4422, visiting BroadwayPalm.com or in person at 1380 Colonial Boulevard in Fort Myers.
Elf the Musical plays now through Christmas Day.
______________________________________________________________________
Whitworth and Banning headline cast of Off Broadway's 'Winter Wonderettes' (12-08-18)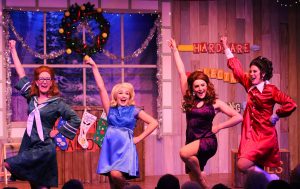 Melissa Whitworth and Sarah Mae Banning headline a cast that includes newcomers Sarah Hinrichsen and Lexie Wolf in Off Broadway Palm's holiday production, Winter Wonderettes, which is playing now through Christmas Day. Whitworth was last seen at Broadway Palm as Grace in Annie and Mary Poppins in the eponymous musical. Banning starred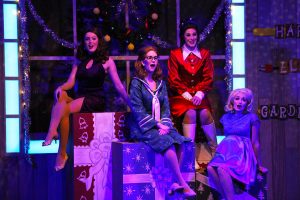 as Roxie Hart in last season's production of Chicago.
Winter Wonderettes is an energetic and glittering holiday revue that's the perfect treat to help you groove into the spirit of the season. Set in 1968, the Marvelous Wonderettes are the entertainers at Harper's Hardware Holiday Party. The girls have their holiday harmonies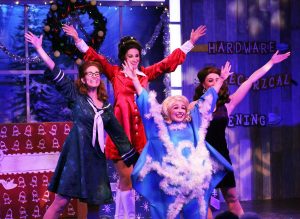 ready and have transformed the hardware store into a winter wonderland. Like every year, Mr. Harper is scheduled to appear as Santa Claus and pass out the employee bonuses, but trouble ensues when "Santa" turns up missing. The girls keep the party going with lots of laughs and fun at every turn and a few lucky audience members get to be part of the excitement!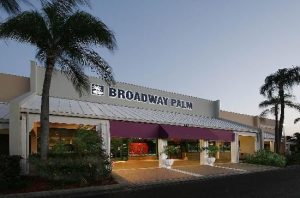 The holiday songs include many favorites such as Santa Baby, Santa Claus is Coming to Town, Jingle Bell Rock, Winter Wonderland and more.
Amy McCleary directs and choreographs the show. McCleary's recent work with Broadway Palm includes Annie, Mamma Mia and Chicago. Her choreography can also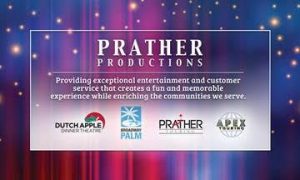 be seen throughout the country in the current national tour of The Wizard of Oz.
Performances are Tuesday through Sunday evenings with selected matinees. Ticket prices range from $39 to $59 with group discounts available for parties of 20 or more. Tickets are now on sale and can be reserved by calling (239) 278-4422, visiting BroadwayPalm.com or in person at 1380 Colonial Boulevard in Fort Myers.
_________________________________________________________
Spotlight on 'Winter Wonderettes' co-star Sarah Mae Banning (12-08-18)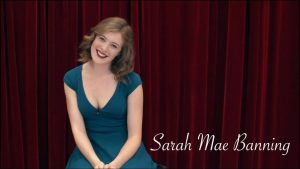 Sarah Mae Banning is a singer, actor and dancer who occasionally performs at the Broadway Palm Dinner Theatre and associated Off-Broadway Palm.
She is best known locally for her portrayal of Roxie Hart in Broadway Palm's production of Chicago. Some of Sarah Mae's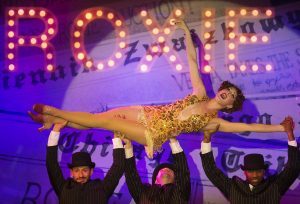 other acting credits include Cindy Lou in Winter Wonderettes, Marty in Grease, Millie in Thoroughly Modern Mille, Ariel in The Little Mermaid, Amber von Tussle in Hairspray, Pauline in Saturday Night Fever, Minnie in West Side Story and Mrs. Pinkerton in the national tour of Pinkalicious as well as Mrs. Clancy in the national tour of Fancy Nancy: Spendiferious Christmas.
Here's the rest of Ms. Banning's profile.
________________________________________________________
Spotlight on 'Winter Wonderettes' co-star Melissa Whitworth (12-08-18)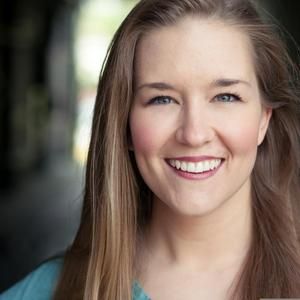 Melissa Whitworth is a Florida-based actor, singer and director.
In the former capacity, Whitworth most often performs with Mad Cow Theatre in Orlando, Broadway Palm Theatre in Fort Myers, and at the Universal Studios Orlando Resort. Her stage credits include [in reverse chronological order] Winter Wonderettes (for Off Broadway Palm Dinner Theatre), Grace Farrell in Annie (for Broadway Palm Dinner Theatre, 2018), Henrietta Leavitt in Silent Sky (for Mad Cow Theatre in Orlando, 2018), Vera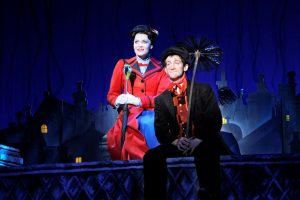 in Odd Couple: Female Version (Off-Broadway Palm, 2017), Mary Poppins in the Disney musical of the same name (for Broadway Palm Dinner Theatre, 2017), Olga in Chekhov's Three Sisters (for Mad Cow Theatre, Orlando, 2017), Karol in Another Night Before Christmas (for Off Broadway Palm, 2016), Thomas Jefferson in 1776 (presented with an all-female cast by Mad Cow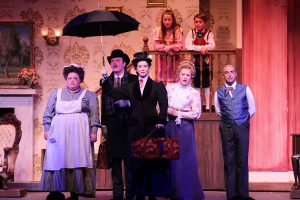 Theatre in Orlando, 2016), Cindy in SUDS: The Musical (for Show Palace Dinner Theatre, Hudson, FL, 2015), Elizabeth in Young Frankenstein (for Entracte Theatrix , Delray, FL, 2015) and Princess Fiona in Shrek (for Theatre Winter Haven). Regional credits include How I Learned to Drive (as L'il Bit) and The Next Fairy Tale (as Glinda). Melissa also appeared in The Music Man, South Pacific and Anything Goes.
The rest of Melissa Whitworth's profile is here.
_______________________________________________________________________
Still time to get spooked for Christmas at the Center for Performing Arts Bonita (12-08-18)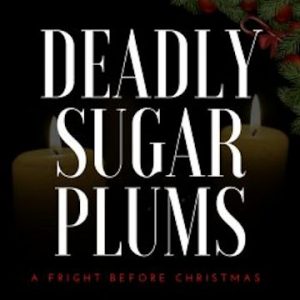 The Center for Performing Arts' Frank Blocker and L.A. horror director Jana Wimer have partnered for Deadly Sugarplums: A Fright Before Christmas at the Moe Auditorium & Film Center. Remaining performances are at 2:00 and 7:00 p.m. today and tomorrow (Sunday) at 2:00 p.m.
Harkening back to a time when English-speaking folks wiled away cold winter nights by entertaining each other with ghostly tales, this new play takes audiences on a fantastic, heart-thumping ride through a chronology
of forgotten horror stories and frightening fabrications that inspired many of the spooky apologues we hear today.
Today, of course, ghostly yarns and supernatural thrillers are confined to the realm of Halloween and the preceding night of mischief, mayhem and hooliganism. But that's a relatively recent innovation introduced by Scottish-Irish immigrants in the years preceding and following World War I. In Victorian days, the Yuletide was the time for sitting by the fire and trading ghost stories and spritely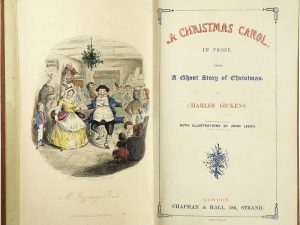 allegories to both entertain and reaffirm cultural truths and values. As Colin Dickey notes in a piece he wrote for Smithsonian.com a year ago December 15, "Dickens' supernatural yuletide terror was no outlier, since for much of the 19th century, [Christmas] was the holiday indisputably associated with ghosts and the specters."
So if you're inclined to travel back in time to simpler, albeit scarier days, take in Blocker and Wimer's Deadly Sugarplums: A Fright Before Christmas.
______________________________________________________
Staged Readings return to Moe Auditorium on January 11 (12-08-18)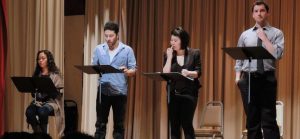 The Center for Performing Arts' will host another evening of staged readings in the Moe Auditorium & Film Center on Friday, January 11 beginning at 7:30 p.m.
Featuring poignant selections of written works carefully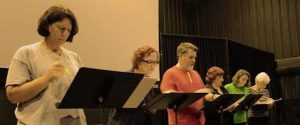 selected to enthrall and amuse, staged readings come from short stories, essays, plays, speeches, the inside of fortune cookies or anywhere else CFABS feels the written word might be made more impactful as read by local thespians.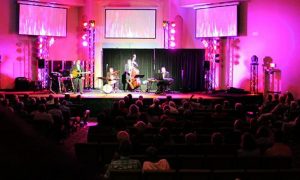 Each staged reading is a unique, powerful, funny and thought-provoking evening of entertainment as actors take on different roles.
Watch the transformative power of acting as directors and actors introduce all of us to works that may illuminate our mainstage work or introduce us to future programming possibilities. After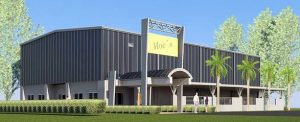 readings, you're invited to meet the cast and discuss the play with the director and actors. This lively and informative discussion brings new insight to the art of theater.
_________________________________________________________
'Improv Tonight' returns to Moe Auditorium on December 14 (12-08-18)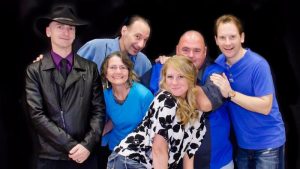 Join CFABS for some of Southwest Florida's best improvisational comedy on Friday, December 14.
Bonita City Improv will perform musical improv, games and scenes that include suggestions provided by the audience. Every show is different with special guests always popping in from nationally-touring improv groups. Be as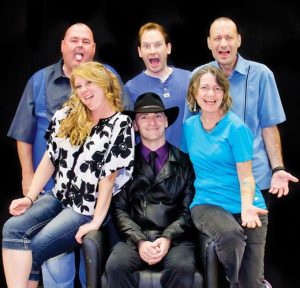 involved in the show as you'd like – whether you're just setting a scene with your suggestions or you're on stage as a player.
The fun starts at 8:00 p.m. at the Center for Performing Arts – Moe Auditorium & Film Center, 10150 Bonita Beach Road.
Adult Tickets are $13.50 for members and $15 for non-members. Beer and wine is available for purchase.
___________________________________________________
Submissions for 'Stage It!' 3 open through January 20 (12-08-18)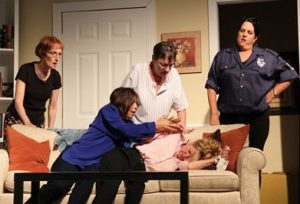 The Center for Performing Arts Bonita Springs is now accepting submissions for its next STAGE IT! 10-MINUTE PLAYS challenge. The deadline for submissions is January 20, 2019. Interested playwrights may submit up to three 10-minute plays. The submission fee for the first entry is $15 and $10 for each additional entry up to three. Plays should be in generally-accepted script format and must be emailed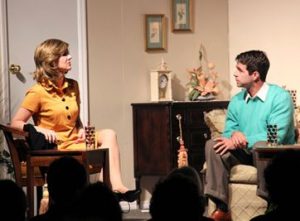 to StageIt@artsbonita.org or mailed to the Center for Performing Arts, 10150 Bonita Beach Road, Bonita Springs, FL 34135, c/o: STAGE IT.
Submissions will be reviewed by at least two theatre professionals on a blind jury basis (so do not place your name on the script itself). The judges' critique forms will be available to the playwrights after the competition, by request.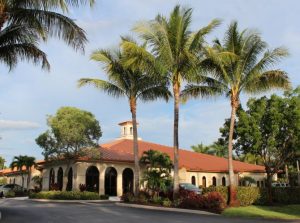 Ten plays will be selected for live performances at the Moe Auditorium and Film Center on the campus of the Center for the Performing Arts, and will be published by the Centers for the Arts Bonita Springs in their third collection of STAGE IT! Ten-Minute Plays. The Center will most likely invite more plays for publication in the book as well as future performances in its Funny Shorts LIVE! shows that are featured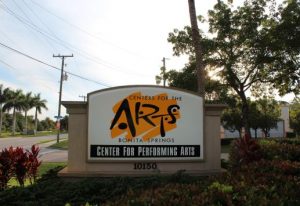 three times a year. Set, lighting and sound requirements should be minimal as the Center for Performing Arts does not have a limitless production budget and will cut for cost.
An "Audience Favorite" will be named following the performances, with the winner receiving a $100 cash prize.
For additional information, please email stageit@artsbonita.org or call 239-495-8989.
For information on last year's Stage It! Ten-Minute Play Festival and Book Release, read here.
_________________________________________________________
'The Tale of Ebenezer Scrooge' on stage through December 19  (12-08-18)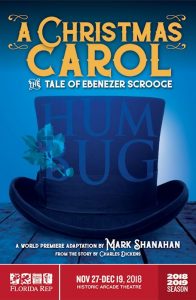 The world premiere of A Christmas Carol: The Tale of Ebenezer Scrooge runs at Florida Repertory Theatre through December 19.
Written and directed by Mark Shanahan, A Christmas Carol: The Tale of Ebenezer Scrooge is a thrilling and fast-paced retelling of the Dickens classic. Audiences will join Ebenezer Scrooge, Jacob Marley, Bob Cratchit and Tiny Tim on a ghostly epic journey through Christmases past, present, and future. With time running out, will Scrooge see the error of his ways before it's too late to save his soul? Funny, heartwarming, and suspenseful, Florida Rep's brand-new production is perfect for families and theatergoers of all ages.
The production features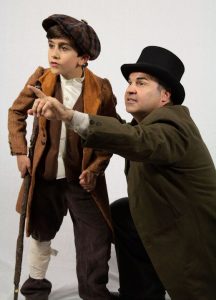 a 24-person cast consisting of Florida Rep ensemble actors, guest artists from across the country and original music played live onstage. The production stars Florida Rep ensemble members Viki Boyle (Outside Mullingar), Greg Longenhagen (Around the world in 80 Days) and Brendan Powers (How the Other Half Loves) in multiple roles and Peter Thomasson (The Miracle Worker) as Ebenezer Scrooge. They are joined by frequent Florida Rep guest artists Joe Delafield (The Dingdong), Faith Sandberg (How the Other Half Loves) and Bruce Warren (The 25th Annual Putnam County Spelling Bee), as well as, Jake Berne, Patrick Mounce, Mikey Reichert, Eric Shorey, Sydney Torres, Genevieve Takosich, and Tova Volcheck.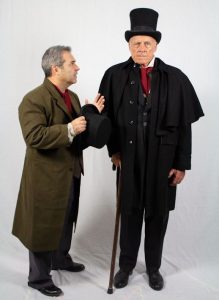 The production also showcases ten young performers from across Southwest Florida, many of whom have been seen recently in Florida Rep's Education Department camp and conservatory productions, including Lane Free (Evangelical Christian School), Annabelle Grasmeier (St. Francis Xavier), Keehnon Jackson (Veterans Park Academy for the Arts), Liza Jayne Longenhagen (Cypress Lake Middle), Carson R. Maschmeier (Fort Myers High), Christian Miller (Canterbury School), Sebastian Moore (Riverhall Elementary), Matteo Occhino (Cypress Lake High), Grace Layne Ryan (The Alva School), and Cadence Bambrey-Zedd (homeschool). Mr. Jackson, Miss Longenhagen, Miss Ryan, and Miss Bambrey-Zedd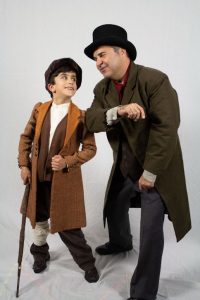 return to the Arcade stage after appearing in Florida Rep's The Miracle Worker last February.
Mark Shanahan returns to Florida Rep as both adapter and director after directing last season's How the Other Half Loves and adapting The Dingdong from Feydeau's original Le Dindon in 2016, among others.
"When we set out to produce this play, we set out to give Southwest Florida audiences something thrilling and new, and a chance to experience this classic story as it can only be seen onstage," says Associate Artistic Director Jason Parrish. "This version is an incredibly fresh, funny, and thrilling ghost story, and will leave you wanting more."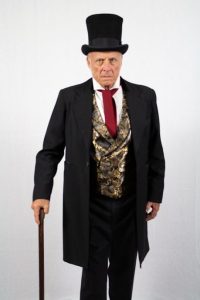 Performances are Tuesday – Thursday at 7:00 p.m., Friday and Saturday at 8:00 p.m. and 2:00 p.m. matinees on Wednesday, Saturday, and Sunday. New this season, Florida Rep's parking lot will open 2 hours before each performance and offers guests limited free parking across the street from the Arcade Theatre.
Tickets are at $55 and $49 for regular performances, and $35 and $29 for previews. Single tickets can be purchased online at www.FloridaRep.org or through the box office at 239-332-4488. To buy a $99 Family Package for two adults and two children, plus concessions, please contact the box office.
The theatre is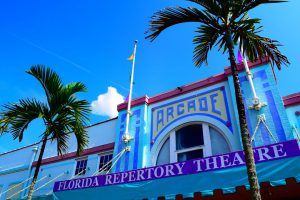 pleased to offer a $99 Family Package that includes admissions for two adults, two children, and four concession items. In addition to the family packages, Florida Rep is also offering a $5 discount to any audience member who donates a canned good or non-perishable food item in partnership with Community Cooperative.
____________________________________________________________________
Critics are raving about Florida Rep's new and improved 'Christmas Carol' (12-08-18)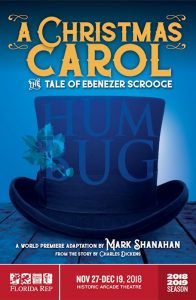 Florida Repertory Theatre's world premiere production of A Christmas Carol: The Tale of Ebenezer Scrooge is now on stage in the Historic Arcade Theatre, and both audiences and critics are raving about the all-new retelling of the Dickens Classic playing to December 19. Written and directed by Broadway veteran, Mark Shanahan, the production features a 24-person cast of Florida Rep's ensemble of actors, guest artists from New York and across the country, ten young actors from across Southwest Florida, and original music played live onstage.
BroadwayWorld's Emily Yorgey called the production "a beautiful adaptation," and "quite possibly the best version of the story I've ever seen!" Nancy Stetson of Florida Weekly said that this retelling "is one of the best," calling it "as enjoyable as Christmas itself!"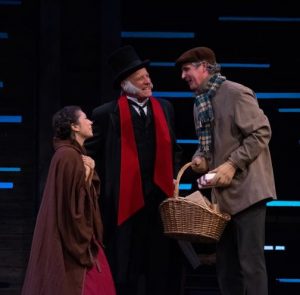 Tickets are priced at $49 and $55 for regular performances and available online at www.FloridaRep.org and through the box office at 239-332-4665.
The theatre is also offering a number of ways to see the production at a discount:
The popular $99 Family Package includes admissions for two adults, two children, and four concession items. Family Packages can be purchased by calling the box office at 239-332-4665.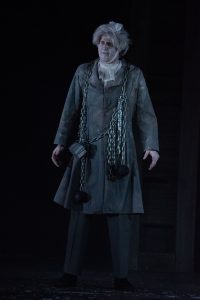 Florida Rep is offering tickets to students for just $10.
Florida Rep also offers a limited number of $25 Two-Day Deal seats in the Arcade Theatre available 48-hours before any performance.
Finally, any audience member who donates a canned good or non-perishable food item in partnership with Community Cooperative will receive a $5 discount.
The Theatre is also pleased to partner with the Holiday House at the Burroughs and Langford-Kingston Homes downtown to offer patrons a $5 discount with a valid ticket stub from the Holiday House. (Holiday House and Community Cooperative discounts must be presented at the time of purchase by calling the box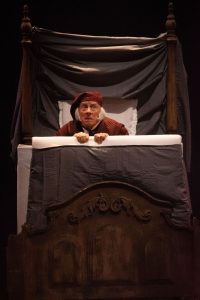 office.)
Performances are Tuesday – Thursday at 7:00 p.m. and Friday and Saturday at 8:00 p.m. Matinees are Wednesday, Saturday, and Sunday at 2:00 p.m. New this season, Florida Rep's parking lot will open 2 hours before each performance and offers guests limited free parking across the street from the Arcade Theatre.
Florida Repertory Theatre performs in the Historic Arcade Theatre and the ArtStage Studio Theatre on Bay St. between Jackson & Hendry with limited free parking in the Fort Myers River District. Visit Florida Rep online at FloridaRep.org, and by following the company on Facebook, Twitter.
________________________________________________________________
Playwright/director Mark Shanahan dishes about Dickens adaptation (12-08-18)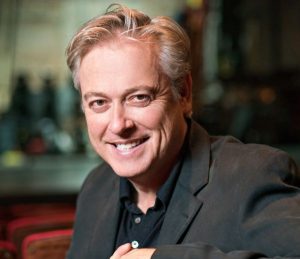 Mark Shanahan is an actor, director and playwright. And he's written an adaptation of Charles Dickens' A Christmas Carol. It's being produced by Florida Rep, and Shanahan's directing the show himself.
"Although A Christmas Carol is a Dickens of a tale which has been told many times and many ways, I was thrilled to be asked to write a brand new version to make its world premiere at Florida Rep.," Shanahan notes.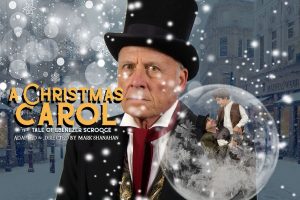 "The adaptation was crafted specifically for the Rep, taking the literary masterpiece and transforming it into a magical celebration of live theatre."
Magical indeed.
"[W]e are mounting something you've never seen before on the Rep stage," chips in Artistic Director Greg Longenhagen.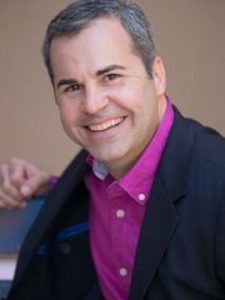 "24 actors, musicians and singers will bring you to your feet with the latest, most dynamic, original, all new Christmas ghost story …."
"Like Scrooge, we are all changed by our experience with this story," Shanahan expounds. "Whether you know the story by heart or find yourself coming to it for the first time, it's my great hope that this brand new, lovingly-crafted production will be the perfect Christmas present to you and your family from all of us at Florida Rep."
____________________________________________________
'Damascus' on stage at Florida Rep through December 9 (12-08-18)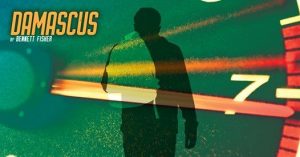 Damascus by Bennett Fisher is on stage at Florida Rep through December 9. The play stars Jeremiah Clapp as Lloyd, Darian Dauchan as Hassan and Laura Shatkus playing multiple roles. The play is an electrifying psychological thriller that challenges conventional stereotypes while investigating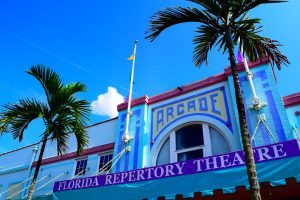 the fine line between caution and paranoia. The action takes place late one night at the Minneapolis airport when a stranded teenager pleads with a Somali-American shuttle driver to rush him to Chicago. Chosen from Florida Rep's 2017 PlayLab, Damascus is being performed in the ArtStage Studio Theatre.
________________________________________________________
Lab's 'Every Christmas Story Ever Told' destined to be a BHC (12-08-18)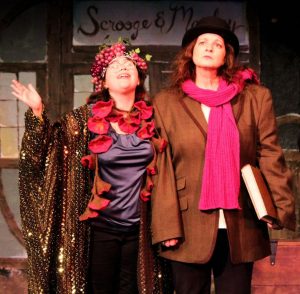 When it comes to Christmas, there are three kinds of people: haters, traditionalists and folks so gaga about the holiday that they laud every Yuletide tale known to man. All three are on stage at Lab Theater in Every Christmas Story Ever Told (and Then Some).
Director Lauren Redecker Miller likens Every Christmas Story Ever Told to a giant jigsaw puzzle because of the intricacy of all the entrances, exits, props, sound and light cues required by Michael Carleton, James FitzGerald, John K. Alvarez & Will Knapp's spritely script.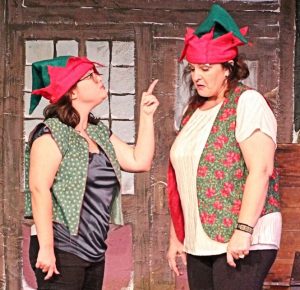 But from the audience's perspective, Every Christmas Story is more of a tapestry, with Heather McLemore Johnson, Dave Matthew Chesebro and Kayleigh O'Connell quilting together a veritable blizzard of references to BHCs – short for "beloved holiday classics." And aside from the sheer joy of watching this all-in, high-energy Tinseltown Trio act up and act out with each other on the Lab Theater stage, much of the fun associated with this frenetic three-actor tour de force is trying to identify the movies, television specials,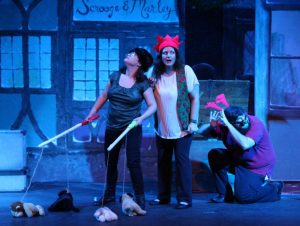 books and magazines tumbling out like the irregular pieces an interlocking, tessellating Spilsbury dissected map.
If you're looking for an apt analogy, Every Christmas Story Ever Told is to the holiday season what An Act of God or The Bible Unabridged is to Judeo-Christian religion – an affectionately irreverent lampoon of time-honored traditions that Western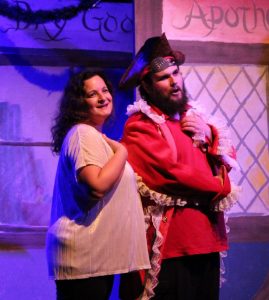 culture has installed over the centuries to celebrate (depending on your view) the winter solstice, the birth of Christ or unabashed and wonton commercialization. If you loved either of those shows, you're in for a figgy-pudding-caliber treat. Really, who among us hasn't poked fun at one or all of the bombastic BHCs that assault the airwaves earlier and earlier each year?
Read the rest of this review here.
And go here for play dates, times and ticket information.
_____________________________________________________________________
Spotlight on 'Every Christmas Story Ever Told' actor Dave Matthew Chesebro (12-08-18)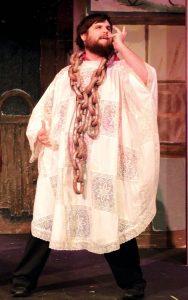 Dave Matthew Chesebro is an actor and aspiring playwright.
Dave's acting credits include It's Only a Play, in which he synchronously played the part of playwright Peter Austin, The Musical Comedy Murders of the 1940s and a lovesick chef by the name of Gaston in Michael Hollinger's one-act farcical tragicomedy An Empty Plate in the Café du Grand Boeuf. Dave has also played Mr. Mushnik in Little House of Horrors and has worked on a number of other productions in set construction and props management.
The rest of Dave's profile is here.
________________________________________________________________
Spotlight on 'Every Christmas Story Ever Told' actor Kayleigh O'Connell (12-08-18)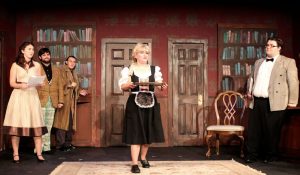 Kayleigh O'Connell is an aspiring actor who is currently majoring in theatre studies at Florida SouthWestern State College.
Among her acting credits are the Musical Comedy Murders of the 1940s, condescending cousin Chick Boyle in Crimes of the Heart, and Elvira in the campy cult classic, Whatever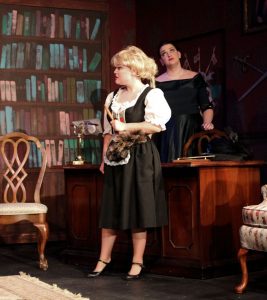 Happened to Baby Jane – a Parody of the Horror.
In Baby Jane, Kayleigh enjoyed many memorable show-stopping scenes. There was an early sequence, for example, in which Elvira arrives for work and proceeds to square off around the living room divan with Baby Jane Paso-Doble-style to the strains of the theme from The Good, The Bad and the Ugly. Even better, though, was the one in which she reacts rather strongly to some suggestive language Baby Jane writes on a manila envelope. It was not quite as suggestive as Meg Ryan's When Harry Met Sally fake orgasm scene ….
_________________________________________________________________
Spotlight on 'Every Christmas Story' actor Heather McLemore Johnson (12-08-18)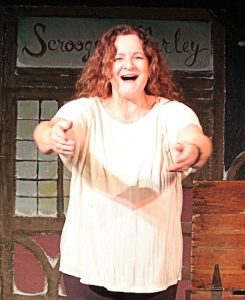 Heather McLemore Johnson is a recent theatrical transplant from Starkville, Mississippi. After arriving in Southwest Florida, Heather made her Lab Theater debut as the dip-spittin' sheriff in Hush Up Sweet Charlotte, followed by multiple sidesplitting roles in Every Christmas Story Ever Told (and Then Some). She also recently participated in Lab Theater's 24-Hour Playwriting Project, directing Candice Sanzari's Critics' Choice winner Thanksgiving is for Nutters.
In addition to her work at The Lab, Heather portrayed Mrs. Idabelle Firestone in a production for the Uncommon Friends Foundation Gala.
____________________________________________________________________
Lab auditioning multiple roles in drag tribute 'Legend of Georgia McBride' (12-08-18)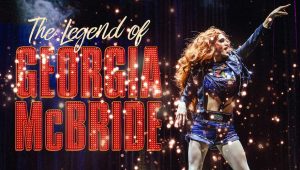 Lab Theater is holding auditions between 4:30 and 6:00 p.m. on Sunday, December 9 for Matthew Lopez's The Legend of Georgia McBride, a funny, touching, heart-warming tale about transformation and the joy of discovering our true selves.
The play

examines the life of Casey and his newly-pregnant wife, Jo, as they struggle to make ends meet. With his career and chosen path no longer working, down-trodden Casey is thrust into the world of drag queens,
where he finds a passion and exhilaration he has never experienced before. This newly discovered world ultimately leads Casey and Jo to deeper levels of understanding, happiness and love.
The characters being cast include:
Casey–(20s), good-looking country boy. Needs to know how to play guitar and sing. Just a good-hearted guy in search of himself.
Jo–Casey's young good-looking wife. Script indicates that she is African-American. There needs to be a strong sexual energy between Jo and Casey. She is strong yet vulnerable.
Miss Tracy Mills–this character in the heart of the play. She needs to be a very polished drag performer who is in her 40s-50s. Miss Tracey can have a bitchy edge to her, but mainly she is the grounding force of the entire play.
Rexy–The bitchiest of ALL drag queens. She is in her early 30s and TOTALLY sassy. A Latino or African-American actor is preferred for this role. Rexy doubles as the landlord, Jason, so a drag queen who can look really pretty with some lipstick and a wig.
Eddie–A blue-collar guy who is a bit rough around the edges, but also has a kind and caring heart. This is a man who has had many drinks and many cigarettes. His world has been bars and honky-tonks.
Brett Marston directs. The show will be performed during the month of June, 2019.
______________________________________________________
'La Cage aux Folles' auditions are today from 1:00 to 6:00 (12-08-18)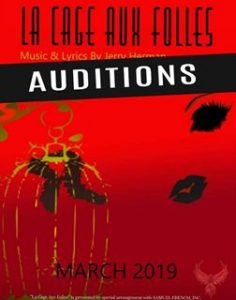 La Cage aux Folles auditions are inching closer. They will take place on Saturday, December 8 between 1:oo and 6:00 p.m. at the New Phoenix Theatre at 13211 McGregor Blvd. in Fort Myers. Auditioners will be asked to do a cold reading and sing. La Cage music will be provided or you can bring something you've prepared. Dancing will be included in the callbacks.
This beloved 1983 Broadway hit features the sparkling "Cagelles," men in drag who perform lively musical numbers, but it's Georges and Albin's enduring love for each other and the family they have created that's at the heart of this show. The show's Tony-winning music and lyrics were written by Jerry Herman, who composed the music for both Hello, Dolly! and Mame.
______________________________________________________________
Naples Players holding auditions for 'Guys & Dolls' on December 15 (12-08-18)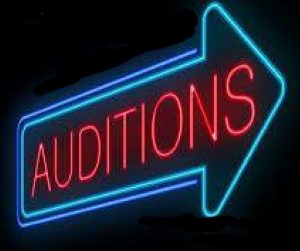 The Naples Players is holding auditions for Guys & Dolls between noon and 4:00 p.m. on Saturday, December 15, 2018. Auditions are free and walk-ins are always welcome. Audition sides will be available at NaplesPlayers.org two weeks before the audition. Final Casting Calls will be made starting Wednesday, December 19th. For questions please contact Cole Butcher, Production Stage Manager, 239-434-7340 ext. 125 or at cbutcher@naplesplayers.org.
TNP is

casting: 2 Women (20's-30's), 8 Men (30's-60's) with additional singing & dancing ensemble with multiple featured roles. Rehearsals begin Monday, January 14 @ 7:00p.m. Performances will be Wednesdays

through Sundays between March 6 and April 7.
For more details and to register online, please visit NaplesPlayers.org.
________________________________________________________________
Erica Sample is Judy Haynes in TNP's production of 'White Christmas' (12-08-18)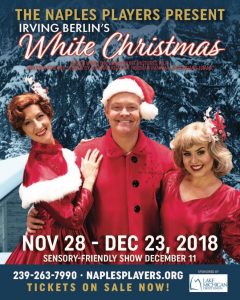 Erica Sample is Judy Haynes in The Naples Players' production of Irving Berlin's White Christmas. Tina Maroni portrays Judy's devoted sister Betty Haynes, with fan favorite James Little as Bob Wallace and newcomer Jimmy Flannery as Phil Davis.
The musical is based on the beloved and timeless film of the same name, and features the Irving Berlin classics White Christmas and Blue Skies. The story revolves around two WWII buddies with a successful song-and-dance act who follow two beautiful singing sisters en route to a Christmas gig in a Vermont lodge, which just happens to be owned by their former army commander.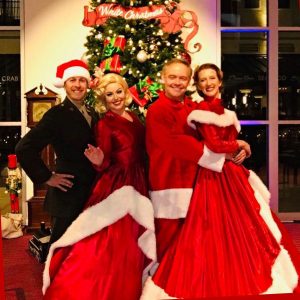 Stage veteran Paul Graffy plays General Waverly, Alyssia Pellegrini is his daughter, Susan, and Naples favorite Debi Guthery plays Martha Watson. Amanda Telebrco and Lisa Kuchinski play the Oxydol girls, Rita and Rhonda.
Scott Davis plays Ralph Sheldrake and last season's favorite Jerry Rannow is Ezekiel/Mr. Snoring. The ensemble includes KidzAct graduates Gaby Biagi, Abby Ciabaton, Frankie Federico, Elizabeth Fincher, Jeremy Giovinazzo, Weifta Jean, Jack Norkeliunas, Lila Prince, Hunter Reum, Eileen Reynolds,
Thomas Richardson, Brooke Rosenbluth, Megan Ruhl and Eifta Jean.
Sample received rave reviews for her portrayal of Roxie Hart in The Naples Players production of Chicago this summer.
Go here for the rest of this advance.
And read here for play dates and ticket information.
_______________________________________________________________________
Stage vet Paul Graffy plays General Thomas Waverly in TNP's 'White Christmas' (12-08-18)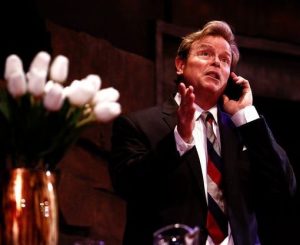 Stage veteran Paul Graffy plays Major General Thomas Waverly in The Naples Players' production of Irving Berlin's White Christmas. Dean Jagger played the general in the eponymous movie starring Bing Crosby and Danny Kaye. If you're not familiar with Graffy's stage work here in Southwest Florida, then read here to see the impressive resume of this Naples thespian.
_______________________________________________________________
Lisa Kuchinski plays Oxidol girl Rhonda in TNP's 'White Christmas" (12-08-18)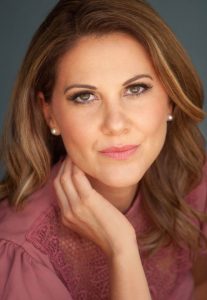 Cultural Park Theater Marquee Outstanding Featured Actress Lisa Kuchinski plays Oxidol girl Rhonda in The Naples Players' production of Irving Berlin's White Christmas. The perky Cape Coral actor couldn't be more perfect for the part. But don't expect Lisa to have an answer when Doris asks Ms. Rhonda, "Well how do you like that? Not so much as a 'kiss my foot' or 'have an apple.'" She's still finding her place in Southwest Florida's active community theater. For more on Lisa, read here.
_____________________________________________________________________
Garret Taylor to guest conduct orchestra for TNP's 'White Christmas' Dec. 1-9 (12-08-18)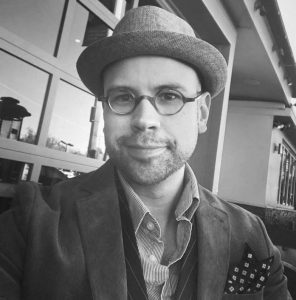 Broadway's Wicked and Annie pianist, Garrett Taylor, leads the orchestra for The Naples Players' production of Irving Berlin's White Christmas just two more nights, today and tomorrow, December 9.
Mr. Taylor is a multi-faceted performer and conductor who has performed with symphonies in the United States and Europe, as well as concerts at Carnegie Hall, Lincoln Center and Washington D.C.'s Constitution Hall. Taylor was praised by The New York Times for his "bravura vocals" in Gateway Playhouse's production of CATS starring Ken Page and was on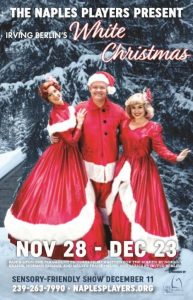 the Broadway National Tour for Irving Berlin's White Christmas, Grease, Disney's Beauty & The Beast, and Sweet Charity. CBS-TV appointed Taylor as the Conductor for A New York Christmas to Remember. Taylor was the Former Conductor at The Cape Playhouse, The John W. Engeman Theatre at Northport, Theatre of the Stars, and Music Director at Flat Rock Playhouse. A musical graduate from Millikan University, Garrett Taylor has also worked at NYU, Manhattan School of Music, Marymount, Queens College and AMDA.
"Naples Players' Resident Musical Director, Charles Fornara, has handed over the reins of Irving Berlin's White Christmas for the week of December 1-9 so that he can also support the students at Community School of Naples as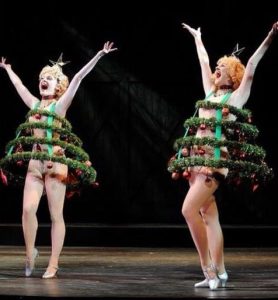 they perform Fame, and TheatreZone's production of Home for the Holidays," shares Bryce Alexander, The Naples Players' Executive Artistic Director. "We are so proud that Charlie is working to support other arts organizations and students in our community. The arts community is a singular family, and such cooperation between theatres is important. It's one of the reason's we love Charlie!"
"Community theater is where I had my start," Garrett Taylor adds. "It is also where I met the most wonderful people, developed my skills, and discovered my passion for theater. Growing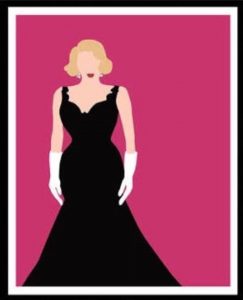 up, I would have been lost without the wonderful arts programs in which I was lucky enough to be involved. The arts foster creativity, unity, and a sense of community and team work that is so important in our world today."
Bryce Alexander also points out that having Garrett Taylor conduct in Fornara's absence is not only an incredible opportunity for TNP's performers, but a great representation of The Naples Players' growing reputation with artists from around the country. "We constantly strive to provide the highest caliber experience, and this is just another example of that commitment to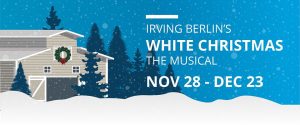 our local community," Alexander remarks.
Irving Berlin's White Christmas performs at The Naples Players Sugden Theatre in Blackburn Hall November 28 – December 23, 2018. A limited number of tickets are still available and can be reserved by visiting www.NaplesPlayers.org or contacting the Box Office (239) 263-7990.
__________________________________________________________________
December 11th performance of 'White Christmas' to be sensory screening (12-08-18)
The Naples Players will provide a sensory screening of Irving Berlin's White Christmas on December 11. Special pricing of $20 for adult tickets and $10 for student/educator tickets makes Sensory Friendly performances affordable for families. As sensory-friendly screenings become more common in local movie theatres and even on Broadway, The Naples Players is proud to participate in this national shift towards making it possible for individuals with special needs and their families to experience the same quality theatre as everyone else.