This is what's happening between February 8 and 14, 2018
Here's what's taking place in the arts, indie films and community theater between February 8-14, 2018:
Englishman featuring newest work from sculptor Jim Rennert (02-14-18)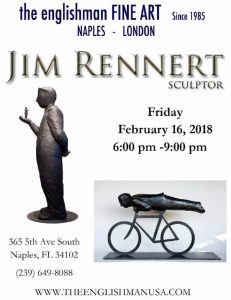 The Englishman is hosting an exhibition of the newest works from Jim Rennert. It opens Friday, February 16, with a reception from 6:00-9:00 p.m.
With simplified figures and forms depicting men in suits, Rennert's seminal series of works is readily identifiable. Combining the traditional medium of bronze with modern forms of flat laser cut steel, he illustrates concepts of corporate success and the obstacles faced by the modern working man.
"Mixing the traditional medium of bronze and contemporary forms of flat laser cut steel [enables me to] illustrate themes and concepts of every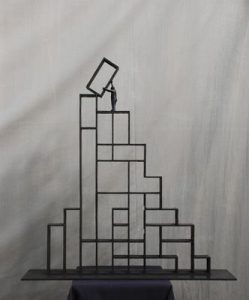 day work life," the artist relates. "Integrated into the various pieces are suits, ladders, briefcases, and forms representing buildings, all of which are iconic visual representations of business."
The title Rennert gives each piece works together with the visual image to illustrate the experience, sometimes physical, sometimes psychological, he intends to convey.
Drawing on both his past professional experiences, and those of his contemporaries, Rennert composes thought-provoking works to which viewers undeniably react and relate.
"I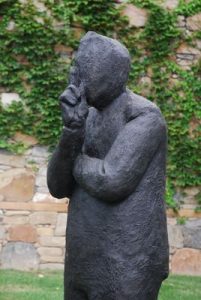 have used sports and other physical activities as a metaphor to express the daily struggles and achievements of the contemporary businessman," Rennert expands." I try to emphasize movement in the figures as well as some of the forms by paying particular attention to their placement in relation to each other as well as on the supporting base. This presents a strong element of design in each work."
Initially, Rennert had hoped to depict pop culture ideas on achievement and success in an ironic and humorous fashion. However, over the past year, his work has taken on a more serious tone as he increasingly illustrates the thoughts and ideas we all deal with in contemporary society.
The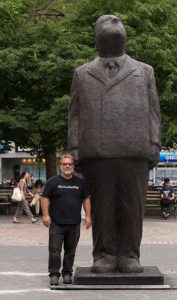 sculptor's early works emphasize movement and physical metaphor, while more recent pieces show the development of a more contemplative character. In 2016 Rennert also released his first series of two-dimensional works, a collection of digital drawings available as large scale prints.
Born in 1958, Rennert grew up in Las Vegas and Salt Lake City. After ten trying years in business, Jim was inspired to explore his artistic vision, embarking upon a career in sculpture in 1990. He began exhibiting in galleries in 1993, and has since gained significant recognition.
Rennert continually exhibits at major art fairs in the United States, as well as in galleries in New York, Connecticut, Massachusetts, Florida, Utah, New Mexico, Maine, Colorado, and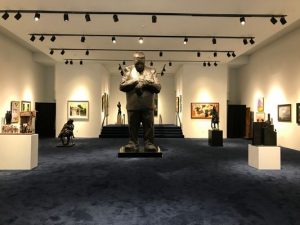 British Columbia, with private and corporate collectors world-wide. From June 2014 through May 2015, Rennert was honored with a monumental public installation of his iconic sculpture, THINK BIG, which was on exhibition in New York City's Union Square, in cooperation with the NYC Parks Department. 
_____________________________________________________________
Gardner Colby hosting solo show of new paintings by Frank Corso (02-14-18)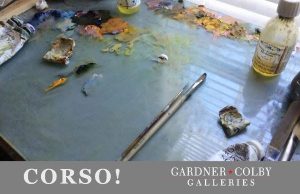 Gardner Colby Gallery is exhibiting new work by local impressionist artist Frank Corso. The opening reception takes place from 5:30-7:30 on Wednesday, February 21.
Gardner Colby owner Nancy Winch told American Art Collector magazine in 2007: "In his ten years of painting here in Naples, Frank Corso has firmly established himself as the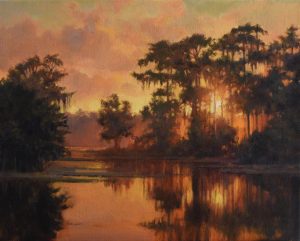 preeminent interpreter of the Florida landscape. It is my firm belief that when the pundits look back and discuss the greatest landscape painters of the 20th and 21st centuries, Frank Corso's name will be on that list."
Corso's motifs include balmy beaches, torrid Gladescapes and nocturnal settings with luminous skies. His forte is his exceptional treatment of light, a quality that Corso attributes to his steadfast refusal to rely on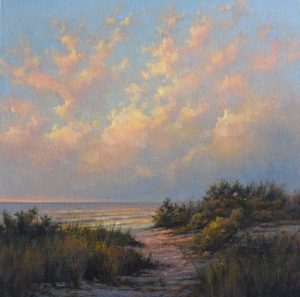 photographs or work inside, under artificial light.
"I rarely use photographs, even as a memory jog," Corso fiercely states. "I work on location and paint what I see." He finishes his smaller paintings in one sitting, so there's no need for photos in connection with them.
"Even on the larger works, I do most of the work while I'm on location though it's usually necessary for me to complete them back in the studio because I run out of time."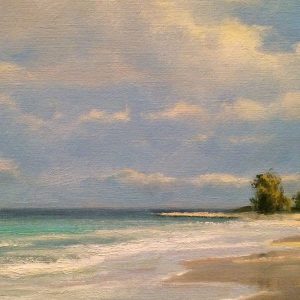 And light.
"Join us as we celebrate this true Renaissance Man's growing legacy," touts Gardner Colby. To RSVP, please telephone 239-403-7787 or email art@gardnercolbygallery.com.
And for more on Frank Corso, his process and his art, read here.
______________________________________________________
Feminine Magic and Mystery' on view at Watson MacRae (02-13-18)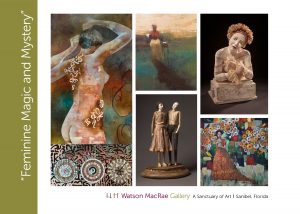 Feminine Magic and Mystery is an exciting and different exhibit that combines paintings, sculpture and mixed media works that honor the feminine. It is on view this month at Sanibel's Watson MacRae Gallery.
The exhibit features the work of five highly accomplished and national recognized female artists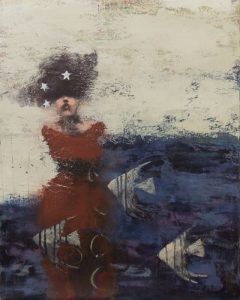 who create a diverse and exciting visual narrative of the feminine mystique:
Cathy Hegman (Holly Bluff, Mississippi Delta) returns to the gallery with her woman of mystery. Set in surreal atmospheric spaces, Hegman's paintings tell tales of female accomplishments beyond the realm of the possible.
New Orleans-based Cathy Rose's sculptures continue to evolve as they become more textured and complex. Her figures, often androgynous, combine delicate porcelain features with sturdy rustic bodies that perform dangerous or unlikely feats with courage and grace.
The rest of this announcement is here.
________________________________________________________
CFABS Members-Only show on exhibit through February 22 (02-13-18)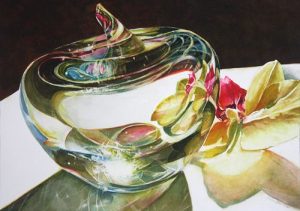 On view now in the main gallery at the Center for Visual Arts Bonita Springs is its annual members-only exhibition. The show is a dynamic exhibition of awe-inspiring artwork in a wide array of media that celebrates 29 years of great member art (which just keeps getting better and better). The show runs through February 22. The Center for Visual Arts is located at 26100 Old 41 Rd. in Bonita Springs.
__________________________________________________
Muffy Clark Gill takes 2nd at CFABS Members' Show (02-13-18)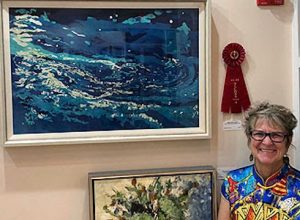 Although Muffy Clark Gill has been a member of the Center for the Arts Bonita Springs for years, she had not entered any of its exhibitions until this month's members' show. She took 2nd place out of 148 submissions for her painting titled "Agua XXVII: Hurricane." Check it out. The painting will remain on display until February 22.
______________________________________________________________________
Alliance to observe Women's History Month with all-female artist studio tour (02-13-18)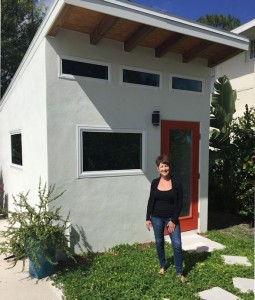 The Alliance for the Arts is planning to celebrate Women's History Month in a unique way. On March 3, the Alliance will throw open the doors of the working studios of seven local female artists.
"Southwest Florida is home to an abundantly diverse collection of visual artists," notes Alliance Exhibitions Coordinator Krista Johnson. "By illuminating the talent of females, we celebrate each woman's creative contribution to our community."
Participants are welcome to visit any or all of the studios. Tours are self-guided.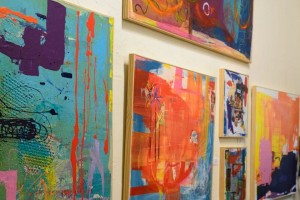 Ticket holders assemble at the Alliance at 10:00 a.m., receive a program and map, and then decide the order in which to visit the studios, and how long to remain once they arrive at each one. Then to close out the day, DAAS CO-OP will host a closing reception at 4:00 p.m.
"It's a rare opportunity to experience the sanctuaries where art is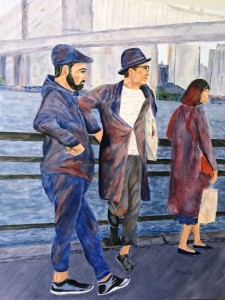 created while getting acquainted with the makers and gaining a close-up view of the materials each artist employs," touts the Alliance in the press release announcing its artist studio tour.
So which artists are taking part in the Alliance's March 3 artist studio tour? They are Annette Brown, Stacey Brown, Donna Chase, Kathy Danca Galli, Julie Griffin, Mariapia Malerba and MiMi Stim.
Annette Brown has always been an artist. For many years, her art expression was as a professional hair stylist. Now, Brown gets creative energy expressing herself through mixed media.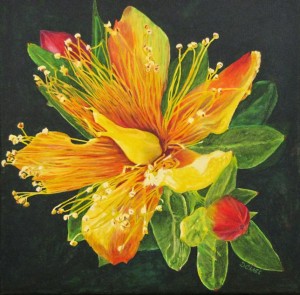 Stacey Brown uses an intuitive creative process which incorporates the use of paper, paint, ink, crayon, pencil, ephemera and other materials. Her creations include paintings, collage, mixed media, jewelry and furniture.
Donna Chase is relatively new in the local art scene. Her math and business training prepared her for an unusual path into the world of art. Her creative outlet had been limited to helping friends decorate their homes. That changed a few years ago and her paintings have been shown in numerous juried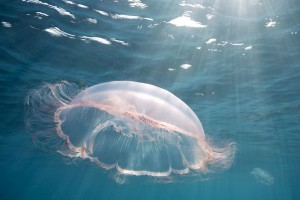 shows throughout Southwest Florida. Her Pop Art chairs were accepted in the 2015 All Florida Show at the Alliance for the Arts and at the Sidney & Berne Davis Art Center. She also has exhibited paintings at Arts for Act, The Visual Arts Center and the Cape Coral Art League. Her style is playful, colorful and diverse. Donna does not limit herself to a particular style but sees each painting as an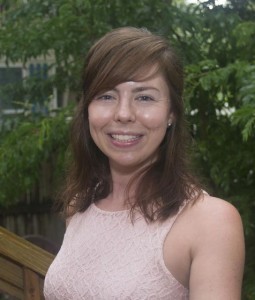 expression of her love for life.
Growing up on the west coast of Florida, Kathy Danca Galli has been  grateful to experience the beauty of our blue planet first hand. She is a photographer, former photo editor for Scuba Diving magazine, master diver, former registered boy scout (seriously), ocean advocate and lover of all bodies of water. Kathy's work has been featured with Captains for Clean Water, Scuba Diving magazine, Sport Diver Magazine, Divephotoguide.com and has won contests with the Ocean Conservancy, Our World Underwater, and the Florida Skin Divers Association.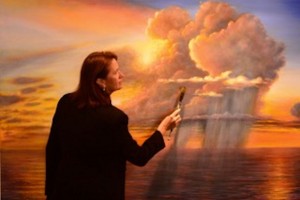 Julie Dean Griffin is a native of Fort Myers, Florida and has been an artist for over 40 years. Griffin graduated from Florida State University where she finished with a Bachelor's degree in Fine Art and supporting minors in Art Education, Marketing and Art History. Primarily working in the medium of oil painting, she specializes in the Academic Method of Painting. She now resides in Fort Myers and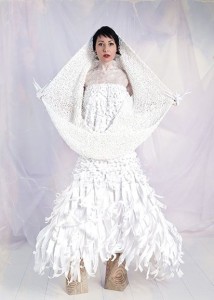 continues her work mainly producing landscapes and portraiture.
Mariapia Malerba is an Italian-American artist who was  born in Puglia, a region in Southern Italy.  She studied art in high school and went on to study at Accademia di Belle Arti, a fine art institute in Lecce, Italy. After earning a degree in art, with primary coursework in scenography, set design and costume history, Mariapia moved to Lake Como in Lombardy, Italy to work as a textile designer. She has created textile designs for well-known fashion designers such as Dolce & Gabbana, Versace and Cavalli.
MiMi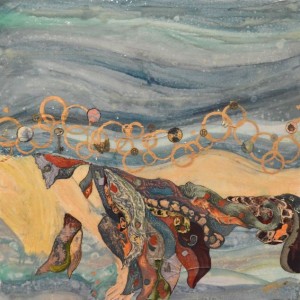 Stirn's art is pure symbolism and surrealism embodied in 2D mixed media resins.  Influences of Klimt, Dali, and O'Keefe are apparent in both message and stylings.  Works include sculpted modeling paste, hand-mixed acrylics from pigments purchased from a distributor who is part of The Society of Ochers of France, operators of the last remaining Ocher quarry in the Provence region. She proceeds to mix elements, layers of staining, finished with colored and clear coated resins.  With her art career stretching as far back as high school, sh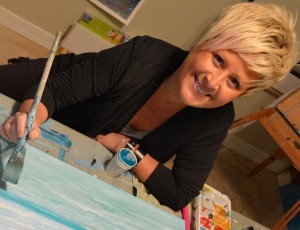 e studied sculpture and through the years mastered the embodiment of both her love of sculpture and painting into dynamic and unique works of art.
Tickets for Alliance members are $25 or $35 for non-members and can be purchased online at ArtInLee.org/StudioTour or by calling 239-939-2787.
___________________________________________________________________
Thomas Riley Studio featuring work by master painter Carmelo Blandino (02-13-18)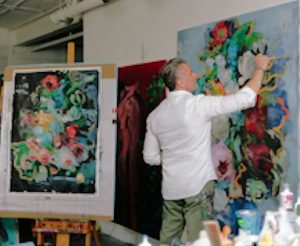 Thomas Riley Studio is exhibiting a solo show of new work by painter Carmelo Blandino. It opens February 15 with a 5:30 – 8:00 p.m. reception and will remain on view until March 23.
Heavily informed by his multicultural heritage and imbued with a sensual, expressionistic exuberance, Blandino's paintings are renowned for their immediacy and intensity – color, movement, and combustible forms display elemental deconstruction,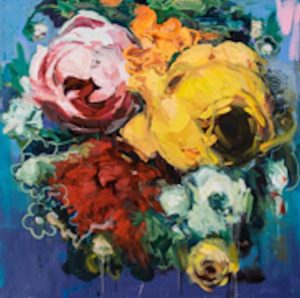 rebuilt into alluring visions of harmonious appeal. The transcendental narrative, which lies at the heart of Carmelo's work, is achieved via a symbolic abstraction of the flowers, landscapes, and faces that he renders.
Thomas Riley Studio is a gallery and design atelier specializing in contemporary craft, fine art, and design, embodying an interdisciplinary philosophy that encourages the exchange of ideas across all platforms, including science and technology. It represents a range of international emerging, mid-career, and established artists and designers.
___________________________________________________________
Fort Myers Film Festival to open with 'Melody Makers' rock doc (02-12-18)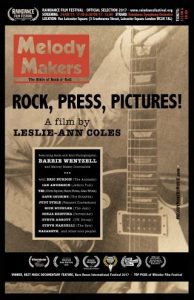 At the close of last night's season-ending T.G.I.M., host Eric Raddatz announced that the opening night film for this year's Fort Myers Film Festival will be the rock documentary Melody Makers directed by Leslie Ann Coles.
The documentary captures the birth of rock 'n' roll journalism through the aperture of Melody Maker magazine. Originally established in 1926 as a weekly trade paper for jazz musicians, Melody Maker morphed in the mid-1960s into an internationally-recognized "must read" for rock and roll musicians and their fans. A forerunner to Rolling Stone magazine, Melody Maker played a pivotal role in helping shape the genre, rock 'n' roll bands and individual recording artists. In fact, it was such an influential pop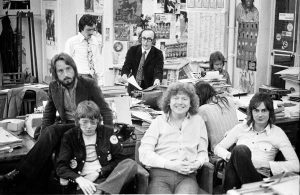 culture phenomenon that musicians flocked to the publication's Fleet Street office eager to be interviewed by the magazine's journalists in much the same way that vaudeville actors were drawn to Menlo Park, New Jersey in hopes of being cast in one of Thomas Edison's seminal Black Maria moving pictures.
Want to know more? Read here for the rest of this announcement.
___________________________________________
Photographer Barrie Wentzell in the frame (02-12-18)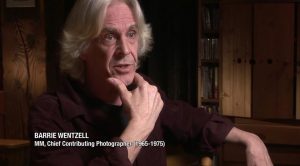 At the close of last night's season-ending T.G.I.M., host Eric Raddatz announced that the opening night film for this year's Fort Myers Film Festival will be the rock documentary Melody Makers directed by Leslie Ann Coles. The documentary captures the birth of rock 'n' roll journalism through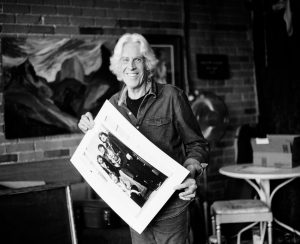 the aperture of Melody Maker magazine and its chief contributing photographer from 1965 to 1975, Barrie Wentzell.
Born on May 25, 1942 in northern England, Barrie was educated in Kent and London, attending Maidstone Art School in Kent in the late 1950s. During the early 1960s, Barrie worked in the worlds of fashion, music and advertising. But in 1965, the image he made of a young Diana Ross during a chance encounter with the yet-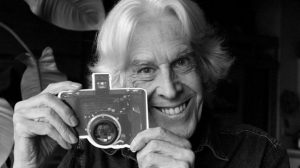 to-be global superstar made the front cover of The Melody Maker, England's most renowned music publication. The photo caught the attention of Bob Houston, the assistant editor at the time. Houston contacted Barrie and signed him on as exclusive chief photographer for the paper.
____________________________________________________
'Money Makers' director Leslie Ann Coles in the frame (02-12-18)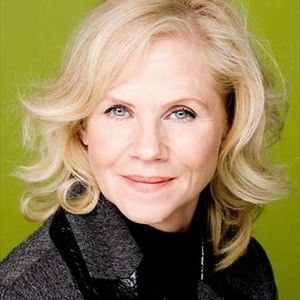 At the close of last night's season-ending T.G.I.M., host Eric Raddatz announced that the opening night film for this year's Fort Myers Film Festival will be the rock documentary Melody Makers directed by Leslie Ann Coles. The documentary captures the birth of rock 'n' roll journalism through the aperture of Melody Maker magazine and its chief contributing photographer from 1965 to 1975, Barrie Wentzell.
Although she has starred in, produced and directed several other films, Melody Makers, should've been there (2016)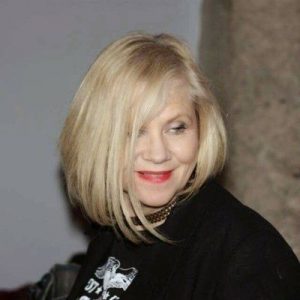 marked her debut feature documentary. The film tells the story of the birth of music journalism during the zeitgeist of rock 'n' roll (1954–1975).
Coles dedicated 18 years to modern dance, choreography and mixed media performance art prior to transitioning from the stage to the screen as a filmmaker/ actress in 2000. Her debut film, In The Refrigerator, screened in 35 international film festivals and garnered 13 international awards for Best Picture, Best Actress, Best Short Film, Best Film, Best Debut Filmmaker, Best Avant-Garde, and the Grand Jury Award: "Filmmaker In an Acting Role."
Read the rest of this profile here.
______________________________________________
About the 8th Annual Fort Myers Film Festival (02-12-18)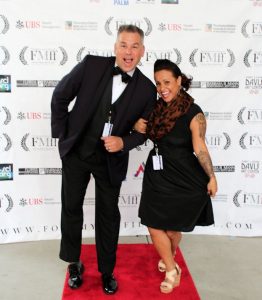 The 8th annual Fort Myers Film Festival takes place March 21-25, 2018 at various locations throughout Lee County, including the Barbara B. Mann Performing Arts Hall, Sidney & Berne Davis Art Center, Alliance for the Arts, Broadway Palm Dinner Theatre, Fort Myers Regional Library and Imaginarium, with dinners and after-parties at Twisted Vine Bistro, Firestone and other select venues.
As usual, the festival will open in style with a Black Tie red carpet gala on March 21 at the Barbara B. Mann Performing Arts Hall. Attendees typically begin arriving shortly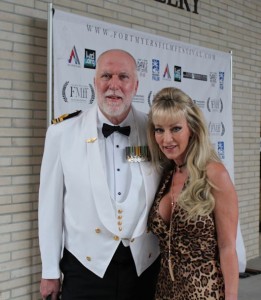 after the red carpet is rolled out at 5:00 p.m., with new arrivals posing for formal pictures in front of the FMff marquee in front of the entry to the Bob Rauschenberg Gallery and pausing for selfies, interviews and photos by reporters, photographers and the paparazzi. Whether you are a filmmaker, cineaste or just a casual film lover, this is your chance to feel like a film star and get your fifteen minutes of fame!
Once inside the lobby of the Barbara B. Mann Performing Arts Hall, the atmosphere is electric and the excitement palpable as actors, directors, producers and other filmmakers mix and mingle with local
politicians, business leaders, thespians, art world luminaries and people who love to watch movies. The hors d'oeuvres are delicious, the cocktails refreshing and the conversation lively – and there's ample opportunity for more selfies and more photos with friends and Fort Myers most interesting and intelligent movers and shakers.
The doors to the theater open at 7:00 for the screening of the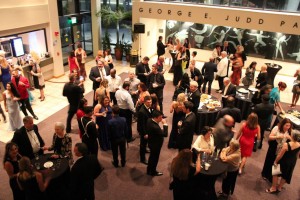 opening film. Among the independent films and documentaries that have opened past festivals are:
Steven Johnson's timely documentary Black Tide (2017), which examined the crisis in South Florida's waterways, including Lake Okeechobee and the Everglades, and outlined potential solutions to the ongoing environmental and economic devastation;
John Scoular's Marcus Jansen: Examine & Report (2016), a documentary that explores the Fort Myers urban expressionist/surrealist's motives for painting and gives historic insight into his socio-politically-charged works, which have roots in Graffiti, Street Art and German and American Expressionism;
Most Likely to Succeed (2015), a film that had only played at Sundance prior to its screening at the Barbara B. Mann;
Alive Inside: A Story of Music & Memory (2014), a story about how music can significantly and positively impact people suffering with Alzheimer's and dementia; and
These films not only received an enthusiastic reception by FMff audiences, they went on to be distributed across the country, if not the globe, after being featured here.
Tickets are $49 for VIPs and $10 for general admission. VIP ticket holders enjoy a star-studded backstage after-party with the stars of the opening night's film along with music, dancing, and a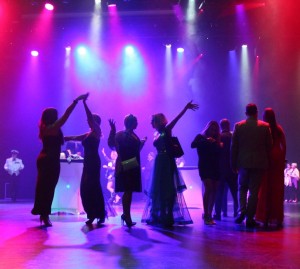 fully-stocked bar. The event will provide the delicious foods from La trattoria Cafe Napole, Au Delicies, Crave Cuisine, Norman Love Confections and more.
Last year, more than 70 films from around the world were screened in blocks during the ensuing three days of the festival. Films are $10 per block.
The festival closes on Sunday (this year, March 25, 2017) with a champagne & dessert awards ceremony at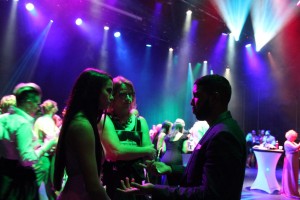 the Broadway Palm Dinner Theatre. The closing always attracts a score of the local and international filmmakers whose work was included in the festival, along with dozens of family, friends and fans. The champagne & dessert event allows you to congratulate all the participants and celebrate the winners as FMff Director Eric Raddatz and Programming Director Melissa Tschari DeHaven make the toasts and play deserving short award-winning films. Tickets are only $15.
Want more? Read here.
__________________________________________________________________
Clay artist Debra Steidel adjudged Bonita Springs National Best of Show (02-11-18)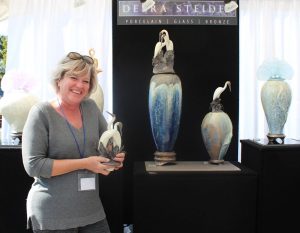 The second of three Bonita Springs National Art Festivals wrapped up on Sunday, February 11 with the announcement of winners in various categories. Clay artist Debra Steidel was chosen as the overall Best of Show for her exquisite crystalline glazed porcelain vessels. On top of that, each vessel also features a specially-designed lid which she initially sculpts in porcelain but replaces with bronze and glass toppers cast in two different foundries.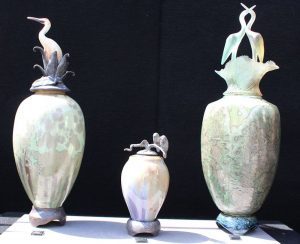 Debra Steidel's work can be found in corporate and private collections throughout the United States and the United Kingdom. She has won numerous prestigious awards for her artwork, which continues to grow and evolve. Regardless of where Debra applies her expertise, you can be sure it will exemplify the qualities of balance, novelty and wonder.
____________________________________________________________________
Seascape photographer David Sieczkiewicz is Best of 2D at Bonita National (02-11-18)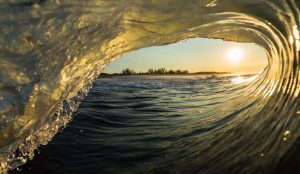 The second of three Bonita Springs National Art Festivals wrapped up on Sunday, February 11 with the announcement of winners in various categories. Naples pastel artist Cheri Dunnigan judged the two-dimensional work exhibited by the artists participating in the show and she selected seascape photographer David Sieczkiewicz as Best of 2D.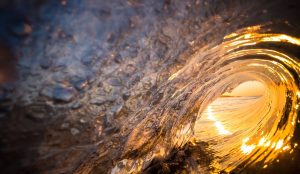 Whether it's a calm or turbulent body of water, a picturesque landscape, or a form of life, respectable elements of beauty are the overarching theme and unifying aspect of the images that flow from Sieczkiewicz's lens. "These natural elements can also serve as a happy place, an area where we can go and be alone or sometimes share with a companion,"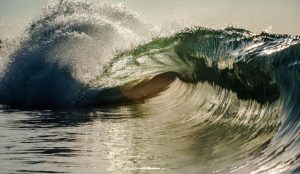 David expounds. "This retreat is where we can embark on what brings us happiness, where we allow ourselves to forget the problems in our universe. Nature, and the ocean specifically, creates that atmosphere for me." And it's something Sieczkiewicz wants to recreate for his collectors and other folks who encounter his photographs.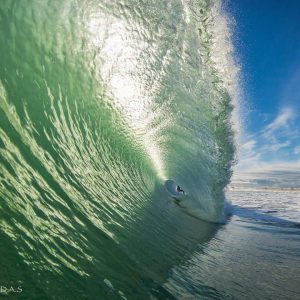 David finds catching a wave especially intriguing. "The challenge of trying to anticipate what the ocean will do next, the challenge of trying to balance composition and light with something that can be next to unpredictable, the challenge of having the dedication and drive needed to either awake at odd hours or to endure bitter cold New England winter water temperatures, the challenge to overcome defeat when things can and do go wrong, to endure the blood, sweat and sometimes tears – it all creates a love and a passion!"
_______________________________________________________
Jeweler Seth Carlson is Best of 3D at Bonita National show (02-11-18)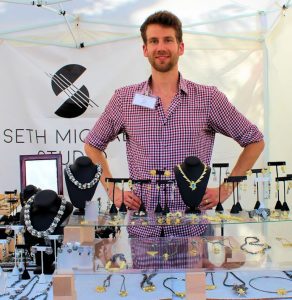 The second of three Bonita Springs National Art Festivals wrapped up on Sunday, February 11 with the announcement of winners in various categories. Seth Michael Carlson won Best of 3D honors.
Carlson traces the beginning of his career in fine art jewelry to his father's stained glass studio, where he fashioned jewelry from scraps of discarded glass which he wrapped in wire.
" I decided at an early age that I wanted to be a jeweler," he confides. "The thought of making objects of adornment for the human body was alluring."
_________________________________________________________
Bonita National names 12 recipients of Awards of Distinction (02-11-18)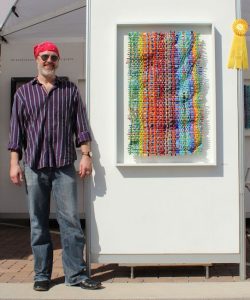 The second of three Bonita Springs National Art Festivals wrapped up on Sunday, February 11 with the announcement of winners in various categories. Twelve artists received Awards of Distinction, namely:
Steven Potts, wood;
Andrew Wender, clay,
Patrick Whalen, photography,
Abby Warman, oil/acrylics;
Kue King, metal;
Marie Rust, pastels;
Dahlia Popovits, fiber;
William Cantwell, oil/acrylics;
Mark Lewanski, glass (top photo);
Kevin Liang, oil/acrylics;
Thomas Sanders, photography; and
Johnson & Gilbert, clay (right).
_________________________________________________________________
3rd Saturday Gallery Tour returns to Naples Art District on February 17 (02-11-18)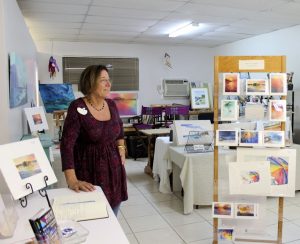 Taking place on February 17 is 3rd Saturday Naples Art District Studio and Gallery Tours. This event features more than 40 artists, who will be showcasing their recent works of art and demonstrating their medium. The Naples Art District is located north of Pine Ridge Road and west of Airport Road. Participating galleries and studios are open from 11:00 a.m. to 4:00 p.m.
_______________________________________________________
34th Annual Sanibel Arts & Crafts Fair is February 17 & 18 (02-11-18)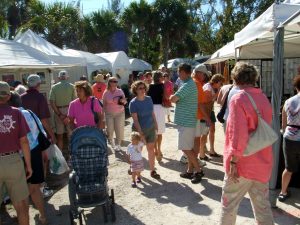 The 34th Annual Sanibel Island Arts and Crafts Fair takes place on Saturday and Sunday, February 17 & 18, 2018. The festival is held on the lawn of The Sanibel Community House located at 2173 Periwinkle Drive, Sanibel's main street. The Sanibel Community House has been an island fixture since 1927 and touts itself as The Gathering Place on Sanibel Island. Many festival goers are already on the island, enjoying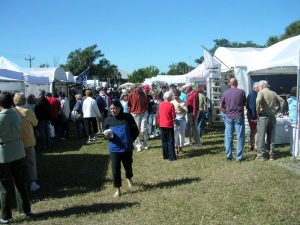 a break from the snow and ice covering the northern states this time of year. Others visit the island specifically to take in one or both days of the fair. Either way, this Rotary-sponsored classic arts and crafts fair attracts over 10,000 visitors and more than 120 artists and artisans from around the country who collectively bring paintings in oil and acrylic, watercolors, drawings and graphic art, photography and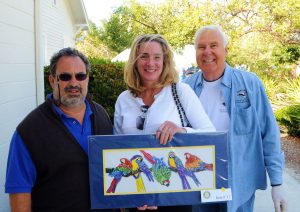 digital art, sculpture, ceramics, pottery wood working, hand-painted furniture, hand-crafted jewelry, unique gifts, wearable art, and much more. Besides the art, this fair is known for tasty food, community displays designed to introduce visitors to the islands of Sanibel and Captiva, and a tremendous silent auction.
_________________________________________________
Coconut Point Art Festival is also February 17 & 18 (02-11-18)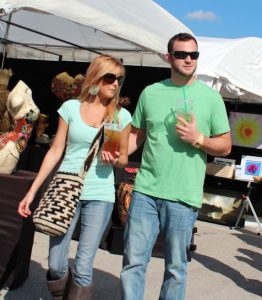 In the geographical center of Southwest Florida, the 12th Annual Coconut Point Art Festival also takes place on the weekend of February 17 & 18. The Coconut Point Mall serves as the site for this outdoor art festival, which features more than 250 artists and artisans from 30 different states. There is something for every artistic taste and sensibility at this festival, which sets up in the parking lot just north of Panera Bread and east of U.S. 41. With 113 stores and 25 restaurants surrounding several acres of lakes and wood boardwalk, Coconut Point Mall offers a unique outdoor shopping experience, but at the art festival, the focus is exclusively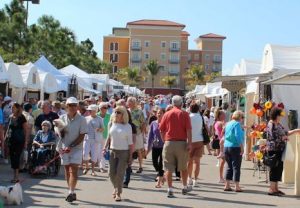 on the art and artists. Variety and diversity are themes at every Howard Alan event, and for the Coconut Point art festivals, there is something for everyone ranging from $15 handmade silver jewelry to life size sculptures costing in excess of $50,000.
__________________________________________________________
If you're planning ahead, Naples National is February 24 & 25 (02-11-18)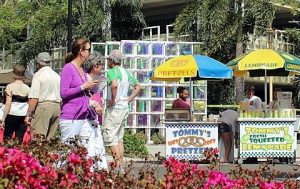 The 39th Annual Naples National Art Festival takes place on the weekend of February 24 & 25 in Cambier Park and along 8th Avenue in Naples, just steps away from Naples' historic Fifth Avenue South. This is the #18 art festival in the United States according to Sunshine Artist Magazine. Because of its national ranking and the beautiful weather in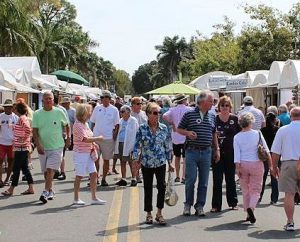 Southwest Florida during this time of year, Naples National draws some of the finest artists in the country. Together, they provide a diverse array of artworks that include original oil and acrylic paintings on canvas, panel and galvanized aluminum, watercolors on paper, 2D and 3D mixed media, limited edition prints, photography, digital art, metal sculpture, wood carvings, ceramics, art jewelry, leather works and more. There is also a gala on the Thursday night before the festival opens.
______________________________________________________________________
Standing Edison sculpture at Edison Ford Estates celebrates 13th anniversary (02-11-18)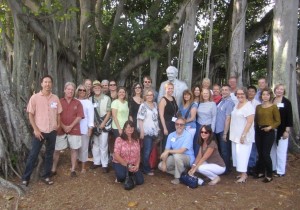 There is a sculpture of Thomas Edison that greets visitors to the Edison & Ford Winter Estates. It stands beneath the mighty banyan tree at the entrance and is unquestionably the most photographed statue in all of Fort Myers. At seven feet four inches in height, the sculpture is "heroic size," meaning it is 25 percent larger than life. It was made by North Fort Myers sculptor D.J.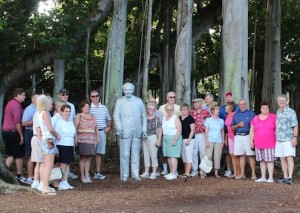 Wilkins, donated by Estates' patron Darilyn Alderman, and dedicated on February 11, 2005, the 158th anniversary of Edison's birth, which makes today the sculpture's 13th anniversary.
To read more about this or the other half dozen public artworks that adorn the grounds of the Edison & Ford Winter Estates, please click here.
_______________________________________________
More than merely a play, 'ORBS!' is a happening (02-10-18)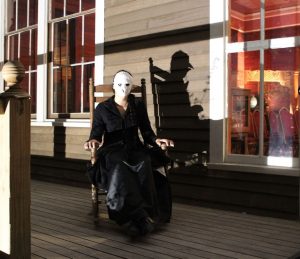 Ghostbird Theatre Company's ORBS! is more than merely a play. It's a happening in the tradition first established by Allan Kaprow way back in 1957 following a picnic at Pop Art painter/sculptor George Segal's New Jersey chicken farm. The venue for ORBS! has far greater cachet than that. It takes place after dark at the Koreshan Historical Site in Estero, and walking the dimly lighted footpaths denoted solely by flameless votive candles is an exercise in the exploration of negative space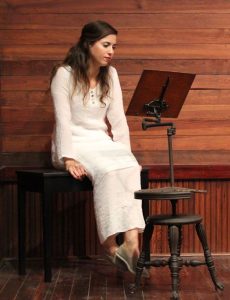 in much the same way that Kaprow's mentor, John Cage, explored silence.
To truly appreciate what Ghostbird is doing at Koreshan, it's preferable for individual audience members to give themselves over to the atmosphere the theatre company meticulously crafts. They pay the same attention to detail as Disney's Imagineers devoted to the planning and installation of their Haunted Mansion. To be sure, you'll get chills and thrills in the lead-up to the actual performance even if you're busy chatting with your friends or texting with someone off-site. But tune out real world distractions, and you begin to sense the spirits of the long-dead Calusa and Koreshans who still inhabit this swath of old earth.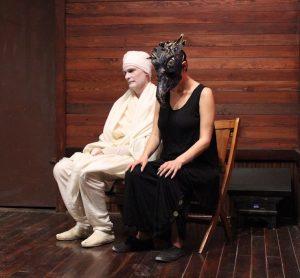 The buildings and landscaping out there emit an otherwordly energy that's palpable if you just take the time to absorb it (kind of the way you can sense a person's energy cloud or aura by tuning up your peripheral vision). In Kaprow's formulation, a happening emphasizes the interaction between the performers and the audience. Ghostbird does Kaprow and progeny (think Robert Whitman, Claes Oldenburg and Robert Rauschenberg) one better. They employ actors to prompt a deep and meaningful interaction between the audience and the site.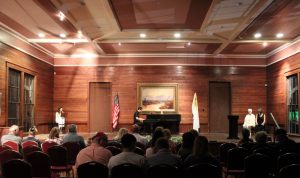 In their effort to deftly dial up the electricity and magnetism of the Koreshan compound, they leave nothing to chance. Masked actors loom from the gloom along the pathway from the parking lot to the front steps of Koreshan Art Hall, where another has stationed herself on a rocker outside the main door. On stage, three actors (Teed, Angel and Achi) sit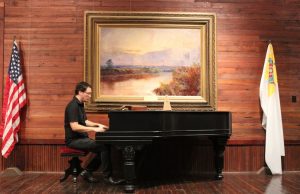 expectantly, listening intently to Victor Ballo play the piano with the skill and emotion of a Maurizio Pollini. Each note exudes unmistakable anticipation, tension and, more, foreboding.
The rest of this review is here.
____________________________________________________
Linda Hall's masks and puppets on display in Ghostbird's 'ORBS!'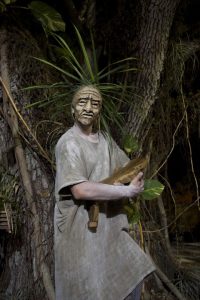 Last season, popular local artist Cesar Aguilera partnered with Ghostbird Theatre Company to create masks for its production of The Chicken Play, a site-specific tome that depicted members of a mythical community of clay women where the aged give birth, the unwise speak in unintelligible tongues and the wise counsel the community not to worry about traumas because, in the larger scheme of things, they are "nothing more than an inconvenience." Masks are once again important in Ghostbird's current production. And for ORBS!, it's Tampa multimedia artist Linda Hall who has employed her vast talents to cloak actors Kaleena Rivera, Dan Cancio, Kate Dirrigl, Linda Farmer and Taylor Landers with the puppets and headgear they wear to portray the animals and ethereal beings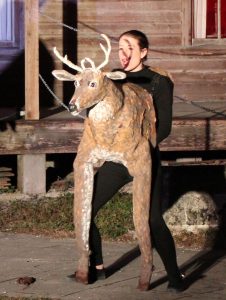 who populate playwright Barry Cavin's world out at the Koreshan Historic Site, where an epic battle wages between Koreshan founder Cyrus Reed Teed and the natural world.
Cavin and Ghostbird let their audiences know from the outset what's at stake. "Be aware that we are standing on land that the ancient Calusa also trod," admonishes Ghostbird in the show's playbill. "The Calusa believed that after death, one of our three souls crosses over and inhabits a lower-order animal, and upon that animal's death, would inhabit an even lower-order animal, and so on. Thus our oldest ancestors' souls are in the bodies and gnats and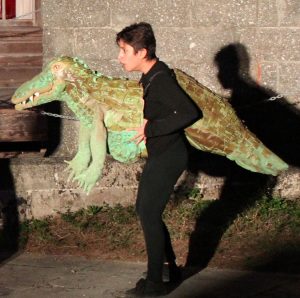 no-see-ums."
It's a message that actor Stella Ruiz as Mo'a reiterates before the audience departs Art Hall.
While Linda Hall may not share the Calusa's belief, she is nonetheless a logical choice to assist Cavin and Ghostbird in their worthwhile endeavor, namely explicating the connection between humans and the natural world. "With painting and sculpture," Hall says of her art, "I explore the delicate bond and the disconnect we have with the wilderness within ourselves and the earth."
For more on Linda Hall, read here.
_______________________________________________________________
Meet some of the artists exhibiting at Bonita National this weekend (02-09-18)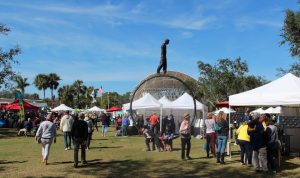 The Bonita Springs National Art Festival returns to Riverside Park on Old 41 in historic downtown Bonita Springs on Saturday and Sunday, February 10 & 11 for the second of its three fine art festivals. This festival stresses quality and originality, with the 211 artists juried into the show from across the United States, Canada, South America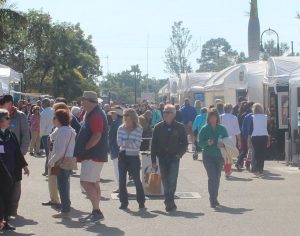 and even Europe exhibiting and selling original paintings, drawings, pastels, photography, handcrafted jewelry, clay works and ceramics, glass art, metal sculpture and more. Follow these links for information about some of the artists whose work you'll see:
____________________________________________________
SoCo Second Saturday Art Crawl returns February 10 (02-09-18)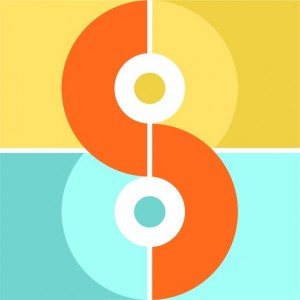 The next SoCo Second Saturday art event takes place February 10. The event continues to grow, with more cultural venues, new vendors and a redesigned map that includes all of the night's attractions and the details on how to win a great prize from one of the participating SoCo stops. (To qualify for the prize, simply visit each of the SoCo Second Saturday venues and get a Golden Ticket at each location. The winner will be announced one week after the event.)
January's participating SoCo Cultural Venues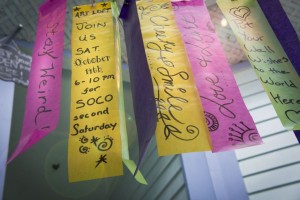 are:
Alliance for the Arts

DAAS CO-OP Art Gallery & Gifts

Ocasiocasa

The Union Artist Studios and the CRAFTED Shop

Catch 22

A Swedish Affair

Broadway Palm Dinner Theater

Suzanne's Dance Fitness

Studio Os Urbanos

City of Palms Studio
DM Paper Designs
In addition, more than 10 vendors, located at various spots in Royal Palms Square, will be offering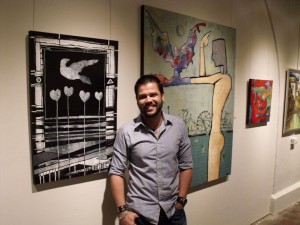 their handmade, fine-crafts during the event. The event starts at 6:00 p.m. and ends at 10:00 p.m., rain or shine.
The SoCo Cultural District location encompasses the block south of Colonial Blvd., from the corner of McGregor Blvd. to Summerlin Rd., to Royal Palm Square Blvd. and back to McGregor Blvd. More information about the event and vendor opportunity information is available at socoswfl.com.
________________________________________________________________
Art of member artist Bill Kramer being featured by DAAS in February (02-09-18)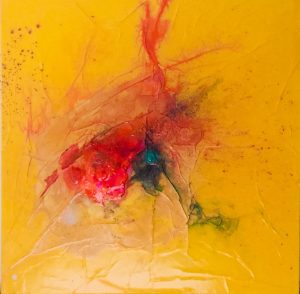 During the month of February, DAAS CO-OP Art Gallery & Gifts will showcase the art of member artist Bill Kramer. The exhibition, entitled Variations on Thought, is a collection of bold, colorful and large scale pieces that were created by the artist exclusively for the event. The opening reception coincides with the monthly SoCo Second Saturday art crawl, which is held in the SoCo Cultural District (Alliance for the Arts and Royal Palm Square block) on Saturday, February 10, 2018 from 6:00 to 10:00 p.m.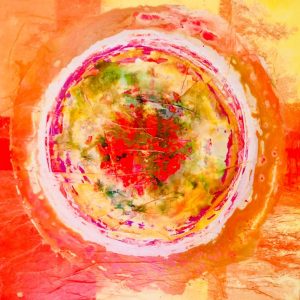 Bill Kramer began his career as an artist later in life. "I started painting in 2003 at the age of 61," says Bill, who has been a member of the DAAS cooperative gallery for over a year. "Today, I am 75 and my style has changed completely. My attitudes and ideas have changed, but my commitment to expressing myself with design and color will always be part of the way I live."
The pieces in this collection are large scale, bold and vibrant. They are filled with the energy of this artist, whose age may contrast with the contemporary-abstract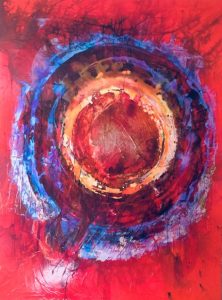 feel of his multi-media creations. Kramer does not sign his pieces in the front because he wants the collector to hang the piece in whatever angle they wish. Of course, he is happy to sign his pieces upon request.
For more information about the gallery, please visit daascoop.com or call 239-590-8645. DAAS CO-OP Art Gallery is conveniently located in the Royal Palm Square at 1400 Colonial Blvd in Suite 84. Season hours are Tuesday to Saturday from 10:00 a.m. to 6:00 p.m.
More information about the SoCo Second Saturday Art Crawl can be found at socoswfl.com.
__________________________________________________
Naples Artcrafters Fine Art & Craft Show returns February 10 (02-09-18)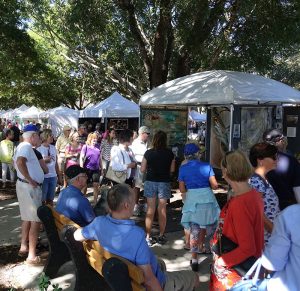 Saturday, February 10 is the date for the Naples Artcrafters Fine Art & Craft Show. Naples Artcrafters is committed to promoting excellence in arts and crafts and to supporting established artists, craftspersons and students by providing a venue for the display and sale of their work in a beautiful setting. At this show more than 90 artists will display a wide array of artistic genres, styles and media, including paintings in oils, acrylics, watercolors, drawings in pen and ink and pencil, pastels, scissors art, multi-media and collage, photography, ceramics and pottery, jewelry,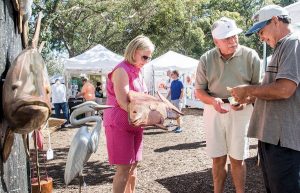 metalsmithing, metal clays, lapidary, beading, sculptures, stained glass and fused glass, wood turning and carving, and basket weaving. The show takes place in Cambier Park along 8th Street South, within view of the Band Shell and Cambier's Quilt, the first public art project at a municipal building under the City of Naples' public art ordinance.
_____________________________________________________
Art After Dark takes place February 10 in Crayton Cove (02-09-18)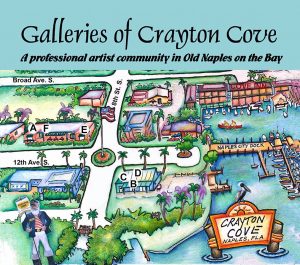 Just steps away in Crayton Cove on Saturday, February 10 is Art After Dark, an Art-Walk-type evening that gives art enthusiasts and collectors an exceptional opportunity to combine fine art with fine dining alongside picturesque Naples Bay. Participating galleries include Phil Fisher Gallery, Random Acts of Art, Guess-Fisher Gallery, Naples Ships Store and Pure Design, who band together from 6-9 p.m. to present an evening of art receptions, refreshments and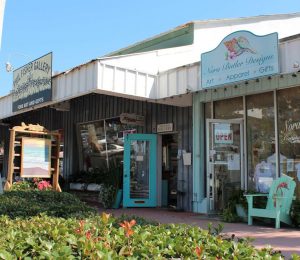 live music – this month compliments of Jeff Fessenden & Alchemy. Many art lovers complete their evening of art viewing with drinks and a sumptuous meal in one of Crayton Cove's outstanding eateries, Bleu Provence, Chez Boez, or The Dock and Boathouse Restaurant.
____________________________________________________________________
45th Pine Island Art Show and Sale comes to Matlacha on February 10 & 11 (02-09-18)
This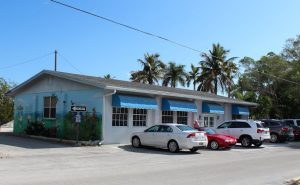 year the Pine Island Art Association's 45th Annual Art Show and Sale will be held on Saturday and Sunday, February 10 and 11, from 10:00 a.m. to 4:00 p.m. The event will draw the largest crowds of the season to Matlacha Island, a picturesque artists' community where pelicans and great blue herons circle above moored fishing boats,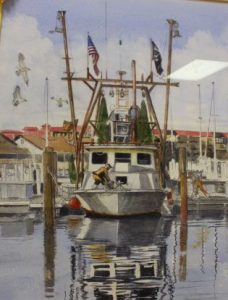 brightly painted galleries, and fresh fish markets. The show is located in the Community Building in Matlacha Park, 4577 Pine Island Road, just west of the newly-completed Matlacha Bridge. It will feature the works of more than 100 artists, and will include more than 500 paintings in acrylic, oil, pastel, pen and ink, and watercolor, with an emphasis on Florida landscapes, seascapes, birds, fish and flowers – "all ready to hang in your home." Be sure to visit the PIAA show first, then tour the local galleries and restaurants and be delighted by the local color. Pine Island and Matlacha are remnants of a time gone by.
______________________________________________________
Southwest Florida Pastel Show opens at Alliance tonight (02-09-18)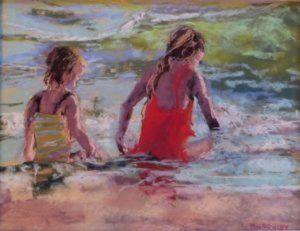 The Alliance for the Arts presents the Southwest Florida Pastel Show from February 9 through March 3. The opening reception is tonight from 5:00 to 7:00 p.m.
"We are proud to present a singular exhibit featuring some of the best pastel artists in Southwest Florida," states the Alliance.
Founded on the leading edge of a resurgence of interest in the

soft pastel medium, the Southwest Florida Pastel Society was established in January 2003. Pastels are best known for their superior quality of color and light achieved through the use of pure pigment with reflective qualities not found in other mediums.

There will be a conversational walk and talk with exhibiting artists at 6:00 p.m. on Saturday, February 10, that is co-extensive with the SoCo Second Saturday Art Crawl.
Paintings by Paula Eckerty is on display in the member gallery, with work by Susan Oehl in the Theatre Gallery.
_______________________________________________________________________
Alliance presenting 'Intimate to Strange' featuring paintings by Paula Eckerty (02-09-18)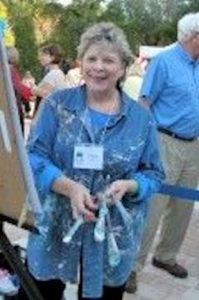 The Alliance of the Arts will present "Intimate to Strange," paintings by Paula Eckerty, from February 9 through March 3. The opening reception takes place Friday, February 9 from 5:00 to 7:00 p.m.
Paula Eckerty began her love affair with art in farm country in northern Indiana, where she pursued interests in stained glass, quilting and needlework. Following her arrival in Cape Coral some 30 years ago, Eckerty spent many years in the field of decorative painting. During that span, she painted murals and furniture, and introduced students to the love of paint and brush inside her comfortable home studio.
"If it sat still, it got painted." Paula quips.
Then,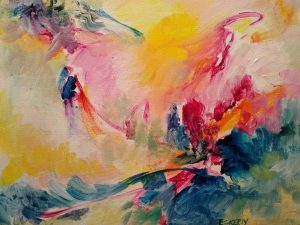 several years ago, Eckerty had an epiphany after enrolling in a class taught by the late Gale Bennett, who has been called Southwest Florida's most renowned native artist and art teacher. Between 1996 to 2007, Bennett welcomed nearly 1,000 artists to his workshops in Monet's famous village of Giverny, where his pupils were treated to the rare privilege of painting in Monet's gardens. In fact, in 2002 the French magazine Plaisir de pendre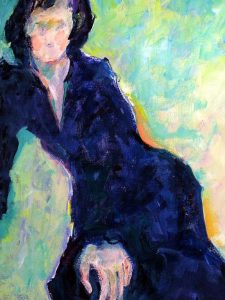 called Bennett "one who could justly lay claim to the title of successor to the great Monet."
The experience opened her eyes and gave her sight, says Eckerty, who was one of 15 workshop alumni invited to help Bennett's widow, Cello, complete a book Gale started nearly 30 years prior to his death. (The other 14 participants were Sanibel residents Marcy Calkins, Sheila Hoen, Jane Hudson, and Marilyn Miglio; Cape Coral residents Barbara Mintz, and Joanna Olsen; Fort Myers resident Barbara Wilson; former resident Pat Dunn (now of Nashville, TN); Punta Gorda/Port Charlotte residents Liz Hutchinson-Sperry, Jane Geronime, and the late Muriel Van Patten;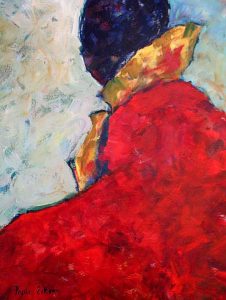 as well as Gayle Keith Ashley of Useppa and Caroline Homes Nuckolls of Marietta, GA. Eyes into Art was released in 2014 at a retrospective held at the Lee County Alliance for the Arts.)
Today, Eckerty paints mostly from her imagination, deep memories of nature and the intense beauty of her surroundings in Southwest Florida. Paula believes it is impossible to compete with Mother Nature in a painting so she tries to grab an impression and create as much movement and light in her painting as possible. She has had shows at BIG ARTS on Sanibel Island, Florida West Arts and Arts for Act Gallery, of which she is a proud supporter.
"My eyes have been opened to the beauty and complexity of nature," Paula states." I rarely paint a specific view or person, but mostly from my mind…what I remember from seeing and experiencing is in the bank somewhere in my head."
___________________________________________________________________
Sheldon Fine Art hosting Collins-Norwood champagne reception tonight (02-09-18)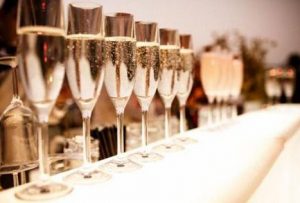 Sheldon Fine Art is hosting a champagne reception tonight to mark the opening of an exhibition of work by artists Gee Gee Collins and Joyce Norwood.
Collins' abstracts explore the juxtaposition of unique pallets with line and texture. She follows forms which evoke organic lines and whimsy, triggering a sense of fun and elegance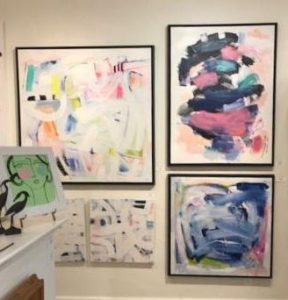 within each work. Playing with the theme of femininity, the artist creates pieces which exhibit a strong sense of lust and beauty, while effortlessly depicting her subjects with the use of shape and color. Her pattern creates abstract paintings that explore an environment ever changing, shaped by pigmentation and a balance struck between beauty and chaos.
Born in 1973 and raised in Atlanta, Georgia, Collins studied painting at the College of Charleston and received a bachelor's degree in Fine Art from the University of Georgia. She also traveled and studied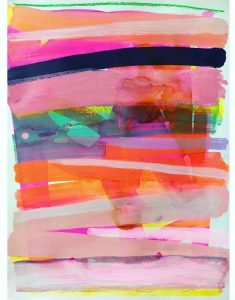 abroad through the Lamar Dodd School of Art in Cortona, Italy. From the start of her career, she has been captivated by bright colors and the essence of minimalism. Her bold brush strokes and colorful palette combine to create layers of paint that give each piece a history and ethereal quality. She approaches the canvas with ease and spontaneity, resulting in paintings filled with energy and movement.
As an Impressionist, Norwood is preoccupied with color. "Drawing combined with painting in oils allows me to produce harmonious color combinations that appeal to the senses," notes the artist. Her name is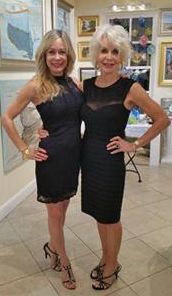 synonymous with luminous paintings of children at play on the beach. Her subjects include her daughter, daughter-in-law, grandchildren and the daughter of a Czechoslovakian friend with whom she plays tennis. "Anyone who crosses my path is pretty much fair game," Norwood quips.
In addition to children at the beach, Norwood includes row boats on the water among her favorite motifs. "I paint the boats in Cape Cod. I generally get out before sunrise so that I'm there when the sun comes up," Joyce explains. "Early morning is kind of nice for this motif because morning light is a bit cooler."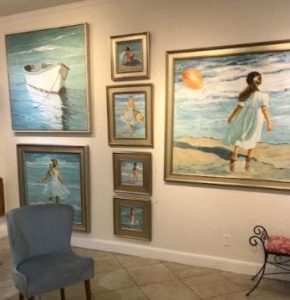 To indulge a somewhat more contemporary feel, Norwood also paints floral compositions.
Joyce began her training at the New York Art Students League, studying with Robert Brackman and William Draper before furthering her studies at the Cape Cod School of Art in Provincetown, where her eyes were opened to how "sunlight affects color." She employs a radiant palette in her ongoing quest to interpret light, which includes luscious studies of the effects of backlighting and sidelighting. "I also use heavy texture to give surface interest and a more contemporary feel to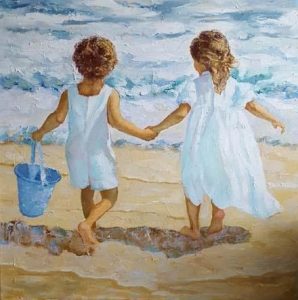 my paintings."
The reception takes place from 6:30 to 8:30 p.m. Sheldon Fine Art is located at 460 Fifth Avenue South. For more information, please call 239-649-6255.
_____________________________________________________________________
Englishman Fine Art hosting 'Chocolate and Champagne' reception tonight (02-09-18)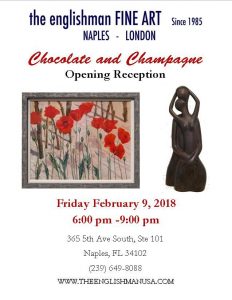 The Englishman Fine Art in Naples is hosting a Chocolate and Champagne reception tonight from 6:00-9:00 p.m. to feature works from the gallery's personal collection. The chocolates are handmade, the wines sparkling, the artworks stunning. Once a mainstay in the Third Street South art district, The Englishman is now located at 365 Fifth Avenue South (Suite 101). If you haven't been there yet, this would be a great time to check out the gallery's new Fifth Avenue South location. For more information, please telephone 239-649-8088.
________________________________
'Chicago' closes February 10 (02-08-18)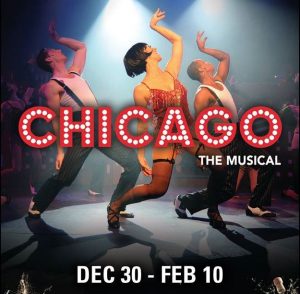 Chicago is completing its highly successful run at the Broadway Palm Dinner Theatre. It closes February 10. Here are links to articles posted on Art Southwest Florida that will give you more information about the production and some of the actors taking part in it:
RELATED POSTS.
_____________________________________________________
'Mamma Mia!' opens at Broadway Palm on February 15 (02-08-18)

Before closing on Broadway in 2015, Mamma Mia! spawned eagerly-anticipated shows in more than 440 cities around the globe. It's now Fort Myers' turn when the hit musical opens at the Broadway Palm Dinner Theatre on February 15.
Against the backdrop of music created by ABBA's Benny Andersson and Björn Ulvaeus, the comical storyline revolves around a resort owner by the name of Donna Sheridan and her 20-year-old daughter Sophie, who is about to get married on a beautiful Greek island. Sophie wants her dad to walk her down the aisle but she doesn't know who her biological father is. After a hot read of her mother's diary reveals three candidates, she secretly invites the putative pops to the wedding, forcing her mother in the uncomfortable posture of being suddenly re-united with all three ex-boyfriends on the eve of her daughter's wedding. What ensues is an enchanting tale of love, laughter, family and friendship set to ABBA classics that include Dancing Queen, Take a Chance on Me, SOS and, of course, the title song Mamma Mia!
Read here for the rest of this announcement.
And for play dates, times and ticket info, read here.
______________________________________________________________
'The Hallelujah Girls' on Off-Broadway stage through February 24 (02-08-18)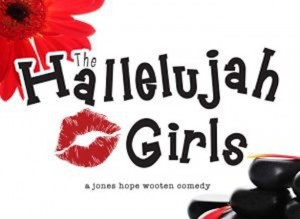 From the writers of The Dixie Swim Club and The Savannah Sipping Society, The Hallelujah Girls is a rollicking Southern comedy will have you laughing in your seat and shouting "Hallelujah" from the aisles. It is on stage now in the Off-Broadway Palm through February 24.
The action takes place in SPA-DEE-DAH!, a run-down abandoned church turned day spa that's located in Eden Falls,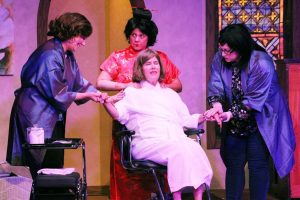 Georgia. That's where a group of feisty women gather every Friday afternoon. Following the loss of a dear friend, the women realize time is a precious commodity. If they are going to change their lives and achieve their dreams, they have to get after it now! But there are complications and Sugar Lee, their determined, high-spirited leader, has her hands full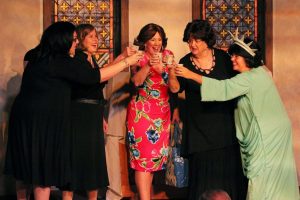 keeping the women motivated and on course.
You will find the rest of this announcement here.
RELATED POSTS.
'Hallelujah Girls' play dates, times and ticket info
______________________________________________________________________
Center for Performing Arts Bonita holding different kind of staged readings (02-08-18)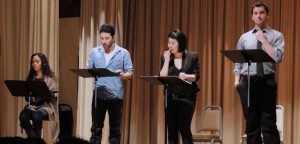 The Center for Performing Arts Bonita Springs will host an evening of staged readings on three dates this winter. But they will not necessarily feature a play that is under development. At the Center for Performing Arts, short stories, essays, plays, speeches and even the inside of fortune cookies can s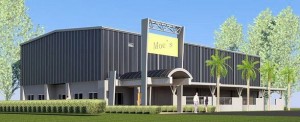 erve as fodder for staged readings. But no matter the source, they will feature poignant selections of written works that are carefully selected to enthrall and amuse. Each promises to be unique, powerful, funny and thought-provoking as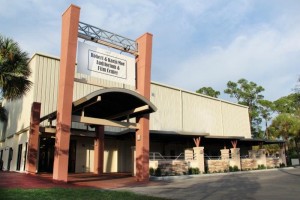 actors take on different roles.
The first reading took place on January 12; remaining readings will be produced on February 16 and March 16. Each evening is a Friday, with the reading beginning at 6:30 p.m. in the Moe Auditorium & Film Center. Tickets are just $15 (with 10 percent off for CFABS members).
So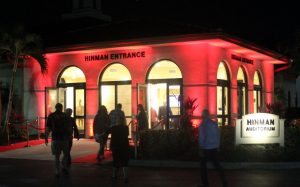 watch the transformative power of acting as Director Catalina Monterrosa and actors introduce all of us to works that may illuminate our mainstage work or introduce us to future programming possibilities. After the readings, you are invited to meet the cast and discuss the play with the director and actors. This lively and informative discussion brings new insight to the art of theater.
_____________________________________________________
Florida Rep extends 'Night and Day' through March 11 (02-08-18)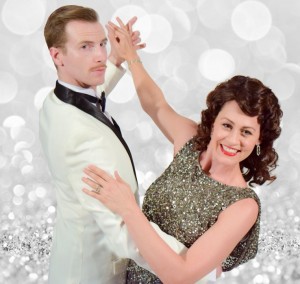 Florida Repertory Theatre has announced that it is extending through March 11, 2018 the world premiere of Night and Day: Love Lost and Found through the Eyes of Cole Porter. The show is being staged in the intimate 115-seat ArtStage Studio Theatre.
Conceived and directed by Florida Rep Founder and Producing Artistic Director Robert Cacioppo, Night and Day is a thrilling and glamorous revue that tells a story of love lost and love found through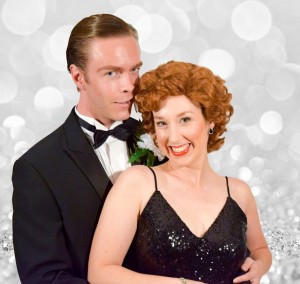 the medium of Cole Porter's masterful lyrics and iconic music. The show features 36 of the most beloved songs our time, including "Anything Goes," "You're the Top," "I've Got You Under my Skin" and "Night and Day". Made famous on film, Broadway, and a recording career that spanned decades, Porter's songs are some of the most beloved of the 20th century, and in Night and Day they're used to tell the story of two couples finding, falling in, and falling out of love.
Each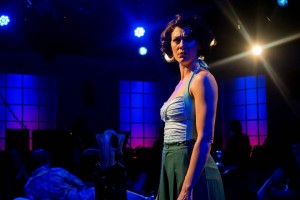 of the members of the limited cast is make his/her Florida Rep debut. Dan Fenaughty was last seen in Riverside Theatre's Mame and the national tour of The 39 Steps. Travis Kent recently appeared on Broadway in Seth Rudetsky's Disaster! Larissa Klinger comes to Fort Myers after a recent world tour entertaining our troops with the USO Show Troupe and the national tour of The 39 Steps, while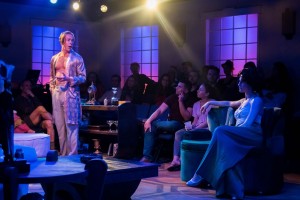 Jennifer Lorae joins the cast after recent runs Off-Broadway and in major regional theatres across the country. Paul Gary, a performance intern here at Florida Rep, makes his ArtStage debut as The Butler.
Robert Cacioppo (Too Marvelous for Words, Fascinatin' Gershwin) leads an expert creative team, including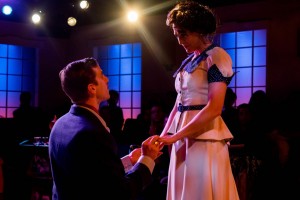 musical director and arranger Victoria Casella (Fascinatin' Gershwin), ensemble member, choreographer, and co-creator Arthur D'Alessio (Too Marvelous for Words), set designer Jordan Moore (Shear Madness); costume designer Charlene Gross (Outside Mullingar), sound designer John Kiselica (Disgraced) and ensemble manager Amy Massari (Sylvia).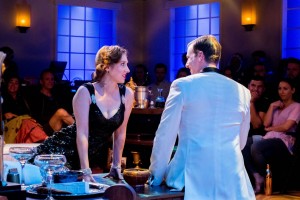 Night and Day is playing in the ArtStage Studio Theatre through March 11, 2018. Performances are Tuesday-Saturday evenings, with 2:00 p.m. matinees on Thursday, Sunday and selected Saturdays. New for the 2017-2018 Season, weeknight performances (Tues.-Thurs.) begin at 7:00 p.m. Weekend evening performances remain at 8:00 p.m.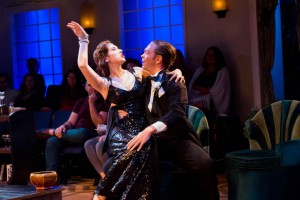 Priced at $55 and $35 for previews, single tickets are now on sale through the box office at 239-332-4488 and online at www.floridarep.org. Subscriptions for the 2017-2018 season offer the best seats and the biggest savings, and packages start as low as $150 for 6 plays. Florida Repertory Theatre performs in the Historic Arcade Theatre and the ArtStage Studio Theatre on Bay St. between Jackson &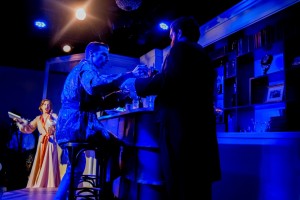 Hendry with limited free parking in the Fort Myers River District.
Visit Florida Rep online at FloridaRep.org, and by following the company on Facebook, Twitter, Instagram, and YouTube.
___________________________________________________________
Ghostbird presents Cyrus Teed's new vision of utopia in 'ORBS!' (02-08-18)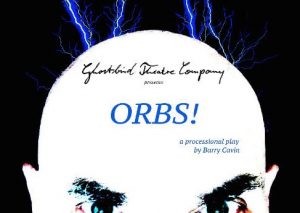 Cyrus Teed will be returning to his old haunting grounds in February. The leader of the Koreshan Unity Community is having another vision. This time, he imagines a clean new utopia – one to replace the New Jerusalem he and his followers built in Estero between 1894 and 1908. You can discover what the alchemist-turned-spiritual-leader has up his sleeve this time around during ORBS!, a site-specific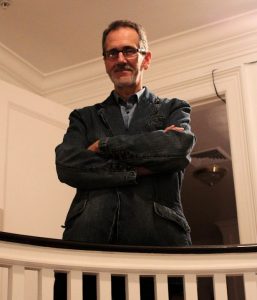 play by Barry Cavin that will be produced by Ghostbird Theatre Company in February.
Part Wizard of Oz and part old-time religion sermonizing, ORBS! will be presented in the format of a music-filled procession that takes place on the groomed paths of the historic grounds of the Koreshan Unity Community, where Teed and his follows lived, worked, worshipped, created and performed music, art, and theatre.
"The audience members will take an active part in the procession, serving as witnesses for a marriage ceremony as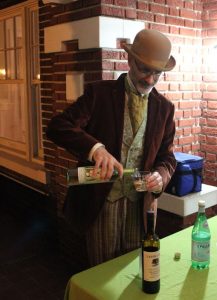 well as for a murder trial," reveals Cavin (2nd photo), an esteemed member of the theatre department at Florida Gulf Coast University.
His comedic piece of theatre also includes Calusa animal spirits who taunt Teed and provide the audience an irreverent spiritual and natural salve for Teed's madness.
"This is a true comedy, where Teed is given his deserved comeuppance, but it also is a cautionary tale about how we live with each other and with the natural world," adds Jim Brock (3rd photo), who plays Teed.
Read here for the rest of this announcement.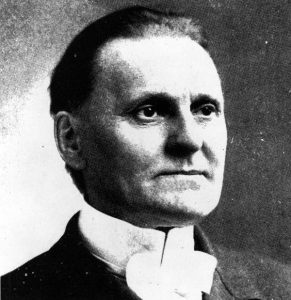 RELATED POSTS.
_____________________________________________________________________
Rom-com 'The Way We Get By' on stage at Lab Theater through February 18 (02-08-18)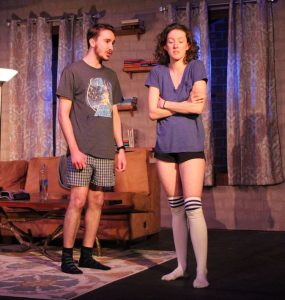 Neil LaBute's sexy love story The Way We Get By [the Night After a One-Night Stand] is on stage at the Laboratory Theater of Florida through February 18. The links below provide a review and all the details:
___________________________________________________________
Kendall Millang plays role of Beth in Lab's 'The Way We Get By' (02-08-18)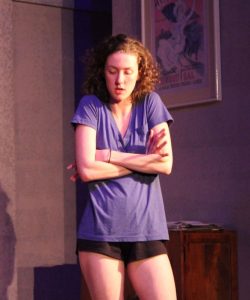 Neil LaBute's The Way We Get By is on stage now through February 18 Friday at the Laboratory Theater of Florida. The play depicts Doug and Beth, who must confront each other and their own feelings after awakening from a one-night stand following a wedding reception (with lots of alcohol). To their surprise, they find that the morning after holds some surprising twists that neither anticipated.
Kendall Millang plays the part of Beth, and is superb in the role. A Fort Myers local, Kendall is a film student who enjoys acting and writing. This is her first production at The Laboratory Theater of Florida.
For more on Kendall, read here.
______________________________________________________________________
Annette Trossbach dishes on privilege of directing Lab's 'The Way We Get By' (02-08-18)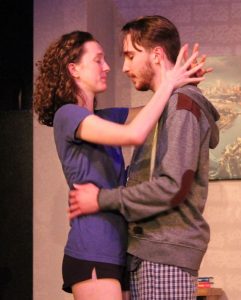 Neil LaBute's The Way We Get By is on stage now through February 18 Friday at the Laboratory Theater of Florida. The play depicts Doug and Beth, who must confront each other and their own feelings after awakening from a one-night stand following a wedding reception (with lots of alcohol). To their surprise, they find that the morning after holds some surprising twists that neither anticipated.
Steven Coe and Kendall Millang play Doug and Beth. Annette Trossbach directs.
"I am delighted to have directed this challenging work by Neil Labute," Annette remarks.
What else did Annette say? Read here.
__________________________________________________________
Robert Hilliard's 'Julia' to receive staged reading February 12 (02-08-18)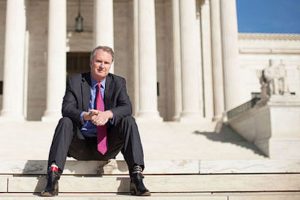 Lab Theater is holding a staged reading of Julia, a play about a disgruntled wife who finds herself at an emotional crossroads. She hates her insurance exec husband, Walter, and their shallow country-club life, but appreciates its economic security. At a party with former college friends, she falls in love with and begins a fulfilling sexual relationship with a struggling writer by named Joe, who is incapable of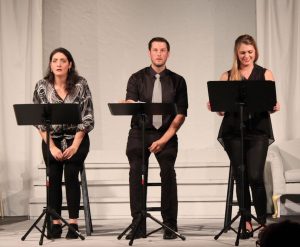 commitment or sincere caring. Bill is her best friend and confidante, but even though he gives her unconditional warmth and understanding, she just is not physically attracted to him. Will Julia go back to Walter, stay with Joe, or choose the emotional security of Bill?
_________________________________________________________________
Suicide prevention theme of Lab's production of 'Every Brilliant Thing' (02-08-18)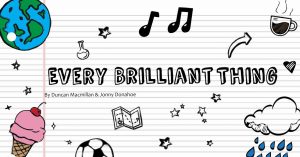 You're seven years old. Mom's in the hospital. Dad says she's done something stupid. She finds it hard to be happy, so you start a list of everything that's brilliant about the world – everything worth living for. You leave it on her pillow. You know she's read it because she has corrected your spelling. This is the predicate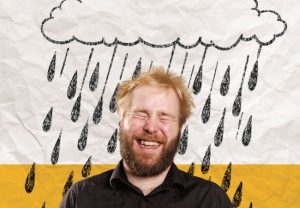 for a special show being produced for a limited engagement by Lab Theater. It's Every Brilliant Thing by Duncan MacMillan and Jonny Donahue, and will star Rob Green (An Act of God, Whatever Happened to Baby Jane: A Parody of the Horror, Burn This!), with direction by Artistic Director Annette Trossbach.
The Telegraph calls it "funny, clever, and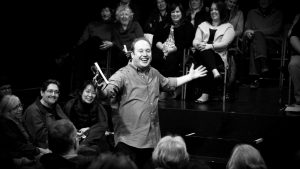 surprisingly uplifting."
"Filled to the brim with joy…beautiful, heart-wrenching, and very funny," adds Time Out London.
Sponsored by C.A.R.E.S. suicide prevention, Lab Theater is proud to be partnering with SalusCare in the production of this new show. There will be post-performance discussion opportunities after each performance. The show runs February 22-25 only and is included in your Season Pass or, if you don't have a season pass yet, you can get your tickets HERE.
_________________________________________________________________________
Theatre Conspiracy's production of 'Gidion's Knot' on stage through February 18 (02-08-18)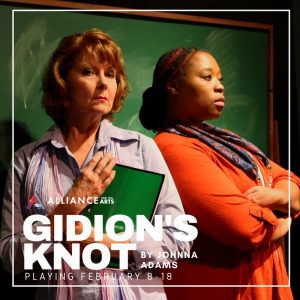 Theatre Conspiracy is bringing Johnna Adams emotional drama Gidion's Knot to the Foulds Theatre stage in February. The play runs February 8 through 18. Follow the links for the information that interests you most:
_____________________________________________________________
A look forward at the rest of Theatre Conspiracy's 2017/18 season (02-08-18)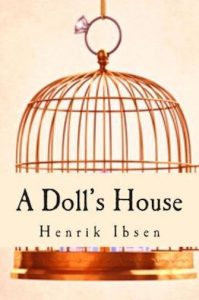 Now's a good time to look ahead to 2018 to see what Theatre Conspiracy has in store for theater-goers during the remainder of its 2017/18 Season:
A Doll's House by Henrik Ibsen March 1-3 & 8-10 at 8 p.m. March 4 & 11 at 2 p.m. Sponsored by: Janet & Bruce Bunch
A stark and unforgiving look behind the façade of an ideal marriage: Nora and Torvald Helmer are living their dream life, happily married with children and security. When Nora risks her reputation to save her husband's life, the consequences test the limits of their love.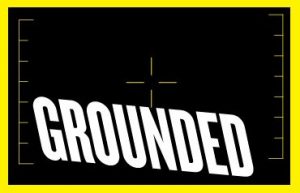 Grounded by George Brant March 22 – 24 at 8 p.m. March 25 at 2 p.m.
A hotshot fighter pilot sidelined by pregnancy is forced to operate military drones from a windowless trailer in the Las Vegas desert. This one-woman show targets our assumptions about war, family, and the power of storytelling.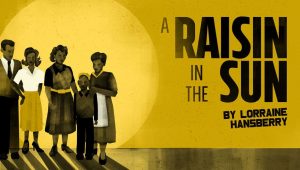 A Raisin in the Sun by Lorraine Hansberry May 3-5 & 10-12 at 8 p.m. May 6 & 13 at 2 p.m. Sponsored by: Noreen Raney
A fateful life insurance policy becomes a catalyst that will forever transform the lives of a family living on the South Side of Chicago, as they consider buying a house on the white side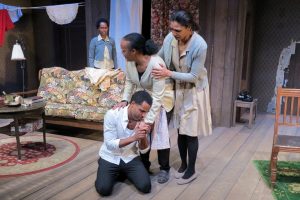 of town. Their shared dream of a better life collides with conflicting aspirations, betrayal and racism in this timeless production.
To purchase tickets or for more information, call the box office at 239-939-2787 or visit www.ArtInLee.org/Theatre.
________________________________________________________________________
Naples Players' gala benefitted community theater and KidzAct youth program (02-08-18)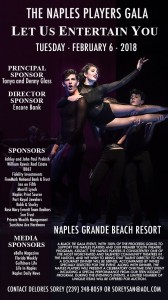 On Tuesday, February 6, 2018, The Naples Players (TNP) presented their spectacular 2018 gala "Let Us Entertain You," benefitting The Naples Players Community Theatre and their premier youth performing arts program, KidzAct. The Naples Players know how to entertain and they pulled out all the stops for the gala. The black-tie evening included Broadway-worthy entertainment, cocktails, an elegant gourmet dinner, specially selected wines and a spectacular live auction at The Naples Grand resort.
The Naples Players has been entertaining Naples for 64 years, offering 228 performances and hosting 47,000 attendees each year. TNP is rated one of the best Community Theatres in the Nation and has been voted Best Live Theatre by The Naples Daily News readers for fifteen consecutive years. CNN and Money Magazine cited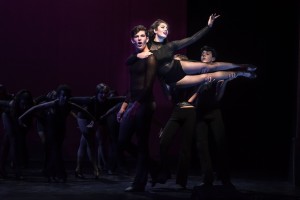 The Naples Players as one of the reasons Collier County, Florida is one of the top five "Best Places for a Long Life in the United States."
With 600 scholarships valued at $45,000 awarded each year, TNP also provides quality performing arts education opportunities to local students. TNP offers theatre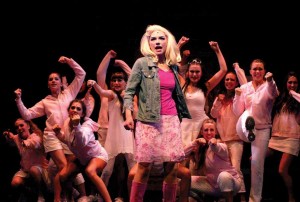 classes for youth and adults with developmental disabilities and launched their first Sensory Friendly Performance with Miracle on 34th Street for attendees with sensory processing limitations. The gala supports all of TNP's and programs and initiatives allowing it to continue as a national leader in the integration of theatre excellence, education, and service to the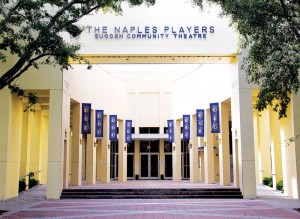 community.
The gala was generously sponsored by Tanya and Denny Glass (Principal Sponsor) and Encore Bank (Director Sponsor). Additional sponsors included Ashley and John Paul Prebish, William Raveis Real Estate, BB&T, Fidelity Investments, FineMark National Bank & Trust, Inn on Fifth, Merrill Lynch, Naples Print Source, Port Royal Jewelers,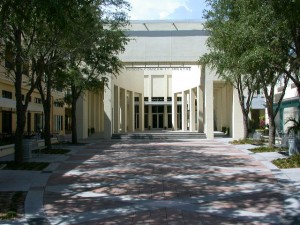 Robb & Stucky, Rose Mary Everett Team Realtors, Sun Trust, Private Wealth Management and Sunshine Ace Hardware. Media sponsors include eBella Magazine, Florida Weekly, Gulfshore Life, Life In Naples Magazine and The Naples Daily News.