Actors, artists, filmmakers and events in the news January 15-21, 2019
These are the actors, artists, filmmakers and events who are in the news in Southwest Florida this week:
Lab's 'Angry Inch' band perfect for Mitchell & Trask's transgender tragedy (01-21-19)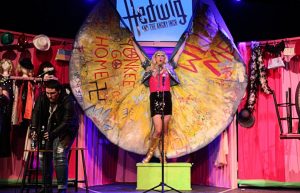 Continuing Thursday through Sunday at Lab Theater is John Cameron Mitchell and Stephen Trask's hard-driving glam-punk rock tour de force Hedwig and the Angry Inch.
In a word, PJ McCready is spectacular. He has pipes particularly suited Trask's thrashing, unexpectedly touching songs. But every singer needs an equally capable band, and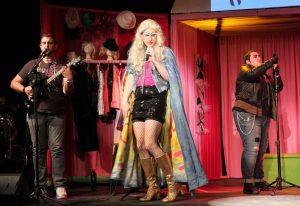 Director Paul Graffy and Musical Director Julian Sundby struck pay dirt with lead guitarist Lee Blackston, bass guitarist Greg LaMastro, keyboardist Andrea Roccella and percussionist Israel "Izzy" Zakar Coover. This fearsome foursome has the moxie to project the music's danger and fury.
Their performance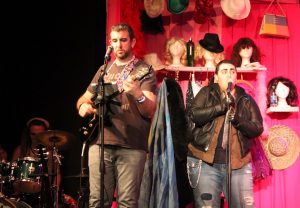 invites comparison to the Spiders from Mars who backed up David Bowie's androgynous bisexual alter ego, Ziggy Stardust.
Mitchell's book and Trask's score incorporate the band into the show, giving each musician a name. Blackston's character is the vowel-less Skszp. Mitchell hails from Manchester, England, where he honed his craft before moving to the
United States. He has played numerous instruments in various bands. His theater credits are impressive. They include How to Succeed in Business Without Really Trying, Little Shop of Horrors, Nunsense, The Rocky Horror Show, Godspell and Tony and Tina's Wedding. But his familiarity with Hedwig transcends this production as Blackston has been in two previous Hedwig productions. If you'd like to hear more from this hard-rocking lead guitarist, check around. He plays in bands around Southwest Florida.
The Angry Inch's bass guitarist is Jacek, played by Greg LaMastro. Greg is a native of Long Island (NY). He attended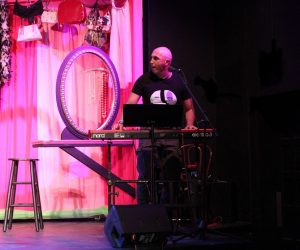 Berklee College of Music. LaMastro has more than 30 years of experience playing, recording, engineering and producing music in many genres. He is currently lead instructor at Guitar Center in Fort Myers.
You will find the rest of this story here.
____________________________________________
'Everyone on this Train' sure to make you feel (01-21-19)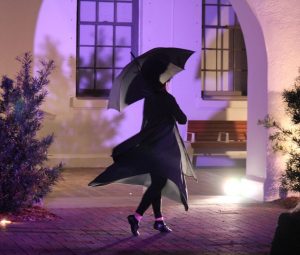 On "stage" tonight and next Friday and Saturday is Ghostbird Theatre Company's production of Everyone on this Train by playwright, actor and Ghostbird co-founder Jim Brock.
Brock gives every indication of being an old soul. In Everyone on this Train, he appears as a teetering, hunched porter with a Walter Brennan (there probably aren't many of you who remember The Real McCoys television show) hitch in his step. But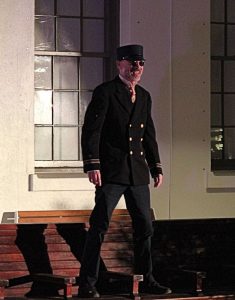 that's not what I mean. With his latest play, Brock conjures the bygone joys associated with watching people arrive and depart airports, bus terminals and, in this particular case, train stations and depots.
Except perhaps for street photographers, people watching is a lost art. Even when sitting across from each other at dinner, most of us today would rather bury our nose and attention in our smartphone or other hand-held device. But as Jim Brock well knows and apparently still remembers, there was a time when people entertained themselves and young children by surreptitiously spying on passers-by and eavesdropping on their conversations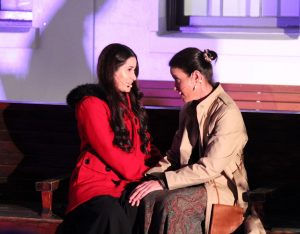 in public places like malls (also archaic and rapidly becoming obsolete), parks and public squares. And for this (and other reasons), Everyone on this Train harkens back to simpler and (dare I say it?) more romantic times.
Plane, train and bus terminals have the benefit of attracting all manner of humanity. And travel affords the added advantage of exaggerating and accentuating the foibles and idiosyncrasies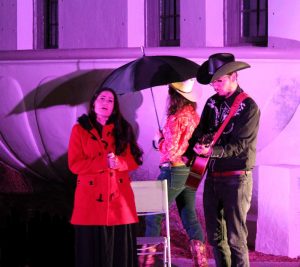 of the commuters and passengers who are waiting, typically impatiently, for their connection. But in Brock's ideation, there is clearly a sinister aspect which ripples through the station as he channels the jeopardy experienced by refugees, runaways and similar ilk of peregrinators.
You'll find the rest of this review here.
________________________________________________
Belling nauticals invoke sense of sublime quietude (01-21-19)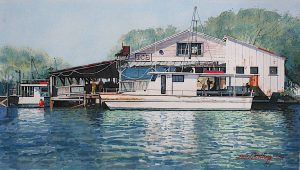 In turbulent times such as these, who couldn't use a little more peace and serenity? To fill this need, the Rene Miville Gallery is bringing a little tranquility to the downtown Fort Myers River District art scene – as in a new exhibition of work by watercolor realist David Belling.
Tranquility –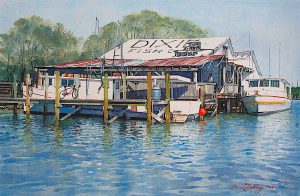 The Modern Landscape Art of Southwest Florida will feature dozens of the nautical scenes and historical-based landscapes that David Belling has been rendering since turning to painting full time after his retirement in 2004 from decades as a creative director for big and little advertising agencies in both Milwaukee and Cape Coral.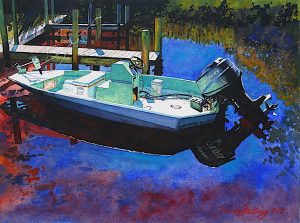 While there will be plenty of moderately-sized originals to admire, gallery owner Rene Miville has blown up photos of half a dozen of Belling's paintings into 44-by-32-inch prints. These, in particular, uniquely enable viewers to savor the sublime quietude built into the fabric of each of Belling's compositions.
____________________________________________________
ACT Gallery playing hearts at pop-up exhibit February 8 (01-21-19)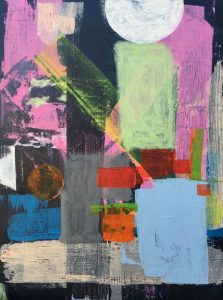 Arts for ACT Gallery is hosting a pop-up exhibit with over 13 artists one night only on February 8. Just in time for Valentine's Day, the Hearts for ACT Pop UP exhibit will contain a variety of hand-made items for your Valentine or for yourself, including jewelry, mixed media, baskets, art clothing, art furniture, art gourds, 3D art, photography and, of course, paintings, plus many more items.
This is only a two-hour event, with items for sale that have never been shown at Arts for ACT Gallery, which will also be featuring new works by more than 25 co-op artists. So mark your calendars and save the date – February 8, from 6:00-8:00 p.m. for Hearts for ACT Pop-UP exhibit.
__________________________________________________________
DAAS featuring member artist Karen Gozzo Nolan in February (01-21-19)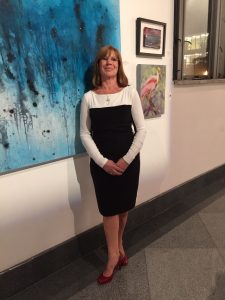 In the month of February, DAAS CO-OP Art Gallery & Gifts will be hosting an exhibition and meet-and-greet reception for founding member Karen Gozzo Nolan. Entitled Distraction, the exhibition showcases a collection of the artist's music-driven, large-scale abstracts created in between 2018 and early 2019.
Gozzo Nolan was born in Connecticut, where she resided until the age of 28. She relocated to Vermont, and later to Florida in 2013.
Karen describes herself as born creative and an art lover. However, life circumstances prevented her from following her dreams of becoming an abstract artist.
While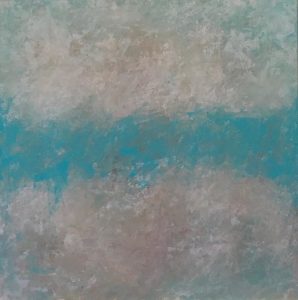 living in Vermont, Gozzo Nolan held some creative positions, such as manager of a home decorating center for over 13 years where she worked with paint and colors and selecting color pallets for contractors. After battling a rare disease, she vowed to follow her passion. Once in Florida and fully recuperated, she decided to pursue her lifelong dream. Shortly after making the move, Gozzo Nolan began to paint.
Primarily self-taught, she embraced abstract expressionism. In this context, her art is influenced by music, the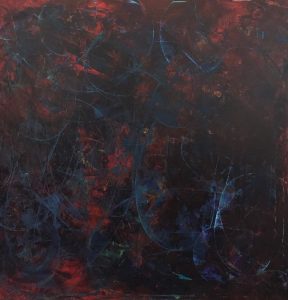 emotion that comes from it, and her love for vibrant colors. For her, painting is an outlet of escape and distraction from life, as well as a place of total meditation and peace.
"The paint and brush become my instrument and my art is the song it plays," says Karen, providing insight into her artistic raison d'etre.
Gozzo Nolan joined DAAS CO-OP as a founding member in April of 2016 and has remained one of the gallery's most influential and active participants.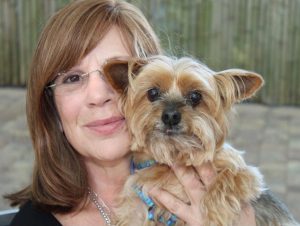 The opening reception is 6:00-9:30 p.m. on Saturday, February 9. The exhibition will be on display through March 2, 2019.
For more information about the gallery, please visit daascoop.com or call 239-590-8645. DAAS CO-OP Art Gallery & Gifts is conveniently located in the Royal Palm Square, in the heart of the SoCo Cultural District (socoswfl.com), at 1400 Colonial Blvd STE 84 in Fort Myers, FL. Hours of operation are Tuesday to Saturday from 10:00am to 6:00pm.
_____________________________________________________________________
4th Annual Bonita Springs International Film Festival set for February 21-24 (01-21-19) 
The Centers for the Arts Bonita Springs introduced the inaugural Bonita Springs International Film Festival in  February of 2015. It will return February 21-24 with more than 70 carefully curated narrative, documentary, animation and short films from around the world, complemented by a wide variety of workshops, demonstrations, and Q & A sessions with filmmakers, writers, directors, producers and actors.
The unique and entertaining special events begin with Thursday's over-the-top 'Opening Night' and culminates with a spectacular Awards Night and Filmmakers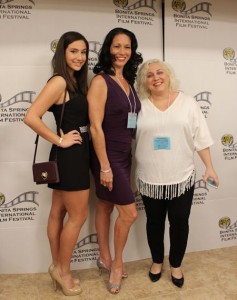 Party on Sunday evening. Each event is unique, featuring delicious catered food, refreshing beverages, quality entertainment and, of course, ample opportunities for film lovers to mix and mingle with a coterie of filmmakers, directors, writers and actors, who similarly enjoy the chance to share ideas and explore future opportunities. Films are shown in both the 400-seat CFABS Hinman Auditorium and the newly-renovated 200-seat Moe Auditorium & Film Center.
Last year, BIFF accepted films in 12 categories including youth- and teen-produced films, animated films, shorts and Florida films, as well as standard fiction/narrative and documentary works, and awarded cash prizes ranging from $250 to $1,000.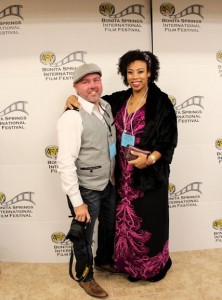 The film festival is an expression of CFABS' longstanding appreciation of film as an art form. The Centers launched their Film for Film Lovers series in 2008, offering one film per month for three months. Over time, Film for Film Lovers was expanded and now features films every Monday. And early in 2015, the Centers added the impressive Southern Circuit Tour of Independent Filmmakers, with showings on the first Tuesday of each month. Today, thousands of Southwest Florida residents and visitors attend these screenings, so it was only logical to add a multi-day film festival to the equation.
The mission of the Bonita Springs International Film Festival is to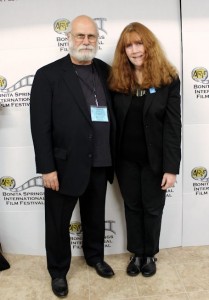 create experiences that bring people together to discover extraordinary films from around the world, recognizing that it is through the art of cinema that a community becomes more informed, aware and alive.
"The big point that ultimately surfaced in our discussions about having a film festival was that we, as an organization, are all about the arts, all the arts," says Susan Bridges, President of the Centers for the Arts Bonita Springs, who is also Co-Chair for the festival. "So, we began looking at the idea that our Bonita Springs International Film Festival might see the majority of our films showcasing an artistic connection of some kind, beyond the fact that film is an art form in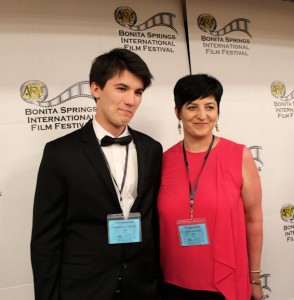 itself."
BIFF is so much more than just watching films. Festival-goers enjoy fascinating and rewarding experiences, right alongside the discovery of each film's unique details, inspiration, meaning and challenges.
CFABS has yet to release a schedule, so check back for details as they emerge. Read here for pricing.
______________________________________________________
Sheldon Fine Art featuring W.C. Nowell still life paintings (01-21-19)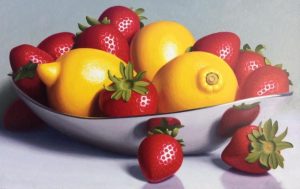 Sheldon Fine Art in Naples is featuring the work of W.C. Nowell this month. Nowell is a well-known still life specialist. He paints all of his compositions directly from life, carefully considering the objects he will use and the arrangement of these objects prior to ever touching the canvas.
"I think of my work as an idealized realism," says Nowell. "My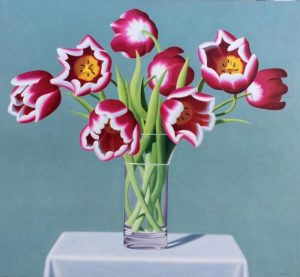 paintings are a careful balance between what I see in nature and what I choose to bring them from my own aesthetic sensibilities."
Nowell began his artistic training at the Museum of Fine Arts in Boston before pursuing an apprenticeship with the Boston School artists. For four years, Nowell engaged in the kind of academic training that has passed down from 19th century French painters such as Edgar Degas and Jean-Leon Gerome.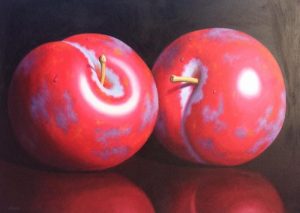 Following his apprenticeship, Nowell spent a summer refining his considerable talent with New Hampshire still life artist Sidney Willis. It was Willis who taught Nowell a more contemporary outlook toward color and composition.
Sheldon Fine Art is located at 460 Fifth Avenue South. For more information, please telephone 239-649-6255.
_________________________________________________________________
'Beaches and Byways' features seven popular Phil Fisher Gallery artists (01-21-19)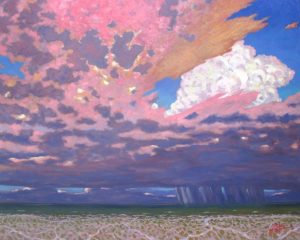 On Saturday, February 2, the Phil Fisher Gallery in Crayton Cove will host Beaches and Byways. This special show features a variety of works by well-known artists Kevin Barton, Phil Fisher, Janet Kirby, Jeff Fessenden, Jan Ellen Atkielski, Nolen Fisher and Natalie Guess, who will be in the gallery for a meet-and-greet from 6:00-9:00 p.m. Phil Fisher Gallery is located at 810 12th Ave. S., in Crayton Cove, Naples. For more information, please visit http://www.PhilFisherGallery.com.
_________________________________________________________
'Magnetism' on display in main gallery at Alliance for the Arts (01-20-19)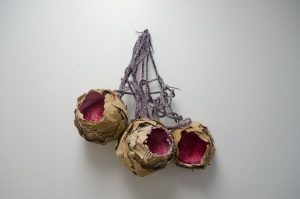 The Alliance for the Arts' January exhibit features award-winning artists Ken Hoffman and Alexander Martin. Titled Magnetism, the show runs through February 2 in the main gallery at the Alliance for the Arts, 10091 McGregor Blvd. Fort Myers, FL 33919.
Ken Hoffman's anthropomorphic paintings reveal the closeness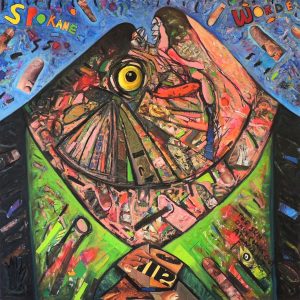 between people and animals, and speak to our society's political and cultural scene. These provocative paintings pair well with the unexpected abstractions that Alexander Martin showcases with his Boys Will Be Boys series.
By addressing human roles of identity through these unusual outlets of color and mixed media, both Hoffman and Martin express an emerging sense of our unexpected realities that will draw you in like a magnet. Engage in the compelling wonderland that interconnects animals and abstractions of found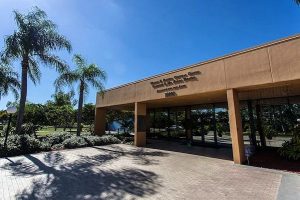 objects to reveal the dynamism and whimsy of our society through paintings, installations and more.
Admission to the gallery is free and open to the public, but a $5 suggested donation helps keep arts programming accessible.
____________________________________________________
Guy Tieman connecting the dots at the Davis Art Center (01-20-18)
Abstract artist Guy Tieman is connecting the dots at the Sidney & Berne Davis Art Center this month. His Connecting the Dots exhibition opened during Art Walk on January 4.
Four years ago, Tieman was nearing the end of a 15-year hiatus. With two young sons in tow, he moved to Southwest Florida in his 40s, got a "real job," and focused on raising his kids. But when his sons entered high school, he returned to art.
"In my 20s and 30s, I focused on printmaking and photography (BFA) and on glass art (MFA)," Guy recounts. "Living in the Midwest, I was William Carlson's artist assistant. And I was a glass artist with pieces in several galleries."
But
now he wanted to avoid the intricacies and labor of glass art, so he focused instead on print and drawing and wood and paint—"art that allows me to experience the true satisfaction of artistic expression."
As Tieman began to re-immerse myself in art, he made a conscious decision to change everything about his approach. "I wanted to utilize more color, different media, and different imagery – and to develop a more playful approach," Guy explains.
In a sense, he wanted to develop a more childlike approach to his work as well as a more simplified form of expression.
"While
this body of work is a result of this approach, it is by no means finished, but rather one of continuing development," Guy continues. "This body of work will hopefully demonstrate simplicity of color, form and imagination.
Connecting the Dots is on view in the grand atrium. It runs through January 24.
Sidney & Berne Davis Art Center is located at 2301 First Street, in the heart of the downtown Fort Myers River District. (Just look for the light sculptures.) For more information, please telephone 239-333-1933 or visit http:www.sbdac.com.
____________________________________________________________
Kristina's World on view in the Capitol Gallery at Davis Art Center (01-20-19)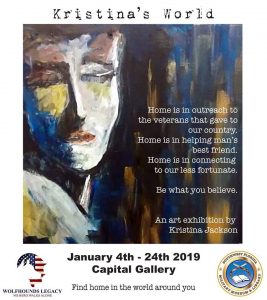 Kristina's World opened January 4 during Art Walk upstairs in the Capitol Gallery of the Sidney & Berne Davis Art Center. The show provides a unique glimpse into the world of Cape Coral artist Kristina Jackson.
As a child, Kristina was always on the outside looking in. On one level, she was desperately searching for a sense of home. Was it four walls? Family? Dinner around the table at night? A roof in the rain or a sign over the doorway proclaiming "home is where the heart is"?
"Where do you call home?" Jackson asks. "We have a large community of souls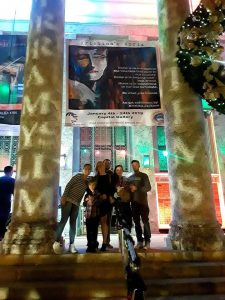 here in our city that is also looking for a sense of home… We call them homeless. They come each week to eat and feel connected; not only to each other but to humanity.
Some of them are only a few weeks from a better place, while others will live out their days in tent cities.
"We call them soldiers," Kristina points out. "They return from foreign countries and become strangers in their own."
And then there are those who walk quietly through our lives all the while struggling to survive on their own. "We call them animals. Beaten, abused, and forgotten pets. Dogs that would do anything for a loyal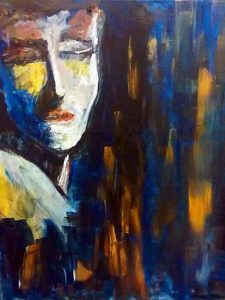 friend."
In Kristina's World, Jackson no longer sits on the outside looking in, waiting to connect. Home is in her heart amongst the homeless. Home is in outreach to the veterans that gave to her country. Home is in helping man's best friend meet his new family in his forever home. Home is in connecting to her community. Her world is finding a need and filling it.
"Be what you Believe and you will find home in the world around you!"
Kristina's World is on view at the Davis Art Center through January 24.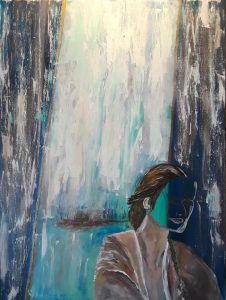 The Sidney & Berne Davis Art Center is located at 2301 First Street, in the heart of the downtown Fort Myers River District. (Just look for the light sculptures.) For more information, please telephone 239-333-1933 or visit http:www.sbdac.com.
____________________________________________________________________
Kathy Kuser exhibiting digital surrealism in ACT's White Gallery this month (01-20-19)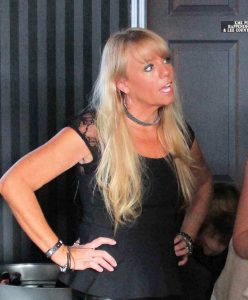 Artist, graphic designer, gallery owner and magazine publisher Kathy Kuser is exhibiting in the White Gallery at Arts for ACT Gallery this month.
"With my art, I want to bring a fresh and contemporary twist to a long established medium …. surrealism," Kathy advises. "Using my skills as a graphic designer, I create 2D/3D digital surrealism. Through a mystical and fantasy-driven vision, a story emerges from my canvas."
Kuser uses stark details with transitional blending to enable her art to take flight. "The range of my artwork can vary from something with as little as
70 digital layers to creating a more complex piece with greater than 700 layers or images."
Kathy's digital surrealism has been exhibited in nearly every local venue from the Bob Rauschenberg Gallery (2012) to the Naples Art Association (2013), Lee County Alliance for the Arts (2013, 2016), BIG ARTS on Sanibel (2016), Reverie & Rock Art Gallery (2012-2017), Sidney & Berne Davis Art Center (2012, 2015) and Spring Art Affair at Bell Tower Shops (2014, 2016). Her work has also been displayed at the Old Courthouse Art Center in Rockford, Illinois in 2017.
She has also participated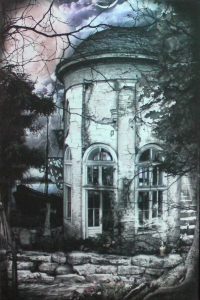 in the annual Arts for ACT fine art auction (2012, 2016), Art Poems (2016) and the Pen Women of Florida annual conference in 2016.
Since becoming an artist in early 2012, Kathy has been featured in the News-Press, Sun Seeker Magazine, Gulf Coast Times, COASTE Magazine, Cape Coral Daily Breeze, Florida Weekly and Examiner.com. Additionally, her art was featured on the October 2013 & 2018 cover of Happenings A&E Magazine. In 2017, she took 2nd place in an International Contemporary Art Competition through Open Art Miami and was featured in their gallery during Art Basel that same year.
Kathy earned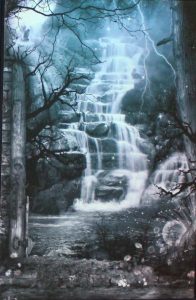 her bachelor's degree in management and organizational development from Spring Arbor University (Michigan). She and her husband own KMK Publishing Inc. which publishes two monthly event magazines in Southwest Florida, Happenings A&E Magazine and Lee County Family News. Additionally, she co-owned Reverie & Rock Art Gallery in downtown Fort Myers, which was forced to close due to damage suffered by the building as a consequence of Hurricane Irma last September.
The exhibition of Kuser's work will remain on view through January 28, 2019.
________________________________________________________________
Jill Lindsay exhibiting pixelated acrylic and alcohol inks at Arts for ACT (01-20-19)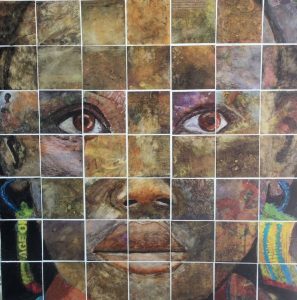 Jill Lindsay is exhibiting work in Arts for ACT's main gallery in January. She works in acrylic and alcohol ink. She has won multiple awards for her work at Visual Arts Center in Punta Gorda, Englewood Art Center, Sarasota Art Center and the International Society of Experimental Artists.
"I like to create artwork that catches your eye from a distance, usually using color to attract," Jill discloses. "As you approach my work, the smaller details become clear. The longer you linger the more you may see."
On a trip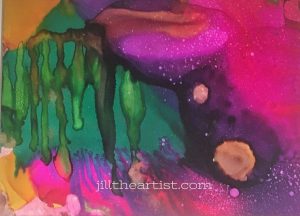 to the Dali Museum a few years ago, Lindsay was so inspired by Dali's use of pixelation in the Lincoln piece Gala Contemplating the Mediterranean Sea that she began experimenting with altered National Geographic pages to achieve as similar result. Toward that end, she soaked the pages with a solvent that moves the ink, creating new colorations and patterns.
"I thought cutting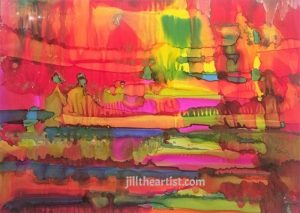 these papers into squares would mimic pixels and add a graphic component to the pieces," Lindsay elaborates. "I use a variety of techniques to add or subtract features. I have created many of these 'square' paintings now. They continue to mesmerize me. Using alcohol inks and resin add another depth and coloration that intensify the work."
Jill "grew up"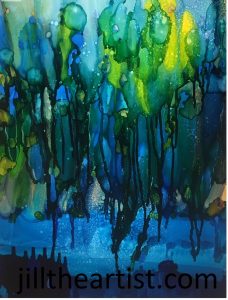 in Massachusetts and moved around a bit before landing up the road in Port Charlotte in 2001. She claims to have always been artsy (though others might say quirky), but her creative juices really started flowing after taking a furniture painting class in 2002. After she ran out of furniture to paint, Jill started working with other substrates and mediums. She joined an abstract art class in 2015 and was introduced soon after to alcohol inks and loved the colors and depths they created. The acrylic and ink have been flowing ever since!
The exhibit will be on view through January 28.
For more on Jill Lindsay and her art, please visit http:www.jilltheartist.com.
_____________________________________________________________________
Jan Ellen Atkielsky giving palette knife demo at Phil Fisher Gallery on Jan 23 (01-19-19)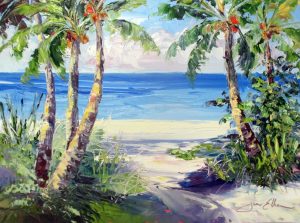 Well known South Florida artist Jan Ellen Atkielsky will be demonstrating her palette knife oil painting technique at Phil Fisher Gallery from 2:00-5:00 p.m. on Wednesday, January 23. If you've ever spread frosting on a cake, you have an idea of the textural possibilities when using a painting knife to create an oil painting. Different from painting with a brush, this process can enable an artist to create a variety of effects,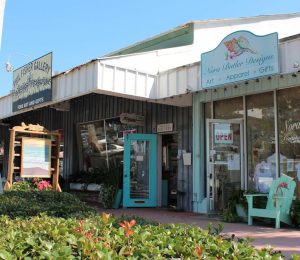 from the sweeping strokes associated with impasto to refined details.
Phil Fisher Gallery is located at , 810 12th Ave. S., Naples in the Crayton Cove art district. The public is welcome. For more information, please visit www.PhilFisherGallery.com.
____________________________________________________________________
Naples Art Association's immigration-themed show on view through Feb 24 (01-19-19)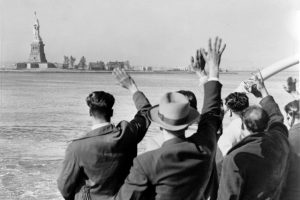 The Naples Art Association's Immigration: Does it Matter? is on view now through February 24. The work in this show draws attention to the pressing issue of immigration, a topic that affects numerous areas, from work-force demographics to entitlement programs and finances. And as the conscience of society, artists have a lot to share on this important topic. So make plans to catch this timely show. 
__________________________________________________
NAA's Open Studio Program show opens January 12 (01-19-19)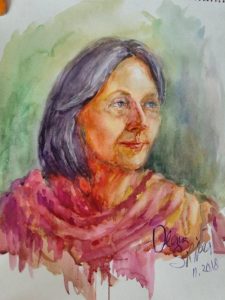 Person to Person: The Naples Art Association's Open Studio Program Exhibition is on view now through February 25. The exhibition showcases work produced by the artists who participate in the NAA Open Studio program.
Olena Skiba facilitates the program, which affords artists an opportunity to work independently in Studio #200. During Wednesday afternoon sessions, a figure model is provided, with artists paying an additional fee for the undraped or clothed model. In addition to scheduling adult models of all ages, Skiba provides props and sets a length of time for each model's pose.
______________________________________________________________
Muffy Clark Gill to give 'Seminole Experience' lecture & demo in Feb (01-19-19)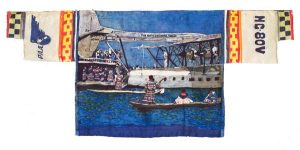 Naples batik artist Muffy Clark Gill is showing selections of artwork from her American Native Series in the 20th Century Seminole Experience, which will be on display at the Naples Depot Museum through April 27. Many of the works that Gill has included in the exhibit were previously shown in the 22nd Floor Gallery at the Florida State Capitol building in Tallahassee. Gill will be give a lecture about this body of work and an associated demonstration from 11:00 a.m. to noon on Friday, February 15.
The Naples Depot Museum is located at 1051 Fifth Avenue South in Naples.
________________________________________________________________
Keep Lee County Beautiful's 30th annual poster contest now under way (01-19-19)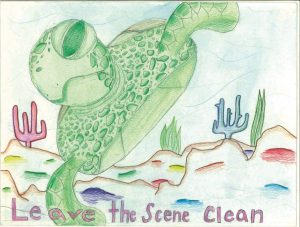 The 2019 Leave The Scene Clean calendar art contest has started. This year will be the 30th anniversary that Keep Lee County Beautiful has been holding this event. The contest is open to public, private and home-schooled students in grades 1-12.
"We believe that students, as well as those viewing the completed artwork, can learn about environmental awareness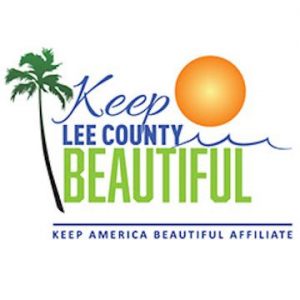 through the message of art," states Keep Lee County Beautiful in its online newsletter, The Clean Scene. "We also believe that a picture can say more than just a thousand words. It can touch you on an emotional level and give you an insight into the world around you. This is what we strive to accomplish with our annual calendar art contest."
The deadline for submissions is April 22, 2019. Go here for more information, including entry forms.
__________________________________________________________________
Sanibel fine art & craft festival takes place today & tomorrow, Jan 18 & 19 (01-18-19)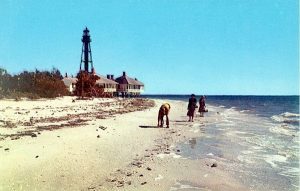 The Sanibel Community Association Fine Art and Craft Festival takes place on Friday, January 18 and Saturday, January 19. This tw0-day boutique art show is a partnership betweeen The Sanibel Community Association and Boulderbrook Productions. It features the gourmet food booths, live entertainment and 70 fine artists showcasing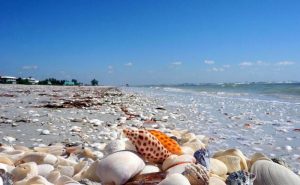 works in oil, acrylic and watercolor, drawings and pastels, 2D and 3D mixed media and collages, photography and digital art, woodworking, sculpture, ceramics, glass, fiber art, and jewelry.
_____________________________________________________________
Art Fest Naples invades Naples' Fleischmann Park January 19 & 20 (01-18-19)
Art Fest Naples at Fleischmann Park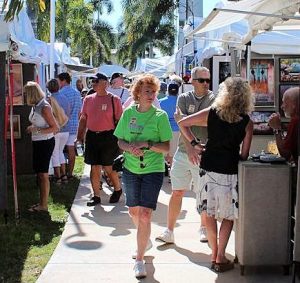 will be held January 19 & 20 in Naples' Fleischmann Park, which is located just south of the Coastland Center Mall on Fleischmann Boulevard at Goodlette-Frank Road. Now in its 21st year, the show is consistently ranked in the top 100 shows in the country by Sunshine Artist Magazine last year. Art Fest Naples takes place along the sidewalks that bisect the park, connecting the tennis courts on the east with the picnic pavilion, playgrounds and one of the baseball/softball fields.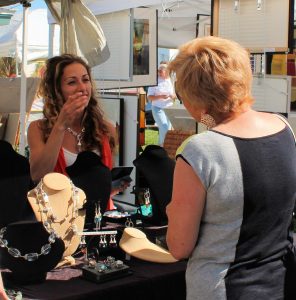 Because of the festival's size and configuration, Art Fest Naples represents an opportunity for artists and collectors to exchange ideas and information while supporting the Additional Needs, Inc., whose mission is to provide a user-friendly and time-saving website with current and comprehensive information of available resources to assist children and adults with additional needs and their families in finding appropriate services.
______________________________________________________________________
3rd Saturday Studio and Gallery Tour on tap January 19 in Naples Art District (01-18-19)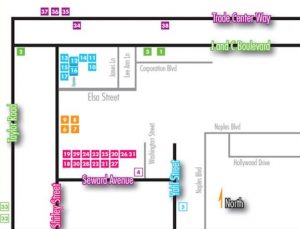 Also taking place on January 19 is 3rd Saturday Naples Art District Studio and Gallery Tours. This event features more than 60 artists, who will be showcasing their recent works of art and demonstrating their medium. The Naples Art District is located north of Pine Ridge Road and west of Airport Road. Participating galleries and studios are open from 11:00 a.m. to 4:00 p.m.
________________________________________________________________
Art Festival at Mercato close out January art fair and festival schedule (01-18-19)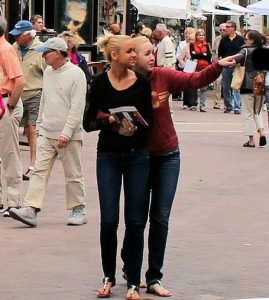 The Art Festival at Mercato takes place January 26 & 27. This art festival will be held on the lawn in the middle of Mercato. There will be 50 artists skilled in sculpture, painting, glass, jewelry, mixed media and more. Meracto is a wonderful location for this event. The tree lined plaza and walkways are the perfect setting for an event of this kind. Anchored by Whole Foods Market, Nordstrom Rack and Silverspot Cinema, a 12-screen premier-style theater, Mercato offers 12 notable restaurants, over 20 upscale retailers and luxury residential condominiums.
_____________________________________________________
ArtFest Fort Myers invades the River District February 1-3 (01-18-19)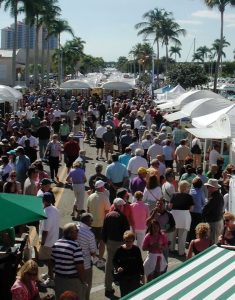 ArtFest Fort Myers takes place Friday night, February 1, and Saturday and Sunday, February 2 & 3 2019 n the downtown Fort Myers River District. Once again, Fort Myers' 1.8 acre river basin, the Fort Myers Marina, City Pier Building, Harborside Event Center and Centennial Park serve as a picturesque backdrop for the tents and booths of the more than 200 artists who have been juried into this year's festival. As in years past, a wide array of genres and media will be represented in this year's festival, including works in sculpture, painting, ceramics, photography, printmaking, drawing, digital, mixed media, ceramics, fiber, glass, jewelry, metal, wearable fiber and wood. And be sure to check out the chalk art competition featuring entries by area high schools. Upwards of 90,000 people visit this premiere outdoor art festival over its 2 1/2 day run.
__________________________________________________
Make plans to experience ArtFest Fort Myers as a VIP (01-18-19)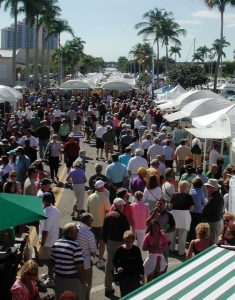 The 2019 edition of ArtFest Fort Myers comes to the River District February 1-3, and you can enjoy the festival as a Very Important Patron for $125 per person.
VIP status entitles you to join fellow Very Important Patrons in the VIP Tent on Friday evening, February 1, for the Opening Night Party, where you'll enjoy delectable culinary delights from some of our area's finest restaurants, great wine and ice-cold beer.
The evening also includes an extraordinary sampling of 65 festival artists and surprise performances.
Not only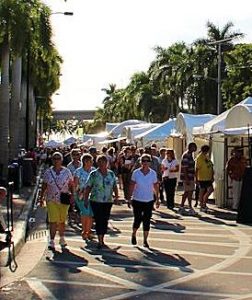 does VIP status entitle you to reserved parking privileges, VIPs can relax in comfort and style in the VIP Club over the course of Festival weekend. This ticket-holder-only retreat right in the center of all the festival action creates a restful break amid your artful shopping. The VIP Club includes breakfast treats, specialty lunch, afternoon snack bar and beverages all day.
"I look forward to this event every year — The arts change life for the better and are so important to our community in Southwest Florida," states Ron Bucher, VIP Club sponsor and Senior Director of Investments at Oppenheimer & Co, Inc. "I am proud to be a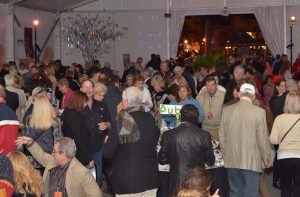 part of this nationally-award-winning art festival."
The ArtFest experience includes work by 200 professional artists from across the country and around the world, the largest high school art exhibit and competition in south Florida, and free interactive art experiences for children of all ages. To join the ArtFest Fort Myers VIP Club, please visit ArtFestFortMyers.com and click on VIP Club button or call 239-768-3602.
_________________________________________________
Next Naples Art in the Park is Saturday, February 2 (01-18-19)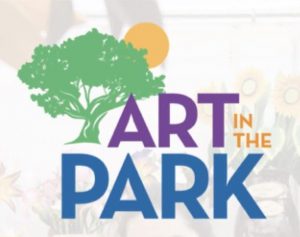 Down the road on Saturday, February 2 is Naples Art in the Park. This one-day fair showcases paintings in oil and acrylics, watercolors, mixed media, photography, sculpture, ceramics, glass art, jewelry and wood-working created by members in good standing of the Naples Art Association. For art lovers, it's a casual, fun-filled venue for meeting local artists and becoming acquainted with their work. On the flip side,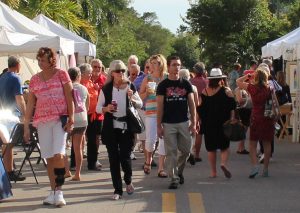 Art in the Park not only gives participating artists the opportunity to show and sell their work, it affords them a terrific platform in which to build rapport with collectors while fostering their knowledge, understanding and appreciation of the arts and their own extensive portfolios. One of the special features of this outdoor art fair is its art demonstration booths, where Naples Art members introduce the art community to process, technique and methodology.
_______________________________________________________________
Art League of Marco Island Fine Craft Fair takes place February 2 & 3 (01-18-19)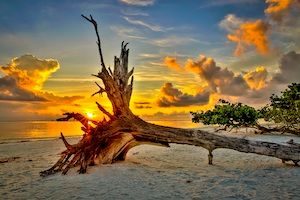 And on Marco Island, the Art League of Marco Island Fine Craft Fair also takes place on February 2 & 3. This fair is held at 1010 Winterberry Drive, Marco Island, Florida 34145, which is toward the southern end of the island. Now in its 18th year, this craft fair provides browsers and art enthusiasts with some of the region's best original artwork, including paintings, watercolors, photography and digital art, ceramics, pottery, glass, clothing, children's clothing, jewelry and mixed media work.
_______________________________________________________________
Zaki Knapen one of two Best of Show winners in Estero Fine Art Show (01-18-19)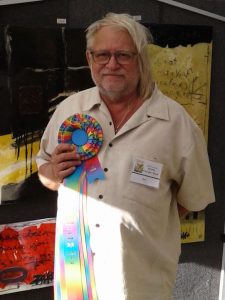 Zaki Knapen was one of two Best of Show winners are this year's Estero Fine Art Show.
Born in Antwerp, Belgium and educated in Europe, Zaki spent many years living and traveling throughout the world. Among his many stops and stayovers were England, Spain, Morocco, St. Martin and other ports of call across the Caribbean. He eventually landed in Chicago, where he made an impact sharing his art and artistic sensibilities through membership in the Elmhurst Art Guild, Chicago Art Institute, Chicago Art Coalition, Planet Collage, Naperville Art League, Lombard Artist Coalition and DuPage Art League. He now resides in Lehigh Acres.
Zaki is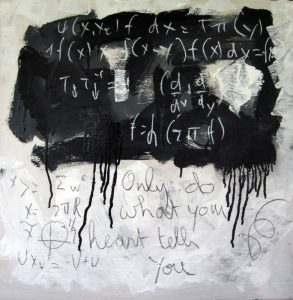 regularly juried into the Estero Fine Art Show. But he first heard about organizer Hot Works LLC and its Executive Director Patty Narovny in Chicago.
"When I lived in Chicago, I heard that if you ever do art shows in Michigan, you must participate in Patty Narozny's art show because she pays personal attention to the artists, and makes us feel special," Zaki said in 2017. But it was not until he relocated to Southwest Florida that Zaki actually applied for admission into one of Narozny's shows.
That was in 2010,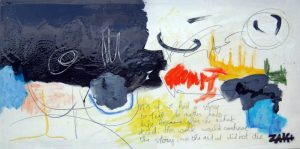 about a year after Zaki made the move to Lehigh Acres, and he has participated in the Estero Fine Art Show ever since. Over the past few years, he has also judged the youth art competition and exhibition that Hot Works orchestrates in connection with each of its Estero Fine Art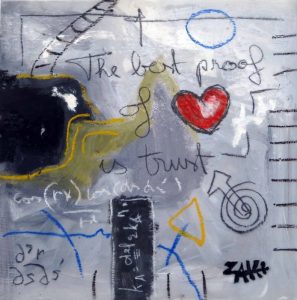 Shows.
Although Zaki enjoys figurative work, he is best known as a mixed media abstract artist. His work reflects his European education, upbringing and a perspective forged through international travel and exposure to diverse cultures and philosophies.
"I like working in the abstract," Zaki admits. "It allows me personal freedom to explore, and viewers greater latitude to interpret and connect with the work based upon their own life experiences."
In
the latter regard, Zaki firmly believes that art should give the viewer permission to appreciate and interpret based on internal expectations in the realm of the abstract. But for that to occur, viewers first need to take the time, slow down and wait for the work to resonate with or speak to them.
One of the reasons he enjoys exhibiting at venues like the Estero Fine Art Show is because of the opportunity they give art enthusiasts to experience and connect with a wide array of artists, genres, media and motifs.
_______________________________________________________________
Time running out to submit for 33rd Annual All Florida Juried Exhibit (01-17-19)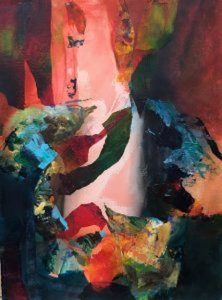 The Alliance's annual All Florida Juried Exhibition features pieces created by artists working in a wide variety of media from all over the 65,000 square miles that make up Florida. The juried entries come together for an award-winning and exciting exhibition representing today's contemporary Florida artists. The Alliance is accepting submissions online now through Monday, January 28, 2019. The show will exhibit March 8-29, with an opening reception from 5:00-7:00 p.m. on Friday, March 8. A conversational walk and talk through the gallery with the artists and juror will take place at 10:00 a.m. on Saturday, March 9.
Please visit ArtinLee.org for a prospectus or telephone 239-939-2787 for more information.
__________________________________________________________________
Leepa-Rattner director/curator Lynn Whitelaw tapped as All Florida juror (01-17-19)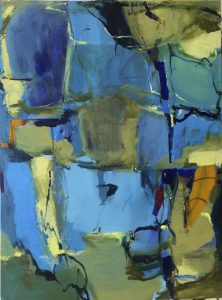 The All Florida Exhibition is the Alliance for the Arts' longest running show. This award-winning show features pieces created by artists working in a wide variety of media from all over the state of Florida. Admission into the show is juried, as are the awards given out, and this year's juror is Lynn Whitelaw.
Lynn Whitelaw is the founding director and curator of the Leepa-Rattner Museum of Art, located on the Tarpon Springs campus of St. Petersburg College. Whitelaw's curatorial efforts have resulted in over one hundred and forty exhibitions shown at Hillsborough Community College, the Tampa Museum of Art and the Leepa-Rattner Museum of Art.
Categories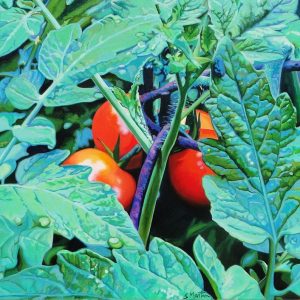 for entry are sculpture, painting (including oil, acrylic, collage, water color and mixed media), photography, prints and drawing. An entry may consist of 1 to 3 artworks. All entries must be submitted online no later than January 28, 2019. Artists can download the prospectus and submit their work online at ArtInLee.org/AllFlorida2019.
The opening reception will be March 8 from 5:00-7:00 p.m. The juror will be on hand to present awards including $1,000 cash for Best In Show,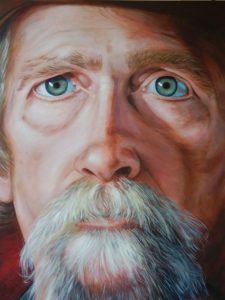 a 2nd Place gift certificate, $100 cash for 3rd place and Jurors Choice Award(s) of Alliance for the Arts membership(s).
A conversational walk and talk through the gallery with the artists and juror will be held on March 9 at 10:00 a.m. during the Alliance GreenMarket. Receptions and talks are open to the public and do not require tickets or reservations. While gallery admission is free, a $5 suggested donation keeps Alliance programming affordable and accessible. The show closes on March 30, 2019.
The exhibition is kindly sponsored by Elemental Stone and Waterworks. For more information, please call 239-939-2787 or visit www.ArtInLee.org/AllFlorida2019.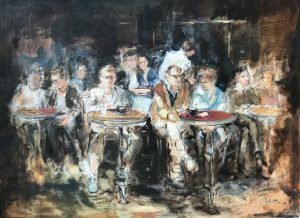 Photos:
Natural Vibrations by Betsy JDamoos
Clutch by Susan Martin
Inside by Dirce Kennedy
Waiting in Paris by Tracy Owen-Cullimore
______________________________________________________________________
'Morris Herstein: A Fusion of Fotos' at North Collier Regional thru January 21 (01-17-19)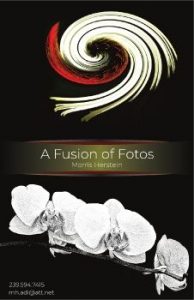 Morris Herstein: A Fusion of Fotos is on view through January 21 in the Exhibition Hall at North Collier Regional Park, located at 15000 Livingston Road in Naples. Presented in this solo exhibition are vivid examples of flowers from his Abstract and Fleur Collections, a never before seen sixteen-foot panorama of Miami's Brickell Ave and Brickell Bay, Havana street scenes, and delicately-executed photographs of Ellis Island and the Palouse region of the Pacific Northwest. Herstein transferred his knowledge of color technology into the art of photography after a successful career as a scientist and product developer with cosmetic giants Revlon and Estee Lauder.
From scientist and cosmetic product developer to photographer, see how Morris transforms one art form into another. 
___________________________________________________
January NAA exhibition focuses on human trafficking (01-17-19)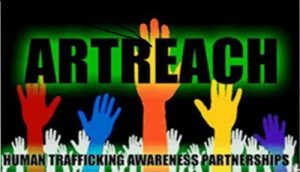 ArtReach's Human Trafficking Awareness Partnerships Exhibition opens at the Naples Art Association on January 19. It features paintings and mixed media artworks produced by Collier County youth as part of Human Trafficking Awareness Partnerships' ArtReach program.
"We want to educate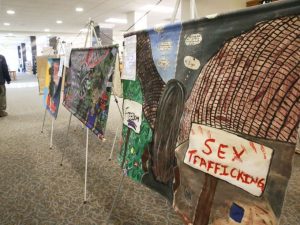 [children] about human trafficking so they can protect themselves, their peers and their family members by understanding how traffickers work and understanding the signs so that they can be alert to it," explains Nola Theiss, who uses art to educate children about human trafficking.
The will be on view in the Frederick O. Watson Gallery through February 2, 2019.
_____________________________________________________________
Anna Rac exhibiting at Naples Art Association January 19-March 2 (01-17-19)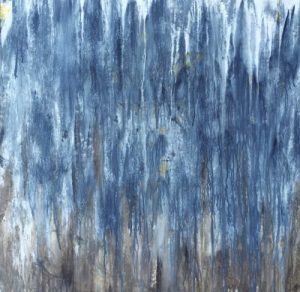 Polish-born Chicago artist Anna Rac is exhibiting work at the Naples Art Association from January 19 through March 2, 2019.
Rac paints primarily with acrylics and oil pastels in her Naples Art District studio/gallery. She is a member of Florida Artists Group, Naples Art District, and the Naples Art Association. Rac's paintings can be found in galleries in Florida and many private collections in the states and abroad.
RAC obtained her bachelor's degree in music and classical piano and a master's degree in business after moving to Chicago in her late teens. In 2007, she retired from a 27-year banking and finance career, and moved to Florida to pursue her passion for fine arts full time.
___________________________________________________________________
Guerrilla Girls set to rattle some cages at Rauschenberg Gallery tomorrow (01-16-19)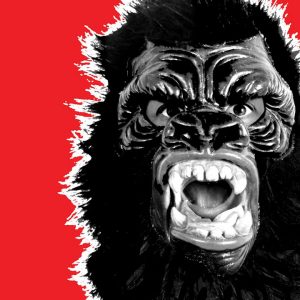 Florida SouthWestern State College will be presenting GUERRILLA GIRLS: Rattling Cages Since 1985 from January 17 through March 23. Sited in the Bob Rauschenber Gallery, the exhibition will be a site-specific survey and newly-commissioned, interactive installation.
The Guerrilla Girls is an internationally-renowned feminist advocacy and art collective which assiduously maintains its anonymity while confronting and addressing systemic problems of gender and racial parity in the art world.
Since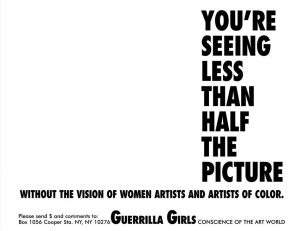 their formation in 1985, the Guerrilla Girls have done more than 100 street projects, posters and stickers in cities ranging from New York, Los Angeles and Minneapolis to Mexico City, Istanbul, London, Bilbao, Rotterdam and Shanghai. They have also done outrageous projects and exhibitions at museums, attacking them for their bad behavior and discriminatory practices right on their own walls. Of these, their stealth project on the façade of the Whitney Museum in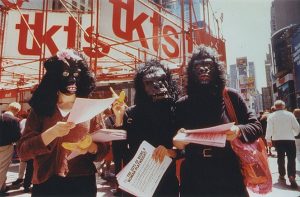 2015 stands out as a very public and publicized excoriation of income inequality and the extent to which the super-rich have hijacked art.
You will find the rest of this advance here.
_____________________________________________________________
Dr. Wendy Chase to give lecture prior to 'Guerrilla Girls' opening (01-16-19)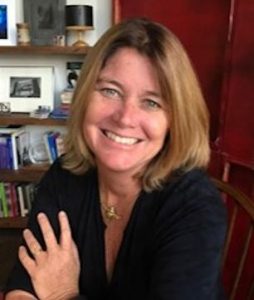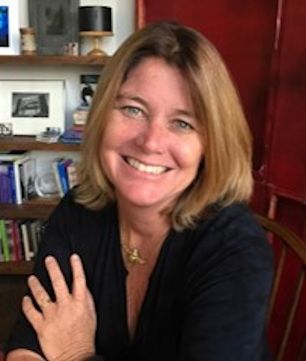 At 6:00 p.m. tomorrow (January 17), Dr. Wendy Chase will give a pre-opening lecture in connection with Guerrilla Girls: Rattling Cages Since 1985, a site-specific survey exhibition and newly-commissioned interactive installation at the Bob Rauschenberg Gallery. Dr. Chase is a professor of humanities and the program coordinator for the Honors Scholar Program at Florida SouthWestern State College. She is uniquely qualified to provide insight into both the Guerrilla Girls and their Rauschenberg exhibition.
Dr. Chase's recent scholarship has focused on contemporary practices in art activism. She is the guest editor for the Journal of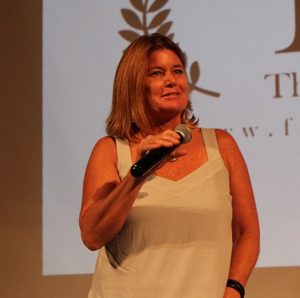 Interdisciplinary Humanities Fall 2019 issue titled "Art, Activism, and the Pursuit of a Better Life." Her article, "Penetrating Art: Creative Interventions in the Age of Internet Porn" was published in the International Journal of Communication and Linguistic Studies in 2015. Chase attributes her greatest insights into what it means to be a human on this planet to revelations shared by artists, filmmakers, writers and musicians.
Dr. Chase teaches interdisciplinary courses in modern humanities,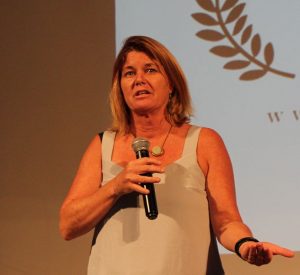 American cinema and contemporary world cinema. Her proudest moments have been receiving the NISOD award for Excellence in Teaching, the President's Award for Exemplary Service, and being asked to give the Commencement Address at graduation in 2009. In addition to her other responsibilities at FSW, she has also served as coordinator for the Black Maria Film Festival. (Founded in New Jersey in 1981 to honor Thomas Edison's pioneering spirit in cinema and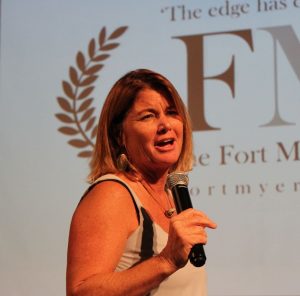 recognized by the Academy of Motion Picture Arts and Sciences as an Academy Award qualifying festival, the Black Maria's annual collection of cutting edge films travels across the nation to universities, museums and other venues. It is hosted locally by FSW in partnership with the Edison Ford Winter Estates.)
Please read here for the rest of this post.
_______________________________________________________
Enter 'The Third Dimension' in the FGCU ArtLab tomorrow (01-15-19)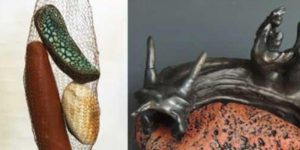 Coming to the FGCU ArtLab tomorrow (on January 17) is The Third Dimension: Exploring Space, and exhibition showcasing student works from the Ceramics and Sculpture studios in the FGCU Arts Complex. The show has been curated by Patricia Fay and Mary Voytek.
Through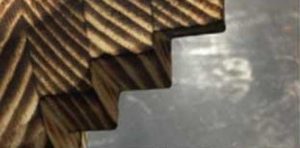 figurative, abstract and functional projects, three-dimensional art offers an astonishing range of questions to ask and problems to solve. Students working in the third dimension grapple with the physical and tactile properties of made objects while exploring the intangible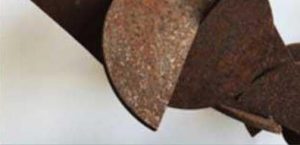 relationship between form and space. Their work thereby enables them to combine a variety of materials, techniques and concepts.
The exhibition runs January 17 through February 7. The opening reception takes place at 5:00 p.m. on January 17. The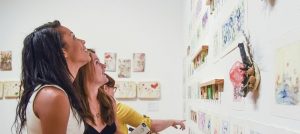 ArtLab is located in the west side of the library building on the FGCU campus, located at 10501 FGCU Blvd. S, Fort Myers, FL. The event is free and open to the public. The ArtLab is open Monday to Friday from 10:00 a.m. to 5:00 p.m. on until 7:00 p.m. on Thursday evenings.
_____________________________________________________________________
'Unimaginable' Evans & Green exhibition opens in Wasmer Gallery on Jan 31 (01-15-19)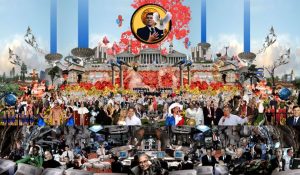 Up Close and Unimaginable, Cliff Evans and Gregory Green opens in the Wasmer Art Gallery at FGCU on January 31.
The heightened threats of terrorism and war are ever-present -both nationally and abroad. These threats are experienced through a wide range of lenses, including social media,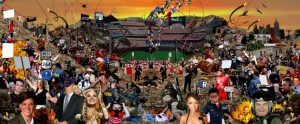 international news outlets and direct exposure. Cliff Evans (Austin, TX) and Gregory Green (Tampa, FL) make work that is critical of these threats and the psychological toll they impose on everyday life. This immersive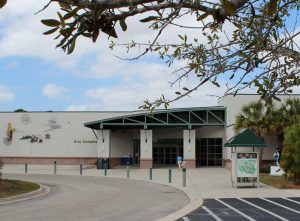 installation includes panoramic animated collages and sculptural installations.
The opening reception is from 5:00 to 7:00 p.m. on January 31, with an Artist Talk at 5:00 p.m. on U. Tobe Recital Hall. Curated by John Loscuito and Anica Sturdivant, the show runs through February 28, 2019. The exhibition is sponsored by Alice and Dean Fjelstul, Gene and Lee Seidler, The State of Florida,Department of State, Division of Cultural Affairs and the Florida Council on Arts and Culture, and The Beaches of Fort Myers and Sanibel.
____________________________________________________
Amy Marie McCleary wins two Broadway World awards (01-15-19)
Actor, director, choreographer and acting instructor Amy Marie McCleary has won two of Broadway World's top awards for last season – Best Actress in a Musical (Professional) and Best Choreographer (Professional), both for Prather Entertainment's production of Chicago at Broadway Palm Dinner Theatre.
In addition to handling the choreography, McCleary starred as Velma Kelly. [Read here for Art Southwest Florida's review of her remarkable performance.]
Please read here for more on McCleary's numerous accomplishments during her career in musical theater.
__________________________________________________________________
'Saturday Night Fever' on Broadway Palm main stage through February 9 (01-15-19)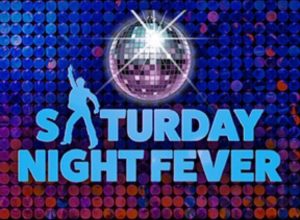 On the main stage now through February 9 at the Broadway Palm Dinner Theatre is Saturday Night Fever, one of the most adored dance stories of all time. The production captures the passion, energy and life-changing moments that have thrilled audiences for over forty years!
You know the story. The year is 1976. The place is Brooklyn, New York. Tony Manero, a young man with a dead-end job, is trying to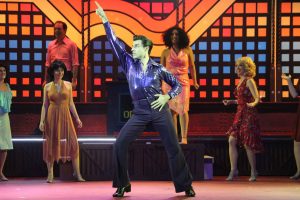 escape his problems and dance his way to a better life. With his electric dance moves, he hits the dance floor every weekend at the discotheque, where he tries to win the admiration of the crowd, and his crush. Based on the iconic 1977 film starring John Travolta and Karen Lynn Gorney, the high-energy production features electrifying choreography by Amy Marie McCleary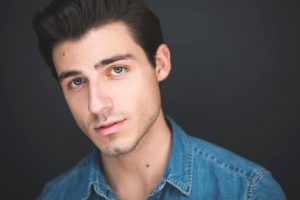 and a score packed with Bee Gees hits including "Night Fever," "Stayin' Alive," "How Deep Is Your Love?," "Jive Talking," "You Should Be Dancing" and more!
Making his Broadway Palm debut in the leading role is Michael Notardonato. Michael has played Tony three times before, both in the states and internationally. His most recent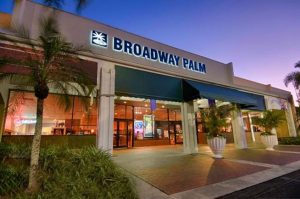 portrayal earned him a Connecticut Critics Circle nomination for Outstanding Actor in a Musical. Michael is a proud member of the Actors' Equity Association (AEA).
Reserve today as tickets are selling fast!
_____________________________________________________
'MID LIFE 2' at the Off Broadway Palm through February 23 (01-15-19)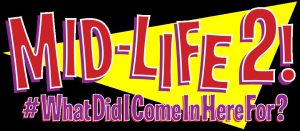 At Off Broadway Palm theater through February 23 is the ever-hysterical follow-up to Mid-Life The Crisis Musical – MID LIFE 2! #WhatDidIComeInHereFor? 
This uproariously funny comedy takes us back into the middle ages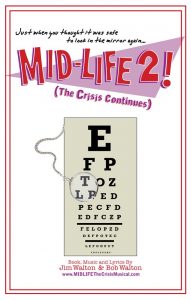 once again with a hilariously tuneful look at the aches, pains, and joys of getting older. From ever-increasing trips to the doctor's office, to the horrifying moment when one qualifies for a senior discount, Baby Boomers and beyond are sure to see their lives reflected in this brand new, witty musical revue. If you bought some Gingko-Biloba, but can't remember where you put it – then you're ready for MID-LIFE 2! (The Crisis Continues).
For tickets, please call the box office as at 239-278-4422.
_________________________________________________________________
Broadway Palm rolling dice with 'Guys & Dolls,' opening Valentine's Day (01-15-19)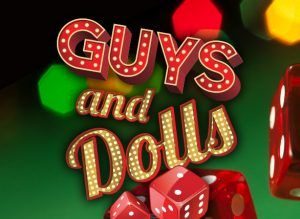 Broadway Palm is rolling the dice and placing its bets on Guys and Dolls playing February 14 through March 30, 2019. Broadway's perfect musical comedy about gambling men – and the women who long to tame them – is based on the stories of Damon Runyon.
The story revolves around Nathan Detroit, the ultimate gambling man and operator of "the world's largest floating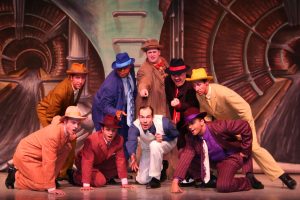 crap game." He spends his days staying one step ahead of New York's finest and evading marriage to his chorus girl fiancée of 14 years. Things really heat up when dashing, big time gambler Sky Masterson meets up with a refined Salvation Army girl Miss Sarah Brown. Masterson, who'll bet on anything, gets talked into what appears to be an unwinnable bet involving the girl,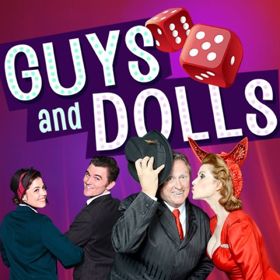 setting up an unpredictable chain of hilarious events.
Guys and Dolls features one of the best musical scores in American theatre history with hits that include "Luck Be A Lady," "I've Never Been In Love Before," "Sue Me," "A Bushel And A Peck" and more!
Guys and Dolls is the winner of eight Tony Awards, a New York Drama Critics Circle Award and a Grammy for Best Cast Album.
So roll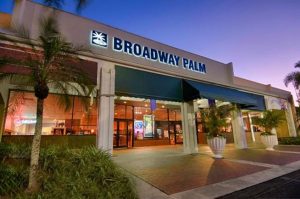 the dice with Guys and Dolls. Performances are Tuesday through Sunday evenings with selected matinees. Tickets are $45 to $70 with group prices available. Tickets are now on sale and can be reserved by calling (239) 278-4422, visiting BroadwayPalm.com or in person at 1380 Colonial Boulevard in Fort Myers.
____________________________________________
Submissions for 'Stage It!' 3 close January 20 (01-15-19)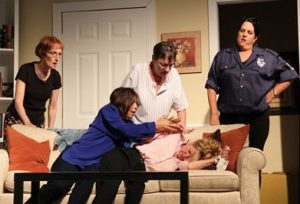 The Center for Performing Arts Bonita Springs is now accepting submissions for its next STAGE IT! 10-MINUTE PLAYS challenge. The deadline for submissions is January 20, 2019. Interested playwrights may submit up to three 10-minute plays. The submission fee for the first entry is $15 and $10 for each additional entry up to three. Plays should be in generally-accepted script format and must be emailed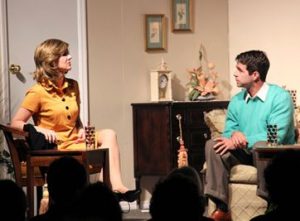 to StageIt@artsbonita.org or mailed to the Center for Performing Arts, 10150 Bonita Beach Road, Bonita Springs, FL 34135, c/o: STAGE IT.
Submissions will be reviewed by at least two theatre professionals on a blind jury basis (so do not place your name on the script itself). The judges' critique forms will be available to the playwrights after the competition, by request.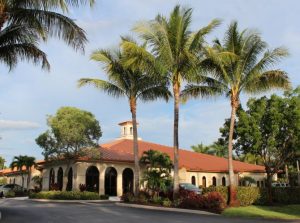 Ten plays will be selected for live performances at the Moe Auditorium and Film Center on the campus of the Center for the Performing Arts, and will be published by the Centers for the Arts Bonita Springs in their third collection of STAGE IT! Ten-Minute Plays. The Center will most likely invite more plays for publication in the book as well as future performances in its Funny Shorts LIVE! shows that are featured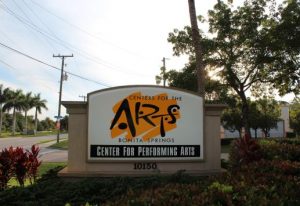 three times a year. Set, lighting and sound requirements should be minimal as the Center for Performing Arts does not have a limitless production budget and will cut for cost.
An "Audience Favorite" will be named following the performances, with the winner receiving a $100 cash prize.
For additional information, please email stageit@artsbonita.org or call 239-495-8989.
For information on last year's Stage It! Ten-Minute Play Festival and Book Release, read here.
_______________________________________________________
'Improv Tonight' returns to Moe Auditorium on February 8 (01-15-19)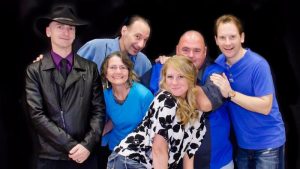 Join CFABS for some of Southwest Florida's best improvisational comedy on Friday, February 8.
Bonita City Improv will perform musical improv, games and scenes that include suggestions provided by the audience. Every show is different with special guests always popping in from nationally-touring improv groups. Be as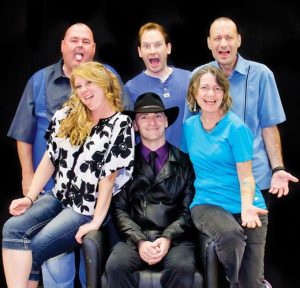 involved in the show as you'd like – whether you're just setting a scene with your suggestions or you're on stage as a player.
The fun starts at 8:00 p.m. at the Center for Performing Arts – Moe Auditorium & Film Center, 10150 Bonita Beach Road.
Adult Tickets are $13.50 for members and $15 for non-members. Beer and wine is available for purchase.
_________________________________________________________
FGCU TheatreLab's next production is 'Machinal' in February (01-15-19)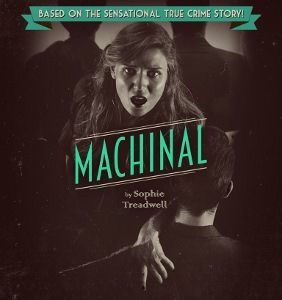 FGCU's TheatreLab is producing Sophie Treadwell's Expressionist drama Machinal in February.
In the synopsis it provides for the play, TheatreLab describes Machinal in bleak, fatalistic terms. "Set in the 1920s, the play concerns a young woman whose every choice in life seems predetermined, as if she is merely a cog in a machine that can fulfill only one purpose. While she initially succumbs to society's expectations of marriage and childbirth, she yearns for something more. Refusing to submit to a life she does not want, she sets out to explore alternative paths to happiness. But as she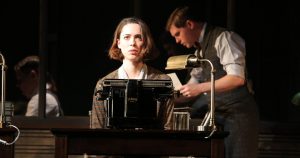 attempts to break away from a life of conformity, will her efforts lead to freedom or punishment?"
While an apt description, the play is actually a unapologetically candid excoriation of the blueprint imposed by society that demands a woman marry in order to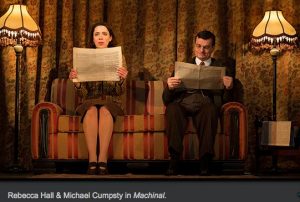 secure her future, bear children she does not necessarily want, and remain in a stifling, suffocating relationship long after it has grown stale and loveless. Treadwell underscores this reality by having her character enter into an intense affair that not only frees her passions, but starkly demonstrates what she's been missing most of her life.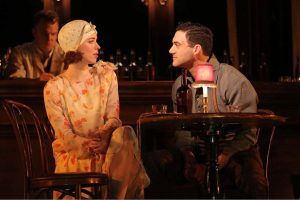 Based loosely on the 1927 true crime story and ensuing murder trial of Ruth Snyder, the play was first performed in 1928. However, it has since been revived a number of times, including Off Broadway runs in 1960 and 1990, on Broadway in 2014 and most recently in London last year. But across this vast generational divide, women viewers have experienced the same unsettling reaction. For many, the Young Woman's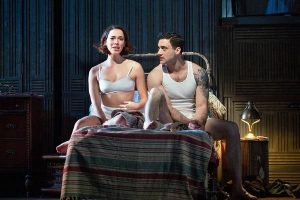 monotonous, unfulfilling life, shaped and governed as it is by inflexible societal expectations, is eerily similar to their own circumstances– or those experienced by their own mothers, daughters, sisters and friends.
"Outstandingly brave for its time, it remains a painfully evocative and astute study of womanhood in any age that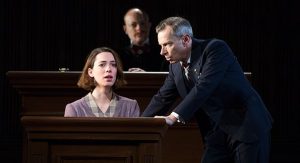 values automation and expectations over human uniqueness in desires," wrote one reviewer.
"Unflinching, heartbreaking, and unarguably relatable at its core," adds another, "Machinal is a tour de force that presses beyond the typical tools of contemporary realism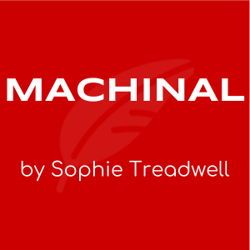 to evoke the world in which the young woman lives."
Machinal was included in Burns Mantle's The Best Plays of 1928–29. The Broadway production received four Tony nominations. TheatreLab's production will be directed by Dan Bacalzo. It will be performed at 7:30 p.m. on February 15, 16, 22 & 23 and at 2:00 p.m. on February 17, 23 & 24. There will be a talk-back following the February 23 matinee.
Tickets are $10 for the general public and $7 for students.
________________________________________________________
Florida Rep's 'Tenderly' a loving salute to Rosemary Clooney (01-15-19)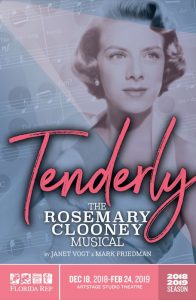 Tenderly: The Rosemary Clooney Musical is on stage now through February 24 at Florida Repertory Theatre. The show reunites regional theater and New York veteran Susan Haefner and frequent Florida Rep guest artist Michael Marotta. The duo originated the roles in the 2014 world-premiere production at the Cincinnati Playhouse in the Park.
Tenderly looks back at Clooney's modest childhood in Maysville, Kentucky and follows her rise to Hollywood and recording stardom before the advent of rock 'n' roll and a battle with depression and addiction threatened her career. Clooney's signature songs are woven in and out of the story, as audiences learn about her professional successes as well as her struggles – and cheer for her triumphant comeback. With over 20 of her most beloved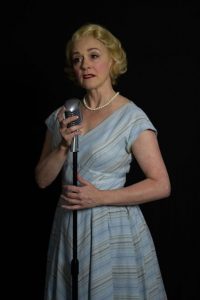 hits, the score is itself a salute to the golden age of music, and features all the songs that made Rosemary famous, like Hey There, Sisters, Botch-a-Me, Mambo Italiano, and of course, Tenderly.
"This musical is a wonderful tribute to one of the most recognizable voices of the 20th Century, and we are so pleased to have the original cast with us here in Southwest Florida," states Artistic Director Greg Longenhagen. "Many people don't know Rosemary's life story, which touched so many lives, and this musical shows us what a strong woman she was. She sang some of the most beloved music that defined the 1940s and 1950s, and hers is a story of courage and resilience that audiences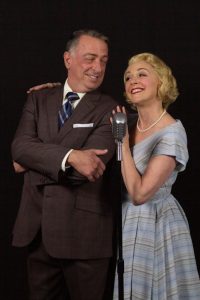 will love."
Janet Yates Vogt and Mark Friedman teamed up to write the musical, which is a personal and poignant portrait of the woman whose unparalleled talent and unbridled personality made her a legend!
Tenderly marks Haefner's Florida Rep debut. Marotta takes on multiple roles in the production, including Bing Crosby, José Ferrer, Frank Sinatra, Clooney's psychiatrist, and even her mother and sister, Betty. New York-based, Marotta appears in the role for the 6th time with this production and was seen most recently in Florida Rep's Cabaret last March.
Also making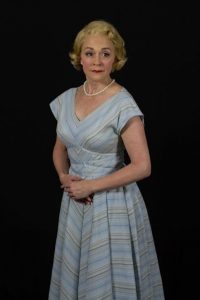 her Florida Rep debut is Director Eleanor Holdridge, who's worked at major regional companies across the country and holds an MFA in directing from Yale. In addition to her extensive work as a director, Holdridge is Head of Directing at Catholic University of America's Department of Drama.
Musical Director Victoria Casella (Florida Rep's Night and Day and Spelling Bee) and Choreographer MK Lawson (Florida Rep debut) join Holdridge to lead an expert creative team, including Resident Set Designer Jordan Moore (Florida Rep's Damascus), Costume Designer Charlene Gross (Florida Rep's Night and Day), Ensemble Lighting Designer Todd O. Wren (Florida Rep's How the Other Half Loves), Sound Designer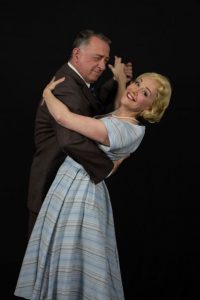 Katie Lowe (Florida Rep's Damascus), and Ensemble Stage Manager Amy Massari (Florida Rep's Becoming Dr. Ruth).
The show runs through February 24. Tickets, which are available online at www.FloridaRep.org and through the box office at 239-332-4488, are priced at $55 for regular performances and $35 for discounted previews. Performances are Tuesday through Thursday at 7:00 p.m., Friday and Saturday at 8:00 p.m. and 2:00 p.m. on Thursday, Saturday and Sunday. There are no performances on Christmas Eve or Christmas Day.
New this season, Florida Rep's parking lot will open 2 hours before each performance and offers guests limited free parking across the street from the Arcade Theatre.
________________________________________________________
August Wilson's 'Fences' at Florida Rep through January 30 (01-15-19)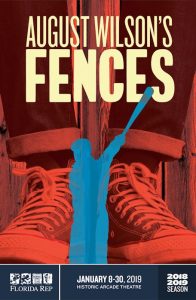 August Wilson's Fences is on stage at Florida Repertory Theatre through January 30.
The play is a multiple Tony Award-winning Best Play and Pulitzer Prize winner.  The modern American classic follows Troy Maxson, a former star of the Negro leagues now struggling to support his family as a trash collector in 1957 Pittsburgh. Excluded from the major leagues during his prime, Troy's bitterness takes its toll on his relationships with his wife and teenaged son, who now has his chance to become a star athlete.
"August Wilson is one of the greatest playwrights of the 20th century," says Artistic Director Greg Longenhagen, "and Florida Rep is honored to be taking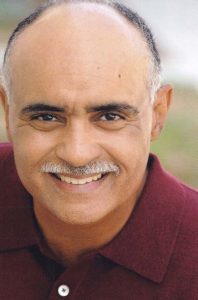 on one of his most well-known plays. This important, poignant, and heartbreaking drama is one of Wilson's American Century Cycle plays, and we have assembled an expert cast and creative team to bring this award-winning American story to life for you."
August Wilson's celebrated American Century Cycle captures 100 years of African American life during each decade of the 20th century. The cycle begins in the early 1900s, when wounds from slavery and the Civil War were still fresh, and closes in the 1990s when even a large and increasingly influential black middle class would not escape persistent racial tensions. Fences is Wilson's offering for the 1950s, and like many of the plays in his Cycle, it takes place in Pittsburgh's Hill District.
Mujahid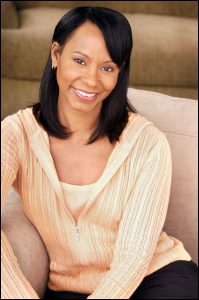 Abdul-Rashid (2nd photo) plays Troy Maxson for the third time. Making his Florida Rep debut in Florida Rep's production, he most recently portrayed Troy Maxson for Short North Stage in Columbus, Ohio.
Gayle Samuels (3rd photo) is cast as Rose Maxson after her appearance earlier this year in the Broadway revival of "Children of a Lesser God" directed by Kenny Leon. Like Abdul-Rashid, Samuels is also making her Florida Rep debut.
Also in the cast as Troy's longtime friend, Bono, is John Archie (4th photo), whose appearances at Florida Rep include Dividing the Estate, To Kill a Mockingbird, and the 2017 PlayLab Festival.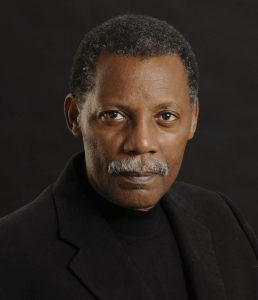 Brian D. Coats (Florida Rep debut) plays Gabriel in Florida Rep's Fences, after a recent Broadway appearance in August Wilson's Jitney, the last of the American Century Cycle plays to open on Broadway.
Daniel Morgan Shelley (6th photo) plays Troy's older son, Lyons, after recent appearances in Florida Rep's PlayLab Festival and the theatre's 2007 co-production of Romeo and Juliet with the Classical Theatre of Harlem. Recent Emerson College graduate, Marc Alexander Pierre (photo 7) also makes his Florida Rep debut as Troy's youngest son, Cory, and local actress Johnieann Smith (Bayshore Elementary, photo 8)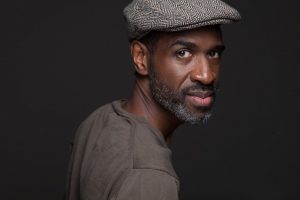 appears in her second Florida Rep production after appearing in 2017's To Kill a Mockingbird. Smith is understudied by another of Florida Rep rising star, JoLe Peynado (Fort Myers Christian School).
One of the country's preeminent directors of Wilson's work, Benny Sato Ambush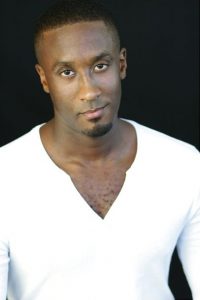 (Florida Rep debut), directs and is joined by Ensemble Set Designer Richard Crowell (Florida Rep's Outside Mullingar), Costume Designer Danielle Preston (Florida Rep debut), Ensemble Lighting Designer Todd O. Wren (Florida Rep's Tenderly), Sound Designer Katie Lowe (Florida Rep's Damascus), and Stage Manager Lisa Lamont, returning to Florida Rep after her work in the company's early years.
Performances in the Historic Arcade Theatre are Tuesday-Thursday at 7:00 p.m.; Friday and Saturday at 8:00 p.m.; and Wednesday, Saturday, and Sunday at 2:00 p.m. Tickets are priced at $55 and $49 for regular performances and are available online at www.FloridaRep.org or through the box office at 239-332-4488. Box office hours are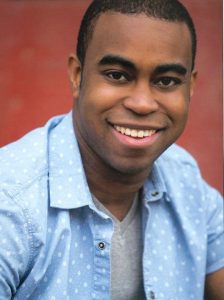 10:00 a.m. to 5:00 p.m. Monday through Friday. New this season, Florida Rep's parking lot will open two hours before each performance and offers guests limited free parking across the street from the Arcade Theatre.
Florida Repertory Theatre performs in the Historic Arcade Theatre and the ArtStage Studio Theatre on Bay St. between Jackson & Hendry with limited free parking in the Fort Myers River District. Visit Florida Rep online at FloridaRep.org, and by following the company on Facebook, Twitter, Instagram, and YouTube.
______________________________________________________________
Ghostbird to perform 'Everyone on this Train' at former ACL depot (01-15-19)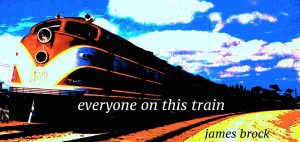 Ghostbird Theatre Company's next production takes place at the new home of the Southwest Florida Community Foundation in the Collaboratory on Jackson Street (next to the new fire station and across from the bus terminal). Everyone on this Train is another site-specific production from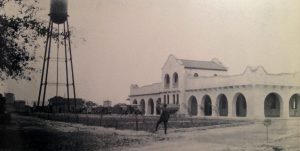 the troupe that's built a reputation as one of the top ten live theater companies in Florida.
Ever striving to partner with just the right venue for its productions, co-founder and FGCU Professor of English Jim Brock has chosen a building that served between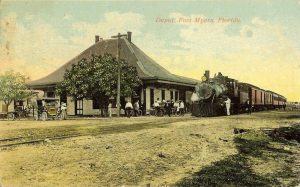 1924 and 1971 as the Atlantic Coast Line railway station. Appropriately, the action in Everyone on this Train revolves around locomotives and train stations. Consisting of a series of vignettes inspired by a Shaindel Beers poem [read here], Brock centers his play around a Chechen refugee and her mother fleeing war, a hapless Manhattan commuter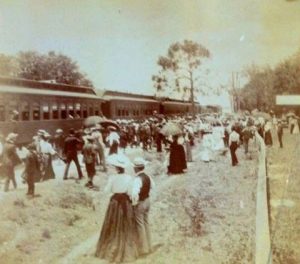 who is contemplating his imminent firing, a circus act stopping among the cornfields of Indiana and runaways singing of locomotives. As these loosely knit stories slowly unfold, they draw together good people who seek connections to their past – no matter how fleeting, elusive or contingent those connections might be.
You will find the rest of this advance here.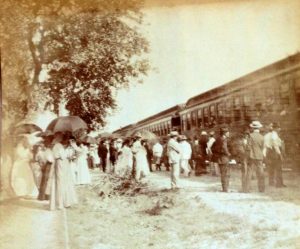 And for more on this production, follow these links:
________________________________________________________
Lab Theater producing best new rock musical in generation (01-15-19)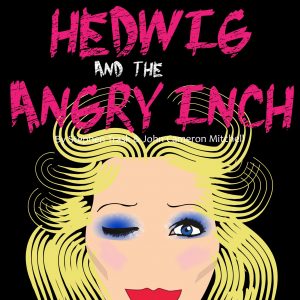 The four-time Tony Award winner Hedwig and the Angry Inch by Stephen Trask & John Cameron Mitchell opens January 18th at The Laboratory Theater of Florida.
As the name connotes, the play follows Hedwig, a boy born in East Berlin prior to the fall of the Wall. He meets an American G.I. by the name of Luther Robinson, who proposes marriage. But there's one small glitch. In order for the couple's marriage to be recognized by the military and immigration authorities, they must be a male-female couple. Desperate to escape East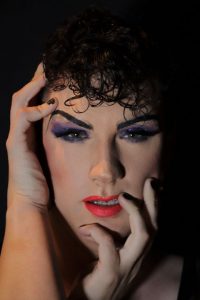 Germany, Hedwig undergoes a sex change operation. But the procedure is botched, leaving Hedwig with a dysfunctional one-inch mound of flesh between his legs – the proverbial and eponymous "angry inch."
The couple settle in Junction City, Kansas, but Luther leaves Hedwig for a man – coincidentally on the same day the Berlin Wall comes tumbling down and East Germans pour freely into the West. Ah, but life goes on. Hedwig meets, befriends and mentors a young boy named Tommy, but he too ditches Hedwig, stealing the songs that he and Hedwig wrote while they were together. Because of the songs, Tommy becomes a wildly successful rock star, thereby adding insult to injury.
Read here for the rest of his advance.
And you will find play dates, times and tick info here.
___________________________________________________________
PJ McCready takes on role of Hedwig in Lab's upcoming musical (01-15-19)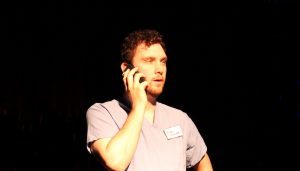 PJ McCready will be tackling the ambitious role of rock singer Hedwig Robinson in Lab Theater's upcoming musical Hedwig and the Angry Inch. For more on McCready, read here.
_____________________________________________________
Paul Graffy directing 'Hedwig and the Angry Inch' for Lab (01-15-19)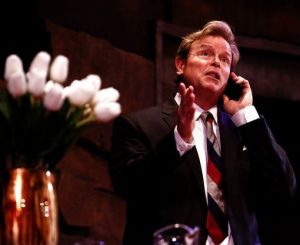 The four-time Tony Award winner Hedwig and the Angry Inch by Stephen Trask & John Cameron Mitchell opens January 18th at The Laboratory Theater of Florida. Paul Graffy directs. Graffy directed Les Liaisons Dangereuses for The Naples Players in 2014 and Steel Magnolias for The Naples Players in 2013. He's directed at other places as well, including at Juilliard while he was a student there. To see all of Paul's theater credits, read here.
_______________________________________________________
Lab holding auditions for 'Georgia McBride' on January 19 (01-15-19)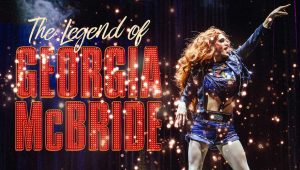 Lab Theater is holding auditions for The Legend of Georgia McBride on January 19.
The Legend of Georgia McBride is a funny, touching, heart-warming play about transformation and the joy of discovering our true selves. This play examines the life of Casey and his newly pregnant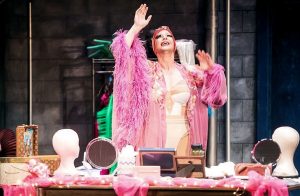 wife Jo as they struggle to make ends meet when careers and chosen paths are no longer working. A tribute to the world of drag, down-trodden Casey is thrust into the joyous and often bitchy world of drag queens, where he finds a passion and exhilaration he has never experienced before. This newly discovered world ultimately leads Casey and his wife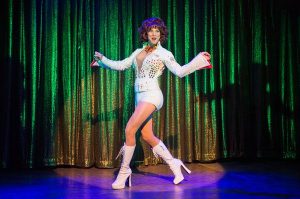 Jo to deeper levels of understanding, happiness and love. The family Casey and Jo thought they were creating ends up being much more than they bargained for.
Lab is casting for the following characters:
Casey–young (20s), good-looking country boy. Needs to know how to play guitar and sing. Just a good-hearted guy in search of himself.
Jo–Casey's young, good-looking wife. Script indicates that she is African-American. There needs to be a strong sexual energy between Jo and Casey. She is strong yet vulnerable.
Miss Tracy Mills–this character is the heart of the play. She needs to be a very polished drag performer who is in her 40s-50s. Miss Tracy can have a bitchy edge to her, but mainly she is the grounding force of the entire play.
Eddie–A blue-collar guy who is a bit rough around the edges, but also has a kind and caring heart. This is a man who has had many drinks and many cigarettes. His world has been bars and honky-tonks.
Rehearsals will begin mid-April; the show will run June 7- 30. For additional information, please call 239.218.0481 or email laboratorytheaterflorida@gmail.com.
________________________________________________________________
'Marvin's Room' on stage at New Phoenix Theatre through January 27 (01-15-19)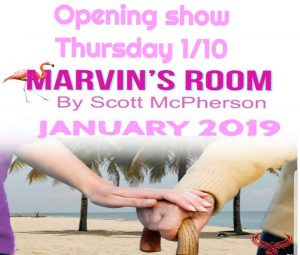 Marvin's Room by Scott McPherson is on stage at New Phoenix Theatre through January 27. Beloved for its mordant humor and unflinching wisdom, Scott McPherson's dark comedy allows us a moving view of one woman's commitment to family and response to despair.
The play tells the story of a woman named Bessie who is caring for her pain-ridden aunt and ailing bed-ridden father in Florida. When Bessie is diagnosed with leukemia, she's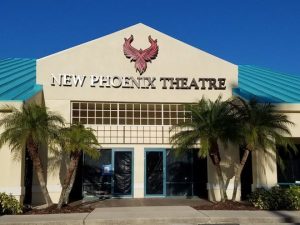 constrained to contact her long-estranged sister, Lee, to see if their bone marrow is compatible for a transplant. Lee reluctantly makes the trip from Ohio to Florida, bringing along her two sons. The sisters' reunion is uneasy, with long buried recriminations coming to the surface even as love slowly overwhelms Lee's veneer of selfishness and glib denial.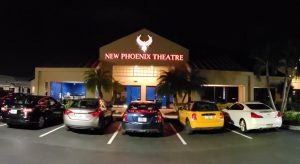 Remaining performances are January 17, 18, 19, 24, 25 and 26 at 8:00 p.m., with 2:00 p.m. matinees on January 20 and 27.
________________________________________________________________
'Agitators' presents compelling portrait of two flawed agents of change (01-15-19)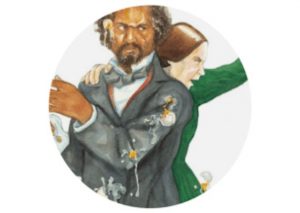 Next up at Theatre Conspiracy at the Alliance for the Arts is The Agitators by Mat Smart. The Agitators chronicles the oft-tempestuous 46-year friendship that evolved between Susan B. Anthony and Frederick Douglass from their meeting in Rochester, through the Civil War and to the highest halls of government. They agitated each other. The agitated the nation. And in the process, they helped shape the Constitution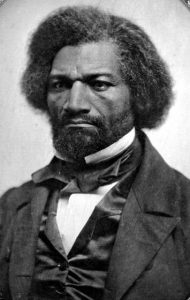 and the course of American history.
Anthony and Douglas were two of history's most important activists for equality. When they met for the first time at picnic in 1849, Douglas was already America's most famous advocate for the abolition of slavery. Anthony had not yet built a reputation, but she was nonetheless on the verge of launching her campaign for women's rights, including suffrage. Over the course of the play's two-plus-hour running time, Smart drops the audience into eleven separate scenes that highlight the conflicts that existed within and between these legendary orators and organizers.
Read the rest of this advance here.
'Agitators' play dates, times and ticket info
_______________________________________________________________________
Galyean & Lively play Susan B. Anthony & Frederick Douglass in 'The Agitators' (01-15-19)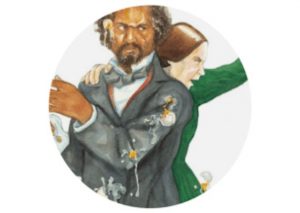 When it comes to local theater, there are certain iconic pairings. Like Rachel Burttram and real-life spouse Brendan Powers. Anne Dodd and Patrick Day. Trossbach and Graffy. But brace yourself Southwest Florida (and apologies to any power pairings omitted). In January, Dena Galyean and Derek Lively will face off as Susan B. Anthony and Frederick Douglass in Theatre Conspiracy's production of The Agitators!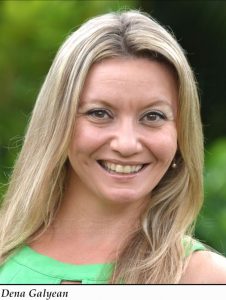 Both are coming off perhaps the best performances in their already illustrious careers, Galyean as Nora Helmer in Henrik Ibsen's A Doll's House and Lively as Walter Lee Younger in Lorraine Hansberry's masterwork, A Raisin in the Sun.
Galyean is one of the hardest working thespians in all of Southwest Florida. She always seems to land fascinating roles. Prior to A Doll's House, she appeared as Stella Kowalski in The Studio Players' production of Tennessee William's A Streetcar Named Desire at the Golden Gate Community Center. Smart, insightful and prone to thoughtful introspection, she's come a long way since her seminal role after landing in Southwest Florida from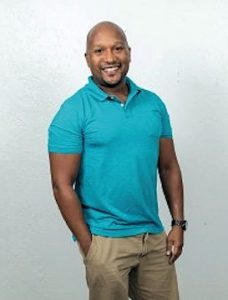 Chicago as Louise in Lab Theater's production of Steve Martin's The Underpants in 2015. (Undies may be racy, but Vixen's smokin' hot.)
Few theater-goers who caught his performance in A Raisin in the Sun will ever forget Lively jumping on his mother's coffee table as his character performs an impromptu song-and-dance duet with his sister as both seek to connect with their repressed (suppressed) African heritage. But his portrayal of Walter Younger was not Lively's first "tour d'force" performance. That appellation was employed by a theater critic nearly 20 years ago to describe his performance in Dreamin' in Church, a one-actor dramedy by playwright Robert O'Hara that was part of Worth Street Theater Company's Snapshots 2000.
____________________________________________________________
'Don't Dress for Dinner' opens in Blackburn Hall tomorrow night (01-15-19)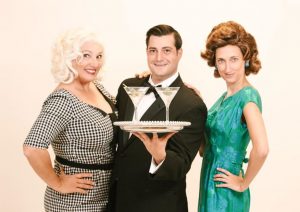 The Naples Players' production of Don't Dress for Dinner takes the stage in Blackburn Hall January 16 through February 10. Directed by TNP's Associate Artistic Director Jessica Walck (Kalamazoo, June & Jason's Survival Guide to Divorce), the play features seasoned TNP actor James Duggan (Maple & Vine), local actor/director Brett Marston, Rachel Ewy, Rachel Borwein, Lori Grandson and Daniel Ospina.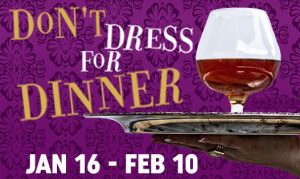 Don't Dress for Dinner is a clever and rollicking comedy written by French playwright Marc Camoletti (Boeing-Boeing). Here's the plot: Bernard plans a romantic weekend rendez vous with his saucy mistress, complete with a gourmet caterer and an alibi courtesy of his friend, Robert. But when Bernard's wife learns that Robert will be visiting for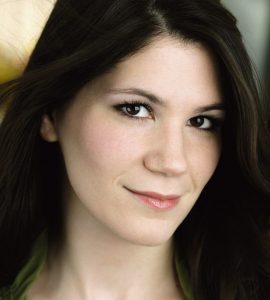 the weekend, she decides to stay in town for a surprise tryst of her own—setting the stage for a collision course of assumed identities and outrageous infidelities. The cook is Suzette, the lover is Suzanne, the friend is bewildered, the wife is suspicious, the husband is losing his mind, and everyone is guaranteed a good time at this hilarious romp through the French countryside.
"It is all in the timing; the absolutely ridiculous situation they find themselves in, and how they realistically have to wiggle themselves out of it without getting caught," says Walck. "And, the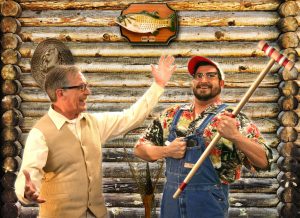 audience gets to witness the insanity unfold!"
"The challenge is you have to be in complete unison, its truly an ensemble piece of work," adds Duggan, who teamed with Marston to give a brilliantly dynamic comedic performance in TNP's production of The Foreigner. "It's so quick—if one of us falls, we all fall."
Rachel Ewy plays Jacqueline.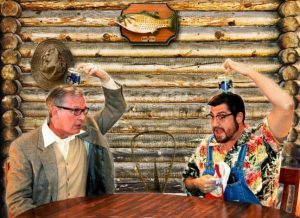 She was previously seen as Belle in TNP's Beauty & the Beast and has performed at TNP since a young age. Ewy also recently directed ETC Readers Theatre's Making God Laugh.
The role of Suzette is played by Rachel Borwein, who was seen last season as Petruchio in Taming of the Shrew. Rachel also performs with local theatre troupe The Studio Players.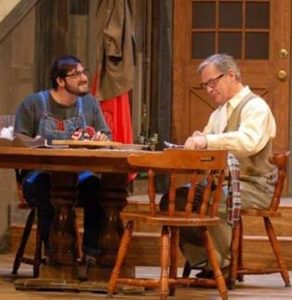 Lori Grandon is celebrating her TNP mainstage debut in the role of Suzanne. She has participated in ETC Readers Theatre and has also performed in The Vagina Monologues benefiting Project Help.
Daniel Ospina plays George and is a newcomer who is excited to begin his journey onstage with The Naples Players.
Don't Dress for Dinner runs January 16 – February 10, 2019 in Blackburn Hall at The Naples Players at Sugden Theatre at 701 5thAvenue South in Naples.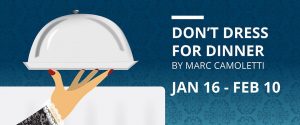 There is a Red Carpet Opening Night event on January 16, 2019 at 6:00 p.m. before the show which features Red Carpet partners Riptide Brewery, Emillions Art, Fairways Wine Vault, Spice & Tea Exchange of Naples, Neubek Photographers NeuBoothPhoto

Booth and live music. The production is s sponsored by Gulf Coast International Properties.
Tickets are $40 and are available for purchase online at www.NaplesPlayers.org or by contacting the Box Office at (239) 263-7990.
_______________________________________________________________________
'Don't Dress for Dinner' opening to feature red carpet photos, music by Chariot (01-15-19)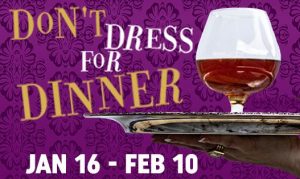 The mile-a-minute comedy Don't Dress for Dinner opens January 16 in Blackburn Hall at The Naples Players Sugden Theatre with a special Red Carpet Opening Night event in Sugden Plaza and on the Baker Stage.
TNP theater patrons will be welcomed on the Baker Stage red carpet with live music by Chariot and have their photos taken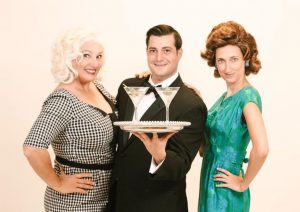 by Neubek Photographers in their NeuBooth digital photo booth upon their arrival. Red Carpet partner Riptide Brewery will be serving craft beer, and Fairways Wine Vault will be sampling wine and champagne, complimented by specialty teas, drinks, and confections from The Naples Tea & Spice Exchange. Emillions Art will also be present to showcase their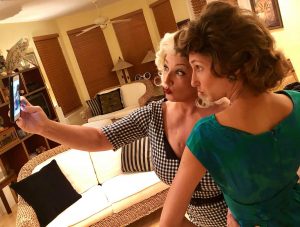 latest artists from their new location on 5th Avenue South.
The Red Carpet event begins at 6:30 p.m., an hour before the start of the 7:30 p.m. opening night performance.
Sponsored by Gulf Coast International Properties, Don't Dress for Dinner is a clever and rollicking comedy written by French playwright Marc Camoletti (Boeing-Boeing). Seasoned TNP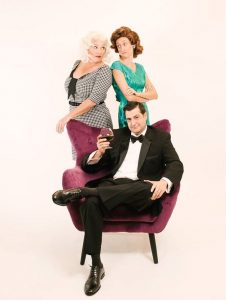 actor James Duggan (Maple & Vine) plays the lead and is paired-up with local director and actor Brett Marston. It is the same comedic duo who teamed up recently to give a brilliantly dynamic performance in TNP's production of The Foreigner.
The cast also includes Rachel Ewy (previously seen as Belle in TNP's Beauty & the Beast), Rachel Borwein (last seen as Petruchio in Taming of the Shrew), Lori Grandon (who is celebrating her TNP mainstage debut) and Daniel Ospina (another newcomer who is beginning his journey onstage with The Naples Players).
Don't Dress for Dinner runs January 16 – February 10, 2019 in Blackburn Hall at The Naples Players at Sugden Theatre at 701 5thAvenue South in Naples. Tickets are $40 and are available for purchase online at www.NaplesPlayers.org or by contacting the Box Office at (239) 263-7990.
______________________________________________________________
TNP ETC Readers presenting 'Evening of New Plays' on January 20 (01-15-19)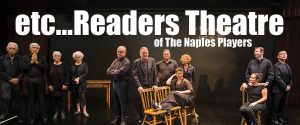 The Naples Players (TNP) ETC Readers Theatre Program will present "An Evening of New Plays" at 7:00 p.m. on Sunday, January 20 in the Tobye Studio Theater.
"An Evening of New Plays" is an experimental showcase of four
original works, which the ETC Volunteer Committee selected through their annual new plays competition to be read aloud onstage in the Tobye Studio Theatre. The new plays to be presented are
The Honeylocust Tree written by Marc Simon and directed by Erin Laughlin;
The Name Game written by Cerin Holes and directed by Jamie Lynn Bucci;
Intermission written by Ed Belling and directed by Judith Gangi Santos; and
Stopping By written by Carole Fenstermacher and directed by Jim Corsica.
Tickets for "An Evening of New Plays" are $10 and available online at www.naplesplayers.org or by contacting The Naples Players Box Office at (239) 263-7990.
_______________________________________________________________________
TNP holding auditions January 26 for 'Always a Bridesmaid' & 'Lost in Yonkers' (01-15-19)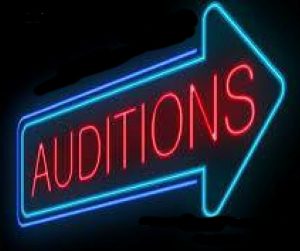 The Naples Players are holding auditions for Always a Bridesmaid and Lost in Yonkers on Saturday, January 26, 2019 from 12:00 p.m. – 4:00 p.m. at The Naples Players Sugden Community Theatre at 701 5th Avenue South.
Always a Bridesmaid is a quirky and loveable comic romp in which four friends have sworn to keep the promise they made on the night of their Senior Prom: to be in each other's weddings—no matter what.

More than thirty years later, these Southern friends-for-life are still making "the long walk" for each other, determined to honor that vow.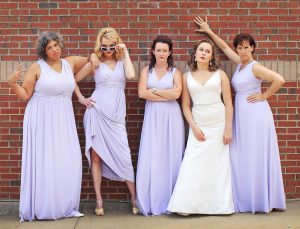 Always a Bridesmaid rehearsals begin February 18, 2019 at 7:00 p.m. with performances running Wednesdays-Sundays, March 27th-April 20th. (There will be no performance on Easter Sunday, April 21. Make-up for the Easter Sunday date will be Tuesday, April 9.)
Directed by Dallas Dunnagan, The Naples Players is seeking to cast 6 women (1 age 20s-30s, 5 ages 40s-50s).
Neil Simon's

classic Lost in Yonkers is a heartfelt and nostalgic play set in the 1940s. It follows two young brothers who find their lives turned upside down when their father moves south for work,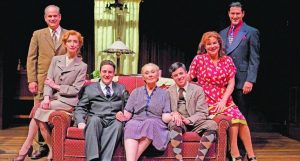 leaving them in a strange new world called Yonkers with their no-nonsense grandmother, their loving but absent-minded spinster Aunt Bella, and her small-time hoodlum brother.
Directed by Bryce Alexander, The Naples Players is seeking to cast 3 Women (2 ages 30's-50's, 1 age 65+) and 2 Men (ages

30's-50's) and 2 Boys (ages 13-20 years old). Rehearsals begin on March 25th, 2019 at 7:00 p.m., with performances running Wednesdays-Sundays, May 1-26.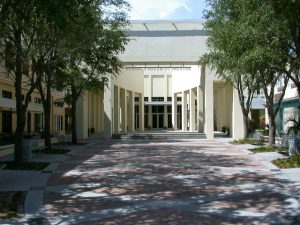 The Naples Players auditions are open to all interested persons. All that is required is the desire to be involved in a production and the willingness to commit your time and effort to the project. Rehearsals are typically five nights a week for 5 weeks before production.
For audition information, please call Cole Butcher, Production Stage Manager, (239) 434-7340 ext. 125 or email cbutcher@naplesplayers.org. All audition details and script sides for auditions are accessible on the website: https://naplesplayers.org/upcoming-auditions/.
___________________________________________________________________
Francis, Hardcastle, Garnett and Kimball to star in TNP's 'Marjorie Prime' (01-15-19)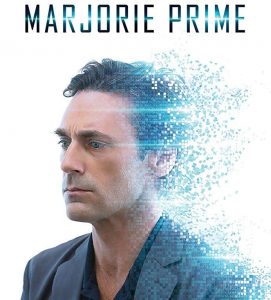 Jordan Harrison's Marjorie Prime opens at The Naples Players on February 6. Clever and captivating, this Pulitzer Prize-winning play explores the mysteries of human identity and the limits – if any – of what technology can replace.
In the future, the inevitable pain of losing a loved one is mitigated through a prime of artificial intelligence. As 85-year-old Marjorie loses the ability to recall memories at will, her daughter and son-in-law provide her with a "prime." Among the questions the play poses is the connection between memory and family dynamics.
But what about you?

If given the chance, what would you choose to remember and what would you choose to forget? And if technology offered you the chance to speak with your lost loved ones, would you take it?
TNP Executive Artistic Director Bryce Anderson directs a cast that features Kay Francis as Marjorie, Kenneth Hardcastle as her husband, Walter, Debi Garnett (Kalamazoo) plays her daughter, Tess, with Kevin Kimball in the role of Tess' husband, Jon.
Sponsored by Naples Audiology, the creative team for this production includes Scenic Design by Alyssa LeBlanc, Sound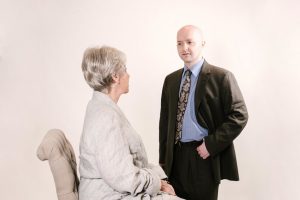 Design by Bradley Van Houten, Lighting Design by Chris Riley, Sound Design by Bradley Van Houten, Costume Design by Dot Auchmoody and Stage Management by Kenzie Currie.
Marjorie Prime runs February 6 through March 3 in the Tobye Studio Theatre at The Naples Players at Sugden Theatre, 701 5th Avenue South in Naples. Tickets are $40 and are available for purchase online at www.NaplesPlayers.org or by contacting the Box Office at (239) 263-7990.
_____________________________________________________
More on TNP's upcoming production of 'Marjorie Prime' (01-15-19)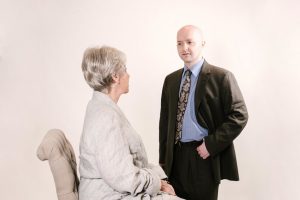 The Naples Players' upcoming production of Pulitzer Prize-finalist Marjorie Prime portrays a family grappling with the difference between a life lived and a life remembered as 85-year-old Marjorie struggles to keep a grasp on her memories and identity – assisted gently by an artificial version of her late husband, Walter. An exploration of aging, memory and technology, Marjorie Prime peers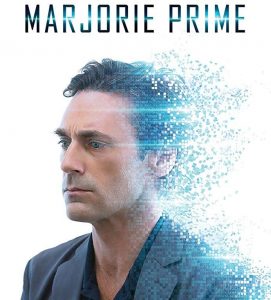 into what lies ahead and how our past is rewritten to face today.
Marjorie Prime is directed by Naples Players Executive Artistic Director Bryce Alexander. The TNP production features Kay Francis as Marjorie. Kenneth Hardcastle plays her husband, Walter. Debi Garnett (Kalamazoo) is her daughter Tess and Kevin Kimball is Tess' husband, Jon.
Marjorie Prime runs February 6 – March 3, 2019 in the Tobye Studio Theatre at The Naples Players at Sugden Theatre, located at 701 5th Avenue South in Naples.

Talk Backs will be held after every Sunday performance. Tickets are $40 and are available for purchase online at www.NaplesPlayers.org or by contacting the Box Office at (239) 263-7990.
______________________________________________________________
'Marjorie Prime' postulates digital replicas and artificial intelligence (01-15-19)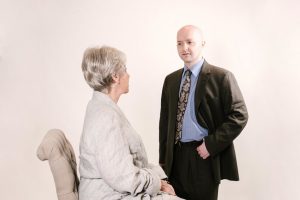 Marjorie Prime opens at The Naples Players at Sugden Theatre on February 6. The play was written by Jordan Harrison. The New York Times hails Marjorie Prime as "elegant, thoughtful and quietly unsettling."
The play was a Pulitzer Prize finalist in 2015. It premiered at the Mark Taper Forum and had its New York premiere at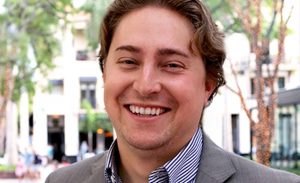 Playwrights Horizons. A 2017 film adaptation, directed by Michael Almereyda, starred actors Lois Smith, Geena Davis, Tim Robbins and Jon Hamm.
"Marjorie Prime challenges the traditional ideals of family by considering how a digital replica may or may not be embraced or loved. It's a fascinating and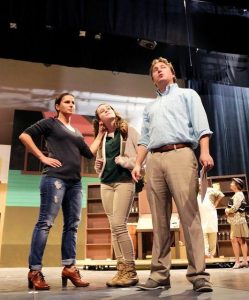 exciting production." shares Naples Players Executive Artistic Director Bryce Alexander (photos 2 & 3). "The concept of artificial intelligence is developing every day while our identities are being linked more and more to technology. What if that trend continues beyond our lifetimes?"
Both the play and movie received considerable critical acclaim. However, judge for yourself. Marjorie Prime runs February 6 – March 3, 2019 in the Tobye Studio Theatre at The Naples Players Sugden Theatre.
______________________________________________________________________
Vanagas, Coccari and Campbell headlining TNP's 'Midsummer Night's Dream' (01-15-19)

Mark Vanagas, Alisa Marie Coccari and Titania Kylie Campbell headline the cast of The Naples Players' upcoming production of William Shakespeare's A Midsummer Night's Dream. Directed by John McKerrow, A Midsummer Night's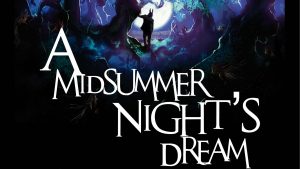 Dream will be performed free on the Baker Stage as part of TNP's continuing effort to provide accessible Shakespeare to the community. Audience members are invited to bring lawn chairs and picnic s to enjoy Shakespeare under the trees and stars in the Sugden Plaza. The show will run every Saturdays at 2:00 p.m. and Sundays at 6:00 in the evening between February 16 and March 10, 2019.
Shakespeare wrote A Midsummer Night's Dream in 1595-1596. It is the mischievous and light comedy consisting of four plots, interconnected by the wedding celebration of Theseus, the Duke of Athens, and the Amazon Queen, Hippolyta. The classic story is about order and chaos, reality and appearance, and love and marriage.
In modern tradition, the cast of ten actors will play multiple roles:
Mark Vanagas as Thesus and Oberon
Alisa Marie Coccari as Hipployta and Titania
Kylie Campbell as Puck, Egeus, Snout and Moon
Kacey Canas plays Hermia
Jennifer Valiente is Helena and Mustardseed
Zachary Pachol is Lysander
Ty Bolen plays Demetrius, Snug and Lion
David Whalley is Bottom and Pyramus
Robert Ball is Peter Quince, Prologue, Wall and Cobweb
Shelley Gothard plays Flute, Thisbe and Peaseblossom.
A Midsummer's Night Dream is sponsored by Neapolitan Family Magazine. The production's Scenic Designer is Mike Santos with assistance by Megan Macker. Costume Design is by Mark Vanagas, Lighting Design by Chris Riley, and Sound Design by Bradley Van Houten and Grey Conderman. Lisa Nuccio will serve as Stage Manager.
As the show is free to the public, no ticket reservations are required to attend. But audience members are encouraged to arrive early with lawn chairs and picnic blankets.
Now celebrating its 65th season, The Naples Players Sugden Community Theatre is Naples' oldest theater and is a vital part of the exciting experience of Downtown Naples. The Naples Players continually seeks to enrich, educate, and entertain the community through a superior theater experience. TNP is inspiring passion for the performing arts through life-long opportunities to participate in vibrant theatrical experiences.
_____________________________________________________________
Dawn and Charles Fornara leading 'Guys & Dolls' musical direction (01-15-19)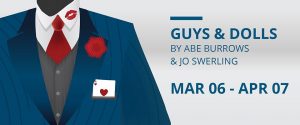 Guys & Dolls will open in Blackburn Hall at The Naples Players Sugden Theatre on March 6. And leading the choreography and musical direction is the creative team of Dawn Lebrecht Fornara (directing & choreography) and Charles Fornara (musical direction).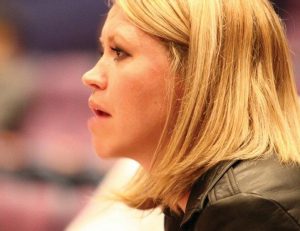 This is the same artistic duet that led the creative and musical direction behind TNP's sell-out productions, Chicago and Irving Berlin's White Christmas.
Interestingly, it was Guys & Dolls that brought Charlie and Dawn together for the first time fifteen years ago. Now, they are poised to re-live those moments, but as a married couple.
Guys & Dolls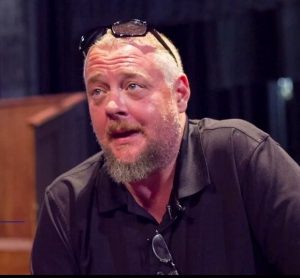 is a classic American musical featuring some of Frank Loesser's most memorable tunes, including the hilarious "Adelaide's Lament," the romantic "I've Never Been in Love Before," the exuberant "If I Were a Bell," and the classic "Luck Be a Lady." Involving the unlikeliest of Manhattan pairings, Guys & Dolls follows the story of a high-rolling gambler and a puritanical missionary, a showgirl dreaming of the straight-and-narrow and a crap game manager who is anything but.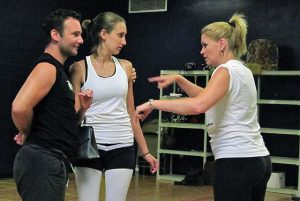 Guys & Dolls takes us from bustle of Times Square to the dance clubs of Havana to the sewers of New York City as it demonstrates the great lengths to which a guy will go when he truly falls in love with a "doll".
Stage Management is by Cole Butcher and Jules Branche and Amy Tran are the Assistant Stage Managers.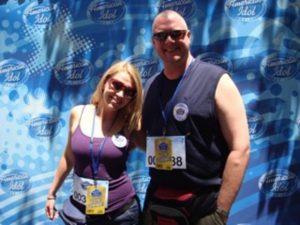 Guys & Dolls is produced with Scenic Design by Mike Santos, Lighting Design by Craig Walck and Chris Riley, Sound Design by Bradley Van Houten, and Costume Design by Dot Auchmoody.
Guys & Dolls runs March 6 – April 7, 2019. Tickets are $45 and are available for purchase online at www.NaplesPlayers.org or by contacting the Box Office at (239) 263-7990.
_________________________________________________
Amy and Jesse Hughes headline 'Guys & Dolls' cast (01-15-19)

Guys & Dolls will open in Blackburn Hall at The Naples Players Sugden Theatre on March 6. Amy Hughes and Jesse Hughes headline the large and talented cast of this masterful and unforgettable musical.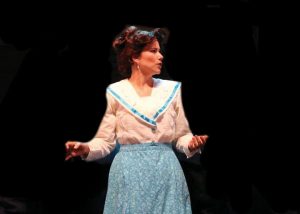 Amy and Jesse Hughes are remembered for notable performances as Marian and Harold Hill in TNP's Music Man. In Guys & Dolls, the couple (who are married in real life) play Sarah Brown and Sky Masterson respectively.
TNP newcomer David Shaffer plays Nathan Detroit, with Jessica Walck (Sylvia, Chicago) portraying Miss Adelaide.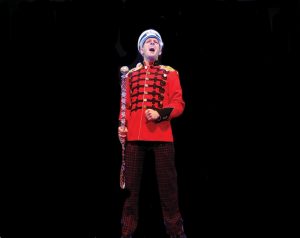 Reprising the successful and memorable TNP Guys & Dolls production from 15 years ago, Joseph Loiacono returns to perform again as Arvide Abernathy.
Jim Corsica is Nicely-Nicely Johnson. Bev Canell (oft referred to with the upmost admiration as "The General" within the walls of the Sugden Community Theatre) is reprising her unforgettable role as General Cartwright.
Completing the cast is Len Becker as Harry the Horse, Bob Patteri as Big Jule, Paul Lopresti as Lieutenant Brannigan, Jason Eugenides as Benny Southstreet, Evelyn Kasper as Agatha and Jack Weld as Rusty Charlie.
Ensemble members include Gaby Biagi, Mackenzie Black, Julia Cornwall, Sophia Costa, Adam Fasano, Frankie Federico, Jeremy Giovinazzo, Wiefta Jean, Kevin Kenneally, Elizabeth Marcantonio, Harry McCartney, Stephanie Nelson, Jack Norkeliunas, Ella Pflaumer, Thomas Richardson, Ryan Roberge, Logan Szittai, Sharon True, Perry Ventro, Lindsey Walsh and Elyse Yun.
____________________________________________________________________
TNP hosting Ed Asner and his prostate for interactive talk-back on March 16 (01-15-19)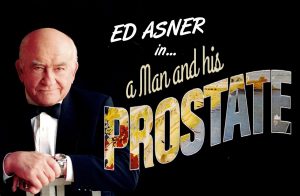 Seven time Emmy winner and television icon Ed Asner is starring in his new comedy stage-play, A Man and His Prostate, at Unity Church of Naples on Friday, March 15 and Saturday, March 16, 2019. Both performances of this comical and poignant show, which draws attention to men's health, start at 7:00 p.m.
And at 2:00 p.m.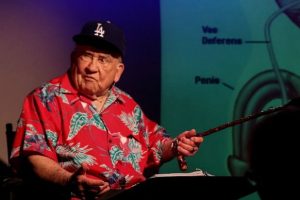 on Saturday, March 16, The Naples Players (TNP) will present a live audience talk-back with Asner in TNP's Blackburn Hall.
Asner was last seen on the Broadway stage in Craig Wright's tragicomedy, Grace, in which he co-starred with Paul Rudd. Asner is one of the most honored actors in television history, with 16 Emmy nominations,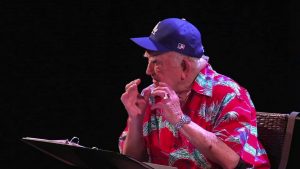 five Golden Globe Awards, and a Lifetime Achievement Award from the Screen Actors Guild. He is best known for his praised role as Lou Grant from The Mary Tyler Moore Show, and for voicing Carl Frederickson in the Pixar box-office smash UP (which won an Oscar for Best Animated Feature). He is also widely known for his television roles in Roots,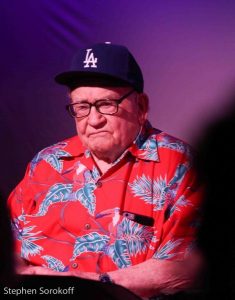 Rich Man Poor Man, The Good Wife, Criminal Minds, Mom, The Crazy Ones, Chasing Life, and Men at Work.
Asner also starred in the blockbuster film Elf as Santa and All of My Heart. For the stage, he toured across the country in his one-man stage-play FDR based on the life and career of President Franklin D. Roosevelt.
A Man and His Prostate was created and written by award-winning Ed Weinberger, who has been showered with Emmys (9) and Golden Globes (3) and has earned a Peabody Award. Weinberger wrote for Bob Hope, The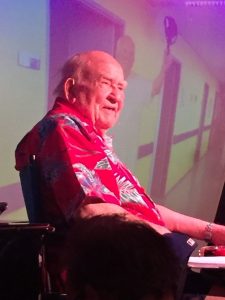 Tonight Show Starring Johnny Carson, The Dean Martin Comedy Hour, Taxi, and the Bill Cosby Show for eight seasons.
A Man and His Prostate is based on Ed Weinberger's true-life experience while vacationing in Italy and being rushed to a hospital for prostate cancer surgery. Media critics have referred to the stage-play as a "hilarious" evening of entertainment. According to Weinberger, Asner was born to play this role of an old codger who won't take any of life's injustices sitting down, as he prepares for surgery.
Tickets for A Man and his Prostate,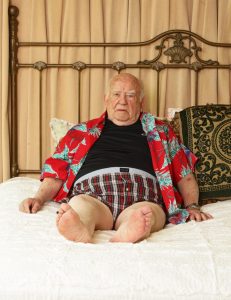 produced by Fubble Entertainment at Unity Church of Naples are $150 for VIP tickets (reserved seating and a meet-n-greet after the show) and $50 general admission for the 80-minute show. Tickets for the show are available online at https://www.unitynaples.org/project/edasner/
Tickets for The Naples Players' 2:00 p.m. interactive talk-back and Q & A with Asner on Saturday, March 16th are $20 and available by contacting The Naples Players Box Office (239) 263-7990 or NaplesPlayers.org.