Actors, artists, filmmakers and events in the news July 22-31, 2020
Grouped under headings that include art openings, film, outdoor art fairs and festivals and theater are advances, announcements and articles about the actors, artists, filmmakers and events making news in Southwest Florida this week:
1     ACTORS
With 'Ori,' Shelbie Tyndall takes quantum leap as actor, screenwriter and filmmaker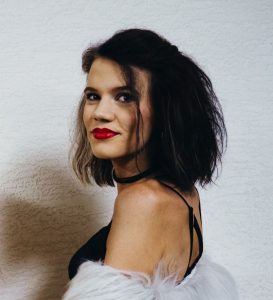 Shelbie Tyndall plays the part of Miriam in Ghostbird Theatre Company's upcoming video production of Ori, a new play written by Ghostbird Artistic Director and FGCU Theatre Professor Barry Cavin. It's a role that represents a quantum leap in this emerging creative's craft not only as an actor, but as a screenwriter and aspiring filmmaker.
Tyndall's impressive resume contains numerous screenwriting credits, but not many appearances on stage or in film. In fact, her background as an actor is in musical theater. In high school, she appeared in several musicals, including Man of La Mancha. But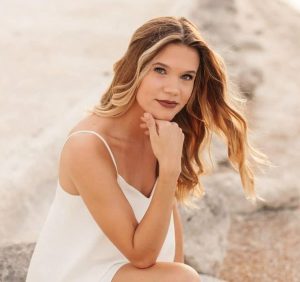 Cavin noticed her potential as a dramatic actor during her work in various theater classes at Florida Gulf Coast University. And so he cast her as Bawd in Antonin Artaud's Jet of Blood, part of Ghostbird's October House, performed last year in the historic Langford-Kingston Home.
___________________________________
Post COVID interviews you may have missed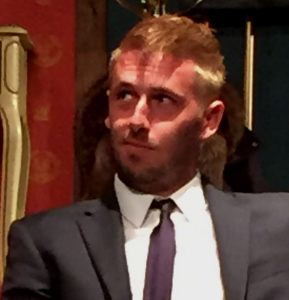 Here are links to stories written on various local actors since the COVID-19 shut-down began:
_____________________________
Other interviews:  oldies but goodies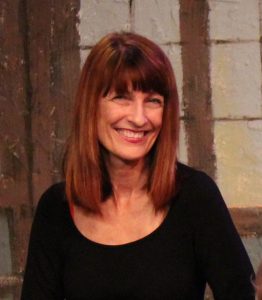 Here are some other interviews that Southwest Florida's stage actors have given over the years:
__________________________
2     ARTISTS
According to a U.S. Census Bureau Small Business Pulse Survey, two-thirds of the nation's artists are now unemployed, as jobs in the "Arts, Entertainment & Recreation" sector have shrunk by 54.5%.
Acevedo introduces new work at Davis Art Center solo show 'Introspection'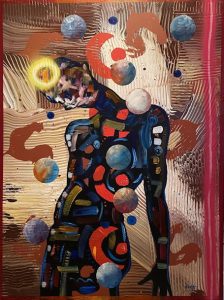 David Acevedo is exhibiting new work! Exploring new and past mediums, Introspection contains paintings created in the last year that use human interactions, experiences and perceptions as inspiration. This solo show is on view now through July 31 in the Grand Atrium of the Sidney Berne Davis Art Center.
With the launching of a new website and the Introspection exhibition, Acevedo has reinvented and restructured his artistic approach. His new pieces evidence stronger subject matter and presence; his composition and symbolism are more focused and relevant to his environment. Taking the combination of mediums to a higher level of expertise, his new 
work incorporates silkscreen printing, spray acrylic paint and stencils with traditional acrylic painting on large scale canvases. The larger size of the pieces in this collection is also a change in the artist's production.
A 24-page full color limited edition catalog is available online on the artist's website.
Acevedo arrived in Southwest Florida in 2000, quickly immersing himself in the art scene of Fort Myers and surrounding cities by collaborating in a multitude of projects, including co-founding Fort Myers Art Walk, the Union Artist Studios and the very popular DAAS CO-OP Art Gallery.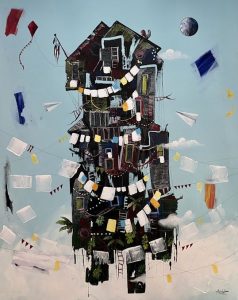 He was awarded an Angel of the Arts award in 2009 and a FACE Award in 2016. He is also the recipient of two City of Fort Myers Individual Artist Grants. Throughout his career, he has supported, sponsored and promoted other local artists, some of whom got their first exhibition at one of Acevedo's venues. The artist has been featured in several publications, both locally and internationally, and has exhibited his work in Europe and Asia.
The Sidney Berne Davis Art Center is located at 2301 First Street, Fort Myers, FL 33901. More information about the venue is available at sbdac.com. Call 239-332-1933 for hours. Additional information about David Acevedo is available at acevedostudio.com.
__________________________________________________
Paintings in 'Introspection' reflect artist who continues to grow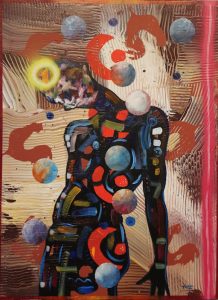 There remain just a few short days to view David Acevedo's solo show at the Davis Art Center. It's called Introspection, and is well worth the time it takes to go downtown and amble through the cavernous grand atrium in the former post office that was completed in 1933.
"The pieces in this exhibition are the product of a year of self-discovery and introspective analysis," says Acevedo in the Artist Statement he drafted for the show.
"One particular characteristic is the use of techniques and mediums, such as silkscreen printing and spray painting, which I'd abandoned a long time ago."
Thematically, the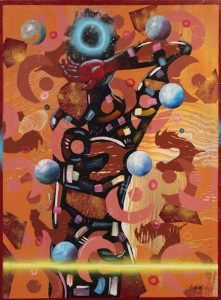 works in this series resurrect memories of people, experiences and influences from David's past. While that makes the content highly personal, the blend of the abstract and surrealist imagery that David utilizes for his unique brand of pictorial storytelling enables every viewer to come up with their own slant or interpretation of his vibrant compositions.
"It's a little bit about me, who I am, what I've done, where I've been," David acknowledges. "I added symbols of things that I keep to myself, which creates a personal connection to each painting. But I always prefer that people interpret things on their own, based on their own experiences."
___________________________________________________
'Those Damn Cocks' nostalgic, therapeutic and damn popular too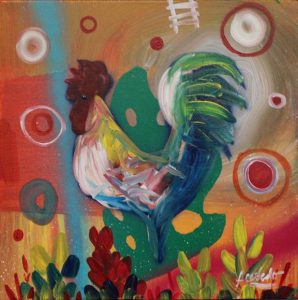 In his current solo show in the grand atrium of the Sidney & Berne Davis Art Center artist David Acevedo introduces three new series. One of them is titled Those Damn Cocks. Individually and collectively, they're an intriguing amalgamation of representative imagery juxtaposed against both a foreground and background of abstract and pop symbolism such as fat concentric circles, spirals, orbs and ladders. The color palette vacillates from vibrant to subtle, from fiery, sensual reds, orange and yellows to calming and meditative violets and blues.
Go here for the rest of this review.
___________________________________________
Acevedo's 'Islands in the Sky' prove that islands do cry
In a café in Aguadilla on the northwestern tip of Puerto Rico, a farewell unfolds that's being repeated thousands of times each month. A longtime customer, more a friend than a patron, drops by for one last cappuccino before he and his family board a plane for Florida, Texas or some other destination within the continental United States. It's part of a mass exodus that began in 2006, but which has been exacerbated by Hurricanes Irma and Maria and a series of earthquakes that have rocked the island since December of last year. Each leave-taking, each departure is as poignant as it is sad, as popular local artist David Acevedo expresses through his mixed media installation Island in the Sky, on exhibit currently in the grand atrium of the Sidney & Berne Davis Art Center.
The rest of this review is here.
_______________________________________________________________________
Winter Park's Cornell Fine Arts Museum to exhibit Jansen's first U.S. museum solo show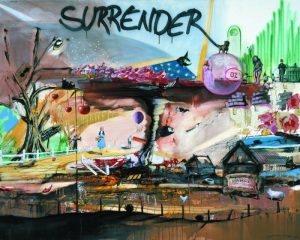 The Cornell Fine Arts Museum is exhibiting a solo show of work by Marcus Jansen September 18, 2020 through January 3, 2021. Titled E Pluribus Unum, the exhibition represents the first ever solo museum exhibition of Jansen's work in the United States.
This exhibition will focus on works Jansen created in the last 15 years and will be comprised of both large scale paintings and a selection of works on paper (among them a select number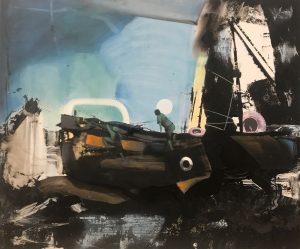 of new pieces on view for the first time) that examine Jansen's visual explorations of structures of power and the struggle to grapple with the nuanced reality of our time. The exhibition is being organized by the Cornell Fine Arts Museum in collaboration with the artist and will be accompanied by an illustrated catalogue.
While E Pluribus Unum may represent Jansen's first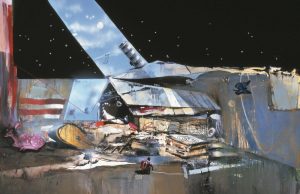 solo museum show in the United States, the Bronx/Fort Myers artist has enjoyed a number of solo shows abroad, including shows at La Triennale di Milano Museum in Milan and the Museum Zitadelle  in Berlin, and he participated in the 12th International Print and Drawing Biennial in Taiwan at the National Taiwan Museum of Fine Art. Works by Jansen are in collections of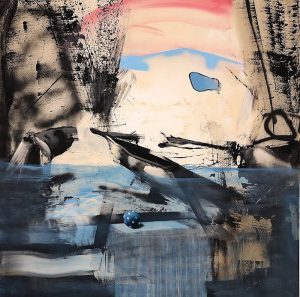 the Moscow Museum of Modern Art (MMOMA), The University of Michigan Museum of Art, The New Britain Museum of American Art, The Kemper Museum of Contemporary Art, The National Taiwan Museum of Fine Art, The Housatonic Museum of Art and the Smithsonian Institution in Washington D.C.
Jansen is known for powerful, monumental canvases that address poignant social and political themes. Through the use of an arresting visual language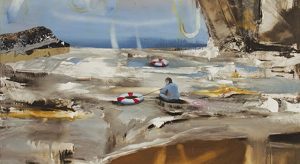 characterized by colorful and expressive brushwork, and references to contemporary and historical issues, Jansen invites viewers to engage in a reflection about the human condition. Jansen continues to explore surveillance and social divides in society and will place his iconic 2010 piece Obscure Line Between Fact and Fiction (3rd photo) to the museum for the show.
_______________________
3       FILMMAKERS
Recent interviews by and articles about filmmakers with ties to Fort Myers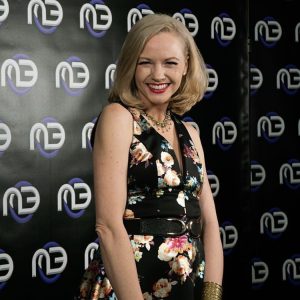 Here are the links to recent interviews by and articles about filmmakers who have ties to Fort Myers:
______________________
Other filmmaker interviews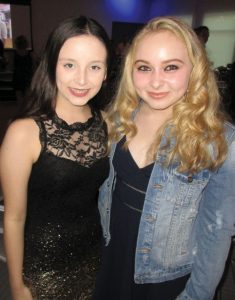 Here are some other interview-based articles posted on Art Southwest Florida since COVID-19's onset:
_____________________________
4     ART SHOWS AND EXHIBITIONS
Call to Artists for joint Alliance/Bailey-Matthews water exhibit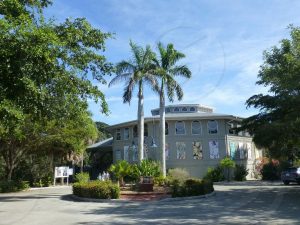 In partnership with the Bailey-Matthews National Shell Museum, the Alliance for the Arts is seeking Florida artists to submit work for an exhibition focused on water.
Water is the source of all life and has been an inspiration for writers, philosophers and artists from around the world for thousands of years. This exhibition hopes to bring many interpretations and responses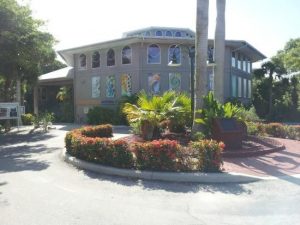 that explore, explain and inform our infinite individual and communal connections to water.
Entries must be submitted online no later than Friday, November 6, 2020 at ArtInLee.org/H20Exhibit. All mediums will be considered, including sculpture, jewelry, painting (oil, acrylic, collage, watercolor and mixed media), drawing, printmaking, photography,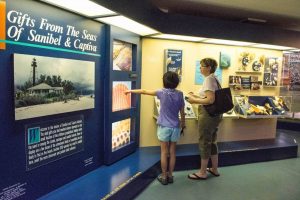 digital media, fiber or textiles, video and installation. Prizes will be awarded including $1,000 cash for Best in Show, $250 for 2nd place, $100 cash for 3rd place and Juror's Choice Award of $50. Artists may submit, 1, 2 or 3 artworks for consideration.
The juried exhibit will be on display from February 9 through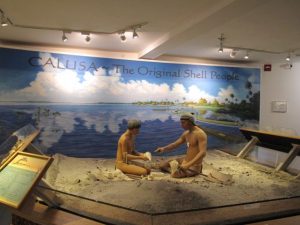 April 30, 2021 at the Bailey-Matthews National Shell Museum, which is located at 3075 Sanibel Captiva Road Sanibel, FL 33957. The Bailey-Matthews National Shell Museum is a Natural History Museum, and the only museum in the United States devoted solely to shells and mollusks. Its mission is to connect people to the natural world through their love of shells and the marvelous animals that create them.  Bailey-Matthews uses its collections,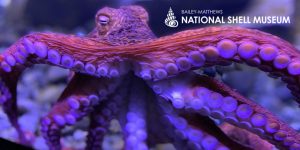 programs, and expertise to inspire learning, support scientific research, and tell the story of mollusks and the ocean that they inhabit.  There are more mollusks in the oceans than all marine mammals and fish species combined, and mollusks are becoming extinct faster than we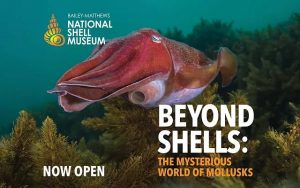 can name them due to climate change, ocean acidification, and pollution.
To download full guidelines, learn more or submit artwork, visit ArtInLee.org/H20Exhibit. For additional questions, contact Alliance for the Arts gallery director Ehren Gerhard at exhbitions@artinlee.org or 239-939-2787.
__________________________________________________
'Pain, Process and Promise' on view now at Alliance for the Arts
Pain, Process and Promise is on exhibition at the Alliance for the Arts through August 20 with limited gallery and gift shop hours. Featuring pieces created by artists working in a wide variety of media, the show seeks to process the multilayered issues facing our society and culture through the medium or art.
Exhibiting artists include Jeff Abbott, Cesar Aguilera, Robert Allen, Coleen Baggot, Kimberly Beckler, C.Kay Best, Katherine Boren, Cath Branwood, Mila Bridger, Annette Brown, Andy Browne, Barbara Carr, Donna Chase, Diane Chernow, Carol Coates, Maria Collier, Patricia Collins, Patrick Conolly, Elodie Cotton, Michael Danley, Rosemary Fineberg, Judith Fletcher,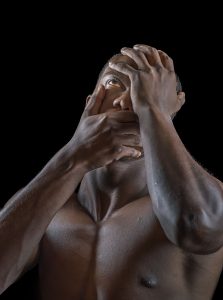 Marian Fuller, Denis Gaston, Geoffrey Hamel, Lily Hatchett, Sharon Isern, Krista and Leo Johnson, Rose Jung, Steve Kalb, Kenneth Lamers, Jill Lindsay, Ray Lyle, Bruce MacKechnie, Helen Mcwilliams, Kellen Beck Mills, Ronald Nowicki, Julie Obney, Tara O'Neill, Chris Owens, Katrina Parker, Caren Pearson, Michael Pinckney, Barbara Piontek, Joel Ralls, Gregory Read, Myra Roberts, Sherry Rohl, Thomas Roth, Eric Rucket, Paula Rucket, Lydia Rupinski, Ellen Sayet, Dale Smith, Grayson Stoff, Patricia Anderson Turner, Jennifer Unwin, Joy Williams, Christina Wyatt, Pat Zalisko and Amanda Zirzow.
The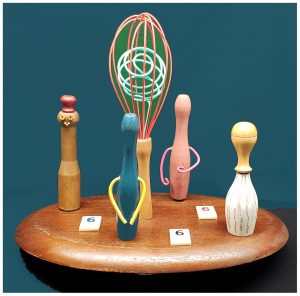 Alliance is hosting a series of free, online artist talks in conjunction with the show. They'll take place at 6:00 p.m. on July 14, July 28 and August 11. These behind-the-scenes looks offer unique insight into each artists' inspiration, process and the context behind the work. Be part of the conversation, express your thoughts and ideas or simply sit back and enjoy the discussion of what art means to us as individuals and as a society. Pre-registration is required at ArtInLee.org/ArtistTalk.
While gallery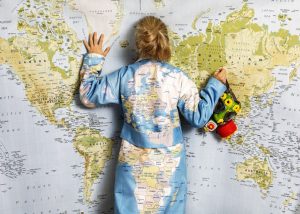 admission and scheduled artists' talks are free, a $5 suggested donation sustains the future of arts in southwest Florida.
Beginning July 10, Alliance gallery and gift shop hours are Monday, Wednesday and Friday from 10:00 a.m. to 4:00 p.m. and Saturdays from 9:00 a.m. 1:00 p.m. or by appointment by contacting gallery director Ehren Gerhard at exhibitions@artinlee.org.
For more information about the exhibit, visit ArtInLee.org/Process or call 239-939-2787. For details on the Alliance's current programs and precautions, please visit ArtInLee.org/Covid-19.
____________________________
'Frida's Flowers' blooming at DAAS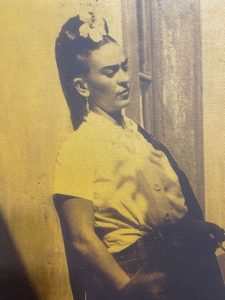 A few months ago, DAAS CO-OP Gallery issued a challenge to area artists to create artworks inspired by iconic surrealist painter Frida Kahlo. The work submitted was going to be exhibited in April, but then the COVID-19 wash-out intervened. Well, that was then and this is now. The April Showers, Frida's Flowers Invitational Exhibition finally opened on July 3 and is on view now at DAAS CO-OP.
"I do not know or fully understand my connection to this woman and how I feel when I contemplate her paintings," says David Acevedo, for whom Kahlo was not only an incredible inspiration, but an idol. "She persevered through the heartaches, ailments and so many other circumstances,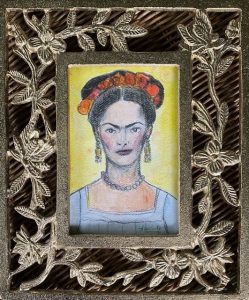 but never gave up. She was resilient and always found a way to continue painting and that, I think, it's very much how I am. Frida lives in my heart and that is why we wanted to dedicate this exhibition to her."
DAAS CO-OP is located at 1815 Fowler Street, Unit 3, in Fort Myers, FL 33901. Temporary business hours are from 10:00 a.m. to 3:00 p.m. on Friday to Sunday. More information about gallery and/or how to become a member can be found at daascoop.com or by calling 239-590-8645.
______________________
5       ART FESTIVALS
ArtFest Fort Myers now accepting applications for 21st annual art festival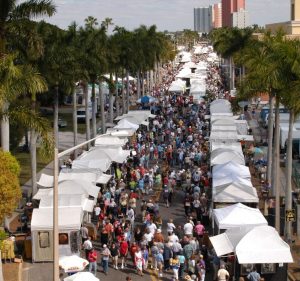 ArtFest Fort Myers is now accepting applications from professional artists for participation in its 2021 juried show. At this time, ArtFest is considering multiple scenarios to maximize both safety and success, but besides the potential impacts of the COVID-19 pandemic, new this year will be completion of the Luminary Hotel between Bay and Edwards on the western side of the 1.8 acre water basin.
Well over 1,000 artists vie for the 200 spaces historically allotted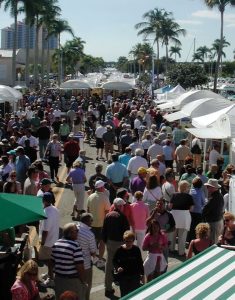 for this show. Why? It's simple. Because ArtFest's year-round friendly and professional staff places the focus on the artist and the art-selling experience. Targeting art buyers throughout Southwest Florida and beyond – from Marco Island to Sarasota and east to West Palm Beach – ArtFest's promotional campaign includes all forms of media. Judging from each year's turn-out, they're clearly doing something right. No other art festival in Florida comes close to pulling in the number of people or the concentration of collectors that ArtFest does.
The organizers also understand the importance of providing great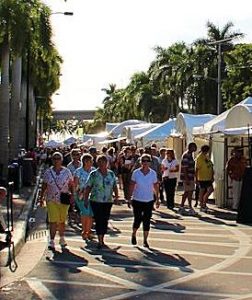 artist amenities over festival weekend to ensure that its exhibitors are stress free and ready to share their work with the festival's dedicated and enthusiastic attendees.
How are festival artists chosen?
Each October, ArtFest Fort Myers brings together a panel of professional artists who view submitted images and score each applying artist on a range of 1 – 7 points. The artists with the highest scores are then invited to participate in ArtFest.
"Our jury panel varies each year but always represents a broad base of expertise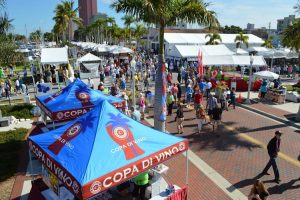 with regard to artistic mediums," ArtFest points out. "Theirs is the difficult task of evaluating who is the 'best-of–the-best' from the hundreds of artists who wish to join ArtFest Fort Myers! Our jury process is open to artists and patrons – please contact us for more information."
The application deadline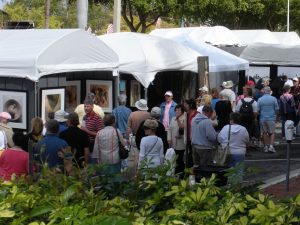 is September 28, 2020. The application fee is $35, with booth fees for a single 10×10′ space costing $454 plus 6.5% Florida sales tax and a $10 City Business Fee.
ArtFest Fort Myers 2021 opens Friday, February 5 with a limited preview and VIP event and continues on Saturday and Sunday, February 6 & 7, 2021 from 9:00 a.m. to 5:00 p.m.
For Artist Application information, please contact ArtFest Fort Myers at 239-768-3602, email info@ArtFestFortMyers.com or visit http://www.ArtFestFortMyers.com.
_________________________________________________________
Boulderbrook accepting submissions for Southwest Florida art festivals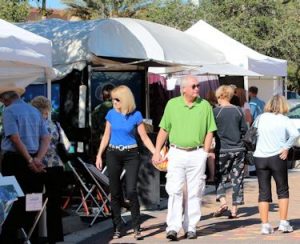 Boulderbrook Productions hosts a number of boutique art festivals in Southwest Florida each season. It is currently accepting submissions for:
Bonita Springs Invitational Art Festival (November 21 & 22, 2020); application deadline August 30, 2020;
Sanibel Masters Art Festival (November 27 & 28, 2020); application deadline August 30, 2020;
Peace River National Art Festival (December 5 & 6, 2020); deadline October 20, 2020;
The Sanibel SCA Art Festival (January 17 & 18, 2020); deadline: October 4;
The Art Festival at Mercato (January 22 & 23, 2021);  application deadline October 10, 2020;
The Art Festival at University Village Shops located by Miromar Lakes Country Club on Ben Hill Griffin Parkway (February 5, 6 & 7, 2021); application deadline not given;
Sarasota Masters Art Festival (February – dates TBA soon); deadline September 21, 2020;
Bonita Springs Fine Arts at The Promenade (February 13 & 14, 2021); application deadline October 15, 2020;
Boca Grande Masters Art Festival (March 6 & 7, 2021); application deadline October 14, 2020;
Bonita Springs Masters Art Festival (March 13 & 14, 2021); application deadline November 1, 2020;
Peace River National March (March 20 & 21, 2021); application deadline October 26, 2020; and
Sanibel-Captiva Lions Club Arts and Crafts Fair (March 26 & 27, 2021); application deadline: October 15, 2020.
You must register and apply online at  http://www.boulderbrook.net/.
_______________________________________________
Hot Works accepting applications for Estero Fine Art Show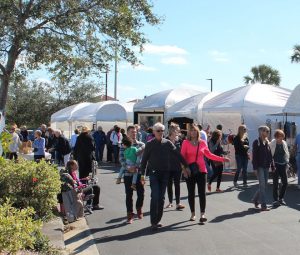 Hot Works LLC is now accepting submissions for the 24th Estero Fine Art Show. It will take place on Saturday and Sunday, January 2 & 3, 2021 at JetBlue Park. The show features original work in a wide array of disciplines, including painting, clay, glass, fiber, sculpture, wood, photography, jewelry and more.
Voted a top 100 art show, the Estero Fine Art show is recognized as one of America's highest quality and most respected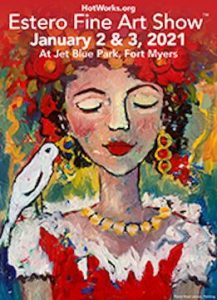 art shows in the country. Winter home of the Boston Red Sox, JetBlue Park affords both exhibitors and attendees with numerous benefits, including a location that draws from and is easily accessible from everywhere in Southwest Florida, as well as plenty of convenient, on-site parking.
The application deadline is September 17, 2020. Artist applications are accepted electronically at www.zapplication.org or manually at www.hotworks.org. For more information, please contact Executive Director Patty Narozny at patty@hotworks.org or 248-684-2613.
_______________________________________________
Hot Works accepting applications for Naples Fine Art Show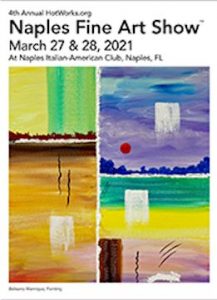 Hot Works LLC is now accepting submissions for the Naples Fine Art Show, which is scheduled for March 27 & 28, 2021 outdoors at the Naples Italian-American Club at the corner of Airport Pulling and Orange Blossom Roads. The show features original work in a wide array of disciplines, including painting, clay, glass, fiber, sculpture, wood, photography, jewelry and more.
The application deadline is November 13, 2020. Artist applications are accepted electronically at www.zapplication.org or manually at www.hotworks.org. For more information, please contact Executive Director Patty Narozny at patty@hotworks.org or 248-684-2613.
____________________________________________________________
Naples Art Naples New Year's Art Show 2020 applications open August 20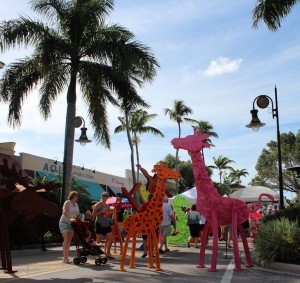 The Naples Art Association will begin accepting applications for The Naples New Year's Art Show 2021 on www.zapplication.org/ beginning August 20, 2020. This fine art festival draws professional artists from around the country and was ranked #15 in the nation in 2019 by Sunshine Artist Magazine and is included by ArtFairSourceBoook.com in its "BLUE CHIP 100" Fine Art Events for 2019.
If you are interested in exhibiting at this show, here's what you will need to know:
Dates: Saturday and Sunday, January 2-3, 2021
Festival Hours: 10 a.m. – 5 p.m.
Location: 5th Avenue South, Downtown Naples
Accept 250 artists max
Application fee: $35
Booth fee: $450 for 10×10
Set up specifics: 4 a.m. early morning set up only: On street set up in quads; No electrical
Application deadline: 10/02/20
Jury Process begins: 10/09/20
Status Notification: 10/21/20
Booth Fee Deposit Due: 11/11/20
Wait List Acceptance: 11/11/20
Artist Info Emailed: 12/11/20
No Refund Deadline:  12/04/20
Application available online at ZAPP
_______________________________________________________________
Naples Art's Naples National Art Show application window opens August 20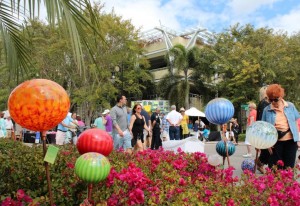 The Naples Art Association will begin accepting applications for inclusion in the 42nd Annual Naples National Art Festival on August 20, 2020. Naples National is consistently voted among the top 100 art festivals in the country by Sunshine Artist Magazine and was ranked #24 last year. In addition, Naples National was named one of ARt Fair SourceBook Blue Chip 100 Fine Art Events for 2019 and ArtFairCalendar.com's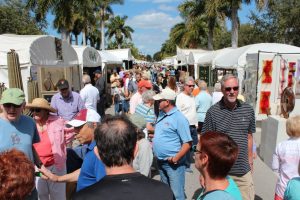 America's Best Art Fairs. As one of the oldest festivals in Collier County, Naples National is counted by the local community as among its premiere, must–see events, thanks to the high quality of art, the engaging personalities of the artists and the festive atmosphere. The show is held in scenic Cambier Park and along 8th Street South, one block from downtown Naples'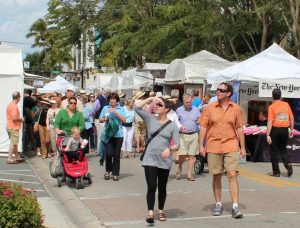 premier shopping and dining district.
If you are interested in exhibiting in the 41st Naples National Art Festival, here's what you will need to know:
Dates: Saturday & Sunday, February 20-21, 2021
Festival Hours: 10 a.m. – 5 p.m.
Accept 190 artists max
Application fee: $35
Booth fee: $625 for 10×10
Cancellation refund policy: Full refund: 01/15/21 (subject to $25 processing fee, $75 deposit fee non-refundable)
Set up specifics: Friday set up on 2/19,
Park and street setting
Application deadline: 11/06/20
Jury Process begins: 11/13/20
Status Notification: 11/25/20
Booth Fee Deposit Due: 12/18/20
Artist Info Emailed: 01/22/21
Wait List Acceptance: 12/18/20
Balance of Exhibit Fee Due:  01/15/21
Application available online at http://www.zapplication.org/ beginning June 1, 2019
To improve the quality of the show and to provide more sales opportunities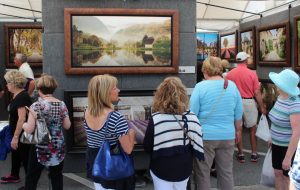 for our artists, NAA has limited the number of booths to 221, with 190 selected by the jury and 31 who are specially invited to participate in the show. "This will allow artists greater exposure and less competition," states NAA in its prospectus for the show. "Additionally, the park layout, will consist of one loop making it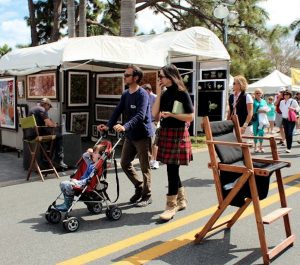 easier for customers to view all artist's booths. However, there is a corresponding increase in booth fees."
This is the only Naples Art Association show that offers cash awards for Best of Show, Best 2D, Best 3D and Awards of Distinction in 2D and 3D. The amounts are:
Best of Show – $2,000
Best 2D – $500
Best 3D – $500
Awards of Distinction 2D – 5 awards at $200 each
Awards of Distinction 3D – 5 awards at $200 each
Awards will be presented at the band shell in Cambier Park at 3:00 pm on Saturday. NAA staff or volunteers will notify an artist if they need to be present at the awards ceremony on Saturday. Awards are given based on the same criteria used for the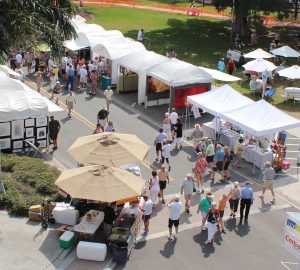 jury process. The winning artists are invited to participate in the following year's show and receive jury exempt status but must still pay his/her booth fee.
The mission of the Naples Art Association is to expand cultural opportunities, broaden education and enrich SWF through the visual arts. Proceeds from the Naples National Art Show support educational programming at The Naples Art Association.
______________________________________________________________
Naples Art's Naples Downtown Art Show application window opens August 20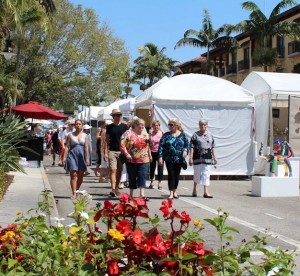 The Naples Art Association will begin accepting applications for inclusion in its Naples Downtown Art Show beginning on August 30. The 33rd Annual Downtown Naples Festival of the Arts is one of the last major art festivals of the winter season and a favorite festival for artists, art enthusiasts and collectors.
This festival was rated #24 by Sunshine Artist's Magazine 2019.
If you would like to exhibit in this show, here's what you will need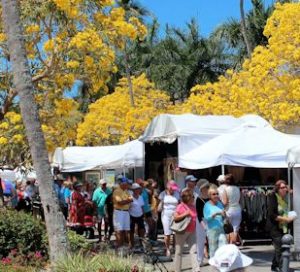 to know:
Dates: Saturday and Sunday, March 20-21, 2021
Festival Hours: Saturday: 10 a.m. – 6 p.m.; Sunday: 10 a.m. – 5 p.m.
Location: 5th Avenue South, Downtown Naples
Accept 250 artists max
Application fee: $35
Booth fee: $450 for 10×10
Cancellation refund policy: TBA
Set up specifics: 4 a.m., early morning set up only;
On street set up in quads: No electrical
Application deadline: TBA
Jury Process begins: TBA
Status Notification: TBA
Booth Fee Due: TBA
Artist Info Emailed: TBA
Wait List Acceptance: TBA
Last year's show was cancelled and launched virtually due to COVID-19. Naples Art's website has yet been updated to provide a prospectus, application or key dates for the 2021 show.
_____________________________________________________
Naples Art accepting submissions for next season's Art in the Park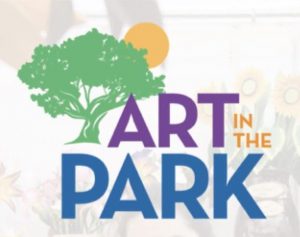 Are you ready for the 2020-2021 season of Art in the Park? The Naples Art Association (NAA) proudly connects artists with art shoppers in another terrific season of Art in the Park. The jury process will begin virtually on October 15. You must register by 5:00 p.m. one day before at http://naplesart.org/outdoor-shows/online-registration/.
Since 1957, Art in the Park has showcased paintings in oil and acrylics, watercolors, mixed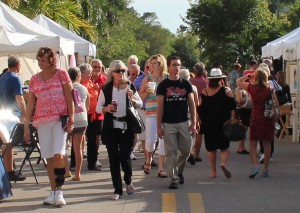 media, photography, sculpture, ceramics, glass art, jewelry and wood-working created by members in good standing of the Naples Art Association. For art lovers, it's a casual, fun-filled venue for meeting local artists and becoming acquainted with their work. It is believed to be the first outdoor art show held in Naples. And the tradition continues for the 2019-2020 art fair and festival season.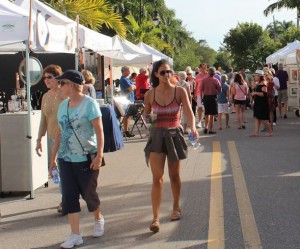 Art in the Park is held between 10:00 a.m. and 4:00 p.m. on the first Saturday of each month from November through April. Because of its long tradition, prestige and the interest and number of people who routinely turn out for the show, many NAA members seek admission to the show. Applicants go through a jury process.
"Art in the Park is a membership opportunity, providing artists a venue to sell and market their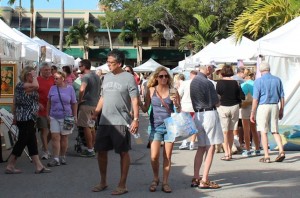 work while broadening their customer base," notes the Naples Art Association in its call to artists for the 2019-2020 season. "It also provides a setting for artists to interact with other artists sharing ideas, industry changes and the camaraderie of creative people. It is an opportunity for both artists and the public to engage in enlightening conversations about art."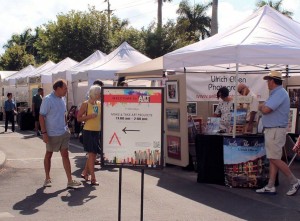 The one-day fair takes place on Park Street adjacent to The Naples Art Association in the northwest corner of Cambier Park. Located just a block and a half from historic Fifth Avenue South, Art in the Park is within walking distance of trendy European boutiques, sidewalk cafes and iconic art galleries such as Sheldon Fine Art, Call of Africa's Native Visions Gallery and Shaw Gallery of Fine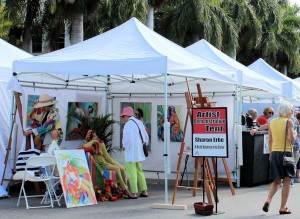 Art. The show is also just three minutes by car from fabled Gallery Row and the Third Street South Gallery District. The January show is also held in conjunction with the Downtown Naples New Year's Art Fair, which will be held next season on Saturday and Sunday, January 2 & 3, 2021.
___________________
6       PUBLIC ART
Buck's Backyard finalists announced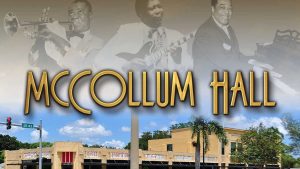 The Fort Myers Mural Society has announced the three finalists for Buck's Backyard, a mural project that will be painted on seventeen concrete panels on the eight-foot-tall wall that separates McCollum Hall from the residential neighborhood just to the north. During its heyday, the two-story 10,000-square-foot Art Deco building was considered the jewel of the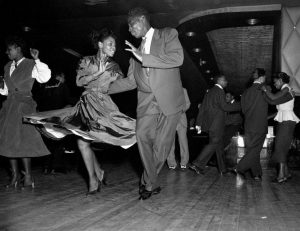 Dunbar business community.
During the 1930s and '40s, McCollum Hall became Southwest Florida's most famous entertainment venue. Part of the "Chitlin' Circuit," the second-floor dance hall hosted such internationally-renowned musicians as Count Basie, Louis Armstrong, B.B. King, Lionel Hampton, Otis Redding, Lucky Milliner and Duke Ellington and his orchestra.
Go here for the rest of this announcement.
________________________________________________
Spotlight on 'Buck's Backyard' mural finalist J.P. Almonacid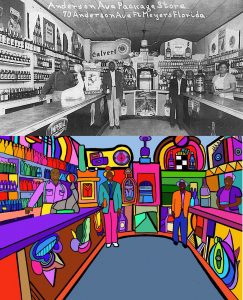 J.P. Almonacid is one of three finalists chosen by a selection committee to paint a mural out at McCollum Hall. Called Buck's Backyard, the project is a homage to the Safety Hill gathering place that became an epicenter for entertainment, dances and social events in the 1930s and '40s.
Born in Chicago in 1974, Almonacid was raised across the Alley in Broward County where he was heavily influenced by graffiti and graphic arts. He drew upon these artistic sensibilities when he moved to Bogota, Columbia in 1993, pioneering the graffiti and street art culture that exists today throughout the country.
________________________________________________
Spotlight on 'Buck's Backyard' mural finalist Michael Rosato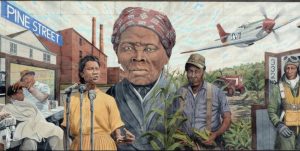 Michael Rosato is the second of three finalists chosen by a selection committee to paint a mural out at McCollum Hall. Called Buck's Backyard, the project is a homage to the Safety Hill gathering place that became an epicenter for entertainment, dances and social events in the 1930s and '40s.
Rosato 

specializes in designing and painting large-scale murals for public and private spaces. He paints most of his work on canvas in his studio and then personally installs the finished paintings on site.
___________________________________________
Revisiting Caloosahatchee Manuscripts light sculpture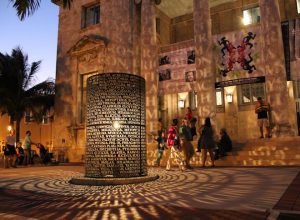 At night, the tapered Ionic columns and limestone steps of the Sidney & Berne Davis Art Center glow with the images of thousands of letters like a phosphorous alphabet soup. The source of this bedazzling light show are two large bronze cylinders that sit on the sidewalk at the foot of SBDAC's stairs. They are a dual point light sculpture called Caloosahatchee Manuscripts, a gift to the City of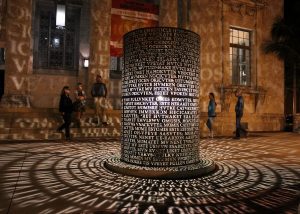 Fort Myers made in 2001 by Florida Power & Light Co.
FPL commissioned the work to commemorate the conversion of its power plant on the south bank of the Caloosahatchee River from oil to natural gas. A national call to artists was issued and Maryland sculptor Jim Sanborn was ultimately selected. By 2001, Sanborn had built a formidable reputation for heady light sculptures,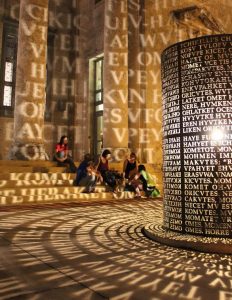 and he didn't disappoint with the light sculptures he designed for the sidewalks in front of the Davis Art Center. One (the western drum) is a homage to the experiments Thomas Edison conducted downriver, testing between 13,000 and 17,000 plants in an attempt to find a local source of latex that might supplant the country's dependence on South American rubber. The other light cylinder (the eastern drum) incorporates text from an ancient Creek migration legend that explains how the Creek migrated to the southeastern United States and eventually made their way into Florida, where they joined with the Seminole Nation.
When Sanborn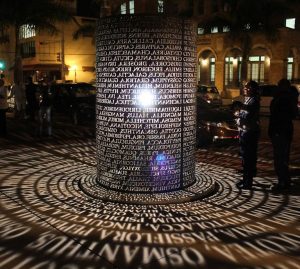 did his research, he discovered a translation of the migration tale told to James Oglethorpe by the Creeks' great king Tchiilli. The text had been translated from Creek into English and then German. When the English translation turned up missing, the German text was retranslated into English and that's the version Sanborn used for the eastern light cylinder. But then, in 2015, Prince Charles' Assistant Personal Secretary found the original English translation in a wooden crate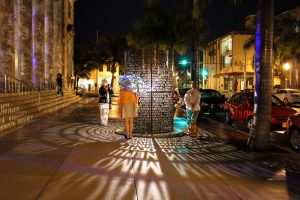 somewhere in storage in a palace that's home to the Archbishop of Canterbury. And wouldn't you know it, the translation from the German turns out not to be all that accurate or complete.
That in no way undermines the story that Sanborn tells through Caloosahatchee Manuscripts, which is simply that the Seminoles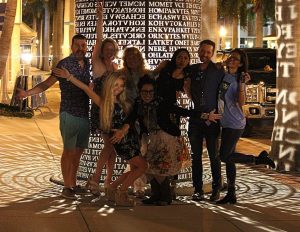 played an important role in our early history and, derivatively, their ancestors, the Creek. But to set the record straight, ARTSWFL has updated its Caloosahatchee Manuscripts profile to include the latest information on the migration legend. And in the process, dozens of new photographs have been added to the narrative.
________________________________________________
Revisiting Fort Myers' 1880 Italian marble sculpture, Lorelei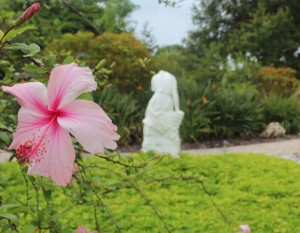 Art Southwest Florida has profiled Fort Myers' 1880 Italian marble sculpture, Lorelei, which resides in the Hibiscus Garden at the Fort Myers Lee County Garden Council on Virginia Street in downtown Fort Myers.
When Lorelei arrived at the Garden Council, she was in dire need of significant conservation. The surface of the sculpture was covered with dirt, grime, mold, mildew, fungus and lichen, largely because the sculpture had been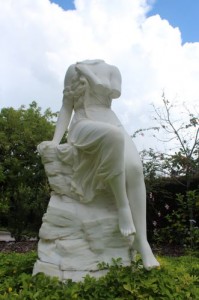 surrounded for more than 50 years by firebrush hedge, which served to hold moisture against the surface of the stone. The marble had suffered spalling in several areas, most notably on the siren's right elbow, and "portions of the surface were slightly friable to the touch, particularly areas that were exposed to constant direct sunlight."
In furtherance of its agreement with the City of Fort Myers Public Art Committee, the Garden Council engaged Rosa Lowinger & Associates to perform the work necessary to clean and stabilize the stone. A full-service conservation firm specializing in the preservation of sculpture, architectural elements, three-dimensional artwork and contemporary art, RLA is considered a national leader in preservation and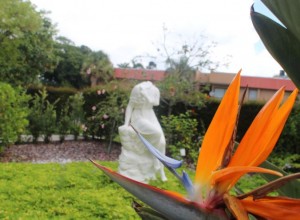 conservation of art in the public sector.
The first step in the sculpture's conservation consisted of washing the marble with filtered water and a conservation grade detergent to remove dirt, grime and soluable salts. Poultices were applied to remove staining, and a fungicide was used to mitigate discoloration from mold and fungus and provide residual protection to the surface. But the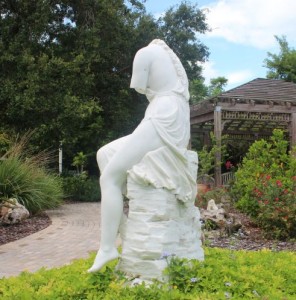 most intricate and important part of the process involved injecting epoxy into the marble to stabilize and repair the spalling that had occurred over time.
The difference in Lorelei's outward appearance following these measures is stunning. Today, the marble virtually gleams in the sunlight, showing off Emma Elisabeth's Phinney's intricate and well-executed craftsmanship. Details that had been lost in the grime and mold, like the comb at the siren's right hand and the flowers carved into the stacked shale plinth, jump out and, from a distance, the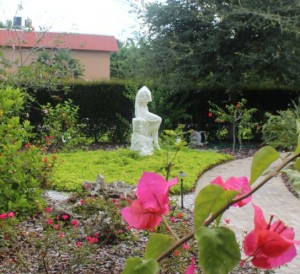 body and flowing shift are infused with a fluid, languid movement.
The foregoing work was performed on January 6 and 7, 2015 at a cost of more than $6,000. But Lorelei is not out of danger yet.
Please click here to see the sculpture's full profile.
_____________________________________________________
Revisiting ARTSWFL's profile of Bonita Springs' 'Away' and 'Rusty'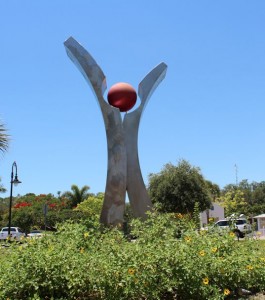 Art Southwest Florida maintains profiles of Away and Rusty, The American Dog, two Bonita Springs' public artworks created by Massachusetts metal sculptor Dale Rogers.
Away is a 12 foot tall, 800 pound, stainless steel sculpture that resides in Riverside Park, just south of the Liles Hotel. The piece features two stainless steel arms stretching skyward. Between the arms is a large red ball which makes its own strong statement. A flock of black birds has been cut into the side of one of the arms to reinforce the free-flying feel that Massachusetts sculptor Dale Rogers wanted to convey with the piece.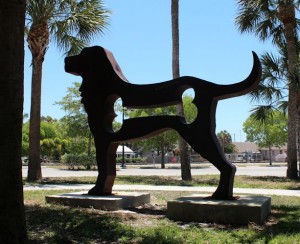 American Dog is a 8-foot-tall by 10-foot long 500-pound Cor-Ten steel sculpture that resides today in Depot Park in historic downtown Bonita Springs. Local residents have affectionately named the sculpture Rusty because of his rust-colored patina. "He was supposed to go into the City's new dog park," notes Bonita Springs City Councilwoman Janet Martin, "but the residents out there [who have come to regard him as a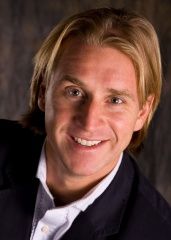 member of the community] have insisted that he stay in Depot Park." Their collective feeling demonstrates the power of public art when it comes to place making and engendering community identity and civic pride.
Rogers' career as a monumental artist spans more than a decade. Rogers works primarily with stainless and Cor-Ten steel. "Stainless steel is beautiful and versatile," Rogers remarks. "The surface of it can be done in many different finishes, with the variations adding dimension and depth." He favors Cor-Ten because of its "long life/low maintenance" reputation. "It is what cities and the federal government use to make bridges out of. It oxidizes 
over time and then seals itself. It offers an organic and simple element to the sculptures while the stainless steel brings in a little more pizzazz and punch."
The City of Bonita Springs has embraced public art in a personal, grassroots sort of way. Like dozens of other Florida municipalities and 13 counties, it has an ordinance that sets aside money for art every time it constructs a new building or conducts a major renovation. But recognizing that capital improvement projects aren't initiated every year, the city also allocates a modest stipend for public art in its annual operating budget. And by forging unconventional relationships with public artists and business property owners, the town has been able to parlay those funds into a collection of sculpture and murals that inspires pride of ownership in residents and a sense of wonderment in first-time and seasonal visitors. Please click here for more information about Bonita Springs' public art program and collection.
________________________________________________________
Grandma Johnson included in profile of Imperial River public artwork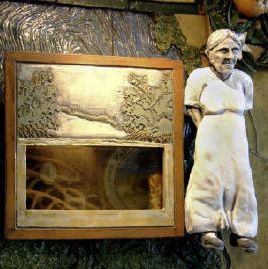 Imperial River History is a 12 foot long by 6 foot tall by 18 inch deep mural that resides in the lobby of the Bonita Springs City Hall. Created by local clay sculptor David Kellum, it contains a background consisting of a map of the Imperial River. Across the map's topography Kellum has embedded plates depicting scenes of local historical significance. Mounted in front of the plates are sculptures of local people of historical note. One of those folks is the First Lady of Bonita Springs, Grandma "Mollie" Johnson.
Mollie Johnson and her husband, Frank, appear to be 
Mound Key's first white settlers. President Benjamin Harrison issued a patent (certificate 9353) recognizing their homestead on November 9, 1891. But  the Johnsons are believed to have moved onto the island some time in 1875. "By her deeds of kindness, 'Grandma Johnson,' as she was called, became a legendary figure to rich and poor alike," wrote Allene Smith Murphy in Recollections – Mound Key, Schools & Early Settlers, a series of short stores she wrote as part of a memoirs writing class that has been preserved and published by her great-niece, Marci Townley Burns. "No history is complete without some reference to her. She endured her hardships as a way of life and lived in poverty all her life."
Please click here to read more.
_____________________________________________
FGCU's 'Human Race' profiled on Art Southwest Florida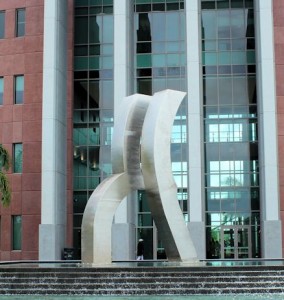 Situated at the front door of the campus' academic core, Raymond L. Lutgert's imposing geometric sculpture, Human Race, greets faculty, students and visitors to Florida Gulf Coast University. The minimalist piece consists of two 24-foot-tall curved stainless steel columns set in a reflecting pool. When the sun hits the textured columns just right, the water sparkles with patterns. "The work symbolizes the competition of individuals whether in business or in other aspects of life," noted Lutgert, who died May 28, 2010. Allegorically, the columns can be regarded as two figures competing, the one curving forward in victory, with the other folding back on itself in defeat.
Please click here to read the full review.
___________________________________________________________
Revisiting FGCU's 'Verve' by Massachusetts glass sculptor Michele Gutlove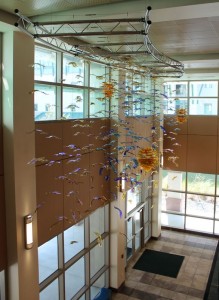 Verve is a hanging fused glass sculpture that graces the lobby atrium of Marieb Hall, FGCU's health sciences building. The artwork consists of more than 400 pieces of handmade sculptural glass suspended on stainless steel cables and a custom crafted aluminum truss that is, in turn, attached to the trusses that support the building's third floor.
Taken together, the sculptural glass represents the nuclei and dendrites of three neurons. Neurons are essentially the brain's messengers, relaying messages electrically throughout the human brain and spinal chord. Many intricate trees of highly branched extensions called dendrites extend from the surface of each cell 
body. They serve as receptors to collect signals from other neurons. After light enters your eye, for example, it is turned into signals that are picked up by dendrites. Neurons carry these signals almost instantaneously to various parts of the brain, prompting your eyelids to squint, the muscles in your hand and arm to catch a ball, or more neurons to create new signals that send inklings of thought darting through your brain.
The glass that Gutlove used to create her nuclei and rangy dendrites appears to be both clear and colorful as it scatters the light which floods Marieb Hall's atrium and casts dynamic,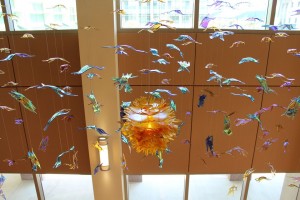 colorful reflections and refractions on the walls, floor and ceiling. That's because each piece has a dichroic coating (see below) which causes certain wavelengths of light to either pass through or be reflected, producing an array of color which shifts depending on the angle of view and the location of the sun or artificial light source.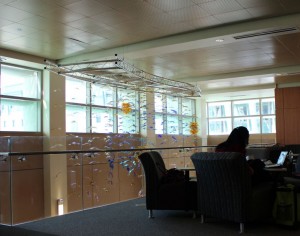 Verve is site-specific as the focus of study in Marieb Hall not only relates to medical health, but social work as well. "Although human brain cells are the seeds of my inspiration for this piece, viewers will discover other imagery as they view the sculpture over time," Gutlove adds. "My concept is that students will make their own connections, and the art will inspire curiosity, exploration and education."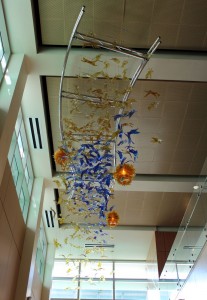 While public art delivers myriad benefits, one of its chief functions is to engender a deeper interaction with a place by the people who visit, work and study there. Public art creates human scaling of open areas by framing the space, draws people together by inducing strangers to talk to one another, engages the faculty and student body, and adds to their visual quality of life. But good public art does more than stimulate conversation and make a space seem more welcoming. It relates to the environment in which it is located. Verve not only represents the connections that occur within the human brain, it illuminates the university's mission by celebrating and inspiring connections students are making with each other and with their own potential.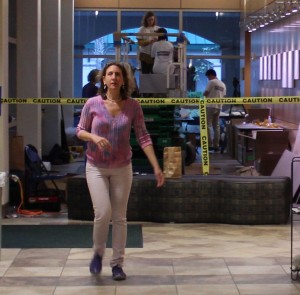 The commission cost $61,000 and was funded by the Florida Art in Public Buildings program, an initiative started in 1979 pursuant to section 255.043 of the Florida Statutes that earmarks one-half of one percent of the amount the legislature appropriates for the construction of state buildings for the acquisition of public artworks.
Please click here to read the full profile and anthology of installation articles.
__________________________________________________________
FGCU's 'Dream to Connect' underscores university's multifaceted mission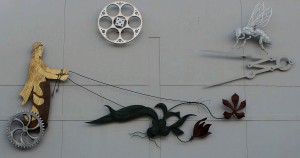 On the east wall of the Arts Complex is a highly symbolic acrylic and stainless steel sculpture titled Dream to Connect. The focal point of the installation is the Greek god Apollo standing in a chariot that is borne by a wheel in the form of a metal gear. In Apollo's hands are reins that are tied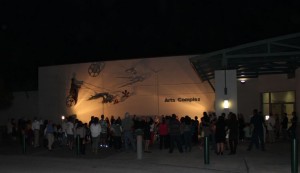 to a Silver Dollar orchid, an endangered epiphytic orchid found in the salt marshes and mangrove forests of Everglades National Park. Above and to the right of the orchid is a honey bee preparing to alight on a compass, and above and to the left of that is a stainless steel film reel.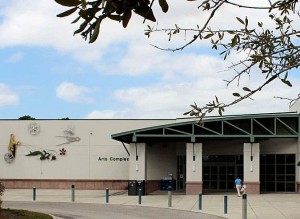 Apollo is the god of the arts and patron of intellectual pursuits. The dollar orchid represents Florida's native beauty and references FGCU's ecological mission. The gear in Apollo's chariot symbolizes industrialization and advancement, while the film reel marries technology and art. The compass is a tool universally used by artists and scientists, and the honey bee represents the goal of all artists to facilitate and foster the cross-pollination of ideas.
The work was forged by contemporary sculptor, artist, curator and FGCU art educator Mary Sullivan Voytek. To read more about Voytek's work, please click here.
________________________________________________________
Atlanta sculptor Phil Proctor's 'Bud' profiled on Art Southwest Florida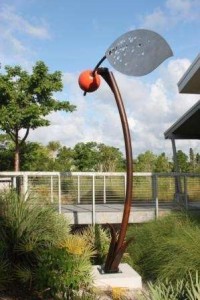 Bud is a 14' high by 10' wide by 10' deep single-axis aluminum and steel kinetic sculpture created by Atlanta metal sculptor Phil Proctor that is located next to the Kapnick Research & Education Center to the right of the entrance of the Naples Botanical Garden. It was purchased by Florida Gulf Coast University in 2011 with funds provided by Florida's Art in State Buildings Program (Fla. Stat. 255.043).
The top of Bud rotates in the wind. By including one or more moving components, kinetic sculptures like Bud define the relationship between matter and energy. They express a relationship between objects and forces in our physical environment. Built from materials of structural purpose but with organic form, shape and motion, Bud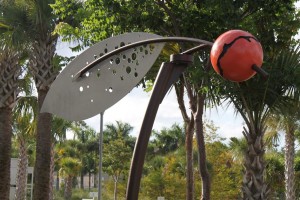 illustrates man's desire to organize and define the chaos of the natural world, thus making it a good and logical fit for its inclusion in the Naples Botanical Garden.
Proctor works with found and recycled objects. He prefers  "solid" materials like metal and stone, using them in a manner that accommodates their natural tendencies. His approach is interpretive. Proctor explores their materiality to find their "voice." In essence, the materials tell him what they are, what they were or what they desire to be. This intuitive approach gives Proctor a way to analyze his own interactions with culture, life and physical existence.
Please click here to read the full profile.
_____________________________________________________
FGCU public art collection includes three Josef Albers embossings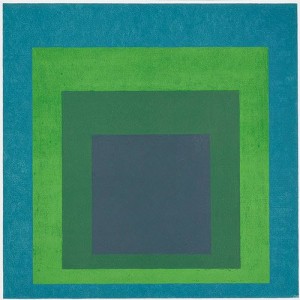 Florida Gulf Coast University holds within its permanent public art collection three white embossings created by German modernist Josef Albers. Gray V (1971) and Gray VII (1971) can be found in the main lobby of the Campus Support Complex, while Gray VI (1971) hangs in the North-South Corridor.
Please click here to read more.
_______________________________________________
FGCU public art collection includes three Rosenquist works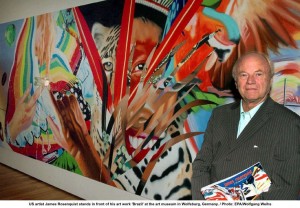 Florida Gulf Coast University's permanent art collection includes three works by pop artist James Rosenquist. Located in the North-South Corridor of the Campus Support Complex, one is a 1972 trial proof titled Pulling Out and the other two are 1974 embossed prints titled Time Flowers and Spikes.
To read more, please click here.
_____________________________________________________________
FGCU permanent collection has black & white Pamela Daum infrared photos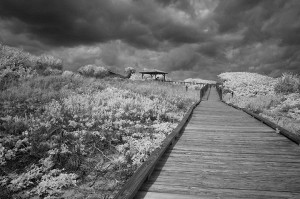 Included in Florida Gulf Coast University's permanent art collection are four black-and-white infrared photographs by Ohio artist Pamela Z. Daum. They are Wooden Gate, Brick Wall (2008), Reborn in Florida #1 (2009) and Cypress Knees (2009) hanging in the 2nd Floor Corridor of Academic Building – 5, and De Leone Tree (2009) located in the 3rd Floor Corridor.
Please click here for more on Pamela Z. Daum.
___________________
7      THEATER
Southwest Florida's theaters remain closed to the public. However, they may begin reopening now that the State has moved into Phase 2 of Governor Ron DeSantis' reopening plan. In the meantime, many of Southwest Florida's community theater companies continue to produce virtual readings and shows, and this online option may continue beyond reopening.
Ghostbirrd to premiere YouTube channel with performance of Barry Cavin's 'Ori'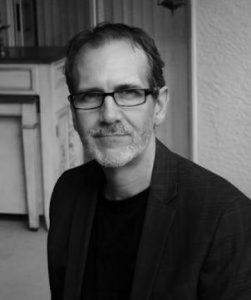 On August 7, Ghostbird Theatre Company will present a YouTube video performance of a play that FGCU Theatre Professor and Ghostbird Artistic Director Barry Cavin intended for the Calusa Nature Center, Ori. But along came the pandemic, and the play had to be performed in an abandoned village. The YouTube event is the video record of that performance.
Ori is the latest from the mind of Barry Cavin, a prolific playwright whose credits include more than 40 plays, including Ibb  and Writing Shadows (performed in the historic Landford-Kingston Home), No. 27 (presented at Shangri-La Springs in Bonita), and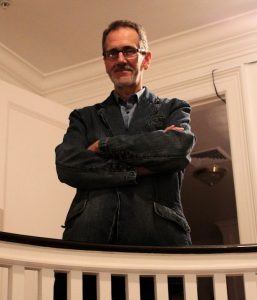 ORBS! and The Perfect Island of Dr. Teed (performed at Koreshan State Park in Estero), all produced and performed by Ghostbird Theatre Company.
Ghostbird is known nationwide for site-specific experimental productions. Ori was designed to carry on this tradition by being performed under the stars in the night sky projected above the heads of the actors and audience inside the Calusa Nature Center Planetarium.
Go here for the rest of this advance.
____________________________________________________________
Cultural Park Theatre producing limited engagement of 'Owl & the Pussycat'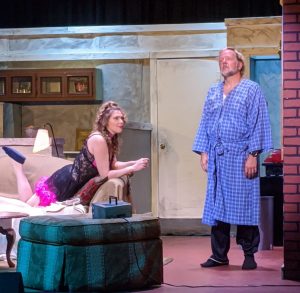 Cultural Park Theater returns to live performances this weekend for three (3) socially distanced performances of Bill Manhoff's The Owl & The Pussycat starring Chantelle Kareem Bloise-Elmahmoudi as Doris Wilgis and Robert C. Barnes as Felix Sherman. CTP wants patrons to know that they'll be adhering to all CDC guidelines. Toward that end, they're restricting attendance to just 71 seats per performance.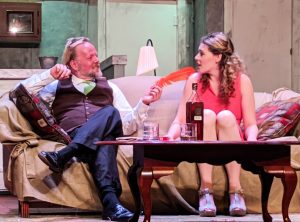 Call the box office today at 239-772-5862 to reserve your seats for this wonderfully funny, heartwarming play. Shows are Friday at 8:00 p.m., and Saturday and Sunday at 3:00 p.m.
___________________________________________________________
Broadway Palm set to open 2020-21 season with Dean Martin Variety Hour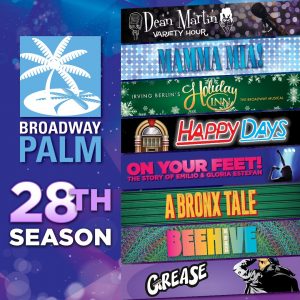 Broadway Palm has announced that it will open its 2020-2021 main stage season on August 20 with the Dean Martin Variety Hour. Written by Broadway Palm's own Victor Legarreta and featuring Dean Martin Impersonator Seth Abrahms, it is a throwback to the old Dean Martin Variety Show. Featuring great music, hilarious comedic skits and more, you just never know who is going to knock on the front door of Dino's place next.  This production is sure to have you singing and laughing the night away!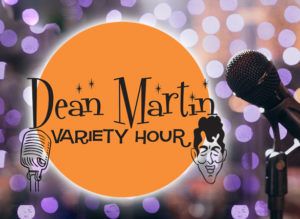 The Dean Martin Variety Hour is the first of eight main stage productions, five Off Broadway shows and five concerts. Individual tickets are on sale now. Show prices range from $48 to $73 with group and children's prices available. Performances are Tuesday through Sunday evenings (no Tuesday evening performances May through October) with selected matinees. For more information visit BroadwayPalm.com, call (239) 278-4422 or stop by the box office at 1380 Colonial Boulevard in Fort Myers.
_________________________________________________________
Studio Players reopening with 'Walter Cronkite is Dead' on September 4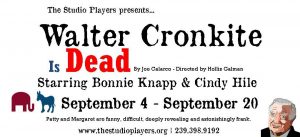 The Studio Players is planning to resume live performances on September 4 – assuming, of course, that theaters have opened and remained open by then. The Players plan to reopen with Joe Calarco's Walter Cronkite is Dead. Directed by Hollis Galman, the show will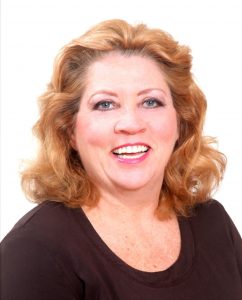 star Bonnie Knapp and Cindy Hile as Patty and Margaret, two "funny, difficult, deeply revealing and astonishingly frank" women.
"As you know, our venue at the Golden Gate Community Center's Joan Jenks Auditorium is a very large open space which will allow us to be able to social distant very easily," states Scott Lilly. "We are ready to set up our chairs following the social distancing guidelines [in effect at that time]."
Disposable masks, gloves and hand sanitizer will be provided if needed."
The Golden Gate Community Center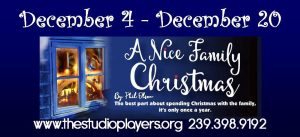 will also take extra steps to provide a safe place once the facility is back open.
Walter Cronkite is Dead will run through September 20.
The rest of The Studio Players'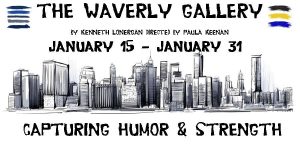 2020-2021 schedule is:
A Nice Family Christmas by Phil Olson – December 4-20, 2020;
The Waverly Gallery by Kenneth Lonergan – January 15-31, 2021; and
On Golden Pond by Ernest Thompson – March 12-April 14, 2021.
For more information about the theater or Walter Cronkite is Dead, visit www.thestudioplayers.org or telephone 239-398-9192.
_______________________________________
Players Circle targeting an October 20 re-opening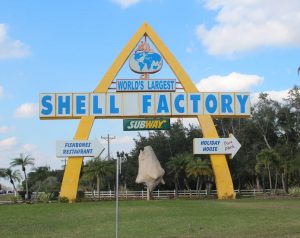 Players Circle Theatre is planning to reopen on October 20, 2020 with a season that includes Ho! Ho! Ho! The Christmas Show, Curious Incident Of The Dog In the Night-Time and Miracle On South Division Street, three shows that never made it to the stage this past season, plus two exciting new shows soon to be announced.
The theater company's first season encountered permit problems, delays and  the Coronavirus shut-down, but with its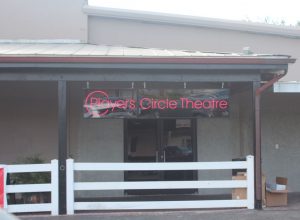 certificate of occupancy in hand and hundreds of thousands of dollars worth of lights, risers, comfortable seats, curtains, computers and box office software, Players Circle anticipates a glitch-free second season.
"We are rebuilding our website and will let you know when www.playerscircle.org and our box office 239 800-9232 will be ready to take orders," reports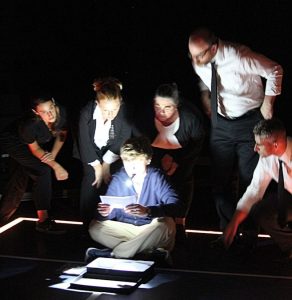 Robert Cacioppo. "Donations of any kind, large or small, will be greatly appreciated until we get up in full swing."
And Players Theatre has more treats in store than its theatrical productions. In between shows, there will be evenings of stand-up comedy and improv, musical cabaret, flamenco, opera, country music, jazz, one person shows and burlesque. Va Va Voom! It's going to be very exciting. Also, extremely reasonably priced dinner theatre packages will be available.
_______________________________
7     FILM & FILM FESTIVALS
'Isle of Dogs' is Centers for the Arts Films for Film Lovers' July 27 film

The German/US film animation adventure comedy Isle of Dogs is the Centers for the Arts Bonita Springs Film for Film Lovers' picture on July 27.
The Film for Film Lovers series takes place every Monday night in the Moe Auditorium at the Center for Performing Arts at 10150 Bonita Beach Road. Doors open at 6:30 p.m., with screening beginning promptly at 7:00. Following the film, audience members have the opportunity to join a lively film discussion led by the Film Society Chairman and a Film Society Member. Tickets are just $10, and wine, beer and concessions are also available.
The Centers diligently works to ensure the health and safety of our patrons and artists by closely following CDC, State of Florida and Health Department guidelines at this and all performances. Based on current conditions, The Centers ask that all attendees wear masks and practice safe, social distancing in our lobbies and auditoriums for their protection and that of other guests. Staff will provide assistance at check-in regarding seating.
The Moe Auditorium & Film Center is The Center's charming, 200-seat black-box theater. The interior of the auditorium is cloaked in black, making it a great location to lose yourself in a film. The auditorium is handicap accessible, and wheel-chair seating can be accommodated. The auditorium is also wired to integrate with current hearing aid technology, allowing hearing-aid users to patch directly into the feed from the sound board.
_____________________________________________________
Dates announced for Fort Myers Beach International Film Festival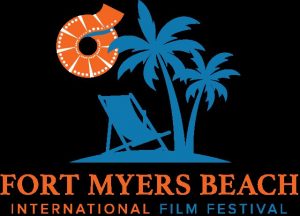 The Fort Myers Beach Film Festival will be back for its 14th year from September 22-27. With events for all ages, this five-day event attracts independent film fans, filmmakers, and distributors to the beaches of Fort Myers Beach. Attendees come from all over the world to exchange ideas, make new contacts, and enjoy some compelling and interesting films encompassing a wide range of tastes. Th festival screens at the Beach Theater, 6425 Estero Blvd. Fort Myers Beach, Florida 33931.