This is what's happening July 8-14, 2018
This is what's happening in the arts, independent film and community theater from July 8 to July 14, 2018:
City moves to install free phone app to explain public artworks (07-14-18)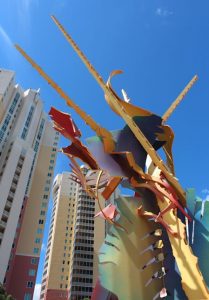 Art professionals and urban planners have identified nearly four dozen benefits that flow from the presence of public artworks in outdoor spaces. However, these advantages can only be maximized to the extent that the public fully appreciates the stories they tell. And it is exactly for this reason that the City of Fort Myers is installing a free phone app that will inform local residents, vacationers and other visitors about the murals, sculpture and other art installations they encounter as they work, shop, dine and walk around downtown Fort Myers and parks located in other regions within our city limits.
The app is called Otocast, and it will provide Smart Phone users with narrative about the art and artists together with photographs, a number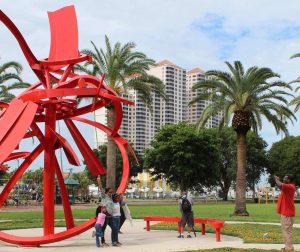 of which show the piece when it was or as it was being originally erected. But the app's centerpiece is an audio recording made by the artists who made the pieces or local historians, authors, art professionals or public officials who are intimately familiar with the artworks or the stories they tell.
Read here to find out more about the use and purpose of the app.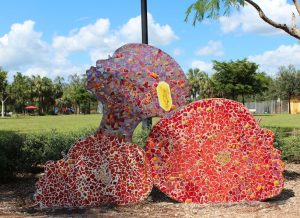 And follow these links to read about some of the artists and authors who have made audios for Otocast so far:
____________________________________________________
Spotlight on mosaic murals in the lobby of Alico Arena (07-14-18)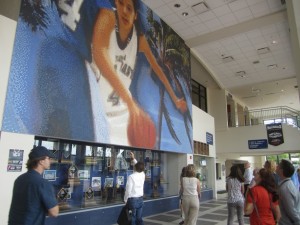 Located in the interior lobby of Alico Arena are three mosaics that are part of the Florida Gulf Coast University public are collection. Titled Competition, Pitcher and Three Athletes, the murals portray images of FGCU athletes Patrick Stubbe (baseball), Jennifer Santana (women's basketball), Adam Gary (men's golf) and Kristin Foelgner (women's tennis). Created by nationally-acclaimed muralist Mike Mandel, these public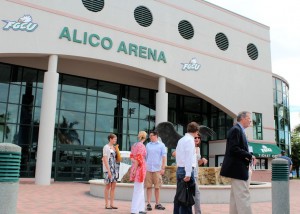 artworks combine the lush landscape of the Everglades environment with the social activity inherent in an arena. Their expression of gesture and body language evokes the physical grace, coordination and determination implicit in collegiate baseball, basketball, golf and tennis. The designs pay tribute to the virtues of university athletics by recognizing the student athletes who participate in them.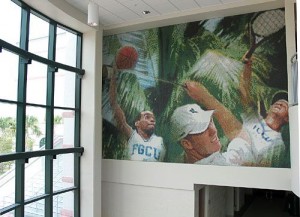 The mosaic murals are installed on the central, west and east walls of the lobby. The central panel stands 17.5 feet high by 26 feet wide. The other two panels are 16 feet high by 20 feet wide. Mandel created the mosaics with one-inch unglazed porcelain and glass tiles from both domestic and international sources that require low maintenance, are water resistant, fire resistant,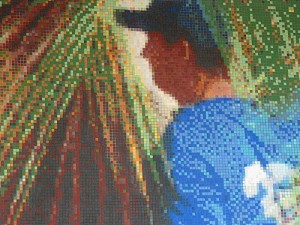 and extremely durable. The tiles incorporate some 90 separate colors. The Florida Arts Council commissioned the artwork on June 3, 2003 pursuant to the Art in State Buildings Program, which mandated an allocation for public art of one-half of one percent of the construction budget for the Alico Arena or $100,000. Mandel visited Alico Arena on March 24, 2004 for final inspection of the completed project.
Please click here for the rest of this profile.
_____________________________________________________________________
Revisiting Art Southwest Florida's profile of FGCU public artwork 'Cosmos' (07-14-18)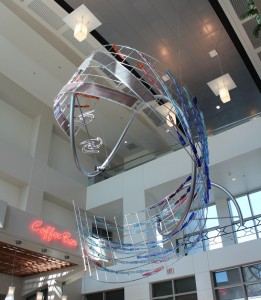 Hanging in Howard Hall on the Florida Gulf Coast University campus is a public artwork titled Cosmos. Representing "an abstract colorful cosmos of hypothetical stars and galaxies," the 15-foot-tall by 21-foot-wide modernist sculpture is comprised of recycled glass bottles and solar-powered electrical components stitched onto a framework of steel and welded aluminum that is suspended by stainless steel cables from beams overhead at three points of attachment.
From the white tiled floor of the student coffee bar, the piece does convey the look and feel of a galaxy of glass bottles floating upward in space like stars and cosmic bodies. However, viewed from the second floor mezzanine, the piece takes on a more dynamic and dramatic aspect, as if the assortment of midnight blue, green, purple, and rose bottles are being sucked into the vortex of some unseen black hole, a suggestion that is accentuated by the curlicues at either end of the central curved steel superstructure.
Please click here to continue reading this profile.
___________________________________________________________________
Monumental sculptor Harry McDaniel's 'Beacons' profiled on ARTSWFL (07-14-18)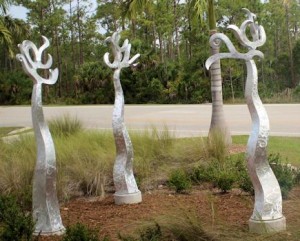 Beacons consists of three 10-foot-high by 4-foot-wide brushed aluminum kinetic sculptures created by metal sculptor Harry McDaniel. Enabled by stainless steel ball bearings, the tops have "branches that spin in the wind." According to the artist, the tapering upright forms of each piece are suggestive of the lighthouses that can be seen in various places along the west coast of Florida. As the top sections move in the wind, they reflect light in all directions as do the "beacons" of a lighthouse.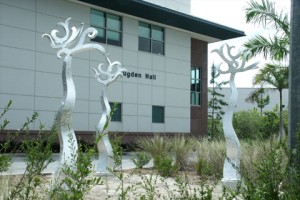 The grouping is located in a landscaped area near the drop-off entry circle/overhang area of Sugden Hall that is similar to a drop-off area that is found at a resort.
Beacons is part of the Florida Art in Public Buildings program, an initiative started in 1979 pursuant to section 255.043 of the Florida Statutes, which earmarks 0ne-half of one percent of the amount the legislature appropriates for the construction of state buildings for the acquisition of public artworks. It was installed in 2012 at a cost of $20,650.
To read about the sculptor and the three Gulf Coast lighthouses, please click here.
__________________________________________________________
Arts for ACT's annual open-theme show explores myth and lore (07-13-18)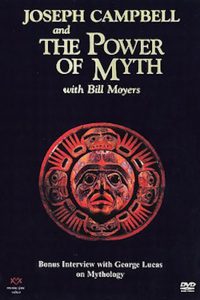 A myth is a traditional story, especially one concerning the early history of a people or explaining a natural or social phenomenon, and typically involving supernatural beings or events. Lore is a body of traditions and knowledge on a subject or held by a particular group, typically passed from person to person by word of mouth. Titled Of Myth or Lore, Arts for ACT's 2018 open-theme show explores the stories humanity has created and passed on to explain the world around us. For more information, please contact Claudia Goode at cgoode@actabuse.com or by calling 239-337-5050.
__________________________________________________________________
Bradford Shaw Hermann's 'A Head of the Past' in SBDAC Capitol Gallery (07-13-18)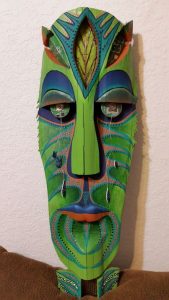 During the month of July, the Sidney & Berne Davis Art Center Capital Gallery is exhibiting A Head of the Past. It consists of work from Bradford Shaw Hermann's mask collection and examines the masks we wear.
Hermann began his journey into the realm of visual art in something of an unusual way. In 1998, he had the good fortunate to travel to Africa, Egypt, and the Seychelles Islands. Upon his return, he felt compelled to paint a picture of a photo he captured in Kenya even though he had no formal training in the arts. When someone insisted on purchasing the painting, it launched a 20-year career in the arts that has been denoted by Best in Show, People's Choice, and Judges Choice honors in a number of competitions and exhibitions.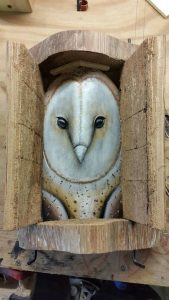 Bradford's creations can be found in private collections around the globe. His work has been featured in local and international magazines (including cover exposure), numerous newspapers (including front page articles), online publications, a novel cover (The Tooth Fairy), and the background for a music video album for Morgan Li (Norway Idol Winner). He was also the feature artist on the P.B.S. television show, Curious Kids, Imagination. 
For more information, please visit http://www.sbdac.com or telephone 239-333-1933.
_____________________________________________________________
'Something in the Water' in SBDAC grand atrium through July 28 (07-13-18)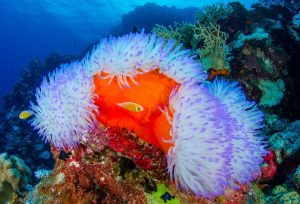 The secrets of the ocean deep are revealed in July's group art show at the Sidney & Berne Davis Art Center, "There's Something in the Water!" Featuring photography by Bob Halstead, Mila Bridger and Katy Danca Galli, and paintings by Arturo Samaniego, this exhibition is a visual celebration of the sea. The exhibition is on view in the grand atrium through July 28.
For more, please telephone 239-333-1933.
________________________________________________________________
Jansen's 'Now and Then' being exhibited by prestigious Aspen gallery (07-13-18)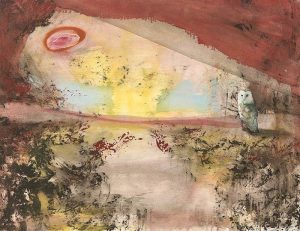 The Casterline/Goodman Gallery in Aspen, Colorado specializes in first-tier original contemporary artworks from the 20th and 21st centuries, including original paintings, sculptures and drawings by established artists such as Jean-Michel Basquiat, Alexander Calder, Ed Ruscha and Andy Warhol. And this summer, the Casterline|Goodman Gallery is featuring work by Fort Myers artist Marcus Jansen. His show, Now and Then,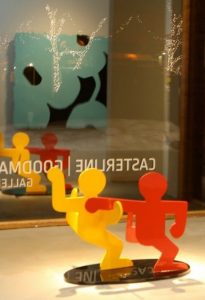 is on view there through August 5.
Influenced by the Graffiti and Abstract Expressionist movements in vogue in New York while he was growing up and German Expressionism while he was being formally educated in Europe later on, Jansen's painting employ large gestural landscapes in which abstraction is real and the real is abstract, thereby riding the line between fact and fiction, the surreal and expressive. Jansen's works are collected in the Moscow Museum of Modern Art (MMOMA), The New Britain Museum of American Art, The PERMM Museum of Contemporary Art, The Kemper Museum of Contemporary Art, The National Taiwan Museum of Fine Art, the Housatonic Museum of Art and the Smithsonian Institution in Washington DC.
________________________________________
An interview with artist Marcus Jansen (07-13-18)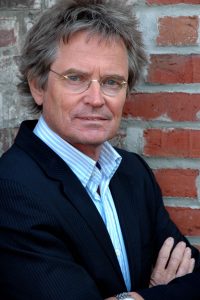 Bertram Muller is the past president and a distinguished member of the European Dance Network. He has worked for more than 20 years to develop methods of applied psychology that support creative processes, in particular, the autonomous, creative shaping of the personality and development of individual vocational artists' profiles. Mr. Muller recently interviewed Fort Myers artist Marcus Jansen in connection with work Jansen has on exhibition in Dusseldorf, Germany. As the questions he posed and the answers provided give new insight into Jansen's thinking and creative process, they are reproduced here for your consideration and enjoyment:
BM: When looking at your pictures, you first think: what a mess! But in this chaos there is also order: the will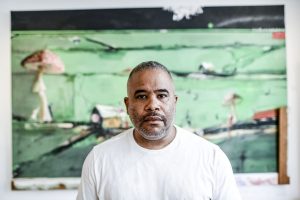 to compose, the interplay of colors. Is there a beauty in the ugly?
MJ: Absolutely. My work is all about that. What is not rationally understandable to the normal viewer is interesting to me.
BM: They come from street art, so they want to be understood by as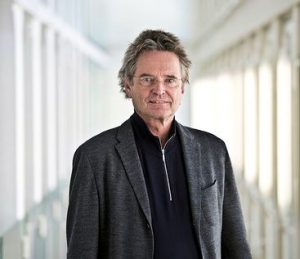 many as possible. The "Tagesspiegel" recently wrote about art: "Journalism with the Brush". How do you see that?
MJ: Journalism has to do with facts. By contrast, my pictures are actually an answer to what I see, feel and absorb from our world. Journalism may not quite meet the description, but I do a lot of research. I read a lot, keep track of globalization and its effects,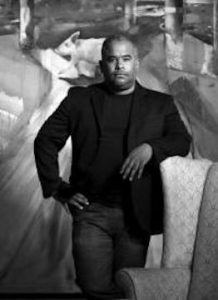 even what's happening today. These are things that move me and that I want to find answers to.
BM: In the Gulf War you experienced the operation "Desert Storm" as a GI. Many returned with post-traumatic stress disorder. What did that mean to you, how did the war affect your art?
MJ: The war has changed my mindset. And as far as my art is concerned, I do not think I would paint the way I paint, if that experience did not exist. I became more critical when I came back.
BM: What was your art before this experience?
MJ: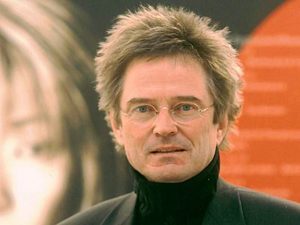 I was critical of the "urban environments" in the U.S., criticizing the inner cities in my paintings. I depicted a darker side of the U.S., so I had already dealt with these things in my graffiti.
BM: You are called an artist of the post-factic age, an age in which trust no longer seems to hold much. Is this, above all, an American phenomenon, or is it rampant worldwide?
MJ: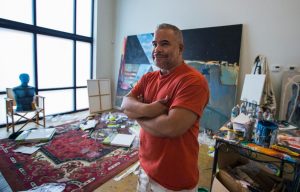 This is a worldwide phenomenon. But since I live in the USA, of course, I respond to many things that happen there – but not only. In the meantime, every country has become affected by globalization, and much has changed since September 11: security measures and the newly-defined understanding of freedom in a threatened environment exists.
BM: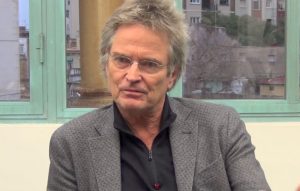 At first glance, the pictures are often harmless, but then turn out to be criticisms of the effects of our lavish lifestyle on nature. In which tradition do you see yourself?
MJ: I have always seen myself in connection with the German Expressionists. They too responded to war, poverty in society and hardship. Likewise with the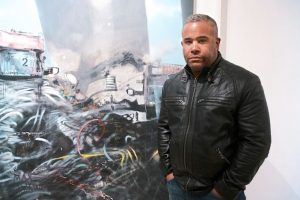 American abstract expressionists, who worked very spontaneously. Spontaneity is directed against the national. That's natural for me.
BM: Both types of expressionism flow together in their images, with the edges sticking out, and in the middle two bath ducks swim.
MJ: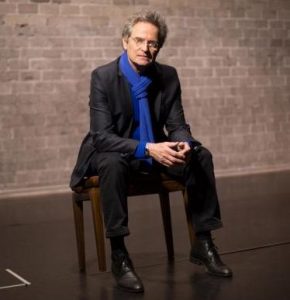 Exactly. I work without pre-drawings, go directly to the white canvas, and after hours or weeks, a story peels off. This happens instinctively.
BM: That means you work without concept?
MJ: Most of the time, but sometimes I have a picture or a picture that inspires me. But usually a picture arises out of the picture itself.
BM: Rauschenberg and Basquiat are mentioned again and again when they speak of your art. What do you value about their life's work?
MJ: I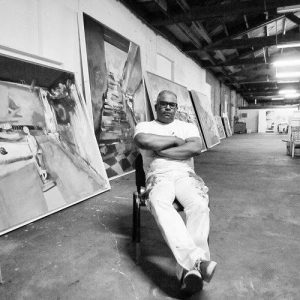 got to meet Rauschenberg – he lived with us in our area – and I showed with him in shows. The working method of Basquiat and Rauschenberg is freedom, a non-rational work. So they have developed a new language. Rauschenberg has always been big for me. When I was still living in Mönchengladbach, at the age of 14, I saw a Rauschenberg book for the first time at the station. I was amazed how he included finds from everyday life in his art. This urban element has interested me very much.
BM: What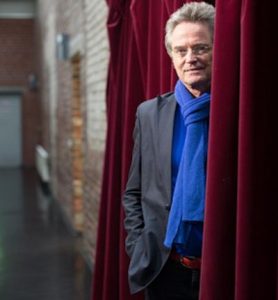 were your first steps on the American art market?
MJ: At the age of six, I had my first exhibition at New York's Lever House, which today houses one of the most important American art collections.
BM: In the meantime you are exhibiting in Russia as well as in Taiwan or the USA. What do you think collectors and museums appreciate about your art in particular?
MJ: First, that it is unique, second, that it is critical art. Especially in the U.S.,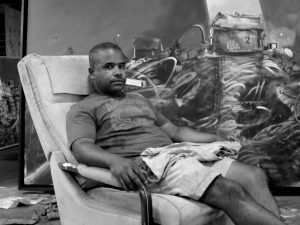 there is little expressive critical art. In Germany, it is more common, also because of the history. In the U.S., the art market has recently become very commercial; I wanted to work against it. That's how I came to critical art.
BM: Do you occasionally return to the place of your youth, to Mönchengladbach?
MJ: The last time I was there, just before I went to the Iraq war –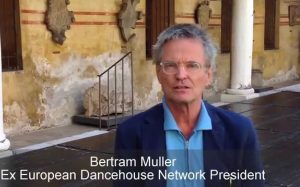 so that was a long time ago. My brother is there more often. We have acquaintances from back then. This time I also visited my former school, the Berufskolleg Platz der Republik for technology and media, where I was trained as a painter and varnisher. The city has changed.
MJ: Yes, yes, it has become more international. And it seemed a lot smaller then.
BM: Speaking of international affairs: Do you follow the political developments in the relationship between the USA and Germany?
MJ: I'm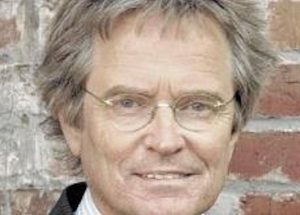 less interested in presidents, I'm interested in the private power behind them. This is less talked about: the economy. It has been controlling the U.S. for a long time, no matter under what president. It's also about warfare. War has become a business. That's one of the reasons why I left the army. I realized that it has little to do with defense.
MJ: Germany should stay more critical.
BM: Your critical paintings are to be seen in the exhibition collections of numerous foreign museums, but not in Germany. Why not?
MJ: In Germany, we are just beginning on the museum level. There will be a lot going on in the next two years.
__________________________________________________________________
Second Nature' on view at Center for Visual Arts Bonita through July 26 (07-13-18)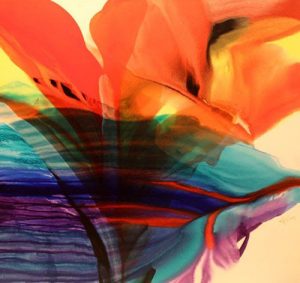 In an 1889 essay, Oscar Wilde opined that "Life imitates Art far more than Art imitates Life." Wilde's position is known to philosophers as anti-nimesis, and it "results not merely from Life's imitative instinct, but from the fact that the self-conscious aim of Life is to find expression, and that Art offers it certain beautiful forms through which it may realise that energy." Wilde's Platonic dialogue serves as the springboard for Second Nature, an exhibition of 2 and 3D works that is on display at the Centers for the Visual Arts Bonita Springs through July 26.
___________________________________________________________________________
Baker Museum to reopen in September with aptly named 'Intermission' exhibition (07-13-18)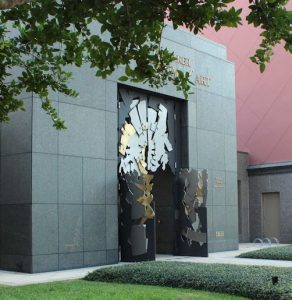 After being closed for nearly a year in the wake of Hurricane Irma, the Baker Museum of Art will reopen in September with three exhibits. The first of these is Intermission, Art and Music from the Permanent Collection.
Since ancient times, music has had symbolic significance in the visual arts. This exhibition of work from the permanent collection explores the representation of music through an in-depth look at a group of paintings, sculptures, prints and objects by 20th-century artists. The selection shows a wide range of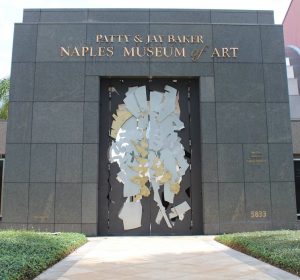 approaches to the theme. A painting by Jonathan Greene shows singer Etta James performing and accompanied by backup singers, while a photograph by Margaret Bourke-White captures Pablo Casals conducting at the Bach Music Festival in France in 1950. Works by A.E. Gallatin, Esphyr Slobodkina, Claude Lawrence and Irene Victoria Rousseau explore music conceptually by titling abstract images with musical terms. In addition, pieces by contemporary artists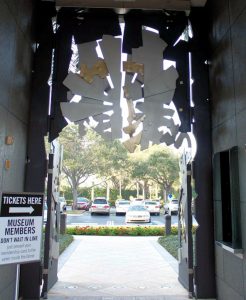 Max Neuhaus, Takashi Murakami, Christian Marclay and Terry Allen are the result of experimental explorations of sound and non-traditional formats. Other important works by José Clemente Orozco, Armando Amaya and Juan Soriano address dance in various media.
Intermission: Art and Music from the Permanent Collection celebrates Artis—Naples' mission through the visual and performing arts. The exhibition runs September of 2018 to January, 2019. For more information, please call 239-597-1900 or visit http://artisnaples.org/baker-museum.
____________________________________________________________________________________________
Philip Haas 'Four Seasons' installation making stop at Baker Museum of Art September 2018-June, 2019 (07-13-18)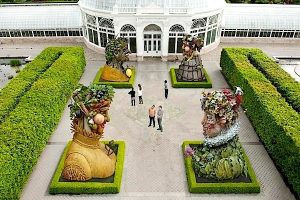 After being closed for nearly a year in the wake of Hurricane Irma, the Baker Museum of Art will reopen in September with three exhibits. The second of these is Four Seasons, an installation by American artist Philip Haas.
Four Seasons is a monumental, outdoor sculpture set inspired by Giuseppe Arcimboldo's paintings of the same name.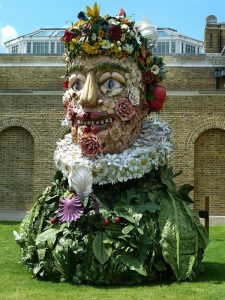 Spring, Summer, Winter and Fall are 14-foot human busts formed by vegetables, fruit, branches, leaves, ivy and moss. Since Four Seasons debuted to great acclaim in 2012, the exhibition has been on a five-year, nine-venue tour of museums and gardens in the US and Europe, including New York Botanical Garden; Nelson-Atkins Museum of Art; Crystal Bridges Museum of American Art; the National Gallery of Art, Washington, D.C.; the Gardens of Versailles; and Piazza del Duomo in Milan.
Haas is an internationally-renowned contemporary American artist and filmmaker, who, by marrying sculpture, painting, film, and architecture, has fashioned a unique visual vocabulary all his own.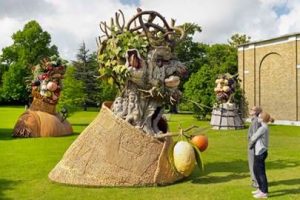 He describes his process as "sculpting by thinking."
The installation will be on view September 2018 to June, 2019. For more information, please call 239-597-1900 or visit http://artisnaples.org/baker-museum.
_____________________________________________________________________________
Baker Museum to reopen in September with Schrenk Student Photography Exhibition (07-13-18)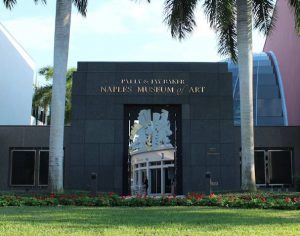 After being closed for nearly a year in the wake of Hurricane Irma, the Baker Museum of Art will reopen in September with three exhibits. The third of these is the Student Photography Exhibition.
Sponsored by the Schrenk Family Foundation, this intensive photography program is aimed at highly motivated Collier County high school students. Each year, a class of up to 20 students is selected to participate. The program consists of four weekend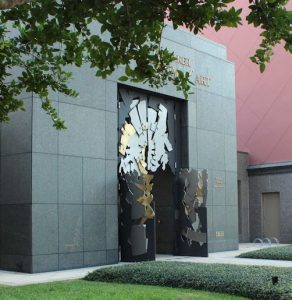 workshops during the academic year and a two-week seminar in June. The primary instructor for the Photography Institute is J. Tomas Lopez, M.F.A., professor of photography, and director of electronic media at the University of Miami. The exhibition opens in September and will be on view through October, 2018.
For more information, please call 239-597-1900 or visit http://artisnaples.org/baker-museum.
___________________________________________________________________________
'Parallel Harmonies' art/nature exhibit on view at Rookery Bay through October 31 (07-13-18)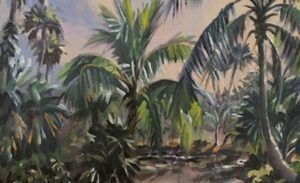 Parallel Harmonies: Art and Nature is on view now through October 31 at Rookery Bay Environmental Learning Center. The exhibition features a collection of work by Cesar Aguilera, Paul Arsenault, Juan Diaz, Ehren Fritz Gerhard and Katia Miranda that celebrates the relationship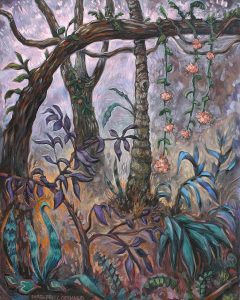 between the artist and the natural world that inspires him or her.
This relationship has evolved over the millennia and is still a central focus of contemporary practice for many artists today. Relationships are symbiotic, one taking care of the other. In a time of global climate change, artists are using the inspiration of nature and its current health to bring light and change to human patterns of behavior. They aim to protect this relationship and care for what inspires them.
_________________________________________________________________________
FMff accepting submissions; T.G.I.M. set to return to Davis Art Center in August (07-12-18)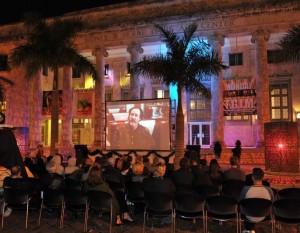 It's been more than 100 days since the 8th Annual Fort Myers Film Festival closed with a champagne and dessert awards ceremony at the Broadway Palm Dinner Theater. If you're also jonesing for some good indie films, then you'll be happy to know that T.G.I.M. resumes in August. Join FMff every first Monday from August through February, and help decide which of the short indie films submitted to the Fort Myers Film Festival will make it into next year's film festival …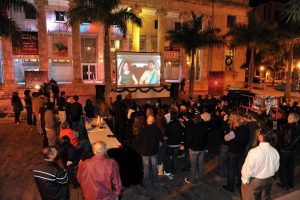 and which do not. Doors open at 6:30 p.m., with the films starting at 7:00 p.m. Tickets are $10 for adults and $8 for seniors and students.
So mark your calendars. The relevant first Mondays are:
And if you're a filmmaker, FMff is now accepting submissions for the 9th Annual Fort Myers Film Festival. Submissions are through Withoutabox (you can find a submission form here) and will be accepted in six categories: full-length features, documentaries, shorts, short shorts, strictly local and student films.
_____________________________________________
TGIM returns to Davis Art Center on August 6 (07-12-18)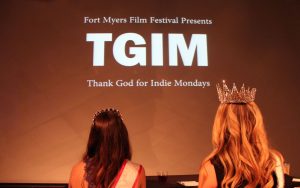 The Fort Myers Film Festival returns for its 9th season on August 6 when TGIM returns to the Sidney & Berne Davis Art Center's grand atrium.
New to the term? Well, the acronym stands for "Thank God for Indie Mondays," and symbolizes the anticipation and excitement that area indie film lovers feel as the first Monday of the month draws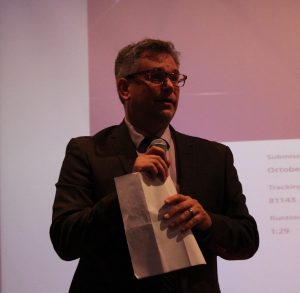 near between August and February each season. That's when hosts Eric Raddatz and Melissa DeHaven screen a number of the indie short and short short films that have been submitted for inclusion in the Fort Myers Film Festival.
While there will be celebrity judges on hand to start the discussion after each screening, Eric and Melissa want to hear from you. What was your take on the film? What worked or didn't, what did you like or hate, and should the film be included in the film festival? Your opinion matters; your vote counts.
You can read the rest of this announcement here.
___________________________________________________
Meet August 2018 TGIM celebrity judge Justin Verely (07-12-18)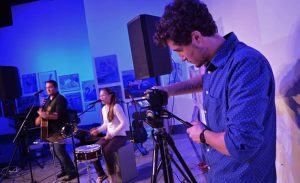 One of the celebrity judges who will be on hand to get the discussion going after the presentation of the films screened at the August T.G.I.M. is Justin Verely.
Verely cut his filmmaking teeth right here at the Sidney & Berne Davis Art Center as a member of the Fort Myers Film Festival Advisory Board for four years and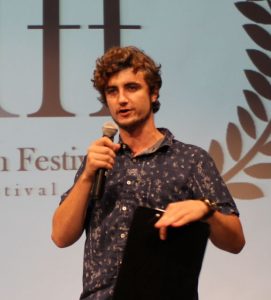 the Assistant Technical Director for three. He also served as a celebrity judge at T.G.I.M. in August of 2016.
Today, Justin is co-founder and network producer of Critical Edge Film & Festival Network, a national network of student-run microfestivals and film societies that strive to recognize upcoming talent and bridge the gap between the growing independent film industry and a young demographic that plainly doesn't watch enough films.
______________________________________
Meet August 2018 TGIM celebrity judge Dr. Wendy Chase (07-12-18)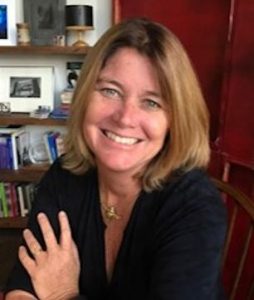 TGIM returns on Monday, August 6. Joining co-hosts Eric Raddatz and Melissa Tschari DeHaven for the start of another season of short indie films that have been submitted for inclusion in this year's Fort Myers Film Festival is celebrity judge Dr. Wendy Chase.
Dr. Chase is a professor of humanities and the program coordinator for the Honors Scholar Program at FSW, where she teaches interdisciplinary courses in modern humanities, American cinema and contemporary world cinema. Her proudest moments have been receiving the NISOD award for Excellence in Teaching, the President's Award for Exemplary Service,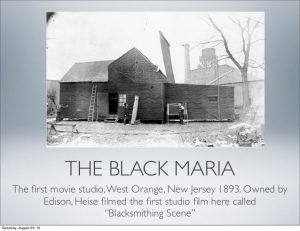 and being asked to give the Commencement Address at graduation in 2009. In addition to her other responsibilities at FSW, she has also served as coordinator for the Black Maria Film Festival. (Founded in New Jersey in 1981 to honor Thomas Edison's pioneering spirit in cinema and recognized by the Academy of Motion Picture Arts and Sciences as an Academy Award qualifying festival, the Black Maria's annual collection of cutting edge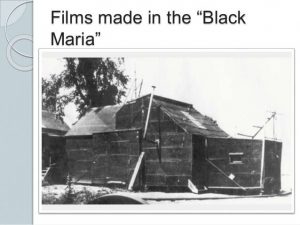 films travels across the nation to universities, museums and other venues. It is hosted locally by FSW in partnership with the Edison Ford Winter Estates.)
Dr. Chase received her Master's in French Literature and her Ph.D. in Humanities from Florida State University with an emphasis in Film Studies and Modernism.
The rest of Dr. Chase's profile is here.
____________________________________________________
Meet August 2018 TGIM celebrity judge Kinfay Moroti (07-12-18)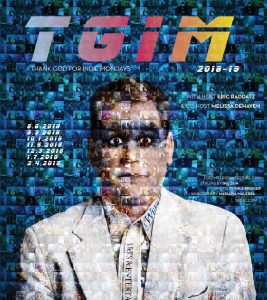 TGIM returns on Monday, August 6. Joining co-hosts Eric Raddatz and Melissa Tschari DeHaven for the start of another season of short indie films that have been submitted for inclusion in this year's Fort Myers Film Festival is celebrity judge Kinfay Moroti.
Many in this area know Moroti through the images he takes as a reporter for the Fort Myers News-Press. Since joining the publication in 2005, he has established himself as a passionate storyteller who uses moment-driven pictures and videos as his medium of choice. Motivated by an authentic desire to effect change, Kinfay strives to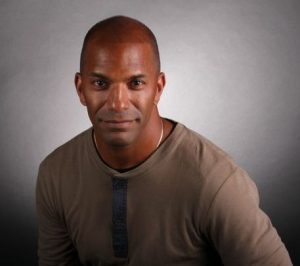 capture the "beautiful struggles" that play out in the diverse lives of people throughout Southwest Florida.
Born to a Chicago prostitute, Kinfay's earliest goal in life was to escape the poverty, loneliness and physical and sexual abuse he endured while living in the city's most violent housing projects and eight foster homes. He escaped daily by trekking after school to the downtown library, where he encountered painters like Vermeer and Frida Kahlo.
Read more about Kinfay Moroti here.
___________________________________________________________________________
Smithsonian's traveling 'Hometown Teams' exhibition at Alliance through August 11 (07-11-18)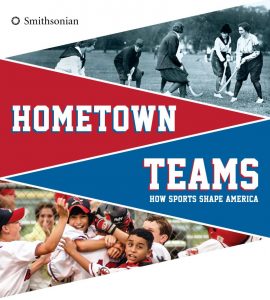 Hometown Teams: How Sports Shape America is a traveling exhibition that features sports-related objects, images, videos and personal stories culled from the Smithsonian Institution's cast collection. It is on view now at the Alliance for the Arts as the result of a grant provided by the Florida Humanities Council to the Southwest Florida Historical Society coupled with an unprecedented partnership by and between the Alliance, the Smithsonian and the Black History Museum.
The premise is straightforward. Hometown sports are more than just games – they shape our lives, unite us and celebrate who we are as Americans.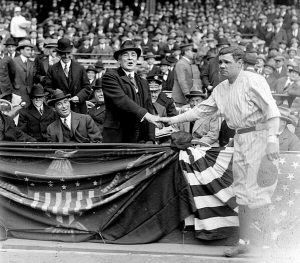 We play on ball fields and sandlots, on courts and on ice, in parks and playgrounds, even in the street. From pick-up games to organized leagues, millions of Americans of all ages play sports. And, if we're not playing sports, we're watching them. We sit in the stands and root for the local high school team, or gather on the sidelines and cheer on our sons and daughters as they take their first swing or score their first goal. So it's only fitting and proper that we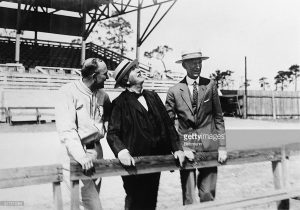 celebrate our love of the game, and Hometown Teams: How Sports Shape America does just that.
The show runs through August 11. The Alliance for the Arts is located at 10091 McGregor Blvd., Fort Myers, FL 33919. For more information, please telephone 239- 939-2787.
_________________________________________________________________________________
Hometown Teams' panel discussions will explore impact of sports right here in Lee County (07-11-18)
From the late 19th century through today, sports have played a vital role in the fabric of Lee County. Fort Myers Country Club opened in 1916. Fort Myers High started playing football in 1920. Major League spring training began here in 1925 with the Philadelphia A's. In conjunction with its Hometown Teams: How Sports Shape America exhibit, the Alliance for the Arts in partnership with the Black History Museum and Southwest Florida Historical Society is conducting a series of panel discussions that look back at the history of sports in Lee County. Here are the dates, places and panelists: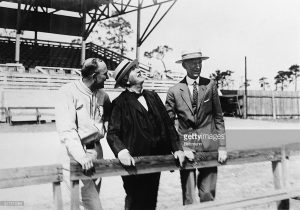 These panel discussions are open to the public and require neither tickets nor reservations. While gallery admission is free, a $5 suggested donation keeps Alliance programming affordable and accessible.
The Hometown Teams: How Sports Shape America exhibit has been made possible by a Florida Humanities Council Grant awarded to the Southwest Florida Historical Society. Project partners include the Smithsonian, the Alliance for the Arts and the Lee County Black History Museum,
____________________________________________________________
Alliance's August members' show to explore concept of 'Identity' (07-11-18)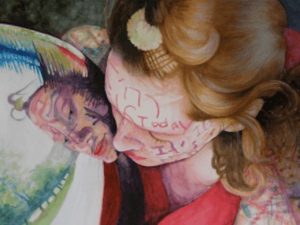 The Alliance's member exhibit opening August 17 will explore the concept of identity – the factors that influence or determine our sense of who we are – that which makes one person distinct from another. You may become a member to participate in the show. Drop off is from 9:00 a.m. to 5:00 p.m. August 14. The opening reception is 5:00 to 7:00 p.m. on Friday, August 17. The exhibition runs from August 17 to September 29.
_________________________________________________________________________________
Alliance to partner with Gulf Coast Humane Society in September for 'Animals and the Arts' (07-11-18)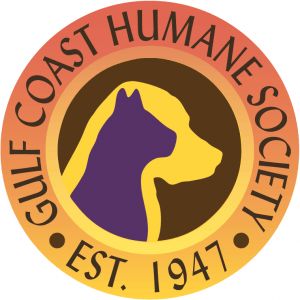 The Alliance for the Arts is partnering with the Gulf Coast Humane Society for an event on Thursday, September 20 that they are calling "Animals and the Arts." The event will highlight pets presented in a variety of different art mediums – including photography, canvas, music and film.
The two hour event runs from 6:00 to 8:00 p.m. and includes "Furry Friends Displayed in Art," a juried exhibit, reception music by the Gulf Coast Symphony, and an educational documentary entitled "Rescue For Paws." The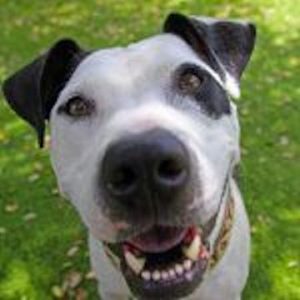 event will also be attended by GCHS' adoptable furry ambassadors to make sure everyone can scratch that puppy-love itch!
The deadline for artists to submit work for the juried show is September 3.
Tickets are available in advance for $20, with hors d'oeuvres included. There will be a cash bar available as well.
For more information, please visit ArtinLee.org or telephone 239-939-2787.
_________________________________________________________________
Alliance calls for submissions for 'Dia de los Muertos: A Juried Exhibit' (07-11-18)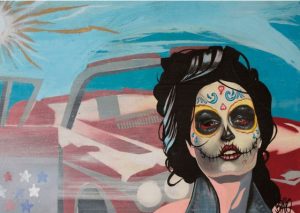 The Alliance for the Arts has issued a call to artists for Dia de los Muertos: A Juried Exhibit coming in October. Exhibiting through November 3, this exhibit will be up during such high-traffic events as Pride, Italian Fest, Rocky Horror and the Arts on Tap Fundraiser.
In many parts of Mexico, South America and the United States, Dia de los Muertos (Day of the D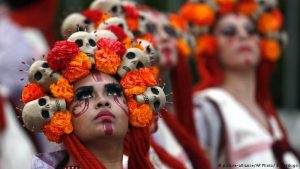 ead) is a time to remember and celebrate the lives of friends and family. More about reveling in life than remembering death, this unique day encourages us to connect with loved ones while reflecting on the ties that bind the past to present.
Artists should create pieces that showcase traditional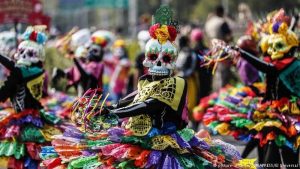 Mexican sugar skulls flavored by the artist's aesthetic. Submission categories include sculpture, painting (including oil, acrylic, collage, watercolor and mixed media), photography, prints and drawings. Artists may submit up to 3 artworks for consideration. All entries must be submitted online no later than September 20. To download the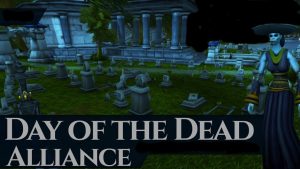 prospectus or submit artwork, visit ArtInLee.org/SugarSkulls.
"Community participation is a powerful part of this holiday," says exhibitions coordinator Krista Johnson. "That's why we're calling on local artists to contribute to this lively and fun exhibit."
The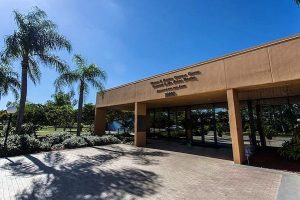 show's opening reception is scheduled for 5:00-7:00 p.m. on October 5, with awards being announced at 6:00. There will be a $250 prize for Best in Show, $125 for 2nd place and $75 for 3rd place.
For more information about this exhibit, visit ArtInLee.org/SugarSkulls or call 239-939-2787.
______________________________________________
Alliance bringing back 'Arts on Tap' fundraiser (07-11-18)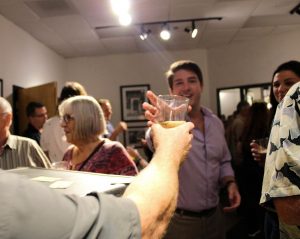 The Alliance for the Arts is bringing back its annual fundraiser Arts On Tap. The event is scheduled for 7:00-10:00 p.m. on Saturday, October 20 on the Alliance campus at 10091 McGregor Blvd. Fort Myers, FL 33919.
The announcement comes alongside the nationwide celebration of American Craft Beer Week. Now in its second year, Arts On Tap is a taste of creativity in the Alliance gallery featuring the craft of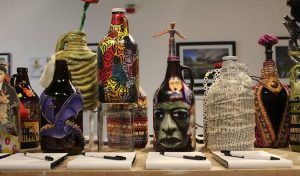 local brewers benefiting the Alliance for the Arts. For one night only, guests can delight their senses with locally-handcrafted beers and spirits, hand-selected wines and culinary creations against a vibrant backdrop of local art.
Participating crafters include Big Blue Brewing, Bury Me Brewing,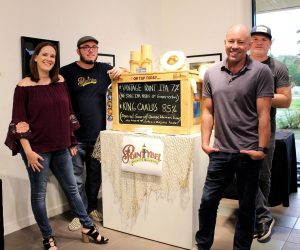 Eight Foot Brewing, Fort Myers Brewing Company, Momentum Brewhouse, Palm City Brewing, Point Ybel Brewing Company and Scotty's Bierwerks, with more participants to be announced. The event is sponsored by Briers CPA, Custom Packaging and Products , EnSite, HBKS Wealth Advisors, Priority Business Solutions and Sanibel Captiva Community Bank. Sponsorships and visibility opportunities are also available at ArtInLee.org/OnTap.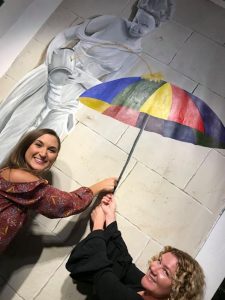 Last year, Arts On Tap attracted 200 guests. Tickets are $75 and include unlimited tastings from participating breweries and distilleries, culinary creations, pub snacks, gallery admission, music and games. The first 75 guests to purchase a ticket will receive an exclusive Support Local pint glass.
"The Alliance for the Arts is all about supporting small, independent makers who have a story," says development and marketing director Jessica Wisdom. "We're excited to celebrate the art of craft beer for the second year in a row. In our never-ending quest to outdo ourselves, this year's event will be bigger and better with more art, more food, more fun and of course more beer!"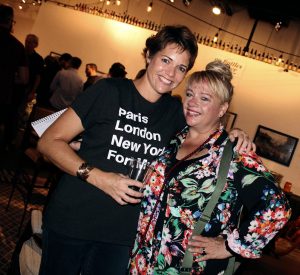 Arts On Tap is a fundraising event for the Alliance for the Arts, a nonprofit visual and performing arts center located in the heart of Fort Myers. Since 1975, the Alliance has been transforming lives and improving community through the arts. Event proceeds support a creative hub that spurs self-expression, imagination and individuality.
Arts On Tap is for ages 21 and older. A state-issued form of I.D. is required.
For more information, call 239-939-2787 or visit ArtInLee.org/OnTap.
______________________________________________________
Alliance announces dates for 'Off the Wall' holiday exhibit (07-11-18)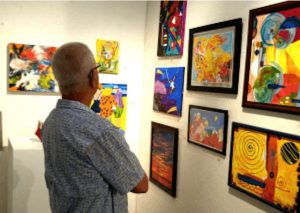 Each year, the Alliance for the Arts invites 100 members to submit two original 2D or 3D artworks for exhibition in the gallery beginning with the onset of the holiday shopping season. Called Off the Wall, this non-traditional art show features works of all mediums priced at $200 or less. All sales are "cash and carry," meaning purchasers will get to take the piece with them when they buy it, rather than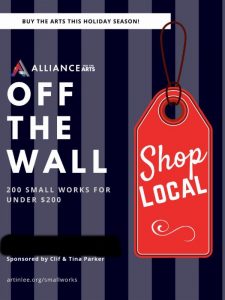 waiting until the end of the exhibit.
Make supporting local arts tops on your list this year by giving a gift that gives back. Make plans to do your Christmas shopping at the Alliance for the Arts this year. Betcha there's 100 member-artists who would be delighted to have their art under your tree.
The show runs from November 9 through December 29. The opening reception is scheduled for 5:00-7:00 p.m. on November 9
For more information, please visit www.artinlee.org or telephone 239-939-2787.
__________________________________________________________________
Alliance accepting submissions for 33rd Annual All Florida Juried Exhibit (07-11-18)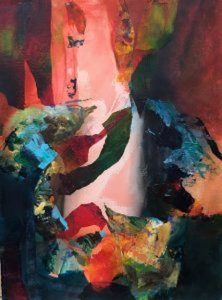 The Alliance's annual All Florida Juried Exhibition features pieces created by artists working in a wide variety of media from all over the 65,000 square miles that make up Florida. The juried entries come together for an award-winning and exciting exhibition representing today's contemporary Florida artists. The Alliance is accepting submissions online now through Monday, January 28, 2019. The show will exhibit March 8-29, with an opening reception from 5:00-7:00 p.m. on Friday, March 8. A conversational walk and talk through the gallery with the artists and juror will take place at 10:00 a.m. on Saturday, March 9.
Please visit ArtinLee.org for a prospectus or telephone 239-939-2787 for more information.
_____________________________________________________________________
Chicago's skimpy costumes, prurient stories and sizzling song-and-dance numbers seduce TNP audiences (07-10-18)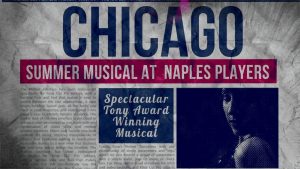 Few shows come to any stage with more anticipation or fanfare than Chicago. With songs and libretto that are still timely, groundbreaking choreography that pays homage to the great Bob Fosse, and a couple of powerful female leads who can both sing and dance, this musical has it all. It's no wonder that the six-time Emmy winner is the longest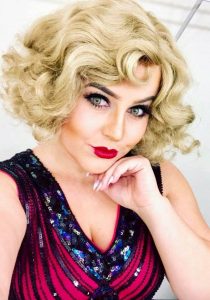 running American musical in Broadway history. In fact, only Phantom of the Opera has had a longer run.
The musical is based on true, headline-grabbing murders and their corresponding trials that took place in Chicago in the 1920s. One murderous thread follows an aspiring vaudevillian by the name of Roxie Hart who is arrested for murdering her extramarital lover. The other focuses on Velma Kelly, a night club entertainer and double-murderess that Roxie meets in jail. Unaccustomed to sharing the spotlight with anyone, Velma does not take well to being upstaged by the spoiled, self-absorbed newcomer. Simmering emotion boils over when the feisty vixens fight for the spotlight after hiring the same cold-blooded criminal
defense attorney, Billy Flynn.
RELATED POSTS.
____________________________________________________________________________________________
65th anniversary season illustrates why The Naples Players one of leading theatres of its kind in country (07-10-18)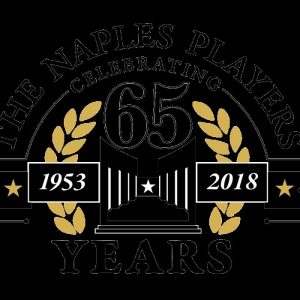 The Naples Players (TNP) has announced the line-up for its 65th anniversary season, and it is packed with dazzling musicals (including Chicago, Irving Berlin's White Christmas and Guys & Dolls), heartfelt comedies, magical adventures and a world premiere show.
"Our 65th Anniversary season showcases the reasons that The Naples Players has become one of the leading theatres of its kind in the country," says The Naples Players' Artistic Director Bryce Alexander. "Presenting three classic American musicals – with full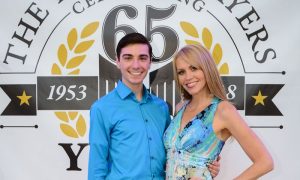 orchestras to accompany the casts – the season celebrates the styles of music and dance that have defined the best of Broadway. The season also features a world premiere play written by a local playwright, as well as classic works that articulate the funny, thought-provoking, and touching ideals that represent our community. We are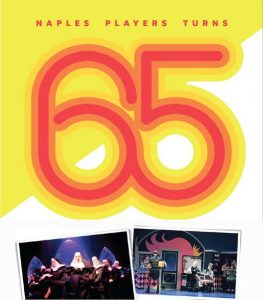 thrilled that this diverse offering will provide Southwest Florida with the high-quality, fully realized artistic productions that our seasoned and novice theatre-lovers will be able to enjoy together. A season about dreams, and the way we achieve our dreams together – we could think of no better way to celebrate the last 65 years while looking forward to the next."
There will be not only a fabulous celebration of the 65th anniversary of Naples Players, but also the 20th anniversary of the Naples Players at Sugden Theatre on Fifth Avenue. "And Naples Art Association, our sister organization across the street, is also celebrating its 20th anniversary on Fifth Avenue (in the district), so I can assure you there's going to be a lot to celebrate this year," Alexander adds.
The event is planned for early 2019.
In addition to Chicago, here are the shows that The Naples Players will produce during its 2018-2019 anniversary season:
Peter and the Starcatcher (Family Friendly Comedy)

Tony-winning Peter and the Starcatcher up-ends the century old story of how a miserable orphan comes to be The Boy Who Would Not Grow Up (a.k.a. Peter Pan). From marauding pirates and jungle tyrants to unwilling comrades and unlikely heroes, Peter and the Starcatcher playfully explores the depths of greed and despair… and the bonds of friendship, duty and love. Written by Rick Elice, based on the novel by Dave Barry and Ridley Pearson, and with music by Wayne Barker, this imaginative and magical story will be performed in Blackburn Hall October 3-28, 2018.
June & Jason's Survival Guide to Divorce (TNP's First World-Premiere Comedy)

Reminiscent of great sitcom humor, this quick-witted comedy introduces an unforgettable collection of zany neighbors and friends who try to save June and Jason from a looming divorce. Fun and fresh, June & Jason's Survival Guide to Divorce comes from the wild and creative mind of local playwright and actor Laura Lorusso. It will be performed in Tobye Studio Exclusive October 24-November 18, 2018.
Irving Berlin's White Christmas (Holiday Musical)

Veterans Bob Wallace and Phil Davis have a successful song-and-dance act after World War II. With romance in mind, the two follow a duo of beautiful singing sisters to their Christmas show at a Vermont lodge, which just happens to be owned by Bob and Phil's former army commander. The dazzling score features 17 well-known Irving Berlin standards including "Blue Skies," "I Love a Piano," "How Deep Is the Ocean" and the perennial favorite, "White Christmas." Based on the beloved and timeless Paramount Pictures film of the same name, this heartwarming musical adaptation features a book by David Ives and Paul Blake. It will be performed in Blackburn Hall November 28-December 23, 2018.
Don't Dress for Dinner (Comedy)

With a gourmet caterer and an alibi courtesy of his friend, Robert, Bernard's plans for a romantic rendezvous with his mistress are complete. But when Bernard's wife learns that Robert will be visiting for the weekend, she decides to stay in town for a surprise tryst of her own… setting the stage for a collision course of assumed identities and outrageous infidelities. The cook is Suzette, the lover is Suzanne, the friend is bewildered, the wife is suspicious, the husband is losing his mind, and everyone is guaranteed a good time at this hilarious romp through the French countryside. Penned by Marc Camoletti and adapted by Robin Hawdon, this clever and rollicking comedy centers will be performed in Blackburn Hall January 16-February 10, 2019.
Marjorie Prime (Pulitzer Prize Finalist)

In the future, the inevitable pain of losing a loved one is mitigated through artificial intelligence. As 85-year-old Marjorie loses the ability to recall memories at will, her daughter and son-in-law provide her with a "prime," an A.I. hologram of her late husband Walter. The vaporous and shifting nature of memory and the power it holds in relationships is illuminated as Walter Prime begins to assimilate the stories of Marjorie's memories as his own. Written by Jordan Harrison, this insightful and visionary story will be performed in Tobye Studio Exclusive February 6-March 3, 2019.
Guys & Dolls (Musical Comedy)

Considered one of the greatest musicals of all time, Guys and Dolls is filled with some of the most wonderful show tunes ever written, including "Luck Be a Lady," "I've Never Been in Love Before," and the irrepressible anthem "Sit Down, You're Rockin' the Boat." Guys and Dolls will put a spring in your step and a smile on your face and remind you how much fun it is to see a revival of a classic American musical! With book by Abe Burrows and Jo Swerling, music and lyrics by Frank Loesser and based on The Idyll of Sarah Brown and characters by Damon Runyon, this masterful and unforgettable musical will be performed in Blackburn Hall March 6-April 7, 2019.
Always a Bridesmaid (Comedy)

In this hilarious comedic romp, four friends have sworn to keep the promise they made on the night of their Senior Prom: to be in each other's weddings…no matter what. More than thirty years later, these Southern friends-for-life are still making "the long walk" for each other, determined to honor that vow. Written by Jamie Wooten, Jessie Jones & Nicholas Hope, look for this quirky and loveable play to be performed in Tobye Studio Exclusive March 27-April 20, 2019.
Lost in Yonkers (Comedy)

During the 1940s, two young brothers find their lives turned upside down when their father moves south for work, leaving them with their no-nonsense grandmother, their loving but absent-minded spinster Aunt Bella, and her small-time hoodlum brother in a strange new world called Yonkers. This heartfelt and nostalgic Neil Simon comedy will be performed in Blackburn Hall May 1-26, 2019.
________________________________________________________________________________________________
Theatre Conspiracy's 25th season marked by earlier curtain time, audio described shows and more talk-backs (07-10-18)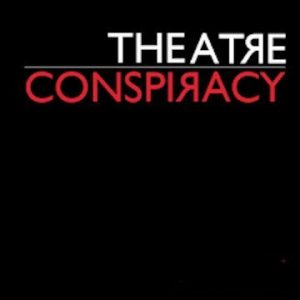 Theatre Conspiracy at the Alliance will celebrate its 25th consecutive season with beloved classics, comedic favorites and award-winning new plays from fresh voices.
"We're celebrating the past, present and future of Theatre Conspiracy at the Alliance for the Arts this season," says founder and producing artistic director Bill Taylor. "Our productions will reflect on the incredible work that has shaped the Southwest Florida theater community, as well as welcome the journey of our next 25 years."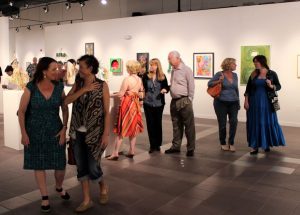 New this year will be a 7:30 curtain time for evening performances, audio described shows and even more talk-backs.
Performances are Thursday, Friday and Saturdays with a new 7:30 p.m. start time. Sunday matinees will remain at 2:00 p.m.
For theatregoers who are blind or have moderate to severe vision loss,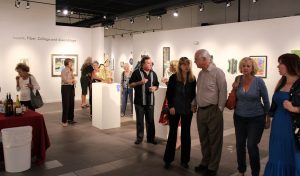 the Alliance will provide a specially-trained describer who verbalizes what's happening on stage during pauses in dialogue. The "audio describer" uses a headset microphone, while individuals using the service listen through a receiver with a single earpiece. Reservation of headsets is required prior to the show by calling 239-939-2787.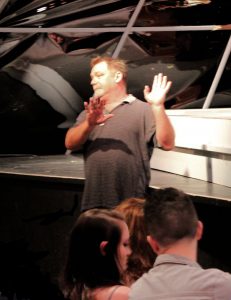 To widen the post-show conversation and discuss what the art onstage means to us as individuals and as a society, the Alliance will facilitate a community conversation through talkbacks on selected dates. Talkbacks allow the audience to ask questions and express their thoughts and ideas on issues revealed in the play through the form of meaningful discussion with the cast or panel guests. The opportunity is included with ticket purchase.
Theater lovers can save up to $42 with a season subscription. Season subscriptions range from $115 per person for 5 shows to $140 per person for all 7 shows. Individual tickets to each show are $26, $11 for students or $22 for Alliance members. To purchase tickets or for more information,

call the box office at 239-939-2787, visit 10091 McGregor Blvd. Fort Myers, FL or go online at www.ArtInLee.org/Theatre.
___________________________________________________
Here's a look at Theatre Conspiracy's 2018-19 season (07-10-18)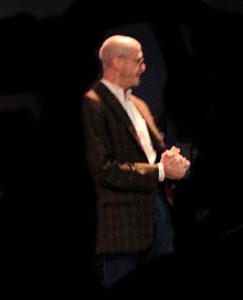 Theatre Conspiracy at the Alliance will celebrate its 25th consecutive season with these shows:
Repossessed (A World Premiere Play) by Greg Lam; directed by Steve Hooper
What would happen to our world if anyone could choose to remix and rewrite their memories and personalities? Rich and Gretchen seem to have the ideal marriage, until they learn that it was manufactured by a mysterious biotech company which installed it into their brains. Because they can no longer afford this service, the company must repossess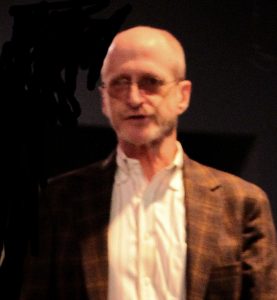 their improvements. Repossessed explores questions of identity, morality, and authenticity amidst a world of rapidly changing technology and the ethics that come with it. The play won the annual Janet and Bruce Bunch New Play Contest Award, presented by Theatre Conspiracy. Performances are August 16-18 and 23-25 at 7:30 p.m., with 2:00 p.m. matinees on August 19 and 26. The August 26 date is an Audio Descriptor Performance. There will be a talk-back with playwright Greg Lam following the August 18 show.
Murderers – A Killer Comedy by Jeffrey Hatcher; directed by June Koc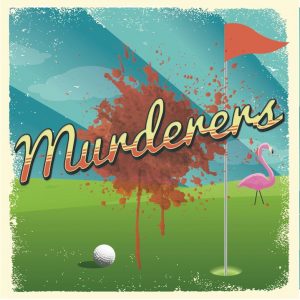 Gerald, Lucy and Minka look like everyday people, and each relates to us as they would to a trusted friend. But they have one dark secret in common: they're murderers! Homicide has never been so hilarious as in this quirky whodunit show! Except you know whodunit; the fun is finding out how they dunit and why. Set in Riddle Key Retirement Center in Riddle, Florida, these three unlikely killers justify their crimes in the most outrageous ways. Performances are September 27-29 and October 4-6 at 7:30 p.m., with 2:00 p.m. matinees on September 30 and October 7. The October 7 date is an Audio Descriptor Performance.
The Elephant Man by Bernard Pomerance; directed by Rick Sebastian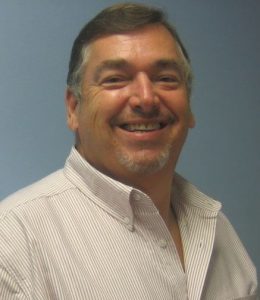 The Elephant Man is based on the life of John Merrick who lived in London during the latter part of the nineteenth century. A horribly deformed young man – victim of rare skin and bone diseases – he becomes the star freak attraction in traveling sideshows. Found abandoned and helpless, he is admitted to London's prestigious Whitechapel Hospital. Under the care of celebrated young physician Frederick Treves, Merrick is introduced to London society and slowly evolves from an object of pity to an urbane and witty favorite of the aristocracy and literati, only to be denied his ultimate dream – to become a man like any other. Performances are November 8-10 and 15-17 at 7:30 p.m., with 2:00 p.m. matinees on November 11 and 18. The November 18 date is an Audio Descriptor Show. There will be a talk-back following the November 18 performance. The Elephant Man is sponsored by Noreen Raney.
The Agitators by Mat Smart; directed by Bill Taylor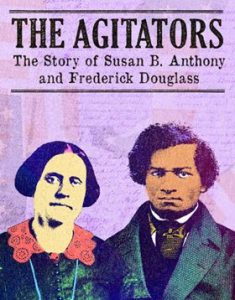 The Agitators is inspired by the enduring but tempestuous four-decade-long friendship between Susan B. Anthony and Frederick Douglass. As they grew to become the cultural icons we know today, their movements collided and their friendship was severely tested. This series of powerful vignettes tells their story, from their meeting in Rochester, through the Civil War and to the highest halls of government. They agitated the nation, they agitated each other and, in doing so, they helped shape the Constitution and the course of American history. Performances are January 17-19 and 24-26 at 7:30 p.m., with 2:00 p.m. matinees on January 20 and 27. The January 27 date is an Audio Descriptor Show, which will also be followed by a talk-back. This show is sponsored by Janet and Bruce Bunch.
Marian, or the True Tale of Robin Hood by Adam Szymkowicz; directed by Rachael Endrizzi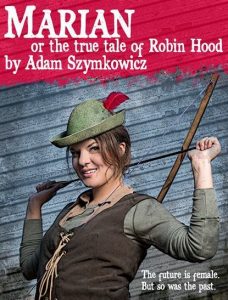 A gender-bending, patriarchy-smashing and hilarious new take on the classic tale. Robin Hood is and has always been Maid Marian in disguise. Robin/Marian leads a motley group of Merry Men (many of whom are not men) against the greedy Prince John. As the poor get poorer and the rich get richer, who will stand for the vulnerable if not Robin? Modern concerns and romantic entanglements clash on the battlefield and on the ramparts of Nottingham Castle in this play about selfishness, selflessness, and the cost of revealing your true self in a time of trouble. Performances will be February 7-9 and 14-16 at 7:30 p.m., with 2:00 p.m. matinees on February 10 and 17. The February 17 date is an Audio Descriptor Show, which will also be followed by a talk-Back. This production is sponsored by Susan Ion Hogan, DDS.
Joe Turner's Come and Gone by August Wilson; directed by Sonya McCarter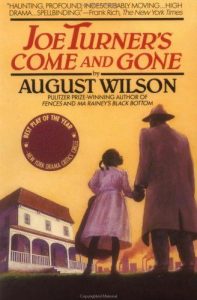 Set in a Pittsburgh boarding house in 1911, owners Seth and Bertha Holly play host to a makeshift family of people who come to stay – some for days, some longer – seeking new jobs, new lives and new beginnings. This eccentric group of wanderers includes proprietors, an eccentric clairvoyant with a penchant for old country voodoo, a young homeboy from the South and a mysterious stranger searching for his wife. Each denizen of the boarding house has a different relationship to a past of slavery as well as to the urban present. Performances are March 1-2, 7-9 and 14-16 at 7:30 p.m., with 2:00 matinees on March 10 and 17. The March 17 date is an Audio Descriptor Show, which will also be followed by a talk-back. This production is also sponsored by Noreen Raney.
Rancho Mirage by Steven Dietz; directed by Anne Dodd
Acclaimed playwright Steven Dietz' comedy looks at affluent suburban couples whose truths finally catch up with them. At an ill-fated dinner party, these long-time friends are awakened to the secrets of their past with hilarious and farcical results. Written by one of America's most widely produced playwrights, this comedy asks what remains between us when youth and dreams have faded and the last bottle of wine is gone? Performances are May 9-11 and 16-18 at 7:30 p.m., with 2:00 p.m. matinees on May 12 and 19. The latter date is an Audio Descriptor Show. Rancho Mirage is sponsored by: Stephen Hooper & Ellen Poage.
To purchase tickets or for more information, call the box office at 239-939-2787, visit 10091 McGregor Blvd. Fort Myers, FL or go online at www.ArtInLee.org/Theatre.
______________________________________________________________________________
Theatre Conspiracy holding open auditions Saturday for 'Joe Turner's Come and Gone' (07-10-18)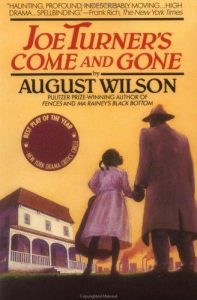 Theatre Conspiracy at the Alliance for the Arts is holding an open casting call on July 14 for Joe Turner's Come and Gone by August Wilson. The play will be directed by Sonya McCarter.
The story takes place in a Pittsburgh boarding house during the early 1900s. It's a microcosm of African-American life in which each resident searches for a missing part of themselves. At the center of the story are Herald Loomis and his daughter, Zonia, who have journeyed to Seth Holly's Boarding House in search for Herald's wife and Zonia's mother. Their personal journeys' inevitably become intertwined with a search for identity and a sense of self greater than that which their heritage has so far allowed.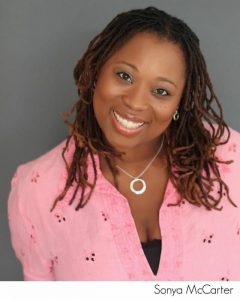 The production runs March 1-2, 7-9 and 14-16 at 7:30 p.m. and March 10 and 17 at 2:00 p.m. with a talk-back on March 17. This show is sponsored in-part by Noreen Raney.
Available roles include:
Auditions will be held from 10:00 a.m. to noon on July 14 in the Foulds Theatre at the Alliance for the Arts, 10091 McGregor Blvd. Bring a monologue of your choice. (Don't have one? No worries. The directors will provide material for you to read.)
To schedule an appointment, please contact theatre@artinlee.org. For more information, please call Bill Taylor at 239-939-2787.
_________________________________________________________________________
New Phoenix aims to entertain, enlighten, inspire and celebrate diversity in theater (07-10-18)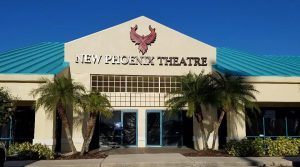 Next season, a new community theater will open in Fort Myers. Located at 13211 McGregor Boulevard (roughly midway between College and Cypress Lake), the New Phoenix Theatre will strive to entertain and enlighten the community, celebrate diversity, and inspire imagination. The theater is the brainchild of seven actors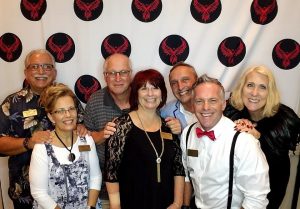 and directors who have worked together at Cultural Park Theater in Cape Coral and The Laboratory Theatre of Florida in downtown Fort Myers, namely Brenda Kensler (who serves as president), Anthony Neri (vice-president), Lori Riti, Debra Neri, James Robinson, Alide Jarbeau and Tom Riti.
The name is strategic.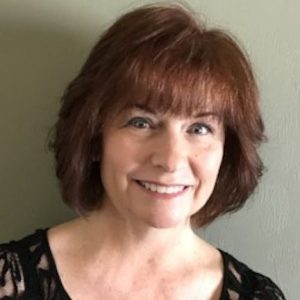 "We all come from previous experiences in the theater — some good and some not so good," divulges co-founder Lori Riti, whose stage credits since arriving in Southwest Florida include Chris in Calendar Girls, Frankie in Frankie and Johnny at the Clair de Lune, Kate in Kiss Me Kate, Elaine in Arsenic and Old Lace, the niece in The Sunshine Boys, Nikki in Musical Comedy Murders of 1940, Ms. Casewell in Mousetrap, Mrs. Smith in Meet Me in St. Louis, and roles in The Laramie Project, The Gay Marriage Plays and Agnes of God at Lab Theater.
"We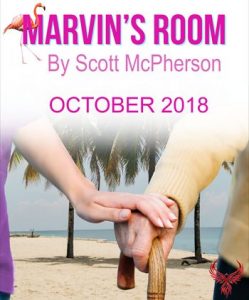 feel like this is the beginning of something fresh and new for all of us – a chance for us to be reborn."
High on Phoenix's agenda is bringing greater diversity and more roles for women in the local theater scene. The theater will even have a mechanical lift that will convey handicapped actors, directors and stage hands onto the boards and backstage facilities.
New Phoenix will open its inaugural 2018-2019 season in October with Marvin's Room, a dark comedy by playwright Scott McPherson that affords a moving view of one woman's commitment to family and correlative response to despair.
The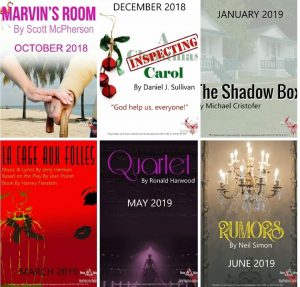 season will include five other shows, including one musical. Seating will be cozy initially, with the theater's proscenium accommodating 100 seats for plays and musicals and 300 spectators for concerts. Tickets will go on sale at a date yet to be announced.
For more information, visit newphoenixtheatrefortmyers.org or follow The New Phoenix Theatre on Facebook.
_________________________________________________________________________
Here are the show that New Phoenix Theatre will produce in its inaugural season (07-10-18)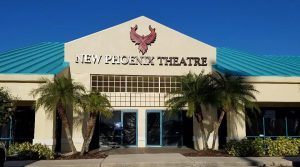 New Phoenix Theatre's inaugural 2018-2019 season will include six productions. Here they are:
Marvin's Room by Scott McPherson
Bessie cares for her pain-ridden aunt and ailing bed-ridden father in Florida. When Bessie is diagnosed with leukemia, she's constrained to contact her long-estranged sister, Lee, to see if their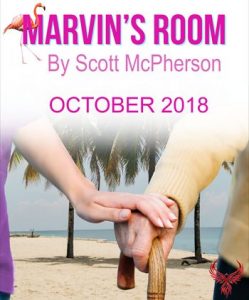 bone marrow is compatible for a transplant. Lee reluctantly makes the trip from Ohio to Florida, bringing along her two sons. The sisters' reunion is uneasy, with long buried recriminations coming to the surface even as love slowly overwhelms Lee's veneer of selfishness and glib denial. Beloved for its mordant humor and unflinching wisdom, Scott McPherson's dark comedy allows us a moving view of one woman's commitment to family and response to despair. Performances are October 4, 5, 6, 11, 12, 13, 18, 19 and 20 at 8:00 p.m., with 2:00 p.m. matinees on October 7, 14 and 21. [Auditions August 4 at time and place TBA.]
Inspecting Carol by Daniel J. Sullivan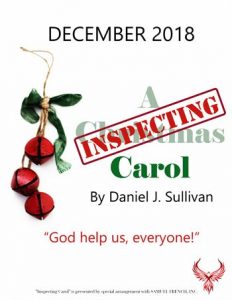 In this hilarious hit from Seattle, a man who asks to audition at a small theater is mistaken for an informer for the National Endowment for the Arts. Everyone caters to the bewildered wannabe actor, and he is given a role in the current production, A Christmas Carol. Everything goes wrong and hilarity is piled upon hilarity. A Christmas Carol meets The Government Inspector meets Noises Off , this delightful production is perfect anytime, but is particularly appropriate at Christmas. Performances are at 8:00 p.m. on November 29 and 30 and December 1, 6, 7, 8, 13, 14 and 15, with 2:00 p.m. matinees on December 2, 9 and 16. [Auditions September 29 at time and place TBA.]
The Shadow Box by Michael Cristofer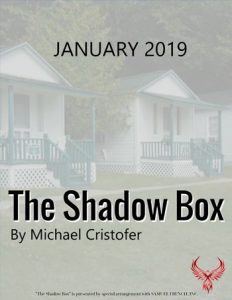 In this compelling dramatic triptych, three terminal cancer patients dwell in separate cottages on a hospital's grounds. The three are attended and visited by family and close friends: Agnes and her mother Felicity, estranged further by the latter's dementia; Brian and Beverly, whose marital complications are exacerbated by Brian's new lover, Mark; and Joe and Maggie, unready for the strain of Joe's impending death and its effect on their teenage son. Performances are at 8:00 p.m. on January 17, 18, 19, 24, 25, 26 and 31, as well as on February 1 and 2, together with 2:00 p.m. matinees on January 20 and 27 and February 3. [Auditions November 10 at time and place TBA.]
La Cage Aux Folles with Music and Lyrics by Jerry Herman & Book by Harvey Fierstein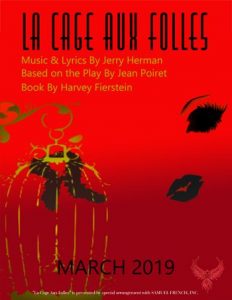 In this beloved 1983 Broadway hit, the sparkling "Cagelles" (men in drag) perform lively musical numbers, but it's Georges and Albin's enduring love for each other and the family they have created that's at the heart of this show. The Tony-winning music and lyrics are by Jerry Herman, who composed the music for both Hello, Dolly! and Mame. Performances are at 8:00 p.m. on March 7, 8, 9, 14, 15, 16, 21, 22, 23, 28, 29 and 30, with 2:00 p.m. matinees on March 10, 17, 24 and 31. As the song says, "The Best of Times" is always now to see La Cage aux Folles. [Auditions December 8 at time and place TBA.]
Quartet by Ronald Harwood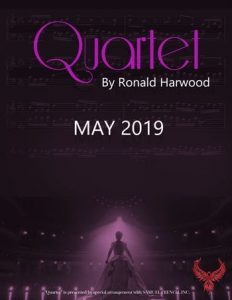 Cecily, Reggie and Wilfred reside in a home for retired opera singers in Kent, England. Each year, on the tenth of October, there is a concert to celebrate Verdi's birthday. Jean, who used to be married to Reggie, arrives at the home and disrupts their equilibrium. She still acts like a diva and refuses to sing. But the show must go on in this funny and poignant play by the author of Another Time, The Dresser and Interpreters that premiered at the Albery Theatre, London. Performances are at 8:00 p.m. on May 2, 3, 4, 9, 10, 11, 16, 17 and 18, with 2:00 p.m. matinees on May 5, 12 and 19.
Rumors by Neil Simon
At a large, tastefully-appointed Sneden's Landing townhouse, the Deputy Mayor of New York has just shot himself. Though only a flesh wound, four couples are about to experience a severe attack of Farce. Fathering for their tenth wedding anniversary, the host lies bleeding in the other room, and his wife is nowhere in sight. His lawyer, Ken, and wife, Chris, must get "the story" straight before the other guests arrive. As the confusions and mis-communications mount, the evening spins off into classic farcical hilarity. Performances are at 8:00 p.m. on June 13, 14, 15, 20, 21, 22, 27, 28 and 29, with 2:00 p.m. matinees on June 16, 23 and 30.
_______________________________________________________________________
What's up at Lab Theater for the remainder of this season (07-10-18)
Although Hush Up, Sweet Charlotte has closed, Lab Theater has scheduled plenty of other high-quality, high-energy productions during its 2018-2019 season. Here they are:
Evil Dead, The Musical (High School Version) – July 19-22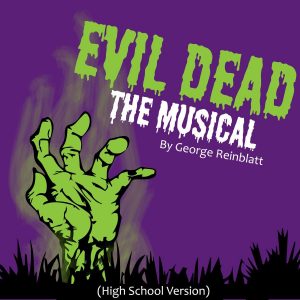 What do you get when you combine cult classic zombie movies with stereotypical teen movies and put it all to music? You get this crazy, cheesy, hilarious, fun-filled show that appeals to horror and non-horror fans alike! Get ready for blood, chainsaws, limbs, and demons…along with laughter and singing! "If you think Sweeney Todd is for sissies, you need to see this show!" NYTheater.com. "Bloody Awesome!" The Globe and Mail.
Evil Dead, The Musical is written by George Reinblatt and is an Education Camp Teen Show. Performances are at 8:00 p.m. on July 19, 20 and 21, with two 2:00 p.m. matinees on July 21 and 22, 2018.
It's Only A Play – August 3-26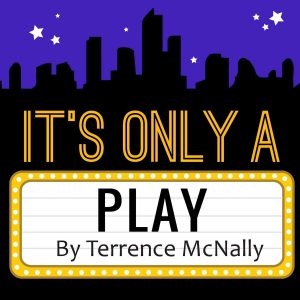 Set in the townhome of a Broadway producer, we meet the team behind The Golden Egg as they are waiting for their opening night reviews. There's the producer herself, the terrified playwright, his best friend, the has-been female lead, the British director,, and a theater critic (wait, why is he there?). Filled with one-liners about the entertainment world that will make you laugh and cringe, this show will remind you that there truly is no business like show business!
Written by Terrence McNally and directed by Scott Carpenter, the Southwest Florida premiere of this razor-toothed parody (Hollywood Reporter) will be performed at 8:00 p.m. on August 3, 4, 10, 11, 17, 18, 24 and 25, with three 2:00 p.m. matinees on August 12, 19 and 26.
Anna In The Tropics – September 14-30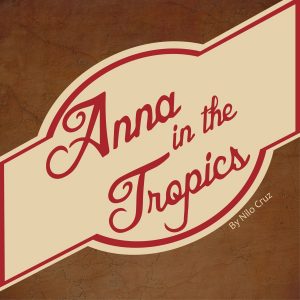 Picture it: Ybor City, Tampa in 1929. Its hot and humid inside a small cigar factory. Workers are hand-rolling tobacco leaves, while a lector reads anything from newspapers to poetry to novels to entertain them. But when the new hire reads from the novel Anna Karenina , it sets in motion the major events of the story. Themes in this Pulitzer Prize-winning play range from love, lust and infidelity to violence and debt. And they turn the lives of these Cuban-American families into the very story to which they've been listening. "The passions of love and lust are delicately observed….The characters are sympathetic and true," says TheaterMania.com.
Directed by Artistic Director Annette Trossbach and celebrating Hispanic Heritage Month, performances are 8:00 p.m. on September 14, 15, 20, 21, 22, 27, 28 and 29, with 2:00 p.m. matinee performances on September 23, 29 and 3 and a special preview performance at 8:00 p.m. on September 13.
Hand To God October 19-November 4 Sponsored By Art Zupko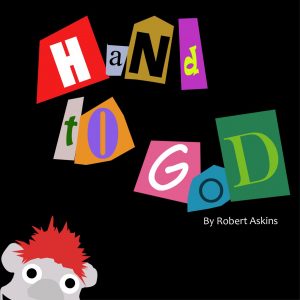 Admit it. You've had certain…impulses, right? Ones you've thought about, but would never actually say out loud or act upon? It's human nature. And that darkest human nature is exposed when a Texas church youth-group assignment to create original hand puppets goes strangely awry. Chosen the Best New Play in 2014 by Off-Broadway Alliance, Hand to God is described as "darkly delightful … filthy hilarity" by The New York Times and "ribald and wickedly funny … Sesame Street meets The Exorcist" by the Wall Street Journal. Written by Robert Askins and directed by Nykkie Rizley, the Southwest Florida premiere of Hand to God will be performed at 8:00 p.m. on October 19, 20, 25, 26 and 27 and November 1, 2 and 3, with 2:00 p.m. matinees on October 21 and 28 and November 3 and 4, with a preview performance at 8:00 p.m. on October 18.
24-Hour Playwriting Project – November 17 Sponsored By Stacy Lee-Williams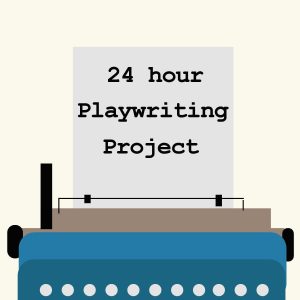 Playwrights will bring their sleeping bags and coffee mugs to Lab Theater, where they will be assigned a theme, a director, and actors. Within just twenty-four hours, you will see the fruits of their labor when we stage all of their 20-minute one-act plays! Judged by a panel of area theater and arts professionals, the 24-Hour Playwriting Project is a hugely popular event! The actors take the stage at 8:00 p.m. on Saturday, November 17.
Every Christmas Story Ever Told – November 30 – December 22 Sponsored By The Patterson Family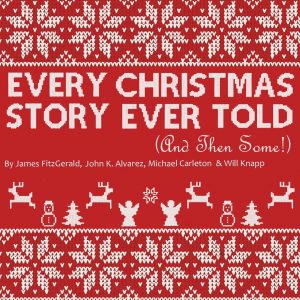 It's the holidays! Time for the classics – Rudolph, Frosty, Ebenezer Scrooge, the Nutcracker and many more! But maybe not the way we're accustomed to hearing them. In what can best be called a holiday mash-up, actors take beloved stories and traditions from around the world and turn them upside-down and sideways! Says Orlando Weekly, "The play accomplishes the small miracle of making all Christmas myths seem both utterly ridiculous and absolutely essential. Yes, Virginia, you can have your fruitcake and eat it, too." Written by James FitzGerald, John K. Alvarez, Michael Carleton & Will Knapp, Every Christmas Story Ever Told (And Then Some) will be performed at 8:00 p.m. on December 1, 6, 7, 8, 13, 14, 15, 20, 21 and 22, with 2:00 p.m. matinees on December 9, 16 and 22. There will also be an 8:00 p.m. preview performance on November 29.
A Guy, A Girl, A Piano (Cabaret Act) January 4-6, 2019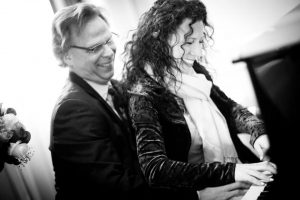 Theresa Quinn and Randy Kramer will join The Lab with their 4-hands-1-piano cabaret. Enjoy an evening of virtuosic 4-hand piano arrangements, vocal solos and duets, featuring the music of Gershwin, Sondheim, the Beatles, Beethoven, Joplin, Bernstein, Fats Waller, and others. There are just three performances: two at 8:00 p.m. on January 4 and 5, and a 2:00 p.m. matinee on January 6.
Hedwig And The Angry Inch January 18-February 3, 2019 Sponsored By The Bireley Family Foundation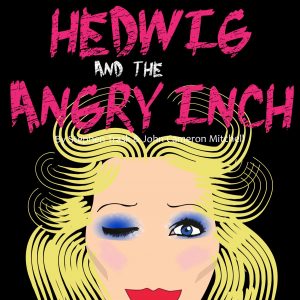 Meet Hedwig, one of the most unique characters to hit the stage in this wickedly funny, innovative, and heartbreaking rock musical sensation. Winner of four 2014 Tony Awards, Entertainment Weekly calls the show groundbreaking and undoubtedly ahead of its time. "Foulmouthed, electrically tuneful, and furiously funny," adds The New York Times. "Smart lyrics and beautiful melodies," says the New York Daily News. Written by Stephen Trask and John Cameron Mitchell and directed by Paul Graffy, Hedwig and the Angry Inch will be performed at 8:00 p.m. on January 18, 19, 24, 25, 26 and 31 as well as on February 1 and 2, with 2:00 p.m. matinees on January 20 and 27 and February 2 and 3. There will also be an 8:00 p.m. preview performance on January 17.
And The Winner Is… February 22 – March 16, 2010 Sponsored By Arlene Foreman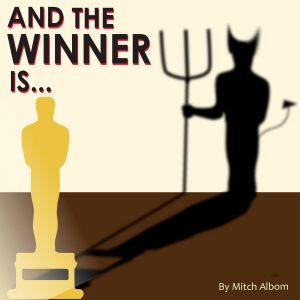 Tyler Johnes just wants to make it to the Oscars to accept his award for Best Supporting Actor. There's just one problem – he seems to be stuck in a bar where things are not quite…normal. Seamus the bartender isn't helping matters, either. While Tyler continues to try to make it onto the red carpet, he is interrupted by unusual visitors. Filled with humor and emotion, this play will win your heart. Performances are at 8:00 p.m. on February 22, 23 and 28 and March 1, 2, 7, 8, 9, 14, 15 and 16 and 2:00 p.m. on February 24 and March 3, 10 and 16, with a preview performance at 8:00 p.m. on February 21.
Andorra – March 29-April 14 Sponsored By Ella Nayor & Jeffrey Cull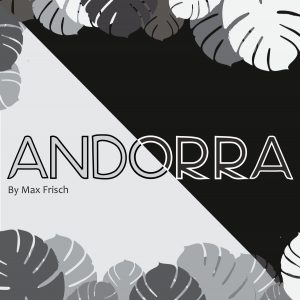 One of the most oft-produced plays in Europe, this parable about racism and prejudice is a great example of epic-theater. Set in fictionalized Andorra, Andri is adopted by a teacher and raised as a Jew. Throughout the play, Andri is faced with outright prejudice and complicit silence from his fellow townspeople. Playwright Max Frisch's message is loud and clear: prejudice happens in every country, both in the past and the present, and we must learn to accept everyone's differences if we are to lead happy, productive lives. "The guilty are sitting in the stalls … They are to be frightened: they should, when they have seen the play, lie awake at night," says Time Magazine. The Southwest Florida premiere of Andorra will be performed at 8:00 p.m. on March 29 and 30 and April 4, 5, 6, 11, 12, 13, 18, 19 and 20; at 2:00 p.m. on March 31 and April 7, 14 and 20; with a special 8:00 p.m. preview performance on March 28.
Tickets are $25 for adults and $12 for students at the door. However, discounts are available for season ticket and snowbird ticket holders. You can purchase tickets here.
________________________________________________________________
Lab Theater's new seating will provide better line of sight for viewers (07-10-18)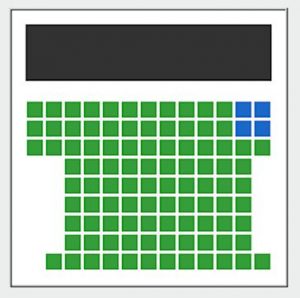 While Lab Theater's 2018-2019 season opened June 1 with the campy parody Hush Up, Sweet Charlotte, a highlight of the new season will be the addition of risers in The Lab's proscenium that will elevate seats in the fourth row and beyond in order to provide better viewing.
Starting with Anna In The Tropics in September, Rows A, B, And C will be on the floor, with Rows D through I on risers. Each row of risers will be six inches higher than the row in front of it.
In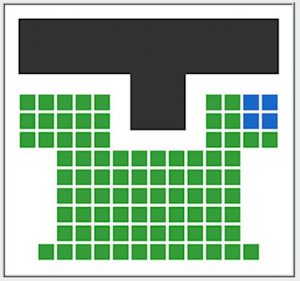 addition, a special seating arrangement is being employed in conjunction with The Lab's production of Hedwig And The Angry Inch January 18 through February 3, 2019.
Lab Theater has been conducting extensive renovations and improvements of both the theater and its lighting and sound systems since it purchased the facility in which it stages its productions. If you haven't been lately, The Lab is all new, all business, all fun.
______________________________________________________
Florida Rep includes nine shows in its 2018-2019 season (07-10-18)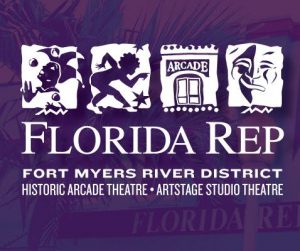 Florida Repertory Theatre will begin its third decade of producing nationally-recognized, professional theater in the Fort Myers River District with its 2018-2018 season. Set to open September 21 and run to May 5 in the Historic Arcade Theatre and ArtStage Studio Theatre, the nine-show season includes two musicals, multiple comedies, a modern American classic, a southeastern United States premiere, and a world-premiere adaptation of Charles Dickens' A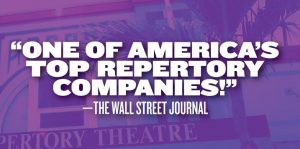 Christmas Carol.
The 2018-2019 season features five productions in the 393-seat Historic Arcade Theatre and four in the intimate 120-seat ArtStage Studio Theatre. It kicks off with the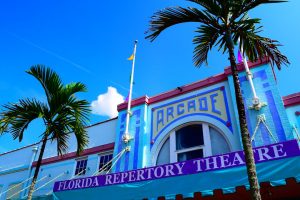 one-woman tour-de-force, Becoming Dr. Ruth, by Mark St. Germain – whose farce, George Washington's Teeth, closed the current season on May 13.
Also featured next season is Million Dollar Quartet, Broadway's rock 'n' roll sensation; Native Gardens, one of the hottest new comedies in the country right now;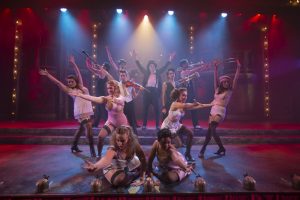 Tenderly, a salute to jazz icon Rosemary Clooney; August Wilson's Fences, the Pulitzer Prize and multiple Tony Award-winning modern American classic fresh from a Broadway revival and Academy Award-winning film adaptation, and more!
Florida Repertory Theatre's 21st season also includes two brand-new plays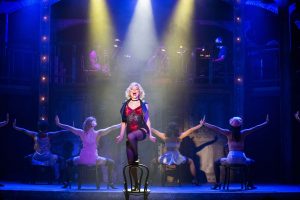 as part of its ongoing efforts to develop new works and nurture playwrights. Opening November 9 in the ArtStage Studio is Damascus by Bennett Fisher, an electrifying psychological thriller that was read as part of Florida Rep's 2017 PlayLab. Opening November 30 in the Historic Arcade is a new adaptation of Charles Dickens' A Christmas Carol by Mark Shanahan,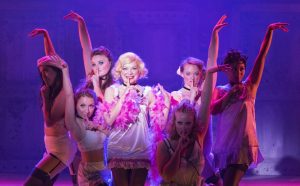 whose play The Dingdong had its regional premiere to critical acclaim at Florida Rep in 2016. Shanahan is a Broadway actor, regional theatre veteran, and a familiar guest director at Florida Rep, who most recently helmed How the Other Half Loves earlier this year.
"We are delighted to be celebrating the beginning of our third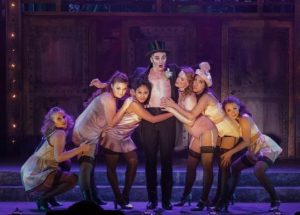 decade with this very exciting season," said Interim Artistic Director Jason Parrish. "This diverse line-up of plays and musicals, both classic and contemporary, will break new ground for the theatre, introduce many new faces, and of course, showcase our ensemble of artists in a variety of roles. It is particularly exciting to be taking on one of August Wilson's American Century Cycle plays that will introduce Florida Rep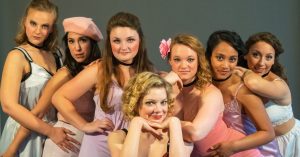 audiences to one of the great 20th century American playwrights. Our 21st will be a season of new beginnings, and we hope you'll join us."
Florida Rep's weeknight performances (Tuesday-Thursday) in both venues will continue at the earlier 7:00 p.m.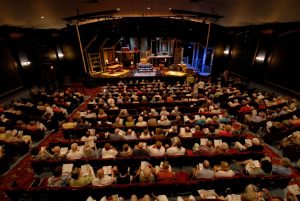 curtain time instituted last season. Friday and Saturday evening performances will begin at 8:00 p.m., with matinee performances on Wednesday (Arcade), Thursday (ArtStage), selected Saturdays, and Sunday continuing at the popular 2:00 p.m. curtain time.
Subscriptions start as low as $150 for 6 plays and offer the best seats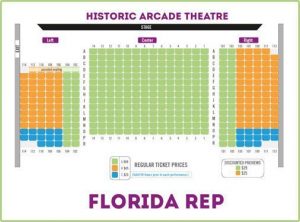 and the biggest savings. Packages for 9, 8, 7, and 6 shows are on sale for both new and renewing season ticket holders through the box office at 239-332-4488. Single tickets are priced at $55/$45 for regular performances and $35/$25 for previews, and will go on sale July 17 through the box office and online at www.FloridaRep.org.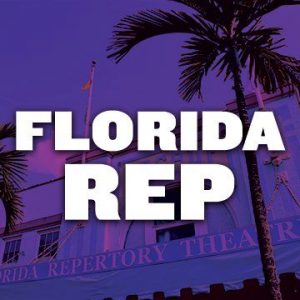 Florida Repertory Theatre performs in the Historic Arcade Theatre and the ArtStage Studio Theatre on Bay St. between Jackson & Hendry with limited free parking in the Fort Myers River District. Visit Florida Rep online at FloridaRep.org, and by following the company on Facebook, Twitter, Instagram, and Youtube.
__________________________________________________
Here are the plays in Florida Rep's 2018-2019 season (07-10-18)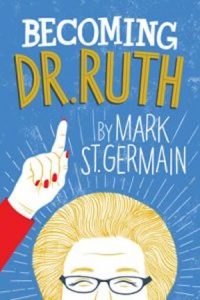 Here are the plays included in Florida Rep's 2018-2019 season:
Becoming Doctor Ruth by Mark St. Germain in the Artstage Theatre
This play tells the heartfelt, hilarious, and triumphant story of the girl who became Dr. Ruth! Based on the life of Dr. Ruth K. Westheimer, Becoming Doctor Ruth is a one-woman tour-de-force from the author of George Washington's Teeth and Best of Enemies! Show dates are September 21 through October 21, with previews on September 18-20.
Steel Magnolias by Robert Harling in the Historic Arcade Theatre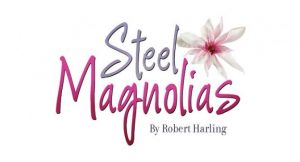 Make an appointment at Truvy's Beauty Salon to see the play that inspired the classic 1989 film. "A skillfully crafted picture of eccentricity in the small-town South," states Drama-Logue. Performances are October 19 through November 7, with previews on October 16-18.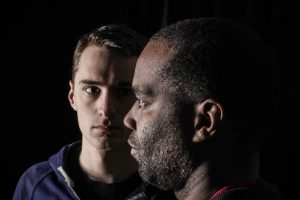 Damascus, A Southeastern Premiere, by Bennett Fisher in the ArtStage Studio Theatre
Nothing is what it seems in this dangerous psychological thriller that challenges all we think we know. Gripping and electrifying, this new play was chosen from the 2017 PlayLab. Performance dates are November 9 through December 9, with previews on November 6-8.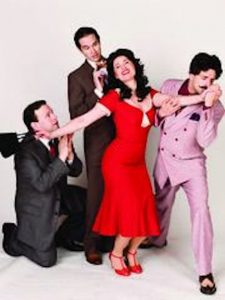 Charles Dickens' A CHRISTMAS CAROL in the Historic Arcade Theatre
Southwest Florida audiences are in for a holiday treat with a brand-new adaptation of the beloved holiday classic by Mark Shanahan. Join Ebenezer Scrooge on a thrilling journey of discovery and redemption that is perfect for the whole family. Performances are November 30-December 19, with previews on November 27-29. Shanahan's play The Dingdong had its regional premiere to critical acclaim at Florida Rep in 2016. Shanahan is a Broadway actor, regional theatre veteran, and a familiar guest director at Florida Rep, who most recently helmed How the Other Half Loves earlier this year.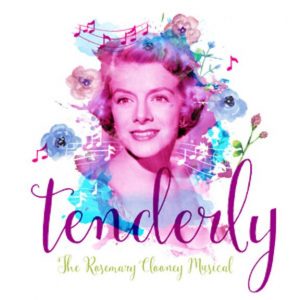 Tenderly: The Rosemary Clooney Musical by Janet Vogt & Mark Friedman
This new musical is a salute to the beloved radio, television and film icon! Featuring over 20 amazing tunes like "Come on-a My House," "Hey There,"' "Sisters," and "Mambo Italiano," Tenderly will be performed in the ArtStage Studio Theatre December 21 through February 24, with previews December 18-20.
Fences by August Wilson in the Historic Arcade Theatre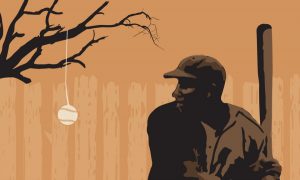 The Tony Award and Pulitzer Prize-winning American Classic! Hot off a Broadway revival and Academy Award-winning film adaptation, August Wilson's universal story will strike a chord in every heart. The Tony Award and Pulitzer Prize winning American classic will be performed January 11-30, with previews January 8-10.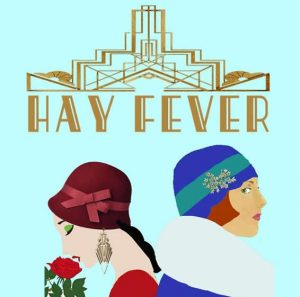 Hay Fever by Noël Coward in the Historic Arcade Theatre
Razor-sharp and dry as a martini, Hay Fever is a delightfully madcap comedy of bad manners. Watch a weekend getaway spiral into mayhem as tempers flare and eccentricities reign supreme. "An evening of intoxicating escape," says The New York Times. Performances will be February 15 through March 6, 2019, with previews on February 12-14.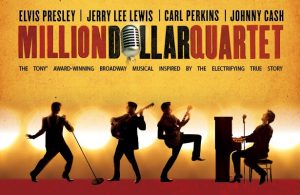 Dollar Quartet in the Historic Arcade Theatre
Sit in on the Memphis jam session that changed music forever! One of Broadway's hottest tickets, Million Dollar Quarter was inspired by the true story of the famed recording session where icons Johnny Cash, Carl Perkins, Jerry Lee Lewis and Elvis Presley got together for one unforgettable night. The book for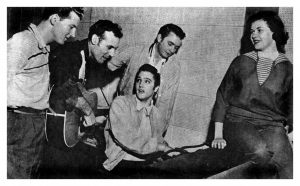 this Tony-winning Broadway rock 'n' roll sensation is by Colin Escott and Floyd Mutrux, who also provided the original concept and direction. Performances are March 22 through April 10, 2019, with previews March 19-21.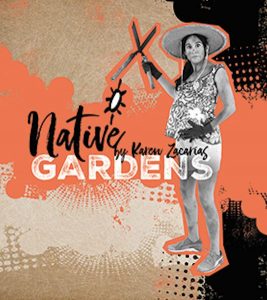 Native Gardens by Karen Zacarías in the ArtStage Studio Theatre
It is neighbor against neighbor in this hilarious new hot-button comedy. Cultures and gardens clash as well-intentioned neighbors become arch-enemies. Native Gardens is one of the hottest new comedies in America. Performances are April 5- May 5, 2019, with previews on April 2-4.
_____________________________________________________________
Florida Rep Education's 2018-19 season focuses on 'the journey' (07-10-18)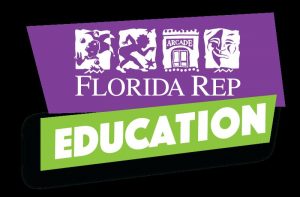 Florida Rep Education's 2018-2019 season will be filled with classic stories brought to the stage, electrifying Broadway musicals, a world premiere, and brand new competitive programming adjudicated by the industry's leading professionals.
"This year's education season places a thematic focus on journey and the struggles and joys one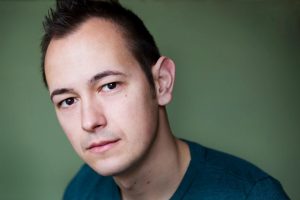 faces when overcoming the challenges of that journey," said Education Director Kody C. Jones. "Everyone's journey leaves a mark on us as a human as well as a mark on the world around us. With this season we challenge our students and patrons to reflect on their own journey as we navigate the trials and tribulations every young person faces in life as they mature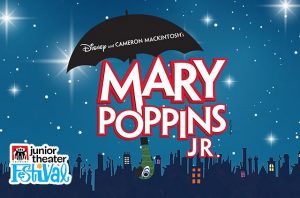 in to adulthood."
New this season, Florida Rep Education will be participating in the 2019 Junior Theatre Festival in Atlanta, GA. The Junior Theatre Festival is the world's largest celebration of young people performing musical theatre. Florida Rep Education will bring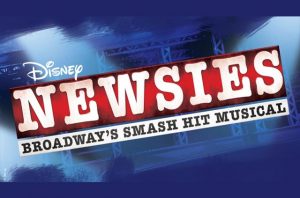 30 students from the Southwest Florida area to Atlanta to gather with peers from across 40 states and 6 countries. The Festival is a mix of adjudications, workshops for students and teachers, and special events like the "New Works Showcase" and "Direct From Broadway," where Broadway's best share their talents.
"Our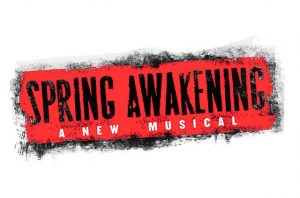 Education Associate, Christina DeCarlo, has initiated a groundbreaking idea that will lead to a career-changing opportunity for our young actors," Jones said. Past attendees and performers of JTF included Tony, Golden Globe, and Academy Award-winning songwriters Benj Pasek and Justin Paul; Emmy nominee Darren Criss; 11-time Grammy Award-winning musical theatre and film score composer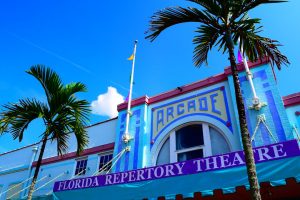 Alan Menken; and critically acclaimed, Tony Award-winning songwriting duo Lynn Ahrens and Stephen Flaherty.
Education programs have grown exponentially in the past few seasons, and reach upwards of 35,000 young people and families each year. Overseen by Education Director Kody C. Jones, the department continues to educate,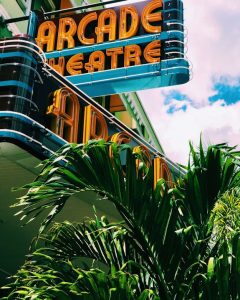 excite, and enlighten Southwest Florida audiences as our popular programs thrive and new ones take shape.
Florida Rep Education performs in several venues on tour and in the Historic Arcade Theatre on Bay Street between Jackson and Hendry with limited free parking in the Fort Myers River District. Visit Florida Rep Education online at FloridaRepEducation.org, and by following the Education Department on Facebook, Twitter, Instagram, and Snapchat.
__________________________________________________
Here are Florida Rep Education's 2018-2019 shows (07-10-18)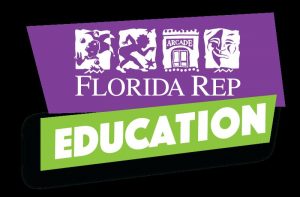 Here are the shows that Florida Rep Education will produce during its 2018-2019 season:
The Cat in the Hat
Originally produced by the National Theatre of Great Britain, The Cat in the Hat was adapted from the book by Dr. Seuss and originally directed by Katie Mitchell. A beloved classic, watch the troublemaking Cat in the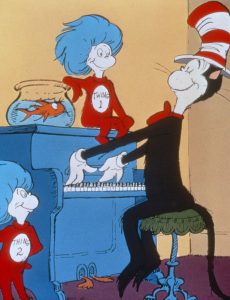 Hat perform incredible tricks and produce wondrous items to entertain Sally, her brother, and the frustrated little pet fish during one rainy day. The Cat in the Hat is available as either a touring show or field trip for area schools.
Refugee
A world premiere, Refugee follows three kids from different eras with a common mission: escape. Josef is a Jewish boy in 1930s Nazi Germany. Isabel is a Cuban girl in riotous 1994. Mahmoud is a Syrian boy in 2015. All three young people will go on harrowing journeys in search of refuge. And although Josef, Isabel, and Mahmoud are separated by continents and decades, surprising connections will tie their stories together in the end. Refugee is based on the New York Times Bestselling book written by Alan Gratz as adapted by Eric Coble. Like Cat in the Hat, Refugee is available as either a touring show or field trip for area schools.
Romeo and Juliet
Adapted by Bill Kincaid from the William Shakespeare classic, Romeo & Juliet retells the ancient tale of star-crossed lovers whose struggling passion for each other brings fatal consequences that ultimately reconcile their feuding families. Romeo & Juliet is available as a touring show .
Disney's Newsies: The Musical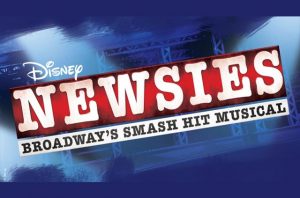 Inspired by real events, this high-energy Tony Award-Winning musical tells the plight of young newspaper sellers to make ends meet in 1899 New York City. When newspaper owners start to exploit their labor beyond reason, Jack Kelly and his band of newsies rise up and face the ruthless Joseph Pulitzer. Based on the 1992 eponymous film, music for Newsies is by Alan Menken, lyrics by Jack Feldman and book by Harvey Fierstein. This production will take to the Arcade Theatre stage in the spring.
Spring Awakening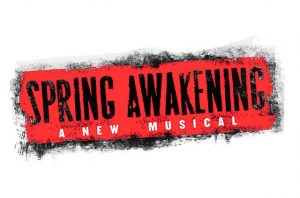 The winner of eight Tony Awards (including Best Musical), Spring Awakening explores the journey from adolescence to adulthood with a poignancy and passion that is illuminating and unforgettable. Told by Duncan Sheik and Steven Sater through what Entertainment Weekly called "the most gorgeous Broadway score this decade," this landmark musical is an electrifying fusion of morality, sexuality and rock and roll that is exhilarating audiences across the nation like no other musical in years. With book and lyrics by Steven Sater and music by Duncan Sheik, Spring Awakening comes to the Arcade Theatre stage during the summer of 2019.
Disney and Cameron Mackintosh's Mary Poppins JR.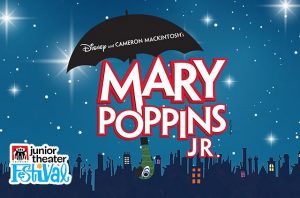 Based on one of the most popular Disney movies of all time and the Broadway musical that played for over 2,500 performances and received multiple Olivier and Tony Awards nominations, Disney and Cameron Mackintosh's Mary Poppins JR. is an enchanting mixture of irresistible story, unforgettable songs and breathtaking dance numbers. For ages 8-15, this program focuses on touring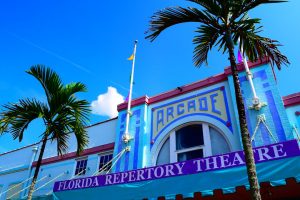 performances and collaborative competition! The music and lyrics for Mary Poppins JR comes from Richard M. Sherman and Robert B. Sherman, with book by Julian Fellowes and new songs and additional music and lyrics by George Stiles and Anthony Drewe.
The 2018-2019 season will also feature the 2019 Junior Theatre Festival entry Show on the Go.
_________________________________________________________________
'Remember Me?' coming to Center for Performing Arts Bonita Springs (07-10-18)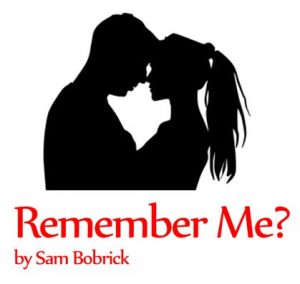 CFABS Community Players will present Remember Me? July 18-22 in the Hinman Auditorium. It follows empty nesters Mary and Brian Hanson. The couple appears to have a very comfortable marriage. They even pride themselves on being best friends. But in truth, their marriage is waning. Then, their lives are turned upside down when Mary's old college boyfriend, Peter, shows up. Are his overt professions of love simply Mary's fantasy? Imaginary or not, Brian goes into a jealous rage. But Peter just won't go away, so Brian tries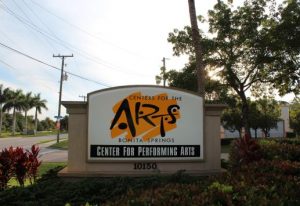 everything to shake Mary back to her senses, going as far as hiring Tori, a sexy young actress to pose as his fantasy in hopes of making Mary jealous. Things get more complicated when the real Peter shows up on what was supposed to be an ordinary Sunday.
Performances are at 7:00 p.m. on Wednesday – Saturday, July 18, with 2:00 p.m. matinees on Saturday and Sunday, July 21 & 22, 2018.
Gary Obeldobel directs.
___________________________________________________
'Annie' on stage at Broadway Palm through August 11 (07-10-18)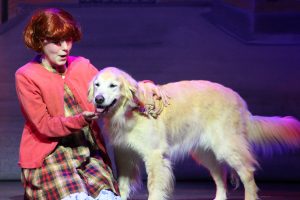 On stage now through August 11 at the Broadway Palm Dinner Theatre is Annie. The blockbuster musical tells the heartwarming story about everyone's favorite orphan and her dog Sandy.
A spunky orphan, Annie is determined to find her parents, but her fun-filled adventures lead her instead to billionaire Oliver Warbucks. As part of a publicity campaign for Mr.
Warbucks, Annie and her dog are placed in the lap of luxury for a week. However, Annie's stay turns out to be much more than anyone had bargained for as she works her way into everyone's hearts! The only thing standing in Annie's way is an evil scheme cooked up by the cruel and bitter Miss Hannigan. This Tony-Award-winning Best Musical features some of the greatest hits in the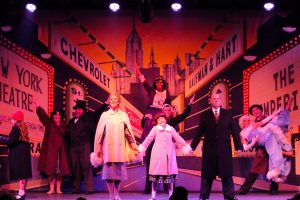 history of musical theater, including "It's the Hard Knock Life," "I Don't Need Anything But You," "Easy Street" and "Tomorrow."
 Directing and choreographing Annie is Amy McCleary. McCleary's work was most recently seen with this season's hit Mamma Mia which became Broadway Palm's number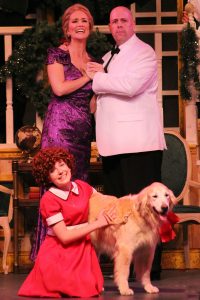 one show of all time. The cast includes many Broadway Palm alumni including audience favorite Victor Legarreta as Oliver Warbucks. Making her Broadway Palm debut and starring as Annie is Pennsylvania resident Piper Sobon. In addition, sixteen local youngsters are double cast as Annie's eight orphan friends and the understudy for the role of Annie is local resident Ava Stoeberl.
Performances are Wednesday through Sunday evenings with selected matinees. There is a summer special for children 18 and under, tickets are just $20 for the buffet and the show! Adult ticket prices range from $45 to $70 with discounts for parties of 20 or more. Advance reservations are required and tickets can be reserved by calling (239) 278-4422, by visiting BroadwayPalm.com or by stopping by the box office.
______________________________________________________________________
'Savannah Sipping Society' on stage in Off Broadway theater through July 22 (07-10-18)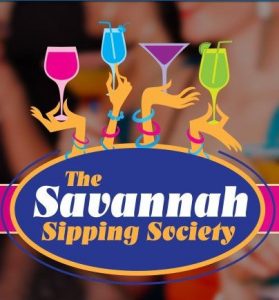 After a sold-out run last season, The Savannah Sipping Society is back at the Off Broadway Palm now through July 22. It's a delightful, laugh-a-minute comedy that features a barrage of jokes, one-liners and zingers worthy of a Samantha Bee or Paula Poundstone stand-up comedy routine.
The action starts when Randa Covington, Marlafaye Mosley and Dot Haigler stagger into the juice bar after a withering hot yoga class. Forming an instant bond as a result of their near-death experience, they resolve to share drinks that evening on Randa's verandah.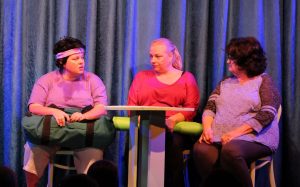 Dot invites the manager of a nearby make-up store to join the trio.
So who are these imperfect strangers?
Randa is a workaholic perfectionist who is struggling to cope with a surprise career derailment that reveals she has no life and no idea how to get one.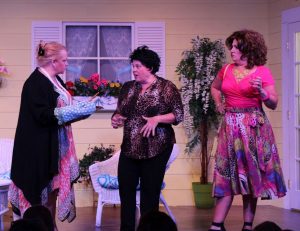 Dot's a widow who is reeling from her husband's recent demise and the loss of their plans for an idyllic retirement. Marlafaye is a boisterous good ol' Texas gal trying to come to terms with losing her tom-cattin' husband to a twenty-three-year-old dental hygienist. And Jinx is a spunky ball of fire who offers her services as a much-needed life coach for her three new friends.
As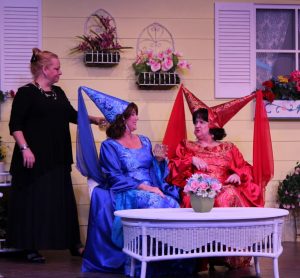 it turns out, Jinx has already met Randa – in the check-out line at the local grocery.
"I got a slab of Brie and seven tangerines," she tells Dot and Marlafaye before encountering Randa for the second time that day. "When I got into the five-items-or-less line, the most pretentious, uptight gal I've met in years threw a frothing fit. She went ballistic. I mean, what kind of person is so tightly wound she'd even care about that?"
Enter the self-same tightly-wound Randa, holding aloft a plate of cheese straws.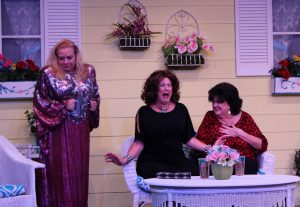 But never underestimate the healing power of a cheese straw! The two unite at first bite.
From that moment on, the banter is droll, the repartee snappy. The man-bashing jokes and gender-based sarcasm even has the men in the audience guffawing with laughter. But there's more here than a disjointed string of wisecracks and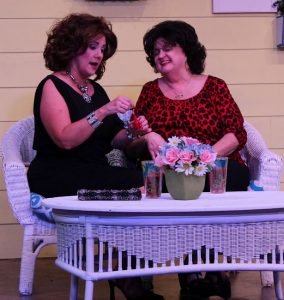 witticisms. Playwrights Jessie Jones, Nicholas Hope and Jamie Wooten (whose credits include The Dixie Swim Club, Dearly Beloved, Christmas Belles, The Red Velvet Cake War and Always a Bridesmaid) explore the ways in which all of us cope with the reverses, setbacks and tragedies that life throws our way with all too much regularity.
Just like us, Randa, Marlafaye, Dot and Jinx are self-involved, filled with irrational fears and desires, and consumed by conflicting emotions. On their own, they struggle to get by, but with each other's support and understanding,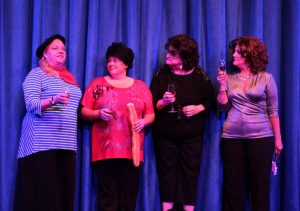 they find the courage to try and do new things that make them individually and collectively smarter, stronger, more confident and self-aware. Along the way, they forge lasting friendships and discover a renewed determination to live in the moment. More importantly, they also realize it's never too late to make new old friends.
The Savannah Sipping Society plays through July 22. But lock up your tickets now. This show is sure to sell out again.
_______________________________________________________________________________
Here's what audiences will see on Broadway Palm's main stage during 2018-2019 season (07-10-18)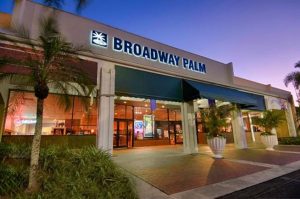 Broadway Palm Dinner Theatre has released the main stage productions that will comprise its 2018-2019 season. They are:
Let's Go To The Movies (August 30 – September 29, 2018)
"Here's lookin' at you kid," "Hasta La Vista Baby," and "We're gonna need a bigger boat" are just a few of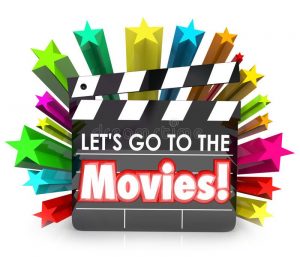 the iconic movie quotes that have become colloquial sayings. Join Victor Legarreta and his cast as they sing and dance their way through movie history. This all-movie musical revue will feature songs from all of your favorite movies and movie musicals along with surprise guest appearances by "the movie stars" themselves! You'll laugh, sing along and become part of the action. So, get your tickets, click your heels together three times and say "There's no place like Broadway Palm…..There's no place like Broadway Palm…"
42nd Street (October 4 – November 17, 2018)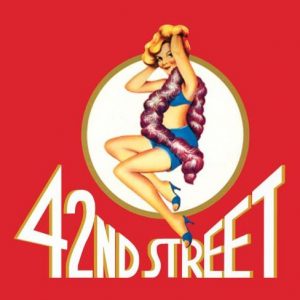 The dazzling tribute to Broadway, New York City and the world of musical theatre high-kicks its way onto the Broadway Palm stage! Aspiring chorus girl Peggy Sawyer heads to NYC and quickly lands her first big gig in the ensemble of a glitzy new Broadway show. Just before opening night, the leading lady breaks her ankle which might give Peggy a chance to step in and become a star! 42nd Street sparkles with some of the greatest songs in musical theatre history including We're In The Money, Lullaby Baby, Shuffle Off To Buffalo, Dames, I Only Have Eyes For You and the title song 42nd Street.
Elf The Musical (November 22 – December 25, 2018)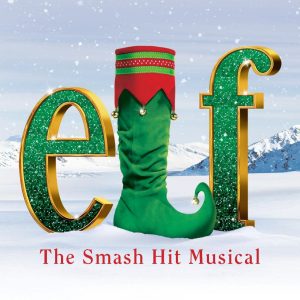 Based on the holiday film of the same name, this hilarious musical comedy follows Buddy the Elf in his quest to find his true identity and help New York remember the true meaning of Christmas. Buddy, a young orphan, crawls into Santa's bag and winds up in the North Pole where he is raised, unaware that he is human, until his enormous size and poor toy-making abilities cause him to face the truth. With Santa's permission, Buddy embarks on a journey to discover his true identity. This modern day holiday classic is sure to bring out the true spirit of Christmas….after all, the best way to spread Christmas Cheer is singing loud for all to hear!
Saturday Night Fever (December 29, 2018 – February 9, 2019)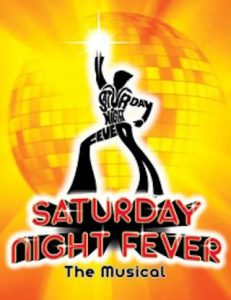 Put on your "Boogie Shoes" for one of the most adored dance stories of all time that captures the passion, energy and life-changing moments that have thrilled audiences for over forty years! Tony, a young man from Brooklyn, tries to escape his problems and dance his way to a better life. With his electric dance moves, he hits the dance floor every weekend at the discotheque, where he tries to win the admiration of the crowd, and his crush. Based on the 1977 film that became a cultural phenomenon, the score is packed with Bee Gees' hits including the Night Fever, Stayin' Alive, How Deep Is Your Love?, Jive Talking, You Should Be Dancing and more!
Guys and Dolls (February 14 – March 30, 2019)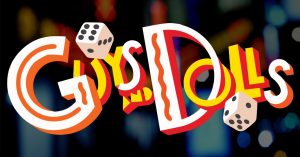 This is the story of the unlikely romance between Miss Sarah Brown, a pure-at-heart urban missionary, and a slick Broadway gambler, Sky Masterson. The show's second romantic storyline involves Nathan Detroit, the consummate gambling man and the operator of "The World's Largest Floating Crap Game", and
Miss Adelaide, the main attraction at the Hot Box nightclub, who have been engaged for fourteen years. Frank Loesser's score features classic songs such as Luck Be a Lady, I've Never Been in Love Before, Sue Me, A Bushel and a Peck and the wonderful title song Guys and Dolls.
Second Chances: The Thrift Shop Musical (April 4 – May 12, 2019)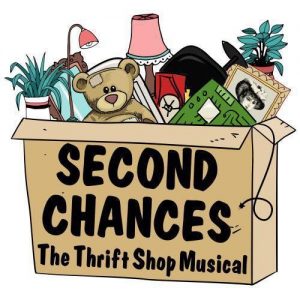 A funny, yet inspirational, musical comedy about the quirky characters that run The Second Chances Thrift Shop. You'll meet the hilarious lead clerk who always brings sunshine to the day with humor, the couple who work in the collection area who discover that you can find love later in life, the young mother and new shop manager trying to start over, and more! When the thrift shop is threatened to be sold by the greedy landlord, the team won't stand for it. Spend a year with the loveable, yet quirky, group and see how they band together to save the shop and in the process, discover it's not just old treasures that are getting Second Chances!
Little Shop of Horrors (May 16 – June 15, 2019)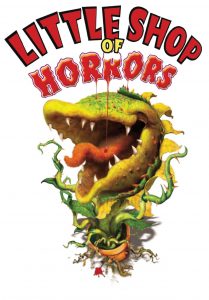 One of the longest running Off-Broadway shows is a deviously delicious Broadway and Hollywood sci-fi, smash-hit musical that has devoured the hearts of theatre goers for decades! Meek floral assistant Seymour stumbles across a new breed of plant that he names "Audrey II" – after his coworker (and crush!). This sassy, R&B-singing plant promises everlasting fame and fortune, as long as Seymour keeps feeding it its special diet. Between bites, Audrey II brings down the house with music composed by Alan Menken in the style 1960s rock and roll, doo-wop and Motown including the well-known Suddenly, Seymour.
Disney's Beauty and the Beast (June 20 – August 10, 2019)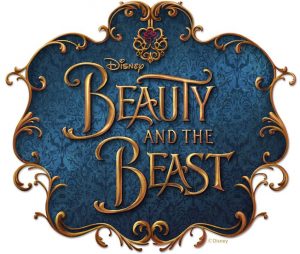 "Be Our Guest" as we step into the enchanted world of Disney's Beauty and the Beast! The classic "tale as old as time" tells of Belle, a young woman in a small town, and a Beast, who is really a young prince under a spell. If the Beast can learn to love and be loved, the curse will end and he will be transformed into his former self. Time is running out and if the Beast doesn't learn his lesson soon, he and his household will be doomed forever. The spirited, headstrong Belle enters the Beast's castle after he imprisons her father and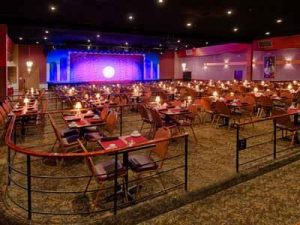 with the help of his enchanted servants, Belle begins to draw the cold-hearted Beast out of his isolation.
Broadway Palm's main stage opens on August 30, 2018 and runs through August 10, 2019. Show prices range from $45 to $75 with group and children's prices available. Performances are Tuesday through Sunday evenings (no Tuesday evening performances May through October), with selected matinees. Individual tickets go on sale June 1st.
___________________________________________________________________________
Broadway Palm announces productions included in 2018-2018 Off-Broadway season (07-10-18)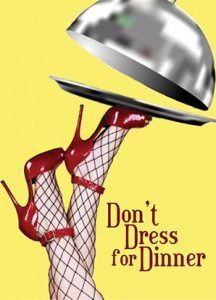 The Off Broadway Palm Theatre is Broadway Palm's second performance venue. The Off Broadway Palm's season begins September 27, 2018 and runs through July 21, 2019, and here are the five shows you'll see Off-Broadway:
Don't Dress for Dinner (September 27 – November 10, 2018)
When Bernard's wife decides to visit her mother for a few days, he makes plans to spend a romantic weekend with his chic, new, Parisian mistress in his charming converted French farmhouse. He invites his friend Robert as an alibi, but when his wife finds out Robert will be in town, she changes her plans for a surprise tryst of her own. An evening of sidesplitting confusion ensues as Bernard and Robert improvise at breakneck speed!
Winter Wonderettes (November 15 – December 25, 2018)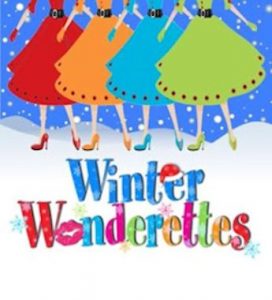 The Marvelous Wonderettes are the entertainers at Harper's Hardware Holiday Party and like every year, Mr. Harper is scheduled to pass out the employee bonuses. When Mr. Harper doesn't show, one of the girls goes to find him, but instead finds what she thinks are the bonuses, but they're not and everyone is in for a big surprise! The 60s style holiday songs include Santa Baby, Santa Claus is Coming to Town, Jingle Bell Rock, Winter Wonderland and more.
Midlife 2! #WhatDidIComeInHereFor (January 10 – February 23, 2019)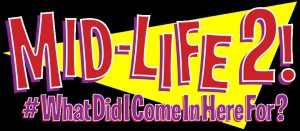 The follow up to the hilarious Mid-Life The Crisis Musical, Midlife 2! takes us back into the middle ages once again with a hilariously tuneful look at the aches, pains, and joys of getting older. From ever-increasing trips to the doctor's office, to the horrifying moment when one qualifies for a senior discount, the aging Baby Boomers and beyond are sure to see their lives reflected in this brand new, witty musical revue.
Mama Won't Fly (February 28 – April 28, 2019)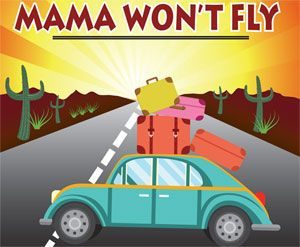 A race against the clock begins when Savannah Sprunt Fairchild Honeycutt agrees to get her feisty mother all the way from Alabama to California in time for her brother's wedding. Savannah's problem: MAMA WON'T FLY. So three generations embark on a hilarious road trip where they meet family, friends, strangers and each other along the way. This ferociously funny comedy is by the writers of The Savannah Sipping Society and The Hallelujah Girls!
Sex Please, We're Sixty (June 6 – July 21, 2019)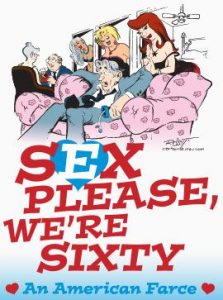 Mrs. Stancliffe's Rose Cottage Bed & Breakfast has been successful for many years. Her guests, most of which are women, return year after year. Next-door neighbor, "Bud the Stud" thinks they come to spend time with him in romantic liaisons. The fun begins as three women arrive and turn the table on Bud and Mrs. Stancliffe's suitor, Henry, in a hysterical attempt to show the men who is the smarter sex.
Ticket prices range from $39 to $59. Performances are Tuesday through Sunday evenings (no Tuesday evening performances May through October), with selected matinees. Individual tickets go on sale June 1st.
_________________________________________________________________________________________________
ARTSWFL's calendar gives names, dates and places of art fairs and festivals taking place during 2018-19 season (07-09-18)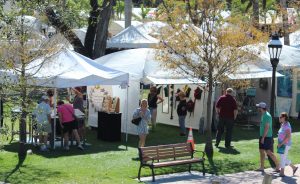 Each year, Southwest Florida is home to more than 60 art fairs and festivals. They take place from Matlacha to Marco Island between October and the end of April, and you will find all of them listed chronologically on Art Southwest Florida's Art Fair and Festival Calendar.
And to help you decide which fairs and festivals you want to attend,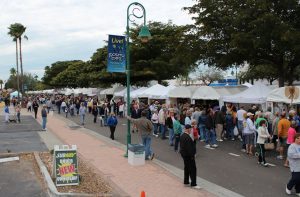 Art Southwest Florida also provides in-depth profiles of the following:
So make your plans early and experience for yourself why Southwest Florida is one of the hottest small art markets in the entire country.
____________________________________________________________
Hot Works accepting applications for 22nd Estero Fine Art Show (07-09-18)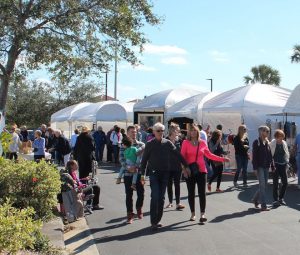 Hot Works LLC is now accepting submissions for the 22nd Estero Fine Art Show. It will take place on Saturday and Sunday, January 5 & 6, 2019 at JetBlue Park. Voted a top 100 art show three years running, the Estero Fine Art show is recognized as one of America's highest quality and most respected art shows in the country.
The show features original work in a wide array of disciplines, including painting, clay, glass, fiber, sculpture,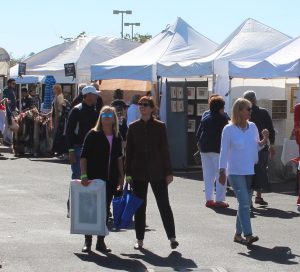 wood, photography, jewelry and more. One of the show's highlights is a Youth Art Competition for grades K-8 or ages 5-13.
Winter home of the Boston Red Sox, JetBlue Park affords both exhibitors and attendees with numerous benefits, including a location that draws from and is easily accessible from everywhere in Southwest Florida, as well as plenty of convenient, on-site parking.
The application deadline is August 3, 2018. Applications can be found online at https://www.zapplication.org/event-info.php?ID=6564. For more information, please contact Executive Director Patty Narozny at patty@hotworks.org or 941-755-3088.
_______________________________________________________________________
ArtFest Fort Myers accepting applications for 2019 festival until September 11 (07-09-18)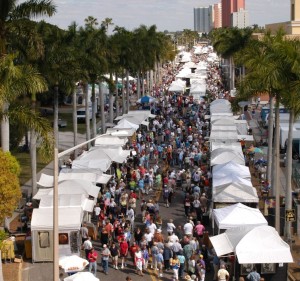 ArtFest Fort Myers is now accepting applications for participation in its 2019 juried show. Featuring the work of 200 artists, ArtFest Fort Myers attracted 90,000 art lovers and collectors to the largest outdoor gallery in Southwest Florida on the first weekend in February in 2018. Attendance continues to grow.
Why apply to participate at ArtFest Fort Myers? 
"Creating an artwork-selling festival for artists is the focus of our year-round professional staff, with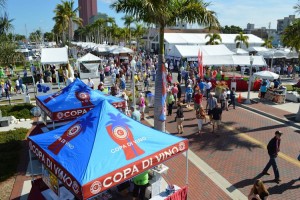 19 years of consistent management," states ArtFest in its Call to Artists. "Targeting art buyers throughout Southwest Florida and beyond – from Marco Island to Sarasota and east to West Palm Beach – our promotional campaign includes all forms of media. We also understand the importance of providing great artist amenities over festival weekend to ensure that our artists are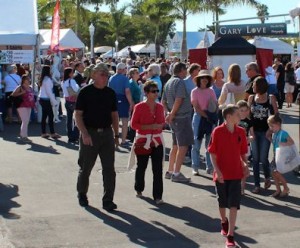 stress free and ready to share their work with our dedicated attendees."
How are festival artists chosen? 
Each October, ArtFest Fort Myers brings together a panel of professional artists who view submitted images and score each applying artist on a range of 1 – 7 points. The artists with the highest scores are then invited to participate in ArtFest.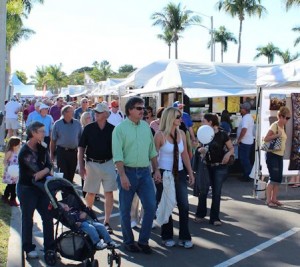 "Our jury panel varies each year but always represents a broad base of expertise with regard to artistic mediums – theirs is the difficult task of evaluating who is the 'best-of–the-best' from the hundreds of artists who wish to join ArtFest Fort Myers!" ArtFest points out. "Our jury process is open to artists and patrons – please contact us for more information."
ArtFest Fort Myers works year-round to produce a creative community celebration that also includes:
The deadline for submissions is September 11. ArtFest takes place in 2019 on February 1, 2 & 3. For Artist Application information, contact ArtFest Fort Myers at 239-768-3602, email info@ArtFestFortMyers.com or visit https://artfestfortmyers.com/artist-info/.
____________________________________________________________________________________________
Naples Art Association now accepting applications for 31st Annual Downtown Naples Festival of the Arts (07-09-18)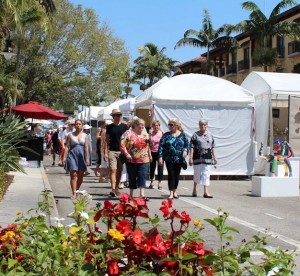 The Naples Art Association is currently accepting applications for inclusion in its three outstanding outdoor art festivals, The Downtown Naples New Year's Weekend Art Fair, Naples National Art Festival and The Downtown Naples Festival of the Arts.
The 31st Annual Downtown Naples Festival of the Arts is one of the last major art festivals of the winter season and a favorite festival for artists, art enthusiasts and collectors. If you would like to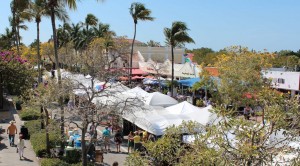 exhibit in this show, here's what you will need to know:
The Naples Downtown Art Show was voted one of the top five favorite events by local businesses and residents. It was also rated in the top 15 by Sunshine Artist's survey of all artists in the country.
___________________________________________________________________________
Naples Art Association now accepting applications for Naples National Art Festival (07-09-18)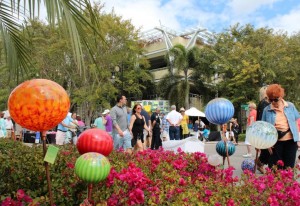 The Naples Art Association is currently accepting applications for inclusion in its three outstanding outdoor art festivals, The Downtown Naples New Year's Art Fair, Naples National Art Festival and The Downtown Naples Festival of the Arts.
Naples National is consistently voted among the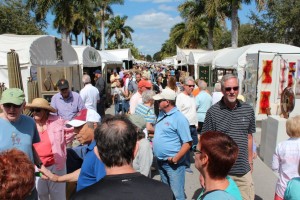 top 25 art festivals in the country by Sunshine Artist Magazine and was ranked #15 last year. As one of the oldest festivals in Collier County, Naples National is counted by the local community as among its premiere, must–see events, thanks to the high quality of art, the engaging personalities of the artists and the festive atmosphere.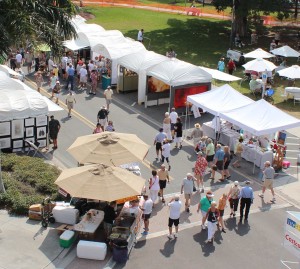 If you are interested in exhibiting in the 40th Naples National Art Festival, here's what you will need to know:
To improve the quality of the show and to provide more sales opportunities for our artists, NAA has reduced the number of booths available from 270 to 190. "This will allow artists greater exposure and less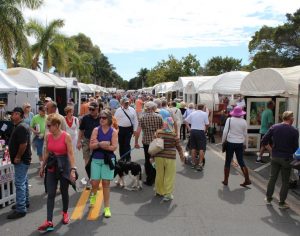 competition," states NAA in its prospectus for the show. "Additionally, the park layout, will consist of one loop making it easier for customers to view all artist's booths. However, there is a corresponding increase in booth fees."
The is the only Naples Art Association show that offers cash awards for Best of Show, Best 2D, Best 3D and Awards of Distinction in 2D and 3D. The amounts are:
Awards will be presented at the band shell in Cambier Park at 5:00 pm on Saturday. NAA staff or volunteers will notify an artist if they need to be present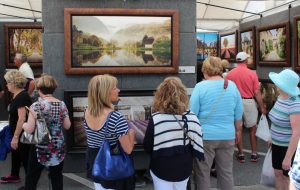 at the awards ceremony on Saturday. Awards are given based on the same criteria used for the jury process. The winning artists are invited to participate in the following year's show and receive jury exempt status but must still pay his/her booth fee.
The mission of the Naples Art Association is to expand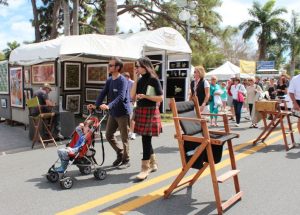 cultural opportunities, broaden education and enrich SWF through the visual arts. Proceeds from the Naples National Art Show support educational programming at The Naples Art Association.
_____________________________________________________________________________________________
Naples Art Association now accepting applications for 23rd Annual Downtown Naples New Year's Art Fair (07-09-18)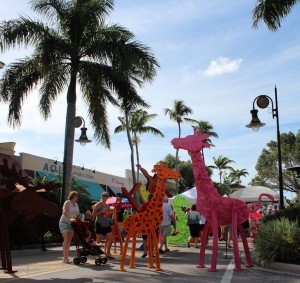 The Naples Art Association is currently accepting applications for inclusion in its three outstanding outdoor art festivals, The Downtown Naples New Year's Art Fair, Naples National Art Festival and The Downtown Naples Festival of the Arts.
Start your new year off in sunny Florida. New opportunities await you at the 23rd Annual Downtown Naples New Year's Art Fair. This fine art festival draws professional artists from around the country and was ranked #20 in the nation by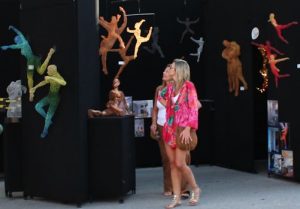 Sunshine Artist Magazine.
If you are interested in exhibiting at this show, here's what you will need to know:
__________________________________________________________________
Naples Art Ass'n. accepting submissions for next season's Art in the Park (07-02-18)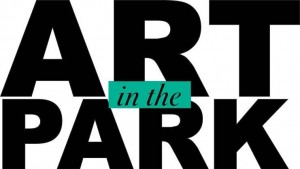 Are you ready for the 2018-2019 season of Art in the Park? The Naples Art Association (NAA) proudly connects artists with art shoppers in another terrific season of Art in the Park.
Since 1957, Art in the Park has showcased paintings in oil and acrylics, watercolors, mixed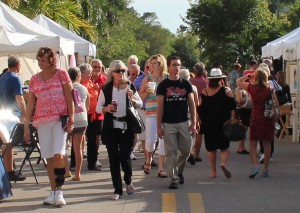 media, photography, sculpture, ceramics, glass art, jewelry and wood-working created by members in good standing of the Naples Art Association. For art lovers, it's a casual, fun-filled venue for meeting local artists and becoming acquainted with their work. It is believed to be the first outdoor art show held in Naples. And the tradition continues for the 2017-2018 art fair and festival season.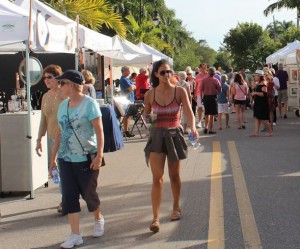 Art in the Park is held between 10:00 a.m. and 4:00 p.m. on the first Saturday of each month from November through April. Because of its long tradition, prestige and the interest and number of people who routinely turn out for the show, many NAA members seek admission to the show. Applicants go through a jury process.
"Art in the Park is a membership opportunity, providing artists a venue to sell and market their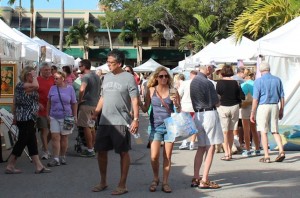 work while broadening their customer base," notes the Naples Art Association in its call to artists for the 2018-2019 season. "It also provides a setting for artists to interact with other artists sharing ideas, industry changes and the camaraderie of creative people. It is an opportunity for both artists and the public to engage in enlightening conversations about art."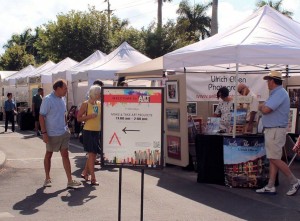 The one-day fair takes place on Park Street adjacent to The von Liebig Art Center in the northwest corner of Cambier Park. Located just a block and a half from historic Fifth Avenue South, Art in the Park is within walking distance of trendy European boutiques, sidewalk cafes and iconic art galleries such as Sheldon Fine Art, Call of Africa's Native Visions Gallery and Shaw Gallery of Fine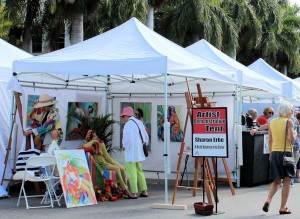 Art. The show is also just three minutes by car from fabled Gallery Row and the Third Street South Gallery District. The January show is also held in conjunction with the Downtown Naples New Year's Art Fair, which will be held next season on Saturday and Sunday, January 5 & 6, 2019.
____________________________________________________________________________
Boulderbrook Productions accepting submissions for Southwest Florida art festivals (07-09-18)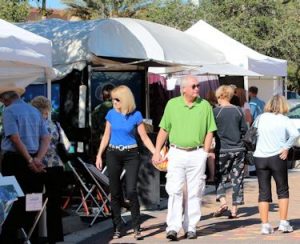 Boulderbrook Productions hosts a number of boutique art festivals in Southwest Florida each season. It is currently accepting submissions for:
You must apply online at  http://www.boulderbrook.net/.
_________________________________________________________________
Camera USA 2018 on view at Naples Art Association through August 3 (07-08-18)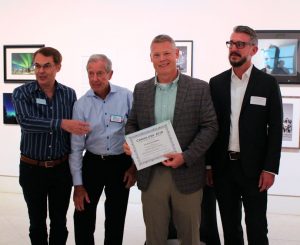 Camera USA 2018 opened June 1 at the Naples Art Association. This year, 218 photographers from around the country submitted images for inclusion in the show. From these, jurors Christopher Jones, Mark Sloan and Paul Tognarelli selected 75 photographs, with work coming from California (7), Colorado (1), Florida (21),Georgia (2), Illinois (2), Maryland (2), Massachusetts (3), Michigan (3), Minnesota (1), Mississippi (2), New York (8), North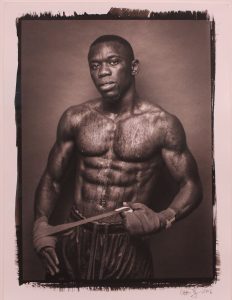 Carolina (2), Ohio (2), Oregon (1), Pennsylvania (1), Rhode Island (1), South Carolina (1), Tennessee (2), Texas (4), Virginia (2), Washington (4), Wisconsin (2) and Wyoming (1).
Raleigh, North Carolina photographer Christer Berg won the $5,000 National Photography Award for his image Dewayne Beamon, boxer. Merit Awards and $100 in cash were also given to:
Constance Brinkley, Celebrating Life, 2014, photograph: archival pigment print, 16 x 16 inches
Ron Cooper, Joaquin, 2016, monochrome photograph, 33 x 25 inches
Lisette Morales, Margarita Claro, 2017, photograph, 16 x 24 inches
Wendy Roussin, Badlands Series, 2017, photograph: archival silver gelatin print, 24 x 20 inches
Ben Tanzer, The Boxer, 2015, photograph: digital inkjet print, 12 x 12 inches
For more, follow these links:
____________________________________________________________
Naples Art issues call to members for 'Your Choice 2018' exhibit (07-08-18)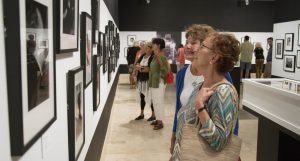 The Naples Art Association is accepting applications from member artists interested in exhibiting work in Your Choice 2018. Artists are invited to register one artwork before the July 11 deadline (deadline to register early and provide an image for possible pre-exhibition publicity was June 14).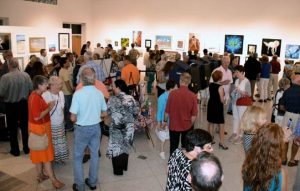 Your Choice is the Naples Art Association's annual non-juried exhibition. It provides an unparalleled opportunity for Naples Art Association contributors to present their artwork to a large audience with no jury process requirement. The exhibition is called "Your Choice" because artists and viewers make the choices. Artists decide which artwork they will exhibit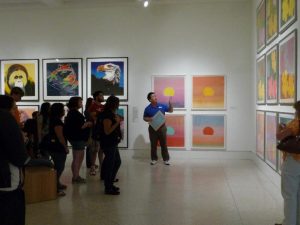 while viewers attending the reception decide who will receive the awards (of which there are five with a total cash value of $1,000).
Everyone attending the 5:30-7:30 August 10 reception may cast one vote for a favorite artist. Voting is overseen by the Collier County Supervisor of Elections Office and the award winners will be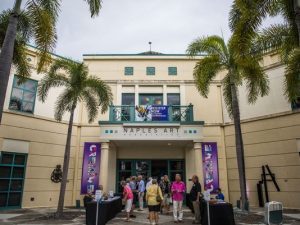 announced on the Naples Art Association's Facebook page.
Your Choice 2018 will be on display August 13 – September 19, 2018. The exhibition will be on view on the first and second floors in all of the Naples Art Association's galleries. Located at 585 Park Street, Naples, the Naples Art Association is open from 10:00 a.m. to 4:00 p.m. Monday through Saturday. For more information, please telephone 239-262-6517 or visit NaplesArt.org.
___________________________________________________
NAA bringing 'Scene to be Seen" back on November 1 (07-08-18)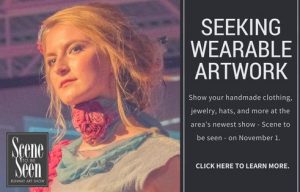 Last year, Naples Art Association introduced Scene to be Seen: A Runway Art Show. The popular event returns on Thursday, November 1. Artwear in all media and styles including garments, ensembles, hats and handbags for both men and women will be featured.
"This event combines the sophistication of Naples with the thrill and excitement of top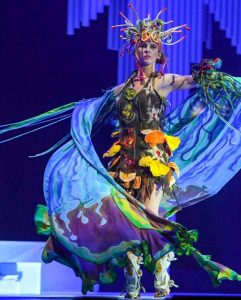 international couture runway shows," states NAA in its announcement for the show. "High fashion collides with high art for a unique, exciting opportunity to see the creative process and own a unique piece of artwear yourself."
The evening will have an immersive atmosphere, giving attendees a chance to socialize and experience the thrill of creativity — including a fully staged runway show, sales gallery, and live auction featuring men's and women's garments, ensembles, hats, jewelry and handbags created by artists from Los Angeles, New York, the Philippines and Italy as well as right here in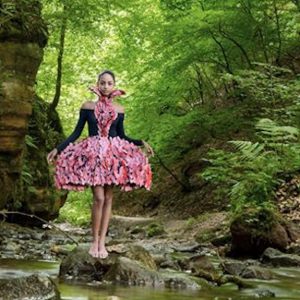 Southwest Florida.
The welcome reception with appetizing hors d'oeuvres and cocktails begins at 7:00 and will be followed by the extraordinary fashion show and auction. After the show, stay for a fabulous after-party with music and a full cash bar.
NAA is currently accepting submissions for the show. A panel of Fashion/Art Centric professionals will select entries from digital images or sketches based upon originality, creativity, artistry, and complexity of workmanship.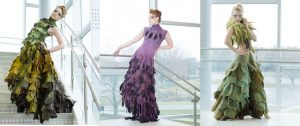 Artists may submit model names, however, they must go through committee approval. For more information, including an application form, please visit https://www.naplesart.org/wp-content/uploads/2018/05/S2BS_CallforArtists.pdf.