Actors, artists, filmmakers and events in the news June 22-30, 2020
Grouped under headings that include art openings, film, outdoor art fairs and festivals and theater are advances, announcements and articles about the actors, artists, filmmakers and events making news in Southwest Florida this week:
1     ACTORS
Post COVID interviews you may have missed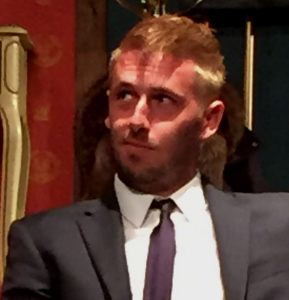 Here are links to stories written on various local actors since the COVID-19 shut-down began:
_____________________________
Other interviews:  oldies but goodies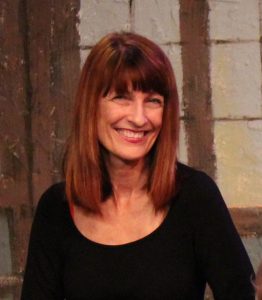 Here are some other interviews that Southwest Florida's stage actors have given over the years:
__________________________
2     ARTISTS
According to a U.S. Census Bureau Small Business Pulse Survey, two-thirds of the nation's artists are now unemployed, as jobs in the "Arts, Entertainment & Recreation" sector have shrunk by 54.5%.
Acevedo introducing new work at Davis Art Center solo show 'Introspection'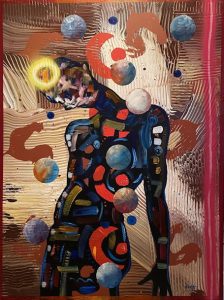 David Acevedo has new work to exhibit! Exploring new and past mediums, Introspection contains paintings created in the last year that use human interactions, experiences and perceptions as inspiration. This solo show opens to the public on Friday, July 3, 2020 in the Grand Atrium of the Sidney Berne Davis Art Center in conjunction with the return of Fort Myers Art Walk.
The general opening reception starts at 6:00 p.m., but guests have the opportunity for a more intimate, social distancing-conscious reception by reserving for one of three VIP parties hosted by the artist. Reservations are accepted on the artist's website at acevedostudio.com.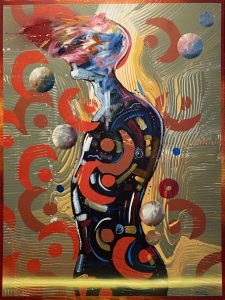 With the launching of a new website and the Introspection exhibition, Acevedo has reinvented and restructured his artistic approach. His new pieces evidence stronger subject matter and presence; his composition and symbolism are more focused and relevant to his environment. Taking the combination of mediums to a higher level of expertise, his new work incorporates silkscreen printing, spray acrylic paint and stencils with traditional acrylic painting on large scale canvases. The larger size of the pieces in this collection is also a change in the artist's production.
A 24-page full color limited edition catalog will be available for sale during the opening reception on July 3 and available online on the artist's website following the reception.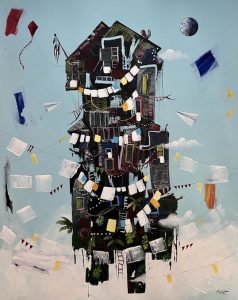 Acevedo arrived in Southwest Florida in 2000, quickly immersing himself in the art scene of Fort Myers and surrounding cities by collaborating in a multitude of projects, including co-founding Fort Myers Art Walk, the Union Artist Studios and the very popular DAAS CO-OP Art Gallery. He was awarded an Angel of the Arts award in 2009 and a FACE Award in 2016. He is also the recipient of two City of Fort Myers Individual Artist Grants. Throughout his career, he has supported, sponsored and promoted other local artists, some of whom got their first exhibition at one of Acevedo's venues. The artist has been featured in several publications, both locally and internationally, and has exhibited his work in Europe and Asia.
The Sidney Berne Davis Art Center is located at 2301 First Street, Fort Myers, FL 33901. Regular exhibition hours are 9:00 a.m. to 5:00 p.m. Monday through Friday. More information about the venue is available at sbdac.com. Additional information about David Acevedo is available at acevedostudio.com.
_____________________________________________
Belan's 'ERA Now' makes cover of ART tour International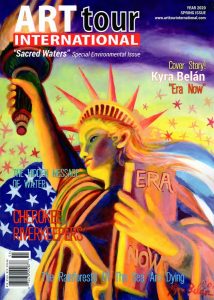 Everyone is dealing with the pandemic in their own way. Cape Coral artist, author and academic Kyra Belan is creating art in quarantine in preparation for her next exhibition when galleries reopen. She has had work from her American Beauty Series featured in the March and April issues of House and Garden – Conde Nast, a London-based publication distributed internationally. And her painting, ERA Now, has made the cover of ART tour International Magazine. Belan is the magazine's featured artist for its Spring 2020 issue, "Sacred Waters," which is now available online and in bookstores. The 6-page article is found inside that issue contains a sampling of Belan's drawings, paintings and installations.
Go here for the rest of this post.
______________________________________________________________________
Winter Park's Cornell Fine Arts Museum to exhibit Jansen's first U.S. museum solo show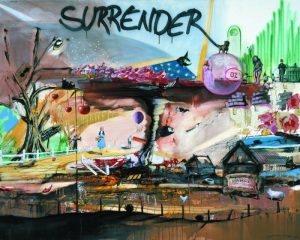 The Cornell Fine Arts Museum is exhibiting a solo show of work by Marcus Jansen September 18, 2020 through January 3, 2021. Titled E Pluribus Unum, the exhibition represents the first ever solo museum exhibition of Jansen's work in the United States.
This exhibition will focus on works Jansen created in the last 15 years and will be comprised of both large scale paintings and a selection of works on paper (among them a select number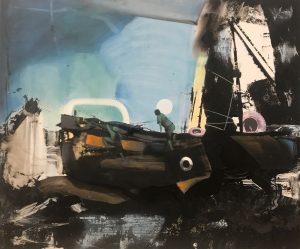 of new pieces on view for the first time) that examine Jansen's visual explorations of structures of power and the struggle to grapple with the nuanced reality of our time. The exhibition is being organized by the Cornell Fine Arts Museum in collaboration with the artist and will be accompanied by an illustrated catalogue.
While E Pluribus Unum may represent Jansen's first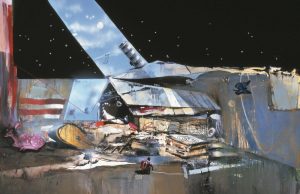 solo museum show in the United States, the Bronx/Fort Myers artist has enjoyed a number of solo shows abroad, including shows at La Triennale di Milano Museum in Milan and the Museum Zitadelle  in Berlin, and he participated in the 12th International Print and Drawing Biennial in Taiwan at the National Taiwan Museum of Fine Art. Works by Jansen are in collections of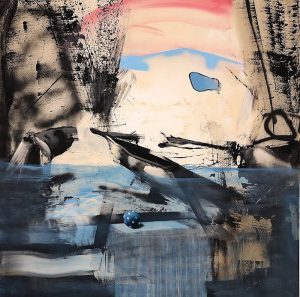 the Moscow Museum of Modern Art (MMOMA), The University of Michigan Museum of Art, The New Britain Museum of American Art, The Kemper Museum of Contemporary Art, The National Taiwan Museum of Fine Art, The Housatonic Museum of Art and the Smithsonian Institution in Washington D.C.
Jansen is known for powerful, monumental canvases that address poignant social and political themes. Through the use of an arresting visual language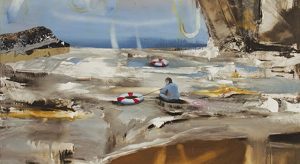 characterized by colorful and expressive brushwork, and references to contemporary and historical issues, Jansen invites viewers to engage in a reflection about the human condition. Jansen continues to explore surveillance and social divides in society and will place his iconic 2010 piece Obscure Line Between Fact and Fiction (3rd photo) to the museum for the show.
_______________________________________________
Kickin' it with artist Marcus Jansen on June 1 virtual TGIM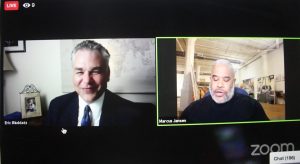 On June 1, artist Marcus Jansen was Eric Raddatz's guest on his weekly edition of virtual TGIM. The two covered a wide range of topics, including his upcoming solo show at the Cornell Fine Arts Museum at Rollins College in Winter Park, the impact that the pandemic has had on Jansen, the meaning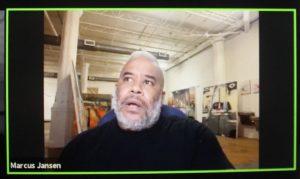 and import of his statement that "art is the most intimate act of war" and the message he seeks to convey through his urban landscape and Faceless paintings. More, the discussion provided a glimpse into the heart and soul of the artist who's been called the most important American painter of his generation.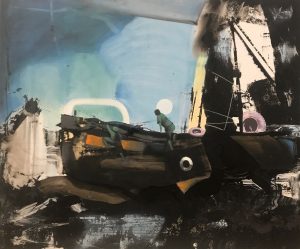 The Cornell museum show is a very big deal for Jansen. Although he has enjoyed solo museum shows in Europe, the Cornell exhibition represents the first solo museum exhibition of Jansen's career in the United States.
Go here for the rest of this article.
_____________________________________________________________________
Revisiting Dorothy's gas mask in tornadic aftermath of COVID and nationwide protests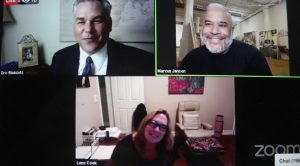 During last night's virtual TGIM, Lane Cook called in to ask artist Marcus Jansen how he felt about seeing people in COVID-19 face masks and gas masks as they protest the killing of George Floyd given that he painted Dorothy wearing an olive green gas mask in his iconic painting Creeping Obstacles in Kansas.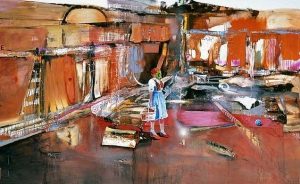 "Ironic," was Jansen's first reaction. Marcus painted the piece almost ten years ago to the day!
Reflecting further, he modified his assessment. "Eerie. That's exactly where we are today."
Go here for the rest of this article.
______________________________________________________________
Sheldon Fine Arts' William Hobbs continues tradition of Hudson River School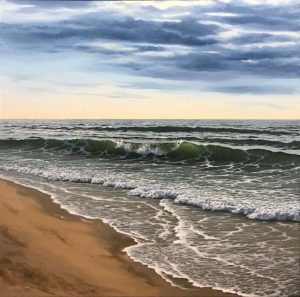 One of the artists represented by Sheldon Fine Art Gallery in Naples is seascape specialist William Hobbs.
Hobbs grounds his painting style on the powerful realism that became the trademark of the Hudson River School. He sees his artistic style as a continuation and extension of their endeavors. Following in the traditions of Frederick Church and Albert Bierstadt, his paintings explore the power of the natural world.
Known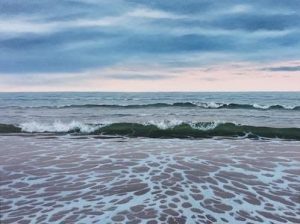 for the detail in his paintings, Hobbs thrives on exploring the intricacies of the natural world in his compositions. Finding nature to be fascinating at every level, he seeks to create paintings that can be appreciated up close as well as from a distance. He renders these scenes in oils on canvas. He appreciates the permanence of oils and finds this time-tested media to be the best method to capture the facets of nature that intrigue him.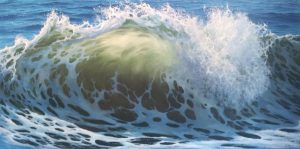 As an avid hiker, backpacker, and water-sport enthusiast, his art grows out of countless hours observing in the field. Further, his graduate level education and research in biology and ecology informs his art. His paintings are both scientific studies and artistic renderings. Hobbs sees no difference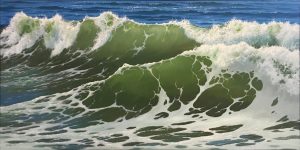 between the two.
Moving water is a common theme in his paintings. From crashing surf and the rolling waves of the sea, to the flow of forest streams and waterfalls, his paintings often explore the patterns of water in motion.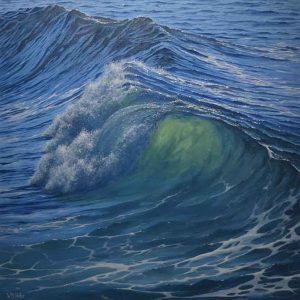 It is his desire that these studies impress upon the viewer a wonder for nature and the God who developed it. Hobbs believes wonder is the heart motivation for productive admiration and protection of the natural world.
Hobbs studied and painted for a number of years along the coast of New England, where he was active in the Seacoast Art Association of New Hampshire. He now paints from his home in northeastern Pennsylvania where he is associated with the Pocono Mountains Arts Council.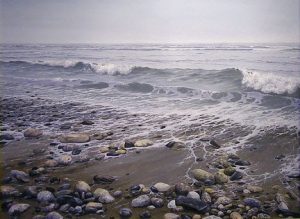 His art is represented in a wide range of private and corporate collections throughout the United States as well as in Germany and France, including the collections of Sanofi Pasteur, Portland Steel, and the Weiler Corporation. Hobbs paintings have won many awards and he exhibits in a growing number of shows and galleries. It is the artist's hope that the viewer will discover in his paintings the bright optimism of a world full of the life and motion.
Sheldon Fine Art is located at 460 Fifth Avenue South in Naples. For more information about the artist or the gallery, please call 239-649-6255.
_____________________________
3       FILMMAKERS
Spotlight on film actor, writer and producer Theresa Ireland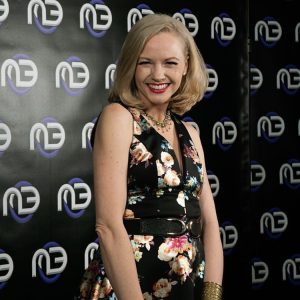 Theresa Ireland is an SAG/AFTRA film and stage actor, casting director, choreographer and film producer who made her appearance in Fort Myers during the 9th Annual Fort Myers Film Festival in conjunction with the Mariya Pyter short film On the Way to Lovetown, in which Theresa played a Marilyn Monroe look-alike. While she is known nationally for her Marilyn Monroe impersonations, she attracted the attention of sports fans across the country as the host/interviewer of Esports Update for Chicago-based Midnight Esports Network.
_____________________________________________________
Filmmaker Theresa Ireland 'Hungry' to have you see her new short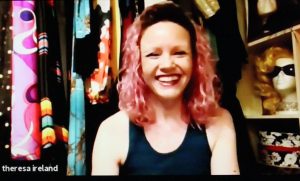 The last time Theresa Ireland was in Fort Myers, she was a cast member in the indie short film On the Way to Lovetown, written and directed by filmmaker Mariya Pyter. Since then, she transitioned into writing and producing her own films, and just before the COVID-19 shut-down, she completed filming Hungry, a short film that she co-wrote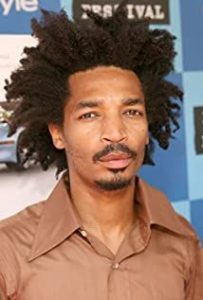 with Kristyn Sammons.
A drama, Hungry features Eddie Steeples (The Guest Book (2017-2018), I Know Who Killed Me (2007), My Name is Earl (2005)), Peter Kwong (Big Trouble in Little China, Eddie Murphy's Golden Child, The Presidio) and James Quattrochi (In the Kingdom of the Blind, True Friends (for which he was named Best Up and Coming Director by the Laifa Film Awards). Ireland and Sammons also appear in the film, Ireland in the role of Susan Johnson, Sammons as Tami Prato.
_____________________________________________
Marilyn came to Ireland, and life's been sweet ever since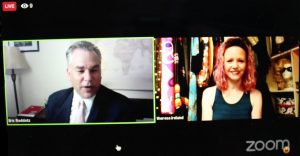 On any given day, Hollywood Boulevard is crammed with retailers, shoppers, diners and tourists, and mingling with them are dozens of celebrity impersonators who dress up as Hollywood icons and pose with tourists for tips. The buzz they create is aptly captured in Fred Durst's 2019 American psychological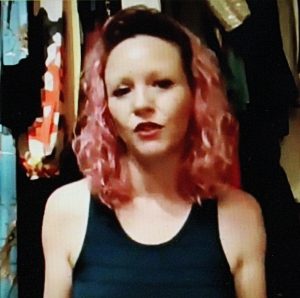 thriller, The Fanatic, in which John Travolta plays an autistic man named Moose who's not only a street performer, but a man obsessed with an action film star. And to lend a dose of realism to the film's streets scenes, Durst and fellow filmmakers feature a host of street performers, including a Marilyn Monroe impersonator played by Theresa Ireland.
Ireland is known in Southwest Florida for playing a Marilyn Monroe look-a-like in On the Way to Lovetown, an independent short film that filmmaker Mariya Pyter submitted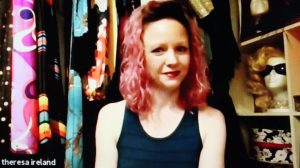 to last year's Fort Myers Film Festival. But in addition to The Fanatic and Lovetown, she's actually portrayed the '50s blond bombshell or a Monroe impersonator  a number of other time,s, including the feature films How to be a Latin Lover (2017) and Actor for Hire (2015),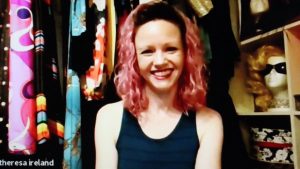 short film Anger Anonymous (2016), and on television in Actress: Another Word for Waitress ("Showtime" (2018) and "Acting 101" (2017)) and Geoffrey Malibu (2016).
Go here for the rest of this story.
______________________________________________
Filmmaker Jordan Axelrod cultivating the uncontrollable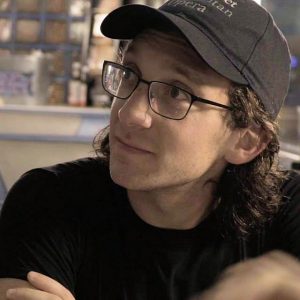 Last year, Jordan Axelrod's documentary Coach screened twice at the 9th Annual Fort Myers Film Festival – once inside the grand atrium of the Sidney & Berne Davis Art Center and again on the lawn outside of Henry Ford's former winter home at the Edison & Ford Winter Estates. Last week, Axelrod was FMFF Director Eric Raddatz's guest on virtual TGIM, and today is the filmmaker's birthday.
Axelrod is renowed for creating content through the lens of social impact. He was motivated to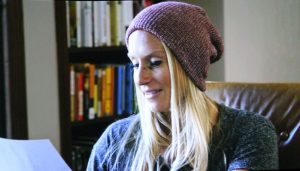 make Coach by the desire that children be able to grow up in a world where it's normal to see women in sports not just as athletes, but in positions of authority. Whoever, to achieve this goal, women routinely encounter arcane rules that have been written, however unconsciously, in a way that keeps women from reaching those upper echelons.
Go here for the rest of this story.
_____________________________________________
Spotlight on TGIM Guest and Filmmaker Jordan Axelrod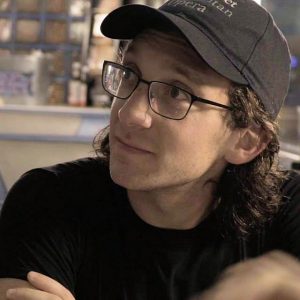 Jordan Axelrod is a filmmaker known for Seven Ten Split, Carol's Last Chance and, most recently, Coach.
Axelrod possesses numerous ties to the Fort Myers Film Festival. He cut his filmmaking teeth at FMff as a volunteer while he was still in junior high. After earning a degree in film from NYU's Tisch School of the Arts, the Fort Myers native's 20-minute short film, Seven Ten Split was juried into the Sixth Annual Fort Myers Film Festival. The film went on to received honor as best in the Student Film category. Last year,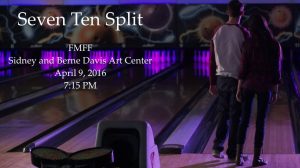 Jordan had another film, Carol's Last Chance, juried into the Fort Myers Film Festival, and this year his documentary, Coach, is an official FMff selection.
___________________________________
Erin Beute investing now for future outcome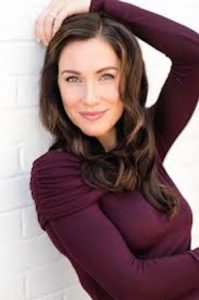 For Erin Beute, there's little discernible difference between life before, during and after the COVID-19 shut-down. A writer's writer, she gets fresh ideas during her daily run and then hammers out screenplays and other content at her PC the rest of the day and into the night. She pursues both endeavors alone, so it's exactly the same for Erin whether she's under quarantine or not.
"I do miss human interaction," she laughs. "But if you stretch out, you can still interact with people in meaningful ways."
Her lonesome pursuits are a necessary trade-off.
A poster girl for delayed gratification, Erin understands that she's investing now for 
a future outcome – such as seeing one of her stories appear on the silver screen or livestreamed into millions of homes across the country via Netflix or Hulu.
Perhaps one day she'll even direct, if not a story she's written then maybe one created by somebody else.
"It's inevitable for anyone who acts and writes to ultimately have that vision in their head," she remarks.
Go here for the rest of this interview.
________________________________________
Erin Beute taking 'Bird's Eye' from short to feature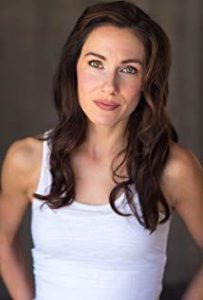 In March of 2019, actor, screenwriter and filmmaker Erin Beute burst upon the Southwest Florida film festival scene with Bird's Eye, a spellbinding 13-minute drama that tells the story of an officious music professor who loses her sight only to unexpectedly find perfect clarity within the walls of an at-risk urban high school. In addition to screening at the 9th Annual Fort Myers Film Festival last April, Bird's Eye was chosen as Best Short Narrative by the Bonita Springs International Film Festival and Best Florida Made Film by the Fort Myers Beach International Film Festival. The short closed out its film festival run this past weekend with another win (10 total together with five other nominations), with Beute winning Best Performing Artist for "Alleluia," the song that ends the film. But Bird's Eye is far from done!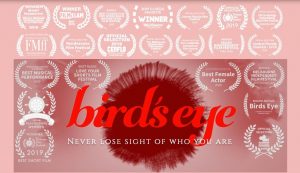 "I've been underground for most of the past year," reports Beute by phone from the paddock of the horse farm where her youngest daughter takes jumping lessons a couple of times a week. "But Bird's Eye is finished. It's completed. Ten drafts, and it's as ready as I can make it until it reaches the hands of the producers, who will make the adjustments producers make."
You will find the rest of this interview here.
______________________
Other filmmaker interviews
Here are some other interview-based articles posted on Art Southwest Florida since COVID-19's onset:
______________________________
4     ART SHOWS AND EXHIBITIONS
Southwest Florida's museums, galleries and art centers are beginning to re-open as Florida and its individual counties move into Phase 2 of Governor Ron DeSantis' reopening plan. Large venues such as movie theaters, concert halls, arcades, playhouses and presumably museums, galleries and art centers are nevertheless subject to certain requirements, including (1) groups are limited to 10 or fewer people with six feet of space maintained between each party and the overall limitation restricting social gatherings to no more than 50 people; (2) regular cleaning and disinfecting is required; (3) owners are encouraged to conduct health screenings of employees; and (4) masks are recommended for both patrons and staff. In the meantime, some of Southwest Florida's museums, galleries and art centers are producing shows, and this online option may continue beyond reopening.
Davis Art Center re-opened June 5 with 'Rumors or Reality?'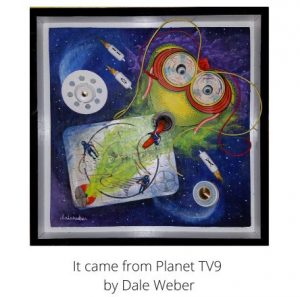 After great deliberation and extensive considerations, the Sidney & Berne Davis Art Center re-opened on June 5 with its annual June juried art exhibition – albeit at reduced capacity. Appropriately themed "Rumors or Reality?," the show features 70 artworks by 50 different artists.
"We will be following CDC reopening guidelines and taking a gradual approach in reopening which allows us to prioritize health and safety while taking progressive steps to restore regular operations," states SBDAC President & CEO Jim Griffith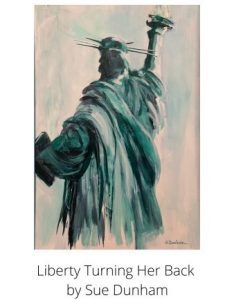 in making the announcement. "Our people (patrons, volunteers, supporters, artists, and staff) are our biggest assets, and we want to make sure that you're safe."
Inside, signs were in evidence asking people to come in very small groups, wash their hands, be mindful about who and what they touch, remain at least six feet apart, and observe the one way traffic designs while inside the building.
Curated by Cesar Aguilera, "Rumors or Reality?" will be on view in the grand atrium through 3:00 p.m. on June 25.
____________________________________________
'Frida's Flowers' finally ready to bloom in July at DAAS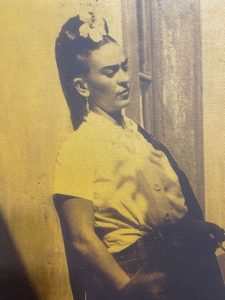 A few months ago, DAAS CO-OP Gallery issued a challenge to area artists to create artworks inspired by iconic surrealist painter Frida Kahlo. The work submitted was going to be exhibited in April, but then the COVID-19 wash-out intervened. Well, that was then and this is now. The April Showers, Firda's Flowers Invitational Exhibition will finally open on Friday, July 3 in conjunction with Fort Myers Art Walk.
"I do not know or fully understand my connection to this woman and how I feel when I contemplate her paintings," says David Acevedo, for whom Kahlo was not only an incredible inspiration, but an idol. "She persevered through the heartaches, ailments and so many other circumstances,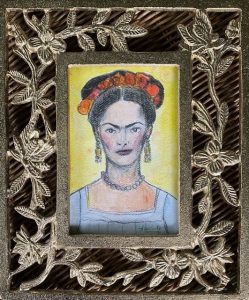 but never gave up. She was resilient and always found a way to continue painting and that, I think, it's very much how I am. Frida lives in my heart and that is why we wanted to dedicate this exhibition to her."
July 3 promises to be a busy night for Acevedo. Not only does he have work in April Showers, Frida's Flowers. He is also presenting a major solo exhibition at the Sydney Berne Davis Art Center in on the same night.
A social distancing-conscious after-party event will follow at 9:30 p.m. in the outdoor bar space nestled between DAAS CO-OP and Thrifty Garden at the Butterfly Estates.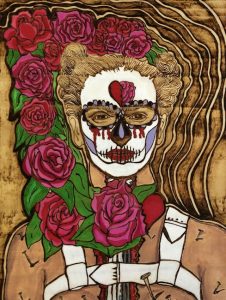 Christened Atala Wine & Beer Bar, this space provides a nature-inspired experience among the butterflies and flowers abundant around the complex. The Atala Wine & Beer Bar is a collaborative project between the shops and a great alternative to the hustle and buzzle of other parts of downtown Fort Myers.
DAAS CO-OP is located at 1815 Fowler Street, Unit 3, in Fort Myers, FL 33901. Temporary business hours are from 10:00 a.m. to 3:00 p.m. on Friday to Sunday. More information about gallery and/or how to become a member can be found at daascoop.com or by calling 239-590-8645.
_________________________________________________
Alliance receives transformative gift from Meisenberg Family Trust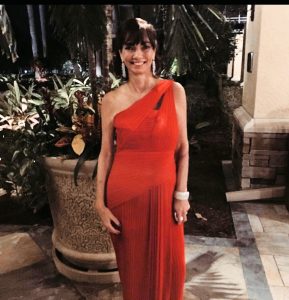 The Alliance for the Arts has received a gift totaling $190,000 from the Meisenberg Family Trust that will enable it to maintain arts and culture as a vital part of Southwest Florida.
A past president and longtime supporter of the Alliance for the Arts, Deborah E. Meisenberg had an eye for beauty and appreciation of culture which she cultivated through her travels. With its lavender fields and good wine, Italy especially captured her heart. Meisenberg, who received a BA in criminal justice from St. John's University in 1979 followed by a JD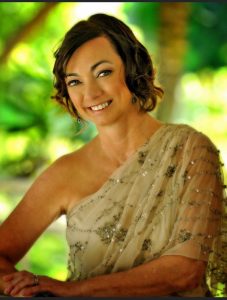 from Bridgeport Law School in 1982, was committed to social justice and investing in her community. She passed away in 2019.
"Art is an escape from reality, and that couldn't be more needed than now," says Deborah's son, Jeremy Meisenberg about the gift.
"We are excited and honored to be able continue our mom's legacy and support an organization that is committed to facilitating creativity," adds Deborah's son, Paul Meisenberg.
In addition to helping support Alliance operations, the donation will support the future of the Southwest Florida creative community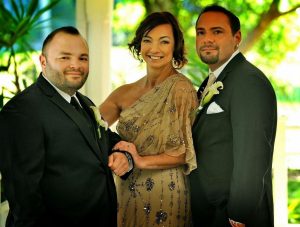 through the Arts are Vital Grant, an emergency relief program for Lee County's arts organizations and individual artists formed by the Alliance in partnership with the Meisenberg Family Trust to ensure the impact of the arts is not lost during a time when we need it most. (See next post for more information about the Arts Are Vital Grant.)
As part of the transformative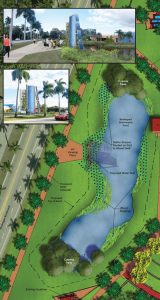 gift, the Alliance is commemorating the life and legacy of Deborah E. Meisenberg with a new outdoor piazza space. The piazza overlooks the Alliance ArtsPark, which features new landscaping and will be home to the Caloosahatchee Water Wall by internationally acclaimed artist Michael Singer.
"Deb's thoughtfulness, generosity of spirit and passion for the arts will live on at the Alliance and in all who will benefit from her gift. We are grateful to Deb's sons, Jeremy and Paul, for continuing the good works of their mom and for making sure the arts remain relevant during this time of uncertainty," says Alliance for the Arts executive director, Lydia Black.
For more information on the Alliance for the Arts, visit ArtInLee.org or call 239-939-2787.
___________________________________________
Alliance announces availability of Arts Are Vital grants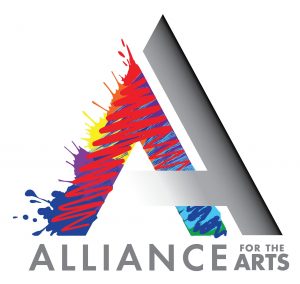 The Alliance for the Arts, a nonprofit visual and performing arts center in the heart of Fort Myers, announces The Arts are Vital:  Emergency Funding for Artists and Arts Organizations in Lee County.
The Arts are Vital Grant is an emergency relief program for Lee County's arts organizations and individual artists formed in partnership with the Meisenberg Family Trust to ensure the sustained impact of the arts during a time when we need them most. The program provides one-time grant awards to arts organizations and professional artists with urgent financial need who reside in Lee County, Florida. These funds are unrestricted and may be used by the organizations and artists to help with financial issues due to the impact of COVID-19 on their organizations, lives and livelihoods.
Subject to the availability of funds, arts organizations may receive up to $5,000 and individual artists will receive up to $500.
Applications open June 29 and close at midnight EST on July 12. Artists residing in Lee County and eligible nonprofit organizations are encouraged to apply at ArtInLee.org/Grant. Grant recipients will be announced August, 2020.
This grant is made possible by a generous gift from the Meisenberg Family Trust and was facilitated by Jeremy and Paul Meisenberg, in memory of their mom and former Alliance Board Member and cultural supporter, Deborah Meisenberg.
"Deb Meisenberg's thoughtfulness, generosity of spirit and passion for the arts will live on at the Alliance and in all who will benefit from her gift. We are grateful to Deb's sons, Jeremy and Paul, for continuing the good works of their mom and for making sure the arts remain relevant during this time of uncertainty," says Alliance for the Arts executive director, Lydia Black.
For more information or to apply, visit ArtInLee.org/Grant. Please direct all grant related questions to grants@artinlee.org.
___________________________________________________________________
Exhibitors have until July 1 to submit for Alliance's 'Pain, Process and Promise' show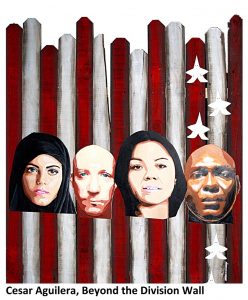 The Alliance for the Arts is seeking artists to submit work for its July show, Pain, Process and Promise. In an attempt to process the multilayered issues facing our society and culture, this exhibition asks artists to submit traditional works of art in painting, drawing, mixed media, photography and sculpture but is also open to proposals in installation or alternative mediums such a video, projection, memorials and community-based projects.
"In this extended moment, we find ourselves navigating crisis upon crisis that has further underscored the deep inequities in our society," states the Alliance in its call to artists. "How are you holding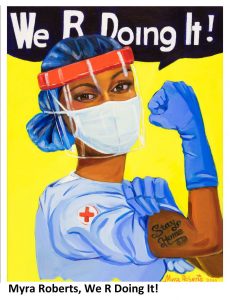 the pain and promise of this moment? As we continue to navigate the deep waters of injustice and a global pandemic, share your voice and story through art."
The deadline to submit is Wednesday, July 1. This call is open to all artists residing in Florida.  Only original artwork will be accepted. There is no entry fee for this show, but an optional donation supports the Alliance for the Arts mission and programming.
The exhibit runs from July 10 through August 20 at 10091 McGregor Blvd. Fort Myers, FL.
There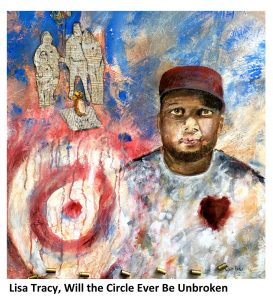 will not be a traditional opening reception for this exhibition as during the exhibition timeline, the Alliance for the Arts will be operating by appointment only – scheduling designated viewing hours, specific gallery tours, artist interviews, a digital viewing room and video spotlights throughout the month.
More information in regards to this programming will be announced when scheduled.
For more information about this exhibit, visit ArtInLee.org/Process or call 239-939-2787.
_________________________________________________
DAAS' 'Pieces from the Vault' and clearance sale ends June 27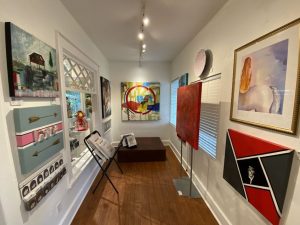 "Pieces from the Vault" the exhibition and clearance sale end June 27.  through June 27, 2020. DAAS CO-OP is currently operating on a limited schedule, opening only Friday, Saturday and Sunday from 10:00 a.m. to 3:00 p.m. More hours will be added during the month of June. Up-to-date information can be found at daascoop.com. DAAS CO-OP is located at 1815 Fowler Street, inside the Butterfly Estates in Fort Myers, FL. For additional information, please call 239-590-8645 during business hours.
____________________________
5      THEATER
Southwest Florida's theaters remain closed to the public. However, they may begin reopening now that the State has moved into Phase 2 of Governor Ron DeSantis' reopening plan. In the meantime, many of Southwest Florida's community theater companies continue to produce virtual readings and shows, and this online option may continue beyond reopening.
Naples Players holding free online concert to feature graduating KidzAct grads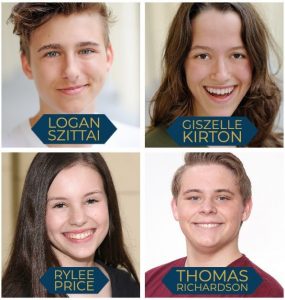 Join The Naples Players on-line this Saturday at 7:00 p.m. for a free concert showcasing some of the amazing graduating seniors from its KidzAct education program, including Sade Bassan, Giszelle Kirton, Alex Portaro, Rylee Price, Lila Prince, Thomas Richardson and Logan Szittai, . They'll be performing from the stage of Blackburn Hall – featuring music from the Broadway hits Catch Me If You Can, Tick Tick Boom, The Last 5 Years, Avenue Q, Beautiful and more.
In addition, thanks to a generous offer from Henry Price, all donations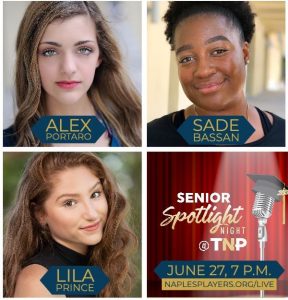 made from now through the concert will be matched up to $10,000! Click here to donate.
So join TNP at naplesplayers.org/LIVE to view the concert from home – and support these amazing young artists before they leave the stage for colleges around the country.
___________________________________________________
TNP KidzAct producing Kate Hamill's Pride & Prejudice virtually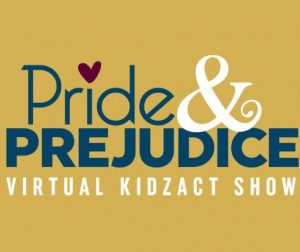 The Naples Players is doing a virtual production of Kate Hamill's Pride & Prejudice July 9 – 11 only.
Pride and Prejudice is a fun, modern version of Jane Austen's classic novel involving manners, courtship and relationships. Finding a husband is hardly Elizabeth Bennet's most urgent priority. But with four sisters, an overzealous match-making mother, and a string of unsuitable suitors, it's difficult to escape the subject. When the independent-minded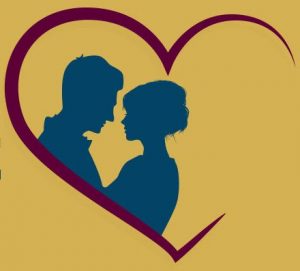 Elizabeth meets the handsome but enigmatic Mr. Darcy, all feelings of attraction are muted by his pride and her prejudice. As their worlds keep colliding, their attraction increases. But they first must overcome their own weaknesses and many other obstacles before the most famous courtship in history can begin.
Pride & Prejudice is presented by the young artists of The Naples Players' KidzAct Program. Ticket Buyers will be emailed a link to view the performance. Get Tickets by Clicking Here.
_____________________________________________________
Broadway Palm 'Sound of Music' reopening postponed until July 8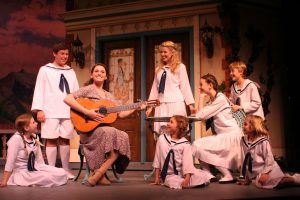 Broadway Palm's planned re-opening on June 24 with The Sound of Music has been postponed until Wednesday, July 8. The decision was necessitated by the current trend of rising COVID-19 numbers, which hit a record high of 5,511 positive cases on Tuesday, June 24, followed by 5,502 more positive cases on Wednesday, June 25.
The theater had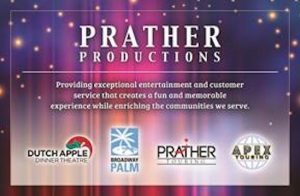 anticipated operating at 50% capacity with appropriately spaced private tables in order to facilitate social distancing throughout the theater. However, these and rigorous sanitation measures were deemed insufficient to protect guests, staff and performers in light of the surge in new cases and hospitalizations being experienced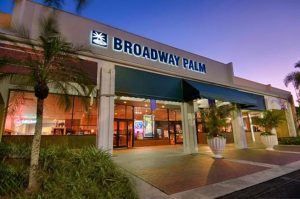 currently in Southwest Florida and throughout the rest of the state.
"The theatre is pleased to report that they have no confirmed cases of COVID-19 among their staff or actors," stated Broadway Palm in its press release announcing the postponement. "And although they safely completed a soft reopening earlier this month and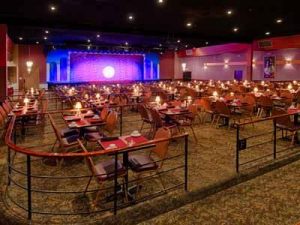 entertained 1,458 audience members over a three week period, they believe it is in the best interest of the community to postpone the official reopening until the daily trend line of new cases decreases."
That soft reopening involved the comedy Love, Sex and the IRS, which played through June 21 at a reduced capacity of just 25%.
While the opening of The Sound of Music has been delayed until July 8, there are no plans at present to extend the run, which will close August 8, 2020. All ticket holders for the cancelled performances of The Sound of Music will be contacted and rescheduled for future performances. Assuming that it is safe to reopen as planned on July 8, performances will take place Wednesday through Sunday evenings with selected matinees. Tickets are $48 to $73 with group discounts available. There is a summer special and tickets for anyone 18 and under are just $20 for the meal and the show! Tickets are now on sale and can be reserved by calling (239) 278-4422, visiting BroadwayPalm.com or in person at 1380 Colonial Boulevard in Fort Myers.
The Sound Of Music is based on the book The Story of the Trapp Family Singers and the 1965 film starring Julie Andrews. This Rodgers and Hammerstein musical has touched the hearts of audiences around the world for decades. Follow Maria, the high-spirited, aspiring nun who is sent from her convent to be the governess to seven unruly children of a strict father, Captain von Trapp. The children eventually come to like Maria and she finds herself falling in love with the captain. The timeless score includes Do-Re-Mi, My Favorite Things, Climb Every Mountain, Sixteen Going on Seventeen, Edelweiss and The Sound of Music.
The Sound of Music plays June 25 through August 8, 2020.
_______________________________________________
Broadway Palm's re-opening makes Broadway World news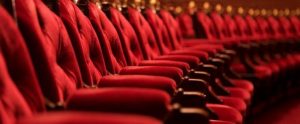 Broadway Palm figured prominently in Broadway World's BWW News Desk article of June 15 on the regional theatres around the country who are re-opening despite increasing case.
"Fort Myers' Broadway Palm, currently presenting Love, Sex and the IRS,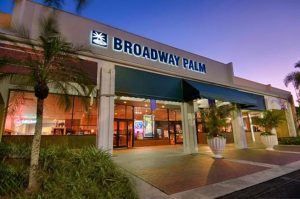 has been performing to 25% of its usual 448-seat capacity and on June 25, it plans to step it up to 50% when it opens The Sound of Music," states the article. "The theatre re-opens with new safety measures in place, including temperature checks and adjusted seating arrangements that are 'private and appropriately spaced' to encourage social distancing. Masks are not mandatory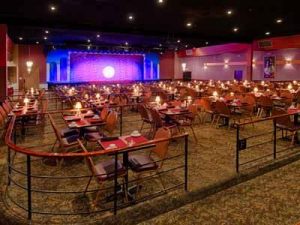 of guests but encouraged. The theatre is also providing hand sanitizer stations and using UV lights to kill bacteria."
The article quotes owner Will Prather, who told the Fort Myers News-Press that he will continue to be cautiously optimistic. "I do believe people are looking for things to do."
In re-opening, Broadway Palm joins a handful of theaters around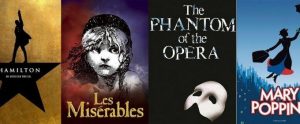 the country, including Orem Utah's SCERA, Tyrone, Georgia's Legacy Theatre, Cocoa, Florida's Cocoa Village Playhouse, Fort Worth, Texas's Jubilee Theatre, and Curtain and Lights Theatre Company of Decatur, Alabama.
All of these theaters are non-Equity houses, meaning actors can be employed without breaking previously set rules set by Actors Equity Association regarding returning to work. An April 21 membership rule states that members may only return to work when the union deems it safe to do so. That has yet to occur.
In New York City, Phase 1 of re-opening is still underway. But as of June 15, Broadway productions are shut down through Labor Day with the very real possibility that reopening will be delayed until after the first of the year, perhaps even as late as Spring. Meanwhile across the pond, Cameron Mackintosh, his producing partners and Delfont Mackintosh Theatres have made the decision to delay the return of their West End productions of Les Misérables, Mary Poppins, Hamilton and The Phantom of the Opera until 2021 as well.
____________________________________________________________
Broadway Palm set to open 2020-21 season with Dean Martin Variety Hour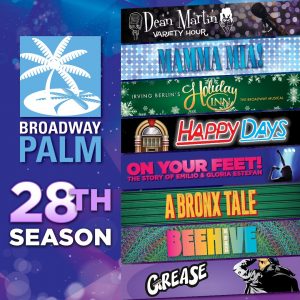 Broadway Palm has announced that it will open its 2020-2021 main stage season on August 20 with the Dean Martin Variety Hour. Written by Broadway Palm's own Victor Legarreta and featuring Dean Martin Impersonator Seth Abrahms, it is a throwback to the old Dean Martin Variety Show. Featuring great music, hilarious comedic skits and more, you just never know who is going to knock on the front door of Dino's place next.  This production is sure to have you singing and laughing the night away!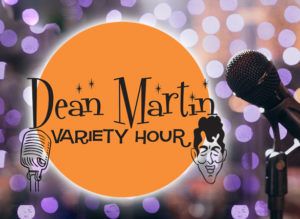 The Dean Martin Variety Hour is the first of eight main stage productions, five Off Broadway shows and five concerts. Individual tickets are on sale now. Show prices range from $48 to $73 with group and children's prices available. Performances are Tuesday through Sunday evenings (no Tuesday evening performances May through October) with selected matinees. For more information visit BroadwayPalm.com, call (239) 278-4422 or stop by the box office at 1380 Colonial Boulevard in Fort Myers.
_________________________________________________________
Studio Players reopening with 'Walter Cronkite is Dead' on September 4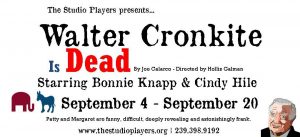 The Studio Players is planning to resume live performances on September 4 – assuming, of course, that theaters have opened and remained open by then. The Players plan to reopen with Joe Calarco's Walter Cronkite is Dead. Directed by Hollis Galman, the show will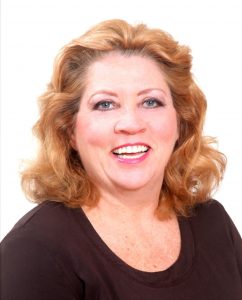 star Bonnie Knapp and Cindy Hile as Patty and Margaret, two "funny, difficult, deeply revealing and astonishingly frank" women.
"As you know, our venue at the Golden Gate Community Center's Joan Jenks Auditorium is a very large open space which will allow us to be able to social distant very easily," states Scott Lilly. "We are ready to set up our chairs following the social distancing guidelines [in effect at that time]."
Disposable masks, gloves and hand sanitizer will be provided if needed."
The Golden Gate Community Center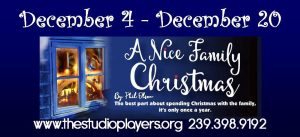 will also take extra steps to provide a safe place once the facility is back open.
Walter Cronkite is Dead will run through September 20.
The rest of The Studio Players'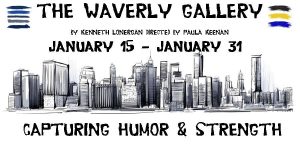 2020-2021 schedule is:
A Nice Family Christmas by Phil Olson – December 4-20, 2020;
The Waverly Gallery by Kenneth Lonergan – January 15-31, 2021; and
On Golden Pond by Ernest Thompson – March 12-April 14, 2021.
For more information about the theater or Walter Cronkite is Dead, visit www.thestudioplayers.org or telephone 239-398-9192.
_______________________________________
Players Circle targeting an October 20 re-opening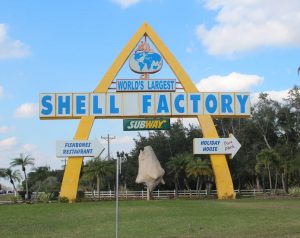 Players Circle Theatre is planning to reopen on October 20, 2020 with a season that includes Ho! Ho! Ho! The Christmas Show, Curious Incident Of The Dog In the Night-Time and Miracle On South Division Street, three shows that never made it to the stage this past season, plus two exciting new shows soon to be announced.
The theater company's first season encountered permit problems, delays and  the Coronavirus shut-down, but with its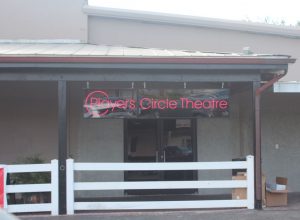 certificate of occupancy in hand and hundreds of thousands of dollars worth of lights, risers, comfortable seats, curtains, computers and box office software, Players Circle anticipates a glitch-free second season.
"We are rebuilding our website and will let you know when www.playerscircle.org and our box office 239 800-9232 will be ready to take orders," reports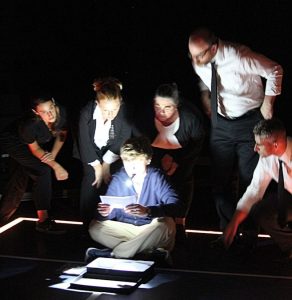 Robert Cacioppo. "Donations of any kind, large or small, will be greatly appreciated until we get up in full swing."
And Players Theatre has more treats in store than its theatrical productions. In between shows, there will be evenings of stand-up comedy and improv, musical cabaret, flamenco, opera, country music, jazz, one person shows and burlesque. Va Va Voom! It's going to be very exciting. Also, extremely reasonably priced dinner theatre packages will be available.
_________________________________________________
Broadway's reopening could be delayed until after first of year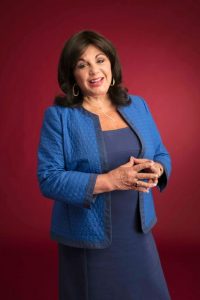 Broadway World reports that Broadway's reopening could be delayed until after the first of the year, and maybe even as late as Spring – based on an interview conducted by The Daily Beast with Broadway League President Charlotte St. Martin. Everyone involved has a keen financial interest in seeing Broadway reopen, from theater owners, production companies, actors and the public. Broadway attendance tops those of the ten professional New York and New Jersey sports teams combined, surpassing their total attendance last year by 4.6 million people and contributing $14.7 billion to the city's economy and supporting 96,900 jobs. But given what NYC has been through in the past three months, the theater industry refuses to risk an earlier reopening if it means risking a resurgence of the virus.
______________________________
Hamilton coming to Disney+ on July 3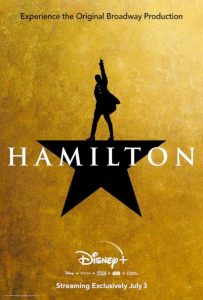 The Hamilton film is coming to Disney+ on July 3. Combining the best elements of live theater, film, and streaming, the film is described as a "leap forward in the art of 'live capture,'" which transports viewers into the world of the Broadway show in a uniquely intimate way. "No other artistic work in the last decade has had the cultural impact of Hamilton-an inspiring and captivating tale told and performed in a powerfully creative way," observes The Walt Disney Company Executive Chair Robert A. Iger. "In light of the extraordinary challenges facing our world, this story about leadership, tenacity, hope, love and the power of people to unite against the forces of adversity is both relevant and impactful."
Original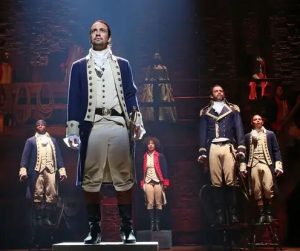 Broadway cast members Lin-Manuel Miranda (as Alexander Hamilton), Daveed Diggs (Marquis de Lafayette/Thomas Jefferson), Renée Elise Goldsberry (Angelica Schuyler), Leslie Odom, Jr. (Aaron Burr), Christopher Jackson (George Washington), Jonathan Groff (King George), Phillipa Soo (Eliza Hamilton), Jasmine Cephas Jones (Peggy Schuyler/Maria Reynolds), Okieriete Onaodowan (Hercules Mulligan/James Madison) and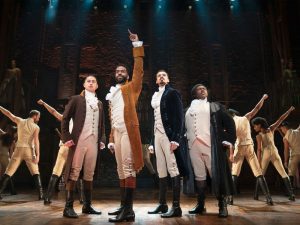 Anthony Ramos (John Laurens/Philip Hamilton) are joined in the film by Carleigh Bettiol, Ariana DeBose, Hope Easterbrook, Sydney James Harcourt, Sasha Hutchings, Thayne Jasperson, Elizabeth Judd, Jon Rua, Austin Smith, Seth Stewart and Ephraim Sykes.
Hamilton premiered Off-Broadway at the Public Theatre on February 17, 2015, winning 8 Drama Desk Awards,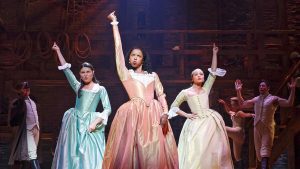 including Outstanding Musical. It opened on Broadway in the Richard Rodgers Theatre on August 6, 2015, going on to receive a record-setting 16 nominations at the 2016 Tony Awards, eventually winning 11, including Best Musical. It received the 2016 Pulitzer Prize for Drama. The West End production of Hamilton opened at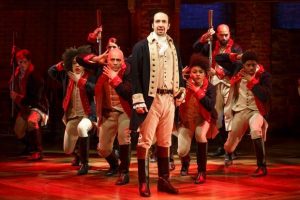 the Victoria Palace Theatre in London in December 2017, winning seven Olivier Awards in 2018, including Best New Musical. The first U.S. national tour of the show began performances in March 2017. A second U.S. tour opened in February 2018. Hamilton's third U.S. tour began January 11, 2019, with a three-week engagement in Puerto Rico featuring Miranda in the lead role.
_____________________
Past SoDis virtual readings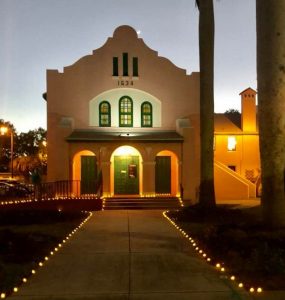 Here are links to SoDis Theater's prior virtual readings, but know this. These titles are only available for a limited time before they will be archived forever:
Link to watch MACBETH
Link to watch INTELLECTUALS
Link to watch THE TEMPEST
Link to watch CHARM
Link to watch INVITING MARIE
Link to watch Bob Hilliard's INQUISITION
SoDis is the virtual arm of the Laboratory Theater of Florida.
________________________
6     FILM & FILM FESTIVALS
Centers for the Arts restarting Films for Film Lovers series

The Centers for the Arts Bonita Springs has restarted their Films for Film Lovers series featuring award-winning foreign and independent films. Film for Film Lovers takes place every Monday night beginning June 29 in the Moe Auditorium at the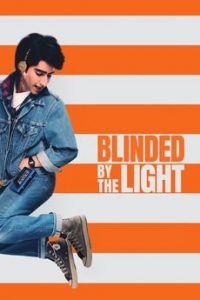 Center for Performing Arts at 10150 Bonita Beach Road. Doors open at 6:30 p.m., with screening beginning promptly at 7:00. Following the film, audience members have the opportunity to join a lively film discussion led by the Film Society Chairman and a Film Society Member. Tickets are just $10, and wine, beer and concessions are also available.
The next five films are:
June 29:   Blinded by the Light, PG-13, UK, comedy/drama/music;
July 06:    Pain and Glory, R, Spain, drama;
July 13:     Three Identical Strangers, PG-13, USA, documentary;
July 20:    Revenge, R, France, action/horror/thriller; and
July 27:    Isle of Dogs, PG-13, Germany/USA, animation/adventure/comedy
The Centers diligently works to ensure the health and safety of our patrons and artists by closely following CDC, State of Florida and Health Department guidelines at this and all performances. Based on current conditions, The Centers ask that all attendees wear masks and practice safe, social distancing in our lobbies and auditoriums for their protection and that of other guests. Staff will provide assistance at check-in regarding seating.
The Moe Auditorium & Film Center is The Center's charming, 200-seat black-box theater. The interior of the auditorium is cloaked in black, making it a great location to lose yourself in a film. The auditorium is handicap accessible, and wheel-chair seating can be accommodated. The auditorium is also wired to integrate with current hearing aid technology, allowing hearing-aid users to patch directly into the feed from the sound board.
_____________________________________________________
Dates announced for Fort Myers Beach International Film Festival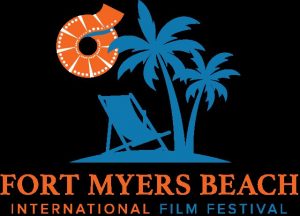 The Fort Myers Beach Film Festival will be back for its 14th year from September 22-27. With events for all ages, this five-day event attracts independent film fans, filmmakers, and distributors to the beaches of Fort Myers Beach. Attendees come from all over the world to exchange ideas, make new contacts, and enjoy some compelling and interesting films encompassing a wide range of tastes. Th festival screens at the Beach Theater, 6425 Estero Blvd. Fort Myers Beach, Florida 33931.
________________________________________________