Actors, artists, filmmakers and events in the news June 8-14, 2019
These are the actors, artists, filmmakers and events who are in the news in Southwest Florida this week:
ArtFest Fort Myers now accepting applications for 20th anniversary show (06-12-19)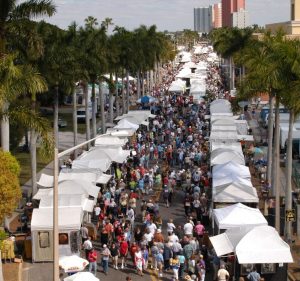 ArtFest Fort Myers is now accepting applications from professional artists for participation in its 2020 juried show which, coincidentally, is its 20th anniversary show as well! Featuring the work of 200 artists, ArtFest Fort Myers will bring 90,000 art lovers and collectors to the largest outdoor gallery in Southwest Florida on the first weekend in February.
Why do so many artists vie for inclusion in the show? It's simple. Because ArtFest's year-round friendly and professional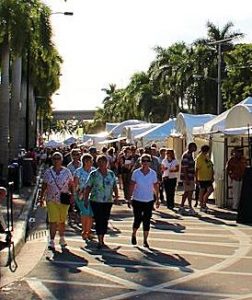 staff places the focus on the artist and the art-selling experience. Targeting art buyers throughout Southwest Florida and beyond – from Marco Island to Sarasota and east to West Palm Beach – ArtFest's promotional campaign includes all forms of media. Judging from each year's turn-out, they're clearly doing something right. No other art festival in Florida comes close to pulling in the number of people or the concentration of collectors that ArtFest does.
The organizers also understand the importance of providing great artist amenities over festival weekend to ensure that its exhibitors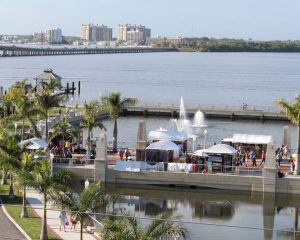 are stress free and ready to share their work with the festival's dedicated and enthusiastic attendees.
How are festival artists chosen?
Each October, ArtFest Fort Myers brings together a panel of professional artists who view submitted images and score each applying artist on a range of 1 – 7 points. The artists with the highest scores are then invited to participate in ArtFest.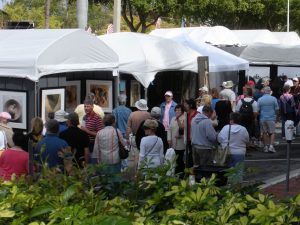 "Our jury panel varies each year but always represents a broad base of expertise with regard to artistic mediums," ArtFest points out in its press release announcing the opening of this year's submission process. "Theirs is the difficult task of evaluating who is the 'best-of–the-best' from the hundreds of artists who wish to join ArtFest Fort Myers! Our jury process is open to artists and patrons – please contact us for more information."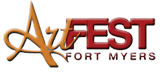 For Artist Application information, please contact ArtFest Fort Myers at 239-768-3602, email info@ArtFestFortMyers.com or visit http://www.ArtFestFortMyers.com.
_______________________________________________________
Hot Works accepting applications for Estero Fine Art Show (06-12-19)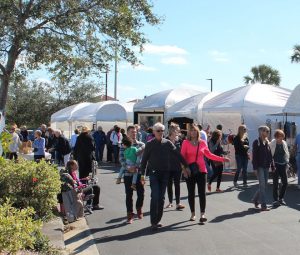 Hot Works LLC is now accepting submissions for the 23rd Estero Fine Art Show. It will take place on Saturday and Sunday, January 4 & 5, 2020 at JetBlue Park. The show features original work in a wide array of disciplines, including painting, clay, glass, fiber, sculpture, wood, photography, jewelry and more.
Voted a top 100 art show four years running, the Estero Fine Art show is recognized as one of America's highest quality and most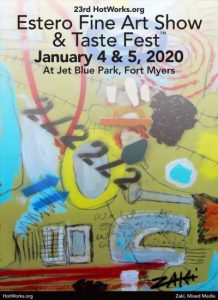 respected art shows in the country. One of the show's highlights is a Youth Art Competition for grades K-8 or ages 5-13.
Winter home of the Boston Red Sox, JetBlue Park affords both exhibitors and attendees with numerous benefits, including a location that draws from and is easily accessible from everywhere in Southwest Florida, as well as plenty of convenient, on-site parking.
The application deadline is September 17, 2019. Applications can be found online at https://www.zapplication.org/event-info.php?ID=7668. For more information, please contact Executive Director Patty Narozny at patty@hotworks.org or 248-684-2613.
_____________________________________________________________________
Naples Art now accepting applications for Naples New Year's Art Show 2020 (06-12-19)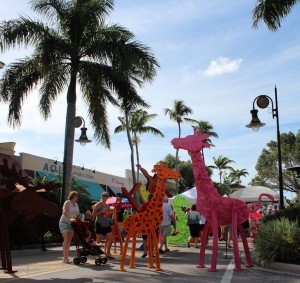 The Naples Art Association is currently accepting applications for inclusion in its three outstanding outdoor art festivals, The Naples New Year's Art Show 2020, Naples National Art Festival and The Downtown Naples Festival of the Arts.
Start your new year off in sunny Florida. New opportunities await you at the 24th Annual Naples New Year's Art Show. This fine art festival draws professional artists from around the country and was ranked #20 in the nation in 2018 by Sunshine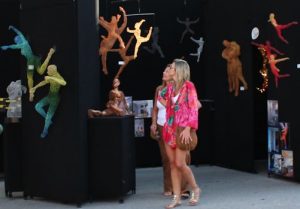 Artist Magazine and is included by ArtFairSourceBoook.com in its "BLUE CHIP 100" Fine Art Events for 2019.
If you are interested in exhibiting at this show, here's what you will need to know:
______________________________________________________________
Naples Art now accepting applications for Naples National Art Show (06-12-19)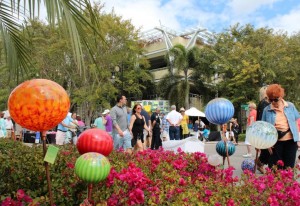 The Naples Art Association is currently accepting applications for inclusion in its three outstanding outdoor art festivals, The Naples New Year's Art Show 2020, Naples National Art Festival and The Downtown Naples Festival of the Arts.
Naples National is consistently voted among the top 25 art festivals in the country by Sunshine Artist Magazine and was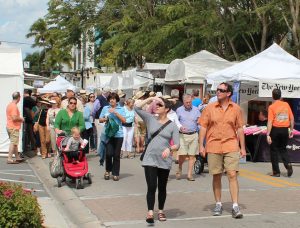 ranked #24 last year. As one of the oldest festivals in Collier County, Naples National is counted by the local community as among its premiere, must–see events, thanks to the high quality of art, the engaging personalities of the artists and the festive atmosphere. The show is held in scenic Cambier Park and along 8th Street South, one block from downtown Naples' premier shopping and dining district.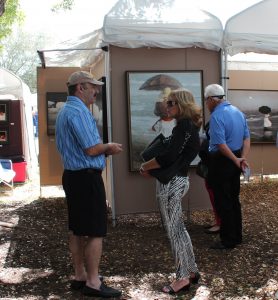 If you are interested in exhibiting in the 41st Naples National Art Festival, here's what you will need to know:
To improve the quality of the show and to provide more sales opportunities for our artists, NAA has reduced the number of booths available from 270 to 194. "This will allow artists greater exposure and less competition," states NAA in its prospectus for the show. "Additionally, the park layout, will consist of one loop making it easier for customers to view all artist's booths. However, there is a corresponding increase in booth fees."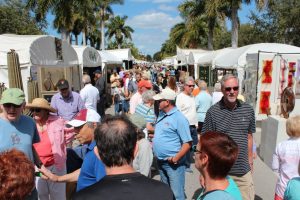 This is the only Naples Art Association show that offers cash awards for Best of Show, Best 2D, Best 3D and Awards of Distinction in 2D and 3D. The amounts are:
Awards will be presented at the band shell in Cambier Park at 3:00 pm on Saturday. NAA staff or volunteers will notify an artist if they need to be present at the awards ceremony on Saturday. Awards are given based on the same criteria used for the jury process. The winning artists are invited to participate in the following year's show and receive jury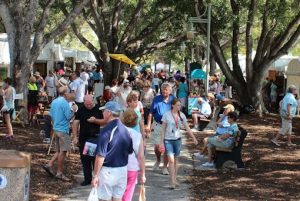 exempt status but must still pay his/her booth fee.
The mission of the Naples Art Association is to expand cultural opportunities, broaden education and enrich SWF through the visual arts. Proceeds from the Naples National Art Show support educational programming at The Naples Art Association.
_________________________________________________________________
Naples Art now accepting applications for Naples Downtown Art Show (06-12-18)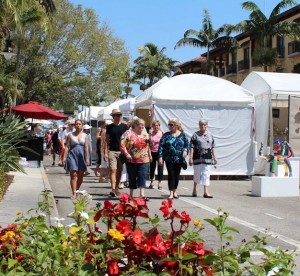 The Naples Art Association is currently accepting applications for inclusion in its three outstanding outdoor art festivals, The Naples New Year's Art Show, Naples National Art Festival and The Naples Downtown Art Show.
The 31st Annual Downtown Naples Festival of the Arts is one of the last major art festivals of the winter season and a favorite festival for artists, art enthusiasts and collectors. This festival was rated #34 by Sunshine Artist's Magazine 2018 ARTIST 200 Best Shows in America.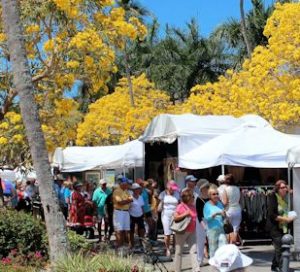 If you would like to exhibit in this show, here's what you will need to know:
_____________________________________________________________
Naples Art accepting submissions for next season's Art in the Park (06-12-19)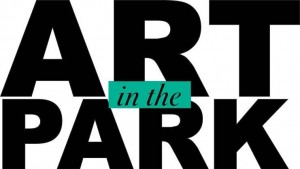 Are you ready for the 2019-2020 season of Art in the Park? The Naples Art Association (NAA) proudly connects artists with art shoppers in another terrific season of Art in the Park.
Since 1957, Art in the Park has showcased paintings in oil and acrylics, watercolors, mixed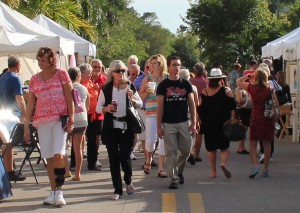 media, photography, sculpture, ceramics, glass art, jewelry and wood-working created by members in good standing of the Naples Art Association. For art lovers, it's a casual, fun-filled venue for meeting local artists and becoming acquainted with their work. It is believed to be the first outdoor art show held in Naples. And the tradition continues for the 2019-2020 art fair and festival season.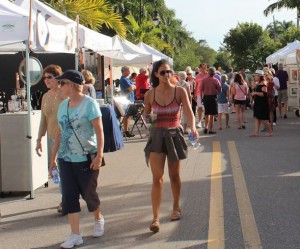 Art in the Park is held between 10:00 a.m. and 4:00 p.m. on the first Saturday of each month from November through April. Because of its long tradition, prestige and the interest and number of people who routinely turn out for the show, many NAA members seek admission to the show. Applicants go through a jury process.
"Art in the Park is a membership opportunity, providing artists a venue to sell and market their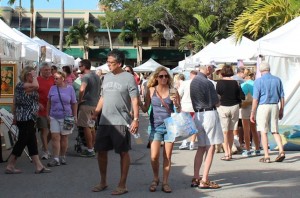 work while broadening their customer base," notes the Naples Art Association in its call to artists for the 2019-2020 season. "It also provides a setting for artists to interact with other artists sharing ideas, industry changes and the camaraderie of creative people. It is an opportunity for both artists and the public to engage in enlightening conversations about art."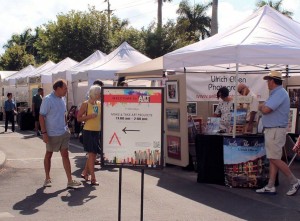 The one-day fair takes place on Park Street adjacent to The Naples Art Association in the northwest corner of Cambier Park. Located just a block and a half from historic Fifth Avenue South, Art in the Park is within walking distance of trendy European boutiques, sidewalk cafes and iconic art galleries such as Sheldon Fine Art, Call of Africa's Native Visions Gallery and Shaw Gallery of Fine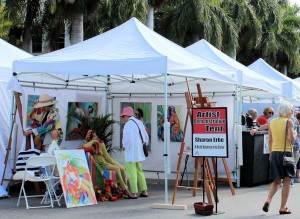 Art. The show is also just three minutes by car from fabled Gallery Row and the Third Street South Gallery District. The January show is also held in conjunction with the Downtown Naples New Year's Art Fair, which will be held next season on Saturday and Sunday, January 4 & 5, 2020.
_________________________________________________________________
Boulderbrook accepting submissions for Southwest Florida art festivals (06-12-19)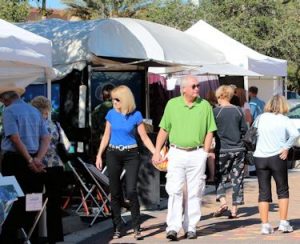 Boulderbrook Productions hosts a number of boutique art festivals in Southwest Florida each season. It is currently accepting submissions for:
You must apply online at  http://www.boulderbrook.net/.
____________________
Tortured Muse (06-11-19)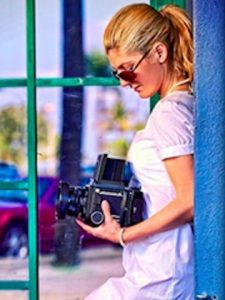 It's an unequivocal distinction to be included in one of Mila Bridger's group portraits, digital fantasies or iconic painting homages. There's fun, fame and notoriety, not to mention inclusion in an chic group of alumni of previous shoots. But it's not all fun and games. When Mila Bridger puts together a shoot, there's likely to be a fair degree of discomfort, if not actual pain.
Throughout the centuries, of course, muses have enjoyed a tenuous relationship with the artists, fashion designers and musicians they inspired. Just look at Petrarch and Laura, Dante and Beatrice, Gustav Klimt and Emilie Floge (who was 12 years the painter's junior and reputedly died a virgin in spite of Klimt's notorious philandering) or Salvador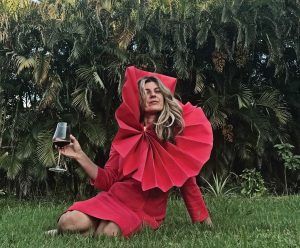 Dali and Elena Ivanovna Diakonova, otherwise known as Gala (who apparently did not have sex with the renowned surrealist in spite of marrying and living with him from 1929 until her death in 1982).
But in spite of the checkered heritage that muses occupy in the art world, those called upon by Bridger to appear in her digital narratives couldn't be more thrilled.
Read here for the rest of this story.
______________________________________________________________
'John Cage & Other Works' on exhibit at Bob Rauschenberg Gallery (06-11-19)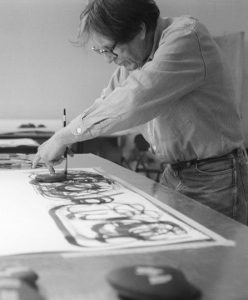 Florida SouthWestern State College is continuing its celebration of the Bob Rauschenberg Gallery's 40th anniversary with JOHN CAGE: STEPS & Other Works from the Mountain Lake Workshop. The exhibition runs through July 27.
The exhibition features the world premiere of New River Rocks & Washes, one of the last two paintings Cage completed two years prior to his death in 1992. The painting was sold before it was ever exhibited to a private collector with a large and prestigious inventory of artworks. As it happened, the painting arrived, it was placed in storage still in its crate
without being assigned an acquisition number. To make matters worse, the crate was mislabeled and, over the ensuing 27 years, the crate containing the 8.5 foot tall by 28 foot long painting was moved from one storage facility to another before coming to rest in Deer Park, New York.
And that's where it was when Ray Kass and Bob Rauschenberg Gallery Director Jade Dellinger started working on a planned exhibit of Cage's collaborations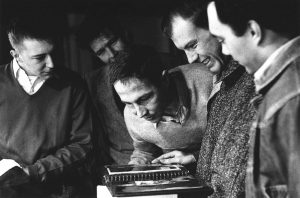 with Kass, who had been present when Cage and a team of assistants created it at the Mountain Lake Workshop in 1990. Kass and Dellinger contacted the collector's chief curator hoping to include the painting in the show. The curator ultimately found the mislabeled crate only a few weeks prior to opening of the Rauschenberg Gallery opening.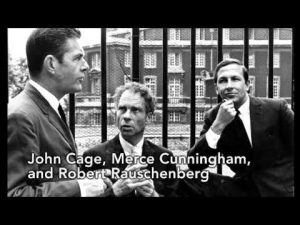 Cage was a renowned composer, music theorist, author and artist revered as a pioneer of indeterminacy in music, electroacoustic music, and non-standard use of musical instruments. He was also a leading voice of the post-war avant-garde. Bob Rauschenberg referred to Cage as his "spiritual and philosophical soul-mate."
One of the most influential American composers of the 20th century,
Cage is perhaps best known for his 1952 composition "4'33", a piece instructing the performer not to play their instrument during three timed movements over four minutes and thirty-three seconds. Cage proposed the revolutionary concepts that any sound may constitute music and that there is no such thing as silence.
A close collaborator through the 1950's and '60's while working with the Merce Cunningham Dance Company, Bob Rauschenberg later wrote, "John Cage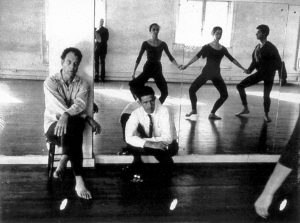 [and] his work in every medium is a reward to all [and] will be for centuries." The innocence and challenging audacity of his unique attitude, according to Rauschenberg, "created a labyrinth with no exit."
Often applying chance-based aleatoric operations to his compositional process in an effort to eliminate aesthetic decisions, John Cage's forays into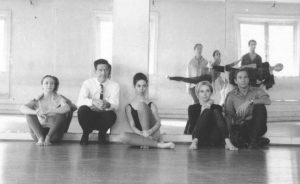 visual art practice – perhaps best represented by his experimentation at the Mountain Lake Workshop – employed many of the same techniques. As collaborator, friend and Mountain Lake Workshop founder Ray Kass reflects, "Cage didn't adhere to accepted aesthetic rules and patterns for the construction of works of art; he deliberately eschewed the idea that art is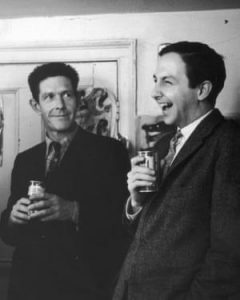 created solely through personal taste manipulating elements of visual form."
As Executive Director of the John Cage Trust at Bard College Dr. Laura Kuhn succinctly notes, "One cannot overstate the importance of John Cage and his work, and its impact on 20th century music, art, and culture."
This exhibition is made possible through a partnership with the Longwood Center for Visual Art at Longwood University and presents excerpts from "Rural Avant-Garde: The Mountain Lake Experience" (an exhibition funded in part by the National Endowment for the Arts).
____________________________________________________
Camera USA 2019 on view at Naples Art through July 5 (06-10-19)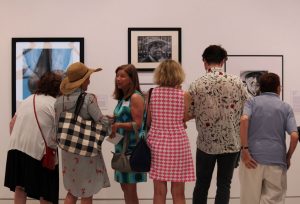 The Naples Art Association opened Camera USA 2019 on May 31 with an enthusiastic and well-attended reception that was highlighted by the award of the National Photography award and $5,000 to Detroit, Michigan photographer Riley Arthur for her American diner digital image Golden Hour at Joe Juniors.
The Naples Art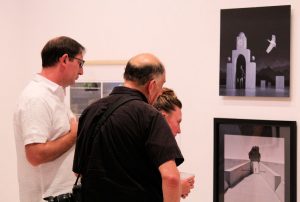 Association started the Camera USA® photography program in 2011. As a nationwide program, it serves as a platform for local photographers to share the spotlight with their peers at the national level. For photographers from other states, Camera USA® provides an opportunity to demonstrate success, exhibit in Southwest Florida and compete for the $5,000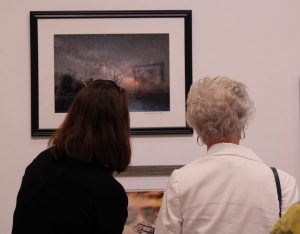 cash prize that goes to the top photograph, as determined by a panel of three independent judges.
This year's judging panel consists of:
Go here for the rest of this post.
______________________________________________________________________
Detroit's Riley Arthur wins Camera USA 2019 National Photography Competition (06-10-19)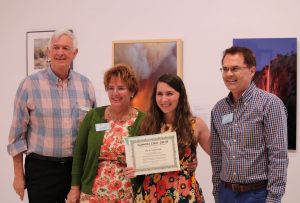 Last Friday (May 31), the Naples Art Association announced that Riley Arthur of Detroit, Michigan won its 2019 Camera USA National Photography Competition and a $5,000 cash prize. Her winning image is titled Golden Hour at Joe Juniors. It's a tantalizing picture of a Manhattan diner bathed in the glow of late afternoon sunlight at the 5:00 hour, in that pregnant lull before the start of the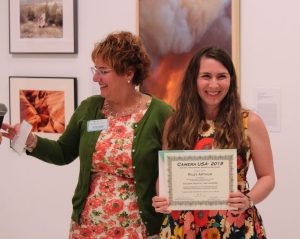 dinner rush.
"Joe Juniors diner in Manhattan has been around for more than 30 years which, in the grand scheme of things, isn't a long time," Arthur explained, clearly enjoying the afterglow that accompanied the announcement of her victory in the competition, which included 239 submissions from across the U.S.A. "But for a restaurant in Manhattan, with rising costs and rents, changing tastes and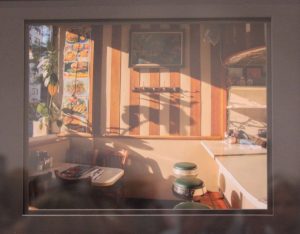 shrinking profit margins, it's quite a feat."
The diner has been described by reviewers as both "an awesome greasy spoon" and "an oasis in the desert of luxury condos, bank branches, and 2 bite fusion tapas dish restaurants." Eater.com's and NYC resident carnivore Nick Solares said in 2015 that Joe Junior serves the best hamburger in NYC – a densely charred, craggy-crusted burger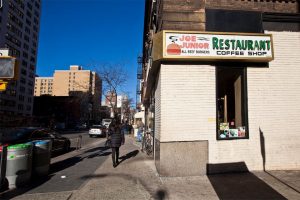 "that only aspires to feed the belly but ends up feeding the soul … nostalgia incarnate … the platonic ideal of what a diner burger should be."
As delicious and Zen-like as that may be, it is not why Arthur snapped her award-winning photograph of Joe Junior.
The rest of this post can be found here.
_____________________________________________________________________
Utah photographer Dave Hanson wins Camera USA 2019 honorable mention (06-10-19)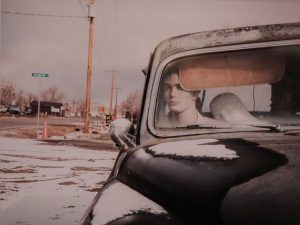 The Camera USA 2019 National Photography Exhibition opened June 3 in the ground floor galleries of the Naples Art Association. This year's judging panel issued five Honorable Mentions. Price, Utah photographer Dave Hanson snagged one for his 2018 image Road Trip.
"My work captures the objectivity and subjectivity of the people, places and things along the visual path of my life journey," says Hanson.
_______________________________________________________________
Carol Ward receives Camera USA honorable mention for 'Milky Way' (06-10-19)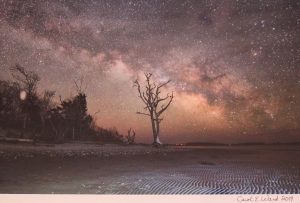 The Camera USA 2019 National Photography Exhibition opened June 3 in the ground floor galleries of the Naples Art Association. This year's judging panel issued five Honorable Mentions. Salisbury, Maryland photographer snagged one of them for her 2018 image Milky Way at Low Tide.
________________________________________________________
J. Fredric May earns Camera USA 2019 honorable mention (06-10-19)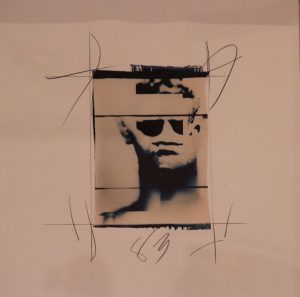 The Camera USA 2019 National Photography Exhibition opened June 3 in the ground floor galleries of the Naples Art Association. This year's judging panel issued five Honorable Mentions. Bermuda Dunes, California photographer J. Fredric May was the recipient of one of these Honorable Mentions for his 2017 image Author's Hallucination No. 5 "Connor."
May is a former photojournalist and filmmaker.
Read here for the rest of this announcement.
___________________________________________________________________
With 'Mono Metering,' Steve Conley makes it three Camera USAs in a row (06-10-19)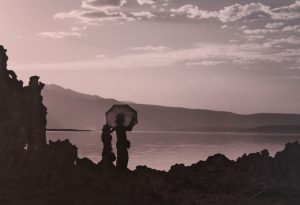 For the fourth time and third year in a row, local photographer Steve Conley has had one of his images juried into the Naples Art Association's prestigious Camera USA National Photography Exhibition. This year, Conley's image Mono Metering joins work by 77 other photographers from 26 states (out of 239 submissions to the competition).
The rest of this post is here.
_____________________________________________________
Arts for ACT looking for artists for themed show in July (06-09-19)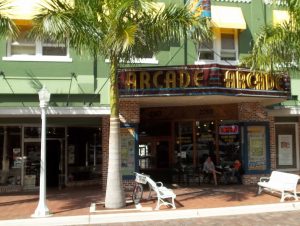 Arts for ACT is calling artists for its July themed group exhibit. This year's themes are Mirrors and Reflections or Canto.
This is an artist paid exhibit that helps ACT Gallery pay the rent for the summer months. The entry fee is $10.00 for one piece, $15 for two and $20.00 for three. Art drop off is Thursday, June 27 through Monday, July 1 from 11:00 a.m. to 4:00 p.m.
____________________________________________________________
DAAS' Dodd displaying delightful 'Fairy Soiree' portraits in June (06-09-19)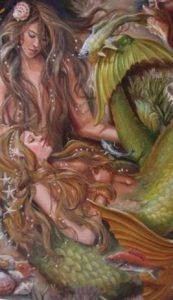 During the month of June, DAAS CO-OP Art Gallery & Gifts is featuring the work of current member Martha Dodd in an exhibition titled "La Soirée Fairy." In keeping with the theme, Dodd has rendered stunning portraits of fairies for this exhibit. The artist concedes that it is not an easy undertaking to paint an insightful painting of a fantasy creature, such as a fairy. But Dodd pulls off the feat with equanimity. Her characters convey a believability and sincerity that draws the viewer in.
Dodd is a realist whose genres include fantasy, equestrian and wildlife art, murals and portraiture. Her technique is straightforward. She strives to reveal what is most beautiful about her subject. Equally important to her is conveying to the viewer a sense of "being there."
Martha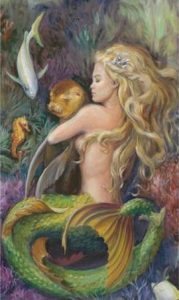 credits her mother with her artistic origins. Thanks to her mom, she grew up surrounded by an impressive art library that included large volumes of works by Leonardo Da Vinci and Michelangelo. She was swept away by the enormous murals these masters created. So inspired, she loved to draw and took every art class that was available to her during the school year, and even some summer courses at the College of Wooster, Ohio.
But Martha loved horses even more than she loved art, and instead of pursuing a degree and career in art, she attended the Agricultural Technical Institute majoring in Horse Management for a year before transferring to Ohio State University, where she earned her BS in Animal Science in 1983. She originally intended to become a veterinarian, but instead became a physical therapist for race horses, working for the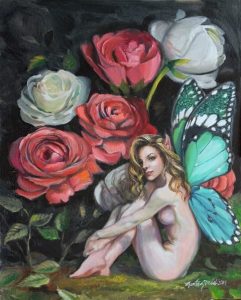 Bill Haughton Stable in New York, New Jersey, Kentucky and Florida for 5 years.
While working at the track, Martha found time to draw the horses surrounding her, and it was not long before co- workers and horse owners were commissioning her to do portraits of their horses. She had the benefit of visiting the art museums in New York City. She also met equine artist William Orr, who shared with her some tips on painting.
In 1987, Martha decided to change careers.
She found a job
working for an art studio in Florida, and began painting full time. Five years later, she went out on her own.
In the interim, Martha found that she could not only paint horses, but birds, fish and humans as well. To her delight, she also discovered that there existed a huge demand for murals, and that has been the mainstay of her work for many years.
These days, the artist is kept busy with commissioned work, as well as creating new paintings for exhibitions. Although she's been perfecting her craft full-time for more than three decades, she continues to study and learn.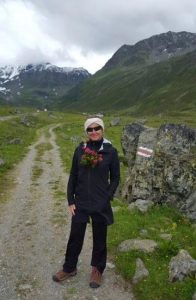 Her summers are spent in Europe, where she creates works of art while studying the works of the masters. She regularly attends workshops from nationally-acclaimed artists, including Douglas Flynt and Steven Assael. And as is true with many experienced artists, Dodd is not interested in pursuing awards. The great demand for her work is testament to her accomplishments as a successful artist.
DAAS CO-OP is located in Unit 3 at 1815 Fowler Street, Fort Myers, FL 33901. Business hours are 10:00 a.m. to 4:00 p.m. Tuesday to Saturday and from 10:00 a.m. to 3:00 p.m. on the first Sunday of every month. More information can be found at daascoop.com or by calling 239-590-8645.
_____________________________________________________________
DAAS presenting work of Cuban artist Oscar de La Portilla in July (06-09-19)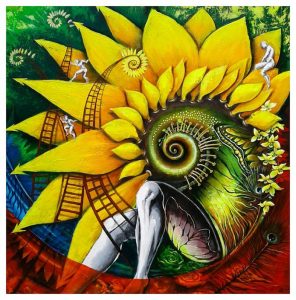 In the month of July, DAAS CO-OP Art Gallery & Gifts will feature the work of visual and textile artist Oscar de La Portilla.
De La Portilla is a painter, sculptor, potter, jewelry maker and fashion designer born and raised in Cuba. He is a member of the Unión de Escritores Artistas (UNEAC) in Cuba and the National Association of Artisans and Artists (ACAA).
The artist started his artistic career in the 1980s, using textile art and fashion design as a way of expression. He incorporated metals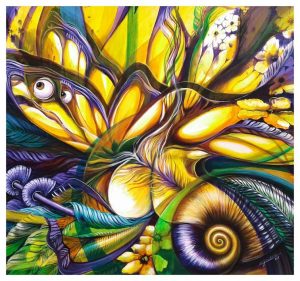 and stone jewelry in his designs as well.
In the 1990', de La Portilla transitioned into sculpting, painting and pottery. In 1997 and 1998, he began painting on fabrics and designing fashion for various shows in his native Cuba, being one of the few artists selected to present his works for Pope John Paul II during his visit to the island. In 1999, the artist presented his textile collection entitled TRANSPARENCIA at the Feria Internacional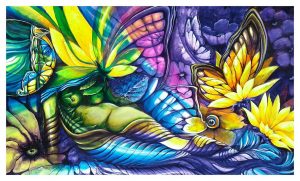 de Artesanía (FIART).
Since then, he has continued to work in numerous projects including designing the outfits for the musical group Síntesis and the Ballet Company of Liz Alfonzo. More recently, de La Porrilla participated in a collective exhibition at the Marion Cultural Alliance in Ocala, Florida.
The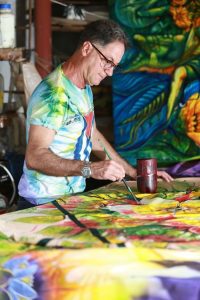 exhibition at DAAS consists of a series of paintings both on canvas and various textiles. The collection is bold and strong, with vibrant colors and floral motifs and other nature inspired shapes. The rich color applications and organic designs are very characteristics of the artist's style.
The opening reception is scheduled for Friday, July 5, 2019 from 6:00 to 10:00 p.m. in conjunction with Fort Myers Art Walk. The artist is coming to Southwest Florida for the opening. The artist is also hosting a workshop at 6:00 p.m. on Saturday, July, during which he'll be demonstrating his textile painting. Registration will open soon on the gallery's website.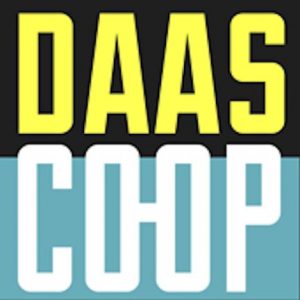 The exhibition will be on display from July 2 to 27, 2019.
DAAS CO-OP is located at 1815 Fowler Street, Unit 3, in Fort Myers, FL 33901. Business hours are Tuesday to Saturday from 10:00 a.m. to 4:00 p.m. and on the first Sunday of every month from 10:00 a.m. to 3:00 p.m.
More information can be found at daascoop.com or by calling 239-590-8645.
_________________________________________________________
CHANGE playwriting class under way at Alliance for the Arts (06-08-19)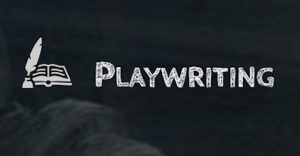 The  CHANGE Program's 8-week playwriting course is under way at the Alliance for the Arts. The class has been designed to introduce the fundamentals of playwriting to aspiring minority writers and equip them with the tools to create rich characters, explore their own histories and develop stories that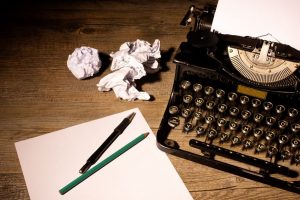 are relevant, inspirational and reflective of their own unique voices. The course will culminate with each student utilizing their newfound playwriting tools to write a 10 minute play and work with actors to see their creations come to life in a staged reading that will be held at 6:00 p.m. on Saturday, July 27 at the Alliance for the Arts.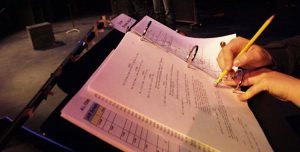 Derek Lively is teaching the class, which runs on Saturdays through July 27. A proud member of Actors' Equity Association and SAG-AFTRA, Derek has appeared in productions ranging from Shakespeare to Eugene O'Neill and has worked in regional theaters and Off-Broadway, including The Public Theater and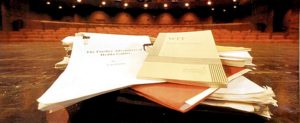 LaMama E.T.C. His solo show, Welcome To My Soul, which he wrote and performed, led to a first-look development deal with NBC (Universal).
The CHANGE Program (Communities Harnessing the Arts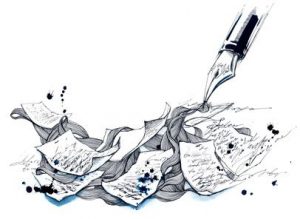 to Nurture and Grow Equity) provides performance opportunities and a platform to convene dialogue on social issues that challenge our community through creative, artistic expression. This project is supported in part by the Southwest Florida Community Foundation and the Florida Humanities Council. For more information on this program, visit ArtInLee.org/CHANGE.
_______________________________________________________
Spotlight on CHANGE 'Playwriting' instructor Derek Lively (06-08-19)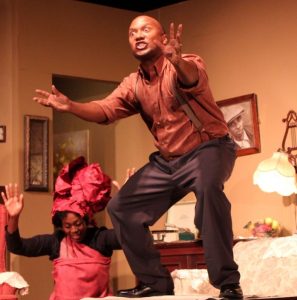 Derek Lively is an actor, playwright and screenwriter. Since relocating to Fort Myers from New York City in 2015, Lively has starred as Frederick Douglass in The Agitators, Walter Lee Younger in Theatre Conspiracy's production of Lorraine Hanberry's A Raisin in the Sun and Canewell in August Wilson's Seven Guitars. He's a member in good standing in both the Actor's Equity Association and SAG-AFTRA, and you can access all of Derek's credits by viewing his profile here. You can also read a fascinating interview that Derek gave Art Southwest Florida in May of 2018 that will provide even more and deeper insights than his Art Southwest Florida profile.
________________________________________________________________
Little Shop of Horrors' on Broadway Palm main stage through June 15 (06-08-19)

Little Shop of Horrors is on stage at Broadway Palm Dinner Theatre through June 15.
A deviously delicious Broadway and Hollywood sci-fi, Little Shop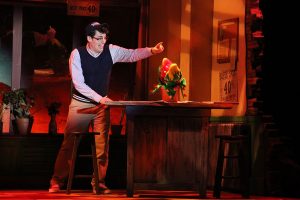 of Horrors is one of the longest running Off Broadway shows in history, devouring the hearts of theater- goers for decades. In it, meek floral assistant Seymour stumbles across a new breed of plant that he names "Audrey II" – after his co-worker (and crush!). She's a sassy, R&B-singing plant who promises everlasting fame and fortune, as long as Seymour keeps feeding her. But that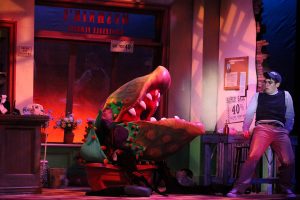 becomes woefully problematic since Audrey II flourishes on ever-increasing volumes of human blood … and already anemic, Seymour has no more to spare.
Between bites, Audrey II brings down the house with music composed by Alan Menken (whose credits also include Disney's Beauty and the Beast, The Little Mermaid, Newsies and
Aladdin) in the style 1960s rock and roll, doo-wop and Motown including the well-known "Suddenly, Seymour," "Somewhere That's Green" and the title song "Little Shop of Horrors."
Little Shop of Horrors is directed and choreographed by Amy Marie McCleary who most recently directed and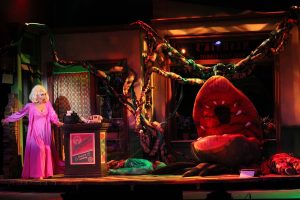 choreographed Saturday Night Fever (which holds the distinction of being the second highest attended show in Broadway Palm history). Her choreography can also be seen on the international tour of The Wizard of Oz, which is currently performing in China.
The cast includes Will Callahan, Cantrella Canady, Erica Clare,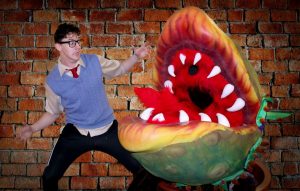 Sami Doherty (U/S), Richie Dupkin, Jayar Garcia, Frank Hughes, Victor Legarreta, Justin Marriel Boyd, Victoria Morris, Tempestt Perrin and Rob Summers.
Performances are Wednesday through Sunday evenings with selected matinees. Tickets are $45 to $70 with group prices available. Tickets are now on sale and can be reserved by calling (239) 278-4422, visiting BroadwayPalm.com or in person at 1380 Colonial Boulevard in Fort Myers.
___________________________________________________________________
Spotlight on 'Little Shop' director and choreographer Amy Marie McCleary (06-08-19)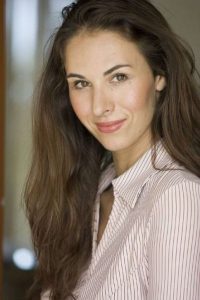 Amy Marie McCleary is a multi-faceted musical theater artist who works as an actor, director and choreographer in local and regional theater.
McCleary started in theater as a chorus girl. Since then, she has played some pretty prestigious roles: Velma Kelly in Chicago, Velma Von Tussle in Hairspray, Lexie in The Dixie Swim Club, Lola in Damn Yankees, Bombalurina in CATS, Gladys in The Pajama Game, Tiger Lily/Mrs. Darling in Peter Pan, Lily St. Regis in Annie and Sheila in A Chorus Line, to name a few. Her reprisal of Velma Kelly in Prather Entertainment's 2018 production of Chicago earned her a well-deserved Broadway World Best Actress in a Musical Award.
Go here for the rest of Amy's impressive profile.
And go here to view Amy's acting, directing and choreography schedule for next season.
_______________________________________________________
Spotlight on 'Little Shop of Horrors' actor Cantrella Canady (06-08-19)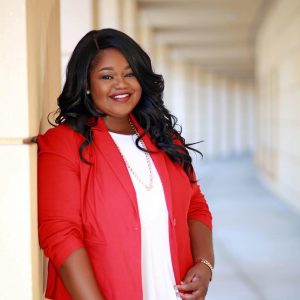 Cantrella Canady is one of the best young actors in Southwest Florida today. She appears regularly in productions at Theatre Conspiracy at the Alliance for the Arts, Laboratory Theater of Florida, Cultural Park Theatre, The Naples Players and Broadway Palm Dinner Theatre. She currently appears in Broadway Palm's production of Little Shop of Horrors.
Among her impressive credits are roles as the runaway wife in August Wilson's Joe Turner's Come and Gone, Gulf Coast Symphony's production of Showboat at the Barbara B. Mann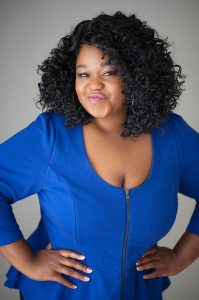 Performing Arts Hall, Lala Lamazing Grace in George Wolfe's edgy The Colored Museum, Ruth Younger in Lorraine Hansberry's A Raisin in the Sun (for which she received a Broadway World Best Actress nomination), Ruby in August Wilson's Seven Guitars, Ma Rainey in August Wilson's Ma Rainey's Black Bottom, Lady Fidget in The Country Wife, Claudia in The Bluest Eye, Quincy/Bart Simpson in Mr. Burns: A Post Electric Play and Lady in Green in For Colored Girls Who Have Considered Suicide When the Rainbow is Enuf.
See the rest of Cantrella Canady's profile here.
_______________________________________________________________
'Jack and the Beanstalk' closes with performances today and June 14 (06-08-19)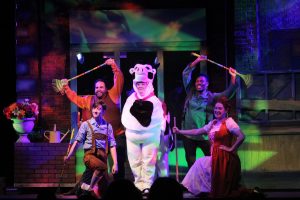 This summer, Broadway Palm Children's Theatre presents Jack and the Beanstalk, with remaining performances on June 8 and 14. This splendid spin on the classic tale tells the story of a young boy, Jack, who goes into town to sell his cow for money, but instead trades the cow for magic beans. He plants the beans and to his surprise, they grow a tall stalk. Join us as Jack discovers what's at the top of this GIANT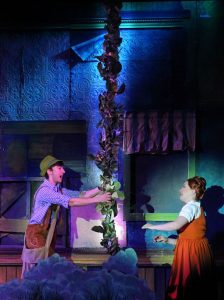 beanstalk.
Broadway Palm Children's Theatre presents full-scale productions that are great for all ages. All performances begin with a buffet at Noon and the show is at 1:00 p.m. The chef's special buffet includes children's favorites like pizza, chicken fingers, French fries, pasta and more. Ticket prices for the buffet and the show are only $19 for all ages. Group rates are available for parties of 20 or more. Tickets are now on sale and can be reserved by calling (239) 278-4422, by visiting www.BroadwayPalm.com, or by stopping by the box office at 1380 Colonial Boulevard in Fort Myers.
________________________________________________________________
'Sex Please We're Sixty' on stage in Off Broadway Palm through July 21 (06-08-19)

On stage in Broadway Palm's intimate Off-Broadway venue through July 21 is Six Please We're Sixty. As the title suggests, the play is a farce that pokes fun at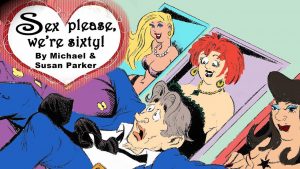 the libidos and trysts of men and women over a certain age. The script is chock full of naughty jokes, unseemly inferences, brazen bawdiness and unapologetic raunchiness that combine to produce a side-splitting afternoon or evening of entertainment.
The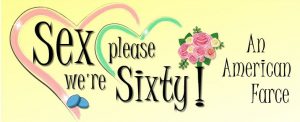 setting is the Rose Cottage Bed & Breakfast in New England. Its owner, Mrs. Stancliffe, enjoys considerable repeat business, particularly among her female clientele. Stancliffe's next-door neighbor, Bud, takes credit for the inn's popularity among the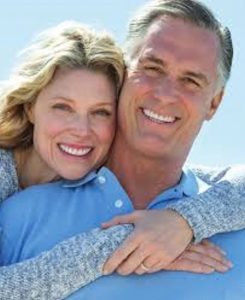 cottage's female guests, harboring the belief that they come year after year primarily to hook up with him. An unabashed lothario, Bud thinks he can literally charm the socks (and clothes) off any woman.
Stancliffe's other neighbor, Henry, is a chemist who's developed an untested pharmaceutical called Venusia that does for post-menopausal women what Viagra does for men. The hijinx start when Bud takes the wrong little blue pill, turning from Bud the Stud into Bud the Dud much to the delight of Rose Cottage's current guests, Victoria Ambrose, Hillary Hudson, and Charmaine Beauregard, who turn the tables on Bud and Henry in a
hysterical attempt to show the men who is the smarter sex.
Written by Michael and Susan Parker, Sex Please We're Sixty was first produced on October 17, 2008 by Play With Your Food Productions in Hemet, California. English born and raised, the Parkers write plays that combine familiar British farce with standard American settings to produce stereotypical sex comedies with over-the-top nonsensical plotlines. Some of their other works include The Sensuous Senator, There's a Burglar in My Bed and Whose Wives Are They Anyway?
___________________________________________________________
'Funny Shorts LIVE!' at Center for Performing Arts June 14 & 15 (06-08-19)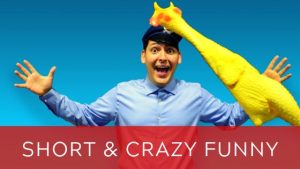 Five. Count them. Five plays will be performed at the Center for Performing Arts on two days in June during "Funny Shorts LIVE!" And as the name intimates, not only will each play be funny, it will be short – with a run time of approximately 10 minutes. Equally important, at least one will have been written by a local playwright. And to add to the festivities, CFABS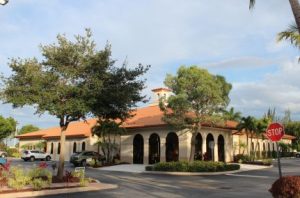 encourages (although isn't requiring) you to wear your own funny shorts to the show.
Performances will be at 7:00 p.m. on Friday, June 14 and 2:00 p.m. on Saturday, June 15 at the Center for Performing Arts, which is located at 10150 Bonita Beach Road, Bonita Springs, FL 34135.
Tickets are just $20 General Admission.
__________________________________________________________________
Local playwright Shawn Ryan's 'Nap Time' headline 'Funny Shorts LIVE!' (06-08-19)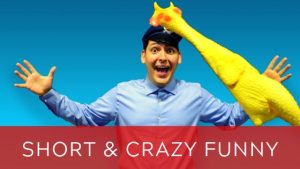 The Center for Performing Arts Bonita Springs presents Funny Shorts LIVE! on June 14 and 15. The program features six short plays in an evening of comedic storytelling by writers from around the world – along with one local playwright, Shawn Ryan with his short play Nap Time, which will star Marilyn Hilbert, Kip Jones and Sheila Hand.
Funny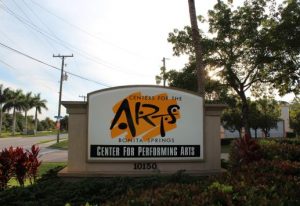 Shorts LIVE! was conceived as an extension of the wildly successful Stage It! 10-Minute Play Festival. Now in its second year, Funny Shorts LIVE! is denoted by a plethora of high-quality comedic short plays from around the world. From witches to driving instructors, from shoe closets to speed dating for robots, there is a variety of stories from gifted storytellers.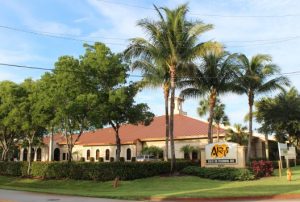 In this show, New Zealand is represented in Rex McGregor's Prepper's Nightmare about an American wanting to build a bunker … until he meets his neighbor, starring Luis Pages and Melissa Hennig.
Other plays are: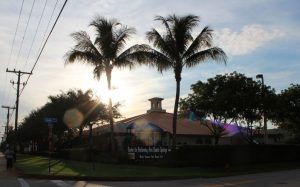 Luis Pages will assist Film and Theatre Director Frank Blocker with directing the short plays.
The audience gets six unique stories, all comedy, and a chance to win free tickets by wearing their funniest shorts. After the intermission, those wishing to compete in the Funny Shorts Contest line up on the stage and the audience chooses their favorite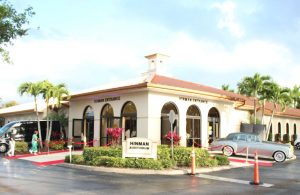 by applause.
Funny Shorts LIVE! takes place at 7:30 p.m. on Friday, June 14 and 2:00 p.m. on Saturday, June 15 in the Moe Auditorium & Film Center at 10150 Bonita Beach Road, Bonita Springs, FL 34135. Tickets are $20 General Admission (with 10% off for current CFABS members). For more information, please telephone 239-495-8989.
______________________________
Florida Rep's year in review (06-08-19)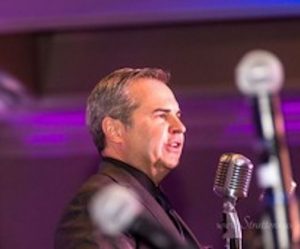 Florida Repertory Theatre's 2018-2019 season came to a close in May after a record-breaking 21st year. According to Artistic Director Greg Longenhagen, over 14,000 people attended Million Dollar Quartet, breaking all previous box office records, and Native Gardens played to sold-out houses during a late-season run that was extended through May 19.
In addition to its successes onstage, Florida Rep's fundraising gala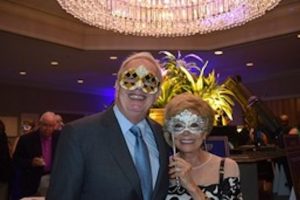 raised more money and saw more attendance than any in the company's history. Held April 13, the Renaissance-themed gala raised $545,950 and boasted 260 guests and 60 staff and artists in attendance. The event included live and silent auctions and featured performances from the company's Education Department, a cabaret with guest and ensemble artists, and a special appearance from the cast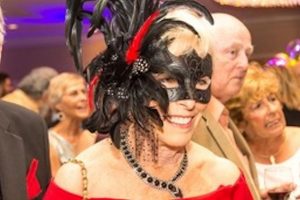 of Million Dollar Quartet. The company is already planning the 2020 event, to be held at the Sanibel Harbour Marriott Resort & Spa on March 28.
"We are having an incredible 21st year," said Longenhagen. "Following on the heels of the extraordinary success of Million Dollar Quartet, which introduced 30-50 first-time attendees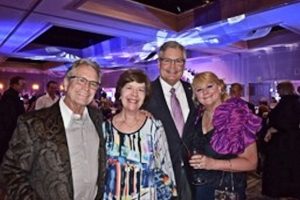 to Florida Rep at each performance, we extended the run of Native Gardens, one of the funniest and hottest new plays in America, currently playing in the ArtStage Studio Theatre. Add to that the unprecedented generosity we saw from our donors at the gala made this a season of milestones, and we're proud to share that success with our closest supporters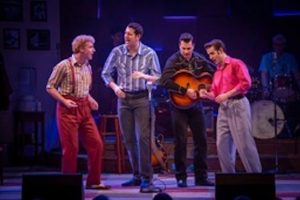 and with the entire community."
Due to overwhelming demand for tickets, Florida Rep also extended the runs of Becoming Dr. Ruth in October as well as Tenderly: The Rosemary Clooney Musical and Noël Coward's Hay Fever in early 2019. Also this season, noted sex therapist and holocaust survivor, 90-year-old Dr. Ruth K. Westheimer, visited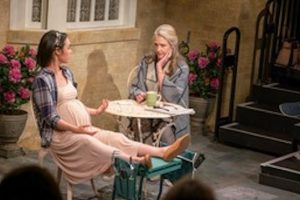 Florida Rep and participated in talkbacks, book signings, and enrichment events in conjunction with the season opener, Becoming Dr. Ruth.
Florida Rep produced the regional premiere of Damascus by Bennett Fisher in November, and played the psychological thriller to a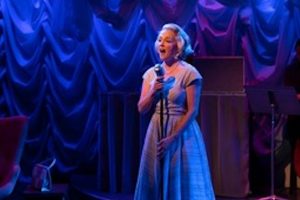 sold-out five week run. The theatre's first outing with August Wilson's American Century Cycle, the Pulitzer Prize-winning Fences, garnered critical acclaim in January when Charles Runnells of The News-Press called the production "a powerful night of theatre full of terrific performances, poetic dialogue and rich symbolism."
Florida Rep's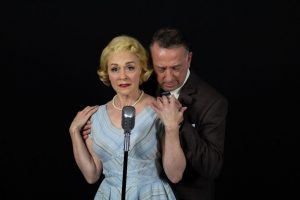 season continued into the summer with its 6th Annual Playlab Festival of New Works, held May 9-12, also in the ArtStage Studio Theatre. The PlayLab is an action-packed weekend festival where six new plays are read by a cast of professional actors and directors with talkbacks following each performance. The festival also included a performance of the world-premiere play for young audiences, Refugee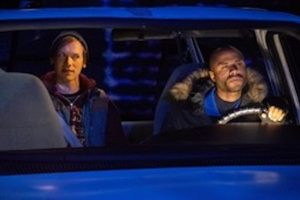 by Eric Coble, on May 12, and a keynote address by Susan Gurman, one of the country's leading literary agents."
Florida Rep's 2019-2020 season begins on September 24 with Always…Patsy Cline, a heartfelt celebration of the most popular female country singer in recording history. The upcoming season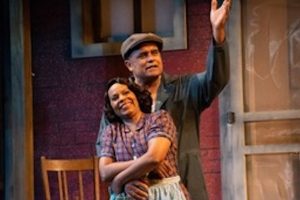 includes eight more productions lined up in the Historic Arcade Theatre and ArtStage Studio Theatres, and boasts rib-tickling comedies, electrifying thrillers, powerful dramas, a National New Play Network Rolling World Premiere, and a Tony-winning BEST Musical.
For information on the PlayLab and current and upcoming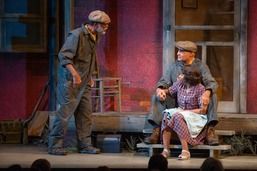 seasons, visit www.FloridaRep.org or call the box office at 239-332-4488.
Florida Repertory Theatre is a fully professional regional theatre that works with an ensemble of actors, directors, and designers on contract with Actors Equity Association, the Society of Stage Directors and Choreographers, and United Scenic Artists. Florida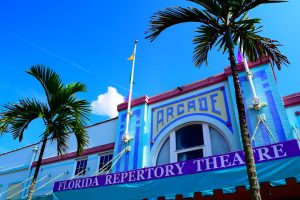 Rep is one of Lee County and Southwest Florida's most important cultural and educational institutions, has been named "Best Performing Arts Group" numerous times by Gulfshore Life Magazine and Florida Weekly, and its works have been lauded nine times by The Wall Street Journal's drama critic and bestselling author, Terry Teachout, as "one of America's top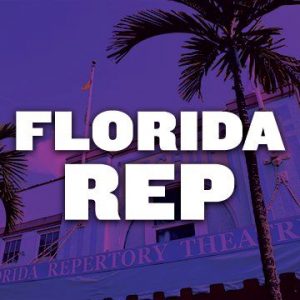 repertory companies."
Florida Repertory Theatre performs in the Historic Arcade Theatre and the ArtStage Studio Theatre on Bay St. between Jackson & Hendry in the Fort Myers River District. Visit Florida Rep online at www.FloridaRep.org, and by following the company on Facebook, Twitter, Instagram, and YouTube.
_____________________________________________________
One more audition scheduled for Lab's 2019-2020 season (06-08-19)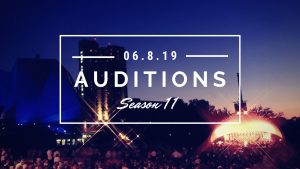 Lab Theater will hold its second and final audition for its 2019-2020 season today. Those auditioning for straight plays should come between 1:00 and 4:00 p.m. and those interested in auditioning for Lab's musical should appear between 4:00 and 6:00 p.m.
To audition,

come with a humorous and/or dramatic monologue not to exceed 90 seconds each. Actors will be seen on a first-come, first-served basis. Actors without monologues may select one that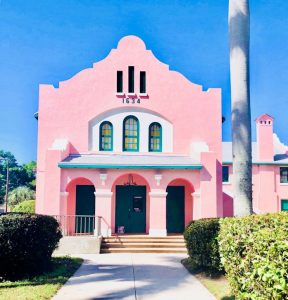 The Lab will have on offer in the lobby. Actors who are not available on either of the audition dates may send a video audition to director@laboratorytheaterflorida.com. Callbacks will be by invitation.
The shows are:
More on the roles can be found on The Lab's website and on its Facebook page.
_____________________________________________________________
Lab Theater's 11th season denoted by record number of premieres (06-08-19)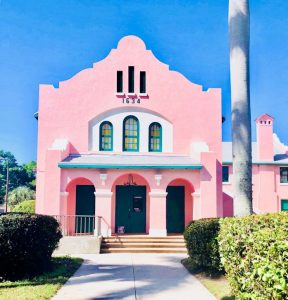 Even if theatergoers cannot make regular jaunts to New York to see the latest in theater, those living in or visiting Southwest Florida are in luck. In keeping with the tradition of bringing fresh and edgy theater to this community, The Laboratory Theater of Florida has put together a season filled with national, state, and regional premieres.
One of the topics that artistic directors rarely talk about is the acquisition of rights for any given season. Getting the rights to any play can be tricky, and rights are often won and lost any number of times prior to a season being announced. It's a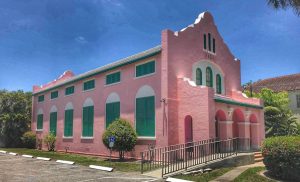 grueling, frustrating task to maintain a balanced season when you can lose acquisition rights at the very last minute.
That notwithstanding, Laboratory Theater of Florida's artistic director Annette Trossbach has managed to put together a season comprised almost entirely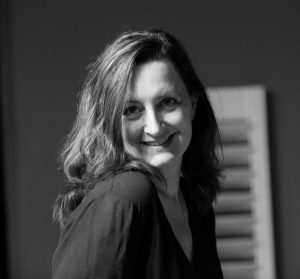 of works never seen in our area, including some first-time offerings. The theater will produce the first licensed productions in the country of Sex Tips for Straight Women from a Gay Man, Death of a Streetcar Named Virginia Woolf: a Parody, and DMV. In addition, there are Florida premieres of Let Nothing You Dismay and How to Transcend a Happy Marriage, offerings from two of the savviest young playwrights in the country.
There will also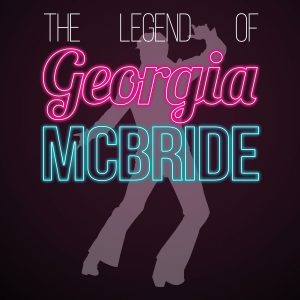 be three Southwest Florida premieres, The Legend of Georgia McBride (which opens June 8, 2019), The Wolves (part of the theater's award-winning education program this summer), and In the Heights by Lin-Manuel Miranda (author of Hamilton). In fact the only production in Lab's upcoming 11th season that is not a premiere is Arthur Miller's The Crucible.
What makes the Lab so special for both actors and patrons? From initial auditions, which are open because The Lab does not typically precast productions, to the final curtain,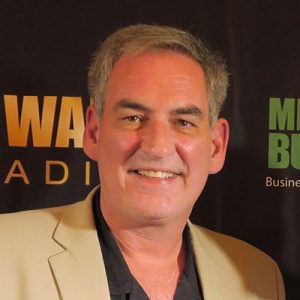 it's the entire experience that makes actors and patrons return time and again. The next set of open auditions will be held June 8th from 1:00-4:00 p.m. for straight plays, and 4:00-6:00 p.m. for the musical.
Actors at Lab Theater have the unique opportunity this season to be the first to define a character.
"Every time I work at the Lab, I gladly make the 50-mile trek (each way) from Naples," remarks local author, actor and director Randall Kenneth Jones. "The Lab has a spirit – an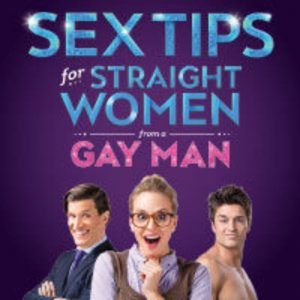 energy – that is so special that it's addictive. More than that, the Lab has Annette Trossbach at the helm. Candidly, most arts organizations are so hyper-focused on their own needs that they fail to notice the world around them. Annette is the reverse. She understands that by putting people and community first – by planting the seed of collaboration and support – her theater company will reap the benefits. And they do."
Indeed, founding Artistic Director Annette Trossbach brings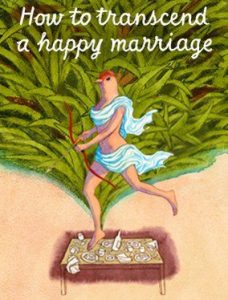 classical theater training from London drama schools to SWFL.
Working on plays that haven't been performed nationally gives actors the opportunity to work with nationally recognized playwrights such as Matt Murphy, the author of Sex Tips for a Straight Woman from a Gay Man who will be in town for the opening of his new play, giving the Southwest Florida community a chance to interact with a nationally-recognized playwright.
And thanks to generous benefactors, The Lab has now established an Actor's Fund so that all actors in the 2019-2020 season will receive a monetary stipend.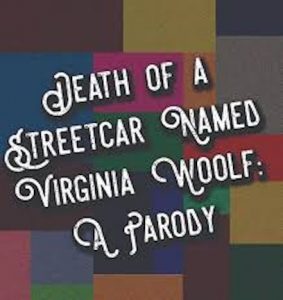 But it's not just what's on the stage that's making headlines. The Laboratory Theater of Florida's award-winning education department is offering new and exciting opportunities for learners of all ages – such as its recent workshop with world-renowned GhostPro Lee Ehrlich, who not only spoke of his experiences but led participants through a mini ghost hunt. Or its recent art workshop with an artist of national importance, Myra Roberts, who discussed not only art, but how maintaining the whole person is key to maximizing creativity. Or the classes in playwriting, physical theater, public speaking, and more that are currently available.
Tickets are available to purchase on Brownpapertickets.com or by calling the box office at 239-218-0481. For additional savings, guests may purchase a 2019-2020 Season Pass.
______________________________________________________________
'Legend of Georgia McBride' navigates the struggles of self-discovery (06-08-19)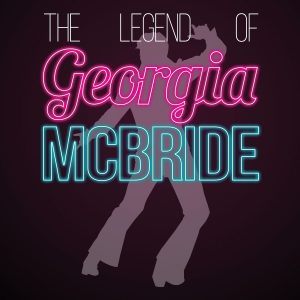 In keeping with the tradition of bringing fresh and edgy theater to Southwest Florida, Laboratory Theater of Florida will premiere Matthew Lopez's The Legend of Georgia McBride on June 7.
If you loved Whatever Happened to Baby Jane: A Parody of the Horror and Hush Up Sweet Charlotte, you won't want to miss The Legend of Georgia McBride. Full of sass, good spirits and catty humor (in the words of The New York Times), this show-stopping, hilariously-outrageous comedy follows a young Elvis impersonator who's barely eking out a living.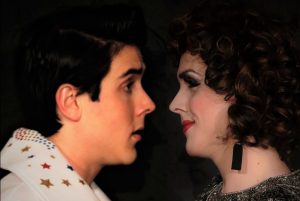 Things go from bad to worse when first he finds out that his wife is pregnant ("If my best isn't good enough for one, how could it be good enough for two?") and then he gets fired from the run-down Florida bar where he's been working. But in true storybook fashion, he is transformed one night by some unlikely new friends and rehired as a lip-synching drag queen – replete with music and sparkly costumes galore.
The remainder of this advance is here.
And go here for play dates, times and ticket information.
__________________________________________________________________
As Georgia McBride's Casey, Steven Michael Kennedy pursues dragdition (06-08-19)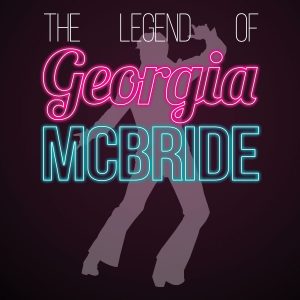 Opening June 7 at Laboratory Theater in the River District is The Legend of Georgia McBride. And reprising the legendary role of Casey will be Steven Michael Kennedy.
Casey is a 20-something Elvis impersonator who's been playing The King for a near empty bar on weekends. When he finds out his wife is pregnant and his act is being replaced by a drag queen duo, Casey decides to stay on as a bartender so he's not out of work. But he suddenly finds himself on stage again when one of the queens can't perform and Georgia McBride rises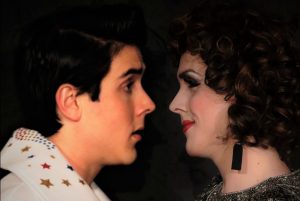 like a phoenix from the ashes of Casey's failed career.
To play the role, Kennedy has been constrained to embrace tradition like few other Lab Theater actors.
You'll find out how and why by going here.
_______________________________________________________________________
TJ Albertson back at Lab as Ms Anorexia Nervosa in 'Legend of Georgia McBride' (06-08-19)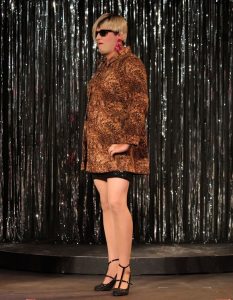 TJ Albertson has traded his machine gun for pantyhose as he returns fresh from his role as the villainous soldier in Andorra to play the edgy, bitchy Miss Anorexia Nervosa/Jason in the Southwest Florida premiere of The Legend of Georgia McBride. TJ continues to amaze with both the depth and diversity of the roles he takes on, as well as the meteoric progress he's making in developing, honing and refining his acting skills. Clearly, for TJ Albertson "drag ain't no hobby, baby!"
For more on this hard-working thespian (who posthumously won a best supporting actor Oscar earlier this year in the role of Tyler Johnes in And the Winner Is …), go here.
_____________________________________________________________________
Laura Lorusso teaching 'Elements of Playwriting' at The Lab starting June 19 (06-08-19)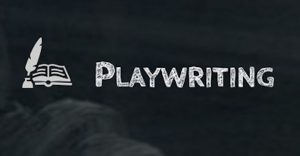 Do you have a story to tell, but you aren't sure how to tell it? Have you ever wanted to write a play but not sure how to start? Do you have a work in progress and you'd just like some feedback and a chance to possibly see it as a staged reading? Have we got the class for you!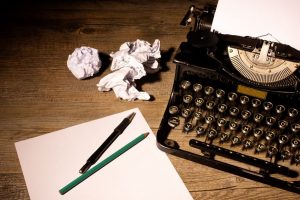 Award-winning local playwright Laura Lorusso will be offering Elements of Playwriting, starting June 19. This 8 week course will touch on the basics of playwriting with a strong emphasis on how to create a dynamic story. Explore the writers toolbox – character development, building arcs, dialogue, and plot. This course is great for the beginner as well as the experienced playwright.
Space is limited so secure your spot today!
_______________________________________
Spotlight on playwright Laura Lorusso (06-08-19)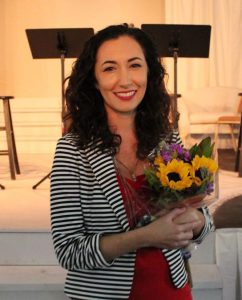 Naples playwright Laura Lorusso has been an active in the local theater community for the past fifteen years. She has starred with the Naples Players in several shows and toured with a local comedy show, Joey and Maria's Comedy Italian Wedding. As The Naples Players' special effects makeup artist, Laura's the one who brings to life the macabre in shows like The Rocky Horror Show. She has also competed on Global Beauty Master, a national styling competition and television reality show. But what she really aspires to be is an accomplished playwright, and she's already taken several steps in that direction.
It all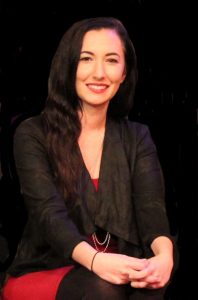 started with Afterlife of the Rich and Famous, a dark comedy that was produced Let's Put on a Show at Golden Gate Community Center in the Fall of 2013. That same year, Laura won Lab Theater's 24-Hour Playwriting Challenge with a one-act, 12-minute vignette titled "The Hall: Last Sunday" that sparkled with snappy dialogue, rib-splitting one-liners and a little song-and-dance number that brought down the house.
Her reward?
The following season, The Lab produced another of Laura's plays, Scrooge TV: A Modern Christmas Carol, a spoof of the Charles Dickens classic that starred Dave Yudowitz (An Act of God) and Kendra Price.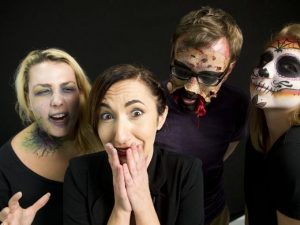 Lab Theater also conducted a staged reading of June & Jason's Survival Guide to Divorce (under a different working title) in tandem with The Naples Players' ETC program as part of a 2017-2018 season partnership for the sharing and development of new works. (Jessica Walck also directed the staged reading.)
Laura took the criticism and advice she received compliments of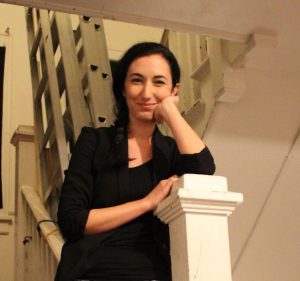 that staged reading to rework and refine the script, which inspired Jessica Walck and The Naples Players to produce June & Jason's Survival Guide to Divorce in The Naples Players Sugden Theatre this past October and November. A fast-paced, quick-witted situational comedy in the tradition of The Dick Van Dyke Show meets Friends meets Will and Grace, the play was a smash hit.
It's this experience and her concomitant sensibility that Lorusso brings to The Lab's "Elements of Playwriting" course this summer.
_____________________________________________________________
With 'The Wolves,' Maddy Hayes poised to amp up teen girl power (06-08-19)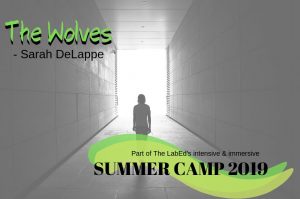 This just in.
Maddy Hayes is over the moon to direct Sarah DeLappe's The Wolves, the awesome summer show The Lab is teeing up for local teens.
"Tired of shows with five dudes and two girls?" Maddy demands, with the raw, in-your-face attitude of a perfume-splashed Natalie Portman. "This show is a ten girl cast!"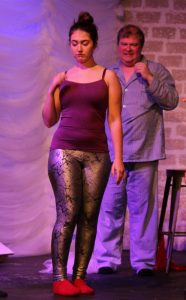 "Tired of simple, platitude-laden, inoffensive shows that seem bland and overdone because they don't want to make anyone clutch their pearls?" Hayes continues, daring you to jump off a tall pier right along with her. "This show is fresh, rich, and meaningful in a way that's hard to get into a high school."
"Tired of only getting the onstage part of theater?" Maddy softens. "We have plenty of choices for backstage as well, including costume design, set design, and stage managing!"
"I could not be more excited," she says, stating the obvious.
Clearly, we know what this girl would do for love.
She's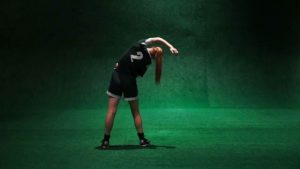 inviting ten theater campers of varying gradations of talent and experience to participate in a play boiling over with roiling, writhing, raw, raging-hormone adolescence.
The Wolves is nothing short of the hottest show out today. And even though it's is her first play, The Wolves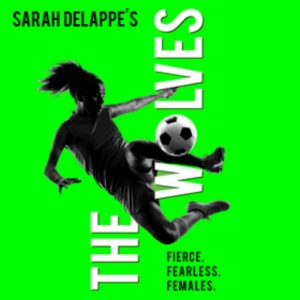 has already established Sarah DeLappe as theater's new queen of true-to-life, sharp-tongued overlapping dialogue.
Really, Maddy? Are you sure about this?
Of course she is. Maddy Hayes is not only up for the challenge. She's baying at the moon for the chance to dig in.
And actually, The Wolves is the perfect choice for Lab's immersive summer theater camp, which focuses on the development of the whole actor and includes not only acting and scene study, but elements of lighting and design, set design and construction, elements of costuming, and so much more!
For more information or to register call 239-841-4250 or online at bit.ly/TheWolvesLTF.
______________________________________________________________
'Rumors' rumored to be opening at New Phoenix Theatre on June 13 (06-08-19)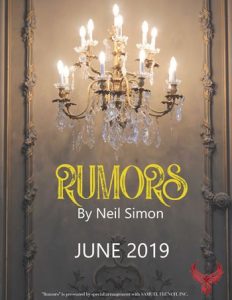 At a large, tastefully-appointed Sneden's Landing townhouse, the Deputy Mayor of New York has just shot himself. Though only a flesh wound, four couples are about to experience a severe attack of Farce. Gathering for their tenth wedding anniversary, the host lies bleeding in the other room, and his wife is nowhere in sight. His lawyer, Ken, and wife, Chris, must get "the story" straight before the other guests arrive. As the confusion and mis-communication mounts, the evening spins off into classic farcical hilarity. This is Rumors, New Phoenix Theatre's next production, directed by Scott Carpenter. Rumors opens June 13. Read here for play dates, times and ticket information.
______________________________________________
Spotlight on 'Rumors' director Scott Carpenter (06-08-19)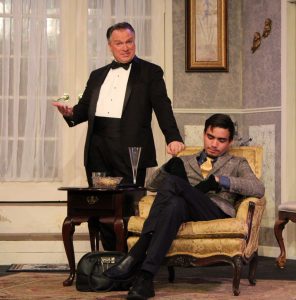 Scott Carpenter is an actor and director who lives in Cape Coral, Florida.
Scott was last on stage in New Phoenix Theatre's production of La Cage aux Folles. His other acting credits include It's Only a Play (which he also co-directed), Play On! (Lab Theater), Theatre Conspiracy's production of Moises Kaufman's 33 Variations, Gore Vidal's The Best Man (Lab Theater), Yasmina Reza's Art (Lab Theater), Cabaret (Lab Theater), Who's Afraid of Virginia Woolf? and Glengarry Glen Ross.
Read the rest of Scott's profile here.
___________________________________________________________
Spotlight on Rumors actor Stella Zuri, who plays Cassie Cooper (06-08-19)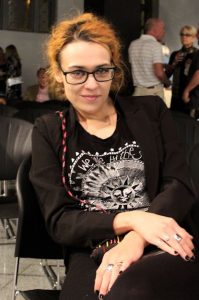 Stella Zuri will be playing the part of Cassie Cooper in New Phoenix Theatre's upcoming production of Neil Simon's Rumors. Zuri has a reputation for playing smart, surly and decidedly mercurial female characters.
One of her most memorable was that of the acerbic Daphna in Joshua Harmon's Bad Jews (for Lab Theater). Another was the brutally judgmental Eva in Robert Caisley's Happy (also for Lab). Zuri's other acting credits include Lucy in Mr. Marmalade, Amelia, Helen, Waitress 3 and Kim in Bob: A Life in Five Acts, Patsy in The Rimers of Eldrich, Desdemona in Othello, Candy Starr in One Flew Over the Cuckoo's Nest, Ophelia in Hamlet, Belinda Cratchit and the Ghost of Christmas Past in A Christmas Carol, Nina and Hildy in Relatively Speaking, Katherine in Taming of the Shrew and Hecate in Macbeth. Stella also portrayed serial killer Monique Avril in the 2012 indie film Redemption.
Go here for the rest of Stella's credits and profile.
__________________________________________
Spotlight on 'Rumors' actor Rosie DeLeon (06-08-19)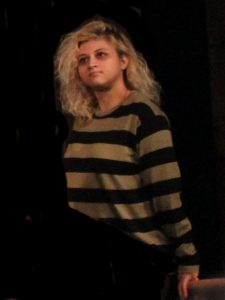 Rosie DeLeon is best known in theater circles as a talented, go-to sound and lighting director/technician. But she has also appeared often on the boards at various Lee County venues. Her credits include the role of Linda Johnson in Lab Theater's production of Deborah Lake Fortson's Body & Sold, Feste in Lab's production of Shakespeare's Twelfth Night and Elaine in Calendar Girls. She also played various parts in The Rauschenberg Project Play (which plumbed many of the important issues faced by local 12-24 year-old members of Southwest Florida's LGBTQ community, including domestic violence, bullying, employment discrimination and homelessness). She will be appearing as Officer Pudney in Neil Simon's Rumors in June for New Phoenix Theatre.
__________________________________________
Spotlight on 'Rumors' actor John D. Strealy (06-08-19)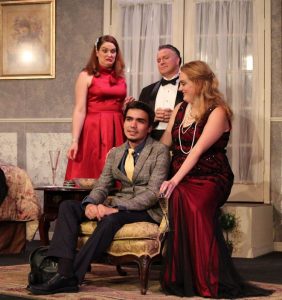 John D. Strealy is an aspiring young local actor. His credits include klepto-director Sir Frank Finger in It's Only a Play, Jason Shelburne in Body & Sold and Malvolio in Shakespeare's Twelfth Night, in which he had a break-out performance as the pompous, pedantic and overbearingly pretentious steward, who becomes the butt of a cruel practical joke played on him by his lady's uncle, Sir Toby Belch, Sir Toby's well-heeled friend, Sir Andrew Aguecheek and the manor's maid, Maria.
The rest of John's profile is here.
_________________________________________________________________
'Rancho Mirage' opens at Theatre Conspiracy at the Alliance on June 14 (06-08-19)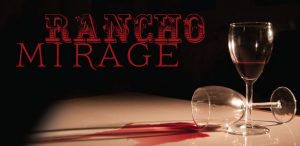 Opening June 14 in the Foulds Theatre at the Alliance for the Arts is Rancho Mirage, a biting satire of life in a gated community that is as moving as it is hilarious.
The play tells the story of three affluent suburban couples who have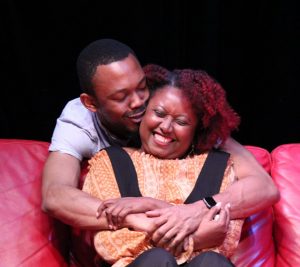 come together for an ill-fated dinner party in one of their homes. One couple is experiencing financial troubles. A second is going through marital woes. The third is having trouble conceiving. Close friends who enjoy lively banter as much as the next glass of wine, as the evening progresses they begin revealing long-concealed secrets that threaten to undermine their relationships.
Go here for the rest of this advance.
'Rancho Mirage' plays dates, times and ticket info.
________________________________________________
Spotlight on 'Rancho Mirage' actor Sonya McCarter (06-08-19)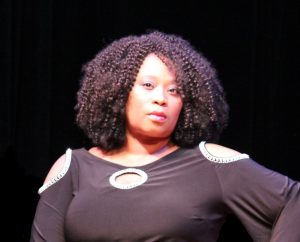 Sonya McCarter is an actor, director, an instructor in the Alliance for the Arts' CHANGE (Communities Harnessing the Arts to Nurture and Grow Equity) program, and the Alliance's Community Engagement Coordinator.
Her acting credits include the part of Corryn Fell in Gideon's Knot, Ntozake Shange's choreopoem For Colored Girls Who Have Considered Suicide When the Rainbow is Enuf, appearances in two episodes of the television show Burn Notice and the film The Florida Project.
The rest of Sonya's profile is here.
__________________________________________________
Spotlight on 'Rancho Mirage' actor Cicero McCarter (06-08-19)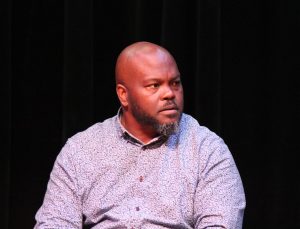 Cicero McCarter is an emerging talent in Southwest Florida theater. A recent graduate of the Alliance for the Arts' CHANGE program, McCarter has appeared in a number of productions since 2015, including August Wilson's Joe Turner's Come and Gone, August Wilson's Seven Guitars (Hedley), August Wilson's Ma Rainey's Black Bottom (Slow Drag) and Lillian Hellman's Toys in the Attic (Henry Simpson). He also plays a DCF agent in the 2019 indie film Fallaway.
_______________________________________________
Spotlight on 'Rancho Mirage' actor Nuniez Philor (06-08-19)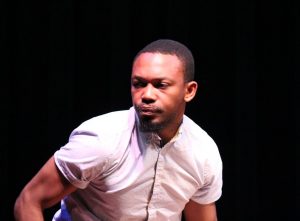 Nuniez Philor is a young actor who is taking his first fledgling steps into the brave new world of theater. A recent FGCU graduate who focused on psychology and theater, the Fort Myers native is preparing to perform in Theatre Conspiracy's upcoming production of Steven Dietz's Rancho Mirage after appearing in March as Seth Holly in August Wilson's Joe Turner's Come and Gone.
________________________________________________
Spotlight on 'Rancho Mirage' actor Carolyn Greene (06-08-19)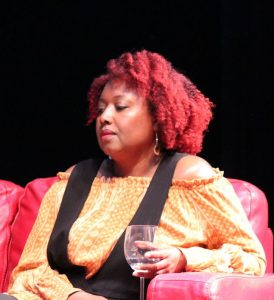 Carolyn Greene is a local actor whose credits include Rancho Mirage, The Bluest Eye and the Ntozake Shange choreopoem For Colored Girls Who Considered Suicide When the Rainbow is Enuf (the Lady in Purple). This lively Caribbean native began in community theater in 2010 in a production of the Vagina Monologues. She is a member of a local choir and a mentor to college-age women, a Phoenix who has risen from the ashes to meet every challenge.
______________________________________________
Spotlight on 'Rancho Mirage' babysitter Eren Sisk (06-08-19)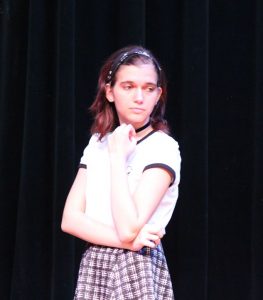 Eren Sisk is a rising star in the local theater scene. Her next appearance will be in Theatre Conspiracy at the Alliance for the Arts' production of Rancho Mirage.
Her credits include Barblin in Andorra (taking over on less than four hours' notice when Danica Murray fell ill and had to be hospitalized for the remainder of the show's run), Helene in Henrik Ibsen's A Doll House, Annie in Evil Dead the Musical, young Blanche Hudson and next-door-neighbor Abby Bates in Whatever Happened to Baby Jane: A Parody of the Horror, a critically-ill high school student in Lauren Gunderson's I & You and a beautiful, bouncy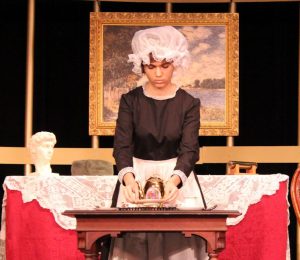 9-year-old Victorian girl who is murdered and dismembered again and again in Jennifer Haley's The Nether. She was also in Jekyll & Hyde and Footloose at Fort Myers High School and Les Miserable at Cultural Park Theater.
You'll find the rest of Eren's profile here.
_____________________________________________
Spotlight on 'Rancho Mirage' actor Rob Green (06-08-19)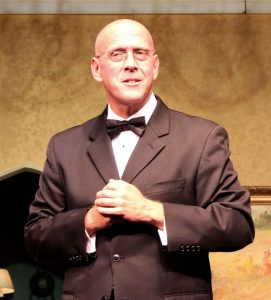 Rob Green is one of Southwest Florida's hardest working actors. Since returning to the boards following a three-year hiatus, he has appeared as The Teacher, Can, in Max Frisch's Andorra, Gerald Halverson in Theatre Conspiracy's production of Jeffrey Hatcher's Murderers, the Archangel Gabriel in David Javerbaum's An Act of God, the wheelchair-confined Queen of the Hollywood Melodrama Blanche Hudson in the outrageous Lab Theater summer spoof Whatever Happened to Baby Jane: A Parody of the Horror and Burton in in Burn This. And now he's appearing in Rancho Mirage.
For the rest of Rob's credits, please read here.
_______________________________________________________
Naples Players production of 'Mamma Mia' opens June 26 (06-08-19)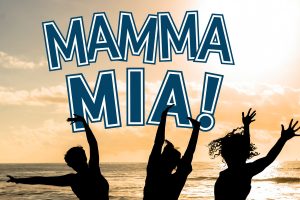 The Naples Players (TNP) is kicking off its 66th theater season with Mamma Mia! The show runs June 26-July 28, 2019.
The ABBA Broadway musical will be directed by Naples favorite Dawn Lebrecht Fornara with musical direction by Charles Fornara.
Jacqueline Blanche is Lisa, Eric Bohus is Sam, Kristin Cassidy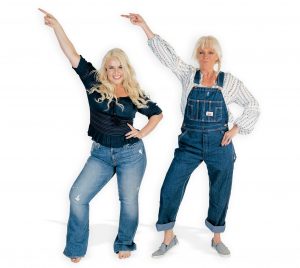 is Rosie, Adam Fasano is Sky, Jeremy Giovinazzo is Pepper, Debi Guthery is Tanya, Anthony Henerson is Eddie, James Little is Harry, John McKerrow is Bill, MaryAnne McKerrow is Donna, Erica Sample is Sophie and Lindsey Walsh is Ali. The musical ensemble includes Mackenzie Black, Elizabeth Marcantonio, Maggie Boswell, Sydney Mixon, Kelsey Browne, Tina Moroni, Jack Norkeliunas, Lawrence Cherestal, Thomas Richardson, Frankie Federico, Logan Szittai, Sawyer True,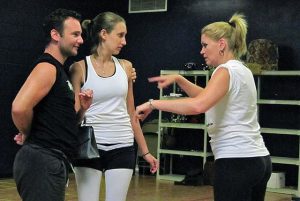 Mark Vanagas, Alexandra Igoe, Dominic Young and Elyse Yun.
Over 60 million people worldwide have fallen in love with the characters, the story, and the music that make Mamma Mia! the ultimate feel-good show. The musical tells the uplifting tale of a young woman seeking the identity of her father for her wedding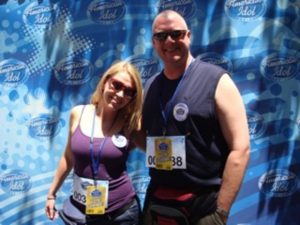 and brings the three potential men from her mother's past back to the Grecian island they visited 20 years ago. The story-telling magic of ABBA's timeless songs propels this enchanting tale of love, laughter, friendship, and sisterhood, creating an unforgettable show. Hit songs include: "Mamma Mia," "Money, Money, Money," "Dancing Queen," and "Voulez-Vous" among others.
There will be a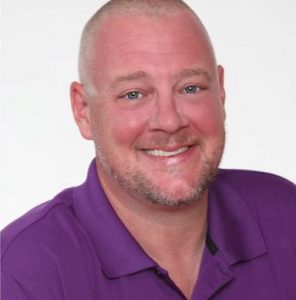 special Sensory-Friendly performance of Mamma Mia! on Tuesday, July 9 at 7:30 p.m.
Special pricing of $20 for adult tickets and $10 for student/educator tickets makes sensory-friendly performances affordable for families. As sensory-friendly screenings become more common in local movie theatres and even on Broadway, The Naples Players is proud to participate in this national shift towards making it possible for individuals with special needs and their families to experience the same quality theatre as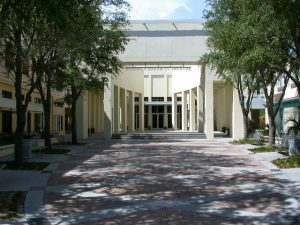 everyone else.
Tickets for Mamma Mia! are $45 and on sale now through the TNP Box Office at (239) 263-7990 or NaplesPlayers.org. Tickets for the sensory-friendly performance are $20 and $10 for children and educators.
___________________________________________
Stage 2 Improv returning to TNP on July 13 (06-08-19)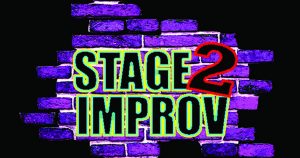 The Naples Players and Stage2 Improv collaborate one weekend night each month for some of Southwest Florida's best family-friendly comedy. Each show consists of improvisational comedy games and songs from topics suggested by the audience. Be as involved in the show as you'd like and come back each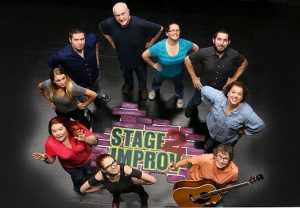 month for more and more laughs.
Frequently including special guest appearances by local celebrities, each month is an exciting new theme. It's the 70s on Saturday, July 13. The show starts at 8:00 p.m. Tickets are $20. Contact the TNP Box Office by phone at (239) 263-7990 or visit NaplesPlayers.org.
_______________________________________________________________
Randall Kenneth Jones teaching public speaking class at Lab and TNP (06-08-19)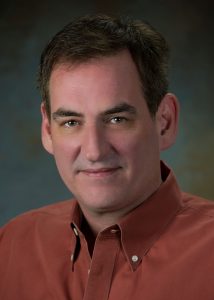 Want to be more effective when speaking to the county commission, the school board, your colleagues or any other group of people? Ever wondered how to make an audience more receptive to your message? How to relax and present your point in a convincing manner? The Naples Players and the Laboratory Theater of Florida are pleased to host: Public Speaking with Randall Kenneth Jones.
Randall Kenneth Jones will provide hands-on public speaking guidance for business professionals, government employees, members of the news media, civic activists and others in a fun, upbeat environment. The class is ideal for teachers, reporters, performers, government spokespersons, would-be elected officials, non-profit representatives, community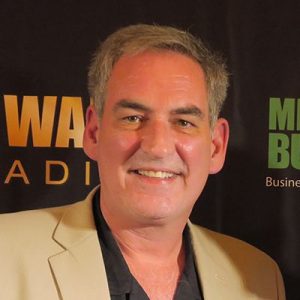 outreach personnel, business and real estate professionals.
A familiar face to Southwest Florida audiences, Jones is a respected actor, author, podcaster, marketing/PR consultant and motivational speaker. The cost of the 6-class Public Speaking Workshop is $200. Students are required to purchase the book "Knockout Presentations, Third Edition" by Diane DiResta. Registration deadline is June 16. Class size is extremely limited.
Lee County classes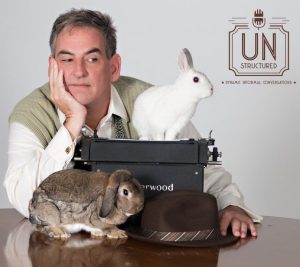 are held at Laboratory Theater of Fort Myers, 1634 Woodford Ave, Fort Myers, FL 33901. The class will consist of six sessions beginning on Wednesday, June 26 and ending on Wednesday, August 14 (no class on July 3 or August 7) from 6:30 9:00 p.m. To register for Lee County Classes, please call The Laboratory Theater at 239-841-4250.
Collier County classes will be held at the Naples Players Sugden Community Theatre at 701 5th Ave S, Naples, FL 34102.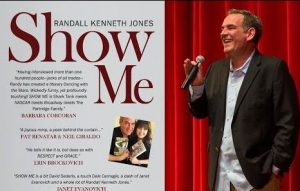 The class will consist of six sessions beginning on Monday, June 24 and ending on Monday, August 5 (no class on July 1) from 6:30 to 9:00 p.m. To register, please telephone (239) 434-7340 ext. 103 or visit https://www.hisawyer.com/the-naples-players-theatre-for-the-community/schedules/activity/908073.
_____________________________________
Spotlight on Randall Kenneth Jones (06-08-19)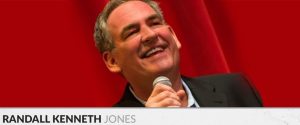 The incomparable Randall Kenneth Jones is a respected actor, author, podcaster, marketing/PR consultant and motivational speaker.
Highly intelligent, deeply introspective and ridiculously well-connected (among a legion of notable actors, athletes and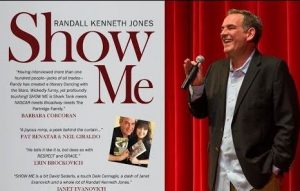 celebs, he counts Erin Brockovich and Peggy Post as close personal friends), Jones made quite the splash in the gender-bending roles of femme fatale Cousin Miriam in Hush Up Sweet Charlotte and Baby Jane Hudson in Whatever Happened to Baby Jane: A Parody of the Horror, both produced by Laboratory Theater of Florida.
You can access the rest of Jones' profile here.
______________________________________________________________________
TNP inviting playwrights to submit for Readers Theatre new play competition (06-08-19)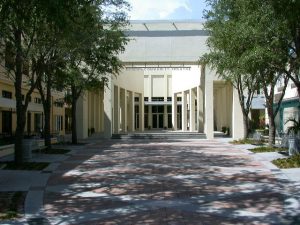 The Naples Players' (TNP) Readers Theatre is now accepting original one-act scripts for its 16th Annual "An Evening of New Plays" contest for Southwest Florida playwrights. Winners will have the opportunity for their plays to be cast, directed, and staged at one of the most highly-rated theatres in the country.
"It's a fantastic opportunity for talented playwrights to get their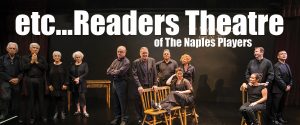 work in front of an audience," observes Jessica Walck, Associate Artistic Director.
In addition to having their play cast and performed at TNP's "An Evening of New Plays" on Sunday, January 19, 2020, finalists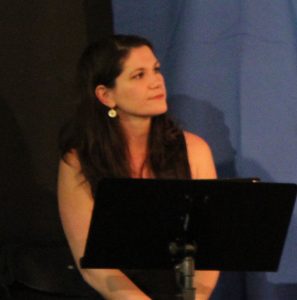 will each receive a performance royalty, memorial plaque and tickets to TNP's "An Evening of New Plays."
Readers Theatre is devoted to developing playwrights, directors and actors through staged readings of original works as well as fresh and inventive one-acts. The Readers Theatre program allows The Naples Players to test new plays before producing them and provides critical feedback to playwrights, along with access to performance and directing opportunities through flexible and shortened rehearsal processes and
augmented performance demands. Both veteran and novice actors, directors, and playwrights can call Readers Theatre home, and this flexibility helps Readers Theatre remain as one of the foundational programs of The Naples Players.
Only non-musical one-acts are accepted. Only one play per writer can be submitted. Each play must: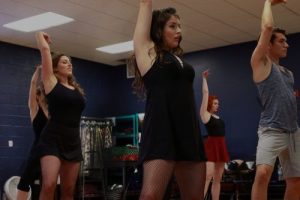 Once the play is submitted, no script changes can be made for purposes of this competition.
To submit a play, playwrights must submit three copies of their script in standard stage play format to: "An Evening of New Plays 2018," The Naples Players, 701 5th Avenue South, Naples, FL 34102. Plays may also be submitted electronically to: tnpreaderstheatre@gmail.com.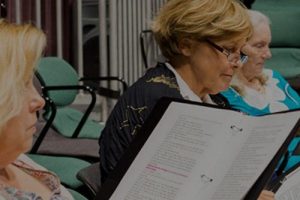 A title page with the name of the play, synopsis, and list of characters must be attached to each script. Include a separate page, unattached to the script, with the name of the play, playwright and contact information. This is to help assure anonymity during the judging process. For scripts to be returned, please include a self-addressed stamped envelope.
The judging panel may recommend up to four finalists to the Readers Theatre Committee for review and final approval by Associate Artistic Director Jessica Walck. Authors retain all rights and give performance rights to The Naples Players for "An Evening of New Plays" and limited readings in other venues, including possible outreach and electronic media.
Deadline for submission is July 31, 2019 and winnerswill be notified by October 31, 2019.
Readers Theatre is The Naples Players' affiliate theatre group, led by TNP's Associate Artistic Director Jessica Walck. Performances are held throughout the year in the intimate 100-seat Tobye Studio Theatre at the Sugden Community Theatre in the center of 5th Avenue South, Naples. Readers Theatre perform a series of one-act plays and full-length works with scripts in hand and without props or costumes. Readers Theatre performances focus on the written word.
The Naples Players (TNP) Sugden Community Theatre is Naples' oldest and premier theatre group and a vital part of the exciting experience of Downtown Naples. Celebrating its 66th season, and as one of the top theatres in the country, they offer a variety of plays and musicals in three intimate spaces, Blackburn Hall, the Tobye Studio Theatre and outside BakerStage – all located in one building on Fifth Avenue South.