Actors, artists, directors, filmmakers and events in the news March 1-7, 2021
Grouped under headings that include art openings, film, outdoor art fairs and festivals and theater are advances, announcements and articles about the actors, artists, filmmakers and events making news in Southwest Florida this week:
1       RECOGNIZING 31 LOCAL WOMEN DURING WOMEN'S HISTORY MONTH
Nancy Stetson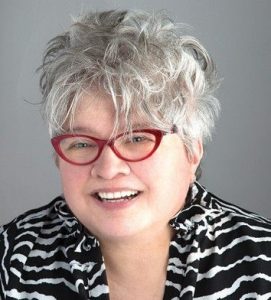 Each day in recognition of Women's History Month, Art Southwest Florida is celebrating a woman who has made theater better throughout Southwest Florida. Today, that woman is Florida Weekly's Nancy Stetson.
Stetson is beloved by many theater-goers for the honest, insightful and carefully considered theater reviews and associated features that she publishes in her capacity as Florida Weekly's award-winning arts and entertainment writer. Stetson takes in well over 60 shows a year, and her candid critiques not only encourage area theater-goers to purchase tickets to plays that might otherwise not interest them, they induce local producers,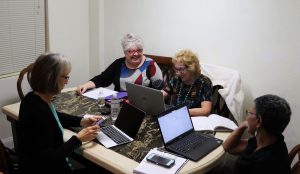 directors and performing artists to strive for perfection knowing it's possible that Stetson could be in the audience on any given opening or subsequent night.
What resonates with those who read and are the subject of Nancy's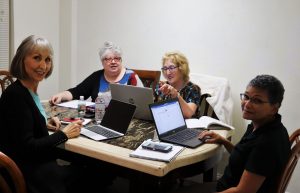 reviews is her laser-sharp focus on relatable characters and realistic dialogue. In Stetson's estimation, these are the essential components of good storytelling, and that's the polestar that guides her reviews and the reason that audiences know they're going to like or at least be engaged by a show that receives a favorable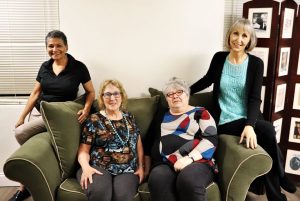 nod.
Recently, Nancy has applied the vast experience she has gleaned over more than three decades of watching and reviewing scores of dramas, comedies and musicals for newspapers in New York, Chicago and Southwest Florida to writing plays of her own. While it may have shocked Nancy, it surprised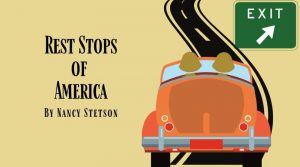 no one else when she promptly won first the Louise Wigglesworth Award for Excellence in Playwriting from the Laboratory Theater of Florida followed by a national playwriting contest held by Las Vegas Little Theatre. The former duly produced her one-act play Rest Stops of America virtually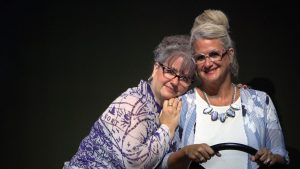 earlier this season while the latter included her dramedy Germs are Everywhere in its "Quarantine Monologues." (Previous to these projects, Nancy wrote two 10-minute plays for Lab Theater's Festival of Tens and another short drama for Brendan Powers and Rachel Burttram's Tiny Theatre,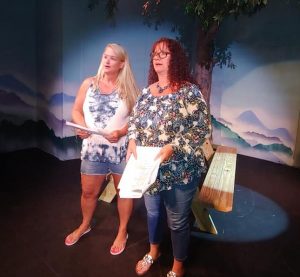 which has been described as "live professional theater in the time of self-isolation.")
Stetson's foray into the realm of playwriting is meaningful for a number of reasons. It reminds everyone in the theater community that good, interesting storytelling is the common denominator that unites everyone involved in theater, from playwrights to directors, actors, critics and audiences. It is also a powerful indicator of the vast talent and rich resources we have here in our local performing arts and cultural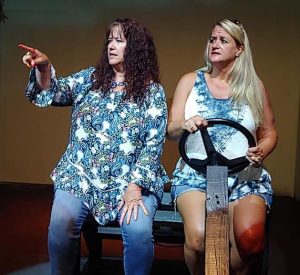 communities. Notwithstanding the hit we have all taken during the COVID-19 pandemic, the arts are alive and beginning to thrive anew here in Southwest Florida and Nancy Stetson is a shining example of that – which is why she joins Carmen Crussard, Sonya McCarter, Carrie Lund Cacioppo, Annette Trossbach and Berne Davis and Barbara Mann as women who have made and are making Southwest Florida one of the finest and most vibrant theater districts in the United States.
_________________
Carrie Lund Cacioppo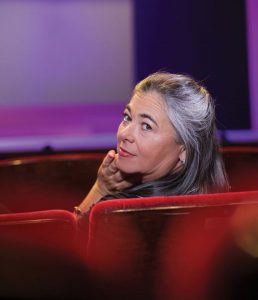 Each day during Women's History Month, Art Southwest Florida is honoring someone past or present who has or is advancing arts and culture in Southwest Florida. Today we recognize Carrie Lund Cacioppo, a local community theater actor, producer, pioneer and visionary who has helped build Southwest Florida into one of the most vibrant theater regions in the entire country.
Carrie's groundbreaking work in this regard dates back to 1984, when she and a young actor by the name of Robert Toperzer re-opened the Pirate Playhouse after veteran Broadway actress Ruth Hunter and her husband Philip decided to retire and close the schoolhouse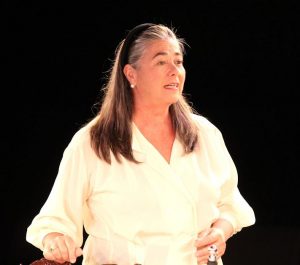 theater that they'd transformed into an intimate 90-seat theater. The company enjoyed so much success that it was replaced seven years later by a bigger and better playhouse further up Periwinkle Way. But Carrie and husband Robert Cacioppo did not abandon the old schoolhouse facility.
_______________
Annette Trossbach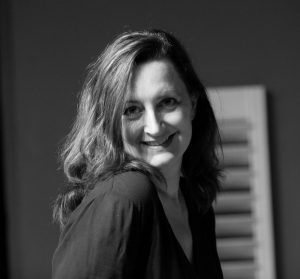 Each day during Women's History Month, Art Southwest Florida is honoring someone past or present who has advanced arts and culture in Southwest Florida. When it comes to the performing arts, Annette Trossbach's contributions to community theater cannot be overstated.
It's not just that Annette founded the Laboratory Theater of Florida eleven years ago. Or the number of actors she's influenced through her intensive direction and mentorship over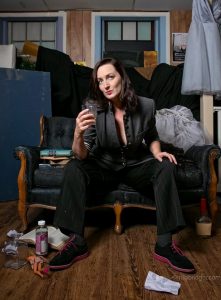 that span. Or the accolades she's received over the years, including Broadway World's Best Director of a Play in Southwest Florida for Anna in the Tropics in 2018 and The Crucible in 2019.
What makes Trossbach unique is her uncanny feel for the edgy and avant garde, her unflappable resolve to bring to the stage controversial subject matter likely to foster community engagement, and her uncompromising inclusivity, which extends to "all races and ethnicities, religions, backgrounds, gender identities, sizes, sexual orientations, abilities and disabilities, languages and ages." In fact, her outreach to the LGBTQ community beginning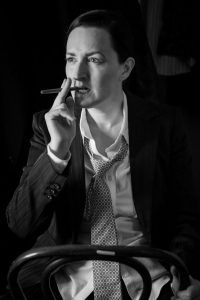 in 2015 with the Rauschenberg Project Plays and Standing on Ceremony: The Gay Marriage Plays was a key factor in her being honored in 2017 with a WGCU Makers Award for women making an impact in Southwest Florida.
Her current directorial undertaking, Jordan Tannahill's Botticelli in the Fire, is a case in point. Not only does the drama tackle typically taboo topics such as pandemic-inspired mass hysteria, the scapegoating and politicization of targeted segments of the population, and the connection between populism and extremism, it embraces full nudity and heterosexual and gay kissing and intercourse. And in traditional Trossbach style, Annette is utilizing her experiences in staging the show to advocate for the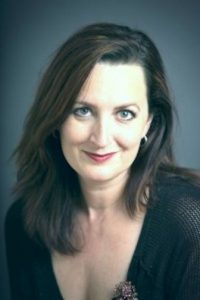 need throughout the region for trained and qualified "intimacy coordinators" or "intimacy directors" whose job it is to protect the interests and emotional wellbeing of everyone involved when a script calls for anything as simple as mere touching to as complicated as a stage kiss or simulated sex.
In this sense, Annette Trossbach is a female pioneer every bit as smart, thoughtful and gritty as Fort Myers' founding females Tootie McGregor Terry, Julia Allen Hansen, Mina Miller Edison and Olive Stout. She is setting standards in community theater and pushing envelopes, breaking barriers and shattering glass ceilings in her ongoing initiative to advance the nature and quality of community and equity theater throughout Southwest Florida. And for that, Art Southwest Florida recognizes the myriad and important contributions she is making that individually and in the aggregate serve to validate and improve the arts and culture of this region.
______________
Barbara B. Mann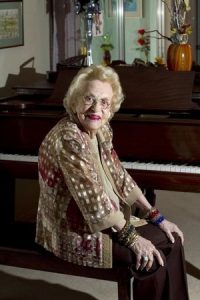 It's Women's History Month and Art Southwest Florida wants to recognize those women from our past and present who elevate arts & culture and contribute to the visual and performing arts throughout Southwest Florida. We begin with the one woman whose name became synonymous with arts and culture in Lee County and throughout Southwest Florida for nearly 80 years. She was know simply as "B" to her friends. The rest of us knew her as Barbara B. Mann.
Although many are not aware of her vast contributions today, Barbara was instrumental in the founding of almost every arts organization in the county from the 1940s through the end of the 20th century, including the Alliance for the Arts (for which she served as charter president), the Fort Myers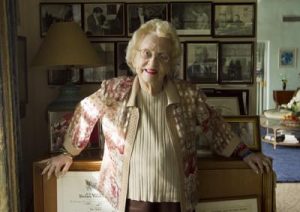 Community Concert Association (not only was she a founding director in 1948, but served as its president for 57 years) and the Southwest Florida Symphony. Today, her legacy is continued not only through the Alliance, but by the Barbara B. Mann Performing Arts Hall, which the Florida Legislature named for her in recognition of her decades of inspired leadership in the arts and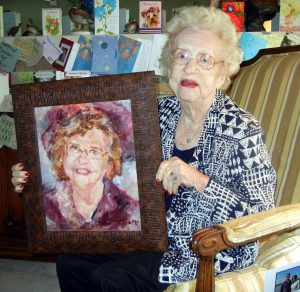 culture of Southwest Florida.
Barbara placed an emphasis on education, although the Great Depression denied her the opportunity to get her college degree. Recognizing that dreams are sometimes delayed, she enrolled in her sixties at Edison State College (now FSW) and went on to obtain her four-year degree at Thomas Edison State College in New Jersey. It was only fitting, seeing as how she received her high school diploma from Thomas Edison himself.
For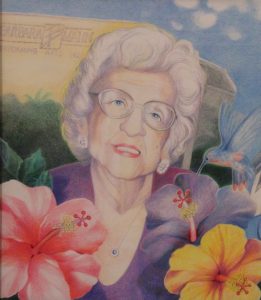 all these accomplishments, Barbara wanted women to learn most to maintain a strong sense of self and that women are best served by lifting one another up.
You can also learn more about Barbara Mann, her early influences and her philanthropic legacy in Female Pioneers of Fort Myers, Women Who Made a Difference in the City's Development by Robin C. Tuthill and Tom Hall (available on Amazon).
__________________
Bernese Barfield Davis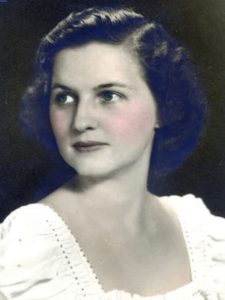 It's Women's History Month and Art Southwest Florida wants to recognize those women from our past and present who elevate arts & culture and contribute to the visual and performing arts throughout Southwest Florida. Next on our list is Bernese Barfield Davis, affectionately dubbed by former mayor Jim Humphrey as The First Lady of Fort Myers. While Bern's influence can be felt in numerous places throughout the county, she will continue to impact current and new generations of visual and performing artists, filmmakers and educators through the art center that bears her name. Berne graduated from Fort Myers High School in the same year that Nat Gaillard Walker's neoclassical federal post office was completed and dedicated in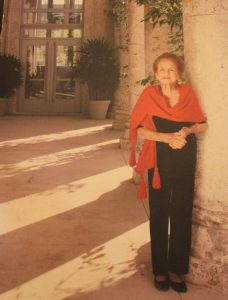 downtown Fort Myers. After the federal government abandoned the building in 1998, the stately edifice fell into disrepair. Influenced in part by the dual drum bronze light sculptures sitting on the sidewalk at the foot of the front stairs, Berne made a major donation to the building's restoration, launching Jim Griffith and Florida Arts' efforts to create a world class art center that would attract internationally-renowned artists, dancers, musicians and thespians, thereby ever after elevating arts and culture in Fort Myers through the exhibitions, concerts, film festival and other events it hosts throughout the year. You can learn more about how the Caloosahatchee Manuscripts light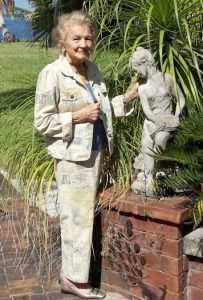 sculpture inspired Berne's gift on Otocast, a free mobile app to which the City's Public Art Committee has subscribed in order to share stories with residents, shoppers, diners and other visitors about the public artworks they encounter throughout the city. You can also learn more about Berne Davis, her early influences and her philanthropic legacy in Female Pioneers of Fort Myers, Women Who Made a Difference in the City's Development by Robin C. Tuthill and Tom Hall (available on Amazon).
2      ACTORS
Gerrie Benzing teaching Lab Theater's Spring Camp 2021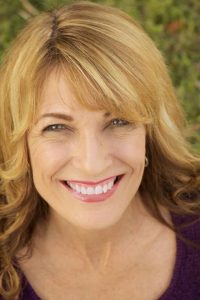 The registration link is now active for Lab Theater's Spring Break camp, scheduled for March 15-19. This camp is for young campers, ages 7 -11, and runs from 9:00 a.m. until 3:30 p.m. with a 30-minute drop-off and pick-up period at the beginning and end of each day. It will be taught by local stage and film actor Gerrie Benzing, who has more than 20 years of experience teaching theater fundamentals, including musical theater, to young students.
Gerrie Benzing has appeared in more than 15 productions at Cultural Park Theater, three shows at Lab Theater and made her debut at Theatre Conspiracy at the Alliance for the Arts in 2019 as Lucy and Tommy of No Consequence in Adam Szymkowics's Marian, or the True Story of Robin Hood.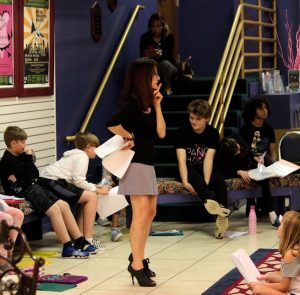 Most recently, she starred for The Studio Players in Circle Mirror Transformation, a play that takes its name from theater games and exercises that actors often play in order to develop and improve their craft.
"I'm really looking forward to teaching live again, and I'm excited to be working with the Lab for the first time," says Gerrie, who starred in Lab Theater's production of Zalman Velvel's farce, D.M.V. and Rick Abbot's Play On!
Lab employs a "whole actor"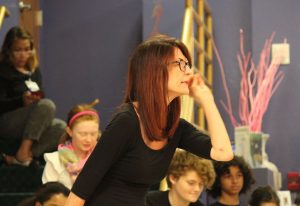 philosophy in structuring its Spring Break curriculum and approach. What's that? Quite simply, it's the conviction that when actors understand all of the work that goes into a production, they emerge as team players, a quality that is highly desirable in an industry that requires dedication and long hours to bring a play to opening night. As a consequence,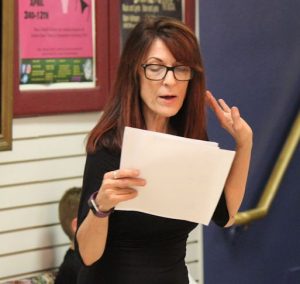 this camp embraces scene study, physical theater, character work and workshops in set and lighting design, stage management, theatre etiquette and theater games. There's also a workshop on Commedia dell'Arte!
As an added bonus, the camp will culminate in a showcase performance on Friday afternoon.
As the Creative Director of Monologues4kids.com, Gerrie has written numerous children's plays and over 500 monologues for clients worldwide which dozens of children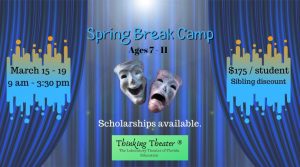 have used to win movie roles, theater auditions, talent shows, pageants and secure professional representation. Gerrie has authored Duet Acting Scenes for Teens: Monologues4kids, Duet Acting Scenes for Kids: Monologues4kids, and Monologues4kids Theater Camp Plays: 
Broadway Version, and contributed original monologues to the book Active Listening by Michael Rost and J.J. Wilson. She is also the co-author of the indie film Perfect Pucker Lipstick and serves as a judge for District 6 Thespian competitions and the Youth Theater Awards.
Due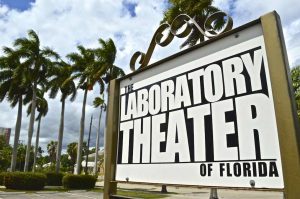 to Lab Theater's rigorous safety protocols, enrollment is limited to ten (10) campers. All COVID19 safety precautions will be taken, including treating theater surfaces regularly with an anti-microbial treatment designed to kill the virus. Classes will be held outside for most sessions and in the main theater with a minimum of 6 feet maintained between campers. Masks will be required to be worn indoors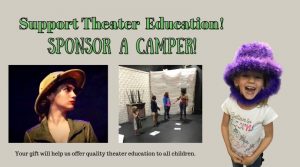 and whenever working within 6 feet of other campers outside.
Campers need to wear closed-toe shoes and loose clothing, and pack a lunch. Spring Break Camp is $175/week/camper with a sibling discount available. There are a limited number of scholarships available.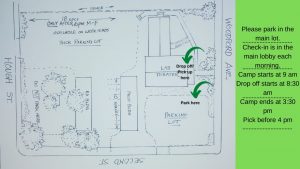 Lab is also looking for full and partial scholarship sponsors.
Check-in for Spring Break camp will be in the lobby of the main theater. Please use the front lot to park for drop off and pick up. To protect our campers and staff, everyone on theater grounds for any reason must be properly masked at all times.
____________________________________________
Steven Coe mesmerizing in the role of Sandro Botticelli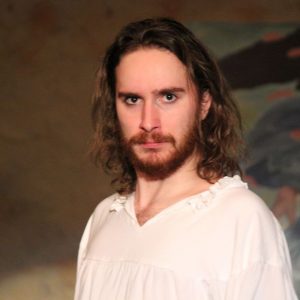 Steven Coe is too young and too good to have his performance in Botticelli in the Fire characterized as "career defining." It's that powerful and dominant, but given the ascendancy of his vast talent, his best performances undoubtedly lie ahead. A discussion of line load and depth of emotion is certainly warranted. But what belies the quality of Coe's performance is that at no time while he's on stage are you cognizant that it's Steven Coe playing a part. He becomes and remains Sandro Botticelli and of that there can be no doubt. You'll find Steven's stage credits here.
____________________________________________________________
Steven Michael Kennedy masterful as Botticelli assistant, Leonardo da Vinci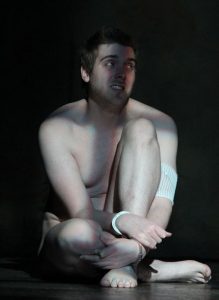 Steven Michael Kennedy's performance in Botticelli in the Fire is masterful, but so qualitatively different from cast mate Steven Coe. What's demanded of his character is subtlety, sensitivity and submissiveness in a physical, emotional and artistic sense. None of these adjectives would ever be applied to describe the intellect and creative elan of the giant that was Leonardo da Vinci in real life. But keep in mind that what we know of Leo comes from the lips of Sandro Botticelli, who gets to define his friend and lover in the way that's most flattering to Botticelli. Never mind. Kennedy is up to the challenge. For as good as he was in The Legend of Georgia McBride and Sex Tips for Married Women from a Gay Man, he's so much better here. [You will find Steven's stage credits here.]
__________________________________________________________
Scott Davis chilling as Friar Girolamo Savonarola in 'Botticelli in the Fire'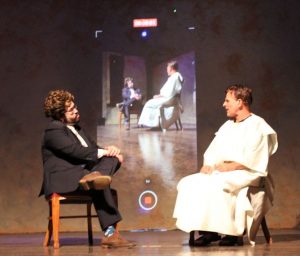 Scott Davis is chilling – and convincing – as Friar Girolamo Savonarola in Botticelli in the Fire. In fact, he's so despicably malevolent that the audience would no doubt break into raucous applause if they knew that about a year after the timeline in the play, Savonarola gets his comeuppance – as in being burned at the stake. Before relocating to Southwest Florida, Davis was active in theater in Michigan. His area stage credits include Michael in the Florida premiere of How to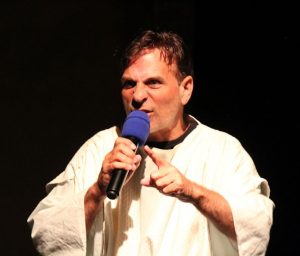 Transcend a Happy Marriage and the roles of Dennis Gordon, Jerry and Rich in the Florida premiere of Topher Payne's comedic farce Let Nothing You Dismay for Lab Theater; and Ralph Sheldrake in Irving Berlin's White Christmas, Ewart Dunlop in The Music Man, Tammany O'Holleran in Miracle on 34th Street and My Fair Lady for The Naples Players. Go here for more.
________________________________________
Daniel Sabiston excels as foppish Poggio di Chullu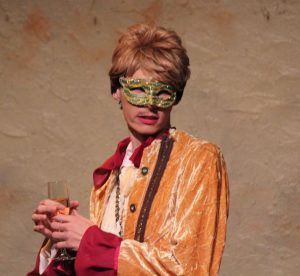 Daniel Sabiston turns in a break-out performance as the foppish Poggio di Chullu. Daniel's stage credits include an oh-so-mean bully (not bunny) rabbit by the name of Serling Hunter in Kayleigh O'Connell's Projekt Grotesquerie, Ezekiel Cheever in The Crucible and the Journeyman in Andorra, all for the Laboratory Theater of Florida. Daniel also appeared in several staged readings at Lab Theater.
You will find Daniel's full profile here.
__________________________________________
David Cooley is officious misogynst Lorenzo di Medici
David Cooley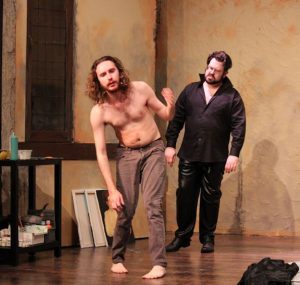 evokes both hatred and sympathy as the officious misogynist and vengeful husband Lorenzo di Medici, who discovers, to his chagrin, that while hell may have no fury like a woman scorned, a woman treated dismissively may seduce your bestie just to prove a point. His stage credits include Kevin and Leonard in Let Nothing You Dismay, various roles in DMV and Starveling in their Lab Theater's socially-distanced rendition of A Midsummer Night's Dream. His full profile is here.
________________________________________________________________
Lindsey Walsh plays Ariel in TNP's outdoor production of 'Footloose the Musical'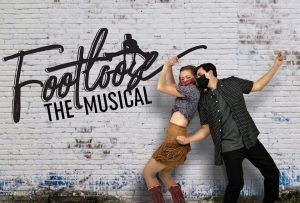 Lindsey Walsh is playing the part of Ariel Moore in The Naples Players' outdoor production of Footloose the Musical. Her previous TNP stage credits include Ali in Mamma Mia! and Hot Box Girl in Guys and Dolls. Prior to moving to Naples, Lindsey performed in community theater as well as at Walt Disney World for four years.
______________________________________________________
Adam Fasano plays Ren McCormack in TNP's 'Footloose the Musical'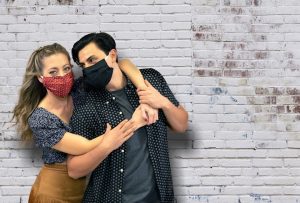 Adam Fasano is a Naples Players' audience favorite. His stage credits include Sky in Mamma Mia! and Tommy Djilas in The Music Man. He was also a member of the ensemble in Guys & Dolls. He appears in the lead as Ren McCormack in Footloose the Musical. A native New Yorker, Fasano is "cutting loose" in yet another TNP production.
____________________________________________________________
Victor Caroli to play Norman Thayer for Studio Players in 'On Golden Pond'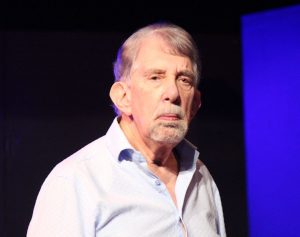 Victor Caroli is no stranger to the role of Norman Thayer, Jr. He played the part for Lab Theater several years ago. He'll reprise the role later this month when The Studio Players brings On Golden Pond to the Joan Jenks stage. Since coming to Naples 15 years ago, Caroli has played a number of meaty roles at local theaters, but Studio Players' patrons will remember him fondly as Big Daddy in last year's production of Tennessee Williams' Cat on a Hot Tin Roof. Go here to access all of Vic's stage credits.
___________________________________________
Hollis Galman to play Ethel Thayer in 'On Golden Pond'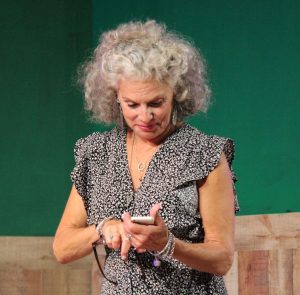 Hollis Galman will play the role of Ethel Thayer in Studio Players' upcoming production of On Golden Pond. Galman is a Naples resident who made her directorial debut with The Studio Players in Walter Cronkite Is Dead. She has appeared in a number of Off-Broadway productions. Her most recent stage credits include Marty in Circle Mirror Transformation and the larger-than-life role of Masha in Vandy and Sonia and Masha and Spike, which represented her Studio Players' debut. Go here for Hollis' full profile.
______________________________________________
Dede Tucker Brownlee to play Chelsea in 'On Golden Pond'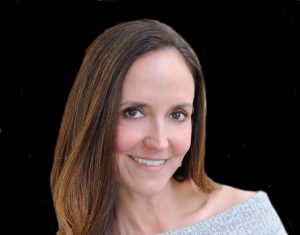 A central issue in On Golden Pond is the problematic relationship between Norman Thayer and his estranged daughter Chelsea, and playing the part of the the disaffected daughter is Dede Tucker Brownlee. The long-time resident's love affair with community theater dates back to 1998, when she scored the part of My Girl in Anything Goes at The Naples Players. Go here to see what she's been in since then.
_________________________________________________________
Keith Gahagan to play Charlie Martin for Studio Players in 'Golden Pond'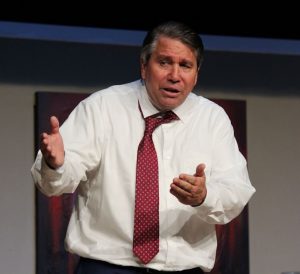 Keith Gahagan will appear in the role of Charlie Martin in The Studio Players' production of On Golden Pond. Gahagan has performed in community theater productions in Marco Island, Bonita Springs and Fort Myers since 2007. Among his stage credits are Senator Charles Whitmore in the Studio Players' production of Jason Odell Williams' dramedy Church & State, Curt in Don't Talk to the Actors (The Studio Players), and Eddie the bar owner in The Legend of Georgia McBride (Lab Theater, June 2019). Go here to see all of Keith's stage credits.
_________________________
3    DIRECTORS
'Colored Museum' playwright and 'Ma Rainey' director George C. Wolfe to be honored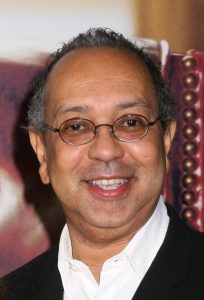 For its inaugural course, the Alliance for the Arts' CHANGE (Communities Harnessing the Arts to Nurture and Grow Equity) program had its students perform George C. Wolfe's The Colored Museum. Wolfe is a storied playwright, director and producer, and soon he will be honored by the African American Film Critics Association (along with co-honorees Mariah Carey and Stacey Abrams). The Salute to Excellence Award that the AAFCA will confer on Wolfe recognizes the totality of a body of work that spans nearly thirty years.
Wolfe is best known today for his work directing the filmed adaptation of August Wilson's  Ma Rainey's Black Bottom starring Viola Davis and the late,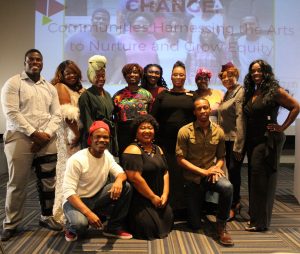 great Chadwick Boseman. His theater directing credits are extensive and include The Iceman Cometh, Shuffle Along, or the Making of the Musical Sensation of 1921 and All That Followed (NY Drama Critics' Circle Award and Drama Desk Award for Best Musical); Lucky Guy; The Normal Heart (Drama Desk); Jelly's Last Jam (Drama Desk and Outer Critics Circle Award); Angels in America: Millennium Approaches (Tony Award and Drama Desk) and Perestroika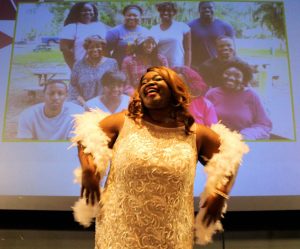 (Drama Desk); Bring in 'da Noise, Bring in 'da Funk (Tony and Drama League Award); Topdog/Underdog (Obie Award); Twilight: Los Angeles, 1992 (Drama Desk); Elaine Stritch at Liberty (Tony for Special Theatrical Event); The Tempest; Caroline, or Change (Olivier Award Best Musical); and A Free Man of Color.
Wolfe directed and co-wrote the HBO film The Immortal Life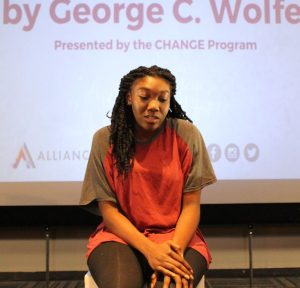 of Henrietta Lacks, as well as Lackawanna Blues, for which he earned The Directors Guild Award and a National Board of Review Award.
From 1993-2005, Wolfe was the Producer of The Public Theater/New York Shakespeare Festival.
The awards ceremony takes place on April 7.
_________________________
4    THEATER
Broadway World lists musicals that Hollywood's adapting for film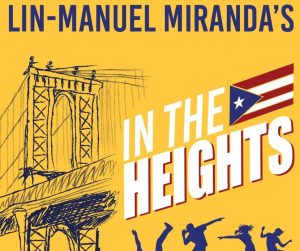 Broadway World has released a list of musicals that are being adapted to the screen. They include
In the Heights, which is due to be released on June 18, 2021,
Cinderella, due out July 16, 2021, and
West Side Story, due out December 10, 2021.
Release dates have yet to be announced for Cyrano, The Little Mermaid, Matilda and Merrily We Roll Along.
A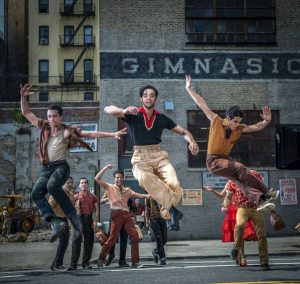 large number of other musicals are also in development, including The King and I, Wicked, The Color Purple, Once on this Island, Sunset Boulevard, Little Shop of Horrors, 13: The Musical, Porgy and Bess, Spring Awakening, Mean Girls, Follies, Gypsy, Guys and Dolls, Jekyll & Hyde, The Hunchback of Notre Dame, Joseph and the Amazing Technicolor Dreamcoat, Miss Saigon, Oliver!, South Pacific and Pippin.
Whew! Hollywood is sure humming along.
For all the details, go to Broadway World.
_____________________________________________________
Broadway stars sound off on all-time favorite Broadway love songs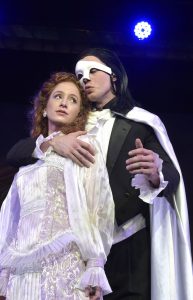 Each year Broadway World canvases top Broadway stars about their favorite Broadway love songs. You can find their list on Spotify, but it's pretty lengthy with more than 1,200 songs! But let's cut to the chase. Here's their top 10:
"Love Changes Everything" from "Aspects of Love" from Unmasked;
"Elaborate Lives" from Aida;
"All the Wasted Time" from Parade;
"There But For You Go I" from Lerner & Loewe's Brigadoon;
"Before and After You" from Bridges of Madison County;
"One Second and a Million Miles" from Bridges of Madison County;
"Something Good" from The Sound of Music;
"How Could I Ever Know" from The Secret Garden;
"If I Loved You" from Carousel; and
"Her Voice" from The Little Mermaid.
Other notables (from musicals that have been produced locally) include "Maria" from West Side Story at #15, "The Music of the Night" from Phantom of the Opera at #21, "Falling Slowly" from Once at #23, "Something to Believe In" from Newsies at #33,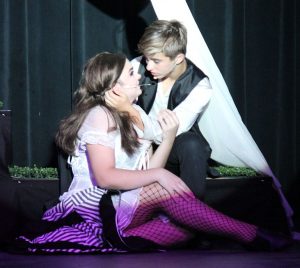 "I've Never Been in Love Before" from Guys and Dolls at #34, "The Origin of Love" from Hedwig and the Angry Inch at #36, "Love Song" from Pippin at #66, "In Whatever Time We Have" from Children of Eden at #73 and "Suddenly Seymour" from Little Shop of Horrors at #92.
_________________________________________
It'll be Wilde at Alliance's 'Improv Night' on March 4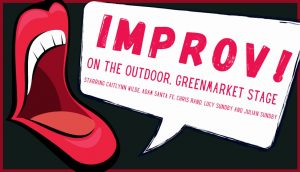 Circle Thursday, March 4 on your calendar. Why? That's when the Alliance for the Arts will host "Improv Night at The Alliance," a fast-paced, family-friendly evening of improv comedy in the style of Whose Line Is It Anyway?
The night features Caitlynn Wilde, Adam Santa Fe, Chris Rand, Lucy Sundby and Julian Sundby.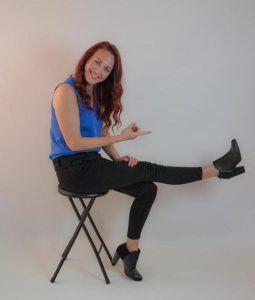 Caitlynn Wilde has been performing in SWFL for more than ten years. Notable performances include June Cooney in June and Jason's Survival Guide to Divorce and multiple performances in the Lab Theater's 24-Hour Playwriting Project as well as with Stage 2 Improv. [Go here for Caitlynn's full profile.] She is beyond thrilled to have the opportunity to perform again and bring some live art back to the world during these times.
Adam Santa Fe has been doing improv for over 10 years. You can find him down in Naples with the Stage 2 Improv or in Fort Myers doing stand-up comedy. As a native Floridian, he is always good for a laugh.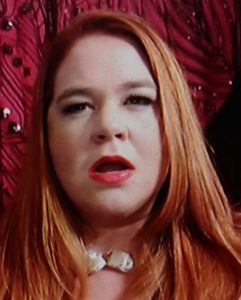 Chris Rand is a teacher, actor, coach, student, and glutton for self-imposed punishment. When the school year ends he puts on his trusty pack and wanders across the countryside as a thru-hiker of the Colorado, Appalachian, and Continental Divide trails. Chris rejoins his wildly funny friends onstage and hopes you enjoy the fun as well!
Lucy Sundby has been performing with Improv troops around the U.S. for 19 years. She has studied with Chicago City Limits, The Improv Nerd, Jimmy Carrane and Kevin MacDonald from The Kids in The Hall. But her favorite Improv experience occurred at the Alliance for the Arts in The World Premiere of Dexter The Improv Musical,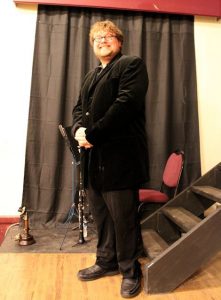 where she performed alongside Darkly Dreaming Dexter writer Jeff Lindsay. [Lucy has extensive stage credits as well. Go here to view her profile.]
Julian Sundby is a producer, music director and improv/jazz pianist who calls Ft. Myers home. He was introduced to improv comedy by his talented wife, Lucy Sundby and has been using the techniques regularly with their two children to improvise ways of getting them to listen. He studied music, Spanish and Business at Indiana University and Edison State College, is a full-time parent, worship leader and producer for the Fort Studios. He was also the Musical Director for Lab during its production of Cabaret.
Seating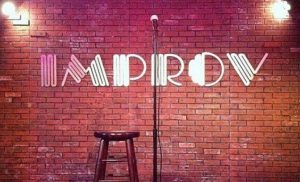 is limited and attendees will purchase a pass for a 6×6 square space on our GreenMarket lawn. In order to maintain social distancing, all lawn spaces will be 6 feet apart. Guests are required to bring their own lawn chairs and blankets. A pass for a 6×6 square space is $12.50 for 1 person, $25 for two people or $50 for a group of four people. The average per person price is $12.50 plus fees. NO PETS. Seating is limited to inside each square, You cannot buy 2 squares and then "spread out" across the squares and walkways. Seating is INSIDE the squares only.
Please note: Event staff and volunteers are required to wear masks at all times. Attendees are required to wear masks indoors of the Alliance, for bathrooms and when social distancing is not possible. In the event of inclement weather, we will reach out to you to either refund or reschedule the performance.
________________________________________________
Alliance Youth Theater producing 'Bible HerStory' April 8-10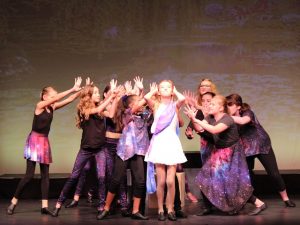 The Youth Theater at the Alliance for the Arts is bringing Bible HerStory to the GreenMarket stage April 8-10. A one-act feminist satire featuring an all- female cast, Bible HerStory is funny, provocative, and an overall fun night of theater under the stars.
Here's the set-up. As we well know, in the beginning God created everything, including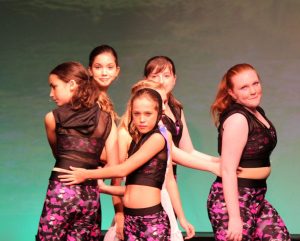 human beings. Woman, she created in her own image and likeness. Man was an experiment. Some experiments go horribly awry. Go along with Carmen Crussard's stellar cast as they revisit Eve in the garden, Noah's wife preparing food for the flood, Sarah facing the sacrifice of her only son, Miriam brokering a deal with before Moses goes bonkers, Solomon's queen settling a dispute and an angel appearing to the virgin Mary. As you'll quickly discover, the feminine
approach – reason, relationship, humility and motherly proclivity for meddling – could have saved humanity a whole lot of trouble.
Performances are at 7:30 p.m. on Thursday, Friday and Saturday, April 8, 9 & 10. Reserve your square now.
____________________________________________________________________
Gloria and Emelio Estefan musical 'On Your Feet!' at Broadway Palm through April 10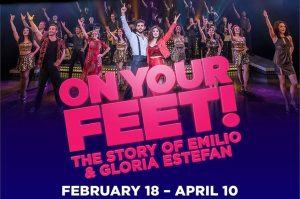 On Your Feet! is on the Broadway Palm Dinner Theatre main stage through April 10. This is the sprightly musical based on the lives and music of 26-time Grammy Award-winning husband-and-wife team Gloria and Emilio Estefan. Following the Estefan's incredible journey from anonymity in Cuba to stardom in the United States, On Your Feet! tells the inspiring true story filled with heart and heritage about two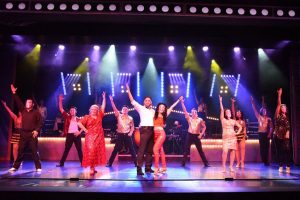 people who believed in their talent, and each other, so much that they became an international sensation.
After a pre-Broadway engagement in Chicago during the summer of 2015, On Your Feet! opened on Broadway on November 5, 2015 to positive reviews and box office success. The musical received seven Outer Critics Circle Award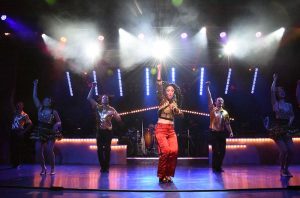 nominations, three Drama League Award nominations and a Tony Award nomination for Best Choreography.
With book by Alexander Dinelaris Jr. and a score built around the Cuban-fusion pop music made famous by Gloria Estefan, On Your Feet! showcases such songs as "Get on Your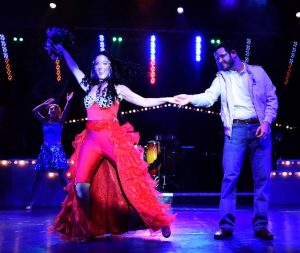 Feet," "Conga," "1-2-3," "Don't Want to Lose You Now," "Coming Out of the Dark" and, of course, "Rhythm Is Gonna Get You." The musical also features the original song "If I Never Got to Tell You" with lyrics by Gloria Estefan and music by her daughter Emily Estefan.
Directing On Your Feet is Eliseo Roman whose numerous Broadway credits include Jose Fajardo in On Your Feet,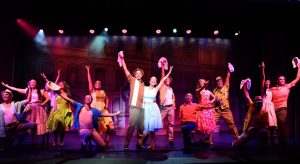 Angel in Leap Of Faith, Piragua Guy in In The Heights (Tony Winner) and Hair. Choreographer and Assistant Director for On Your Feet is Natalie Caruncho, who was part of the original Broadway production as well as the first national tour and the Holland and West End production.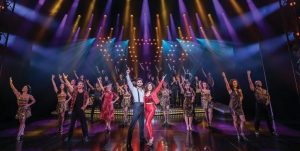 Playing Gloria Estefan is Alexis Semevolos-Velazquez, who appeared here at Broadway Palm as Maria in West Side Story. Making his Broadway Palm debut and portraying the role of Emilio Estefan is Alex Rodriguez.
Broadway Palm is continuing to follow CDC guidelines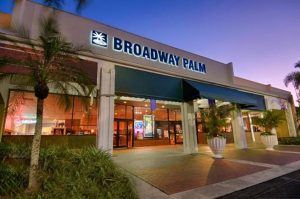 while providing a delicious meal and exceptional entertainment in a safe and socially distanced environment. For a list of the extensive health and safety measures they have taken, please visit BroadwayPalm.com. It is important to note that guests are required to wear masks while not eating or drinking. In addition, a temperature check will be performed on everyone that enters the building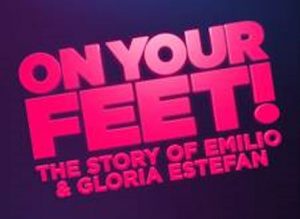 and admittance will not be allowed to anyone with a temperature of 100.4 degrees or higher.
Performances are Tuesday through Sunday evenings with selected matinees. Tickets are $48 to $73. Children and group prices are available. Tickets are now on sale and can be reserved by calling (239) 278-4422, visiting BroadwayPalm.com or in person at 1380 Colonial Boulevard in Fort Myers.
_______________________________________________________
'Til Theft Do Us Part' on stage in Off Broadway Palm through March 6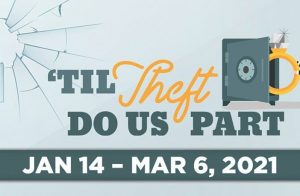 The world premiere of Til Theft Do Us Part plays in the Off Broadway Palm Theatre through March 6. Three years in the writing, this laugh-out-loud British farce was written by Broadway Palm fav and Southwest Florida resident Victor J. Legarreta.
The comedy is centered around Winston Johnson, an investment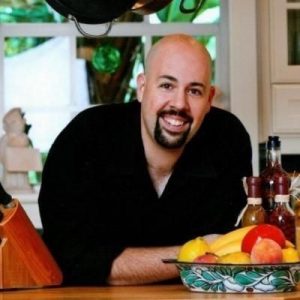 banker who was sacked. He didn't have the heart to tell his wife, so he resorted to theft. But then his conscience gets the best of him and he goes back to the homes he robbed to return what he stole. These "outings" provoke suspicion on the part of his wife, so she sets about to "catch him in the act," turning his life upside down in the process.
The Off Broadway Palm has adjusted its seating arrangement and is operating at a 50% capacity. For a list of the extensive health and safety measures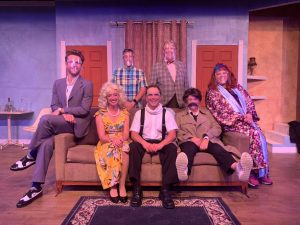 the theatre has taken, visit www.BroadwayPalm.com. It is important to note that guests are required to wear masks while not eating or drinking including during the performance. In addition, a temperature check will be performed on everyone that enters the building and admittance will not be allowed to anyone with a temperature of 100.4 degrees or higher.
The Off Broadway Palm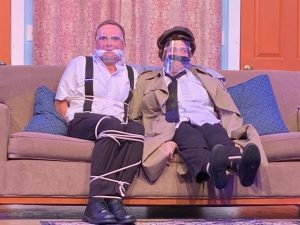 is an intimate theatre, located in the main lobby of Broadway Palm. Performances are Tuesday through Sunday evenings with select matinees. Ticket prices range from $42 to $62. Tickets are now on sale and can be reserved by calling 239-278-4422, visiting www.BroadwayPalm.com or in person at 1380 Colonial Blvd. in Fort Myers.
___________________________________________
CFABS' staged readings return to the Moe on March 12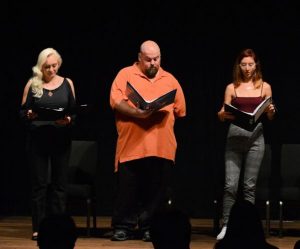 The Center for Performing Arts' periodically produces staged readings. They typically come from short stories, essays, plays, speeches, the inside of fortune cookies, or anywhere else we feel the written word might be made more impactful as read by local thespians. As a consequence, they always deliver a unique, powerful, funny and thought-provoking evening of entertainment while simultaneously introduce us to future programming possibilities. As an added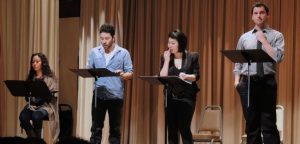 bonus, patrons enjoy the opportunity to meet the casts and discuss the play(s) with the directors and actors. CFABS' next staged readings takes place beginning at 7:30 p.m. on Friday, March 12.
______________________________________________
'Clue: On Stage' provides new slant to Hasbro board game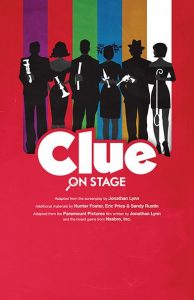 Clue: On Stage is coming to the Center for Performing Arts. Based on the iconic 1985 Paramount movie, Clue is a hilarious farce-meets-murder mystery.
In this theatrical version of the classic Hasbro board game, six guests are invited to a dinner party thrown by an anonymous host. They are given aliases–Colonel Mustard, Mrs. White, Mr. Green, Mrs. Peacock, Professor Plum, and Miss Scarlet. Though discouraged from revealing personal information, we quickly discover that all of them are being blackmailed by the same person – their host. Each guest is presented with a weapon and an option: pay their extortionist double or kill Wadsworth, the butler. But it's not Wadsworth who turns up dead. It's Boddy, their host.
The play performs March 25-28. Go here for the rest of this advance.
________________________________________________________
Florida Rep Teen Conservatory performing 'Into the Woods' April 14-24

Florida Rep's next teen conservatory is Stephen Sondheim and James Lapine's Into the Woods. Lapine and Sondheim take everyone's favorite storybook characters and bring them together for a timeless yet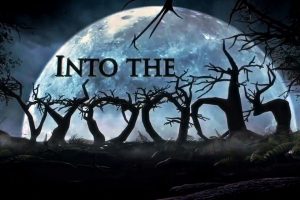 relevant piece … and a rare modern classic.
The story follows a Baker and his wife, who wish to have a child; Cinderella, who wishes to attend the King's Festival; and Jack, who wishes his cow would give milk. When the Baker and his wife learn that they cannot have a child because of a witch's curse,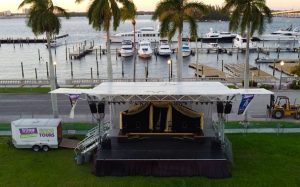 the two set off on a journey to break the curse. Everyone's wish is granted, but the consequences of their actions return to haunt them later with disastrous results.
The Tony-winning book and score are both touching and enchanting.  One of Sondheim's most popular works, Into the Woods is a musically sophisticated show with the opportunity to feature actors adept at dark comedy.
Audiences gather – at a safe distance – under the stars in the heart of the Downtown Fort Myers River District. Show dates are April 14-24 and tickets are $60-$100 for a 12×12' 6-person square.
___________________________________________
'Botticelli in the Fire' is unqualified theatrical triumph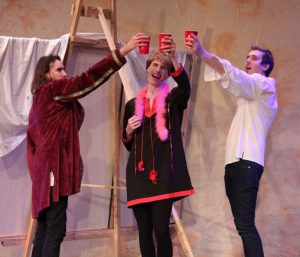 Regardless of what Lab Artistic Director Annette Trossbach may have thought about the central theme of the play, the liberties that Jordan Tannahill took with the historical record or the way that reality is filtered through the lens of the protagonist (reference her character in How to Transcend a Happy Marriage), she saw in Botticelli in the Fire "the most revolutionary theater … since Hamilton."
From every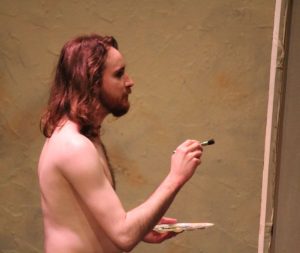 conceivable angle, Botticelli in the Fire is groundbreaking. The play plumbs the depths of beauty, sensuality, lust and love, blurring the lines between these interrelated and oft-overlapping concepts with all the messiness, menace and mayhem of a Jackson Pollock abstract.
You'll find the rest of this review here.
Go here for play dates, times and ticket information.
____________________________________________________________________
Melody Lane producing Rock of Ages High School Edition in July; auditions now open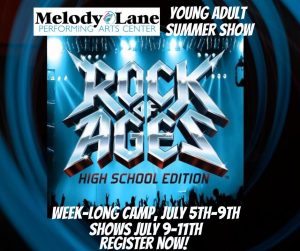 Melody Lane Performing Arts Center has announced that they'll be producing Rock of Ages High School Edition as their summer young adult production. This amped up show rocks out with songs from Journey, Bon Jovi, Guns N' Roses, and more.
Rock of Ages will be rehearsed as a mega-fast camp workshop from July 5-9, and once a week for 6 weeks leading up to show week. Production dates are July 9-11.
Auditions are May 5 and are open to actors 13-21. Audition sign-ups are now open, but enrollments are limited. So don't delay if you want in.
So save the dates and plan to rock out with 𝗠𝗲𝗹𝗼𝗱𝘆 𝗟𝗮𝗻𝗲 and have your face blasted by the house band 𝐒𝐜𝐡𝐨𝐨𝐥 𝐨𝐟 𝐑𝐨𝐜𝐤 𝐅𝐨𝐫𝐭 𝐌𝐲𝐞𝐫𝐬, who will play at preshow and intermission.
_____________________________________________________________
Players Circle makes itself over into part museum, part upscale NY night club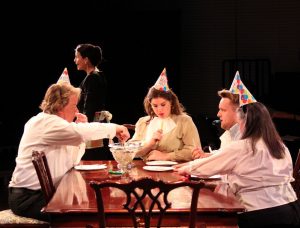 Players Circle Theatre hasn't had the easiest time of it. First, they encountered delays in being able to occupy and operate out of their space at The Shell Factory that forced Robert Cacioppo to move the company's inaugural play, The Dining Room, to alternative, makeshift locations characterized by inadequate lighting and sound. Then on the opening night of Curious Incident of the Dog in the Night Time, theaters across the nation and throughout Southwest Florida closed down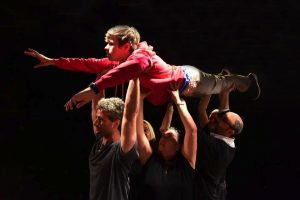 because of the COVID-19 pandemic. Players Circle followed suit and shuttered its doors the very next day.
You will find the balance of this story here.
____________________________________________
TNP closing outdoor season with 'Footloose the Musical'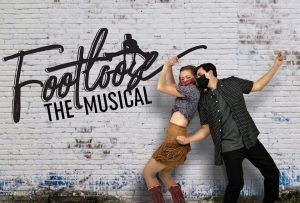 The Naples Players' alternative, outdoor season of events comes to a close with the production of Footloose: The Musical. The show will be performed live and outdoors in Naples' Baker Park from February 25 through March 7, 2021. With direction and choreography by the well-known husband and wife duo, Dawn Lebrecht Fornara and Charles Fornara, Footloose the Musical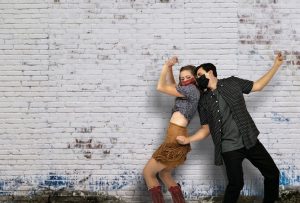 features dynamic new songs that augment the powerhouse hits from its bestselling Oscar-nominated score.
Footloose celebrates the exhilaration of youth, the wisdom of listening to one another, and the power of forgiveness. The high-energy cast is led by local artists Adam Fasano and Lindsey Walsh, both of whom were cast in 2019's summer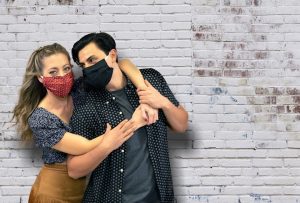 musical Mamma Mia! at The Naples Players.  The supporting cast includes other local favorites and TNP veteran performers, Bret Poulter and Tina Moroni.
Go here for the rest of this advance.
____________________________________________________________
The Studio Players bringing 'On Golden Pond' to the stage March 12-April 14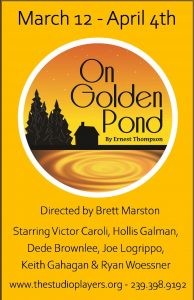 Up next by The Studio Players is the 1979 classic On Golden Pond by Ernest Thompson.
This is the love story of Ethel and Norman Thayer, who are returning to their summer home on Golden Pond in Maine for the forty-eighth year. He is a curmudgeonly nearly-80-year-old retired professor with heart palpitations and a failing memory, but he's still as tart-tongued, observant and eager for life as ever. She is ten years his junior and delights in all the small things that have enriched and continue to enrich their long life together. But this year, their delightful summer routine–fishing, picking strawberries, enjoying old mementoes, listening to the loons call–is given a bitterly comedic edge by Norman's unreliable memory and cantankerously morbid statements.
Go here for the rest of this advance.
Go here for play dates, times and ticket info.
_______________________________________________
5      ARTISTS
Dharma Lefevre solo show opens in Davis Center Capitol Gallery on March 5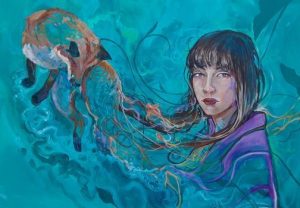 Dharma Lefevre's solo exhibition Oneiros opens in the Sidney & Berne Davis Art Center's Capital Gallery on March 5. The opening reception is from 6:00-10:00 p.m. during Fort Myers Art Walk.
The exhibition takes its name from Greek mythology. The Oneiri were the personification of dreams. According to Homer, they dwelt on the dark shores of western Oceanus. Dark winged, there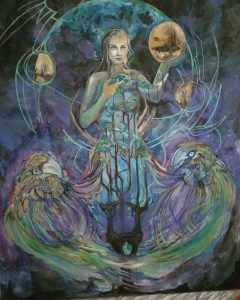 were two types of Oneiri. Positive, prophetic dreams issued through a gate made of horn while negative dreams and nightmares entered the dream world through a gate of ivory.
"The Oneiri are the dream-keepers," LeFevre expounds. "Fall as they may, sprinkled over the world as visions, transcendental states, lessons, prophecies and inspiration, Oneiros is where all dreams find their conduits to become realities through the peoples of all time. Everyone dreams – our children, the ancient shamans, even our modern day world leaders receive new notions through this gate of dreams. Everything starts as a dream or an idea. It is just a matter of finding the perfect dreamer to bring such to life."
Dharma postulates that blue is the color most associated with dreams. After all, the artist points out, they "begin to take form 'out of the blue.'"
Lefevre is a perfect dreamer. Like Napoleon Hill, she has always known that thoughts become things. From her humble beginnings, she has carried within her a deep respect and love for the esoteric, mythic lore and ancient religions. Her love of the esoteric has only grown more vast through the years as she developed boundless techniques that seem to flow from her breath onto the canvas inspiring new life into each piece.
If you have a passion for art and storytelling, don't miss Oneiros' opening. Dharma will not just be on hand. She'll be treating attendees with a storytelling walk-through during which she will share the lore behind each piece, taking those who are willing into the heart of the dreams, ideas and visions that are now her own reality.
The Sidney & Berne Davis Art Center is located at 2301 First Street in downtown Fort Myers. For more info, visit www.sbdac.com or call 239-333-1933.
_______________________________________________
6     ART SHOWS, EXHIBITIONS & ARTS ORGANIZATIONS
Alliance announces artists juried into 35th Annual All Florida Juried Exhibition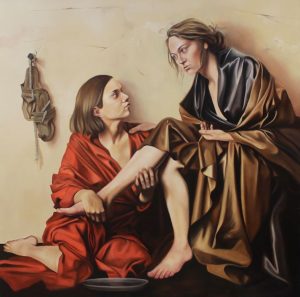 The Alliance for the Arts March exhibition is its eagerly-anticipated 35th Annual All Florida Juried Exhibition. It will showcase from March 6 through the 28. As in past years, this exhibition features pieces created by artists working in a wide variety of media from all over the state of Florida. The juried entries come together for an exciting exhibition representing today's Florida artists.
This year, the Alliance received more than 800 entries. From that imposing list of submissions, this year's juror, Shawn Pattersen, selected 62 pieces for the show. The chosen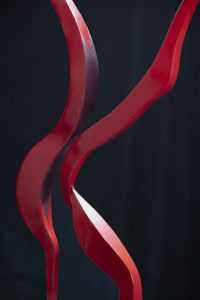 artists include Diane Baires, Cynthia Barbanera-Wedel, David Belling, Guinevere Bortnicker Kiniry, Hernan Brito Pena, Carol Coates, Geraldine Crawford, Debra Danley, Laurent Dareau, Sally Dutko, Patricia Esposito, Breah Fyffe, Maureen Ginipro, Carolyn Gora, Raven Gould, David Hatchett, Lily Hatchett, Stephen Hayford, Steve Kalb, Mike Kiniry, Mary Klunk, Ray Lyle, Susan Maas, Doug MacGregor, John Merchant, Victoria Milne, Lynn Ondercin, Jose Pardo, Katrina Parker, Anita Prentice, Marcela Pulgarin, Diane V. Radel, Susan Ritter, Whitt Robins, Sharon Rodgers, Myriah Rohl, Sherry Rohl, Sonia Rosa, Carol Rosenberg, Caitlin Rosolen, Thomas Roth, Melinda Russek, Gianna Santucci, Ellen Sayet, Alicia Schmidt,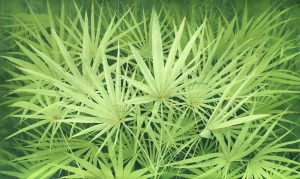 Elise Sewall, Tammra Sigler, Doug Smithwick, Joan Sonnenberg, Carolyn Steele, Lisa Tracy, Daniel Venditti, Mary Voytek, Herman Weinberg, Curtis Whitwam, LouAnn Wukitsch, Roseline Young and Pat Zalisko.
Shawn Pettersen currently teaches sculpture and is the studio coordinator at Florida Gulf Coast University. He has worked 
as a graphic designer, creative director, adjunct professor, jeweler, and artist's assistant for several prominent artists in New York. Primarily based in sculpture and drawing, his work revolves around themes of displacement, memory, and being lost. His work has been shown regionally and nationally. Shawn received his Master of Fine Arts Degree from Montclair State University in 2005, and his Bachelor of Fine Arts from Ringling College in 2003.
The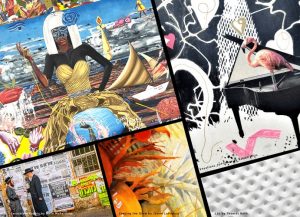 Alliance will host an online, virtual opening reception on March 5 at 6 p.m. via Zoom. The behind-the-scenes evening will feature a guided tour of the exhibit and awards as well as a brief presentation from the juror on his inspiration and process for the show. The reception is free to attend, although a $5 suggested donation keeps Alliance programming affordable and accessible. An RSVP is required at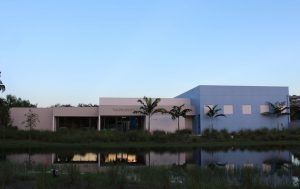 ArtInLee.org/AnnualAllFlorida in order to obtain the access link.
Awards for this show include $1,000 Best In Show, a $250 Golden Colors Gift Certificate for second place,  $100 for third place and a complimentary Alliance membership for the Juror's Choice Award.
For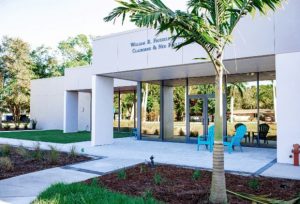 more information about the Alliance, visit ArtInLee.org or call 239-939-2787.
Images:
John-13-1-17 – Gianna Santucci – Oil – 60×60
Hip Check – Victoria Milne – 31 x 43 x 7 – Steel Sculpture
Palmetto Scrub – Curtis Whitwam – Watercolor – 18×30
Road-Block-1 – Lily Hatchett – Acrylic – 36×36
_______________________________________________________
Mary Fischer builds 'Houses & Buildings' for Watson MacRae Gallery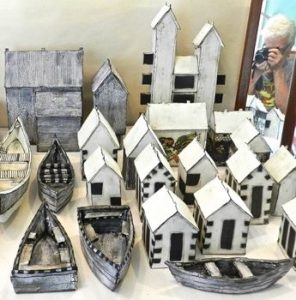 Although Watson MacRae has been constrained to cancel its monthly openings this season, new work continues to arrive at the gallery. So Maureen has produced and posted this video tour featuring a new artist, Mary Fischer, who makes ceramic houses, buildings and boats. These sturdy, straightforward structures exert a strong presence that belies their minimalist design.
Fischer began her artistic career after serving in U.S. Air Force Intelligence and then working for several environmental consulting agencies in Austin, Texas.  For her 40th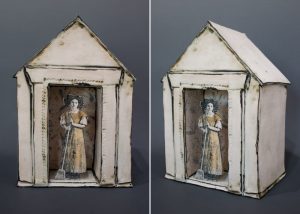 birthday, she and a friend took clay lessons at a local facility.  She quickly learned the potter's wheel was not for her.  However, she loved hand building and she's been dedicated to that art form ever since.
It is not surprising that the focus of her work is buildings. Early on, Fischer wanted to study architecture, but as she says, "I didn't have the math."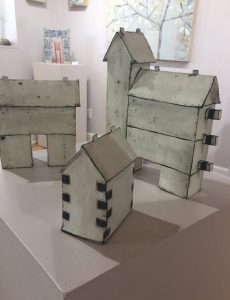 The buildings started as boxes. Lids became roofs, feet and chimneys appeared, and things go on from there, changing from season to season.  Fischer builds pieces from slabs and extruded pieces of clay, at times combining both techniques.  She often makes paper patterns to work out design problems – "so the buildings don't fall down," she says. The model is then taken apart and used to cut out pieces from slabs of clay and then reassembled. The process is akin to playing with Legos
Fischer uses various printmaking techniques to transfer images – ones she's taken in her travels and others from archives – onto her buildings.  She finishes them with mason stain.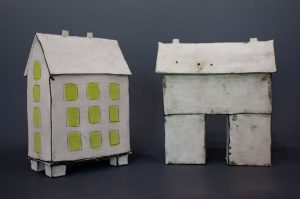 Examples of her work can not only be enjoyed on the video, but appreciated in the gallery. Gallery hours are 10:30 a.m. to 5:00 p.m. Monday through Friday.
For more information, please telephone 239-472-3386.
______________________________________________________________
Christo and Jeanne-Claude retrospective sheds light on artists' storied careers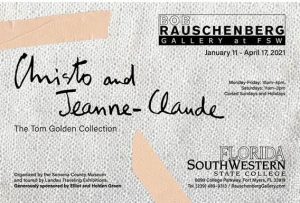 CHRISTO & JEANNE-CLAUDE: The Tom Golden Collection is on view in the Bob Rauschenberg Gallery at Florida SouthWestern State College through April 17. This traveling retrospective surveys the extraordinary career of artists Christo and Jeanne-Claude through collages, prints, photographs, drawings and objects. Drawn from the permanent collection of the Sonoma County Museum—the most extensive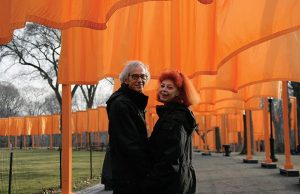 private collection in the United States—the exhibition spans 37 years of the Christo's career.
Christo and Jeanne-Claude were famous for large-scale environmental projects that temporarily altered urban and rural landscapes in Europe, the United States, Australia and Japan. Together, they changed the landscape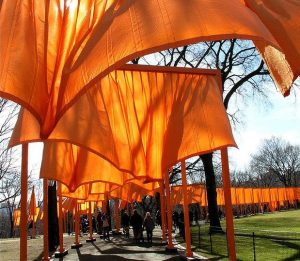 of installation art, covering large areas of space by draping thousands of square yards of various types of fabric over buildings, bridges and both land and sea masses.
While each of the artists' projects existed only briefly, they were anticipated with suspense for months, even years, while being planned ….
You can find more on the exhibition here.
________________________________________________________________
Jansen's 'Two Decades of Relevance' comes to Naples' Baker Museum on April 24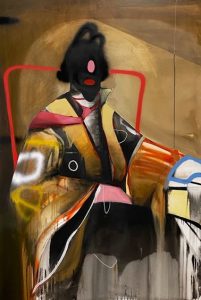 The Baker Museum will host a retrospective of work by internationally-acclaimed artist Marcus Jansen April 24 through July 25, 2021. Representing Jansen's first solo museum exhibition in Southwest Florida, Two Decades of Relevance will showcase 18 powerful paintings, including Foreclosures (2008), Spotlight (2020) and The Colonialist (2021).
Over that span, Jansen has garnered numerous attention and accolades. Part of this recognition inheres in incredible technical competency and revolutionary genre-busting style. But what sets Jansen apart from his contemporaries is his uncompromising critical commentary on global political and socio-economic issues and the world events that have shaped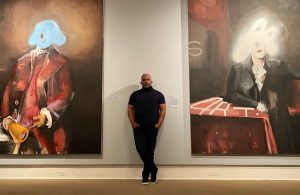 his life.
For Jansen, painting is an act of intense engagement with the world. It is this quality that emerges from his urban landscapes and portraiture and connects viscerally with those who encounter his colorful abstract-and-figurative constructions which, individually and in the aggregate,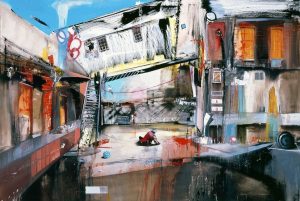 reflect his sustained preoccupation with the struggles of the displaced and disenfranchised, surveillance and technology, and power structures and their manifestations across different spheres.
Jansen's response to the foregoing concerns is informed by a series of profound life experiences. He mother is Jamaican; his father German. He spent his formative years in the Bronx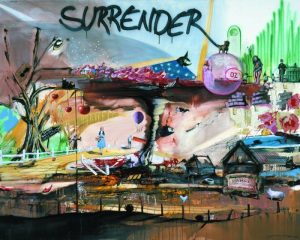 and his adolescence in Germany. He was diagnosed and treated for PTSD after fighting in Operation Desert Shield and Desert Storm in the first Iraq War. And after losing his first wife to cancer, he struggled as a single dad to two boys saddled with a mountain of medical bills while trying to establish himself as an artist with a story to tell. Jansen has emerged from these life events filled with a passion for universal human rights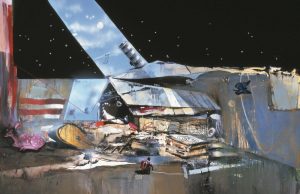 and improved societal conditions. Charged with a sense of empathy and a commitment to justice, his works are, not surprisingly, simultaneously emotional, introspective and intellectual.
Jansen had his first European solo museum exhibitions at La Triennale di Milano Museum, Milan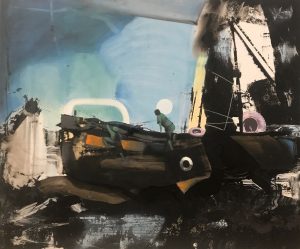 and the Museum Zitadelle Berlin. He has participated in the 12th International Print and Drawing Biennial in Taiwan at the National Taiwan Museum of Fine Art. Works by Jansen are in collections of the Moscow Museum of Modern Art (MMOMA), The University of Michigan Museum of Art, The New Britain Museum of American Art, The Kemper Museum of Contemporary Art, The National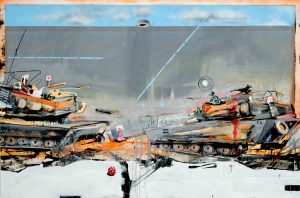 Taiwan Museum of Fine Art, The Housatonic Museum of Art and the Smithsonian Institution in Washington D.C.
In addition to his studio practice, Jansen is founder of the Marcus Jansen Foundation Fund in Fort Myers, which aims to serve veterans with PTSD and economically-disadvantaged children through enhanced cultural awareness of art and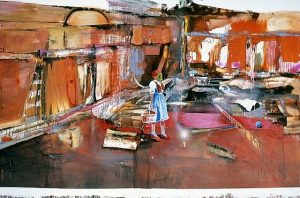 music.
The Baker Museum is one of the foremost fine art museums in Southwest Florida. Emphasizing modern and contemporary art, the museum hosts several traveling exhibitions annually to complement installations of works from its permanent collections. Dedicated to stewardship and scholarship, The Baker Museum provides world-class exhibitions and educational opportunities for Southwest Florida's diverse community.
________________________________________
'Family + Semi-Precious' at METHOD & CONCEPT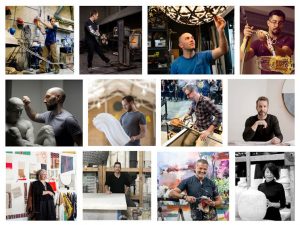 FAMILY + SEMI-PRECIOUS is an exhibition marking an important convergence of the artists represented by METHOD & CONCEPT. The show encompasses work developed in recent years, as well as in direct response to their experiences of 2020. Distinguished masters of their medium — Matthew Shlian, Debra Smith, Brett Harvey, Shizue Imai, Jamie Harris, Dylan Martinez, Carmelo Blandino, Chad Jensen, among others — will showcase their unique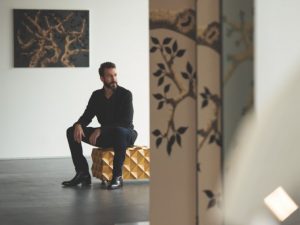 perspectives in contemporary art.
The impetus for the show emerged during the height of the 2020 coronavirus pandemic. As quarantine removed many artists from their studios and forced many into isolation, it became clear to METHOD & CONCEPT that it had a duty to support its artists and provide a platform for the cultural exchange of ideas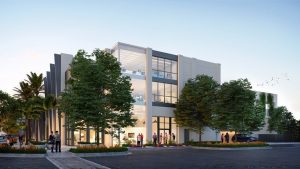 related to their shared experience. Family represents an unwitting kinship of creatives, innovators, and content producers that, in place of their physical absence, is replaced with the tangible presence of their work. The resulting dialogue and emotional reverberation is palpable, and thus becomes intertwined with the viewer's own experience. Family + Semi-Precious seeks to create a common bond and cultural bridge to our shared universal existence.
METHOD & CONCEPT's new location is at The Collective in the heart of the Naples Design District. The address is 111 10th Street South, Suite 112, Naples, FL 34102. For more information, please telephone 239-529-2633.
_____________________________________________
CFABS' 'Off the Walls 2021' rescheduled to Friday, April 9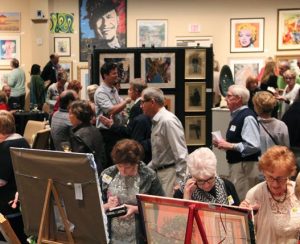 The Centers for the Arts Bonita Springs' Off the Walls 2021 has been rescheduled to Friday, April 9.
Here's how it works. Three hundred items ranging from trips to artworks have been donated to CFABS, which will sell just 200 tickets to the virtual event. On the night of the event, tickets are drawn at random. Since all of the tickets will be drawn, every ticket is a winner – even if yours is the last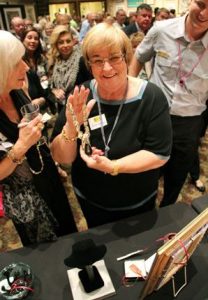 ticket drawn since there are more items than tickets. And, you'll receive a gift certificate for a ticket to next year's Off The Walls event, absolutely free. So truly, everyone is a winner.
CFABS' entire catalog of items will be posted on its website Tuesday morning, January 12. Explore the phenomenal selections, and create your priority list of top 15 choices. You don't even need to be present to be a part of this year's amazing 'lottery' event. Nor do you need to personally select your winning item. CFABS has a cadre of 'Personal Shoppers' ready and excited to help you. Just provide CFABS with your Personal Priority List of pre-selected items, and they'll take it from there. Simply tune in the evening of the Off the Walls Ticket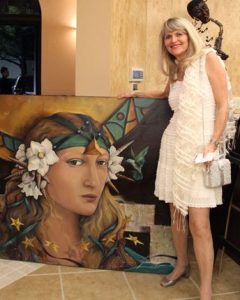 Draw to share in the fun and excitement. Your Personal Shopper will select your item and the Centers' staff will wrap and hold your winning item until you're ready.
"This year is certainly a challenge," concedes CFABS President Susan Bridges. "But we worked hard to design a terrific virtual experience on Zoom that you can enjoy from the [safety and] comfort of home. And we've come up with some brilliant 2021 alterations we think everyone will appreciate, incorporating all the needed safety precautions."
Those who have attended this unique event in the past know what a great evening it is.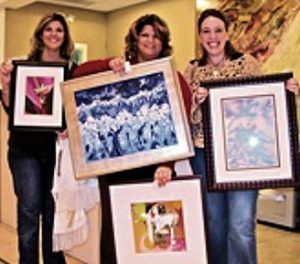 No auction, no bidding. Just purchase a ticket and you're entered into the random drawing for beautiful artworks, collectibles, travel experiences, cuisine adventures, décor and luxury living items valued from $275.00 to $6,000.00.
To purchase tickets or for more information please call 239-495-8989 or email: cfabs@artsbonita.org.
_______________________________________________
Andre Kohn Exhibition on view at Shaw Gallery of Fine Art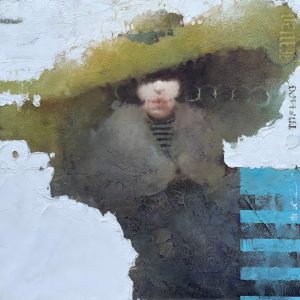 Andre Kohn Exhibition 2021 opened at Shaw Gallery of Fine  on Naples 5th Ave South on February 11. It features the latest works from the atelier of the impressionist artist, who is among the most collected figurative painters on the American art scene today.
Kohn refers to his painting style as "contemporary figurative expressionism." He counts among his artistic influences Russian painters Nicolai Fechin, Valentin Serov and Filipp Malyavin, along with John Singer Sargent, Eugène Carrière and Edgar Degas.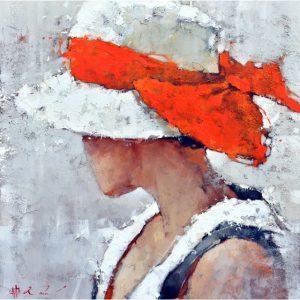 "Propelled by dynamic, gestural brushwork and lush coloration, his compositions harness the energy of a singular, often quiet, moment in time," notes art critic Elizabeth L. Delaney, writing for Southwest Art in 2016. "Heady textures and layers of pigment combine to create a tactility that pervades each canvas. In fact, one of Kohn's signature structural elements is his preparation of each surface. He layers modeling paste onto the blank canvas before he ever makes a mark, thereby creating an intrinsically dimensional composition. Such a process makes 

the texture part of the painting itself, not simply a visual overlay."
Kohn's overarching objective is to find the extraordinary within the ordinary – those moments in life that typically go unnoticed.
"At the same time, Kohn's paintings conjure elements of curiosity and wonder," Delaney continues in her Southwest Art piece. "A woman seen from behind walking in the rain, a man with a cane paused on the sidewalk, or a couple gliding across the dance floor all evoke a sense of comfortable intrigue—their stories are ambiguous, yet most viewers can relate. Kohn often hides his subjects' faces, and when visible, they remain obscured, allowing the artist to retain that sense of mystery. He leaves their stories open-ended—full of the potential energy he loves and primed to begin a visual conversation between viewer and painting."
In fact,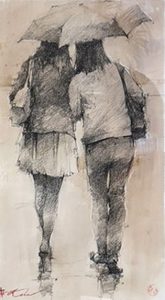 the people depicted in his figurative series such as Just the Two of Us and umbrella women are pictured with their backs to the viewer.
It's only fitting that intrigue lays at the foundation of Kohn's oeuvre of work. Intrigue is the keynote of his personal life and origins as an oil painter.
Andre was raised by an artistically gifted family near the Caspian Sea in southern Russia. His mother was a symphony violinist; his father, a noted linguist and writer. The family had had few material possessions, but paintings, sculpture and books filled the family's tiny, one-bedroom home. It was here that Kohn learned that the creative arts are the only true wealth.
Kohn's professional art education began at 15 when he was chosen to apprentice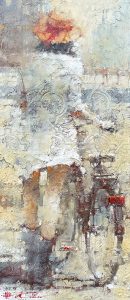 in the studios of Moscow's most esteemed Impressionist and Social Realist artists. His art education corresponded with an eruption of cultural progress in all the arts in Russia, including ballet, literature, music and painting.
Andre followed his apprenticeships with a classical art education at the University of Moscow where he studied with members of the last great generation of Russian Impressionists. He fondly remembers the majesty of the University. "The experience was totally unique," he says. "The atmosphere was one of huge columns, marble floors and masterworks on the walls. Legends of the Russian art world walked the halls and discussed your work. It was a privilege to be there, and it laid the foundation for my entire career."
At that point, fate intervened.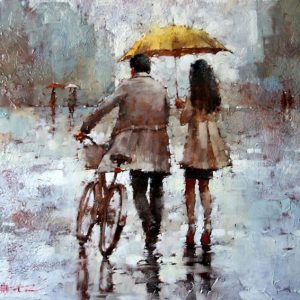 A colonel in the Russian Army, his father was chosen to participate in the post-Cold War officer exchange program at the U.S. Air War College in Montgomery, Alabama. In 1993, his father announced his intention to defect to the United States. In that instant, Andre discovered the need to reinvent himself as an American artist.
Kohn wasted no time embracing his new life. He enrolled in the art program at Auburn University at Montgomery after becoming the first recipient of the International Peace Scholarship there, and went on to earn his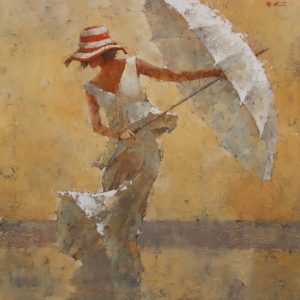 bachelor of fine arts degree three years later. To make ends meet while building his art portfolio, he worked as a house cleaner, picture framer and even a car salesman. Settling in Arizona, he finally embraced his current brand of figurative painting.
It took little time for American art audiences and media to discover Kohn's mature, fresh figurative painting style. His first one-man show created instant interest in his work and helped introduce Kohn to audiences in his adopted country.
Today,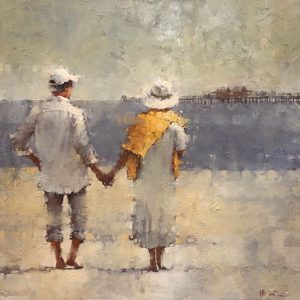 Kohn is a preeminent leader of Figurative Impressionism which seeks to capture the complexity and simplicity of the human form.
"I'm seeking my own unique, poetic interpretation of the moment," he says. "I'm striving to find the extraordinary in the ordinary."
Despite Kohn's unrepeatable pallet, personally developed style, and unique interpretation of form, his art education is enduring.
From his home in Arizona, Kohn travels the world for inspiration and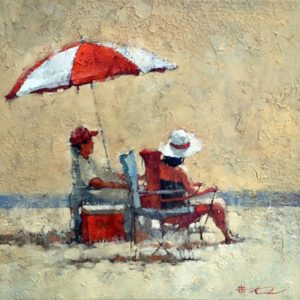 periodically returns to France to continue his formal, classical studies. Due to his travels, his widely popular style has a European influence with a Modern impressionist flare.
Kohn's work is now represented by premier galleries in the United States and he is a regular contributor to invitational exhibitions. Some of his most recent solo shows include:
2020 Shaw Gallery, Naples, Florida
2019 Shaw Gallery, Naples, Florida
2018 Jones & Terwilliger Gallery, Carmel, CA
Andrew Hillier Gallery, London, UK
Fountainside Gallery, Wilmington, North Carolina
Heritage Gallery, Scottsdale, Arizona
He is a frequent subject of highly regarded art publications, and his unique ability to communicate the expressiveness of the human form has kept him a mainstay in private, corporate and permanent museum collections worldwide.
Andre currently resides and paints at his home in Scottsdale, Arizona, where he owns his own gallery, Andre Kohn Fine Art.
__________________________________________________
'Double Vision' opens at Gardner Colby Gallery on February 18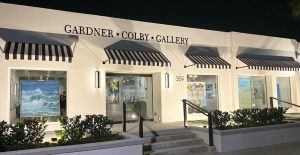 Gardner Colby Gallery in Naples is exhibiting work by Theresa Girard and Mary Parkman.  Gardner Colby Gallery is located at 359 Broad Avenue South.
Girard's expressive paintings have been featured in several national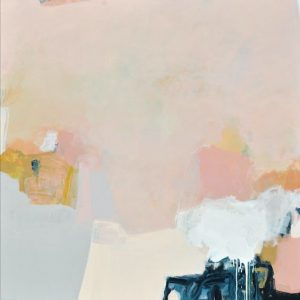 publications including The Artist Magazine, Palette Magazine, Art Collector, Acrylics 3 and numerous books. Her recent paintings reflect a new confidence and purpose with paint and design that are often driven by the weight of current circumstances, feelings, or intentions.
"I begin by energizing the surface until all of the marks have freed me of any distractions," says Theresa. "Once energized, I simplify, looking for a soft conflict in color. Often the process repeats, developing a fast 'impulse and observation' pace. I am continually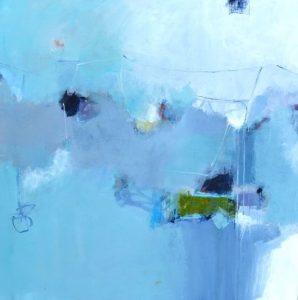 striving for the finished work to speak louder than I can communicate in words."
Theresa would be the first to tell you that she does not fit into a traditional role. A native of Providence RI and involved in the arts from an early age, she crafted her own education while studying early 20th Century contemporary artists and abstract expressionism. A color expert and educator for a large manufacturing company, she advanced to the top of her career in marketing, education, and training before making the leap to pursuing her painting as a professional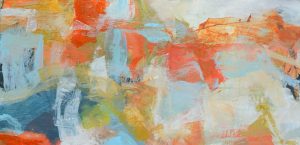 fine artist. Theresa is the founder and former Art Director of Access to Art, a community based fine art program. Ms. Girard is a nationally sought after facilitator of a variety of artistic workshops for creative people. She is an exhibiting artist at the prestigious Providence Art Club.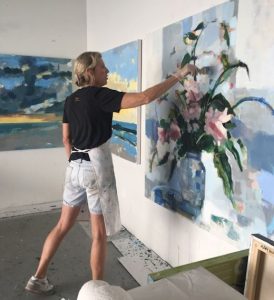 Mary Parkman is an abstract and figurative painter whose work is varied in technique and content. Inspired from nature, Parkman translates the world around her using expressive paint strokes and a mostly colorful palette. Her paintings have been exhibited in New York, Boston, Atlanta and internationally.
Parkman graduated from Cornell University with a degree in Fine Arts. She continued her study of art—primarily with Abstract Expressionists—at the New York Studio School in Manhattan and the International School of Art in Italy. Having begun her career as a representational portrait and landscape painter,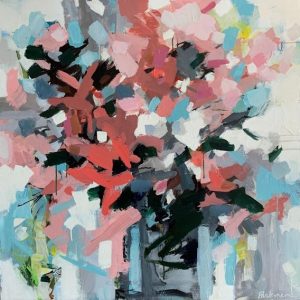 many done en plein air, Parkman's work is increasingly abstract, with greater focus on pure paint and process.
"It's exciting that by shifting to abstraction drawing recedes allowing pure paint to take over and process to show," says Mary.
To schedule a private showing or to RSVP the opening reception for Double Vision, please telephone 239-401-7787 or email art@gardnercolbygallery.com.
___________________________________________________________________
DAAS producing special multi-layered exhibition of Yvonne Krystman work in March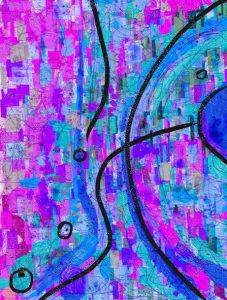 In the month of March, DAAS CO-OP Art Gallery & Gifts will be producing a very special exhibition by member artist Yvonne Krystman. The show will feature a mufti-layered visual experience with a deeper focus on a complementary dialogue between material, content, the exhibition space and the encounter with viewers.
Krystman is a contemporary mixed media visual artist and fashion designer. She is experimenting with a wide variety of materials to express the ideas she explores, and that includes, but is not limited to, mixed media works on canvas, clay, conceptual photography and more.  In additrion, she often photographs her work and transfers it into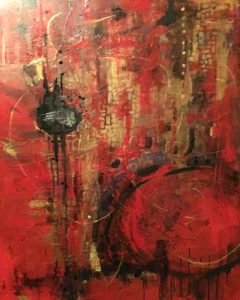 award-winning fashion – a concept she calls "Portable Gallery." Krystman's wearable art is shape-shifting visual artwork into new forms to inspire new perspectives.
Yvonne will be collaborating with contortionist, hand-balancer and performing artist Katarina Danks, Krystman at the opening. Sporting pieces from Krystman's Art 4 Wear line, Danks will stage an artistic fusion between acrobatic movement and visual expressions of art.
The opening reception will be held from 6:00 to 9:00 p.m. on Friday, March 5, 2021 in conjunction with the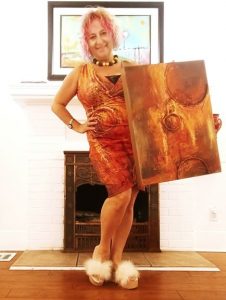 monthly Fort Myers Art Walk event. The exhibition will be on display through March 27th, 2021.
"We invite all Southwest Florida art collectors, supporters and enthusiasts to join us for the opening reception," states DAAS in its press release announcing the exhibition. DAAS CO-OP is located in the Butterfly Estates complex at 1815 Fowler Street in Fort Myers, FL. The gallery's temporary business hours are from 10:00 to 3:00 p.m. Wednesday to Sunday.
For more information about the venue and/or how to become a member, please visit daascoop.com or call 239-590-8645.
___________________________________________________________________
Katarina Danks performing at DAAS during March 5 opening of Krystman exhibition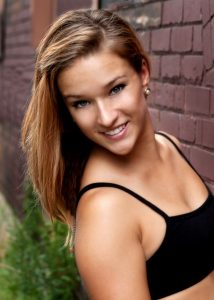 Katarina Danks will be performing at the opening of an exhibit of new work by artist Yvonne Krystman at DAAS CO-OP Gallery on March 5. Sporting pieces from Krystman's Art 4 Wear line, Danks will stage an artistic fusion between acrobatic movement and visual expressions of art.
Katarina Danks is a dancer, educator, coach/trainer and world-class performer trained in contortion, hand balancing, jazz and contemporary dance. Her performances are nothing short of eye-popping. Blending an artistic mix of body-bending contortion skills (she's accomplished in Mongolian, European and contemporary contortion) with jazz and contemporary dance choreography and stage presence, Kat creates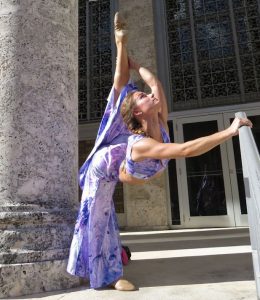 unique shapes in elegant inverted ways.
She has performed at numerous venues throughout Southwest Florida, including Broadway Palm Dinner Theatre (with Circus Transform US), Art Walks the Runway Fashion Show at the Sidney & Berne Davis Art Center, the Fort Myers Film Festival's T.G.I.M. screenings, Telemundo Television, HSN, Papa John's and others.
Go here for the rest of Kat's profile.
___________________________
DAAS' April show will be 'ICONIC'
PosteIn the month of April, DAAS CO-OP Art Gallery will be featuring a collection of pieces submitted by artists from Southwest Florida who responded to an invitation posted on the venue's website. Entitled ICONIC, this exhibition will honor legends in the entertainment and artistic industry throughout the ages. Artists were challenged to turn their love for legends like Marilyn Monroe, Myles Davis, Elvis Presley, Rita Moreno, Maya Angelou, Madonna, Bob Marley and others into equally iconic works of art. Their creations incorporate imagery that clearly represent the icon, whether in portrait or suggestive.
The opening reception is scheduled for Friday, April 2, 2021 from 6:00 to 9:30 p.m.,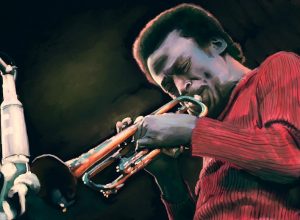 in conjunction with the monthly Fort Myers Art Walk event. The exhibition will be on display through May 1, 2021.
DAAS CO-OP is a boutique style cooperative art gallery operating in the Butterfly Estates' campus in Fort Myers, Florida. The member artists operate all aspects of the gallery, including administration, curation, sales and maintenance. The cooperative was established in 2016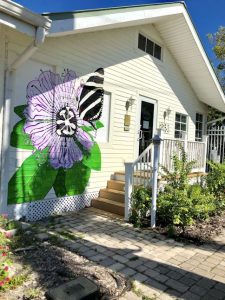 and is one of the few art galleries of its kind in Southwest Florida. Exhibition receptions are held every first Friday of the month, featuring individual and group displays. Artists interested in membership or exhibiting as guest artists should contact the gallery through daascoop.com or in person during business hours.
DAAS CO-OP is located at 1815 Fowler Street, in the Butterfly Estates complex in Fort Myers, FL. The gallery's temporary business hours are Wednesday to Sunday, from 10:00 a.m. to 3:00 p.m. More information about the venue and/or how to become a member can be found at daascoop.com or by calling 239-590-8645.
Images:  Imperfection is beauty and Do not fear mistakes, there are none, digital paintings by Spencer Elles.
______________________________________________
Alliance issues call for 'Art Lives Here' billboard campaign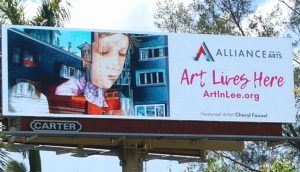 Ever envision your art on local billboards? Well, it can happen with a little help from your friends at the Alliance for the Arts. Once again, the Alliance is calling for artists to participate in their Art Lives Here billboard campaign. The Art Lives Here campaign creates more art for more people by displaying artwork on billboards throughout southwest Florida,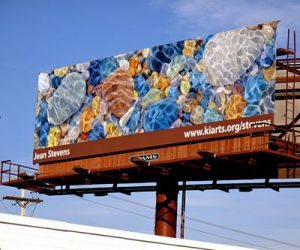 transforming advertising space into public art for and by talented local artists. All Alliance for the Arts member artists are encouraged to submit and you may join the Alliance as a member to do so. The deadline for submission is March 12, 2021.
For more information, a prospectus and submission details, please visit www.artinlee.org or contact Alliance for the Arts Gallery Director, Ehren Gerhard at exhibitions@artinlee.org.
______________________________________________________________
Davis Art Center accepting submissions for Functional Art Show thru April 23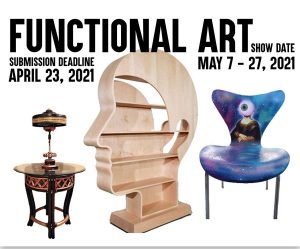 The Sidney & Berne Davis Art Center will be staging a functional art exhibit in May. Functional art is art created for use. However, while it functional art is intended to serve a utilitarian purpose, it is designed artistically, with an aesthetic or "chi" in mind so that it takes on a life of its own.
The genre is remarkably inclusive. It encompasses everything from furniture and lighting to dishes and even books.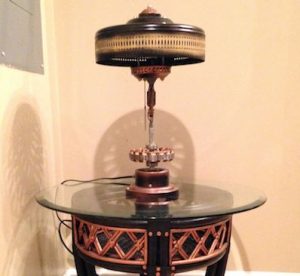 While the terms "fine" or "high" art typically apply to works that carry an intellectual and emotional sensibility alongside a dose of old-fashioned beauty, functional art infuses these aesthetic ideals into things that you might never have expected to view as art, like, say, a switchblade.
From an art history perspective, you could say that functional art is the inverse of Marcel Duchamp's famous readymades, where he transformed utilitarian objects—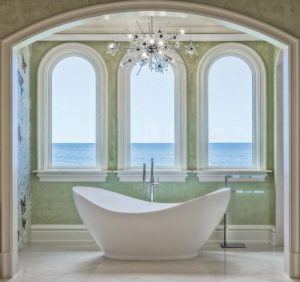 a urinal, a bottle rack, etc.—into conceptual artworks by fiat. It became art because he said it was. Functional artworks, by contrast, are highly crafted artistic creations that can perform utilitarian jobs, but that collector's might prefer to keep on the display shelf.
Today many functional art objects are as avidly acquired by collectors as their fine-art brethren, and are appreciated just as much for their beauty as their use. Ancient Chinese vases, for example,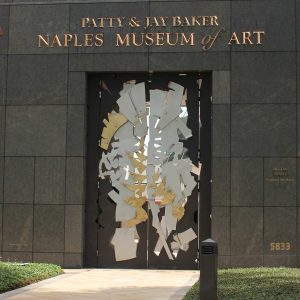 while still capable of performing their originally intended function (displaying flowers), are prized for their historic and aesthetic value more than anything else. And this is equally true of clocks, jewelry and valet boxes, lights and chandeliers, intricately-carved limestone fireplaces, and life-size figurines and wildlife sculptures which, positioned at the edge of a pond or pool, function as fountains, helping purify and circulate its water. Of course, one need look no farther than Artis Naples for two prominent examples of functional art – the Paley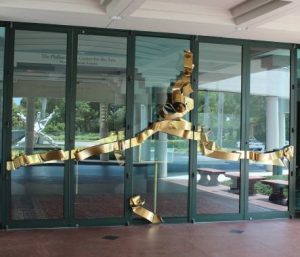 Gates at the Baker Museum of Art and the door handles to the performing arts hall.
The deadline for submissions is April 23, 2021. The exhibition will show in the grand atrium from May 7 through May 27, 2021.
___________________________________________________________________
Davis Art Center accepting submissions for June show 'Recaptured' through May 20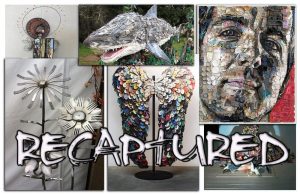 In June, the Davis Art Center will host Recaptured, a juried art exhibition that focuses on "recapturing" waste and turning it into a desirable piece of art.
For thousands of years, what was discarded by one creature was a resource of another. Then along came humans. Today, mankind generates at least 3.5 million tons of plastic and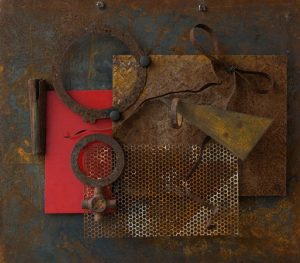 other solid waste a day, 10 times the amount a century ago. The U.S. is the king of trash, producing a world-leading 250 million tons a year—roughly 4.4 pounds of trash per person per day. But because we've become very good at hiding it, the problem of disposing of this among of trash does not seem particularly impending. But make no mistake. Waste poses a major problem not only for our species, but for the survival of the planet as a whole.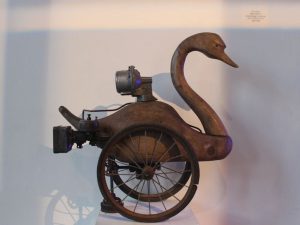 As a result, recycling has become an integral part of protecting the environment. Within this rubric, two approaches have emerged – downcycling and upcycling. In the former, the destructive cycle is slowed down but the resulting objects lose quality as a result of the process. In the latter, they acquire value thanks to creative intervention.
In this regard, artists are converting glass bottles, plastic bags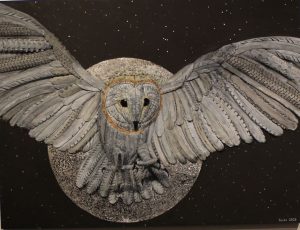 and other waste that would end up filling landfills or floating in the sea into a sustainable art that highlights the degradation of the planet by drawing attention to excessive or conspicuous consumption, the depletion of natural resources and the resulting environmental pollution. Artists engaged in this new genre and movement seek to transform waste such as paper, cardboard, wood, glass, plastics, metals and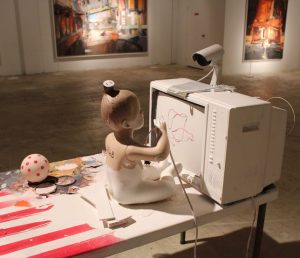 rubber into works of art.
The concept goes beyond the mere conventional of recycling. In fact, it goes well beyond the principle espoused by French artist Marcel Duchamps, Pablo Picasso and their contemporaries roughly a century ago that an artist transforms a manufactured object into art just by giving it a title and exhibiting it in a museum, gallery or art show. As a movement, the inclusion of waste in artistic compositions has morphed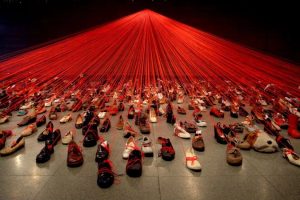 from "ready-mades," "junk art" and the "accumulations" of Franco-American artist Arman (who aggregated trash in airtight glass cylinders and boxes) to the use of waste as an artistic medium on a par with oil, acrylic and epoxy paints or marble, stone and metal. And from this detritus a generation of eco-artists has emerged who bring new meaning to their two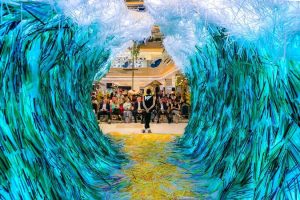 and three dimensional works and installation by engaging with the "reuse, reduce, and recycle" slogan through their craft.
With Recaptured, the Sidney & Berne Davis Art Center not only highlights this new artistic movement and genre. It joins eco-friendly initiatives and festivals springing up around the world such as Art of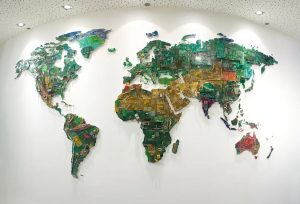 Recycle in Pennsylvania and the Seattle Recycled Arts Festival that have advanced the motto of "Reduce, Reuse, Reclaim, Repurpose, and Recycle," showing communities how they can express their creativity with extensive range by using recycled materials – and furthers the tradition of such local shows as the Alliance for the Arts' Rejectamenta show and the Ding Darling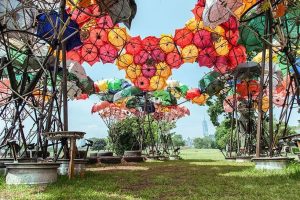 Wildlife Society's 2015 Upcycle! Art Fest.
Will you be – or see – the next Chiharu Shiota (whose Over the Continents installation featured an accumulation of nearly 400 individual shoes that Shiota personally collected, along with a note from each donor describing the people they have lost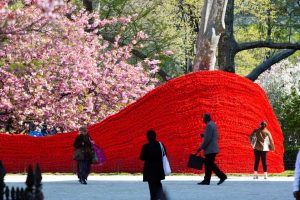 along with past moments, creating an emotionally charged installation), Von Wong (who created a large scale installation entitled Parting of the Sea that highlights the consumption of single-use plastics that he made from 168,000 plastic straws and recovered plastic packaging collected from the streets of Vietnam with the help of volunteers) or Susan Stockwell (whose work World features a gigantic world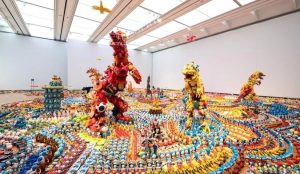 map made from recycled computer components, motherboards, electrical wiring, fans and myriad other components).
The deadline for submissions is May 20. The show will be displayed in the grand atrium between June 4 and June 24, and offers a $500 prize for Best in Show, $250 for SBDAC Staff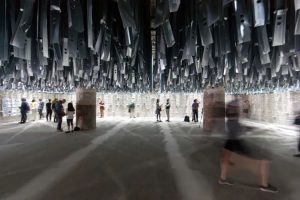 Pick and $250 for People's Choice.
Photos:
No. 2: Gift by Patricia Esposito
No. 3: Ride Eternal by Jay Lana
No. 4:  Death Owl by Andrew Corke
No. 5:  Aerial by Marcus Jansen
No. 6:  Over the Continents by Chiharu Shiota
No. 7:  Parting of the Sea by Von Wong
No. 8:  World by Susan Stockwell
No. 9:  City of Dreams by Izaskun Chinchilla Architects
No.10: Red, Yellow & Blue by Orly Genger
No.11:  Jurassic Plastic by Hiroshi Fuji
No.12:  Venice Architecture Biennale 2016 core exhibit by Alejandro Aravena
_______________________________________
SBDAC issues call for Artist Trading Card exhibit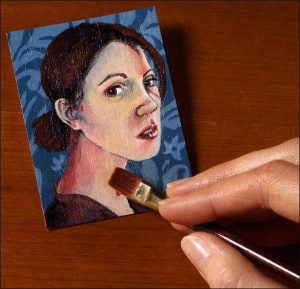 The Davis Art Center has issued a Call to Artists for its August show, Carded: Miniature Masterpieces. The exhibition will feature artist trading cards or ATC, tiny (2.5 x 3.5 inches) original pieces of art created with the intention of swapping or trading with another artist. On the front of an ATC, an artist creates an original work to showcase their art. It can be a one-off, part of a series, or a limited edition. On the back, the artist puts their name, contact details, title of the ATC, number if it's a limited edition, and sometimes the date it was created.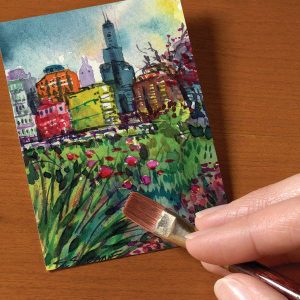 The can be made in any medium and using any technique, whether it's painting, drawing or collage.
ATCs date back to 1997 when M. Vanci Stirnemann, a Swiss artist, created 1200 cards by hand as part of an exhibit. On the last day, he invited others to create their own cards and trade with him during the closing reception. The movement took off and, today, there are ATC swaps in almost every major city around the world. There are also many online swaps.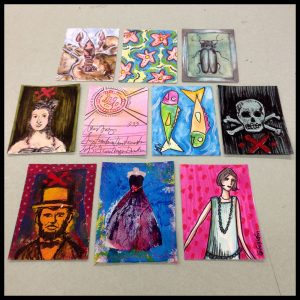 The movement builds on different traditions, including miniature art, which has been in existence for centuries beginning with the illustrated manuscripts of scribes in the Far East and Europe prior to the 15th century. ATCs also reflect the influence of pop art, which features motifs taken from everyday life. In this regard, ATCs share an affinity with the Fluxus movement and with Robert Filliou's notions of a "fête permanente," a "création permanente" or an "eternal network."
The origin of the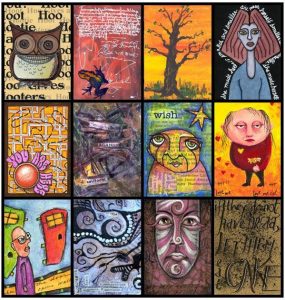 modern trading card is associated with cigarette cards first issued by the US-based Allen and Ginter tobacco company in 1875.
Artist Ndola Pensy introduced the artist trading card idea to Southwest Florida in 2017 with great reception among artists of different mediums in the area. Carded: Miniature Masterpieces will be curated by Cesar Aguilera.
The deadline for submissions is July 24. There is no limit on the number of submissions.
Any medium,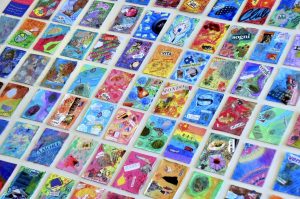 motif and theme is acceptable, but no prints or reproductions will be curated into the show (digital art excepted). Submit your good quality images to artbuzz66@gmail.com with your name, medium, and title of each piece.
The show exhibits August 6-26. Cards will not be for sale, but in the tradition of ATC events, there will be an optional trading part at the end of the show.
___________________________
7       ART FESTIVALS
Naples Art District's 1st Wednesday Studio & Gallery Tour is March 3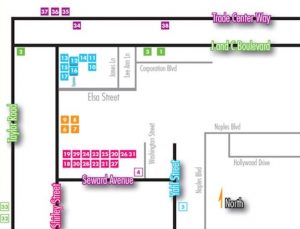 On Wednesday, March 3, the three dozen plus galleries and artist studios that comprise the Naples Art District open their doors to the public from 1:00-6:00 p.m. Called 1st Wednesday Studio & Gallery Tour, the event is a unique opportunity to immerse yourself in the sights, sounds and smells of the studios of more than 60 emerging and mid-career artists working in a broad cross-section of genres and media. Just look for the magenta and white flags.
_______________________________
Fort Myers Art Walk is Friday, March 5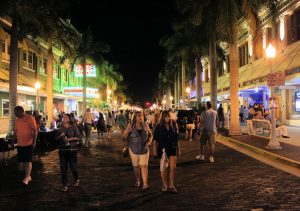 On Friday, March 5, the historic River District in Downtown Fort Myers hosts Art Walk, now in its ninth season. The Friday component runs from 6:00 to 10:00 p.m. First Street is closed to traffic during this time and face painting is offered at several locations. The Saturday event is from 11:00 a.m. to 4:00 p.m. Rain or shine, this "must attend event" showcases the works of local artists from over 14 downtown galleries.
___________________________________
Naples Art in the Park is Saturday, March 6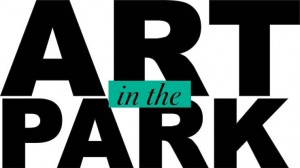 On Saturday, March 6, Art in the Park returns to Cambier Park, adjacent to The Naples Art Association. Located just a block from historic Fifth Avenue South, Art in the Park is within walking distance of trendy European boutiques, sidewalk cafes and iconic art galleries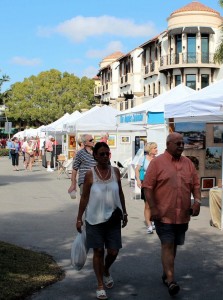 such as Sheldon Fine Art, Call of Africa's Native Visions Gallery and Shaw Gallery of Fine Art. The show is also just three minutes by car from fabled Gallery Row and the Third Street South Gallery District and the Crayton Cove art district. Since 1957, Art in the Park has been showcasing paintings in oil and acrylics, watercolors, mixed media, photography, sculpture, ceramics, glass art, jewelry and wood-working created by members in good standing of the Naples Art Association. You can find more information on Southwest Florida's longest running fine arts and craft fair at http://www.naplesart.org/content/art-park-2011-2012.
____________________________________________________
Last Bonita Springs National Art Festival of season is March 6 & 7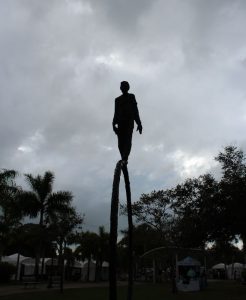 The Bonita Springs National Art Festival returns to Riverside Park in Bonita Springs for the final time in 2021 on the weekend of March 6 & 7. Like its January and February editions, this festival places a heavy emphasis on quality and originality, with the more than 200 artists juried into the show from across the United States, Canada, South America and even Europe exhibiting and selling original paintings, drawings, pastels, photography, handcrafted jewelry, clay works and ceramics, glass art, metal sculpture and more. Together with the festivals held in January and March, this show is a major fundraiser for the Center of the Arts of Bonita Springs.
______________________________________
Boca Grande Masters Art Festival is March 6 & 7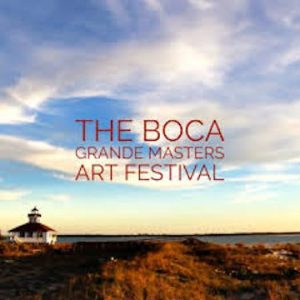 Also taking place on Saturday, March 6, and Sunday, March 7, is the Boca Grande Masters Art Festival. Located on storied Gasparilla Island, Boca Grande is lauded as a step back into "Old World" Florida, a carefully preserved part of Florida's early history when Edison, Ford, J.P. Morgan, the Vanderbilts, Babe Ruth, Zane Grey and even Al Capone fished Boca Grande Pass. Another of Boulderbrook Productions' sought-out boutique art festival, Boca Grande Masters is limited to just 40 exceptional artists.
___________________________________________
Naples Art District's 'Art & Design Expo' is March 11-13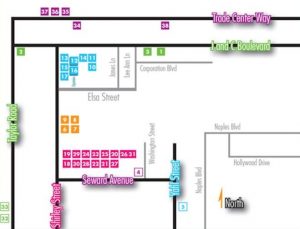 On Thursday, March 11 through Saturday, March 13, the Naples Art District will host its Art & Design Expo. The District's galleries and art studios will be open from 11:00 a.m. until 4:00 p.m. and attendees will also have the opportunity to visit neighboring designers and home decor showrooms to discover the latest design trends. The event is open to the public, and there is no registration required. For more information, please visit www.NaplesArtDistrict.com.
_______________________________________________________
Naples Art District Super Saturday Studio & Gallery Tour is March 13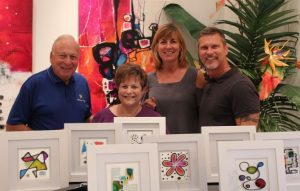 The Super Saturday Naples Art District Studio and Gallery Tours takes place on Saturday, March 13. This event features more than 50 artists, who will be showcasing their recent works of art and demonstrating their medium. Participating galleries and studios are open from 1:00 a.m. to 5:00 p.m. Look for the magenta and white flags. Go to www.NaplesArtDistrict.com for directions.
____________________________________________________________
Remaining 2020-2021 season covered in Art Festival Calendar on ARTSWFL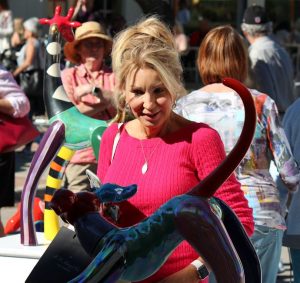 Given COVID-19, no one really knows what to expect from Southwest Florida's 2020-2021 art fair and festival season. At present, Florida has re-opened all venues, most at full capacity, and organizers are proceeding on the premise that they will be able to produce their outdoor art fairs and festivals as they have in the past. So subject to that caveat, here are the outdoor art fairs and festivals you will see throughout Southwest Florida through April 30, 2021.
_________________________
8      PUBLIC ART
Public Art Committee seeks artist for aesthetic centerpiece for new park at The Forum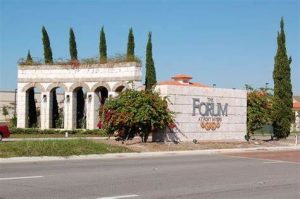 here's a new park being constructed out at The Forum, and the City's Public Art Committee is seeking an artist to create a $50,000 artwork to serve as the park's aesthetic centerpiece.
The Forum is a 706-acre master-planned, mixed-use development located between Colonial Boulevard and SR. 82 east of I-75. It contains retail, residential, and office sites.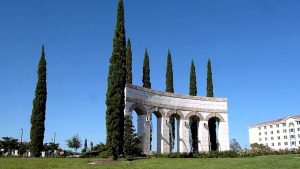 Originally developed by a group spearheaded by former NBA star and renowned coach Pat Riley, The Forum takes its name from the arena that is home to the world champion Los Angeles Lakers basketball team. Riley won an NBA title as a player for the Lakers in 1972 and coached the team to championships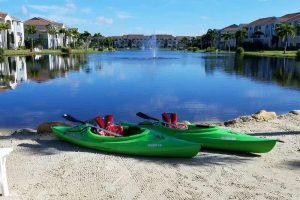 in 1982, 1985, 1987 and 1988.
Prior to its development, three generations of the Zipperer family raised gladiolus on the property. John O. Zipperer and his family were part of a group on entrepreneurs who established an industry based in Iona beginning in 1935 that millions of glads for more than five decades to every state in the Union east of the 

Rocky Mountains.
You will find the rest of this announcement here.
____________________
9      FILM
Final TGIM of season is March 1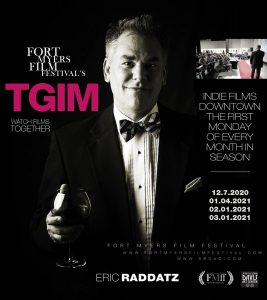 The Final TGIM of the Fort Myers Film Festival's 11th season is March 1.
New to the term?
Well, the acronym stands for "Thank God for Indie Mondays," and symbolizes the anticipation and excitement that area indie film lovers feel as the first Monday of the month draws near between August and March each season. That's when hosts Eric Raddatz and Melissa DeHaven screen a number of the indie short and short short films that have been submitted for inclusion in the Fort Myers Film Festival.
The rest of this advance is here.
_____________________________________________________________
Renowned Pine Island author Robert Macomber returns to TGIM on March 1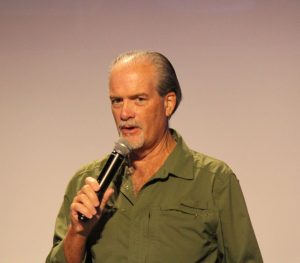 Renowned local author Robert Macomber will be one of Eric Raddatz' esteemed celebrity judges for the season-ending TGIM on March 1.
Macomber is an internationally recognized, award-winning maritime writer, lecturer, and television commentator. He is a lecturer at the Distinguished Military Author Series of the Center for Army Analysis in Washington, D.C.; Caribbean/Latin American lecturer at the U.S. Southern Command's Notable Military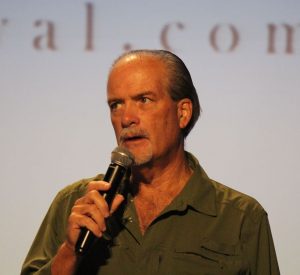 Author Series; guest author and lecturer aboard the Queen Mary 2 since her maiden voyage, as well as the Silver Sea fleet of luxury liners; a maritime commentator for Florida PBS; and a naval history lecturer for the American History Forum and the Civil War Education Association. His lectures span 32 various maritime topics.
The rest of this profile is here.
___________________________________________________________
94.9 The City's Jade Alexa McClelland returns March 1 as TGIM celeb judge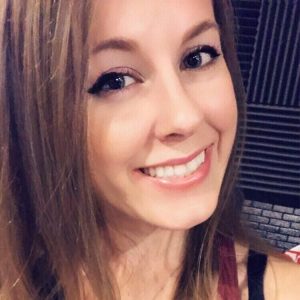 Jade Alexa McClelland last served on the TGIM judging panel in November of 2019. A lot has happened since then. So come out on March 1 to find out what the professional playlist maker and 94.9 program director has going on now.
Jade loves film, and watches a lot of it. Her window into what she watches starts with production value – the quality of the cinematography, lighting and audio. To provide insight into her thought processes, it helps to know that her favorite film is Requiem for a Dream starring Ellen Burstyn,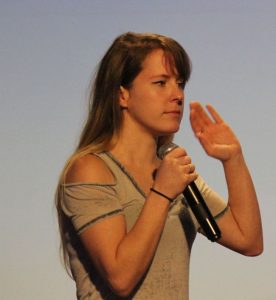 Jared Leto and Jennifer Connelly. The 2000 Darren Aronofsky film portrays the mental states of four addicts. When they use, a window opens briefly into a world where everything is right. Then it slides shut, and life reduces itself to a search for the money and drugs needed to open it again, with nothing else being even remotely interesting.
The rest of Jade's profile is here.
______________________________________________________
March 1 TGIM celeb judging panel includes filmmaker Justin Verley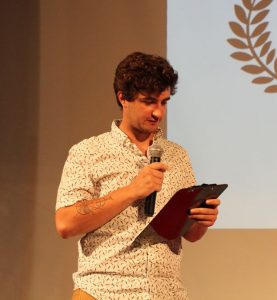 Justin Verley joins author Robert Macomber and 94.9 The City's Jade Alexa McClelland on the March 1 TGIM celebrity judging panel.
Verely cut his filmmaking teeth right here at the Sidney & Berne Davis Art Center as a member of the Fort Myers Film Festival Advisory Board for four years and the Assistant Technical Director for three.
He also served as a celebrity judge at T.G.I.M. in August of 2016 and August of 2018.
Justin went on to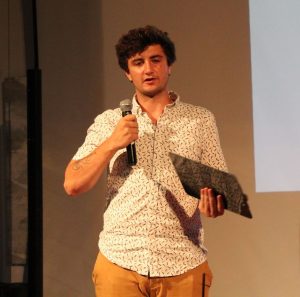 produce film festivals in Milwaukee, Madison, New Orleans, Tallahassee, Orlando and Chicago. He has experience in virtually every behind-the-scenes and production role imaginable, from director and producer to cinematographer, editor, writer, PA and even boom guy. His repertoire ranges from short films and rap music videos to web and television series, feature-length films (2) and commercials/promotional videos.
His screenwriting credits include the feature films Falseland and Sidx5. He directed and edited the former and is currently in the process of editing the latter.
Go here for the rest of Justin's profile.
____________________________________________________________
The 11th Annual Fort Myers Film Festival opens May 12 with red carpet gala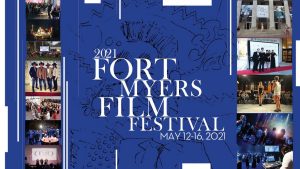 The 11th annual Fort Myers Film Festival to be held in person and online May 12-16, 2021 (with other venues, restaurants and private parties to be announced). It all starts with a red carpet gala at the Sidney & Berne Davis Art Center on May 12, with doors opening at 5:00 for drinks, mingling and musical entertainment. The opening is always heavily attended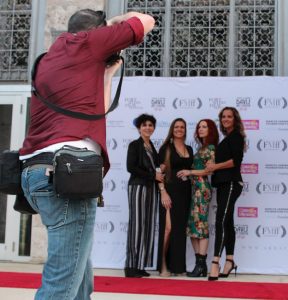 by local and international filmmakers and the actors who bring their vision to life. Tickets are $15 for movie only or $100 for movie and VIP meet and greet. Guests will enjoy fully-stocked bar and a chance to meet with the stars of the evening's film, other filmmakers and event VIPs. The event will provide the delicious foods and beverages. Watch last year's video here https://vimeo.com/336103431. To buy tickets go to www.sbdac.com. If you are looking for photos head to www.facebook.com/fortmyersfilmfestival.