Actors, artists, filmmakers and events in the news May 22-31, 2019
These are the actors, artists, filmmakers and events who are in the news in Southwest Florida this week:
Actor/singer Nicole Scherzinger visits Marcus Jansen in studio over weekend (05-31-19)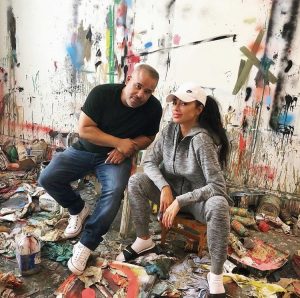 Former Pussycat Dolls lead singer Nicole Scherzinger was in town over the Memorial Day weekend to visit urban landscape Expressionist painter Marcus Jansen in his 7,500-square-foot loft studio in downtown Fort Myers. Scherzinger is commissioning a one-of-a-kind 9-foot Jansen painting for her private collection and flew in from Los Angeles to view the work in progress and meet with Jansen and his agent, Lisa Burgess.
After Scherzinger joined the infamous burlesque group as lead singer in 2005 (under the stage name Nicole Kea), the Pussycat Dolls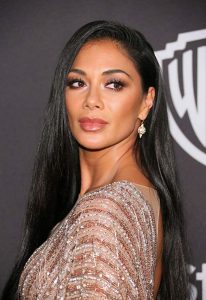 and special guest Busta Rhymes recorded "Don't Cha," which climbed to number one on the dance chart and number two on the pop chart. Later songs and the album Doll Domination also enjoyed considerable commercial success.
Outside of her work with The Pussycat Dolls, Nicole has enjoyed an impressive career in both film and television, appearing in the 2017 remake of Dirty Dancing (for which she received praise, even though the film did not), Moana (2016), The X Factor (2016), Best Time Ever with Neil Patrick Harris (as co-host in 2015), Cats (which earned her a 2015 Olivier Award nomination for best supporting actress), I Can Do That (she was the Season 1 winner), Mixology (2013), Men in Black 3 (2012),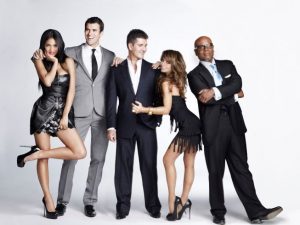 The X Factor (2011-2012), Dancing with the Stars (she and Derek Hough were the Season 10 Mirror Ball winners), So You Think You Can Dance (2005), How I Met Your Mother (2005), Wanda at Large (2003) and My Wife and Kids (2001). Her single, "Breakfast in Bed," is included on Adam Sandler's 50 First Dates (2004) soundtrack.
While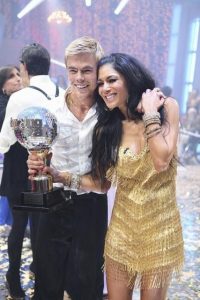 attending a performing arts high school, she won the Coca-Cola Classic Talent Contest and performed in many plays at The Actors Theatre of Louisville. She then furthered her studies majoring in theater arts at Wright State University before entering the premiere season of the WB's television show, Popstars (2000), where she earned the role of lead vocalist in the female pop group, Eden's Crush, which opened for MSYNC on the "Pop Odyssey Tour."
But this past weekend, it was all about the art.
"Jansen has been called the cartographer of conflict," observes Lisa Burgess, whose Fort Lauderdale gallery, New River Fine Art, recently hosted a solo exhibition of some two dozen pieces of Jansen's work.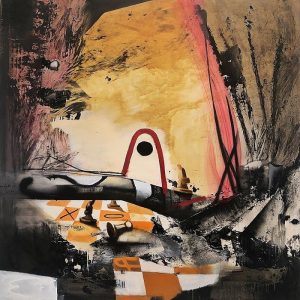 "His colors, textures and calligraphic marks imbue an intensity and power to his large-scale paintings that render the human figures seen in many of his works as humbled within the chaos of the surrounding imagery," Burgess adds.
A veteran of Desert Storm and Desert Shield, Jansen has seen the ravages of war first hand and the experience left an indelible mark on the artist and informs his work.
"A painters conflict first takes place from within," notes Jansen.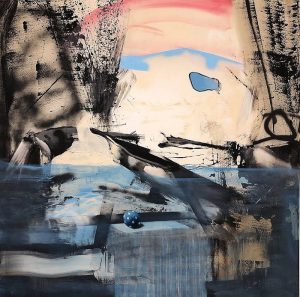 "What you see on canvas is the outcome of decisions based on an intellectual and visual combat. I don't see my work as political paintings, rather as critical social commentary opposed to political rhetoric."
Political or not, critics are hailing Marcus Jansen as one of the most important American painters of our generation. His socially-critical paintings and installations have been exhibited in museums in Italy, Germany and the United States, and is included in the permanent collections of the PERMM Museum of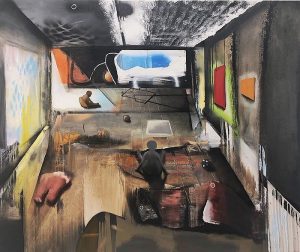 Contemporary Art in Russia, the New Britain Museum of American Art, the Moscow Museum of Modern Art (MMOMA), the Kemper Museum of Contemporary Art and the Smithsonian Institution.
And soon, one of his works will be in the private collection of actor, singer and dancer Nicole Scherzinger.
For more information, please visit www.unitaspace.com or telephone 239-240-1053.
____________________________________________________________
Lab Theater's 11th season denoted by record number of premieres (05-29-19)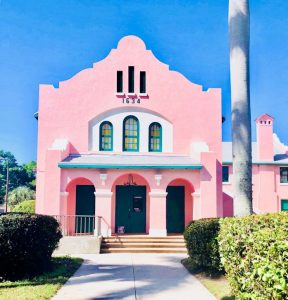 Even if theatergoers cannot make regular jaunts to New York to see the latest in theater, those living in or visiting southwest Florida are in luck. Keeping with the tradition of bringing fresh and edgy theater to this community, The Laboratory Theater of Florida has proudly announced a season with national, state, and regional premieres.
One of the topics that artistic directors rarely talk about is the acquisition of rights for any given season. Getting the rights to any play can be tricky, and rights are often won and lost any number of times prior to a season being announced. It's a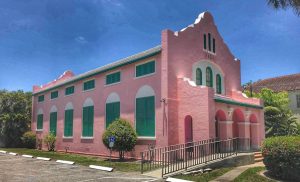 grueling, frustrating task to maintain a balanced season when you can lose acquisition rights at the very last minute.
That notwithstanding, Laboratory Theater of Florida's artistic director Annette Trossbach has managed to put together a season comprised almost entirely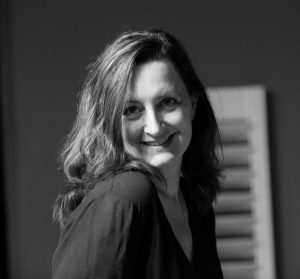 of works never seen in our area, including some first-time offerings. The theater will produce the first licensed productions in the country of Sex Tips for Straight Women from a Gay Man, Death of a Streetcar Named Virginia Woolf: a Parody, and DMV. In addition, there are Florida premieres of Let Nothing You Dismay and How to Transcend a Happy Marriage, offerings from two of the savviest young playwrights in the country.
There will also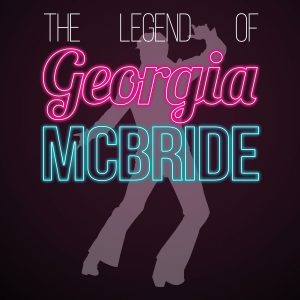 be three Southwest Florida premieres, The Legend of Georgia McBride (which opens June 8, 2019), The Wolves (part of the theater's award-winning education program this summer), and In the Heights by Lin-Manuel Miranda (author of Hamilton). In fact the only production in Lab's upcoming 11th season that is not a premiere is Arthur Miller's The Crucible.
What makes the Lab so special for both actors and patrons? From initial auditions, which are open because The Lab does not typically precast productions, to the final curtain,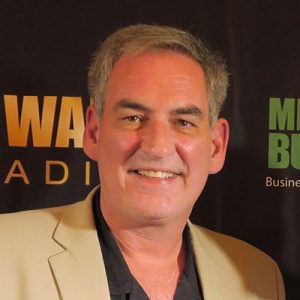 it's the entire experience that makes actors and patrons return time and again. The next set of open auditions will be held June 8th from 1:00-4:00 p.m. for straight plays, and 4:00-6:00 p.m. for the musical.
Actors at Lab Theater have the unique opportunity this season to be the first to define a character.
"Every time I work at the Lab, I gladly make the 50-mile trek (each way) from Naples," remarks local author, actor and director Randall Kenneth Jones. "The Lab has a spirit – an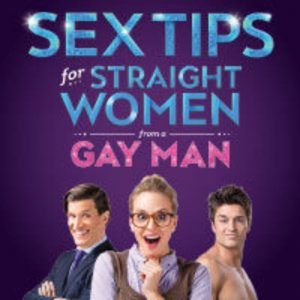 energy – that is so special that it's addictive. More than that, the Lab has Annette Trossbach at the helm. Candidly, most arts organizations are so hyper-focused on their own needs that they fail to notice the world around them. Annette is the reverse. She understands that by putting people and community first – by planting the seed of collaboration and support – her theater company will reap the benefits. And they do."
Indeed, founding Artistic Director Annette Trossbach brings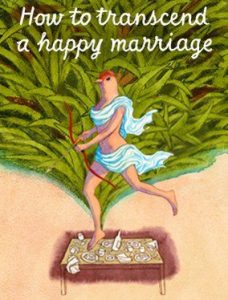 classical theater training from London drama schools to SWFL.
Working on plays that haven't been performed nationally gives actors the opportunity to work with nationally recognized playwrights such as Matt Murphy, the author of Sex Tips for a Straight Woman from a Gay Man who will be in town for the opening of his new play, giving the Southwest Florida community a chance to interact with a nationally-recognized playwright.
And thanks to generous benefactors, The Lab has now established an Actor's Fund so that all actors in the 2019-2020 season will receive a monetary stipend.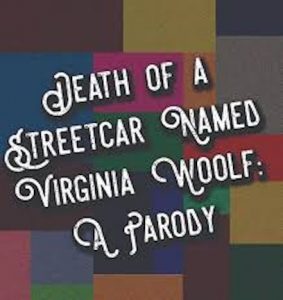 But it's not just what's on the stage that's making headlines. The Laboratory Theater of Florida's award-winning education department is offering new and exciting opportunities for learners of all ages – such as its recent workshop with world-renowned GhostPro Lee Ehrlich, who not only spoke of his experiences but led participants through a mini ghost hunt. Or its recent art workshop with an artist of national importance, Myra Roberts, who discussed not only art, but how maintaining the whole person is key to maximizing creativity. Or the classes in playwriting, physical theater, public speaking, and more that are currently available.
Tickets are available to purchase on Brownpapertickets.com or by calling the box office at 239-218-0481. For additional savings, guests may purchase a 2019-2020 Season Pass.
_____________________________________________________________________
1st Wednesday Studio and Gallery Tour returns to Naples Art District June 5 (05-28-19)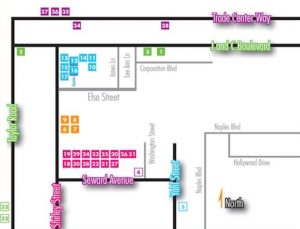 Tonight the more than three dozen galleries and artist studios that comprise the Naples Art District open their doors to the public from 5-8 p.m. Called the 1st Wednesday Studio and Gallery Tour, the event is a unique opportunity to visit some of Southwest Florida's most interesting galleries and immerse yourself in the sights, sounds and smells of the studios of more than 60 emerging and mid-career artists working in a broad cross-section of genres and media. For more, please visit www.NaplesArt District.com.
_________________________________________
Next Fort Myers Art Walk is June 7 and 8 (05-28-19)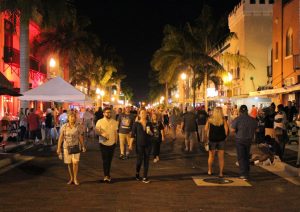 The River District will come alive on June 7 when Art Walk returns to downtown Fort Myers. Now a two-day event, Art Walk will continue Saturday, June 8, from 11:00 a.m. to 4:00 p.m. With exciting new exhibits and live art demonstrations, rain or shine, this is a "must attend event."
New exhibits include exceptional art in a variety of mediums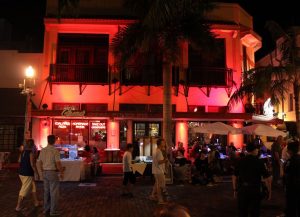 done by a bevy of local artists and some national and international artists as well.  You can meet the artists and talk art at the self-guided Friday night event, which brings together art enthusiasts, collectors and community friends who celebrate the arts each month. The Friday night Art Walk sees First Street closed to traffic. Local artists set up in the street selling their art, and face painting is offered at several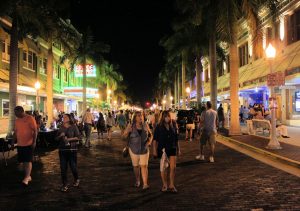 locations along First Street. And at the Broadway and First Street intersection, the Fort Myers Art League will be hosting a "Make It/Take It" table for children of all ages.
Saturday Art Walk is a quieter affair with most of the galleries open for examining the art at more leisurely pace. This new and improved version of Art Walk includes 14 galleries and art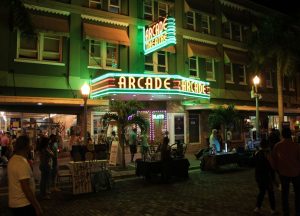 stops, including:
American Legion Veterans Gallery showing Art done by Veterans
Art League of Fort Myers – new exhibits each month
Arts for ACT Gallery – features three or more art exhibits every month plus co-op members art
Bootlegger Alley Gallery – outdoor gallery open only during Art Walk in The Patio de Leon
Grand Illusion Gallery – art, tee shirts and more
Marc Harris Wildlife Photography – on Jackson Street
Miville Art Gallery – art and photography in the Franklin Shops
Ollie Mack Gentry Photography – photography  at 2180 West First Street
Sidney & Berne Davis Art Center – Main Gallery Exhibit and Capitol Exhibit on the 3rd Floor
The Barrel Room – Jazz art – on Bay Street
Timeless Gallery – gallery and gift shop featuring steampunk art and more
Two Newts Gallery – co-op gallery located off West First Street at 2064 Bayside Parkway
Unit A – urban contemporary gallery of internationally-acclaimed artist Marcus Jansen located in Gardener's Park
As this survey of participating galleries reveals, Fort Myers Art Walk spans the core of downtown Fort Myers and includes the Gardener's Park area and West First Street. Most of the action is located on First Street,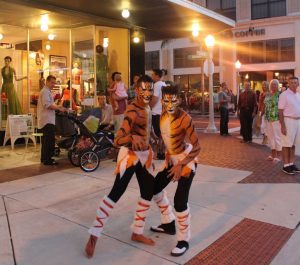 but you can obtain a Fort Myers Art Walk map at any of the galleries that will lead you to all the art venues and Art Walk partners.  "Enjoy cultural venues, restaurants, bars and businesses, plus live music," touts the River District Alliance. "Watch live art demos on First Street, eat amazing food, shop the unique local boutiques or just enjoy the atmosphere."
So whether you prefer the energy of night or the calm of day, there's something for everyone during this new-and-improved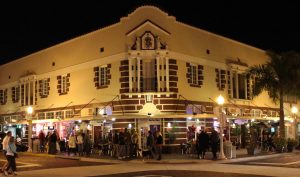 weekend of art that Fort Myers still calls Art Walk. There is free street parking and $5.00 at any of the parking garages.  In season ride the free River District Trolley. Fort Myers Art Walk is a Pet and Family Friendly free event! Fort Myers Art Walk is hosted by The River District Alliance, a non-profit organization. For more information, please visit www.fortmyersriverdistrictalliance.com.
____________________
Tortured Muse (05-27-19)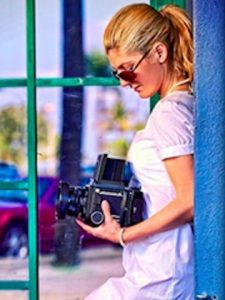 It's an unequivocal distinction to be included in one of Mila Bridger's group portraits, digital fantasies or iconic painting homages. There's fun, fame and notoriety, not to mention inclusion in an chic group of alumni of previous shoots. But it's not all fun and games. When Mila Bridger puts together a shoot, there's likely to be a fair degree of discomfort, if not actual pain.
Throughout the centuries, of course, muses have enjoyed a tenuous relationship with the artists, fashion designers and musicians they inspired. Just look at Petrarch and Laura, Dante and Beatrice, Gustav Klimt and Emilie Floge (who was 12 years the painter's junior and reputedly died a virgin in spite of Klimt's notorious philandering) or Salvador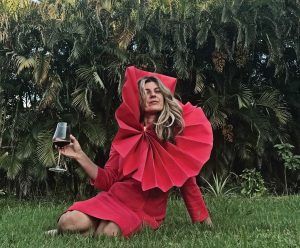 Dali and Elena Ivanovna Diakonova, otherwise known as Gala (who apparently did not have sex with the renowned surrealist in spite of marrying and living with him from 1929 until her death in 1982).
But in spite of the checkered heritage that muses occupy in the art world, those called upon by Bridger to appear in her digital narratives couldn't be more thrilled.
Read here for the rest of this story.
______________________________________________
Arts for ACT issues call for themed show in July (05-27-19)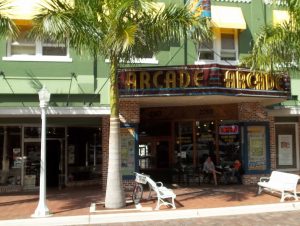 Arts for ACT is calling artists for its July themed group exhibit. This year's themes are Mirrors and Reflections or Canto.
This is an artist paid exhibit that helps ACT Gallery pay the rent for the summer months. The entry fee is $10.00 for one piece, $15 for two and $20.00 for three. Art drop off is Thursday, June 27 through Monday, July 1 from 11:00 a.m. to 4:00 p.m.
_______________________________________________________________
ACT's Katy Danca Galli underwater photography exhibit closes June 3 (05-27-19)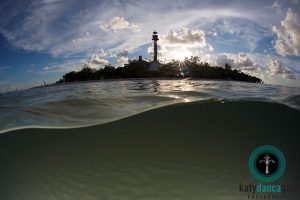 ACT Gallery's exhibition of Katy Danca Galli's underwater photography closes June 3.
A master diver, Galli is former photo editor of Scuba Diving Magazine. As the first female Lee County Resident Artist, her work has been featured with Captains for Clean Water, Bare Sports, Scuba Diving Magazine, Sport Diver Magazine and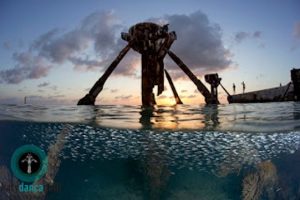 Divephotoguide.com. She has won contests with the Ocean Conservancy, NOAA, World Wildlife Federation, Our World Underwater, and placed first in wide angle with the Florida Skin Divers Association. She is currently working on a 'camp and dive' series dedicated to Florida's waterways.
"Looking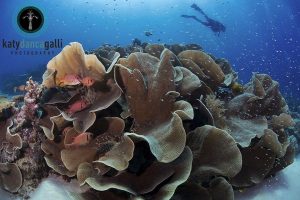 up from the ocean floor, the immense number of possibilities that exist in this silent realm hit me all at once," states Galli in her Artist Statement. "The ocean is a master of none; it can caress you, and then completely destroy you – in the span of a few seconds. I love the extreme yin and yang that exists, and want others to see this in my work, and know this feeling of being both completely out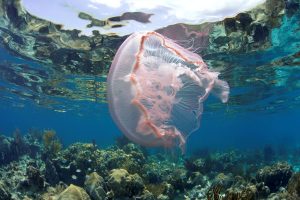 of your element, and then consumed by the greatest love story you'll ever know. This is where I go to seek God, and to share this beguiling and magnificent atmosphere."
Katy credits her mother with creating the predicate for her deep and abiding love of the ocean. When Katy was 10, her mother scrimped and saved up the $150 it cost for her to visit Seacamp in the Florida Keys. It was there that Katy fell in love with the ocean, and she's worked hard ever since to live and breathe by the tide.
_______________________________________________________________________
ACT's White Gallery exhibit of member and volunteer artists work closes June 3 (05-26-19)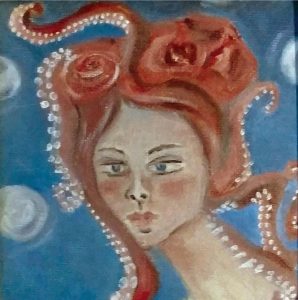 During the month of May, Arts for ACT Gallery is featuring the work of its member and artist volunteers in the White Gallery. Included are works in oil, acrylics, watercolors, mixed media, jewelry furniture and more by Susan Mills, Kate O'Connell, Becky Sandbek, Vic and Candie Delnore, Shah Hadjebi, Tom Breckenridge, Annette Brown, Flo Collins, Barb Mulford, Kim Kraft Beckler and Claudia Goode – 11 artists that volunteer their time to keep Arts for ACT running.
______________________________________________________
Franklin Shops featuring art of Laura Day Robollo in May (05-26-19)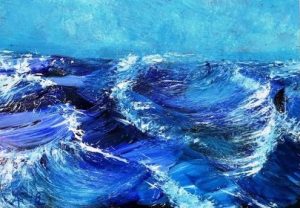 Franklin Shops exhibit o Laura Day Robollo art coming to close. 
Laura has been an artist for more than 40 years with experience in various mediums ranging from watercolors, pastels and oil on canvas to printmaking and even cigar boxes. She is most widely known for acrylic landscapes, particularly ocean scenes. Rebollo's hand painted cigar boxes are not only beautiful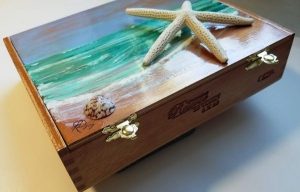 but serve a dual purpose for the collector: as a work of art and a small handy storage space.
Each of her unique boxes is a one of a kind work of art and is sealed with a protective high gloss finish to preserve its beauty. LDR boxes are as individual as the painting, some hand crafted with a style that is similar to a fine piece of furniture.
_______________________________________________________
Magical realist Kevin Sloan goes public with Denver mural (05-25-19)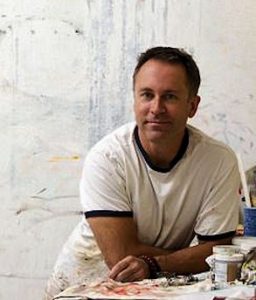 Acrylic artist Kevin Sloan exhibits annually in Naples' Gardner Colby Gallery. A magical realist, his allegorical paintings on canvas depict the intersection of the natural and man-made worlds. Each work is vivid and richly drawn. Sea turtles, whooping cranes, toucans, parrots, fish and larger mammals populate his landscapes. His images are so vivid, so three dimensional, they seem to jump off the canvas and into the room. To say the least, they make quite an impression on everyone who sees his work.
Lots have. Sloan is collected internationally. But he recently had the opportunity to take his work public. It happened when he was contacted by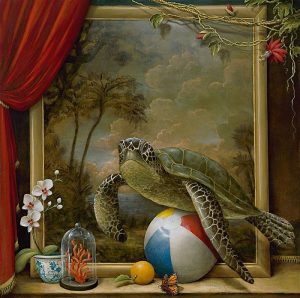 John Grant of Public Art Services.
Grant was representing Continuum Partners, which was in the process of redeveloping the old University Hospital property in Denver. Among the buildings being rehabilitated was a multi-story concrete parking garage with a couple of blank walls just screaming for artwork capable of engaging the surrounding community. Continuum had in mind an eye-popping mural with a naturalist/environmental theme. Grant immediately thought of Kevin Sloan.
Read here for the rest of this story.
____________________________________________________________
Alliance's 'Art Lives Here' billboards going up around Lee County (05-25-19)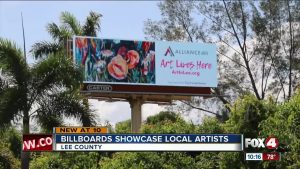 Two billboards are up and running. More are slated to follow. It's part of the Alliance for the Arts' Art Lives Here initiative that's turning digital billboards into public art sites.
The goal is to "bring art to your daily commute or when you are running errands" Alliance Communications Manager Desiree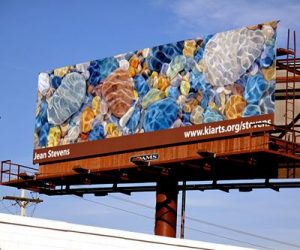 Demolina told the News-Press for an article that ran last week. "You don't have to go to a gallery to enjoy these things or to be inspired. Art is everywhere."
The Alliance is not alone in converting advertising billboard space into museums without walls. For example, New York artists Hank Willis Thomas and Eric Gottesman have been mounting billboard art projects across the United States for more than three years. Last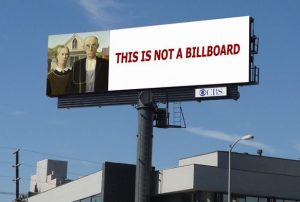 year alone, they appropriated billboards in all 50 states that would have otherwise been used for political advertising in connection with the mid-term elections in order to put artists in the center of public discourse. "People don't just make paintings, music or movies," points out Gottesman, "they shape the systems of the society we live in."
In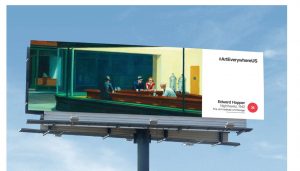 Los Angeles, The Billboard Creative is turning the city into an open-air gallery, showcasing art on billboards at major junctions across the urban landscape, including Sunset & Vine, Beverly & Laurel, and Hollywood & Western.
"We convert billboards into large-scale renditions by a mix of emerging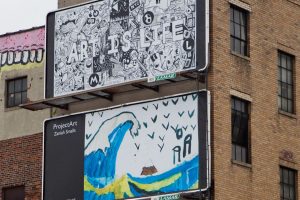 and established artists, among them well-known names such as Ed Ruscha and Jack Pierson, and new faces such as Shannon Rose and Dai Ito," states the non-profit on its website. "The injection of artistic speech into the urban environment offers an occasion for commuters to pause and contemplate. We are invited to reflect, while the artists are encouraged to think critically, re-conceptualizing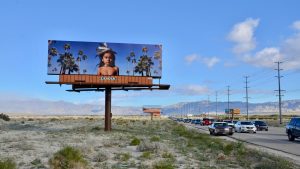 and testing their ideas within the public media space. The Billboard Creative facilitates a cultural exchange, lifting our collective spirit, connecting artists with those who will appreciate their work and giving all art enthusiasts access to works that might otherwise go unseen."
And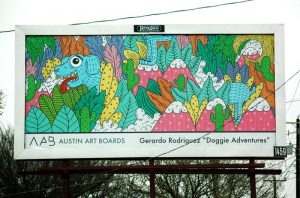 then there's the Billboard Art Project, which is quietly acquiring digital billboards in cities around the country normally used for advertising and repurposing them as roadside galleries. Billboard Art Project spaces carry the impact of the unexpected. Some feature new work created specifically for the billboard on which it appears. Others incorporate pre-existing works that have been adapted to the new-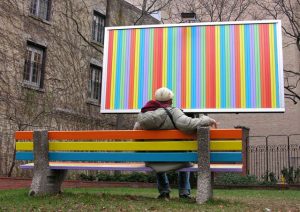 era outdoor digital canvas. In either case, the billboard is re-imagined as a conduit for the dissemination of variety – cultural, philosophical, spiritual, whimsical, striking, and the sublime," notes Francisco Colom, writing for ART.
The Alliance's Art Lives Here initiative actually harkens back to a tradition begun in Fort Myers five years ago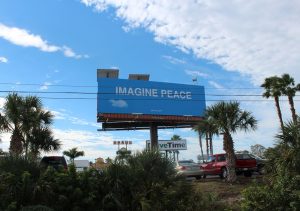 when the Bob Rauschenberg Gallery erected a billboard on the east side of Cleveland Avenue next to Drive Time Used Cars that contained just two words, 12 letters, framed against a clear cerulean blue background just a touch darker than Southwest Florida's blue skies. While the Imagine Peace billboard may have been the town's first art billboard, it wasn't Yoko Ono's first use of the medium to convey a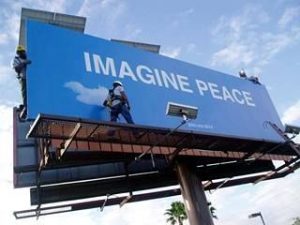 conceptual art message. She and husband John Lennon used billboards in cities around the globe to urge commuters and other passers-by to imagine a world without war "if you want it."
While the mission of Art Lives Here may be more modest, it is no less important. The program seeks to make our community a better place by elevating the caliber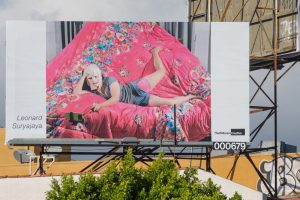 of originality, talent and the culture that exists here. And like all public art, the art billboards will likely achieve a range of ancillary benefits as well, not the least of which is engaging the community in the visual and performing arts programs taking place throughout the county.
For more on the artists participating in Art Lives Here and the advantages to be derived from the Alliance's latest art-based community outreach initiative, please read the article that follows.
__________________________________________
Meet the Alliance's 9 'Art Lives Here' artists (05-25-19)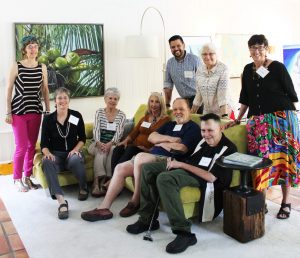 The Alliance for the Arts has embarked upon an initiative to transform billboard space throughout Lee County into public art. Called Art Lives Here, the program seeks to make our community a better place by elevating the caliber of originality, talent and the culture that exists here. From the artists responding to its initial call, the Alliance has chosen nine artists to participate in its inaugural program: David Acevedo, Marne Adler, Pat Collins, Vicki Baker, Cheryl Fausel, Leo Johnson, Charlotte McClatchey,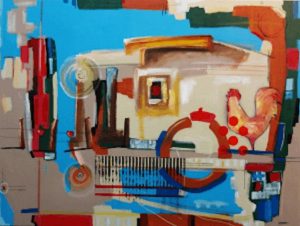 Richard Stanton and Toni Ferrell Sutton!
Acevedo's contribution is an acrylic and spray paint on canvas titled Neighboring Towns. "This painting represents various things to me," remarks Acevedo. "First, the memories of the town where I grew up where blue skies were bright, roosters roamed around and the neighbors all knew each other. It also represents the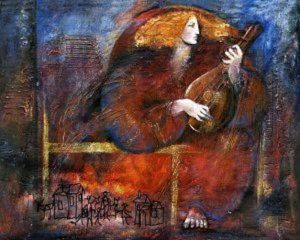 sense of community and togetherness I strive for in my city. I am trying to portray a little sense of togetherness with this piece."
Marne Adler created a multimedia work on canvas titled Night Player. "We are the music makers is an ode by the British poet Arthur William Edgar O'Shaughnessy," Adler explains. "O'Shaughnessy was deeply influenced by French poetry and by the Pre-Raphaelite group.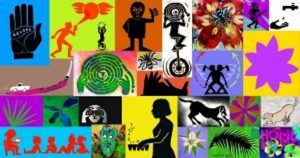 This poem, and my piece, is a tribute to all creative artists in the world."
Pat Collins' work is a digital arrangement titled Image Blocks 2. "I make art using stencils, cut-outs, rubber stamps and more from my expansive collection of imagery inspired by past and present cultural and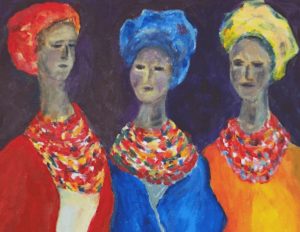 mythological iconography," Pat points out. "Taking elements from my mixed media works, I digitally combine and recombine. It's like rearranging blocks, experimenting with juxtapositions and color for different effect or interpretation."
Vicki Baker created an acrylic work titled Dressed in Color for Art Lives Here. "Last winter, I was reading an article in a magazine about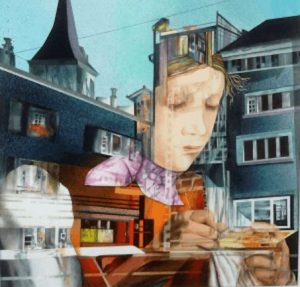 women in Kenya. There was a photograph of two women dressed in colorful clothing and cloth headdresses," says Vicki of her inspiration for the piece. "Both of them were wearing many layered beaded necklaces. That image sparked my imagination for a series of 6 paintings of women wearing multi-layered beaded necklaces and dressed in colorful garments."
Cheryl Fausel painted a watercolor for Art Lives Here.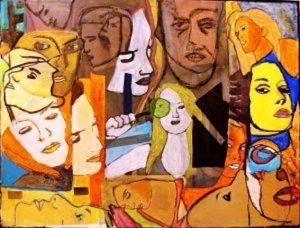 "The painting Reflections of Zurich II is based on a photo reference I took in Zurich, Switzerland," says Cheryl. "The girl in the painting was an advertisement in a bank window, with the buildings in the background reflected. The image is an excerpt from a painting by the Swiss artist Albert Anker."
Leo Johnson's work is Apple of My Eye. "My paintings are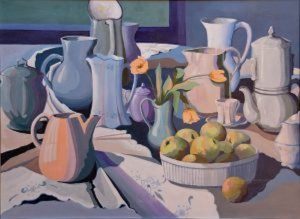 based on people and their interactions with each other through smiles, glances and words," says Leo. "I feel people are the new landscape."
The Collection by Charlotte McClatchey is an acrylic painting. "For me, arranging a still life provides inspiration," Charlotte remarks. "The joy comes through the process of expressing the beauty of the forms on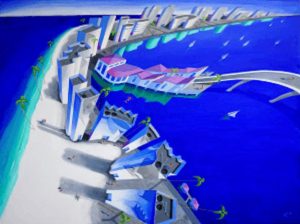 canvas."
Richard Stanton's acrylic on canvas is called Beachwalk. "This painting is part of my Florida Landscape Series that explores a different perspective on the character of intra-coastal beaches. The series is necessarily based on invention as well as observation," Richard points out.
Florida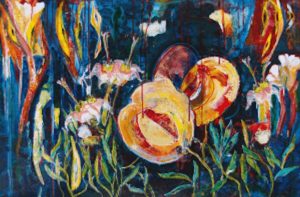 Wildflower: Varnish Leaf by Toni Ferrell Sutton is a mixed media work. "For me, there is no better muse than the wildness of nature. The infinite aspects, simultaneously vast and microscopic, provide challenge enough for a satisfying experience."
In addition to elevating the caliber of originality, talent and the
culture, public art has been shown to produce more than three dozen benefits to the communities in which it is located, including
boosting/strengthening civic pride;
enhancing and defining a city's identity;
reflecting the unique character and history of the city;
burnishing the city's image to the outside world;
creating an important positive impression for visitors; and
encouraging/increasing tourism.
In fact, a landmark survey conducted by the Knight Foundation and Gallup between 2008 and 2011 found that "the aesthetics of a place – its art, parks and green spaces" ranked higher than education, safety and the local economy as "drivers of attachment." And according to a survey conducted in 2016 by Americans for the Arts, 87% of Americans believe arts & culture are important to quality of life.
Art Lives Here lives on. Stay tuned for future calls.
______________________________________________________________
Art Southwest Florida contains profiles of 131 FGCU public artworks (05-25-19)
Art Southwest Florida contains profiles of 131 artworks by more than three dozen artists. Each has been profiled in order to provide students, faculty and area residents, vacationers and visiting parents with detailed information about the works and the artists who rendered them. These profiles include:
There are still more to come, so visit the dropdown under Public Art/FGCU often.
__________________________________________________________________
Camera USA® 2019: National Photography Exhibition premieres May 31 (05-24-19)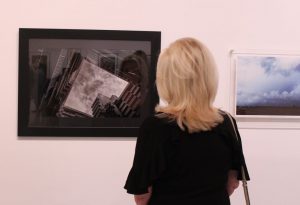 The Naples Art Association started the Camera USA® photography program in 2011. As a nationwide program, it serves as a platform for local photographers to share the spotlight with their peers at the national level. For photographers from other states, Camera USA® provides an opportunity to demonstrate success, exhibit in Southwest Florida and compete for the $5,000 National Photography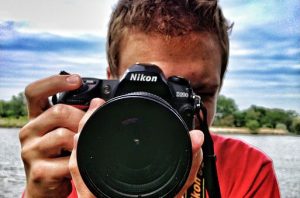 Award. This year's Camera USA exhibition runs June 3 through July 5, 2019. So save the date, but the premiere is at 5:30 on Friday, May 31, with the announcement of this year's National Photography Award winner taking place at 6:30 p.m.
For more information, please visit http://www.naplesart.org or telephone 239-262-6517.
________________________________________________________________
More than 29 years later, Isabella Stewart Gardner heist still unsolved (05-24-19)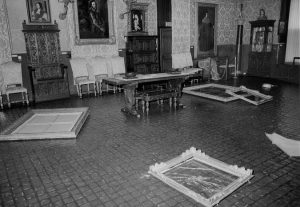 On the night of March 18, 1990, two men dressed as police officers gained access to the Isabella Stewart Gardner Museum in Boston. Once inside, they overpowered and tied up security guards and proceeded to steal 13 objects valued at approximately $500 million. The thieves stole Rembrandt van Rijn's Christ in the Storm on the Sea of Galilee, A Lady and Gentleman in Black and a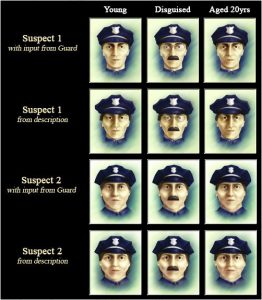 self-portrait, Johannes Vermeer's The Concert, Edouard Manet's Chez Tortoni, five Degas sketches and a landscape by Overt Flinck. While the FBI believes it knows who stole the artworks (both died in 1991 shortly after the theft), none of the stolen artworks has ever been recovered in spite of the FBI's ongoing efforts and the museum's offer of a $10 million reward.
The heist has been the subject of numerous articles, books and documentaries. But the theft is more than an intriguing, high-dollar mystery. It represents an extraordinary loss of important cultural artifacts not only from the Isabella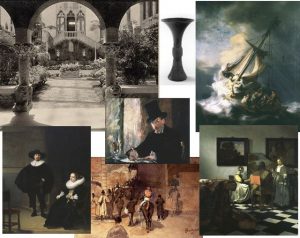 Stewart Gardner Museum's permanent collection, but our national treasury and the art world at large. Rembrandt's Christ in the Storm on the Sea of Galilee is his only known seascape and The Concert if one of only 36 paintings ever rendered by Vermeer. While museums, investigative agencies and auction houses such as Christie's, Sotheby's, Phillips and Bonhams seek at all times to monetize masterworks, the loss of the Isabella Stewart Gardner works is inestimable in terms of lost cultural heritage.
__________________________________________________________
DAAS' Dodd debuting delightful 'Fairy Soiree' portraits in June (05-23-19)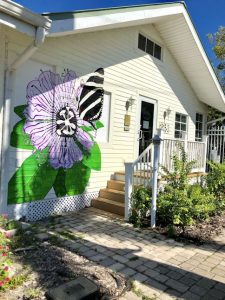 During the month of June, DAAS CO-OP Art Gallery & Gifts is featuring the work of current member Martha Dodd in an exhibition titled "La Soirée Fairy" – during which fairies will be present and guests are encouraged to dress in fairy costumes. In fact, anyone with a set of wings – whether they be fairy, butterfly or feathered – will be awarded a free gift.
In keeping with the theme, Dodd has rendered stunning portraits of fairies for this exhibit. The artist concedes that it is not an easy undertaking to paint an insightful painting of a fantasy creature, such as a fairy. But Dodd pulls off the feat with equanimity. Her characters convey a believability and sincerity that draws the viewer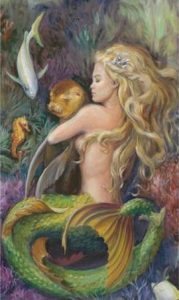 in.
And to add to the festivities, one of Dodd's framed fairy prints will be awarded to whoever wears the best costume.
Dodd is a realist whose genres include fantasy, equestrian and wildlife art, murals and portraiture. Her technique is straightforward. She strives to reveal what is most beautiful about her subject. Equally important to her is conveying to the viewer a sense of "being there."
Martha credits her mother with her artistic origins. Thanks to her mom, she grew up surrounded by an impressive art library that included large volumes of works by Leonardo Da Vinci and Michelangelo. She was swept away
by the enormous murals these masters created. So inspired, she loved to draw and took every art class that was available to her during the school year, and even some summer courses at the College of Wooster, Ohio.
But Martha loved horses even more than she loved art, and instead of pursuing a degree and career in art, she attended the Agricultural Technical Institute majoring in Horse Management for a year before transferring to Ohio State University, where she earned her BS in Animal Science in 1983. She originally intended to become a veterinarian, but instead became a physical therapist for race horses, working for the Bill Haughton Stable in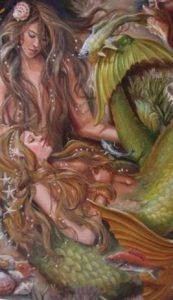 New York, New Jersey, Kentucky and Florida for 5 years.
While working at the track, Martha found time to draw the horses surrounding her, and it was not long before co- workers and horse owners were commissioning her to do portraits of their horses. She had the benefit of visiting the art museums in New York City. She also met equine artist William Orr, who shared with her some tips on painting.
In 1987, Martha decided to change careers,. She found a job working for an art studio in Florida, and began painting full time. Five years later, she went out on her own.
In the interim, Martha found that she could not only paint horses, but birds, fish and humans as well. To her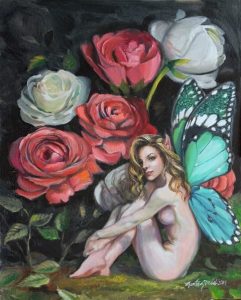 delight, she also discovered that there existed a huge demand for murals, and that has been the mainstay of her work for many years.
These days, the artist is kept busy with commissioned work, as well as creating new paintings for exhibitions. Although she's been perfecting her craft full-time for more than three decades, she continues to study and learn. Her summers are spent in Europe, where she creates works of art while studying the works of the masters. She regularly attends workshops from nationally-acclaimed artists, including Douglas Flynt and Steven Assael. And as is true with many experienced artists, Dodd is not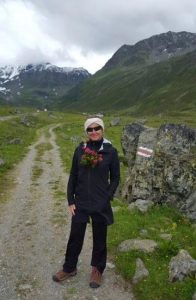 interested in pursuing awards. The great demand for her work is testament to her accomplishments as a successful artist.
The opening reception for "La Soirée Fairy" will be helad from 6:00-10:00 p.m. on Friday, June 7 in conjunction with Fort Myers Art Walk. The exhibition will be on display through June 29.
DAAS CO-OP is located in Unit 3 at 1815 Fowler Street, Fort Myers, FL 33901. New business hours are 10:00 a.m. to 4:00 p.m. Tuesday to Saturday and from 10:00 a.m. to 3:00 p.m. on the first Sunday of every month. More information can be found at daascoop.com or by calling 239-590-8645.
________________________________________________________________
Fort Lauderdale's New River Fine Art Jansen exhibition closes May 25 (05-23-19)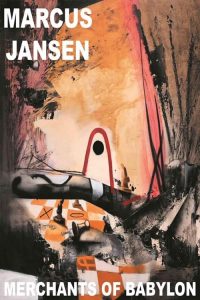 Marcus Jansen's work is being featured by New River Fine Art in Fort Lauderdale in an exhibit titled Merchants of Babylon. The show, which includes 20 works of art created between 2011 – 2019, closes on May 25.
"Jansen has been called the cartographer of conflict," states New River owner Lisa Burgess. "His colors, textures and calligraphic marks imbue an intensity and power to his large-scale paintings that render the human figures seen in many of his works as humbled within the chaos of the surrounding imagery."
Jansen is no stranger to this type of chaos.
A veteran of Desert Storm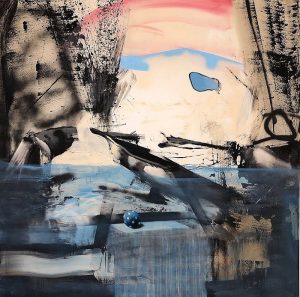 and Desert Shield, he has seen the ravages of war first hand and the experience left an indelible mark on the artist and informs his work.
"Jansen uses light and color to convey a sense of hope in his post-apocalyptic style landscapes," Gallery Director Wissam Elghoul told members of Fort Myers' Public Art Committee when they took time away from the Florida Association of Public Art Professionals' annual conference May 10-14 to take in the show.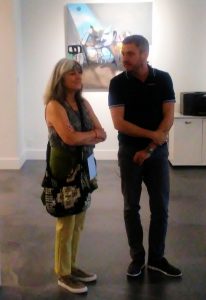 "Despite the turmoil, there is a sense that humanity may prevail," Elghoul added optimistically.
"A painters conflict first takes place from within," notes Jansen. "What you see on canvas is the outcome of decisions based on an intellectual and visual combat. I don't see my work as political paintings, rather as critical social commentary opposed to political rhetoric."
Political or not, critics are hailing Marcus Jansen as one of the most important American painters of our generation. His socially-critical paintings and installations have been exhibited in museums in Italy, Germany and the United States.
Jansen's art is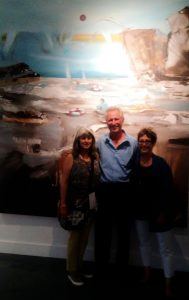 rooted in the New York Graffiti scene, but years spent in Germany garnered influence from the Expressionists to develop a language that speaks of a world in turmoil with isolation, threat, war, surveillance and greed in competition with innocence, hope and humanity.
A full color exhibition catalog is available. 
New River Fine Art is located at 822 East Las Olas Blvd in Ft. Lauderdale, FL. For more information, to schedule interviews with the artist or high-resolution images, please contact Lisa Burgess at (954) 524-2100 or lisa@newriverfineart.com or visit www.newriverfineart.com.
_____________________________________________________________
'John Cage & Other Works' on exhibit at Bob Rauschenberg Gallery (05-23-19)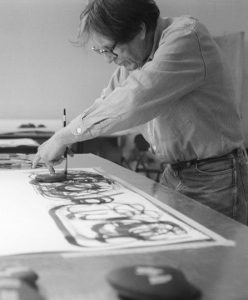 Florida SouthWestern State College is continuing its celebration of the Bob Rauschenberg Gallery's 40th anniversary with JOHN CAGE: STEPS & Other Works from the Mountain Lake Workshop. The exhibition runs through July 27.
The exhibition features the world premiere of New River Rocks & Washes, one of the last two paintings Cage completed two years prior to his death in 1992. The painting was sold before it was ever exhibited to a private collector with a large and prestigious inventory of artworks. As it happened, the painting arrived, it was placed in storage still in its crate
without being assigned an acquisition number. To make matters worse, the crate was mislabeled and, over the ensuing 27 years, the crate containing the 8.5 foot tall by 28 foot long painting was moved from one storage facility to another before coming to rest in Deer Park, New York.
And that's where it was when Ray Kass and Bob Rauschenberg Gallery Director Jade Dellinger started working on a planned exhibit of Cage's collaborations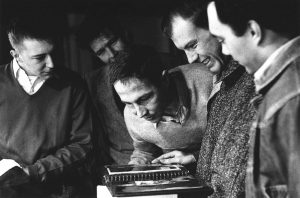 with Kass, who had been present when Cage and a team of assistants created it at the Mountain Lake Workshop in 1990. Kass and Dellinger contacted the collector's chief curator hoping to include the painting in the show. The curator ultimately found the mislabeled crate only a few weeks prior to opening of the Rauschenberg Gallery opening.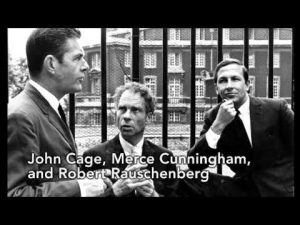 Cage was a renowned composer, music theorist, author and artist revered as a pioneer of indeterminacy in music, electroacoustic music, and non-standard use of musical instruments. He was also a leading voice of the post-war avant-garde. Bob Rauschenberg referred to Cage as his "spiritual and philosophical soul-mate."
One of the most influential American composers of the 20th century,
Cage is perhaps best known for his 1952 composition "4'33", a piece instructing the performer not to play their instrument during three timed movements over four minutes and thirty-three seconds. Cage proposed the revolutionary concepts that any sound may constitute music and that there is no such thing as silence.
A close collaborator through the 1950's and '60's while working with the Merce Cunningham Dance Company, Bob Rauschenberg later wrote, "John Cage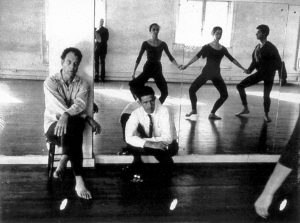 [and] his work in every medium is a reward to all [and] will be for centuries." The innocence and challenging audacity of his unique attitude, according to Rauschenberg, "created a labyrinth with no exit."
Often applying chance-based aleatoric operations to his compositional process in an effort to eliminate aesthetic decisions, John Cage's forays into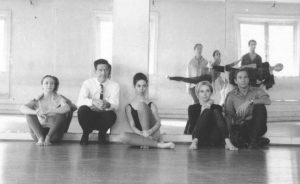 visual art practice – perhaps best represented by his experimentation at the Mountain Lake Workshop – employed many of the same techniques. As collaborator, friend and Mountain Lake Workshop founder Ray Kass reflects, "Cage didn't adhere to accepted aesthetic rules and patterns for the construction of works of art; he deliberately eschewed the idea that art is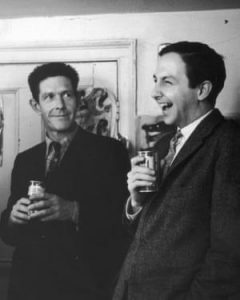 created solely through personal taste manipulating elements of visual form."
As Executive Director of the John Cage Trust at Bard College Dr. Laura Kuhn succinctly notes, "One cannot overstate the importance of John Cage and his work, and its impact on 20th century music, art, and culture."
This exhibition is made possible through a partnership with the Longwood Center for Visual Art at Longwood University and presents excerpts from "Rural Avant-Garde: The Mountain Lake Experience" (an exhibition funded in part by the National Endowment for the Arts).
_____________________________________________________
Alliance CHANGE program's next class is on playwriting (05-22-19)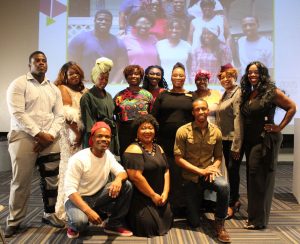 The Alliance for the Arts CHANGE Program's next class is on playwriting. It begins in June.
Playwriting is an 8 week course designed to introduce the fundamentals of playwriting to aspiring minority writers; equipping them with the tools to create rich characters, explore their own histories and develop stories that are relevant, inspirational and reflective of their own unique voices.
Students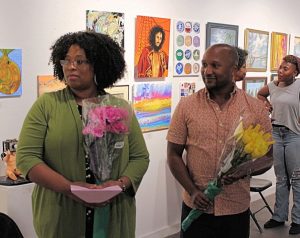 will incorporate their newfound playwriting tools to write a 10 minute play and work with actors to see their creations come to life in a staged reading that will be held at 6:00 p.m. on Saturday, July 27. Family and friends are invited to attend the special reading of the student's plays.
The class:
runs Saturdays from June 1 through July 27 from 12:30 – 3:00 p.m.;
costs $20 for Alliance members or $25 for future members;
will be taught at the Alliance for the Arts, which is located at 10091 McGregor Blvd. Fort Myers, FL 33919; and
will be instructed by Derek Lively.
Derek is professional actor and has appeared in productions ranging from Shakespeare to Eugene O'Neill and has worked in regional theaters and Off-Broadway, including The Public Theater and LaMama E.T.C. His solo show, Welcome To My Soul, which he wrote and performed, led to a first-look development deal with NBC (Universal). He is a proud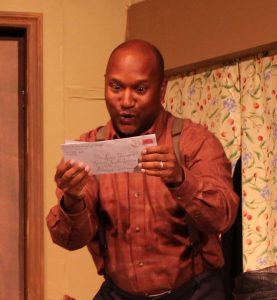 member of Actors' Equity Association and SAG-AFTRA.
Registration is required and can be completed online at ArtInLee.org/Education or by calling 239-939-2787.
The CHANGE Program (Communities Harnessing the Arts to Nurture and Grow Equity) provides performance opportunities and a platform to convene dialogue on social issues that challenge our community through creative, artistic expression.
This project is supported in part by the Southwest Florida Community Foundation and the Florida Humanities Council. For more information on this program, visit ArtInLee.org/CHANGE.
_______________________________________________________
Spotlight on CHANGE 'Playwriting' instructor Derek Lively (05-22-19)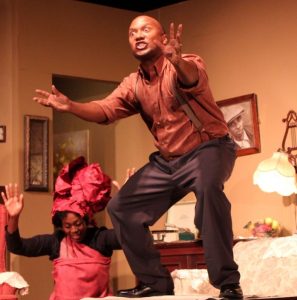 Derek Lively is an actor, playwright and screenwriter. And he will also be teaching the CHANGE program's next class, which will be offered on the topic of playwriting. Since relocating to Fort Myers from New York City in 2015, Lively has starred as Frederick Douglass in The Agitators, Walter Lee Younger in Theatre Conspiracy at the Alliance's production of Lorraine Hanberry's A Raisin in the Sun following a strong performance as Canewell in August Wilson's Seven Guitars. He's a member in good standing in both the Actor's Equity Association and SAG-AFTRA, and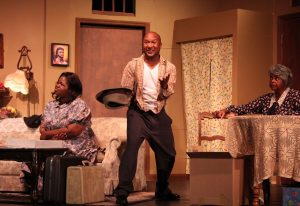 you can access all of Derek's credits by viewing his profile here. You can also read a fascinating interview that Derek gave Art Southwest Florida in May of 2018 that will provide even more and deeper insights than his Art Southwest Florida profile.
______________________________________________________________
Little Shop of Horrors' opens May 16 on Broadway Palm main stage (05-22-19)

Little Shop of Horrors is on stage at Broadway Palm Dinner Theatre through June 15.
A deviously delicious Broadway and Hollywood sci-fi, Little Shop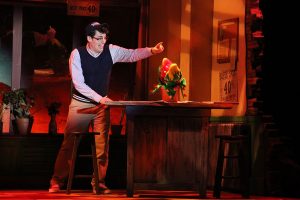 of Horrors is one of the longest running Off Broadway shows in history, devouring the hearts of theater- goers for decades. In it, meek floral assistant Seymour stumbles across a new breed of plant that he names "Audrey II" – after his co-worker (and crush!). She's a sassy, R&B-singing plant who promises everlasting fame and fortune, as long as Seymour keeps feeding her its special diet.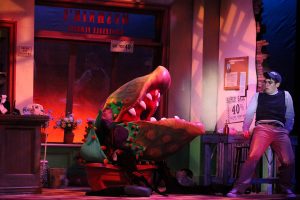 Between bites, Audrey II brings down the house with music composed by Alan Menken (whose credits also include Disney's Beauty and the Beast, The Little Mermaid, Newsies and Aladdin) in the style 1960s rock and roll, doo-wop and Motown including the well-known "Suddenly, Seymour," "Somewhere That's Green" and the title song "Little Shop of Horrors."
Little Shop
of Horrors is directed and choreographed by Amy Marie McCleary who most recently directed and choreographed Saturday Night Fever (which holds the distinction of being the second highest attended show in Broadway Palm's history). Her choreography can also be seen on the international tour of The Wizard of Oz, which is currently performing in China.
The cast includes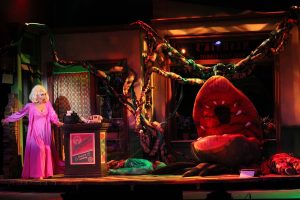 Will Callahan, Cantrella Canady, Erica Clare, Sami Doherty, Richie Dupkin, Jayar Garcia, Frank Hughes, Victor Legarreta, Justin Marriel Boyd, Victoria Morris, Tempestt Perrin and Rob Summers.
Performances are Wednesday through Sunday evenings with selected matinees. Tickets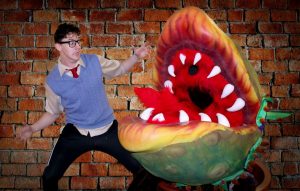 are $45 to $70 with group prices available. Tickets are now on sale and can be reserved by calling (239) 278-4422, visiting BroadwayPalm.com or in person at 1380 Colonial Boulevard in Fort Myers.
___________________________________________________________________
Spotlight on 'Little Shop' director and choreographer Amy Marie McCleary (05-22-19)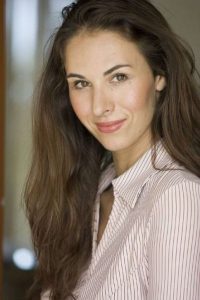 Amy Marie McCleary is a multi-faceted musical theater artist who works as an actor, director and choreographer in local and regional theater.
McCleary started in theater as a chorus girl. Since then, she has played some pretty prestigious roles: Velma Kelly in Chicago, Velma Von Tussle in Hairspray, Lexie in The Dixie Swim Club, Lola in Damn Yankees, Bombalurina in CATS, Gladys in The Pajama Game, Tiger Lily/Mrs. Darling in Peter Pan, Lily St. Regis in Annie and Sheila in A Chorus Line, to name a few. Her reprisal of Velma Kelly in Prather Entertainment's 2018 production of Chicago earned her a well-deserved Broadway World Best Actress in a Musical Award.
Go here for the rest of Amy's impressive profile.
____________________________________________________
Spotlight on 'Little Shop of Horrors' actor Sami Doherty (05-22-19)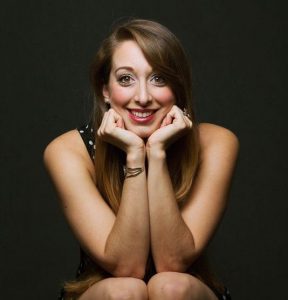 Sami Doherty is a local actor, singer, dancer and dance instructor. She is currently appearing in Little Shop of Horrors on the Broadway Palm Dinner Theatre main stage.
Doherty's credits include Guys & Dolls, Clue the Musical (where she performed a dramatic Spanish two-step that would have the ten paddles coming out on Dancing with the Stars), Yeston & Kopit's Phantom (where she played the roles of Florence and the Phantom's tragic mother Belladova), Irving Berlin's White Christmas (as Dogface Haynes' little sister, Judy), Anything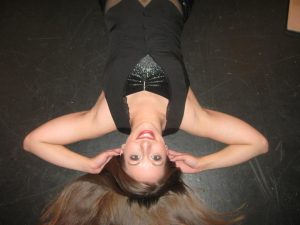 Goes, Evita, The Wizard of Oz, Sister Act, Show Boat, Footloose, West Side Story, Joseph and the Amazing Technicolor Dreamcoat, Les Miserables, Shrek, Into the Woods (as Repunzel), A Wonderful Life (as Violet) and CATS (as Jennyanydots). But it was after she appeared as part of the ensemble in Cinderella in 2013 that she took her acting career to a whole new level.
Read the rest of Sami's profile here.
_______________________________________________________
Spotlight on 'Little Shop of Horrors' actor Cantrella Canady (05-22-19)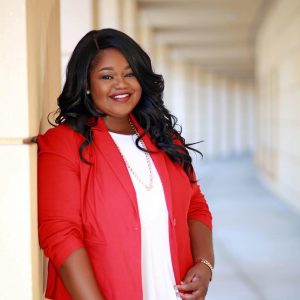 Cantrella Canady is one of the best young actors in Southwest Florida today. She appears regularly in productions at Theatre Conspiracy at the Alliance for the Arts, Laboratory Theater of Florida, Cultural Park Theatre, The Naples Players and Broadway Palm Dinner Theatre.
Among her impressive credits are roles as Lala Lamazing Grace in George Wolfe's edgy The Colored Museum, Ruth Younger in Lorraine Hansberry's A Raisin in the Sun (for which she received a Broadway World Best Actress nomination),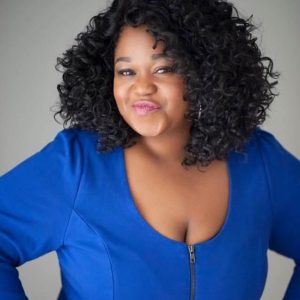 Ruby in August Wilson's Seven Guitars, Ma Rainey in August Wilson's Ma Rainey's Black Bottom, Lady Fidget in The Country Wife, Claudia in The Bluest Eye, Quincy/Bart Simpson in Mr. Burns: A Post Electric Play and Lady in Green in For Colored Girls Who Have Considered Suicide When the Rainbow is Enuf.
See the rest of Cantrella Canady's profile here.
_______________________________________________________________
Broadway Palm Children's Theatre presenting 'Jack and the Beanstalk' (05-22-19)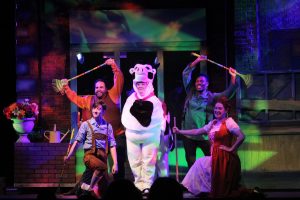 This summer, Broadway Palm Children's Theatre presents Jack and the Beanstalk playing May 24, 25, 29, 31 and June 2, 6, 7, 8 and 14, 2019. This splendid spin on the classic tale tells the story of a young boy, Jack, who goes into town to sell his cow for money, but instead trades the cow for magic beans. He plants the beans and to his surprise, they grow a tall stalk. Join us as Jack discovers what's at the top of this GIANT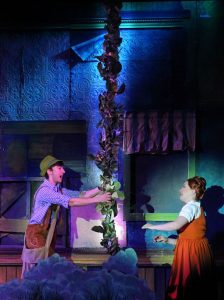 beanstalk.
Broadway Palm Children's Theatre presents full-scale productions that are great for all ages. All performances begin with a buffet at Noon and the show is at 1:00 p.m. The chef's special buffet includes children's favorites like pizza, chicken fingers, French fries, pasta and more. Ticket prices for the buffet and the show are only $19 for all ages. Group rates are available for parties of 20 or more. Tickets are now on sale and can be reserved by calling (239) 278-4422, by visiting www.BroadwayPalm.com, or by stopping by the box office at 1380 Colonial Boulevard in Fort Myers.
_____________________________________________________
Next up at Off Broadway Palm is 'Sex Please We're Sixty' (05-22-19)

Next up in Broadway Palm's intimate Off-Broadway venue is Six Please We're Sixty. As the title suggests, the play is a farce that pokes fun at the libidos and trysts of men and women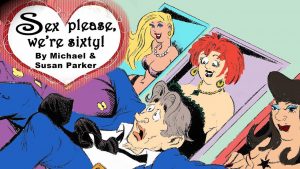 over a certain age. The script is chock full of naughty jokes, unseemly inferences, brazen bawdiness and unapologetic raunchiness that combine to produce a side-splitting afternoon or evening of entertainment.
The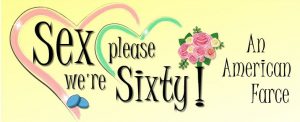 setting is the Rose Cottage Bed & Breakfast in New England. Her owner, Mrs. Stancliffe, enjoys considerable repeat business, particularly among her female clientele. Stancliffe's next-door neighbor, Bud, takes credit for the inn's popularity among the cottage's female guests,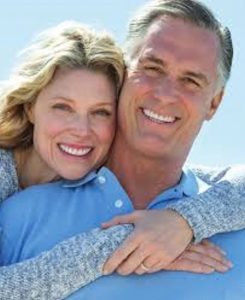 harboring the belief that they come year after year primarily to hook up with him. An unabashed lothario, Bud thinks he can literally charm the socks (and clothes) off any woman.
Stancliffe's other neighbor, Henry, is a chemist who's developed an untested pharmaceutical called Venusia that does for post-menopausal women what Viagra does for men. The hijinx start when Bud takes the wrong little blue pill, turning from Bud the Stud into Bud the Dud much to the delight of Rose Cottage's current guests, Victoria Ambrose, Hillary Hudson, and Charmaine Beauregard, who turn the tables on Bud and
Henry in a hysterical attempt to show the men who is the smarter sex.
Written by Michael and Susan Parker, Sex Please We're Sixty was first produced on October 17, 2008 by Play With Your Food Productions in Hemet, California. English born and raised, the Parkers write plays that combine familiar British farce with standard American settings to produce stereotypical sex comedies with over-the-top nonsensical plotlines. Some of their other works include The Sensuous Senator, There's a Burglar in My Bed and Whose Wives Are They Anyway?
Sex Please We're Sixty opens June 6 and runs through July 21.
_______________________________________________________________________
Broadway Palm brings interactive murder mystery to Royal Palm Dining Room (05-22-19)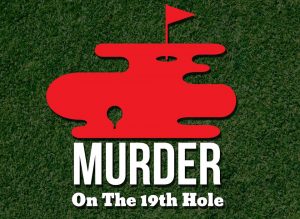 Taking place in the Royal Palm Dining Room now through June 2 is Murder On The 19th Hole, a special engagement that Broadway Palm is just dying to have you see. This interactive murder mystery comedy comes by popular demand after last year's sold-out run of Murder In Paradise.
It's 1976 and you're invited to be a special guest at the 50th Annual Celebration of Florida's #1 Golfing Destination, Magnus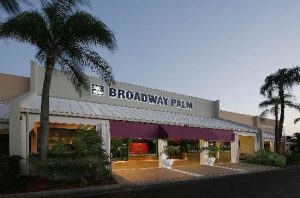 Prime. You'll be given a new identity when you arrive at this very prestigious celebration. Throughout the evening, many curious events will occur, including (gasp!) a murder, and we need you to figure out "whodunit." You can become part of the action or just sit back and enjoy the fun and delicious dinner, served to your table by the suspects, of course. Bring your imagination and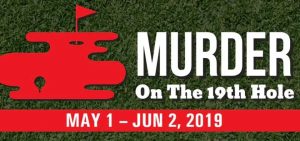 appetite to Murder On The 19th Hole – it's comedy to die for!!
Performances are Wednesday through Sunday evenings with the dinner and show beginning promptly at 6:30 p.m. Tickets are $55 per person and can be re­served by calling (239) 278-4422, visiting BroadwayPalm.com or in person at 1380 Colonial Boulevard in Fort Myers.
_____________________________________________________________
'Funny Shorts LIVE!' coming to Center for Performing Arts in June (05-22-19)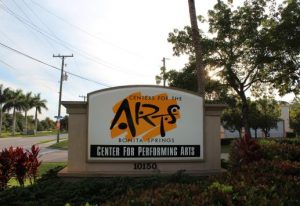 Five. Count them. Five plays will be performed at the Center for Performing Arts on two days in June during "Funny Shorts LIVE!" And as the name intimates, not only will each play be funny, it will be short – with a run time of approximately 10 minutes. Equally important, at least one will have been written by a local playwright. And to add to the festivities, CFABS encourages (although isn't requiring) you to wear your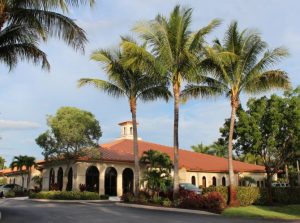 own funny shorts to the show.
Performances will be at 7:00 p.m. on Friday, June 14 and 2:00 p.m. on Saturday, June 15 at the Center for Performing Arts, which is located at 10150 Bonita Beach Road, Bonita Springs, FL 34135.
Tickets are just $20 General Admission.
______________________________
Florida Rep's year in review (05-22-19)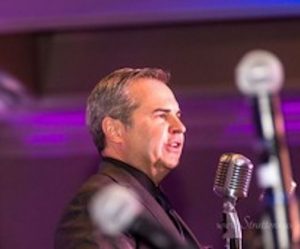 Florida Repertory Theatre's 2018-2019 season is coming to a close in May after a record-breaking 21st year. According to Artistic Director Greg Longenhagen, over 14,000 people attended Million Dollar Quartet, breaking all previous box office records, and Native Gardens is playing to sold-out houses and is on an extended late-season run through May 19.
In addition to its successes onstage, Florida Rep's fundraising gala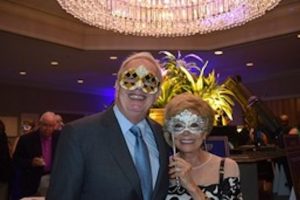 raised more money and saw more attendance than any in the company's history. Held April 13, the Renaissance-themed gala raised $545,950 and boasted 260 guests and 60 staff and artists in attendance. The event included live and silent auctions and featured performances from the company's Education Department, a cabaret with guest and ensemble artists, and a special appearance from the cast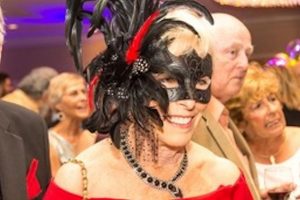 of Million Dollar Quartet. The company is already planning the 2020 event, to be held at the Sanibel Harbour Marriott Resort & Spa on March 28.
"We are having an incredible 21st year," said Longenhagen. "Following on the heels of the extraordinary success of Million Dollar Quartet, which introduced 30-50 first-time attendees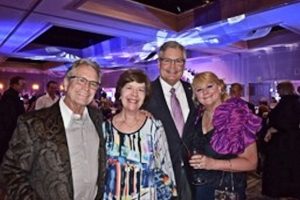 to Florida Rep at each performance, we extended the run of Native Gardens, one of the funniest and hottest new plays in America, currently playing in the ArtStage Studio Theatre. Add to that the unprecedented generosity we saw from our donors at the gala made this a season of milestones, and we're proud to share that success with our closest supporters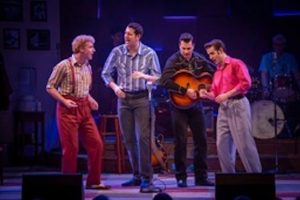 and with the entire community."
Due to overwhelming demand for tickets, Florida Rep also extended the runs of Becoming Dr. Ruth in October as well as Tenderly: The Rosemary Clooney Musical and Noël Coward's Hay Fever in early 2019. Also this season, noted sex therapist and holocaust survivor, 90-year-old Dr. Ruth K. Westheimer, visited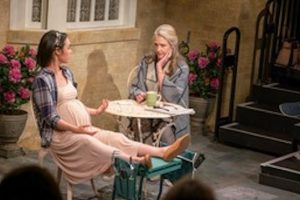 Florida Rep and participated in talkbacks, book signings, and enrichment events in conjunction with the season opener, Becoming Dr. Ruth.
Florida Rep produced the regional premiere of Damascus by Bennett Fisher in November, and played the psychological thriller to a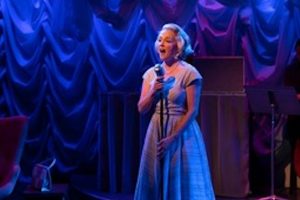 sold-out five week run. The theatre's first outing with August Wilson's American Century Cycle, the Pulitzer Prize-winning Fences, garnered critical acclaim in January when Charles Runnells of The News-Press called the production "a powerful night of theatre full of terrific performances, poetic dialogue and rich symbolism."
Florida Rep's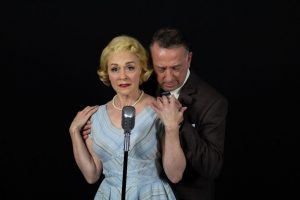 season continued into the summer with its 6th Annual Playlab Festival of New Works, held May 9-12, also in the ArtStage Studio Theatre. The PlayLab is an action-packed weekend festival where six new plays are read by a cast of professional actors and directors with talkbacks following each performance. The festival also included a performance of the world-premiere play for young audiences, Refugee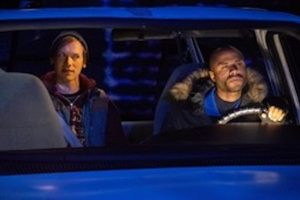 by Eric Coble, on May 12, and a keynote address by Susan Gurman, one of the country's leading literary agents."
Florida Rep's 2019-2020 season begins on September 24 with Always…Patsy Cline, a heartfelt celebration of the most popular female country singer in recording history. The upcoming season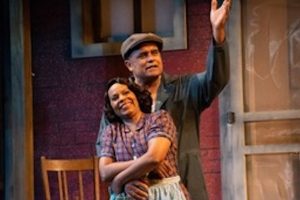 includes eight more productions lined up in the Historic Arcade Theatre and ArtStage Studio Theatres, and boasts rib-tickling comedies, electrifying thrillers, powerful dramas, a National New Play Network Rolling World Premiere, and a Tony-winning BEST Musical.
For information on the PlayLab and current and upcoming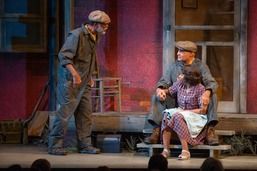 seasons, visit www.FloridaRep.org or call the box office at 239-332-4488.
Florida Repertory Theatre is a fully professional regional theatre that works with an ensemble of actors, directors, and designers on contract with Actors Equity Association, the Society of Stage Directors and Choreographers, and United Scenic Artists. Florida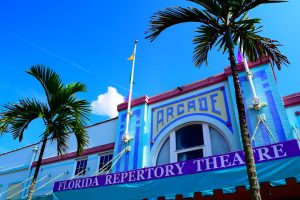 Rep is one of Lee County and Southwest Florida's most important cultural and educational institutions, has been named "Best Performing Arts Group" numerous times by Gulfshore Life Magazine and Florida Weekly, and its works have been lauded nine times by The Wall Street Journal's drama critic and bestselling author, Terry Teachout, as "one of America's top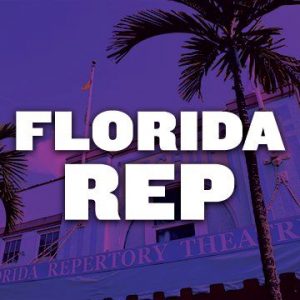 repertory companies."
Florida Repertory Theatre performs in the Historic Arcade Theatre and the ArtStage Studio Theatre on Bay St. between Jackson & Hendry in the Fort Myers River District. Visit Florida Rep online at www.FloridaRep.org, and by following the company on Facebook, Twitter, Instagram, and YouTube.
_____________________________________________________
One more audition scheduled for Lab's 2019-2020 season (05-22-19)

Lab Theater will hold its second and final audition for its 2019-2020 season on June 8. Those auditioning for straight plays should come between 1:00 and 4:00 p.m. and those interested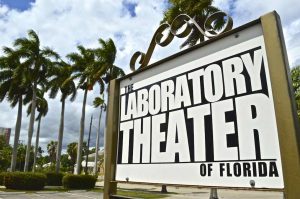 in auditioning for Lab's musical should appear between 4:00 and 6:00 p.m.
To audition, come with a humorous and/or dramatic monologue not to exceed 90 seconds each. Actors will be seen on a first-come, first-served basis. Actors without monologues may select one that The Lab will have on offer in the lobby. Actors who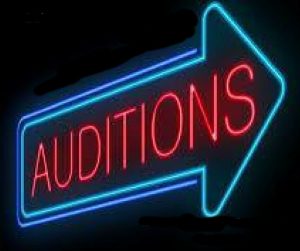 are not available on either of the audition dates may send a video audition to director@laboratorytheaterflorida.com. Callbacks will be by invitation.
The shows are:
DMV, August 2019
The Crucible, Sep-Oct 2019
Sex Tips for Straight Women from a Gay Man, Oct-Nov 2019
Let Nothing You Dismay, Dec 2019
Death of a Streetcar Named Virginia Woolf, Jan-Feb 2020
How to Transcend a Happy Marriage, Feb-Mar 2020
In the Heights, Mar-Apr 2020
Kehilla, Apr 2020.
More on the roles can be found on The Lab's website and on its Facebook page.
______________________________________________________________
'Legend of Georgia McBride' navigates the struggles of self-discovery (05-22-19)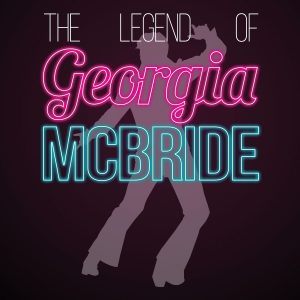 Keeping with the tradition of bringing fresh and edgy theater to Southwest Florida, Laboratory Theater of Florida will premiere Matthew Lopez's The Legend of Georgia McBride in June.
If you loved Whatever Happened to Baby Jane: A Parody of the Horror and Hush Up Sweet Charlotte, you won't want to miss The Legend of Georgia McBride. Full of sass, good spirits and catty humor (in the words of The New York Times), this show-stopping, hilariously-outrageous comedy follows a young Elvis impersonator who's barely eking out a living.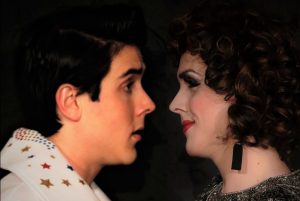 Things go from bad to worse when first he finds out that his wife is pregnant ("If my best isn't good enough for one, how could it be good enough for two.") and then he gets fired from the run-down Florida bar where he's been working. But in true storybook fashion, he is transformed one night by some unlikely new friends and rehired as a lip-synching drag queen – replete with music and sparkly costumes galore.
The remainder of this advance is here.
And go here for play dates, times and ticket information.
_______________________________________________________________
Improv returns to The Lab May 4 with Scared Scriptless Comedy Lab (05-22-19)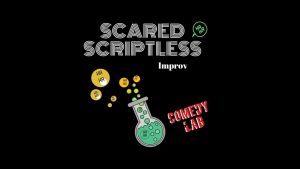 On the heels of its amazing Lab Theater opening in May, Scared Scriptless Comedy Lab will return to the "scene of the crime" on Saturday, June 1 at 7:00 p.m. with a night of hilarious antics, musical comedy, and on-the-spot jokes. Every facet of the uproariously improvised show is based on audience suggestions. With years of experience performing,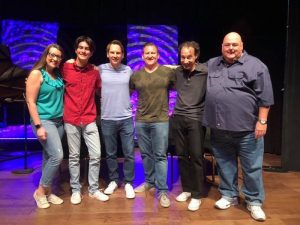 Scared Scriptless Comedy Lab delivers a side-splitting, one-of-a-kind show every time.
Formerly Bonita City Improv, this troupe of talented performers offers a unique mixture of both short and long form improv, creating an entertaining evening of family-friendly laughter that is fast-paced, musical, and completely improvised. While no two shows are the same, they are always packed with hysterically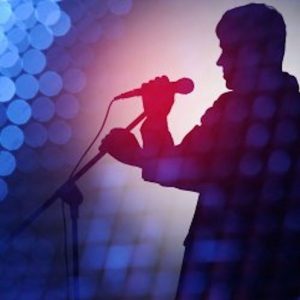 funny songs, sketches, and jokes created instantaneously based on your suggestions. For the more adventurous, there are occasional opportunities to join the cast on stage!
Scared Scriptless is composed of Leigh Shein, Nick Hernandez, Kea McElfresh, Bill Owens and Andrew Florance.
Chicagoan, Leigh Shein took his first improv class with Second City in 1979 and has since studied and worked all over the world. He was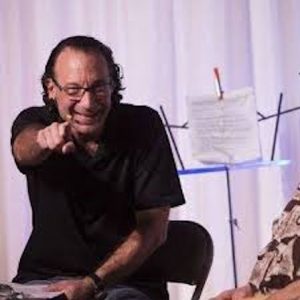 a founding member of Bay Area Improv Theater and currently directs and hosts Harry's Senior Moment. In addition to Scared Scriptless Comedy Lab, Leigh is also a member of Gene Pool Party, an improv group of dads and their daughters. He teaches improv to all ages including kids with Autism Spectrum Disorders.
Nick Hernandez has been doing improv for 4 years. He has been in many productions in various theaters. He is currently in college studying to be a sound engineer for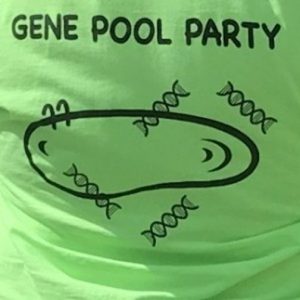 theater and artist performances. He is glad to now be a part of this improv group.
Kea "Mac" McElfresh has been with Scared Scriptless Comedy Lab for nearly two years. As a Miami Improv Member of "Impromedy", she was glad to finally find an improv family in Fort Myers. Mac is currently teaching theatre at Estero High School and serves the community as District VI Jr. Thespian Chair. She brings a wealth of knowledge and crazy characters to the stage.
Bill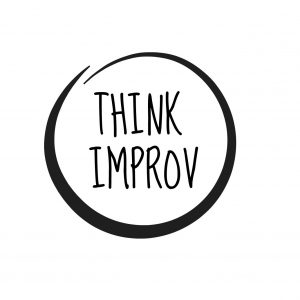 Owens has the privilege of performing with fellow cast members, Steve Cobb, Leigh Shein and Kea McElfresh in the local improv troupes Scared Scriptless Comedy Lab and Gene Pool Party. He was also a member of Harry's Senior Moment and Dueling Swords. Bill's passion for improvisation began only three years ago when his determined kids persuaded him to get out of his comfort zone and take an improv class. When not making a fool of himself on the improv stage, Bill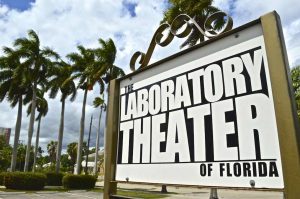 practices law as a business and real estate attorney.
Andrew Florance was born in Tucson, AZ in the back of the O.K. Corral. After escaping from his crib for the 6th time he started traveling with a comedy troupe of babies. They traveled through Georgia, South Carolina, Pennsylvania, and Ohio, before ending up in Florida. When he grew too old for the Crying Laughing baby troupe he traveled the U.S. and Europe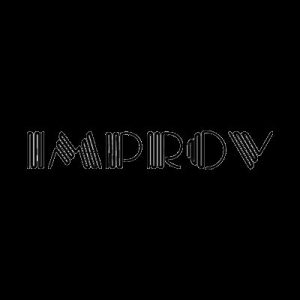 to perfect his comedic skills in the corporate world, making jokes at the office level until he found Scared Scriptless Comedy Lab. He's been performing with Scared Scriptless Comedy Lab happily ever after.
Individual Tickets are $15 per person and are available at www.LaboratoryTheaterFlorida.com or by calling (239)218-0481. The theater is located in the River District of Fort Myers at 1634 Woodford Ave., Fort Myers, FL 33901.
___________________________________________________
'Rumors' opening at New Phoenix Theatre on June 13 (05-22-19)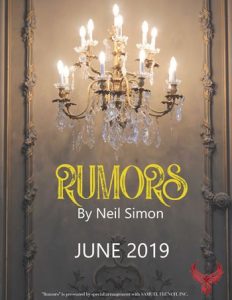 At a large, tastefully-appointed Sneden's Landing townhouse, the Deputy Mayor of New York has just shot himself. Though only a flesh wound, four couples are about to experience a severe attack of Farce. Fathering for their tenth wedding anniversary, the host lies bleeding in the other room, and his wife is nowhere in sight. His lawyer, Ken, and wife, Chris, must get "the story" straight before the other guests arrive. As the confusion and mis-communication mounts, the evening spins off into classic farcical hilarity. This is Rumors, New Phoenix Theatre's next production, directed by Scott Carpenter. Rumors opens June 13. Read here for play dates, times and ticket information.
______________________________________________
Spotlight on 'Rumors' director Scott Carpenter (05-22-19)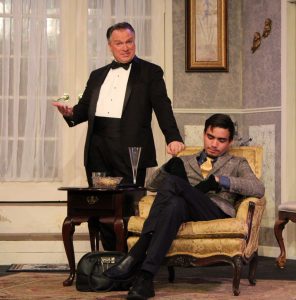 Scott Carpenter is an actor and director who lives in Cape Coral, Florida.
Scott was last on stage in New Phoenix Theatre's production of La Cage aux Folles. His other acting credits include It's Only a Play (which he also co-directed), Play On! (Lab Theater), Theatre Conspiracy's production of Moises Kaufman's 33 Variations, Gore Vidal's The Best Man (Lab Theater), Yasmina Reza's Art (Lab Theater), Cabaret (Lab Theater), Who's Afraid of Virginia Woolf? and Glengarry Glen Ross.
Read the rest of Scott's profile here.
___________________________________________________________
Spotlight on Rumors actor Stella Zuri, who plays Cassie Cooper (05-22-19)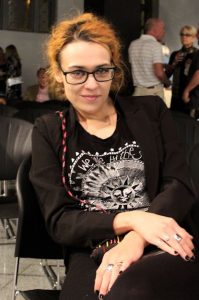 Stella Zuri will be playing the part of Cassie Cooper in New Phoenix Theatre's upcoming production of Neil Simon's Rumors. Zuri has a reputation for playing smart, surly and somewhat mercurial female characters.
One of her most memorable was that of the acerbic Daphna in Joshua Harmon's Bad Jews (for Lab Theater). Another was the brutally judgmental Eva in Robert Caisley's Happy (also for Lab). Zuri's other acting credits include Lucy in Mr. Marmalade, Amelia, Helen, Waitress 3 and Kim in Bob: A Life in Five Acts, Patsy in The Rimers of Eldrich, Desdemona in Othello, Candy Starr in One Flew Over the Cuckoo's Nest, Ophelia in Hamlet, Belinda Cratchit and the Ghost of Christmas Past in A Christmas Carol, Nina and Hildy in Relatively Speaking, Katherine in Taming of the Shrew and Hecate in Macbeth. Stella also portrayed serial killer Monique Avril in the 2012 indie film Redemption.
Go here for the rest of Stella's credits and profile.
__________________________________________
Spotlight on 'Rumors' actor Rosie DeLeon (05-22-19)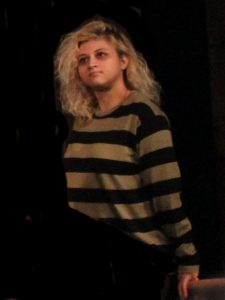 Rosie DeLeon is best known in theater circles as a talented, go-to sound and lighting director/technician. But she has also appeared often on the boards at various Lee County venues. Her credits include the role of Linda Johnson in Lab Theater's production of Deborah Lake Fortson's Body & Sold, Feste in Lab's production of Shakespeare's Twelfth Night and Elaine in Calendar Girls. She also played various parts in The Rauschenberg Project Play (which plumbed many of the important local issues faced by 12-24 year-old members of Southwest Florida's LGBTQ community, including domestic violence, bullying, employment discrimination and homelessness). She will be appearing as Officer Pudney in Neil Simon's Rumors in June for New Phoenix Theatre.
__________________________________________
Spotlight on 'Rumors' actor John D. Strealy (05-22-19)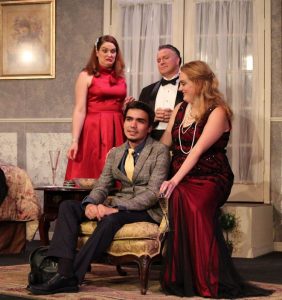 John D. Strealy is an aspiring young local actor. His credits include klepto-director Sir Frank Finger in It's Only a Play, Jason Shelburne in Body & Sold and Malvolio in Shakespeare's Twelfth Night, in which he had a break-out performance as the pompous, pedantic and overbearingly pretentious steward, who becomes the butt of a cruel practical joke played on him by his lady's uncle, Sir Toby Belch, Sir Toby's well-heeled friend, Sir Andrew Aguecheek and the manor's maid, Maria.
The rest of John's profile is here.
_________________________________________________________________
'Rancho Mirage' opens at Theatre Conspiracy at the Alliance on June 14 (05-22-19)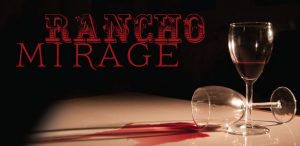 Opening June 14 in the Foulds Theatre at the Alliance for the Arts is Rancho Mirage, a biting satire of life in a gated community that is as moving as it is hilarious.
The play tells the story of three affluent suburban couples who have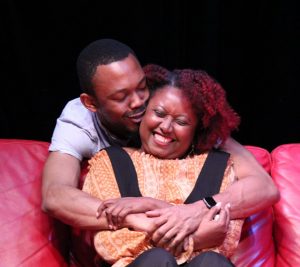 come together for an ill-fated dinner party in one of their homes. One couple is experiencing financial troubles. A second is going through marital woes. The third is having trouble conceiving. Close friends who enjoy lively banter as much as the next glass of wine, as the evening progresses they begin revealing long-concealed secrets that threaten to undermine their relationships.
Go here for the rest of this advance.
'Rancho Mirage' plays dates, times and ticket info.
________________________________________________
Spotlight on 'Rancho Mirage' actor Sonya McCarter (05-22-19)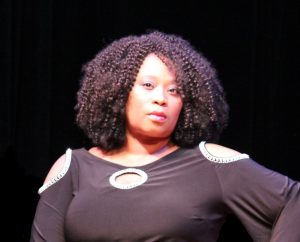 Sonya McCarter is an actor, director, an instructor in the Alliance for the Arts' CHANGE (Communities Harnessing the Arts to Nurture and Grow Equity) program, and the Alliance's Community Engagement Coordinator.
Her acting credits include the part of Corryn Fell in Gideon's Knot, Ntozake Shange's choreopoem For Colored Girls Who Have Considered Suicide When the Rainbow is Enuf, appearances in two episodes of the television show Burn Notice and the film The Florida Project.
The rest of Sonya's profile is here.
__________________________________________________
Spotlight on 'Rancho Mirage' actor Cicero McCarter (05-22-19)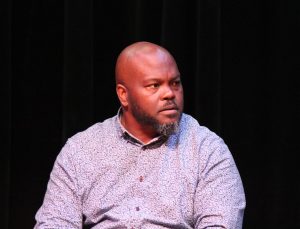 Cicero McCarter is an emerging talent in Southwest Florida theater. A recent graduate of the Alliance for the Arts' CHANGE program, McCarter has appeared in a number of productions since 2015, including August Wilson's Joe Turner's Come and Gone, August Wilson's Seven Guitars (Hedley), August Wilson's Ma Rainey's Black Bottom (Slow Drag) and Lillian Hellman's Toys in the Attic (Henry Simpson). He also plays a DCF agent in the 2019 indie film Fallaway.
_______________________________________________
Spotlight on 'Rancho Mirage' actor Nuniez Philor (05-22-19)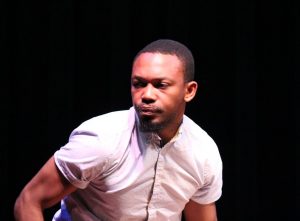 Nuniez Philor is a young actor who is taking his first fledgling steps into the brave new world of theater. A recent FGCU graduate who focused on psychology and theater, the Fort Myers native is preparing to perform in Theatre Conspiracy's upcoming production of Steven Dietz's Rancho Mirage after appearing in March as Seth Holly in August Wilson's Joe Turner's Come and Gone.
________________________________________________
Spotlight on 'Rancho Mirage' actor Carolyn Greene (05-22-19)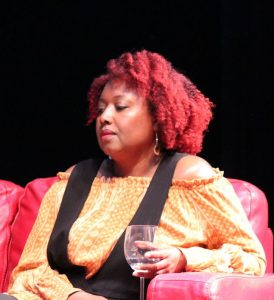 Carolyn Greene is a local actor whose credits include Rancho Mirage, The Bluest Eye and the Ntozake Shange choreopoem For Colored Girls Who Considered Suicide When the Rainbow is Enuf (the Lady in Purple). This lively Caribbean native began in community theater in 2010 in a production of the Vagina Monologues. She is a member of a local choir and a mentor to college-age women, a Phoenix who has risen from the ashes to meet every challenge.
______________________________________________
Spotlight on 'Rancho Mirage' babysitter Eren Sisk (05-22-19)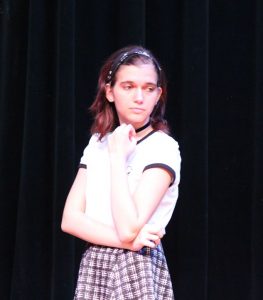 Eren Sisk is a rising star in the local theater scene. Her next appearance will be in Theatre Conspiracy at the Alliance for the Arts' production of Rancho Mirage.
Her credits include Barblin in Andorra (taking over on less than four hours' notice when Danica Murray fell ill and had to be hospitalized for the remainder of the show's run), Helene in Henrik Ibsen's A Doll House, Annie in Evil Dead the Musical, young Blanche Hudson and next-door-neighbor Abby Bates in Whatever Happened to Baby Jane: A Parody of the Horror, a critically-ill high school student in Lauren Gunderson's I & You and a beautiful, bouncy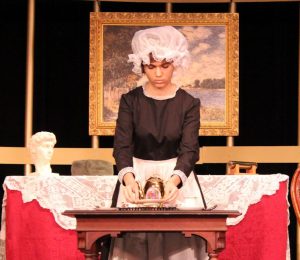 9-year-old Victorian girl who is murdered and dismembered again and again in Jennifer Haley's The Nether. She was also in Jekyll & Hyde and Footloose at Fort Myers High School and Les Miserable at Cultural Park Theater.
You'll find the rest of Eren's profile here.
_____________________________________________
Naples Players' 'Lost in Yonkers' closes May 26 (05-22-19)

Directed by Executive Artistic Director Bryce Alexander (3rd photo), Lost in Yonkers is celebrated as one of Neil Simon's greatest works. Debuting at the Richard Rodgers Theatre in 1990, Lost in Yonkers went on to win four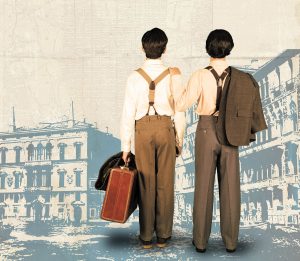 Tony Awards, including Best Play, as well as the Pulitzer Prize in Drama. Praised as one of the greatest American playwrights, Neil Simon passed away last year and The Naples Players is thrilled to celebrate him with Lost in Yonkers – scheduled to close its 65th Anniversary Theatre Season this May.
The story takes us to New York in 1942. After the death of their mother, two young brothers are sent to stay with
their imposing grandmother for the longest ten months of their lives. Grandmother Kurnitz is a one-woman German front—a refugee and a widow who has steeled her heart against the world. Her coldness and intolerance have crippled her own children. The boys' father has no self-esteem, their Aunt Gert has an embarrassing speech impediment, their Uncle Louie is a small-time gangster and their Aunt Bella has the mentality of a child. But it is Bella's hunger for affection and her refusal to be denied love that saves the boys—and that leads to an unforgettable, wrenching confrontation with her mother. Filled with laughter, tears, and insight, Lost in Yonkers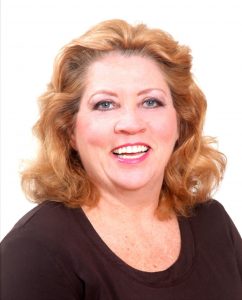 is a heartwarming testament to Neil Simon's talent.
"The play is as relatable today as it was when it was written," said Alexander.
"At its heart, the play is about family and how we sometimes feel disconnected from different generations. 'How could Grandma think that way? Or 'how can those kids act that way?' And yet – it is our varied experiences that help our families come together. It seems like family is more important now than ever before."
The Naples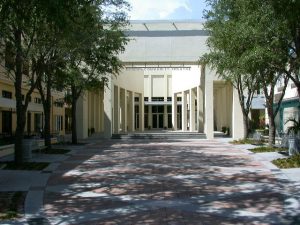 Players Lost in Yonkers cast includes KidzAct stars Leonard Allen as Arty, Brian Boland as Jay, veteran performer Bonnie Knapp (4th photo) plays Grandma, newcomer Mai-Lei Murphy plays Bella, while regulars Daniel Ospina performs as Louie, Bernardo Santana is Eddie, and Judith Santos plays Gert.
Tickets are $40 and available by contacting the Box Office (239) 263-7990 or online: NaplesPlayers.org. The play closes May 26.
___________________________________________
Naples Players announces 'Mamma Mia' cast (05-22-19)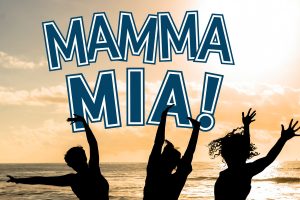 The Naples Players (TNP) is kicking off its 66th theater season with Mamma Mia! The show runs June 26-July 28, 2019.
The ABBA Broadway musical will be directed by Naples favorite Dawn Lebrecht Fornara with musical direction by Charles Fornara.
Jacqueline Blanche is Lisa, Eric Bohus is Sam, Kristin Cassidy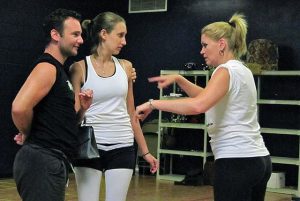 is Rosie, Adam Fasano is Sky, Jeremy Giovinazzo is Pepper, Debi Guthery is Tanya, Anthony Henerson is Eddie, James Little is Harry, John McKerrow is Bill, MaryAnne McKerrow is Donna, Erica Sample is Sophie and Lindsey Walsh is Ali. The musical ensemble includes Mackenzie Black, Elizabeth Marcantonio, Maggie Boswell, Sydney Mixon, Kelsey Browne, Tina Moroni,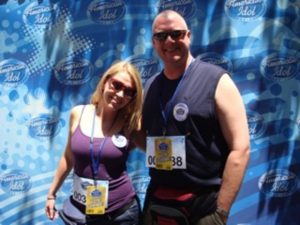 Jack Norkeliunas, Lawrence Cherestal, Thomas Richardson, Frankie Federico, Logan Szittai, Sawyer True, Mark Vanagas, Alexandra Igoe, Dominic Young and Elyse Yun.
Over 60 million people worldwide have fallen in love with the characters, the story, and the music that make Mamma Mia! the ultimate feel-good show. The musical tells the uplifting tale of a young woman seeking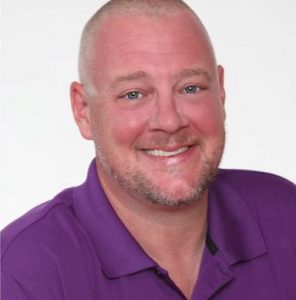 the identity of her father for her wedding and brings the three potential men from her mother's past back to the Grecian island they visited 20 years ago. The story-telling magic of ABBA's timeless songs propels this enchanting tale of love, laughter, friendship, and sisterhood, creating an unforgettable show. Hit songs include: "Mamma Mia," "Money, Money, Money," "Dancing Queen," and "Voulez-Vous" among others.
There will be a special Sensory-Friendly performance of Mamma Mia! on Tuesday, July 9 at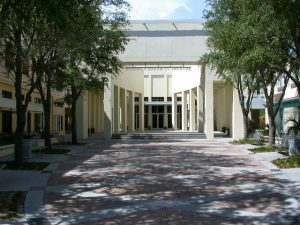 7:30 p.m.
Special pricing of $20 for adult tickets and $10 for student/educator tickets makes sensory-friendly performances affordable for families. As sensory-friendly screenings become more common in local movie theatres and even on Broadway, The Naples Players is proud to participate in this national shift towards making it possible for individuals with special needs and their families to experience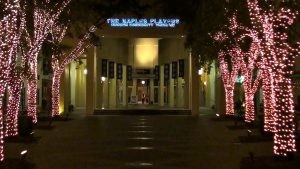 the same quality theatre as everyone else.
Tickets for Mamma Mia! are $45 and on sale now through the TNP Box Office at (239) 263-7990 or NaplesPlayers.org. Tickets for the sensory-friendly performance are $20 and $10 for children and educators.
____________________________________________________
Stage 2 Improv returning to TNP on June 1 and July 13 (05-22-19)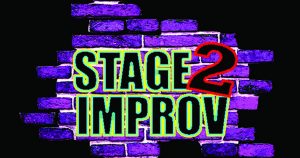 The Naples Players and Stage2 Improv collaborate one weekend night each month for some of Southwest Florida's best family-friendly comedy. Each show consists of improvisational comedy games and songs from topics suggested by the audience. Be as involved in the show as you'd like and come back each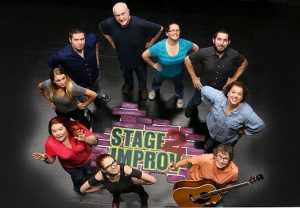 month for more and more laughs.
Frequently including special guest appearances by local celebrities, each month is an exciting new theme. It's the 80s on Saturday, June 1 and the 70s on Saturday, July 13. Both shows start at 8:00 p.m.
Tickets are $20. Contact the TNP Box Office by phone at (239) 263-7990 or visit NaplesPlayers.org.
_______________________________________________________________
Randall Kenneth Jones teaching public speaking class at Lab and TNP (05-22-19)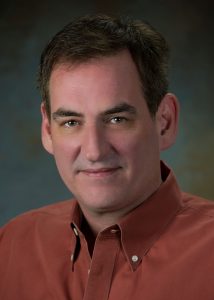 Want to be more effective when speaking to the county commission, the school board, your colleagues or any other group of people? Ever wondered how to make an audience more receptive to your message? How to relax and present your point in a convincing manner? The Naples Players and the Laboratory Theater of Florida are pleased to host: Public Speaking with Randall Kenneth Jones.
Randall Kenneth Jones will provide hands-on public speaking guidance for business professionals, government employees, members of the news media, civic activists and others in a fun, upbeat environment. The class is ideal for teachers, reporters, performers, government spokespersons, would-be elected officials, non-profit representatives, community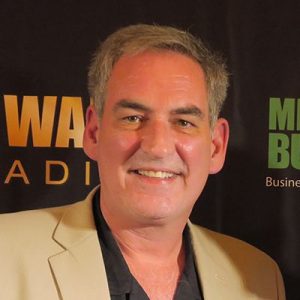 outreach personnel, business and real estate professionals.
A familiar face to Southwest Florida audiences, Jones is a respected actor, author, podcaster, marketing/PR consultant and motivational speaker. The cost of the 6-class Public Speaking Workshop is $200. Students are required to purchase the book "Knockout Presentations, Third Edition" by Diane DiResta. Registration deadline is June 16. Class size is extremely limited.
Lee County classes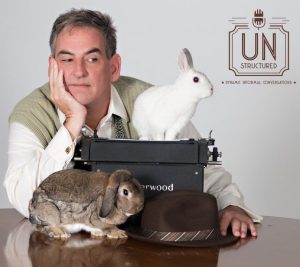 are held at Laboratory Theater of Fort Myers, 1634 Woodford Ave, Fort Myers, FL 33901. The class will consist of six sessions beginning on Wednesday, June 26 and ending on Wednesday, August 14 (no class on July 3 or August 7) from 6:30 9:00 p.m. To register for Lee County Classes, please call The Laboratory Theater at 239-841-4250.
Collier County classes will be held at the Naples Players Sugden Community Theatre at 701 5th Ave S, Naples, FL 34102.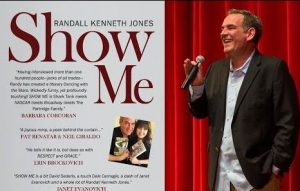 The class will consist of six sessions beginning on Monday, June 24 and ending on Monday, August 5 (no class on July 1) from 6:30 to 9:00 p.m. To register, please telephone (239) 434-7340 ext. 103 or visit https://www.hisawyer.com/the-naples-players-theatre-for-the-community/schedules/activity/908073.
_____________________________________
Spotlight on Randall Kenneth Jones (05-22-19)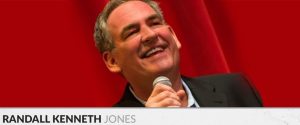 The incomparable Randall Kenneth Jones is a respected actor, author, podcaster, marketing/PR consultant and motivational speaker.
Highly intelligent, deeply introspective and ridiculously well-connected (among a legion of notable actors, athletes and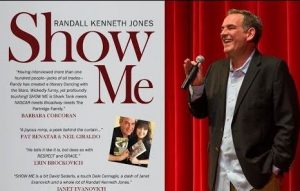 celebs, he counts Erin Brockovich and Peggy Post as close personal friends), Jones made quite the splash in the gender-bending roles of femme fatale Cousin Miriam in Hush Up Sweet Charlotte and Baby Jane Hudson in Whatever Happened to Baby Jane: A Parody of the Horror, both produced by Laboratory Theater of Florida.
You can access the rest of Jones' profile here.
______________________________________________________________________
TNP inviting playwrights to submit for Readers Theatre new play competition (05-22-19)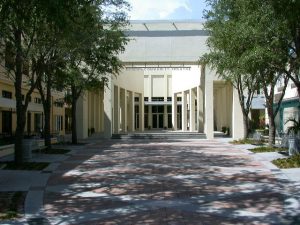 The Naples Players' (TNP) Readers Theatre is now accepting original one-act scripts for its 16th Annual "An Evening of New Plays" contest for Southwest Florida playwrights. Winners will have the opportunity for their plays to be cast, directed, and staged at one of the most highly-rated theatres in the country.
"It's a fantastic opportunity for talented playwrights to get their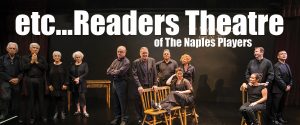 work in front of an audience," observes Jessica Walck, Associate Artistic Director.
In addition to having their play cast and performed at TNP's "An Evening of New Plays" on Sunday, January 19, 2020, finalists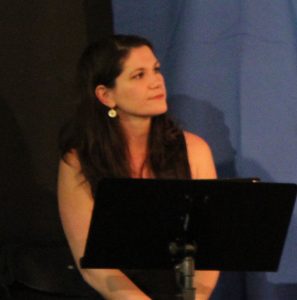 will each receive a performance royalty, memorial plaque and tickets to TNP's "An Evening of New Plays."
Readers Theatre is devoted to developing playwrights, directors and actors through staged readings of original works as well as fresh and inventive one-acts. The Readers Theatre program allows The Naples Players to test new plays before producing them and provides critical feedback to playwrights, along with access to performance and directing opportunities through flexible and shortened rehearsal processes and
augmented performance demands. Both veteran and novice actors, directors, and playwrights can call Readers Theatre home, and this flexibility helps Readers Theatre remain as one of the foundational programs of The Naples Players.
Only non-musical one-acts are accepted. Only one play per writer can be submitted. Each play must:
be the writer's own original work, not an adaptation;

not commercially published or produced, though it may have been work-shopped or presented in staged readings;

should not exceed 20 minutes in length;

may have been entered in an earlier contest, so long as it was not an earlier finalist.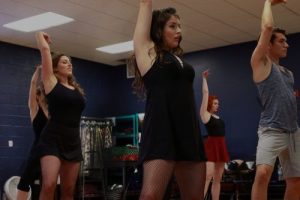 Once the play is submitted, no script changes can be made for purposes of this competition.
To submit a play, playwrights must submit three copies of their script in standard stage play format to: "An Evening of New Plays 2018," The Naples Players, 701 5th Avenue South, Naples, FL 34102. Plays may also be submitted electronically to: tnpreaderstheatre@gmail.com.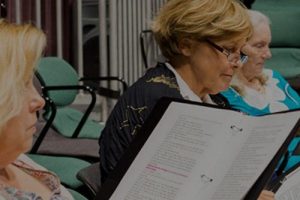 A title page with the name of the play, synopsis, and list of characters must be attached to each script. Include a separate page, unattached to the script, with the name of the play, playwright and contact information. This is to help assure anonymity during the judging process. For scripts to be returned, please include a self-addressed stamped envelope.
The judging panel may recommend up to four finalists to the Readers Theatre Committee for review and final approval by Associate Artistic Director Jessica Walck. Authors retain all rights and give performance rights to The Naples Players for "An Evening of New Plays" and limited readings in other venues, including possible outreach and electronic media.
Deadline for submission is July 31, 2019 and winnerswill be notified by October 31, 2019.
Readers Theatre is The Naples Players' affiliate theatre group, led by TNP's Associate Artistic Director Jessica Walck. Performances are held throughout the year in the intimate 100-seat Tobye Studio Theatre at the Sugden Community Theatre in the center of 5th Avenue South, Naples. Readers Theatre perform a series of one-act plays and full-length works with scripts in hand and without props or costumes. Readers Theatre performances focus on the written word.
The Naples Players (TNP) Sugden Community Theatre is Naples' oldest and premier theatre group and a vital part of the exciting experience of Downtown Naples. Celebrating its 66th season, and as one of the top theatres in the country, they offer a variety of plays and musicals in three intimate spaces, Blackburn Hall, the Tobye Studio Theatre and outside BakerStage – all located in one building on Fifth Avenue South.