This is what's happening between September 22 and 30, 2017
This is what's happening in the arts, independent film and community theater here in Southwest Florida between September 22 and 30, 2017:
Leoma Lovegrove returns to Off Broadway Palm for 'My Studio' in January (09-30-17)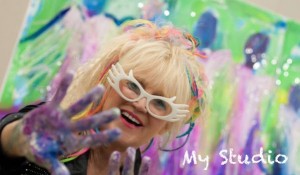 Last year's splash hit one-woman show, "My Studio," returns to the Broadway Palm Dinner Theatre for five thrilling performances in January, 2018. Join Matlacha Island phenom Leoma Lovegrove as she shares stories of her artistic adventures and the scores of interesting people, places and motifs she's painted while she creates masterpieces on stage live to a medley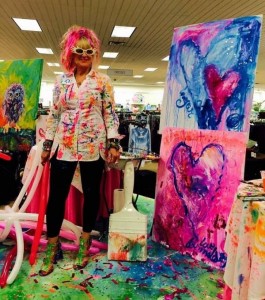 of nostalgic tunes.
"During the shows, I will not only invite you into my studio, but my life as well – as I share stories and paint live on stage to my favorite music," Leoma proclaims.
Dinner performances of "My Studio" will take place on
Thursday, January 4, 2018;
Friday, January 5, 2018;
Saturday, January 6, 2018; and
Sunday, January 7, 2018.
There is also a lunch/matinee option on Saturday, January 6.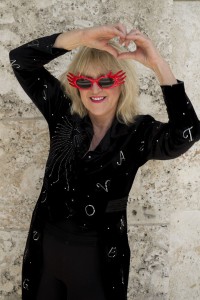 Dinner starts at 5:30, with the show beginning promptly at 7:30. Lunch on Saturday is served at 11:45 a.m., with the show beginning at 1:15 p.m.
The buffet and show cost $45 per person, although you can come for the show only for just $25.
If you've ever wondered what a day in the life of a famous artist is like or if you've never seen Leoma create a painting live right before your very eyes, then make plans to attend "My Studio." You'll have the time of your life. There will be lots of surprises to delight your senses and engage your imagination. But beware of flying saucers, splattered paint and Lovegrove's infamous confetti bazooka!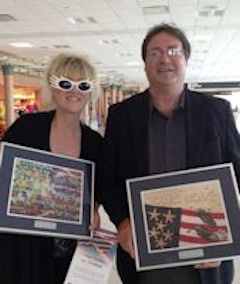 Lovegrove is an impressionist painter known worldwide for her vibrant color palette and exuberant strokes – which she applies via brushes, squirt bottles and even her fingers and hands. Among her many subjects are former President Jimmy Carter (who hung his portrait in his presidential library in Atlanta) and Sir Richard Branson (whose portrait was commissioned for Virgin Airlines' headquarters in London). The presidential library of George W. Bush, the private collections of actress Sharon Stone and actor Jesse Metcalf, and the permanent collections of Fort Myers, Lakeland, Florida Gulf Coast University and the Marietta Museum of Art & Whimsy in Sarasota proudly contain examples of her work.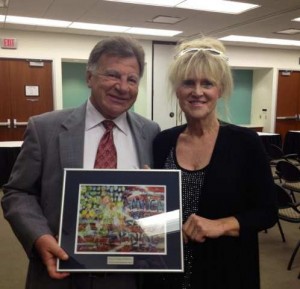 Because her paintings uniquely capture Southwest Florida's active, healthy, water-based lifestyle, Bradenton-based Bealls Department Store made Lovegrove their Florida artist in residence several years ago. Today, millions of products ranging from designer casual wear to household goods, Tervis drinkware and beach towels and chairs bear Lovegrove's signature style and trademark sunburst eyeglasses. And scores of consumers make painting pilgrimages to Lovegrove Gallery & Gardens on sun-kissed Matlacha Island to purchase Lovegrove originals and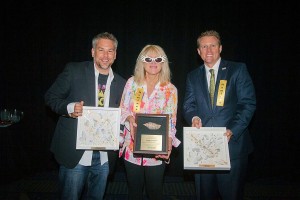 prints and have her sign their tees, tops and visors. As they enter the island from Cape Coral, they are greeted by Lovegrove's building-sized mural, "The Catch of Matlacha Island."
Up at 4 and to bed late each night, the artist recharges her artistic batteries twice a year by painting in Claude Monet's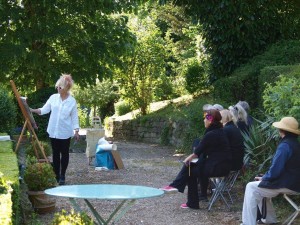 gardens in Giverny, France. Not only does she teach workshops there, her work is so esteemed that she became the first American to be invited to paint on board a replica of Monet's floating art studio as well as the very first American to exhibit her compositions in Pierre Bonnard's home in Vernon, France.
Lovegrove was an honored guest at President Donald Trump's i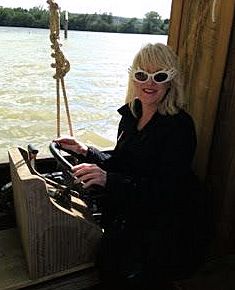 nauguration this past January, and the guest of honor a decade earlier at an artist's reception in the White House given by First Lady Laura Bush. Her work has garnered rave reviews in numerous magazines and art publications, and her collectors become lifelong friends and enthusiastic fans. Leoma not only holds the Lee County Visitor & Convention Bureau's prestigious Jujonia Award, she has also been a Paulette Burton Citizen of the Year finalist and Fort Myers News-Press Person of the Year nominee.
Broadway Palm is now celebrating its 24th season. The theatre entertains over 170,000 guests annually.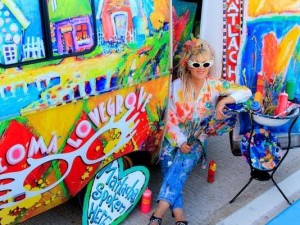 The facility includes a 450-seat dinner theatre, a 100-seat "black-box" theatre called The Off Broadway Palm Theatre, a 120 seat dining room called Café Cabaret and a 30-seat space just off the main lobby called, The Art Café. The theatre is located in the Royal Palm Square at 1380 Colonial Boulevard, Fort Myers.
_____________________________________________________
Meet October T.G.I.M. celebrity judge Stephanie Davis (09-30-17)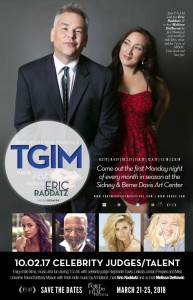 Thank God for Indie Mondays returns to the grand atrium of the Sidney & Berne Davis Art Center on October 2. Helping hosts Eric Raddatz and Melissa DeHaven screen a fresh set of some of the indie short and short short films that have been submitted for inclusion in the Fort Myers Film Festival is actor, director, writer and radio personality Stephanie Davis.
Known as the Downtown Diva, Stephanie is social commentator and event photographer at Florida Weekly, where her column, "The Diva Diaries," can be found along with her society photos and online at www.floridaweekly.com. She established, developed and perfected her Downtown Diva persona while at the Fort Myers News-Press, where she kept her finger on the pulse of the Fort Myers social scene since her column debuted in 2000.
Read the rest of Stephanie's profile here.
_____________________________________________________
Meet October T.G.I.M. celebrity entertainer Al Holland (09-30-17)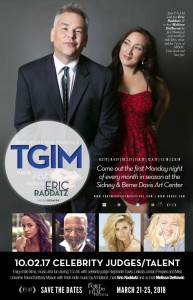 Al Holland is a familiar face at T.G.I.M. screenings. And his observations and comments during audience participation segments generally resonate with a broad cross-section of attendees. He was also empaneled as celebrity judge two seasons ago, when he captivated the house with a story from his youth. Al will be in the house on Monday, when he'll appear as  the October T.G.I.M. musical guest.
Known internationally as the keyboard player and a vocalist for world-famous Platters, Big Al Holland has delighted audiences in Lee and Charlotte counties for years with his oldies, rhythm and blues, and Motown sounds. Born in Detroit nearly 60 years ago, Holland has been involved with music all of his life.
__________________________________________________________
Meet October T.G.I.M. celebrity judge Dakota Jordan Peoples (09-30-17)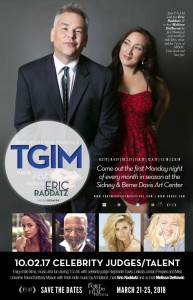 Thank God for Indie Mondays returns to the grand atrium of the Sidney & Berne Davis Art Center on October 2. Helping hosts Eric Raddatz and Melissa DeHaven screen a fresh set of the indie short and short short films that have been submitted for inclusion in the Fort Myers Film Festival is model and actor Dakota Jordan Peoples.
Peoples already possesses considerable modeling credentials. She has appeared on the runway, in print and television media and Hollies Boutique ads. She also holds titles in five different beauty pageants (including 2015 Miss Teen Georgia American Beauty, 2014 Miss Teen Earth Florida and 2014 United States Teen Water), all falling under Beauties for a Cause, which judges candidates primarily on the basis of their platforms.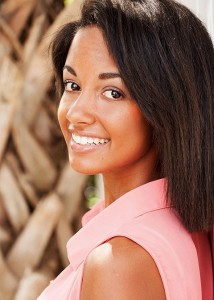 Dakota's cause is the protection of sea turtles.
"My uncle Carl, he's obsessed with sea turtles," Dakota told the Sun Bay Paper for an August 2015 article. "Once he showed me about sea turtles, I looked more into it and found out they were endangered. Here in Southwest Florida, this is one of the areas they come to, so I was like 'Why not get involved and try to make a difference, helping the community in a good way.'" [Read the full article here.]
So Dakota began volunteering at the Naples Zoo. She also raised funds throughout Lee County, personally donating 10 percent of the money she raised to cover travel expenses associated with the pageants in which she competed to the Sea Turtle Conservancy in Gainesville.
You will find the rest of Dakota's profile here.
____________________________________________________________________
Elijah Green theme song encapsulates anticipation of T.G.I.M. screenings (09-30-17)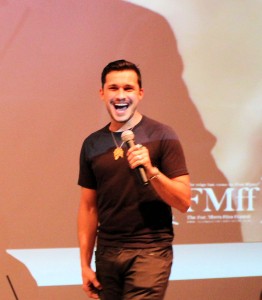 For most of us, Mondays can't suck enough. We're groggy and low energy as a result of the weekend's excesses and the distortion of our normal sleep patterns. And since we didn't pre-plan our workweek on Friday, we're desperately trying to recall where we left off and scrambling to figure out what we have to accomplish today, tomorrow and the next day. But sometime after lunch on the first Monday of each month between August and February, our mood suddenly brightens as we begin to anticipate T.G.I.M. In fact, we may find ourselves humming the melody of the Thank God for Indie Monday theme song.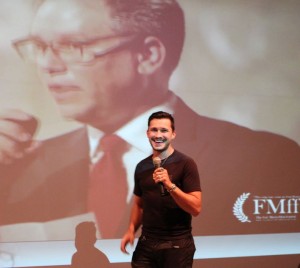 Written and recorded by local musician Elijah Green, the song encapsulates that air of anticipation and aura of positivity that you experience as you're waiting for T.G.I.M. to start. It's almost like Christmas morning. You know you're going to get presents, but you don't know if they're going to be good or bad, if you're going to like them or not. But still, there's that spirit of hopeful expectation.
Read the rest of this article here.
______________________________
T.G.I.M. returns October 2 (09-29-17)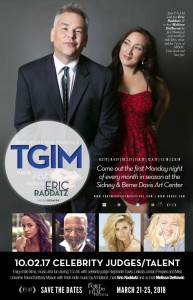 Thank God for Indie Mondays returns to the grand atrium of the Sidney & Berne Davis Art Center on October 2. That's when hosts Eric Raddatz and Melissa DeHaven will screen a fresh set of the indie short and short short films that have been submitted for inclusion in the Fort Myers Film Festival.
While there will be celebrity judges on hand to lead the discussion after each screening, Eric and Melissa want to hear from you. What was your take on the film? What worked or didn't work for you? What did you like or hate? And should the film be included in the film festival next March?
Read here for the rest of this announcement.
____________________________________________________________________
'Cure for the Common Comedy' tonight and tomorrow at Davis Art Center (09-29-17)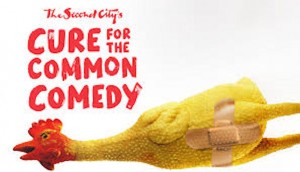 Get ready to laugh with The Second City! Chicago's legendary sketch and improv comedy theater troupe brings "The Cure for The Common Comedy" to the Sidney & Berne Davis Art Center this weekend for two busting performances.
From Mike Myers, Steve Carell and Stephen Colbert to Jim B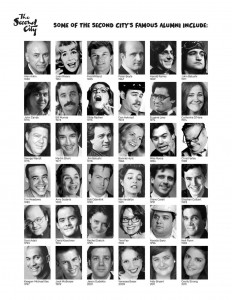 elushi and Tina Fey, The Second City imprint is felt across every entertainment medium. Today, Second City has grown well beyond a single stage to become a diversified entertainment company. Second City Training Centers in Chicago, Toronto, and Los Angeles teach thousands of students every week; four touring companies perform Second City revues all over North America and abroad; Second City Communications has become an industry leader in bringing improv-based methodologies to the corporate sector; and Second City continues to create unique media in television, film and the digital realm. For more info, visit secondcity.com.

The revues are at 8:00 p.m. on Friday, September 29 and Saturday, September 30. Doors open for cocktails at 7:00 for cocktails. Tickets are $29 in advance and $35 on the day of the show.
______________________________________________
Square One Improv back at The Lab October 6 (09-29-17)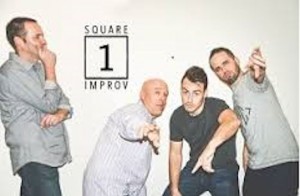 Square One Improv returns to The Lab Theater October 6 with a night of hilarious antics, musical comedy and on-the-spot jokes. Every facet of the hilarious, completely improvised show is based on the audience's suggestions. With years of experience performing and competing nationally, Square One delivers a gut-busting, one-of-a-kind show every time.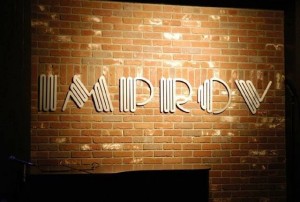 Performing a unique mixture of both short and long-form improv, the Square One team provides an entertaining evening of family friendly laughter that is fast-paced, musical and completely improvised.
"We try to give our a taste of everything," says co-founder Shaun Johnson. "From hilarious characters to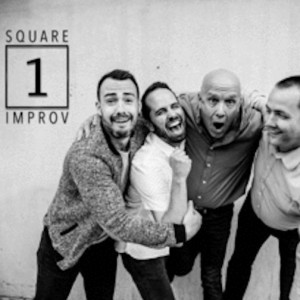 fully-improvised songs, there's something for everybody."
While no two shows are the same, they are always packed with hysterically funny songs, sketches, and jokes created instantaneously based on your suggestions. For the more adventurous, there are occasional opportunities to join the cast on stage!
Individual tickets for the 8:00 p.m. performance on Friday, October 6 are $12/$15 per person (plus applicable online service fees) and are available at www.LaboratoryTheaterFlorida.com or by calling 239-218-0481. The theater is located in the Fort Myers River District at 1634 Woodford Avenue, Fort Myers, FL 33901.
_____________________________________________________________________
'Improv Tonight' returns to Center for Performing Arts Bonita on October 7 (09-29-17)
Join CFABS for some of Southwest Florida's best improvisational comedy on October 7. Bonita City Improv will perform musical improv, games and scenes that include suggestions provided by the audience. Every show is different with special guests always popping in from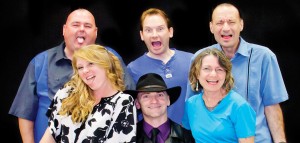 nationally-touring improv groups. Be as involved in the show as you'd like – whether you're just setting a scene with your suggestions or you're on stage as a player. The fun starts at 8:00 p.m. at the Center for Performing Arts – Moe Auditorium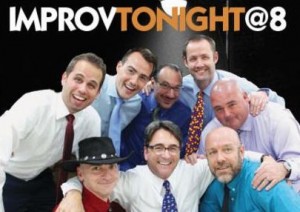 & Film Center, 10150 Bonita Beach Road. Adult Tickets are $13.50 for members and $15 for non-members. 
__________________________________________________________
'Improv Cafe' returns to Center for Performing Arts October 7 (09-29-17)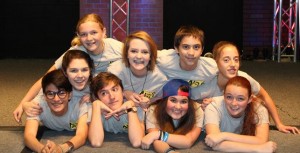 Improv Café returns to the Center for Performing Arts at 5:00 on Saturday, July 8. Local youth improv groups perform short and long form improv that includes suggestions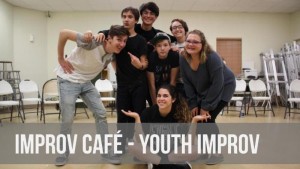 provided by the audience. Be as involved in the show as you'd like – whether you're just setting a scene with your suggestions or you're on stage as a player!
The fun takes place in the Moe Auditorium & Film Center. Tickets are just $10 for adults and $6 for youths. Snacks and beverages are also available. 
___________________________________________________________
Next Fort Myers Art Walk comes to River District October 6 & 7 (09-28-17)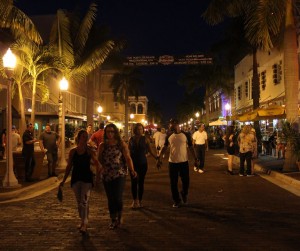 The River District will come alive on Friday, October 6, when Art Walk returns to downtown Fort Myers. Now a two-day event, Art Walk will continue Saturday, October 7, from 11:00 a.m. to 4:00 p.m. With exciting new exhibits and live art demonstrations, rain or shine, this is a "must attend event."
New exhibits include exceptional art in a variety of mediums done by a bevy of local artists and some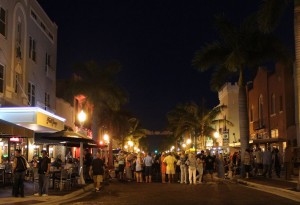 national and international artists as well.  You can meet the artists and talk art at the self-guided Friday night event, which brings together art enthusiasts, collectors and community friends who celebrate the arts each month. The Friday night Art Walk sees First Street closed to traffic. Local artists set up in the street selling their art, and face painting is offered at several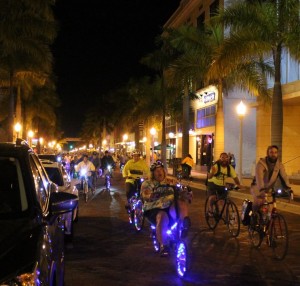 locations along First Street. And at the Broadway and First Street intersection, the Fort Myers Art League will be hosting a "Make It/Take It" table for children of all ages.
Saturday Art Walk is a quieter affair with most of the galleries open for examining the art at more leisurely pace. This new and improved version of Art Walk includes 14 galleries and art stops, including:
American Legion Veterans Gallery showing Art done by Veterans
Art League of Fort Myers – new exhibits each month
Arts for ACT Gallery – features three or more art exhibits every month plus co-op members art
Bootlegger Alley Gallery – outdoor gallery open only during Art Walk in The Patio de Leon
Grand Illusion Gallery – art, tee shirts and more
Marc Harris Wildlife Photography – on Jackson Street
Miville Art Gallery – art and photography in the Franklin Shops
Ollie Mack Gentry Photography – photography  at 2180 West First Street
Reverie & Rock Art Gallery – concert photography and Surrealistic digital art
Sidney & Berne Davis Art Center – Main Gallery Exhibit and Capitol Exhibit on the 3rd Floor
The Barrel Room – Jazz art – on Bay Street
Timeless Gallery – gallery and gift shop featuring steampunk art and more
Two Newts Gallery – co-op gallery located off West First Street at 2064 Bayside Parkway
Unit A – urban contemporary gallery of internationally-acclaimed artist Marcus Jansen located in Gardener's Park
As this survey of participating galleries reveals, Fort Myers Art Walk spans the core of downtown Fort Myers and includes the Gardener's Park area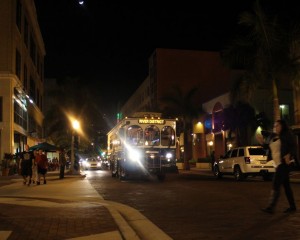 and West First Street. Most of the action is located on First Street, but you can obtain a Fort Myers Art Walk map at any of the galleries that will lead you to all the art venues and Art Walk partners.  "Enjoy cultural venues, restaurants, bars and businesses, plus live music," touts the River District Alliance. "Watch live art demos on First Street, eat amazing food, shop the unique local boutiques or just enjoy the atmosphere."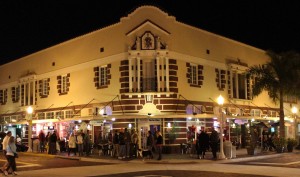 So whether you prefer the energy of night or the calm of day, there's something for everyone during this new-and-improved weekend of art that Fort Myers still calls Art Walk.
The best way to get to Fort Myers Art Walk:
off I-75 North: Exit #141 then west on Palm Beach Blvd
off I-75 South: Exit #138 then west on Dr. Martin Luther King, Jr. Blvd.
From U.S. 41 Northbound: exit at Historic District McGregor Blvd., Right turn or
From U.S. 41 Southbound Exit before the Caloosahatchee bridge.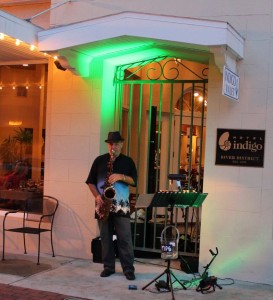 There is free street parking and $5.00 at any of the parking garages.  In season ride the free River District Trolley. Fort Myers Art Walk is a Pet and Family Friendly free event! Fort Myers Art Walk is hosted by The River District Alliance, a non-profit organization. For more information, please visit www.fortmyersriverdistrictalliance.com.
To become a volunteer, partner or sponsor of Fort Myers Art Walk, contact Claudia Goode via cgoode@actabuse.com. __________________________________________
Next SoCo Second Saturday is October 14 (08-28-17)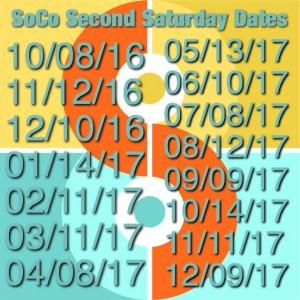 The next SoCo Second Saturday art event takes place October 14, which marks the first anniversary of the art crawl. The event began last October and continues to grow, with more cultural venues, new vendors and a redesigned map that includes all of the night's attractions and the details on how to win a great prize from one of the participating SoCo stops.
To qualify for the prize, simply visit each of the SoCo Second Saturday venues and get a Golden Ticket at each location. The winner will be announced one week after the event.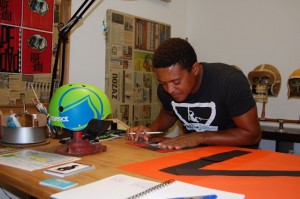 October's participating SoCo Cultural Venues are:
Alliance for the Arts

DAAS CO-OP Art Gallery & Gifts

Ocasiocasa

The Union Artist Studios and the CRAFTED Shop

Catch 22

Yoga Bird

Living Vine Café

A Swedish Affair

Broadway Palm Dinner Theater

Suzanne's Dance Fitness

Studio Os Urbanos

City of Palms Studio
In addition, more than 10 vendors, located at various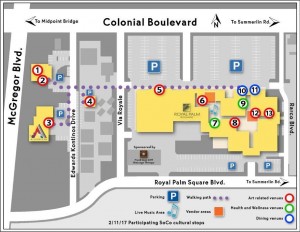 spots in Royal Palms Square, will be offering their handmade, fine-crafts during the event. The event starts at 6:00 p.m. and ends at 10:00 p.m., rain or shine. The SoCo Cultural District location encompasses the block south of Colonial Blvd., from the corner of McGregor Blvd. to Summerlin Rd., to Royal Palm Square Blvd. and back to McGregor Blvd. More information about the event and vendor opportunity information is available at socoswfl.com.
__________________________________________________________________
'Opposites Attract' coming to Center for Visual Arts Bonita in October (09-28-17)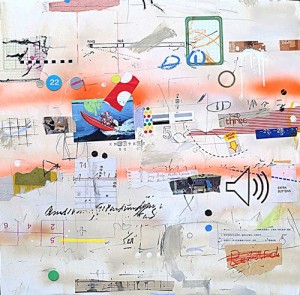 The concept of balance is necessary for a "successful" work of art. Movement, dynamism and energy compliment the quiet, subdued and calm. For its next show, the Center for Visual Arts Bonita Springs is asking artists to look for elements or concepts that establish visual harmony in a work of art. Opposites Attract opens October 6 with a reception from 6:00 to 8:00 p.m. The exhibition will run through November 16, 2017.
__________________________________________________________________
Art of Bean, Camargo & Pascovici on view at Center for Performing Arts (09-28-17)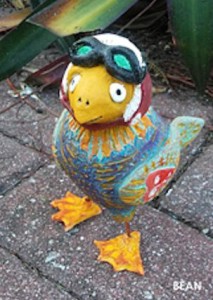 The Art of Bean, Camargo and Pascovici in on view at the Center for Performing Arts. Don't miss this exhibition loaded with color and whimsy!
Kathleen Bean was a public school art teacher and has seen the transformation of young minds through the power of the arts. Her sculptures display a range of expression and freedom through their witty personalities, narratives and gestures. Hilarion Camargo is an accomplished puppeteer who teaches students how to make and perform with their creations. Alexander Pascovici has successfully re-invented himself many times but has found his most rewarding accomplishments in his poetry and abstract paintings.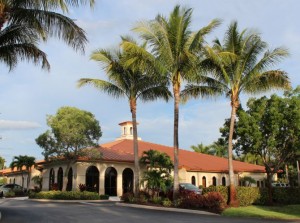 These three artists believe in the power of arts education and self-expression and have, in one way or another, dedicated their lives to the arts.
The Center for Performing Arts is located in the Hinman Auditorium at 10150 Bonita Beach Rd.
_________________________________________________________________
Englishman still on pace to reopen on Fifth Avenue South on October 1 (09-28-17)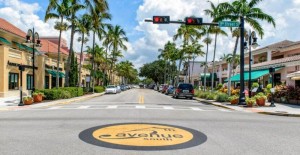 The Englishman has announced that they remain on schedule to open their new gallery on Fifth Avenue South on October 1, as planned. "We would like to thank our clients for their kind thoughts and messages as Hurricane Irma passed over Naples," the gallery states in an email. "We are very pleased to be able to
say that we and the gallery got through without any damage; which is a relief given the predicted storm surges."
The Englishman is quick to add that they send everyone affected by the storm their best wishes.
"We are looking forward to opening the new gallery on the first of October as planned. We will be available v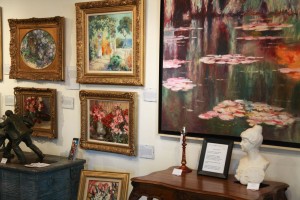 ia phone at (239) 649 – 8088, mobile at (239) 682-6146 or email at Naples@theenglishmanusa.com during this time; please feel free to contact us with any queries." You can also follow The Englishman on social media and stay up to date with the progress they are making on the new gallery space.
_____________________________________________________________
Lucas Century's works at FGCU profiled on Art Southwest Florida (09-27-17)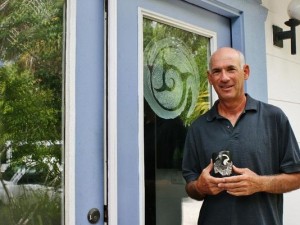 Among the works included in Florida Gulf Coast University's public art collection are a number of etchings and murals by Sanibel artist Lucas Century. "Luc Century's discipline-specific recognition walls add a refinement and process appropriate to a university," says Senior Director of Advancement Judie Cassidy, who has worked with Century on the five installations he has created at FGCU. "In the conceptual process, he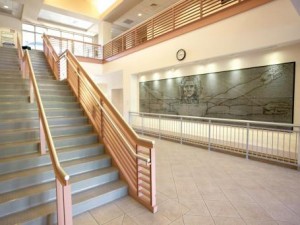 encourages donor involvement and blends their ideas with his own. The resulting installations are cerebral, precise and spectacular."
Century enjoys the largest presence by a single artist on campus, with works in five different buildings at Florida Gulf Coast University.
To read more, please click here.
___________________________________
About Century's Etching Process (09-27-17)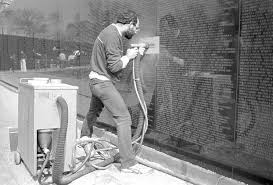 Since 1977, Century has been perfecting a pioneering process that enables him to etch images and text on a variety of media (including porcelain, stone and glass) with unparalleled clarity and depth. He first used the technique to etch the names of 58,000 service men and women who lost their lives in Vietnam into the granite surface of Maya Lin's renowned Viet Nam Veteran's Memorial in the Washington, D.C. Mall in 1984.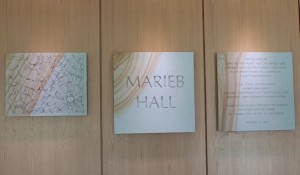 "I began to explore other materials beyond granite, such as glass, ceramic and wood, all of which I now incorporate into my work utilizing photo-stenciling and grit-blasting techniques," Century points out. "Line art from original drawings or appropriated images are transferred into a stencil that is capable of resisting the abrasive grit-blasting. The eroding process removes the substrate, penetrating and etching the surface to create a deep relief, not possible with any other etching process."
To read more, please click here.
________________________________________________________________________
FGCU's Dali lithographs part of 1,700 prints produced over course of his career (09-27-17)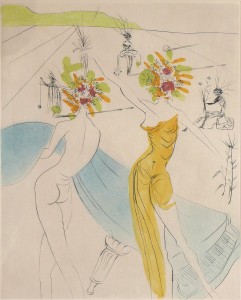 Salvador Dali is best known for his dream-state Surrealist paintings, but did you know that he also created more than 1,700 prints using a medley of different techniques, including etchings, engravings, woodcuts, mixed media, lithography and photo-lithography. During the 1960s, which collectors consider the Golden Age of Dali lithography, he created print images for literary works like Hamlet, The Old Man and The Sea and Alice in Wonderland, and he worked on one hundred wood block prints for an edition of The Divine Comedy. All showcase Dali's legendary imagination and portray the unconscious world of dreams, thoughts, and perceptions.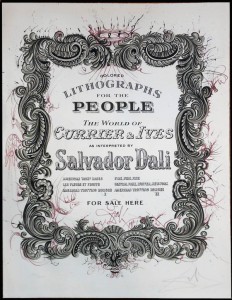 Publishers produced his prints both as individual sheets and as series in the forms of portfolios or illustrations in limited edition books. Flower Man, Dream Passage, Symphony Bicyclette, The Studio of Dali, Head of a Young Girl, Immaculate Conception, The Drawers of Memory, Fantastic Voyage, The Lucky Number of Salvador Dali, and The Persistence of Memory are some of his best works. And in 1971, Dali made a series of six lithographs that pay homage to Currier & Ives. This 19th century firm billed itself as "the Grand Central Depot for Cheap and Popular Prints" and advertised its lithographs as "colored engravings for the people." Part of Florida Gulf Coast University's permanent art collection, a set of these prints can be found in the Special Collections archive on the third floor of Library East.
________________________________________________________________________
Robert Cottingham 'Rolling Stock' print part of FGCU portable works collection (09-27-17)

Among the more recognized names in Florida Gulf Coast University's portable works collection are Salvador Dali, James Rosenquist, Josef Albers and Robert Cottingham. His 1991 screen print, Rolling Stock Series No. 7 for Jim, is located in the north end of the corridor in the Campus Sport Complex.
Rolling Stock Series No. 7 for Jim is a hand-colored etching, collograph and monoprint measuring 187 x 74.3 cm. It is part of the artist's Heralds and Rolling Stock railroad series. Like many of Cottingham's other paintings and prints, Heralds and Rolling Stock elevate a decaying aspect of the American landscape into a heroic symbol of America's past.
This work, the artist and his ouevre of work are profiled on Art Southwest Florida. ___________________________________________________________________________
Cottingham important photorealist, abstractionist, Americana documentarian (09-27-17)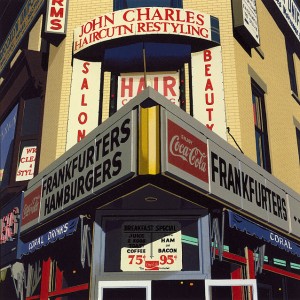 Robert Cottingham is widely considered to be one of the most important of the original American photorealist painters. But interestingly, the artist never considered himself a photorealist, but rather a realist painter working in a long tradition of American vernacular scenes. He has also described himself as a closet abstractionist because of the way he selects and separates forms in different contexts.
Many of his paintings and prints depict the architecture and commercial signage of downtown America from the 1940's and
1950's that have now all but disappeared. He tends to work in series, with other favored motifs including railroad boxcars, letter forms, cameras and typewriters. Many of his paintings convey an interest in topography and lettering, as well as an awareness of the psychological impact of certain isolated words and letters. In his facades, for example, he employs advertising techniques he learned during a brief career as an ad man to produce words of enigmatic and comical resonance such as Art, Ha or Oh.
"My interest in these

commercial curiosities," he says, "stems from my Brooklyn upbringing, my fascination with letter forms as symbols, and my interest in the use of language as a means of persuasion."

Cottingham's Rolling Stock Series No. 7 for Jim is part of FGCU's permanent art collection. He, this print and his entire body of work are profiled on Art Southwest Florida. Please click here to read more.
________________________________________________________
More about photorealist/abstractionist Robert Cottingham (09-27-17)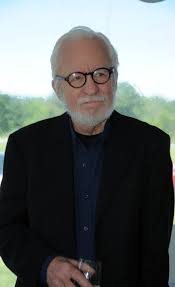 Robert Cottingham's Rolling Stock Series No. 7 for Jim is part of FGCU's permanent art collection.
Cottingham studied art at Brooklyn's Pratt Institute and began a brief career in Graphic Design, which later inspired him with his painting of American urban signage. His first solo show was in 1971 at the O.K. Harris Gallery in New York. Since that time, he has exhibited in numerous seminal group shows throughout the United States, France and Germany. A retrospective exhibition of his prints traveled from 1986 through 1991 to thirteen national venues, including the Nelson-Atkins in Kansas City, the Herbert F. Johnson Museum of Art at Cornell in Ithaca, New York, and the Lyman Allyn Art Museum in New London, Connecticut.
In 1993, Cottingham began his ambitious project, An American Alphabet, completing 26 canvases in three years, as well as a corresponding series of watercolors and drawings.
Please click here to read more about the artist, his work and Rolling Stock Series No. 7 for Jim. ________________________________________________________________________
Art Southwest Florida includes profile of Rauschenberg's 'Page 21, Paragraph 3′ (09-27-17)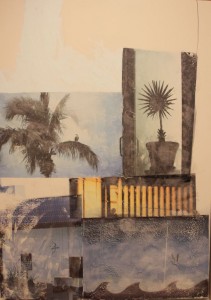 An anonymous donor has  promised to give Florida Gulf Coast University a transfer solvent print created by Bob Rauschenberg in 2001. It's titled Page 21, Paragraph 3 and is part of Rauschenberg's Short Stories series.
The print is profiled on Art Southwest Florida, where you will also find a summary of Bob Rauschenberg's contributions to the technique of transfer solvent printmaking as well as a detailed biography. ________________________________________________________________________
Many FGCU public artworks and their artists profiled on Art Southwest Florida (09-27-17)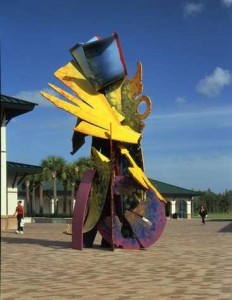 The FGCU public art collections contains over 100 monumental works and collections. In an ongoing effort, Art Southwest Florida has profiled many of them in order to provide students, faculty and surrounding residents, vacationers and visiting parents with detailed information about these works and the artists who rendered them. These profiles include:
There are still more to come, so visit the dropdown under Public Art/FGCU often.
_______________________________________________________________
'Almost, Maine' gives Crussard chance to foster serious young actors (09-25-17)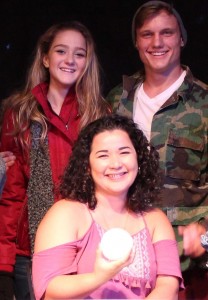 Opening September 30 for just two performances is the Alliance Youth Theatre's production of John Cariani's Almost, Maine. Set in the mythical town of Almost, Maine, the play consists of nine rom-com vignettes about couples falling in – and out – of love. Featuring shrewd writing and evocative musical transitions, Almost, Maine puts local community theater and indie films stars on display as they bring to life in the tradition of Love Actually and Valentine's Day some of Americana's most satisfying romantic clichés.
The performances take place at 8:00 p.m. on Saturday (September 30) and 3:00 p.. on Sunday (October 1).
Carmen Crussard directs.
Read the rest of this post here.
___________________________________________________________
'Almost, Maine' provides charming peek at love American style (09-26-17)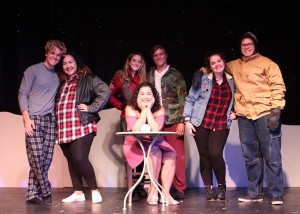 Prepared to be charmed this weekend when the Alliance Youth Theatre transports Southwest Florida to the mythical town of Almost, Maine, where nine couples fall into – and out of – love under the northern lights on a clear, moonless night. Featuring shrewd writing by playwright John Cariani and evocative musical transitions compliments of director Carmen Crussard, Almost, Maine puts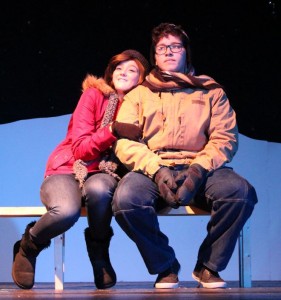 future stars of local community theater and indie films on display as they bring to life in the tradition of Love Actually and Valentine's Day some of Americana's most satisfying romantic clichés.
Who are these rising stars? They are Dede Duffy, AJ Gross, Wyatt Madonna, Elizabeth Mora, Tatum O'Donnell and Robert Rosso.
Duffy (The Little Mermaid at Ida Baker, The Addams Family) is a senior at Ida Baker. A senior in the NFMHS Performing Arts program, Gross (Peter & The S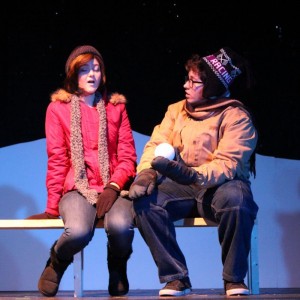 tarcatcher, Big River, Oliver, 13 The Musical, Sweeney Todd, MacBeth) is bound for NYU Tisch next year, where he intends to major in film acting. A North Ft. Myers High grad, Mora (Sweeney Todd, Rock of Ages) is now a frosh at Florida Gulf Coast University. A senior enrolled in North Fort Myers High's thespian program, O'Donnell is appearing in her seventh Alliance Youth Theatre production. Madonna has appeared previously in Sweeney Todd, Dogfight, and James and the Giant Peach, and Rosso is making his Alliance Youth Theatre debut.
You can find the rest of this review here.
__________________________________________
Jansen documentary available on VIMEO (09-26-17)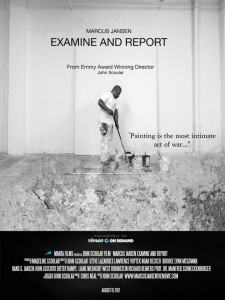 You can now view Marcus Jansen: Examine & Report on VIMEO.
Examine & Report is a documentary that explores the renowned artist's motives for painting and supplies historic insight into his socio-politically charged works, which have roots in Graffiti, Street Art and German and American Expressionism. The film dissects the social and political influences and motivations of the former U.S. soldier turned critical contemporary painter and chronicles how urban-influenced painting achieved recognition by international museums over the last several decades.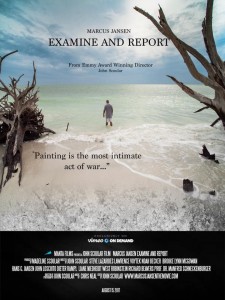 The documentary premiered on April 7, 2016 at the 6th Annual Fort Myers Film Festival, where it received honors as Best Local Documentary. Since then, the film has been screened at the opening of Jansen art exhibitions in Italy, Germany and other locations. Meanwhile, the film's trailer has received nearly 200,000 views to date on YouTube.
Not only does the documentary provide insight into Jansen's life and art, it furnishes an introduction to the uninitiated into the larger world of contemporary art by means of a series of interviews that Emmy-winning filmmakers John and Madeline Scoular conducted with art world luminaries including Steve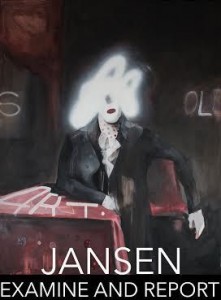 Lazarides (who was street artist BANKSY's first agent), Lawrence Voytek (who was Robert Rauschenberg protégé and decades-long gallery director), West Rubinstein, Noah Becker, Dieter Rampl and Brooke Lynn McGowan (an art historian, curator and writer who is recognized worldwide as the leading expert on Jansen's works).
The documentary was shot during 2015 at locations in New York, Miami, London and Fort Myers and is now an integral part of Jansen's museum and DECADE book tour, which opened in 2016 in Milan, Italy.
Special footage includes revealing interviews with Jansen along with peeks of the artist at work.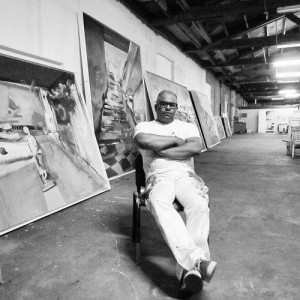 "I just tried to stay out of the way of the film, which kind of told its own story," Scoular humbly stated at Fort Myers Film Festival's champagne dessert and awards ceremony in 2015. "We're very lucky to witness Marcus' rise. He's gone from [selling his art on] Prince Street in New York to museums in Milan, Germany and beyond. He's at the top of his game, and he gets to enjoy it while he's still alive. That's pretty unprecedented."
The film is being screened at each stop in Jansen's tw0-year worldwide museum tour, which wraps up later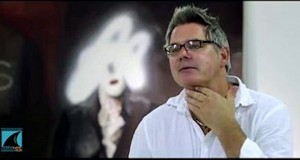 this year. Scoular is trying to get it shown in New York, as well. The film will not only play a pivotal role in familiarizing art lovers, collectors and professionals around the globe with Jansen and his art, it will build upon the reputation that the legendary Robert Rauschenberg began when he made Captiva
the site of his international headquarters and working studio and the loci of the Rauschenberg Overseas Cultural Interchange (ROCI), an initiative that Rauschenberg launched in 1982 for purposes of forging communication with other nations through the language of art by providing carefully-selected venues where artists, sculptors, poets and authors from around the world could meet and exchange creative ideas in the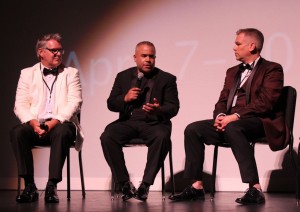 spirit of collaboration.
"Jansen is not just a broad chronicler of the many mishaps in American society and politics, but a most passionate artist, a full blooded painter and colorist through and through," notes art critic and two-time Kassel documenta curator Dr. Manfred Schneckenburger. "Today he is recognized … and I do not say this lightly… as one of the most important American painters of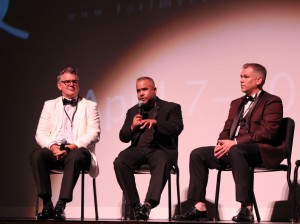 his generation."
Although Examine & Report has enjoyed both critical acclaim and considerable exposure, Scoular received his Emmy for his subsequent film, Paradise Reef, which aired on PBS on June 30, 2016. It was WGCU'PBS' most watched online video in 2016 and has been viewed in over 1195 cities and more than 29 countries around the world. It ended the year with the 2016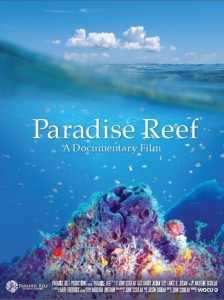 Suncoast Regional Emmy in the Topical Documentary category from the Suncoast Chapter of The National Academy of Television Art & Sciences. The film was pitted against competing documentaries produced in the Suncoast Chapter region, Paradise Reef 11which is comprised of Mobile, Alabama, Thomasville, Georgia, the cities of Alexandria, Baton Rouge, Lafayette, Lake Charles and New Orleans, Louisiana, the entire State of Florida and the island of Puerto Rico.
You can rent Examine & Report on VIMEO for just $5.95 or purchase a copy for $14.00.
_______________________________________________
Save the date for Naples Art's 'Scene to be Seen' (09-26-17)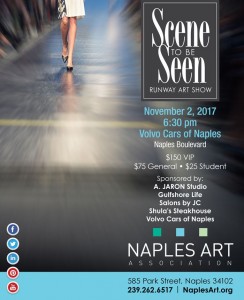 The Naples Art Association will produce its inaugural Scene to be Seen: A Runway Art Show on Thursday, November 2. This first-of-its-kind event will include a fully-staged runway show, sales gallery, and live auction featuring men's and women's garments, ensembles, hats, jewelry, and handbags by artists from L.A., NYC, the Philippines and Italy – as well as right here in Southwest Florida. Scene to be Seen promises to combine the sophistication of Naples with the thrill and excitement of a top international couture runway show!
The evening will kick off at 6:30 p.m. with a welcome reception that will include delicious hors d'oeuvres and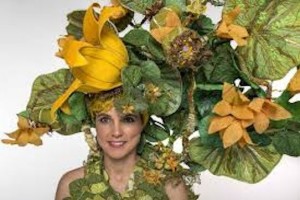 cocktails before the extraordinary fashion show and auction. After the show, stay for a fabulous after-party with live music and a full cash bar provided by Shula's Steakhouse of Naples.
___________________________________________________________________
Sweet Art and Clive Daniel Home2, where fine art meets fine furnishings (09-25-17)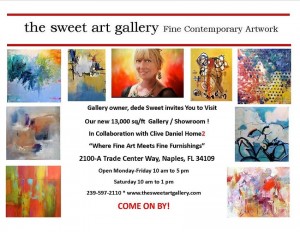 Dede Sweet reports that Sweet Art Gallery is now open at its new location which the gallery shares in collaboration with Clive Daniel Home2. You can find them at 2100-A Trade Center Way, Naples, FL 34109. Drop by between 10:00 a.m. and 5:00 p.m. Monday through Friday and from 10:00 a.m. to 1:00 p.m. on Saturdays to see art in the way in which people actually experience it in their homes and office spaces.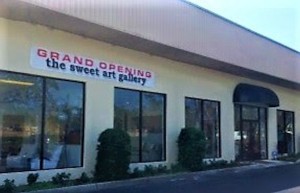 Or as Dede states, "where fine art meets fine furnishings."
Sweet features mid-career artists who have their Masters in Fine Art while simultaneously cultivating and showing artists who are just starting out. In all, Sweet represents 45 blue chip artists, including painters Clemente Mimun, Mary Ann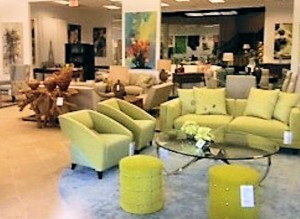 Flynn-Fouse, Sharon Erbe and Stephen Mancini, and sculptors Marton Varo and Dennis Elliott.
For more information, please telephone 239-597-2110.
________________________________________________________________
Sanibel's Watson MacRae joins Artsy, poised to re-open November 14 (09-25-17)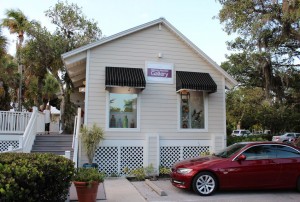 Watson MacRae Gallery survived Hurricane Irma with nary a scratch. Sanibel's venerable mainstay opens its tenth season on Tuesday, November 14, with Tenth Anniversary Exhibit: A Decade in the Making. So mark your calendars.
Over the summer, Watson MacRae was invited and joined Artsy, the premier online resource for art enthusiasts to learn about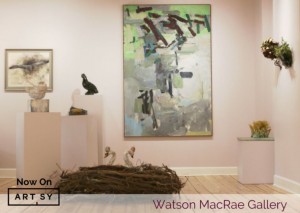 and purchase artwork from leading galleries around the world. The gallery started with five select artists – Darby Bannard, Hollis Jeffcoat, Kirsten Stingle, Dan Welden and Sheryl Zacharia, but owner and director Maureen Watson expects the collection to grow.
"I invite you to follow the gallery or your favorite gallery artist on Artsy,"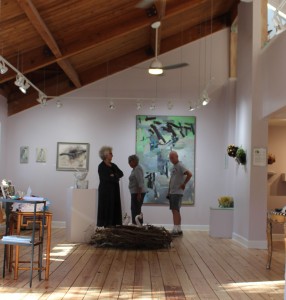 writes Maureen in the gallery's online newsletter. "We anticipate updating twice a month to keep it fun, fresh and interesting. I hope you enjoy this well-done site and share your love of our unique art collection with friends and family across the globe. Have a look!"
Watson MacRae Gallery is located in Suite B3 at 2340 Periwinkle Way, Sanibel, FL 33957. For more information, please visit http:www.watsonmacraegallery.com or telephone 239-472-3386.
_________________________________________________________________
'Your Best Shot' photography exhibition coming to Alliance in October (09-25-17)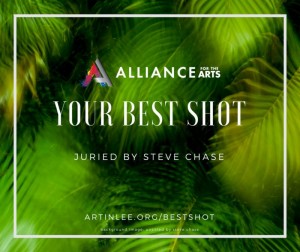 Among artistic mediums, photography is a relatively recent arrival. Though invented in the mid-19th century, it wasn't elevated to an art form until the 20th-century. Drawing attention to this new artistic discipline, the Alliance's upcoming exhibition, Your Best Shot, is dedicated to photographers and photography. The show opens October 6.
S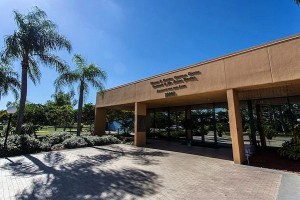 teve Chase will judge the exhibition. Chase has taught Fine Art Photography at Florida SouthWestern State College since 2008. He holds degrees in both Fine Art Photography and Motion Pictures. Prior to teaching at FSW, Chase was one of the founding faculty members of the Undergraduate Program of the School of Motion Pictures Arts at Florida State University, where he served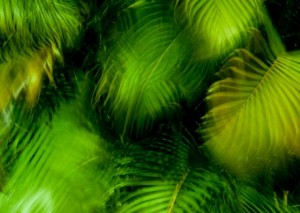 as a full time faculty member from 1990 – 2004.
In 1997, Steve won Florida State University's highly coveted T.I.P. award for excellence in college teaching. In 2002 he was nominated for a university teaching award and in 2004 he was recognized for his distinguished contribution to the success of the Film School.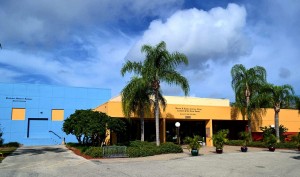 Steve is a recipient of a Florida Individual Artist Fellowship – 1992 – Division of Cultural Affairs, State of Florida. His photography has been exhibited throughout the state and nationally. His films have been screened at festivals nationally and internationally.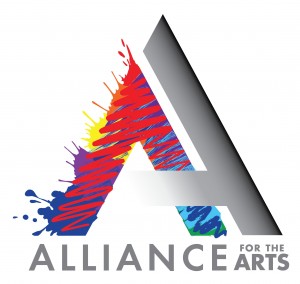 The opening reception takes place from 5:00-7:00 p.m. on October 6. Join Steve Chase and the artists for a Gallery Walk at 6:00 p.m. on October 14 that is coextensive with SoCo Second Saturday Art Crawl. The show will be on exhibit through October 28.
For more information, please visit www.artinlee.org or telephone 239-939-2787.
_______________________________
'Off the Wall' is off the chain (09-25-17)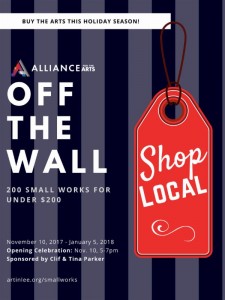 Each year, the Alliance for the Arts invites 100 members to submit two original 2D or 3D artworks for exhibition in the gallery beginning with the onset of the holiday shopping season. Called Off the Wall, this non-traditional art show features works of all mediums priced at $200 or less. All sales are "cash and carry," meaning purchasers will get to take the piece with them when they buy it, rather than waiting until the end of the exhibit.
Make supporting local arts tops on your list this year by giving a gift that gives back. Make plans to do your Christmas shopping at the Alliance for the Arts this year. Betcha there's 100 member-artists who would be delighted to have their art under your tree.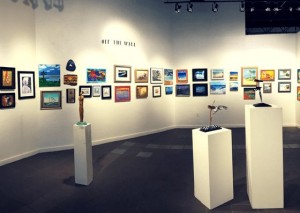 The show runs from November 3 through December 2, with the opening night celebration taking place from 5:00-7:00 p.m. on November 3.
For more information, please visit www.artinlee.org or telephone 239-939-2787.
______________________________________________
Alliance 'Fired Up' exhibit moved to December  (09-17-17)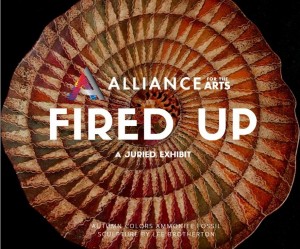 The Alliance for the Arts' September show was supposed to be Fired Up: A Juried Exhibit. Hurricane Irma had other plans. As a result of the damage and power outages associated with the storm, the exhibition had to be postponed. It has been rescheduled to December 8, 2017 through January 5, 2018.
Taking part in the show are Thais Alvarez, Alyssa Baladad, JoAnne Bedient, Gianna Dubay, Patricia Fay, Ehren Fritz
Gerhard, Eric Greenblatt, Carrie Keohane, Jay Lana, Sherry Lavendar, Felipe Maldonado, Sandra Fay Mark, Deborah Martin, John Merchant, Rick Plummer, June Powell, John O'Brien, Marcia Preisler, Mary Etta Rokusek, Ronald Sebring, Gale Shamblott, Joel Shapses, Barbara Simon, Toni Ferrell Sutton, Lynn Troyer, Mary Voytek, Beverly Yankwitt, Roseline Young a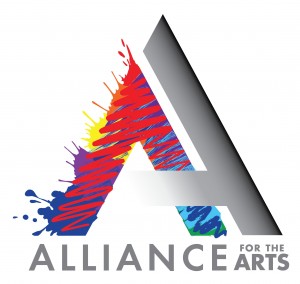 nd Peter Zell. Each has stepping outside what's normally expected to craft works using fire and heat to make ceramics, glass, welded and other pieces. 
Lee Brotherton has served as juror for the show. Brotherton has over 20 years of experience in creating, marketing and selling pottery recreations and original sculpture and paintings. Her sculptures are in private, corporate and museum collections throughout the world.
L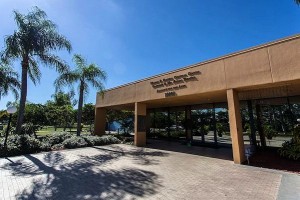 ee's fine arts career includes serving as an elementary art teacher, art museum work, art gallery manager and sales consultant. 
The opening celebration scheduled for September 8 has been cancelled in anticipation of Hurricane Irma. The Alliance will determine after the storm's passage whether it will reschedule the opening reception for a later date. But either way, the exhibit runs until September 30.
For more information, call 239-939-2787 or visit www.ArtInLee.org.
____________________________________________________________________
Just a few more days to catch Schmett and Gelden at Harbour View Gallery (09-25-17)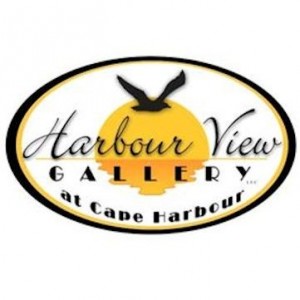 There's just a few more days to catch Harbour View Gallery featured artists for September, Sally Schmett and Marc Geldon.
Pastel artist Sally Schmett weaves into her art everything she sees, feels and experiences. She often has her camera in hand, trying to capture life as it happens. Then she recreates the images she captures to the best of her ability using an array of chalk pastels.
This versatile medium can look classical or modern, depending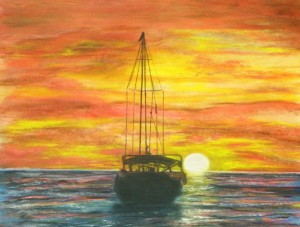 on the texture and depth Sally applies to her pictures. By working primarily in pastels, Schmett finds the variety of hues necessary for painting life's vibrant colors – especially Florida's diverse and extensive flora and fauna.
Sally prefers to work on panel. By combining pastel and wood, another dimension of texture is added. Both depth and realism are affected by the type of wood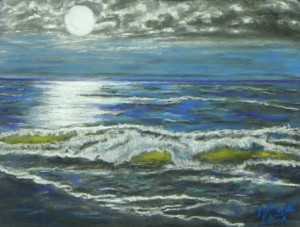 panel Sally uses, and part of her creative process involves experimenting with new and different kinds of wood panels. Her overarching goal is for her art to mirror the simple beauty of life around us.
Schmett has both a BS and MS Education from Indiana University. Her work has been juried into numerous fine art shows. Her pastel artwork, "Sweet Jenny" (steel mill), hangs in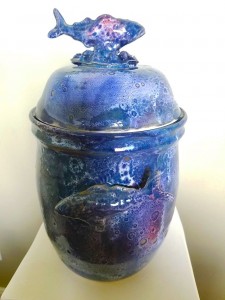 the Youngstown Historical Museum. Sally and her husband, Fred, became permanent residents of Cape Coral, Florida just this year. Prior to 2017, they had called Indiana home. Although she spent her entire life there, it was an adventure of extremes – from the shores of Lake Michigan to the farthest southern hills in the "boot" of Indiana. That environment always offered thought-provoking subjects for her art, from steel mills, landscapes and waterscapes to the people. Now she'll look to Florida for her motifs.
Forty years ago, ceramic artist Marc Geldon began his love affair with pottery. While finishing his undergraduate degree in advertising at the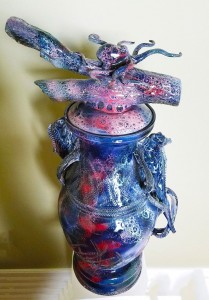 University of Florida, he took courses in ceramics, eventually obtaining Masters both in Ceramics and Fine Arts at Northern Illinois University.
Marc has maintained a ceramic studio no matter where he settled. He's taught at universities, sold at art shows and been represented by various galleries around the country.
Marc has won awards at the Peachtree Art Festival in Atlanta and Coconut Point in Miami. He owned and operated his own gallery in Atlanta called "Somewhere in Time."
Fifteen years ago, Marc moved to Southwest Florida and became an avid fisherman,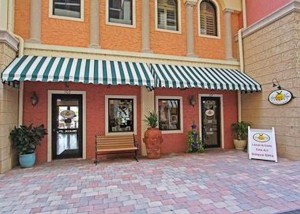 spending time on the waters of Sanibel and Captiva Islands. A fascination with marine life, coral reefs, the ocean and sunsets emerged. His style changed to incorporate these themes into his pieces and he developed his signature "rainbow glaze" that would mirror swirling ocean waves and beautiful sunsets.
He combined this with his wheel thrown pottery and incorporated f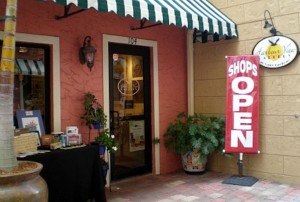 igures of marine life into his pieces. He also wanted something functional, so all his glazes are lead free and safe for any type of use. All his works are one of a kind and hand signed on the bottom of the piece.
Their work will be on display through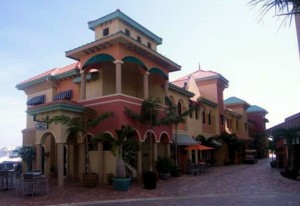 September 30.
The gallery is located at 5789 Cape Harbour Drive, Suite 104. In the Shops at Cape Harbour, Cape Coral, FL.
For more information, please call the gallery at 239-540-4780. __________________________________________________________________
Mirror Mirror' closes at Center for Visual Arts Bonita on September 28 (09-25-17)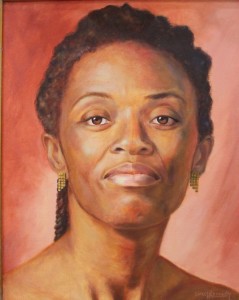 On view at the Center for Visual Arts Bonita Springs through September 28 is Mirror Mirror. The exhibition focuses on what we do every day before we face the world.
The show was judged by popular Fort Myers artist David Acevedo, who said he loved all the submissions so much that he found it hard to choose favorites. "But in the end, I used basic aesthetic concepts as well as quality standards and medium control to make my final decisions," Acevedo reports. "Pieces that felt unfinished or where the theme or message was too hidden did not make the cut. I favored wit, attention to detail and impeccable presentations."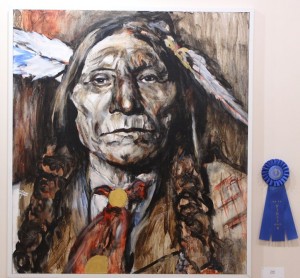 David chose Feneshia #7 by Dirce Kennedy as Best of Show. Kennedy is a contemporary portrait painter. "Something magical happens as a subject's inner spirit emerges onto a canvas," remarks Kennedy. "Viewing a portrait painting can be an opportunity to slow down, open social and emotional walls, to know and feel a subject's essence and experience a genuine connection with them."
Kennedy found portraiture through years of travel, drawing,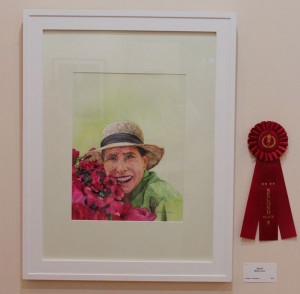 painting, and study. He credits Renoir and Warhol as influences, along with his father, who gave him drawing materials when Kennedy was only two. More, his dad imparted an ongoing passion for knowledge, art, and life in general. "As a portrait painter, my goal is sensitivity to your needs while imparting your individuality to create a portrait that will be cherished now and for generations to come.
In just the last two years, Kennedy has enjoyed seven solo shows. His portraits have received numerous awards, and his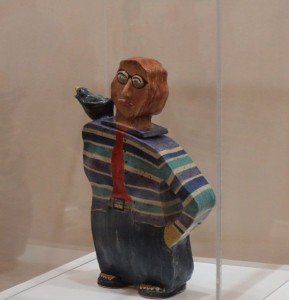 work can be found in private collection in the United States, Brazil, Canada, Denmark and Dubai.
Acevedo's other award winners are:
1st Place:  Chief by Bransilav Suvajdzic
2nd Place: Molly by Loretta J. Hamilton
3rd Place:  Mirror, Mirror … All You Need is a Good 'Pedi' by Louise Soderlund
4th Place:  Ready? by Karen E. Harris
5th Place:  Isn't She Lovely by Beth DuBay
6th Place: See My Heart by Marcie Karvakis
Merit Award:  Have We Met by Gail Noren
To be singled out by Acevedo for an award is truly an honor. Since locating in Southwest Florida in 2000, he has become a prominent face in the area's art scene. In 2009, he was chosen as the Angel of the Arts 2009 Visual Artist of the Year. Last year, he received a FACE award for his Arts & Culture efforts. Currently, he owns and operates The Union Artist Studio and DAAS CO-OP Art Gallery in Fort Myers. While his gallery was located in the downtown Fort Myers River District, he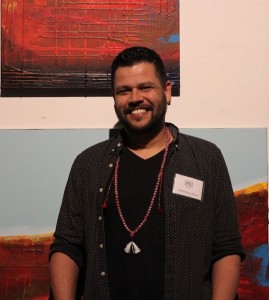 co-founded Fort Myers Art Walk, breathing new life into a business district reeling from both the recession and several years of road closures associated with the City's Streetscape project. Last year, he helped organize the very popular SoCo Second Saturday Art Crawl. For more on David's art, read here.
The Center for Visual Arts is located at 26100 Old 41 Road in Bonita Springs.
__________________________________________________________________
In spite of renovations, Lovegrove Gallery still hosting 'Indie Author Day' (09-24-17)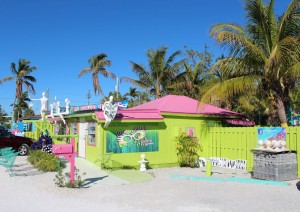 Lovegrove Gallery & Gardens on Matlacha Island is using Hurricane Irma and the no-name storm of three weeks earlier as the springboard for some renovations to both the gallery and its associated botanical gardens. While the gallery is not scheduled to re-open until November 1, the space will be the site on Saturday, October 14 for Indie Author Day.
M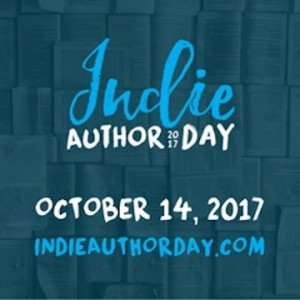 ost of the venues across the country that host Indie Author Day are libraries. "But why shouldn't an art gallery sponsor an event that showcases the incredible talent that we have right here in Fort Myers and on Matlacha/Pine Islands?" asks gallery owner and famed artist Leoma Lovegrove. "The authors and patrons who took part in Indie Author Day last year had an incredible time. Since we were the only host in all of Southwest Florida, some people travelled from as far as Tampa and Fort Lauderdale to take part in our event."
T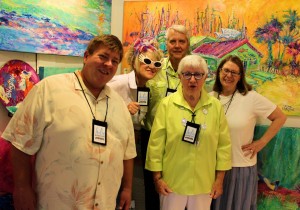 his year's Indie Author Day at Lovegrove Gallery & Gardens will be a wonderful opportunity for you to meet local writers, hear about their inspirations, and get an unparalleled glimpse into the indie publishing business, from pitch to publication.
"We're still putting together the stable of authors who will be on hand to talk about their books and discuss the ins and outs of publication." But last year's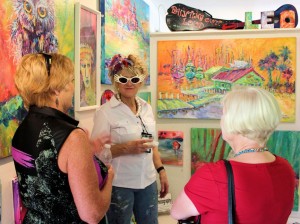 participants are coming back, and they'll be joined by several newcomers.
Read here for more on who's participating.
The event takes place between 11:00 a.m. and 2:00 p.m. on Saturday, October 14, 2017.
________________________________________________________________
FGCU TheatreLab opening 2017-19 season with 'Servant of Two Masters' (09-24-17)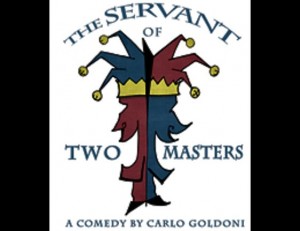 Florida Gulf Coast University's TheatreLab will open its 2017-18 season in October with an 18th century Italian farce by the name of The Servant of Two Masters. Set in Venice, the action revolves around a gluttonous servant by the name of Truffaldino who discovers that the only way for him to survive against a trio of angry lovers, a notorious killer, two greedy old men, a lusty barmaid and a host of bungling street performers is to be in two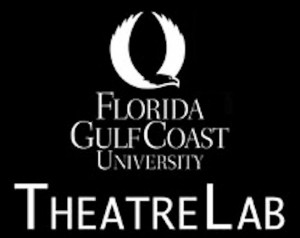 places at one time.
The Servant of Two Masters is Italian dramatist Carlo Goldoni's best and most famous play. It is characterized by direct action, quick emotion, intrigue, disguises and humor. While that's certainly important to audiences, the production fulfills TheatreLab's ongoing commitment to present quality classic theater and underscore the nexus between classic theater and the contemporary

iterations to which it gave rise.
What makes The Servant of Two Masters important in this context is that Goldoni wrote it at a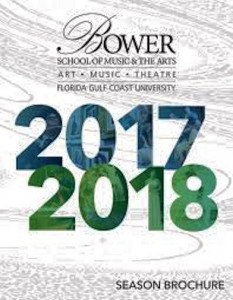 time when the traditional Commedia dell'Arte form of theater was in rapid decline.
Read here for the rest of this announcement.
RELATED POSTS.
________________________________________________________________
In spite of heat, Edison Ford Estates looks forward to Holiday Nights (09-24-17)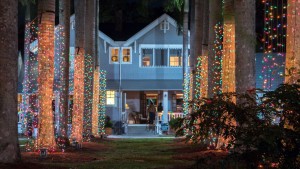 Even though it's still September, the weather is hot and muggy, and we are still grappling with the aftermath of Irmageddon, the Edison Ford Winter Estates wants you to start making plans to spend the holidays with Southwest Florida's first "snowbirds," the Edisons and Fords, at the annual Edison Ford Holiday Nights.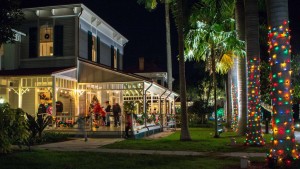 Holiday Nights attracts visitors from all over the world annually to view the lights and seasonal decorations that fill 20 acres of gardens and the Edison and Ford family homes. This year's Holiday Nights' theme is "On the Wings of the Holidays, Birds and Birding at Edison Ford."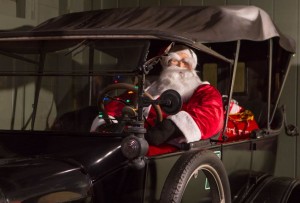 The Ford riverside lawn features the Waltzing Waters water fountain display (introduced last year) with classic holiday music and nightly entertainment. The Children's Tree Trail will include more than 60 live Cedar trees decorated by Lee and Charlotte County school children.
During the holidays, the homes of Thomas and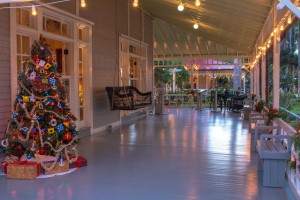 Mina Edison and Henry and Clara Ford will be open nightly from 5:30 p.m. to 9:00 p.m. The museum and the Edison Botanic Research Laboratory will be open nightly, as well. Inside-the-Homes Holiday tours are offered on select evenings, with Guided Holiday Tradition tours being offered at 6:00 and 7:00 p.m. each night.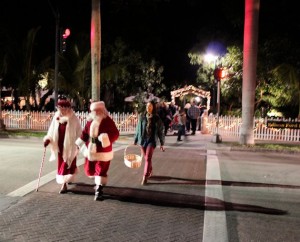 Because of post-Irma repairs, dates and pricing have not yet been announced, so check back for updates. The Edison & Ford Winter Estates lab, museum and research gardens located on the east side of the property will re-open on September 30. Edison Ford plans to have the Ford Estate open for guided tours on October 21 and re-opening of the Edison Estate is anticipated for late October.
For additional information, please call 239-334-7419 or visit the website at www.EdisonFordWinterEstates.org.
________________________________________________________________
Baker Museum's 'Unnatural History' features work of artist Arik Levy (09-24-17)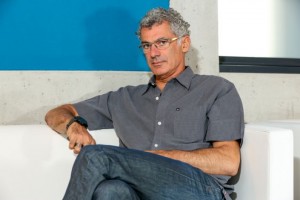 On view at the Baker Museum of Art at Artis Naples is Arik Levy: Unnatural History. This exhibition features works by artist, designer, photographer and filmmaker Arik Levy, who has gained recognition for his sculpture, outdoor installations and collectable designs, which emphasize elegance, balance and minimalism.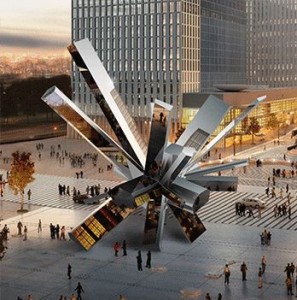 According to the Baker Museum, Unnatural History is the first U.S. solo museum exhibition of the internationally-renowned, Paris-based artist, designer, photographer and video artist. The exhibition offers a mid-career, concentrated perspective on the artist's work and considers the semiotics of his formal language, which synthesizes the worlds of art and design and finds expression through imaginative paradigms and syntagmatic structures.
"With a sophisticated knowledge and understanding of sculptural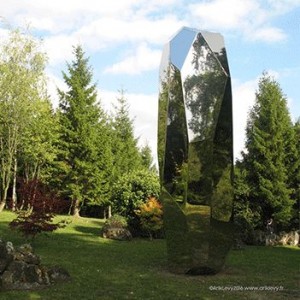 traditions, Levy is a technologist as much as he is an artist: He thinks in form, volume, skin, texture and material properties; he manipulates and develops cutting-edge fabrication techniques to propel his ongoing creative investigation and artistic exploration," states the Baker Museum on the events page of its website. "Levy's innate scientific and poetic acumen, mixed with his interest in innovation, simplicity and experimentation, allows him to translate social and emotional conceptual narratives into sculpture, paintings,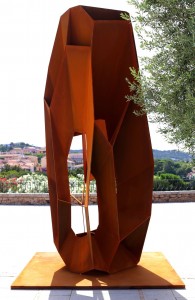 photography as well as space and experiences. In this exhibition, the artist's hand is omnipresent because Levy offered an original concept for the installation, which he gradually unpacked and turned into an environment for visitors to become acquainted with his two- and three dimensional works while considering the families and series in which they are organized by kinship."
On a deeper level, these categories evidence the evolution of his creations from an earlyform or structure into different permutations and variations, continually unfolding in sequential experiences. "Levy's works in various media derive inspiration in form and content from nature. They evoke minerals, arboreal structures, rocks and other forms and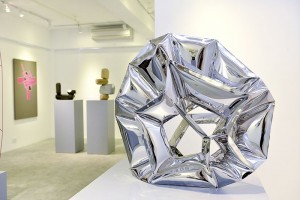 exist as monuments that reflect and celebrate the geometry of nature, serenely owning the spaces they occupy."
The exhibition runs through January 7, 2018.
The Baker Museum is located at 5833 Pelican Bay Blvd., Naples, FL 34108. For more information, please telephone 239-597-1111 or visit www.artisnaples.org/baker-museum.
_____________________________________________________
'Languages of Art' now on view at Baker Museum of Art (09-24-17)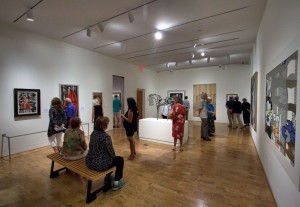 Languages of Art opened September 5 at the Baker Museum of Art at Artis Naples. This exhibition contains approximately 100 works from the museum's permanent collection. The show explores the visual languages artists employ to depict specific themes, including mythology, domestic space, the artist's studio, abstraction, landscape and seascape, city and industry, and the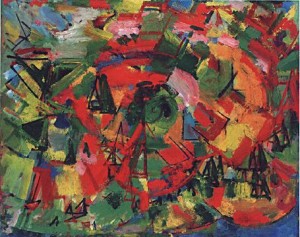 figure, including portraits, group portraits and nudes.
"Through a selection of works by American, European and Mexican artists, each gallery examines how artists interpret and express an idea using a unique visual vocabulary that responds to their experience and speaks to the idiosyncrasies of their historical context," states the Baker Museum about the show. "The Artist's Studio explores how the i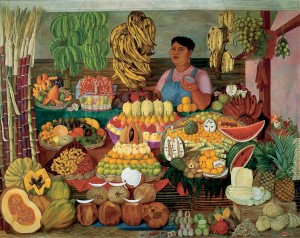 ntimate space of the atelier can be a place for reflection about the creative process. Domestic Space presents a group of paintings that addresses the concept of home and daily life by depicting interior and exterior views. In City and Industry, the urban landscape is exalted in views of its busy streets, technology and progress. While Nature emphasizes the beauty and nuance of the natural environment and the creatures that inhabit i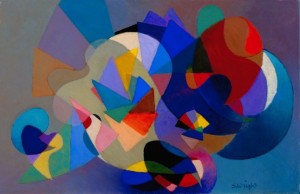 t."
The tradition of depicting arrangements of domestic, inanimate objects in an interior setting is considered in Still Life, which includes modern, abstract renditions of this art historical theme.
"Figure presents a selection of works representing the human body; from idealized images of female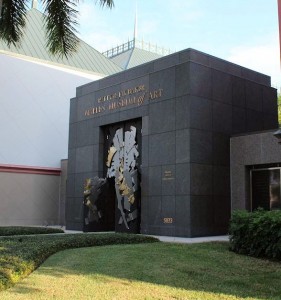 beauty to distorted and stylized figures, which invite a reflection on notions of beauty," the Baker Museum continues. "A gallery devoted to Mythology and Mortality examines how artists respond to, and depict, faith, pain, and loss. Abstraction celebrates this modern artistic current by juxtaposing non-figurative works executed in very different styles."
The show will be on display through July 22, 2018.
The Baker Museum is located at 5833 Pelican Bay Blvd., Naples, FL 34108. For more information, please telephone 239-597-1111 or visit www.artisnaples.org/baker-museum.
___________________________________________________________________
Schrenk Student Photography Exhibition at Baker Museum to October 29 (09-24-17)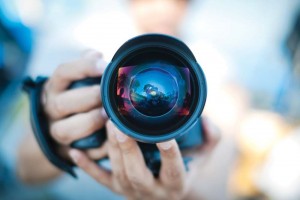 On view at the Baker Museum of Art through October 29, 2017 is the Schrenk Student Photography Exhibition. The show contains photographic images produced by a select group of 20 highly-motivated Collier County high school students who participated in the Schrenk Student Photography Institute.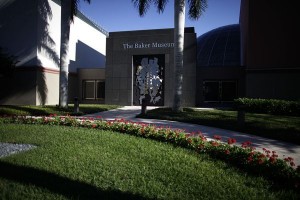 Each year, a class of up to 20 students is selected to participate in the Schrenk Student Photography Institute. The program consists of four weekend-workshops during the academic year and a two-week seminar in June. The institute is designed to give students broad experiences in various areas of photography, including the camera, lighting, composition, digital technology and portfolio preparation. The primary instructor for the photography institute is J. Tomas Lopez, MF.A., professor and chair, department of art and art history, University of Miami.
_________________________________________________________________
Inside the Outside continues at Baker Museum through September 27 (09-24-17)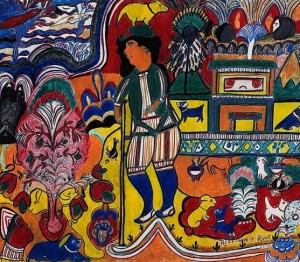 Inside the Outside: Five Self-Taught Artists from the William Louis Dreyfus Foundation is on view at the Baker Museum of Art now through September 27, 2017. This is a continuation of the exhibition that opened this Spring showcasing the work of five self-taught artists — James Castle, Thornton Dial, Nellie Mae Rowe, Bill Traylor and Willie Young.
These five visual artists operate within the genre of "self-taught a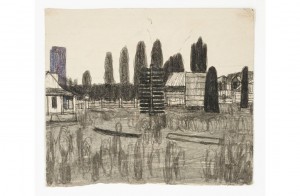 rt," a sweeping term applied to artists who, for various reasons, did not benefit from, nor were influenced by, a formal art education. From Nellie Mae Rowe's vivacious patterned drawings of animals to the hushed and serene rural landscapes of a silent James Castle and the animated tableaux of Southern life created by an observant, people-loving Bill Traylor,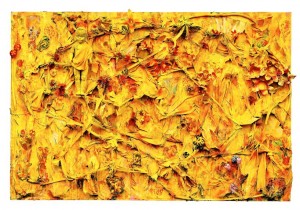 these artists used found and repurposed materials to describe worlds that hover between the real and the fantastical.
"Willie Young has used paper for wrapping carpets as a medium, taking a highly adaptive and functional material to an altogether new level with finely crafted and delicate images," states the Baker Museum's website. "Like the other artists included here,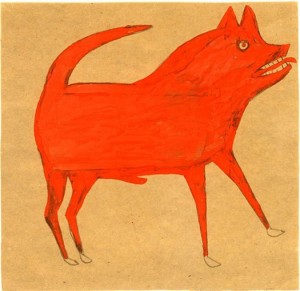 his art blends aspects of his immediate reality with a profoundly innovative world. Whereas Thornton Dial worked with everyday materials on a larger scale to create expressive scenes, which often address history, politics and world events from a critical perspective."
Though grouped under the self-taught heading, their work could not be more distinct. "By identifying a select group of artists to consider within this rubric, the exhibition examines the vastly different realities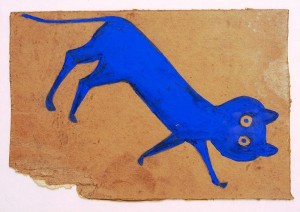 that can inspire an individual to create ambitious and lasting artworks that do not fit neatly into the trends of mainstream-art practice. Drawing is a major presence in this exhibition; it is an immediate, inexpensive and intimate medium for artists of humble means from any background. The artists featured here pursued their passions while holding jobs that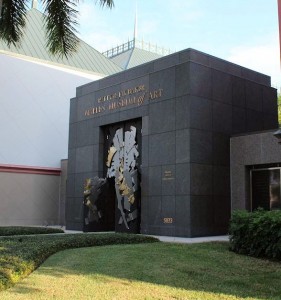 ranged from steel working to shoe shining. Modest, lightweight and transportable materials had obvious benefits, allowing for quick sketching and alteration.
The Baker Museum is located at 5833 Pelican Bay Blvd., Naples, FL 34108. For more information, please telephone 239-597-1111 or visit www.artisnaples.org/baker-museum.
______________________________________________________________________
Sheldon Fine Art celebrates surviving Irmageddon with mimosas on Sunday (09-23-17)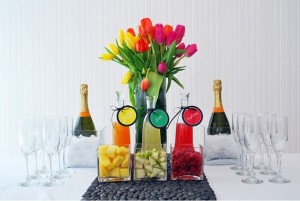 To celebrate surviving Irmageddon, Sheldon Fine Arts on Naples Fifth Avenue South is hosting Mimosa Sunday from 11:00 a.m. to 2:00 p.m. tomorrow. It's a refreshing opportunity to catch up with friends, exchange Irma survival and clean-up stories and preview new artists and new work for the upcoming season. Sheldon Fine Art is located at 460 5th Avenue South. For more information, please visit www.sheldonfineart.com or email sheldonfinearts@aol.com.
__________________________________________________
Naples National Art Festival deadline is October 30 (09-23-17)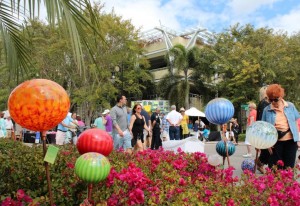 The Naples Art Association is currently accepting applications for inclusion in its three outstanding outdoor art festivals, The Downtown Naples New Year's Art Fair, Naples National Art Festival and The Downtown Naples Festival of the Arts.
Naples National is consistently voted among the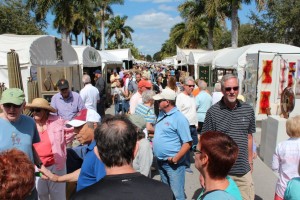 top 25 art festivals in the country by Sunshine Artist Magazine. As one of the oldest festivals in Collier County, Naples National is counted by the local community as among its premiere, must–see events, thanks to the high quality of art, the engaging personalities of the artists and the festive atmosphere.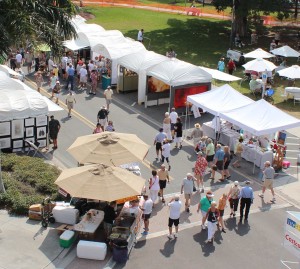 If you are interested in exhibiting in the 39th Annual Naples National Art Festival, here's what you will need to know:
Dates: Saturday & Sunday, February 24-25, 2018
Festival Hours: 10 a.m. – 5 p.m.
Location: Cambier Park & 8th Street South, downtown Naples
Accept 270 artists max
Application fee: $25
Booth fee: $475 for 10×10
Cancellation refund policy: Full refund: 1/12/18; 50% refund: 2/03/18
Set up specifics: Friday set up on 2/23,
Park and street setting
Application deadline: 10/30/17
Jury Process begins: 11/10/17
Status Notification: 11/27/17
Booth Fee Due: 12/15/17
Artist Info Sent: 01/21/18
Wait List Acceptance: 12/10/17
Application available online at juriedartservices.com beginning June 1, 2017
_____________________________________________________________________________________________
30th Annual Downtown Naples Festival of the Arts submission deadline is 12/08 (09-23-17)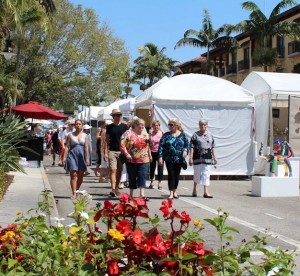 The Naples Art Association is currently accepting applications for inclusion in its three outstanding outdoor art festivals, The Downtown Naples New Year's Weekend Art Fair, Naples National Art Festival and The Downtown Naples Festival of the Arts.
The 30th Annual Downtown Naples Festival of the Arts is one of the last major art festivals of the winter season and a favorite festival for artists, art enthusiasts and collectors. If you would like to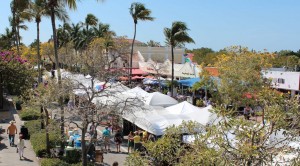 exhibit in this show, here's what you will need to know:
Dates: Saturday and Sunday, March 24-25, 2018
Festival Hours: Saturday: 10 a.m. – 6 p.m.; Sunday: 10 a.m. – 5 p.m.
Location: 5th Avenue South, Downtown Naples
Accept 254 artists max
Application fee: $25
Booth fee: $450 for 10×10
Cancellation refund policy: Full refund: 02/03/17; 50% refund: 02/20/17
Set up specifics: 4 a.m., early morning set up only;
On street set up in quads: No electrical
Application deadline: 12/08/17
Jury Process begins: 12/08/17
Status Notification: 12/29/17
Booth Fee Due: 1/19/18
Artist Info Sent: 02/23/18
Wait List Acceptance: 01/16/18
Application available online at juriedartservices.com beginning June 1, 2017
___________________________________________________________________
Naples Art Ass'n. accepting submissions for next season's Art in the Park (09-23-17)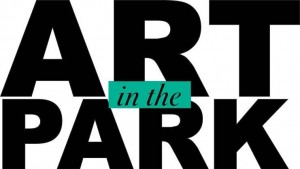 Are you ready for the 2017-2018 season of Art in the Park? The Naples Art Association (NAA) proudly connects artists with art shoppers in another terrific season of Art in the Park.
Since 1957, Art in the Park has showcased paintings in oil and acrylics, watercolors, mixed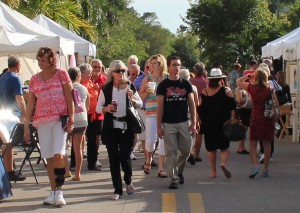 media, photography, sculpture, ceramics, glass art, jewelry and wood-working created by members in good standing of the Naples Art Association. For art lovers, it's a casual, fun-filled venue for meeting local artists and becoming acquainted with their work. It is believed to be the first outdoor art show held in Naples. And the tradition continues for the 2017-2018 art fair and festival season.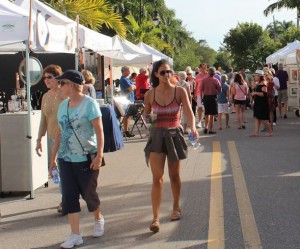 Art in the Park is held between 10:00 a.m. and 4:00 p.m. on the first Saturday of each month from November through April. Because of its long tradition, prestige and the interest and number of people who routinely turn out for the show, many NAA members seek admission to the show. Applicants go through a jury process.
"Art in the Park is a membership opportunity, providing artists a venue to sell and market their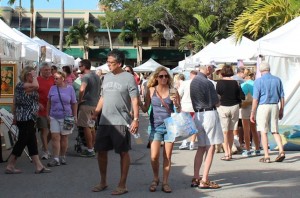 work while broadening their customer base," notes the Naples Art Association in its call to artists for the 2017-2018 season. "It also provides a setting for artists to interact with other artists sharing ideas, industry changes and the camaraderie of creative people. It is an opportunity for both artists and the public to engage in enlightening conversations about art."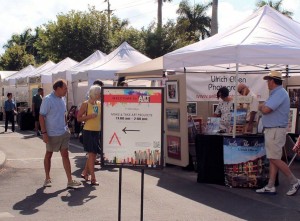 The one-day fair takes place on Park Street adjacent to The von Liebig Art Center in the northwest corner of Cambier Park. Located just a block and a half from historic Fifth Avenue South, Art in the Park is within walking distance of trendy European boutiques, sidewalk cafes and iconic art galleries such as Sheldon Fine Art, Call of Africa's Native Visions Gallery and Shaw Gallery of Fine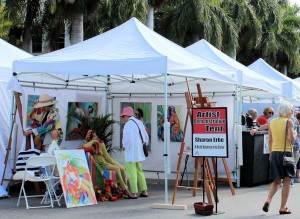 Art. The show is also just three minutes by car from fabled Gallery Row and the Third Street South Gallery District. The January show is also held in conjunction with the Downtown Naples New Year's Art Fair, which will be held next season on Saturday and Sunday, January 6 & 7, 2018.
The submission deadlines are:
November 4 show – October 21
December 2 show – November 18
January 6, 2018 show – December 23
February 3, 2018 show – January 20, 2018
March 3, 2018 show – February 17, 2018
April 7, 2018 show – March 27, 2018
Submission forms can be found online at http://www.naplesart.org.
_______________________________________________________
'Sordid Lives' elixir for what ails you post Hurricane Irma (09-22-17)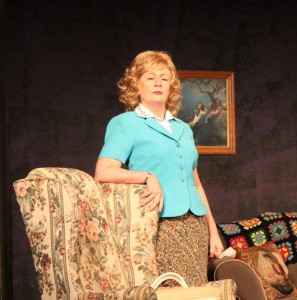 Del Shores' Sordid Lives is on stage at Lab Theater for a hurricane-abbreviated run that only extends through October 1.  Long touted as a gay cult classic, the play is hysterically funny whether you're straight or LGBTQ. That's because Shores' dialogue is droll and snarky, his characters deeply relatable, his theme profound and universal. At its essence, Sordid Lives is about love and acceptance, and who doesn't strive for that?
The play is set in a small, conservative Texas town by the name of Winters, where Peggy Ingram's family and friends are coming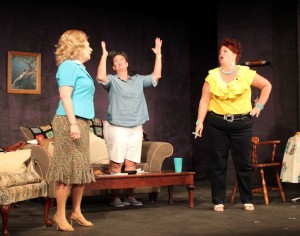 to terms with the matriarch's sudden, rather ignominious passing. She tripped over her consort's wooden legs and cracked her noggin wide open on the bathroom sink of the seedy motel that served as their secret rendezvous.
But that's just the half of it.
What has everyone so riled up is that Peggy's paramour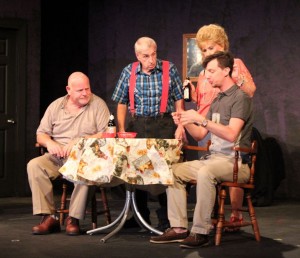 was her next door neighbor, G.W. Nethercott, who's married and Peggy's junior by some four decades.
Read the rest of this review here.
RELATED POSTS.
__________________________________________________________
Romantic comedy 'Outside Mullingar' on stage at Florida Rep (09-22-17)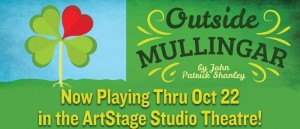 Florida Repertory Theatre has opened its 20th anniversary season with Outside Mullingar, a delightful romantic comedy by John Patrick Shanley, the Pulitzer Prize and Tony-Winning author of Doubt and Moonstruck.
T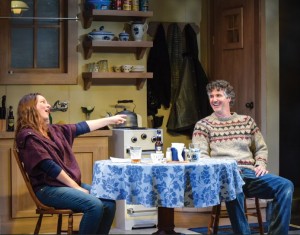 he play unfolds in a picturesque, Irish countryside and follows the unlikely romance of two lovable misfits, Anthony Reilly and Rosemary Muldoon. They're farmers who don't have a clue when it comes to love. These hopeless singletons will need to overcome a bitter land feud, old family rivalries, and their own romantic fears before they can find happiness. Full of humor and poetic prose, John Patrick Shanley's tenderhearted portrait
reminds us it's never too late to take a chance on love.
"This is the perfect play to open our 20th season," states Producing Artistic Director Robert Cacioppo. "Not only is it a masterfully-written love story, but it brings together some of Florida Rep's most beloved ensemble members both onstage and in the creative team. This play is witty, charming, and was w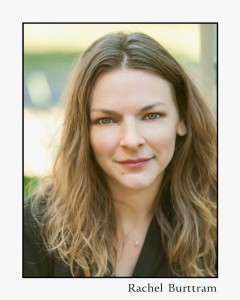 ritten by one of the best American writers working today. You are in for a treat."
The ensemble members mentioned by Mr. Cacioppo are Rachel Burttram, Brendan Powers and Viki Boyle. They will be joined by guest artist Martin LaPlatney, who returns after appearing in Florida Rep's nationally-acclaimed 2016 production of One Slight Hitch.
Read here for the rest of this announcement.
RELATED POSTS.
______________________________________________________________
Men out, ladies in at Off Broadway's 'Odd Couple: Female Version' (09-22-17)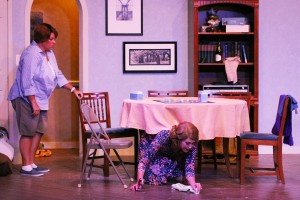 The Odd Couple: Female Version is playing in the Off Broadway Palm Theatre through October 29, 2017. The storyline and hilarity are the same, but the men are out and the ladies are in.
In case you've forgotten, the premise centers on neurotic neat freak who moves into the home of a messy, uncouth friend following a marital split. Within days, their differing lifestyles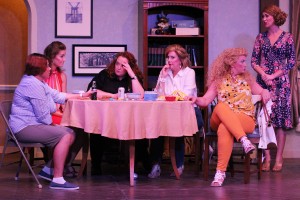 and outlooks on life begin to clash as they ruefully discover that even the best of friends can make the worst of roommates.
In this clever adaptation, playwright Neil Simon substitutes Florence Unger for Felix and Olive Madison for Oscar. He's also changed the poker game into Trivial Pursuit,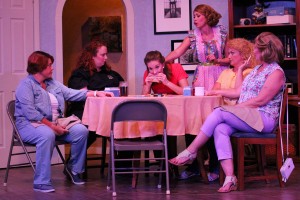 and recast the Pigeon sisters as the Costazuela brothers, two tipos salvajes y locos (wild and crazy guys) who are determined to infuse every situation with a piñata full of machismo. But even if you aren't familiar with the original play or movie, laughs abound in this fast-paced Off-Broadway Palm stage production.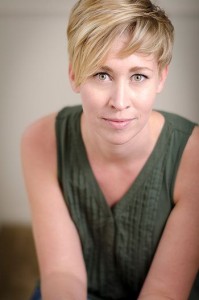 Read here for more.
RELATED POSTS.
_____________________________________________________
'Odd Couple' play dates, times and ticket information (09-22-2017)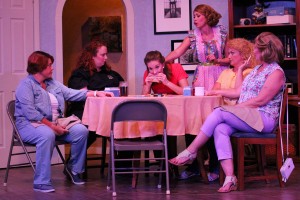 Interested in going to see the Off-Broadway Palm's production of The Odd Couple: Female Version? Then you'll need to know the play dates, times, cost and how to purchase tickets. Read here for that and more, including the actors who are playing your favorite roles.
______________________________________________________________
Broadway Palm's 'Pippin' eye-popping, jaw-dropping extravaganza (09-22-17)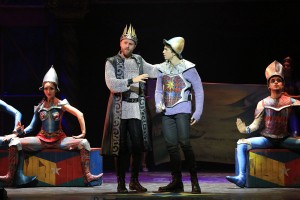 Would you settle for a happy but simple life or risk everything for a singular flash of glory? That's what young prince Pippin must decide in Broadway Palm's production of the eponymous musical described by the NY1 as an "eye-popping, jaw-dropping, visually-stunning extravaganza" that's guaranteed to be the thrill of the season.
D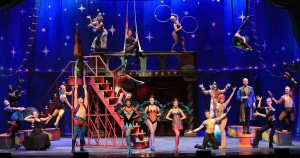 irected and choreographed by Bob Fosse, Pippin premiered at the Imperial Theater on October 23, 1972 and ran for 1,944 performances before closing on June 12, 1977. It was revived on Broadway in the Spring of 2013, and went on to garner 10 Tony nominations and four Tony awards, including Best Revival of a Musical.
Read here for the rest of this advance.
_________________________________________
'Pippin' play dates, times and ticket info (09-22-17)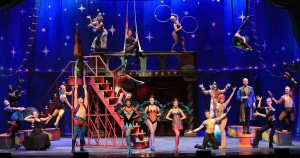 Interested in going to see the Broadway Palm's production of Pippin? Then you'll need to know the play dates, times, cost and how to purchase tickets. Read here for that and more, including the musical's direction, choreography and music.
________________________________________________________________________
Theatre Conspiracy bringing Barbra Streisand's Malibu home to Foulds Theatre (09-22-17)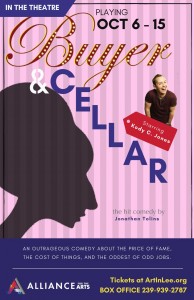 Barbra Streisand's oceanfront Malibu estate consists of four separate structures on three adjoining clifftop properties that overlook the spectacular beaches of Point Dume. But in October, Malibu comes to the Foulds Theatre at the Alliance for the Arts when Theatre Conspiracy produces Jonathan Tolins' Buyer & Cellar.
The play was inspired by Streisand's My Passion for Design, the book in which the entertainer chronicles in pictures and prose the rooms she has decorated, the furniture and art she has collected, and the ravishing gardens she has planted on her land on the California coast. In the basement of her Main House (there's also the Mill House, the Barn and Grandma's House) is an entire shopping mall that includes a doll shop, an antique clothing store and a sweets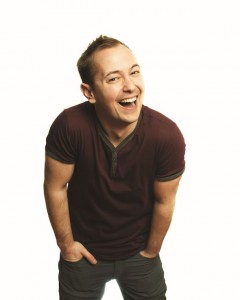 shop (complete with frozen yogurt machine). Jonathan Tolins takes Streisand's penchant for collecting one step further as he imagines a man who is hired to work in the basement mall … with Babs as his only customer!
That man is Alex More, a struggling L.A. actor. Buyer & Cellar tracks his experience working in the megastar's basement shops where, one glorious day, the Lady Herself comes downstairs to play. In this one-man tour de force, Florida Rep's Education Director, Kody C. Jones, not only plays Alex More, but half a dozen other characters. It's a performance that will have you talking (to yourself and others) for days and weeks to come.
You can read the rest of this advance here.
And go here for play dates, times and ticket info.
_____________________________________________________
Ghostbird Theatre Company announces 2017-18 season (09-22-17)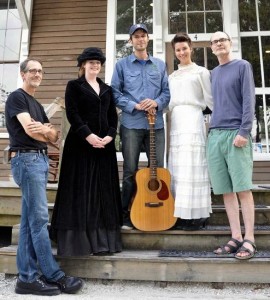 Continuing its commitment to new, site-influenced theater, Ghostbird Theatre Company's sixth season will feature three plays and one art happening.
Ghostbird is the only theater company in the American South devoted to site-specific work. And it's precisely because Ghostbird works hard to partner with just the right venue for each of its productions that it has been recognized as one of the ten best companies in Florida for live theater.
Designing productions in relationship to specific venues excites e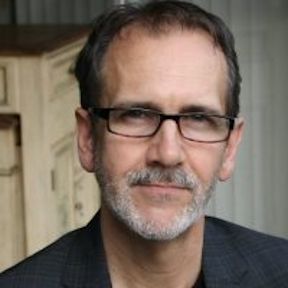 veryone in the company. "We continue to grow artistically with our on-site collaborations," observes Artistic Director Barry Cavin.
With shows such as The Perfect Island of Dr Teed (held at Koreshan State Historic Site in Estero), Antigonick (staged at artist Marcus Jansen's warehouse-based art studio in Fort Myers), No. 27 (performed at Bonita Springs' historic Shangri-La Springs) and The Chicken Play (performed outdoors under the super moon and inside the screened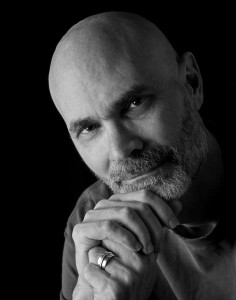 pavilion at the Happehatchee Center in Estero), Ghostbird has taken tremendous strides in just the past two seasons in developing performances in which the play and setting converse with one another.
The 2017-18 season starts with Writing Shadows, a play Cavin is penning specifically for the historic Langford-Kingston Home near downtown Fort Myers. The home and the play's main character, world-renowned spiritualist Pearl Curran, come from the same era.
"To have this play performed in this historic home is such a great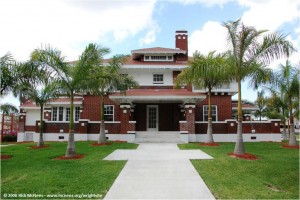 opportunity for our theatre and for the community," says Producing Director Jim Brock. "We're so happy to be reconnecting back to our roots in Fort Myers."
Writing Shadows will run every Friday night through the month of November.
In January, Ghostbird will produce Samuel Beckett's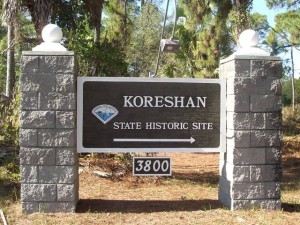 Catastrophe as a free piece of guerilla theater. The exact location and time will be disclosed at the last minute.
Over the first two weekends in February, Ghostbird will return to the Koreshan State Historic Site to present The Lunar/Solar Festival, a reimagining of the Solar Festival and Procession put on by the Koreshans almost 130 years ago.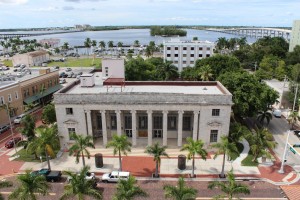 Ghostbird will enjoy another homecoming in February when the company returns on the 19th to the Sidney & Berne Davis Art Center in Fort Myers for its annual 24 Hour Festival. The festival challenges visual artists, filmmakers, and live performers to create and present new work based on prompts given 24 hours before. Best video, best visual art, best musical performance, and best live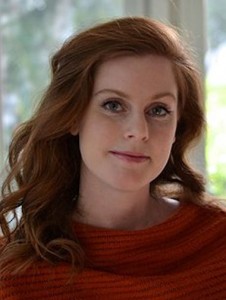 performance will each receive $500 cash prizes.
"The 24 Hour Festival is another way we pay back to our artistic community," says Jim Brock.
Since its inception at the Davis Art Center, Ghostbird has increasingly gravitated to site-specific, experimental productions. "We do this really well and it's what we like to do in order to create a different-theater going experience," adds Ghostbird co-founder Brittney Brady. "After performances, we often hear people say, 'I've never seen anything like that before,' with the subtext being, 'I've never experienced anything like that before and thank you for that.'"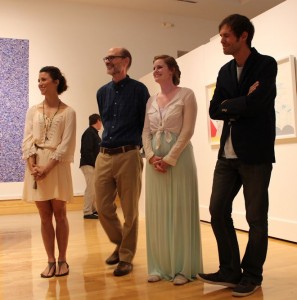 The experimental theatre company takes its name from a swamp-dwelling ivory-billed woodpecker once thought to be extinct, but which has been spotted sporadically over the past two decades. Drawing upon the elusiveness, mystery and magic of its namesake, Ghostbird Theatre seeks to draw its audiences into those deep spiritual woods where they can discover loss, beauty, communion, reconciliation and hope.
Ghostbird's 2017-2018 season is made possible by grants from the Florida State Division of Cultural Affairs, the Lee County Visitor & Convention Bureau, and the City of Fort Myers.
More information is available at: www.GhostbirdTheatreCompany.org.