Spotlight on 'In the Heights' choreographer Lauren Perry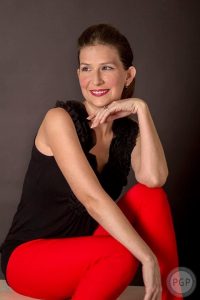 In the Heights opens at Lab Theater on March 27. It's billed as a high-energy musical, which means that it requires someone with high energy and exceptional creative talent to handle the show's choreography, and so it's not surprising that Director Carmen Crussard tapped Lauren Perry for the task.
Crussard knows Perry from their work on behalf of the Alliance Youth Theatre. They just collaborated on the highly-successful run of Pippin the Musical, but their familiarity with each other dates back to several AYT shows. But while Perry may be a known commodity to Crussard, few of Lab Theater's regular performers and patrons known much about her. They're in for a treat.
Perry's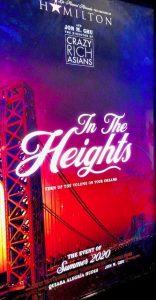 choreography is informed by more than two decades of dance.
"My mom co-owned a dance studio. I started dancing while I was still in the womb," she quips.
But in truth, she was already teaching dance and doing choreography by the time she was 14.
"My father was a drama teacher and he used to call me in to choreograph all of his middle school productions. When I got into the Cypress Lake Center for the Arts, I would help out doing the choreography there too."
While she was in high school, she worked as an entertainer for the Walt Disney Company, and upon graduating from the Center for the Arts, Lauren received a contract on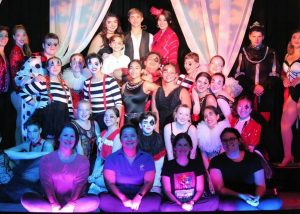 the Disney Cruise Lines and performed on the Disney Wonder for two years.
Working for an entertainment company like Disney provided Perry with so many great learning experiences, but none exceeded the fundamentals and fine points that she learned when she got the chance to help workshop a brand new show for the cruise line.
"They brought in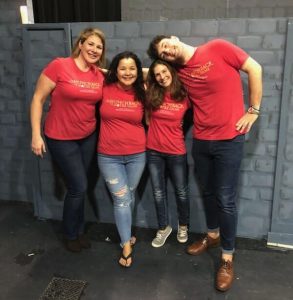 Broadway choreographers and we put together the show from start to finish. That was the biggest learning experience of my life. Even on days I wasn't called, I came in just so I could observe and soak it all in. I even sat down with the wig people so I could learn how to do wigs."
After her stint with Disney ended, Lauren returned to Fort Myers and began teaching. In addition to dance experience, Lauren has her degree in early childhood education and has worked teaching Pre-K and 1st -6th grades for several years in both private and public schools.
She has also taught and competed professionally in ballroom dance with Fred Astaire franchised studios.
But there was something missing.
"I wanted to do choreography again, so I posted on Facebook that I had all these ideas that I needed to get out of my head. The very next day my boss told me that the Alliance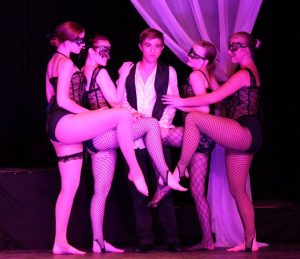 Youth Theatre had called to offer me a job.
That was a nearly three years ago, and since joining AYT, Lauren has provided the choreography for a handful of shows beginning with Spamalot the Musical, where she took the reins after her predecessor moved on midway through rehearsals.
Spamalot was followed in quick succession by The Hunchback of Notre Dame,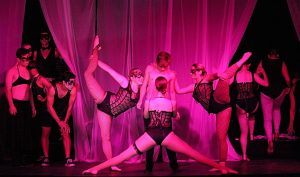 Princess Camp, and an assist with Freckleface Strawberry. Children of Eden Jr., Rent and Charlotte's Web are already in the offing. Charlotte's Web will also represent her AYT directorial debut.
But Pippin was on a different plane than any of these for a variety of reasons.
First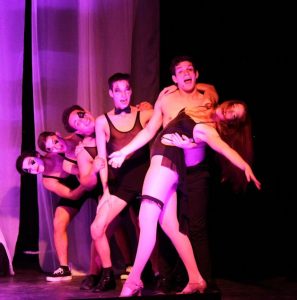 was the sheer number of performers included in the cast. The musical had a cast of 30.
"Pippin is the kind of show everyone wants to be in and the play calls for a bigger cast anyway because of all the Players," Lauren points out.
But sheer numbers aside, Perry and the rest of Director Carmen Crussard's creative team had to contend with a wide disparity of experience.
Like all good choreographers, Lauren possesses a strong spatial sense, enabling her to visualize spaces, movement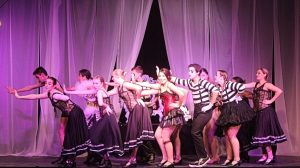 and space. She's charismatic and possesses the vocabulary and language skills necessary to articulate her vision and drive her dancers and other performers to new heights and "personal bests." An adroit storyteller, she's a great judge of movement with an eye for art, design and the elusive elements of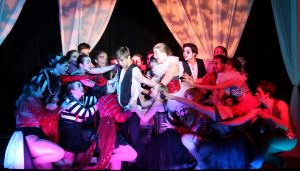 balance, texture, color, energy, flow, white-space, connection, pulse and rhythm. And she has an uncanny grasp of energetic flow – not just between the performers themselves, but between the troupe and the audience they are entertaining.
Given these qualities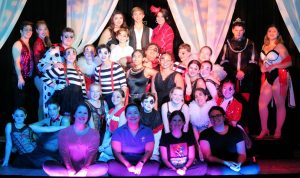 and attributes, it should be intriguing to see what she and Crussard are able to bring to the Lab Theater stage with a more experienced and slightly smaller (17 members) cast.
March 8, 2020.