Sundby dominates as 'Woman Who Loved to Make Vaginas Happy'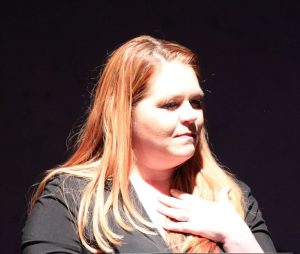 Tonight is the final performance of The Vagina Monologues at Lab Theater. Stephanie Davis has thoughtfully assembled a diverse cast that includes both accomplished and newbie actors. One of the former is Lucy Sundby, who absolutely, positively slays "The Woman Who Loved to Make Vaginas Happy."
By way of transparency, I was predisposed to like this monologue best because Lucy's character is, like moi, a former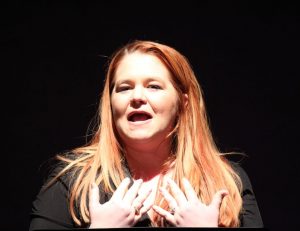 tax lawyer. Perhaps if I'd met someone like her back in the day, I'd still be practicing … But I digress.
In a nutshell, the character in this monologue is a dominatrix who caters only to women. And her specialty is making women moan.
"I realized … that moans are connected with not getting what you want right away, with putting things off," drawls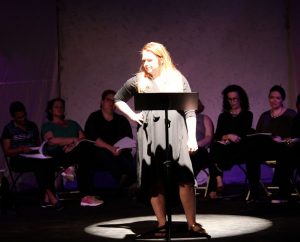 Sundby in the stark white spotlight as several of her cast mates nod knowingly in agreement. "I realized that moans were best when they caught you by surprise, they came out of this hidden mysterious part of you that was speaking its own language. I realized that moans were, in fact, that language …. It was a kind of surgery, a kind of delicate science, finding the tempo, the exact location or home of the moan."
In a previous monologue,
a character makes reference to a "vagina connoisseur." Sundby's character is a moan Zen master who goes on to give a clinic in the different types of moans she's encountered in her sex work. In a segment as erotically humorous as Meg Ryan's fake orgasm scene in When Harry Met Sally, Sundby reprises a medley of moans, ranging from clit and vaginal moans to Jewish and Irish Catholic and ending with the surprise triple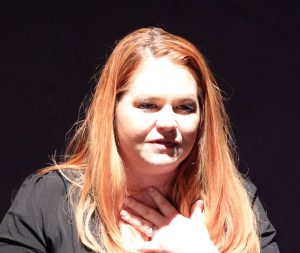 orgasm moan (intense, multifaceted and climatic, of course).
Sundby owns this monologue. She dominates, to be sure. She makes each moan her own. I have no idea how she achieved that, but it clearly didn't involve practicing in front of a mirror or on a tape recorder. They don't sound fake or forced. Instead, they're as rich and varied as a box of Godiva assorted chocolates, as wet and delicious as a cherry cordial or hand-dipped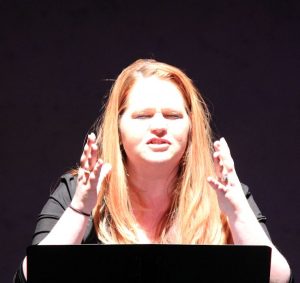 chocolate strawberry.
What's interesting, of course, is that playwright Eve Ensler based each monologue on interviews taken from real women. Sundby's performance never lets the audience forget that her character and each of the women she describes are actual people with actual stories.
And that there really is life after tax law that doesn't necessarily require 12 steps.
This segment is yet another reason to catch the final night of The Vagina Monologues.
February 12, 2019.