Camera USA 2015
ON THIS PAGE YOU WILL FIND ANNOUNCEMENTS, ARTICLES, REIVEWS AND OTHER INFORMATION ABOUT THE NAPLES ART ASSOCIATION'S CAMERA USA 2015 NATIONAL PHOTOGRAPHY COMPETITION AND EXHIBITION.
* * * * * * * * * * * * * * * * * * * * * * * * * * * * * * * * * * * * * * * *
New Mexico photographer choses as winner of Camera USA 2015 contest (06-16-15)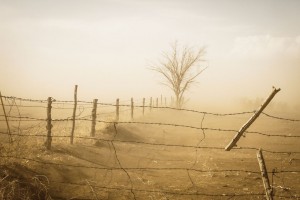 New Mexico photographer Kathleen Brennan's image titled Fence and Elm Tree in Dust Storm was chosen as Best in Show at this year's Camera USA exhibition at The von Liebig Art Center. The honor carries with it a $5,000 National Photography Award.
"The drought in New Mexico is impacting the land and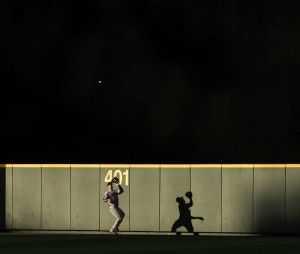 lifestyle of the ranchers and farmers in the northeast section of the state," says Brennan of her winning shot. "The lack of water, overgrazing and dust storms have created imagery of devastating beauty."
Brennan began her love affair with photography at the age of 10 when she received her first Polaroid camera. A native of New Jersey, Kathleen went on to complete a degree in photography at the University of New Mexico. Now living in Ranchos de Taos, Brennan's New Mexico landscape photographs have won numerous awards and can

be found in many museum and private collections. As a multidisciplinary artist with a strong emphasis on photographic techniques, Kathleen's work has been called masterful and poetic. "I look for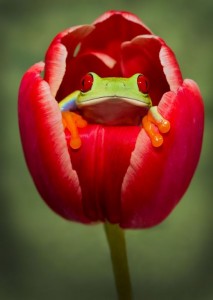 the abstract element in my work, the honesty, humor and the simple straightforwardness of people's lives," Kathleen adds. Her diverse body of work, ranging from portrait to documentary and landscape to urban scenes, provides an enduring testament to the transformative processes of our world.
Brennan's photograph was selected from a strong field of images that Sir Harry Benson, Center for Photography at Woodstock Director Ariel Shanberg  and Art Institute of Chicago's Patty Carroll juried into the exhibition. Among the other photographs that Benson, Shanberg and Carroll juried into the show is Sea Cave Splash by Tony Hertz of Pismo Beach, California. Hertz took Best of Show honors in Camera USA 2013 for his image Gnarled Wave.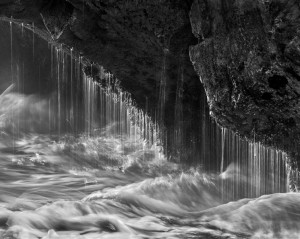 The contest was open to all photographers residing in the United States. On view now through July 17, Camera USA 2015 is the Naples Art Association's fifth annual photography competition.
The home of the Naples Art Association, The von Liebig Art Center is located at 585 Park Street in Naples, Florida one block south of Fifth Avenue South in the northwest corner of Cambier Park. The von Liebig Art Center is open Monday,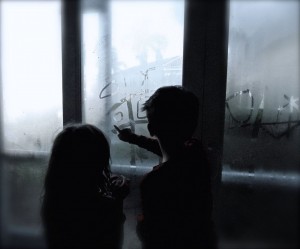 Tuesday, and Thursday, 10 a.m. to 9 p.m. and on Wednesday, Friday, and Saturday 10 a.m. to 4 p.m.
N.B.: Images appearing above are Fence and Elm Tree in Dust Storm by Kathleen Brennan; Shadow Play by Leslie Zukor; Suburban Fences by Robert Silance; Red Eyed Tree Frog by Lori Freedman; Sea Cove Splash by Tony Hertz; and Windows by Val Wright.
__________________________________________________________________________
Preview reception for Camera USA and Pictures in Process takes place June 12 at The von Liebig Art Center (05-18-15)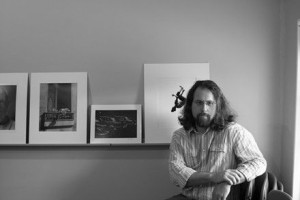 The preview reception for Camera USA: National Photography Exhibition and Award 201 and Pictures in Process takes place June 12, 2015 at The von Liebig Art at 595 Park Street in downtown Naples. Pictures in Process is a Naples Art Association (NAA) member exhibition open to all types of photography.
__________________________________________________________________________
The Naples Art Association has announced that CPW Director Ariel Shanberg will c0-judge Camera USA 2015 contest (02-09-15)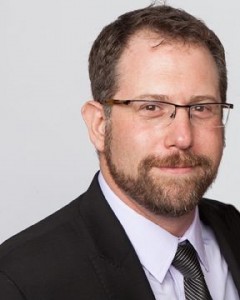 The Naples Art Association has announced that Center for Photography at Woodstock Director Ariel Shanberg will join photojournalist Harry Benson and the Art Institute of Chicago's Patty Carroll as judges of this year's Camera USA Photography Exhibition and Competition. Shanberg joined the Center for Photography at Woodstock (CPW) as an Arts Administration Intern in 1999. In the fall of 2003, he was appointed Executive Director. As the fourth Executive Director in the organization's history, Shanberg sets and oversees the CPW's artistic mission and creative offerings, working with the staff and Board to ensure its historic and continued excellence.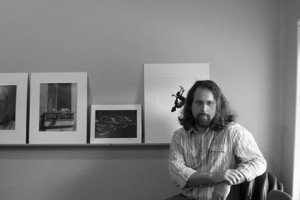 Shanberg has curated many exhibitions at CPW, as well as at other venues including Light Factory, the Philadelphia Photo Arts Center, the Islip Art Museum, the Dorsky Museum and the 2011 members exhibition at the Houston Center for Photography. He has served as a panelist for the 2011 New York Photo Festival Awards, the National Endowment for the Arts, Media Alliance's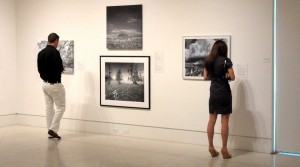 Media Action Grant, and Light Works' Regional Photographers' Grant, and as a reviewer at both regional and national Society of Photographic Education conferences, FotoFest, Portfolio Review Russia and Rhubarb Rhubarb as well as an invited speaker at Bucknell College, Fashion Institute of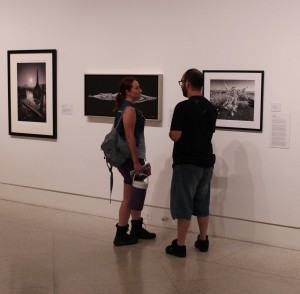 Photography, Parsons School of the Arts, Rutgers University, School of Visual Art, Syracuse University and University of the Arts.
He has contributed essays on the works of various photographers for monographs and such publications as Aspect: The Chronicle for New Media Art, Contact Sheet, European Photography, Exposure, Nueva Luz, and Photograph. Additionally he sits on the Advisory Board of En Foco and was the 2007 Conference Chair for SPE's joint regional Mid-Atlantic and Northeast conference held in November 2007 at Woodstock. In 1997, he received his Bachelor of Fine Arts degree cum laude in Painting from Mason Gross School of the Arts at Rutgers University.
_____________________________________________________________________________
Art Institute of Chicago's Patty Carroll one of three esteemed Camera USA 2015 judges (02-07-15)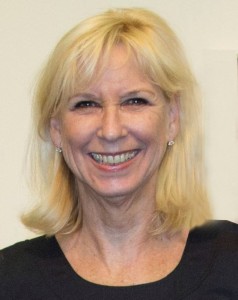 The Naples Art Association has announced that the Art Institute of Chicago's Patty Carroll will be one of three Camera USA 2015 judges. She joins world-renowned photojournalist Harry Benson and Ariel Shanberg on the panel that will jury entries into the show and select the overall Best of Show $5,000 winner.
Carroll is Adjunct Full Professor at the School of the Art Institute of Chicago and has taught at Columbia College in Chicago, IIT and the Royal College of Art in London. Carroll is an Adobe Certified Instructor in Photoshop, and teaches for Ascend Training in Chicago. She has participated in numerous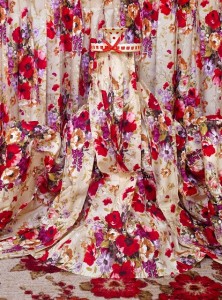 group and one-person exhibitions and has work in several museums internationally.
She has also authored four books:
Spirited Visions, a book and exhibit of portraits of Chicago artists in 1992 with James Yood;
Culture is Everywhere, published by Prestel in 2002 with Victor Margolin;
Living the Life: The World of Elvis Tribute Artists, 2005; and
Man Bites Dog: The Culture of Hot Dogs in America, with Bruce Kraig 2012.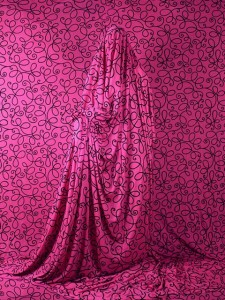 She was the recipient of an Artist Fellowship Grant from the Illinois Arts Council in 2003 and has had various International artist residencies.Selected one-person exhibitions include "Are You Lonesome Tonight" at Royal Photographic Society in Bath, England in 1996, "Elvis?" at the Museum of Contemporary Photography, Chicago in 1999 and  "Dark and Deadly: Photographs and Digital Movie Posters" at The Art Institute of Chicago in 2004. Since 2010, her Anonymous Women: Draped series has been exhibited at White Box Museum in Beijing, at Shanghai University Gallery and at the Cultural Center in Chicago in 2012.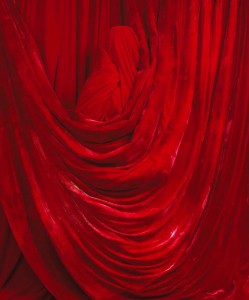 The latter series, in particular, highlights Carroll's penchant for infusing her work with an entertaining sense of humor that softens the serious intent embedded within it. These works entice the viewer with lush treatments of female forms draped in patterned and textured fabrics in lavishly appointed studio settings, but the works themselves are a comment on surface vs. inner content. The premise allows for a rich statement on concealment, identity and so many provocative issues regarding women and domesticity. Various works reference a whole history of culturally loaded iconography including the Virgin Mary, judicial robes, and Muslim women in burqas, to name a few."
Carroll has guest curated exhibitions including: "American Made: The New Still Life" which toured Japan, 1993: "The Constructed Self," 1998; "E2K:Elvisions:2000" at Intuit, the Center for Intuitive and Outsider Art in 2000: "The Stella Collective" at the Ukrainian Museum of Art, Chicago in 2014.
_________________________________________________________________________
Photographer Harry Benson returning to judge Camera USA 2015 National Photography Exhibition and Competition (02-06-15)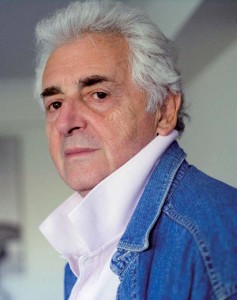 Camera USA is a national photo competition and exhibition held annually by the Naples Art Association. Now in its fifth year, Camera USA features recent work in color and black & white photography from photographers across the United States. Opening at the von Liebig Art Center on June 15 and running through July 17, 2015, the jury for this year's edition of Camera USA consists of Harry Benson, Patty Carroll and Ariel Shanberg.
Scottish born photojournalist Harry Benson arrived in America with the Beatles in 1964. He has photographed every US president from Eisenhower to Barack Obama; was just feet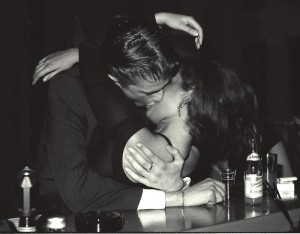 away from Bobby Kennedy the night he was assassinated; in the room with Richard Nixon when he resigned; on the Meredith march with Martin Luther King, Jr.; next to Coretta Scott King at her husband's funeral; on maneuvers with the IRA; was there when the Berlin Wall went up and when it came down; and covered the aftermath of Katrina in New Orleans.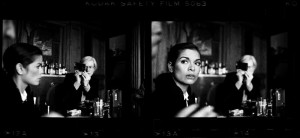 Benson describes the night in which he learned that he would be travelling to America with the band. "Late one night in January 1964, the phone rang in my London flat. It was the night picture editor of a London newspaper, asking me to fly to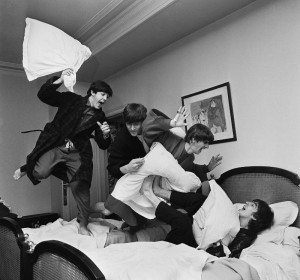 Paris with the Beatles to cover their first trip abroad as England's top pop stars." That phone call is where Benson's exclusive relationship with the Beatles began, and still continues.
"One of Benson's most iconic images shows the band in a gleeful pillow fight in a hotel room after learning that they were going to perform on The Ed Sullivan Show," relates Contessa Gallery's Steven Hartman. "This image displays one of the band's rare unguarded moments, marking the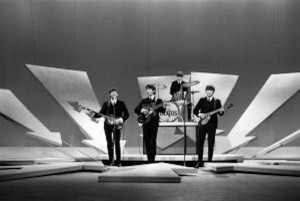 moment before the band changed American pop culture forever."
"He invariably extracts a person's soul in a single image, subtly cultivating a subject's character without the subject even knowing it," observes Barbara Baker Burrows, his picture editor at LIFE Magazine.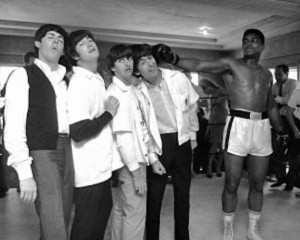 "He knows when to stand back from a subject, and when to move in. And when he moves in, it's for the kill," adds David Schonauer, former editor of American Photo Magazine.
In 2013, Benson received an Honorary Doctor of Letters from the University of St. Andrews in Scotland. On January 1, 2009, he was appointed a Commander of the Order of the British Empire by Her Majesty Queen Elizabeth II and received his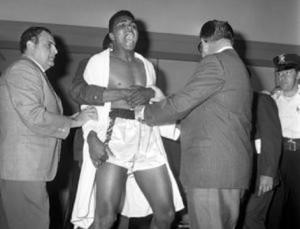 honor at Buckingham Palace in March. He was honored with a Doctor of Letters from the Glasgow School of Art and Glasgow University in 2007. Benson was twice named the NPPA (National Press Photographer's Association) Magazine Photographer of the Year. He received the 2005 LUCIE Award for Lifetime Achievement in Portrait Photography; the 2006 Lifetime Achievement Award from the Scottish Press Photographers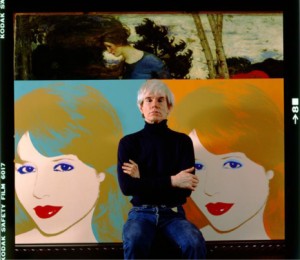 Association; and has twice received the Leica Medal of Excellence. He has had 40 gallery solo exhibitions and fourteen books of his photographs have been published, including his newest book, The Beatles: On the Road 1964-1966 which celebrates the 50th anniversary of the Beatles coming to America and includes intimate portraits from the famous pillow fight at the Georges V hotel to the hysterical young female crowds, from TV studios to backstage.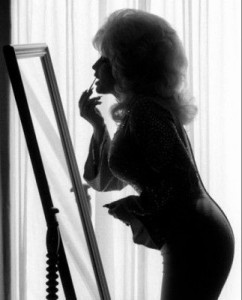 His photographs are in the permanent collection of the Scottish National Portrait Gallery in Edinburgh and the Smithsonian National Portrait Gallery in Washington, DC. Both museums hosted his Harry Benson: Being There exhibition (2006-7). A major retrospective exhibition of Benson's photographs was at Kelvingrove Museum in Glasgow, Scotland from June through September 2008.
Under contract to LIFE Magazine from 1970 to 2000, and took more than 100 cover shots for People Magazine. Benson is presently under contract to Vanity Fair Magazine, and he photographs for Architectural Digest, Newsweek and many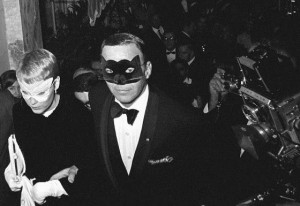 other major magazines. Benson lives in New York with his wife Gigi who works with him on his book and exhibition projects. Their two daughters Wendy and Tessa live and work in Los Angeles.
This year will represent the third time that Benson has served as a judge for the Camera USA National Photograph Exhibition and Competition. He was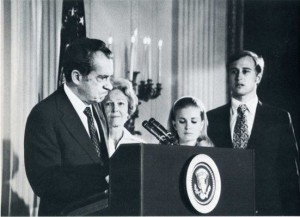 the sole judge for the inaugural show and joined former Bob Rauschenberg Gallery Director Ron Bishop and photographer Christopher Rauschenberg to judge Camera USA 2013.
For more information about Camera USA, please visit http://www.naplesart.org or telephone 239-262-6517.
_______________________________________________________________________
Naples Art issues call for Camera USA 2015: National Photography Exhibition (02-05-15)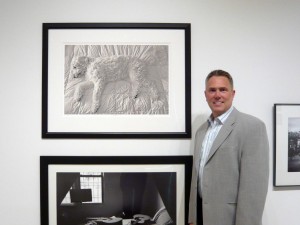 The Naples Art Association has issued its call to photographers for Camera USA 2015: National Photography Exhibition and Award. All photographers residing in the United States are invited to submit one photograph taken in the United States after January 1, 2011 for the Naples Art Association's fifth annual photography competition which will be on view in The von Liebig Art Center from June 15 – July 17, 2015.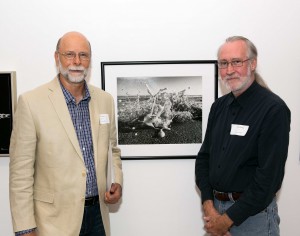 A maximum of 50 photographs will be included in the Camera USA 2015 exhibition. A $5,000 National Photography Award will be presented to one photographer. The award winner will receive two-nights hotel accommodations in Naples, Florida to attend a preview reception and award presentation scheduled for Friday, June 12, 2015. Round-trip economy class airfare for one will be provided to a winning photographer who lives outside the State of Florida. A winning photographer residing in Florida will receive a $300 travel stipend.
The deadline for applying is March 18, 2015. Please click here to see the full prospectus for this competition and juried show.
______________________________________________________________
ARCHIVE OF ARTICLES ON PREVIOUS SHOWS:
Camera USA and 'Pictures in Process' preview receptions at von Liebig take place Friday, August 8 (08-04-14)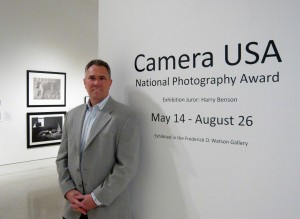 Photography is evolving, and this Friday, you can immerse yourself in art, culture and community at the von Liebig Art Center when Camera USA & Pictures in Process present varied, new and exciting images from around the country.
Camera USA: National Photography Award and Exhibition 2014 will open in the Watson Gallery of The von Liebig Art Center with a special preview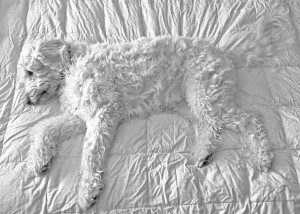 reception that takes place at 5:30 p.m. on Friday, August 8. During the reception, the winner of the $5,000 grand prize will be announced by the show's three distinguished jurors, Dan Biferie, Chair of the School of Photography at Daytona State College and a Senior Professor at the Southeast Center for Photographic Studies, Clyde Butcher, award-winning large-format view camera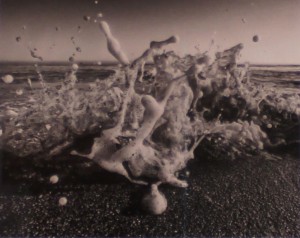 photographer, and Frederick S. Voss, Museum Consultant and retired Smithsonian Senior Historian and Curator.
Tickets are $10 for non-members  and admission is free for members.
The show opens to the public August 11, and runs through September 26, 2014. For more information, please visit NaplesArt.org or call (239)262-6517.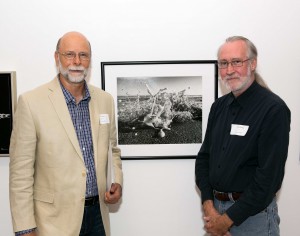 The Naples Art Association is a 501(c)(3) nonprofit organization. Founded in 1954 by local artists, its mission is to educate and promote visual arts in Southwest Florida through programs dedicated to serving individual artists of all ages and skill levels along their creative journeys. The NAA operates The von Liebig Art Center, located at 585 Park Street in downtown Naples. It is open Monday, Tuesday, and Thursday, 10 a.m. to 9 p.m. on Wednesday, Friday, and Saturday 10 a.m. to 4 p.m.
[Pictured above are inaugural winner David Wensel and his winning image, Resting Fiona, and last year's winner, Tony Hertz, pictured with Juror Ron Bishop and winning image, Gnarled Wave.]
____________________________________________________________________
Two Camera USA images provide novel slant to the genre of the portrait (07-01-13)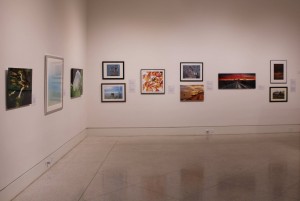 Among the 45 images chosen by jurors Harry Benson, Christopher Rauschenberg and Ron Bishop for inclusion in Camera USA 2013 are two that provide an interesting slant on the genre of the portrait.
The first is After, which comes from a body of work that is influenced by Brittany Hance's knowledge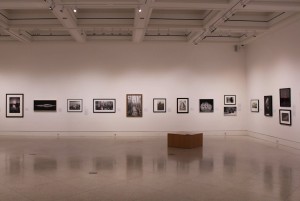 that she could die at any given moment from a rare genetic heart disease. Forced to live in the here and now by the ever-present reality that today could be her last, the Naples-born fine art photographer lives in a world infused with wonder and a heightened appreciation of beauty that is nevertheless tempered by unshakeable angst.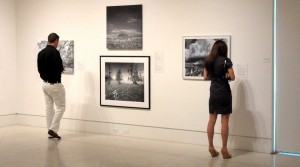 "My images evoke not a fear of death, but an acceptance and understanding of death, while a severe anxiety is still apparent," explains Hance, whose stark featureless Camera USA image conjures comparisons to a white linen death shroud. "This is how I confront death and how I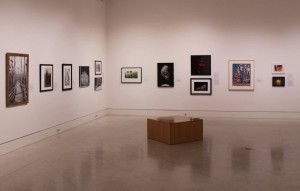 prefer death to be, a passage over which I have complete control over its memory and permanence."
Hance has a B.F.A. with a concentration in Photography and a minor in Art History from the University of South Florida, where se was a 2012 award winner, in the 36th Annual Juried Student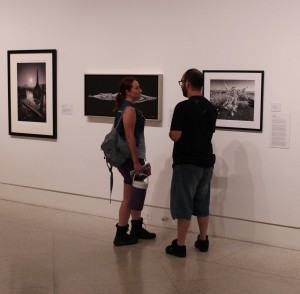 Exhibition. While just a freshman, she had the distinction of being included in a group exhibition at the Patty & Jay Baker Naples Museum of Art at Artis Naples.
While After explores the passage from here to there, Barbara Vogel's Julie deals thematically with the passage of time. To create her ephemeral portrait, Vogel substitutes a unique photographic technique that involves the use of a hand-held wand scanner typically reserved for digitizing text instead for a conventional shutter.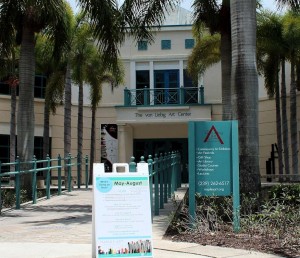 "My use of a scanner-as-camera gives my work an overtone of hyper-realism and intimacy," Vogel explains. "Back-lighting, settings on the wand, and distance of the subject from the glass are image variables." And to add an extra layer of diffusion, Vogel fuses the image with encaustic.
Vogel holds a B.F.A. in painting and a M.F.A. in photography from The Ohio State University. In September of 2012 she was awarded a residency at the Vermont Studio Center sponsored by the Ohio Arts Council, and in March of this year, she exhibited with six other women in a show entitled "Diverse" at the Ross Museum of Art in Delaware, Ohio.
____________________________________________________________________
Two Camera USA images depict lonely world of dementia (06-24-13)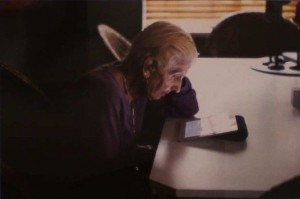 Among the 45 images chosen by jurors Harry Benson, Christopher Rauschenberg and Ron Bishop for inclusion in Camera USA 2013 are two that courageously enter the world of dementia and Alzheimer's Disease.
Mom Sleeping by Marita Gootee depicts a shadow-shrouded old woman sleeping on a lounger in front
of a flat screen TV. There is a rawness to the image, a feeling that Gootee has stolen the shot before it is lost like her mother's fading cognition.
"There is an inherent quiet in the image linked with the solemn reality that this could be the last image taken of my mother while alive," writes Marita in her Artist Statement. "I feel the loneliness within her world. Her dreams are gone.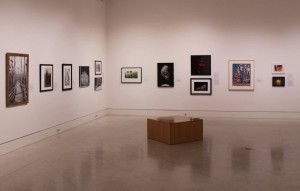 Her youth is gone. The boyfriends are gone. She is trapped by her health. She is trapped in a world of ghosts."
Marita notes sadly that her mom is drifting slowly, inexorably from sharing her life stories to talking to those who people those stories. "The look and expressions are not for me but for the ghosts she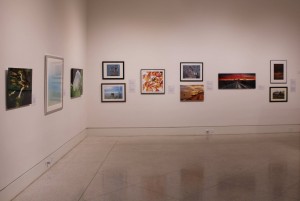 sees." And with her world shrunken to her recliner and the nearby kitchen table, which both face the widescreen TV, "the difference within the passing months are the ghosts who rotate in and out of her space."
In Charles Corda's high-resolution digitial photograph titled MOM – Reading iPad, viewers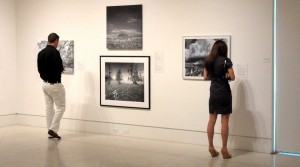 see a 90-year-old woman transfixed by the image on her iPad screen, but they are left to ponder whether she is contemplating the information displayed on the monitor or what's to become of her and her life.
"She has recently come to live with me as she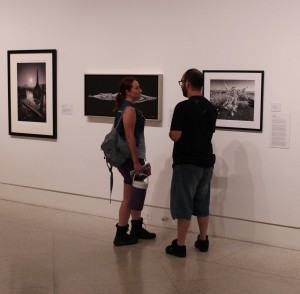 suffers from dementia and can no longer live on her own," states Corda. "She's totally lost and doesn't understand what has happened to her life. Why can't she go home? Why can't she drive. Where's my Dad – her husband of 60 years? Where is her mother …? Why can't she even take a walk by herself?"
Charles goes on in his Artist Statement to relate that even if he provided answers to these and her myriad other questions, she wouldn't remember what he told her for long and would be prompted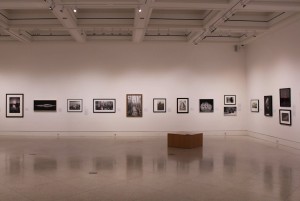 to ask each question again and again and again. And like Marita Gootee's mother, even though she lives with a child who loves her, she is alone with her ghosts because "because she has almost no recognition" of who he or anyone else is any longer.
"Each and every day, she withdraws further into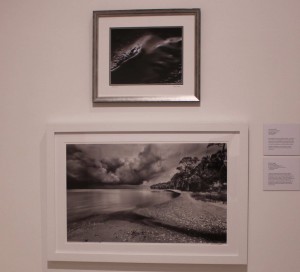 her few remaining memories. Things will not get better."
The Alzheimer's Foundation of America estimated that as many as 5.1 million Americans may have Alzheimer's disease. The incidence of the disease is rising in line with the aging population. Current research from the National Institute on Aging indicates that the prevalence of Alzheimer's disease doubles every five years beyond age 65. However, Mom Sleeping and MOM – Reading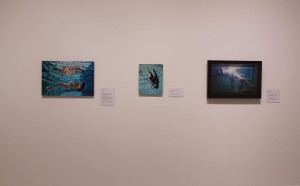 iPad are as much about the photographers as they are about their stricken mothers.
One to four family members act as caregivers for each individual with Alzheimer's disease or dementia. As Marita Gootee and Charles Corda demonstrate by their images, it is important for caregivers to understand their afflicted loved one's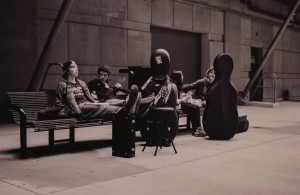 experience and new world. Patience and realistic expectations are crucial to this process. And to avoid burn-out, the Alzheimer's Foundation of America recommends that caregivers make time for themselves, join caregiver support groups, and pursue interests beyond their caregiving role such as exercise, hobbies, journaling and art.
____________________________________________________________________
Jim Lustenader's street photography juried into Camera USA 2013 (06-20-13)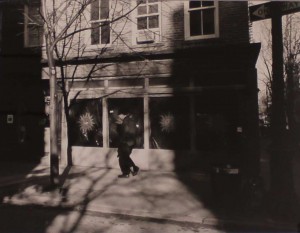 Jim Lustenader is an emerging artist who specializes in black-and-white street photography. He is one of 45 photographers from around the country whose work has been juried into this year's Camera USA Competition and Exhibition on view now through August 23 at The von Liebig Art Center.
Street photography is a type of documentary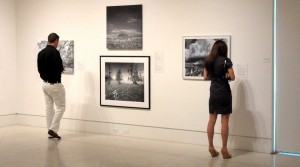 photography that features subjects in candid situations within public places such as streets, parks, beaches, malls, political conventions and other settings. The style has been made famous by some of the best known photographers of our time including Eugène Atget, Henri Cartier-Bresson,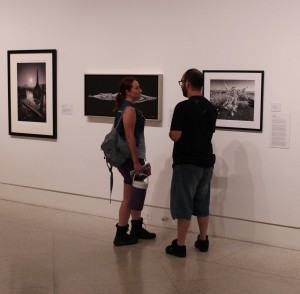 Walker Evans, Robert Frank, Diane Arbus, Garry Winogrand and Martin Parr, although it has not always achieved the recognition it deserves.
"I love capturing the subtle elements of the human condition," notes Lustenader in explaining his affinity for street photography. "As a scene unfolds, I look for 'the clickpoint,' the almost-visceral moment that reflects the poetry, irony, sadness or in everyday life."
While spontaneous, Lustenader's images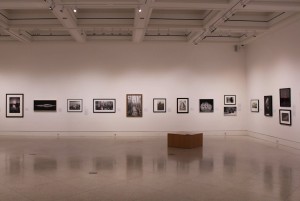 nevertheless result from careful observation and an open mind ready to capture whatever crosses his viewfinder. In the latter regard, Lustenader acknowledges that he loves walking out the door camera in hand with no preconceived notion of what he will find or shoot.
"My work is candid, intuitive and spontaneous; no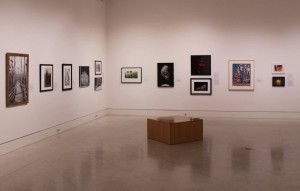 shots are posed, staged or altered in post-production," elaborates the photographer. "What you see is what I saw and felt when I pressed the shutter release." In fact, that's a requirement for an image to be considered street photography. It must be unplanned, unscripted and completely un-choreographed. Of course, that often requires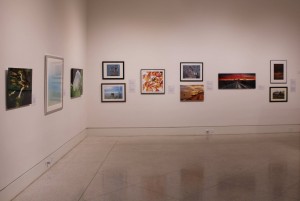 Lustenader to invade his subjects' privacy, becoming something of a voyeur behind the lens.
The image Lustenader submitted for Camera USA 2013 is titled Sunshine. He took it in Greenwich Village in 2011. "The thin light of an early spring afternoon and the cartoon suns on the windows of a shuttered business that seem to mock the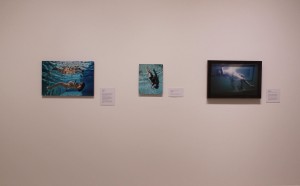 downcast figure convey the loneliness that often invades this very singular location," Jim says of his image.
If Lustenader's name is familiar, it's because he was featured in January of 2012 by In One Instant Gallery of Photography in the downtown Fort Myers River District in a solo show that coincided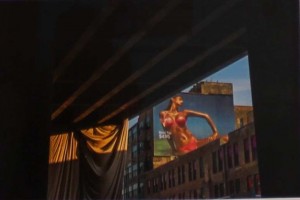 with the release of an 80-page tome called Paris in a Second, in which Jim shared an intimate look at Parisians and the cafes, bistros, parks, quays and sidewalks they infuse with their own unique joie de vivre. Jim also participated in a panel discussion on "The Art of Seeing: Contemporary Photography and Developing Trends in Collecting" that was presented by International Fine Art Expositions at the Art Naples Contemporary Art Fair on February 28, 2012.
"I invite viewers to seek out a narrative thread that lends perspective to how people interact with each other and their surroundings – how light, shadow, gesture and motion combine to convey a mood and tell a story," Lustenader adds.
____________________________________________________________________
California photographer Tony Hertz best of show at Camera USA 2013 (06-18-13)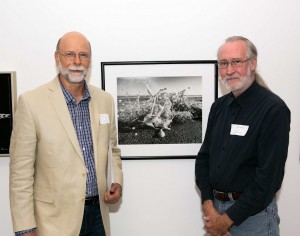 On Friday, June 14, 2013, the Naples Art Association presented Tony Hertz of Pismo Beach, California, with a $5,000 award for his black and white photograph, Gnarled Wave. He was chosen Best of Show in this year's Camera USA: National Photography Award and Exhibition by a panel of esteemed judges that was comprised of world-renowned photojournalist Harry Benson, Bob Rauschenberg Gallery Director Ron Bishop and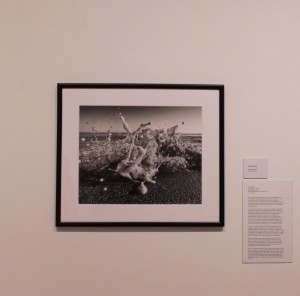 photographer Christopher Rauschenberg.
Hertz appreciates the simplicity of black and white photography, which he characterizes as a more instinctual medium than color photography.
"The challenge and discovery in making simple compositional elements in black and white and color deepens my personal meanings to nature," Hertz said. "To me, nature is like a sanctuary, a place apart. My intention is to photograph what is felt and not often seen. I enjoy capturing those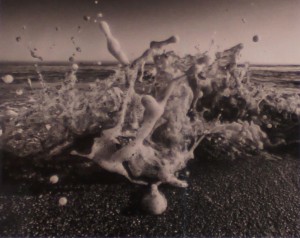 moments that evoke mystery, mood and beauty, and sharing them."
Hertz has more than 25 years of professional photography experience with 10 years as a daily newspaper photographer in California, photographing everything from U.S. Presidents, the Queen of England, Pope Paul, celebrities, musicians, famous sports figures and major news and community events.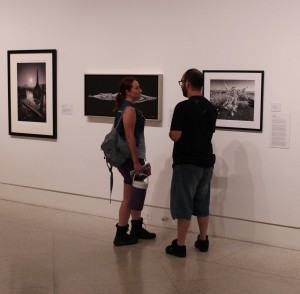 "Working as a photojournalist helped refine my compositional instincts when I turned to focus mainly on landscape and nature subjects for personal and fine art photography work," said Hertz.
His award-winning photography has been widely published, with worldwide credits including Time Magazine, Los Angeles Times, New York Times Magazine, USA Today, National Geographic WORLD, Sunset Magazine, New York Times, Chicago Tribune, San Francisco Chronicle and the Christian Science Monitor.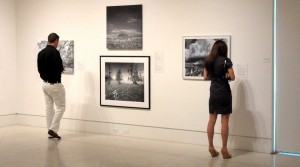 When he's not out in the field shooting, he's likely spending time in a traditional wet darkroom editing images from a recent photo trip or teaching photography for the Cuesta College Fine Arts Department in San Luis Obispo, California.
Regarding Gnarled Wave, Hertz explained that his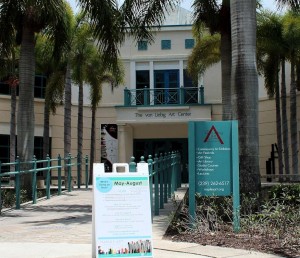 aim was to make an image contrary to what he shoots more often — long exposure photography. "In full sunlight, I set my camera to ISO 3200 to obtain a high shutter speed with maximum depth of field. I photographed with Live View through a waterproof bag. Drying off the outside lens often, awkward camera positions and tight finger space were some of my main challenges."
Benson, Bishop and Rauschenberg selected Gnarled Wave as Best of Show from a field of 183 submissions received from artists in 32 states and 45 finalists representing work by photographers residing in 15 states and all geographical regions of Florida.
____________________________________________________________________
Harry Benson selects amateur photographer as inaugural Camera USA photo competition (05-24-11)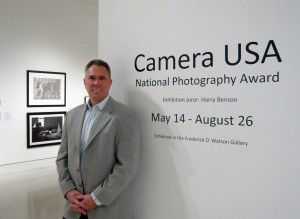 The Naples Art Association opened its first national photography competition exhibition titled Camera USA on Friday, May 13 with a preview reception and awards presentation. Photographers from 24 different states entered the competition, and their work was juried by internationally-acclaimed photojournalist, Harry Benson.
A black and white photograph by David Wensel of
Geneva, Illinois was selected by Benson as the top image.
The work titled Resting Fiona features a curly-haired white dog resting on a wrinkled white comforter. "Besides the obvious attributes of being well-composed and having an interesting textural quality, it was an amusing and intelligent photograph," said Benson. "It was straightforward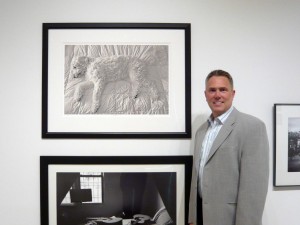 and immediately caught my eye and stopped me from flipping through the entries. A good photograph to me is one you stop and look at before turning the page."
In front of a crowd of over 300 people at The von Liebig Art Center, Wensel was awarded a check for $5,000 in addition to receiving a hotel accommodations and airfare to Naples, FL.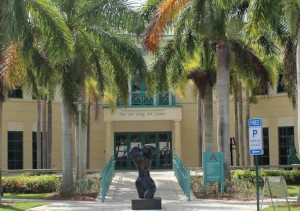 Wensel didn't actually enter the winning image himself. Instead a long-time friend did, hoping to validate Wensel's talent. In speaking of the submission, Wensel said, "While I trusted her eye completely, I thought she was just being a good friend by letting me know that she thought highly enough of my photos to enter one into a competition. The surprise of winning didn't hit me until I had done my own, more in-depth reading about Mr. Benson's fame," Wensel went on to say. "I was really gratified that others and someone as eminent of Mr. Benson thought well of it too."