Actors, artists, filmmakers and events in the news January 1-7, 2020
Grouped under headings that include art openings, film, outdoor art fairs and festivals and theater are advances, announcements and articles about the actors, artists, filmmakers and events making news in Southwest Florida this week:
1     ART EXHIBITS
'Archangels' opens at the Davis Art Center on January 3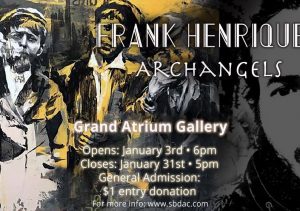 The January show in the main gallery of the Sidney & Berne Davis Art Center is Archangels by Frank Henriquez. It opens concurrently with Art Walk on January 3 and runs through January 31.
Henriquez's work is greatly influenced by Expressionism, a movement that originated in Germany at the beginning of the 20th century as a reaction to and departure from Impressionism and Naturalism. It inspired artists to present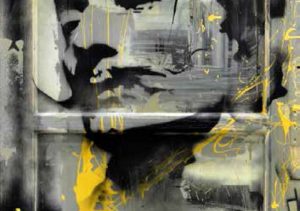 the world from a subjective perspective by drastically distorting it to provoke emotions and ideas. In this tradition, Henriquez's approach to the deconstruction of images using acrylics and spray paint couples with his brush strokes connote feelings, and his use of windows as a canvas show transparency in emotions, creating layers of abstraction when colliding with the images.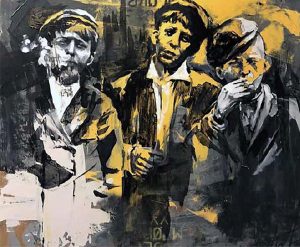 All of this serves to bring out the Expressionistic style in his work.
Henriquez's process also draws influence from the naturalistic style of Kathe Kollwitz, one of the most influential and respected female German artists of the early 20th century. Eschewing free form painting, Kollwitz increasingly gravitated toward the more exacting disciplines of drawing, etching, lithography and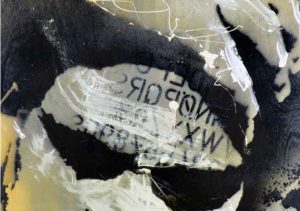 woodcuts. Moving from one technique to another, she increasingly simplified her visual language over time to depict socially-critical subject matter such as the stark reality of war and its victims, bereaved mothers, anguished parents, fatherless children and, more generally, suffering and death. Similarly, Henriquez's use of glass, cargo palettes, plywood, windows, and doors invite the audience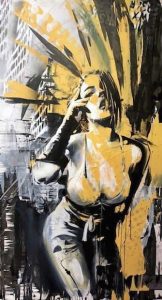 to step into his world by seeing his artwork as 3D installations, reinforcing the message of social consciousness regarding reusing and recycling waste materials.
Last but not least, Henriquez's work reflects the motifs and concerns loving explored by street artists throughout the United States and abroad, including the use of human figures and distorted realities to provoke emotions and ideas.
Frank Henriquez's exciting and provocative exhibition, "Archangels", takes us for a stroll down an alley where urban expressionism and traditional painting meet. His use of unconventional materials such as stencil cutouts, and spray paint on recycled materials like glass, windows, doors, and plywood is an ode to urban street art. His choice of subject matter rooted firmly in social political issues, bringing awareness to these issues in his work also suggests the strong influences of street art.
"We are proud to offer you Archangels, an exhibition where we capture the essence of this celebrated style and bring it back to its origins, if only for a limited time," says SBDAC curator Cesar Aguilera.
___________________________________
More on 'Archangels' artist Frank Henriquez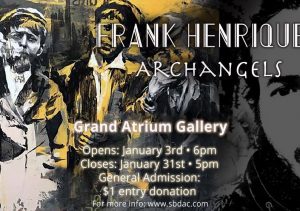 Visual artist Frank Henriquez  specializes in mixed medium expressionistic painting. His inspiration comes from a combination of street art, expressionism, and realistic tattoo art.
He is a native of Pinar Del Rio, Cuba. He began his art studies at the age of 14 at the Instituto de Instructores de Arte. At the age of 16, he was offered a scholarship and enrolled in an intensive course for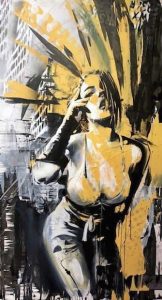 gifted artists in Cuba sponsored by Juan Miguel Suarez, one of Cuba's most recognized realist artists.
Henriquez immigrated to the United States at the age of 19 in search of better opportunities. Drawing on his experiences and formal training in Cuba, he began training as a tattoo artist. Nine years later, he began tattooing professionally and is today sought after and respected for his realistic figures and impeccable lines.
During this time, Henriquez also evolved as a visual artist, using street art as his outlet to create social consciousness and community awareness to subjects that ranged from urbanization and homelessness to animal cruelty. He presented his first exhibition at the Clio Art Center in New York, NY in 2015. He continues to work diligently on creating new and exciting pieces for upcoming exhibitions from his studio in Miami, FL.
______________________________________________________
Gerhard's 'Heat Stroke' opens in SBDAC Capital Gallery on January 3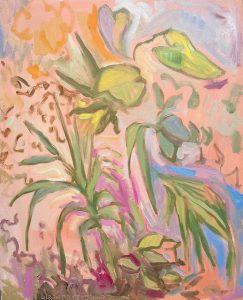 An exciting new show of work by Ehren Fritz Gerhard opens concurrently with Fort Myers Art Walk in the Capital Gallery at the Sidney & Berne Davis Art Center at 6:00 p.m. on January 3. It's called Heat Stroke, and is comprised of mixed media monotypes and botanical paintings in oil and acrylic. The imagery includes decorative tropical plants, fruit trees and edible landscaping cultivated by the artist in his very own garden.
Working from life, Gerhard created a series of gesture drawings inspired by an immersive experience in his garden. The drawings develop and work their way into larger, more complex paintings or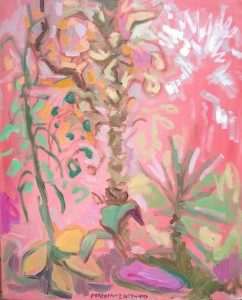 become an edition of experimental monotypes varying in color, approach and solutions. Placing emphasis on the expressive qualities of each medium to interpret the energies of the natural world, Gerhard renders each with an emotional range of colors, textures and mark-making that make a definitive statement.
The exhibit runs through January 31. For more information, please telephone 239-333-1933 or visit http://www.sbdac.com.
___________________________________________________________
Ripple-Gill's 'Reveries of a Tropical Heart' opens at Alliance on January 10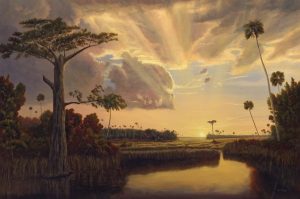 The Alliance for the Arts invites the public to its opening reception for Reveries of A Tropical Heart on January 10. This two-artist exhibition features the luminous beauty of Jeff Ripple's dramatically lit landscape paintings and the enchantment of Muffy Clark Gill's colorful batik dreamscapes. Together, they combine to capture the warmth of the tropics as they transport viewers into a world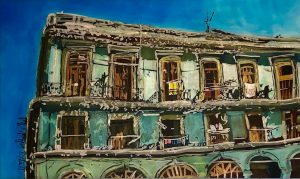 they won't want to leave.
The opening reception is 5:00-7:00 p.m. on Friday, January 10, and includes light refreshments. And you can meet and engage with the exhibiting artists during a free conversational tour through the gallery on January 11 at 10:00 a.m. during the Alliance for the Arts weekly GreenMarket.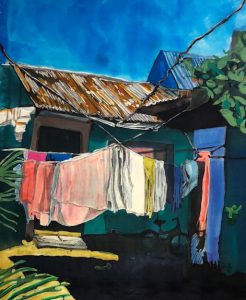 Work by local artist Robert Allen will be on display in the Theatre Lobby Gallery. Displaying their latest works form the classroom, students and instructors at the Alliance for the Arts will be filling the Members Gallery with a variety of pieces from recent classes.
Receptions and gallery tours are open to the public and do not require tickets or reservations. While gallery admission is free, a $5 suggested donation keeps Alliance programming affordable and accessible.
For more information about this exhibit, visit ArtInLee.org/Reveries or call 239-939-2787.
_________________________________
More on 'Tropical Heart' artist Jeff Ripple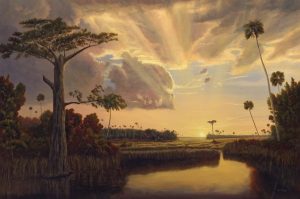 Jeff Ripple is an award winning landscape artist. His oil paintings en plein air and in studio are denoted by intriguing compositions, mood and atmosphere. The treatment of light and atmosphere in his paintings are reminiscent of 19th century artists in the Luminist and Hudson River School traditions.
His work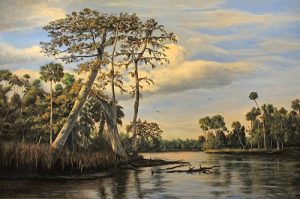 is in the permanent collections of the College of Central Florida and the University of Central Florida College of Arts & Humanities and past art exhibitions include the Thomas Center Galleries in Gainesville and the Dennos Museum in Michigan.
__________________________________________
More on 'Tropical Heart' batik artist Muffy Clark Gill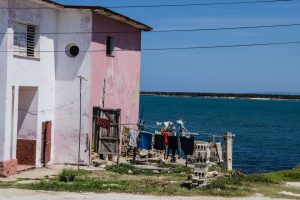 Muffy Clark Gill uses the ancient wax and dye process known as batik and its sister Japanese process rozome along with mixed media, painting and photography to create her art. She creates images that convey feelings of dichotomy and combine her love of color with her life experiences.
Among the work she will exhibit at the Alliance for the Arts in Reveries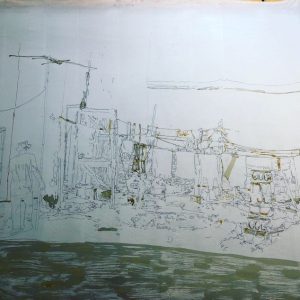 of a Tropical Heart will be selections from her Wash Day series, which has been inspired by several visits to Cuba, including the town of Gibara, where it is believed that Christopher Columbus landed the first time he arrived in Cuba.
Gill described her process in a recent e-newsletter for Wash Day! Gibara Day. "The Mayor … was leading us on a walking tour of this pretty little city when I saw … laundry drying on several clotheslines. The breezes off the bay made drying laundry a quick and easy task." And it also inspired the batik.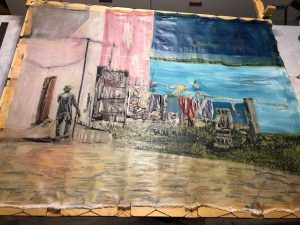 She started the work by drawing the scene on stretched habitae silk with a fine pencil. "All of the white areas—including the clotheslines – were waxed by drawing with an Indonesian style tool known as a tjanting ( or canting). Individual garments were then outlined."
Then came the building, followed by the sky (with two separate layers of blue dye), the land in the background, the grass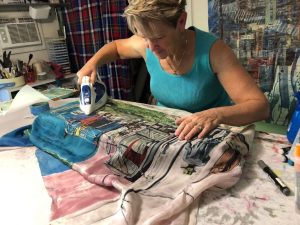 in the foreground and finally the bay.
"By the time I added all of my colors the whole painting was coated with wax."
Gill then removed the wax from the painting with an iron and repeated changes of absorbing newsprint. "It was then wrapped in more newsprint into a jellyroll shape for steaming. A final wash was done to remove excess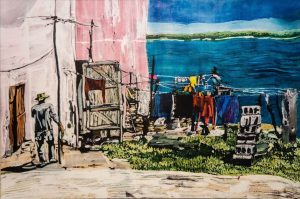 dye from the silk before mounting the painting to a canvas support for hanging. Another labor of love!"
The entire Wash Day! series is on display at the United Arts Council Gallery, 953 4 Ave. N., Naples, FL 34102 now through December 18. Gill also has a mixed media wall piece titled Shibuya on exhibit in Naples Art Association's 53rd Founders Exhibit.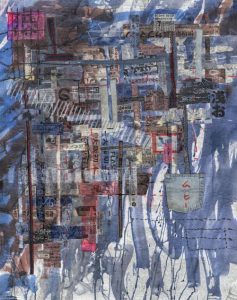 Of the more than 900 works submitted to jurors John Loscuito, R.W. Lovejoy and Erin Palmer Szavuly, Gill's was the only Naples artist to have work juried into the show.
Muffy Clark Gill's award-winning work has been included in more than 80 regional, state and national juried and invitational exhibitions and festivals. Her art is in the permanent collection of numerous Florida museums and corporations including FGCU, the Florida Department of State, South Florida State College Museum of Art & Culture, Seminole Historical Society and Museum, Collier County Museum, Golisano Children's Museum of Naples, Marco Island Historical Museum , the Naples Art Association, Northern Trust, Physicians Regional Medical Center, Artis-Naples.
__________________________________________________________
Alliance accepting submissions for 34th Annual All Florida Juried Exhibit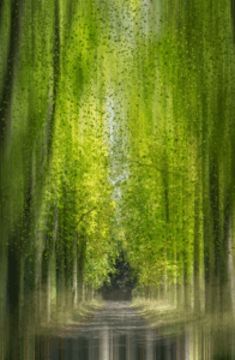 The Alliance's annual All Florida Juried Exhibition features pieces created by artists working in a wide variety of media from all over the 65,000 square miles that make up Florida. The juried entries come together for an award-winning and exciting exhibition representing today's contemporary Florida artists. The Alliance is accepting submissions online now through Monday, January 27, 2020. The show will exhibit March 6-28, with an opening reception from 5:00-7:00 p.m. on Friday, March 6. A conversational walk and talk through the gallery with the artists and juror will take place at 10:00 a.m. on Saturday, March 7. Please visit ArtinLee.org for a prospectus or telephone 239-939-2787 for more information.
_____________________________________________________
Hillsborough Public Art Administrator 2020 All Florida Show judge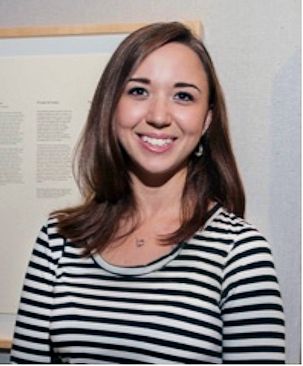 The Alliance for the Arts 34th Annual All Florida Juried Exhibition runs March 6 through 27, 2020. Amanda Poss has been tapped to serve as juror for the show. Poss currently holds the position of Gallery Director at Gallery221@Hillsborough Community College Dale Mabry campus, where she also manages the Public Art Program, Grounds4Art@HCC, and oversees a growing Permanent Art Collection. She is the former Gallery Director at Blake High School, where she organized and curated exhibits from 2015–2017. Poss also has also held positions at the Scarfone/Hartley Gallery at the University of Tampa as a Gallery Assistant, Adjunct Professor at the University of Tampa, and Adjunct Professor at Hillsborough Community College.
Amanda received her MA in Art History from the University of South Florida in 2015 specializing in Modern and Contemporary Art, and a BA from the University of Saint Francis, Fort Wayne, Indiana in 2011.
__________________________________________________
Time running out to see Watson MacRae's 'Art and Craft' exhibit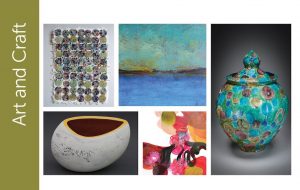 There is still time to see Art and Craft at Sanibel's Watson MacRae Gallery. The exhibition is a lively combination of paintings, textiles and ceramics from returning favorites and artists new to the gallery:
Maia Tsinamdzgvrishvili, silk constructions
Jill Solomon, sagger-fired clay vessels
Ginnie Cappaert, oil/encaustic on paper
Lorraine Glessner, oil on plexiglas
Mark Knott, soda-fired ceramic pots
"It is a good exhibit for visiting family and friends with interesting artwork to delight everyone," touts Maureen MacRae." "This exhibit is up until Friday, January 10th.  Do stop by, as the first exhibit of 2020 is getting ready to open …."
Watson MacRae Gallery is located at 2340 Periwinkle Way, B3, Sanibel, FL 33957.
_____________________________________________________
Sanibel's Watson MacRae planning Hollis Jeffcoat commemorative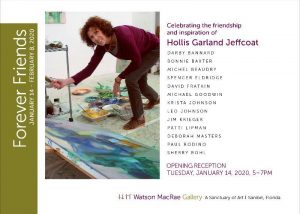 Sanibel's Watson MacRae Gallery will be hosting a special commemorative exhibition to honor the late Hollis Jeffcoat, an extraordinary abstract expressionist who passed on April 28, 2018. In addition to a montage of Hollis' work, the show will feature two to three works from 13 of Hollis' artist friends. One recent work from each artist has been inspired by and dedicated in remembrance of her.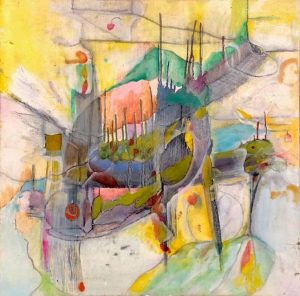 Over the course of her lengthy career, Hollis made life-long friendships. The 13 artists featured in this exhibit are from the different segments of her life with one thing in common – they all shared a great love of art. Most of them acknowledge the significant influence that Hollis had on their art making. All felt she had an impact on their lives.  These accomplished artists continue to exhibit their work adding to the beauty and wonder of the world – something that would have pleased Hollis to no end.
"It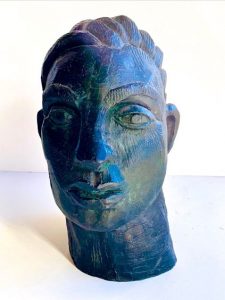 was an unanimous and enthusiastic, 'I'm In!"' when I posed the idea for an exhibit to remember and celebrate Hollis for all she was as an artist, inspiration, teacher and friend," says Watson MacRae gallerist and Hollis' dear friend Maureen Watson.
During her Early Fort Myers period (1966), Hollis was befriended by painters Krista Johnson, Leo Johnson and Spencer Eldridge.
A decade later, Hollis influenced and was influenced by the NY Studio School, which is represented in the show by painters David Fratkin, Michael Goodwin (who Hollis met in NYC in 1991), printmaker/painter Patti Lipman and sculptor Deborah Masters.
1980 saw Hollis in Montreal, and that venerable town and province is represented in the show by sculptor Michel Beaudry and printmaker Bonnie Baxter.
And from Hollis' Late Fort Myers (post 1997) period, sculptor Jim Krieger, printmaker/painter Sherry Rohl, painter Darby Bannard and photographer Paul Rodino will also have work included in the commemorative exhibition.
All but four artists will be at the opening and happy to discuss their work – and reflect back on their interactions with Hollis. So please join Watson MacRae for this very special exhibition on Tuesday, January 9 from 5:00-7:00 p.m.
Watson MacRae Gallery is located at 2340 Periwinkle Way, B3, Sanibel, FL 33957.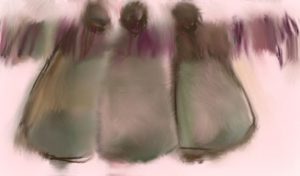 N.B.: Photos:
Exhibition announcement
Rio, oil on canvas
She, bronze
Lupe and Hollis, photograph
Diner/06, mixed media
Three Wanderers 2016 by Hollis Jeffcoat
P.S. Save the Date: Next Opening Tuesday, February 11th for "In Love with This Earth" featuring 4 new artists from Santa Fe – painters, Rimi Yang, Diana Stetson and Kathleen McCloud and sculptors, Caroline Douglas and Kirsten Stingle.
___________________________________________________________
A look back at the work and career of Abstract Expressionist Hollis Jeffcoat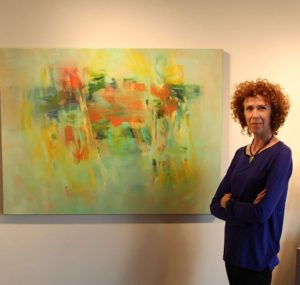 Hollis Jeffcoat was a highly accomplished, well-regarded and critically acclaimed Abstract Expressionist. She lived, worked and taught in France, Canada, New York City and Southwest Florida. Over the course of her illustrious 41-year career, her paintings were the subject of more than 20 solo and nearly four dozen group exhibitions in the U.S., Canada and France. She died in Fort Myers on April 28, 2018.
During the final years of her life, Jeffcoat explored the relationship between color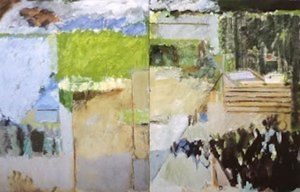 and sound. A chromesthetic, Hollis saw color every time she heard a sound. "It's always been that way for me, and I thought that's the way it was for everyone else too," she once confided. "It wasn't until I was in my mid-20s [living in Paris] that I found out otherwise."
_______________________________________________________
'Black and White' exhibition opens January 3 at Center for Visual Arts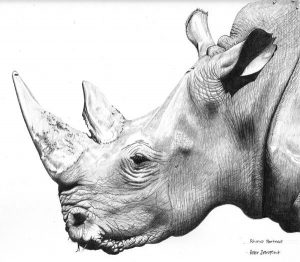 The Center for Visual Arts' Black and White Exhibition opens in the main gallery on Friday, January 3 with a 6:00-8:00 p.m. reception. The exhibition features artist's works using the limited pallet of black and white focusing on the structural elements of line, shape, form, value, space and texture. The exhibition runs through January 23. The Center for Visual Arts is located at 26100 Old 41 Rd.
______________________________________________________________
Cheri Dunnigan exhibition also opening at Center for Visual Arts on January 3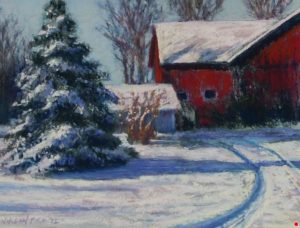 Also opening January 3 at the Center for Visual Arts is Evolution of a Process: New Works by Cheri Dunnigan.
Dunnigan is a master goldsmith and nationally recognized landscape painter. Born with a creative drive, and being blessed with parents who recognized and fostered both her artistic interests and ambitions, she was able to begin to develop her artistic talents and an early age.
Cheri made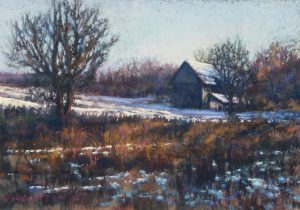 her first piece of jewelry at the age of 15. This experience lit a passion and set the course for her studies over the next 7 years, leading her inevitably to the Cleveland Institute of Art, where she studied with John Paul Miller and earned a 5-year Bachelor of Fine Arts Degree in 1978 in Silversmithing.
Dunnigan put her degree to use working as a designer craftsman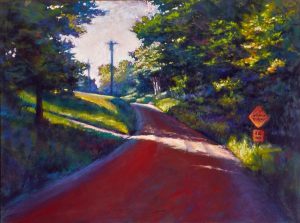 for many years, maintaining a retail studio and showroom in Hopkinton, Massachusetts. But about 20  years ago, she has turned her talents toward pastel painting.
Over the past two decades, Cheri has exhibited her work nationally and has won numerous awards. In particular, her excellence as a pastelist earned her the prestigious stature as a Signature Member of the Pastel Society of America (PSA).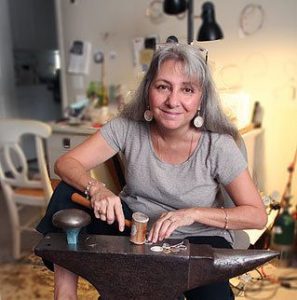 Always involved and interested in the betterment of her community, it is not surprising that Dunnigan is also a charter member of the Pastel Society of Southwest Florida.
Dunnigan presently teaches ongoing classes in pastel painting at the Center for the Visual Arts Bonita Springs in Bonita Springs, FL  in Naples, FL. and enjoys being an honorary juror for several regional art fairs.
The exhibition will be on display through January 23 in the Tranovich Gallery.
_________________________________________________________
Shaw Gallery displaying newly-received Andre Kohn figurative paintings

Shaw Gallery of Fine Art on Naples' Fifth Avenue South has new work by impressionist artist Andre Kohn, who is among the most collected figurative painters on the American art scene today.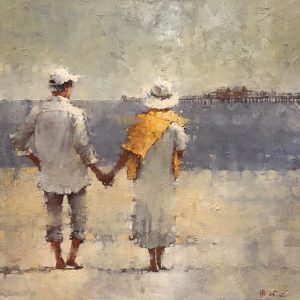 Kohn refers to his painting style as "contemporary figurative expressionism." He counts among his artistic influences Russian painters Nicolai Fechin, Valentin Serov and Filipp Malyavin, along with John Singer Sargent, Eugène Carrière and Edgar Degas.
"Propelled by dynamic, gestural brushwork and lush coloration, his compositions harness the energy of a singular, often quiet, moment in time," notes art critic Elizabeth L. Delaney, writing for Southwest Art in 2016. "Heady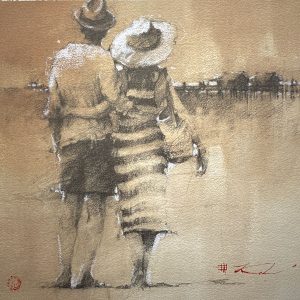 textures and layers of pigment combine to create a tactility that pervades each canvas. In fact, one of Kohn's signature structural elements is his preparation of each surface. He layers modeling paste onto the blank canvas before he ever makes a mark, thereby creating an intrinsically dimensional composition. Such a process makes the texture part of the painting itself, not simply a visual overlay."
Kohn's overarching objective is to find the extraordinary within the ordinary – those moments in life that typically go unnoticed. Two of his most popular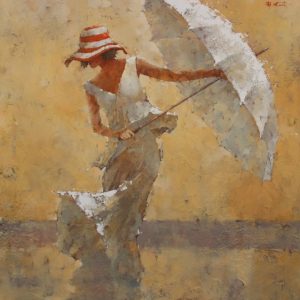 motifs are couples (which he incorporates into his "Just the Two of Us" Naples Series) and statuesque young women scurrying in the rain to unknown destinations under the protection of an umbrella.
"At the same time, Kohn's paintings conjure elements of curiosity and wonder," Delaney continues in her Southwest Art piece. "A woman seen from behind walking in the rain, a man with a cane paused on the sidewalk, or a couple gliding across the dance floor all evoke a sense of comfortable intrigue—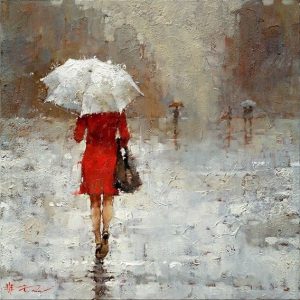 their stories are ambiguous, yet most viewers can relate. Kohn often hides his subjects' faces, and when visible, they remain obscured, allowing the artist to retain that sense of mystery. He leaves their stories open-ended—full of the potential energy he loves and primed to begin a visual conversation between viewer and painting."
In fact, the people depicted in his figurative series such as Just the Two of Us and umbrella women are pictured with their backs to the viewer.
It's only fitting that intrigue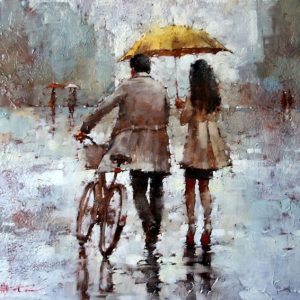 lays at the foundation of Kohn's oeuvre of work. Intrigue is the keynote of his personal life and origins as an oil painter.
Andre was raised by an artistically gifted family near the Caspian Sea in southern Russia. His mother was a symphony violinist; his father, a noted linguist and writer. The family had had few material possessions, but paintings, sculpture and books filled the family's tiny, one-bedroom home. It was here that Kohn learned that the creative arts are the only true wealth.
Kohn's professional art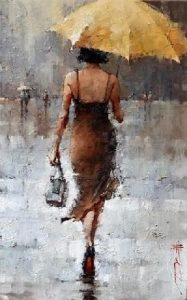 education began at 15 when he was chosen to apprentice in the studios of Moscow's most esteemed Impressionist and Social Realist artists. His art education corresponded with an eruption of cultural progress in all the arts in Russia, including ballet, literature, music and painting.
Andre followed his apprenticeships with a classical art education at the University of Moscow where he studied with members of the last great generation of Russian Impressionists. He fondly remembers the majesty of the University. "The experience was totally unique," he says. "The atmosphere was one of huge columns, marble floors and masterworks on the walls. Legends of the Russian art world walked the halls and discussed your work. It was a privilege to be there, and it laid the

foundation for my entire career."
At that point, fate intervened. A colonel in the Russian Army, his father was chosen to participate in the post-Cold War officer exchange program at the U.S. Air War College in Montgomery, Alabama. In 1993, his father announced his intention to defect to the United States. In that instant, Andre discovered the need to reinvent himself as an American artist.
Kohn wasted no time embracing his new life. He enrolled in the art program at Auburn University at Montgomery after becoming the first recipient of the International Peace Scholarship there, and went on to earn his bachelor of fine arts degree three years later. To make ends meet while building his art portfolio, he worked as a house cleaner, picture framer and even a car salesman. Settling in Arizona, he finally embraced his current brand of figurative painting.

It took little time for American art audiences and media to discover Kohn's mature, fresh figurative painting style. His first one-man show created instant interest in his work and helped introduce Kohn to audiences in his adopted country.
Today, Kohn is a preeminent leader of Figurative Impressionism which seeks to capture the complexity and simplicity of the human form.
"I'm seeking my own unique, poetic interpretation of the moment," he says. "I'm striving to find the extraordinary in the ordinary."
Despite Kohn's unrepeatable pallet, personally developed style, and unique interpretation of form, his art education is enduring. From his home in Arizona, Kohn travels the world for inspiration and periodically returns to France to continue his formal, classical studies. Due to his travels, his widely popular style has a European influence with a Modern impressionist flare.

Kohn's work is now represented by premier galleries in the United States and he is a regular contributor to invitational exhibitions. Some of his most recent solo shows include:
2019 Shaw Gallery, Naples, Florida
2018 Jones & Terwilliger Gallery, Carmel, CA
Andrew Hillier Gallery, London, UK
Fountainside Gallery, Wilmington, North Carolina
Heritage Gallery, Scottsdale, Arizona
He is a frequent subject of highly regarded art publications, and his unique ability to communicate the expressiveness of the human form has kept him a mainstay in private, corporate and permanent museum collections worldwide.
Andre currently resides and paints at his home in Scottsdale, Arizona, where he owns his own gallery, Andre Kohn Fine Art.
____________________________________________
Naples' Sheldon Fine Art showcasing Navarro seascapes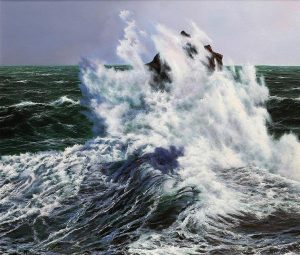 Sheldon Fine Art in Naples is exhibiting work by Alfred Navarro.
The oldest of three brothers, Navarro has always lived an artistic life. Also an artist, Nararro's father encouraged his artistic interest while he was still very young, getting him involved in artistic activities even though, in the end, it was his vocation which made him dedicate himself professionally to the art world. At the age of 5, Nararro began at the Fine Arts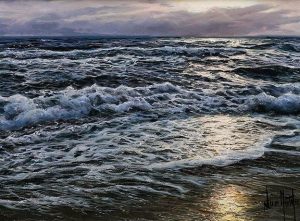 School painting murals, carrying out this activity until he was 8. When he was 13, he began to paint with oil.
His favorite subjects in the beginning were florals and landscapes. But during the year he spent in the military serving in the northern region of Spain that he discovered his fascination and admiration for the immensity of the ocean.
After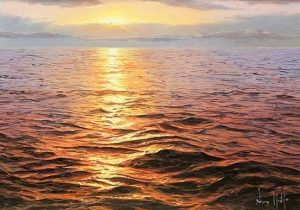 completing his formal education, Alfred returned to Alcoy and began to paint along with his father and brother, centering all of his effort and knowledge on painting the ocean and the sea. Dedicating himself to realism in his paintings, he established his own studio in 1996. Ever since, Navarro has consistently assays to give his viewers a window into the beauty of the seas, as he perceives it. In addition, he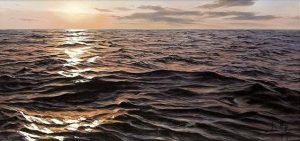 confesses that his works reflect to a great extent his frame of mind.
Sheldon Fine Art is located at 460 5th Ave S in Naples. For more information, please telephone 239-649-6255.
________________________________________________
Sheldon Fine Art's featured artist of the week is Zu Sheng Yu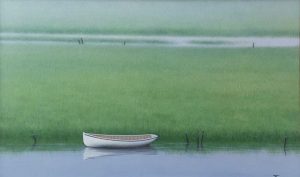 Sheldon Fine Art in Naples is featuring the contemporary water-themed sea and landscapes of Chinese artist Zu Sheng Yu this week.
Born in Hu Bei, China, Zu Sheng Yu received his Bachelor's degree from the Guang Zhou Academy of Fine Arts. He earned his Professorship of Art at Zhong Kai University. Recognized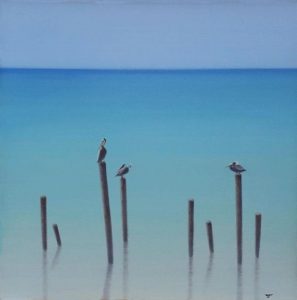 by his colleagues as one of China's leading contemporary artists, he was recently featured in a Chinese television special, "Zu Sheng Yu: Diverse Art Interests."
Since his arrival in the United States nearly a decade ago, Zu Sheng has won numerous awards. His talents were recognized by the New York Art Exposition on four occasions. He was the featured artist all three times.
Zu Sheng is also invented and has a patent for: "Method for Representing Musical Compositions Using Variable Colors and Shades Thereof."
_____________________________________________________
'WaterWorks' on view at Naples Art Association through January 5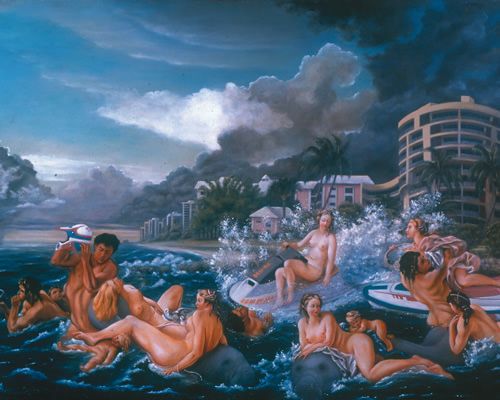 WaterWorks: Artistic Celebration of Our Most Vital Resource is on view now through January 5, 2020 at the Naples Art Association. This exhibition has anything – and everything – to do with water: boating, fishing, shells, beaches and more. See the exceptional ways artists represent water in various types of media from paintings to pottery, glass, fiber art and more!
________________________________________________________
53rd Founders Juried Awards Exhibition on exhibit through January 9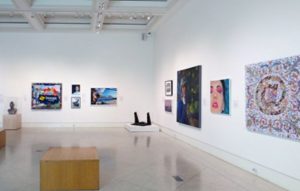 The 53rd Founders Juried Awards Exhibition is on display in the Naples Art Association's ground floor galleries through January 9, 2020. The show was judged by FGCU Gallery Director John Loscuito, American University Professor R.W. Lovejoy and Associate Professor and Lourdes University Art Department Chair Erin Palmer Szavuly.
______________________________________________
Spotlight on 53rd Founders Exhibition juror John Loscuito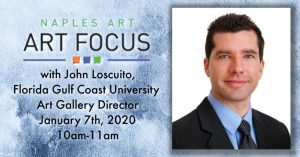 John Loscuito was one of three jurors to judge the Naples Art Association's 53rd Founders Juried Awards Exhibition. He will be leading an Art Focus discussion in conjunction with the exhibit from 10:00-11:00 a.m. on January 7.
Loscuito is the Florida Gulf Coast University Art Gallery Director,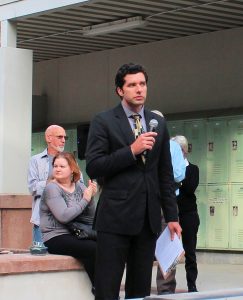 overseeing both the Wasmer Art Gallery in the Arts Complex and the ArtLab in the Library. He also teaches Professional Practices, preparing students for a career after graduation. During his six years at FGCU he has curated over eighteen exhibitions featuring nationally recognized artists that explore a broad range of themes and materials.
Loscuito earned a Master of Fine Arts degree in Painting and Drawing from the University of Wisconsin-Milwaukee and a Master of Business Administration from Marquette University in Milwaukee. During his six years at FGCU he has curated over eighteen exhibitions featuring nationally recognized artists that explore a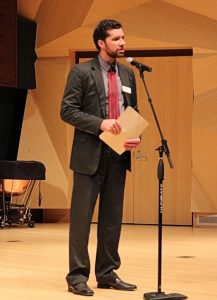 broad range of themes and materials.
Prior to coming to FGCU he taught a variety of studio courses at the University of Wisconsin-Milwaukee and the Milwaukee Institute of Art and Design. He was the Registrar at the Haggerty Museum of Art for seven years as well as an independent curator and producer of art events. He currently serves as an Executive Committee Member on the United Arts Council of Collier County's Board of Directors.
_____________________________________________________________
African/African American art exhibition opening at Naples Art on January 17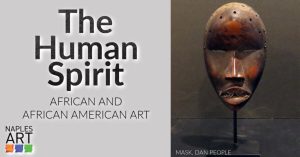 Opening January 17 is The Human Spirit:  African and African American Art. This curated exhibition celebrates people in African and African American art with paintings, drawings, carved wood and additive sculpture. The show runs through February 23. Gallery hours are 10:00 a.m. to 5:00 p.m. Monday through Sunday. The Naples Art Association is located at 585 Park Street, Naples.
_______________________________________________
Naples Art has issued a call to artists for 'Let Freedom Ring'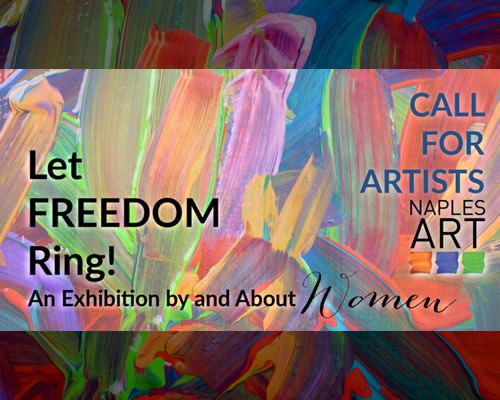 From ancient times to the present, women throughout the world have participated in the visual arts in diverse and stimulating ways as creators and innovators, patrons and collectors or significant contributors. Let FREEDOM Ring! will shine a bright light on the contributions of women in the visual arts. The exhibition will show April 3-23, 2020 in the Frederick O. Watson Gallery, and the deadline for applying is 5:00 p.m. on February 6.
You will find the full prospectus here.
_________________________________________________
Naples Art looking for participants in 'Little Things' exhibition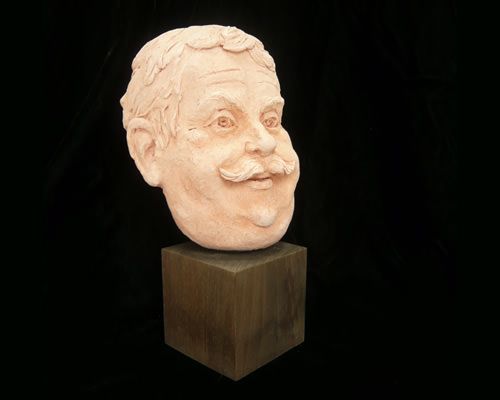 Each year, Naples Art holds a small works show. Called Little Things: An Exhibition Celebrating Small Works, the show celebrates works of art 60 inches and below.
Miniature art has been made for thousands of years. In many of the world's civilizations there was a fascination with creating in small scale. Ancient Greeks adorned their walls with small murals while coins and rings often bore engraved portraits.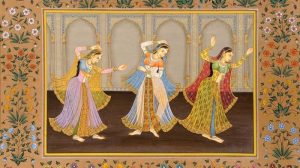 In Persia, the shahs maintained the best artists of the day to paint the court and illustrate copies of the Koran and other great books, both religious and secular.
Monks in the Middle Ages embellished manuscripts with delicate illuminations and bordered them with a red lead pigment called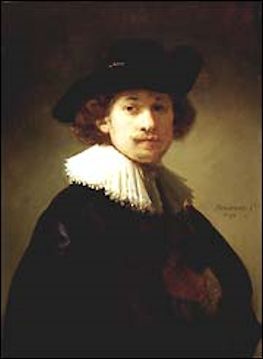 'minium' from which the word 'miniature' later evolved.
The Elizabethan era was noted for its exquisite miniature portraits on vellum and later, ivory and evokes memories of masters such as Holbein, Hilliard, Oliver and others. Many Dutch and Flemish artists painted small-scale works in order to do focused studies on specific painting techniques and subjects. Frans Hals' striking 6 ½" by 5" Portrait of Samuel Ampzing, for example, was used as a study for a noted reproductive print. Often, Dutch and Flemish painters created small self-portraits that they could use as "calling cards" with potential patrons.
Among some of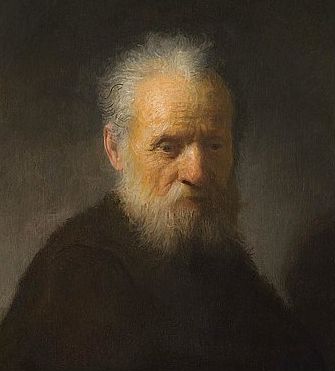 the most famous and valuable small scale paintings from this period are two by Rembrandt (Self-Portrait at 26 and Portrait of Old Man with Beard), two by Vermeer (Girl in Red Hat and Young Woman Seated at a Virginal) and Anthony van Dyck (Portrait of Nicholas Rockox).
Miniature art fell out of vogue with the advent of photography more than a hundred years ago. But it has experienced a resurgence in the past twenty years among artists, collectors, curators and art museums around the globe.
The White House,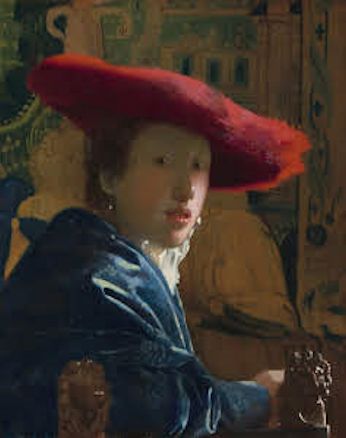 the Smithsonian American Art Museum, Astolat Dollhouse Castle and museums around the world have collections of miniature paintings, drawings, original prints and etchings, and sculpture. Perhaps the most intriguing miniature exhibition of renowned American artists sits today on the lunar surface. Fifty years ago this past November 19, astronauts Alan L. Bean and Richard F. Gordon left behind a ceramic wafer
Southwest Florida has seen numerous exhibitions of miniature artworks, including ELEVEN: The John Erickson Museum of Art Retrospective at the Bob Rauschenberg Gallery in 2014 (featuring galleries only slightly larger than a shoebox conceived in the tradition of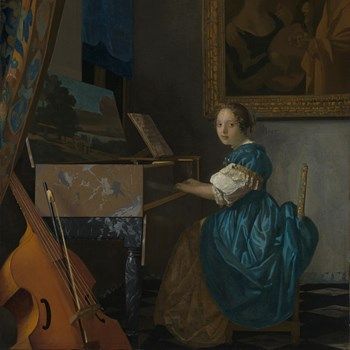 Marcel Duchamp's Boite en Valise) and the upcoming small scale art show at DAAS CO-OP Gallery in Fort Myers' Gardner Park.
To participate in Naples Art's Little Things exhibition, deliver one exhibit-ready artwork on January 6, 2020 between 11:00 a.m. and 4:00 p.m. The exhibition will be on display January 14 – February 16, 2020 in Gallery 104.
________________________________________
Naples Art will be 'Daydream'ing in April and May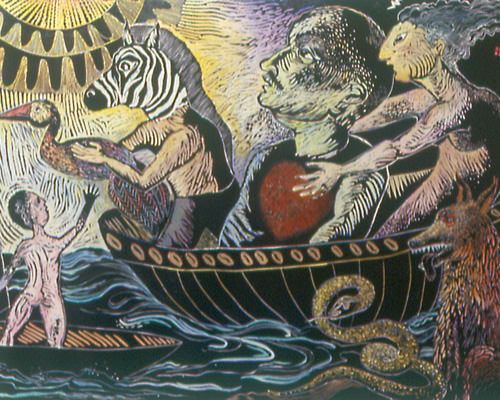 Daydreams: Fantastical Wanderings of the Brain will be exhibited by Naples Art in Gallery 104 between April 7 and May 26, 2020. The possibilities are endless when artists use daydreams as their inspiration. Mind wandering, fantasy and spontaneous thoughts all lend themselves to some very creative artwork. If you'd like to participate in this show, then please deliver one exhibit-ready artwork on March 30, 2020 between 12 noon and 4:00 p.m.
__________________________________
2     ART FAIRS AND FESTIVALS
Next Fort Myers Art Walk is January 3 & 4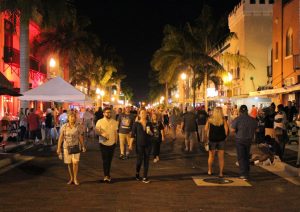 Art Walk returns to the downtown Fort Myers River District from 6:00-10:00 p.m. on Friday, January 3, and 11:00 a.m. to 4:00 p.m. on Saturday, January 4.
New exhibits include exceptional art in a variety of mediums done by a bevy of local artists and some national and international artists as well.  You can meet the artists and talk art at the self-guided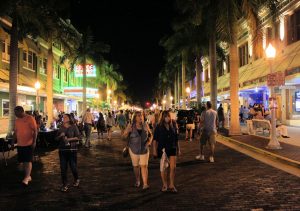 Friday night event, which brings together art enthusiasts, collectors and community friends who celebrate the arts each month. The Friday night Art Walk sees First Street closed to traffic. Local artists set up in the street selling their art, and face painting is offered at several locations along First Street.
Saturday Art Walk is a quieter affair with most of the galleries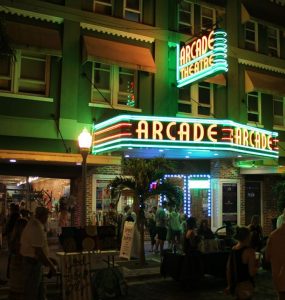 open for examining the art at more leisurely pace. This new and improved version of Art Walk includes 14 galleries and art stops, including:
American Legion Veterans Gallery showing Art done by Veterans
Art League of Fort Myers – new exhibits each month
Arts for ACT Gallery – features three or more art exhibits every month plus co-op members art
Bootlegger Alley Gallery – outdoor gallery open only during Art Walk in The Patio de Leon
Grand Illusion Gallery – art, tee shirts and more
Marc Harris Wildlife Photography – on Jackson Street
Miville Art Gallery – art and photography in the Franklin Shops
Ollie Mack Gentry Photography – photography  at 2180 West First Street
Sidney & Berne Davis Art Center – Main Gallery Exhibit and Capitol Exhibit on the 3rd Floor
The Barrel Room – Jazz art – on Bay Street
Timeless Gallery – gallery and gift shop featuring steampunk art and more
Two Newts Gallery – co-op gallery located off West First Street at 2064 Bayside Parkway
Unit A – urban contemporary gallery of internationally-acclaimed artist Marcus Jansen located in Gardener's Park
As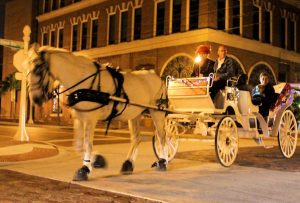 this survey of participating galleries reveals, Fort Myers Art Walk spans the core of downtown Fort Myers and includes the Gardener's Park area and West First Street. Most of the action is located on First Street, but you can obtain a Fort Myers Art Walk map at any of the galleries that will lead you to all the art venues and Art Walk partners.  "Enjoy cultural venues, restaurants, bars and businesses,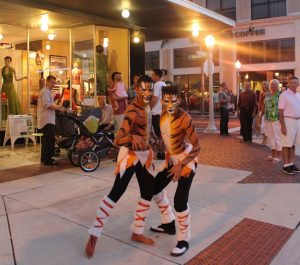 plus live music," touts the River District Alliance. "Watch live art demos on First Street, eat amazing food, shop the unique local boutiques or just enjoy the atmosphere."
So whether you prefer the energy of night or the calm of day, there's something for everyone during this new-and-improved weekend of art that Fort Myers still calls Art Walk. There is free street parking and $5.00 at any of the parking garages.  In season ride the free River District Trolley. Fort Myers Art Walk is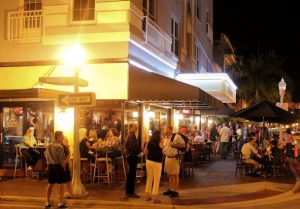 a Pet and Family Friendly free event! Fort Myers Art Walk is hosted by The River District Alliance, a non-profit organization. For more information, please visit www.fortmyersriverdistrictalliance.com.
_________________________________________
Art League of Marco Fine Craft Fair is January 3 & 4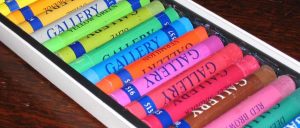 On Marco Island, the Art League of Marco Island Fine Craft Fair also takes place on Friday and Saturday, January 3 & 4. This fair is held at 1010 Winterberry Drive, Marco Island, Florida 34145, which is toward the southern end of the island.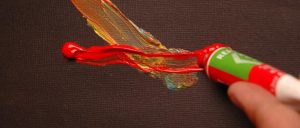 Now in its 17th year, this craft fair provides browsers and art enthusiasts with some of the region's best original artwork, including paintings, watercolors, photography and digital art, ceramics, pottery, glass, clothing, jewelry and mixed media work.
______________________________________________________
23rd Estero Fine Art Show returns to JetBlue Park on January 4 & 5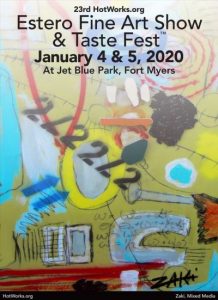 The 23rd Annual Estero Fine Art Show returns on Saturday, January 4, and Sunday, January 5, 2019 to JetBlue Park (11500 Fenway Drive South, Fort Myers 33913). A Sunshine Artist top 100 outdoor art festival, the Estero Fine Art Show features original paintings, drawings, pastels, photography, ceramics, clay, glass, sculpture, wood working and carvings, fiber art and art jewelry from the ateliers, studios and workshops of a select group of 110 local and internationally-acclaimed artists. All are present throughout the two-day event and eager to answer questions about their work and inspiration. Live art demonstrations afford numerous opportunities for patrons to see the various processes that the artists'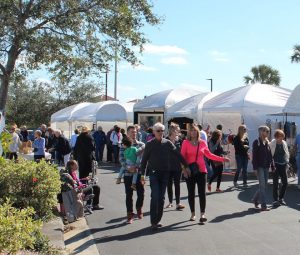 go through and techniques they employ to create high-quality artworks in their chosen medium.
PLEASE NOTE: while admission is free, JetBlue Park charges $5 for parking, good for both days with receipt.
__________________________________________________________
Naples New Year's Art Show invades Fifth Avenue South on January 4 & 5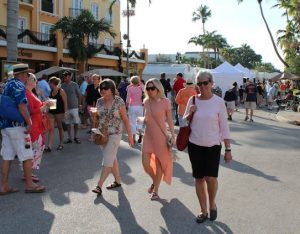 The Naples Art Association's Naples New Year's Art Show returns to Naples' Fifth Avenue South on the weekend of January 4 & 5, 2020. Last year, the artworks on display were valued collectively at more than $15 million. As in years past, every category will be represented, from original oils and acrylics on canvas, panel and galvanized aluminum to watercolors on paper, 2D and 3D mixed media, limited edition prints, photography, digital art, metal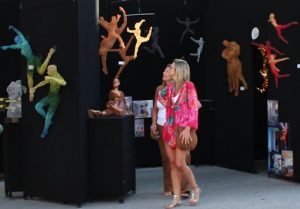 sculpture, wood carvings, ceramics, hand-crafted jewelry, leather works and more. Because of its national ranking (Sunshine Artist consistently ranks it in its top 100 in the nation each year, and last year Naples New Year's came in at #15) and the beautiful weather in southwest Florida during this time of year, the Downtown Naples New Year's Art Fair draws 250 of the finest artists in the country.
_______________________________________________________
Art in the Park takes place on first day of Naples New Year's Art Show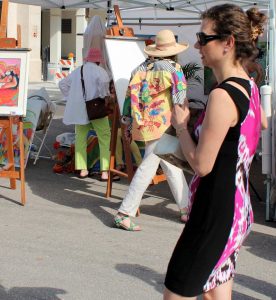 Art in the Park will run alongside the Downtown Naples New Year's Art Fair on Saturday, January 4. Art in the Park not only features work by Naples Art Association member artists in booths set up on Park Street outside The von Liebig Art Center, but art demonstrations by NAA artists plus art projects for the whole family. There are projects inside The von Liebig Art Center for the kids as well. Art in the Park is not just an add-on to the Downtown Naples New Year's Art Fair. It is a festival that has stood on its own merits for more than 62 years.
________________________________________________________
Naples Art District's 1st Wednesday Studio & Gallery Tour is January 8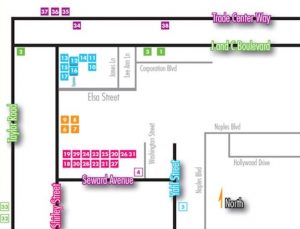 On Wednesday, January 8, the three dozen plus galleries and artist studios that comprise the Naples Art District open their doors to the public from 5:00-8:00 p.m. Called 1st Wednesday Studio & Gallery Tour, the event is a unique opportunity to immerse yourself in the sights, sounds and smells of the studios of more than 60 emerging and mid-career artists working in a broad cross-section of genres and media. Just look for the magenta flags.
___________________________________________________
Rest of the January art fair and festival schedule is on ARTSWFL
January is a busy month for outdoor art fairs and festivals in Southwest Florida, with a total of 14 events scheduled over the four weekends, including Bonita Springs National, the 35th Annual Cape Coral Festival of the Arts, the Sanibel Community Association Fine Art and Craft Festival, Art Fest Naples and the Art Festival at Mercato. To see the entire schedule for January, visit Art Southwest Florida's art fair and festival calendar here.
_____________________________________
3     ARTISTS IN THE NEWS
Kyra Belan receives Artivist of the Year award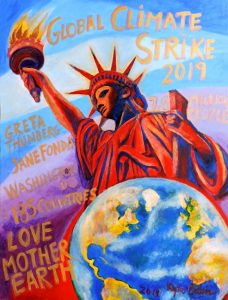 Art Tour International Magazine in collaboration with Artists for a Green Planet and Manhattan Neighborhood Network has conferred its Artivist of the Year Award on Cape Coral artist, author and climate change advocate Kyra Belan. The Artivist of the Year Award Ceremony celebrates world-renowned artists from around the word who have joined the global conversation about climate change by creating works of art that convey their views of humanity's impact on the environment. Created by Art Tour International's editor-in-chief Viviana Puello, the award affords an opportunity to celebrate and create change through the gift and influence of art.
Kyra has been creating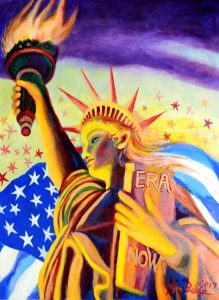 art that draws attention to social and ecological issues for four decades.
"My art celebrates the beauty and harmony of Mother Earth and her ecosystems, while evoking her symbols and myths from prehistoric to current time, her matriarchal cultures and the contributions of women to our civilization," Kyra explains.
Her artwork, a painting titled ERA Now, was an official artwork for the postcards that helped the ERA in Virginia (which will be ratified in January, 2020).
Go here and scroll down to read the rest of this announcement.
____________________________________________________
4.      FILM
TGIM kicks off new year on January 6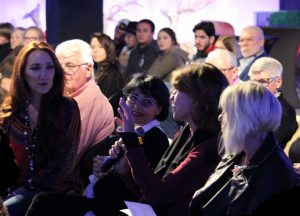 The Fort Myers Film Festival returns on January 6 to the Sidney & Berne Davis Art Center's grand atrium.
New to the term? Well, the acronym stands for "Thank God for Indie Monday," and symbolizes the anticipation and excitement that area indie film lovers feel as the first Monday of the month draws near each season. That's when hosts Eric Raddatz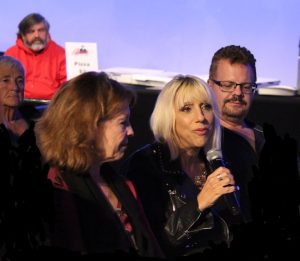 and Melissa DeHaven screen a number of the indie short and short short films that have been submitted for inclusion in the Fort Myers Film Festival.
While there will be celebrity judges on hand to start the discussion after each screening, Eric and Melissa want to hear from you. What was your take on the film? What worked or didn't, what did you like or hate, and should the film be included in the film festival?
Go here for the rest of this advance.
_____________________________________________________
Spotlight on January TGIM celebrity judge Ilene Safron Whitesman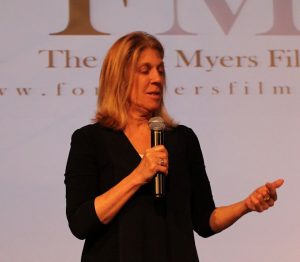 Hosts Eric Raddatz and Melissa DeHaven have assembled one of the most talented celebrity judging panels in the history of T.G.I.M. for the Fort Myers Film Festival's January screenings. Joining actor Amanda Hootman and performance artist Leila Mesdaghi is Ilene Safron Whitesman. Although normally hiding safely behind the viewfinder of her camera, Ilene has been out front a lot lately. She is the creative force behind Fort Myers, City of Palms – A Contemporary Portrait,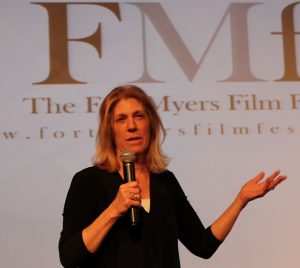 a beautifully lensed coffee table book that features her images and lyrical commentary by Amy Bennett Williams and filmed the documentary A Tale of Two Halgrims, which was shown on the lawn of the Edison and Ford Winter Estates during last year's edition of the Fort Myers Film Festival. [Go here for a synopsis of this documentary.]
______________________________________________
Spotlight on January TGIM celebrity judge Leila Mesdaghi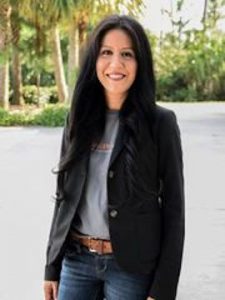 Hosts Eric Raddatz and Melissa DeHaven have assembled one of the most talented celebrity judging panels in the history of T.G.I.M. for the Fort Myers Film Festival's January screenings. Joining actor Amanda Hootman and Main Sail Productions' Ilene Safron Whitesman is performance artist Leila Mesdaghi.
Leila Mesdaghi is an NYC-born Iranian-Colombian performance artist living in Fort Myers and working as an assistant at the Rauschenberg Residency on Captiva Island. Through her performance pieces, she comments on social and political issues like war in the Middle East, the negative reflections of Social Media in society, the housing crisis in the U.S, and the price and promise of progress.
Go here for the rest of Leila's profile.
__________________________________________________
Spotlight on January TGIM celebrity judge Amanda K. Hootman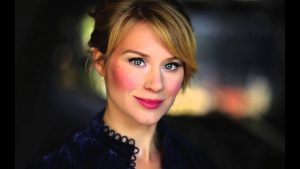 Hosts Eric Raddatz and Melissa DeHaven have assembled one of the most talented celebrity judging panels in the history of T.G.I.M. for the Fort Myers Film Festival's January screenings. Joining actor Main Sail Productions' Ilene Safron Whitesman and performance artist, filmmaker and Ghostbird actor Leila Mesdaghi is Amanda K. Hootman, a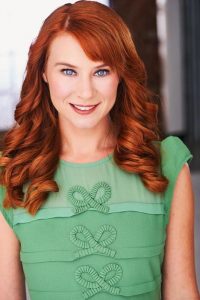 Fort Myers born and bred SAG-AFTRA and UK equity film and stage actor, casting director and a classical singer.
Amanda's film acting credits include Laurie in the 2019 short film Jimmy, the wife in Sandcastles for Coralab Productions, the wife in Undertow for Coralab Productions, Marlena Gates in the 2007 video Pose Down and Gabriele Torrez in One Evening. Among her New Media projects are the roles in several musical parodies from For The Love Of Parody Productions, including  Willow Rosenberg in the 2018 short Buffy Kills Edward, Charlotte York in Yes, I Do (Satirical Parody), Charlotte York in the 2019 video short Get Me a Cosmo (another satirical parody) and Sarisa Stark in Got Parody Project (2019).
Go here for the rest of Amanda's profile.
_________________________________________________________
5th Annual Bonita Springs Int'l Film Festival set for February 27-March 1
The Centers for the Arts Bonita Springs introduced the inaugural Bonita Springs International Film Festival in  February of 2015. It will return February 27-March 1, 2020 with over 70 carefully curated narrative, documentary, animation and short films from around the world, complemented by a wide variety of workshops, demonstrations, and Q & A sessions with filmmakers, writers, directors, producers and actors.
The unique and entertaining special events begin with Thursday's over-the-top 'Opening Night' and culminates with a spectacular Awards Night and Filmmakers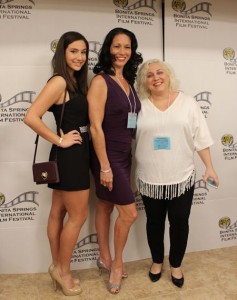 Party on Sunday evening. Each event is unique, featuring delicious catered food, refreshing beverages, quality entertainment and, of course, ample opportunities for film lovers to mix and mingle with a coterie of filmmakers, directors, writers and actors, who similarly enjoy the chance to share ideas and explore future opportunities. Films are shown in both the 400-seat CFABS Hinman Auditorium and the renovated 200-seat Moe Auditorium & Film Center.
Last year, BIFF accepted films in 12 categories including youth- and teen-produced films, animated films, shorts and Florida films, as well as standard fiction/narrative and documentary works, and awarded cash prizes ranging from $250 to $1,000.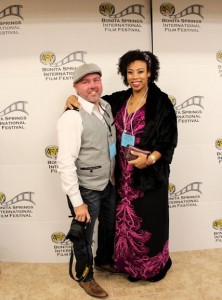 The film festival is an expression of CFABS' longstanding appreciation of film as an art form. The Centers launched their Film for Film Lovers series in 2008, offering one film per month for three months. Over time, Film for Film Lovers was expanded and now features films every Monday. The Centers launched their Foreign Film Series in 2012, and added the impressive Southern Circuit Tour of Independent Filmmakers in early 2015, with showings on the first Tuesday of each month. Today, thousands of Southwest Florida residents and visitors attend these screenings, so it was only logical to add a multi-day film festival to the equation.
The mission of the Bonita Springs International Film Festival is to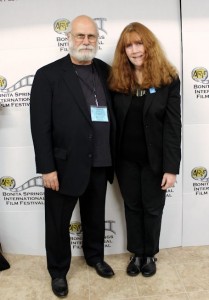 create experiences that bring people together to discover extraordinary films from around the world, recognizing that it is through the art of cinema that a community becomes more informed, aware and alive.
"The big point that ultimately surfaced in our discussions about having a film festival was that we, as an organization, are all about the arts, all the arts," says Susan Bridges, President of the Centers for the Arts Bonita Springs, who is also Co-Chair for the festival. "So, we began looking at the idea that our Bonita Springs International Film Festival might see the majority of our films showcasing an artistic connection of some kind, beyond the fact that film is an art form in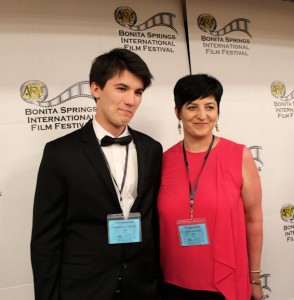 itself."
BIFF is so much more than just watching films. Festival-goers enjoy fascinating and rewarding experiences, right alongside the discovery of each film's unique details, inspiration, meaning and challenges.
CFABS has yet to release a schedule, so check back for details as they emerge.
_________________________________________________
5      THEATER
Here's the line-up for the inaugural Fringe Fort Myers Festival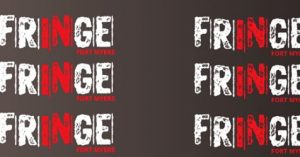 The Alliance for the Arts and Broadway Palm Dinner Theatre, will present the first ever Fringe Fort Myers Festival April 22 – 26, 2020. The fest will feature 48 genre-defying performances on four different stages. Festival tickets go on sale January 2020.
Fringe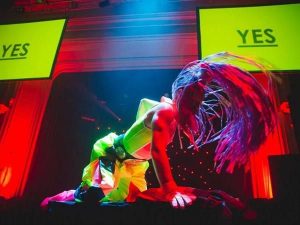 Fort Myers is the newest Fringe theater festival in the United States and maintains long-standing Fringe traditions of being 100 percent uncensored, 100 percent unjuried and 100 percent inclusive. Even better, 100 percent of ticket sales go directly to the artists.
Out of 32 entries, 16 artists were selected at random, with 6 local performers, 6 state performers and 4 national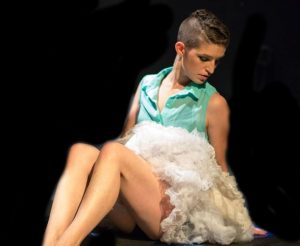 and international performers winning berths.
Fringe Fort Myers kicks off on April 22, 2020 with the fun and frenetic Teaser Show. The teaser show is a great opportunity for audiences to learn what the shows in the festival are about. Each performance group gets 3 minutes to sell their show to the audience, and how they do it is up to them.
Go here for the rest of this announcement.
_______________________
A note on the history of fringe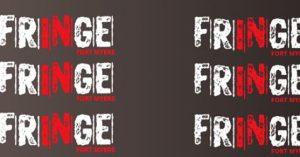 In partnership with the Broadway Palm Dinner Theatre, the Alliance for the Arts will present the first ever Fringe Fort Myers festival April 22–26, 2020. But what, exactly, is fringe?
Well the term traces it origins to Edinburgh, Scotland. At the 1947 Edinburgh International Festival, actors, musicians and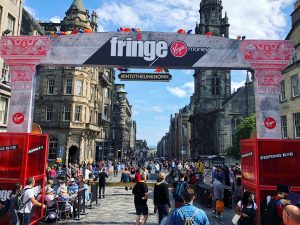 the like who were not invited to participate in the festival performed at various alternative venues in and about Edinburgh. The following year, local journalist Robert Kemp wrote that "round the fringe of official Festival drama, there seems to be more private enterprise than before…" The term caught on and thus fringe was born.
Fringe performing arts festivals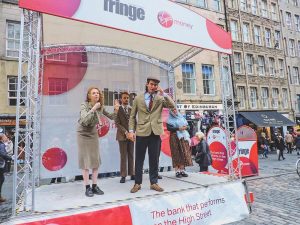 can now be found all over the world. Dozens thrive in the United States. Among the most notable are the Tampa Fringe, Orlando International Fringe, Atlanta Fringe Festival, Capital Fringe, Minnesota Fringe Festival, PortFringe, Hollywood Fringe and the San Diego Fringe Festival.
"Fringe offers an incredible diversity of high quality work with the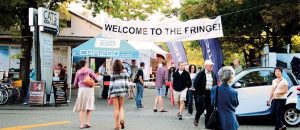 goal of being as affordable and accessible as possible to all members of the community," says Bill Taylor, the Producing Artistic Director of Theatre Conspiracy at the Alliance. "This event will enhance our area both culturally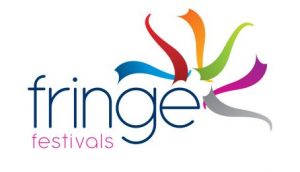 and economically."
Sponsorship opportunities are available at ArtInLee.org/Fringe or by contacting Jessica Wisdom at Jessica@ArtInLee.org. For more information, call 239-939-2787 or visit ArtInLee.org/Fringe.
______________________________________________________________
'Vampire Lesbians of Sodom' to be performed as Fringe Fort Myers fundraiser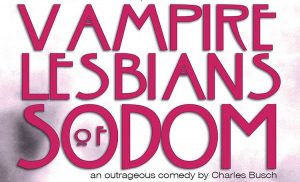 Theatre Conspiracy at the Alliance for the Arts will be producing Vampire Lesbians of Sodom as a fundraiser for Fringe Fort Myers. Vampire Lesbians of Sodom is one of the longest running Off-Broadway shows ever. The show tells the saga of two fatally seductive vampires whose paths first collide in ancient Sodom. Their bitter rivalry as bloodsuckers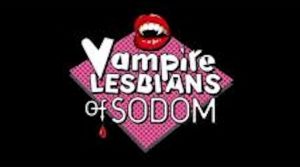 but more importantly, as actresses, endures for two thousand years with stops along the way in 1920s' silent movie Hollywood and contemporary Las Vegas.
The characters in this saucy play include:
Hujar, a hunky guard on the make for pretty much anything.
Zack, a big guy on the chorus line, and the bitch's bitchy nemesis.
Etienne, a really high-strung butler.
Danny, the bitchiest boy at the chorus call.
King Carslile, a big-time (and don't you damn well forget it) movie star with an equally big-time secret.
Madeleine Astarte, a male in drag in the role that made Charles Busch famous (but equally dazzling when taken over by other actors); she begins as a naïve (but growing wiser by the second) virgin sacrifice.
Oatsie Carewe, a Hollywood gossip columnist who turns out to be Van Helsing/Otto Preminger in drag to destroy "the ladies."
Ali, a hunky, but naive, slave guard.
PJ,the "new kid chorus boy."
La Condesa, a cold yet likable succubus.
Renee Vein/Tracy, the ingénue, a starlet who longs for success and fortune at any cost.
The show will run February 21 – March 1 at the Alliance for the Arts, with performances taking place at 7:30 p.m. on February 21, 22, 27, 28 & 29 and 2:00 p.m. on Sunday, March 1.
____________________________________________________
'The Mountaintop' fictionalizes Dr. Martin Luther King's last night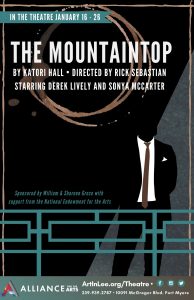 Theatre Conspiracy at the Alliance for the Arts presents The Mountaintop  by Katori Hall January 16 through 26. Directed by Rick Sebastian, the production stars local powerhouses Derek Lively and Sonya McCarter and is presented in conjunction with the 35th Annual Dr. Martin Luther King Jr. Legacy Weekend hosted by the Dunbar Festival Committee.
What thoughts and emotions might have pulsed through the mind and heart of Martin Luther King, Jr. on April 3, 1968, his last night alive?
Go here for the rest of this advance.
Go here for play dates, times and ticket info.
_______________________________________________________________
'Mountaintop' drama set in Lorraine Hotel night before Dr. King's assassination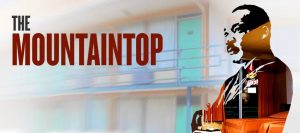 Theatre Conspiracy at the Alliance for the Arts is bringing The Mountaintop to the Foulds Theatre boards January 16-26. Written by Katori Hall and directed by Rick Sebastian, The Mountaintop is a two-person drama about the Reverend Dr.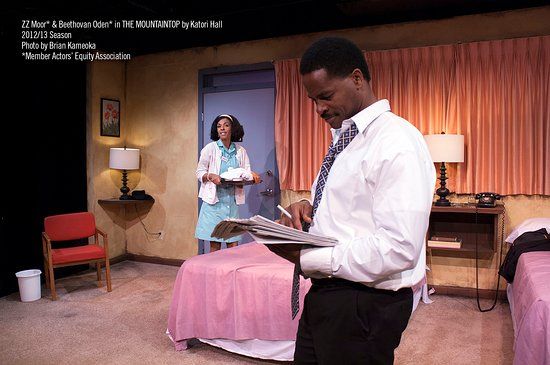 Martin Luther King, Jr.'s last night. The entire play is set in the Lorraine Hotel room, the evening before his assassination. King is alone, trying to create yet another powerful speech. When he orders a cup of coffee from room service, a mysterious woman arrives, bringing much more than a late-night beverage. What follows is a reflective, often funny, often touching conversation in which Dr. King examines his achievements, his failures and his unfinished dreams.
_________________________________________
'Mountaintop' will feature two post-show talk-backs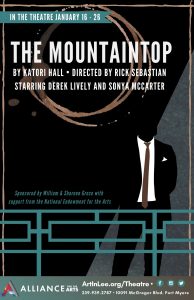 Theatre Conspiracy at the Alliance for the Arts presents The Mountaintop  by Katori Hall January 16 through 26. Directed by Rick Sebastian, the production stars local powerhouses Derek Lively and Sonya McCarter and is being presented in conjunction with the 35th Annual Dr. Martin Luther King Jr. Legacy Weekend hosted by the Dunbar Festival Committee.
To widen the post-show conversation and discuss what the art onstage means to us as individuals and as a society, the Alliance will facilitate a community conversation through talk-backs after the January 19 and January 26 matinees. Talk-backs allow the audience to ask questions and express their thoughts, ideas on issues revealed in the play through the form of meaningful discussion.
_______________________________________________________
Derek Lively will portray Dr. Martin Luther King, Jr. in 'Mountaintop'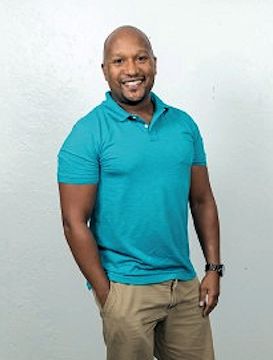 Since relocating to Fort Myers from New York City in 2015, Lively has starred as Walter Lee Younger in Theatre Conspiracy at the Alliance's production of Lorraine Hanberry's A Raisin in the Sun following a strong performance as Canewell in August Wilson's Seven Guitars. But perhaps his most memorable role was that of Frederick Douglass in The Agitators. Now he will portray Dr. Martin Luther King, Jr. in The Mountaintop, a loving, touching humorous portrayal of the man behind the legend.
For more on Derek's staged credits, go here. And to learn more about Derek's process and intentionality, read Derek's May, 2018 interview.
_______________________________________________________
Sonya McCarter to play Camae opposite Derek Lively in 'Mountaintop'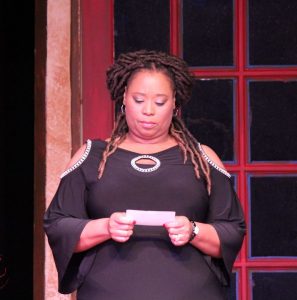 Sonya McCarter is an actor, director, an instructor in the Alliance for the Arts' CHANGE (Communities Harnessing the Arts to Nurture and Grow Equity) program, and the Alliance's Community Engagement Coordinator. Her acting credits include the part of Corryn Fell in Gideon's Knot, Ntozake Shange's choreopoem For Colored Girls Who Have Considered Suicide When the Rainbow is Enuf, appearances in two episodes of the television show Burn Notice and the film The Florida Project. And in her next role, she'll play Camae opposite Derek Lively in Katori Hall's The Mountaintop.
For more on Sonya's theatrical credits, read here.
________________________________________________________
'Grumpy Old Men: The Musical' at Broadway Palm through February 8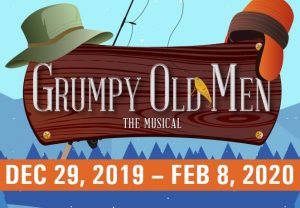 Opening December 29 on the Broadway Palm main stage is Grumpy Old Men: The Musical. In addition to a bouncy musical score, Grumpy Old Men features lovable characters, crisp production numbers, relentless zingers, biting insults, rapid-fire one-liners and delectable double entendres.
Like the movie on which it is based, Grump Old Men: The Musical is set in Wabasha, Minnesota, where retired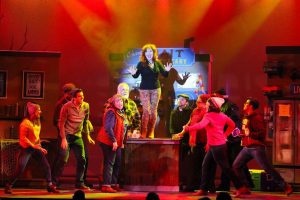 neighbors Max Goldman and John Gustafson continue a feud that dates back to their high school days. Rather than let bygones be bygones, these two grumpy old men continue their verbal, sometimes physical altercations with the gusto of a couple of mixed martial arts competitors. Their uncensored epithets and one-upmanship reach their pinnacle when a charmingly eccentric beauty by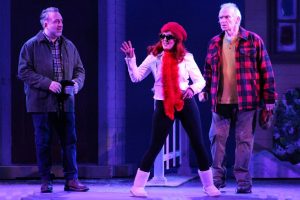 the name of Ariel moves in across the street. As Max and John compete for Ariel's attention and affection, their rivalry descends to new levels. But through a combination of love and compassion, she ultimately finds a way to re-unite the duo in friendship.
Starring Jack Lemmon,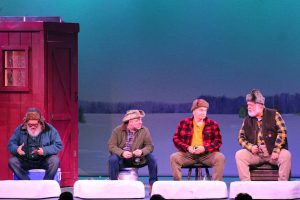 Walter Matthau, and Ann-Margret, the 1993 film by Mark Steven Johnson (Grumpier Old Men, Daredevil, Simon Birch, Ghostrider) proved popular enough to warrant a sequel, Grumpier Old Men (1995), which added Sophia Loren to the celebrated cast.
Dan Remmes adapted the movie for the stage, with Neil Berg and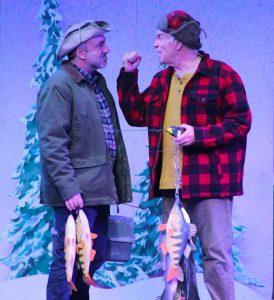 Nick Meglin combining to provide the music and lyrics. They tested the show initially in Winnipeg in 2011 before debuting the work in the summer of 2018 at The Ogunquit Playhouse in Maine. The musical enjoyed its West Coast premiere in September of 2019 at La Mirada Theater in Los Angeles, and a national tour is in the works for 2020.
Luther Chakurian plays the role of John, Rob Summers is Max and Miranda Jane is Ariel, with Bob Marcus playing the part of Grandpa Guftafson.
But you can see it here and now when Grumpy Old Men: The Musical comes to Broadway Palm. It runs through February 8, 2020.
_______________________________________
'Weekend Comedy' coming to Off Broadway Palm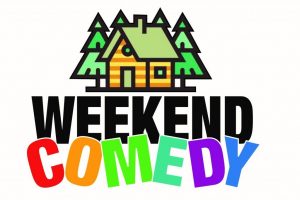 Opening in the Off Broadway Palm on January 9 is Weekend Comedy. The frothy comedy follows two couples who are accidentally booked into the same vacation cabin for a 3-day weekend.
Peggy and Frank are a middle-aged couple who have fallen into a marital rut. Peggy is hoping that a chance of pace will rekindle their stale romance. For his part, Frank seems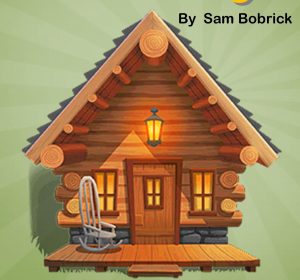 content to just placate his wife of 33 years.
In their 20s, Jill and Tony live together. Madly in love, they can't seem to keep their hands off each other. But like Peggy, Jill has a hidden agenda. She secretly hopes that the retreat will inspire Tony to make their arrangement legal and permanent.
Although the two men take an instant and palpable dislike for one another, they inexplicably decide to share the cabin rather than finding alternative accommodations, thereby setting in motion a comedic clash of the generations denoted by edgy wordplay and rapier exchanges.
Weekend Comedy runs through February 22.
___________________________________________________
Deadline for submitting Kinky Boots audition videos is January 1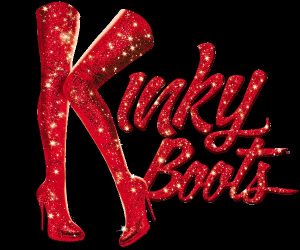 The deadline for submitting children's audition videos for Broadway Palm's upcoming production of Kinky Boots is 5:00 p.m. January 1.
The following are the roles available:
Young Charlie: Charlie is a 7 to 10-year-old boy who is lost, quiet and reflective. Must be under 5 feet tall. Ethnicity: White / European Descent
Young Lola: Lola is a 7 to 12-year-old boy who already knows he is destined to wear high heels. Must be under 5 feet tall. Ethnicity: Black / African Descent
These roles will be double cast and children will alternate performances.
Anyone interested must be available for the rehearsal period and all alternated, assigned performances. Kinky Boots' rehearsals will be February 10 – February 12, 2020. The show runs February 13 – April 4, 2020. Performances are Tuesday through Sunday 

evenings with selected matinees. Performance schedules are available at BroadwayPalm.com. Compensation will be provided in four dinner and show tickets to Kinky Boots.

Anyone interested in auditioning should record a vocal/reading audition for the role they are submitting for and include a current headshot/picture and 
resume. The audition materials are on our website (broadwaypalm.com/backstage/auditions/) and available at the box office.
All submissions need to be emailed to Brian Enzman (brian@broadwaypalm.com) by 5:00 p.m. on Wednesday, January 1, 2020. Audition materials are available at the box office or at broadwaypalm.com/backstage/auditions/.
For more information, visit www.BroadwayPalm.com or call (239) 278-4422.
_______________________________________________________
Center for Performing Arts performing staged readings on January 10 
The Center for Performing Arts will conduct its next set of staged readings in the Moe Auditorium & Film Center on January 10 beginning at 7:30 p.m.
Featuring poignant selections of written works carefully selected to enthrall and amuse, Staged Readings come from short stories, essays, plays, speeches, the inside of fortune cookies, or anywhere else we feel the written word might be made more impactful as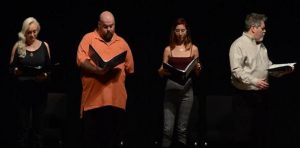 read by local thespians. Each staged reading will be unique, powerful, funny and thought provoking evening of entertainment as actors take on different roles.
Watch the transformative power of acting as directors and actors 
introduce all of us to works that may illuminate our mainstage work or introduce us to future programming possibilities. After readings, you're invited to meet the cast and discuss the play with director and actors. This lively and informative discussion brings new insight to the art of theater.
____________________________________________
'Nunsense' coming to Cultural Park Theatre January 10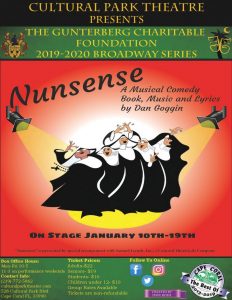 Sometimes life makes no sense. And sometimes it makes Nunsense – as in the musical comedy that Cultural Park Theatre is bringing to the stage for two weekends beginning January 10.
The play focuses on five nuns from the Little Sisters of Hoboken, a one-time missionary order that ran a leper colony on an island south of France. They are part of 19 survivors who are chagrined to discover that their cook, Sister Julia, Child of God, accidentally killed the other fifty-two residents of the convent with botulism-tainted vichyssoise while they were off playing bingo with a group of Maryknolls.
Go here for the rest of this advance.
And go here for play dates, times and ticket information.
_____________________________________
Spotlight on 'Nunsense' playwright Dan Goggin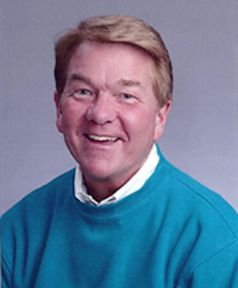 Cultural Park Theatre is bringing Nunsense to the stage for two weekends beginning January 10. The musical was one of the biggest commercial successes in the history of Off Broadway. But Dan Goggin's inspiration for the show came from an unlikely series of events that began when a friend of his gave him a mannequin dressed as a traditional Dominican nun.
"He called her a 'terrific conversation piece,'" Goggin recounts. "At some point, a photographer I knew said we should make a nun greeting card of her." The tongue-in-cheek suggestion struck a responsive chord. Goggin had been taught by Marywood Dominican Sisters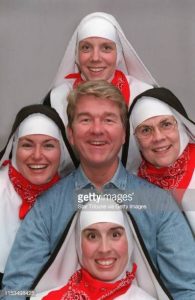 in grade school and had also been a seminarian. So he employed these experiences to create a line of greeting cards that feature a nun offering tart quips.
The cards caught on so quickly that Goggin decided to expand the concept into a cabaret show called The Nunsense Story. It opened in 1983 for a four-day run at Manhattan's Duplex Playhouse.
"We were scheduled to play at the original Duplex on Grove Street in Greenwich Village for four weekends," Goggin laughs. "We ended up staying for 38 weeks. From there, it was literally audience enthusiasm that led to a producer taking an option."
After numerous rewrites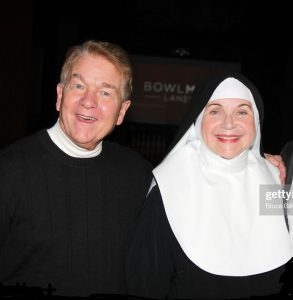 and a change to an all-nun cast, the musical was workshopped at the Baldwin School on West 74th Street.
"It then moved to the Cherry Lane in 1985 where, as they say, 'the rest is history.'"
The five-woman production received four 1986 Outer Critics' Circle Awards, including Best Musical, Best Book and Best Music.
Go here for the rest of this profile.
_________________________________________________
'Alabaster' in Florida Rep ArtStage Studio through January 26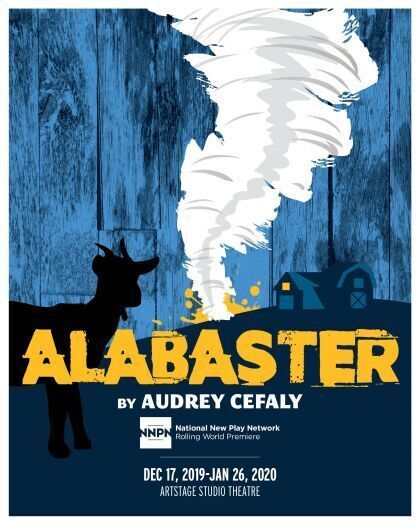 The opening part of a 10-theater National New Play Network Rolling World Premiere, Audrey Cefaly's (photo 2) Alabaster plays through January 26 in Florida Rep's ArtStage Studio Theatre. Chosen from Florida Rep's 2018 PlayLab Festival of New Works, this darkly comic Southern drama about love, art and the power of women won the David Calicchio Emerging American Playwright Prize.
"Florida Rep's is committed to developing new works and nurturing playwrights," said Artistic Director Greg Longenhagen, "and Audrey Cefaly's new play is one of the most exciting new works to cross my desk in a while. This play is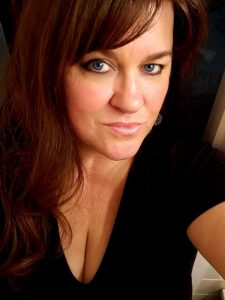 both hopeful and heartbreaking and features some of your favorite Florida Rep ensemble members. We are honored to give this play its first of ten Rolling World Premiere productions and to welcome the playwright into the creative process. Alabaster is not a play to miss this season."
Only June and her pet goat Weezy live to tell the tale when a tornado sweeps through town leaving a wake of death and destruction. In the aftermath of the storm, a prominent photographer visits to take pictures of the reclusive folk artist's scars. Both are forced to reconcile the pain of loss and recovery. This all-female drama explores the meaning and purpose of art and the struggle of the lost and tortured souls that seek to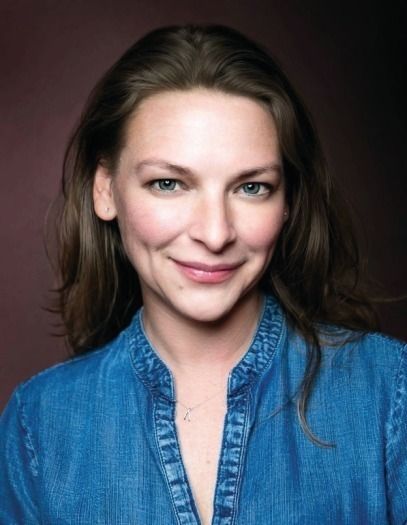 create it.
"National New Play Network is delighted to be supporting this play through a record-breaking ten Rolling World Premiere productions in the 12 months following the opening in Fort Myers," said Nan Barnett, who is the National New Play Network Executive Director. "Florida Rep led the creation of this partnership, and their advocacy for the play and playwright will be celebrated not only in Fort Myers and the other nine cities but also during the many other productions that we are sure will follow."
Alabaster features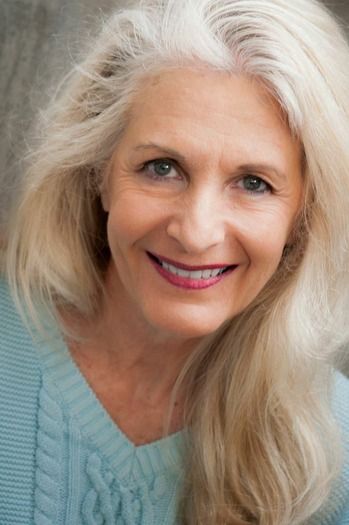 ensemble members Rachel Burttram and Sara Morsey alongside Dana Brooke and Carolyn Messina, both making their Florida Rep debuts.
Burttram returns to the ArtStage after her recent work filming The Right Stuff for National Geographic which airs in early 2020. Her recent Florida Rep credits include Steel Magnolias, Hay Fever, and Disgraced, as well as the PlayLab reading of Alabaster in 2018.
Sara Morsey returns after recent appearances in Steel Magnolias and Shear Madness. A folk artist herself, Morsey will create over sixty pieces of original outsider art for the production. They'll be on display at the Arts for ACT Gallery across the hall from the ArtStage Studio during January.
Alabama native Carolyn Messina makes her Florida Rep debut on the production but has a long history working with the playwright in many capacities. She's appeared in Cefaly's works before Alabaster, and as a dramaturg she has collaborated with Cefaly on multiple projects, including Alabaster.
Dana Brooke is a New York actress making her Florida Rep debut in the production, and is a Company Member at B Street Theatre in Sacramento, where she appeared in the National New Play Network Showcase reading of the play in 2018.
Florida Rep ensemble member and Associate Artistic Director Jason Parrish directs.
Alabaster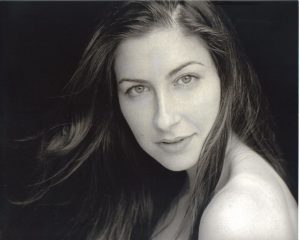 features an expert creative team, including ensemble set designer Richard Crowell (Fences), costume designer Charlene Gross (Tenderly: The Rosemary Clooney Musical), lighting and projections designer Rob Siler (Damascus), sound designer Katie Lowe (Damascus), and stage manager Ruth Kramer (Florida Rep debut).
Alabaster by Audrey Cefaly is generously sponsored by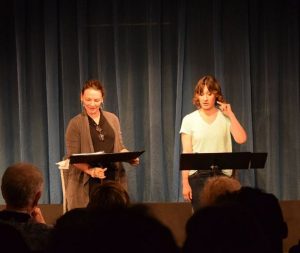 Emily Eason and media sponsor, Florida Weekly.
Tickets start at $55/$49 for regular performances and $35/$29 for previews. Tickets are available online at www.FloridaRep.org and through the box office at 239-332-4488. Box office hours are Monday through Saturday, 10:00 a.m. to 5:00 p.m. Again this season, Florida Rep's parking lot will open 2 hours before each performance and offers guests FREE PARKING across the street from the Arcade Theatre.
N.B.: Alabaster contains strong language and brief nudity.
___________________________________
'Guy, Girl, Piano' at Lab Theater January 3-5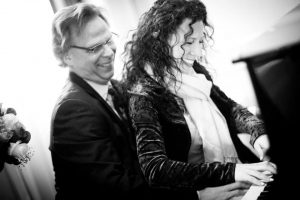 The immensely popular cabaret act A Guy, A Girl, A Piano will be back at The Laboratory Theater of Florida for a limited engagement running January 3 – 5.
A Guy, A Girl, A Piano is an unforgettable musical experience. Theresa Quinn and Randy Kramer delight audiences with their 4-hands-1-piano cabaret as they perform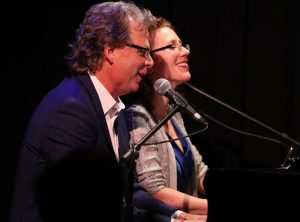 virtuosic piano arrangements, vocal solos and duets featuring the music of Gershwin, Sondheim, the Beatles, Beethoven, Joplin, Bernstein, Fats Waller and others.
Randall Kramer is the founder and artistic/executive director of MusicalFare Theatre and an eight-time Artvoice Theatre Award winner for best director of a musical.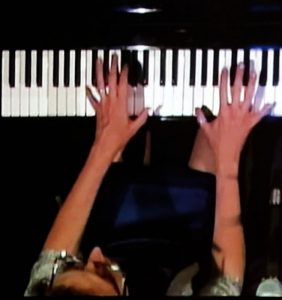 Theresa Quinn has degrees in piano, voice, and law, and has been inducted into the Buffalo Music Hall of Fame. She is a musician and creator of various cabaret performances at the Premier Cabaret at MusicalFare.  In her spare time, she is the music director at Lafayette Presbyterian Church and runs the Theresa Quinn Piano and Voice Studio.
Performance dates and times are January 3 and 4 at 8:00 p.m. and a 2:00 p.m. matinee on January 5. Tickets are available to purchase on Brownpapertickets.com or by calling the box office at 239-218-0481. For additional savings, guests may purchase a 2018-2019 Season Pass.
________________________________________________________
'Death of a Streetcar Named Virginia Woolf: A Parody opens January 17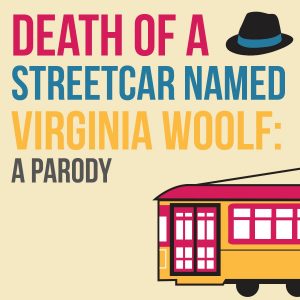 The first licensed production of Death of a Streetcar Named Virginia Woolf: A Parody opens January 17 at The Laboratory Theater of Florida.
A mysterious invitation finds Blanche Dubois on a train to New Orleans. She shares the train with hard-drinking couple George and Martha who seem intent on depleting the entire bar car while delivering scathing advice on life and marriage before the train arrives at its destination. Upon arriving in New Orleans, Blanche runs into the smoldering Stanley Kowalski and the hapless Willie Loman.
Go here for the rest of this advance.
Go here for play dates, times and ticket info.
______________________________________________
Spotlight on 'Death of a Streetcar' director Scott Carpenter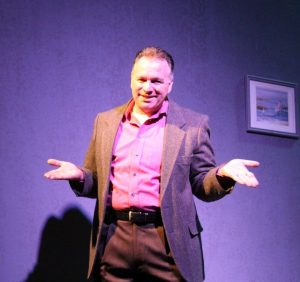 Scott Carpenter is directing Death of a Streetcar Named Virginia Woolf: A Parody. His other directing credits include Rumors, Same Time, Next Year, Jekyll & Hyde, the Musical, South Pacific, Mame, and Steel Magnolias. In 2018, Carpenter was honored with the Cape Coral Community Foundation ENPY award for Nonprofit Volunteer of the Year Award for his work with Lab Theater.
_________________________________________
Spotlight on 'Death of a Streetcar' actor Sue Schaffel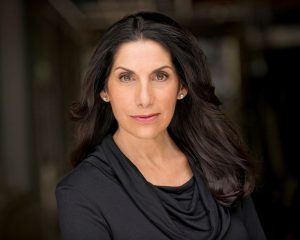 Included in the cast of Death of a Streetcar Named Virginia Woolf: A Parody is Sue Schaffel.
Schaffel is an accomplished EMC actor who is based in Southwest Florida each year. Her stage credits include Hush Up Sweet Charlotte (Velma) for Lab Theater. She has also worked in film and television. Her movie credits include I Like Me (for which she was awarded Best Actress/Feature by the 2018 Sunnyside Up Film Festival), The Waiting Room, The Summer Before, Ricardo and Hopping Through Hoops.
Go here for the rest of Sue's profile.
_______________________________________________
Spotlight on 'Death of a Streetcar' actor Michael Hennessey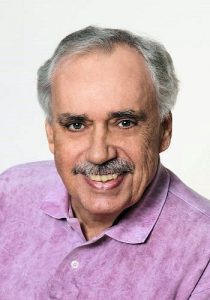 Included in the cast of Death of a Streetcar Named Virginia Woolf: A Parody is Michael Hennessey. The Naples resident is a stage, film and television actor whose career spans more than 50 years. Born in West Virginia, Hennessey grew up in Michigan's Upper Peninsula before going on to study theater at Wayne State University in Detroit. He thereafter performed on and off Broadway, becoming friends with many great actors, including Academy Award winner George C. Scott (Patton) and Roy Walston (best known for My Favorite Martian). Since relocating to Naples, he has been seen locally in numerous theatrical productions. To see which ones and where they were performed, go here.
_________________________________________
Spotlight on 'Death of a Streetcar' actor Joann Haley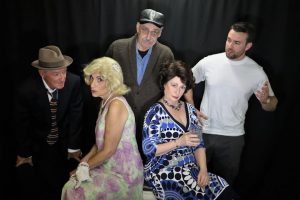 Included in the cast of Death of a Streetcar Named Virginia Woolf: A Parody is Joann Haley. Haley is an actor known for interesting character roles over the course of her 20-plus year career in local community theater. Her credits include the role of Beverly in The Shadow Box for New Phoenix Theatre, seductive Lady Shirley in Marian, or The True Tale of Robin Hood, Mrs. Kendal in The Elephant Man, Dr. Gertrude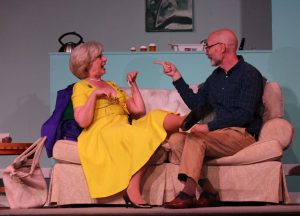 Ladenberger in 33 Variations, cheesy Sister Elizabeth Donderstock in The Book of Liz, Arcadia, Time and Ina Meyerhoff, Sylvia, and more.
Go here for the rest of her stage credits.
____________________________________________________________
Improv returns to The Lab November 30 with Scared Scriptless Comedy Lab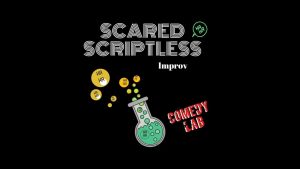 After back-to-back-to-back-to-back-to-back sold-out performances, Scared Scriptless Comedy Lab returns to The Laboratory Theater of Florida on January 11 for a night of hilarious antics, musical comedy, and on-the-spot jokes. Every facet of the uproarious improvised show is based on audience suggestions. With years of performance experience, Scared Scriptless Comedy Lab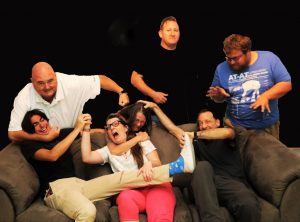 delivers a side-splitting, one-of-a-kind show every time.
Scared Scriptless is composed of Leigh Shein, Nick Hernandez, Kea McElfresh, Bill Owens, Andrew Florance and Steve Cobb.
Scared Scriptless offers a unique mixture of both short-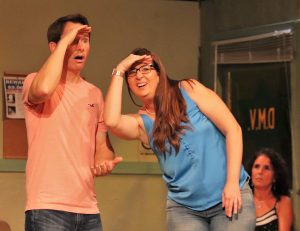 and long-form improv, creating an entertaining evening of family-friendly laughter that is fast-paced, musical, and completely improvised. While no two shows are the same, they are always packed with hysterically funny songs, sketches, and jokes created instantaneously based on your suggestions. For the more adventurous, there are occasional opportunities to join the cast on stage.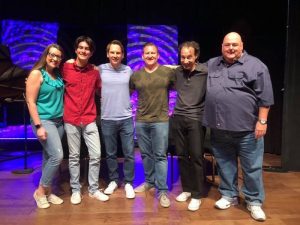 Individual tickets for the 7:00 p.m. performance on Saturday, January 11 are $15 per person and are available at www.LaboratoryTheaterFlorida.com or by calling (239)218-0481. The theater is located in the River District of Fort Myers at 1634 Woodford Ave., Fort Myers, FL 33901.
_______________________________________________
Spotlight on Scared Scriptless Comedy Lab tech Leigh Shein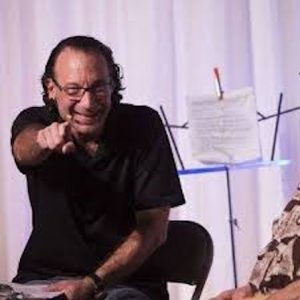 Chicagoan, Leigh Shein took his first improv class with Second City in 1979 and has since studied and worked all over the world. He was a founding member of Bay Area Improv Theater and currently directs and hosts Harry's Senior Moment. In addition to Scared Scriptless Comedy Lab, Leigh is also a member of Gene Pool Party, an improv group of dads and their daughters. He teaches improv to all ages including kids with Autism Spectrum Disorders.
__________________________________________________
Spotlight on Scared Scriptless Comedy Lab tech Nick Hernandez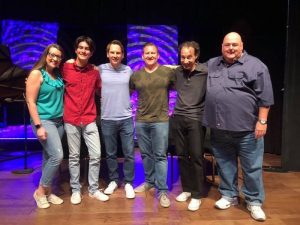 Nick Hernandez has been doing improv for 4 years. He has been in many productions in various theaters. He is currently in college studying to be a sound engineer for theater and artist performances. He is glad to now be a part of this improv group.
_____________________________________________________
Spotlight on Scared Scriptless Comedy Lab tech Kea 'Mac' McElfresh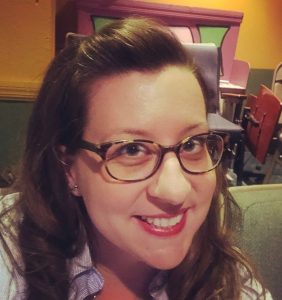 Kea "Mac" McElfresh has been with Scared Scriptless Comedy Lab for nearly two years. As a Miami Improv Member of "Impromedy", she was glad to finally find an improv family in Fort Myers. Mac is currently teaching theatre at Estero High School and serves the community as District VI Jr. Thespian Chair. She brings a wealth of knowledge and crazy characters to the stage.
______________________________________________
Spotlight on Scared Scriptless Comedy Lab tech Bill Owens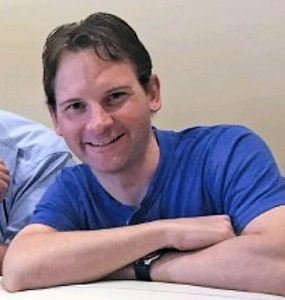 Bill Owens has the privilege of performing with fellow cast members, Steve Cobb, Leigh Shein and Kea McElfresh in the local improv troupes Scared Scriptless Comedy Lab and Gene Pool Party. He was also a member of Harry's Senior Moment and Dueling Swords. Bill's passion for improvisation began only three years ago when his determined kids persuaded him to get out of his comfort zone and take an improv class. When not making a fool of himself on the improv stage, Bill practices law as a business and real estate attorney.
___________________________________________________
Spotlight on Scared Scriptless Comedy Lab tech Andrew Florance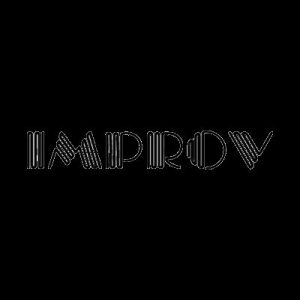 Andrew Florance was born in Tucson, AZ in the back of the O.K. Corral. After escaping from his crib for the 6th time he started traveling with a comedy troupe of babies. They traveled through Georgia, South Carolina, Pennsylvania, and Ohio, before ending up in Florida. When he grew too old for the Crying Laughing baby troupe he traveled the U.S. and Europe to perfect his comedic skills in the corporate world, making jokes at the office level until he found Scared Scriptless Comedy Lab. He's been performing with Scared Scriptless Comedy Lab happily ever after.
______________________________________________
Spotlight on Scared Scriptless Comedy Lab tech Steve Cobb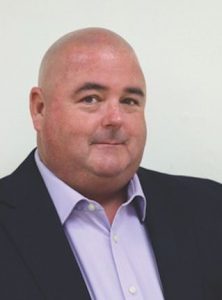 Steve Cobb has been professionally doing improv for over 6 years. Steve currently is the creative director, show runner and cast member for the following improv groups: Scared Scriptless Comedy Lab, Gene Pool Party Improv (dads and their daughters), and Musical Swords Improv. Gene Pool Party Improv has performed locally in Southwest Florida, at the 2017 Palm Beach Improv Festival, the 2018 Palm Beach Improv Festival, and at the 2018 Miami Improv Festival, among several recognized national and international troupes. Musical Swords Improv debuted in the 2018 Palm Beach Improv Festival.
Steve coaches and trains the youth improv troupe Foot Milk Experience Improv.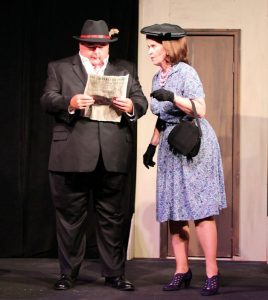 He is the former coach and director of Mission Improvable Youth Improv, and New and Improv'd Youth Improv.
Steve has hosted improv shows throughout the state of Florida, including at the Naples Players Sugden Theatre and the Bonita Springs Center for the Arts. Steve has taught workshops throughout the state, including at the 2018 Palm Beach Improv Festival and for the FGCU Improv Club. He has worked extensively with the FGCU Improv Club. Steve was a judge in Sarasota for the Regional College Improv Tournament in 2017. Steve has performed with many local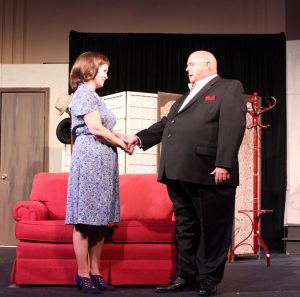 and national improvisors all around the state, including with "Stacked- All Female Musical Revue" in Sarasota, Florida, as part of an instructor show at the Palm Beach Improv Festival, and with other troupes throughout the state as a guest featured player.
Steve is also a stage actor. His credits include Moon Over Buffalo for the CFABS Players.
_______________________________________________________
'Dining Room' comic, touching homage to slice of vanishing Americana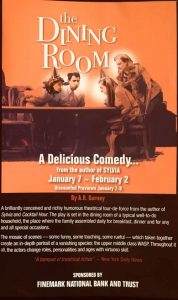 Players Circle Theatre at the Shell Factory will present A.R. Gurney's The Dining Room January 7 through February 2.
The play is set in the dining room of a well-to-do household – the place where the family assembles for breakfast, for dinner and for sundry special occasions. But this dining room is anything but typical. That's because Gurney's living room "exists in a void" compliments of a minimalist set; a cast called upon to portray multiple characters in the tradition of Baskerville: A Sherlock Holmes Mystery and Let Nothing You Dismay; and a non-linear timeline where nothing matters that occurred before each of the play's 18 distinct vignettes, or which follows. In other words, The Dining Room is vintage Gurney.
Go here for the rest of this advance.
Go here for play dates, times and ticket information.
____________________________________________________________
New Phoenix's 'Time Stands Still' features complex characters, crackling wit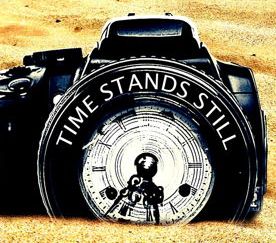 Next up, New Phoenix Theatre will tackle Donald Margulies' Time Stands Still, an insightful play that focuses on two Brooklyn couples who must come to terms with the shifting dynamics of their relationships in the wake of crisis.
Sarah Goodwin is a war photographer who has returned to her Williamsburg loft from Iraq after being injured by an IED that killed her translator and left her face scarred and her body and spirit broken. Her partner, James Dodd, is a journalist, suffered a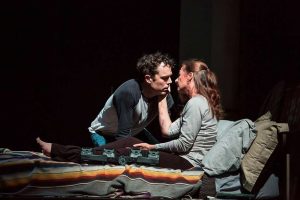 nervous breakdown and left Iraq before Sarah was injured in the explosion. Now he feels responsible for what happened to Sarah in his absence.
The other couple consists of Richard and Mandy.
Go here for the rest of this advance.
And go here for play dates, times and ticket info.
_________________________________________________________
Ten time Tony nominee 'The Full Monty' coming to New Phoenix Theatre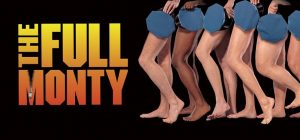 Coming to New Phoenix Theatre on February 27 for four full weekends is Terrence McNally and David Yazbek's The Full Monty. Based on the cult hit film of the same name, this ten-time Tony Award nominee is filled with honest affection, engaging melodies and the most highly anticipated closing number of any show.
Go here for the rest of this advance.
Go here for play dates, times and ticket info.
_______________________________________________
'Comedy Nights' returns to The Naples Players on January 4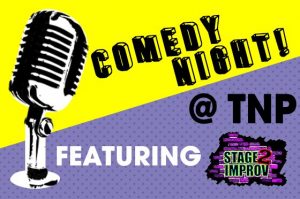 Comedy Nights returns to The Naples Players at 8:00 p.m. on January 4 for some of Southwest Florida's best family-friendly comedy. Featuring Stage 2 Improv, each show will consist of improvisational comedy games and songs from topics suggested by the audience. Frequently including special guest appearances by local celebrities, each month is an exciting new theme.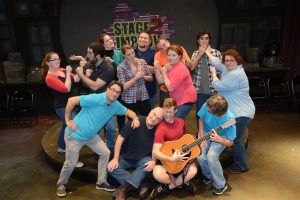 Be as involved in the show as you would like, and come back each month for more and more laughs.
Tickets are $20. Call 239-263-7990 or visit NaplesPlayers.org to reserve your seats.
_____________________________________________________________
TNP holding auditions for 'Becky's New Car' & 'Calendar Girls' on January 25
The Naples Players is holding open auditions for Becky's New Car and Calendar Girls from noon to 4:00 p.m. on January 25. You may audition for one or both shows. Final casting calls will be made starting Wednesday, January 29. For questions please contact Cole Butcher, Production Stage Manager, by calling 239.434.7340 Ext. 125 or email at cbutcher@naplesplayers.org.
_____________________________________________________________
The Naples Players will be 'Making God Laugh' January 15 through February 9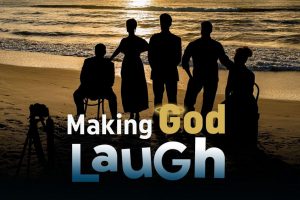 Making God Laugh comes to Blackburn Hall at The Naples Players  January 15 through February 9.
Making God Laugh follows one typical American family over the course of thirty years' worth of holidays. Starting in 1980, Ruthie and Bill's grown children — a priest, an aspiring actress, and a former football star —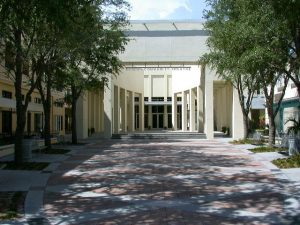 all return home, where we learn of their plans and dreams as they embark on their adult lives. The empty-nester parents contend with their own changes, too, as old family rituals are trotted out and ancient tensions flare-up. As time passes, the family discovers that, despite what we may have in mind, we often arrive at unexpected destinations.
Written by Sean Grennan, this nostalgic family play is meaningful, poignant, funny and heartwarming and underscores one simple fact: if you want to make God laugh, just tell her your plans. Showtimes are Wednesdays & Thursdays at 7:30 p.m., Fridays & Saturdays at 8:00 p.m. and Sundays at 2:00. Tickets are $30 for subscribers, $40 for individual tickets. To reserve your seats, telephone  239.263.7990 or visit NaplesPlayers.org.
_________________________________________________________
Studio Players holding 'Diamond in the Rough' fundraiser on January 25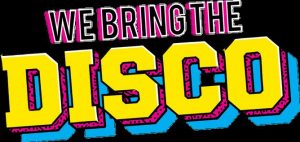 The Studio Players is holding its Diamond in the Rough Fundraiser from 7:00-10:00 p.m. on January 25. It will include a disco party, silent auction, and live performances by jazz vocalist Suzanne Sole with Craig Davis on keyboard and Kevin Hendricks and Vic Caroli in a scene from The Studio Players'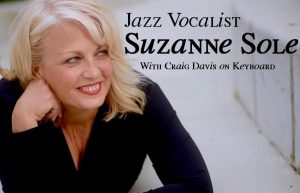 next show, Cat on a Hot Tin Roof. The Studio Players is working hard to secure a new home, and the funds it raises will go a long way toward helping the theater actualize its ambitious New Year's resolution. Order your tickets online at http://www.thestudioplayers.org or telephone 239-398-9192 to avoid the processing fee.
________________________________________________________
TNP Readers Theatre presenting 'Evening of New Plays" on January 19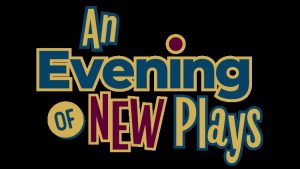 The Naples Players Readers Theatre will present An Evening of New Plays at 7:00 p.m. on January 19 in their intimate Tobye Studio Theater. Since the focus is on the written word, the evening consists of a series of one-act plays, dramas and classic works performed with scripts in hand and without props or costumes. Each reading is directed and cast by the volunteer readers theatre committee. Tickets are $20. Telephone 239-263-7990 or visit NaplesPlayers.org to reserve your seats.
____________________________________________________
Studio Players producing Pulitzer-winning 'Cat on a Hot Tin Roof'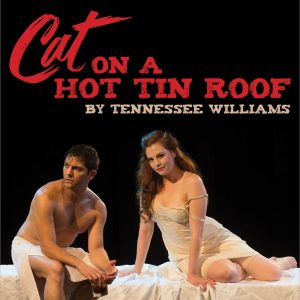 The Studio Players will present Tennessee Williams' Cat on a Hot Tin Roof February 7 through March 1.
The iconic play takes place is a plantation house, where a family is celebrating the sixty-fifth birthday of Big Daddy, as they sentimentally dub him. The mood is somber, despite the festivities, because a number of evils poison the gaiety. Greed, sins of the past and desperate, clawing hopes for the future spar with one another as the knowledge that Big Daddy is dying slowly makes the rounds.
You'll find the rest of this advance here.
And go here for play dates, times and ticket info.
______________________________________
Spotlight on 'Hot Tin Roof' actor Rachel Borwein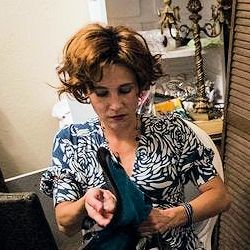 Rachel Borwein is a Naples actor. She will be appearing in the lead as Maggie in The Studio Players' production of Tennessee Williams' Cat on a Hot Tin Roof. Her other credits include the roles of Suzette in Don't Dress for Dinner for The Naples Players, Martha Livingstone in Agnes of God for The Studio Players and Petruchio in Taming of the Shrew.
_______________________________________
Spotlight on 'Hot Tin Roof' actor Kevin Hendricks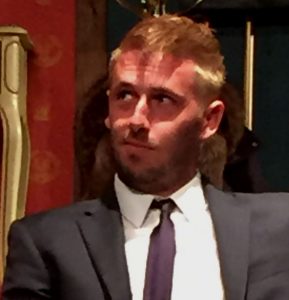 Kevin Hendricks will be playing the part of Brick in The Studio Players' production of Cat on a Hot Tin Roof. Kevin is a local actor who was born, raised and educated right here in Naples (at Golden Gate Middle School and Naples High). Kevin's first love was golf, and in addition to giving lessons and working in area pro shops, he even played on one of the mini-tours for a few years. One day, he decided to join a plant club at Golden Gate Community Center. Arriving early and looking for a way to kill some time, he stumbled into the auditorium where The Studio Players were rehearsing Who's Afraid of Virginia Woolf? As luck would have it, the actor playing Nick had just dropped out and Kevin jumped at the opportunity to take his place. And, as the saying goes, the rest is history.
Go here for Kevin's full profile.
________________________________________
Spotlight on 'Hot Tin Roof' actor Danielle Channell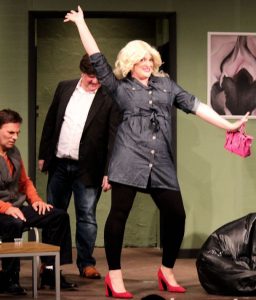 Danielle Channell is a talented comedic actor living and working in Naples, Florida. She will be appearing next as Mae in The Studio Players' production of the Pulitzer-winning Cat on a Hot Tin Roof by legendary Tennessee Williams. Past credits include trophy wife Kaitlyn Gordon, brainiac neurosurgeon Angela Saperstein-Koplan and caustic Bohemian author Brianna in Let Nothing You Dismay and Beatrice Pomeroy in Don't Talk to the Actors for The Studio Players in Naples. Go here for the rest of Danielle's stage credits.
______________________________________________