Actors, artists, directors, filmmakers and events in the news July 8-14, 2021
Grouped under headings that include art openings, film, outdoor art fairs and festivals and theater are advances, announcements and articles about the actors, artists, filmmakers and events making news in Southwest Florida this week:
1      ACTORS
Atlanta filmmaker and actor Lydia Bolen teaching film acting workshops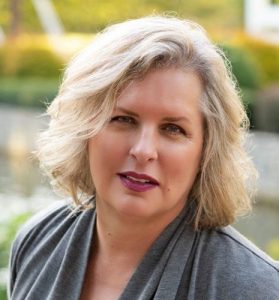 The Center for Performing Arts Bonita Springs is bringing in Atlanta filmmaker and acting coach Lydia Bolen for a series of workshops next week. This is your opportunity to develop acting skills specifically for film. Learn techniques to make you camera-ready for your next role or your next taped audition.
Bolen is a graduate of Georgia State University Film and Video program. She has worked on commercials, independent films, TV series and theater, and currently teaches Communications, Film, Drama and Dramatic Writing in Gwinnett County Public Schools. A filmmaker,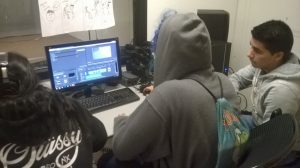 actor and producer, Lydia's approach as an artist is to let participants learn by doing. Lydia has been on the roster at Arts for Learning-Woodruff Arts Center and also leads summer camps in digital filmmaking. Her mission is to teach young people the basics of the art of filmmaking.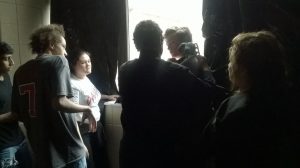 Lydia's co-authored the play Macbeth: The Murder Mystery, which will be presented in the Moe Auditorium on July 22-25.
Adult workshops will be held from 2:00-4:30 on Monday and Tuesday, July 19 & 20. Teen workshops will be held from 2:00-4:30 on Wednesday and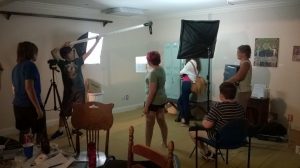 Thursday, July 21 & 22. To register, please call 239-495-8989
Each year the Centers for the Arts Bonita Springs offers a variety of workshops taught by nationally, and internationally recognized artists. This year the Center is offering 27 workshops that include watercolor, pastel, acrylic, oil, mixed media and more. Due to the caliber of our professional instructors, students from across the state and the country register in advance for our workshops. Space is limited and workshops sell out fast.
____________________________________________________
Kinley Gomez part of 'Prabh & Wedler All Original Variety Show'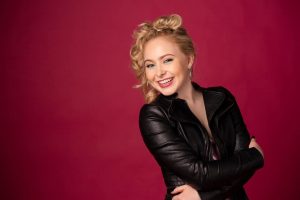 The Laboratory Theater of Florida will present an evening of original songs, spoken word, comedy and even beatboxing performed by some of the area's most talented youth performers. The Prabh & Wedler All Original, Not Your Usual Variety Show is a one-night-only experience that takes place at 8:00 p.m. on July 24 and the insanely talented Kinley Gomez' comedic stylings will be part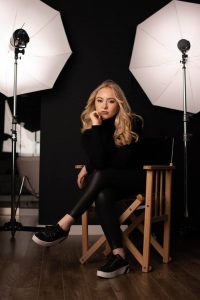 of the show.
Gomez broke upon the local theatrical scene with her portrayal of Abigail Williams in Lab Theater's production of The Crucible (although she'd previously appeared at Lab in the Vagina Monologues, in the ensemble of Willy Wonka and Big River for Florida Repertory Theatre, as Rose in Alice in Wonderland Jr. for Creative Theater Workshop (CTW) and numerous shows at Canterbury School, including 22 Pebbles, Nine Worst Breakups (Wilma), Alfie Dungworth: A Day in the Life of a Daydreamer (Crypta), The Great Pecan (Priscilla), Legally Blonde (Enid) and #Viral (Troll)). But she is determined to make her mark as a screenwriter and, toward that end, will head to the University of Southern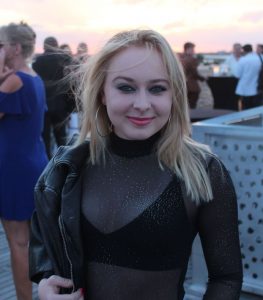 California next month to start work on a degree in writing for screen and television.
The USC program teaches students how to create the kinds of scripts that excite creative collaborators, agents, managers, and investors and become real projects, but KG is already working on developing and honing her screenwriting skills. Her entry in Lab Theater's seminal 24-Hour Screenwriting Project titled Escape Room garnered an audience choice award. She's written a number of other scripts just for practice, and for grins and chuckles, she also writes comedic material. Rumor has it that this is what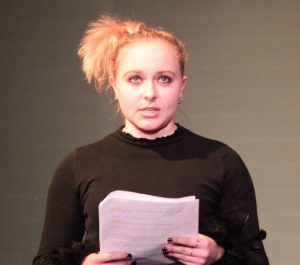 she'll be performing during the Prabh & Wedler All Original, Not Your Usual Variety Show.
Tickets are $25 each or $12 for students with valid student IDs.  Seating is limited. For tickets, please call the box office at 239.218.0481 or online at www.laboratorytheaterflorida.com.
Go here for more on KG and her film acting and screenwriting aspirations.
_________________________________________________________
Kristen Noble will be part of 'Prabh & Wedler All Original Variety Show'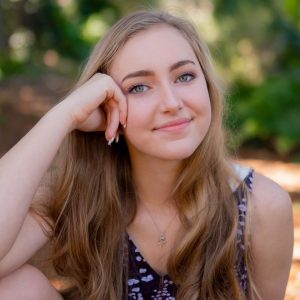 The Laboratory Theater of Florida will present an evening of original songs, spoken word, comedy and even beatboxing performed by some of the area's most talented youth performers. The Prabh & Wedler All Original, Not Your Usual Variety Show is a one-night-only experience that takes place at 8:00 p.m. on July 24 and Kristen Noble will be part of the show. Kristen Noble is a rising star in community theater. Her two most recent stage appearances were the colorful lazy Mayzie la Bird in Seussical the Musical and Kitty in The Drowsy Chaperone. She has received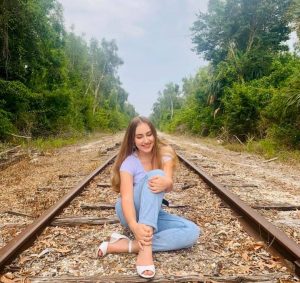 direction from Amy Massari, Kimberly Suskind, Jessica Walck, Dawn Fornara, Christina DeCarlo, Michelle Hamstra, Lori Oliver, Kayleigh Campo, Chris Taylor and Craig Price. A true triple threat, Kristen also has extensive training in both voice and dance. Her full resume is here.
Tickets are $25 each or $12 for students with valid student IDs.  Seating is limited. For tickets, please call the box office at 239.218.0481 or online at www.laboratorytheaterflorida.com.
_______________________________________________________
Rachael Lord is Jenna Sealy in Off Broadway Palm's 'Farce of Nature'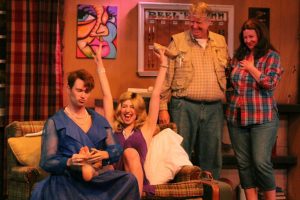 Rachael Lord is performing in the Off Broadway Palm now through July 25 in the Southern-fried comedy Farce of Nature. She plays Jenna Sealy, the long-suffering girlfriend of Ty Wilburn who, during his long absence, has become the boytoy of a Chicago gangster's sexy wife. It's just how Rachael chooses to prepare for starting the Creative Writing MFA program at Drexel University in the Fall. But fear not,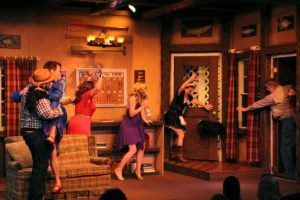 she can do most of the work online so she's not leaving the area – and that means we can look forward to seeing her in more shows. Go here to view all of Rachael's stage and other theatrical credits.
_______________________________________________________
Shelley Sanders makes Off Broadway Palm debut in 'Farce of Nature'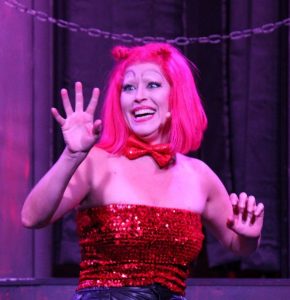 Shelley Sanders is making her Off Broadway Palm debut in Farce of Nature, which runs through July 25. Sanders' acting credits include both dramatic, comedic and musical theater roles, including Amy Lee in the Alliance for the Arts' outdoor production of Laundry and Bourbon, Brooke in the filmed theatrical production of Realish Housewives of Fort Myers for Lab Theater (during COVID pandemic), a variety of roles in Ken Ludwig's Baskerville: A Sherlock Holmes Mystery by Ken Ludwig, Columbia in Richard O'Brien's Rocky Horror Show (New Phoenix Theatre) and the lead in Marian, or the True Tale of Robin Hood (Theatre Conspiracy at the Alliance).  Go here to see her full resume of roles.
___________________________________________________________________
Autumn Pepper Rhodes turns in another terrific vocal performance in 'Rock of Ages'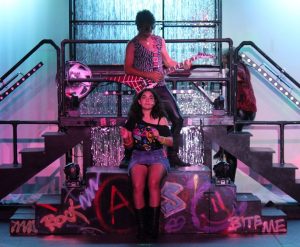 Autumn Pepper Rhodes plays Sherrie Christian in Melody Lane Theater Department's production of Rock of Ages High School Edition, directed by Dana Alvarez and with choreography by Sami Doherty.
Sherrie is just a small town girl from Kansas who come to L.A. to be an actress (think Penny Teller, the small town girl from Nebraska who comes to California in hopes of becoming an actress in The Big Bang Theory). Right off the bus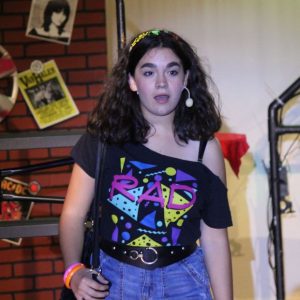 and a welcome-to-L.A. mugging, she is befriended by Drew Boley, who gets her a job at the legendary Bourbon Room. He's an aspiring rocker determined to become a jukebox hero. Although the duo have undeniable chemistry, he cannot afford any romantic distractions so he friend zones Sherrie.
"Then this rock star comes into town named Stacee Jaxx and she's infatuated with him, but he's a douche," Rhodes continues.
_________________________________________________________________
Sophia Albrecht conveys uncompromising conviction as 'Rock of Ages' Anita Bath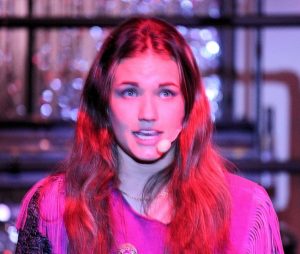 On stage for four (4) shows only at Cultural Park Theater is Melody Lane Theater Department's production of Rock of Ages: High School Edition. Playing the role of the Mayor's assistant, Anita Bath, is Sophia Albrecht.
In the story, a German developer sweeps into town bent on turning the fabled Sunset Strip into just another capitalist strip mall. The Mayor supports the plan because she wants more than anything to rid the Strip of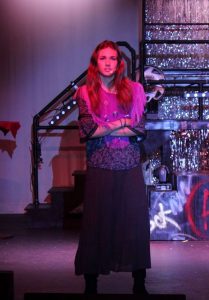 shady rock 'n roll clubs like the Bourbon Room. Her assistant, Anita Bath, couldn't disagree more with stripping the Strip of its character and history. To make her point, she organizes a protest to stop the developer and save the Bourbon Room. After all, we built this city on rock and roll.
The part of Anita Bath calls for an actor with a strong voice who is capable of conveying an uncompromising sense of purpose and conviction. In other words, it demands an actor with the skills, stage presence and work ethic of Sophia Albrecht to breathe life into the character and imbue her with authenticity.
Go here for the rest of this post.
______________________________
2     DIRECTORS
McCleary directs and choreographs Grease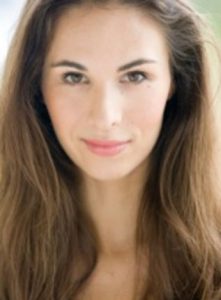 Instead of resting on the laurels of her success with Beehive: The 60s Musical, the incomparable Amy McCleary has tackled the direction and choreography of Grease, on the mainstage at Broadway Palm Dinner Theatre now through August 14. And as you'll see when you catch the show, she's clearly put her own unique spin on this iconic classic. McCleary is a multi-faceted musical theater artist who works as an actor, director and choreographer in local and regional theater. Amy started in theater as a chorus girl. Since then, she has played some pretty prestigious roles, including Velma Kelly in Chicago. But most Southwest Florida theater lovers know McCleary more through her work as Prather Entertainment Group's resident director/choreographer, and in that capacity, she has staged more than 50 productions. Go here to view her impressive resume of shows and other accomplishments.
3    THEATER
The word at Broadway Palm through August 14 is 'GREASE'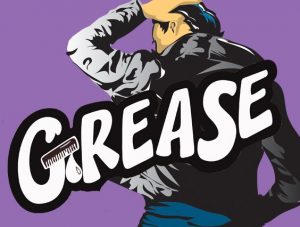 This summer GREASE is the word at Broadway Palm! Playing through August 14, 2021, travel back in time with your favorite teenagers in this light-hearted and nostalgic look at young love. This feel good, rock 'n' roll musical is sure to get everyone dancing in the aisles and singing along to their favorite songs.
Broadway Palm's time warp will transport you back to Rydell High and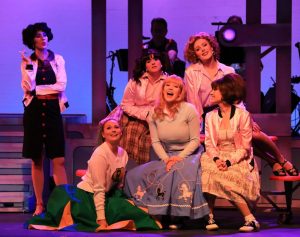 the hot-rodding Burger Palace Boys with its gum-snapping, hip-shaking Pink Ladies. Head "greaser" Danny Zuko and new girl Sandy Dumbrowski try to relive their summer romance as the rest of the gang sings and dances their way through Greased Lightnin'; Summer Nights; Born to Hand Jive; We Go Together; Look at Me, I'm Sandra Dee; You're The One That I Want; Beauty School Dropout; and more!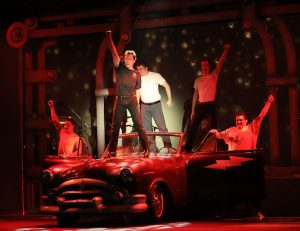 Performances are Wednesday through Sunday evenings with selected matinees. Tickets are $48 to $73. There is a summer special for children 18 and under, tickets are just $20 for the meal and the show. Group prices are also available. Tickets are now on sale and can be reserved by calling (239) 278-4422, visiting BroadwayPalm.com or in person at 1380 Colonial Boulevard in Fort Myers.
Broadway Palm is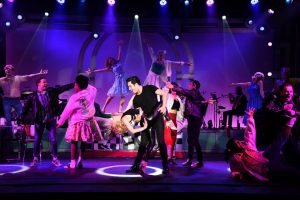 continuing to follow CDC guidelines while providing a delicious meal and exceptional entertainment in a safe and socially distanced environment. For a list of the extensive health and safety measures they have taken, please visit BroadwayPalm.com. It is important to note that Broadway Palm is asking guests that are not fully vaccinated to wear a face mask while not eating or drinking. Proof of vaccination will not be required.
_______________________________________________________________
Southern-fried comedy 'Farce of Nature' in Off Broadway Palm through July 25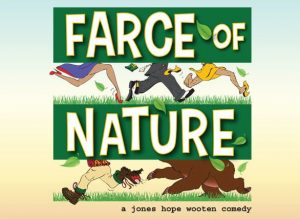 On stage in the Off Broadway Palm is Farce of Nature by Jessie Jones, Nicholas Hope and Jamie Wooten – the same trio who produced the Off Broadway Palm fan favs  The Savannah Sipping Society and The Dixie Swim Club.
Farce of Nature is a Southern-fried farce that highlights a day in the life of the Wilburn family of Mayhew, Arkansas. The Wilburnes run a struggling fishing lodge in the Ozarks by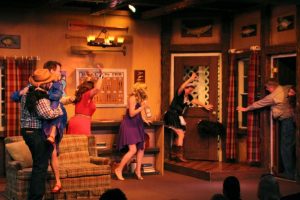 the name of the Reel 'Em Inn, which becomes the backdrop for a motley collection of flawed characters stirring up a hilarious comedic stew – which include an extremely jittery guest by the name of Carmine DeLuca who arrives as a guest because of a glitch in the Witness Protection Program; the lodge's grizzled proprietor, D. Gene Wilburn; his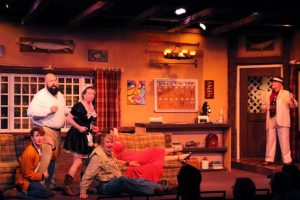 frustrated wife, Wanelle, who's fed up with their lackluster romantic life and has taken drastic steps to improve it through hypnotic suggestion; D. Gene's feisty sister, Maxie, whose efforts to keep Carmine alive is threatened by her proclivity to lose both her gun and the bullets; another Chicago gangster and his sexy wife, Lola, who has driven hundreds of miles to be with her boytoy, Ty, who is D. Gene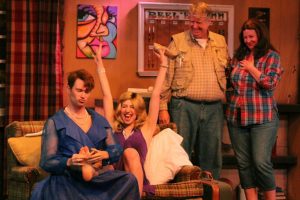 and Wanelle's son; and Ty's seemingly innocent girlfriend Jenna, whose patience has reached the breaking point after months of waiting for Ty to come home.
In the deliciously funny romp that ensues, they all hide, lie, disguise themselves, cross-dress, and slam doors (the hallmark of all farces, n'est pas?),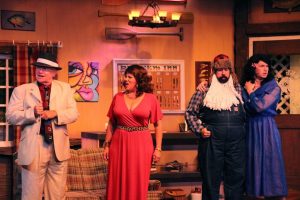 while trying to figure out the source of an increasingly awful stench. By then it's too late and the lodge is surrounded by vicious critters and hungry varmints that have been lured by the odor from the surrounding hills. In the delightfully chaotic climax of this one outrageous day, love blossoms, truths are revealed, and the lives of all—family, guests and gangsters alike—change in incredible and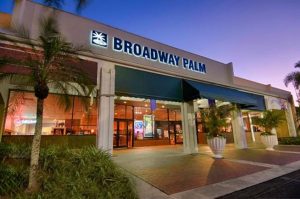 surprising ways. This side-splittingly funny Jones Hope Wooten comedy is guaranteed to win your audiences over—hook, line, and stinker!
The Off Broadway Palm has adjusted their seating arrangement and is operating at a 50% capacity. For a list of the extensive health and safety measures the theatre has taken, please visit BroadwayPalm.com. It is important to note that Broadway Palm is asking guests who are not fully vaccinated to wear a face mask while not eating or drinking for the protection of the cast, crew, staff and other patrons.
The show runs through July 25. For tickets, please call the box office at 239-278-4422 or visit https://broadwaypalm.com.
_______________________________________________
'Doctor Dolittle Jr' coming to Hinman Auditorium July 9-11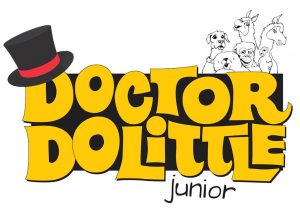 The Center for Performing Arts will present the adorable family tale of Doctor Dolittle, Jr. on July 9-11 in the Hinman Auditorium at 10150 Bonita Beach Road. This charming musical tells the tale of a wacky, but kind doctor who can talk to animals. Immortalized in the movie starring David Niven where the song, "Talk with the Animals" became an endearing classic for animal-lovers around the world, Doctor Dolittle Jr.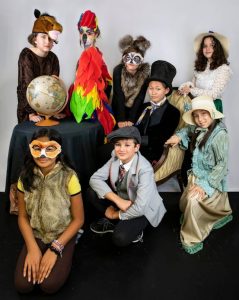 takes audiences on a journey from a small English village to the far corners of the world.
Dr. Dolittle (Cecelia Zafra) lives in a small English village of Puddleby-on-the-Marsh. Realizing that he's not a great people doctor, he resolves to become a great animal doctor instead. Thanks to a centuries-old parrot named Polynesia (Gianna Lucarelli), Dolittle learns to talk with the animals. When the doctor is sent to an insane asylum by his nemesis, General Bellowes (Ava Tufo), for freeing a lovesick seal from captivity, Polynesia and the doctor's two closest human friends, Madeline and Tommy (Lyla Hogue and David Eisenberg) plot an escape.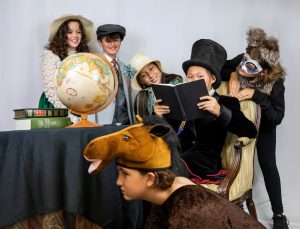 Along with Bellowes' niece Emma (Amelia den Hertog), they set out by boat to find a famed and elusive creature—the Great Pink Sea Snail, eventually finding the creature on the floating Sea Star Island, a haven for animals of all kinds governed by Straight Arrow (Kylie Hackett). The villagers stand-up to authority on behalf of the good doctor and welcome him home.
Director Frank Blocker,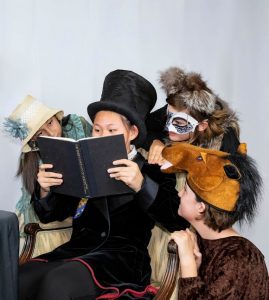 Music Director Joseph Brauer (the Center's new Youth Theatre Director) and student choreographer Lorelei Vega worked with students from Lee and Collier counties to produce this youth-centric musical. Ruben Dario Vazquez provides the scene design and Angelia Winn the costumes with assistant direction and stage management from Toni Palumbo.
Playing various animals both real and imaginary, as well as villagers, circus performers and militant islanders, the ensemble includes Colton Baugh, Leah Bertuna, Caitlyn Clark, Grace Iacobucci, Suzanna Lawson, Gabriella Macias,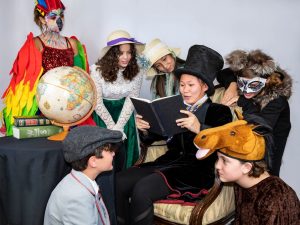 Sofia Passos, Josie Reed, Amelia Seth, Hannah Sidwell and Athena Yurjevich.
Performances are Friday, July 9 and Saturday, July 10 at 7:00 p.m. and Saturday, July 10, and Sunday, July 11 at 2:00 p.m. Tickets are $17.50-$22.50.
____________________________________
CFABS brings Macbeth into the computer age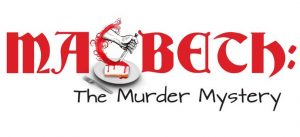 The tormented old-world tragedy that is Shakespeare's Macbeth plays out at the Center for Performing Arts in a ridiculously inappropriate setting – the modern, corporate, computer age! Sink your teeth into this filthy rich tale of political power, greed,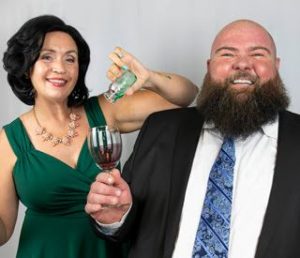 paranoia and who gets to claim credit for the next big IT idea in five delicious performances – at 7:00 p.m. on Thursday, Friday and Saturday, July 22-24 and at 2:00 p.m. on Saturday and Sunday, July 24 & 25. And here's the rub: the audience not only chooses the ending, it chooses their favorite dessert at intermission! Go here to purchase tickets.
_________________________________________________________________
Florida Rep producing world premiere of Jones/Coble collaboration 'Bulletproof Backpack'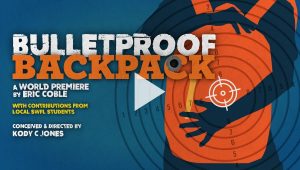 Florida Repertory Theatre is bringing the world premiere of Bulletproof Backpack to the historic Arcade Theatre for a limited engagement August 11-15. Conceived by Education Director Kody C. Jones and written by Broadway playwright Coble (the same creative team behind 2018-s hard-hitting play Refugee), Bulletproof Backpack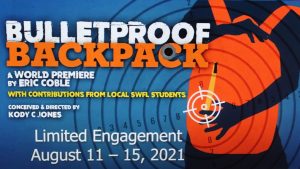 began as a student driven social conflict project that originated with Oregon Children's Theatre. Written with contributions from a team of local Southwest Florida young people, the play creates a platform for students to research, discuss and interview their local community on the subject of gun violence in our schools. Bulletproof Backpack is an  intertwining of student feedback and interviews with fictional characters who beg for answers and continue to pose the question… "How can we feel safe in our schools?"
Performances are August 11-15. Tickets are $25/$20.
____________________________________________________________________
Lab Theater presenting one-night-only variety show featuring local youth performers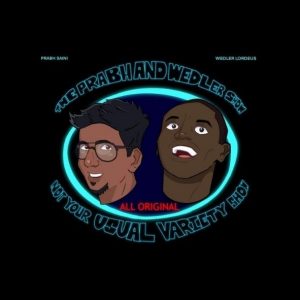 The Laboratory Theater of Florida will present an evening of original songs, spoken word, comedy and even beatboxing performed by some of the area's most talented youth performers. The Prabh & Wedler All Original, Not Your Usual Variety Show is a one-night-only experience that takes place at 8:00 p.m. on July 24.
Prabh Saini and Wedler Lordeus will emcee the show, which will include a cappella singers, guitarists, ukulele, poetry and comedy. All of the performers are under 25 and the creators of their original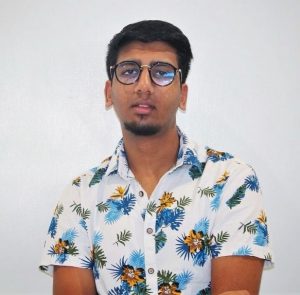 material.
"These are names and faces to know and follow," touts Lab Theater Artistic Director Annette Trossbach. "Everybody in the show should be on a list of some of the most talented young people in southwest Florida. All their material is original and all these kids are at the beginning of their careers. They're about to head off to college and be connected with so many other talented young people who will only help to propel them to the next level. You'll be able to look back in a few years and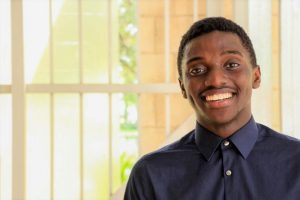 say I remember when that kid was just 16 and performing her own material at the Lab Theater. And now she's got a Grammy."
Prabh Saini has been involved in various theater productions and musical endeavors. His latest work includes the role of Seymour in Little Shop of Horrors at Cypress Lake High School, and winning Best Mix for The A Cappella Group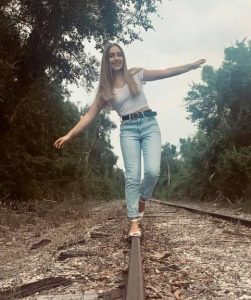 at CLHS during ICHSA (International Competition of High School A Cappella). Prabh has released his first album, entitled The Collective, under the moniker Nové, available on all streaming platforms on July 23rd.
Wedler Lordeus is a beatboxer, singer, actor, and dancer who has won best vocal percussionist twice in competitions. He is a four-time varsity vocals champion, in addition to winning numerous awards for acting and choreography. He has recorded four award-winning á cappella albums, including a 'best album' that featured his beatboxing.
The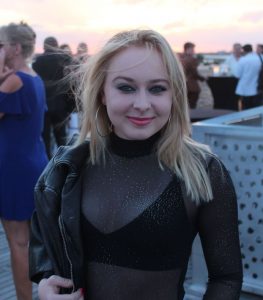 also features Kristen Noble, Darius Webb, Araima Hondares, Anna Lehman, Gus Bahruth, Isabella Sbarra, Mady Ladd, Andrew Darden and Kinley Gomez.
This is a special, one-night-only event. This event is not included in the Lab Theater Season Pass.
"People should come to the show because it is a one-night-only event where you can see the young talent in SWFL at their absolute best," adds Prabh Saini. "Get this – it's ALL original. If you want to see a great handful of talent this is the night for you!"
To help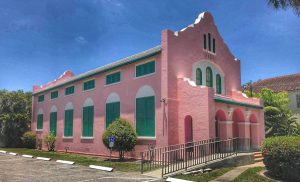 promote these young artists, photography and videography are encouraged. Guests are invited to use #labtheaterfl
Tickets are $25 each or $12 for students with valid student IDs.  Seating is limited. For tickets, please call the box office at 239.218.0481 or online at www.laboratorytheaterflorida.com.
________________________________________________________________
Melody Lane brings '80s jukebox musical 'Rock of Ages' to Cultural Park Theater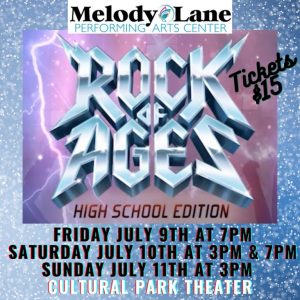 Melody Lane Performing Arts Center is bringing the 80s jukebox musical Rock of Ages High School Edition to Cultural Park Theater for four spirited performances in July. The five-time Tony Award®-nominated Broadway musical smash features fan-favorite '80s rock anthems and power ballads such as "Every Rose Has Its Thorn," "I Wanna Know What Love Is," "Here I Go Again," "Don't Stop Believin," "Wanted Dead or Alive" and more along … with an endearing – and enduring – story of a small-town girl, a big city boy, and a rock 'n' roll romance on the Sunset Strip.
Go here for the rest of this advance.
Go here for play dates, times and ticketing.
_________________________________________________
'Wedding Singer' plays at The Naples Players through July 25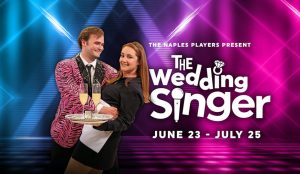 Big hair and shoulder pads at the ready – It's time to rediscover the 80's!  Your favorite Adam Sandler movie in musical form takes the stage in Blackburn Hall at The Naples Players through July 25.
Sponsored locally by Porsche Naples, The Wedding Singer's sparkling new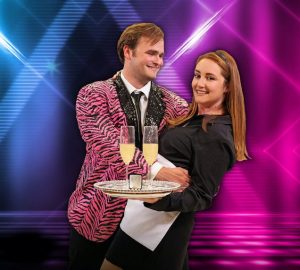 score does for the '80s what Hairspray did for the '60s. Just say "yes" to the most romantic musical in twenty years!
Things are going pretty well for wedding singer Robbie Hart (Joseph Byrne) until he's left at the altar by his fiancé, Linda (Erica Sample).  As he struggles to pick up the pieces and continue performing at other people's weddings, he befriends Julia Sullivan (Alyssa Haney).  Julia is preparing for her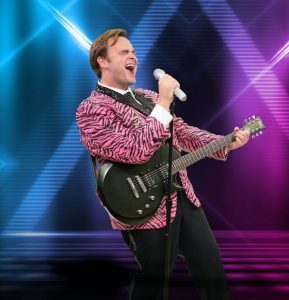 wedding to long term boyfriend Glen (David Shaffer) –  whose commitment to their relationship is questionable, to say the least.  Robbie agrees to help Julia plan her wedding when complications arise and the two spend more and more time with each other…
With fan-favorite director and choreographer Dawn Lebrecht Fornara and musical director Charles Fornara at the helm of this production, you will certainly be dancing in your seat – and possibly even in the aisles.
"The Wedding Singer musical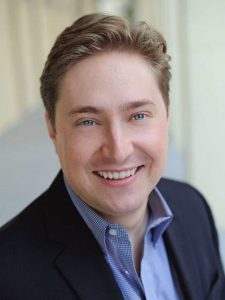 has been on our to-do list for some time" says Bryce Alexander, CEO & Executive Artistic Director (photo 4). "The show is funny, poignant, and a great way for audiences who have been disconnected, or in quarantine, to have a little fun. As they say in the show, it's time for our audiences to 'come out of the dumpster' of COVID-19."
The Fornaras will be leading an all-star ensemble cast of Naples favorites, many of whom have become regular staples of The Naples Players most popular shows. The cast includes (in alphabetical order): Joseph Byrne, Adam Fasano (photo 5), Alyssa Haney, Ruth Johnson, Christine Mastrangelo, Erica Sample (photo 6), David Shaffer,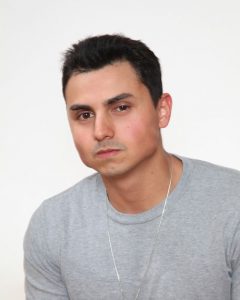 Kenny Tran, Lindsey Walsh, and Dominic Young in the principal roles, and features Leonard Allen, Sade Bassan, Abby Ciabaton, Jim Corsica, Jessica Daniels, Luke Danni, Maxine Danni, Kat Ebaugh, Frankie Federico, Kay Harkins, Madeleine Howe, Danaia Ivanov, Naphtailda Jean-Charles, Monica Joyce, Joseph Loiacono, Elizabeth Marcantonio, Sydney Mixon, Lexi Piper, Andrew Reid, Eileen Reynolds, Thomas Richardson and Ciarán Welch in the ensemble.
To alleviate the concern and spread of COVID-19, the theatre will be limiting capacity. Tickets are expected to sell quickly.  A Red Carpet event open to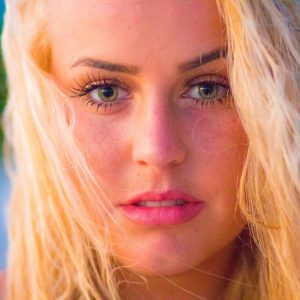 the public is slated for 6:30-7:30 p.m. on Wednesday, June 23 and will feature local vendors, food, drinks, and live music from the band Chariot.
Performances are Wednesdays & Thursdays at 7:30 p.m., Fridays & Saturday at 8:00 p.m., and Sunday at 2:00 p.m. Both general public and season tickets are on sale at the TNP Box Office.  Those interested can visit NaplesPlayers.org anytime or call the TNP Box Office at (239) 263-7990.
___________________
4     ART SHOWS, EXHIBITIONS & ARTS ORGANIZATIONS
Jansen's 'Two Decades of Relevance' at Naples' Baker Museum through July 25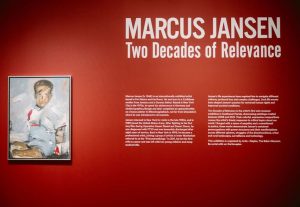 The Baker Museum is hosting a retrospective of work by internationally-acclaimed artist Marcus Jansen through July 25, 2021. Representing Jansen's first solo museum exhibition in Southwest Florida, Two Decades of Relevance showcases 18 powerful paintings, including Foreclosures (2008), Spotlight (2020) and The Colonialist (2021).
Over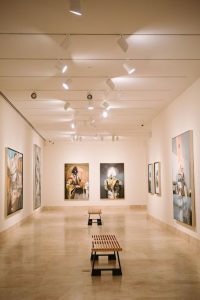 that span, Jansen has garnered numerous attention and accolades. Part of this recognition inheres in incredible technical competency and his revolutionary genre-busting style. But what sets Jansen apart from his contemporaries is his uncompromising critical commentary on global political and socio-economic issues and the world events that have shaped his life.
For Jansen, painting is an act of intense engagement with the world. It is this quality that emerges from his urban landscapes and portraiture and connects viscerally with those who encounter his colorful abstract-and-figurative constructions which, individually and in the aggregate, reflect his sustained preoccupation with the struggles of the displaced and disenfranchised,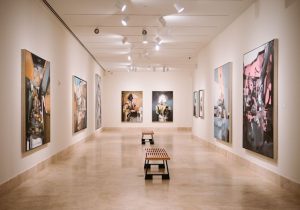 surveillance and technology, and power structures and their manifestations across different spheres.
Jansen's response to the foregoing concerns is informed by a series of profound life experiences. He mother is Jamaican; his father German. He spent his formative years in the Bronx and his adolescence in Germany. He was diagnosed and treated for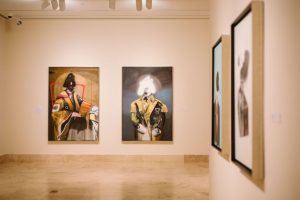 PTSD after fighting in Operation Desert Shield and Desert Storm in the first Iraq War. And after losing his first wife to cancer, he struggled as a single dad to two boys saddled with a mountain of medical bills while trying to establish himself as an artist with a story to tell. Jansen has emerged from these life events filled with a passion for universal human rights and improved societal conditions.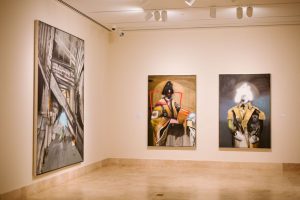 Charged with a sense of empathy and a commitment to justice, his works are, not surprisingly, simultaneously emotional, introspective and intellectual.
Jansen had his first European solo museum exhibitions at La Triennale di Milano Museum, Milan and the Museum Zitadelle Berlin. He has participated in the 12th International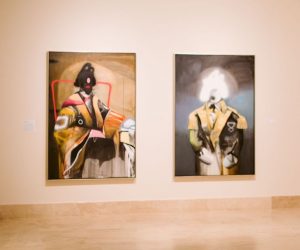 Print and Drawing Biennial in Taiwan at the National Taiwan Museum of Fine Art. Works by Jansen are in collections of the Moscow Museum of Modern Art (MMOMA), The University of Michigan Museum of Art, The New Britain Museum of American Art, The Kemper Museum of Contemporary Art, The National Taiwan Museum of Fine Art, The Housatonic Museum of Art and the Smithsonian Institution in Washington D.C.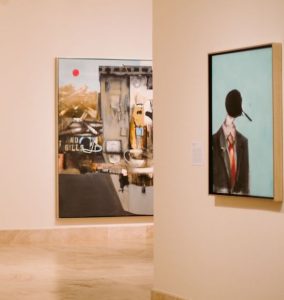 In addition to his studio practice, Jansen is founder of the Marcus Jansen Foundation Fund in Fort Myers, which aims to serve veterans with PTSD and economically-disadvantaged children through enhanced cultural awareness of art and music.
The Baker Museum is one of the foremost fine art museums in Southwest Florida. Emphasizing modern and contemporary art, the museum hosts several traveling exhibitions annually to complement installations of works from its permanent collections. Dedicated to stewardship and scholarship, The Baker Museum provides world-class exhibitions and educational opportunities for Southwest Florida's diverse community.
____________________________________________________
Van Bergen, McNeil opine on Jansen's 'Two Decades of Relevance'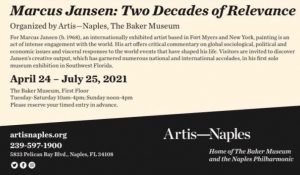 Marcus Jansen: Two Decades of Relevance opens tomorrow (April 24) at The Baker Museum, and Artis-Naples CEO and President Kathleen van Bergen and Museum Director and Chief Curator Courtney McNeil weighed in on the show.
"We are honored to be welcoming Marcus Jansen and his work to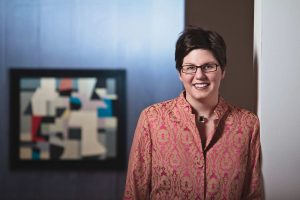 The Baker Museum, especially while celebrating the museum's 20th anniversary," van Bergen said of the impending show. "Marcus' works are simultaneously emotional, introspective and intellectual, and he has built an international reputation for fully engaging the viewer in critical topics about our world."
McNeil's estimation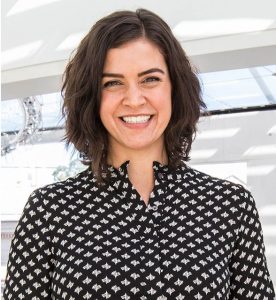 of the significance of Jansen's body of work is both interesting and spot-on. "Since the 1990s, Marcus Jansen has been creating powerful, painterly works of art that critically explore urgent topics, from industrial agriculture to the impacts of gentrification on city dwellers. He has experienced a meteoric rise over the past few years as art audiences in the United States and Europe have embraced artists with the ability to compellingly portray the issues and tensions that shape our lives in these challenging and complicated times. Jansen is not only sensitively attuned to the world around him,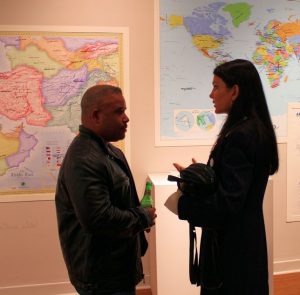 but he is also a dazzling practitioner of an expressive, gestural style of painting that arrests the viewer's attention with its vibrancy and energy."
"We have been thrilled to safely open our doors this season to the community, and we invite everyone to experience Marcus' show," van Bergen adds.
Additional information on the exhibition, related event, timed-entry tickets and details on The Baker Museum's safety protocols (including face masks, social distancing and forehead temperature scans) is available at artisnaples.org.
___________________________________________________________________
'Postcards for Democracy' on display at Bob Rauschenberg Gallery through August 8

On display in the Bob Rauschenberg Gallery at FSW now through August 8 is Postcards for Democracy, the premiere of Mark Mothersbaugh and Beatie Wolfe's collective art campaign.
Artistic visionaries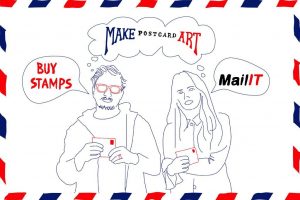 Mark Mothersbaugh and Beatie Wolfe share a love of tangible art forms. In and amongst their futuristic explorations, they have joined forces to create Postcards for Democracy, a collective art campaign in support of the United States Postal Service (USPS) and its essential role in our elections.
The resulting gallery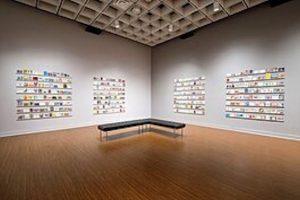 exhibition is expansive, immersive and participatory, but the concept continues to be quite simple: create and mail your postcard design to 8760 Sunset Blvd, Los Angeles, CA 90069 to become part of this art demonstration and, in so doing, support the USPS and democracy in the process.
To date, Mothersbaugh and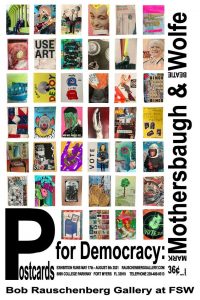 Wolfe have received thousands of cards, covering themes from Covid and science to democracy, capitalism, the environment, social injustice and even insomnia. Together these postcards (like the exhibition itself) form something of a time capsule – reflecting our collective experience personally, socially, societally, politically, and environmentally – while the archive expands with ongoing contributions
Both Mothersbaugh and Wolfe have strong ties with Bob Rauschenberg's work and ethos – Mothersbaugh in his adoption of Pop imagery and early experimentation with industrial printing techniques (including cyanotype) and Wolfe due to her reboot of the Rauschenberg founded E.A.T. programme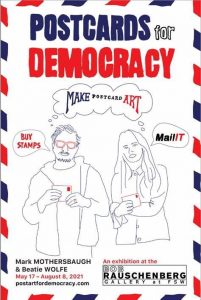 (Experiments in Art and Technology) of the late 60s with her Raw Space project.
Postcards for Democracy also extends the tradition established by the Gallery in 2014 with Yoko Ono Imagine Peace and ELEVEN: The John Erickson Museum of Art (JEMA). The latter, in particular, featured Ono's Wish Tree, to which attendees attached shipping tags containing scribbled wishes in a process that Yoko likened to a collective prayer. After the exhibition, the Gallery harvested the wishes and sent FSW Studio Art Professor Dana Roes and three "Wish Ambassadors," Christopher Lacoste, Leila Mesdaghi and Josue' Charles, to Iceland for purposes of adding them to more than a million others that have been placed in the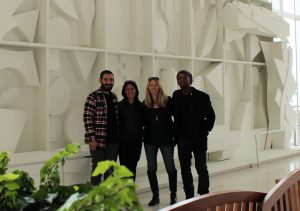 base of the Imagine Peace Tower on Videy Island in Kollafjordur Bay near Reykjavik.
The difference between Wish Tree and Postcards for Democracy, of course, is that while the shipping tag wishes were kept completely private, the postcards are shared publicly with those who visit the Gallery to take in the site-specific, groundbreaking show.
_________________________________________________________
'Postcards for Democracy' artists Mothersbaugh and Wolfe in the frame

On display in the Bob Rauschenberg Gallery at FSW is Postcards for Democracy, the premiere of Mark Mothersbaugh and Beatie Wolfe's collective art campaign. A collective art campaign, the exhibition supports the United States Postal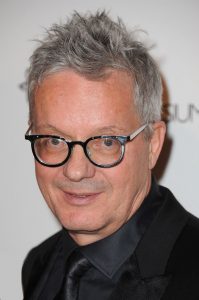 Service (USPS) and elucidates its essential role in our elections.
Mothersbaugh first started making postcard art as a young art student at Kent State University in the early '70s, exchanging work with known and unknown artists alike. Through these exchanges, he realized that he was creating an image bank and a lyric collection that served as a basis of inspiration that he would later use in the creation of his seminal art-rock band, DEVO.  Since then, he has filled over 490 archival volumes of 100 cards each. These cards became the basis of his most recent show, Myopia, a retrospective beginning in 2015 focusing on modern man's ongoing, internal dialogue of beatnik stream of consciousness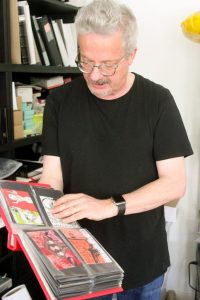 poetry, the surrendering of the intellect to the primordial and science vs. faith.
Mark has shown his visual art in over 125 solo exhibits over the last 35 years, with touring shows Homeland Invasion, Beautiful Mutants, and Myopia, a 30,000-object retrospective in 2015. His art has been featured on numerous books, album art, and consumer products. He has collaborated musically with artists such as Brian Eno, David Bowie, Iggy Pop, Beck, The B52s, and Neil Young,  to name a few.
He was given an honorary doctorate of humanitarian letters from Kent State in 2008.
"What better way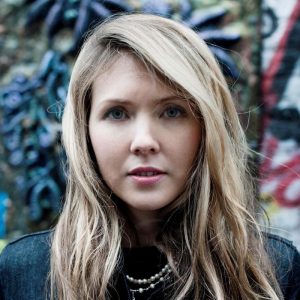 than to use the very system of the USPS as proof of concept that if we protest through art and connection, we not only capture this moment, but we also create a movement and preserve it for posterity," Mothersbaugh comments.
"Musical weirdo and visionary" Beatie Wolfe is an artist who has beamed her music into space, been appointed a U.N. Women Role Model for Innovation, and held an acclaimed solo exhibition of her 'world first' album designs at the Victoria & Albert Museum.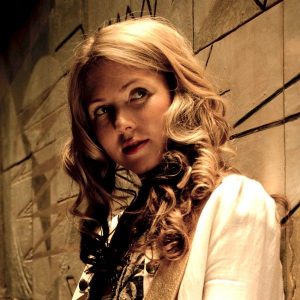 Named by WIRED Magazine as one of "22 people changing the world," singer-songwriter and innovator Beatie Wolfe is at the forefront of pioneering new formats for music that bridge the physical and digital, which include: a 3D theatre for the palm of your hand; a wearable record jacket – cut by Bowie/ Hendrix's tailor out of fabric woven with Wolfe's music – and most recently an 'anti-stream' from the quietest room on earth and space beam via the Big Bang horn.
The Barbican recently commissioned a documentary about Beatie Wolfe's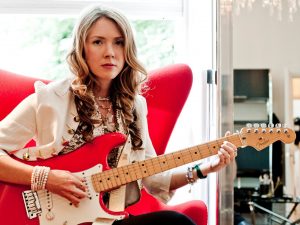 pioneering work titled Orange Juice for the Ears: From Space Beams to Anti-Streams and Wolfe's latest innovation is an environmental protest piece built using 800,000 years of historic data that will be premiered at the London Design Biennale in 2021.
"Lockdown has reminded me of the joy and importance of physical communication at a time when it's more important than ever," adds Wolfe. "And mail connects us in a way that technology never can. So let's use it before we lose it!"
Postcards for Democracy will be on view in the Bob Rauschenberg Gallery through August 8.
_______________________________________________________