Actors, artists, directors, filmmakers and events in the news June 1-7, 2021
Grouped under headings that include art openings, film, outdoor art fairs and festivals and theater are advances, announcements and articles about the actors, artists, filmmakers and events making news in Southwest Florida this week:
1      ACTORS
Sue Schaffel appears as Norma Desmond for Lab in 'Sunset Schmoulevard'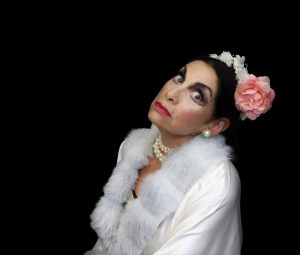 Sue Schaffel loves zany, so it should come as no surprise that she's been cast in the role of Norma Desmond in Lab Theater's summer parody, Sunset Schmoulevard.  An accomplished EMC actor who is based in Southwest Florida, her roles in Lab's other summer spoofs include Blanche DuBois in Death of a Streetcar Named Virginia Woolf: A Parody and Velma in Hush Up Sweet Charlotte. She also appeared in the hybrid filmed theater production of The Realish Housewives of Fort Myers during the COVID-19 pandemic. Please go here to see all of Sue's stage and film credits.
__________________________________________________
Brian Linthicum appears next for Lab in 'Sunset Schmoulevard'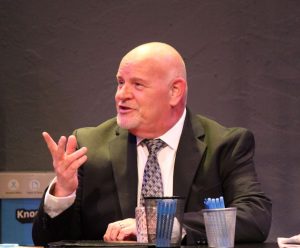 On the heels of his performance as wealthy businessman Charles Stickland in David Mamet's Race, Brian Linthicum appears next for Lab Theater in its traditional June parody, Sunset Schmoulevard, a spoof of the iconic 50s film Sunset Boulevard, which Lab Artistic Director Annette Trossbach has adapted for the stage. Brian Linthicum is a local actor who has been involved in community theater for more than 40 years. Go here to see all the shows in which he's appeared.
________________________________________________
Sharon Isern plays bride-to-be Courtney in 'One Slight Hitch'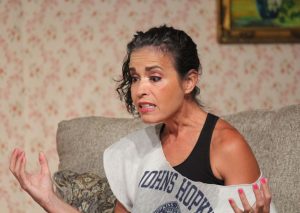 One Slight Hitch is at the Joan Jenks stage in the Golden Gate Community Center through June 13. In this Lewis Black farce, Doc and Delia Coleman's daughter is getting married and Sharon Isern plays the blushing bride, Courtney.
A freelance writer, Courtney has just published her first novel, which was almost successful. Like every bride-to-be, Courtney expects just before the ceremony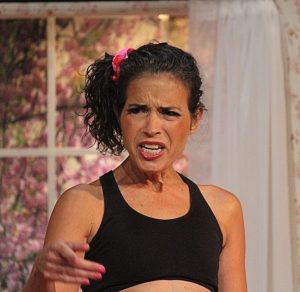 "something old, something new, something borrowed and something blue." But never in her wildest imagination did she dream that her something old would come in the form of her ex-boyfriend, Ryan, who shows up at her parents' home on the big day needing a shower and completely oblivious to the fact that Courtney has moved on with a capital "M." Or has she?
__________________________________________
Danielle Channell plays Melanie in 'One Slight Hitch'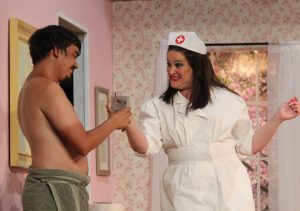 One Slight Hitch is at the Joan Jenks stage in the Golden Gate Community Center through June 13. In this Lewis Black farce, Doc and Delia Coleman have three winsome daughters. Their eldest, Courtney, is getting married. Their youngest, P.B., is a free spirit trapped in a tightly-wound, button-down family. Their middle girl, Melanie, is an attractive 20-something nurse. She's not just psychotic. Melanie is distracted.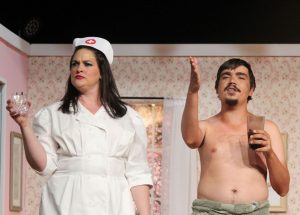 When the vodka-guzzling naughty nurse finds her older sister's ex half naked downstairs on the day of the wedding, well, let's just say that her mind's no longer on the nuptials taking place outside.
Who do you think of when it comes to casting psychotic – especially if you're staging a farce? While there may be quite a number actors in Southwest Florida who'd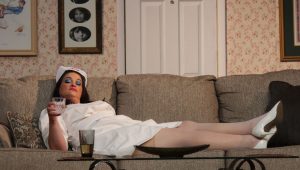 be delighted to fill the bill, one choice seems abundantly obvious. That would be Danielle Channell, the Queen of Farce. Go here for more.
___________________________________
Rosie DeLeon plays P.B. in 'One Slight Hitch'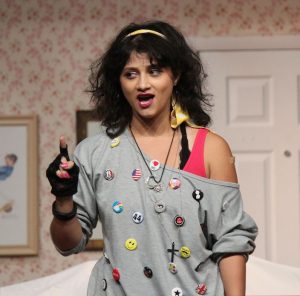 One Slight Hitch is at the Joan Jenks stage in the Golden Gate Community Center through June 13. In this Lewis Black farce, Doc and Delia Coleman's daughter, Courtney, is getting married and Rosie DeLeon plays the bride's youngest sister, P.B., a free spirit in a tight-laced, button-down family.
Rosie last appeared on the Joan Jenks stage in the role of Lauren in Circle Mirror Transformation.
Go here for the rest of her growing resume.
____________________________________________________
Terry Libby plays mother of the bride, Delia, in 'One Slight Hitch'
In One Slight Hitch,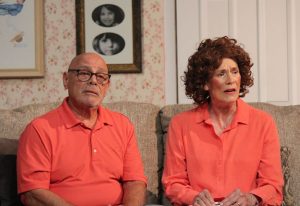 Terry Libby's character plays the mother of the bride. Delia is bound and determined to give her daughter the "perfect wedding." But things quickly go awry when the florist is arrested on the way to the wedding and needs to be bailed out and her daughter's ex shows up at the house in need of a shower and a hot meal. But that's nothing compared to a real life incident that Terry experienced out west. Go here to read this hilarious story and for all of Terry's stage credits.
_________________________________________________________
John Strealy plays ex-beau Ryan for Studio Players in 'One Slight Hitch'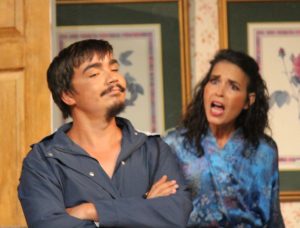 One Slight Hitch is at the Joan Jenks stage in the Golden Gate Community Center through June 13. In this Lewis Black farce, Doc and Delia Coleman's daughter, Courtney, is getting married. But Delia's plans for the "perfect wedding" go sidewise when her daughter's ex-beau shows up on the day of the wedding in need of a show and a hot meal but oblivious to Courtney's impending nuptials. Go here to view John's stage credits.
____________________________________________________________
Keith Gahagan Plays fiance' Harper for Studio Players in 'One Slight Hitch'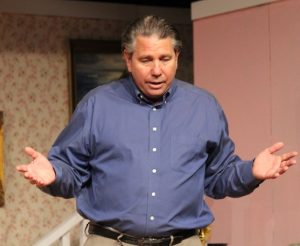 One Slight Hitch is at the Joan Jenks stage in the Golden Gate Community Center through June 13. In this Lewis Black farce, Doc and Delia Coleman's daughter is getting married and Keith Gahagan plays Courtney's fiance', a psychologist by the name of Harper. Gahagan has performed in community theater productions in Marco Island, Bonita Springs and Fort Myers since 2007. Go here for more.
_____________
2    THEATER
What a difference a year can make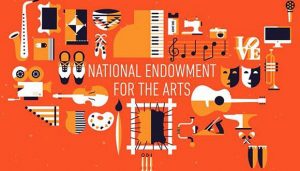 What a difference a year makes. This time last year, Broadway and theaters around the country were shuttered, ghost lights barely penetrating the gathering gloom. This year, Broadway is planning to reopen at full capacity beginning September 14 and local theaters are ramping up for reinvigorated 2021-2022 seasons.
Last year,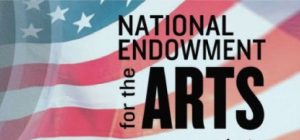 the Trump Administration was threatening to cut all funding to the National Endowment for the Arts. This year, President Joe Biden has proposed a 20 percent increase in the NEA budget to $201 million. If approved by Congress for the 2022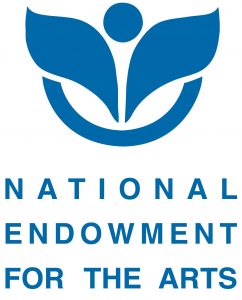 fiscal year, it would be the largest increase in the organization's history.
"President Biden's budget represents a significant commitment to the arts and cultural sector and reflects the continued importance of arts organizations and cultural workers to the health and vitality of the country," NEA Acting Chair Ann Eilers said in a statement to the New York Times. "The "increased investment in the agency will allow it to provide critical support to the arts sector as it struggles to reopen, rehire workers, and generate arts activities that will help fuel the economy."
The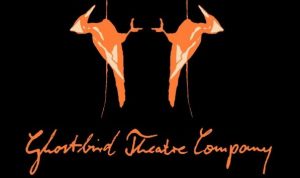 National Endowment for the Arts is an independent agency of the United States federal government that offers support and funding for projects exhibiting artistic excellence. It was created by an act of the U.S. Congress in 1965 as an independent agency of the federal government. Recently, the NEA awarded Ghostbird Theatre Company a $10,000 Arts Projects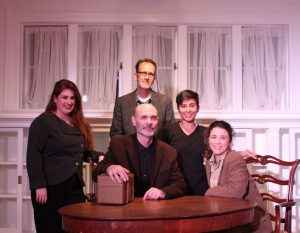 grant to support the development and production of an original play by James Brock. With the working title of One Island, Brock's latest play is among the more than 1,100 projects across America that were selected during this second round of Grants for Arts Projects fiscal year 2021 funding totaling nearly $27 million.
Go here for more on Ghostbird's NEA grant.
_________________________________________________
'Beehive: The 60s Musical' at Broadway Palm through June 26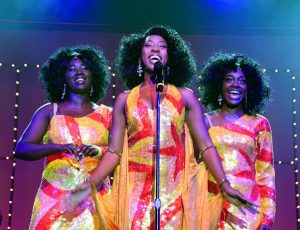 Broadway Palm is taking you on a trip down memory lane with Beehive: The 60s Musical playing now through June 26, 2021. Beehive is an exciting and colorful salute to the powerful female voices of the 1960s, from the earliest part of the decade of fun and innocence to the unrest of the mid '60s and ending with the era of women discovering their own empowerment. Through the medium of son, Beehive documents the dramatic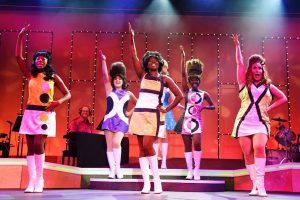 changes that America underwent during the '60s.
Beehive's talented cast will sing and dance to 40 beloved hits made popular by the Chiffons, the Supremes, Aretha Franklin, Connie Francis and more, including My Boyfriend's Back, Son of A Preacher Man, Me and Bobby McGee, R-E-S-P-E-C-T and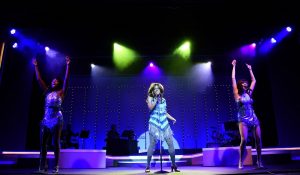 many others!
Broadway Palm is continuing to follow CDC guidelines while providing a delicious meal and exceptional entertainment in a safe and socially distanced environment. For a list of the extensive health and safety measures they have taken, please visit BroadwayPalm.com.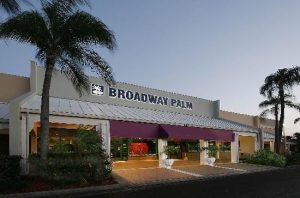 It is important to note that Broadway Palm is asking guests that are not fully vaccinated to wear a face mask while not eating or drinking.
Performances are Wednesday through Sunday evenings with selected matinees. Tickets are $48 to $73. Children and group prices are available. Tickets are now on sale and can be reserved by calling (239) 278-4422, visiting BroadwayPalm.com or in person at 1380 Colonial Boulevard in Fort Myers.
______________________________________
Funny Shorts Live returns to the Moe on June 11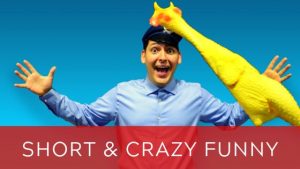 Get your live theater fix next Friday night at CFABS when Funny Shorts Live comes to the Moe Auditorium & Film Center. This fast-paced evening of hysterical entertainment features fully performed short plays—and did we mention they're funny? You'll get great variety from this special show highlighting South Florida playwrights—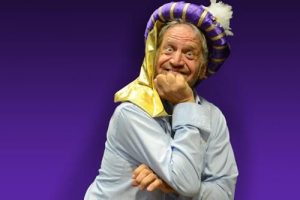 enjoy eccentric plots including aliens, wrestlers and pandemic love – plus a command performance of the Audience Favorite from CFABS' 2021 Stage It! Ten-Minute Play Festival.
Funny Shorts Live is at 7:30 p.m. Tickets are $20 and the person wearing the funniest shorts wins free tickets to an upcoming CFABS performance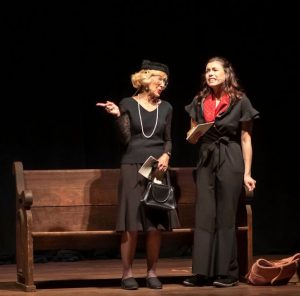 .
In the program are:
One More Thing…. by Ruben Dario Vasquez, Naples, FL:  The next big thing in tech, or so it's being marketed, is waiting to be revealed at a conference, but it doesn't seem to do anything—or work at all. But it's all about presentation!
SLAMMED! by Jim Kitchens, Orlando, FL: Man informs his wife he wants to become a wrestler, so she enlists their grown son to talk him out of it—but he's on board, too.
Still Life with Grave Juice by Jim Moss, Tampa, FL: In a faraway galaxy, a human tries to inform and educate some misinformed Earth-hating aliens with the truth. But they know better!
Until We Meet Again by Frank Shima, Venice, FL: Quarantined next door to each other, a new love begins in pandemic times.
Plus, 2021 Stage It! Audience Favorite: The Third Person by Dan Borengasser, AR
The cast list includes:
Judith Devine
Jennifer Driggers
Sergio Heliodoro
Melissa Hennig
Kip Jones
Tom Kluko
Mickey Lacroix
Grace Lyons
Angelia Winn
Founded in 1959, the Centers for the Arts Bonita Springs (CFABS)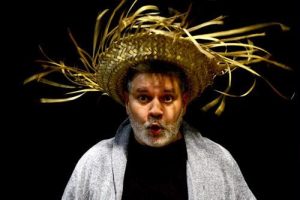 is committed to enriching the lives of the community by providing opportunities for artistic expression, education and appreciation. CFABS is comprised of two campuses—one dedicated to the visual and the other to the performing arts. The Visual Arts Center at 26100 Old 41 Road is comprised of multiple fine art galleries and fully equipped art studios, a gift shop, library and beautiful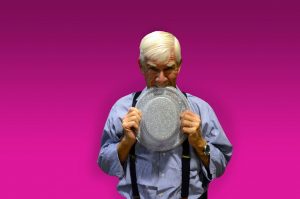 sculpture gardens. A variety of classes are offered at this center, including painting, drawing, clay, sculpture and more. The Performing Arts Center at 10150 Bonita Beach Road is home to the 400-seat Hinman Auditorium and the 200-seat Moe Auditorium & Film Center. At this diverse center, patrons can enjoy an ongoing array of live concerts, dance performances,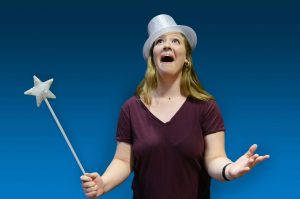 theater, comedy, film, lectures, youth education classes and more.
Seeking to serve the educational and cultural needs of the diverse community, CFABS offers year-round programing, plus, the highly acclaimed Bonita International Film Festival (BIFF), Stage It! the International Ten-Minute Play Festival, and three top-rated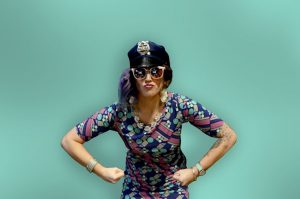 National Art Festivals in January, February and March, which draw hundreds of remarkable artists from around the world.
For tickets, call (239) 495-8989 or visit artcenterbonita.org.
__________________________________________________
'Sunset Schmoulevard' will have you laughing all the way home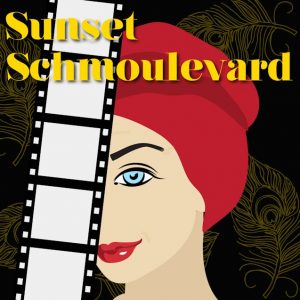 The Laboratory Theater of Florida will present the world premiere of Sunset Schmoulevard from June 11 through July 3.
"Norma Desmond is back and ready for her close-up with Mr. DeMille," says Artistic Director Annette Trossbach. "The original screenplay has been revamped into an over-the-top parody that will leave you laughing all the way home.
Go here for the rest of this advance.
Go here for play dates, times and ticket information.
_______________________________________________
New Phoenix announces auditions for 'Young Frankenstein'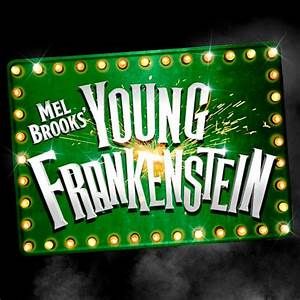 New Phoenix Theatre is rising from the ashes of COVID-19 and is holding auditions for its first post-pandemic show, Young Frankenstein (West End Version). They'll be held from noon to 4:00 p.m. on Saturday, June 5. Please be prepared to sing a song (preferably though not necessarily from the show). Bring your own accompaniment or sing a' capella. The Theatre is casting for eight major roles and a large ensemble. A description of characters can be found on the theater's website.
Go here for the rest of this announcement.
________________________________________________
'Wedding Singer' plays at The Naples Players June 23-July 25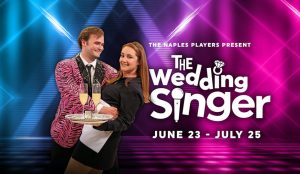 Big hair and shoulder pads at the ready – It's time to rediscover the 80's!  Your favorite Adam Sandler movie in musical form takes the stage in Blackburn Hall at The Naples Players from June 23-July 25.
Sponsored locally by Porsche Naples, The Wedding Singer's sparkling new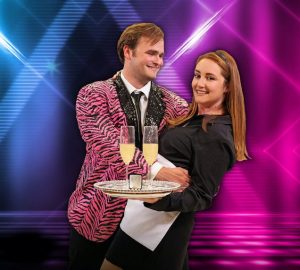 score does for the '80s what Hairspray did for the '60s. Just say "yes" to the most romantic musical in twenty years!
Things are going pretty well for wedding singer Robbie Hart (Joseph Byrne) until he's left at the altar by his fiancé, Linda (Erica Sample).  As he struggles to pick up the pieces and continue performing at other people's weddings, he befriends Julia Sullivan (Alyssa Haney).  Julia is preparing for her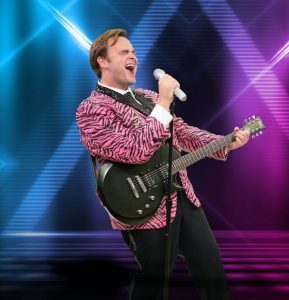 wedding to long term boyfriend Glen (David Shaffer) –  whose commitment to their relationship is questionable, to say the least.  Robbie agrees to help Julia plan her wedding when complications arise and the two spend more and more time with each other…
With fan-favorite director and choreographer Dawn Lebrecht Fornara and musical director Charles Fornara at the helm of this production, you will certainly be dancing in your seat – and possibly even in the aisles.
"The Wedding Singer musical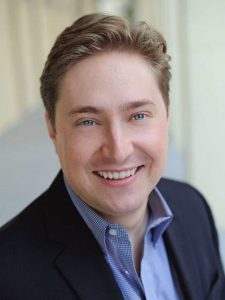 has been on our to-do list for some time" says Bryce Alexander, CEO & Executive Artistic Director (photo 4). "The show is funny, poignant, and a great way for audiences who have been disconnected, or in quarantine, to have a little fun. As they say in the show, it's time for our audiences to 'come out of the dumpster' of COVID-19."
The Fornaras will be leading an all-star ensemble cast of Naples favorites, many of whom have become regular staples of The Naples Players most popular shows. The cast includes (in alphabetical order): Joseph Byrne, Adam Fasano (photo 5), Alyssa Haney, Ruth Johnson, Christine Mastrangelo, Erica Sample (photo 6), David Shaffer,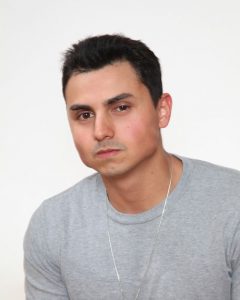 Kenny Tran, Lindsey Walsh, and Dominic Young in the principal roles, and features Leonard Allen, Sade Bassan, Abby Ciabaton, Jim Corsica, Jessica Daniels, Luke Danni, Maxine Danni, Kat Ebaugh, Frankie Federico, Kay Harkins, Madeleine Howe, Danaia Ivanov, Naphtailda Jean-Charles, Monica Joyce, Joseph Loiacono, Elizabeth Marcantonio, Sydney Mixon, Lexi Piper, Andrew Reid, Eileen Reynolds, Thomas Richardson and Ciarán Welch in the ensemble.
To alleviate the concern and spread of COVID-19, the theatre will be limiting capacity. Tickets are expected to sell quickly.  A Red Carpet event open to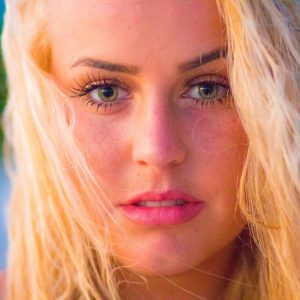 the public is slated for 6:30-7:30 p.m. on Wednesday, June 23 and will feature local vendors, food, drinks, and live music from the band Chariot.
Performances are Wednesdays & Thursdays at 7:30 p.m., Fridays & Saturday at 8:00 p.m., and Sunday at 2:00 p.m. Both general public and season tickets are on sale at the TNP Box Office.  Those interested can visit NaplesPlayers.org anytime or call the TNP Box Office at (239) 263-7990.
______________________________________________________________
'One Slight Hitch' mocks our all-too-human attempts to shape our own destiny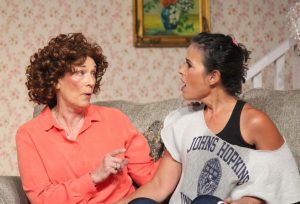 One Slight Hitch is at the Joan Jenks stage in the Golden Gate Community Center through June 13. In this Lewis Black farce, Doc and Delia Coleman's daughter, Courtney, is getting married. Her mom and maid of honor thought they had the Old English Rhyme covered (you know, "something old, something new, something borrowed, something blue). But never did Courtney imagine that her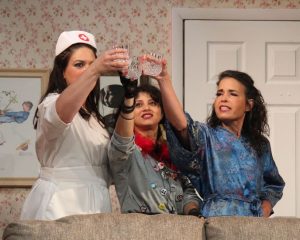 something old would come in the form of her ex-lover, Ryan, who shows up clueless on her wedding day grungy and in need of a shower after returning from an extended hiking trip out of state. So much for Delia's best laid plans for her daughter's "perfect wedding."
The rest of this advance is here.
______________________
3     ARTISTS
Five artists chosen for Alliance's 2021 'Art Lives Here' billboard campaign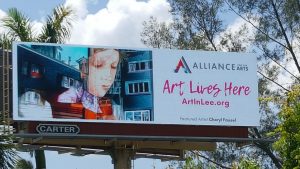 The Alliance for the Arts Art Lives Here Selection Committee has juried five artists into this year's billboard campaign. They fabulous five are Tania Alves, Bruce MacKechnie, Doug Smithwick, Khaysie Tiburcio and Susi Wingenroth.
Now in its third year, the Art Lives Here billboard campaign transforms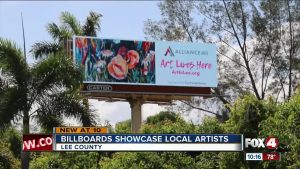 billboard space throughout Lee County into public art. By bringing artwork outside of the traditional context of museum and gallery walls, the campaign draws attention to emerging artists' work while at the same time making the arts accessible to all.
Go here for the rest of this announcement.
____________________________________________________________________
Susi Wingenroth creates 'Frame of Reference' for healthier choices to preserve planet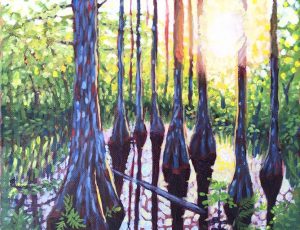 Susi Wingenroth is one of five artists juried into this year's Alliance for the Arts Art Lives Here Billboard Campaign. The work that will be coming to a billboard near you is titled Frame of Reference.
"This painting shows the morning sun radiating through the cypress trees in the wild heart of the wetlands," says Susi of Frame of Reference. "It is intended as a call to those who see it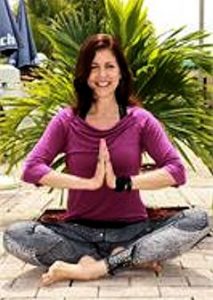 to enjoy, care for and preserve these wild places.  When we look up from our busy lives and notice our home, beautiful living planet Earth, we see a frame of reference for making healthier choices to preserve the planet for all living beings and for future generations."
Wingenroth is a Lee County School District arts educator. Prior to her current post, Susi taught art at Canterbury School from May of 2006 through August of 2016 and Renaissance School from August of 2001 through June of 2016. She has her B.A. Fine and Studio Arts from the University of Maryland College Park.
_____________________________________________________________________
Bruce MacKechnie's 'Fandiggity Fandango' expresses 'some sort of lively, joyful dance'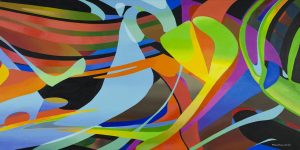 Bruce MacKechnie is one of five artists juried into this year's Alliance for the Arts Art Lives Here Billboard Campaign. The work that will be coming to a billboard near you is titled Fandiggity Fandango, which possesses in the words of the artist "an exuberance and rhythm that seemed to express some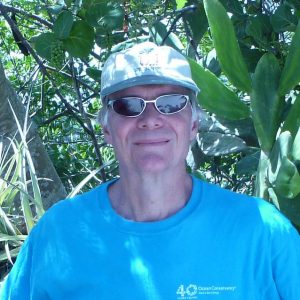 sort of lively, joyful dance, hence the title."
"I am inspired by the challenge of translating a composition created with mouse clicks into the physical world of paint strokes," Bruce amplifies. "As subject matter, I am interested in how pure abstraction is so wide open to interpretation. For this reason, I enjoy playing around with shapes, colors, and compositions to see what comes out of the process—especially surprises and unforeseen meanings."
You will find the rest of this spotlight here.
__________________________________________________________
For 'Art Lives Here' artist Khaysie Tiburcio, art becomes part of the artist

Khaysie Tiburcio is one of five artists juried into this year's Alliance for the Arts Art Lives Here Billboard Campaign. The work that will be coming to a billboard near you is titled Art Within Their Souls.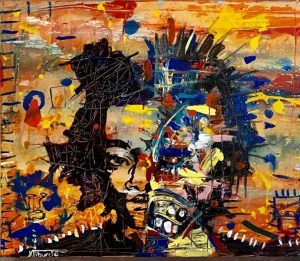 "I wanted to create a piece that represented the impact that art has on the painter," says Khaysie. "This artwork includes portraits of Basquiat, Picasso, and Andy Warhol morphing into their masterpieces. This is used as a metaphor to express how art becomes a part of the artist."
Tiburcio was inspired to begin painting by her uncle, Cristian Tiburcio, when she was six years old.
Go here for the balance of this spotlight.
_______________________________________________
4     ART SHOWS, EXHIBITIONS & ARTS ORGANIZATIONS
Jansen's 'Two Decades of Relevance' at Naples' Baker Museum through July 25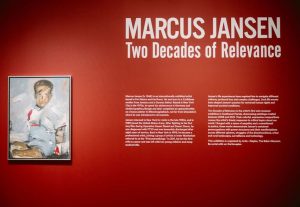 The Baker Museum is hosting a retrospective of work by internationally-acclaimed artist Marcus Jansen through July 25, 2021. Representing Jansen's first solo museum exhibition in Southwest Florida, Two Decades of Relevance showcases 18 powerful paintings, including Foreclosures (2008), Spotlight (2020) and The Colonialist (2021).
Over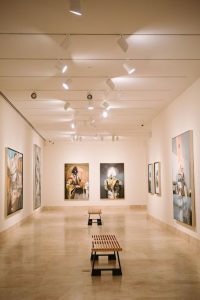 that span, Jansen has garnered numerous attention and accolades. Part of this recognition inheres in incredible technical competency and his revolutionary genre-busting style. But what sets Jansen apart from his contemporaries is his uncompromising critical commentary on global political and socio-economic issues and the world events that have shaped his life.
For Jansen, painting is an act of intense engagement with the world. It is this quality that emerges from his urban landscapes and portraiture and connects viscerally with those who encounter his colorful abstract-and-figurative constructions which, individually and in the aggregate, reflect his sustained preoccupation with the struggles of the displaced and disenfranchised,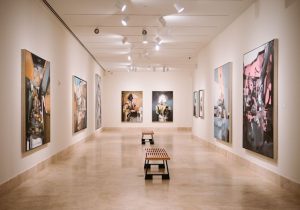 surveillance and technology, and power structures and their manifestations across different spheres.
Jansen's response to the foregoing concerns is informed by a series of profound life experiences. He mother is Jamaican; his father German. He spent his formative years in the Bronx and his adolescence in Germany. He was diagnosed and treated for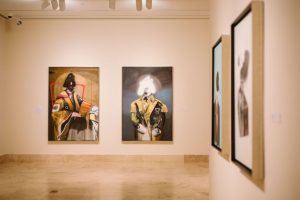 PTSD after fighting in Operation Desert Shield and Desert Storm in the first Iraq War. And after losing his first wife to cancer, he struggled as a single dad to two boys saddled with a mountain of medical bills while trying to establish himself as an artist with a story to tell. Jansen has emerged from these life events filled with a passion for universal human rights and improved societal conditions.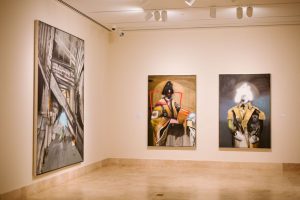 Charged with a sense of empathy and a commitment to justice, his works are, not surprisingly, simultaneously emotional, introspective and intellectual.
Jansen had his first European solo museum exhibitions at La Triennale di Milano Museum, Milan and the Museum Zitadelle Berlin. He has participated in the 12th International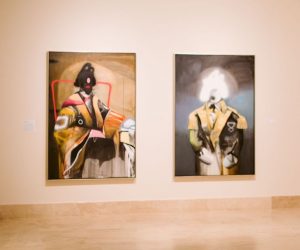 Print and Drawing Biennial in Taiwan at the National Taiwan Museum of Fine Art. Works by Jansen are in collections of the Moscow Museum of Modern Art (MMOMA), The University of Michigan Museum of Art, The New Britain Museum of American Art, The Kemper Museum of Contemporary Art, The National Taiwan Museum of Fine Art, The Housatonic Museum of Art and the Smithsonian Institution in Washington D.C.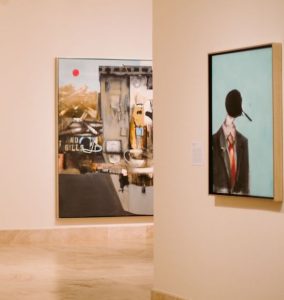 In addition to his studio practice, Jansen is founder of the Marcus Jansen Foundation Fund in Fort Myers, which aims to serve veterans with PTSD and economically-disadvantaged children through enhanced cultural awareness of art and music.
The Baker Museum is one of the foremost fine art museums in Southwest Florida. Emphasizing modern and contemporary art, the museum hosts several traveling exhibitions annually to complement installations of works from its permanent collections. Dedicated to stewardship and scholarship, The Baker Museum provides world-class exhibitions and educational opportunities for Southwest Florida's diverse community.
____________________________________________________
Van Bergen, McNeil opine on Jansen's 'Two Decades of Relevance'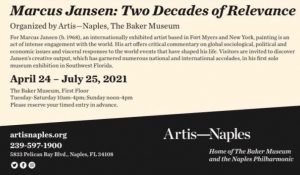 Marcus Jansen: Two Decades of Relevance opens tomorrow (April 24) at The Baker Museum, and Artis-Naples CEO and President Kathleen van Bergen and Museum Director and Chief Curator Courtney McNeil weighed in on the show.
"We are honored to be welcoming Marcus Jansen and his work to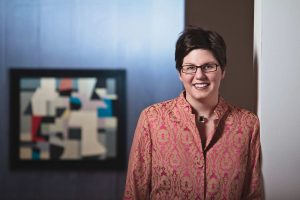 The Baker Museum, especially while celebrating the museum's 20th anniversary," van Bergen said of the impending show. "Marcus' works are simultaneously emotional, introspective and intellectual, and he has built an international reputation for fully engaging the viewer in critical topics about our world."
McNeil's estimation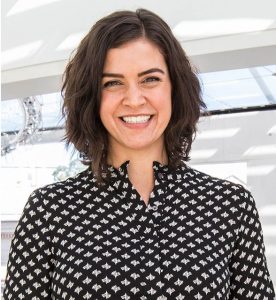 of the significance of Jansen's body of work is both interesting and spot-on. "Since the 1990s, Marcus Jansen has been creating powerful, painterly works of art that critically explore urgent topics, from industrial agriculture to the impacts of gentrification on city dwellers. He has experienced a meteoric rise over the past few years as art audiences in the United States and Europe have embraced artists with the ability to compellingly portray the issues and tensions that shape our lives in these challenging and complicated times. Jansen is not only sensitively attuned to the world around him,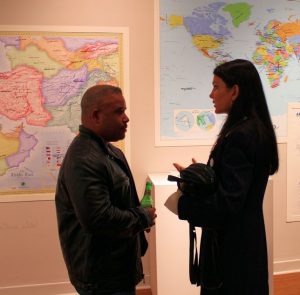 but he is also a dazzling practitioner of an expressive, gestural style of painting that arrests the viewer's attention with its vibrancy and energy."
"We have been thrilled to safely open our doors this season to the community, and we invite everyone to experience Marcus' show," van Bergen adds.
Additional information on the exhibition, related event, timed-entry tickets and details on The Baker Museum's safety protocols (including face masks, social distancing and forehead temperature scans) is available at artisnaples.org.
___________________________________________________________________
'Postcards for Democracy' on display at Bob Rauschenberg Gallery through August 8

On display in the Bob Rauschenberg Gallery at FSW now through August 8 is Postcards for Democracy, the premiere of Mark Mothersbaugh and Beatie Wolfe's collective art campaign.
Artistic visionaries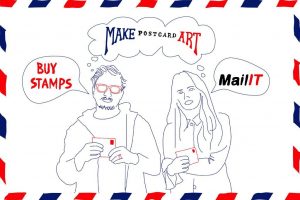 Mark Mothersbaugh and Beatie Wolfe share a love of tangible art forms. In and amongst their futuristic explorations, they have joined forces to create Postcards for Democracy, a collective art campaign in support of the United States Postal Service (USPS) and its essential role in our elections.
The resulting gallery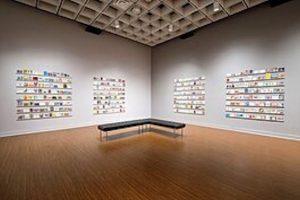 exhibition is expansive, immersive and participatory, but the concept continues to be quite simple: create and mail your postcard design to 8760 Sunset Blvd, Los Angeles, CA 90069 to become part of this art demonstration and, in so doing, support the USPS and democracy in the process.
To date, Mothersbaugh and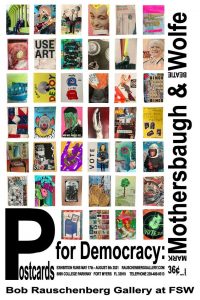 Wolfe have received thousands of cards, covering themes from Covid and science to democracy, capitalism, the environment, social injustice and even insomnia. Together these postcards (like the exhibition itself) form something of a time capsule – reflecting our collective experience personally, socially, societally, politically, and environmentally – while the archive expands with ongoing contributions
Both Mothersbaugh and Wolfe have strong ties with Bob Rauschenberg's work and ethos – Mothersbaugh in his adoption of Pop imagery and early experimentation with industrial printing techniques (including cyanotype) and Wolfe due to her reboot of the Rauschenberg founded E.A.T. programme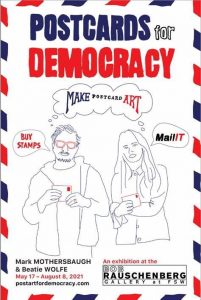 (Experiments in Art and Technology) of the late 60s with her Raw Space project.
Postcards for Democracy also extends the tradition established by the Gallery in 2014 with Yoko Ono Imagine Peace and ELEVEN: The John Erickson Museum of Art (JEMA). The latter, in particular, featured Ono's Wish Tree, to which attendees attached shipping tags containing scribbled wishes in a process that Yoko likened to a collective prayer. After the exhibition, the Gallery harvested the wishes and sent FSW Studio Art Professor Dana Roes and three "Wish Ambassadors," Christopher Lacoste, Leila Mesdaghi and Josue' Charles, to Iceland for purposes of adding them to more than a million others that have been placed in the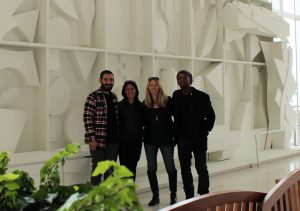 base of the Imagine Peace Tower on Videy Island in Kollafjordur Bay near Reykjavik.
The difference between Wish Tree and Postcards for Democracy, of course, is that while the shipping tag wishes were kept completely private, the postcards are shared publicly with those who visit the Gallery to take in the site-specific, groundbreaking show.
_________________________________________________________
'Postcards for Democracy' artists Mothersbaugh and Wolfe in the frame

On display in the Bob Rauschenberg Gallery at FSW is Postcards for Democracy, the premiere of Mark Mothersbaugh and Beatie Wolfe's collective art campaign. A collective art campaign, the exhibition supports the United States Postal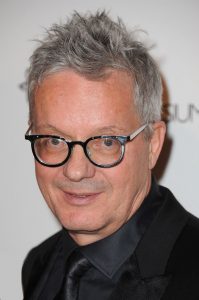 Service (USPS) and elucidates its essential role in our elections.
Mothersbaugh first started making postcard art as a young art student at Kent State University in the early '70s, exchanging work with known and unknown artists alike. Through these exchanges, he realized that he was creating an image bank and a lyric collection that served as a basis of inspiration that he would later use in the creation of his seminal art-rock band, DEVO.  Since then, he has filled over 490 archival volumes of 100 cards each. These cards became the basis of his most recent show, Myopia, a retrospective beginning in 2015 focusing on modern man's ongoing, internal dialogue of beatnik stream of consciousness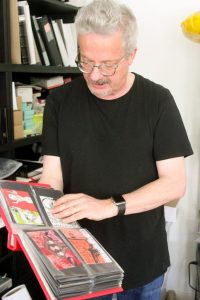 poetry, the surrendering of the intellect to the primordial and science vs. faith.
Mark has shown his visual art in over 125 solo exhibits over the last 35 years, with touring shows Homeland Invasion, Beautiful Mutants, and Myopia, a 30,000-object retrospective in 2015. His art has been featured on numerous books, album art, and consumer products. He has collaborated musically with artists such as Brian Eno, David Bowie, Iggy Pop, Beck, The B52s, and Neil Young,  to name a few.
He was given an honorary doctorate of humanitarian letters from Kent State in 2008.
"What better way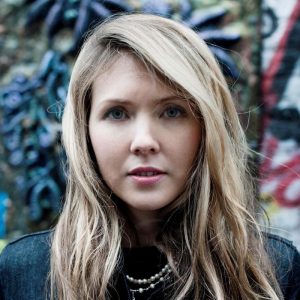 than to use the very system of the USPS as proof of concept that if we protest through art and connection, we not only capture this moment, but we also create a movement and preserve it for posterity," Mothersbaugh comments.
"Musical weirdo and visionary" Beatie Wolfe is an artist who has beamed her music into space, been appointed a U.N. Women Role Model for Innovation, and held an acclaimed solo exhibition of her 'world first' album designs at the Victoria & Albert Museum.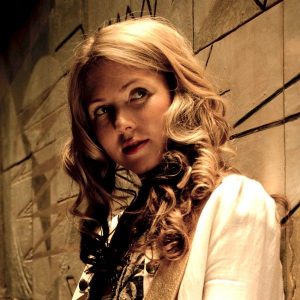 Named by WIRED Magazine as one of "22 people changing the world," singer-songwriter and innovator Beatie Wolfe is at the forefront of pioneering new formats for music that bridge the physical and digital, which include: a 3D theatre for the palm of your hand; a wearable record jacket – cut by Bowie/ Hendrix's tailor out of fabric woven with Wolfe's music – and most recently an 'anti-stream' from the quietest room on earth and space beam via the Big Bang horn.
The Barbican recently commissioned a documentary about Beatie Wolfe's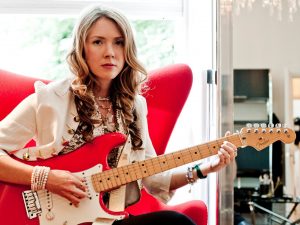 pioneering work titled Orange Juice for the Ears: From Space Beams to Anti-Streams and Wolfe's latest innovation is an environmental protest piece built using 800,000 years of historic data that will be premiered at the London Design Biennale in 2021.
"Lockdown has reminded me of the joy and importance of physical communication at a time when it's more important than ever," adds Wolfe. "And mail connects us in a way that technology never can. So let's use it before we lose it!"
Postcards for Democracy will be on view in the Bob Rauschenberg Gallery through August 8.
_____________________________________________________
Alliance's June show, 'Voices and Visions,' celebrates inclusiveness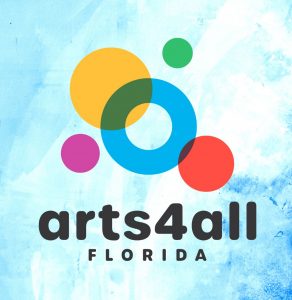 The Alliance for the Arts' June exhibition, Voices and Visions, is on display now through June 26. Presented in partnership with Arts4All Florida (which provides support and champions arts education and cultural experiences for and by people with disabilities), the exhibition features adult artists of all abilities sharing their personal voice or statement through text and imagery as a means to celebrate inclusiveness. For more information about the Alliance, visit ArtInLee.org or call 239-939-2787.
_________________________________________________
'uhhhhh…I guess this is my art show opens at DAAS on June 4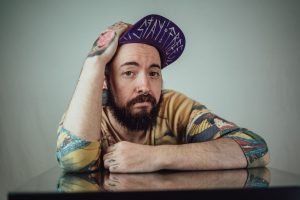 DAAS CO-OP Art Gallery & Gifts is celebrating Pride month in June by featuring the art of LGBTQ+ member artist Spencer Elles. The opening reception is scheduled for  6:00-9:30 p.m. on Friday, June 4 in conjunction with the monthly Fort Myers Art Walk event. The exhibition will be on display through June 26, 2021.
Spencer Elles is a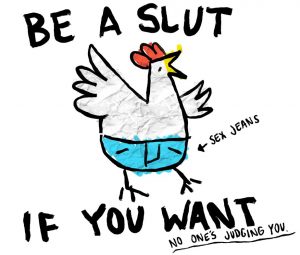 multifaceted queer artist currently residing in Fort Myers, Florida. Along with being a full-time videographer, musical artist and online content creator, he has been a working digital illustrator since 2003, originally specializing in graphic illustrations for band merchandise, album art and event flyers. Since coming out as an openly gay artist in his early 20s, he has been creating a large body of homo-erotic works that he proudly displays alongside the non-sexually charged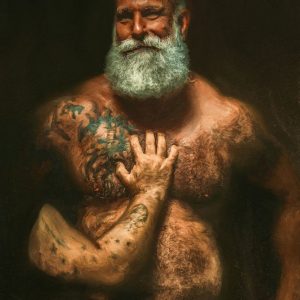 pieces of his portfolio. He openly cites as inspiration his "nerdy" love of anime, video games, punk-culture and gay Japanese adult comics.
The concept behind this exhibition titled "uhhhh… I guess this is my art show or whatever (AKA the duality of man) yes… that's the full title" is to display the juxtaposition of what he describes as "the 2 sides of his brain"- the silly, uplifting, cheeky little punk kid he is at heart and the "sexually-charged" that lies beneath it all, often exemplified thru his lyrics as a gay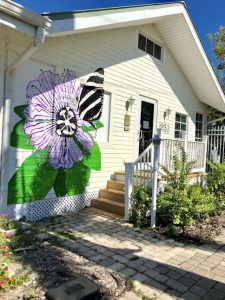 rap artist.
Also in June, the classes hosted by published author Winslow E. Dixon continue. Topics include book publishing, selfcare and homeopathic home living, among others. Please visit www.daascoop.com/event for a class schedule and sign-up link.
DAAS CO-OP is located at 1815 Fowler Street, in the Butterfly Estates complex in Fort Myers, FL. The gallery's temporary business hours are 10:00 a.m. to 3:00 p.m. Wednesday to Sunday. More information about the venue and/or how to become a member can be found at daascoop.com or by calling 239-590-8645.
_______________________________________
SBDAC issues call for Artist Trading Card exhibit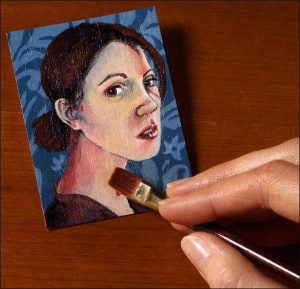 The Davis Art Center has issued a Call to Artists for its August show, Carded: Miniature Masterpieces. The exhibition will feature artist trading cards or ATC, tiny (2.5 x 3.5 inches) original pieces of art created with the intention of swapping or trading with another artist. On the front of an ATC, an artist creates an original work to showcase their art. It can be a one-off, part of a series, or a limited edition. On the back, the artist puts their name, contact details, title of the ATC, number if it's a limited edition, and sometimes the date it was created.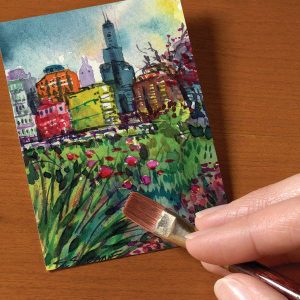 The can be made in any medium and using any technique, whether it's painting, drawing or collage.
ATCs date back to 1997 when M. Vanci Stirnemann, a Swiss artist, created 1200 cards by hand as part of an exhibit. On the last day, he invited others to create their own cards and trade with him during the closing reception. The movement took off and, today, there are ATC swaps in almost every major city around the world. There are also many online swaps.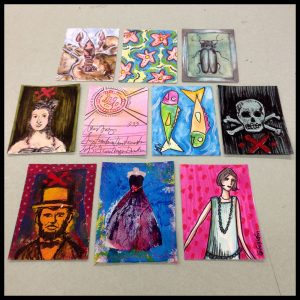 The movement builds on different traditions, including miniature art, which has been in existence for centuries beginning with the illustrated manuscripts of scribes in the Far East and Europe prior to the 15th century. ATCs also reflect the influence of pop art, which features motifs taken from everyday life. In this regard, ATCs share an affinity with the Fluxus movement and with Robert Filliou's notions of a "fête permanente," a "création permanente" or an "eternal network."
The origin of the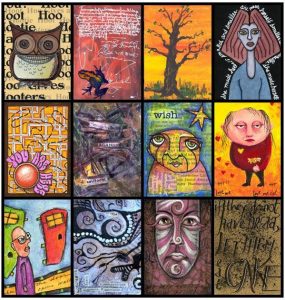 modern trading card is associated with cigarette cards first issued by the US-based Allen and Ginter tobacco company in 1875.
Artist Ndola Pensy introduced the artist trading card idea to Southwest Florida in 2017 with great reception among artists of different mediums in the area. Carded: Miniature Masterpieces will be curated by Cesar Aguilera.
The deadline for submissions is July 24. There is no limit on the number of submissions.
Any medium,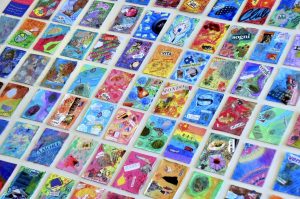 motif and theme is acceptable, but no prints or reproductions will be curated into the show (digital art excepted). Submit your good quality images to artbuzz66@gmail.com with your name, medium, and title of each piece.
The show exhibits August 6-26. Cards will not be for sale, but in the tradition of ATC events, there will be an optional trading part at the end of the show.
________________________________________________________
Edison Ford issues Call to Artists for 'Sustainable Concepts' exhibition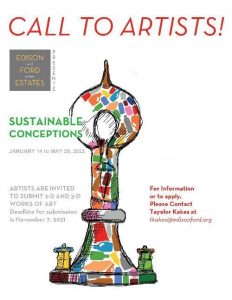 Did you know that Henry Ford repurposed wooden crates used to transport material into floorboards in his automobiles? Or that Thomas Edison purified chemical solvents to be reused in the experiments he conducted in his Fort Myers laboratory trying to find a replacement for rubber? In this tradition, the Edison Ford Winter Estates has issued a Call to Artists for Sustainable Concepts, an exhibition of 2 and 3D works of art that will be displayed January 14 through May 29, 2022.
While the Green Movement was not popular during their lifetimes, Edison and Ford both recognized the importance of recycling and reusing materials. The deadline for submission is November 7, 2021. For information, please contact Tayelor Kakes at tkakes@edisonford.org.
__________________________________
5     PUBLIC ART
Virginia sculptor Mickael Broth wins commission for Forum Park public art centerpiece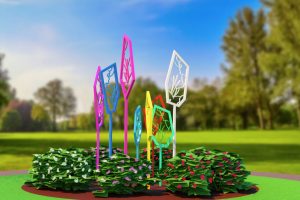 Following the presentation of designs on Tuesday, May 18 by finalists John Davis, Nathan Pierce and Mickael Broth, the City of Fort Myers Public Art Committee selected Broth's Rise Above as the centerpiece for a new park that the City is planning for The Forum in Ward 6.
Rise Above consists of eight powder-coated aluminum stems and florets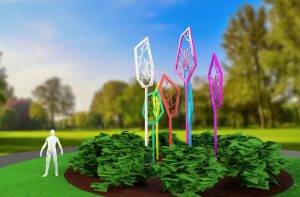 reminiscent of the gladiola that were once cultivated and commercially produced on the site by three generations of the Zipperer family. Established by John O. Zipperer and others in Iona beginning in 1935, the gladiolus industry once shipped millions of the gorgeous, colorful flowers to every state in the Union east of the Rocky Mountains.
The rest of this article is here.
_____________________
6     FILM
Bonita International confers awards in seven categories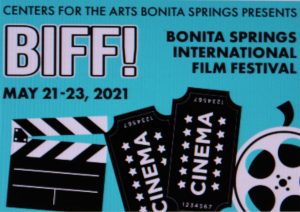 The 6th Annual Bonita Springs International Film Festival concluded Sunday night (May 23) with an awards ceremony and concert. While every film and filmmaker who made it into the festival is a winner just by virtue of being screened, the Bonita Beach International Film Festival conferred awards several categories, as follows: Go here for the award winners.
_______________________________________
FMFF confers 'best of' awards in seven categories
The 11th Annual Fort Myers Film Festival concluded Sunday night (May 16) with an awards ceremony and after-party that was held in the new sculptural garden atop the historic Sidney & Berne Davis Art Center.
In spite of the COVID-19 pandemic and associated shut-downs and quarantines, Director Eric Raddatz, Producer Melissa DeHaven and Programming Director Leslie Cimino received, watched and evaluated more than 400 submissions,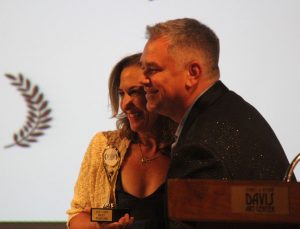 jurying 60 outstanding local, national and international films into this year's festival. While every film and filmmaker who made it into the festival is a winner just by virtue of being screened, the Fort Myers Film Festival awarded "best of" in several categories, as follows: