Actors, artists, filmmakers and events in the news September 15-21, 2019
These are the actors, artists, filmmakers and events who are in the news in Southwest Florida this week:
For Pat Zalisko, the written word is the prompt for her unique brand of abstract expressionism (09-20-19)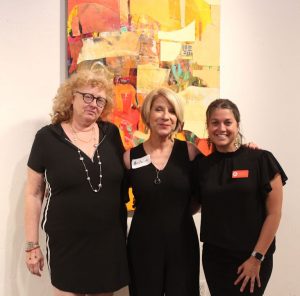 The late Hollis Jeffcoat drew inspiration for her abstract expressionist compositions from the unique panoply of sounds she heard on her beloved Sanibel Island. Blessed (or cursed) with Chromesthesia, the warbling of birds, lapping of water and rustling of palm fronds on a breezy day triggered the perception of colors (called photisms). In much the same way, words and snippets of poetry and prose spark creative impulses in Pat Zalisko, whose abstract expressionist work is on display with the sculpture of Carve Stone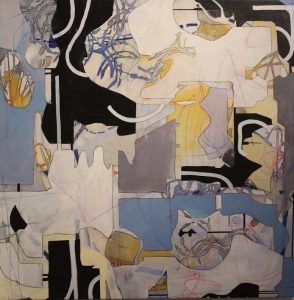 at the Alliance for the Arts through September 28.
"I'll read something – it can be very random – and it will create a visual for me," Zalisko explained at the opening of The Shape of Things: Carve Stone & Pat Zalisko. "The written word triggers a feeling, and that's what I'm expressing in my paintings."
Her painting titled Both Poetry and Plot (2nd photo) provides a clue as to the importance of the written word in her creative process.
And as Purple Above and Below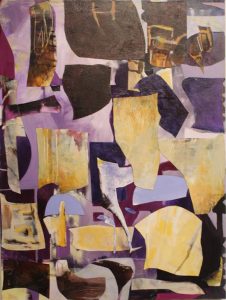 (3rd photo) belies, even her color choices are predicated on what she reads.
"My reading is never simple," Pat confides.
She gravitates toward complex, multi-tiered novels, which she devours three or more at a time.
Her summer reading list includes The Turn of the Key by psychological thriller writer Ruth Ware (In a Dark, Dark Wood, The Woman in Cabin 10, The Lying Game), Sarah Winman's sparsely written and achingly beautiful Tin Man (which celebrates love in all its forms) and Fake Like Me, in which a young painter tracks the mysterious life
and death of her role model in a dark, glamorous, and addictive story of good intentions gone awry from the critically acclaimed author Barbara Bourland (I'll Eat When I'm Dead).
"They're all very different, all very layered and all of them are creeping into my work."
When asked for an example, Zalikso walks over to a large-scale work called Across the River Absheron (4th photo).
"This was prompted by something I read in the news that, in turn, made me think of something I read in Dante's Inferno. I went back and re-read it.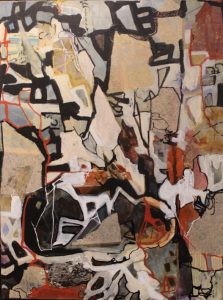 The quote is 'The hottest place in hell is reserved for those who in times of moral crisis preserve their neutrality.'"
In Dante's great poem, people who in times of crisis never take a side are relegated to the mouth and vestibule of Hell. There, they are buffeted unceasingly by clouds of red sand, their faces bitten by wasps and hornets. Because they'd spent their lives on the sideline, watching to see which way the wind was likely to blow, they are denied the moral dignity of a place even in hell itself. "Heaven will not have them, and the deep Hell receives them not lest the wicked there should have some glory over them." And the line that Zalisko quotes has been cited by the likes of Teddy Roosevelt and John F. Kennedy,
among others.
While musical lyrics can prompt a paintworthy emotional response, that only happens outside the studio.
"While I do listen to music as I work, it's more to tune out the world. But I never put on opera [while I'm painting] because it's too emotional for me and would interfere with what I'm working on."
Besides, she's yet to find a happy opera.
Jewel of the Desert (5th photo) was a rare exception to the word-prompt rule.
"That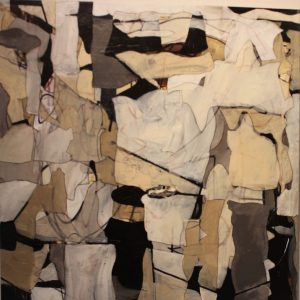 one started as a portrait of my daughter," Pat says ruefully. "It wasn't going well. I was at a low moment. Someone had made a careless remark to me. And [while I was working on the painting], my daughter called to see if I'd gotten some papers she'd sent me. So while we were talking, I started gluing her papers and some papers I had from years ago onto the canvas."
And that experience has led Zalisko to expand her painterly tool box to include collage, graffiti and other mixed media.
While the written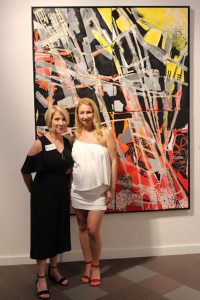 word may be her prompt, Zalisko speaks in the language of abstract expressionism. Those were the works that bowled her over in the museums and galleries she frequented from the time she was a little girl.
"My parents were always dragging me to something artistic. So I had that exposure. I was always looking at art."
Her parents may have planted the seed, but it was Pat herself who tilled the soil and cultivated and the crop.
"Both my parents worked and my sister was seven years older than me. I had nothing to do between 3:00 and 5:00 when they got home from work.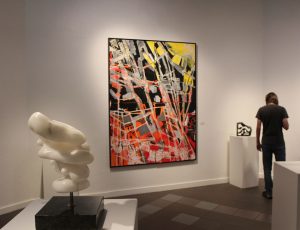 I figured out early on that I could go to MoMA because they let in kids under 13 for free. So I would take the subway [and while away my afternoons looking at modern art]."
It wasn't initially Jackson Pollock or Willem de Kooning that rocked her world, but rather Ad Reinhardt and possibly Robert Rauschenberg or Kazimir Malevich.
"I remember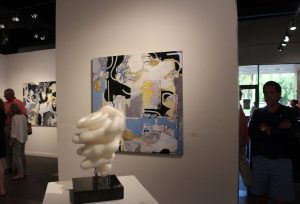 there being these two paintings hung one floor above the other. One was totally white [either Kazimir Malevich's Suprematist composition White on White or Rauschenberg's 1951 White Painting] and the other was totally black [probably Ad Reinhardt's 1963 work, which he described as 'a pure, abstract, non-objective, timeless, spaceless, changeless, relationless, disinterested painting—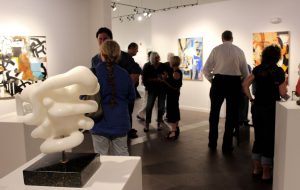 an object that is self-conscious (no unconsciousness), ideal, transcendent, aware of no thing but art']. I kept running up and down the stairs trying to figure out what the paintings were saying. A security guard stopped me and wanted to know what I was doing. When I asked him to explain why the paintings had been hung one floor above and below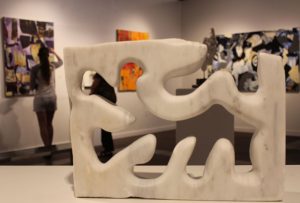 the other and what the artists were trying to convey, he asked where my parents were. When I told him I was there alone, he told me that I needed to go home."
Still, those were halcyon days in which to be a young woman living in New York City.
"I remember running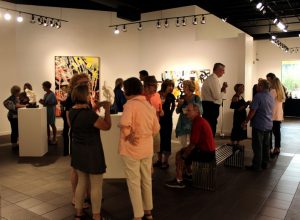 into Louise Nevelson one day while she was dumpster diving with false eyelashes. She pulled out a wooden chair."
She was eight and on her way to church with her dad. It was years later before she realized who they'd seen that day.
On another Sunday morning, they passed a tavern in their neighborhood in the Lower East Side. Inside were a group of boisterous men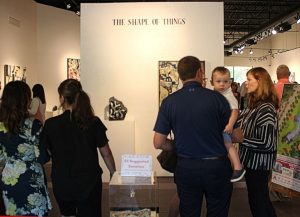 who were smoking and socializing.
"In hindsight, one may have been Mark Rothko."
In spite of all these and many other early influences, Zalisko did not go into art. Instead, she established a career in law.
"I got into art school, but mother wouldn't let me go."
An academic,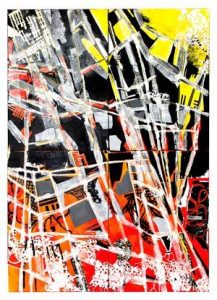 Pat's mom knew that most artists lived troubled lives and died broke like van Gogh. The Warhols were few and far between.
But when she retired from government law and mediation in 2004 and relocated to a small community near New Smyrna Beach, she finally indulged her desire to study art, working with a handful of renowned artists and art coaches at or through the Atlantic Center for the Arts [a nonprofit interdisciplinary artists' community and arts education facility providing artists an opportunity to work and collaborate with contemporary artists in the fields of composing, visual, literary, and performing arts] and accepting a number of self-directed residencies.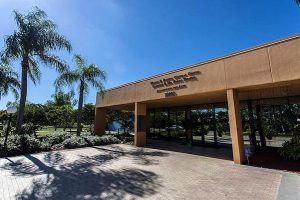 And after a decade and a half of course work, self-study and experimentation, she's found her own voice and makes her own unique contribution to the field of abstract expressionism. You can see a number of examples of her most recent work in The Shape of Things: Carve Stone & Pat Zalisko. The show is on view in the main gallery of the Alliance for the Arts now through September 28.
__________________________________________________________
Ehren Gerhard Alliance for the Arts new Exhibitions Director (09-20-19)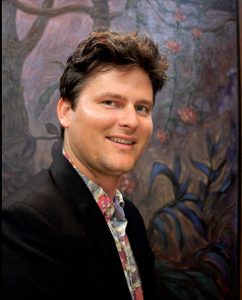 The Alliance for the Arts launched its 2019-2020 season at the opening reception of The Shape of Things: Carve Stone & Pat Zalisko. Among the many highlights of the evening was the introduction of the Alliance's new Exhibitions Director Ehren F. Gerhard.
Gerhard is an experienced Exhibitions Director with a demonstrated history of working in the fine art industry. His resume demonstrates a high level of skill in art education, museum standards and practices, exhibition layout and lighting, and arts administration. He most recently served as the Arts Exhibitions Director for the Center of Visual Arts Bonita Springs and is an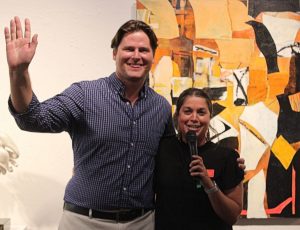 adjunct drawing instructor at FGCU.
As an accomplished artist himself, Ehren has been on the other side of the exhibition equation. Area art lovers may recall his 2015 group show in the FGCU ArtLab, Reunion: Baker, Gerhard & Heubeck. He has also exhibited locally in group exhibitions at the Sidney & Berne Davis Art Center, Space 39 and ArtFest Fort Myers.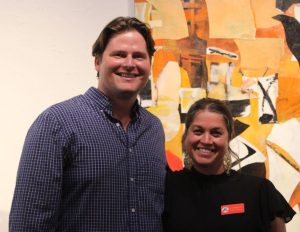 His motifs and compositions reflect his extensive travels both within the United States and abroad.
"I grew up in small towns and my family moved across the country multiple times," Ehren confides. "I see new places as exciting opportunities to discover more about unique cultures, histories and natural ecosystems. When I stop, look and enjoy my surroundings, I feel privileged to see the world as a magical place."
After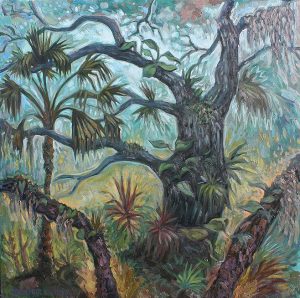 earning his Bachelor of Arts in 2009, Gerhard worked a series of environmentally-related jobs before marrying and moving with his bride to a small town in Spain, where he taught English, got to be an extra in a movie, had a solo show of his paintings and made a lot of connections.
Back in the States, he obtained his M.F.A. at Arizona State University, where he also taught courses in 2-D Design and Drawing from August of 2010 to May of 2013.
"During this time,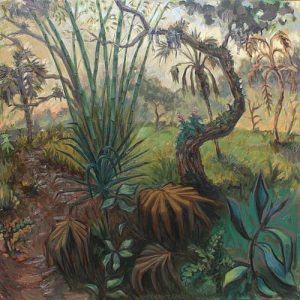 I apprenticed, curated a couple of shows and made even more contacts," Ehren relates. He also continued to work on his own artwork.
Then he returned to Spain for a year to serve as Cultural Ambassador: North American Language and Culture Assistant at the Ministry of Education, Culture and Sport of Spain.
His media include painting, graphite, printmaking and works in ceramics.
But it's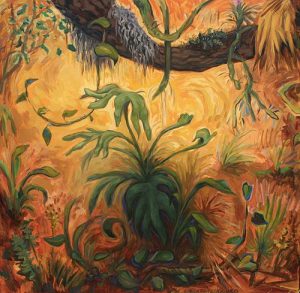 Ehren's effort to translate the magical places he's visited into whimsical landscapes that unifies his work. He describes his compositions as "wild, crazy, goofy, intense as possible, playful and psychedelic." But he hastens to add that he doesn't merely paint what he sees. Inspired by contemporary trends in art, his landscapes are a synthesis or amalgamation of a given spot or locale as viewed from differing perspectives.
In this, he is unique. Whereas traditional landscape painting portrays the subject from a fixed point of view,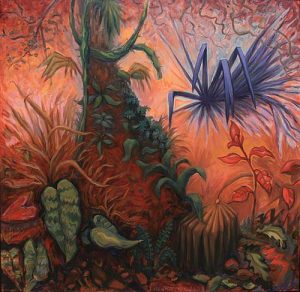 Ehren's contribution to the motif is to depict his subject within the frame from multiple spots along the time/space continuum.
"This gives me the ability to move things around rather than paint from a single point," Ehren explains. Of course, this shifting perspective presents myriad challenges and opportunities, like looking up at the sky and down at your feet at exactly the same moment.
Gerhard's overarching goal is not to create just a panorama as captured by a point-and-shoot camera,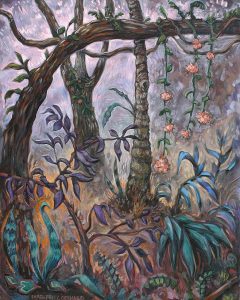 but an entire visual experience that expresses his emotional reaction to a place that can be experienced on some level by his viewers. That experience will change, however, as the viewer moves toward the canvas or away from it because of the multiple layers of impasto and glazes that he employs.
"There is something of an impressionist cast to what I do," he admits, and that includes his current practice of painting almost exclusively en plein air. "I used to take photographs and then go back into the studio, but there are too many things you don't notice if you're just passing through a place," he adds, sharing the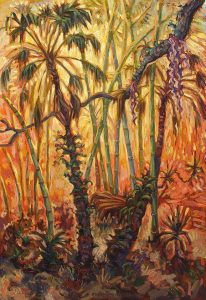 benefit of the wisdom he amassed moving and travelling from place to place throughout his life. "Those things only reveal themselves if you're willing to stand on that site, look deep, and study what you see."
Because of his patience, tenacity and willingness to think outside the traditional paint box, Gerhard is able to channel energy, emotion and joy into works that bend, twist and model the representational structure to which we are all accustomed in ways that pull viewers in, make them want to stay and play around awhile so they can see, explore and appreciate the multiple levels of imagery and activity that he so meticulously presents.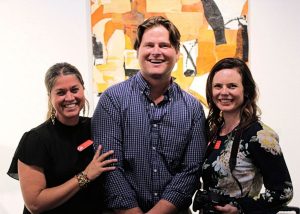 Ehren possesses a Master of Fine Arts (M.F.A.) in Painting and Drawing from Arizona State University and a Bachelor of Arts in Fine Art and Studio Arts from Florida Gulf Coast University, where he served as Head Gallery Assistant for a year. He is also an alum of the Cypress Lake High School Center for the Arts.
__________________________________________________________
Alliance September show features Carve Stone and Pat Zalisko (09-20-19)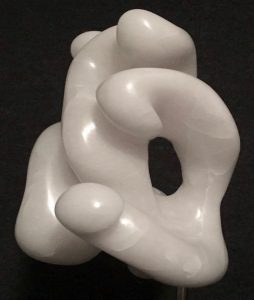 The Alliance for the Arts' September exhibition is The Shape of Things: Carve Stone & Pat Zalisko. It exhibits from September 6 through September 28. This thought-provoking exhibition features contemporary art forms from intricate, color rich collages and acrylic paintings to graceful carved marble sculpture and silhouettes.
Carve Stone creates sculptures from marble, chlorite and alabaster. As a child, she collected pebbles and rocks, which was the start of her fascination with rock quarried from the earth. As a university student, the ease and passion of her stone carving grew. Her award winning body of work includes women's high heel shoes,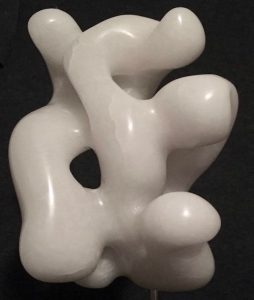 pointe ballet slippers, female torsos, as well as flowers, heart people and abstracts. Her stone sculptures are exhibited in museums, universities and art galleries as well as in private collections throughout North America.
Born and raised in New York City, Pat Zalisko has wonderful childhood memories of painting intricate Ukrainian eggs, pysanky, one of her first creative experiences. After retiring from a successful legal career, she renewed her passion for painting when she moved to Florida. Her body of work includes large abstract color-filled collages on canvas. Her multi-dimensional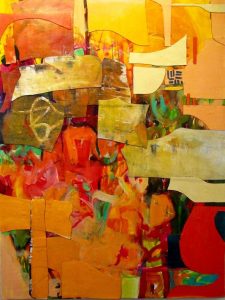 images are influenced by the color wheel and the written word using abstract shapes that beg the viewer to liken them to something in reality, yet defy definition. Over the past several years, her contemporary art has been featured in major private and public collections in the Unites States. She was one of only four artists with connections to Florida to exhibit her body of work in the Florida Contemporary exhibit at Artis Naples – Baker Museum.
The opening reception will be from 5:00-7:00 p.m. this evening. The opening will feature light refreshments, beer tastings from Eight Foot Brewing and the kick-off of the Alliance's 19-20 Season. The event is free to attend,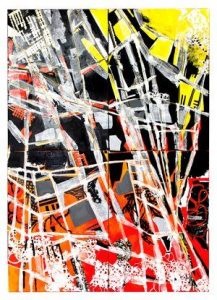 but an RSVP is requested online at www.ArtInLee.org/Shape.
You can also meet and engage with Carve Stone and Pat Zalisko during a conversational tour through the gallery at 10:00 a.m. on September 7 during the Alliance for the Arts weekly GreenMarket.
HomeGrown and Art Lives Here will be on display in the member galleries during the month of September. The HomeGrown Exhibit features works from The Union Artist Studios. The Art Lives Here Exhibit showcases all nine original paintings that are featured on billboards throughout Lee County. The Art Lives Here Campaign is made possible by Alliance season sponsor, Carter-Pritchett Advertising.
________________________________________________________________
'Dia de los Muertos: A Juried Exhibit' returning to Alliance in October (09-20-19)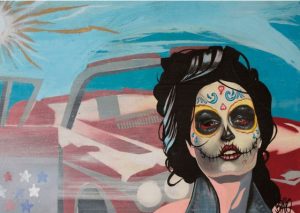 Dia de los Muertos: A Juried Exhibit is returning by popular demand to the Alliance for the Arts in October. It's a show that will feature traditional Mexican sugar skulls in a variety of media ranging from painting in oil, acrylic, watercolor and collage to photography, prints, drawing and sculpture. Artists interesting in participating in the show may submit up to 3 artworks for consideration online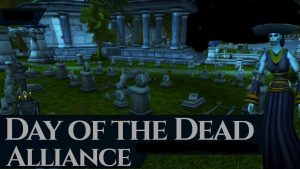 no later than September 20. To download the prospectus or submit artwork, please visit ArtInLee.org/SugarSkulls.
What exactly is Day of the Dead? In many parts of Mexico, South America and the United States, Dia de los Muertos is a time to remember and celebrate the lives of family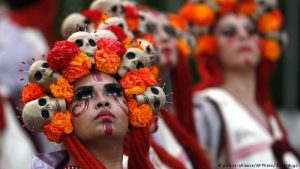 and friends. More about reveling in life than remembering death, this unique day encourages us to connect with loved ones while reflecting on the ties that bind the past to present.
"Community participation is a powerful part of this holiday," says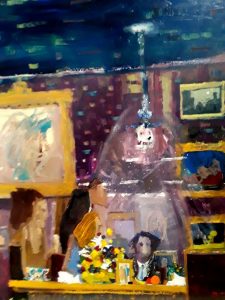 exhibitions coordinator Krista Johnson. "That's why we're calling on local artists to contribute to this lively and fun exhibit."
The show's opening reception is scheduled for 5:00-7:00 p.m. on October 4, with awards being announced at 6:00. There will be a $250 prize for Best in Show, $125 for 2nd place and $75 for 3rd place.
For more information about this exhibit, visit ArtInLee.org/SugarSkulls or call 239-939-2787.
_________________________________________________________
Rocky Horror Picture Show returns to Alliance on October 12 (09-20-19)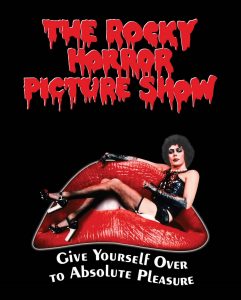 Guaranteed to thrill you, chill you and fulfill you, the Rocky Horror Picture Show returns to the Alliance on October 12th! Hike up your fishnets and unleash your inner Sweet Transvestite as the mother of all cult classics hits the big screen replete with audience participation and local shadow cast The Forbidden Triffids pantomiming the film (see next post).
A beloved, rowdy, nocturnal tradition, The Rocky Horror Picture Show has been tantalizing audiences for over 40 years. Rocky Horror is meant to be experienced: be part of a decades-long tradition of crowd participation as guests are encouraged to dance along to the Time Warp, yell obscenities, and throw props in time with the action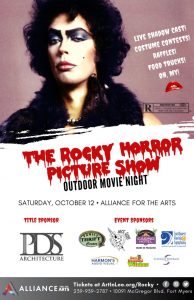 on screen.
Compete against fellow creatures of the night in a costume contest; give yourself over to absolute pleasure with food trucks and drinks; enter a Rocky raffle; pick up your official prop bags; and enjoy a night under the stars with your favorite Transylvanians.
The Rocky Horror Picture Show film is Rated R – Under 17 requires accompanying parent or adult guardian, contains some adult material. This screening involves audience participation and many lines or jokes shouted by audience members or the shadow cast may be offensive beyond the film's R rating. Viewer discretion is advised.
PLEASE NOTE THAT THIS SHOWING IS ALREADY SOLD OUT!
_______________________________________________________________________
Forbidden Triffids to pantomime 'Rocky Horror' at Alliance's Oct. 12 screening (09-20-19)

The Forbidden Triffids will be pantomiming the already sold-out Rocky Horror Picture Show when it returns October 12 to the Alliance for the Arts. The Forbidden Triffids is a Lee County shadow cast who help audiences relive the cult classic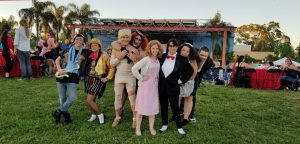 movie.
The troupe formed in 2013, starting as street performers after the previous Fort Myers cast split. They are notable for combining other kinds of performers with the show such as fursuiters and fire performers.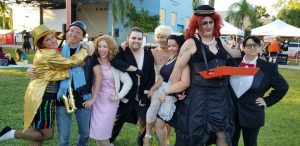 At the moment they perform in the Halloween season on stage and perform at art shows off season.
In addition to the Alliance of the Arts, The Forbidden Triffids has appeared at the AMC movie theater, Red Headed Witches,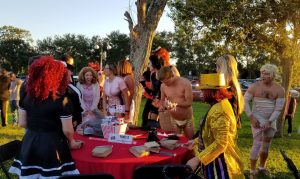 Peace Day in the Park, Mystery Walk, CGA show and Zombicon.
2019 Show Cast, which may change depending on availability and understudies, consists of:
Dr. Frank-N-Furter (A Scientist): TBA
Janet Weiss (A Heroine):               Chandler Burwell
Brad Majors (A Hero):                    Caitlin Karcher
Riff Raff (A Handyman):                Takua Lockwood
Magenta (A Domestic):                   Kimberly Reichenbecher
Columbia (A Groupie):                    Kathi Reichenbecher
Dr. Everett V. Scott:                         Bjorn Ugland
Rocky Horror (A Creation):            Mike Heidenreich
Eddie (Ex Delivery Boy):                 Bjorn Ugland
The Criminologist (An Expert):     David Condoluci
Trixie (The Lips):                              Takua Lockwood
PLEASE NOTE THAT THIS SHOWING IS ALREADY SOLD OUT!
_______________________________________________________
Alliance announces dates for 'Off the Wall' holiday exhibit (09-20-19)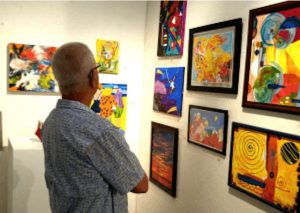 Each year, the Alliance for the Arts invites 100 members to submit two original 2D or 3D artworks for exhibition in the gallery beginning with the onset of the holiday shopping season. Called Off the Wall, this non-traditional art show features works in all mediums priced at $200 or less. All sales are "cash and carry," meaning purchasers will get to take the piece with them when they buy it, rather than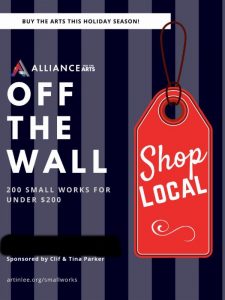 waiting until the end of the exhibit.
Make supporting local arts tops on your list this year by giving a gift that gives back. Make plans to do your Christmas shopping at the Alliance for the Arts this year. Betcha there's 100 member-artists who would be delighted to have their art under your tree.
This year's show runs from December 6 through December 28. The opening reception is scheduled for 5:00-7:00 p.m. on Friday, December 6. For more information, please visit www.artinlee.org or telephone 239-939-2787.
________________________________________________________________
'Motus en Tempus' on view in Davis Art Center through September 26 (09-19M-19)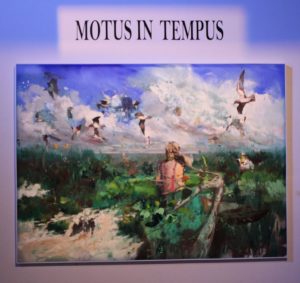 Motus en Tempus is on view in the grand atrium of the Sidney & Berne Davis Art Center through September 26. Curated by Cesar Aguilera, it features large scale paintings by four Cuban-American artists, Dayron Gonzalez, Julio Figueroa Beltran, Reynier Ferrer and Reynier Llanes.
The work included in Motus en Tempus expresses the artists' unique culture and heritage, while drawing attention to the realities of exile, immigration and assimilation into a new culture. Their subjects include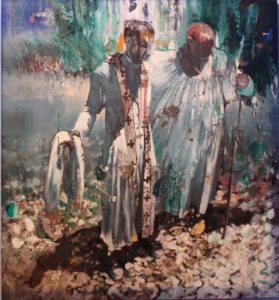 a range of figures, animals, abstractions and distortions. Thematically, these motifs embrace fantasy, spirituality, history, philosophy, humor, violence, social customs, and nature. The strong use of metaphor lies in the core of this exhibition, and it is through this artistic device that viewers are able to experience and connect with each artist's personal reflection depicted through their subjects and choice of medium, which include oil, watercolor, pastels, charcoal, coffee, and bleach.
Exiled and immigrant Cuban-born artists have settled in the United States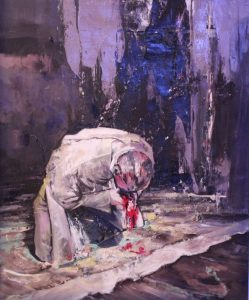 since the revolution of 1959. The first arrivals came before the Cuban missile crisis of October, 1962. They were part of an exodus of some 215,000 people who fled the island in the aftermath of Fidel Castro's seizure of power. Additional arrivals included the 14,000 children who formed part the Peter Pan Operation, sponsored by the Miami Catholic Archdiocese.
In 1980, the exiles from the Mariel boatlift brought another wave of Cubans and Cuban artists to Miami. Since the early 1990s, the collapse of the Soviet Union precipitated another exodus and raft people (balseros). In 1994 alone, 33,000 Cubans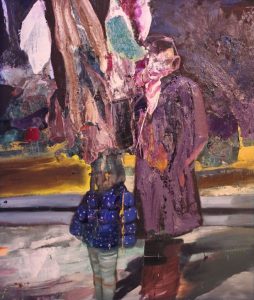 were intercepted by the U.S. Coast Guard. In response, U.S. and Cuban governments worked to establish a solution that would prevent Cubans from risking their lives at sea. The result, in 1995, came to be known as the "wet foot, dry foot" policy: Any Cuban who successfully arrives on U.S. soil is accepted; those stopped at sea are repatriated. The policy remains in effect to this day.
Some Cuban-American artists came to the United States as adults. Others came as children or adolescents. And yet others have been born in this country. The relationships and interactions between these groups are complex and diverse. All are joined by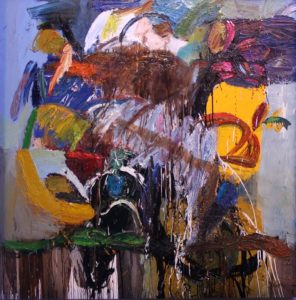 their divided identity, split between their Cuban and American sides and by their experience of exile, which for many has been the defining element in their lives.
An estimated 2 million Hispanics of Cuban origin live in the United States, of which roughly 60 percent or 1.2 million were born in Cuba. While this population provides a context and an audience for Cuban-American art, works like those featured in Motus en Tempus have gained increasing interest among a wide range of collectors. Not only is Cuban-American art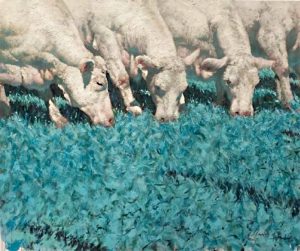 finding its way into an increasing number of U.S. private, corporate and museum collections, but those in Europe and Cuba itself.
Motus en Tempus still has two weeks to run. You can see it at the Sidney & Berne Davis Art Center, which is located at 2301 First Street in the heart of the downtown Fort Myers River District.
______________________________________________________________
'DC vs. AC' opening in Edison Ford Caretaker's House on October 4 (09-19-19)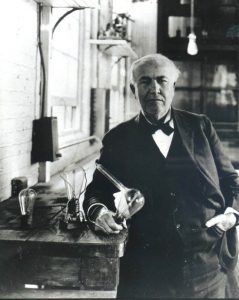 The public is invited to an exhibit opening in the Edison Caretaker's House at Edison and Ford Winter Estates at 6:00 p.m. on October 4. DC vs. AC: Edison, Tesla, Westinghouse, and the Race to Electrify America explores the differences and similarities of the genius inventors, as well as the differences between alternating and direct current. Chief Curator Brent Newman will give a gallery talk on these relationships in the context of 19th century history and science.
The event coincides with the opening of The Current War, a movie about how Thomas Edison and Nikola Tesla disagreed on which type of electric current was best. Edison believed his direct current was superior to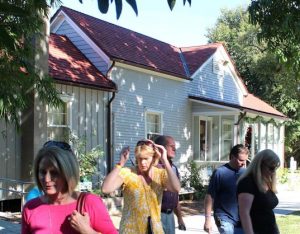 Tesla's alternating current; however, Tesla ultimately won that war, as alternating current is used around the world today.
Opening attendees to the exhibit will receive a complimentary glass of beer or champagne, light hors d'oeuvres will be provided and a pianist will play period music. A cash bar will be available. Admission is free for Edison Ford members; $10 for non-members (does not include admission to the museum, laboratory or tours of the homes).
___________________________________________________________
DAAS featuring work of visual/tattoo artist Mully in September (09-19-19)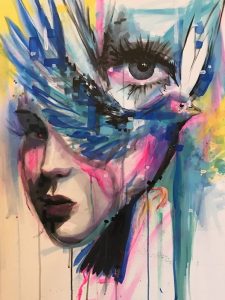 Now through September 28, DAAS CO-OP Art Gallery is featuring the work of visual and tattoo artist Mully. Originally from Braintree, Massachusetts, the artist moved to Florida in 2003 to pursue his artistic career.
Mully has been producing fine art painting since 2007. He has a refined yet loose approach. His genres range from tattoo-inspired to classical portraiture and figurative work. His recognizable style features drips, a bit of chaos, or what he considers "happy little accidents" (quoting the iconic painter Bob Ross). His medium is acrylic paint, combined with a plethora of mixed media materials which give each piece its own unique contrasts and textures.
Before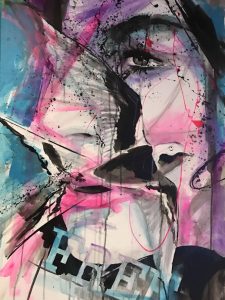 embracing his artistic talents, Mully studied Business Management and worked in the financial field as an accountant. He immediately recognized that the corporate world was not for him and sought the opportunity to become a tattoo artist. This led to a career that has allowed him to produce fine art and experiment with multiple mediums.
"First came wood burning and then painting with acrylics and oils," says Mully, who finds the use of various mediums as the outlet for his creativity. "I think it is important to stay in a creative mindset and be inspired by bringing what I learn from each medium to my paintings."
_______________________________________________________________________
Solo show of Jansen work on view in Paris' Danysz Galerie through October 12 (09-19-19)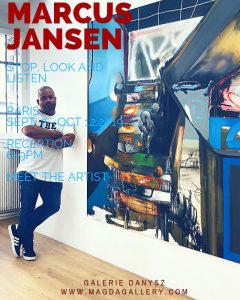 Fort Myers artist Marcus Jansen solo show Stop, Look and Listen is on view at the Danysz Galerie in Paris through October 12.
The Press Release announcing the show draws a parallel between Jansen's formative experiences and those of Jackson Pollock. In Pollock's case, he learned to throw sand to make pictures from the Hopi Indians. Back in New York City from Desert Storm, Jansen was influenced by the graffiti he saw on the sides of subway trains when he traveled from the Bronx to Manhattan to sell his work on Prince Street in Soho in order to survive.
Described alternately as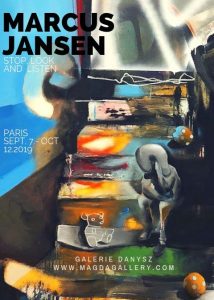 urban expressionism and post-urban cataclysmic surrealism, his unique blend of abstract and the figurative belies the influences of the Iraqi war and the intensity of his post-conflict urban environment. He got his big break when his work drew the attention of Jerome A. Donson, who organized exhibitions of such prestigious artists as Jackson Pollock, Robert Rauschenberg, Jasper Johns, Willem de Kooning and Franz Kline as Director of MOMA's American Vanguard Exhibitions in Europe.
Danysz Galerie is located at 78 rue Amelot. For more information, you may email the gallery at clemence@danyszgallery.com or Unit A Space at unitaspaceinfo@gmail.com.
________________________________________________________________
Jansen's 'Bedroom 2' picks up honorable mention at Art Olympia 2019 (09-19-19)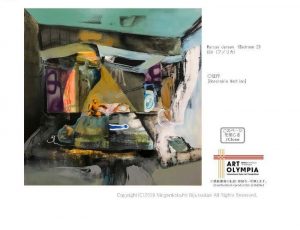 "Art Olympia" is a Bienniale international art exhibition of works from the public that aims to discover talented artists from around the world and support their activities. Based in Tokyo, the competition selects 160 artworks – 80 from Japan and 80 more worldwide. Although Marcus Jansen did not win the $120,000 first prize, his painting Bedroom #2 did receive an honorable mention from the international judging panel.
_________________________________________________________________________________________
Broward Cultural Division seeking artist for Pine Island Pocket Park (09-17-19)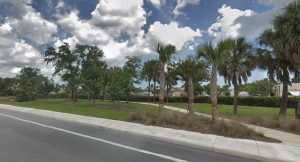 In partnership with the Highway Construction & Engineering Division, Broward Cultural Division's Public Art & Design Program is seeking to commission one artist or artist team to design, fabricate and install a site-specific public artwork for a pocket park located along Pine Island Road, a major vehicular

corridor in Davie, Florida. The artwork shall enhance the park which includes a meandering walking path, shrubbery and trees. The artwork should be visible to individuals traveling northbound, without creating any obstruction or distraction. The budget is $64,000 and the deadline for applications is September 30. To apply, please visit: http://www.broward.org/Arts/PublicArt/Pages/Calls.aspx.
_______________________________________________________________________
Bonita Springs getting new public artwork from metal sculptor Clayton Swartz (09-17-19)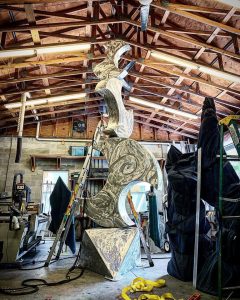 The City of Bonita Springs is getting a new public artwork. When completed, the welded aluminum free-standing sculpture will stand 14 feet tall and be painted with an array of saturated and translucent enamel based paints before being skillfully coated with a Dupont automotive finish. The piece is being made by St. Pete artist Clayton Swartz.
If the name sounds familiar that might because you've seen Swartz exhibiting at area art festivals like ArtFest Fort Myers or Bonita Springs National Art Festival for years.
You may have also seen his work at Florida Gulf Coast University.
Swartz started out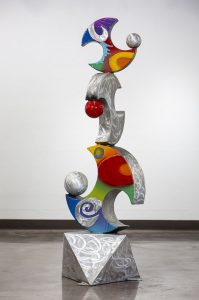 as an abstract painter, a hobby he pursued while attending St. Petersburg College. However, after receiving his BFA in painting and sculpture from the University of South Florida, he began to transition into metal sculpture. Although he continued to paint (and even dabbled a bit in photography) during his 5-year tenure as an art teacher at St. Petersburg's Northeast High School, he increasingly favored metal sculpture, developing a unique style that concentrated on colorful biomorphic and abstract shapes that ranged from sea life to cityscapes. He then took to the road, exhibiting at art festivals throughout the state, quickly gaining a reputation and following that has enabled him to pursue art professionally since 2005.
"My medium lends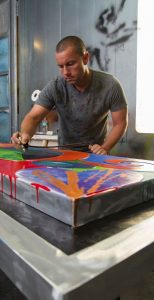 itself more to public art," Swartz told Staff Writer Mike Brassfield in September of 2010. "It withstands the elements, and I tend to like to work big."
He was referring at the time to an 18-foot-tall aluminum sculpture by the name of Constellation that was on display in the landscaped medians of Cleveland Street as part of Clearwater's Sculpture 360 public art program.
In addition to Florida Gulf Coast University and Sculpture 360, Swartz's has been included in such major public and corporate collections as the City of Pinellas Park, Pinellas Gateway Chamber of Commerce and All Children's Hospital in St. Petersburg (which has 20 of Swartz's signature brightly-colored creations).
His credits include honors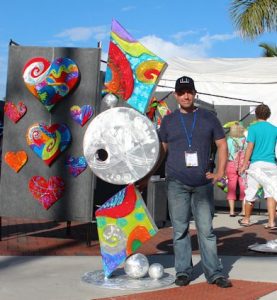 at the 2011 ArtFest Fort Myers (where his art was used as the design logo for the event's T-shirts), the Award of Merit at the 34th Annual Mainsail Arts Festival in St. Petersburg in 2009 and a feature in The Tampa Tribune. Today, he showcases his work in his Pinellas Park studio, select galleries, art festivals and selected Tampa Bay charities.
"My work blends modern abstract sensibilities with formal subjects." His current work often contains ocean life, expressing Swartz's abiding fascination with the sea and hobbies including scuba diving, spear fishing and boating.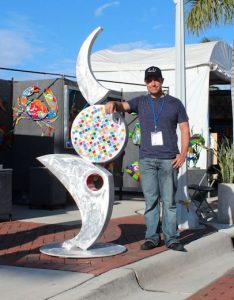 His sculptures often incorporate hearts, which symbolize his strong connection to his family and deep respect for life. "My modern abstracts illustrate a passion for vibrant color and form."
Swartz prefers brushed aluminum because the bright white metal shows off the layers of translucent color that he favors. "Stainless steel tends to mute the colors," he explains. "Besides, it's hard to transport and hang because it's so heavy, and isn't nearly as weather resistant as aluminum is." Of course, aluminum is less forgiving. "Steel is more pliable and easier to weld. If you overheat aluminum, it just falls apart. But aluminum suits the bright, happy,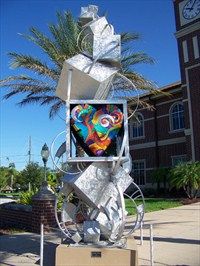 saturated colors that I really, really like."
Swartz uses an array of techniques and processes to create his aluminum sculptures. "My metal working process employs MIG and TIG welding, plasma cutting, and grinding. When fabrication is complete, the color process begins. Using an array of brushes, airbrushes and paint moving tools, I coat my work with a saturated translucent automotive finish. These special techniques are used to create vital effects in the work that treat each shape as its own abstract painting while simultaneously working in conjunction with the whole sculpture."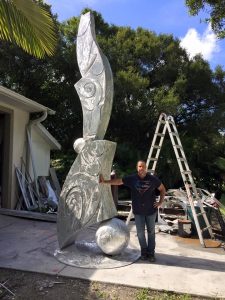 "Because I have a specific style, when somebody sees a sculpture that I create, if they know my work, they know I did it – even if they're driving by it at 80 miles per hour," states the artist. "While I am continually refining my process, I stick with a specific style and color pattern so that my work continues to remain recognizable by people who are familiar with my work." Toward that end, he steadfastly refuses to sacrifice his individual style in order to make his public artworks site specific, "something that tends to make public art feel stilted and anonymous in way too many instances."
_______________________________________________________________________
Public Art Committee expanding free phone app that explains public artworks (09-17-19)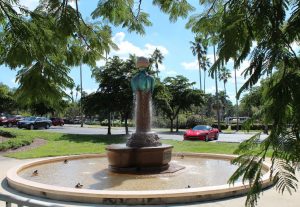 Art professionals and urban planners have identified nearly four dozen benefits that flow from the presence of public artworks in outdoor spaces. However, these advantages can only be maximized to the extent that the public fully appreciates the stories they tell. And it is exactly for this reason that the City of Fort Myers has installed a free phone app that informs local residents, vacationers and other visitors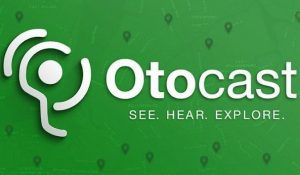 about the murals, sculpture and other art installations they encounter as they work, shop, dine and walk around downtown Fort Myers and parks located in other regions within our city limits.
Go here for the rest of this tutorial.
___________________________________________________________________
SWFHS President Glenn Miller records Otocast audio on Wes Nott Statue (09-17-19)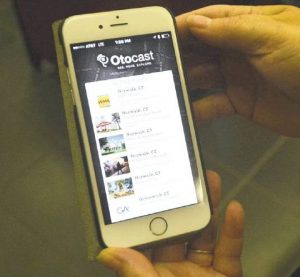 In 2018, the City of Fort Myers launched a free mobile app that enables resident, vacationers and other cultural tourists to learn all about the public artworks that are interspersed throughout town. Called Otocast, the app contains text and historic photos for each covered artwork. But the app's centerpiece is an audio recording made by the artist who created the piece or someone who is intimately familiar with the artwork and the stories it recounts. By virtue of this audio component,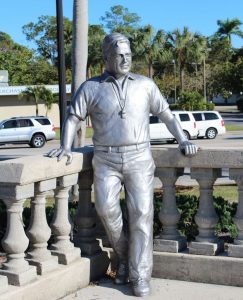 Otocast is like having your very own tour guide who knows the coolest facts and behind-the-scenes stories about the art pieces you see all around you.
One of those artworks is the Wes Nott Statue. It's located in the northeast corner of the campus of Lee Memorial Hospital in (where else?) Wes Nott Park, which appropriately sits on the site of what was once the Wes Nott swimming pool. Today, Coach Nott presides over the space, standing against a railing that abuts the southbound lanes of Cleveland Avenue (U.S. 41). It was cast by North Fort Myers sculptor Don "D.J." Wilkins for the Fort Myers Beautification Board in the year 2000.
Go here for the rest of this article.
___________________________________________________________________________________
Edison Ford Exec VP and author Mike Cosden records Otocast audio for 'Uncommon Friends' (09-17-19)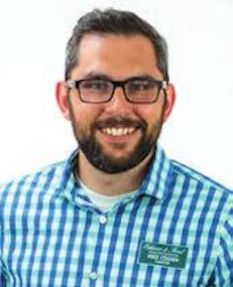 Edison Ford Winter Estates Executive Vice-President Mike Cosden has graciously provided an audio for Otocast that tells listeners more about the Vagabonds' legendary camping trips. Mike even included music from 1929 as backdrop for his commentary in the recording!
In addition to serving as Executive Vice President of the Edison & Ford Winter Estates, Mike is a co-author of Edison and Ford in Florida, a photo anthology published by Arcadia Publishing in 2015. Mike holds a Bachelor's Degree from Florida Gulf Coast University and a Master's in Library and Information Science from the University of South Florida.
Go here for the rest of this notice.
__________________________________________________________________________________
Garden Council past president Kay Holloway records Otocast audio for 1880 statue 'Lorelei' (09-17-19)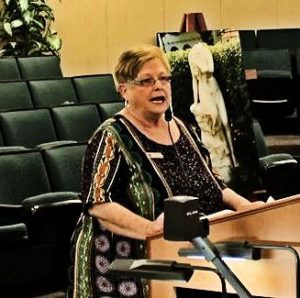 To tell folks about Lorelei, the City's Public Art Committee recruited Kay Holloway, who is a past president of the Lee County Fort Myers Garden Council.
Why the Garden Council? Well, from 1960 until 2014, the marble sculpture of a river siren stood guard outside the entrance to the library on Jackson and Central Avenue (across from the bus station where the new fire station sits today). But when the library moved to First and Royal Palm Boulevard, they left Lorelei behind. But fortunately, out of respect for Periwinkle Garden Club member Evelyn D. Rea, the Garden Council stepped in and gave the 1880 statue a forever home in their Hibiscus Garden. Rea purchased the statue during a trip to Italy in 1930 and bequeathed the marble sculpture to the library when she died in 1959.
Go here for the rest of this notice.
_______________________________________________________________________
Activist Reginald Billups records USCT 2d Regiment Monument Otocast audio (09-17-19)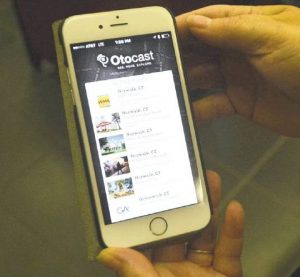 In 2018, the City of Fort Myers launched a free mobile app that enables resident, vacationers and other cultural tourists to learn all about the public artworks that are interspersed throughout town. Called Otocast, the app contains text and historic photos for each covered artwork. But the app's centerpiece is an audio recording made by the artist who created the piece or someone who is intimately familiar with the artwork and the stories it recounts. By virtue of this audio component, Otocast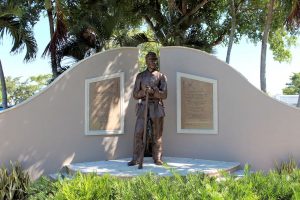 is like having your very own tour guide who knows the coolest facts and behind-the-scenes stories about the art pieces you see all around you.
One of those artworks is the USCT 2nd Regiment Monument in Centennial Park. The memorial features a larger-than-life "bronze" of a fictional sergeant in the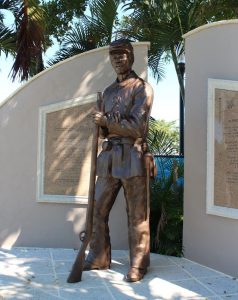 United States Colored Troops 2nd Regiment. He is standing before a gate within a wall. The wall represents slavery; the gate symbolizes the freedom provided by emancipation. The soldier memorializes the 179,000 African American men who served in the Union Army and the 19,000 who served in the Union Navy during the Civil War.
Closer to home, the fictional soldier also represents the 168 men of Companies D and I of the USCT 2nd Regiment who were stationed in Fort Myers in 1865 and defended the Union outpost from Confederate attack during the Battle of Fort Myers on February 20, 1865.
You will find the rest of this article here.
________________________________________________________________
Recalling other luminaries and artists who've provided Otocast audios (09-17-19)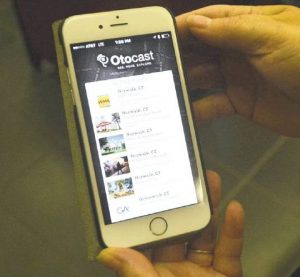 The Public Art Committee recently added audios on the free mobile phone app Otocast for the USCT 2nd Regiment Monument and the Wes Nott Statue by civil rights activist and music instructor Reginald Billups and freelance writer, author and Southwest Florida Historical Society president Glenn Miller, respectively. They join an illustrious group of other luminaries and artists who've provided Otocast audios in the past.
River District Alliance Director Jared Beck provided the audio for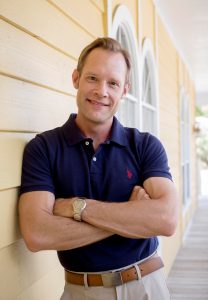 Fort Myers' first public artwork, the Tootie McGregor Fountain. Beck is a past chair of the City's Public Art Committee, and in that capacity, he played an instrumental role in persuading the City to subscribe for Otocast in order to better provide information to the public about Fort Myers' public artworks. Beck has long held the opinion that more needs to be done to acquaint people with the accomplishments of Tootie McGregor Terry, who was perhaps the town's greatest benefactor during its early history. Jared is also the co-author of River & Road, a visual and narrative history of the architectural evolution and urban development of Southwest Florida as shown in Fort Myers, Florida. Written with Pamela Miner, River & Road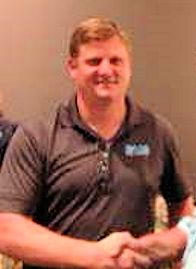 won the 2017 Richard E. Rice Gold Medal Award for Visual Arts.
The audio for the phone app that informs the public about the Buckingham & Page Army Air Field Monument in Centennial Park was provided by the Executive Director of Fort Myers' IMAG History & Science Center, Matt Johnson. Matt has a special connection to the two army air fields. He and journalist Chris Wadsworth co-authored a book on the Buckingham Army Air Field and knows more about the Buckingham & Page Army Air Fields than just about anyone living in Southwest Florida. In the audio, Matt shares interesting, little known facts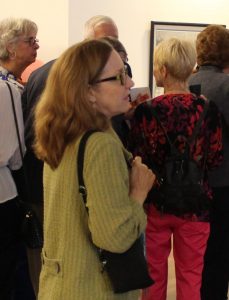 about the air fields and describes the impact that they had on the growth and development of Fort Myers in the post-war years. Go here for more on Matt.
Gerri Reaves provides the audio for The Spirit of Fort Myers, which is popularly known as Rachel at the Well. She wrote a dispositive article on the artwork for The River Weekly in May of 2015, and contacted von Zengen's family for information on the sculptor and his work incident to that story. To this day, she remains in touch with the von Zengen family. In her Otocast audio, Gerri shares historical information, fun facts and fascinating anecdotes about Rachel and the circumstances surrounding her creation, dedication and
ongoing conservation. Many downtown residents, workers and visitors know Gerri Reaves from her weekly column appearing in The River Weekly News. But Gerri's credentials are considerably more far-ranging. Her books include Legendary Locals of Fort Myers (Arcadia Press, 2013), Fort Myers: Then and Now (Arcadia Press, 2008) and Mapping the Private Geography: Autobiography, Identity and America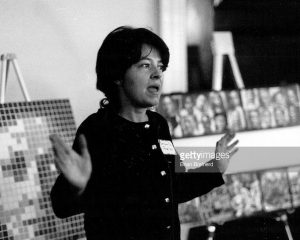 (2000), all of which are available on Amazon and in select area bookstores.
One of Fort Myers' most important artworks is the mural on the federal courthouse known as Fort Myers: An Alternative History, and artist Barbara Jo Revelle recorded the audio for her ceramic tile mural herself. The audio is filled with interesting facts and little known anecdotes culled by the artist from disparate source materials during the intensive research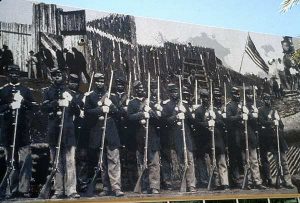 she conducted between 1997 and 1999. Revelle gained national notoriety in 1991 when she completed a photo-based, computer-generated tile mural on the Denver Convention Center that is two city blocks long. Titled A People's History of Colorado, it is still one of the largest outdoor public art murals in the world. Between 1991 and 1997, Ms. Revelle went on to render murals on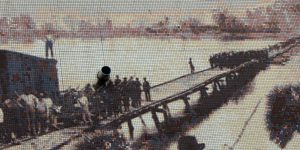 the new public library in Lafayette, Colorado, the clock tower that is part of the Safety and Justice Building in Longmont, Colorado, and a documentary photo-mural for the Hancock Center, IBM Building and Uptown Hull House Gallery in Chicago that was sponsored by the Chicago Council of Fine Arts.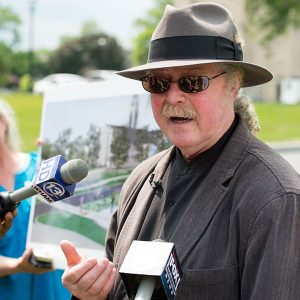 Sitting in the entrance to the Riviera-St. Tropez Condominiums is a modernist sculpture known as Naiad, and its maker is renowned monumental metal sculptor Albert Paley from Rochester, New York. Like Revelle, Paley himself recorded the audio that describes Naiad. Paley is a phenom in the world of public art, so having an example of his work in downtown Fort Myers is quite a coup. Over the past four decades, he has created monumental site-specific metal assemblages that place him not only in the forefront of contemporary sculpture,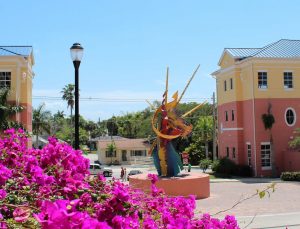 but in the vanguard of artists working in the cutting-edge genre-defying field of "Archisculpture." In fact, the American Institute of Architects took note of Paley's work in the Archisculpture several years ago, naming him the first metal sculptor to ever receive its coveted Institute Honors Award, the highest award conferred by AIA on a non-architect.
More recordings are in the offing, so check back periodically for updates as the City's Public Art Committee expands Otocast in the days, weeks and months ahead.
_______________________________________________________________________
Many FGCU public artworks and their artists profiled on Art Southwest Florida (09-17-19)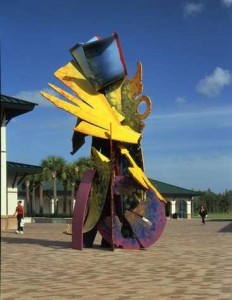 The FGCU public art collections contains over 100 monumental works and collections. In an ongoing effort, Art Southwest Florida has profiled many of them in order to provide students, faculty and surrounding residents, vacationers and visiting parents with detailed information about these works and the artists who rendered them. These profiles include:
There are still more to come, so visit the dropdown under Public Art/FGCU often.
______________________________________________
'Your Choice 2019' exhibit closes September 19 (09-16-19)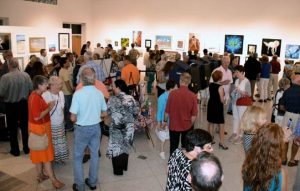 Your Choice is the Naples Art Association's annual non-juried exhibition. It provides an unparalleled opportunity for Naples Art Association contributors to present their artwork to a large audience with no jury process requirement. The exhibition is called "Your Choice" because artists and viewers make the choices. Artists decide which artwork they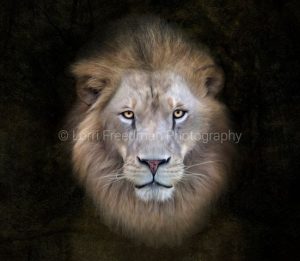 will exhibit while viewers attending the reception decided who receives awards. But if you haven't taken in the show, you better hurry. It closes September 25.
Located at 585 Park Street, Naples, the Naples Art Association is open from 10:00 a.m. to 4:00 p.m. Monday through Saturday.
__________________________________________________________________________
Shake off traditional 'look-but-don't-touch' gallery experience with 'Touchable Art' (09-18-18)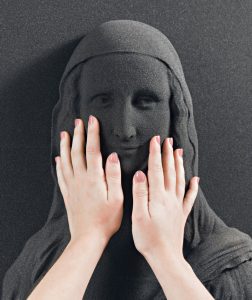 Exhibiting October 4 through 30 in the Frederick O. Watson Gallery on the ground floor of the Naples Art Association is Touchable Art: A Multi-Experiential Exhibition, an exhibition of artwork by sighted, visually-impaired and blind artists. As the title implies, visitors will be invited to shake off the traditional gallery experience and use their sense of touch to explore the exhibit.
"Art is generally considered to be a visual experience," notes NAA in the prospectus for the show. "But our appreciation of art does not need to come purely from sight. Touching is a basic instinct and a way to experience objects, gather information and build awareness."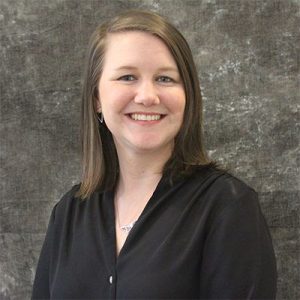 This is a juried exhibition, with Lauren Huff serving as juror. Huff is the Programs Coordinator and Gallery Manager at BIG ARTS. She has overseen the BIG ARTS galleries and select programs for the past six years.
Huff started her career while still in college as a gallery docent at the Savannah College of Art and Design galleries, Gutstein Gallery and Pei Ling Chan Gallery. After graduation, she returned to Southwest Florida, working for various local artists. She interned for Marcus Jansen at Unit A Contemporary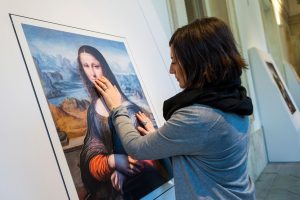 Art Space in 2011. She then worked as gallery assistant to Veron Ennis and VEMA from 2012 to 2015. In 2013, she began interning at BIG ARTS and has been a part of the BIG ARTS family ever since. Besides creating art of her own, Lauren does freelance work for artists in data and inventory management, as well as photographing artwork.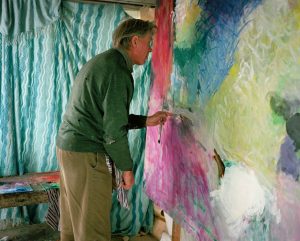 Huff studied at the Savannah College of Art and Design (SCAD), where she received a Bachelor of Fine Arts degree in Art History, with minors in Photography and Printmaking. She is part of the Young Professionals of Sanibel-Captiva and frequently attends openings and art events throughout Southwest Florida.
Receiving is from 10:00 a.m. to 2:00 p.m. on September 26 and 27. For more information, please telephone 239-262-6517 or visit http://www.NaplesArt.org. There is an opening reception from 5:30-7:30 p.m. on October 3.
___________________________________________________
NAA bringing 'Scene to be Seen" back on November 1 (09-16-19)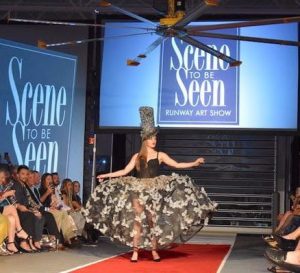 In 2017, Naples Art Association introduced Scene to be Seen: A Runway Art Show. The popular event returns on Friday, November 1 at the prestigious Flexjet private terminal hangar. Artwear in all media and styles including garments, ensembles, hats and handbags for both men and women will be featured.
"This extraordinary event elevates haute couture to spectacular works of art in a classic luxury runway fashion format," touts NAA, "all while fundraising for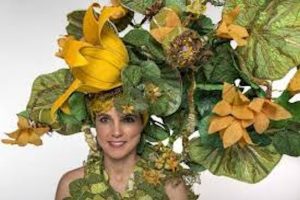 significant children's programs offered exclusively by the Naples Art Association."
The welcome reception with appetizing hors d'oeuvres, cocktails and music begins at 6:30 and will be followed by the extraordinary fashion show and auction. After the show, stay for a fabulous after-party with music and a full cash bar.
__________________________________________________________________
NAA accepting applications for 53rd Founders Juried Awards Exhibition (09-16-19)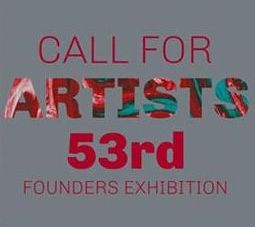 The 53rd Founders Juried Awards Exhibition will be installed in the Naples Art Association's ground floor galleries from December 6, 2019 through January 9, 2020. The exhibition is open to 2-dimensional and 3-dimensional artwork in any style or medium by artists residing in the United States. It will be judged by FGCU Gallery Director John Loscuito, American University Professor R.W. Lovejoy and Associate Professor and Lourdes University Art Department Chair Erin Palmer Szavuly. (See below.)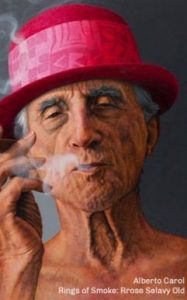 $3,500 in cash awards will be presented to artists during a reception the evening Thursday, December 5, broken down as follows:
$1,000 Best of Show
$800 First Place
$600 Second Place
$400 Juror's Choice Award
$200 Award of Merit (2 awards)
$100 Honorable Mention (3 awards)
Use CaFÉ to enter the 53rd Founders Juried Awards Exhibition. Accounts are free, easy to set up and do not expire. After setting up an account, artists may enter national competitions hosted by the Naples Art Association (Founders Juried Awards exhibitions, National Art Encounter exhibitions and the annual Camera USA® photography competition) as well as competitions hosted by other organizations around the country and the world.
_______________________________________________________
Spotlight on 53rd Founders Exhibition juror John Loscuito (09-16-19)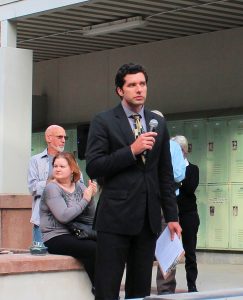 John Loscuito will be one of three jurors to judge the Naples Art Association's 53rd Founders Juried Awards Exhibition. Loscuito is the Florida Gulf Coast University Art Gallery Director, overseeing both the Wasmer Art Gallery in the Arts Complex and the ArtLab in the Library. He also teaches Professional Practices, preparing students for a career after graduation.
Loscuito earned a Master of Fine Arts degree in Painting and Drawing from the University of Wisconsin-Milwaukee and a Master of Business Administration from Marquette University in Milwaukee. During his six years at FGCU he has curated over eighteen
exhibitions featuring nationally recognized artists that explore a broad range of themes and materials.
Prior to coming to FGCU he taught a variety of studio courses at the University of Wisconsin-Milwaukee and the Milwaukee Institute of Art and Design. He was the Registrar at the Haggerty Museum of Art for seven years as well as an independent curator and producer of art events. He currently serves as an Executive Committee Member on the United Arts Council of Collier County's Board of Directors.
___________________________________________________________
Spotlight on NAA 53rd Founders Exhibition juror R.W. Lovejoy (09-16-19)

American University Professor R.W. Lovejoy will be one of three jurors to judge the Naples Art Association's 53rd Founders Juried Awards Exhibition. At American University, Professor Lovejoy teaches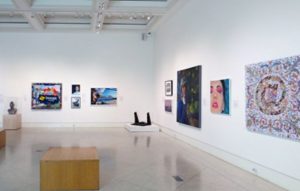 courses on graphic design history. He has a Master of Arts degree in art history from the University of South Florida and a PhD in History from the University of Manchester, Manchester, UK. He is a founding member of the History of Illustration project and a contributing author to the first textbook on the History of Illustration (2018), for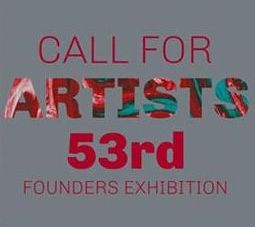 which he wrote chapters on European eighteenth- and nineteenth-century print culture, the prints of José Guadalupe Posada, pulp magazine illustration, the art of alternative periodicals and newspapers, rock posters and underground comix. Dr. Lovejoy has also taught the history of illustration, sequential art, and the history of political art and persuasive imagery for Ringling College of Art and Design in Sarasota, Florida.
_________________________________________________________________
Spotlight on NAA 53rd Founders Exhibition juror Erin Palmer Szavuly (09-16-19)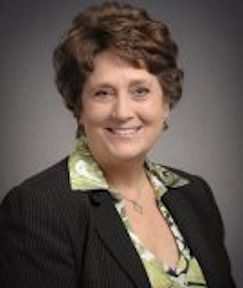 Erin Palmer Szavuly will be one of three jurors to judge the Naples Art Association's 53rd Founders Juried Awards Exhibition. Szavuly is Associate Professor and Chair of the Art Department at Lourdes University in Sylvania, Ohio. She studied at Bowling Green State University and received a Master of Fine Arts degree in Drawing and a Bachelor of Fine Arts degree in Painting and Drawing. She has been on the faculty at Lourdes University since 1990.
In addition to teaching painting and drawing, she coordinates the annual Sr. Jane Mary Sorosiak Lecture Series, involving presentations on topics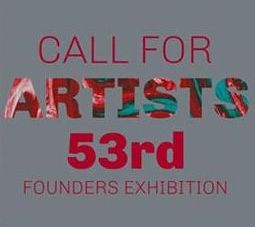 in the arts. "The Sights and Sounds of Judaism" with composer Dr. Samuel Adler and art historian Ruthy Behare Light was the 2019 series topic. Past presentations have included "Censorship in the Arts" with Dr. Brian Kennedy, "Cover Stories" with Thomas Allen, "Digital Photography in the Commercial Market" with Eric Eggly, "Painter and Muralist: Hubert Massey" and "Portrait of an Artist" with Leslie Adams, and "Celebration of Food, Ceramic Objects and Thoughtful Dialog" with Jeni Hansen Gard.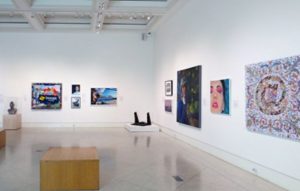 Erin Palmer Szavuly is on the community boards of the Toledo Area Cultural Leaders and The Toledo Federation of Art Societies (past President). She is a past President of the Medici Circle Advisory Council at Bowling Green State University and is a member of the Athena Art Society, the Toledo areas oldest women's invitational art organization. She curates exhibitions at the Canticle Center Gallery at Lourdes University and has more than 15 year's gallery experience working with the former Spectrum Gallery at Toledo Botanical Gardens and the Lourdes Gallery Loft.
________________________________________________________________________________
Rookery Bay & Collier United Art Council issue call to artists for 'Natural Selections' show (09-16-19)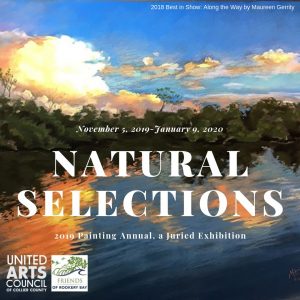 Friends of Rookery Bay (FORB) and the United Arts Council of Collier County (UAC) are seeking submissions for their annual painting exhibit at the Rookery Bay Environmental Learning Center in Naples, Florida. The title of this exhibit is Natural Selections: 2019 Painting Annual, so submissions should reflect and/or express the essence of Florida's flora and fauna.
This exhibit is open to both full-time and seasonal artists residing in Charlotte, Collier, Glades, Hendry and Lee counties. All work must be original;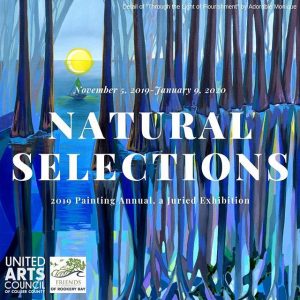 no giclées are permitted. Artists may submit up to two jpeg entries by 4:00 p.m. on Friday, October 4.
Cash awards will be given for the top three entries, as follows:
$750 for Best in Show,
$350 for Juror's Choice Award for Excellence, and
$150 for the United Arts Council Merit Award.
Winners will be chosen on the day of and announced at the opening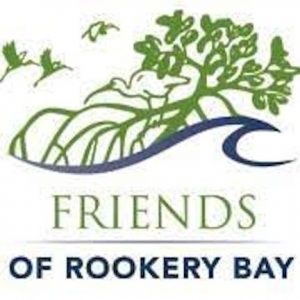 reception by Dr. Georgia Strange, who is an adjunct faculty member at Florida Gulf Coast University. She has previously served in administrative posts at University of Georgia, Indiana University and Centre College of Kentucky and on the faculty at The Ohio State University. She has also served on the Board of Directors of the College Art Association and the National Council of Arts Administrators.
Among Dr. Strange's numerous teaching and service awards are the James P. Holland Award for Exemplary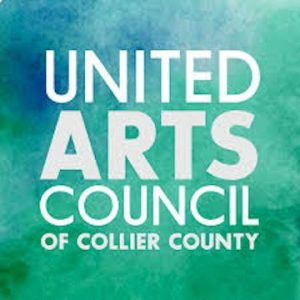 Teaching and Service to Students and the Herman Frederic Lieber Memorial Award in Recognition of Distinguished Teaching at Indiana University. At the University of Georgia Dr. Strange was a Senior Teaching Fellow and inducted into the University of Georgia's Teaching Academy. She was also awarded the Dodd Service Award from the Lamar Dodd School of Art. Dr. Strange was awarded an Indiana Arts Commission Masters Fellowship and several competitive research grants at research universities where she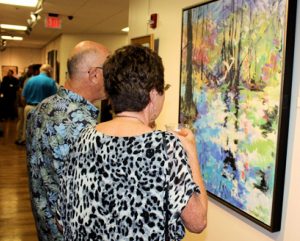 taught.
Service in the Peace Corps in Liberia, West Africa, work on an archaeological excavation in Greece, study in Italy, and research travel in China continue to be important influences in her creative practice. In addition to many venues across the country, her sculptural work has been exhibited at SOHO20 Gallery in New York since 1990.
Dr. Georgia Strange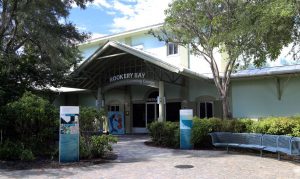 earned an Ed.D. from the University of Georgia's Institute of Higher Education. She also earned an A.B. in Biological Sciences, an M.S. in Secondary Science Education, and an M.F.A. in Fine Arts from Indiana University.
Rookery Bay is part of the National Estuarine Research Reserve located at 300 Tower Rd., Naples, FL 34113
_____________________________________________________
Alliance, Broadway Palm bringing Fringe to Fort Myers (09-15-19)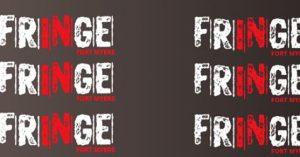 In partnership with the Broadway Palm Dinner Theatre, the Alliance for the Arts will present the first ever Fringe Fort Myers festival April 22 – 26, 2020. Festival tickets go on sale January 2020.
What's Fringe?
Fringe traces it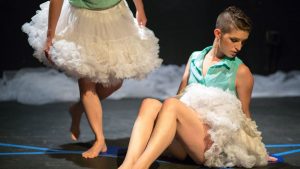 origins to Edinburgh, Scotland. At the 1947 Edinburgh International Festival, actors, musicians and the like who were not invited to participate in the festival performed at various alternative venues in and about Edinburgh. The following year, local journalist Robert Kemp wrote that "round the fringe of official Festival drama, there seems to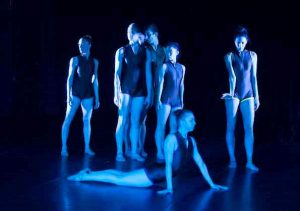 be more private enterprise than before…" The term caught on and thus fringe was born.
Fringe performing arts festivals can now be found all over the world. Dozens thrive in the United States. Among the most notable are the Tampa Fringe, Orlando International Fringe, Atlanta Fringe Festival, Capital Fringe, Minnesota Fringe Festival,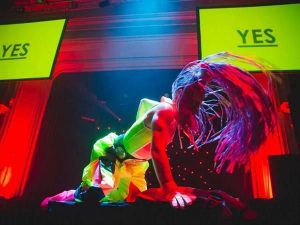 PortFringe, Hollywood Fringe and the San Diego Fringe Festival.
As the newest Fringe festival in the United States, Fringe Fort Myers will maintain long-standing Fringe traditions of being 100 percent uncensored, 100 percent unjuried and 100 percent inclusive. Even better, 100 percent of ticket sales go directly to the artists.
Fringe Fort Myers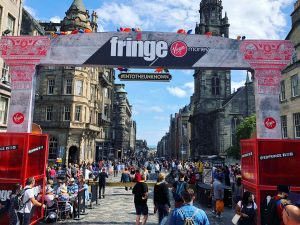 kicks off on April 22, 2020 with the fun and frenetic Teaser Show. The Teaser Show is a great opportunity for audiences to learn what the shows in the festival are about. Each performance group gets 2 minutes to sell their show to the audience. How they do it is up to them – as long as they don't go over 2 minutes.
Over the next four days, Fringe will play host to 48 performances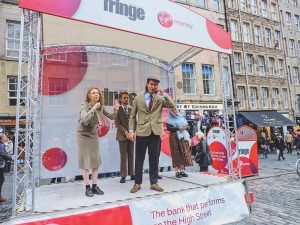 on 4 different stages at the Alliance for the Arts and Broadway Palm Dinner Theatre. After the final curtain, Fringe Fort Myers will host its first Fringe awards ceremony celebrating the artists that made Fringe an incredible experience.
Florida Rep Education will also offer Kids Fringe, which will operate a family-friendly festival within Fringe Fort Myers.
"Fringe offers an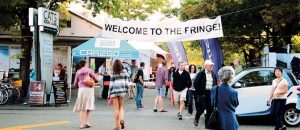 incredible diversity of high quality work with the goal of being as affordable and accessible as possible to all members of the community," says Bill Taylor, the Producing Artistic Director of Theatre Conspiracy at the Alliance. "This event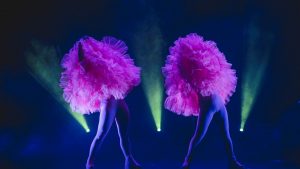 will enhance our area both culturally and economically."
Artist applications are now open at ArtInLee.org/Fringe. Applications must be submitted no later than Thursday, November 15, 2019 at 5 p.m. EST.

Sponsorship opportunities are available at ArtInLee.org/Fringe or by contacting Jessica Wisdom at Jessica@ArtInLee.org.
For more information, call 239-939-2787 or visit ArtInLee.org/Fringe.
__________________________________________________________________________
Playwright Rich Orloff to perform 'Beautiful Wound' at Alliance on September 23 (09-15-19)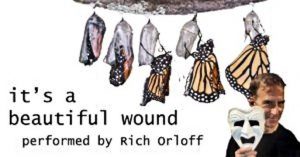 Rich Orloff will perform It's a Beautiful Wound at the Alliance for the Arts at 7:30 p.m. on September 23. The play is the true story of Rich's adventures in underground therapy using MDMA (a.k.a. Ecstasy) and psilocybin mushrooms. Based on cutting-edge experiments to help people heal from deep psychological wounds,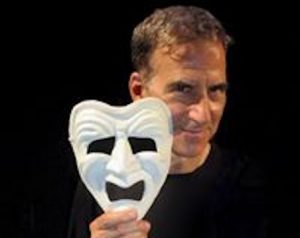 these sessions propel Rich beyond his ego and defenses into a journey that both challenges his perceptions and reveals possibilities he never before considered. Inspired by the autobiographical monologues of Spalding Gray, It's a Beautiful Wound takes the audience through the experience of psychedelic-assisted therapy in an honest, amusing, and deeply compelling way (in much the way that Dr. John C. Lilly took readers into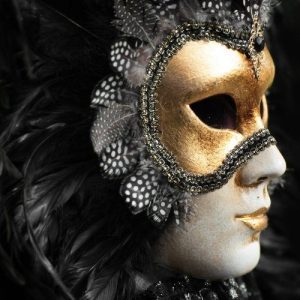 the inner life of a scientist exploring inner space through LSD and other methods of mystical experience in the 1960s counterculture classic Center of the Cyclone: An Autobiography of Inner Space).
Orloff is the author of 15 award-winning full-length comedies, three comic revues, dozens of short plays (61 of which have been published by Playscripts, Inc. in eight collections), and the documentary-style play Vietnam 101: The War on Campus, which has had over 40 productions at theaters
and schools around the country. His two-person comedy Romantic Fools has had 100 productions around the world and has had two productions in Madrid (where apparently they're no better at romance than we are). His comedy Funny as a Crutch was a New York Times Critic's Pick, a Backstage Critic's Pick, and nytheatre.com's Pick of the Week.
Rich's full-length plays also include The Naked Truth ("a rare gem of a comedy" – Show Business Weekly), Big Boys ("rip-roaringly funny" – The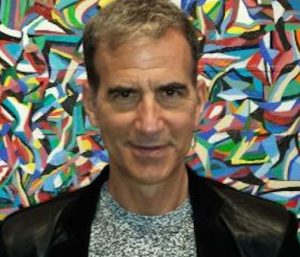 New York Times), Someone's Knocking (Back Stage West Critic's Pick) and several others. They've been presented at such theaters as Arizona Theatre Company, Arkansas Repertory Theatre, Dayton Playhouse, Florida Studio Theatre, New Jersey Rep, Phoenix Theatre Company, West Coast Ensemble, and three times at the Key West Theatre Festival. His plays have won such awards and contests as the Festival of Emerging American Theatre, the Playwrights First Award, the InterPlay International Play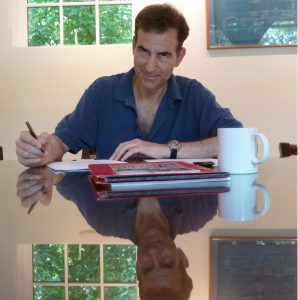 Festival, the Theatre Conspiracy New Play Contest, the Pickering Award for Playwriting Excellence and the Abeles Foundation Playwrights Award.
Rich's short plays have received over 1800 productions on six of the seven continents (and a staged reading in Antarctica) and are particularly popular in schools and community theaters. His short comedies have been published seven times in the annual Best American Short Plays anthology series, three times in the annual Best Ten-Minute Plays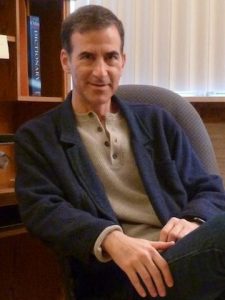 series, and in The Art of the One-Act Play, Take Ten II, The Bedford Introduction to Literature and An Anthology of American Short Plays (published in China).
Orloff is a popular guest on college campuses, where he has given lectures and workshops on playwriting at New York University, Ohio State University, Oberlin College, Central Washington University, Western Michigan University, and other schools throughout America. He lives in New York City but loves getting out of town.
For more about Rich Orloff and his plays, visit www.richorloff.com.
It's a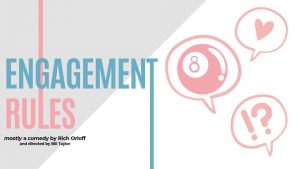 Beautiful Wound is the tale of one person's journey towards reconciliation with the soul… with a slight detour for an appendectomy. And, of course, his comedy Engagement Rules was the Theatre Conspiracy at the Alliance New Play Contest Winner and will be performed in the Foulds Theatre beginning September 20.
_____________________________________________________________
New Play Contest Winner 'Engagement Rules' is comedy with bite (09-15-19)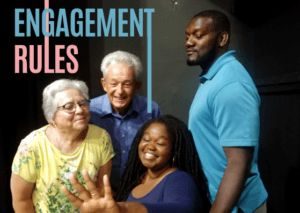 Theatre Conspiracy at the Alliance for the Arts is bringing Engagement Rules to the stage. A comedy with bite, Engagement Rules follows the intertwined lives of two couples who advise and support each other on challenges of love, sex and the soul. The younger couple (early 30s) is recently engaged, and the older (in their 70s) has been married over fifty years.
Go here for the rest of this advance.
_____________________________________________________
Spotlight on 'Engagement Rules' actor Cantrella Canady (09-15-19)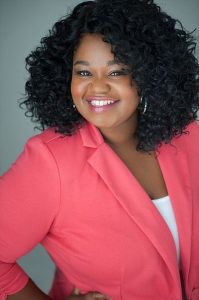 Cantrella Canady plays Donna in Engagement Rules, the Theatre Conspiracy New Play Contest winner by Rich Orloff that opens at the Alliance for the Arts on September 20. The play is billed as a comedy with bite, and comedies, of course, are Cantrella's jam – although it's been awhile since this talented actor has laughed and giggled this much during rehearsals. Cantrella has been in an incredible number of shows all over Southwest Florida, but Engagement Rules represents the first time she's worked with Theatre Con Producing Artistic Director Bill Taylor. For more on the girl who just likes to act, go here.
____________________________________________________
Spotlight on 'Engagement Rules' actor Lemec Bernard (09-15-19)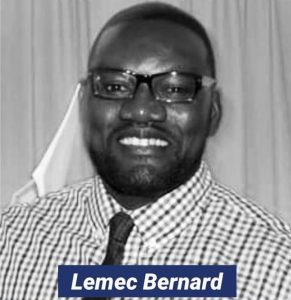 Lemec Bernard is an imposing figure. He made his presence known in Theatre Conspiracy's production of August Wilson's Joe Turner's Come and Gone. So much so that folks in the audience were astonished to learn that the show represented Bernard's world theater debut. "Tall and physically imposing, Bernard's Loomis doesn't just loom over the other actors on stage," this reviewer wrote. "His 'wild-eyed, mean-looking' persona serves as catalyst for much of the action in this play and he's the perfect antithesis to the otherworldly Bynum …."
Bernard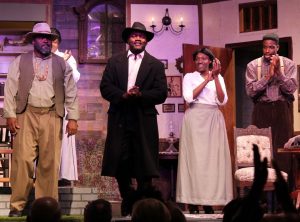 returns to the Foulds Theatre boards in the role of Tom in Theatre Conspiracy at the Alliance's upcoming production of New Play Contest winner Engagement Rules, which opens September 20. Ironically, Lemec was Cantrella Canady's on-stage husband in Joe Turner. This time his character is engaged to Ms. Trella's. It should be intriguing to witness Bernard's growth and development as an actor – this time under the tutelage and direction of Producing Artistic Director Bill Taylor.
_________________________________________________
Spotlight on 'Engagement Rules' actor Jim Yarnes (09-15-19)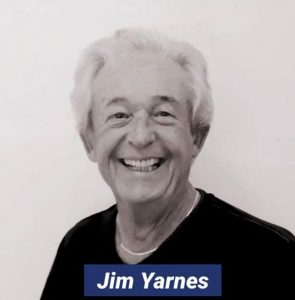 Jim Yarnes was last seen on the Foulds Theatre boards in August Wilson's Joe Turner's Come and Gone. He'll be returning to the Alliance for the Arts in the role of Phil in New Play Contest winner Engagement Rules, which opens September 20 for eight performances. Like Johnny Depp in the genre of film, local actor Jim Yarnes is building a reputation for playing off-kilter and larger-than-life characters. Among his acting credits are the world's second greatest classical composer, Ludwig van Beethoven, in Moises Kaufman's 33 Variations and Pinchwife (an abusively possessive husband who locks his young bride in a room rather than risk her seduction by a London rascal) in The Country Wife.
Go here for the rest of Jim's credits.
_____________________________________________________
Spotlight on 'Engagement Rules' actor Carolyn England (09-15-19)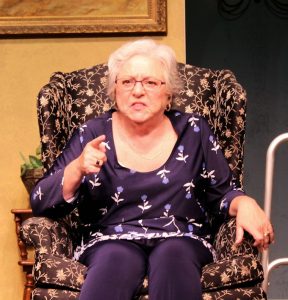 In Engagement Rules (opening September 20 at Theatre Conspiracy at the Alliance for the Arts), Carolyn England plays Rose, a woman who's been married to a guy named Phil (Jim Yarnes) for over half a century. Theater Conspiracy audiences wlll remember England from Murderers, a comedy in which she portrayed Lucy Stickler, the long-suffering wife of a septuagenarian with a roving eye. But that play was no laughing matter for Carolyn, who was injured in a car wreck prior to opening night. But ever the gamer, Carolyn soldiered on with a walker in order to play her part!
In addition to Murderers, Carolyn's recent credits include Ivan Menchell's The Cemetery Club and Jack Neary's The Porch, both for Cape Coral Cultural Park.
_______________________________________________
'Once' at Broadway Palm through September 28 (09-15-19)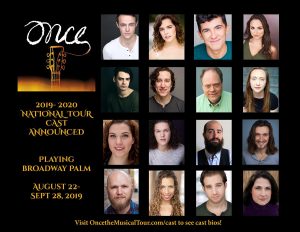 Once is now on stage at Broadway Palm Dinner Theatre. Winner of eight 2012 Tony Awards (including Best Musical) and winner of the 2013 Grammy Award for Best Musical Theater Album, the musical broke new ground on Broadway.
Once is based on the 2007 Academy Award-winning film of the same name which was written and directed by John Carney and starred Glen Hansard and Markéta Irglová, with original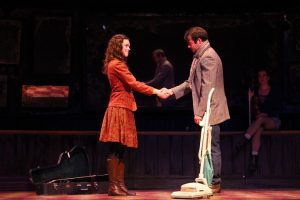 music and lyrics by Mr. Hansard and Ms. Irglová. Featuring an impressive ensemble of actor/musicians who play their own instruments onstage, Once tells the enchanting tale of a Dublin street musician who's about to give up on his dream when a beautiful young Czech immigrant takes a sudden interest in his haunting love songs. As the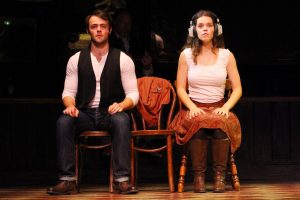 chemistry between them grows, his music soars to powerful new heights – but their unlikely connection turns out to be deeper and more complex than your everyday romance. Emotionally captivating and theatrically breathtaking, Once draws you in from the very first note. It is an unforgettable story about going for your dreams… not living in fear… and the power of music to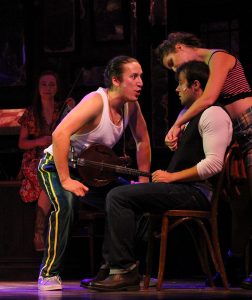 connect all of us.
Michael Zygo, who performed in the Broadway production as the Emcee, will be recreating the original staging and movement by John Tiffany and Steven Hoggett, respectively. As an original Broadway and Off-Broadway cast member, he feels a special attachment to the incredible work realized by the original cast and creative team. Mr. Zygo's recent credits include Director of Once at Pittsburgh CLO, Music Director / Associate Choreographer of Once at The Fulton Theatre / Virginia Repertory Theatre. He was also featured on the Grammy Award winning cast album of Once. Other acting credits include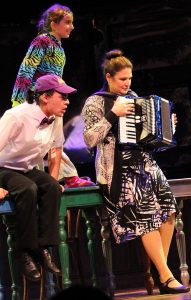 Broadway: School Of Rock; Off-Broadway: Once (NYTW); Tours: Rock Of Ages – first National, The Wedding Singer, Bridges of Madison County – first National, Annie – 30th Anniversary tour, and Oklahoma! – first National.
The cast is led by Jack Gerhard as Guy and Mariah Lotz as Girl. Jack is a recent graduate of Rider University with a BFA in Musical Theatre. Previous regional credits include Jesus in Jesus Christ Superstar at the Tibbits Opera House in Coldwater, Michigan.
Mariah is also a graduate of Rider University and has premiered numerous new shows in New York and was part of the Rising Star program at Fifth Avenue Theatre.
The ensemble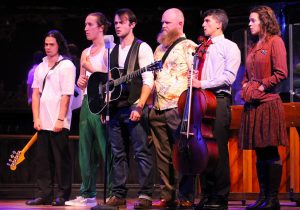 includes Todd Aulwurm (Bank Manager/Cello/Guitar), Carrie Lyn Brandon (Swing), Carlos Castillo (Andrej/Guitar/Bass Guitar/Ukulele), Trevor Craft (Svec/Mandolin/Guitar/Drums/Banjo), Richard Daniel (Da/Mandolin), Elleon Dobias (Ex Girlfriend/ Violin), Emily Gregonis (Reza/Violin), Caleb Hartsfield (Emcee/Guitar), Jody Alan Lee (Swing), Sam Saint Ours (Swing),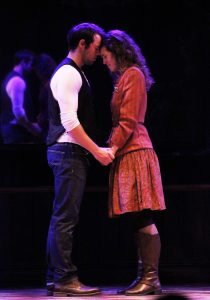 Jon Patrick Penick (Billy/Guitar), Marta Rymer (Swing), Matthew Staley (Eamon/Guitar/Piano/Cajon) and Tracy Thomas (Baruska/Accordian).
The production features scenic and costume design by Tony Award winner Bob Crowley (Aida, An American in Paris, Carousel, Mary Poppins) with additional designs by Southwest Florida BroadwayWorld winner Evan Adamson (Mamma Mia), lighting design by Russell A. Thompson (international tour of The Wizard of Oz, US tours Million Dollar Quartet, Fiddler on the Roof) and sound design by David Temby (Clearwing Productions/national tour of Memphis). The production also includes a pre-show onstage bar atmosphere where
performers play a variety of traditional Irish and Czech tunes each night. The bar will be open prior to the performance and at intermission and theatregoers are able to go onstage and purchase beer and wine.
Once plays at Broadway Palm now through September 28, 2019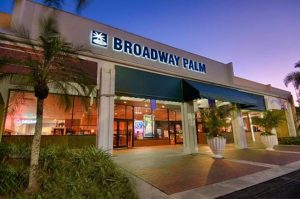 (and then begins the traveling portion of the tour at the Barbara B. Mann Performing Arts Center in Fort Myers). Performances are Wednesday through Sunday evenings with selected matinees. Tickets are $48 to $73 with group prices available. There is a special and tickets for anyone 25 and under are just $25 for the meal and the show! Tickets are now on sale and can be reserved by calling (239) 278-4422, visiting BroadwayPalm.com or in person at 1380 Colonial Boulevard in Fort Myers.
For more tour and cast information, please visit www.OncetheMusicalTour.com.
____________________________________________________________
'Dames at Sea' opens September 19 in Off Broadway Palm theater (09-15-19)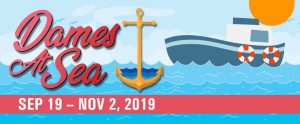 Dames at Sea opens September 19 in the Off Broadway Palm. This is the campy long-running Off Broadway production that brought stardom to Bernadette Peters. Fueled by the nostalgia of 1930s Hollywood musicals, Dames at Sea is a tap dance-filled musical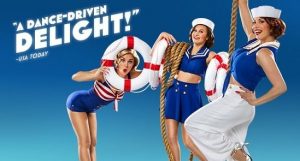 parody of the golden era of Hollywood musicals that The New York Times called "A Winner! A gem of a musical!" and NBC New York says "[is] delightful, and doesn't take itself seriously for a minute…"
Ruby heads to New York to become the next Broadway star,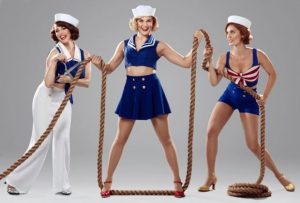 but after landing a job in the chorus, her dreams are almost shattered when the theatre is set for demolition. With the help of two sailors, the show is moved to their ship and when the leading lady becomes sick, Ruby has the chance to jump in and save the day! Hear Broadway Baby, Choo-Choo Honeymoon, Dames at Sea and more!
Dames at Sea runs September 19 through November 2. Go here for ticket information and performance dates and times.
_______________________________________________
Future 'Funny Shorts Live' and related auditions (09-15-19)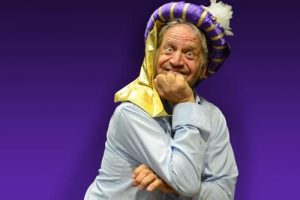 The Center for Performing Arts Bonita Springs will be conducting more Funny Shorts Live at 7:30 p.m. on Friday, December 13 in the Moe Auditorium & Film Center. Auditions for this show will be held at 6:00 p.m. on Wednesday, November 6 and 1:00 p.m. on Saturday, November 9. Auditions will be cold readings from scripts as assigned at the audition. Although walk-ins are always welcome, you can request a preferred date and time in advance via email at theaterfilm@artsbonita.org.
_______________________________________________________________________
'Cause and Affection' to incorporate video component into live action on stage (09-15-19)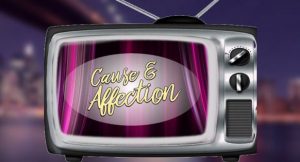 The Center for the Performing Arts Bonita Springs will be performing the world premiere of Cause and Affection, an original multi-media comedic play.
Cause and Affection follows an aging soap star by the name of Preston whose evening plans are ruined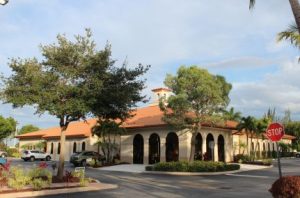 when his elderly neighbor gets locked out of her apartment and his best friend, Barry, shows up needing marital advice. While trying to help them solve their problems, a bombshell drops, leaving Preston with a problem of his own to solve.
One of the distinguishing aspects of this production is the incorporation of three videos into the action taking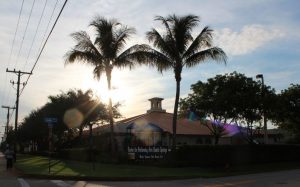 place on stage. As you may suspect, the videos are episodes or outtakes from the soap opera, in which Preston stars as a handsome politician. Although CFABS cast actors especially for the soap opera videos, only the actor playing the part of Preston appears both on stage and in the soap opera videos!
Performances are at 7:00 p.m. Thursday – Saturday, October 24 – 26, 2019 and at 2:00 p.m. on Saturday & Sunday, October 26 & 27 in the Center for Performing Arts – Moe Auditorium & Film Center, 10150 Bonita Beach Rd, Bonita Springs FL 34135. For more information or tickets, please call 239-495-8989 or visit www.artcenterbonita.org.
__________________________________________________________________________________
Center for Performing Arts presenting staged readings of 'Good Jews" and 'Book Club Thief' (09-15-19)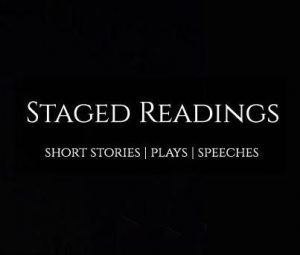 The Center for Performing Arts Bonita is presenting staged readings of Good Jew and The Book Club Thief at 7:30 p.m. on Friday, November 8. Watch the transformative power of acting as directors and actors introduce us to works that illuminate the Center's mainstage work or introduces us to future programming possibilities. After readings, you're invited to meet the cast and discuss the play with director and actors. This lively and informative discussion brings new insight to the art of theater.
_____________________________________________________________________
Upcoming staged readings & auditions at Center for Performing Arts Bonita (09-15-19)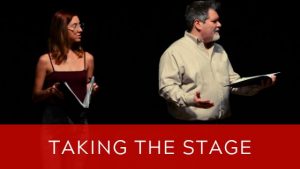 The Center for Performing Arts Bonita Springs will be conducting staged readings at 7:30 p.m. on Friday, November 8 in the Moe Auditorium & Film Center and at 7:30 p.m. on Friday, January 10, 2020. It will conduct auditions for the November staged readings at 6:00 p.m. on Wednesday, October 16 and at 1:00 p.m. on Saturday, October 19 and for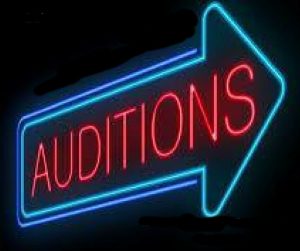 the January staged readings at 6:00 p.m. on Tuesday, December 17 and 1:00 p.m. on Wednesday, December 18. Auditions will be cold readings from scripts as assigned at the audition. Although walk-ins are always welcome, you can request a preferred date and time in advance via email at theaterfilm@artsbonita.org.
____________________________________________________________________
Cultural Park's creepy thriller 'Ghost in the Meadow' opens September 27 (09-15-19)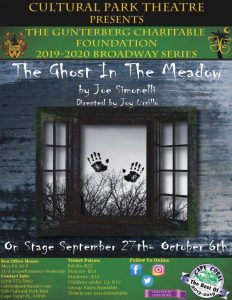 Do you like good old-fashioned ghost stories? Then you're in for a treat when The Ghost in the Meadow opens at Cultural Park Theatre in Cape Coral on September 27. Playwright Joe Simonelli wrote this atmospheric piece just for stage … with plenty of chills coupled with a liberal dose of tension breaking comic relief.
Sprinkled with humor, this creepy thriller follows two sisters who relocate from Manhattan to an old farm house in upstate New York. They quickly realize that they may not be alone in the house. An old boyfriend drops in to visit and when the strange occurrences continue, he calls on the services of a psychic colleague to try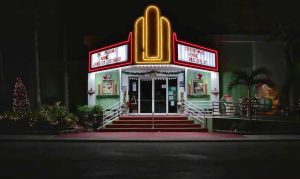 to quell the restless spirits.
Ghost in the Meadow runs September 27-October 6. Tickets are $22 for adults, $19 for seniors and $16 for students. To reserve your seats or for more information, please call 239-772-5862 or visit http://www.culturalparktheater.com.
___________________________________________________________
Spotlight on 'Ghost in the Meadow' actor Stacy Stauffer (09-15-19)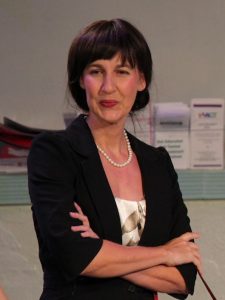 Stacy Stauffer will appear in the role of Sheila in Cultural Park Theatre's production of Joe Simonelli's The Ghost in the Meadow. Stauffer's credits include Lab Theater's world premiere production of Zalman Velvel's DMV (various roles, including the mayor), The Musical Comedy Murders of the 1940s, Sarah Ruhl's Stage Kiss, Laura Lorusso's Scrooge TV: A Modern Christmas Carol, Standing on Ceremony: The Gay Marriage Plays (Stacy was Hannah in "This Flight Tonight" and Cate in "A Traditional Wedding"), Rumors and the Vagina Monologues.
Go here to see the rest of Stacy's theatrical profile.
________________________________________________________
Spotlight on 'Ghost in the Meadow' playwright Joe Simonelli (09-15-19)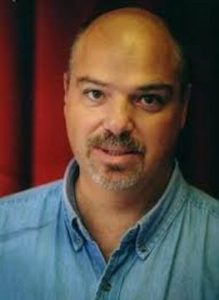 On September 27, The Ghost in the Meadow opens at Cultural Park Theatre. Written by Staten Island playwright Joe Simonelli, the story is based on a Civil War-era story tale that originated in Pennsylvania.
Joseph Simonelli is an American playwright. Although known for his popular comedies such as Men are Dogs and Old Ringers (which get performed regularly around the United States and Canada), Simonelli also writes across theatrical genres. He has written a popular musical about internet dating titled Romance.com and his ghost story thriller, The Ghost in the Meadow, has had many professional and amateur performances (most notably an extended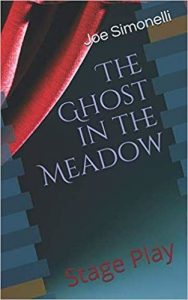 run at The State Theatre of Virginia, (The Barter), an old line LORT venue). Other works include Ladies in Lingerie, Heaven Help Me, A Rainbow Holiday, The Haunting of Billop House, Sicilians in the Basement, A Christmas Tail, Stocks and Blonds, Injustice for All, Out at Third, Rommates, Wretched Asylum, Where There's a Will, With this Ring and Wake Me at Midnight.
Simonelli grew up in the Bay Ridge section of Brooklyn, New York, where his father, Phillip, was a local orchestra leader. Joe was exposed to Broadway at an early age as his parents encouraged him and his four siblings to attend the theater. From the age of seven he saw such stars as Danny Kaye in Two by Two and Katharine Hepburn in Coco.
Simonelli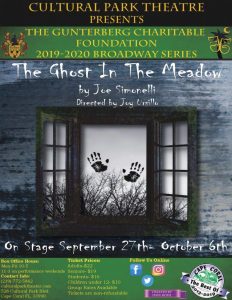 appeared on stage as early as the second grade, beginning with elementary school productions at St. Patrick's Grammar School. In his senior year at Xaverian High School in Brooklyn, he was featured as one of the jets in West Side Story. But Joe didn't get serious about theater and writing until the age of forty when he tried out for a local community theater production in New Jersey. Shortly thereafter he started writing plays and submitting them in New York City and Los Angeles.
Simonelli is a full member of the Dramatist Guild of America and is represented by Brian Sherman and Ipex theatricals. His legal representative in Los Angeles is Gary DaSilva, who once commented that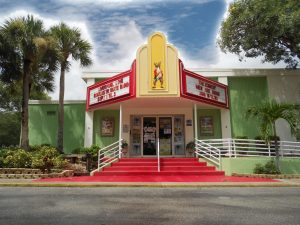 he finds Simonelli in good company with such notable playwrights as Neil Simon, Larry Gelbart and Mart Crowley, whom DiSilva also represents.
Joe has three children and currently resides in New York City, but is planning to relocate to the Southwest Florida. He is proud to be associated with Cultural Park Theatre in Cape Coral, which has presented many of his plays and looks forward to being the venue for his stage thriller The Ghost in the Meadow September 27 through October 6.
For more information about Joe, please visit http://joesimonelli.com/.
__________________________________________________________
'Always … Patsy Cline' opens in ArtStage Theatre September 27 (09-15-19)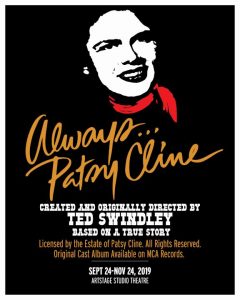 Always … Patsy Cline opens in the Florida Repertory Theatre ArtStage Studio Theatre with four nearly-sold-out discounted preview performances September 24 to 26, with the formal opening on September 27.
This heartfelt and compelling true story celebrates the most popular female country singer in recording history and is told through the eyes of her biggest fan and unlikely best friend, Louise Seger. Patsy Cline's legendary voice and rise to stardom took America by storm, and from her early performances in dusty Texas honky-tonks to sell-out concerts at the Grand Ole Opry, Patsy's music left an indelible mark on country music and American culture.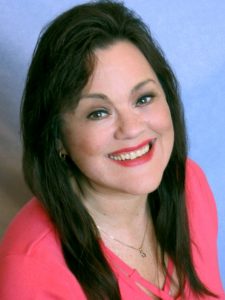 This musical tribute features all of her most beloved songs, including "Walkin' After Midnight," "I Fall to Pieces," the number one Jukebox hit of all time, "Crazy," and many more!
"What a delight to open our new season with a musical salute to one of the greatest female recording artists in American music history," said Florida Rep Artistic Director Greg Longenhagen. "This musical premiered Off-Broadway over 30 years ago, and it remains one of the most popular and most beloved – not only because it's packed with all of Patsy's greatest hits, but because it is filled with humor, hope, and is a love letter to the power of friendship.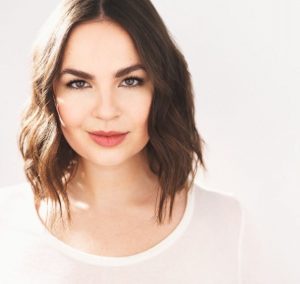 We've also assembled an all-star cast, including one of the original cast members, Becky Barta, who's performed both roles extensively across the country since its original New York run. You are in for a treat…if you can get a ticket."
Always … Patsy Cline stars Becky Barta (2nd photo) as Louise Seger and Bethany Gwen Perkins (3rd photo) as Patsy Cline. Both New York actors have a history with the musical. Perkins reprises her role after a recent appearance at The Depot Theatre in Ithaca,
New York, and Barta's appearance at Florida Rep marks her 30th production of the musical. Barta has played both Patsy and Louise in productions across the country since her appearance in the original Off-Broadway production.
Florida Rep Ensemble Member Maureen Heffernan (4th photo) directs the production after recently helming Florida Rep's The Miracle Worker, Sylvia and others. Heffernan is joined by Musical Director Alex Shields (Cabaret), Set Designer Tim Billman (Too Marvelous for Words), Costume Designer Kristina Tollefson (Florida Rep Debut), Lighting Designer Anne Carncross (Florida Rep debut), Sound Designer Katie Lowe (Million Dollar Quartet), and ensemble Stage Manager Amy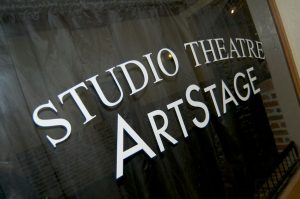 Massari (Native Gardens).
Created and originally directed by Ted Swindley, Always … Patsy Cline is generously sponsored by Sam Galloway Ford Lincoln, Kearns Restaurant Group, Alexandra Bremner, and Martin & Mary Ann McLaughlin.
Always … Patsy Cline is already breaking box office records in the ArtStage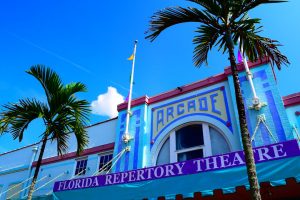 Studio Theatre, and the run is extended to November 24 due to overwhelming demand. Tickets start at $55 for regular performances and $35 for discounted previews. For this musical, onstage cafe table seating is available for $75, and includes two drinks per person and table service. Tickets are available online at www.FloridaRep.org and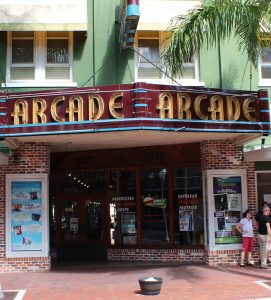 through the box office at 239-332-4488.
Subscriptions are also on sale now and offer the best seats at the biggest discount. Packages for 9, 8, 7, and 6 shows are now on sale and start as low as $174 for six plays. The popular Six-Show Arcade Theatre Rush Pass is now on sale for $175 and offers the best available seats in the Historic Arcade Theatre 90-minutes before any performance. Subscriptions are available through the box office at 239-332-4488 or toll-free at 877-787-8053.
Performances are Tuesday through Thursday at 7:00 p.m., Friday and Saturday at 8:00 p.m. and 2:00 p.m. matinees on Thursday, Saturday and Sunday.
____________________________________________________________________________
Florida Rep to donate $5 of every ticket sold to Red Cross for Dorian hurricane relief (09-15-19)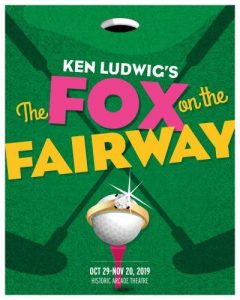 Florida Repertory Theatre will donate $5 from every Arcade Theatre ticket sold through September 18 to the Bahamas Red Cross to help in their relief efforts in the aftermath of Hurricane Dorian.
"As Floridians, we know firsthand the devastation these storms are capable of inflicting," said Artistic Director Greg Longenhagen. "Our hearts go out to all those impacted by the natural disaster, and we want to do our part to help."
The shows taking place in the Arcade Theatre this season include Ken Ludwig's The Fox on the Fairway, An Inspector Calls,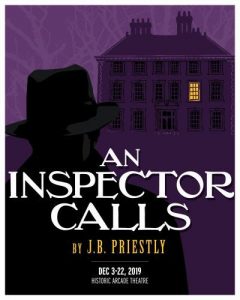 Barefoot in the Park, A Gentleman's Guide to Love and Murder, A Doll's House, Part 2, and Ripcord. Florida Rep encourages ticket buys who've not yet secured their tickets to do it while a portion of the proceeds will benefit those in need. Florida Rep encourages patrons who have already purchased all of their tickets for the 2019-2020 season to make a donation at www.bahamasredcross.org.
Tickets are available through the box office by calling 239-332-4488 or online at www.FLoridaRep.org. Box office hours are Monday through Saturday, 10:00 a.m. to 5:00 p.m.
_________________________________________________
Looking at rest of Ghostbird's 2019-2020 schedule (09-15-19)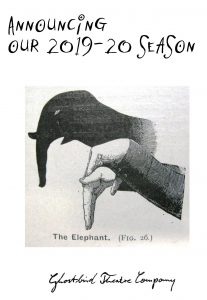 With 3 in the books, here's what's on tap for the rest of Ghostbird Theatre Company's 2019-2020 season:
October House to be performed October 31 and November 1, 2, 7, 8 and 9 at the historic Langford-Kingston Home;
Thistletoe Cabaret, a one-night performance scheduled for December 17 in the Sidney & Berne Davis Art Center;
the 24-Hour Festival on March 1 in the Sidney & Berne Davis Art Center; and
Ori by Barry Cavin in April of 2020 to be performed at the Calusa Nature Center Planetarium in Fort Myers.
For the rest of this advance, go here.
____________________________________________________________________
Lab making many improvements to #thisoldtheater in time for 11th season (09-15-19)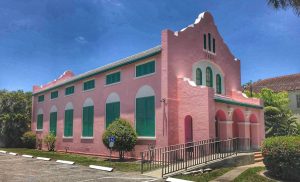 As it embarks on its 11th season, Lab Theater wants everyone to know there's more to the theater than the magic they routinely create on stage. Maintaining a nearly-100 year-old building is more involved than meets the eye.
The first project the Lab undertook on #thisoldtheater after replacing the leaky roof was updating the exterior paint.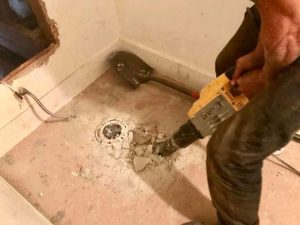 They chose Caribbean colors in keeping with the building's traditional Spanish architecture. The warm pink with deep green shutters and trim do justice to a building that has served the Gardner's Park neighborhood for a century.
Following its purchase of the building, Lab was delighted to discover a third bathroom hidden underneath the stairs.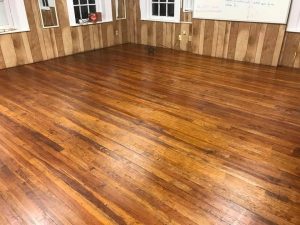 But it needed some work to bring it up to standard. That work led to replacing collapsed pipes beneath the building.
The upstairs rehearsal space has new life with refinished flooring and reclaimed spaces that are utilized not only by actors preparing for their performances, but by Lab's education department for overflow classes in playwriting and improv.
Lab's backstage rehearsal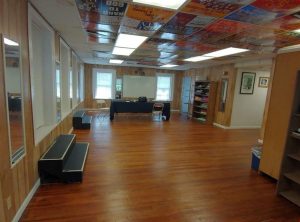 space also received an expansion – just in time for the crew of The Legend of Georgia McBride and all of the wigs, makeup, and fabulous costumes created by Kristen Wilson and Miss Tracy actor Clayton Brown.
The stage has also been refurbished and reinforced, and thanks to a generous grant from The City of Fort Myers, Lab has been able to add a patio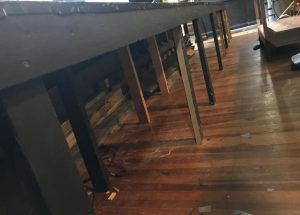 where it can hold outdoor performances and events. In fact, two special outdoor performances are planned for Season 11.
On top of all this work, Lab has redone the wiring, added a new and improved lighting and sound system, painted the interior and added comfy tiered theater seating.
If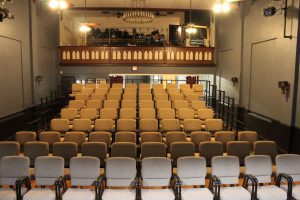 you haven't see #thisoldtheater lately, you owe it to yourself to catch a show. Lab celebrates its new season and 100th production with a real gem – The Crucible by Arthur Miller, which boasts a cast of 20 actors, a crew of six and four directors! The Crucible opens September 20.
__________________________________________________________
Lab Theater's landmark 100th production to be 'The Crucible' (09-15-19)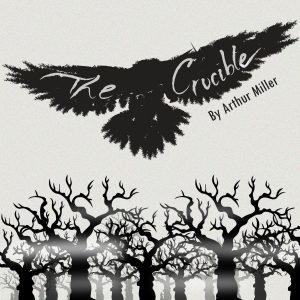 Arthur Miller's The Crucible will open the 11th season at The Laboratory Theater of Florida September 20. Not only is The Crucible the season opener, but it marks a milestone as the 100th production put on by the theater.
Things take a deadly turn when Reverend Parris finds a number of young women inappropriately dancing in the forest. To save themselves from punishment, they claim they've been bewitched by various townspeople. Once these girls, who have never had any voice or control, get a taste of the power that their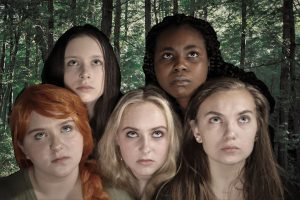 claims wield, is there anything they won't do to get everything they desire?
Arthur Miller's The Crucible is as relevant today as it was when it was first released in 1953, not long after the playwright had himself had been accused of un-American activities and communism by the McCarthy Commission.
Please go here for the balance of this advance.
And you'll find The Crucible's play dates, times and ticket info here.
_________________________________
Focus on Crucible's Steven Coe (09-15-19)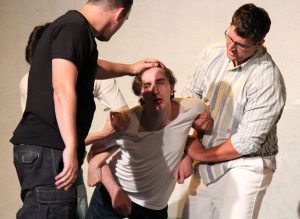 Fort Myers actor Steven Coe is so much in demand, that although he's starring opposite Madelaine Weymouth in The Studio Players' production of Venus in Fur, he will also appear in The Crucible, which opens September 20 at Laboratory Theater of Florida. Steven has a reputation for placing himself in challenging roles and situations that build confidence. Besides Venus in Fur, his evolving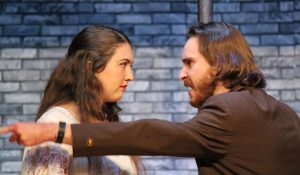 body of work includes starring roles as Andri in Andorra, The Boy in Veronica's Room, and Doug in Neil LaBute's The Way We Get By, as well as memorable supporting and ensemble appearances in Hush Up Sweet Charlotte, Whatever Happened to Baby Jane: A Parody of the Horror, Arthur Kopit's Wings, Rick Abbot's Play On!, The Last Night of Ballyhoo and The Musical Comedy Murders of 1940.
Go here to read Steven's full profile.
________________________________________
Focus on Crucible's Imani Lee Williams (09-15-19)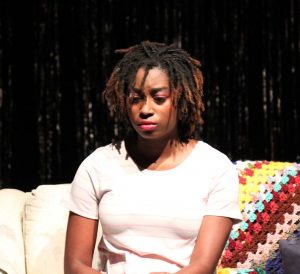 Included in the large and talented cast of Lab Theater's production of The Crucible (opening September 20) is Imani Lee Williams. Lab Theater audiences are still raving about her performance in the role of Jo in the Southwest Florida premiere of Matthew Lopez's The Legend of Georgia McBride. After participating in the Alliance for the Arts' inaugural CHANGE course, she also had the distinction of performing a monologue in George Wolfe's edgy The Color Museum. To read Imani's full profile, go here.
__________________________________
Focus on Crucible's Paul Graffy (09-15-19)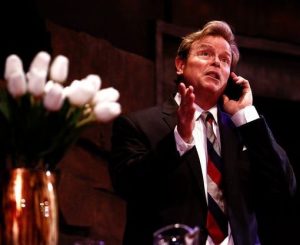 Paul Graffy is part of the large and talented cast of The Crucible, opening September 20 at the Laboratory Theater of Florida. Over the past 15 years, Paul has appeared in more than 25 productions and directed over a dozen others at such theaters as The Naples Players, Artis Naples, TheatreZone, The Studio Players, The Naples Dinner Theater and the Laboratory Theater of Florida. Among his acting credits are General Thomas F. Waverly in Irving Berlin's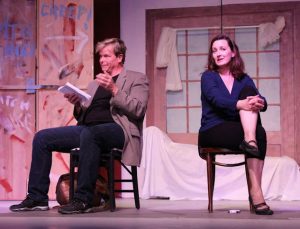 White Christmas (The Naples Players), Pale in Burn This! (for The Lab), Senator Joe Cantwell in The Best Man (also for Lab), Frank Sr. in Catch Me if You Can, Johnny Lowell in Stage Kiss, Alan in God of Carnage and George in Moon Over Buffalo, both at The Naples Players in 2014. In 2011, Florida Weekly recognized his stage talent with its Best Actor award. Go here for the rest of Paul's prodigious profile.
___________________________________
Focus on Crucible's TJ Albertson (09-15-19)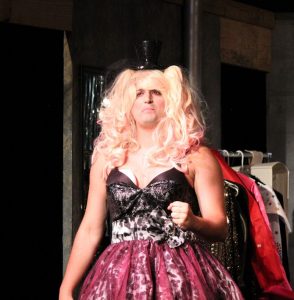 Included in the large and talented cast of Lab Theater's production of The Crucible (opening September 20) is TJ Albertson, fresh from his tour de force, raised fist in a sequined glove performance as Rexy Nervosa in The Legend of Georgia McBride. In addition to Georgia McBride, TJ has turned in outstanding performances in just the last year as The Soldier in Andorra, Tyler Johnes in And the Winner Is … and Timmy in Hand to God. For more on this Fairfax, Virginia transplant, go here.
__________________________________
Focus on Crucible's Todd Lyman (09-15-19)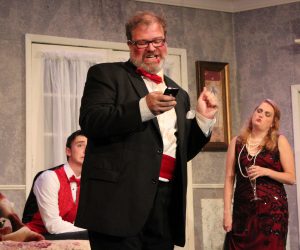 Included in the large and talented cast of Lab Theater's production of The Crucible (opening September 20) is Todd Lyman. Todd is a Fort Myers actor whose credits include multiple roles (Customers 3, 6 and 9) in Lab Theater's production of Zalman Velvel's farce D.M.V., Teddy in Mitch Albom's And the Winner Is …, theater critic Ira Drew in Terrence McNally's It's Only a Play (which marked Todd's Lab Theater debut), Bud Frump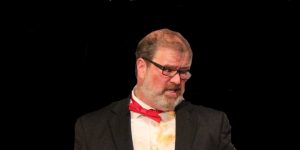 in How to Succeed in Business Without Really Trying, Enoch Snow in Carousel, Hysterium in A Funny Thing Happened on the Way to the Forum and Ivan in Anton Chekhov's The Marriage Proposal.
______________________________________
Focus on Crucible's Heather Johnson (09-15-19)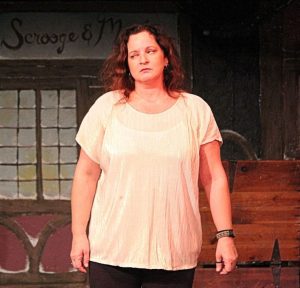 Included in the large and talented cast of Lab Theater's production of The Crucible (opening September 20) is Heather McLemore Johnson. Heather is a recent theatrical transplant from Starkville, Mississippi. After arriving in Southwest Florida, Heather made her Lab Theater debut as the dip-spittin' sheriff in Hush Up Sweet Charlotte, followed by multiple sidesplitting roles in Every Christmas Story Ever Told (and Then Some) and an aggrieved soccer mom (and the only adult cast member) in The Wolves. She also recently participated in Lab Theater's 24-Hour Playwriting Project, directing Candice Sanzari's Critics' Choice winner Thanksgiving is for Nutters.
________________________________
Focus on Crucible's Art Keen (09-15-19)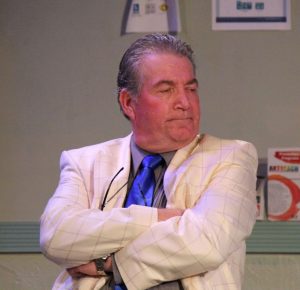 Included in the large and talented cast of Lab Theater's production of The Crucible (opening September 20) is Art Keen. Originally from Long Island, Art has come to the Southwest Florida theater community by way of retirement. A certified theater arts and social studies teacher with a B.S. in Theater Arts from SUNY Oneonta, Art's theater resume is wide and varied. His most recent work includes portraying Jimmy Rogers in Lab Theater's world premiere of Zalman Velvel's D.M.V. and playing Manolo Costazuela in Del Tura Repertory Company's production of The Odd Couple: Female Version. 
________________________________________
Focus on Crucible's Tamicka Armstrong (09-15-19)
Included in the large and talented cast of Lab Theater's production of The Crucible (opening September 20) is Tamicka Armstrong. Tamicka is a former "choir kid" and karaoke aficionado with a decade's worth of experience in ensemble and solo work. In 2017, she relocated to Southwest Florida from Wyoming and after taking improv classes at the Alliance for the Arts, she decided to take a chance and audition at Theatre Conspiracy, landing the role of Cindy in 2017 New Play Contest winner Repossessed. The Crucible marks her Lab Theater debut.
____________________________________
Focus on Crucible's Emmie Spiller (09-15-19)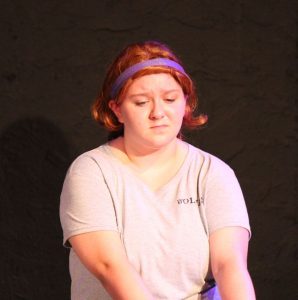 Returning to the boards at Lab Theater in The Crucible is Emmie Spiller. Emmie was last seen as the captain (#25) of the Wolves indoor soccer team in the summer intern production of Sarah DeLappe's The Wolves. She was previously seen as Cheryl in Lab's production of Evil Dead: The Musical last summer.
____________________________________
Focus on Crucible's Lauren Miller (09-15-19)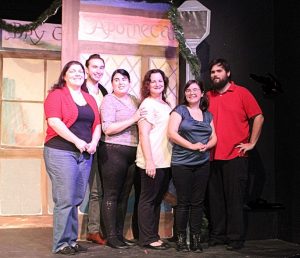 Included in the large and talented cast of Lab Theater's production of The Crucible (opening September 20) is Lauren Miller. Lab Theater audiences will remember Lauren as Kit Kat Girl Texas in Brenda Kensler's blockbuster production of Cabaret in 2015. She is a seasoned stage performer, with appearances as Mazeppa in Gypsy, Sister Mary Hubert in Nunsense, and Henrietta in All Shook Up. She also performed with The Naples Players in Les Miserables, Little Shop of Horrors, Smokey Joe's Café and Disney's Beauty and the Beast.
____________________________________
Focus on Crucible's Melanie Payne (09-15-19)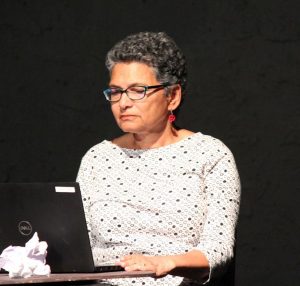 Included in the large and talented cast of Lab Theater's production of The Crucible (opening September 20) is Melanie Payne. Melanie only just made her Lab Theater stage acting debut in Lab's inaugural Festival of tens. But Lab Theater audiences are nonetheless familiar with Melanie's work. Lab has produced a number of staged readings of Payne's work, including Routine in 2018 and True Colors in 2016. Melanie is an investigative reporter with The News-Press/USA Today Network. In that capacity, she has exposed scams,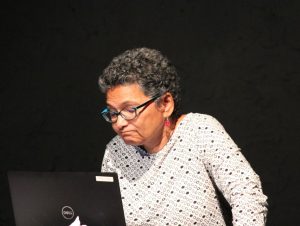 corruption and bad deals. For more than a decade, she wrote the consumer column, Tell Mel. She has published two nonfiction books and is a nationally-ranked Scrabble player. A native of Cleveland, Ohio, Melanie is a graduate of Wellesley College and has lived in Fort Myers since 2004.
__________________________________
Focus on Crucible's Mike Dinko (09-15-19)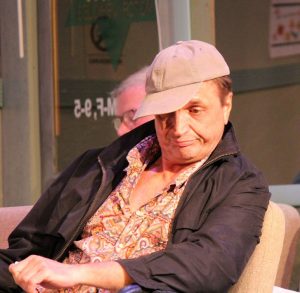 Included in the large and talented cast of Lab Theater's production of The Crucible (opening September 20) is Mike Dinko. Among his acting credits are Customers 1 and 8 in Lab Theater's production of Zalman Velvel's D.M.V., Boberg's Timer and Junk in the Trunk in Lab's inaugural Festival of Tens, The Odd Couple, Female Version (one of the Castilian brothers), Zalman Velvel's 55 and Over (landlord), Play On! (where he played a villainous actor in a very bad murder mystery), The Country Wife (Dorilant), The Best Man (where he played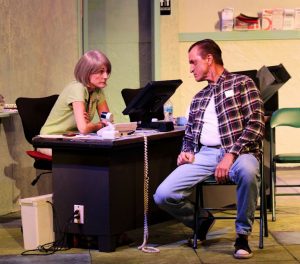 the role of an Army veteran who is brought to a political convention by one candidate to ruin the reputation of his adversary) and An Empty Plate in the Café du Grand Boeuf (the surly French waiter, Claude).
Go here for the rest of Mike's credits.
_________________________________________________________________
Richard O'Brien's 'Rocky Horror Show' coming to New Phoenix in October (09-15-19)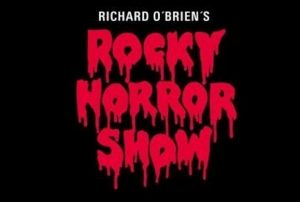 New Phoenix Theatre will perform Richard O'Brien's Rocky Horror Show live in October. If you have never experienced Rocky Horror, this is yours chance. If you have, you won't want to miss this opportunity to do the time warp again. Audience participation is encouraged, but not necessary, so feel free to dress up as your favorite character. Prizes will be awarded for the best costumes.
Performances are October 3, 4, 5, 10, 11, 12, 17, 18, 19, 24, 25, 26 and 31 at 8:00 p.m. and October 6, 13, 20 and 27 at 3:00 p.m.
_________________________________________________________________________
'Great Gatsby' opening at The Naples Players on October 2 with red carpet party (09-15-19)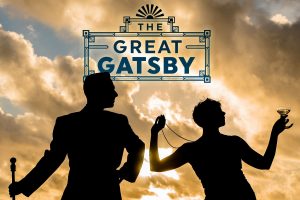 The Naples Players is bringing The Great Gatsby to the stage. The play is a contemporary adaptation by Simon Levy of F. Scott Fitzgerald's classic novel, and features much of his language along with the legendary decadence of the 1920s.
The story, of course, follows Jay Gatsby, a self-made millionaire who passionately pursues the elusive Daisy Buchanan.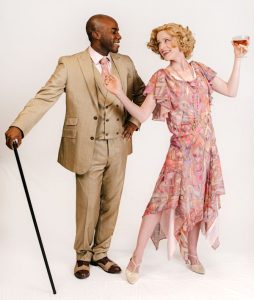 Nick Carraway, a young newcomer to Long Island and a distant cousin of Daisy, is drawn into their world of obsession, self-absorption, and greed. The dominant themes of love, desire, and obsession wash over Fitzgerald's characters rich with hope and dreams positioned within an Art Deco stage design that artfully sets the stage for their decadent world in the Jazz Era. From the moment the curtain goes up, you've stepped inside a time machine rewinding back to 1920s Long Island. Simon Levy has lovingly taken F. Scott Fitzgerald's classic American novel to the stage while remaining true to the original material.
Bryce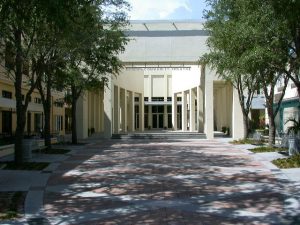 Alexander directs a cast that consists of Bo Popoola as Jay Gatsby, Sydney Mixon as Daisy Buchanan, Nathan Eichhorn as Nick Carraway, Paul LoPresti plays Tom Buchanan, Brooke Rosenbluth is Jordan Baker, Bernardo Santana is George Wilson, Victoria Diebler is Myrtle Wilson, Shelley Gothard plays Mrs. McKee, Robin Gray is Mrs. Michaelis, Joe Loiacono is Meyer Wolfsheim, Perry Ventro is Chester McKee, and Len Becker is
the Policeman.
The Great Gatsby ensemble includes Rebecca Borchardt, Lucas Bueno, Ariana Da Frota, Austin Estremera, Kenneth Hardcastle, Gianna Koprowski, Brad Kielty, Harvey Millar, Mary Mitchell, and Paula Shute.
Performances run Wednesdays – Sundays, October 2 through 27 in Blackburn Hall. A special Red Carpet Party will be held at 6:30 p.m. on Wednesday, October 2 on The Baker Stage before the 7:30 Opening Night performance with live music and complimentary refreshments. Tickets are $40 and are available to the public on Tuesday, September 3, 2019 at the Box Office or NaplesPlayers.org.
____________________________________________________________________
'Church & State' fast-paced dramedy about faith, politics and 'The Twitter' (09-15-19)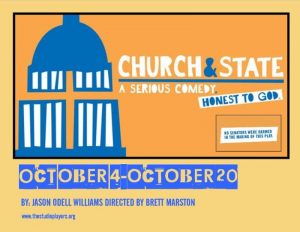 It is three days before Charles Whitmore's Senate re-election and he's decided to finally tell the public exactly what's on his mind, no filter. What could possibly go wrong? Church & State is a fast-paced dramedy about faith, politics and "The Twitter." Directed by Brett Marston, it will be performed by The Studio Players October 4-20.
Keith Gahagan plays Senator Charles Whitmore, with Suzanne Sole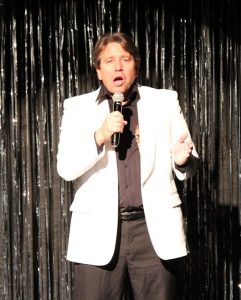 portraying his wife, Sara Whitmore. Sharon Isern is Alex Klein and Danny Cancio tackles multiple roles, playing Tom/Marshall/Security Guy/News Anchor.
Church & State playwright Jason Odell Williams is an Emmy-nominated writer and producer (Brain Games). He has also received an Ovation Award nomination.
Church & State is his latest play and was originally produced as a National New Play Network Rolling World Premiere at The Skylight Theatre in L.A. and JCC CenterStage in Rochester, NY.
Please go here for the remainder of this advance.
___________________________________
Spotlight on actor Keith Gahagan (09-15-19)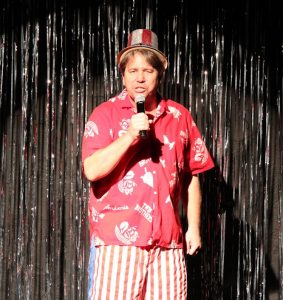 Keith Gahagan will play the role of Senator Charles Whitmore in The Studio Players' upcoming production of Jason Odell Williams' dramedy Church & State. Keith has performed in community theater productions in Marco Island, Bonita Springs and Fort Myers since 2007. Among his stage credits are Curt in Don't Talk to the Actors (The Studio Players) Eddie the bar owner in The Legend of Georgia McBride (Lab Theater, June 2019), Mitch in A Streetcar Named Desire (The Studio Players, January 2018), August Osage County, Things Being What They Are and A Clockwork Orange a decade ago. Most recently, Keith took part in Stage It Playwrights Festival in Bonita Springs, which followed his performance in  the Waverly Gallery at the Center for Performing Arts Bonita.
Go here for the rest of Keith's profile.
_______________________________________________
Spotlight on 'Church & State' actor Sharon Isern (09-15-19)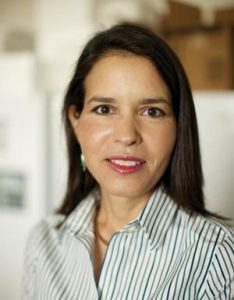 Sharon Isern will be playing the part of Alex Klein in The Studio Players' October production of Jason Odell Williams' dramedy Church & State. Sharon Isern is an actor, artist (steampunkphage.com) and recovering academic (@profpathogen) who spends her days teaching and doing virus research with undergraduate students as a Professor of Biology at FGCU. Although new to acting, Sharon has made a mark already in the Southwest Florida theater community. She made her debut in January 0f 2019 in Ghostbird Theatre's production of Everyone on this Train, excelling in the role of a mother fleeing the Chechen war with her daughter. And she recently turned in a tearfully painful portrayal of a doting daughter caring for her terminally ill mother who is also afflicted with dementia in New Phoenix Theatre's production of The Shadow Box. For more on Sharon's acting accomplishments and chops, read here.
______________________________________________________
Spotlight on 'Church & State' cast member Daniel Cancio (09-15-19)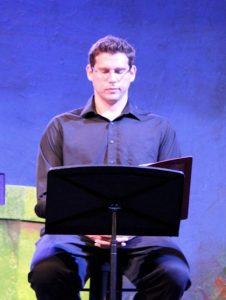 Daniel Cancio plays multiple roles (Tom/Marshall/Security Guy/News Anchor) in The Studio Players' upcoming production of Church & State. An FGCU theatre grad, Daniel is an emerging talent in the local theater scene. While at FGCU, he appeared in productions of The Tempest, Mr. Perfect, 12 Angry Men and The Zoo. His credits also include Jerry in The Studio Players' production of Don't Talk to the Actors, Bear in Ghostbird Theatre Company's production of Orbs! and Laboratory Theater'ss 2016 production of Joshua Harmon's Bad Jews. He additionally took part in a staged reading of Robert Caisley's The Open Hand.