Arsenault Gallery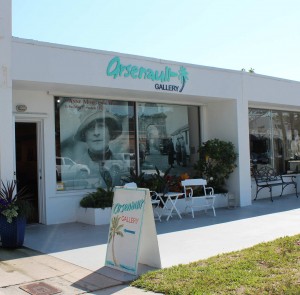 Arsenault Gallery features the colorful and light-filled paintings of contemporary impressionist Paul Arsenault. Whether a quiet waterfront, a busy harbor, a windswept shore, a market vendor or intimate sidewalk cafe, his compositions chronicle his travels across the globe and celebrate the often overlooked elements of the places he finds.
Location. Arsenault Gallery opened May 7, 2012 at 764 12th Avenue S in Naples' Crayton Cove artists community. Located adjacent to Bleu Provence and across from Chez Boet, the gallery is just a block from the City Dock and Naples Bay. Revitalized in 1996 with a roundabout, new landscape and hardscape, and enhanced parking and pedestrian access, Crayton Cove contains an intriguing mix of offices, retail and marine businesses and upscale restaurants. So it's no surprise that the art community has made Naples' historic "town center" (which will celebrate its centennial in 2015) an exciting gallery district filled with history, fine dining and, of course, fine art.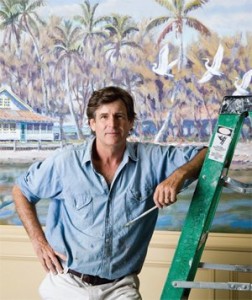 Genres and Media. Although it hosts special exhibitions and solo shows by select artists throughout the year, the gallery primarily showcases the impressionism of local artist Paul Arsenault, a plein air artist whose craft has been informed by nearly four decades of extensive travel to destinations in the Caribbean, Central and South America, Hawaii and the South Pacific, Indonesia, Australia and Europe.
Although born in Montreal, Arsenault grew up in Hingham, Massachusetts, where he fomented his lifelong love for the sea and travel. Following his graduation from the Art Institute of Boston in 1973, he took a job as deckhand on a research vessel.
And even after he put down roots in Naples six months later, he continued to travel by sea, hitching a ride on a produce boat in the Caribbean in the 1970s, unloading bananas at one spot and taking on peppers and tomatoes at another, weathering a storm so bad one time that the boat's captain was "screaming at the crew to throw things overboard."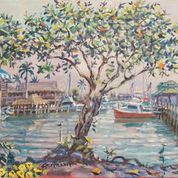 Many of Paul's travels have been funded by patrons who are impressed by Paul's rare talent for capturing the essence of a place in watercolor or oil. One commission, for example, sent him packing to Vietnam's Tonkin Alps and Cambodia's ancient city of Phnom Phen. As a result, Arsenault's paintings, and their buyers, are spread throughout the Bahamas and the Caribbean, Central and South America, Europe, Hawaii, Asia and Indonesia, as well as Naples and Nantucket, where he maintains his studio/galleries.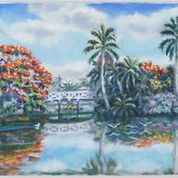 As is true of any impressionist worth his salt, Arsenault endeavors in every composition to bring something new to his ongoing study of the interplay of shadow and light. As a result, his paintings are characterized by a  rhythm, pattern and vibrancy that readily distinguish them from artists working in the impressionist genre today. His lifelong pursuit to paint contemporary life in coastal communities is enhanced by his passion for history and his natural storytelling ability. As he recently told NaplesNews.com writer Harriet Howard Heithaus, "I want the [viewer] to know that I have been working very steadily at what develops my art … and that in my travels I have tried to call attention to things that are important about our world and our lives." ("Brigadoon's mapmaker, Dec. 9, 2012.)
Hours. The gallery is open 11 a.m. to 4 p.m. Monday through Wednesday, and 11 a.m. to 9 p.m. Thursday through Saturday.
Telephone Number and Website. You may reach the gallery by telephone at 239-263-1214 or visit it at http://www.ArsenaultGallery.com. You may also follow the gallery on Facebook at https://www.facebook.com/pages/Paul-Arsenault/260702010666989.
Ownership. The gallery is owned by Paul R. Arsenault. Kerri Meehan serves as Gallery Director.
Fast Facts.
Paul recently spent ten days in the Apalachicola area with several nationally-known artists capturing what some believe to be the last vestige of authentic "Old Coastal Florida." Part of The Forgotten Coast's America's Great Plein Air Paint-Out, participating artists painted flora, fauna, and local color from the western end of Mexico Beach to the east side of Alligator Point by day and resided with local families at night, bringing a sense of camaraderie to this annual visit which the community has come to know and love.

Paul is one of six local artists whose works are being featured in the Collier County Museum's 90th anniversary exhibit A Brush with History from May 8-31, 2013.

Paul is hosting a voyage of artistic discovery this fall. The 10-day excursion takes place October 17-26, 2013 aboard Crystal Cruises, named "best large-ship cruise line" the past 14 years by Conde Nast Traveler. Stops include Istanbul, Athens and Venice and feature optional painting instruction tours with Paul, en plein air style, will be available in each port of call. It is a terrific opportunity to experience the rich culture, history and art of southern Europe with Paul Arsenault as your art expert.
In March of 2013, the gallery exhibited Anne Morgan's War: Rebuilding Devastated France 1917-1923, a compelling collection of 40 rare World War I era photos and vintage film from the Anne Morrow Archives of the Franco-American Museum. The exhibition was brought to Southwest Florida by Paul Arsenault in conjunction with the Alliance Francaise of Bonita Springs and the American Friends of Blerancourt. Prior to coming to Arsenault Gallery, the exhibition previously visited The National WWI Museum in Kansas City, the Morgan Library and Museum in New York City, the Woodrow Wilson House in Washington, D.C., the French Cultural Center in Boston and the Wally Findlay Galleries in Palm Beach in 2012.
Arsenault is an outspoken advocate for conserving Naples parks and green spaces. Although the city maintains roughly 140 acres of parkland, the Washington D.C.-based Center for City Park Excellence (which is a department of The Trust for Public Land, a national non-profit) agrees that Naples lags behind other metropolitan areas in its acreage to population ratios. However, Naples meets the minimum requirements according to Florida Statute for sufficient parkland given the city's "low growth rate, restricted geographic boundaries, limited undeveloped land, and minimal future infrastructure needs." A recent survey completed by the Knight Foundation in tandem with Gallup reveals that more than economic opportunity, educational facilities and low crime rates, a city's public art and green spaces causes people to form close ties with a city.
Arsenault has also recently published a book. Brimming with entertaining tales of travel as colorful as the sumptuous canvases portrayed on its pages, My Journey as an Artist, the 156-page volume follows his many years here and on the road as a travelling painter. Arsenault says that many people know him as a Naples painter determined to help preserve the city's history, but remain unaware of his worldwide journeys. The book chronicles his growth as an artist and includes landscapes and landmarks—some of them already vanished—painted in the Caribbean and Bahamas, Central and South America, Europe, Asia and Indonesia, as well as Florida, New England and Hawaii.
Related Articles.