Native Visions Gallery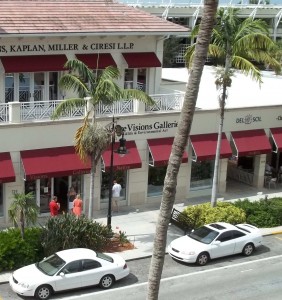 Under the red awnings at 737 Fifth Avenue South in Naples is an intriguing art gallery that devotes itself primarily to African and environmentally-themed art. It's name is Call of Africa's Native Visions Gallery, and it occupies an exclusive niche in the thriving southwest Florida art market. It's an art destination you should include in your itinerary if you love wildlife, native art, or are seeking something out of the ordinary with which to make a bold artistic or design statement.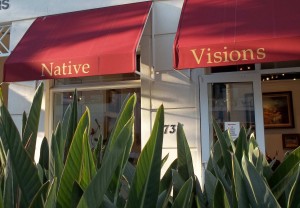 Location. Native Visions Galleries has two locations. The main gallery is in Fort Lauderdale, on renowned East Las Olas Boulevard. The other is at 737 Fifth Avenue South in Naples just steps from Shaw Gallery of Fine Art and down the street from Fifth Avenue South stalwarts New River Fine Art and Sheldon Fine Art.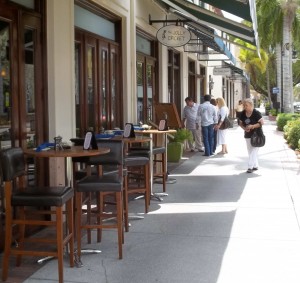 Across the street is Jolly Cricket, a British Colonial inspired restaurant and bar that offers fabulous made-to-order natural and organic dishes with affordable prices for lunch and dinner. Other nearby dining choices include Yabba Island Grill, Verginia and McCabe's Irish Pub. Yabba, Verginia and McCabe's offer nightlife entertainment, and The Naples Players attract a large number of theater-goers to the Sugden Community Theatre which is just around the corner between Yabba and McCabe's.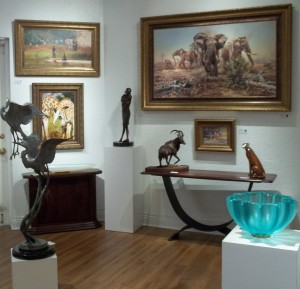 Facilities. With light tan laminate floors that conjure images of a brown grass African veldt and lots of interesting angled walls, alcoves and viewing rooms, Native Visions Gallery affords a spacious viewing environment that evokes the feel of the African continent. Many of the paintings are large scale and exhibited museum style, complimented by chocolate brown wildlife sculpture and cerulean vases and bowls displayed on antique tables, buffets and white pedestals strategically interspersed throughout the various exhibition rooms.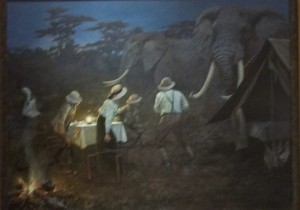 Genres and Media. The gallery features original paintings in oil, acrylics and pastels, a number of limited edition giclees, and bronze, verdite and leadwood sculpture, cast glass, and Raku pottery. Most works are contemporary realism, although there are some impressionist works included within the gallery's collection. Motifs include African wildlife, dramatic Everglades's landscapes, seascapes, historic safari scenes (left), florals, and still-lifes.

Most artworks contain fascinating stories like Earth, Air, Fire (right) by Zimbabwe artist David Langmead. "The subject matter is based on a true story," posts the gallery on its Facebook wall. "Whenever the train would pass through, these two cheetahs would race it and inevitably win. Perhaps just to prove a point or perhaps simply to test and hone their racing skills, this unbelievable scene occured for quite some time. Unfortunately, the railway was destroyed when Rhodesia became Zimbabwe. The rails were stripped for scrap metal and the railroad ties, which were made of teak dating back to the 1800s, were also salvaged. In fact, we had some of our artists acquire some of the teak and turn it into fine furniture, which is also available here at our galleries. We coined the term 'Railtiques' to represent their incredible history. It's hard to believe these teak treasures were underneath railroad tracks for over 100 years."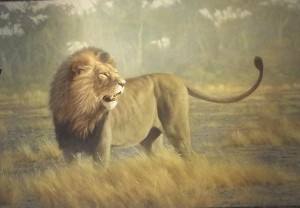 Representative Artists. Native Visions represents a wide array of outstanding artists including David Langmead, Kim Donaldson, Loet Vanderveen, Judy Dy'ans, James Stroud, Jaco Van Schalkwyk, George Bucquet, Mopho Gonde, James Tandi, Claire Naylor, Matthew Lovein, Geoffrey Smith, Margaret Gradwell, William Sykes, Judy Dy'Ans, Dimitry Nikashin and Peter Gray. Most, but not all, are from southern Africa, like 90-year-old Loet Vanderveen, considered the number 1 wildlife sculptor in the world whose contemporary, stylized bronzes look good in any home; David Langmead, who is one of South Africa's foremost landscape artists; and Zimbabwean Peter Gray, who is known worldwide for his portraits of waterfowl and birds from the Lake Michelle, Noordhoek area.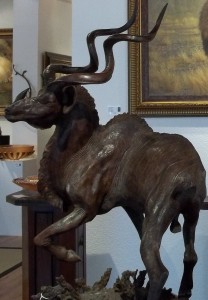 Perhaps the most intriguing of the artists in New Vision's talented stable is 42-year-old sculptor Mopho Gonde. Gonde's material of choice is leadwood, an extremely dense, heavy hardwood that Gonde harvests from the ground where they lie and petrify after being felled by large, free-ranging elephants who use the trees as leaning and scratching posts. Not only is leadwood dangerous to gather, it is unforgiving. It is as hard as marble and requires the skill of a Michelangelo to carve, but Gonde handles the medium with equanimity and is considered today the preeminent wildlife sculptor in all of southern Africa. "One of my collectors told me just the other day," reports owner Ross Parker, "that of all the works in his collection, he's gotten the most praise and comments for his Mopho Gonde sculpture of an elephant. People just can't get over how anatomically correct it is or the detail in the piece."
Representative Collectors. Native Visions Gallery is not just for people who collect wildlife art or early tribal artifacts. In fact, few of the gallery's patrons have African themed homes or native American, pre-Columbian or other native art. "Most have never been to Africa," owner Ross Parker observes, "although they do typically watch Animal Planet and read National Geographic and books on Africa." What his collectors do have in common is an abiding respect for the environment and a love of animals.
"We all have passion for wild animals," Parker maintains, basing his conclusion on a quarter of a century in dealing with ecologically-minded people. "They captivate us and possess a longevity greater than just about any other type of art." Native Visions sculptor Loet Vanderveen goes deeper. "Since man's primordial existence, he has conveyed an abstract desire to portray his idealistic virtues in the animal form."
In any case, the paintings and sculpture found in Native Visions will accommodate any eclectic collection. "Our homes are our sanctuary and there's nothing better than wildlife to include in that sanctuary. All it takes is a dimmer switch to recreate a sunset on the African veldt or a safari theme in your own home."
Hours. The gallery is open from 10 a.m. to 10 p.m. Monday through Saturday, and from 11 a.m. to 9 p.m. on Sunday.
Telephone Number and Website. You can reach the gallery by telephone at 239-643-3785, visit it online at http://www.nativevisions.com and follow it on Facebook at http://www.facebook.com/nativevisionsgalleries?sk=info. "I use all available technology," owner Ross Parker states. "A state-of-the-art website, Facebook, Twitter."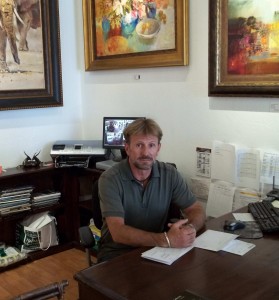 Ownership. The galleries are owned by Ross and Kirsten Parker. President, CEO and the creative force behind the gallery, Ross Parker hails from Zimbabwe, Africa. "I came to the United States after the civil war," Parker relates now. "I arrived with $1,275 in my pocket, put my head down, worked hard and made myself a success. I'm living the immigrant's dream. I told a friend once that I found the Garden of Eden. It's in America."
In the years following his arrival on U.S. soil, Parker founded a number of companies. Four involved art, including Call of Africa, Inc. and its sister companies which own the two Native Vision galleries. "A friend suggested that I start a business that would allow me to stay in contact with my family and friends back in Zimbabwe," Parker recalls. So he took a trip back to Zimbabwe to explore his options, and that's when luck played a role.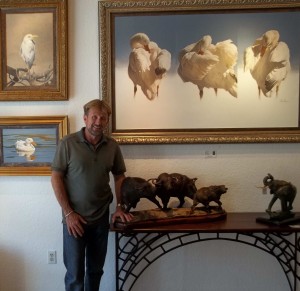 "I bumped into an old friend who I'd fought with in the civil war," Parker says. The friend was Craig Bone, a fellow artist who'd transitioned from painting battle scenes to religious themes before finally settling on native landscapes. He asked Parker to sell some of his artworks back in America, an idea echoed by a stone sculptor named Amos Marimo whom Parker found in an outdoor café. When their works were acquired by some of the world's most prestigious museums through Christie's and Sotheby's, the intrepid Parker became one of the most sought-after artist agents in the country.
Parker's burgeoning international reputation helped Call of Africa's Native Visions go within one short year from a gallery operating out of a small garage in Plantation, Florida to quarters in Boca Raton that exhibited works by many of southern Africa's most talented painters and sculptors. "It didn't take long before the gallery was attracting rave reviews from collectors and local press alike," the gallery's website reports. "As the owners and artists became increasingly involved with conservation campaigns, the focus shifted away from what was solely African art to environmentally-themed artwork by artists from southern Africa as well as around the world."
Parker and his wife, Kirsten, relocated the Boca Raton gallery to East Las Olas Boulevard in downtown Fort Lauderdale in 1991 and established a second gallery four years later in Key West. But ever the visionary, Parker recognized the burgeoning growth of the southwest Florida art market and decided the Key West gallery would do better on Naples' trendy Fifth Avenue. That was 12 successful years ago.
"From the outset, I had a picture in mind of what I wanted," Parker says thinking back to the gallery's origins. "It was like a giant jigsaw puzzle, and then I had to go out and find the pieces."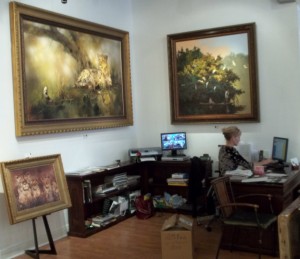 Gallery Director. Nicola Bunnett serves as director and Fine Art Consultant in the Naples location.
Adjunct Services. The gallery's fine art consultants not only assist collectors in finding and acquiring works of art by emerging artists, established masters and decorative pieces for their homes and offices, they provide guidance and expertise in custom framing, hanging and lighting all acquisitions.
Fast Facts.
In evolving Native Visions Gallery, owner Ross Parker was inspired by London's Bury Street Tryon Gallery, the oldest hunting and wildlife gallery in the world. But Parker has given his iteration a contemporary angle in order to broaden its appeal in the south Florida art market.
"We still have a lot of evolving to do in order to adapt to the market," Parker acknowledges.
"We'll never break from what we carry, but we may become a little more contemporary." Parker predicts.
The gallery was first established in Boca Raton in 1987.
The galleries' corporate headquarters are also located in Fort Lauderdale. It offices are at 920 NE 13th Street, Fort Lauderdale, FL 33304.
The galleries' logo is "At Native Visions, our vision is on you."
In March of 2010, Ross and Kirsten Parker hosted a fundraising event to benefit the Elephant Adoption Program run by the David Sheldrick Wildlife Trust in Kenya's giant Tsavo East National Park.
On March 23, 2005, Dr. Jane Goodall was guest of honor at an art exhibition at Call of Africa's Native Visions Gallery in Fort Lauderdale. The gallery hosted the exhibition to benefit The Jane Goodall Institute for Wildlife Research, Education and Conservation. Renowned for her behavioral research on chimpanzees in Africa, Dr. Goodall's observations radically changed the scientific belief that only humans had ever made and used tools. Today, Dr. Goodall's organization continues her work with primates while providing funds for education, conservation and other wildlife research. A number of artists represented by Native Visions flew in from Africa to attend the event including Mopho Gonde, James Tandi, John Seery-Lester, Loet Vanderveen, David Langmead, Kim Donaldson, Lindsay Scott, Tony Forrest, Shirley Greene, Jean Abrie and Claire Naylor.