'Art Walks the Runway' returns to River District for tenth annual show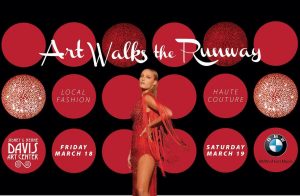 Art Walks the Runway is a star-studded two-day fashion show that is hosted in one of Southwest Florida's most picturesque and historic landmarks, the Sidney & Berne Davis Art Center in the Fort Myers River District. Produced by Melissa DeHaven, this must-see event features the hottest local boutiques and one-of-a-kind Couture fashion.
As she explains,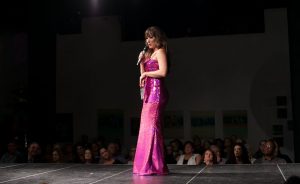 DeHaven got her inspiration for Art Walks the Runway from Punta Gorda-based Couture designer Helen Gerro.
"She came into the Art Center and saw this space and thought it would be a phenomenal place and space in the heart of downtown Fort Myers to have a beautiful fashion show. The Art Center decided it's such a beautiful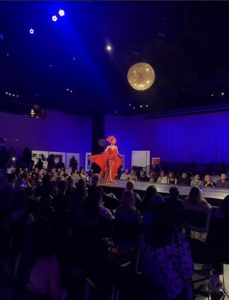 idea to showcase a big fashion show here for our City that it's kind of become one of our signature events for sure with this being the tenth annual."
The space to which DeHaven refers is the art center's grand atrium. Formerly the mail sorting room of the original 1933 post office, the space boasts gleaming stone floors and towering, two-story white walls.
DeHaven describes the room's make-over for the event.
"If you've been to the Art Center you know that this room transforms into many different events from the film festival to concerts. But when you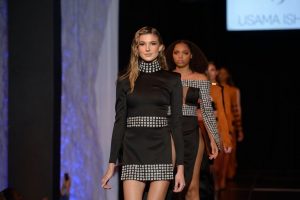 come in for the fashion show, you walk in and there's this grand, beautiful runway and it takes up pretty much the whole center of the room. It's beautifully decorated, the way the lights are, and there's flowers. You walk into the room and you're like I'm at a fashion show."
The first night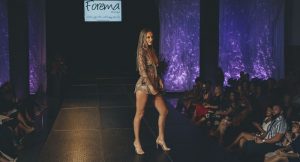 of the show features local boutiques known for their cool and trendy styles. This year, there are three – Forema Boutique, Ocean View & 7th, and Apricot Lane. Known for their inviting, happy, boho atmosphere, Forema specializes in chic, affordable clothing.  Born from a love of fashion,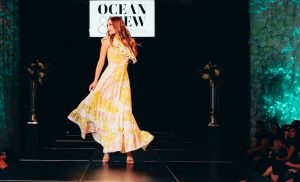 Ocean View & 7th focuses on beautiful, on- trend styles that take a woman from day-to-night, from the beach to girls' night out, from work to a dinner date. Apricot Lane offers branded fashion apparel, jewelry and accessories in the latest styles and trends. Forema and Apricot Lane are located at Gulf Coast Town Center, while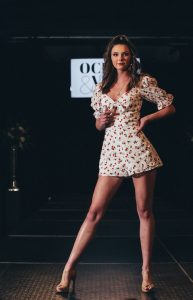 Ocean View & 7th calls Bell Tower home.
"I think the favorite of the fashion show is the Saturday night Couture night which is something so special that you get to see these cool designs walking the runway, unique things that you would see in New York Fashion Week or L.A. Fashion Week or some big fashion show."
Couture night this year features awe-inspiring looks from Isabel Lopez, Sha Ali Ahmad and Helen Gerro, who returns to the event this year after a five-year hiatus.
Award- winning designer Isabel Lopez got her start at a young age in her native Colombia. Now living in the United States, her designs have been on red carpets and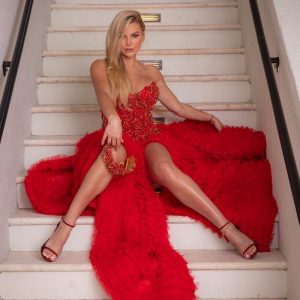 runways around the world. Lopez's brand, Isabel International Original, is today synonymous with magnificent fashions that accentuate the natural curves of a woman's body while capturing the spirit of elegance.
New Delhi-born designer Sha Ali Ahmad has designed fine women's clothing for Adriana Papell, Niteline, Scala USA and Ashro Lifestyles, and his label is sold in Macy's, Dillards, Nordstrom, David's Bridal, Bloomingdales, Saks 5th Avenue, Lord & Taylor, and Neiman Marcus, among others. Co-founder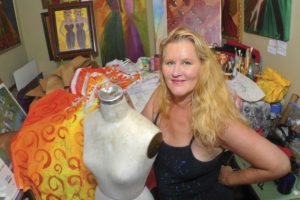 of Kauai Fashion Week in Hawaiee, Ahmad has also styled a plethora of Hollywood & Bollywood celebrities.
Minnesota-born and Punta Gorda-based designer Helen Gerro taught herself how to sew and design at an early age. She moved to New York at the age of 21, immersing herself in the fashion industry and the garment district.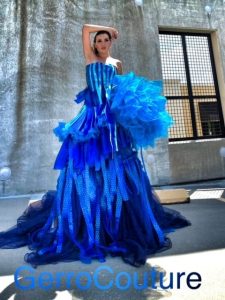 Gerro sold her own line to major fine department stores and boutiques throughout the U.S. A self-taught artist, Gerro now creates Couture that is based upon her own original paintings, making each piece a one-of-a-kind, hand-painted postmodern statement. Gerro's Day-Glow Art Couture pieces have been seen on the runway in numerous fashion shows, from Tampa, St. Petersburg, Sarasota, Fort Myers, Punta Gorda, Naples and Miami to  New York, Atlanta, and a Trunk Show off Rodeo Drive in Beverly Hills.
"We're so excited to have Helen back. She has two segments that she's going to have in the show this year." [0388]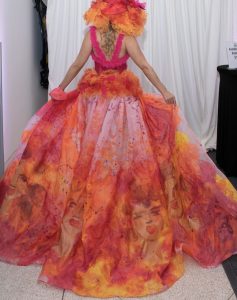 The first consists of Gerro's internationally-acclaimed Day Glo dresses, as she explains.
"I'm really known for doing the Day Glo dresses, which are done in black light fluorescent paint and they really pop on the runway. They're really exciting to watch because they come to life and they're painted on parachute fabric this year so they really will billow and flow down the runway. So it's almost like the runway's on fire with this fashion." [0389]
It's not just the fluorescent paint that makes Gerro's dresses pop. It's the artists who inspire her designs.
This year, she chose six, Frida Kahlo,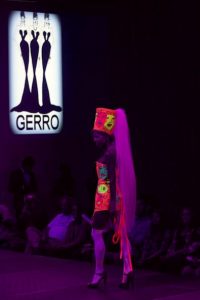 Jackson Pollock, Salvador Dali, Claude Monet, Pablo Picasso and, of course, Vincent van Gogh.
Fashion designers and houses often pay homage to famous artists and iconic artworks. Besides the six that have influenced the couture that Gerro has created for Art Walks the Runway, designers worldwide have taken inspiration and borrowed aesthetics from the likes of Modernist master Piet Mondrian, 19th century French painter Gustave Moreau, Impressionist Mary Cassatt and even Robert Mapplethorpe. Some artists, like Keith Haring, Jeff Koons and Stella McCartney, have influenced contemporary fashion more directly, lending their expertise to fashion houses and retail lines.
Of course, Gerro did not merely appropriate their work.
"I did my twist  art onto the dresses," Gerro shar. So I painted these long pieces of fabric that were 80 inches high by 21 feet long.  I had to clear out my whole living room to tape them up on the wall to paint them like a mural and then I had to make them into a dress so when you see them it's pretty amazing to transform them from fabric into dresses was quite the challenge. [0389]
The second segment is super top secret, but Gerro, whose couture has walked the red carpet at Cannes, hints that her model will be wearing a dress that she cut from five yards of canvas that she used for a painting.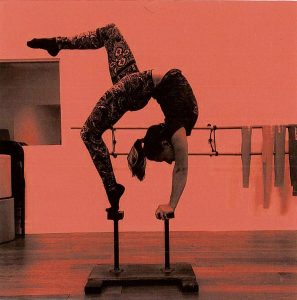 Fashion aside, Art Walks the Runway has also built a reputation over the past decade for unique entertainment. This year is no exception. Katarina Danks will perform both nights. Danks' performances blend an artistic mix of contortion, gravity-defying hand balancing, jazz and contemporary dance choreography that have given rise to her well-deserved Bendy Kat nickname. And Adriana Gomez will once again be on hand with her Elements of Body Art, a theatrical performance that combines dance with the human body as a living, breathing canvas, as Melissa DeHaven describes.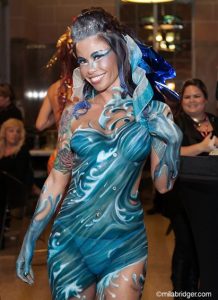 "She has models that she paints and she puts together this beautiful story, and so this year's runway segment is going to be the Garden of Life and it's basically sowing the seeds of love and she's going to paint these beautiful body [images]. There's going to be a farmer. There's going to be a rose. There's going to be a butterfly and, I think, a hibiscus. That part of the show is always beautiful too because you're seeing, like, you're seeing the body as a canvas." [0388]
Most attendees dress up and make it an evening by having dinner at one of the River District's many fine eateries. Then they head over to the Davis Art Center at 7 for cocktails, mingling and photo ops under the lights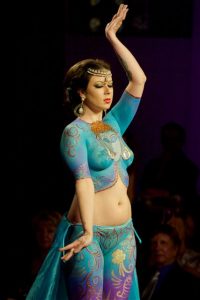 of Caloosahatchee Manuscripts, the town's fabled dual drum Jim Sanborn light sculpture.
On Friday night, the Art Walks the Runway party doesn't have to end with the show. Many attendees will take advantage of Sidney's, the Art Center's new rooftop bar and sculpture garden.
"On Friday night the rooftop will be open so everyone who wants to go see the beautiful views up there can end their night on the roof with some dancing and mingling." [0398]
Art Walks the Runway is unquestionably a Who's Who event. So follow Helen Gerro's advice:
"Be there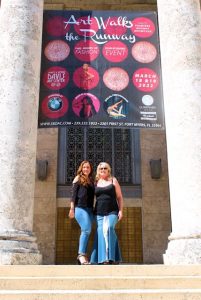 and dress up and wear something fun and exciting that you normally can't wear [someplace else] and come and enjoy the show." [0398]
Art Walks the Runway takes place on Friday and Saturday, March 18 and 19 at the Sidney & Berne Davis Art Center in downtown Fort Myers. Doors open for cocktails at 7:00, with the show starting at 8:00 p.m. both nights. Tickets for the Friday night show are $30 in advance, $35 the day of and an additional $10 for premium seating. Tickets for Couture night are $45 in advance, $50 day of and an additional $10 for premium seating.