Art Walks the Runway a glitzy star-studded art-centric fashion extravaganza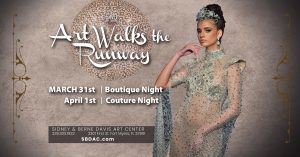 The Art Walks the Runway fashion show is back March 31 & April 1, 2023. Art & fashion collide in the downtown Fort Myers River District on March 31 and April 1 as the 11th annual Art Walks the Runway fashion show returns to the Sidney & Berne Davis Art Center. This glitzy, star-studded event features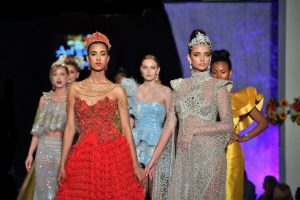 local, national, and international designers, top notch local entertainment and some of the boldest, edgiest, fiercest and sexiest runway models you'll see this side of New York, London and Paris Fashion Week.
This year, the fashion extravaganza features the hottest looks from local designers Art4Wear, Subtle & Chic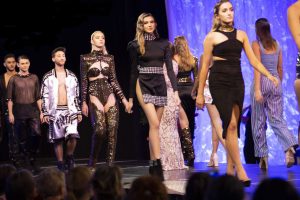 Boutique and Vivie Boutique and the internationally-acclaimed couture fashion houses of Asta Razma, Kenneth Barlis, and Diana Couture. On Friday night, entertainment will be provided by Young Nation Dancers, with Dance Contortionist BendyKat electrifying the audience Saturday night. iHeart Media morning radio personality Brittany Gonzalez will emcee both nights,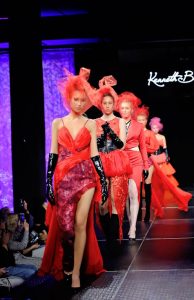 with Dj Dream Jay spinning the music.
Art Walks the Runway is organized, produced and often hosted by Melissa DeHaven, who is renowned for her abiding love and passion for the arts.
In addition to Art Walks the Runway, DeHaven serves as the Sidney & Berne Davis Art Center's Public Relations & Marketing Director, Artist Liaison for SBDAC's monthly art shows, Sidney's Rooftop Sculpture Garden Entertainment Coordinator, and producer of TGIM for the Fort Myers Film Festival.
"We have an amazing show in store for both evenings of fashion," promises Melissa with her trademark positivity.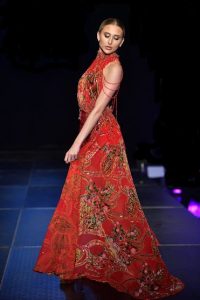 "I'm excited for our sell-out audiences to experience the showcase of designers and boutiques with their amazing fashion and creativity!"
Doors open both nights at 7:00 p.m. with the shows starting at 8:00 p.m.
The Sidney & Berne Davis Art Center is located at 2301 First St. in the historic downtown Fort Myers River District.