An Introduction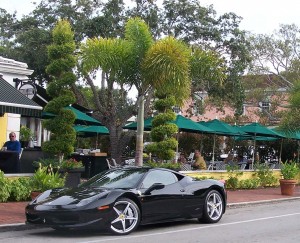 Naples consists of half a dozen districts of which Fifth Avenue South is perhaps the best known. But there is little doubt that the most historic and picturesque is the Third Street South gallery and shopping district. It is a region known worldwide for high-end clothing stores, trendy boutique shopping, gourmet dining, European-style fountains and sophisticated art galleries.
Galleries, Auction Houses and Antiques
The Third Street South gallery district  is bordered on the north by Broad Avenue South, on the west by Gordon Drive and on the east by 4th Street South. In this three square block cultural destination, art lovers will discover a dozen art galleries and a fine art auction house.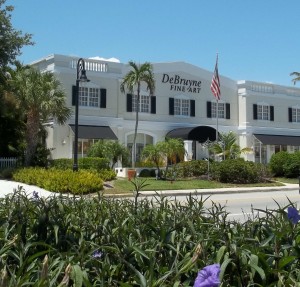 Most visitors arrive in the district via Broad Avenue South, which is affectionately known as Gallery Row. This is where you will find four of the district's most prestigious galleries, DeBruyne Fine Art, Galerie du Soleil, Gardner Colby Gallery I and II and the Marianne Friedland Gallery, as well as newcomer Astratta Gallery. Together, these galleries house an impressive collection of antique art from the 19th and early 20th centuries as well as work from many of the leading contemporary painters and sculptors in the world today.
Third Street South serves as the other portal into the gallery district, and that's where Darvish Collection Gallery of Fine Art, HW Gallery, The Artwork Shop and The Englishman are located. Leslie Hindman Auctioneers can also be found on Third Street South, with Four Winds Gallery and the Peter Garon Studio just around the corner on Thirteenth.
Restaurants, Cafes and Bars
Third Street South is equally renowned for fine dining, with a twist. In addition to sophisticated indoor dining, each restaurant offers patio and curbside seating, adding to the district's ambiance at nightfall when quaint old-fashioned lampposts bathe streets and alleys with soft, flickering illumination and the mouthwatering aroma of garlic, grilled vegetables and roasting meats wafts through the night air. Among the area's dining choices are:
Campiello (right), offering Tuscany-inspired cuisine in the lavishly-appointed interior of the historic Naples Mercantile Building;
Handsome Harry's, serving delicious steaks and seafood in a Glamour Era setting;
Jane's Restaurant on Third, a delightfully cozy retreat tucked between two beautiful courtyards;
Le Lafayette Restaurant, celebrating gourmet French classics and innovative original dishes by chef Sebastien Maillard;
Old Naples Pub, a favorite among locals for more than two and half decades;
Ridgeway Bar & Grill, where those in the know dine and sample fine wines;
Sea Salt, where Chef Fabrizio Aielli infuses Venetian home cooking into inspired seafood specialties and their accompaniments;
Tommy Bahama Restaurant and Bar, with its island bar and cuisine; and
Tony's Off Third, which does not offer in-house dining but is the area's penultimate pastry shop and "one of the best, if not the best wine shop in the country" in the opinion       of Florida Trend magazine.
Fountains and Covered Arches
Gardner Colby's Nancy Winch says that what brought her and husband Tony to Naples more than 15 years ago was Olde Naples' special cache. "We strolled up and down the Third Street shopping district and were overwhelmed by the beautiful shops, the fabulous flowers and majestic fountains… It didn't take long to make the decision that yes, Olde Naples was where we wanted to open our Florida gallery." The elegant shopping district makes that same impression on tourists and winter residents every time they visit Third Street's galleries, shops and restaurants.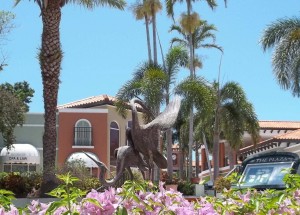 One of the majestic fountains that undoubtedly caught Nancy Winch's unerring eye can be found at the entrance into the Third Street Plaza. It features two bronze herons purchased by developer Speyhawk Corporation from famed British sculptor Lorne McKean. They are actually one of a series McKean sculpted and The Herons' mates can be found in Reading and in front of the Thames Water Authority, as well as in several private gardens. Since creating The Herons, McKean has gone on to create more than a dozen public art installations including several more fountains and her famous sundials, The Horsham Heritage Sundial and the History of London Transport Sundial.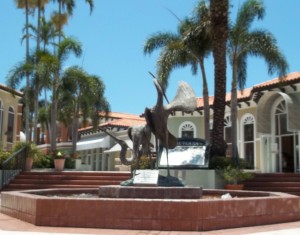 People seeking good fortune in their quest to find treasures and bargains among the district's high-end apparel shops and boutiques often toss coins into the fountain to bring them luck. According to the bronze plaque mounted at the base of the herons, coins harvested periodically from the waters of the Third Street Plaza fountain are donated to the David Lawrence Foundation for Mental Health & Substance Abuse Services.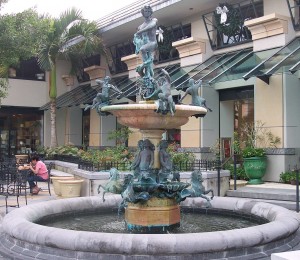 Just south of Tommy Bahama restaurant on Third Street South is the district's most intricately-crafted fountain, a two-tier installation that is reminiscent of the Fontana del Nuttuno that sits in the Piazza della Signoria in Florence, Italy. The bottom of the fountain is ringed by nude female charioteers holding the reins of winged horses, while standing atop a circular bowl is a nude male resembling Neptune. He is holding the head of a serpent whose length is coiled around his right leg, and he's surrounded by four satyrs, two holding bows with notched arrows and two with poised tridents. The surrounding courtyard features lush vegetation and black wrought iron tables and chairs perfect for enjoying coffee, tea or a leisurely lunch as shoppers amble by.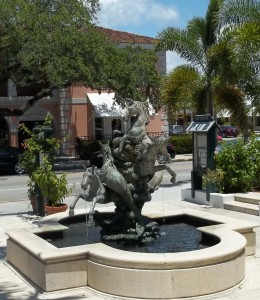 A little further south is the courtyard serving Island Company, Old Naples Pub, Neapolitan Enterprises, John Craig men's clothing store, C. Orrico (a Lily Pulitzer signature store) and Gattle's. Here's where you will find the popularly-named Horse Fountain, another of Olde Naples' landmark antique European-style fountains. This one features a classically-inspired bronze equestrian sculpture.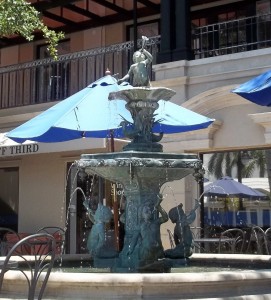 Two more of the district's elegant fountains await on Thirteenth Avenue South. Nestled between St. Tropez Home Gallery at the corner of Third Street and Thirteenth Avenue South and Ridgeway Bar and Grill half a block to the west is a quaint elevated courtyard denoted by bright blue canvas umbrellas that shade black wrought iron lawn tables and chairs. Another two-tiered installation, this fountain is comprised of five horn-blowing cherubs set inside a circular concrete pool.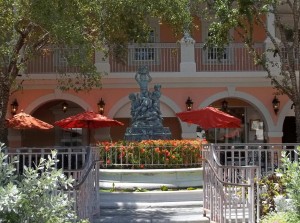 To the east of the intersection of Third and Thirteenth and just before Le Lafayette french gourmet restaurant is yet another of the area's ornate European-style fountains. Set inside a courtyard at the top of a flight of stairs, this fountain is set inside a pool filled with Monet-inspired water lilies, surrounded by orange-flowered hibiscus, and framed by orange canvas umbrellas that provide respite from the intense southwest Florida sun for those patronizing the restaurants and shops whose doors open onto this Italian-style piazza.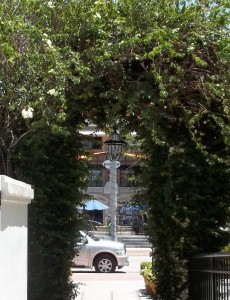 Adding to the district's distinctive Mediterranean ambiance are numerous tree-lined alleys, vine-covered archways and secluded entries.
Related Articles and Links.