Galerie du Soleil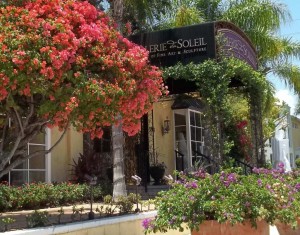 With its sculpted red bougainvillea tree, magenta bougainvillea hedge and purple dwarf bougainvillea cascading over the brim of the seven terra cotta pots that edge the parking spaces in front of the building, Galerie du Soleil is easily the most picturesque landmark in all of historic Olde Naples. Which is good since Galerie du Soleil is the first thing people see as they drive into the Third Street South shopping district via Gallery Row.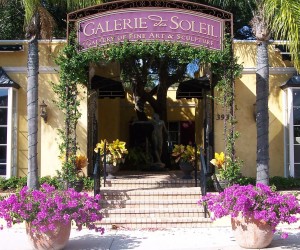 Location. Galerie du Soleil is located at 393 Broad Avenue South. Everything about the exterior of the gallery shouts curb appeal.
The façade is painted in dappled yellow ocher which serves as the perfect backdrop for the bougainvillea's dark green leaves and vibrantly colored bracts. The color also compliments the black and purple canopied entry that invites guests to ascend the five blond bricked steps that empty into a shaded courtyard that leads inside.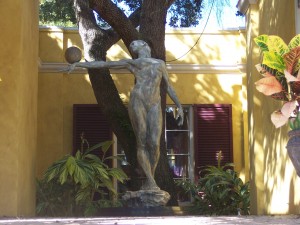 Sculpture figures prominently at Galerie du Soleil, a message underscored by the  marvelous standing nude positioned in the center of the entry courtyard and framed by the stout trunk of the decades-old oak that was carefully preserved by the architect and builder when they designed and constructed the gallery years ago.
Facilities. Every aspect of Galerie du Soleil's lay-out and appointment is designed to help patrons envision how the art on display will look in their own living rooms, studies and dens. With walnut parquet floors, floor-to-ceiling paned windows, crown moldings, wood base, rounded tray ceilings and a private courtyard in back that is shaded by a sprawling fern and moss covered oak tree, the gallery mimics many of the homes in the Naples area. But the building's horseshoe configuration not only enables the gallery to display its ar
The building's horseshoe configuration reinforces this feelcertainly engenders this result, being uniquely conducive to a museum-style presentation of artworks. However, an imaginative and sublime combination of half walls, Roman Tuscan columns, recessed flat-panel wainscoting, changes in wall and floor covering and strategically-placed groupings of handsome antique furnishings and pedestal-mounted sculpture to create alcoves, cozy corners and pseudo-rooms or "discovery zones." The latter effectively surprise and intrigue the viewer and give each artwork its due.
Other interesting architectural accents include crown molding, wood base, rounded tray ceilings, beveled glass doors, and 6-inch tiles and hewn wood beams in the center viewing area that leads to the rear courtyard. In the more temperate winter months, it is not unusual to find one or more artists rendering paintings in the rear courtyard, which features a serene fountain, brick pavers, wrought iron tables and chairs and a companionable mix of modern and Greco-Roman sculptures that create an inviting haven for exhibitions, private gatherings and charity events.
Genres and Media. Galerie du Soleil contains a collection of paintings, drawings, pastels, glass, and bronze and marble sculptures created by roughly three dozen of the most sought-after artists in the world today. Genres include realism, impressionism, abstracts and art nouveau. Motifs include portraiture, figures, wildlife, landscapes, seascapes, cityscapes, florals and still lifes. However, more than any other gallery in southwest Florida, Galerie du Soleil specializes in sculpture, with as much as half of the artworks in the gallery consisting of exquisite bronze and marble sculptures.
Hours. The gallery has not posted off-season hours of operation. Therefore, please call ahead for an appointment to visit the gallery.
Telephone Numbers and Website. The gallery can be reached at 239-417-3450 or toll-free at 866-417-3450, and online at http://www.galerie-du-soleil.com. The gallery is not on Facebook, although its owner, Michael Windfeldt is.
Ownership. The gallery is owned by Shelby Ward. With nearly thirty years in the fine art world, Shelby brings consummate experience, knowledge and vision to Galerie du Soleil.  After growing up in Palm Beach, she attended the Madeira School, then received a BA in Art History from the University of Southern California. Her impressive career has included work for Sotheby's, as well as directing noteworthy fine art galleries in Los Angeles and Florida.  She has mounted significant one man shows for such luminaries as Ansel Adams, Arthur Secunda, Harry Jackson, Thomas McNight, Lyle Sopel, Muramasa Kudo and Erté.
Exhibitions and Shows. The gallery conducts numerous exhibitions between October 1 and April 30 of the ensuing year. The gallery has not yet released its 2011-2012 exhibition schedule.
Other Services. Galerie du Soleil is a full service gallery. If a collector does not find what they are seeking in the gallery, Galerie du Soleil's art consultants will help find, acquire and obtain delivery of desired artworks, and they will assist in their installation and lighting as well.
Fast Facts.
Galerie du Soleil was founded in 2003.
The gallery's motto is "where art is the sun of the soul."
Owner Michael Windfeldt and his family and staff are active in the community and heavily involved in numerous charitable and philanthropic organizations and events including the Ave Maria Foundation for the Arts, the Boys and Girls Club of Collier County, the United Arts Council, The von Liebig Art Center, The Conservancy of Southwest Florida and The Garden of Hope and Courage.
It is a' propos that owner Michael Windfeldt has adorned the front of Galerie du Soleil with bougainvillea. Though native to Brazil, the flowering vine was discovered in 1768 during a voyage launched by French explorer Louis-Antoine de Bougainville. The admiral's botanist, Philibert Commerson, is widely credited with making the find and naming the plant after his friend. However, a recent book by Glynis Ridley Crown claims that a woman crew member disguised as a young boy actually found the plant and brought it to Commerson's attention. See The Discovery of Jeanne Baret:  A Story of Science, the High Seas and the First Woman to Circumnavigate the Globe.
Most people rave about the bougainvillea's vibrant red, magenta, purple, double pink and gold flowers. The color actually comes from three large paper-like blouses called bracts that surround the bougainvillea's small, white aroma-less flowers.