Spotlight on All Florida artist Linda Hugues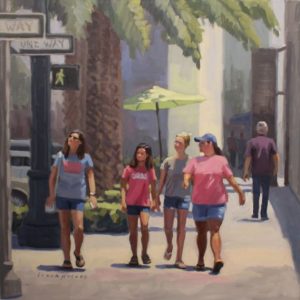 One of the 66 artworks juried into the 37th Annual All Florida Exhibit on view in the main gallery of the Alliance for the Arts through April 1 is Linda Hugues' oil painting Pink on the Street. Hugues' sunlit cityscapes and landscapes speak of joy and connection in everyday life.
Hugues paints either in oil or acrylic. "Oil for its luscious smoothness and blending qualities, and acrylic for its bright colors and forgiveness," says Linda. "Even though I plan each painting, I don't really know how it will look until the very end. As I paint,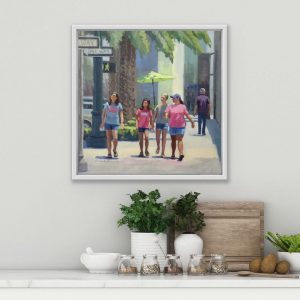 I react to the canvas in the moment and make changes based on my intuition. In this way my paintings become a tapestry of statements and revisions, and an echo of my daily inspirations."
Linda's process begins with observation and photography. She takes copious photos as she travels, both in Florida and out of the country in cultural climes like France and Italy (where she also practices her language skills). What invariably draws her eye are architectural forms and styles. She then imports those rectilinear shapes and textures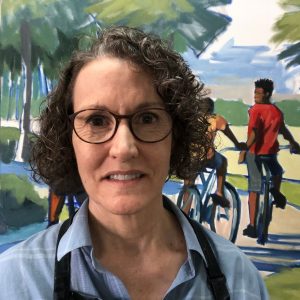 into her compositions, juxtaposing them against the organic forms of the figures, trees, greenery and people she also includes.
"I include people in my cityscapes because they add energy, and their stories bring the scene to life," Hugues amplifies. "I like to loosely indicate the human form in a way that hints at the person's motion and state of mind. The figures are arranged to suggest a narrative that allows for a certain ambiguity. We wonder 'Who are they?' 'What are they thinking about?' 'What will happen next?'"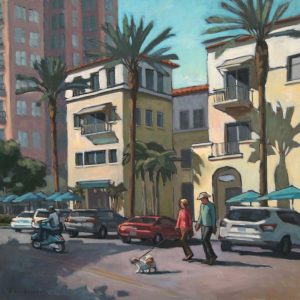 Given her intuitive feel for line, composition and color, it seems surprising that Hugues pursued mechanical engineering and commercial interior design before she ever considered a career in art. "On a whim, I took a drawing course," Linda reveals. "My teacher was very supportive and soon I was painting in watercolor and oil. I felt I had rediscovered a part of myself."
Portraiture provided Hugues a portal into painting. "I was intrigued by the idea of molding a likeness using shape, value, and color."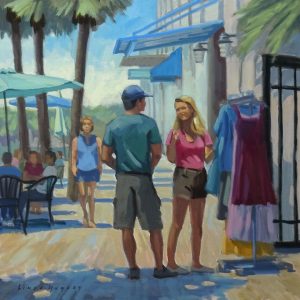 But after a decade as a portrait artist, Linda turned to landscapes and cityscapes, adding people to add energy and hint at a story. Of late, though, she is exploring figure drawing and digital painting, which she expects to brings another dimension to her value and color sketches.
March 7, 2023.