'Ian's Fury' by Denny Porter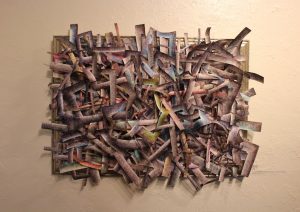 On view in the main gallery of the Alliance for the Arts through September 30 is Storm Stories, a visual art exhibit that features 53 works of art by Florida artists in reaction to Hurricane Ian. Denny Porter's Ian's Fury is one of the works juried into the show.
With a BS in Physical Education at Jacksonville State University, Porter teaches P.E. at Varsity Lakes Middle School.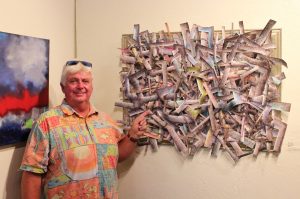 Denny made the mixed media piece using bits of roof shingles, swimming pool screening and other debris from his house. The label accompanying his piece says he's looking to sell Ian's Fury to help pay for a new roof. It's a predicament shared by many local homeowners in the aftermath of the storm. With the height of this year's hurricane season nearing its peak, blue tarps decorate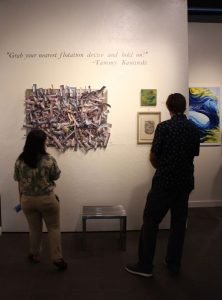 the roofs of many homes that found themselves in Ian's path last year.
Storm Stories is on view through September 30th, with a closing reception scheduled in the gallery for September 28th.
September 5, 2023.