Leoma Lovegrove's 'Painting Up a Storm'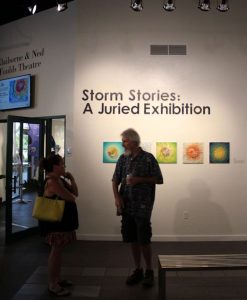 On view in the main gallery of the Alliance for the Arts through September 30 is Storm Stories, a visual art exhibit that features 53 works of art by Florida artists in reaction to Hurricane Ian. Leoma Lovegrove's Painting Up a Storm was one of the artworks juried into the show.
"When the Storm Stories exhibition was announced, I had to be a part of it," says Leoma, whose house was destroyed by Ian. "My Painting Up a Storm was created with the remaining bits and pieces of my premises after Hurricane Ian hit."
The storm also devastated Lovegrove's gallery on Matlacha, with the depth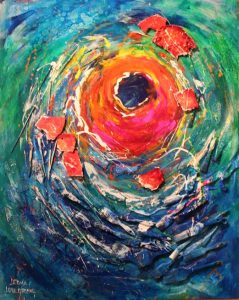 of the surge topping five feet in some portions of the waterside gallery and gardens. Furniture topples. Precious artworks were saturated by the water and then covered with a thick layer of muck and mud.  A mound of debris stretched skyward in the parking lot between the gallery and Pine Island Road.
"It literally turned my life upside down, inside out, and all around," Leoma adds. "This has taught me, massive change can bring massive growth, it we let it. Always Forward."
And in that vein, in the months following the storm, Lovegrove has converted Ian's flotsam and jetsam into meaningful,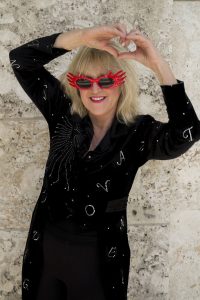 memorable works of art … as Fox 4's Amy Wegman relates in this piece.
Admired worldwide for her vibrantly colorful Florida-themed paintings, Lovegrove's works can be found in numerous public and private collections, both here and abroad. Her portrait of Jimmy Carter hangs in his Presidential Library in Atlanta; that of George W. Bush hangs in his Presidential Library in Dallas. Her work is also included in the White House's private collection, the Marietta Museum of Art & Whimsy in Sarasota, and the private collections of Sharon Stone and Jesse Metcalf.
September 3, 2023.