'Rise Up' by Alexandra Wilkinson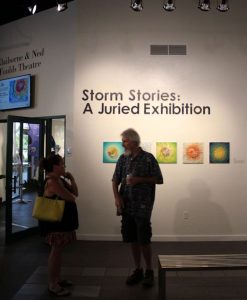 On view in the main gallery of the Alliance for the Arts through September 30 is Storm Stories, a visual art exhibit that features 53 works of art by Florida artists in reaction to Hurricane Ian. Alexandra Wilkinson's Rise Up is one of the works juried into the show.
"The mythical phoenix bird is associated with renewal and regeneration," Wilkinson points out. "It is a symbol of hope, resurrection and rebirth. With the knowledge and experience of the difficult times we have endured, we will RISE UP gracefully and peacefully from Mother Nature's ever-challenging and devastating circumstances."
A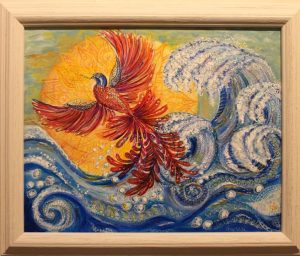 self-educated mixed media artist, Alex works in acrylics, traditional pen and ink, colored pencils, pastels, markers, paper and found objects. A former needle arts designer and instructor, Alex's oeuvre influences her present-day mixed media "Zen tangle inspired art." Her designs often include small, stitch-like, black-and-white line patterns in the ancient Zen Tangle-inspired art style.
Wilkinson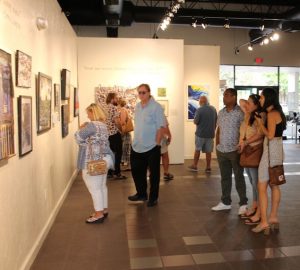 is a resident artist at The Union Artists Studios on the Alliance for the Arts campus.  Her whimsical figurative folk art work can be found in private collections here and abroad, as well as at The Union Artists Studios Gallery and Arts & Eats Café,  DAAS Co-op Gallery,  Arts for ACT Gallery, and Karma and Coconuts Art Gallery in Cape Coral, where she teaches classes in acrylic painting and pen & ink embellishment. Alex has exhibited in juried shows throughout Florida, including at the Sidney & Berne Davis Art Center,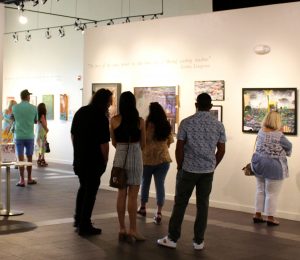 Alliance for the Arts, Art Bar in Fort Myers, Circus Arts in Cape Coral, the Cape Coral Art League, the Island Conclave Art Gallery on Pine Island and at Fort Myers Art Walk, Music Walk and Mystery Walk.
September 2, 2023.