More about 'Accumulating Interiors' artist Tyanna Buie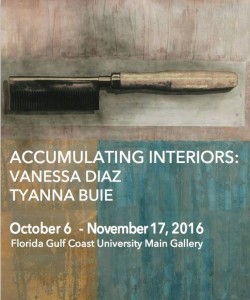 On view now in the Art Gallery at FGCU is Accumulating Interiors: Tyanna Buie and Vanessa Diaz.
The art making practices and motivations of Tyanna Buie and Vanessa Diaz differ in their approach to incorporating architectural interiors. What brings their work together is the desire to evoke psychological and emotional responses to familiar interior spaces and objects. This exhibition is their first collaboration.
Tyanna Buie's mixed-media prints are intimate reflections on her childhood. "Given their chaotic upbringing within the foster care system,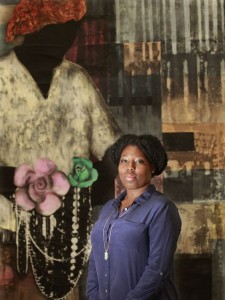 Buie and her siblings possess few physical reminders from their youth to carry into the present," states the Madison Museum of Contemporary Art. "Excavating her own memories and those of her family, the artist collages specific imagery into each [of her portraits]. These elements—toys, bits of clothing, jewelry, hair accessories, and other youthful adornments—serve as stand-ins for those tangible mementos that were lost long before. Emotionally-charged memorials to her complicated childhood, Buie's screenprints are also universally resonant as mediations on memory, history, and familial loss."
A Chicago, IL and Milwaukee, WI native, Tyanna Buie is a visual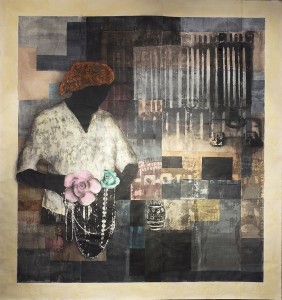 artist who received her BA from Western Illinois University, and her MFA from the University of Wisconsin-Madison. Buie has attended Artists-In-Residency programs, such as the Women's Studio Workshop in Rosendale, NY and the Vermont Studio Center in Johnson, VT, as well as maintaining a connection to the community by hosting printmaking workshops and demonstrations while participating in Healthy Neighborhood Initiatives through the production of public art created for underserved neighborhoods in Milwaukee, WI.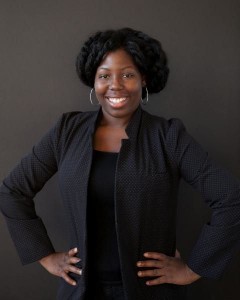 In 2012, Buie received an emerging artist Mary L. Nohl Fellowship and is the recipient of the 2015 Love of Humanity Award from the Greater Milwaukee Foundation, and the 2015 Joan Mitchell Foundation Painters & Sculptors Grant. Her work is currently on view at the Milwaukee Art Museum as part of the permanent collection.
Buie currently lives and works in Detroit, MI, where she is Assistant Professor/ Section Chair of Printmaking at the College for Creative Studies.
Accumulating Interiors is on display in the main gallery through November 17. Gallery hours are Monday-Friday from 10:00 a.m.-4:00 p.m. and until 7:00 p.m. on Thursday.
Posted October 11, 2016.