Island Visions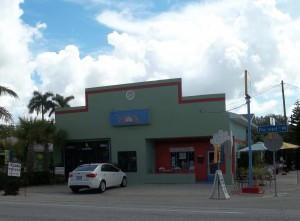 At the western foot of the Matlacha Bridge, Pine Island Boulevard transforms itself into Matlacha's version of Gallery Row, an aggregation of colorful, cozy waterfront cottages that have been pressed into service as art galleries, artist studios and salty boutiques filled with locally-crafted novelties, curiosities and one-of-a-kind gift ideas. Although it may not seem apparent from its modest storefront presence on the boulevard, Native Visions is one of the anchors of Matlacha's Gallery Row.
* * * * *
[This profile is still under construction. Please check back. It will be done soon. Promise. Ed. TPH 10/4/11]
Location. Island Visions is located in a sea green concrete block building on the southeast corner of Pine Island Boulevard and Matlacha Avenue which it shares with Great Licks Ice Cream Shop. Its Gallery Row neighbors include Lovegrove Gallery to the east and Frills across the street.
Facilities. With 20 foot ceilings, white ceiling fans rotating lazily high overhead, and French doors and thatched railings that imply a second story balcony, the interior of Island Visions recreates a Caribbean street scene. Reggae and island music reinforces the effect, which is augmented in cooler weather when the old service station bay doors are opened front and back to invite the sea breeze inside.
Genres and Media.
Hours.
Telephone Number and Website. You can reach the gallery by telephone at 239-282-0452 or online at http://www.island-visions.com. You can also follow the gallery on Facebook at http://www.facebook.com/pages/Island-Visions-Gallery-Gift-Shop/102345756485524?sk=info.