Theo Wujcik – Artist's Artist
On this page you will find announcements, releases, news and reviews of Theo Wujcik – Artist's Artist, the 2015 summer exhibit at the Bob Rauschenberg Gallery at Florida SouthWestern State College. The exhibition opens on May 29 with a reception from 6-8 p.m. and runs through August 8, 2015. For additional information please call 239-489-9313 or visit www.RauschenbergGallery.com.
* * * * * * * * * * * * * * * * * * * * * * * * * * * * * * * * * * * * * * * * * *
Theo Wujcik was within five degrees of Robert Rauschenberg (06-15-15)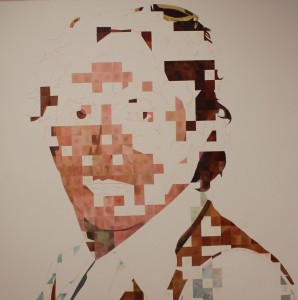 On view now through August 8 at the Bob Rauschenberg Gallery at Florida SouthWestern State College is Theo Wujcik: Artist's Artist. The exhibition features nine large-scale acrylic-on-canvas paintings that Wujcik completed during the final six months of his life, a period in which he sapped increasingly of energy and vitality by cancer of the stomach, lungs and brain. The exhibition also includes a number of small edition prints, silverpoint drawings and paintings that Wujcik rendered of the gallery's namesake.

Director Jade Dellinger has gone on record a number of times since assuming the reins of BRG that he intends to expand the reach of the gallery and the legacy of local icon Bob Rauschenberg, who maintained his studio, print workshop and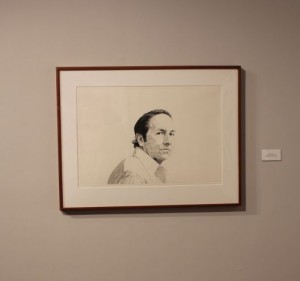 living quarters inside a 20-acre compound on Captiva Island until his death in 2009. Artist's Artist helps meet this mission by explicating the relationship between Wujcik and Rauschenberg.
Wujcik trained as a master printer at the Tamarind Lithography Workshop and Gemini G.E.L. in Los Angeles and the Detroit Lithography Workshop before being recruited by Donald Saff in 1970 to oversee printmaking at the University of South Florida's then-fledgling Graphicstudio. At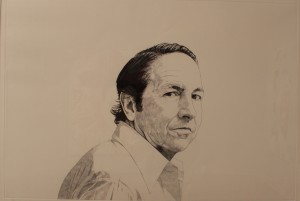 Tamarind, Wujcik had served as a printer for prominent Los Angeles artists John Altoon, Billy Al Bengston and Ed Moses. At Gemini G.E.L., Wujcik created prints for Jasper Johns. As co-founder of the Detroit Lithography Workshop, he produced a portfolio of ten lithographs. And as the shop manager at Graphicstudio, he worked with Richard Anuszkiewicz, Ed Ruscha, James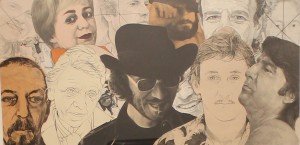 Rosenquist and Bob Rauschenberg.
These  collaborations inspired Wujcik to feature the artists he worked with as a printer or knew as friends in a series of subtle stipple engravings and metalpoint black-and-white drawings. Technically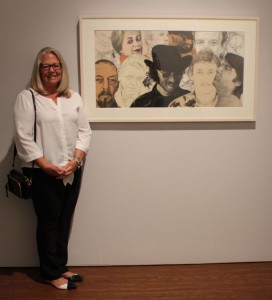 superior and uncannily lifelike, a number of the resulting portraits were acquired by such prestigious museums as the New York's Museum of Modern Art, the Whitney Museum of American Art, the Brooklyn Museum, the National Gallery, the San Francisco Museum of Modern Art, the Detroit Institute and the Yale University Art Gallery in New Haven, Connecticut. Three compilations containing Bob Rauschenberg from this period are in Artist's Artist, including one on loan from Wujcik curator and local art consultant Barbara Anderson Hill.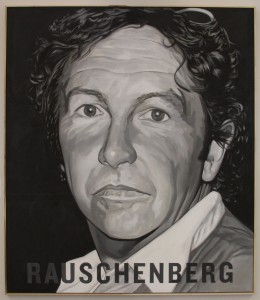 After changing emphasis, and venturing over the ensuing three decades into abstract, pop and mixed media genres and media, Wujcik returned to portraiture at the end of his career and life. During the six months preceding his death on March 29, 2014, Wujcik crafted eleven stunning Blue Chip paintings. Once again, Wujcik gave props to Bob Rauschenberg. But unlike the "brightly-colored interpretations of Jim Rosenquist, Takashi Murakami, Damien Hirst, Jeff Koons and numerous other artist-colleagues and friends," notes the Rauschenberg Gallery, Wujcik rendered friend and collaborator Rauschenberg in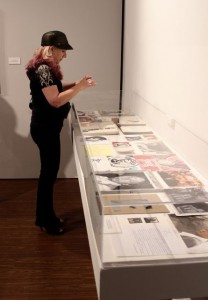 monotone white, grays and black. On loan from Wujcik's former wife Susan Johnson, it is this work that greets BRG visitors as they pass through the automatic storefront doors at the entrance to Building L.
The Bob Rauschenberg Gallery was founded as The Gallery of Fine Art in 1979 on the Lee County campus of Florida SouthWestern State College/FSW (then Edison Community College).  On June 4, 2004 the Gallery of Fine Art was renamed the Bob Rauschenberg Gallery to honor and commemorate its long association and friendship with the artist. Over the three plus decades prior to his death, the Gallery worked closely with Rauschenberg to present world premiere exhibitions including multiple installations of the ¼ Mile or Two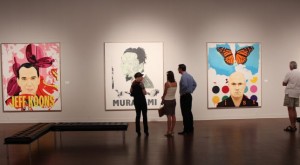 Furlong Piece.  The artist insisted on naming the space the Bob Rauschenberg Gallery (versus the "Robert Rauschenberg Gallery") as it was consistent with the intimate, informal relationship he maintained with both our local Southwest Florida community and FSW.
______________________________________________________________________
'Artist's Artist' exhibition compels out presence, not once, but multiple times (06-13-15)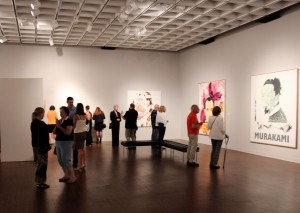 On view now through August 8 at the Bob Rauschenberg Gallery at Florida SouthWestern State College is Theo Wujcik – Artist's Artist. The exhibition is comprised of a number of works from Wujcik's Blue Chip series, as well as a mix of other works which highlight his relationship with the gallery's namesake.
There are many reasons to visit this exhibition,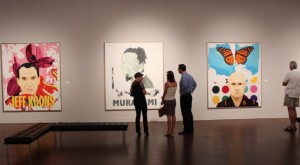 multiple times. Wujcik is an important artist, with work in the permanent collections of the Whitney, MOMA, The National Gallery, The Boston Museum of Art, The Los Angeles Contemporary Museum of Art, and many other impressive venues. With his passing a little more than a year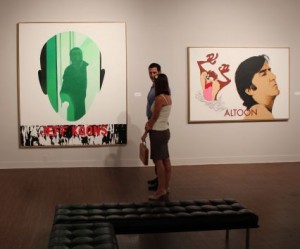 ago, Artist's Artist is likely to represent the last time a solo exhibition of his work will be staged anywhere in Southwest Florida. And with Blue Chip, Theo's work came full circle. He started his career with portraiture and detailed drawing, moved to abstract and pop, and returned to portraiture at the end, incorporating eloquent abstract and pop elements in his inimitable style. But the most compelling reason for seeing this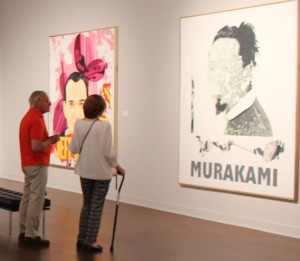 show is that Wujcik's Blue Chip paintings express the artist's final thoughts about art and the world he inhabited for more than four decades.
Wujcik created Blue Chip for an exhibition that opened at Dallas' Galleri Urbane on February 22, 2014. Balloon Dog, Splash, World Harmony, Monarch, Tamarind, Times Square, Cross Cultural Ave and Blinded by Bacon were all completed in 2014. Mirror Image the year before.
Sure, artists everywhere are known to cloister themselves in their studios for months on end in order to get ready for a big show. But what's truly remarkable here is that each of these paintings were conceived, crafted and completed after Theo received the devastating diagnosis that cancer had metastasized to multiple organs.
A gamer to the end, Theo embarked upon an aggressive regimen of chemotherapy. But Theo was a realist and undoubtedly knew in the recesses of his mind that the odds were against him and his remaining time short. No one would have faulted Theo had he cancelled the show. Getting ready for any solo show requires a gargantuan effort and exacts a tremendous physical and mental toll on even the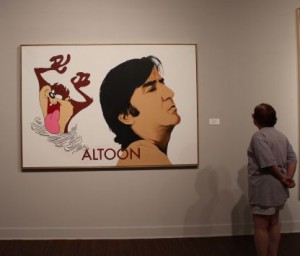 hale and heartiest artists. All the more so in Theo's case. Not only did Theo work in large scale (most of the Blue Chip paintings are 78 x 90 inches or bigger), he made his own stretchers, stretched his own canvas and applied his own gesso to the supports. But there was no quit in Theo Wujcik, who had a daunting reputation as a grinder. Before the cancer, Theo routinely started work in the afternoon, painted through the evening and into the wee hours of the morning, sometimes taking a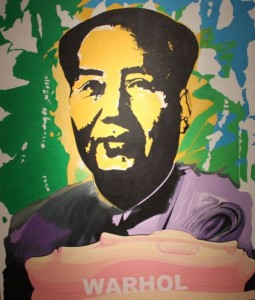 break at midnight to dance and mingle with the crowds that flocked to the multilevel dance club called the Castle that is located directly across the street from his Ybor City studio before returning to his studio.
With his energy flagging, though not his will or spirit, Theo brought in Tampa realist Peg Trezevant to help him complete the last three paintings in the series. Other iconic artists had long used studio assistants to churn out work. Warhol, for instance, had an entire factory. Closer to home, Bob Rauschenberg housed a host of assistants at his Captiva compound that included the likes of Darryl Pottorf,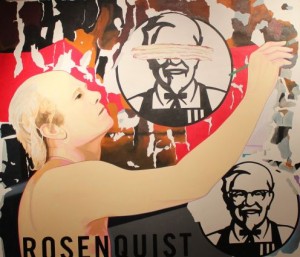 Lawrence Voytek and Jonas Stirner. "But Theo painted every inch of every canvas himself," notes Trezevant, who studied painting with Theo at the University of South Florida back in 1994. "He had done it this way for decades. For Theo, painting was living."
Toward the end, Wujcik was forced to work from a wheelchair, scooting up to a painting and pointing out sections with his cane for Trezevant to do. "He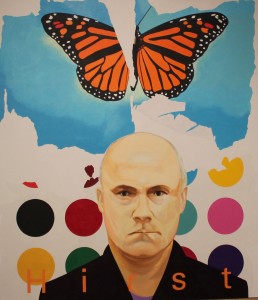 liked the brush marks in a particular passage or, without mincing words, would state that something needed fixing," says Trezevant of their brief collaboration. "Occasionally he would rise from the chair and start painting or taping alongside me." Adds ex-wife Susan Johnson, who cared for Theo during his final days and serves now as custodian of his work, "He even used a stick with a piece of charcoal taped to the end to sketch Rusha's image on the painting he did of him."
It might be a stretch to say that Theo was driven in the end to complete the Blue Chip works as an exclamation point or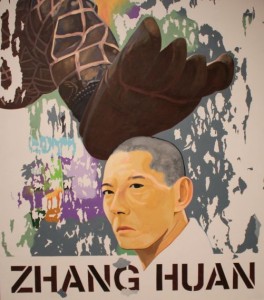 crowning achievement in his overall body of work. But he no doubt was cognizant that the series was likely to be his last. And so one has to ask what was it that this artist so wanted the world to know that would justify this Spartan drive and determination in the face of his failing health.
Theo's gallery sheds some light on this. "Blue Chip is intelligently crafted and a more than a little tongue-in-cheek," said Galleri Urbane in the lead up to the exhibition's opening. "He's arranged a group of paintings depicting his peers, including artists who can be counted among his closest friends, James Rosenquist and Jeff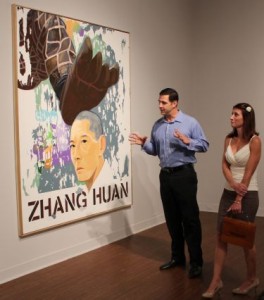 Koons." Over the course of his life, Theo worked with a legion of internationally-known artists including Rosenquist, Koons, Ruscha, and Robert Morris, Richard Anuszkiewicz and Nicholas Krushenick. And on a superficial level, the Blue Chip paintings explore Theo's personal and professional reflections on these and some of the top artists of the past six decades, including Rosenquist, Koons, Warhol, Rauschenberg, Hirst and Zhang Huan.
But probing deeper, each painting provides a portal into the depicted artist's own oeuvre of work. Take, for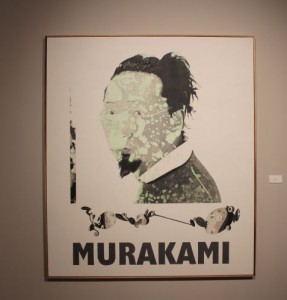 example, the work titled Splash. "I find all kinds of things on the street," said Theo of this painting. "When I found the picture of Murikami it had something spilled on it. The Xerox was bleeding green — so I called it 'Splash.'" And like Rauschenberg and his progeny who now used found objects to make upcycled, recycled and repurposed mixed media and multi-disciplined pieces, therein lies the key to appreciating Theo's genius. You or I would have stepped over that marred picture of Murikami. Wujcik incorporated it into a work of art that pays homage to the artist.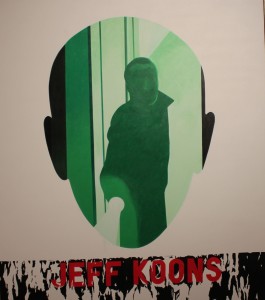 In Mirror Image, Theo depicts Koons handling a flashlight and "reverberating in a dopplegangerish mirror image," says Galleri Urbane. "Thus, homage is given to Koon's body of work while simultaneously delivering a mischievous wink. Blue Chip delivers a studied understanding of each artist's work while exposing a process that is thoroughly identifiable with Mr. Wujick."
Unlike Peg  Trezevant, Susan Johnson or even Theo's daughter, Frankie, we don't have the benefit of conversations with Theo or the copious notes he recorded in studio about each work. Thus, it's totally conjecture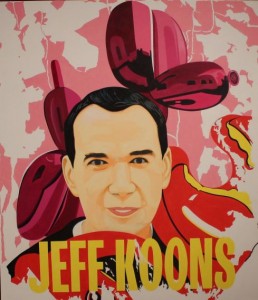 what Theo intended with and by each Blue Chip work. That's not the point. In fact, even if we did know exactly what he had in mind, that's beside the point. It is sufficient to know that Theo expended every last measure of his life force remaining days – precious time he could have spent with family or reveling in all that he'd done and become – to complete these profound paintings paying tribute to the artists he knew and who touched him both personally and professionally. And it's that realization that compels our presence before each of the works now on view inside the Bob Rauschenberg Gallery.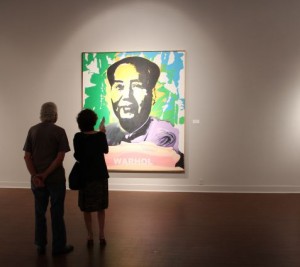 It is for us, the viewers, to derive our own understanding from the trove that Theo bequeathed to us as his dying utterances. It is for us to assign meaning to his playfully cryptic encapsulations of each subject's contribution to the state of the art world today – and going forward. Because that's where Theo Wujcik lived. And that's where Theo Wujcik yet endures today.
And that's why to all who knew him, Theo Wujcik was held in high regard as a person, as a friend, and as an Artist's Artist. Theo Wujcik – Artist's Artist remains on view now through August 8, 2015.
______________________________________________________________
Theo Wujcik exhibition at Bob Rauschenberg Gallery opens May 29 (05-22-15)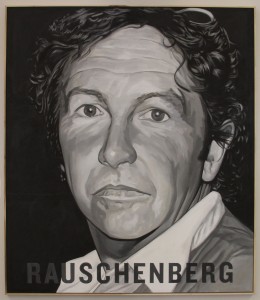 The Bob Rauschenberg Gallery at Florida SouthWestern State College has announced that it will be featuring work by the late Theo Wujcik in its next exhibition, which opens on May 29 with a reception and Gallery Talk from 6-8 p.m.
The focus of a 10-year retrospective at FSW in 2012, Theo Wujcik's current exhibition combines his final group of large-scale paintings (the so-called "Blue Chip" Series) with work in a variety of media created with fellow artist Bob Rauschenberg as his primary subject. Representing the culmination of exchanges originating in the 1970s between Wujcik and Rauschenberg, "RAUSCHENBERG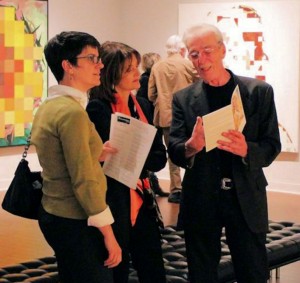 (Blue Chip Series)" (2014) was completed in Wujcik's final months of life – while battling cancer.  The last portrait of Rauschenberg in a small series of editioned prints, silverpoint drawings and paintings included in this exhibition, this "Blue Chip" series canvas is featured alongside Wujcik's brightly-colored interpretations of Jim Rosenquist, Takashi Murakami, Damien Hirst, Jeff Koons and numerous other artist-colleagues and friends.
Theo Wujcik moved from Detroit, Michigan to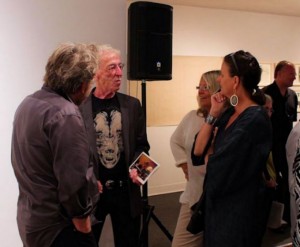 Tampa, Florida in 1970 – the same year that Bob Rauschenberg relocated to Captiva Island. Wujcik, a celebrated artist and Tamarind Lithography Workshop-trained Master Printer, had been recruited by USF Graphicstudio founder Donald Saff to apply his many talents in the collaborative environment of the then budding editions atelier and, shortly thereafter, to share his knowledge by teaching art at the University of South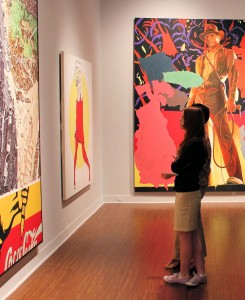 Florida. Much loved and respected by all who knew him, Wujcik's influence on students over decades and within his community and the region was profound.
Like Bob Rauschenberg, Wujcik's original works are represented in the Permanent Collections of major institutions including the Museum of Modern Art and Whitney Museum of American Art in New York, the Chicago Art Institute, San Francisco Museum of Modern Art, Los Angeles County Museum of Art and The National Gallery of Art in Washington D.C.  They have been featured in exhibitions worldwide – including both solo and group shows at the Bob Rauschenberg Gallery at FSW.
__________________________________________________________________________
Remembering Tampa artist Theo Wujcik on first anniversary of his death (04-01-15)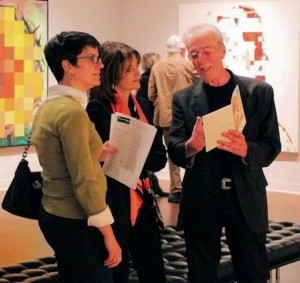 The art world lost Tampa artist Theo Wujcik a year ago. He died on March 29 at the age of 78 from complications relating to cancer.
A rebel in the tradition of James Dean, Wujcik refused to be defined by a single genre. But regardless of style, Wujcik's work contained two common denominators: bold, in-your-face color and the unabashed, often-irreverent use of metaphors to express some insightful commentary on the human condition or the state of art in the world today.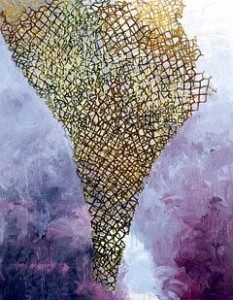 Wujcik credited friend and GraphicStudio colleague James Rosenquist with the latter.  "I wanted to do a picture of a tornado destroying the world," Wujcik explained during a Gallery Talk that marked the opening of a 10-year retrospective of his work at the Bob Rauschenberg Gallery in 2012. "But I couldn't draw. James Rosenquist suggested I work in metaphors, and while I was visiting an archaeological site in Tampa, I came across a cyclone fence that was in the form of a tornado. I did a thumbnail ballpoint sketch and that's how my chain link fence imagery was born."
Wujcik went on to use the device to reinterpret works by Da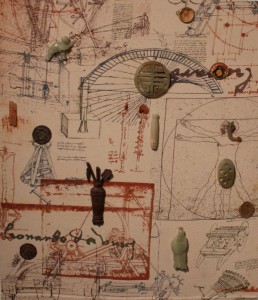 Vinci, van Gogh, Theodore Gericault, Rodin and Robert Rauschenberg, and a number of his Chain Link works were subsequently displayed and acquired by prestigious museums such as the Museum of Modern Art in New York and the Carnegie Institute in Pittsburgh.
Following the success of Tampa Tornado in 1984, Wujcik went on to explore a number of other metaphorical constructs, including:
blind contour drawing, in which he drew the contours of his muse without looking at the paper, a process that served as a metaphor for all the things we don't see and of which we are unaware in our daily lives;
his Asian Invasion series of super heroes;
his Zhang Huan series, which prophetically foretold that just as the abstract expressionists took the center of the art world away from Paris, the Chinese are today replacing New York as the vortex of the global creative realm; and
his uncharacteristically small scale Jade series, in which jade and bottle caps symbolize the marriage of Asian and western influences in the world of contemporary art.
Born in Detroit the ninth of 10 children, Wujcik dropped out of high school to enlist in the army, which stationed him in France, in a little town just outside of Bordeaux. Affronted by the shabby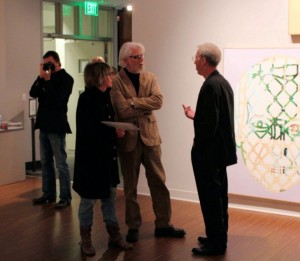 travel posters he saw all around, he made a quick trip to the Px for a set of watercolors and poster board. Although he had no formal training in art, his travel posters were such an improvement over the existing versions that he was put to work making the posters full-time and inculcating in the young Wujcik a smoldering passion for artistic expression.
When Wujcik completed his service and returned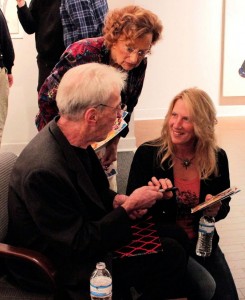 home, he used his eligibility under the G.I. Bill to enroll at the Center for Creative Studies in Detroit. "I knew I'd found what I wanted to do with my life, and I never looked back," Theo related during the 2012 Rauschenberg Gallery Talk.
Exhibitions in New York, Boston and San Francisco led to awards from the Louis Comfort Tiffany Foundation and the Ford Foundation, and that paved the way for him to join the Tamarind Lithography Workshop in Hollywood, California, where he trained as a master printer.
Tamarind was an atelier established by June Wayne for the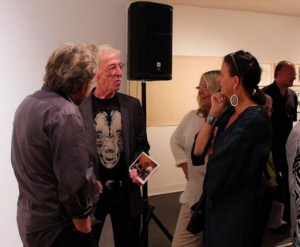 purpose of turning out high-quality limited edition prints while affording artists an environment that encourage maximum freedom. And Wood ruled with an iron fist. "She didn't allow us to smoke, play any music or put personal items on our desks. But then Larry Bell came in one day with a TV under his arm. He put it on his desk and watched soap operas all afternoon as he worked. June didn't say a word to him," Theo remarked wryly,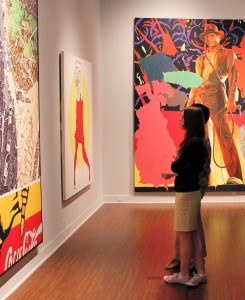 noting the deference universally accorded to the elite artists who've made their mark in the highly competitive world of art.
In 1970, Theo Wujcik landed in Tampa, where he assumed the position of shop director of Graphicstudio, an innovative print shop headquartered at the University of South Florida. That's where he first met and formed a fast friendship with pop artist James Rosenquist, who'd just relocated from New York to Aripeka, a picturesque town located just south of Weeki Wachee Gardens on the Gulf Coast.
Wujcik' personal and professional life took an abrupt turn in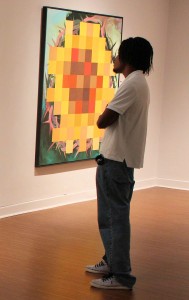 1979 with the end of his marriage. He joined the underground punk scene in Ybor City and together with some USF students founded Mododado, a nihilistic art group that used recycled junk from trash bins to create multi-media artworks. "Andy Warhol would paint from 9 to 5 every day and then grab his camera and go hang out with the wealthy. He lived his art. I did too," said Wujcik at the Rauschenberg opening. "I hung out at the punk clubs drinking and dancing all  night. I still have a few moves."
But he busted his best move one night outside on an Ybor City street. "I was going to dinner in Ybor City with a friend," Theo explained. "We saw a pile of wood that looked like something we might use and came back to investigate after we ate. When we turned over the wood, we saw all of
these jade screens. 'They're mine,' I shouted right away. 'Yeah, they're yours,' my friend immediately agreed."
That fortuitous encounter led to Wujcik's Jade Series, small scale (12 x 9″ to 23 x 20″) mixed media works consisting of jade, bottle caps, wood, acrylic and fiber that is a metaphor for the marriage of East and West in the world of art today, a world the artist sees shifting inexorably to China in the coming years.
Wujcik has always kept himself open to spontaneous creativity. Inspiration for Indy Jones, for example, was a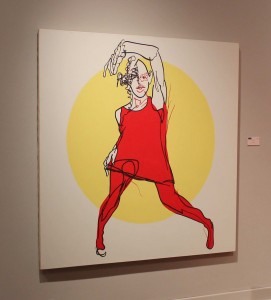 poster of the film character that "was creeping me out" in the stairwell leading up to his Ybor City warehouse, where he both worked and lived. "I finally pulled out the cardboard cut-out and noticed how all the wrinkles of Indy's trousers point to one place. Raw sexuality. Well, I just had to use it." And that led to large-scale works like Mythical Hero and Elton John/Boy Blue that metaphorically mock hero worship.
During his career, Wujcik's work was included in exhibitions and in the permanent collections of America's premier art institutions such as New York's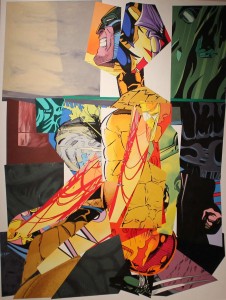 Whitney Museum of American Art, the Museum of Modern Art in New York, the Brooklyn Museum of Art, the Detroit Institute of Arts  and Yale University Art Gallery. Internationally, exhibitions featuring Wujcik's work were organized by the New World Museum in San Francisco through the United Nations World Environment Programme. Melting Ice: A Hot Topic, Envisioning Change premiered at the Nobel Peace Center, Oslo, Norway, traveled to the Bozar Center for Fine Arts in Brussels, Belgium and the Ministry of Culture in Monaco, before closing at the Field House Museum in Chicago.
Even after learning in October that he had late-stage cancer, Wujcik continued to paint. His last exhibit opened at the Galleri Urbane Dallas in February of 2014.