Casa Art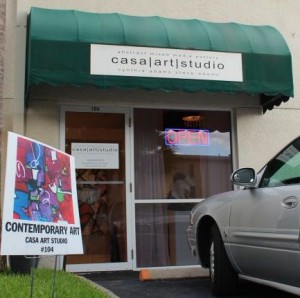 Located in the heart of the Naples Art District, Casa Art offers an elegant, sophisticated viewing environment for the vibrant abstract works of Cynthia and Steve Adams.
The Gallery. This 1,500-square-foot gallery consists of a front viewing room, a conversational seating area and working studio. Dominated by a black baby grand piano, the front gallery boasts gleaming white floors and white walls which duly focus the viewer's attention on the duo's latest abstract offerings.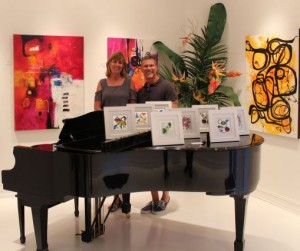 The Name. Casa Art is an acronym that consists of the Cynthia (CA) and Steve's (SA) initials. "And with that, we get the word 'house' in Spanish, which is fitting since we create art for homes," Steve remarks. "So the play on words certainly appealed to us but it's also perfect because we are thrilled to place our art in people's homes."
Their Art. Cynthia and Steve Adams are contemporary mixed media artists. While they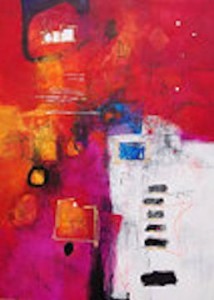 work primarily in oil and acrylics, anything lying around the studio has the potential to end up in their mixed media pieces, including natural plasters, fibers, pastels, metallic leaf, hand-painted organic papers and even bamboo, sea glass and carved bone. Inspired by the sub-tropical climate and natural beauty of the area, their work features bright, saturated color, organic texture and dynamic movement.
"Color, texture and line are the three biggest inspirations when it comes to painting for both of us," state Cynthia and Steve. "Our goal with each painting is to find a way to invite the viewer in for a spell of contemplation. The beauty of abstract work is that each person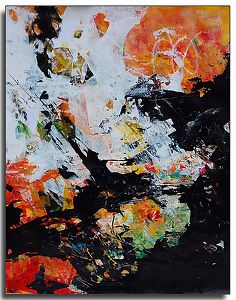 gets to see what they want and make it their own, and that is the connection with strive for with each of our creations."
In addition to perfecting their individual styles, the tandem also collaborates periodically on joint mixed media pieces. The process typically begins with one or the other laying down an area of color on their canvas or other support. "We both tend to gravitate toward vibrant color," notes Steve, who acknowledges that in rare circumstances one of them may start out using line or shape instead. "Whatever he does will inspire me to add lines, color or layers of my own," Cynthia adds. "Then Steve will come back and work off that to add shape or contrast that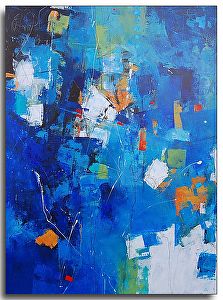 adds even more interest and expressive quality."
Anything can happen during the early stages of the artwork's development. "We brought back some newspapers from Morocco once," says Steve by way of example. "It had this unusual Arabic writing, which we buried within the piece to give it that little bit of added interest. Of course, we had someone scan the text to make sure that verbiage-wise it was on the up and up. We were using it to convey the pleasurable experience of the trip, not to express something embarassing or political."
This back-and-forth is reminiscent of a game of Scrabble in which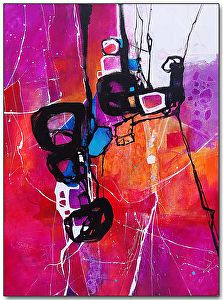 the tiles consist of color swatches, geometrical shapes, lines and mixed media. "Synergy is probably the best word to describe what happens when Steve and I paint together," says Cynthia. "Our artwork is, for the most part, complimentary, down to line, shape and using elements such as beads and silver to create interest," agrees Steve, although he admits that every once in awhile one of them may be tempted to erase or cover over something the other painted.
The Adams do not map out their individual or joint compositions in advance. Their process is expressive and, in that context, largely random or spontaneous in the early to latter stages of each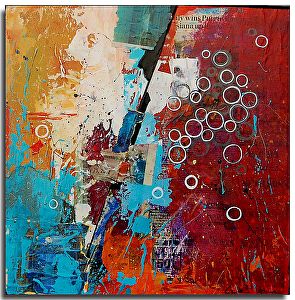 artwork. "Sometimes we control the outcome and at other times the painting tells us where it wants to go and what it wants to be," Cynthia advises. "But it's generally only toward the end where we become really deliberative; where we consciously decide to enhance a given area or add some specific detail or rhymical interest – what we call chatter, like repetitive shape."
The resulting work is typically more balanced than are the couple's individual pieces. "When I'm working on one of my own pieces, I'm less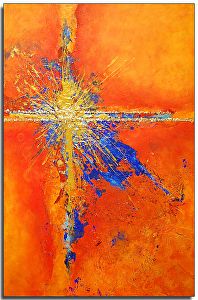 concerned with balance because there's no opposing or complimentary contribution," Cynthia observes. "If I'm doing an individual piece, I own it in a different way. It's more about me, although Steve may give me some insight from across the room."
When they do paint together, they find that they tap into an energy or flow that results in a work of art that is greater than the sum of its contributing parts. "When we collaborate, it is more about putting together something that is more energetically representative of us both," Cynthia explains. And to their fascination, the duo finds that this energy strikes a responsive chord or wavelenght with other couples.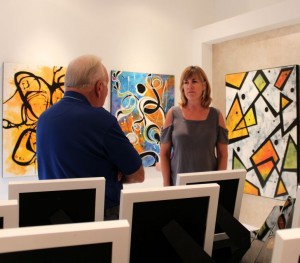 "We had one couple come into the studio during an open house and go almost straight to a collaboration that Cynthia and I had just finished," relates Steve. "Within five minutes, they said, 'We want to buy this. We never agree on artwork together, but we both walked in and fell in love with this piece. So just on that fact, we have to buy it.' Perhaps it's the masculine and feminine being brought together in the piece, but whatever the dynamic, the collaborative pieces just seem to convey the right energy."
And that energy keeps Cynthia and Steve inspired and in a creative state of mind that carries over to their individual work as well.
Cynthia's Botanical Paintings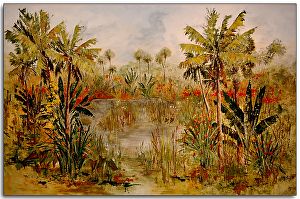 While Steve and Cynthia both fashion themselves as primarily abstract expressionists, Cynthia also renders luminous botanical pieces, although mostly on commission. Almost Audubon in style and content, her Florida Everglades landscapes and botanical motifs trace back more than a decade, when the Adams were still doing faux finishing to supplement their earnings from their fine art work. You can view some of these works by clicking here.
Steve's Work on Glass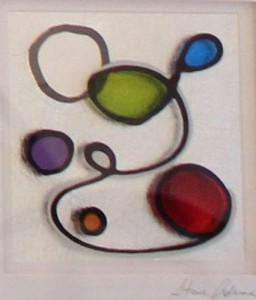 Decorating the top of the baby grand piano are a number of boxed works on glass. "I've always loved painting on glass, but I'm more intrigued with what you see when you view it from the reverse side," explains Steve, who originally began the series to have something more economically priced to offer folks who visited their booth at the outdoor art festivals and fairs he and Cynthia attend. "But they've gotten such favorable reaction that I have continued developing them."
The works consist of a combination of ink and acrylic paint on glass which is positioned a few tenths of an inch off the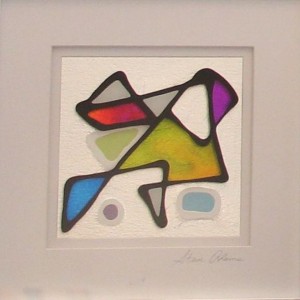 surface of leaf or watercolor paper. As light passes through the glass, it casts an image or reflection on the leaf or paper background. "The transparency of the ink and paint on this background creates a nice reflective quality from the backside of the ink and paint that you can't see on the front of the glass," Steve explains. "And the backside of the ink and glass typically reflects a different color or shape than what's painted on top of the glass. It creates a lot of interest along the way that is very inspirational."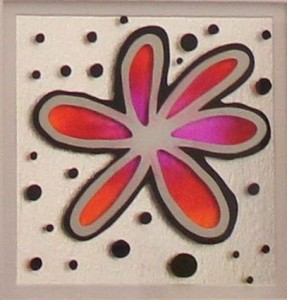 While the seminal pieces were only several inches square, Steve is now experimenting with works on glass that are 18 by 18 inches including matting and frame. "I have also used several of these pieces as studies for larger (48 x 60") works on canvas.
Physical Address. The studio is located at 5850 Shirley Street, Naples, FL 34109.
Web Address and Telephone Number. You can reach the studio by telephone at (239) 289-5071. The studio's web address is http://www.casaartstudio.com.