The Artists' Gallery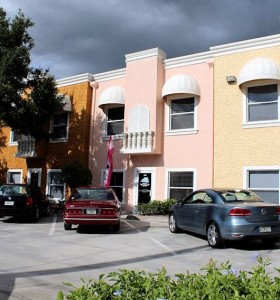 Shirley Street in Naples is known for its high concentration of artists, and in the middle of it all is a chic, South Beach style gallery known as The Artists' Gallery. Since its opening on January 5, 2015, the gallery represents the artwork of a bevy of local and regional artists, showcasing a variety of mediums, unique styles and vibrant color palettes.
The Gallery. The gallery is an upscale storefront that provides art lovers with an airy, inviting viewing environment flooded with slanting rays of natural light that compliment the rich oils, luminous acrylics and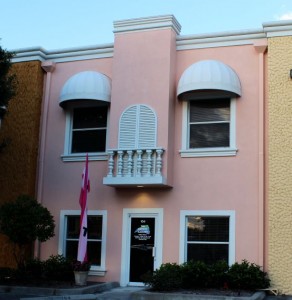 transparent watercolors hanging from clean, crisp white-painted walls and wood-turned vessels and intricate sculptures strategically positioned on pedestals and table tops rising from cool Florida ceramic floors.
Representative Artists. The Artists' Gallery is home to two well-established local artists,fine art photographer Jack Megela and accomplished landscape painter Jo-Ann Sanborn. Megela's unique style emphasizes the drama of light and serenity of nature; his subject matter embodies moments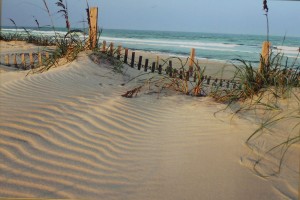 captured in nature that take viewers to a special place or memory. Sanborn takes as her focus the Florida landscape, especially the Everglades, from which she derives unlimited inspiration. Her strong compositional arrangements combined with uncommon colors bring a simplicity and integrity to the unique Everglades landscape.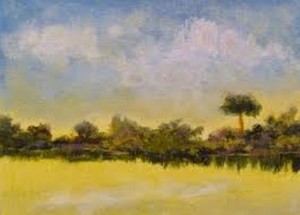 In addition to Megela and Sanborn, The Artists' Gallery is currently representing the work of wood-turner John Mascoll, glass and copper sculptor John Zidek, pop culture mixed media artist Holly Manneck, pastel artist Alice Jacobs, gold and sterling silver jewellers Gary and Maureen Shull, and mixed media fiber artist Diane Whiting.
[Please scroll down for articles on each of these artists.]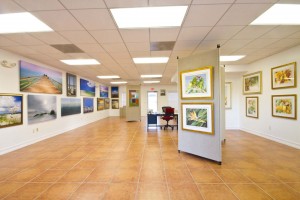 Hours. The gallery is open from 10 a.m. to 4 p.m. Monday through Friday. It also features the work of one of its artists at the monthly ART ALIVE! event that descends on the Naples Art District from 5 to 8 p.m. on the first Wednesday of each month. "Art is Alive at the gallery that evening with an artist demo and meet-and-greet," notes the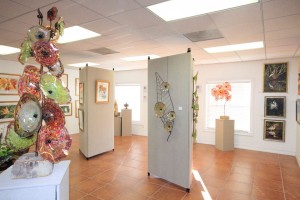 gallery's director, Marianne Megela. "So you can talk with the artist directly."
Website and Telephone. The gallery's website is http://www.theartistsgallery.us/. The gallery can be reached by telephone at 239-596-5099.
Management. The gallery is owned and directed by Marianne Megela. With an Associates in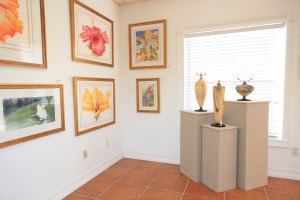 Commercial Art from the University of Akron in Ohio, Megela served for six years (2009-2014) as the Arts Festival Director for the Naples Art Association at The von Liebig Art Center, where she administered all aspects of the NAA's nationally-ranked outdoor art fairs and festivals, including the Downtown Naples New Year's Art Fair, Naples National Art Festival and Downtown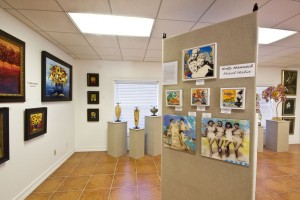 Naples Festival of the Arts, as well as Art in the Park, Naples' longest-running one-day outdoor member art fair.
"During this time, I had the opportunity to work with artists in the logistical sense, but not so much on the personal side of their profession," Megela says reflecting on her experiences as NAA Festival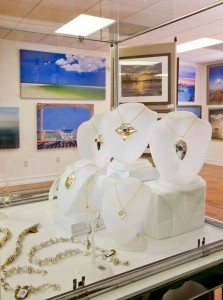 Director. "I have a great respect for artists. Artists make one of the most difficult career choices and are amazingly passionate about it. They create … then place themselves in the vulnerable position of getting approval from the masses for their creativity. That is difficult, and can at times be heartbreaking. But they are resilient and their passion for what they do is unending. I have found it refreshing to be associated with them."
Opening The Artists' Gallery has enabled Marianne to work with a coterie of artists on a more personal basis. "Now I'm learning what drives artists on their creative journey. I get a better understanding of their techniques and how their experiences shape their style." This, in turn, uniquely empowers her formidible organizational, communications and problem-solving skills to more effectively represent the gallery's artists, promote their art to area residents and visitors, and advance their careers.
But it's not just about the gallery's artists. During her time at the Naples Art Association, Marianne gleaned extensive knowledge about the art market through her familiarity with thousands of artists and hundreds of art dealers, gallery owners and art educators throughout the country and around the world. The perspective she gained directly benefits the art enthusiasts and collectors who visit the gallery on a daily basis. "Training and teaching are areas of strength," acknowledges Megela, who relishes the opportunity to share background information, context and source material with art lovers eager to learn about each artist and the relevance of their work in the art world of today.
Articles.
Artist Martha Hankey joins Naples Art District's Artists Gallery (10-07-15)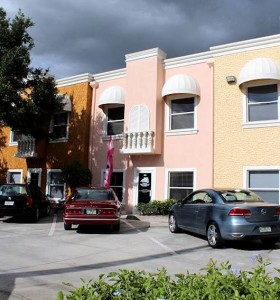 Artist Martha Hankey has joined The Artists Gallery. Hankey works in ceramics and is known for her "spirit sticks." You can learn more about her work on Wednesday, October 7, during 1st Wednesday ART ALIVE!, along with other artists represented in The Artists' Gallery, viz:
Photographer Jack Megela

Everglades artist Jo-ann Sanborn

Glass artist John Zidek

Woodturner John Mascoll

Acrylic artist Holly Manneck
The Artists' Gallery is located in Unit 104 at 6240 Shirley Street Unit 104. Regular gallery hours are Monday-Friday, 10 a.m. to 4 p.m. and Saturdays by appointment. For more information, please telephone 239-596-5099 or visit www.theartistsgallery.us. The Artists Gallery recently joined Facebook, and they welcome you to like and follow their page: The Artists' Gallery, and join their event page for the season opening event: 1st Wednesdays ART ALIVE on Oct. 7, 2015.
____________________________________________________________________
Spotlight on The Artists' Gallery fine art jewelers Maureen and Gary Shull (08-15-15)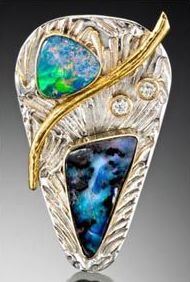 Among the artists represented by The Artists' Gallery on Shirley Street in the Naples Art District are fine art jewellers Maureen and Gary Shull.
Jewelry has been recognized as a fine art genre since the Art Nouveau movement at the turn of the 20th Century which gave art history the poster art of Henri de Toulouse-Lautrec, Gustav Klimt, Edvard Munch, Egon Schiele, Aubrey Beardsley, Henri Dumont, Alfred Roller and Pierre Bonnard.
The most prominent art jeweler of the Art Nouveau period was Rene Lalique, and he was followed by such prestigious names as Pablo Picasso, Salvador Dali, Max Ernst, Georges Braque, Fernand Leger, Man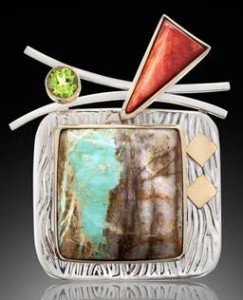 Ray, Josep Hoffmann, Hector Guimard and sculptors Auguste Rodin and Alexander Calder. Seeking to take advantage of a trend that involved fine artists using images from their paintings as the basis for "wearable art," both Picasso and Ernst designed limited production jewelry lines in collaboration with French goldsmith Francois Hugo. Picasso had actually experimented with jewelry decades before, and Ernst was so serious about the jewelry he produced that he packed his limited edition, signed pieces in fitted wooden boxes with lithographed images on the lids.
Picasso, Ernst and even Dali were artists who made jewelry on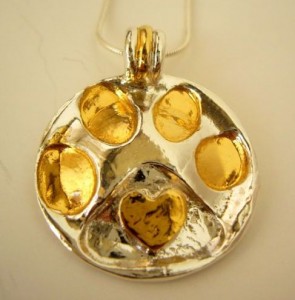 the side, but several – Georges Braque, Alexander Calder (who invented the mobile) and pop artist Roy Lichtenstein among them – worked symbiotically with artisans. "[J]ewelry served as a model, almost, for larger pieces," points out Toni Greenbaum, a specialist in Modernist jewelry.
Artist or artisan, the jewelry made by these elite artists brought new respectability to jewelry as an art form. "They lent it relevance," says Gloria Leiberman, director of Skinner's jewelry department. So much so that the Museu Nacional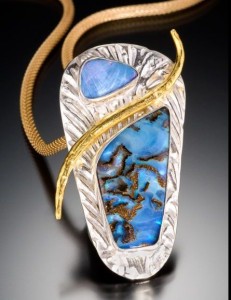 d'Art de Catalunya in Barcelona put on a three-month show last year entitled "Jewelry by Artists: From Modernism to the Avant-Garde." Today, artist-designed jewelry is no longer considered a trend or passing fancy. "That niche has turned into a demand for both big-name designers and unique, self-expressive jewelry," observes Leiberman.
Maureen got her start in the genre just out of college when she started creating beautiful pieces of jewelry as a hobby. After teaching high school and advising high school publications for many years, she rekindled her interest in her former hobby and started selling the one-of-a-kind pieces she was wearing to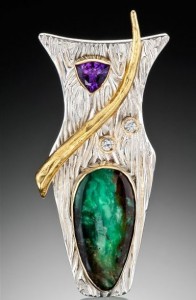 friends and co-workers who admired them. Her jewelry also found receptive audiences at local arts and crafts festivals, cementing her decision to pursue her craft as a full-time fine artist.
After practicing as a chiropractic physician in Miami for 30 years, Gary joined Maureen in her artistic venture. After attending the International School for Jewelry in Jupiter, Florida, Gary became intrigued with the versatility of precious metal clay and decided to specialize in this area. He has studied under Celie Fago, Barbara Becker Simon and Ken Devos and received certification at the William Holland School for Lapidary Arts in Young Harris, Georgia. "Although this was my initial thrust, we now include traditional fabrication techniques, such as roller printing, hammering, reticulation and patination," says Gary.
Maureen and Gary both enjoy traveling the country in their motor coach to display their jewelry in various top art festivals from Miami to Seattle, accompanied by their two Humane Society cats and artistic inspiration, Nina and Nomi.
__________________________________________________________
Spotlight on Artists' Gallery landscape artist Jo-Ann Sanborn (08-14-15)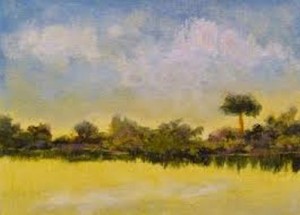 One of the artists proudly featured by The Artists' Gallery on Shirley Street in the Naples Art District is Jo-Ann Sanborn.
Sanborn's images are ancient and familiar – palms, prairie, water and clouds. Through these images, she seeks to introduce her viewers to pristine places of natural beauty. "In the Everglades, the soul can find gladness listening to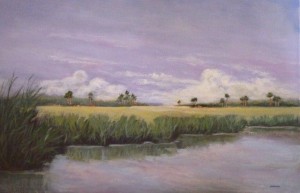 clear water gurgling softly as it travels steadily towards the gulf, and peace watching the soft pastels of the morning sky change slowly as the sun rises," muses Sanborn, waxing philosophically. "I'm awed by the simple dignity of a sable palm in dancing light. The bold forms and deep shadows provide constant interest and exploration. As soon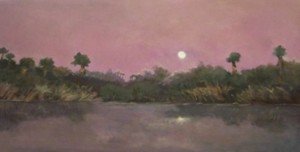 as I master one view, the majesty of a cypress grove, a wind-riffled meadow in warm sunshine, or swirling clouds in a multitude of blues provide another source of inspiration and challenge."
The Florida landscape has become the focus of Sanborn's work and provides her with unlimited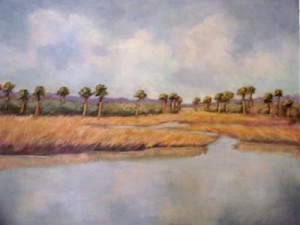 inspiration. Her strong compositional arrangements combined with uncommon colors bring a simplicity and integrity to the unique Everglades landscape, and Jo-Ann is one of several artists in the legendary Highwaymen to interpret this landscape in a strong and distinctive manner.
Jo-Ann has exhibited her paintings from Marco to Portland, Maine. She has enjoyed a number of solo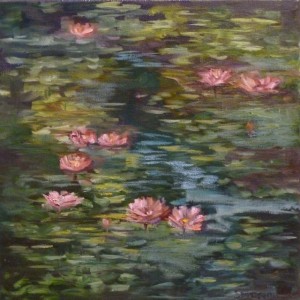 shows and been granted numerous awards for her landscapes, including Best of Show at the Marco Art League's Fine Arts Show, an Award of Excellence in the Founder's exhibition of the Naples Art Association at The von Liebig Art Center, several awards for works on canvas by the national Association of Women Artists, and has frequently been selected for Judge's Choice and Judge's Preference awards. She has also been featured on WGCU-TV's arts program Expression. Numerous articles have been written about her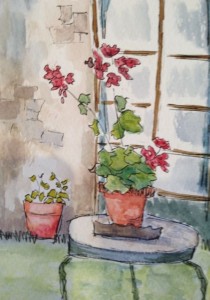 work, and she has been selected as cover artist for several magazines, including The Naples Guide, Premier Properties "Presenting Southwest Florida's Finest Properties," and the City of Marco Island Budget.
Sanborn teaches workshops on color and the Florida landscape and has become a member of the growing phenomenon of daily painters. In addition to her website, she maintains a painting blog, where she keeps an artist journal, highlights daily paintings and writes about the Everglades and the Marco Island art scene. Jo-Ann is a distinguished member of the National Association of Women Artists and its Florida chapter, the Florida Artist Group, and an active
member of the Naples Art Association and the Marco Island Center for the Arts.
Jo-Ann Sanborn attended Becker College in Worcester, Massachusetts, and studied painting under the tutelage of Johanna Murphy of Hartford, Connecticut. She took foundation classes at Hartford Community College and has participated in a number of workshops with nationally-noted artists, paints daily and believes that artists must continue to learn every day. Her paintings are in corporate and private collections throughout the United States and Europe. She lives and works on Marco Island, where she also maintains her studio
______________________________________________________
Spotlight on Artists' Gallery wood sculptor John Mascoll (08-13-15)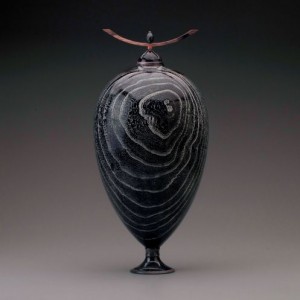 Included in the stable of artists represented by The Artists' Gallery on Shirley Street in North Naples is wood sculptor John Mascoll.
Since the late 1980s, John Mascoll has been creating wood-turned art with a twist. John utlizes a lathe machine that not only allows him to convert various woods into forms and shapes more efficiently, but also the delicately crafted finials and covers that accessorize and enhance each individual piece. "It became necessary for me to create pieces that show a connection between the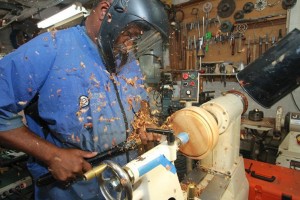 world as I see it and my inner self by exploring and embracing all aspects of this medium so as not to limit the expressiveness of the work itself," John tells.
Mascoll is inspired by all the things that have influenced his thought processes over the years – nature, his travels, family, cultural diversity,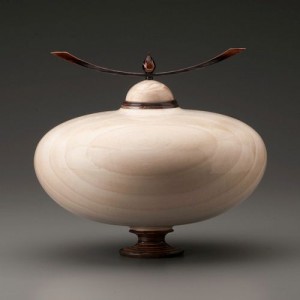 memories and past experiences, artists whose work he admires and his background in structural engineering. "I strive to present a creative experience through my work that makes the connection real," John expounds.
Choosing wood as a creative medium was second nature for John, who was the son of a carpenter and shipwright (boat builder) who taught John that wood is one of the most addictive and user-friendly materials that an aspiring artist or craftsman could ever hope to use. "While growing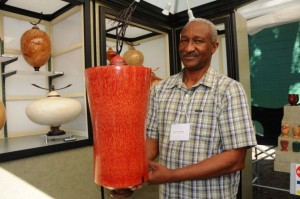 up in my native Barbados, I mimicked every move, cut and style of woodworking my father performed with a variety of finely-tuned hand tools and developed good skills in the process."
Mascoll's earlier works explored the seemingly infinite variety of shapes and forms that allowed the natural beauty of the wood to be reflected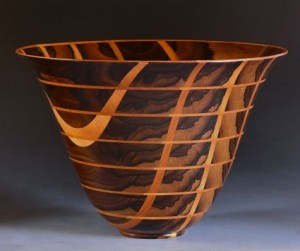 aesthetically in the vessels he created. "There came a point, however, when 'the natural beauty of the wood' became like a cliche' that had run its course," John adds. "I realized that it represented only one component of creative expression and was not the only criterion upon which I could base my work."
For more information about John Mascoll and his turned-wood sculpture, please contact The Artists' Gallery by telephone at 239-596-5099 or visit http://www.theartistsgallery.us/.
___________________________________________________________________
Spotlight on The Artists' Gallery New American pop artist Holly Manneck (08-12-15)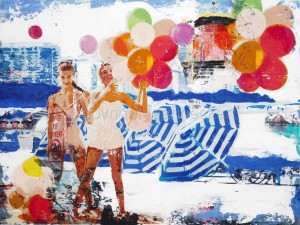 Among the group of artists represented by The Artists' Gallery in the Naples Art District is Holly Manneck, a self-described New American Pop Artist. "My style is a combination of academic studies of fine art and graphic design," Holly explains. "I hold a BS from the University of Vermont and then continued my studies at Plymouth State University in New Hampshire, where I studied graphic design and fine art."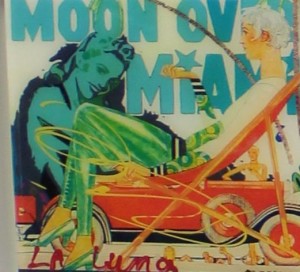 Holly uses a combination of photography, digital art and fine art in her mixed media pieces. "I start with photos to create a montage using Photoshop and Wacom Cintiq," she divulges. "Then I transfer the images and apply the painting surface with a fine art printmaking method." She then employs fine art materials and methods to work on the piece, focusing on composition, color, light and line. If more photos are needed, she continues to layer, using various methods to do the transfers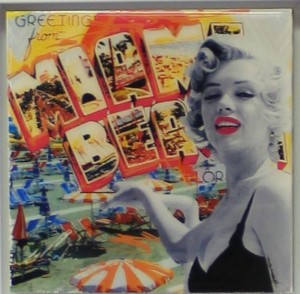 with acrylic mediums, silk screening and solar developing.
Manneck's process may be complex, but her images are delightfully simple. They depict slices of everyday life that tell a story. "As I develop a montage of images, a story emerges which invites the viewer to experience the tale," says Holly. "The creative process I use comes from my skill set and life experiences," which include extensive travel around the globe. She uses vintage images and her own photographs, being careful to choose pictures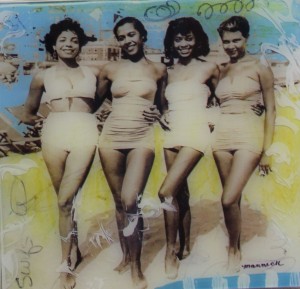 that hold special meaning.
"I hope the viewer finds a connection that either evokes a feeling or thought. My topics are iconic imagery mixing the current with the past. Many times I use images of women to give a voice and sense of empowerment. A universal connection is what I strive for. My art is a metaphor for life. The complexity of everyday life reveals that we are all simply human."
__________________________________________________
Spotlight on The Artists' Gallery painter Alice Jacobs (08-11-15)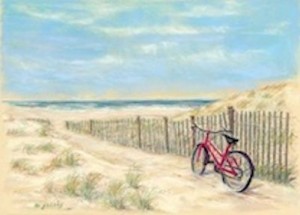 The Artists' Gallery in the Naples Art District represents a coterie of eight area artists. One of those artists is Alice Jacobs.
Jacobs paints mostly from nature. Operating from the premise that art needs to be shared in order to be meaningful, she strives to evoke positive thoughts and feelings in her viewers. "The ability to translate my observations of certain subject is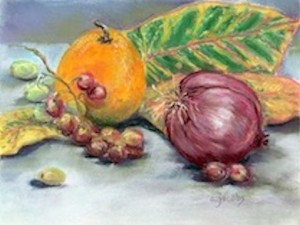 my ultimate goal," Jacobs professes. "Working in oils and pastels enables me to provide my audience with richness of color, light and form. Every artist tends to gravitate to a personal palette, but nature affords me unlimited possibilities for creativity."
Alice is a graduate of Ohio State University with a Bachelor of Fine Arts in Design and Painting. She has studied with artists Lynda Braun, Jo Ann Lizio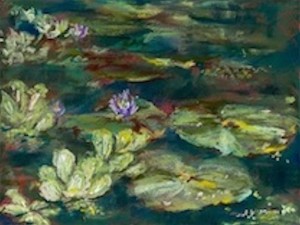 O'Brien, Robert Carsten, NPSA, Charles Orloff, Karen Stone and George Zetzer. She has enjoyed a variety of career experiences. She was editor of a ceramic trade magazine, a design consultant and served 20 years as an elected official. Alice has exhibited at Linden-Kicklighter Gallery, New Gallery, Atelier Lizio, Pelican Bay Artists Showcase and the Bonita Springs Art League. She has paintings in many private collections. Alice is a member of the Art League of Bonita Springs, Naples Art League and Southwest Florida Pastel Society.
___________________________________________________
Spotlight on The Artists' Gallery sculptor John Zidek (08-10-15)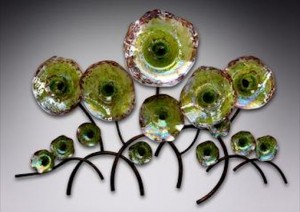 One of the eight artists who is represented by The Artists' Gallery is John Zidek, an internationally-recognized sculptor who has worked over the years in numerous mediums, including bronze, wood, resin, ultra-violet minerals, and a line of gold and sterling silver jewelry.
John's newest wall sculptures combine fabricated copper and hand-bl0wn glass. "Blown glass is a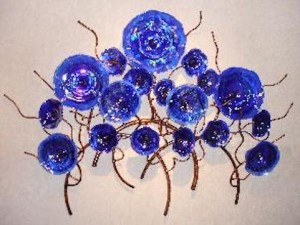 process. It starts as clear crystal and frits are rolled into it for color and pattern. The frits come from two companies in Germany, which Chihuly claims are the best in the world," says Zidek. "While the glass is still hot it is fumed with titanium, a Tiffany technique with a space age metal. It was chosen for its overall reflection and iridescence. The quality of the glass blowing is determined by not only the thickness but also its overall uniformity. In other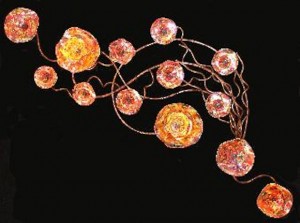 words, it is thin and uniform from its center to the edge."
Zidek enlisted his friend and fellow artist Ron Hinkle, owner of Dying Art Glass Works in West Virginia, to develop and refine his process. "I had the design and Ron had the expertise to help me put it together."
"My copper designs are generally in my mind,"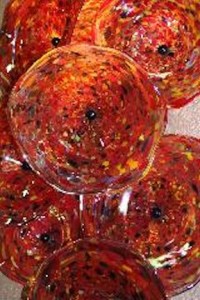 Zikek explains. "Occasionally I may make a basic sketch to retain an idea, but that is rare. I selected copper as my metal for several reasons. It is flexible enough to be worked by hand and then through heat treating it can be made rigid."
Another reason that Zidek gravitates toward copper is its permanence. "Copper is found in sheet form in Michigan. It is layered between rocks and has been there for millions of years in its natural state. Copper was chosen for the Statue of Liberty for its resistance to salt air. The only issue with the Statue to date has been the ironwork that has rotted away in the arm. Depending on formulas, bronze is 94-97% copper; the inclusions are to give it hardness."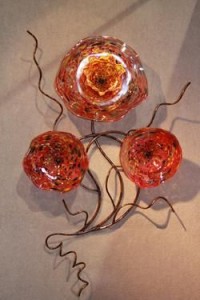 Zidek brazes all of his pieces at approximately 1800 degrees with oxygen/acetylene. "The copper is at its melting point when I apply a copper rod to make the connection," Zidek continues. "Even though I schooled in jewelry and am familiar with soldering, the process to connect copper is much more intense. I like to build up the shoulders of my joints. Consequently, the application of heat is very delicate. Too much and the entire joint dissolves and falls off. Of course, too little heat and nothing happens."
Zidek's pieces have no soft solder, plumbers solder, epoxies, glues or other materials that will fail over time. The work basically becomes one piece and is permanent. His pieces are made from hollow tubing, which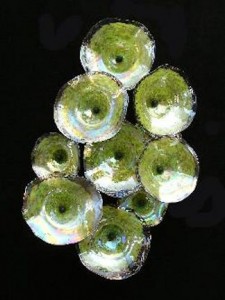 makes them very lightweight and easy to install. He uses a museum brown bronze chemical patina for color. The metal is then clear coated with enamel and heat treated. A large piece may weigh as little as twenty pounds.
Zidek is also experimenting with floor, pedestal, lighting, water features and wind sculptures.
A Professional Level Member of the International Sculpture Center, Zidek periodically exhibits in International Art Expo New York. John was born and raised in Franklin, New Jersey. His father, John Zidek Sr., was first generation American, his family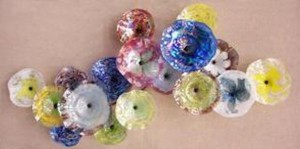 having come from Czechoslovakia. His mother, Edna, is a Daughter of the American Revolution. For more information about John Zidek and his art, please telephone The Artists' Gallery at 239-596-5099 or visit http://www.theartistsgallery.us/.
_______________________________________________________________
Spotlight on The Artists' Gallery fine art photographer Jack Megela (08-09-15)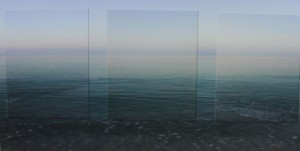 One of the artists represented by The Artists' Gallery in the Naples Art District is fine art photographer Jack Megela.
Born in Youngstown, Ohio, Megela studied Criminal Justice at Lorain County Community College while working as a State Trooper with the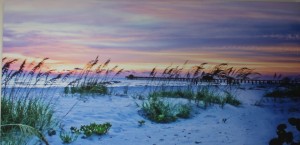 Ohio Highway Patrol. Later, he attended Kent State University and while working as a Detective Sergeant with the Canton, Ohio Sheriff's Department earned a Bachelor's Degree in Law Enforcement Administration.  Having extensive training in all aspects of photography from camera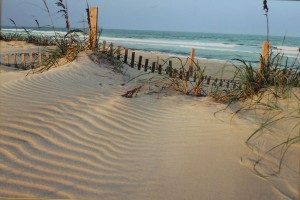 work to darkroom developing and printing, he put his skills to work during his daily work regiment in everything from traffic fatalities to major crime scenes of all types, including numerous homicide investigations.
After retiring from law enforcement, Jack Megela returned to Kent State University to pursue a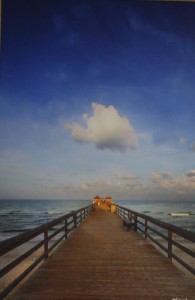 curriculum in Art and Fine Art Photography. He then travelled the United States by recreational vehicle, visiting all 49 land bound states before he and his wife, Marianne, settled in Naples near the edge of the Fakahatchee Strand and The Big Cypress National Preserve.
Megela now spends many hours each week photographing in the Florida Everglades and on the beaches in the Gulf of Mexico, where he directs his photographic experience toward nature and landmarks in and around the City Of Naples. "It has been a long road from investigating, documenting and photographing human tragedy as a law enforcement officer to photographing in the quiet magnificence of nature," Jack shares. "It's been a transition from a world of violence, chaos and
tragedy to a world of peace and tranquility, a world that makes sense.  Art makes sense, embracing us as it gives us refuge from catastrophe and despair."
Over the past 20-plus years, Megela has participated in hundreds of juried outdoor art shows and exhibitions at venues throughout the United States. He has received more than 45 awards for his photographs and his work is held in numerous corporate and private collections all over the world. In addition to the Artists' Gallery, you can see an example of his work currently at the Center for Visual Arts Bonita Springs. His photograph Fire and Ice is part of the It's Hot, It's Cold, It's COLOR exhibition on view now through August 27.