TJ Albertson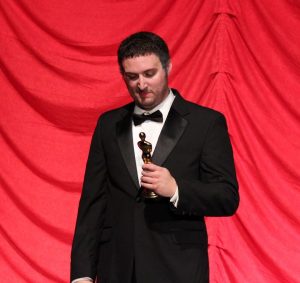 TJ Albertson is one of Southwest Florida's rising community theater stars. In just the past season, he's turned in outstanding performances as the priest in The Crucible, Anorexia Nervosa in The Legend of Georgia McBride, The Soldier in Andorra, Tyler Johnes in And the Winner Is … and Timmy in Hand to God.
Originally from Fairfax, Virginia, TJ's introduction to theater came when his next door neighbor invited him to see her play the role of Belle in Beauty and the Beast. "It was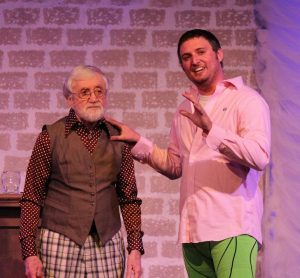 incredible. I knew that person, but for the two hours she was on stage singing, I didn't know her at all. And when the show was over, I said to myself that this is what I wanted to do too."
In high school and college, he appeared in How to Succeed in Business Without Really Trying, Fences, Wizard of Oz, High School Musical, Suissical and A Midsummer Night's Dream.
"A really wide variety, pretty much whatever was available,"
TJ notes. "Unfortunately, I didn't have the time for community theater while I was in college [he majored in Spanish, with minors in sociology and psychology rather than theater], so I was only able to do one or two shows. But it was fun to get out there."
He had a career in law enforcement all mapped out, but then took a right hand turn and ended up in Fort Myers in 2017. A year later, he discovered Lab Theater during an online search of theater opportunities –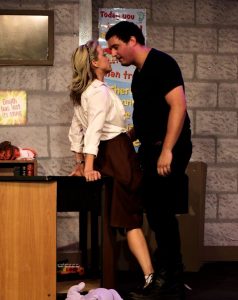 just four days before it was holding auditions for Hand to God.
"I had four days to put a monologue together," TJ recollects. "It was pretty serendipitous. I thought it was a sign. And now here I am."
At this point, Albertson is still trying to determine which genre he likes best. He is currently leaning toward comedic roles, but possesses a flair for the dramatic, as evidenced by his recent roles in Crucible, Andorra and his final scene with Margery (played by Shelley Sanders) in Hand to God.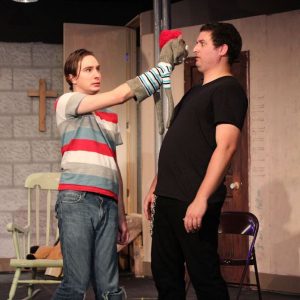 But whether it's a comedic part or a serious role, the key for TJ is finding his character's motivation.
"For me, it's finding those areas in the script that I can really dive down into and from there, making bold choices and sticking with them."
His roles in Hand to God, And the Winner Is … and Andorra and even Trash Talk and Other Damages and Lemon Twist in Lab Theater's inaugural Festival of Tens required Albertson to portray egocentric, narcissistic jerks. (TJ encourages you to substitute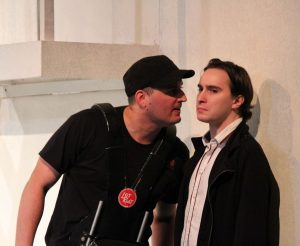 a stronger descriptive or epithet, if you prefer.) It's a departure from his real-life mental make-up, so what you see on stage is not just TJ being TJ, but rather, quite the opposite.
"Everybody has the tendency to be really selfish at times. To get into characters like Timmy, Tyler Johnes, the Soldier [or even the bartender in Lemon Twist] I had to put myself in a place where instead of me being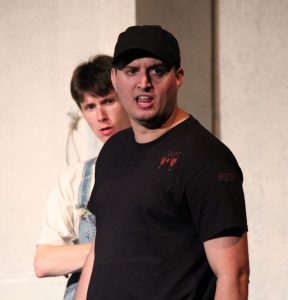 selfish every now and then, this is me being selfish all the time."
Albertson credits the direction he's received since landing at The Lab with the progress he's made as a character actor.
"There was definitely an evolutionary process in freeing myself up to be and speak like Timmy," TJ laughs.
"Nykkie [Rizley]'s favorite thing to say during rehearsals was 'Be more Jersey, be more Jersey'" because she wanted me to be more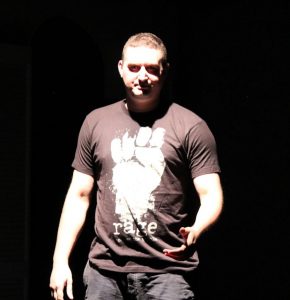 Jersey Shores. Whenever I would say a line and it wasn't to her liking, I'd hear from the back of the theater 'Jersey,' and I'd say it again with more gusto , a more prickish attitude."
But the process took time.
For awhile, Albertson was actually concerned that he wasn't going to be able to provide what Rizley envisioned for the role.
"It would have been easy to write off Timmy as just a jerk.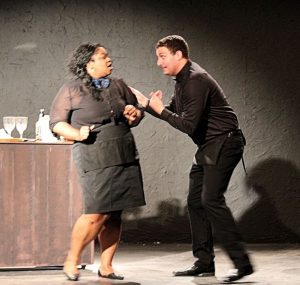 But after continually asking myself why he spoke and acted the way that he did and understanding Nykkie's vision of the character, it finally made sense and freed me up to run with it."
In Hand to God, that "aha" moment came during a scene that he was rehearsing with Shelley Sanders, who played seductive mom Margery.
"I could see from the look in her eyes that the choices I made [about my character] resonated with her. They enabled me to feed off her character and energy,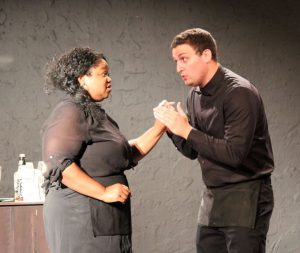 and gave her what she needed from me to do the same. I knew that if the choices I made worked for my scene partner, they were going to work for the audience as well."
And they did.
In addition to Nykkie Rizley, Albertson has been fortunate enough to work with directors Carmen Crussard (And the Winner Is …), Annette Trossbach (Andorra), Steven Coe (for the Festival of Tens)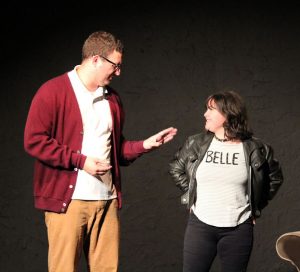 and, most recently, Brett Marston (The Legend of Georgia McBride). Each has given him new skills to add to his acting tool box. In fact, with Georgia McBride, TJ got in touch with a whole new side of himself to portray a on-the-wagon-off-the-wagon drag queen with a chip on her shoulder.
The part required far more than learning to walk in heels and donning a big-hair wig. As Rexy, Albertson delivered some of the play's pithiest lines and most profound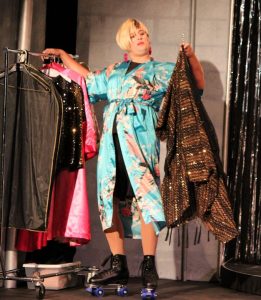 insights. "Drag is a protest, a raised fist inside a sequined glove," Rexy bellows. "Drag is a lot of things, but drag is not for sissies." It was one of the most memorable moments in a play full of memorable characters and lines.
Albertson is already eyeing the plays scheduled for production next season and making plans for auditions. Comedy or drama, or something out of the ordinary, he'll no doubt be up for the challenge. It's just a matter of diving deep into the scripts he's handed, finding that all important motivation and marrying it with his director's vision for the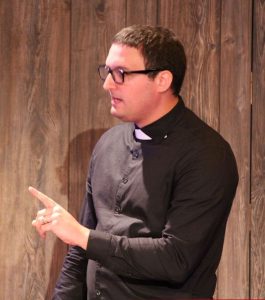 characters he plays.
Easier said than done. But that's the life of an actor.
He next appears in the Florida premiere of Sarah Ruhl's How to Transcend a Happy Marriage.
September 1, 2019; revised January 23, 2020.