Gerrie Benzing wears the role of Edith Frank on her face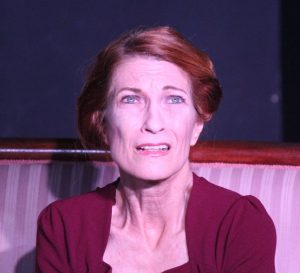 Gerrie Benzing has tackled difficult roles before. She was Theresa in Circle Mirror Transformation for The Studio Players and played the iconic role of Ethel Thayer in On Golden Pond for Cultural Park Theater. But playing Edith Frank in Fort Myers Theater's production of The Diary of Anne Frank presents an entirely different challenge.
To portray Anne Frank's mom, she has to disregard every woman's innate desire to look her absolute best when she's in public. As Edith Frank, Benzing looks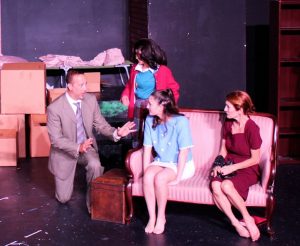 haggard, pallid and pathetically frail. And it's not just because Nazi deportations have forced her, Otto and the girls into hiding in cramped quarters with another couple and dentist named Dussel. From the very first scene, her face, her slumped shoulders and overall demeanor must reflect the emotional scars of over a decade of uncertainty, anxiety, fear and devastating loss.
The casual audience member doesn't have any inkling of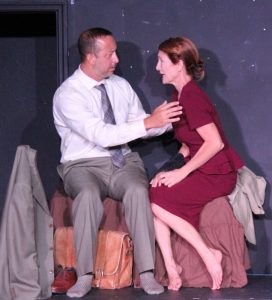 what Edit Frank and her family have already gone through by the time they meander through the streets of Amsterdam in the predawn gloom at the outset of the play. Before fleeing to Amsterdam, they lived in Frankfurt. Otto was in the banking business, which he inherited from his father. As a Jewish banker, he was the scapegoat for all the ills and deprivation that the German people had suffered in the aftermath of World War I and the Great Depression. As Adolf Hitler whipped up anti-Semitic fervor and Nazi party instigated lethal pogroms, it became increasingly untenable for the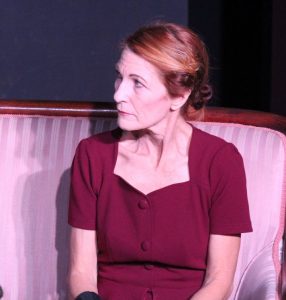 Franks to remain in Frankfurt. But can you imagine the toll it would have taken on Edith and Otto to pick up stakes and move to the Netherlands in 1933 with two small girls (Anne and Margot were only four and seven at the time) – leaving behind the home they loved, the family business they worked so hard to maintain, and their relatives and all of their friends?
When they arrived in Amsterdam, not only did neither of them speak fluent Dutch, they did not know a soul. And while they were safe for the moment,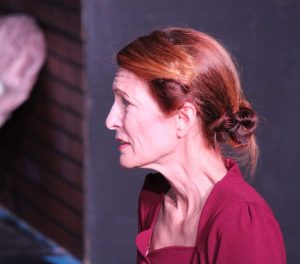 they watched, worried and were horrified by the events unfolding on the world stage, which included Krsitallnacht, the invasion of Poland, the bombing of Rotterdam, the occupation of the Netherlands, the imposition of anti-Semitic measures (including a prohibition against Jews owning their own businesses) and the first raids and round-up of Jews in Amsterdam. Some of those taken were friends or acquaintances. It wasn't long before news of their deaths filtered back to the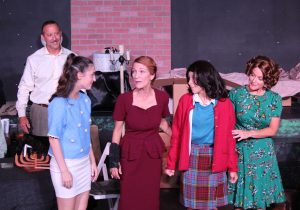 Franks.
All the while, Otto tried desperately to move his business to Britain. It was not to be. Following the occupation, Otto exerted every effort to emigrate to the United States, but ran out of time to get his paperwork in order when the U.S. closed its borders following Pearl Harbor. And then, the morning before they went into hiding, Margot received a call-up,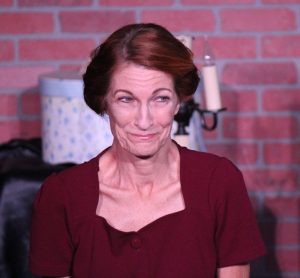 orders to report to a labor camp in Nazi Germany.
On the Holmes and Rahe Social Readjustment Rating Scale, Edith Frank's score would be off the chart (well over 300). The effects of all this stress would have been etched into the Edith Frank's facial features. It would have drained the sparkle that once danced in her eyes. It would have been sculpted into the set of her jaw and into the bend of her slender shoulders. It would have been revealed by her thinning hair.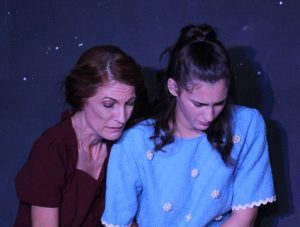 Amazingly, Gerrie Benzing encapsulates a decade of loss, anxiety and debilitating fear in the frazzled, gaunt, careworn appearance she projects from her very first scene.
So if you go see The Diary of Anne Frank (and I highly recommend that you do), expect to see Gerrie Benzing look her absolute worst.
But remember, she's not Gerrie Benzing on the stage of Fort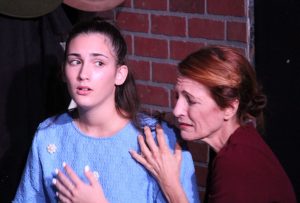 Myers Theatre stage. She's Edith Frank at the end of a decade of trials, trepidation and ruthless Nazi persecution, knowing in her heart of hearts that the worst was yet to come.
August 16, 2021.