Isabelle Blanco shines as Kim McAfee in 'Bye Bye Birdie'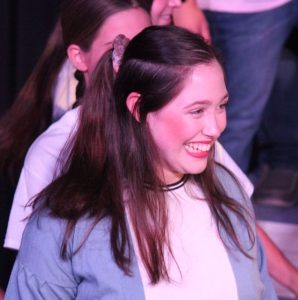 The new Fort Myers Theatre brings an updated version of the 1963 classic Bye Bye Birdie is on stage this weekend and next. Described as "one of the most captivating musical shows of our time," Bye Bye Birdie is filled with memorable songs, including "How Lovely to Be a Woman," "Honestly Sincere," "Kids" and "Put on a Happy Face." FMT's production is the Young Performers Edition and it features strong vocals, wonderful choreography and a host of eager young faces. One of those eager faces belongs to Isabelle Blanco who plays the part of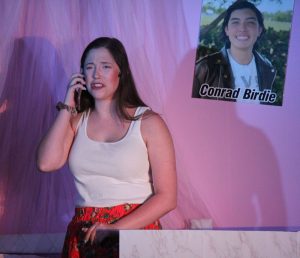 Kim McAfee.
Kim's life in Sweet Apple, Ohio couldn't be better. Newly pinned by her high school sweetheart, Hugo Peabody, she's the talk of the town and on the cusp of womanhood.
"Hallelujah, you are 16, and the braces disappear, And your skin is smooth and clear, And you have that happy grown-up, Female feeling. How lovely to be a woman, The wait was well worthwhile, How lovely to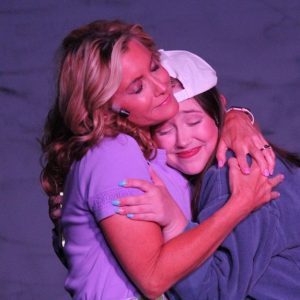 wear mascara, And smile a woman's smile, How lovely to have a figure, That's round instead of flat! Whenever you hear boys whistle, You're what they're whistling at. It's wonderful to feel, The way a woman feels, It gives you such a glow, just to know, You're wearing lipstick and heels."
But suddenly, her life gets even better! She receives a phone call telling her that she's been selected to be a stand-in for every female Conrad Birdie fan in the country as the rock-and-roll heartthrob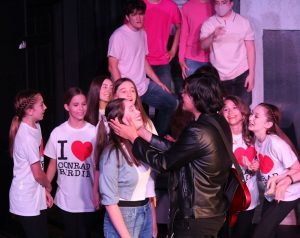 bids a fond farewell as he enters military service. As such, he'll give her good-bye kiss on the Tonight Show with Jimmy Fallon. She's ecstatic. Her friends are losing their minds. Her parents and dazed and confused. And poor Hugo is humiliated and jealous.
Blanco is endearing in the role made famous by Ann Margaret. In my review of Blanco's performance as Veronica Sawyer in the Alliance Youth Theatre's production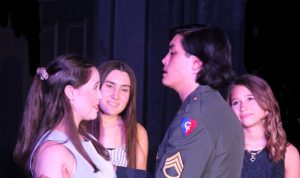 of Heathers the Musical, this author said, "Blanco has all the tools to be a fine stage actor. She delivers lines with authority, has a stellar singing voice, is a master of facial expressions (particularly surprise, shock and incredulity) and already understands how to command the stage."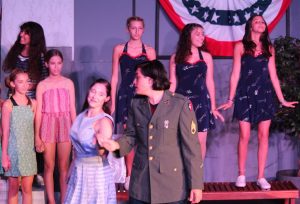 She's even better in Bye Bye Birdie, where she has taken her acting skills to another level. As Kim McAfee, Isabelle displays a keen grasp of comedy and a feel for stage romance. But her domain remains musical theater. The girl can sing. Her renditions of "How Lovely to Be a Woman" and "One Boy" are not only pitch perfect, they're show stoppers that leave the audience wanting more. And while the part doesn't call for Blanco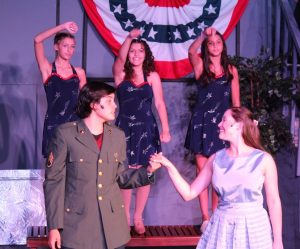 to dance, she's a mover with a feel for how to descend a flight of stairs or glide across the stage.
In addition to Heathers, Isabelle performed in six City Scenes/Alliance Youth Theater production, including Legally Blonde Jr. (Vivienne) and Rock of Ages (ensemble).
Joining Blanco in the cast are Alex Brown and Lisa Clark as Albert and Rosie, Benjamin Herrera as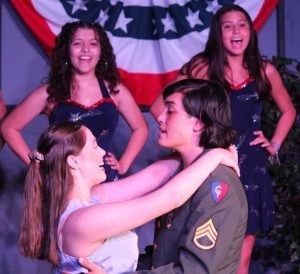 Conrad Birdie, Chris Wilson and Jennifer Heckman as Kim's exasperated parents, Harry and Doris MacAfee, Kristen Wilson as ex-Vaudevillian Momma Mae Petersen and Elijah Grant as Hugo Peabody.
Performances are at 6:00 p.m. on Friday, May 21, Saturday, May 22, Sunday, May 23, Friday, May 28, Saturday, May 29 and Sunday, May 30. There are also two 2:00 p.m. matinees on Sunday May 23 and Sunday, May 30.  Telephone 239-323-6570 for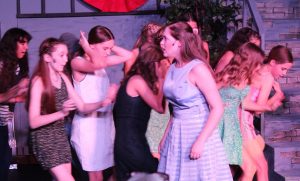 tickets or visit https://www.ticketor.com/ctw/tickets/bye-bye-birdie-ype-212720#buy.
Fort Myers Theatre is located at 16120 San Carlos Boulevard, Fort Myers, FL. 33908.
May 22, 2021.