Tiny Theatre proving actors, text and an audience are all you need for theater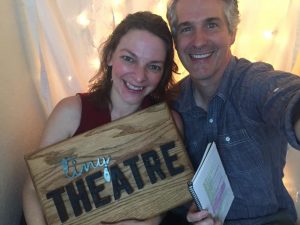 While the world shelters in place and theaters all over the world wait in suspense to resume programming, Rachel Burttram and Brendan Powers are creating an oasis in the COVID-19 wasteland. It's called Tiny Theatre – a makeshift hippodrome in a back bedroom pieced together using a string of Christmas lights, an IKEA curtain, duct tape and a paint stirrer.  And from that unlikely venue every Monday, Wednesday and Friday night,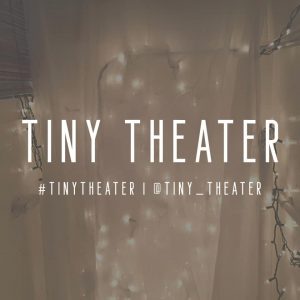 they perform readings and monologues generously provided by  A-List playwrights with whom they've forged friendships over the years, writers with projects in development and students of all ages.
"You two make my mornings," effuses theater lover Pat Yates. "I set my alarm and get caught up on each Tiny_Theatre production."
"It's just so comforting," adds Women's Theatre Festival Executive Director Johannah Maynard Edwards. "I am so excited to connect with y'all."
In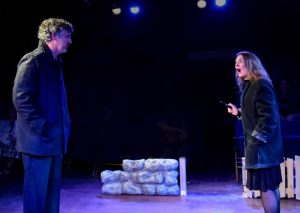 their individual rights, Burttram and Powers are two of Southwest Florida's best and most sought-after actors. As longstanding ensemble member of Florida Repertory Theatre, they've treated local audiences to scores of memorable performances and scenes and, every once in a while, area theater-goers are treated to the privilege of watching them perform together on stage. As happened at the Rep in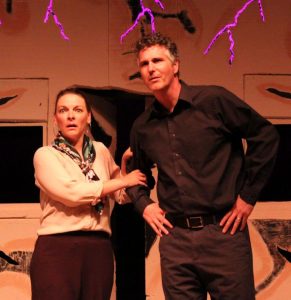 Outside Mullingar and at Theatre Conspiracy at the Alliance for the Arts in Repossessed. In fact, you can see them together in A Doll's House Part 2, which is streaming until April 22. [Go here to purchase.]
So getting to see Burttram and Powers, and Powers & Burttram three nights a week doing readings and monologues for free is not only a rare and unparalleled treat, it's a gift for everyone during these dark and uncertain times. And adding to the appeal are "calls" from a remote stage manager and their black cat serving as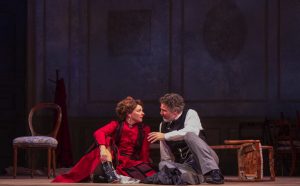 swing technician.
"This channel is a miracle," professes Alabaster playwright Audrey Cefaly. "I love how you come to the material with zero pretense … such honesty and tenderness … what you're doing to celebrate writers, the whole format is so much bigger than acting. I, for one, am so grateful."
"The is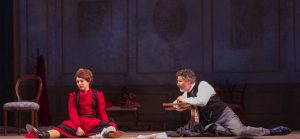 wholesome entertainment during these troubled times when all the stages in this world are dark," supplements Drew Johnson. "Take the ghost light off the stage and continue performing …."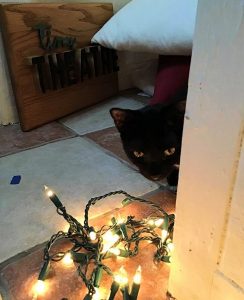 Rachel and Bren are fond of saying that theatre only requires actors, text and audience. They're doing their part with the help of their playwright friends, and their friends. Now it's time for you to do your part. Tune in tonight and every Monday, Wednesday and Friday throughout the duration. Heck, some of us are even dressing up for the performances and posting selfies on Facebook and Instagram. We'll look for yours there as well.
"House" opens about 5 minutes till 9:00 p.m. EST. Stick around after the show for a post-show discussion.
#tiny_theatre!