Just a girl who likes to act, Cantrella Canady takes audiences on emotion journey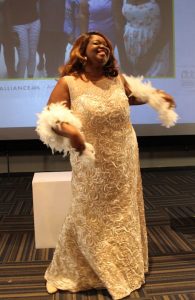 It was a sultry evening in August at the IMAG History and Science Center. Students from the Alliance for the Arts inaugural 9-week CHANGE acting course had assembled in the theater to perform a series of vignettes that legendary playwright George Wolfe wove into the fabric of his edgy play titled The Colored Museum. Toward the end of the program, up strode Cantrella Canady to reprise the role of Lala Lamazing Grace, an African-American singer who's made it big time, not in Motown but across the pond in France.
It was surprising, initially, to see Canady in a class designed to attract new talent to the pool of actors capable of taking on challenging African-American roles. After all, by the time Cantrella joined the other ten enrollees in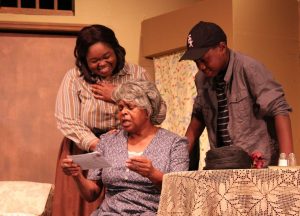 Director Sonya McCarter's course, she'd already rocked Southwest Florida with groundbreaking performances in more than a dozen productions. In a short span of time, she'd played such plum roles as Ruth Younger in Lorraine Hansberry's A Raisin in the Sun, Ruby in August Wilson's Seven Guitars, diva Ma Rainey in August Wilson's Ma Rainey's Black Bottom, Lady Fidget in The Country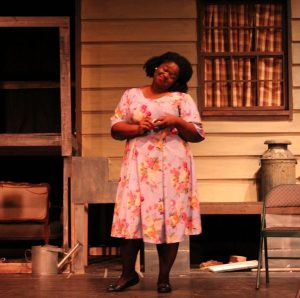 Wife, Claudia in The Bluest Eye, Quincy/Bart Simpson in Mr. Burns: A Post-Electric Play and Mabel in The Pajama Game, and had also appeared in Deborah Fortson's Body & Sold and The Rauschenberg Project Play. On top of that, her portrayal of lounge singer Deloris Van Cartier in Sister Act: The Musical earned her a 2018 Cultural Park Marquee Award for Outstanding Lead Actress in a Musical.
But then I was reminded that Canady's first real role in theater was the Lady in Green in For Colored Girls Who Have Considered Suicide When the Rainbow is Enuf in February of 2015.
"I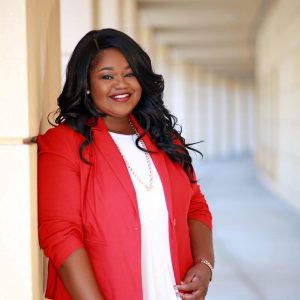 still feel like a baby in all of this," she laughs, sitting at a café table on the sidewalk outside the Starbucks on College Parkway on a breezy December morning several days ago.
"I've been lucky to do so many great shows," she adds, turning suddenly reflective. She ticks them off, her voice reflecting a mix of awe and reverence. "Raisin in the Sun. Ma Rainey. Seven Guitars. The Bluest Eye. They're classics, and I knew they were classics before I ever got into acting."
But until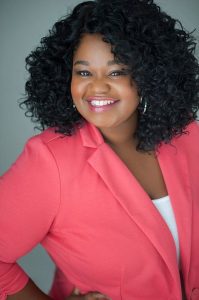 For Colored Girls, theater was a calling she'd assiduously refused to answer.
"I took a drama class [in middle school] as an elective and enjoyed it," she recounts. "The teacher told me that I really needed to audition for the [Cypress Lake High School] Center for the Arts, but I didn't do that."
When someone at her church decided to establish a drama ministry, she agreed to help sign up people for a production. "But I'm not going to do it myself," she cautioned the director. But then someone she'd signed up dropped out at the last minute and the director cajoled her to "just read from the script."
To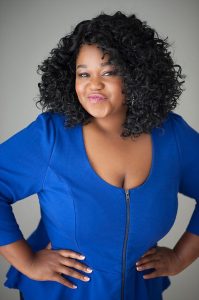 no one's surprise (save Cantrella's), everyone loved her reading. "I was just acting naturally, in the moment, just reading from the script." Hearing the laughs, the gasps, people crying, was overwhelming.
"They loved it. I loved it. I remember thinking, 'Oh, let's see where this goes.'"
As much as she loved her own and the audience's reaction that night, she did not seek out opportunities to replicate the experience. But just like her middle school drama teacher and the director of the church drama ministry, others who knew Canady sensed in the young woman a theatrical talent poised to emerge from its self-imposed chrysalis.
It happened when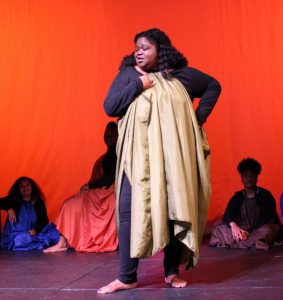 Theatre Conspiracy Artistic Director Bill Taylor decided to produce For Colored Girls.
"I'd heard of the Alliance for the Arts, but I didn't know they did theater there," Cantrella recalls. "Someone from my church had a friend who posted about it on Facebook, and she asked me if I'd be interested. I told her I'd look into it, but never really did."
But her friends refused to be fobbed off so easily.
Another parishioner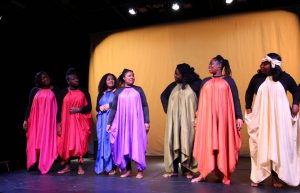 took a run at Canady, telling her that "we'd really like to have you come out and read just to see if it's something you'd like to do."
Cantrella went, half-heartedly. She didn't even prepare a monologue for her audition.
"I just read what they gave me and afterwards, Patricia [Idlette] came up, gave me a hug and told me she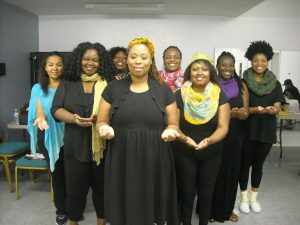 was really looking forward to working with me. It was pretty awesome. She directed that show and it was an eye-opening experience to dig into the material, see what everyone else was experiencing, and then create something beautiful in the moment."
It just so happened that Ntozake Shange's choreopoem couldn't be a more perfect fit for Canady's temperament both as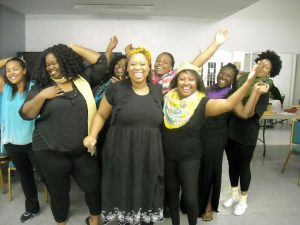 an actor and as a highly perceptive, sensitive and emotional woman. "It was my introduction to my journey in theater … [but] we all had to take an emotional journey [as we went through the script and the supplemental material Patricia gave us]. At every rehearsal, we would end up in tears because we were dealing with something personally or someone we lived with was. When [Shange] passed away [October 27],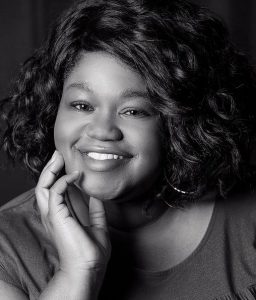 it was like losing someone in our own family because of how emotional that show was for all of us."
And it is emotion that provides Canady with a portal into the soul of each of the characters she's had the privilege of portraying.
"Finding an emotional connection with the character is always my starting point," Cantrella asserts. "It has to be genuine. You can go and act it out, but if you're not really feeling it, the audience is not going to be on the ride with you. So the emotional part is definitely what it's about."
But attaining that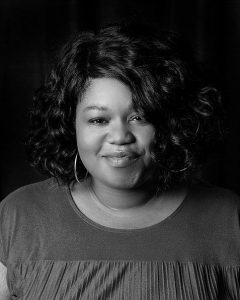 all-important emotional connection is a complex, tiered process. She starts by reading the script through three or four times, letting the characters and plot play out on the movie screen in her mind. Only then does she start making notes about who her character is and how she might feel about the people and events the playwright has created for the play.
"Then I need to know how I would feel if I were the person opposite my character. How that person feels in that situation. How would the situation play out outside of that character and mine."
Finally,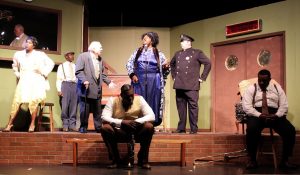 Cantrella needs to understand the socio-political context in which the plot and characters exist. For example, many of Canady's performances to date have been period pieces like Ma Rainey's Black Bottom, Seven Guitars, A Raisin in the Sun and The Country Wife. In each of these productions, historical context is critical – such as the music
that was popular, what people earned, how they dressed, what they ate and the events that were taking place at that point in America and the world at large.
For example, when the audience first meets Ma Rainey, she's storming into a recording studio because she's had an altercation with a traffic cop. "We have to understand why it was an altercation," Cantrella points out. "It was just because her car was parked on the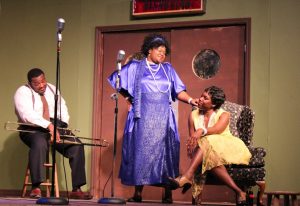 side of the road. Neither she nor her drive did anything wrong. It was a big issue for an African-American in the 1920s." [To give you an idea of just how endemic discrimination and bigotry was in American society during the Roaring Twenties, consider this line from F. Scott Fitzgerald's The Great Gatsby: "The idea is if we don't look out, the white race will be – will be utterly submerged.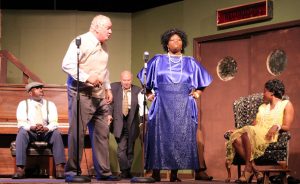 It's all scientific stuff; it's been proved …."]
But there was so much more to digest in Ma Rainey than racism and prejudice.
"She was middle aged, African-American, lesbian and a force in the music industry, but the only part I could connect with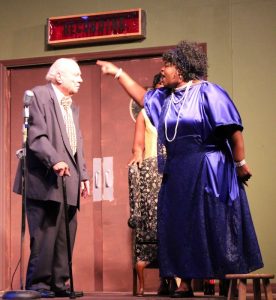 was that I'm an African-American woman," Cantrella expounds. "So to connect with her, I had to think about how African-American women were perceived back in the 1920s, especially having the talent she did. Homosexuality was taboo, and so was owning who she is. There were a lot of things I had to think about to do justice to the character."
Sometimes the exercise is easier; at other times, like with Ma Rainey, finding that verisimilitude and synchronicity requires greater effort and more support from whoever is directing the production.
"You have to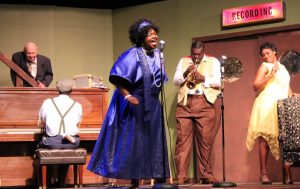 think about all of these factors with every character – all the connections. How are they affected emotionally both internally and by outside influences. Even with characters I've portrayed in modern times, they still exist within the context of a political climate, an economic climate etc. Politics, economics permeate what we think and cause us to feel a certain way."
Canady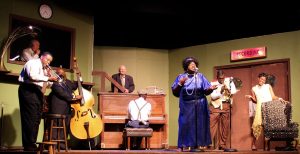 is also aided in her efforts to connect emotionally with her characters by her studies at Florida Gulf Coast University. She graduated in 2016 with a degree not in Theatre (it was her minor), but in Communications. Her course load taught her to look beyond how someone feels to the factors that underlie and give rise to that emotion.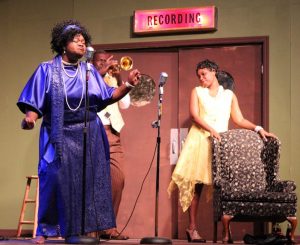 Open and honest as a matter of personal taste and conviction, Cantrella is prone to self-analysis whenever a situation plays out differently that what she'd expected in her head. She uses that same technique when it comes to understanding why her character and the characters she interacts with behave and talk as they do.
"There's always a trigger that enables me to get emotionally attached to the character," says Cantrella with aplomb.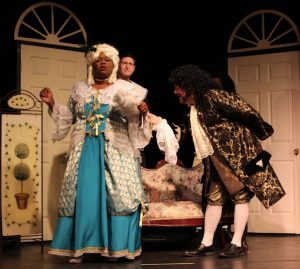 And that raw, rich, authentic emotionality has become Canady's calling card, the characteristic that distinguishes her performances and denotes the characters she's portrayed to date. They're more than just fictional folks we watch flitting across a stage. Because of her willingness to invest herself intellectually, psychically and emotionally in the personas she assumes, Canady enables us to understand her characters' hopes and desires, motives and expectations, joy and pain – which, in turn,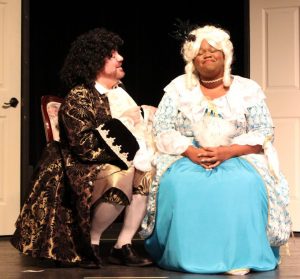 affords us the opportunity to analyze our own hopes and desires, motives and expectations, joy and pain.
If that's all there was to Cantrella Canady, it would really be truly amazing. But there's more.
Inside the actor is a person with a heart as big as her immense talent. She goes way out of her way to support everyone in Southwest Florida's growing theater community.
When she's not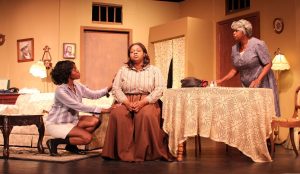 on stage or in rehearsals, you'll find her in the audience, cheering on both friends and strangers performing in shows throughout Lee and Collier counties.
"I love supporting all those who say 'Okay, let's get up and put on this production!' If I lived in New York, I would be in trouble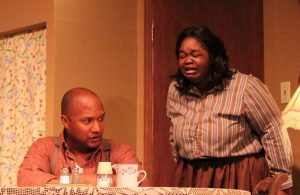 because Broadway would have all of my money," she quips, peals of self-effacing laughter reverberating through the parking lot adjoining Starbucks before being swallowed by the sounds of cars speeding by on College Parkway.
One might expect Canady to treat each show she attends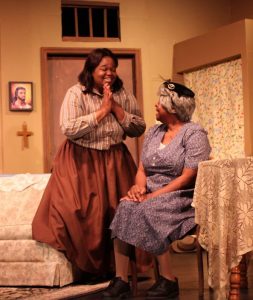 as a learning experience, a means toward expanding her acting skill set by watching friends and colleagues at work. I did. After all, in addition to all the shows she's performed in since For Colored Girls, she's done staged readings, volunteered as an actor in Lab Theater's 24-Hour Playwriting Project and understudied for various parts. (She's the understudy for Candy in Broadway Palm's upcoming production of Saturday Night Fever.)
But that's not the case. Canady realizes that to understand why any actor is performing a role in the manner they are, you'd have to be intimately familiar with the script, the context and the emotions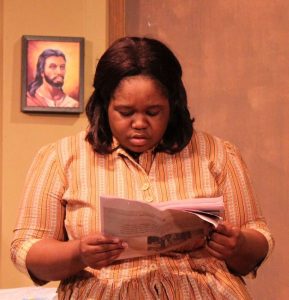 associated with each of the characters included in the production.
"They have worked for months, living with the script, internalizing it, doing all those things that I do, so I accept what they do as their package, as their gift to us. I appreciate it and cherish it no matter how they choose to gift wrap it. If your mom gave you a sweater, you're not going to pick apart how she knitted it or the yarn she chose or the color she picked. You're going to bask in the warmth it provides. Same thing here."
But it's the nature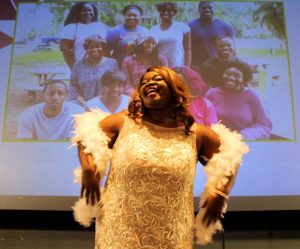 of theater critics and commentators to pick apart performances, and so it is a' propos to return to the performance that Canady delivered for Director Sonya McCarter in The Colored Museum at the end of the Alliance's inaugural 9-week CHANGE acting class.
Although McCarter chose The Colored Museum to showcase the talent of CHANGE's first class of theatrical graduates, the vignette titled "Lala's Opening" required an actor with special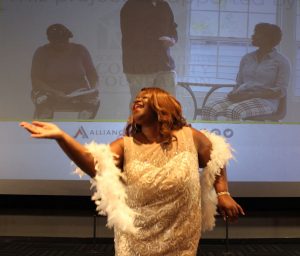 gifts. It was a part tailor-made for Canady, and she didn't disappoint. Cantrella not only had the pipes and range to transition seamlessly from Blues to gospel to jazz, she uniquely possessed the emotional depth needed for the cathartic expose' that comes at the end of that vignette. She did such an excellent job that there wasn't a dry eye in the house when her segment ended, prompting this reviewer to write, "It wouldn't be an exaggeration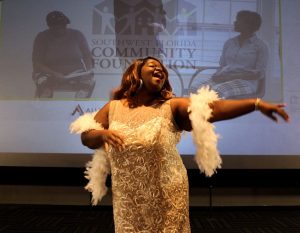 to say she was tres magnifique, oh so unique and chic-er than chic. But why mince words? Cantrella's a fucking meteorite, n'est pas?"
Cantrella demurs.
"I'm just a girl who likes to act," she counters.
It is, perhaps, this unpretentiousness and abiding appreciation for the theatrical journey she is on that explain why her performances resonate on so many levels with people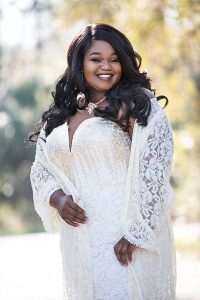 from wide and varied socio-economic strata. She doesn't dwell on the whys and wherefores.
"I can't tell you where my love of theater comes from, but it's something I think about constantly. It's something I want to be involved in even more. I've done gospel radio and gospel singing groups. I've been on the board of the African-American Student Association and have gotten involved with various socio-political situations. But theater has taken on a life of its own."
Fortunately, we can share that life vicariously each time Cantrella takes the stage.
Her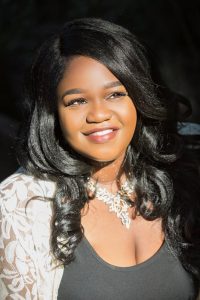 schedule remains jammed. Besides understudying for Saturday Night Fever, she'll play Martha Pentacost in Joe Turner's Come and Gone for Theatre Conspiracy at the Alliance in March, the innkeeper in Andorra for Lab Theater after that, and a street urchin in Little Shop of Horrors at Broadway Palm Dinner Theatre May 16-June 15, 2019.
Yes, Cantrella Canady is definitely a girl who loves to act. If she's this good now, imagine the power she'll bring to each performance after she gets a little more experience. [lol]
December 15, 2018.
RELATED POSTS.