Kiana Pinder shows subtle command of wide array of dichotomous emotions as Nina in 'The Seagull'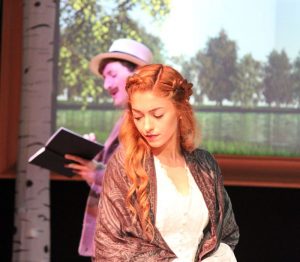 Kiana Raine Pinder plays Nina Mikhailovna Zarechnaya in FSW Black Box Theatre's production of Anton Chekhov's The Seagull. It's an interesting, highly nuanced character. Her dad and stepmother frown on her associating with the boy next door, a young man named Konstantin. That's because his family is disconcertingly artsy, with his mother being renowned Russian actress Irina Arkadina. But The Seagull is not the Russian version of Romeo & Juliet. Nina's interest in Konstantin is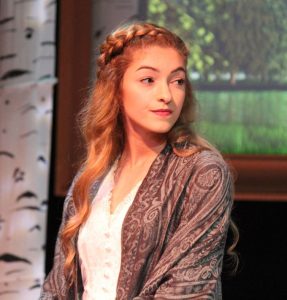 not about forbidden love, but the access Konstantin provides the wide-eyed aspiring stage actor to his famous mother and her circle of contacts in the performing arts. To Konstantin's regret and chagrin, Nina's romantic tastes run more to the man in Irina's life, Boris Alexeyevich Trigorin, an esteemed Russian writer and member of the elite Russian intelligentsia. But, spurned by Trigorin, Nina spurns Konstantin, leading to disastrous results for them both.
The part demands a subtle command of a wide array of dichotomous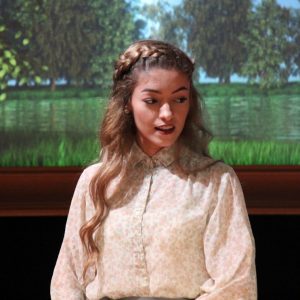 emotions and motivations ranging from drive, determination and ambition to love, loyalty, innocence, idealism and unflinching integrity. As a result, a role such as this would not be an easy task even for an older, more seasoned actor. But Pinder navigates the complexity like the pro that she is, demonstrating dramatic adroitness unexpected from someone whose past productions (e.g. I Love You, You're Perfect, Now Change, (in which she portrayed seven different characters) and She Kills Monsters (Tilly)) and skill set are in the genres of musical theater and comedy.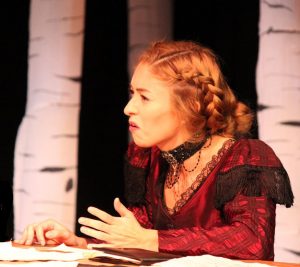 She saves her best for the penultimate scene with lovestruck Konstantin, when he begs her to stay with him rather than endure the rigors of life on the road. But she doesn't love him and can not understand how notwithstanding her love of Trigorin, he nevertheless worships the ground that she walks on. She's not only convincing in Nina's rejection of Konstantin's offer, but makes the audience feel her deep regret and despondency that she feels in having to turn him down.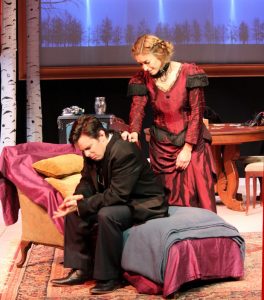 Kiana Raine-Pinder has a promising future, whether her path lies in musical theater, comedy or drama, or some companionable mix of all three.
November 8, 2019.
RELATED POSTS.