Steven Coe
Actor Steven Coe is one of Southwest Florida's most intelligent and engaging actors. He plays Hamlet in Lab Theater's summer spoof Save Hamlet in June of 2023.
Steven's credits include David in The Foreigner for Players Circle Theatre, Happy Mahoney in Clown Bar for Theatre Conspiracy at the Alliance for the Arts, Mitch Brenner in The Birds: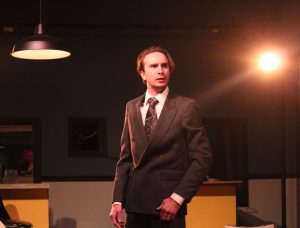 A Parody, the impudent, bitingly witty rake Vicomte de Valmont in Lab Theater's production of Dangerous Liaisons, Chris in Killer Joe, Jim Fingal in Lifespan of a Fact for Players Circle Theatre, Joe Gillis in Lab Theater's summer spoof Sunset Schmoulevard, Sandro Botticelli in the regional premiere of Jordan Tannahill's Botticelli in the Fire, John Proctor in Arthur Miller's The Crucible,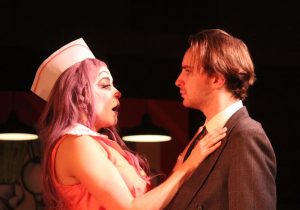 Thomas Novachek in David Ives' Venus in Fur for The Studio Players, Andri in Andorra, The Boy in Veronica's Room, and Doug in Neil LaBute's The Way We Get By, as well as memorable supporting and ensemble appearances in Sarah Ruhl's How to Transcend a Happy Marriage, Hush Up Sweet Charlotte, Whatever Happened to Baby Jane: A Parody of the Horror, Arthur Kopit's Wings, Rick Abbot's Play On!,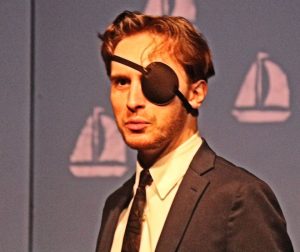 The Last Night of Ballyhoo and The Musical Comedy Murders of 1940. Inveterate theater-goers may also remember Steven as the twenty-something Russian spy in Theatre Conspiracy's 2013 production of Red Herring, a light-hearted espionage spoof. Other favorite shows include Blithe Spirit and The Government Inspector, both comedies.
He also appeared during the COVID-19 shutdown as Nick in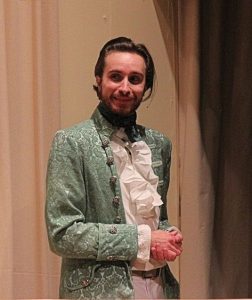 SoDis Theater's virtual reading of Scott Sickles' dramatic comedy Intellectuals (May 5, 2020), Gary (a young man more engrossed by the video game he is playing than the girlfriend he is talking to by phone during the lockdown) in The Best Seats in Your House's production of Reina Hardy's Day Four (May 21, 2020), Eric in The Best Seats in Your House's production of Lia Romeo's Last Call (May 28, 2020), Ray in Darlyne Franklin's entry and Critic's Choice winner in Lab Theater's 24-Hour Screenwriting Challenge, Florida Couple (November 23, 2020), and The Voice in Lab's production of Kayleigh O'Connell's Projekt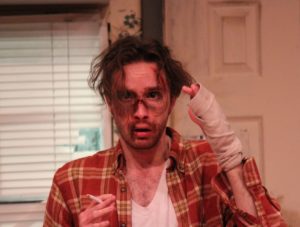 Grotesquerie.
"I seek out stuff that challenges me, that expands my limits," Steven acknowledges. "If I can go on that train and talk over people while they're eating and project over the sound of a running train, I can do anything."
He credits Florida SouthWestern State College theatre professor Stuart Brown for giving him a basic tool kit of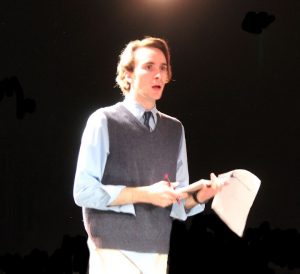 acting skills and techniques.
But his penchant for creepy, campy productions like Veronica's Room and Whatever Happened to Baby Jane: A Parody of the Horror traces back to a stint at Universal Studio's Halloween Horror Nights in Orlando "ducking drunks' punches and scaring the hell out of people."
"He's willing to go anywhere you want to take him," observes FSW Prof. Stuart Brown. "He catches on really quickly, works hard, is always thinking,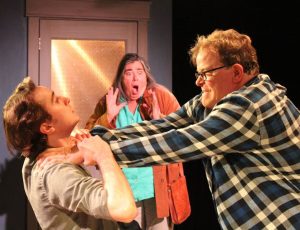 especially throughout the rehearsal process, and grows quickly. But most of all, he's hungry."
Steven didn't start out wanting to be an actor. "I didn't take my first acting class until I was already in middle school, and then, only because my friends were in it and I wanted to be with them," Coe laughs. He's responded ever since to the ample encouragement he's received,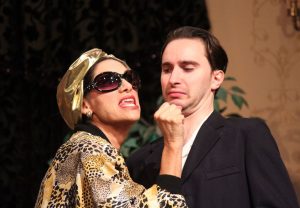 and his training extends far beyond the roles he takes on and the productions he's been in.
Coe also learns from film.
"I watch a lot of film and like different actors for different things," Steven shares. "Currently, I really like Ryan Gosling. He chooses roles I really like, such as Blade Runner. And I love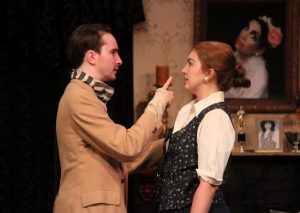 his style. He's a very natural guy. But Heath Ledger was the actor who I found most inspirational. He's one of the reasons I got into acting. At the time I began to seriously pursue acting, the Dark Knight had just come out. And to see Ledger go from Broke Back Mountain to that, it was so amazing that he could flip roles and personalities like that."
July 17, 2019; revised May 16, 2023.